On my previous post I covered my travels from Omaha to Kadoka, South Dakota along the Oyate Trail. This post covers the second part of that day, basically, my visit to the hauntingly wondrous Badlands National Park in western South Dakota.
Before I get into the Badlands visit, one more final comment about Kadoka.  While at a gas station off if I-90 I came across this giant scrap metal buck.  I did some research and found out that it's name is "Scrappy" and it is the creation of metal artist Brett Prang, who resides in the Badlands area and runs Incredible Metal from his Guest House and their Frying Pan Ranch. I wish I would have known about his scrap metal art while I was in the area…..  He also has an amazing 37 foot tall metal cross that I would love to have seen.  (See article about Prangs here)
Scrappy was originally created as the mascot of Tivy High School (The Antlers) in Kerrville, Texas.  It was auctioned in 2005 to raise funds for the school.  It has now returned to its South Dakota birthplace.
Now, off to the Badlands!!
From Kadoka on I-90, I took Exit 131 and headed south on South Dakota Hwy 240 which passes by a big trading post and the Minuteman Missile National Historic Site which I did not visit.  Another couple of miles south on 240 is "The Ranch Store" which is a tourist stop for Badlands and Prairie Dog mementos, but is also home to the Giant Prairie Dog statue and about a gazillion little prairie dogs.  If you make a visit to the Badlands, this is a must stop, especially if you have children and a camera.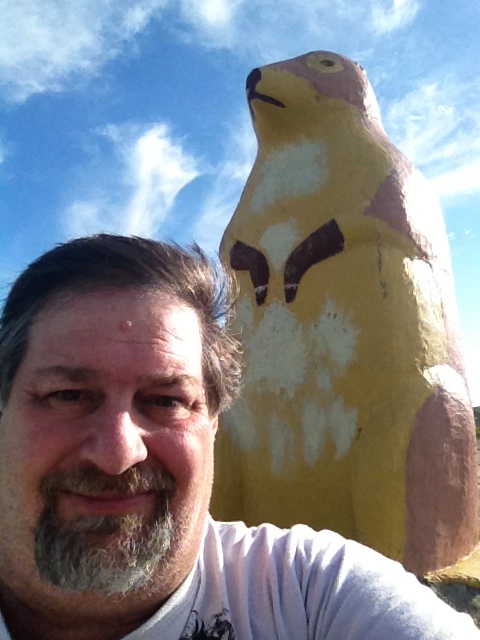 According to the Ranch Store's website, they got their start in Kadoka in the 1950s, but once I-90 was completed their location was no longer viable.  So, they moved their store and their 6 ton pink prairie dog statue to its current location in 1971.  Not only can you get your souvenirs and ice cream, but you can also feed the prairie dogs that reside in their own huge underground village on the side of the store.  I got some nice shots of some of these cuddly looking little guys….
These little Prairie Dogs have great personality!!
I saw this mother prairie dog cuddling her two babies.  It was absolutely darling and almost human. Had to put three of the photos together to give a better feeling of her care.
And just one more fond farewell….
Rather than drive the full loop from Cactus Flats, I decided to head back up to I-90 and then take the exit for Wall Drug to head south to Badlands National Park at the Pinnacles Entrance.  It had been a long day's drive from Omaha and across southern South Dakota, so the sun was beginning to set in the west and shadows were beginning to fall on the Badlands, which, in my opinion, was a great time to view the park.  Following are a few of the nearly 300 photos I shot in the Badlands.
Of course, the park has herds of mountain goats.  As I drive down into a valley a couple of them appeared on the side of the road grazing.  Unfettered by my stopping and shooting, they continued.  Here are a couple of shots of them.
The Badlands offered many amazing views.  I will devote a photo gallery to this trip later on.  But, I don't think there could be a better time to visit than at sunset…
As the sun began its descent, I headed back to I-90 and then west towards my eventual overnight stay in Gillette, Wyoming.  My next day would take me west though Cody and into Yellowstone National Park.  That will be another a post in a few days.
(2955)