April 3, 2013: Yet another day on the road home as Julianne and I take our time to see a few of the sites on the way.  This day we drove from Des Moines to a couple places in Iowa and eventually into Illinois. Here is our route:

View Larger Map – Des Moines, IA to Springfield, MO
First thing we did was head to Pella, Iowa, which is not too far from Des Moines.  Pella prides itself as being a "Touch of Holland" and indeed is very Dutch.  Home of the largest working Dutch windmill in the United States.  Pella was originally settled in 1847 by about 800 Dutch immigrants.  They named the town Pella, which in Dutch means City of Refuge, due to the fact that these immigrants were fleeing religious persecution in their home country of the Netherlands.  Pella is also the birthplace of Wyatt Earp, the famed sheriff of the Gunfight at the O.K. Corral.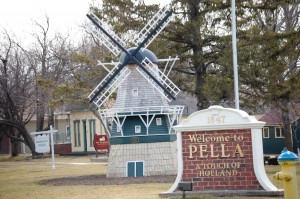 We had been advised by friends to definitely try the "Dutch Letters" while here.  Dutch Letters are a flaky almond paste filled pastry.  Shaped like an S, they were apparently a traditional Christmas pastry in Holland.  We stopped at the Jaarsma Bakery on Franklin Street in Pella to have some of these.  They would be our breakfast.  Turns out they have a lot of other goodies!!
Another treat we were advised to try was Pella Ring Bologna. There are two well known places to get this ring bologna in Pella and we stopped at Ulrich's Meat Market which is a couple doors down from the Jaarsma Bakery.  Not onl is the ring bologna good — the meat sticks were fabulous!!
The town of Pella is quaint and picturesque.  It was a pleasure to walk around and see some of the scenery, including a few smaller windmills and the larger one.  Here are a few scenes from Pella.
Pella is famed for its tulips, but we were too early for them.  But, daffodils are another Dutch bulb plant.  And they were in full bloom.
Of course, perhaps the most famous thing in Pella (besides the famed Pella window factory) is the huge authentic working Dutch Windmill.  The Vermeer Mill, as it is called, is an 1850s style working windmill.  It is 124 feet tall and is the largest working windmill of its kind in the United States.  The mill is totally wind powered and is actually used like the windmills of old to grind wheat into flour.  It was built in Holland and assembled in Pella in 2002.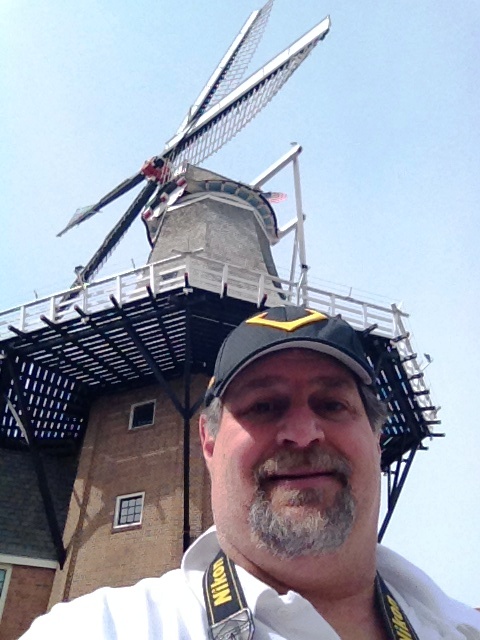 There is a Dutch Interpretive Center and small Dutch Village attached to the Windmill.  Within its confines are a number of Dutch style buildings , including Wyatt Earp's birthplace.  We didn't go into the village since admission was $10 per person, which we though was rather pricy.
After a pleasant time in Pella, we were back on the road.  With my penchant for going to strange named towns, I wanted to make our way down some back roads to What Cheer, Iowa. Originally named Petersburg in 1865 but was renamed What Cheer in 1879 after the Postal Service declined the name of Petersburg.  The Wikipedia article linked here has some details as to the origin of the name What Cheer.
Ironically, as we drive through town, I exclaimed to my wife that the town name should be "What Cheer?" as the small town looks like it is falling apart and many of the businesses have been abandoned. There were a little over 600 people in this small town according to the 2010 census.
Reminiscent of downtown Pella, there is one nicely kept building in What Cheer, with the nice corner turret.  It used to be a bank, but is apparently now a residence.
There was one other refreshing site in town.  One home had some unique artwork surrounding the yard.
From What Cheer we made our way northeast to I-80 and then into Le Clair, Iowa, a small touristy town along the Mississippi River.  This was my second visit to Le Claire as I had been here before to visit Antique Archaeology,  home of the "American Pickers" TV show on History Channel.  On my previous visit back in June 2012 I even got to meet Danielle and get a shot with her.
When I visited in June last year Danielle had a shop in Le Claire across the street from Antique Archaeology called 4 Miles 2 Memphis.  She is actually well known for "up-cycling" things and making them into clothing, jewelry, etc.  The shop has since moved to Chicago.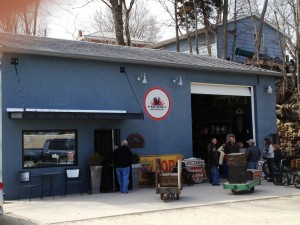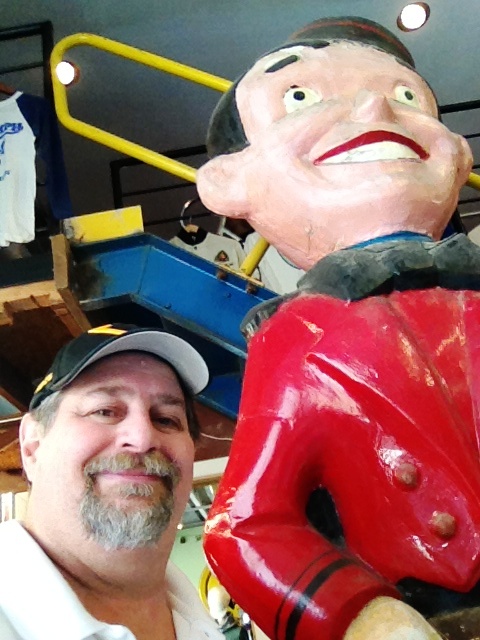 There are lots of unique things for sale at the shop, many which had been picked from shows past.  Here is a small sample of some of the things in the shop.  Recognize anything?
A video clip of the American Pickers episode with the Laurel and Hardy masks.
You would be mistaken if you think that Antique Archaeology is the center piece of Le Claire.  This unique little town is chock full of personality, antique shops and more.
Pelo's is your typical old sundry and fountain type shop, except that it now has a coffee shop, open mike nites and more.
Julianne was thrilled to visit some of the shops, but her biggest thrill was being able to "pick" a 1930s quilt from a shop in Le Claire.  This hand pieced and hand sewn quilt was in a small shop along the river.  The gal in the shop obviously didn't know quilts like Julianne does as she had this quilt for sale for $150!!  It was a splurge purchase for us, but, we believe that the value of this quilt is really closer to $800 or $1000 due to its age and almost pristine quality, along with all of the 1930s fabric.
We could have spent more time in Le Claire, but had to move on.  My ultimate goal stop for the day was to get to Cozy Dog in Springfield, Illinois.
Springfield is one of those iconic Route 66 towns and along this road is the Cozy Dog Drive In, which claims to be the home of the all-American famed Corn Dog!  Though there is some dispute as to the true origin of the corn dog, the Cozy Dog story is that Ed Walmire and his friend Don Strand invented the deep fried battered hot dog on a stick while stationed in Amarillo, Texas during World War II. They called them crusty curs, but, upon Ed's return to Springfield, Ed and his wife decided on the name "Cozy Dog" and began selling them from their house and at the Illinois State Fair in 1946.  Ed's wife designed the "hot dogs in a loving embrace logo" for the drive in. In 1996 they moved their Drive In a bit up the road to its current location and gave it a decidedly Route 66 theme.
And of course, this is why we come to Cozy Dog – not healthy at all, but sure Yummiferous!!
This was officially our final stop on the way home so it was a perfect place to "cozy up" with my sweetheart….
After spending the night in Springfield, Julianne and I booked it back to our old Kentucky Home in Lexington.  It was a long trip, almost 2,800 miles (including side trips into towns, etc.) and over 55 hours of driving time.  We traveled from Rexburg, ID to Shelby, MT (to see the grandkids) and then across northern Montana, south into North and South Dakota, east thru Iowa, Illinois, Indiana and finally home.  This was Julianne's longest road trip ever (her previous one was when we moved from Mesa, AZ to Frankfort, KY in 1991 — that was about 2100 miles).
Now that is how you ENJOY THE RIDE!!
Some roadside assistance provided by friends at……
(1452)