Ahh…now that the BBQ and Chicken Fried steaks are done, how about something sweet?  Nothing like fresh donuts and pies!!  But who needs the chains?  How about some great independent bakeries and doughnut places?  Every Picture Tells a Story, Doughnut?
Voodoo Doughnut – Portland, Oregon
Voodoo Doughnut is probably one of the most unique doughnut places in the world (not just the U.S.)!!  Yes, they have amazing doughnuts, but they also have stained glass windows and even a wedding chapel.  They have been featured on dozens of food and travel shows as well.  And, by the way, make sure to bring cash if you want to eat.  That is all they take.
The menu of great items is abundant and ever changing at Voodoo Doughnut.  On my visit in March 2012, I picked up a few, including their most popular items.  Here is a sampling…
Other unique items include Mexican Hot Chocolate (Chocolate Cake doughnut dusted in cinnamon sugar and cayenne pepper); Captain My Captain (Raised yeast doughnut with vanilla frosting and Captain Crunch); The Loop (Raised yeast doughnut with vanilla frosting and Fruit Loops); Grape Ape (Raised yeast doughnut with vanilla frosting, grape dust and lavender sprinkles); Dirt Doughnut (Raised yeast doughnut with vanilla frosting and Oreos); and there are a few that I won't include in here (they are a bit on the nasty side….)
And did I mention the stained glass and wedding chapel? And, oh yes, the proprietors are ordained ministers!!
Paris Bakery – Paris, Ontario
I lived in Paris, Ontario for a few months in 2008 and it had many benefits. It is a beautiful small town that is sliced by a lovely river (actually, two of them). There is a picturesque downtown area with a number of unique shops and one of those shops opens early (6 AM) everyday from Tuesday to Saturday and provides a pleasant aroma to the early morning air. In this day and age of big box grocery stores and fast food chains with their baked goods, a good Mom and Pop type of bakery is getting difficult to find. Paris Bakery remains one of those "pleasant places."
Unlike the young folks who throw the donuts in the oven at Tim Horton's and Dunkin Donuts and Krispy Kreme, Gerry and Ross have been baking for over 100 years combined. Indeed, Gerry has been in the bakery business since he was 12 years old! And like many other small bakeries, this is a family affair. Vickie's sister Liz works at the bakery as does Gerry's daughter-in-law Heather. There are a couple of other who family members there as well.
Vickie Norris sold the bakery in January 2013, but some of the staff has remained.  Vickie now runs the shop next door, which she has owned for a while, called The Paris Health Store and Yoga Studio.  I think all that go to the bakery may need to visit Vickie's new business to get back in shape after the Chelseas, doughnuts and breads!
Frontier Pies – Rexburg, Idaho
OK, so this place is really a restaurant, but it is called Frontier Pies and that is what is famous for.  So, have some pie….the pictures say it all…
Oh, and I should mention that they make great breakfast, lunch and dinner items too!
Jaarsma Bakery – Pella, Iowa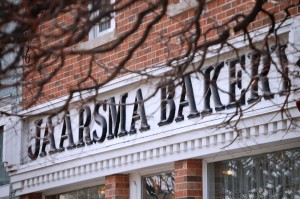 Going Dutch was never so good as it was when I visited Pella earlier this year.  This is Holland-ville USA and the Jaarsma Bakery does not disappoint with Dutch baked treats.  Famous for its "Dutch Letters", their other treats are just as good.
And, when done at the bakery, go get some Pella bologna a couple of doors down…
International Bakery – Omaha, Nebraska
Dutch baked goods are not the only delights out there.  A good Mexicana Panaderia is also a great place for baked goodies and, typically a bit cheaper.  I visited the locally famous International Baker while in Omaha for the 2012 US Olympic Swim Trials.  Made for a great morning breakfast on Mexican Sweetbreads and other delights.
Not everything here is sweet.  There are some great Cream Cheese Jalapeno Bolillos there as well.  These guys are like little soft baguettes filled with cream cheese and jalapenos.  Wowzers!!
And while there don't forget the strawberry conchas.  Everything is 50 cents so you can't beat the price.  But, bring cash as that is all they take.
Dutch Haven – Ronks, Pennsylvania
If you are going to go to Amish country in Lancaster County, there are a few places to visit including Intercourse, Paradise and Bird-in-Hand.  You also need to stop in Ronks on the Lincoln Highway between Intercourse and Bird-in-Hand and visit the Dutch Haven for some real yummy Shoo-Fly Pie.
Shoo-fly pie is basically a molasses pie. Some say it is a variation of the older Treacle Tart. Treacle is a British term for any syrup made from refined sugar cane, which would include molasses.  Gooey sweet goodness.
Presti's Bakery – Cleveland, Ohio
I was born in the Little Italy area of Cleveland.  Unfortunately, I was taken away from there when less than a year old.  I never had the chance to meet my real father.  However, I have been back there numerous times to visit my half brother and half sisters.  And, each time I go to Cleveland I have to make a visit to Presti's Bakery.  Great cannoli and other baked goods.
They also make some great stiffed breads with good Italian meats and cheeses and veggies.  But, nothing tops the melt in your mouth tingle your tongue cannoli.  And, you can get them in a nice box to go.
Along the Less Beaten Paths there are many interesting places to stop and get some goodies.  I wish I had more time to stop at them all.  Here are a couple of more places I could have visited while on the road.  At least I snapped a photo of some of them…
Other Places I could have gone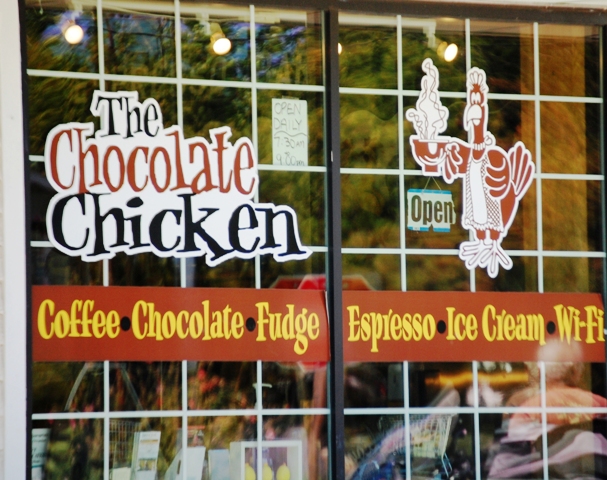 Check back in a couple of days for Part 4: Leftovers – all the other places
(789)