Back in late May 2008 I was on a return trip home from Ontario via Michigan.  I made my way through Central Michigan.  As I had been told to "go to Hell" a few times, I decided I would finally go to Hell…in Michigan (see entire trip report)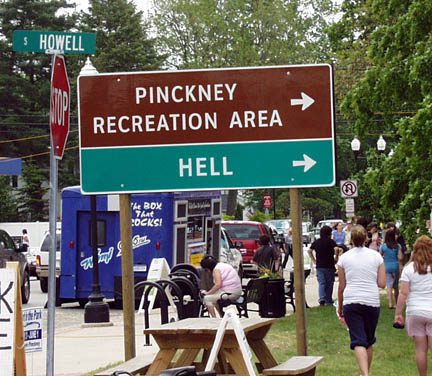 Hell, Michigan is actually not a real town.  It is a "tourist trap" in the midst of the Pinckney Recreation Area, about five miles north of Pinckney, MI.  It is, honestly, quite a scenic drive. To get there from the town of Pinckney you need to take south Howell Rd. (no joke…you get to Hell via Howell Rd. — Hell is in the name of the road).
The village of Hell has made a great effort to make sure you know you were in Hell.  Here are a couple of pictures….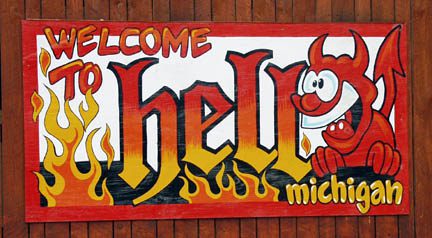 The actual post office is not in Hell, but in Pinckney, though they have a "branch" in Hell that will stamp an additional "Hell Post Mark" on it though Pinckney will also be added to it.
They have some unique souvenirs in the two shops, and a unique ice cream shop (Scream's Ice Cream) and even have a "Mayor".  I liked the bench.  Note that I sat on the "Hell Flames Bench" while wearing my Utah Blaze hat.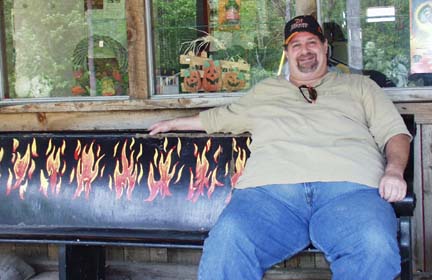 If you ever get to Central Michigan, you should definitely go to Hell.  If anything else, it will be fun for all.  Send a burnt post card from Hell and have some Ice Cream at Scream's!!
Hell, Michigan
(297)