A couple of days ago I was informed I have an opportunity for some work in Idaho, and possibly full time employment.  They want me to come out for two weeks and suggested I drive out instead of fly, especially since they know I love to do that.  So, today (March 8) I drove 848 miles over a 15 1/2 hour stretch, finally arriving in Savage, MN for the night.  Following is the map of the trip:
I left Lexington at about 6 AM and just drove straight through Indianapolis and eventually made my way to Advance, IN.  This is a small town located in Boone County.  I went there because of the name.
Advance is a small town of about 500 people.  Originally platted in 1820 and named Osceola, but, since there was already a town with that name in Indiana, the name of Advance was chosen "in anticipation of the advancement which the coming of the Midland Railway would bring to the community."
Advance Water Tower
Perhaps the funniest thing for me was the bank in town.  The State Bank of Advance is perhaps the funniest name for a bank since my visit to Tightwad Bank in Missouri.
From Advance I moved into Illinois.  I first made a stop at the Salt Kettle Rest Area.  Typically I don't comment on Rest Areas, but I got a kick out of the name:
Apparently, there were pioneer salt mines nearby and thus the name.  From the rest area, I took a quick drive to get a shot of the Possum Trot Supper Club. Once again, I thought it was a unique name.  It really didn't look like much from the outside….
From Oakwood, I drove by Bloomington and then was a few miles from Normal…(what else is new – never quite normal…).  As you drive towards Peoria out of Bloomington/Normal I headed north towards Davenport, IA.
One of those "Roadside Attractions" was in a park in town…a giant Mother Goose…
From Davenport I headed west towards Iowa City and into Walcott, which is home to the Iowa 80 Truck Stop, which claims to be the biggest truck stop in the world…and it is really big!!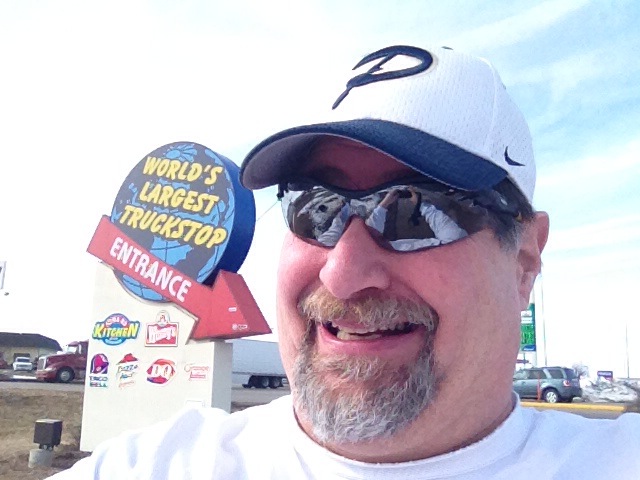 From Walcott I continued west and then north thru Cedar Rapids and Waterloo.  I then made my way north on US 218 towards Charles City, where I came upon the Charles City Wind Farm which has 38 turbines.  It was right at sunset as I passed by so I got the shot at the top of the page and the one below as well.
Just north of there was Floyd, IA, my last stop in Iowa for fuel.  I stopped in the small town of about 300 at a unique truck stop that had a "Floyd Bear" and a wagon wheel.
The main reason for my venturing north on US 218 was to get to Austin, MN, home to the world famous Spam Museum and the International Headquarters for Hormel.  Unfortunately, I got there too late to visit the museum, but I was able to get photos!!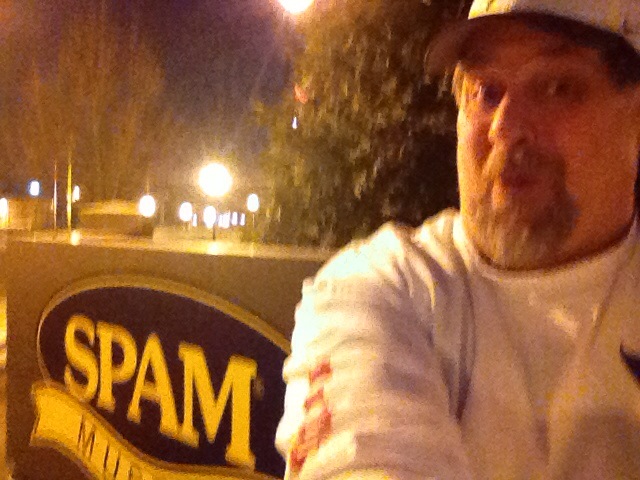 After my brief stop in Austin, I finally made it to Savage, MN, a suburb of Minneapolis, for my overnight stay.
(714)