Back in 2008 I was working at the Toyota Plant in Woodstock, Ontario and made numerous trips back and forth to home in Kentucky.  On one particular trip I visited Sparta, Ontario and on the way went through a small village called Mapleton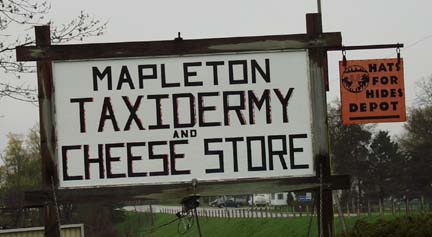 I was stunned to see the above sign, so much so that I had to stop and take a look see. While there, I entered the store and tried my best to get a shot of the nexus of taxidermy and cheese, as shown below: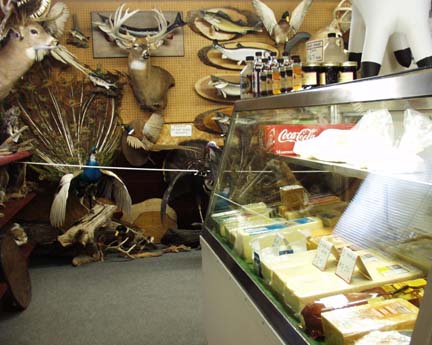 Upon exiting I ran into Dave…he is the husband and runs the taxidermy side.  His wife runs the cheese store.  Dave was out tanning some bear hides.  He told me some interesting stories.
If you are ever in southern Ontario and making your way to Sparta (which is really a cool and unique little town in and of itself — see my Trip Journal), make sure to drop the Taxidermy and Cheese Store in Mapleton.
Mapleton Taxidermy and Cheese Store, Mapleton, ON
(2329)