April 2, 2013: After a good night's rest in Oacoma, we were back on the road heading east with our first planned stop being an early morning visit to the Corn Palace in Mitchell, South Dakota.

View Larger Map – Oacoma, SD to Des Moines, IA
Originally built in 1892 as the "Corn Belt Exposition," it became an iconic landmark and attraction in Mitchell after 1921.  Every year the exterior decorations are stripped and a new theme is created. The work is done by local artists.  The 2013 theme is "We Celebrate" and each mural is a depiction of an American holiday.  The artists use 13 different colors or shades of corn to decorate with. Typically there are over 275,000 ears of corn used annually on the murals. There is a nice list of the history of the murals here.  The Corn Palace has a full sized basketball court inside and even has big name concerts.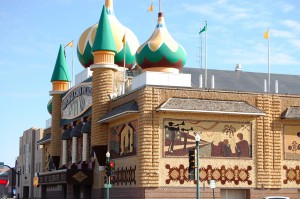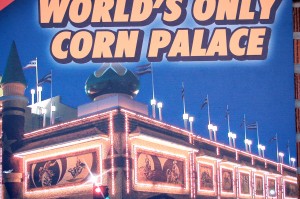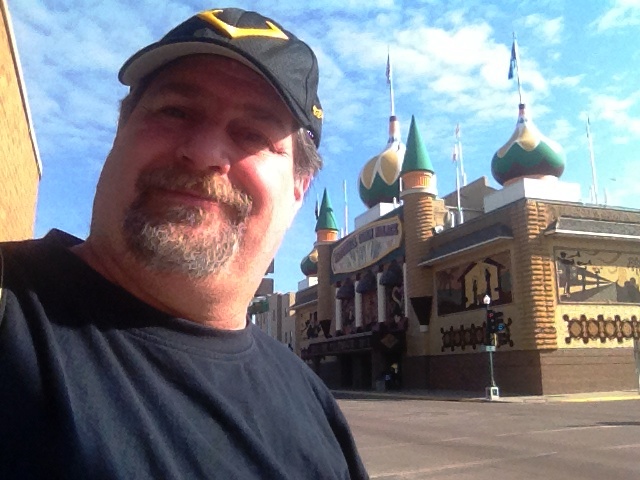 From Mitchell we continued east on I-90 toward Sioux Falls.  Unbeknownst to me, in the small town of Montrose, South Dakota, right off the freeway (near Exit 374), there was an unusual site.  I actually pulled onto the shoulder to get out and get shots of what is known as the Porter Sculpture Park, which includes an amazing 60-foot tall bull's head, which is what got me.  For some reason I had overlooked this one!!  I got a few photos from where I was, but was already past the exit and we were pushing the clock.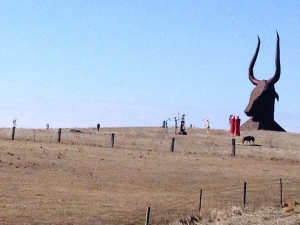 Vultures that represent politicians and buzzards holding giant knives are just some of the over 40 creations that came from the inventive mind of Wayne Porter, a blacksmith who uses his appreciation of history to create metallic works of art at his establishment.  Apparently, Porter spent approximately three years creating the 25-ton bull's head which is mostly made out of railroad tie plates. This could definitely be the largest bull's head statue around.
From Montrose we continued east towards Sioux Falls and then on to I-29 south past Sioux City, Iowa.  Along the way I saw a sign for Onawa, Iowa noting it as the home of the Eskimo Pie. I had to drive through the town of about 3000 and see if we could find where it was invented.  Research shows me that someone named Christian Nelson invented it in 1920.  Interestingly enough, he originally called it an I-Scream Bar.  He later partnered with candy maker Russell Stover to patent the product. (See History here) They also claim to have the widest Main Street in the U.S.A. Though I drove around a bit, I couldn't find a museum or anything…but, there were the hanging banners!!  I wish I could have found an Eskimo Pie!!
After that little detour we continued south until we hit I-680 north of Omaha and headed towards Des Moines on I-80 until we got to Exit 106. I have always wanted to go to Winterset, Iowa, famed for the "Covered Bridges of Madison County" (See a map here).  Robert James Waller made these famous with his book called The Bridges of Madison County. The county originally had 19 covered bridges, but now only six remain.  There are actually a couple of other places in Ohio with quite a few covered bridges including the bridges in Greene County (see map) near Xenia (see my write up of my visit to many of these), the 18 bridges in Fairfield County (also see map) and the 17 bridges in Ashtabula County (also see map here), including the newest and longest, which is the Smolen-Gulf Bridge at 613 feet long (see my photo of this bridge).  There are just over 125 covered bridges still in the United States and I have been fortunate to have visited many of them.  Therefore this was an exciting visit for me.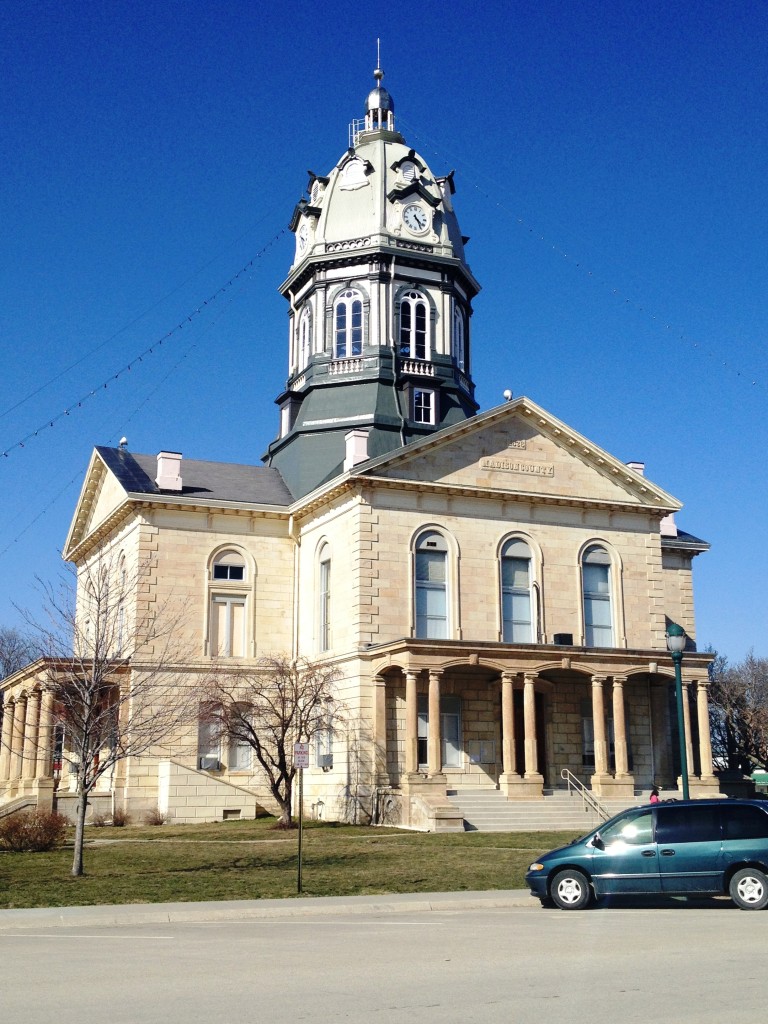 First thing you see in Winterset is the amazing Madison County courthouse! This courthouse was built in 1876. The Renaissance Revival structure has four wings which join to form a Greek cross. The silver-colored dome reaches a height of 136 feet (41.5 m) into the air and it contains a 1500-pound (680.4 kg) bell.  The inside is wonderful as well.  I got to go in for a look see.
Across the street from the Courthouse is the famous Fons and Porter's Quilt shop. Fons and Porter are two famous quilters that have produced a TV Show, the Love of Quilting Magazine and more.  Though I am not a quilter, my wife is and she was excited to visit here.  We found out that the store front was built specifically because people were always looking for one in their travels to Winterset.
Winterset is also famous as the Birthplace of John Wayne.  I did drop by there for a visit.  The visitor's center was closed when we got there, but I did get a photo opp in front.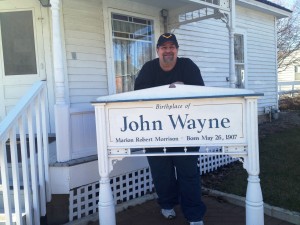 John Wayne was born Marion Robert Morrison on May 26, 1907, the son of Clyde and Mary Brown Morrison.  Interestingly, on May 24-25 (in nine days), the center will host Maureen O'Hara, who starred with John Wayne in 5 of his movies. Over his 50-year career, John Wayne appeared in more than 175 movies from major Hollywood epics to shorts, documentaries, promotional films, television shows and special appearances. Though there are actors who may have appeared in more movies, it is yet to be seen if any actor will ever better Duke's record of being the lead in more than 140 films.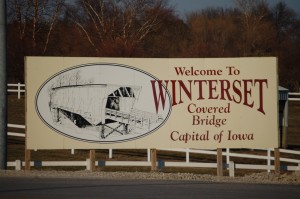 But the real interest in Winterset was the covered bridges.  Our first one was the Cedar Covered Bridge. This bridge was built in 1883 by Benton Jones and is 73 feet long.
Unfortunately, the original Cedar bridge was destroyed by an arsonist in September 2002.  They have reconstructed it and the new bridge was dedicated on October 9, 2004.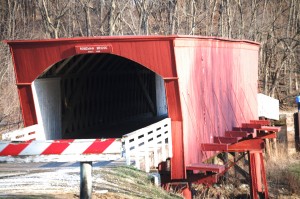 Like the Cedar Bridge, the Roseman Covered Bridge was also built by Benton Jones.  It is 107 feet long. This bridge is also known as the "haunted" bridge. Apparently this is where two sheriff's posses trapped a county jail escapee in 1892. It is said the man rose up straight through the roof of the bridge, uttering a wild cry, and disappeared. He was never found, and it was decided that anyone capable of such a feat must be innocent.  This bridge was renovated in 1992.
The Holliwell Covered Bridge is another bridge built by Benton Jones in 1880.  It is the longest of the Madison County bridges at 122 feet.  It is located in Scott, Iowa.  Like the others, it was renovated in 1995.
Along the way to Holliwell, we came across a nice pond with a Blue Heron ( I love these birds!!) and a nice windmill shot.
We didn't have time to get to the Hogback Covered Bridge or the Cutler-Donahoe Bridge, but we did make it to the Imes Covered Bridge in St. Charles, Iowa.  This bridge was built in 1877 and actually moved three times.  It was moved to its current location in 1977.  this is the oldest of the remaining covered bridges, though it was also renovated in 1997.  It is 81 feet in length.
From St. Charles it was a short jump to I-35 and we went north into Des Moines for the night.  It was a beautiful day going through Iowa.
(599)