THIS POST IS DEDICATED TO THE THOUSANDS WHO EITHER LOST THEIR LIVES OR WERE DIRECTLY IMPACTED BY THE TERRIBLE EVENTS OF SEPT. 11, 2001
All of us have been to a local store or restaurant that is now no longer in business.  Many times we drive by the empty shell of the former restaurant or store and may have a sense of sadness.  I know that here in Lexington I can probably drive by well over a dozen such restaurant locations and probably as many store locations.
World Trade Center – Formerly in New York City
Sometimes, similar things happen to tourist attractions, roadside attractions and the like.  I am pleased that I have had an opportunity to document some of these sites before they disappeared.
While I was working on my Master's Degree at Arizona State University in 1986, I had an opportunity to participate in a conference at West Point and flew into New York City.  I captured this scene from the plane.  It was my first time to ever see the twin towers of the World Trade Center, then the tallest buildings in the world.  Each of them was 100 stories tall. The North Tower was completed in December 1972 and the South Tower was finished in July 1973. These were amazing structures and I could never have imagined that I would witness their destruction while it happened live on television in 2001.  And now I will never forget the event.  In 1990 and again in 1998, I had the opportunity to see these amazing buildings again (see photo at top and the one below)
Last March (2012) I once again had occasion to visit the area while on a business trip to New Jersey.  I was fortunate to get a glimpse of the One World Trade Center (also known as the Freedom Tower), which is being built in the same area as the former twin towers.  This will be built to 1776 feet tall (yes that number is intentional…) making it the tallest structure in the Western Hemisphere and the third largest in the world.
The original World Trade Center was not the only attraction I have seen that no longer exists.
"Spindle" aka Cars on a Spike – formerly at Cermak Plaza, Berwyn, IL
Another one of the famous, but more quirky, roadside attractions that is now gone was known as "Spindle" but probably better known as Cars on a Spike. This sculpture by artist Dustin Shuler, was built in 1989 at the Cermak Plaza in Berwyn, Illinois.  It was one of many kitschy sculptures in the shopping center.  On May 2, 2008 the sculpture was disassembled. The Berwyn Arts Council took the top two cars (the VW was owned by Shuler and the BMW was owned by the original chairman of Cermak Plaza at the time of the sculpture).  I visited the site on August 29, 2007. See my original post here.
I made a video of the sculpture which can be seen on my YouTube Channel.
The impaled cars on the spindle, from top to bottom, were:
1967 Volkswagen Beetle, red
1976 BMW New Class, silver License Plate reads "DAVE"
1981 Ford Escort, blue
1974 or 1973 Mercury Capri, green
1978 Ford Mustang, white over blue
1981 Pontiac Grand Prix, maroon or burgundy
1980 or 1979 Ford LTD, light yellow
1981 or 1979 Mercury Grand Marquis, black
Tallest Can Pile – formerly in Casselton, ND
May and June 2005 were very busy months for my family.  All three of my daughters were married in a six week period.  The first wedding, my youngest daughter, took place in Gatlinburg, TN in late May.  Then, in mid-June, my oldest daughter was married in Cardston, Alberta and one week later, my second daughter was married in Louisville, KY. It was a wild time.
Since it was a big event in Great Falls, MT and Cardston, Alberta, some of us drove.  I borrowed a conversion van from a friend at work and drove to Great Falls with my two sons and my second daughter.  We made a road trip out of it.  Along the way we saw a ton of things, but one of the more unusual was the giant can pile in Casselton, ND (see photo above). The can pile was started in 1933 by a man named Max G. Taubert, who owned and operated a Sinclair gas station at the intersection of then Hwy 10 and Hwy 18. Max began stacking empty oil cans into a cone shape, probably for lack of a better place to discard them.  After a while the "Can Pile" had grown to a height such that it attracted viewers from all around. It eventually gained enough notoriety to have its own website.  
At the time of our visit (see the original blog post here), the can pile was 45 feet tall and had an 18 foot diameter at the bottom.  Who knows how many cans actually were piled on?  Loegering Manufacturing eventually purchased the property it was on and, according to one news article, used three tractors and a bulldozer to move the immense pile.  On May 29, 2008, the pile was shrink-wrapped and then moved to a location near the Casselton Water Tower (see photos here).  According to a news clip from WDAY-TV, the can pile was taken apart in November 2011.
Lynn's Paradise Cafe – formerly in Louisville, Kentucky
Lynn's Paradise Cafe was perhaps one of the most iconic and kitschy eateries in the United States.  Located just down the road from me in Louisville, KY, I had the opportunity to visit there on a number of occasions. My most recent visit was in December 2012, and, unbeknownst to us at the time, was only a couple of weeks before Lynn closed the doors on this unique eatery.  The restaurant opened in 1991 in the Highlands Neighborhood of Louisville. It was started by Lynn Winter. It had even been featured on The Oprah Winfrey Show and Throwdown! with Bobby Flay on Food Network, where Lynn defeated Bobby Flay in a breakfast contest.  The restaurant had been featured on other TV shows and was reviewed in numerous consumer magazines.  On an episode of Man v. Food Nation set in Louisville, host Adam Richman paid a visit to Lynn's to try the restaurant's Quadruple "B" French Toast, which is dunked in buttermilk and black walnuts and topped with blackberry glaze and a Bourbon meringue. He experienced a unique way of grilling the toast when Lynn showed him how to launch it onto the grill with a 19th-century catapult.
On January 12, 2013,  just about two weeks after my family all met there after Christmas for a big breakfast, Lynn's Paradise Cafe closed the doors. (See WAVE-TV article here).  I posted a short article on this blog site about it as well.  Thank goodness I got the Flamingo Glasses and a great photo…
Travelers Club International Restaurant and Tuba Museum – formerly in Okemos, Michigan
On June 1, 2008 I was in Grand Rapids, Michigan to attend an arena football game between the Utah Blaze and the Grand Rapids Rampage.  My good friend, former University of Kentucky wide receiver Aaron Boone, was a receiver for the Blaze and I had gone to visit him.  On the way home back to Kentucky, I made my way to Okemos, MI to visit the fairly well known Travelers Club and Tuba Museum for lunch and a look see.  You can see my original posting here.  The place had different international cuisine served daily, was famous for their buffalo burgers (which is what I had) and, of course, their unique display of Tubas, including a wonderful Sousaphountain. They even had live music.
The restaurant and museum was in a very old building, originally a house built in the 1870s. The restaurant had been a fixture of the community since the 1980s, and, after 30 years, mainly due to financial difficulties, the eatery had to close its doors. (See WLNS TV article here.)  On January 23, 2013 the demolition of the building took place to make way for a new Day Spa.  According to the owners and the museum website, they are looking for a new spot to house the eatery and all of its Tubas.
"Smokesax" – currently in Houston, Texas is being moved
In mid-July 2010, I was on business in Houston for about one week.  While there, I took some of my free time to drive around the town and catch some of the sites.  Included in this was a drive to "The Horn" Bar and Grille (which later became Billy Blues Restaurant and Bar – which has since gone out of business), which had a 70 foot tall blue saxophone made out of car parts, oil field pipes, a surfboard and an entire Volkswagen out front.  "Smokesax" was created by artist Bob "Daddy-O" Wade.  Wade is also known for a number of other giant Texas-sized sculptures including a giant iguana, giant cowboy boots, a sombreros shaped roof top and more (obviously, still a bunch of quirky sites to visit in Texas!!!). The saxophone, originally painted red and then later blue, is being dismantled and moved to the Orange Show Center for Visionary Art in southeast Houston.  These are the same folks that managed the Beer Can House Project (see my post on this blog).
The Smokesax was sawed into 5 pieces as artist Wade oversaw the project on February 28, 2013. (See Houston Chronicle article)  It is now in storage until a site can be determined for it.
The National Mustard Museum – from Mt. Horeb, WI to Middleton, WI
Ironically, on the same day that we visited the Spindle in Illinois, we also made our way to Mt. Horeb, WI to visit the Mustard Museum (see original post here).  This was a fun little spot.  I even got an MBA (Master of Bad Attitude) degree from Poupon U!!
The National Mustard Museum began as the "Mount Horeb Mustard Museum" when its founder & curator, Barry Levenson, started collecting mustards on October 27, 1986.  The actual museum opened in Mt. Horeb, WI on April 4, 1992. In 2009, the Museum moved to its current facility in downtown Middleton, WI, and changed its name to the more encompassing "National Mustard Museum". On August 7, 2010, the National Mustard Museum hosted its annual mustard festival in Downtown Middleton after years of putting on National Mustard Day in Mount Horeb.The detailed history can be seen here.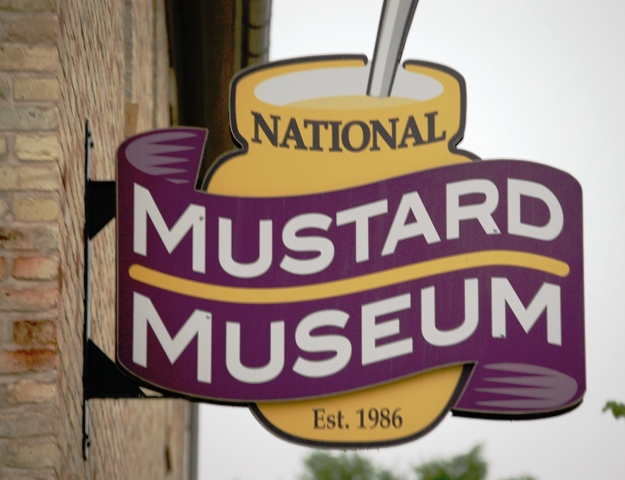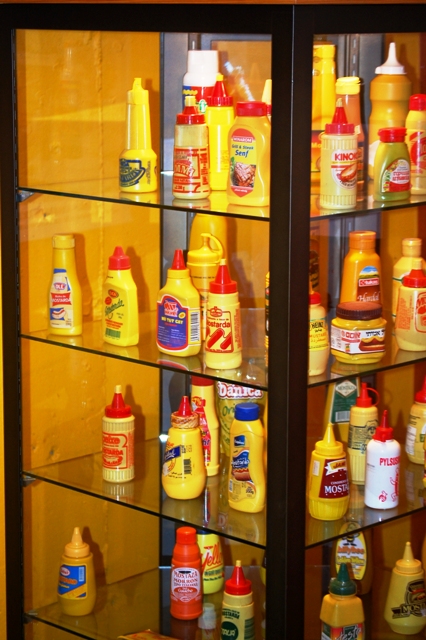 Hopefully some of the other places above will have the same success in moving as the Mustard Museum has.  I am tired of being saddened by visiting places and then seeing them go the way of the world.
(1039)