I embarked on Day 2 of my trip to Idaho – left Savage, MN in the midst of snow and fog.  The roads were scary heading northwest to Fargo, ND.
Today (March 9, 2013) was the second leg of my trip to Idaho.  Today I drove from Savage, MN to Miles City, MT.  I drove 781 miles over a 14 hour stretch.  Following is the map of the trip.
My first stop along the way was for gas.  I stopped in Avon, MN…..which, I discovered, is also the home of the Lake Wobegon Trail.  The trail is 46 miles long and 10 feet wide.  It opened in 1998.  Avon is the home of the Lake Wobegon Trails Association.  Garrison Keillor, the creator of Lake Wobegon and the Prairie Home Companion show, lived in Avon at one time.
From Avon I proceeded north to Ashby, MN.  This is home to a large metal Coot statue, which is what I was looking for.  But, as I often discover, the town is also a quaint little place.
The coot statue stand outsides of town on Highway 78 and represents the largest Ashby area sportsmen club, Coots Unlimited (a parody of Ducks Unlimited).  There is more about it here.
From Ashby I proceeded north to Fergus Falls, MN.  The roads were a little better and my GPS had me taking a back road.  I was headed first to the Continental Divide Marker and site, which was built in 2000.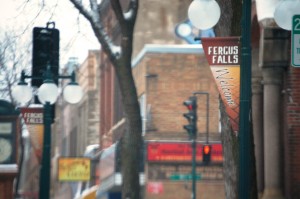 From Fergus Falls I continued heading northwest on I-94.  The roads were still icy, but had cleared up somewhat.  I then took a quick swing off at Exit 38 (Rothsay) to get a photo of the 14 foot tall, 9200 pound cement prairie chicken statue.  I have been here before (as well as a good part of the drive thru North Dakota – see my posts from 2005) .  This time I was able to get a more unique view of the giant bird.
I then got back on the freeway and fought more fog.  But the fog and snow make for interesting views that one would not see on a clear day.  Many trees took on shadowy shapes.
Along the road I found a road sign that provided the perfect description of this day's trip had been to this point – Downer, MN (exit 15 heading north)
Ironically, shortly after Downer, things cleared up again, just in time for my entrance into the border town of Moorhead, MN. Moorhead has a Norwegian population and is home to the Hjemkomst Center, which houses a replica Viking ship and the beautiful is the Stave Church, a symbol of the Norwegian heritage in the Red River Valley. Built by Guy Paulson, the church is a full-scale replica of the Hopperstad Church in Vik, Norway. Norwegian Stave churches were built just after the close of the Viking Age in Scandinavia in the 1100 and 1200's. The technique of using vertical posts-or staves- had been modified over time to become wooden architectural works of art.
From Moorhead I entered Fargo, ND and continued heading west on I-94. I passed thru Fargo so I could get to other sights along the road (and to also get out of the miserable snow!!) My first stop in North Dakota was Jamestown. Jamestown is known as the "Buffalo City" and one can find all kinds of Buffalo things, including "the World's Largest Buffalo" statue the National Buffalo Museum.
The "World's Largest Buffalo" is a in Frontier Village. It was commissioned in 1959 by local businessman Harold Newman, and built by art students from Jamestown College, under the supervision of art instructor and designer, Elmer Peterson. It is visible from Interstate 94, overlooking the city from above the James River valley. The statue is 26 feet tall, 46 feet long and weighs 60 tons. It was constructed with stucco and cement around a steel beam frame shaped with wire mesh.
Further west on I-94 is the small town of Steele, ND. There are about 800 people and one silver Big Bird! "Sandy", as she is known, is a 40 foot tall 4.5 ton bird.  It was constructed of rolled sheet metal welded onto a steel inner frame, which was built in three different sections.  It was created in 1999 by James Miller, a resident of Arena, ND.  The crane was built to bring attention to the fact that the Steele area is one of the best birding destinations in North America. Sandhill Cranes are some of the migratory species that nest here.
I loved the shot above.  Tons of fun…
I finally made it to Bismarck, ND where I had a couple more interesting stops.  Bismarck borders the Missouri River and there are a number of parks along river road.  One is Keelboat Park.  There is a large four headed thunderbird statue at the park and it is uber impressive. The sculpture represents a powerful American Indian spirit that depicts thunderstorms.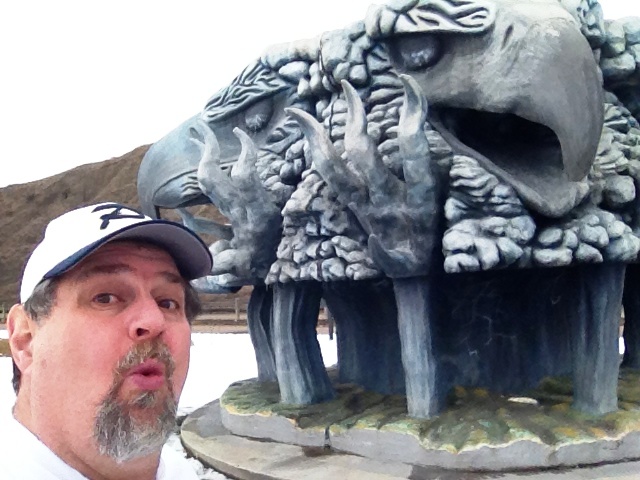 In Pioneer Park along the Missouri River, there is a fairly new sculpture called "Rising Eagle", which was made by art students from the United Tribes Technical College.  Dedicated in 2007, it was vandalized in 2010 and had to be rebuilt.
As I continued west of Bismarck on I-94, the weather was finally cleared up and there were sunny skies.  The views looked great.
A couple of miles before Exit 72 (about 20 miles east of Dickinson, ND) I could begin seeing the following HUGE sculpture by local artist Gary Greff (from Regent, ND).  Greff began his projects in 1989 and continues work today through donations from local people and many others. Named "Geese in Flight," it is the gateway to the famous "Enchanted Highway" and is listed by the Guinness Book of World Records as the "World's Largest Scrap Metal Sculpture."
Built in 2001, "Geese in Flight" is 154 feet long and 110 feet tall and weighs over 78.8 tons.  The largest flying goose has a wingspan of 30 feet. Gary Greff used oil tanks and oil well pipe to make it.  I kind of envision the big "eye" in the middle as looking over the Enchanted Highway.
The Enchanted is a 32 mile stretch of road beginning at Exit 72 on I-94 and then going south through Gladstone and then all the way to Regent, ND.  Along the way there are a number of sculptures.  Greff even made dozens of small geese that line the nice dirt road up to the Flying Geese sculpture.
From the Flying Geese, I did go south through Gladstone and then on for another 10 miles.
Then about three miles down the road, is "Deer Crossing," the second of the huge sculptures down the road.  The buck is 60 feet long and 75 feet tall.  The doe is 50 feet tall and 50 feet long.  These were erected in 2002.
I continued south in hopes of seeing more and made it ten miles to the "almost" ghost town of Lefor.  The prairie scenery was great.
I made it to Lefor and gave up as I had more traveling to do to get to Miles City, Montana for the night.
There are a number of other giant sculptures along the road south of Lefor, including a 60 foot grasshopper, pheasants on the prairie (including a 60 foot long pheasant), a 51 foot tall Teddy Roosevelt and a "Fisherman's Dream", which was completed in 2007 and includes a metal fish leaping up 70 feet through a metal pond surface.  Someday I hope to get back there to see all of these.  At the end of the road Greff has built an Enchanted Castle Hotel for the final enchanting stop.
I returned back through Gladstone and took a quick spin through the town and caught one final small statue: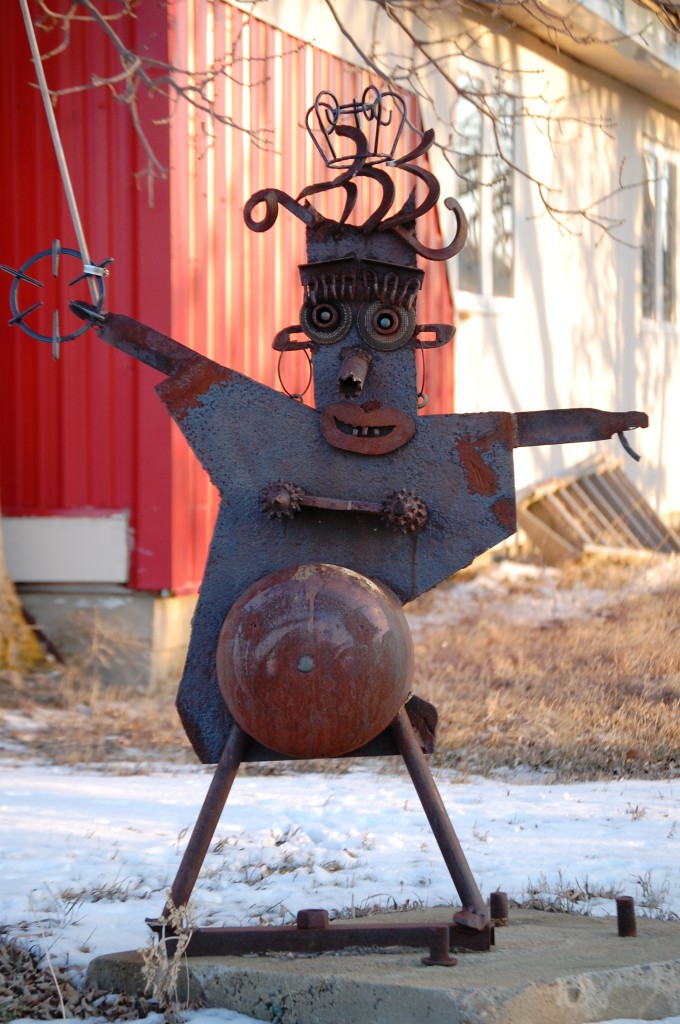 I made way to Dickinson and then on to the border of North Dakota and Montana.
I was surprised to see that there was even a Beach in North Dakota!!
After a long day I made it to the hotel in Miles City, Montana.  Hotel sweet hotel…..
(1010)