March 28, 2013:  On our way back to Kentucky from Rexburg, Idaho we made a three day detour to Shelby, Montana to visit our daughter and her husband and their 4 children. Thanks to our new best trailer tires we were able to go on rough roads quite smoothly, and I have to say till date they have been my best investment on the RV. During our three days here, we were very busy with a trip to the base of Glacier National Park, a drive around town capturing the "Neon Essence" of Shelby, and a trip north to Sweetgrass, just south of the Canadian border, where we also visited a Hutterite colony and learned of their amazing communal ways.  This post will cover these activities through photos and some details.
Shelby is a city of about 3400 people (including 6 of my children/grandchildren!!). It was started as a railroad town and continues as such today.  Named after Peter O. Shelby of the Montana Central Railway, the town really got its start in 1891 when the Great Northern Railroad was making its way to the Marias Pass.  The story goes that the builders threw a box car from the train and called it a station.
One of the endearing characters of Shelby is all of the old neon signs still hanging around the town. Obviously, as an Amtrak town, there are still lots of motels in Shelby.  As well, it is a nice pit stop for many.
There are lots of bars and restaurants as well…
On a previous trip I took the kids to see a movie at the Roxy.  Old style theater still in operation.  It was fun.
Here are a few other scenes from around the town itself…
Vietnam War Veteran John Alstad of Sunburst created most of the pieces at the Veteran's Memorial in Shelby. He estimates he spent nearly 700 hours working on the various pieces at the monument, the most prominent of which is the Iwo Jima piece.
As I noted, Shelby is a railroad town.  As I drove around town getting the shots above, we were stuck at a track for nearly 20 minutes as a long train made its way to a grain elevator.  The photo at the top shows the train at the elevator.
I have always enjoyed looking at the graffiti on trains.  You see it all over the country.  Here are a few examples I got as the train moved slowly past us.  I couldn't go anywhere, so, why not?
After the trains, I drive a bit east of town on US 2 to get a view of Shelby from the hill.  We came across this unique Historical Marker.
One of the evenings Julianne and I went with my daughter and her husband to the "premier" steak place in the Shelby area. Trust me, you would never know how good this place was inside by driving by it!!  It is in an old whitewashed building literally in the middle of nowhere in a place called Dunkirk, on the outskirts of Shelby.  All that is indicated is the sign.
Once in the place, it is a whole different story.  Linen napkins and nice china. The water glasses were the nice stem ware one sees in an upscale restaurant.  The prices are also synonymous with ritzy…  But so was the meal.
After a nice dinner, we walked out of the restaurant and OH WHAT A VIEW!!
The next day my son in law Aaron, his two boys and I all took off west towards Glacier National Park.  Though it was officially closed, we were able to get close enough to the mountains to catch a beautiful sunrise.  I will have a special photo album of shots of the mountains, but will include a couple of them here as well.
We left early, while still dark and headed towards Cut Bank and Browning.  We then took Hwy 464 towards Duck Lake. As we headed north towards Babb, the sun began to rise.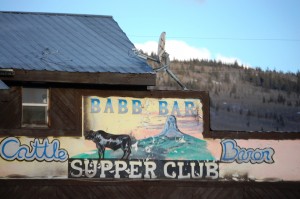 After the sun was finally up, we backtracked to Babb and dropped in at the Leaning Tree Cafe, which is about a mile from the US 89 Junction.  It opened at 8 AM and it was time for a great meal.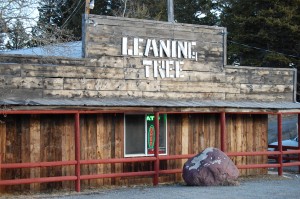 You can see a complete gallery of the Glacier N.P. Mountains –> Click Here
We headed back towards Browning, and along the way saw a couple of bison.  Not too good of shots, but, I didn't want to get out of the car
We made our way into Browning, Montana.  The mountains were beautiful, but I was actually quite shocked at all of the garbage in the fields (mind you, I come from Lexington, KY which always looks like a park)
From Browning we headed east again towards Cut Bank, we took a small detour off of US Hwy 2 to visit the Camp Disappointment historic site and monument near milepost 233.  There is a historical marker as well as a large obelisk monument dedicated to the site.
The biggest disappointment is all of the graffiti on the obelisk.  I don't know why people feel like they need to vandalize monuments like this.
From Camp Disappointment we continued east into Cut Bank.  The skies were clear blue and it was a great opportunity to stop and get some close up shots of the Blackfoot Warriors, made out of scrap metal. These were created by native Blackfeet artist Jay Polite Laber and were commissioned by the Blackfeet Tribal Leaders.  They were created in 2000.  He actually created a set of these to welcome travelers into the Blackfeet reservation from all four directions — the northern site is at the US/Canadian border on US 89,  the eastern site in East Glacier on US Hwy 2, the western site is near Cut Bank on US Hwy 2 (these are below), and the southern site is on US 89 near Birch Creek and Heart Butte.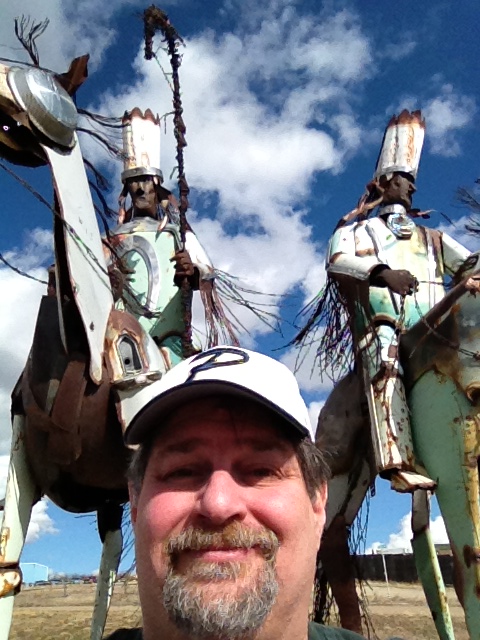 From the warriors we went through town and made the requisite stop at the world's largest penguin!
Being another train town, there is a large Train Bridge in Cutbank
Even though we had a busy morning and got into Shelby around noon, we were then again back on the road north towards Sweetgrass and off to visit a Hutterite colony, which was an amazing experience.
From Sweetgrass we headed west on a dirt road  towards the Hillside Colony of the Hutterites.  AS we visited we learned some amazing things: the Hutterites are almost totally communal.  All of them share everything.  Unlike the Amish, the Hutterites have adopted technology and are fabulously industrious.  They make their own clothes, they grow most of their own food, they all live in a small community.  Their homes are sparse.  It should be noted that I took a number of photos, with their permission, but, by their request, very few and only select photos are being added below.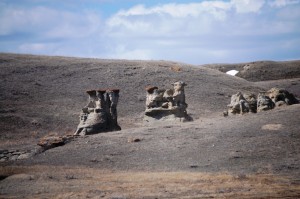 We saw the above rock formations on the way to Hillside.  However, these were just an inkling of the bigger ones, which I have visited in the past.
As seen above, the Hutterites in Hillside Colony live in the prefab buildings as seen above.  The apartments are small and have little or no belongings in them.  Each of the steps represent a single domicile.
One thing noticed immediately, there are no stoves, ovens or refrigerators in the homes.  They have a couple of chairs, perhaps a bench, a bed or two and some dressers.  The bed frames, dressers, kitchen tables, the cup holder above and the chairs are all hand made in the community.
All meals are eaten together as a community — men on one side, women on the other.  The women prepare the meals while the men work out on the farms, the chicken coops, the woodworking section, or otherwise.
Overall, we were so impressed about the kindness of the Hutterite folk.  We picked up some potatoes, home made sausage and some of their wonderful bread.  They are as industrious as bees and ants and all share completely.  Each individual has their own assigned jobs, many for life.  It was a great visit.
One last little visit was made while we were in Shelby. We got to visit Harry J. Benjamin, who makes all kinds of trains and pedal cars.  Below is his "De-Railed" Steam Engine, which he shows off in parades in northern Montana. This engine pulls a set of cars that reaches 60 feet long.
Well past his 80's, Mr. Benjamin, a former farmer and mechanic, is famed in the area for building things out of junk parts and pieces.  He has built a number of trains, some other vehicles for the local high school and a number of children's toys.
Here's a video of one of his creations:
But, I must admit, the BEST part of the entire visit to Shelby was this….
Next stop…heading home via US 2.  Watch soon for the next great adventures on Less Beaten Paths.
(5788)