Today (Feb. 15, 2013) was one of those delightful days when I got to enjoy most of my passions…mainly travel, photography and music.  Ultimately, the main reason for the trip was to go to Elizabethtown to see Tommy Emmanuel and Michael Kelsey.  But, I took the long way to do it.  Following is a map with the stops I made.
View Gravel Switch to E-Town in a larger map
I drove from Lexington thru Danville and then into Perryville.  I made a quick drive through the old Merchant's Row area of Perryville.
After Perryville it was on to the small village of Gravel Switch, KY.  grew up around a gravel quarry on a spur line of the L&N railroad around 1870.  There is not much there now but a small Amish school, a Post Office, a bank and a few houses.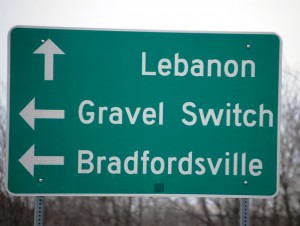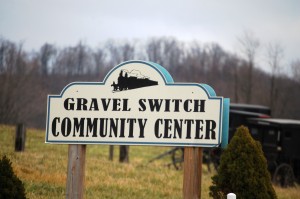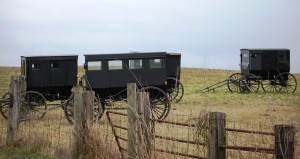 Not far from Gravel Switch is perhaps the most famous place in the area…Penn's Store.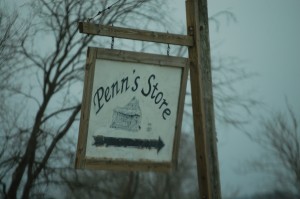 According to its website, "Penn's Store is the oldest country store in America being run continuously by the same family. It has been in the Penn family since 1850." There is a nice writeup about it here.
The drive from Gravel Switch to Penns Store Road is a bit complicated, but, once I figured it out, it was easy… After passing through Gravel Switch, follow Hwy 243 until you get to a fork in the road where 243 goes left and Hwy 337 goes strait to Bradfordsville. Follow Hwy 243 past the Forkland Community sign and continue until you go over a big bridge at the point where Forkland Rd. continues to the left and Hwy 243 goes right.  Immediately after the bridge you will see the signs above.  Penn's Store is straight ahead.
When I arrived I was met by some very friendly white Labradors.  They greeted me with total friendliness.  Unfortunately, those were the only greeters as the store is currently closed for repairs from a big flood a couple of years ago.  They hope to reopen in mid-April 2013.
Perhaps one of the more famous stories is the dedication of the Penn's Privy outhouse.  The outhouse was built in 1992 and is made of poplar and has a tin roof.  It is a "one-holer." The dedication was held with several musical friends lending their talents to the days festivities. The shows were headlined by Chet Atkins and Billy Edd Wheeler (who wrote the Grammy awarded Johnny Cash song "Jackson"). Billy Edd also wrote the song "Ode to the Little Brown Shack Out Back".  The Chet Atkins connection is pretty unique since the evening show with Tommy Emmanuel will have some dedicatory pieces for Chet.  Read the amazing story of Chet and Tommy here.  In Nashville in 1999, Tommy was honored by his mentor, Chet Atkins with the title of "Certified Guitar Player" for his contribution to fingerstyle guitar, a rare distinction shared by only four other people in the world (Jerry Reed, Steve Wariner, John Knowles and Paul Yandell).  More about that later.
I soon left the little knob in the woods and headed back up to Hwy 337 to venture towards Bradfordsville, another quiet little town of a little over 300.  Needing a pit stop, I stopped at Patches Mini Mart…an old style country gas station and Mom and Pop type of cafe.  As I found out when I went in, "Patches" is the nickname for owner Patsy Morgeson, who is the chief cook and bottle washer too.  She was a charmer and let me take some photos inside.  I was hungry and though on a mainly vegan regimen, I broke down to have her speciality – fried bologna sandwich with egg and cheese.  Yes, the total antithesis of vegan…  But it was really really good.
I was reminded of Antsy McClain's song "Mom and Pop Don't Work Here No More," as I spoke to Patches.  Located only 9 miles from Lebanon, KY, she is seeing many of her clientele go there to the fast food joints and big box store.  She told me that she is not sure how much longer she will be able to stay in business. I hope Patches and the hundreds of others like here across this country can stay in business so that they can live the dream.
I soon found myself back in the car headed toward Lebanon as many of Patche's customers now do.  But, Lebanon, the geographic center of Kentucky, would have only have one stop on the road for me…the National Cemetery…in the dead center of Kentucky!!
Lebanon National Cemetery, is the final resting place for more than 800 Union Civil War veterans, many of whom are buried as unknown soldiers.  Like its sister cemetery Camp Nelson in nearby Nicholasville, KY, the site is comprised of nicely laid out rows of white marble grave markers of both the unknown soldiers as well as many other veterans.  In fact, as I was taking this photo, a procession was on its way into the grounds for another veteran burial.
From Lebanon I made my way to Raywick (per recommendation of Patche's and her assistant at the Mini Mart). This small village was first settled in 1778 by Henry Prather and James and John Ray.  In 1811, Lloyd Ray married a Nancy Wickliffe, thus the name Raywick.  Raywick is also home to a large Catholic Church.
Heading west from Raywick I meandered towards Hwy 527, also known as Scott Ridge Rd.  Saw this sign on the way out of town…notice it says "Your Leaving"…  LOL
The drive up Scott Ridge is very scenic as it takes you high up on a hill overlooking the valley below.  At the crest of the hill is a cement lookout, which lets you see over 100 square miles of the scenic Rolling Fork River valley below.  Using my iPhone Panaorama feature, I captured the following photo of the view below:
Here are a couple more from my Nikon:
I proceeded south on 527 to Maple Road and turned right.  I followed this windy path of a road to Social Band Road (what a name…)
I continued north to Atilla Rd and then West to KY 210 (Campbellsville Rd.). I went north on that road to Hwy 1192 (Bailey Rd) and followed it all the way to Mt. Sherman Ward Rd.   This road winded southward eventually passing Buck Rub Lane and Fatboy Blvd. You gotta love the names of some of these roads.
Further down the road I came across this little white house with a sign "God's House" on it.  I am assuming it is a church, but I wondered if God's house is really this small….
This eventually led to Hwy 61, which took me into Mt. Sherman.  Like many of the other small towns, there is a Post Office and a couple of other buildings.  I got a kick out of the Outer Limits Youth Center…I conjured up images of the old TV show "The Outer Limits." (catch a video of the Intro to the show from the 1960s)
I continued west on Hwy 1906 towards Magnolia.  Very rural scenery continued.  I love old barns and reminders that I am in Amish country.
I followed KY 1079 west and then proceeded north up Munfordville Rd. to Hwy 1517 (Oak Hill Road).  At that corner I came across an old log cabin, shown below.  This is one of those delights you run across while traveling the less beaten paths.
I headed north up Oak Hill Rd until I got to Talley Oak Hill Rd, where I tool a left and then the next right was my second goal location of the trip (first was Penn's Store).  Here I came across Wonderland Rd. The name drew some interest for me…but there really isn't much of a wonderland on this road.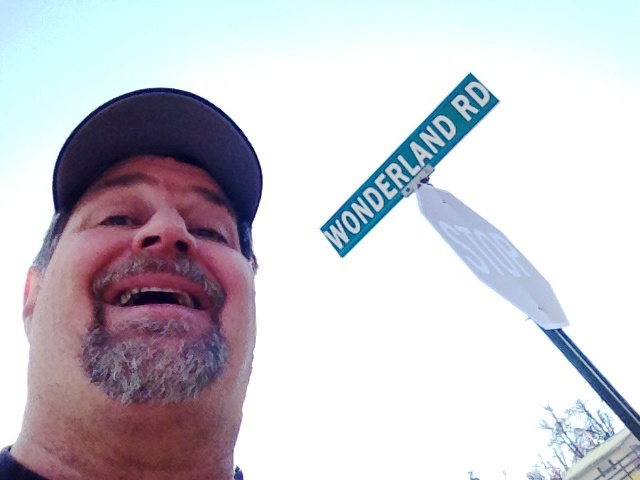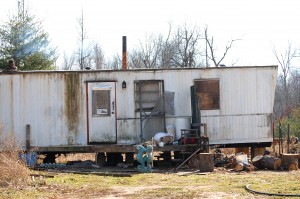 The trailer above had smoke coming out of the smoke stack, no apparent electricity and only a bike parked in front.  Makes me wonder who is really living in wonderland….
Wonderland Road ended up at Sonora Road, where I took a left and that brought me to US 31W.  I headed south towards Bonnieville and then into Munfordville.
Before getting into downtown Munfordville I drove by a Barbecue place called Big Bubba Bucks Belly Bustin BBQ Bliss.  I have always loved the names of local BBQ joints (and I have also enjoyed stopping at them to eat).  Unfortunately, I was running out of time so I wasn't able to stop. Catfish, fried pickles, sweet tater fries, collard greens and BBQ.  Hmmm…
My third planned stop on this trip was Kentucky Stonehenge., a small replica of the fabled Stonehenge from England.  Actually, it really isn't quite a replica, but is fun and worth the stop.  Located just off of Interstate 65 at exit 65, go just a bit south on US-31 towards Munfordville.  Turn right on Maple St (where you should see the sign above) and then left on Lynn Ave.  You will see it in the back yard of a house on the right.  The owners have even created a parking area for visitors.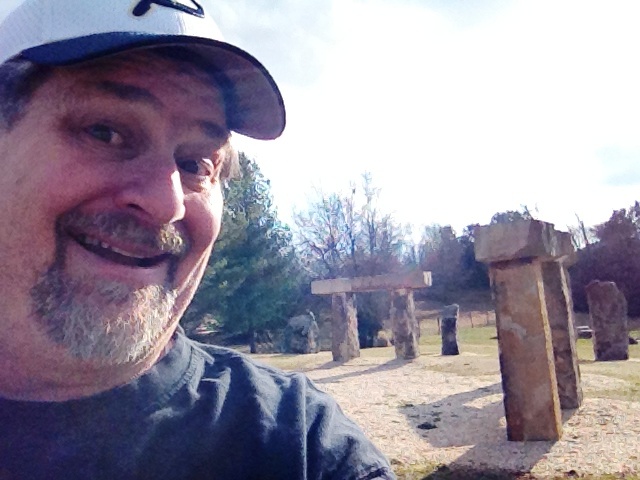 From Stonehenge it was off to the REAL reason for the trip.  Northward to the PAC in Elizabethtown for Tommyfest 11 where the storied and double Grammy nominated Tommy Emmanuel, c.g.p. would be performing with 2004 Guitarmageddon Winner Michael Kelsey.  This program is produced by my good friend Eddie Mattingly and his Trinity Music Productions as part of his Acoustic Guitar Master's Series.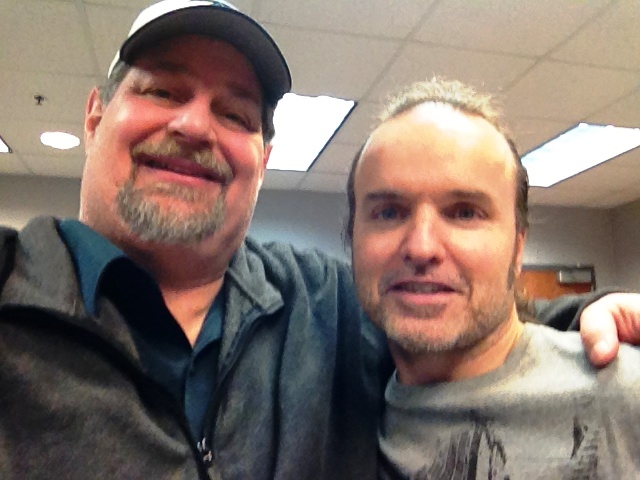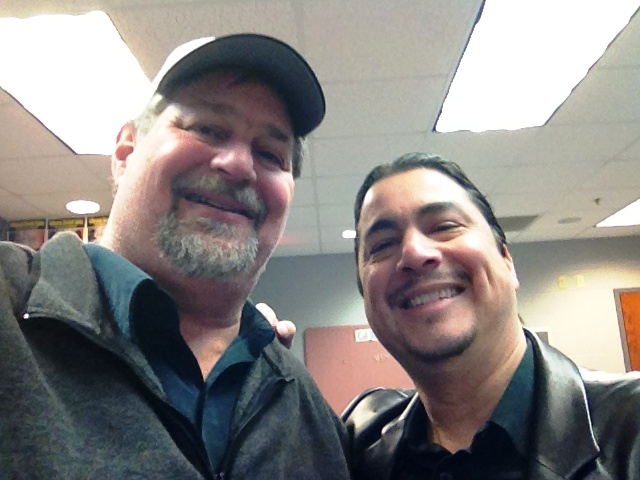 Over the years I have become close friends with many of these performers thru Eddie and Antsy McClain.  I was thrilled to also see Edgar Cruz, an amazing Flamenco guitarist from Oklahoma City who came out to the show.  I also visited with Bardstown, Kentucky fingerstyle guitarist Pat Kirtley. All of these guitarists are the best in the business, but also are amazing entertainers.  All have performed at the John Hardin Performing Arts Center due to Eddie Mattingly's great efforts.  Their posters adorn the wall of the PAC Green Room:
Needless to say, the show was not only magical, it was breathtaking.  Both Michael, who opened the show and then Tommy, played sets that astounded the crowd and kept us totally entertained and amazed at the same time.  It is by far the best musical show I have ever been to.  And I have been to some pretty amazing ones over the years!!  The photography from the show was by my good friend and photographer Marc Manning.  One of the best horse photographers in Kentucky, he is also a premiere concert  and landscape photographer.
This day began with me Enjoying the Ride, but ended with me on an absolute high from the music, the friends and the road trip.  It was an unforgettable day!!
Though I can't add video from last night's show, you may want to check out some of the videos on YouTube and on their sites.
Tommy Emmanuel: Locomotivation from NAMM Summer 2009
Tommy Emmanuel, c.g.p. Website
Michael Kelsey: From Guitar Center Guitarmageddon 2011
Check out my Michael Kelsey photos from a show in Frankfort, KY in 2010 here
(1423)