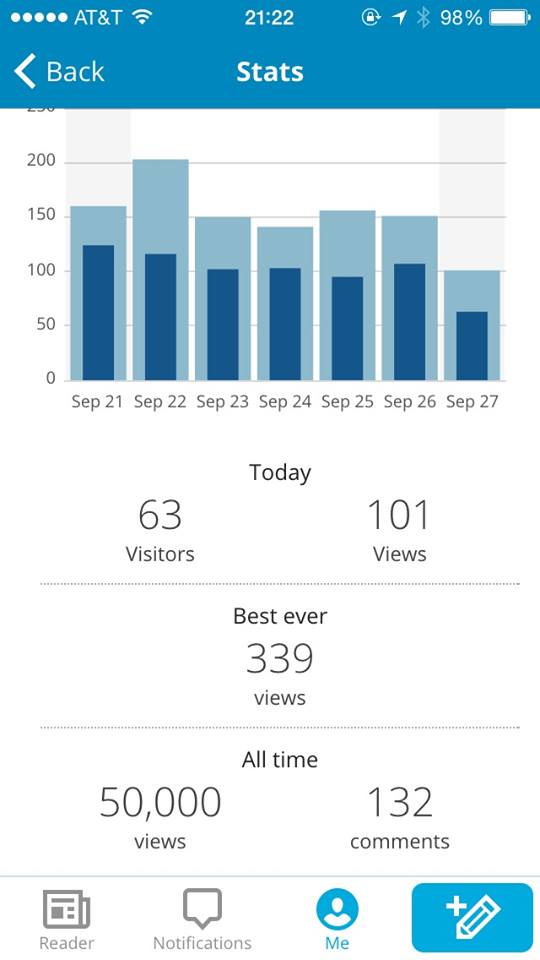 A few days ago my Less Beaten Paths blog hit the 50,000 viewer mark. This is after about 22 months of being live. (see iPhone screen capture at left)
In comparison with other similar travel blogs, I am probably way far off in terms of viewers. But, honestly, that is not as important to me as what this milestone means and what doing this blog has had in terms of an impact on my life.
I started writing my Less Beaten Paths travel blog in January 2013. At that time I had been unemployed for a couple of months from a job that I dearly loved and truly excelled at.  It was a shock for me to be let go, but I was among many that weekend.  Nonetheless, I was discouraged and I needed some sort of an outlet to bring me back.
For years prior to that I had been writing what I called a travel journal on my sumoflam.biz site (see the archives HERE).  But it was not interactive like a blog,  though it had lots of content and lots of photos and got a number of visits.
While at home looking for work in early 2013,  I began taking a little time every day to learn the blogging platform WordPress and write travel blog content that I had fallen behind on. Initially I started with items from my earlier travel journals and integrated them into my new WordPress blog. (Early examples HERE).
I was very happy and satisfied with the kind of work I was getting out of my WordPress blog. There was so much more functionality and I was able to get people to comment, I was able to share on Facebook much easier and overall it was a much nicer and cleaner experience for me.
Back in January and February 2013 I felt I was lucky if I got 300 to 400 visits each month (actually, I had 364 in January 2013 and 442 in February). Even then, it was kind of exciting that I was getting visits to my blog without much promotion.
As I traveled across the country on business trips or on family trips, I would continue to write in that blog and I have continued to do so to this point. Unlike my experience in my early months, I now get upwards of 150 to 200 visits on my site every day (my all time daily views record is 339 on August 8, 2014) . This is very exciting to me especially as I get communication from many of those that visit my blogs and ask questions, make comments or just tell me that they would like to go someplace and can I give them some advice.

But, that is not the "rest of the story," as Paul Harvey used to say. What I did not realize back in January 2013 was that starting this Blog would help me to reinvent myself and actually began a whole new career path for me.  And that is where this 50,000 viewers is the real Goldmine for me. The incentive to learn WordPress and build a better blog opened up many doors.Jumping forward to October 2014, I now do three blogs, but I also have developed and now manage a number of WordPress sites, do WordPress development and even manage a couple of full blown WordPress networks. (See my list at Sumoflam.biz) My Sumoflam.biz Site has even been converted to a WordPress site (with much of my old content archived as it was in old HTML.) I even changed and updated my well-known Sumoflam logo from the Sunburst Logo in one of the images above to the two logos seen in the image below
Indeed, I have been blessed to reinvent my career path and am now seeing it change in a positive direction before my eyes.  But that it not all…  Catch the sequel to this on my Sumoflam's Singlewide blog …  Living the Dream.