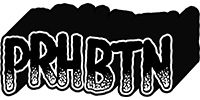 Once again the great team at PRHBTN and all of its supporters have brought 4 great artists into Lexington to add 4 more lovely wall murals around Lexington.  These artists from New York, Italy and Portugal all visited Lexington and left with their art work colorizing more of town. (See updated map of all murals in Lexington embedded below)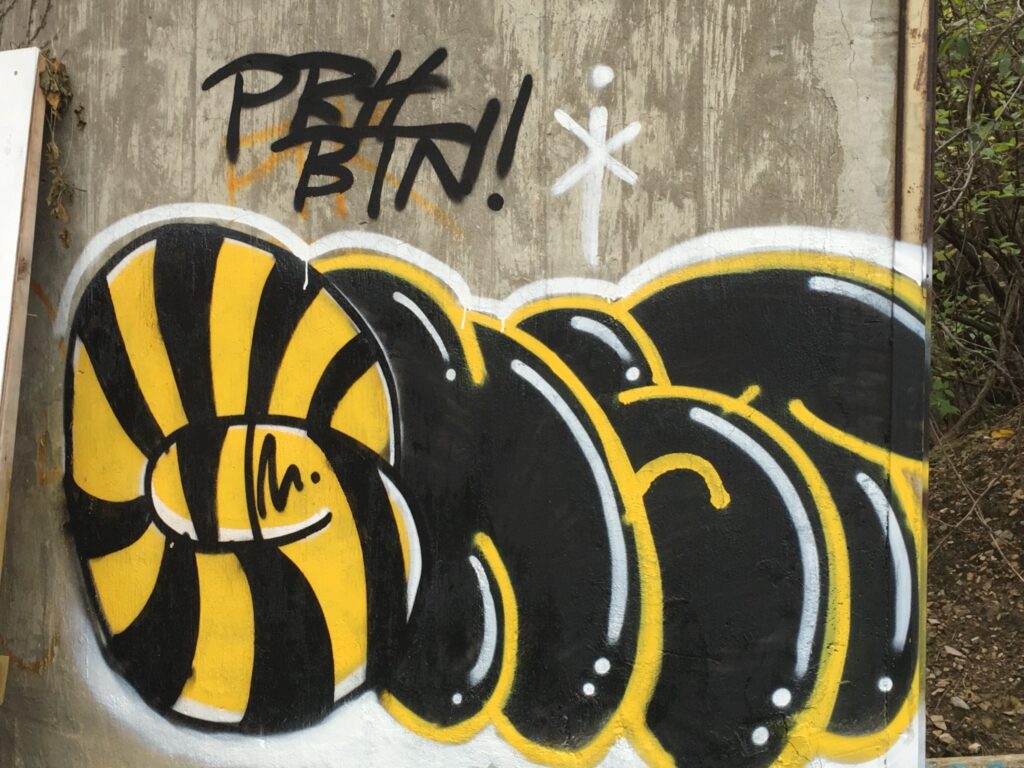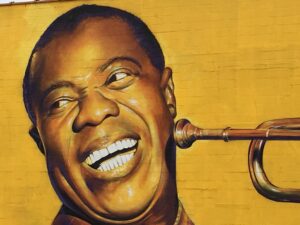 The first week of November I made my rounds to grab shots of these murals. I have done similar posts in the past ( see 2014 2013a 2013b ) and this is the 2015 version.
Unlike the art the past couple of years, we actually have a piece that is probably closer to conventional wall art rather than the street art influences, especially in Portuguese artist ODIETH's marvelous Louis Armstrong mural that sits alongside the Lighthouse Ministries Church on Elm Tree Lane across from the Lyric Theatre.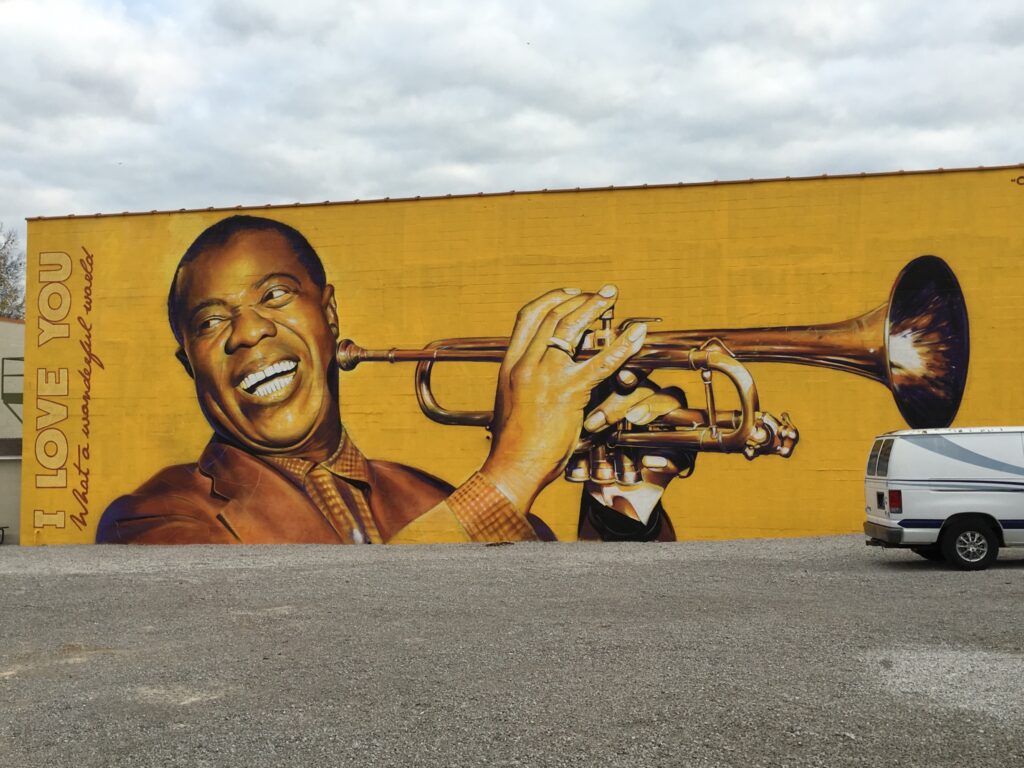 Head to downtown Lexington and the Victorian Square Parking Garage on Main and Broadway and there is now a third mural decorating the walls.  This time it is on the wall facing Main Street and the mural can be seen from the corner of Main and Broadway.  This mural was for the Audubon Society and is of a wild turkey.  The art was done by Italian mural artist hiTNES.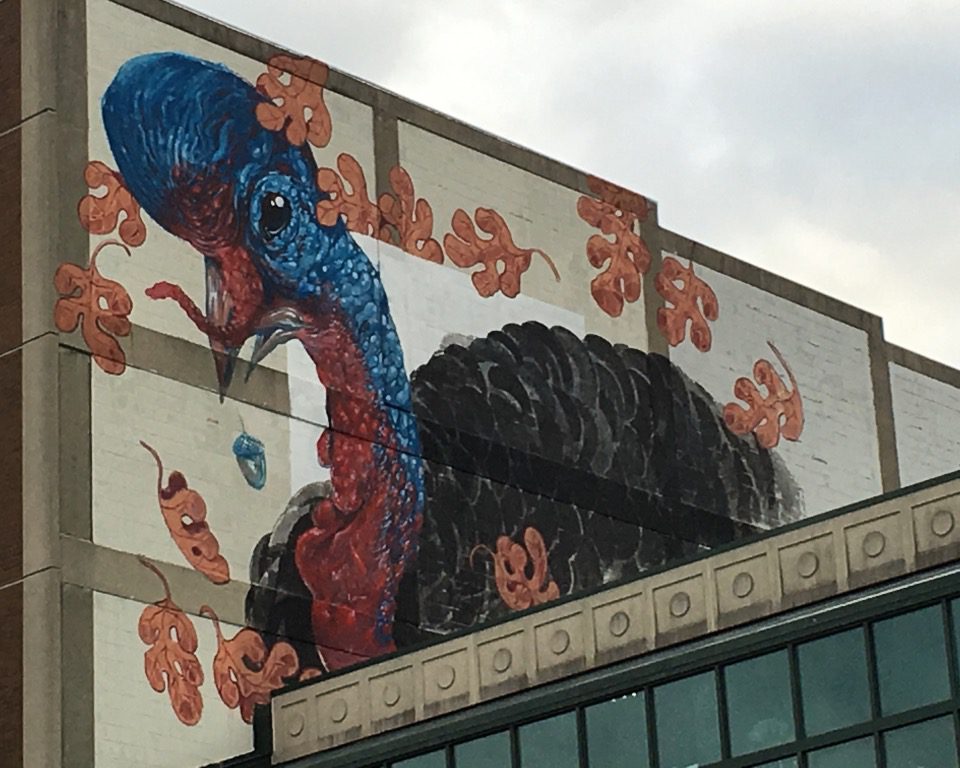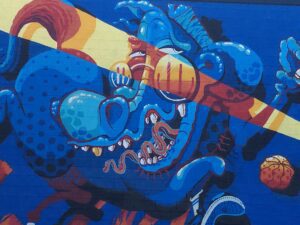 The most unusual of all of the paintings comes from New York artists Sheryo and the Yok. I am not sure what this one is all about, but I am thinking there is some basketball involved.  It is located on the side of the Oneness Boutique on Jersey St., near the corner with Maxwell.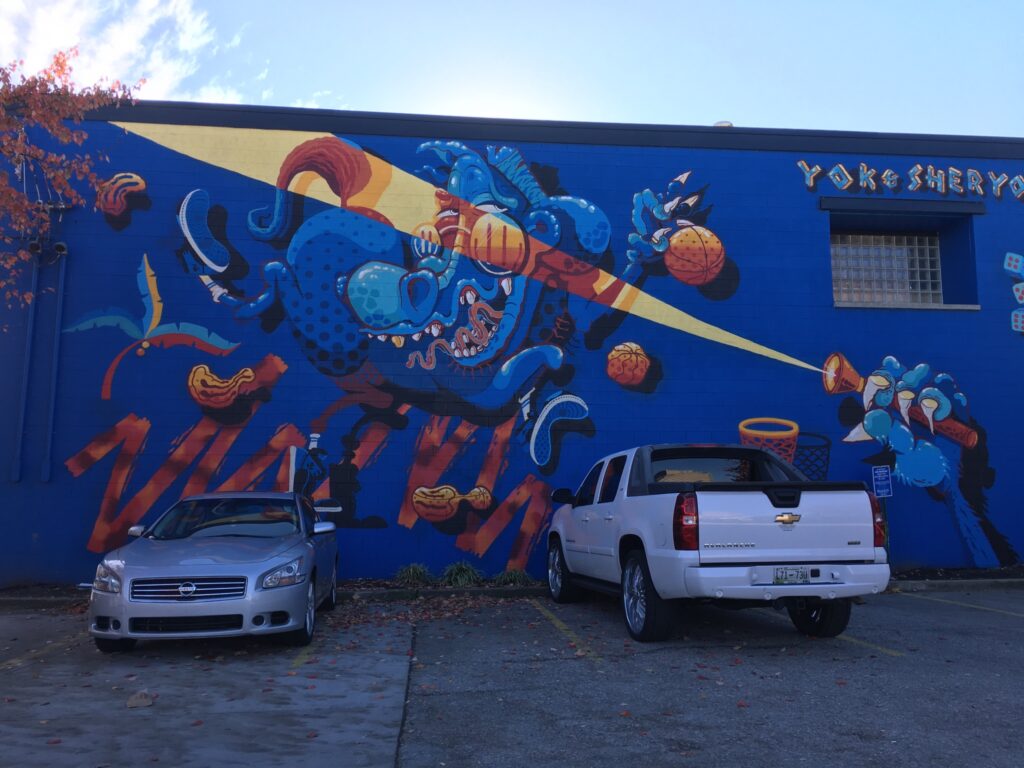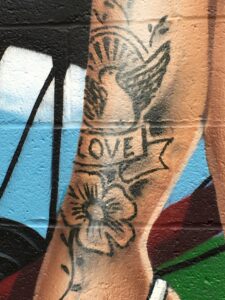 And finally, the most retro and perhaps most colorful of all the paintings was the one done by Portuguese street artist MrDHEO.  This three section mural titled "What Goes Around Comes Around" on the side of Chase Brewing on Third Street and Jefferson is classy and intricate.
I really enjoyed looking at all of the detail that went into this.  And to think it was all done with spray paint is amazing to me.
Here are a few shots of this one.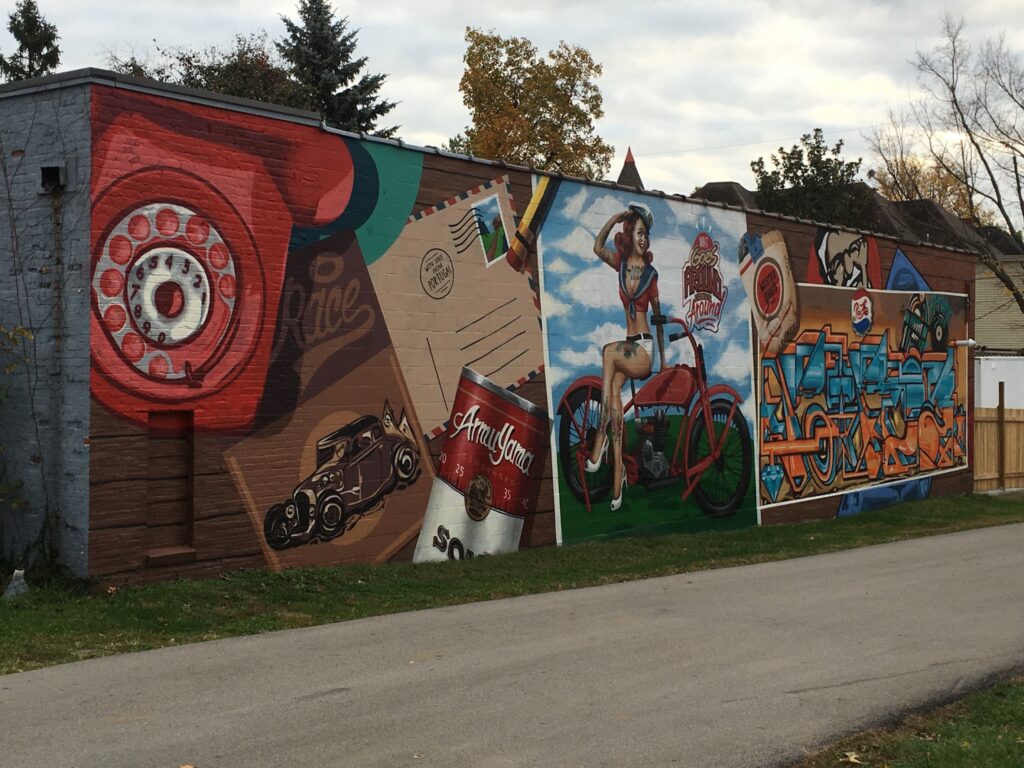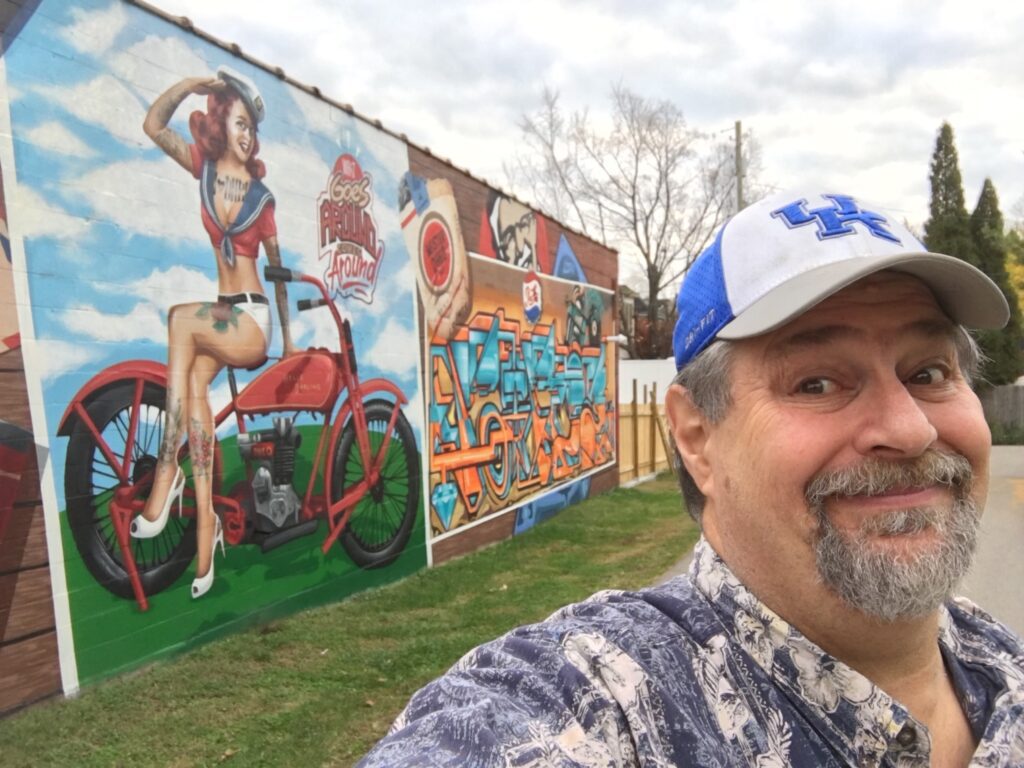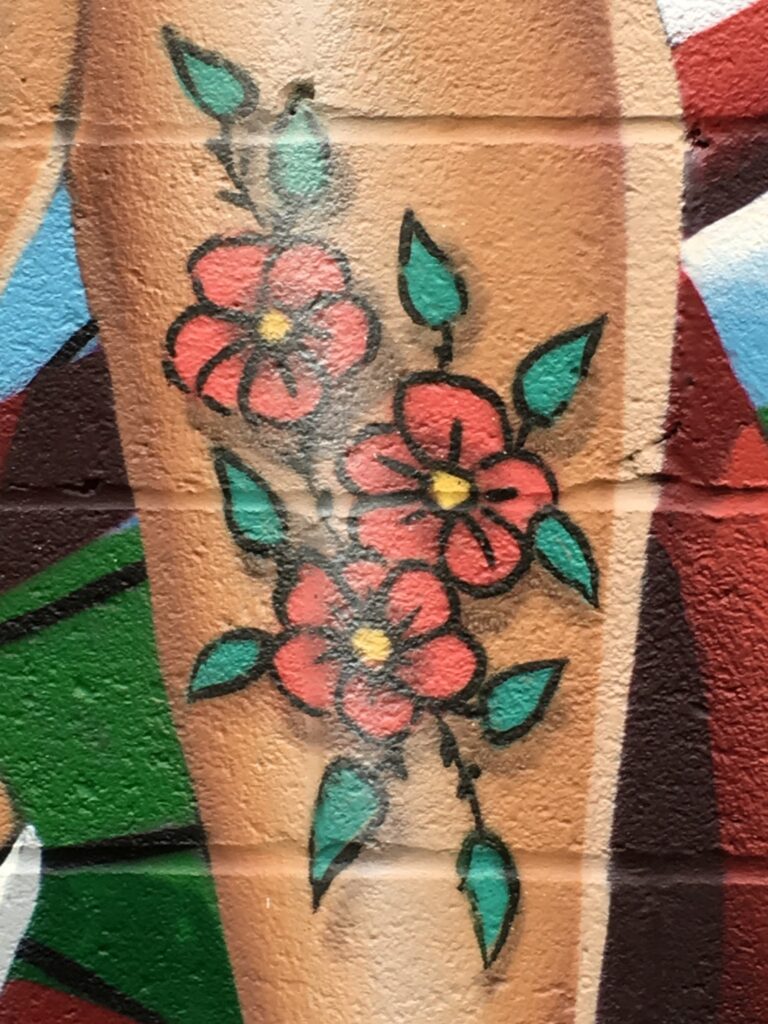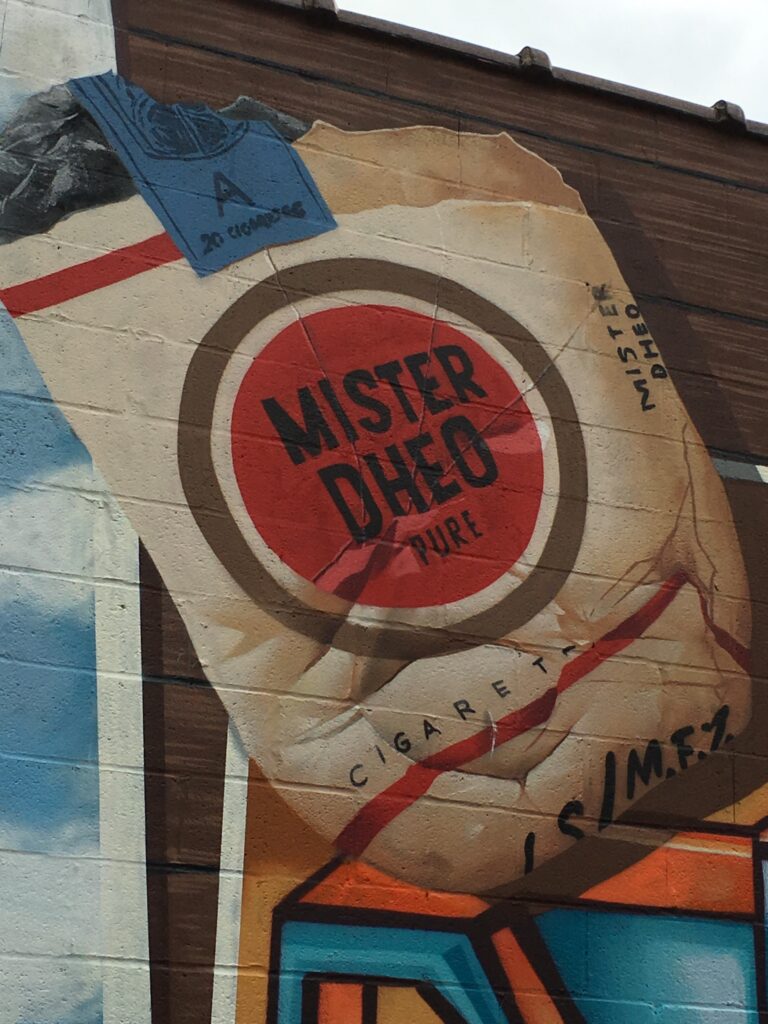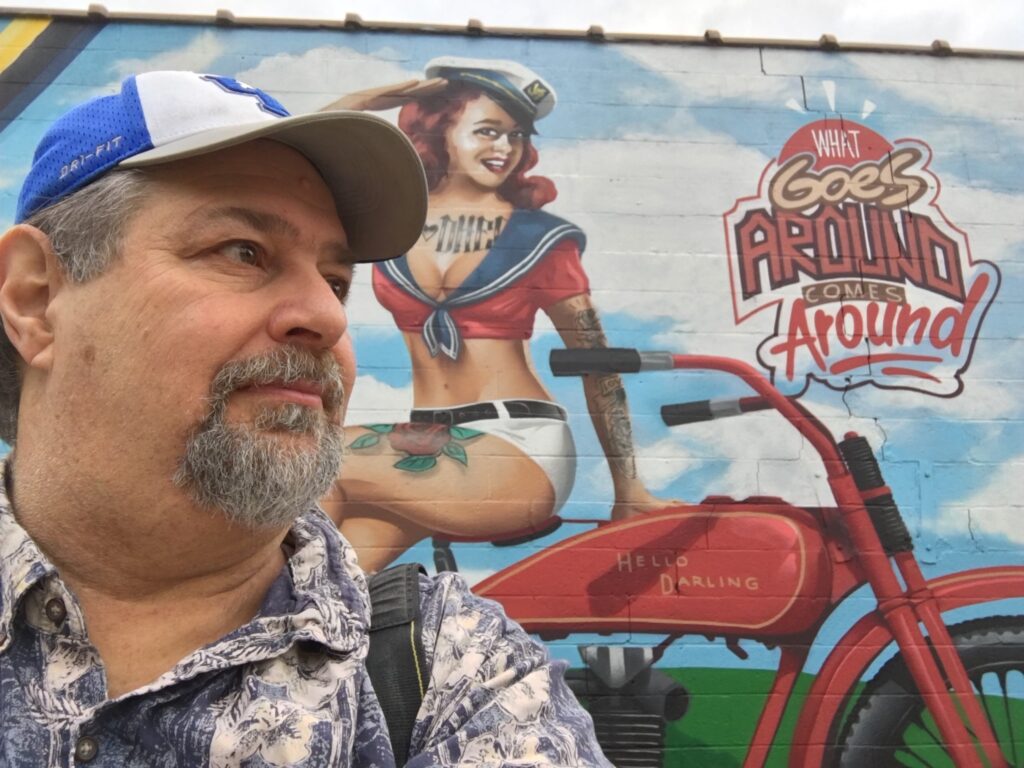 Another tradition that seems to be associated with each annual PRHBTN gathering is the unscheduled and probably unplanned smaller pieces of art that find there way into the Lexington Distillery District, especially by the area where Ethereal Brewing is located on Manchester Dr. in Lexington.   This year some large cement cubes appeared and art has been added to them.  Among the artists that I could actually track down, one was Louisville's Brrr.  Brrr is known for his popular bug-eyed character which you can see below.  A visit to Louisville will likely have an appearance of Brrr's art show up.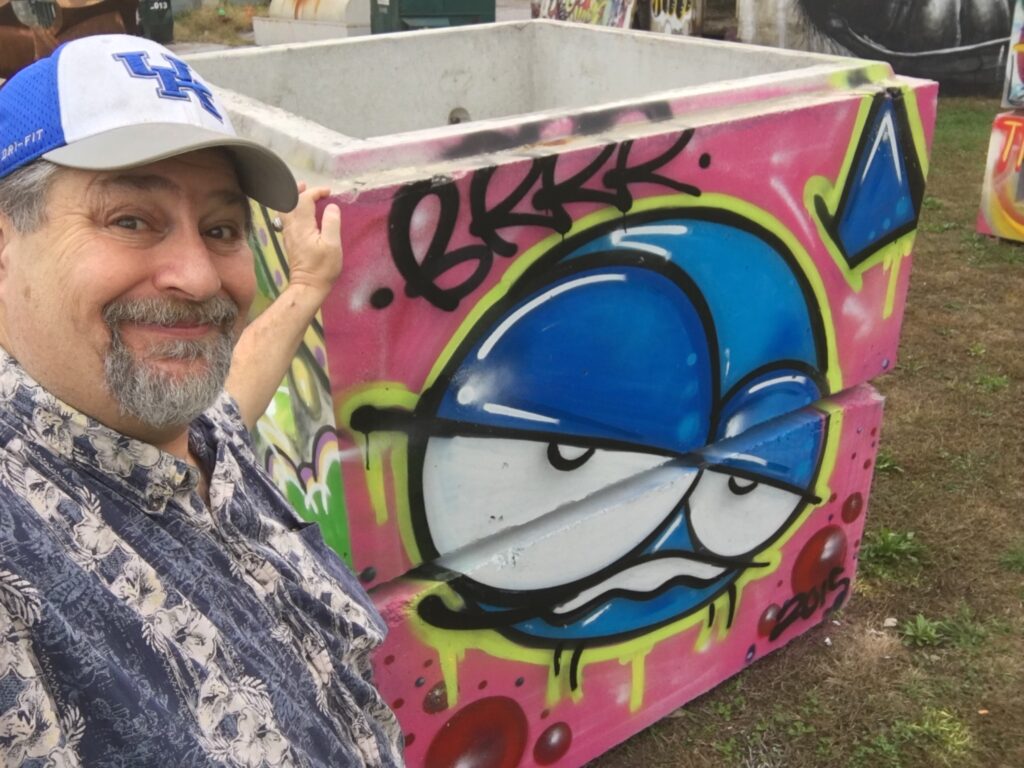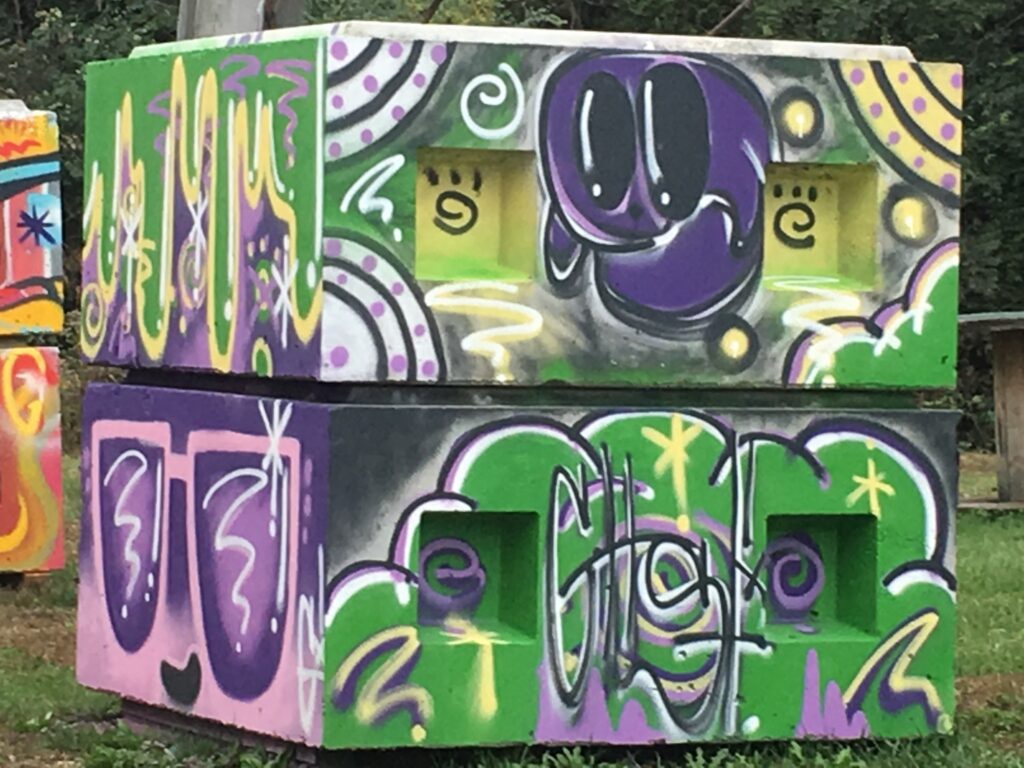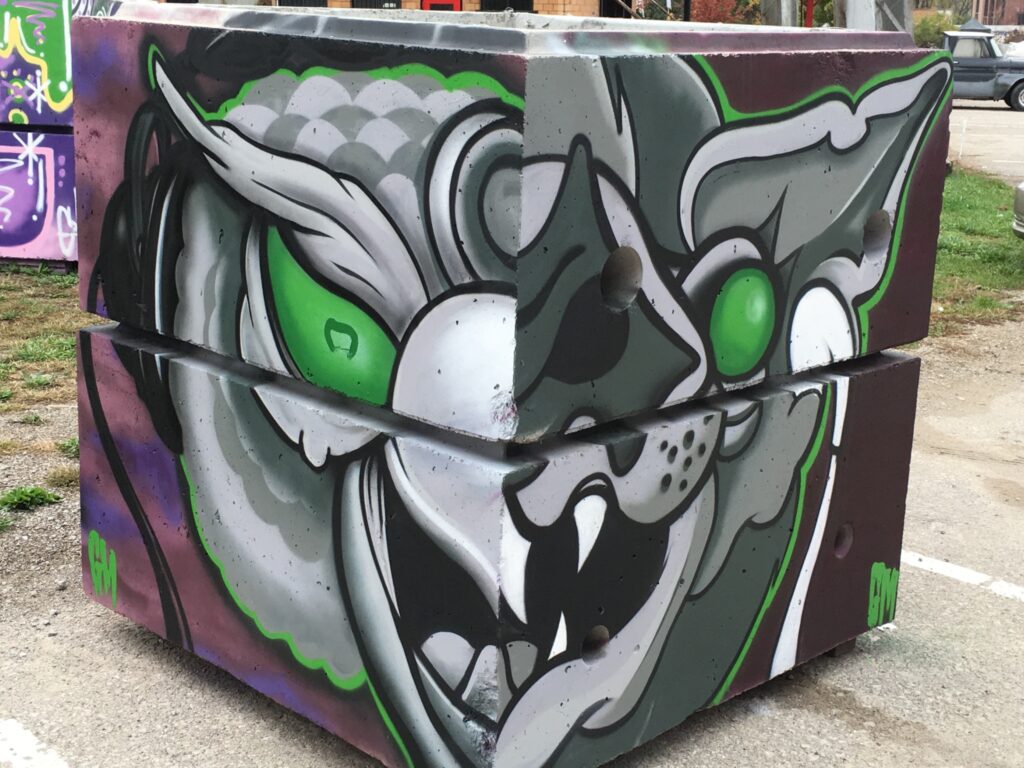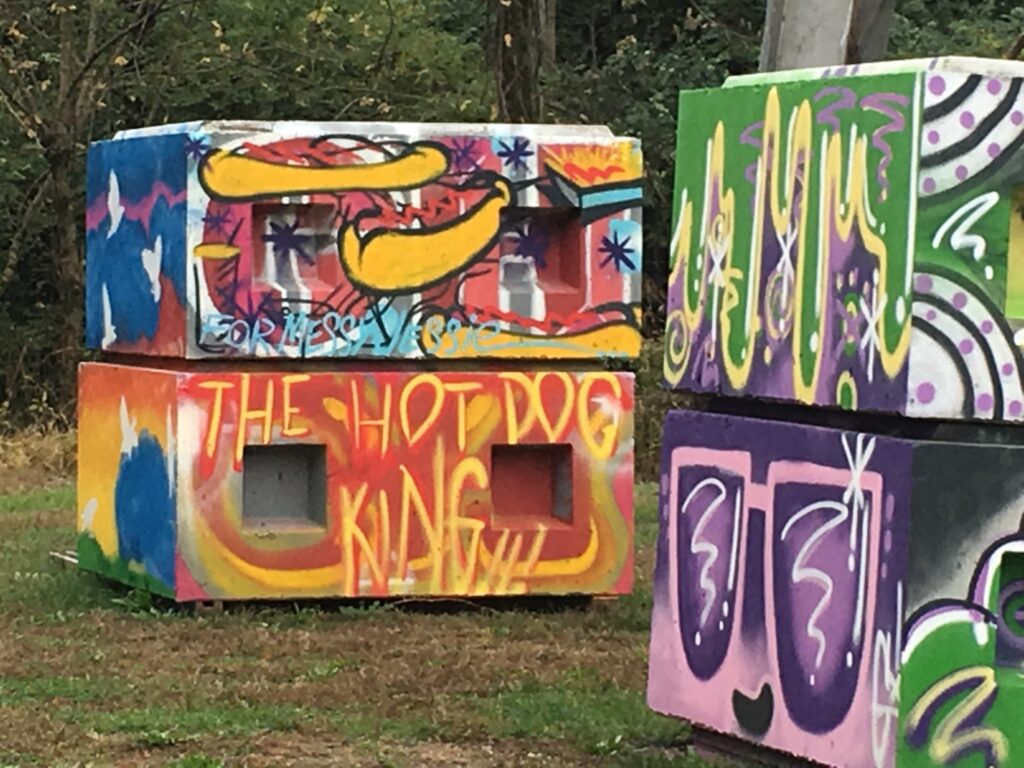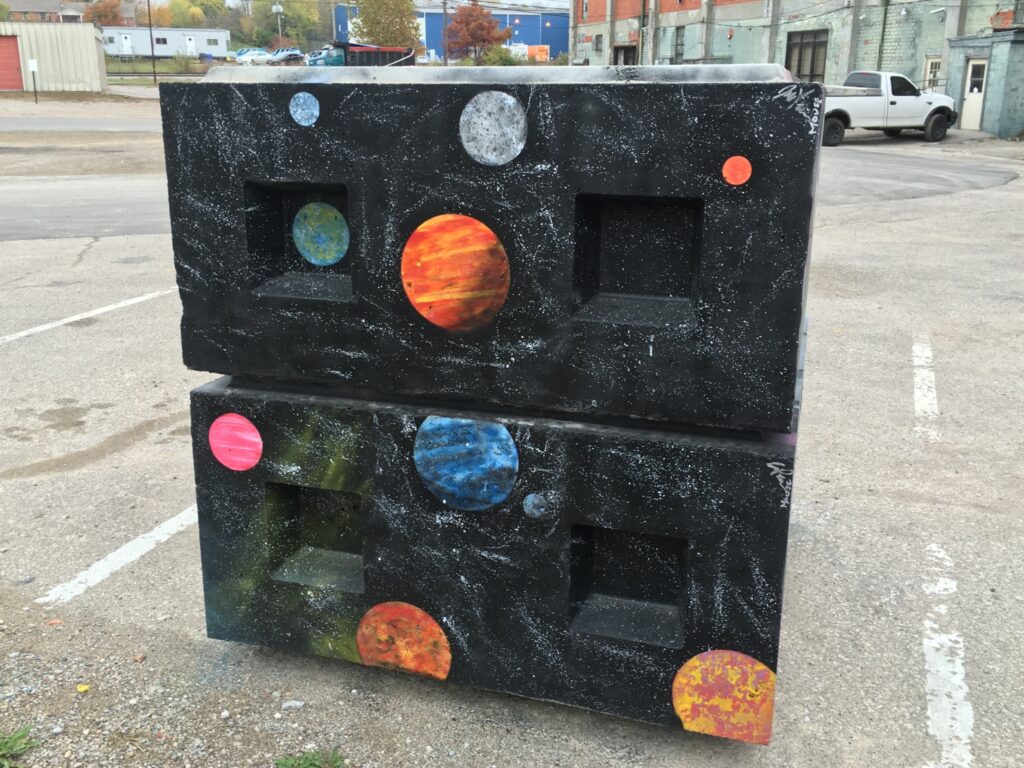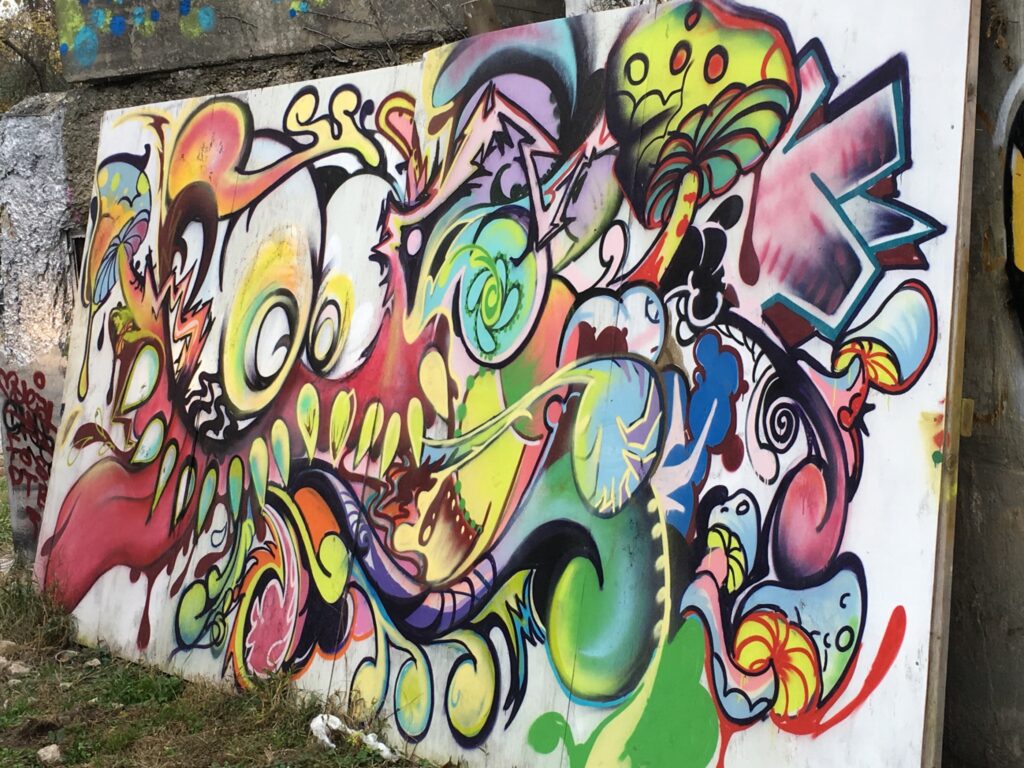 Of course, besides the PRHBTN group's great work, there has been other lovely and unique wall art popping up in Lexington since my last post in 2014.  Three really nice works that I have come across include the following: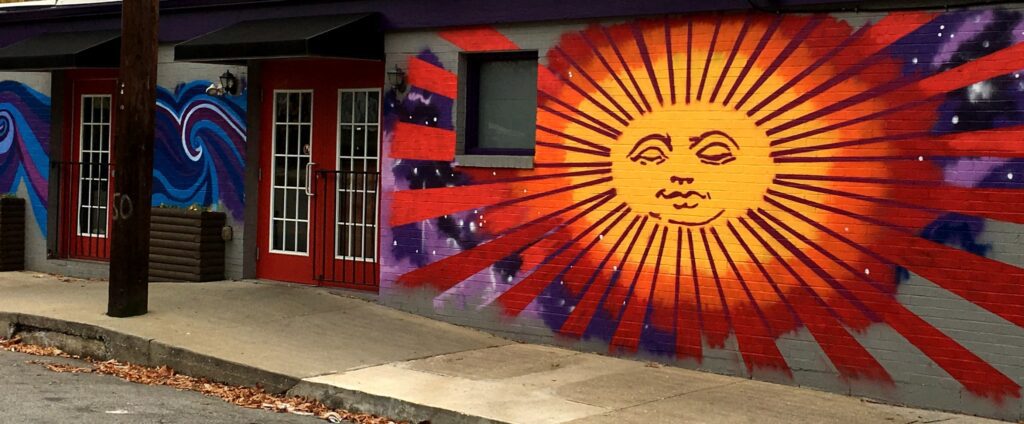 I tried to research the artist for this outstanding sunface, but I may have to call Mellow Mushroom to find out.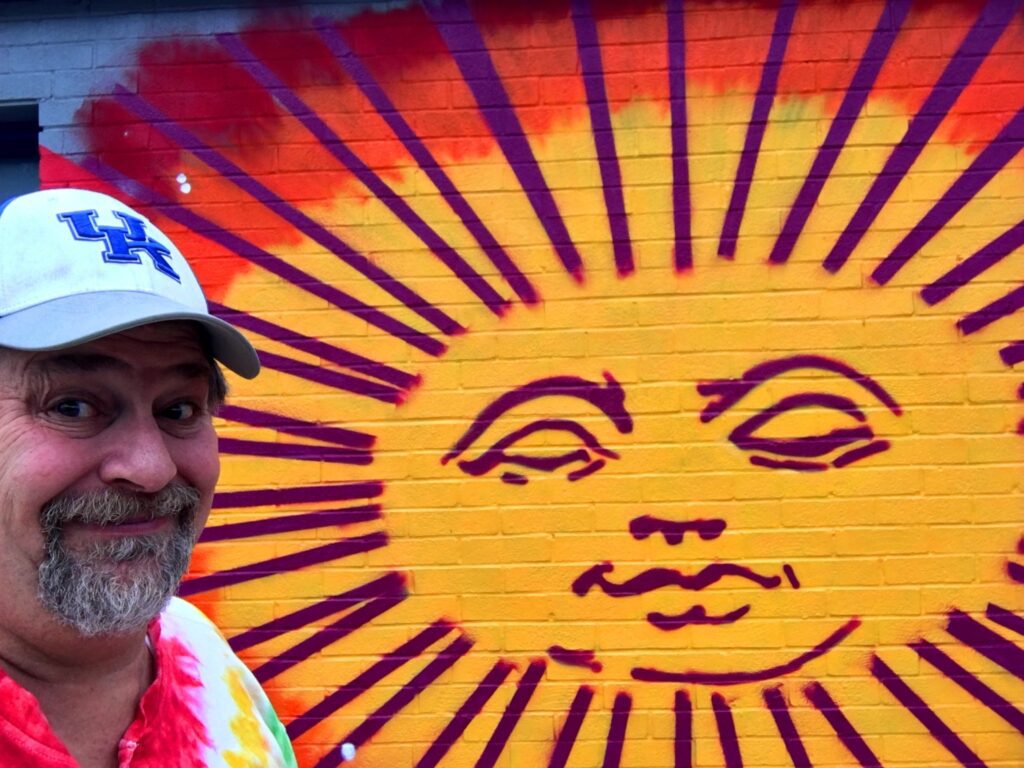 The front of Mellow Mushroom also includes some Native American art in the form of Kokopelli as seen on old petroglyphs in Arizona and New Mexico.  As a former tour guide on the Navajo and Hopi Indian Reservations and an enthusiast of the old Native American cultures of the Sinagua and the Anasazi, I immediately recognized Kokopelli,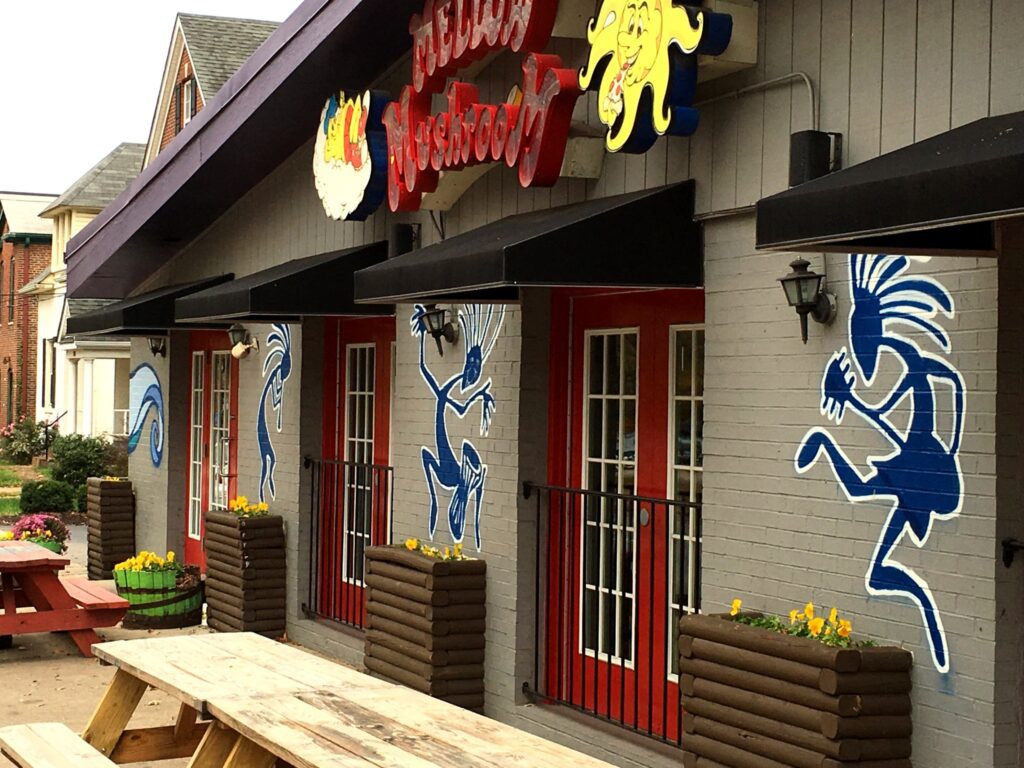 In another part of town, along Southland Drive, there is a Tattoo Shop called Horseshoe Tattoo which has a large mural on its side wall. Done in the tradition of street art, it is both colorful and indicative of tattoo stylings.  I think it has been around for a couple of years, but I had only really noticed it in the past year.  So, I am including it in this year's version of Lexington's Wall art.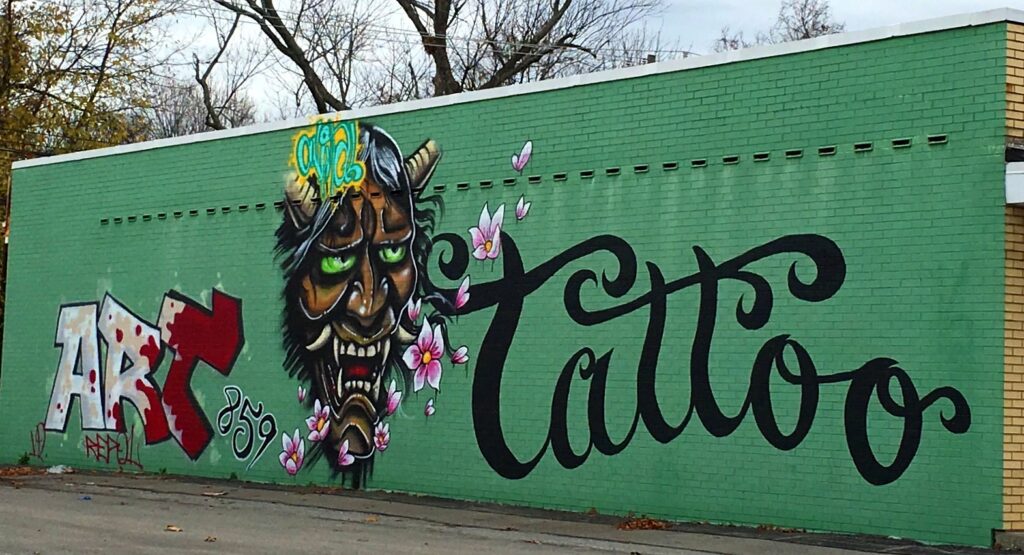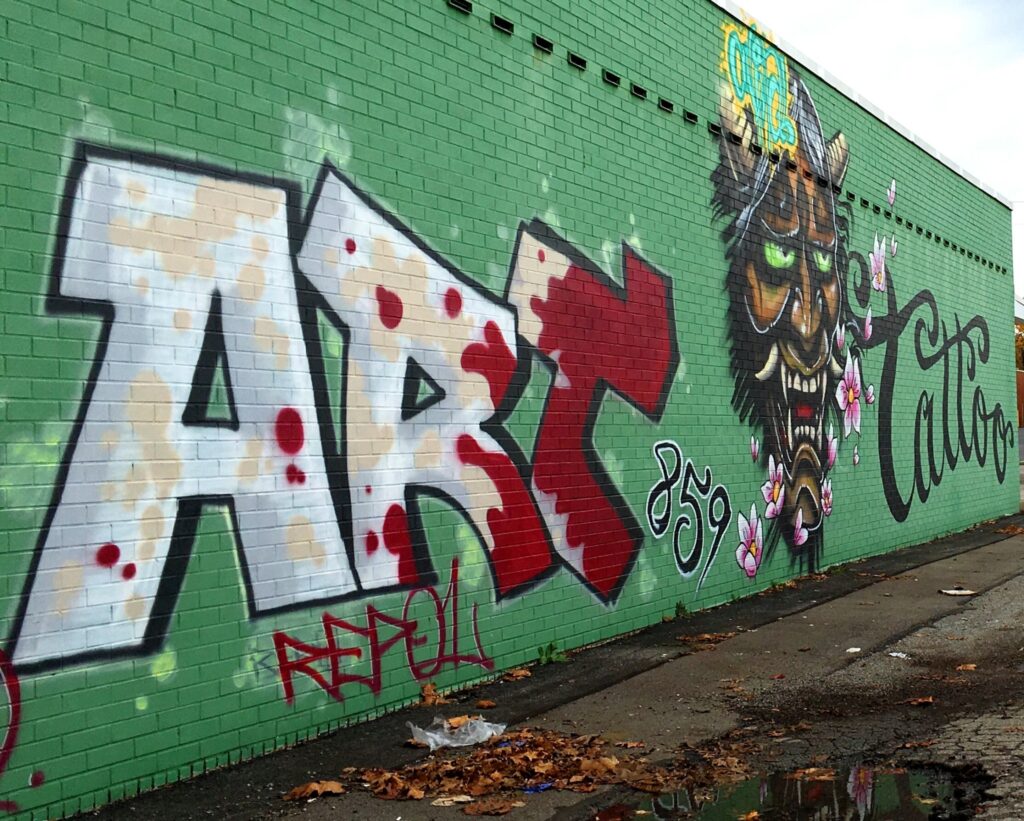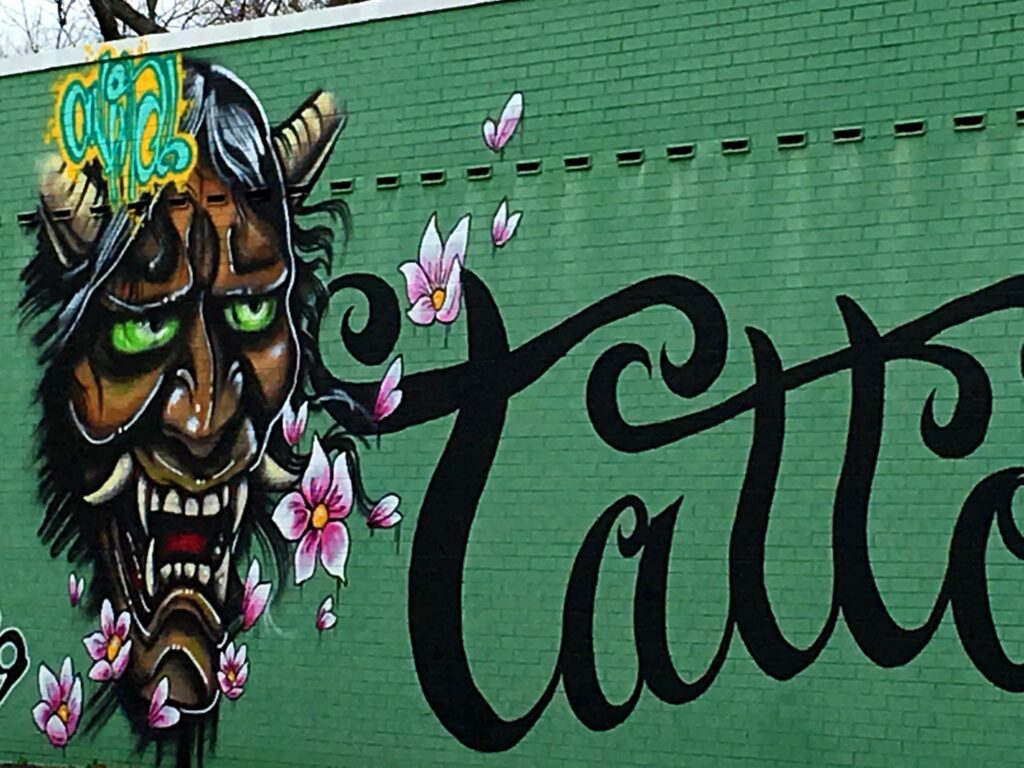 NO LONGER WITH US…..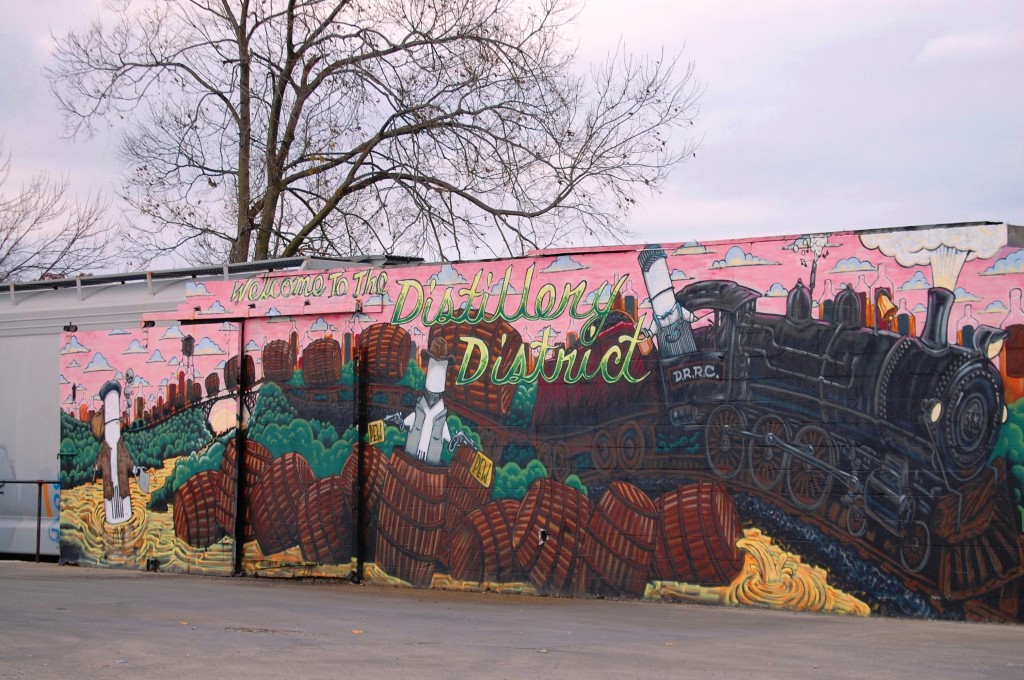 Then there is the sad news of two lovely works that are no longer around.  The first is the Distillery District wall, which was done in 2013 by Lexington Street Artists Dronex, Inc.  I noticed that this wall had been torn down to expand the parking lot.  (You can see my write up about this one ON THIS BLOG POST from 2014).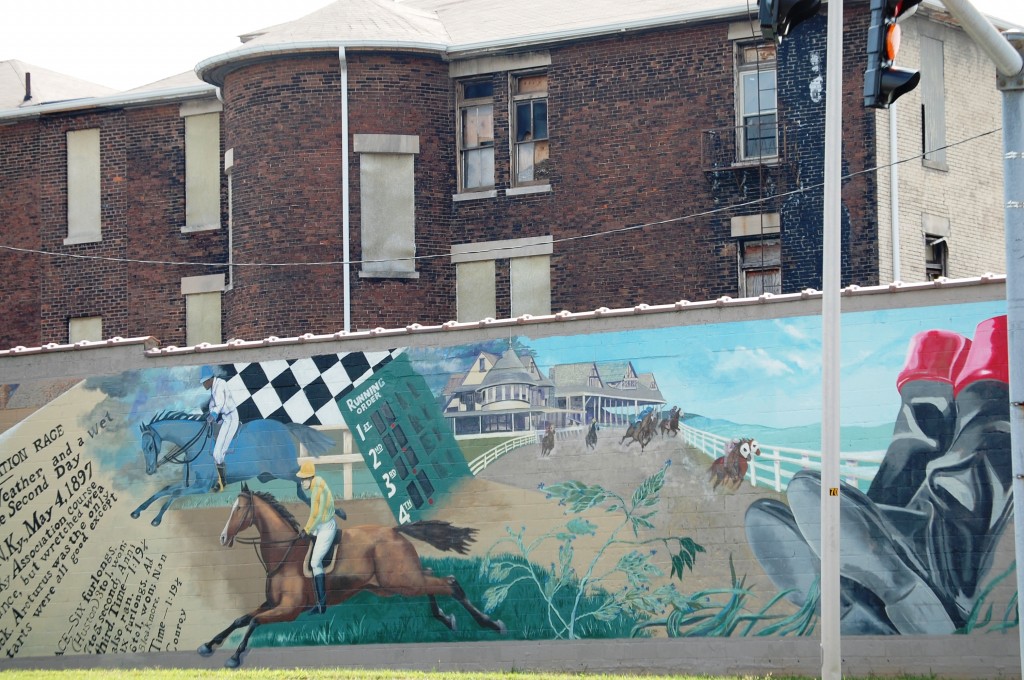 A second lovely mural was painted over by new owners of the old Hurst Office Building at the end of Short Street in Lexington.  I read that there was some controversy over this one.  It is sad that someone would just paint over a wall that was painstakingly painted.  You can see more about this one on THIS BLOG POST.
UPDATED MURAL MAP