The Collector of Places
A Not-So-Brief Biographical Sketch
You can learn more about "Sumoflam" and why I use that name on THIS PAGE.
Some may wonder about my penchant for traveling the backroads and looking for the weird, whacky and wonderful. Turns out that I am collector of places. Well, here's the story  of how I came to be "The Collector of Places"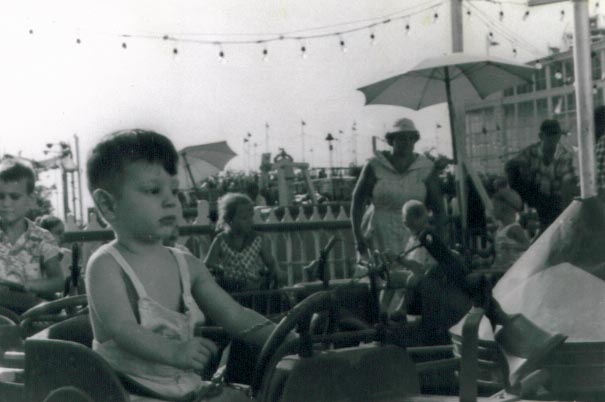 First off, as a child born in the late 1950s and raised in the 1960s and 70s, I grew up in a fairly disjointed and dysfunctional environment. I was born to a second generation Italian immigrant father and a third generation German Jewish immigrant mother in humble circumstances in the Little Italy section of Cleveland, OH. At 8 months old, my mother had been convinced to leave and took me to Albuquerque. I never met my natural father. At age 5 my natural mother remarried to my step father. Soon after my half-brother was born, she again left, but without us. About a year later, my step-father remarried a divorced lady who also had a child. They later had two children in their marriage. My step-father was Jewish and my step-mother was practicing Jehovah's Witness member. Though a family by definition, there were numerous issues throughout the years. It really was dysfunctional. I have few "fond" memories from that time, but the fond ones usually center on travel of some sort…Bluewater Lake, Bandelier National Monument, Jemez Springs in New Mexico, Rocky Mountain Park and Mount Evans in Colorado, Waxahachie in Texas.
By first grade we had established a home in the northeast heights of Albuquerque. My dad was always gone. Mom stayed at home and did her best to take care of us.  We didn't travel much unless it was a drive to the Sandia Mountains for a picnic.
Back in about 1966 or 1967 my family moved from Albuquerque to the Dallas area. This was my first real road trip and it took us east on US 66 — yep, the Route 66 that everyone hears about. I was about to enter 5th grade and so I was old enough to appreciate this new adventure.
Along the way we stopped at Stuckey's for goodies, we saw the neons on the road and we even stayed at a motel in Amarillo – my first motel stay!! I can remember the old Texaco station we stopped at too. We could trust our car to the man who wore the star, the bright red Texaco star!
Along the road I saw oil wells for the first time. The flat land and rolling hills were different. Even the weather on the local TV station was different. It was all new to me.
Though we moved a number of times after that, this first trip was probably my most memorable one as it kicked in a wanderlust in my mind and soul. I was excited about travel and seeing new things. I wanted my mental map of the United States filled with checkmarks of where I had been. As a result, I soon became engrossed in the weekly Sunday morning "On the Road" with Charles Kuralt which became a staple of my television viewing along with Lucy, Gilligan's Island, The Beverly Hillbillies and Andy Griffith. Around that time we had also gotten a book from Life Magazine that was filled with black and white photos of this great United States. My heart desired to go to these places.
Soon after our arrival in the Dallas area, another passion kicked into my 11 year old heart — collecting and counting various things. I suppose my first physical "collection" of things as a fifth grader was my soda pop bottle cap collection. Back then, soda pop was almost completely in glass bottles with little metal caps on top. The caps had the soda brands on top. Every couple of days I would walk to the 7-11 convenience store (which, in the 1960s was only open from 7 AM to 11 PM) about a mile way and empty out the pop cap receptacle into a bag and then take it home, along with a couple of 5 cent Black Cow suckers. I would then go in the driveway and lay them all out in lines according to the brand logo on top. I then would count each row and log the numbers into a book. Of course, CocaCola, Pepsi and Dr. Pepper were always the clear winners. I was passionate about this collection.
I also discovered baseball cards and soon found myself picking up a package of Topp's bubble gum with baseball cards in them when I went for my pop top lids. Once I got a Mickey Mantle card and I prized it for many years.  He was my baseball hero as a kid. By the time we moved to Denver I had 1000s of pop top lids and hundreds of baseball cards. I was informed when we moved that my "priceless" caps would have to stay. I did get to keep the cards however.
My passion for collecting continued in Denver. By this time I was old enough to have my own transistor radio, chock full of AM stations. This had two impacts on me — a passion for music and a passion for finding new stations. It was at that time that my quest for quirky was born as well. My radio listening turned me on to the Dr. Demento show and the hundreds of quirky whacky songs like "They're Coming to Take Me Away" and "The Rubber Room" and others.
Being in the Mile High City with a big transistor radio and a long antenna, I found radio stations from far away. I soon had my pen and book out every night and literally rolled through the stations and listened for call letters and cities. I would always get KOB in Albuquerque and a few others. I got excited when I got stations in Chicago, St. Louis, San Francisco and others. I kept a running list. And I also grew in desire to visit those places. Another collection and more stats to analyze and enjoy and try to build upon.
My passion for baseball things continued as well. Daily I would get the paper, look at all of the box scores and would keep track of all of the baseball statistics like home runs, hits, RBIs, etc. I could rattle these off daily. I wanted passionately to go to places like Yankees Stadium and Tigers Stadium (which I eventually did…)
While in Denver I got my first paid job as a newspaper delivery boy. The Denver Post had contests for getting new subscribers. (I was collecting subscribers and always wanted to be in the lead!!) I loved these contests and eventually won the contest for a trip to Cheyenne Frontier Days rodeo in Wyoming. Once again, I got to travel and see the world. I was able to add a new location to my still fresh collection of places. And I enjoyed my first bus ride too!
By 1970 we were again moving, this time to Great Falls, Montana. My packages of passions and collections accompanied me. By the time I was a new sophomore in high school, I had become a sax player and joined the band at C. M. Russell High School. The marching band there was famously known as the "Cowboy Band" due to our Green and Gold Uniforms topped with a white cowboy hat. Being in band was fortuitous for my wanderlust as the band traveled to Moose Jaw, Saskatchewan in Canada for a marching band competition. What a blast that was!
Of course, I continued collecting my radio stations, baseball cards and more. At that time I became interested in Top 40 shows and strived to hear Casey Kasem and his American Top 40 show every week.
In 1972 we moved to Bozeman and a new layer of interest was borne in me — I learned about photography and journalism. I learned how to take photos, develop film and write articles. I now had new ways to express myself. The travelographer seed had been planted. As well, my adventures continued as the Bozeman Senior High Concert band embarked on a week long performance tour in towns throughout Alberta, Canada. While most of the members played cards or slept on the bus, my eyes were glued to the scenes outside of the bus as we ventured through amazing mountain ranges and expansive prairies and wheat fields.  I was collecting memories of these places in my mind.
As noted above, there was some dysfunction going on in my family, and sometime during this period in Bozeman I  had grown pretty upset and decided to leave home. Though scared, I took the leap and hitch hiked my way to West Yellowstone to begin adding to my collection of places. I was pretty lucky in that someone in a U-Haul picked me up and even offered me a place to stay for the night and a couple of meals if I would help them load up the truck. This was great. And, they took me south into Wyoming and left me with some cash. From there an Indian lady picked me up and drove me through the Wind River Canyon on the way to Denver. Finally, I was able to hitch a ride with a semi driver the rest of the way not Denver, where I met some former neighbors.  I did eventually get back home after an uncomfortable overnight stay in the Denver Juvenile Detention Center.
Then came the summer of 1973. Bozeman would be the host for the 1973 Wally Byam Caravan Club convention, the annual gathering of Airstream Trailer owners from around the country. There were hundreds of trailers gathered and I had been assigned by the journalism advisor to cover this as my summer project. What fun it was meeting and talking to people from all over. A new dream came to life…traveling the country in a trailer ( still haven't done that yet!  But, I have been to Jackson Center, OH where the Airstreams are made!! ).
By the end of that summer we were moving again, this time to Salt Lake City. I had another thing to collect…schools. By the time I graduated from Murray High School in Utah, I had attended 5 elementary schools, 2 junior high schools and 3 high schools.
Soon after graduation, I landed my first real "Dream Job" working for a company called Alta Distributing. This company was a record and tape rack jobber and my job was to drive to places in southern and eastern Utah and southern Wyoming, refreshing the records, 8 tracks and cassettes that were sale. It was a dream job for me in that my passions of travel and music had fused. I had one of those folding 8 track players that ran on batteries. I would take tapes, play them loud in my white van filled with boxes of LPs, 8 tracks and cassettes destined for drug stores, furniture stores, variety stores, etc. I loved the freedom of being on open roads, looking at scenery and listening to great music. During this time my LP collection grew and my desire to travel intensified all the more as I enjoyed some amazing scenery in Utah and Wyoming.
In February 1976 I was called to serve as a missionary in Japan for 2 years, beginning in April 1976. This was most exciting as I was REALLY going to travel.  I flew on a 747 and arrived in a foreign country with a challenging language.
As a missionary I had the opportunity to go to small seaside villages, little villages in the mountains, big cities, giant castles, interesting Buddhist temples and more. The more I saw, the more I wanted to see, but we were also busy doing our church work.
When I returned in 1978, I continued my job at Alta for a while and continued to build my LP collection.  By this time I was really looking for variety. I had heard alot of music in Japan, including a few Japanese language covers of American songs – perhaps the two most famous were "Beautiful Sunday", originally by Daniel Boone in 1972 and the other was "Feelings" by Hi-Fi Set, remaking the famous song by Morris Albert.  As a result I had become interested in cover songs, which continues to this day (I have well over 1000 mp3s of cover songs, some great, some good and some downright terrible).
Fast forward to 1979 and I was married and by 1980 the first of my five children were born.  We moved to Flagstaff, Arizona and I got the second of my dream jobs.  While in school at Northern Arizona University I also became a tour guide for Nava-Hopi Tours.  I traveled daily driving tourists in vans and buses to the Grand Canyon, Sedona, Montezuma Castle, the Navajo and Hopi Indian Reservations, Monument Valley and more.  More places for my collection!! I had the wonderful opportunity to meet people from all over the world (and even kept track of numbers of people from which countries and cities).  I also started an amazing coin collection as I would get coins from all of these foreign tourists.
David at Oak Creek when the creek was flooding
I enjoyed the tour guide work for about 4 years.  During this time my passion for research kicked in big time.  As a tour guide I wanted to know about EVERYTHING so I could tell those with me about everything.  I also took tourists down back dirt roads to see ancient Hopi hieroglyphics, old Mormon villages, large waterfalls and more.  I eventually wrote a 70 page Tour Guide training manual for Nava-Hopi with all of the details, right down to the different kinds of algae in Oak Creek and descriptions of the geologic formations in the Painted Desert.  I loved it.
After graduating from NAU with a dual major in Geography and History, it was time to move on.  I hated leaving the tour guide job, but it was time to work on my Master's Degree at Arizona State University so we headed down to the Phoenix area in 1984.  After a couple of years, a Master's Degree and and some PhD work, I had the great opportunity to return to Japan with my family and work for the local Prefectural government in Oita, on the island of Kyushu.  I was a charter participant in the Japan Exchange and Teaching Program, better known as the JET Program.  For two years I worked directly for Governor Morihiko Hiramatsu, one of the most innovative Japanese governors of the late 20th Century.  It was an amazing ride as I met dignitaries and famous people from all over the world.  As a Coordinator for International Relations (CIR) I was blessed with the opportunity to assist the Planning Department on all foreign initiatives, worked on English translations of materials about Oita, traveled around the prefecture, did TV shows and more.
During this time there were articles about me in magazines and even one in the national English language paper The Japan Times.  I did dozens of TV shows produced by the Oita government and traveled all over the prefecture.
Then, it all ended on July 31, 1989 as my contract expired.  However, the next day I was on a flight to Fukui representing my new employer, Asahi Solar Corporation, the national leader in Solar Water Heaters, which were a big thing in resource poor Japan.   As their Coordinator for International Planning I traveled the country and visited every prefecture except for the islands of Okinawa and Sapporo.  I participated in international solar car races, including the first GM Sunrayce (from Orlando to Detroit), which was sponsored by GM in July 1990.  Asahi sponsored the cars from Colorado State and Arizona State (my alma mater).  We visited China and Hawaii, as well as numerous places in the United States during this time.
Actually, I could (and should) probably write entire chapters about the 4 1/2 years in Japan with my family.  Thousands of photos and memories from that time, and lots of travel.  The travel bug had grown in me.  With each trip to the United States, I would arrange rental cars, take care of my work and also use my free time to sight see.  This was still pre-internet days so most of my research was done through books and word of mouth.

The video above is of the making of a national Asahi Solar ad in Japan, which I was featured in. I became quite well known when I walked into airports and other places. The actual commercial runs at the beginning.
We returned back to the US in Nov. 1991 after Asahi had decided to nix their international expansion plans.  It was a fun run while it lasted.  We returned to Mesa, Arizona and I began looking for employment.  I finally landed a position as a contract interpreter in Shelbyville, KY.  Due to the nature of the job, I came out alone.  I drove out and spent my free time traveling as well.  It was at this time that I also became close friends with Antsy McClain, who later created the Trailer Park Troubadours, an Americana music group originally from Kentucky and then later from Nashville.   More on him later.
I was soon recruited by a Japanese company operating in Frankfort, KY and they moved the family out.  This became the first big road trip for the family as we drove from Mesa, AZ up through Monument Valley, Four Corners, across Colorado, Oklahoma, Kansas, Missouri and eventually into Kentucky.  It was a fun adventure as we made a vacation of it.    My desire to see the sites continued to grow.  And my collection of places was getting bigger and more diverse!!
This was a great trip.  I later took three or four others with the kids over the next few years to the east coast, to Pennsylvania, etc.  Each time we visited historical sites, unique places, unique eateries and had a great time.
The story continues on my travels as I began work in 1994 for a Japanese-owned Thoroughbred Horse Farm in Kentucky. I managed their office for 3 years and traveled to Japan a couple of times in that capacity, even making a trip to the world famous Nikko Shrine in Tochigi.
After my job at Green Gates I made my way to Lexmark International, where I worked for a number of years as a Software Quality Engineer.  During my time here I made a couple of trips to Cebu in the Philippines and traveled extensively there during my off ours, enjoying the many wonderful places with many of my Cebuano counterparts.
I was soon replaced by the people I trained in Cebu and thus had to look for other work.  I found some translation work for Toyota in Woodstock, Ontario and had to commute once every two weeks (two weeks there, a couple of days home and back and then two weeks there).  I did this for almost a year and traveled all over on my return trips.  I wrote extensive trip journals which can be seen here: Sumoflam's Ontario Adventures.
My collection of places visited grew dramatically during this time.  Every two weeks I was taking different roads to different destinations and filling my box of places with new and fresh memories, both from Canada, but from Michigan, Ohio, Pennsylvania, New York, West Virginia and more.
My penchant for collecting places became more refined as I now collected covered bridges, wall murals and paintings, scrap metal sculptures and yard art, big things, flowers, animals and birds, waterfalls and Americana nostalgia, strange named places and towns, among others.  I was finally in full fledged place collection mode.
All along the way I was also busily engaged in assisting my good friend Antsy McClain, the genius behind the Trailer Park Troubadours and  also an amazing musician, songwriter, poet, artist, philosopher and author. I have worked on his websites over the years, worked as a logistics manager, filmed and produced music videos and live performances, done photo shoots and have traveled with him on many tours and cruises.  Through these adventures I have added not only more places to my collection, but also lived out a dream from high school in being able to tour with a band.  As a result I have met some amazing musicians and people.  And, my wonderful Sumoflam logo was even drawn by Antsy!!
In 2009 I landed another "dream job" at iHigh.com.  This job provided me numerous opportunities to travel the country for work.  In many cases I drove my own car.  In others I flew and then rented.  I always made some time in the evenings and weekends to see the sights — the wacky, the weird, the wonderful and the amazingly beautiful.  Many of these are in my hundred of blog posts, trip journals and books.
As of 2017 I began work with the media information sites ComicBook.com and PopCulture.com where I manage their movie and television databases, among other things.
Ultimately, my collection of places has grown into a humongous collection of well over 30,000 photos, well over 1 million miles of driving, thousands of towns and cities and places seen.  There is so much to see and do in this great country of ours and I hope to continue to build my collection more and more.
In 2017, I published my first travel book, titled "Less Beaten Paths of America: Unique Town Names" and now it is a series with three books including "Quirky and Offbeat Roadside Attractions" (published in 2018) and "Beyond Description – More of the Strange and Unique." (Published in 2019)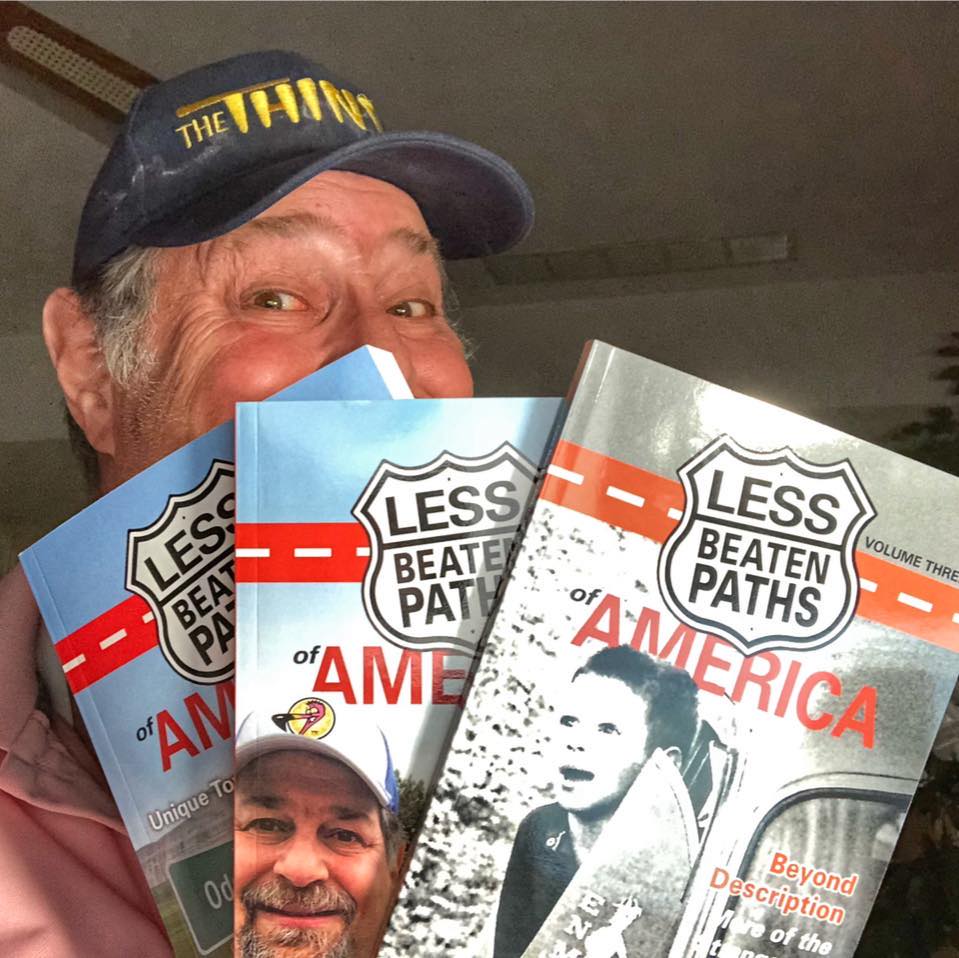 Much roadside assistance courtesy of….