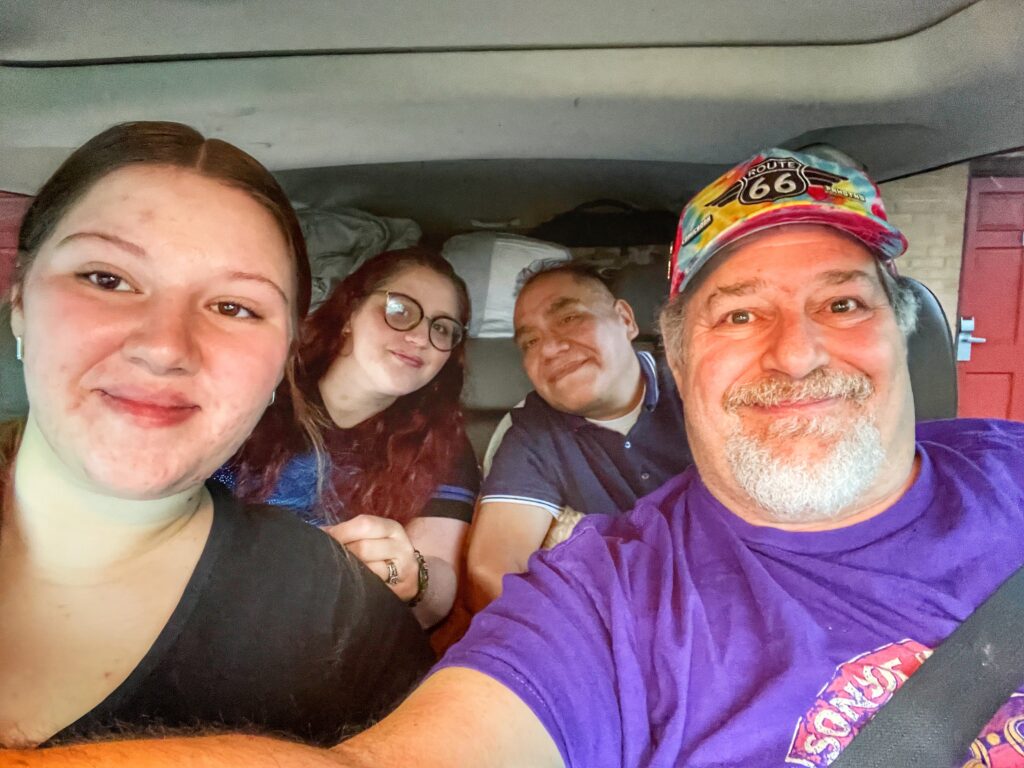 I  was thrilled to finally get in a good road trip in July 2023.  My last multi-day road trip took place back in October 2022 when I traveled Route 66 in Illinois to celebrate by 66th birthday.  The July 2023 was taken south to the Gulf Coast, then along the coastal highways and eventually into New Orleans.  From there were went on to Houston, Keller and Uncertain, all in Texas, before heading back to Kentucky.  All in all, we traveled 3001 miles over an eight day period and traveled through ten different states.  I say we as on this trip I was accompanied by my daughter Chelsea, her husband Jorge and their daughter, my oldest grandchild, Autumn, who has plenty of road tripping experience with me.
I plan on writing a few posts about this trip for some of the more prominent places we visited, but this is the general overview of the trip.  As with all of my trips, the majority of the travel was on US Highways and local highways and roads.  We only traveled on Interstates when necessary.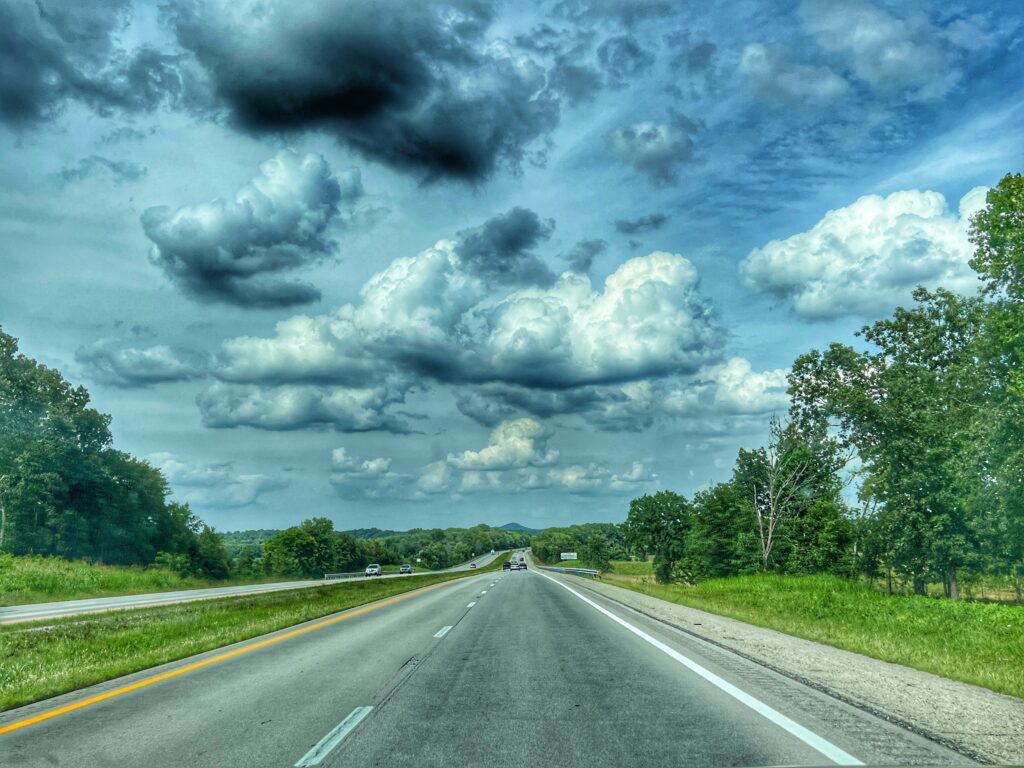 July 2023 was a record setting month in the United States, becoming the warmest July on record and we most certainly experienced this heat and humidity while traveling from Florida to Texas.  Thank goodness for a good air conditioner in the car!!  I had added this map in a previous post, but it provides the general route we took.  As I typically do, there were deviations from the route to visit other unique places.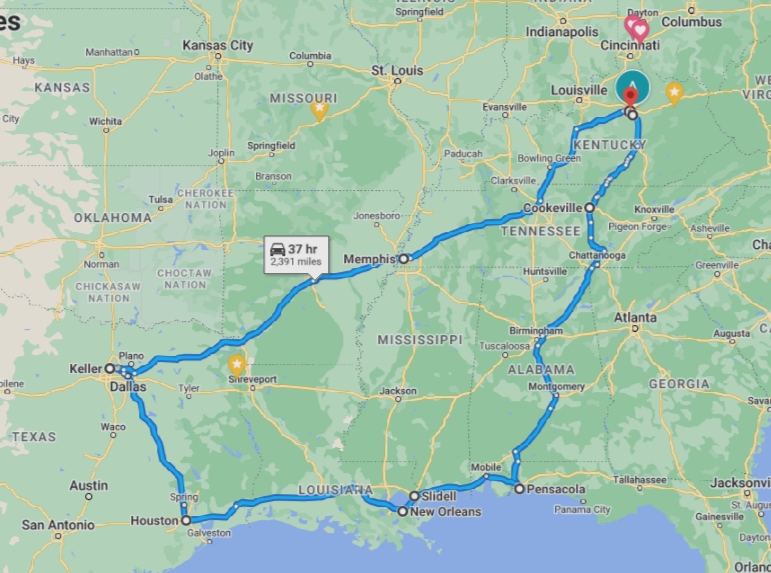 We left at 6 AM on July 14 and headed south on I-75 to the Somerset, Kentucky exit.  From then on, we were on US Highways and back roads until we got near Pensacola, Florida.  On Day 1 we made stops in Byrdstown, Cookeville, Sparta and South Pittsburg, all in Tennessee.  We eventually made our way to Lookout Mountain and Rock City in Georgia, but it was way too hot for any of us to get out and hike. In Cookeville I got to visit one of my high school buds from Murray, Utah, but the real highlight of the day was a visit to the Lodge Museum of Cast Iron in South Pittsburg. I will have a separate post about it.  It is the home to the World's Largest Cast Iron Skillet!! Our first night was spent Calhoun, Georgia.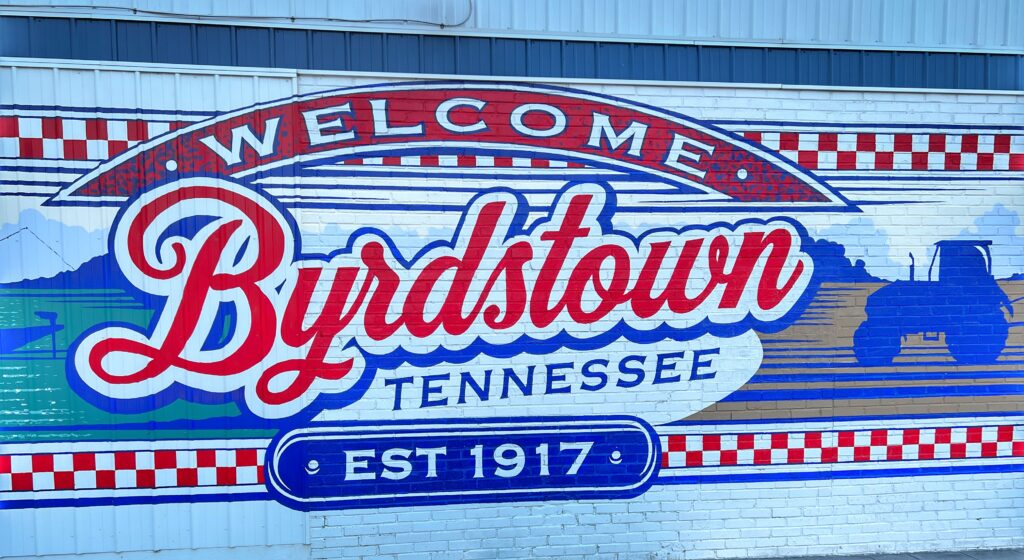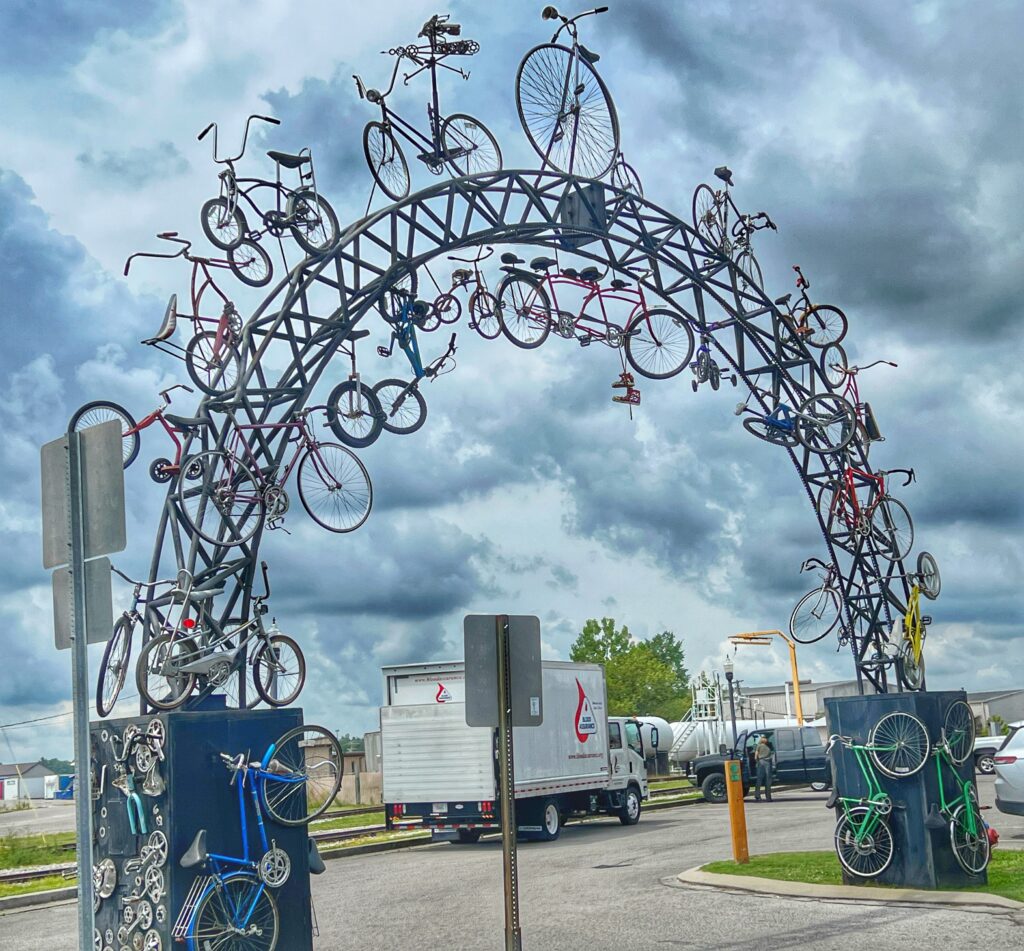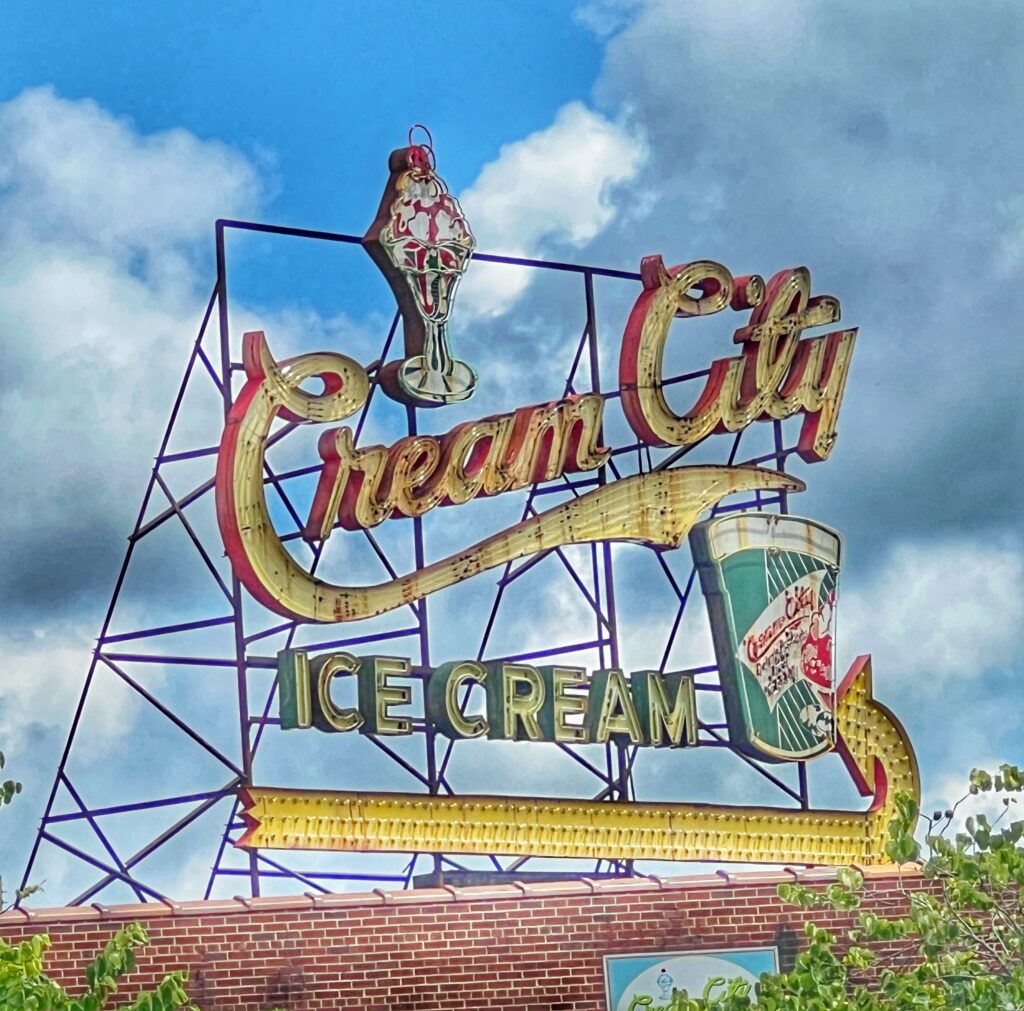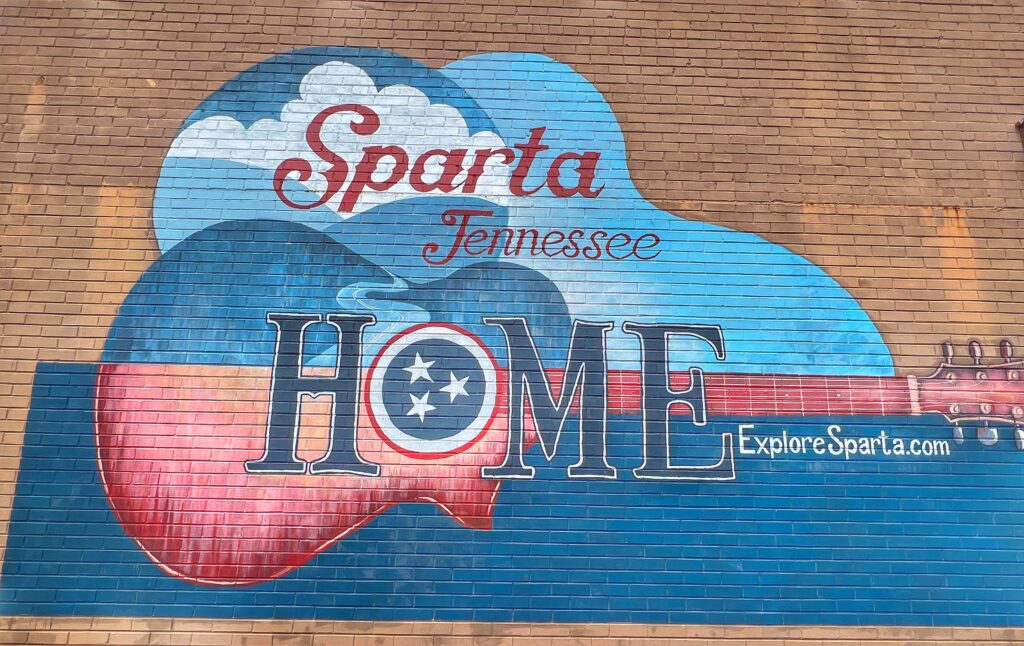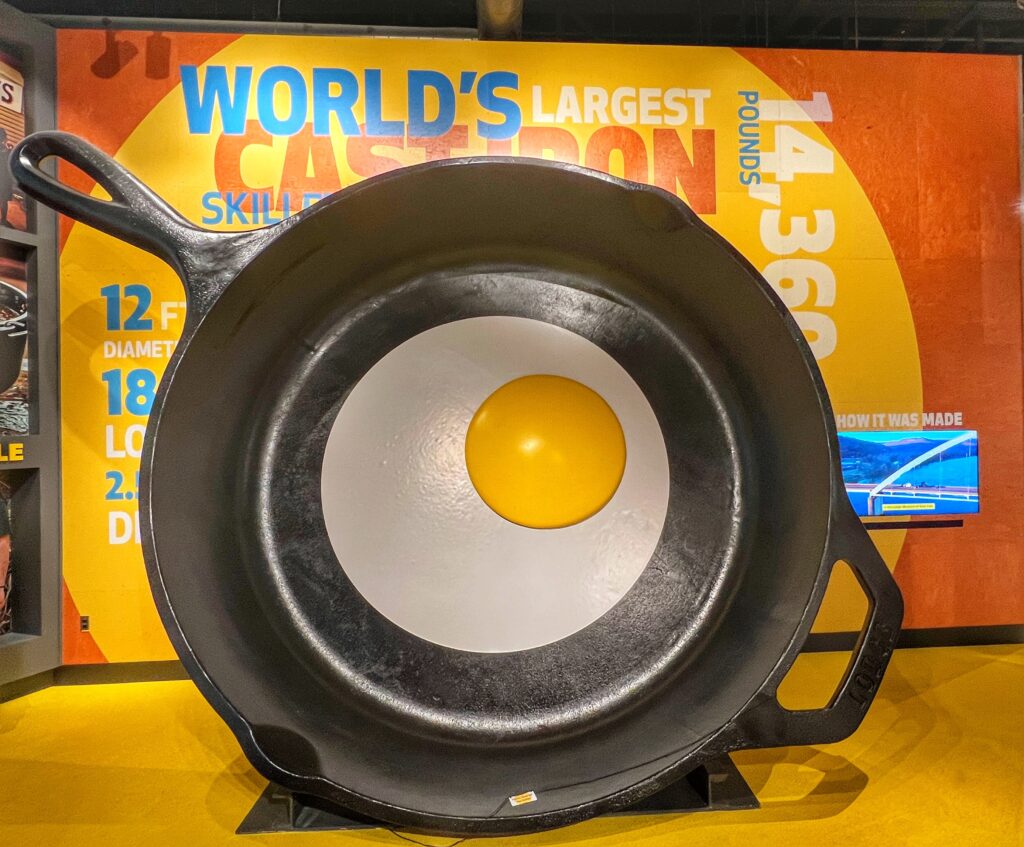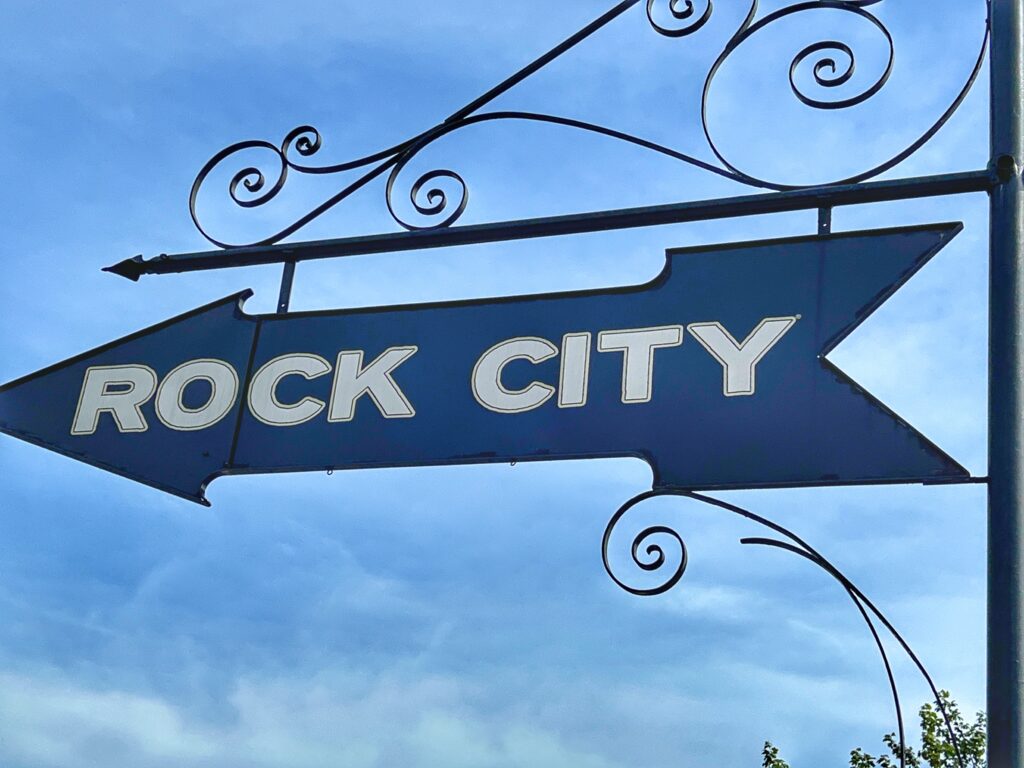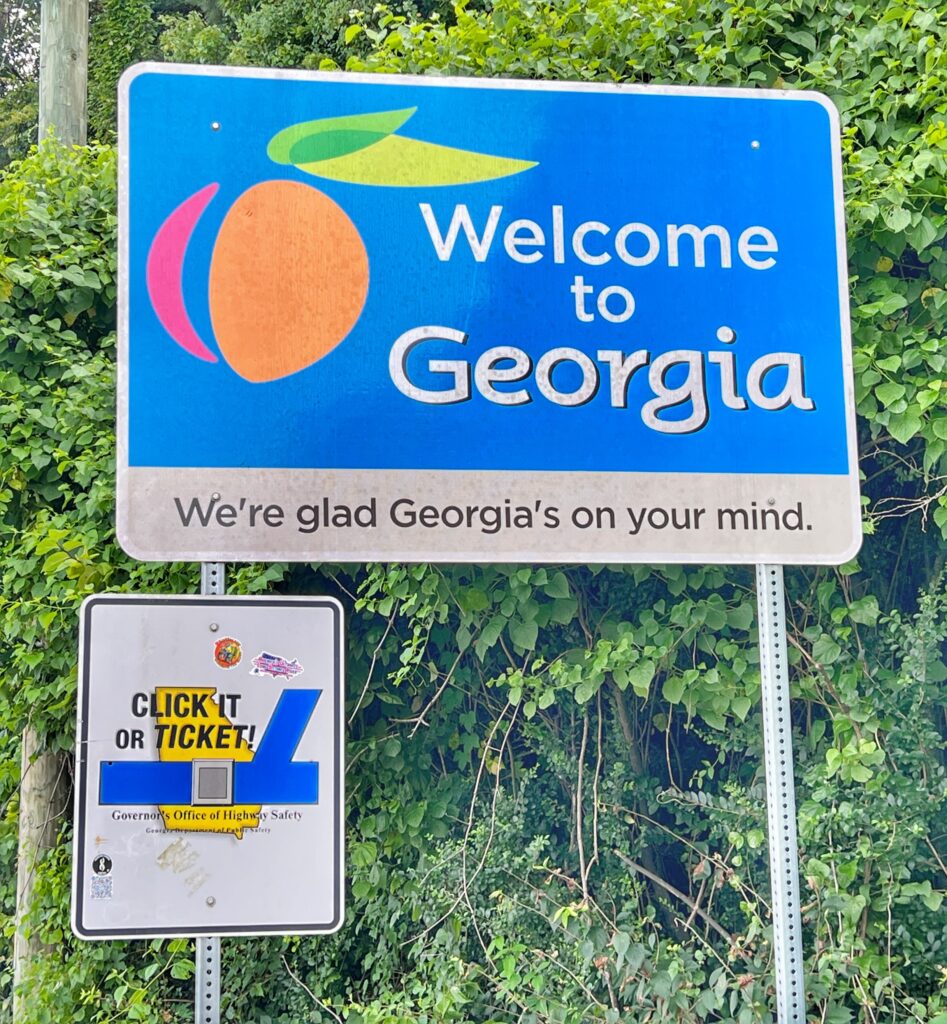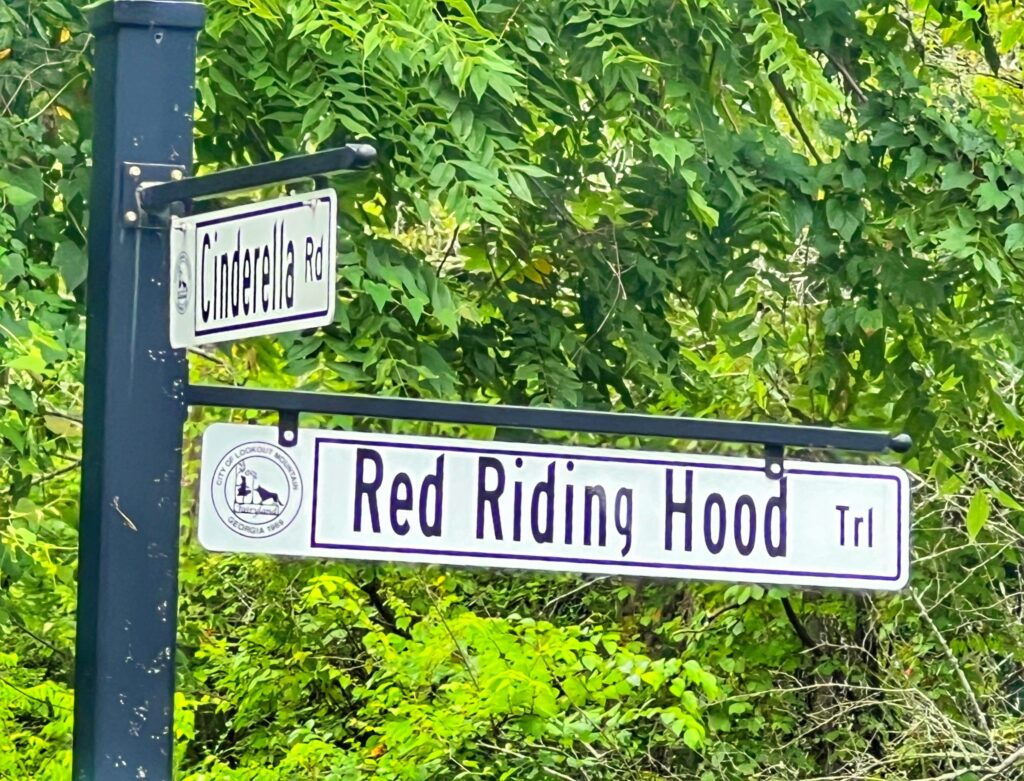 After a good night's sleep, we were up and out by 6:30 AM to make a trip to the local Buc-ee's store in Calhoun.  Despite it being so early, the place was packed.  But it made for a good breakfast stop as well as some snacks and drinks for the road.  This was officially my fourth state to visit a Buc-ee's and I have now hit ten of them, including the one just 30 miles from our home in Lexington.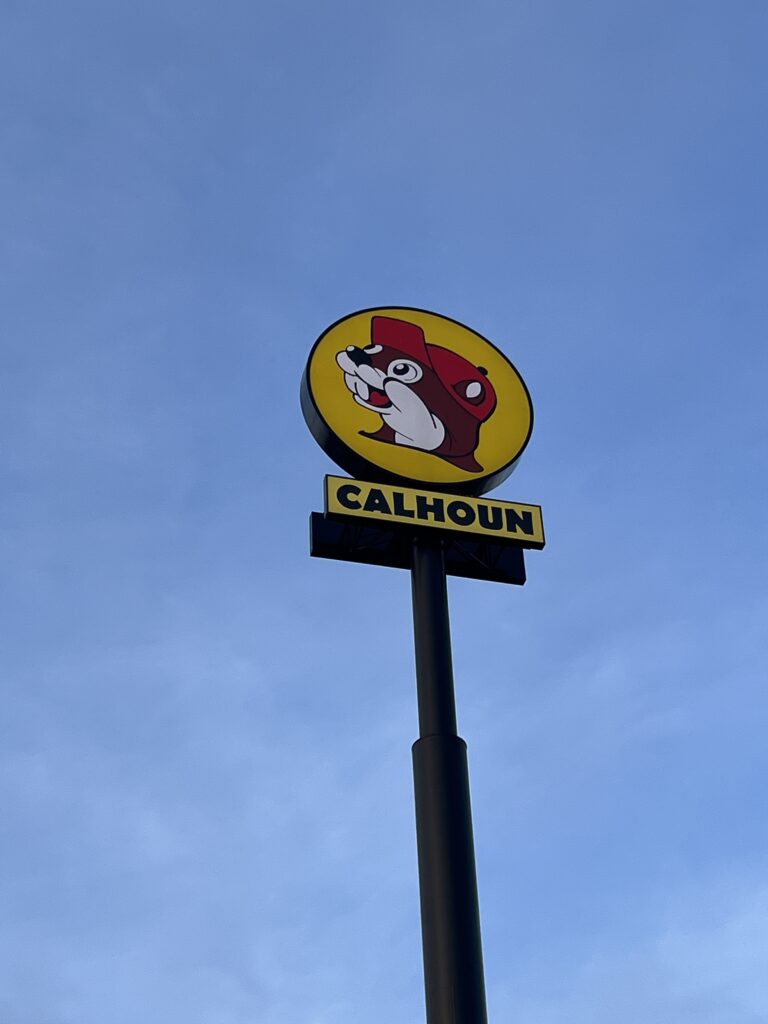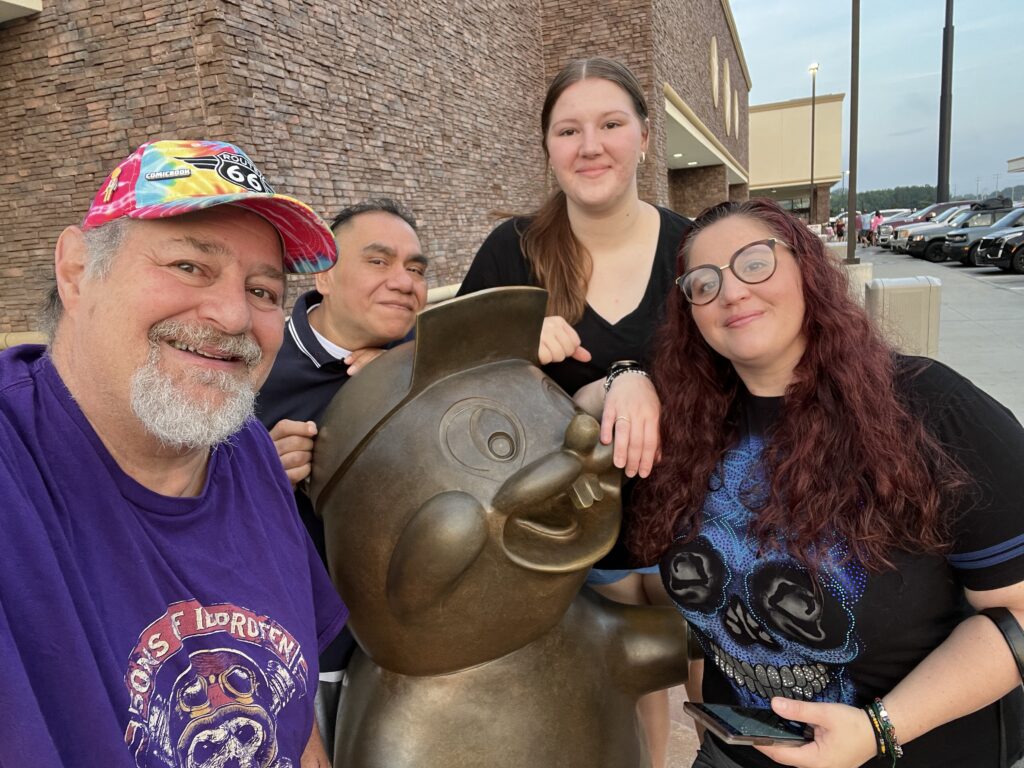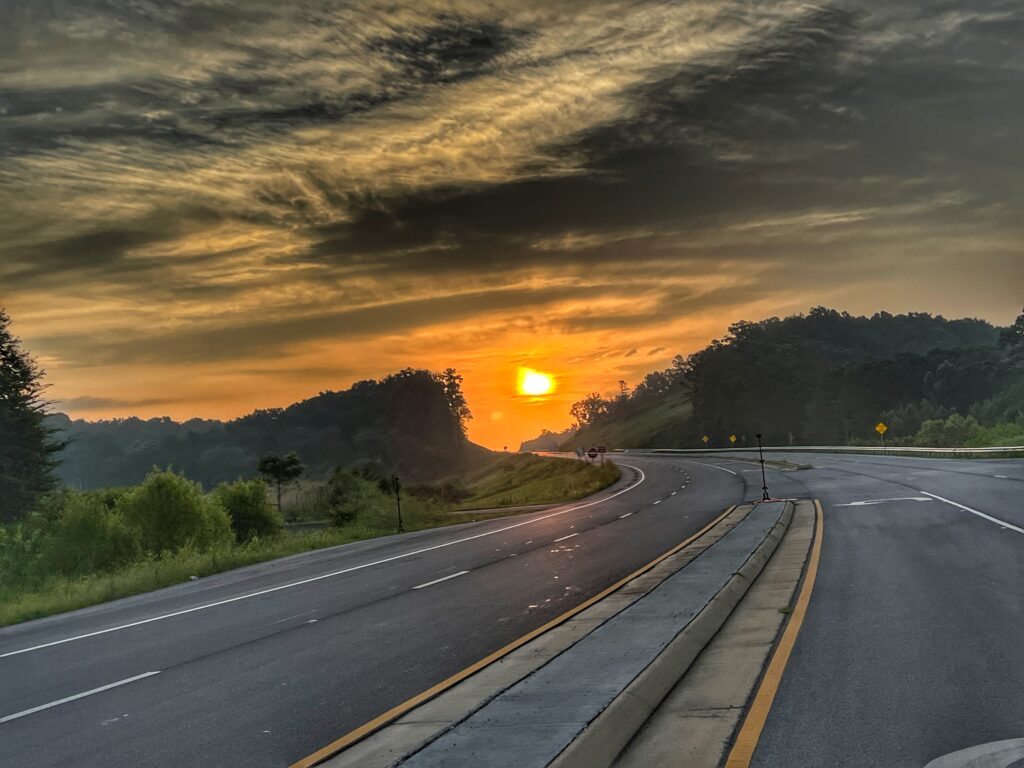 From Calhoun we made our way through Adairsville, which had a couple of nice murals and some other unique street art.  We continued on to Cartersville, home of a lovely courthouse building.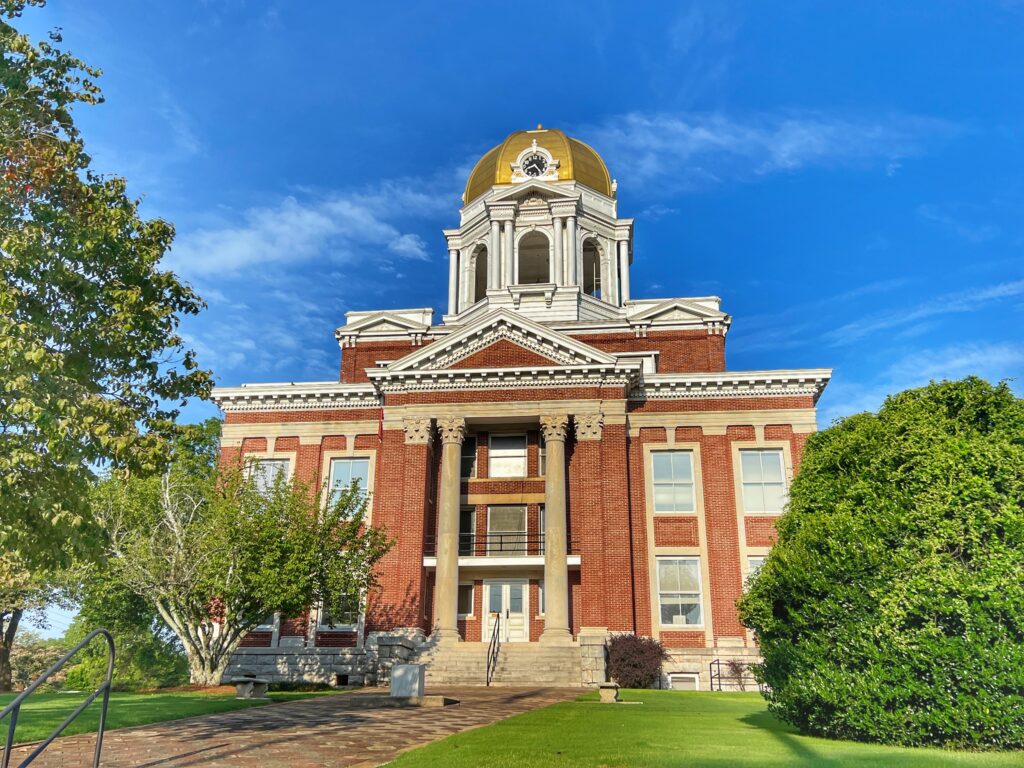 The trip then took us through Acworth and then on to Dallas, Georgia.  Dallas is home to five Muffler Men and a Uniroyal Gal. After Dallas, Chelsea was thrilled to see a Boiled Peanuts Roadside Stand.  She and Jorge and love them.  Not me so much.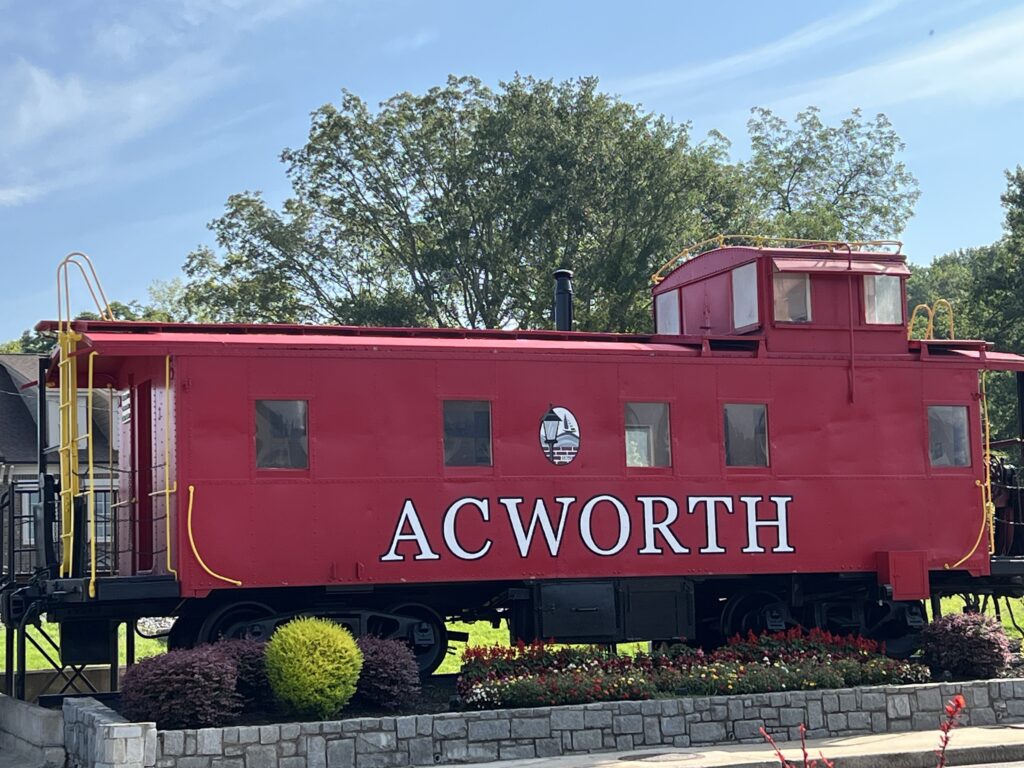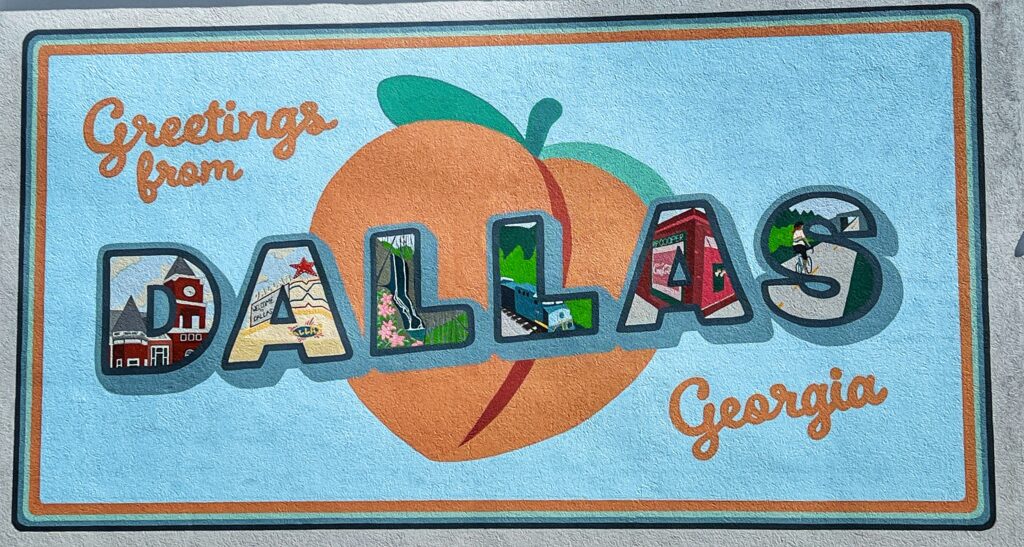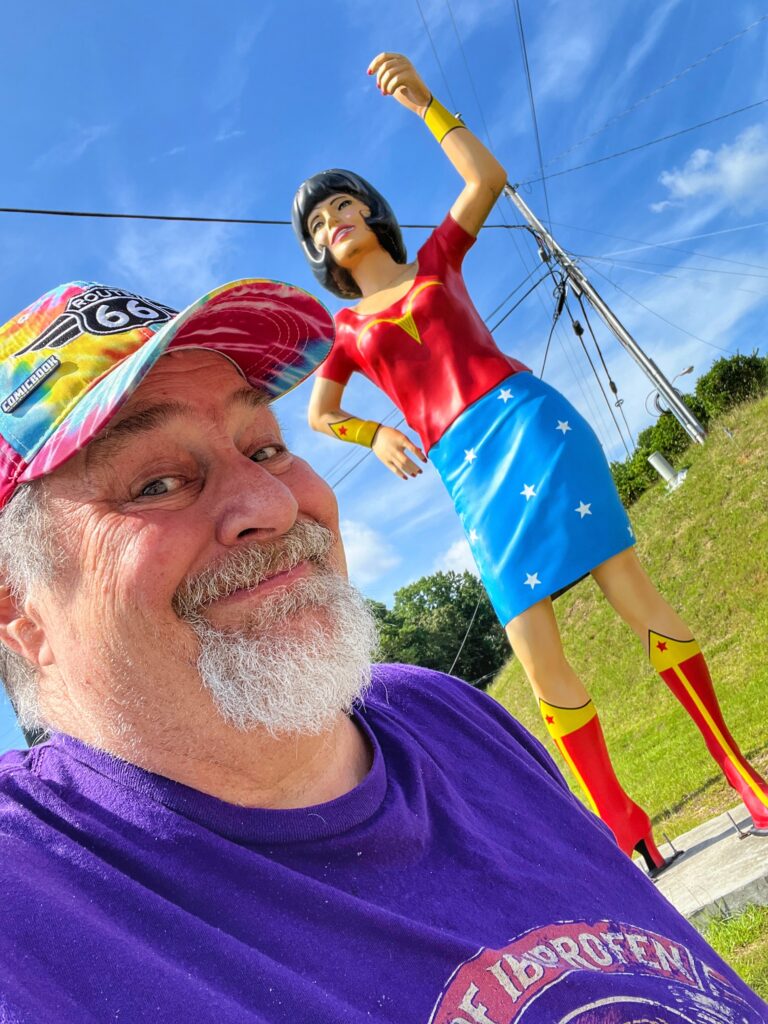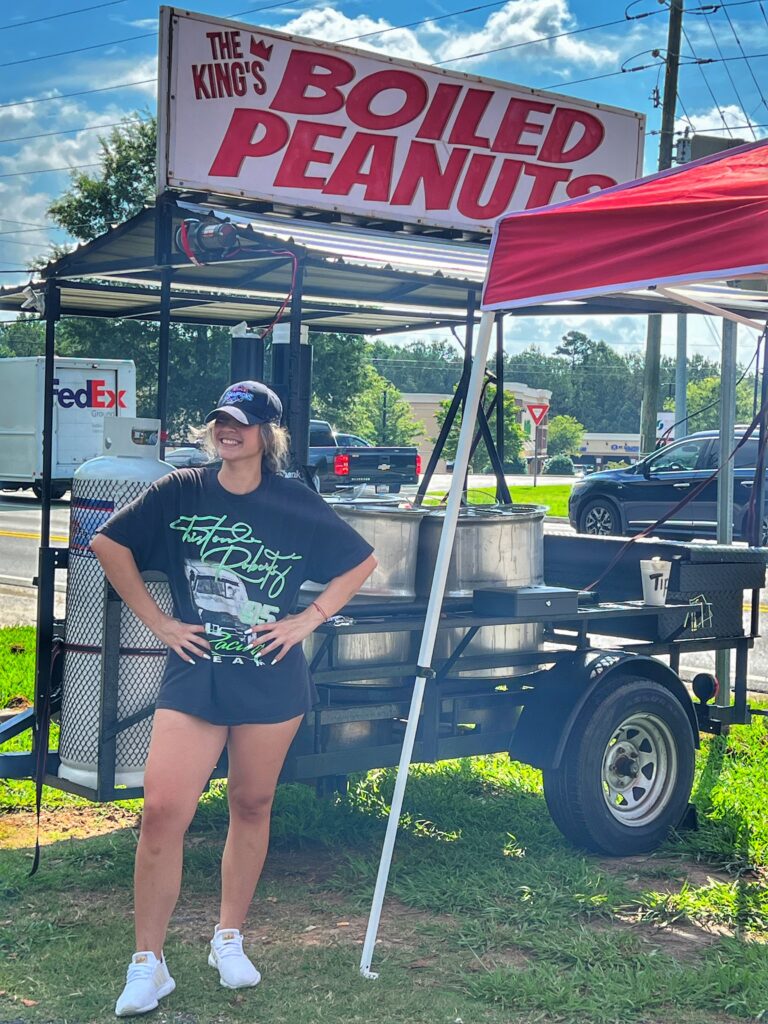 After Dallas, we continued through Villa Rica, Centralhatchee, and La Grange in Georgia and then made our way into Phenix City and Crawford, Alabama.  As we continued south we drove through Seale, Alabama and made our way to the famed (kinda) Museum of Wonder: Drive Thru, a unique little museum with all sorts of quirky and weird collections. I'll have a separate post all about this museum of curiosities.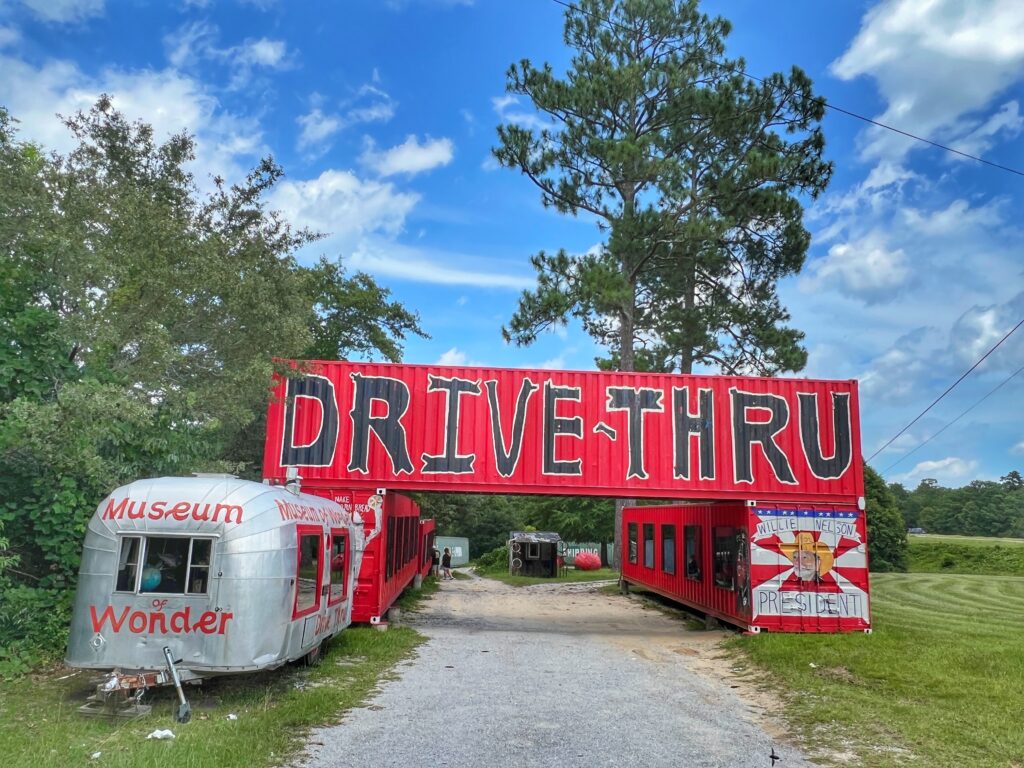 After Seale we continued on through Abbeville and into Dothan, Alabama to visit some fun peanut characters and one of Peter Wolf Toth's many Whispering Giants. This would be my 20th of his over 70 giant wooden carvings that dot the United States.  We also saw the world's smallest city block in Dothan.  I will have a separate post about our brief visit to Dothan.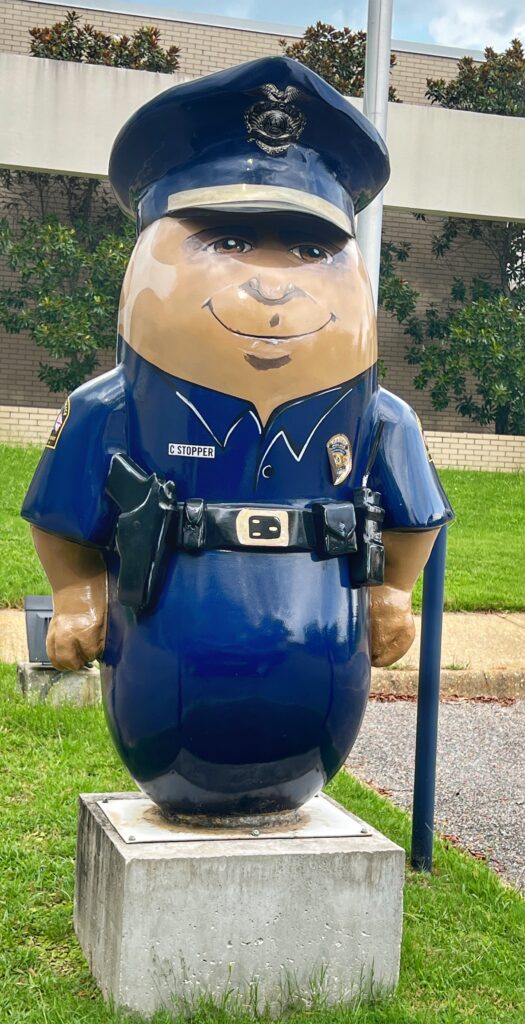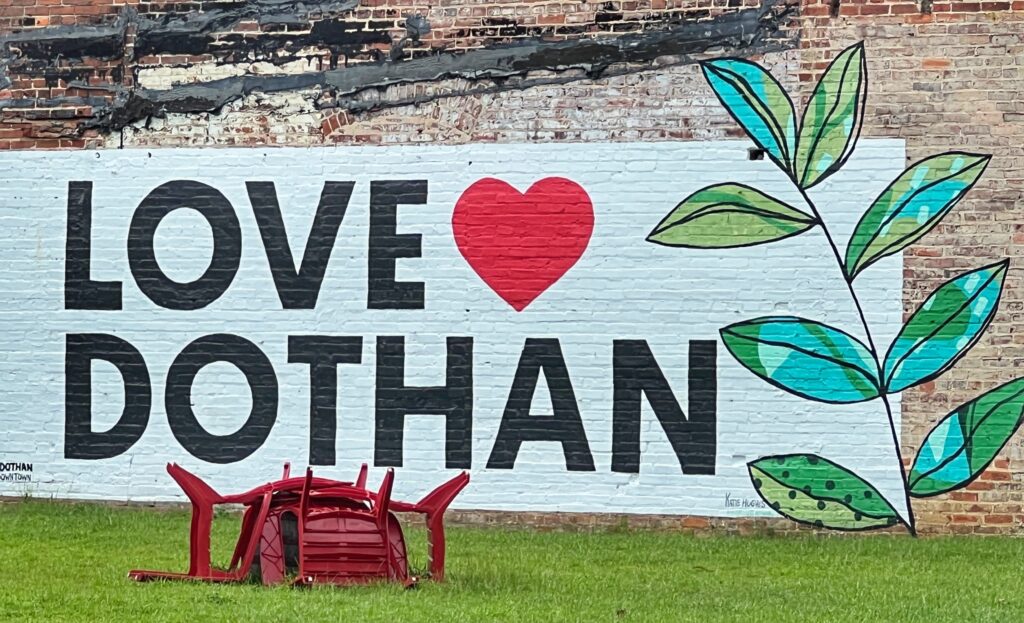 While in Dothan a huge thunderstorm blew in with loads of lightning, thunder and torrential rain.  We actually had to pull off the highway for nearly 20 minutes until the storm blew past us.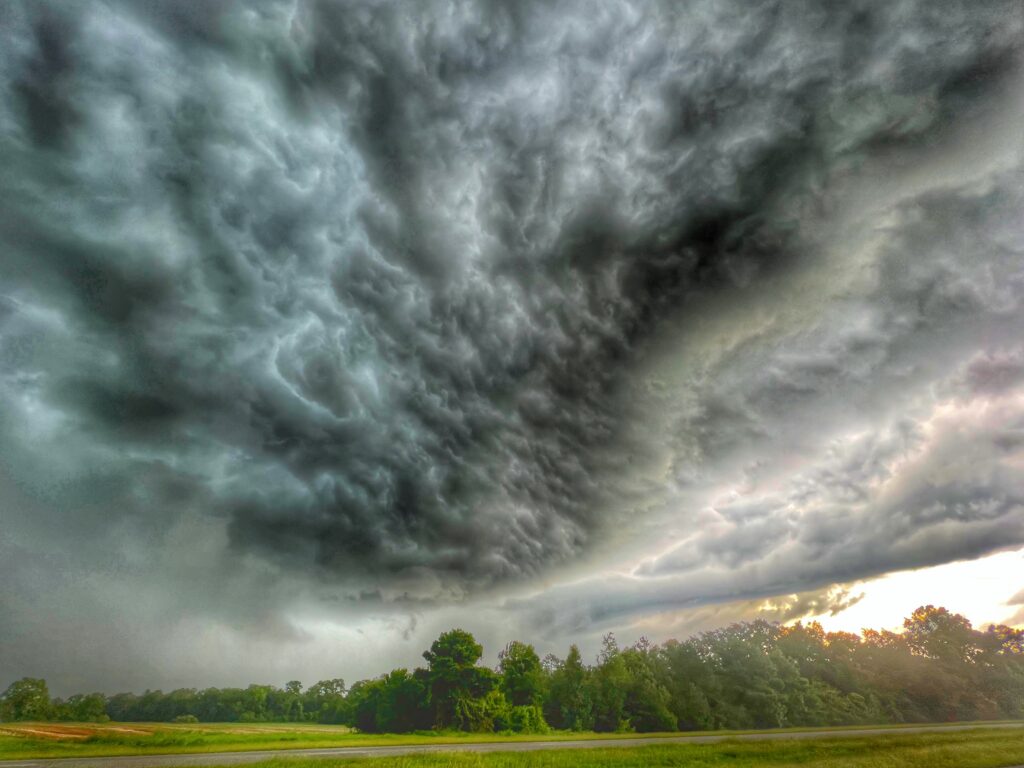 The storm didn't clear up completely, but had settled down enough for us to get back on the road and cross into Florida to find the small community of Two Egg.  I always have to get my unique-named towns on road trips you know!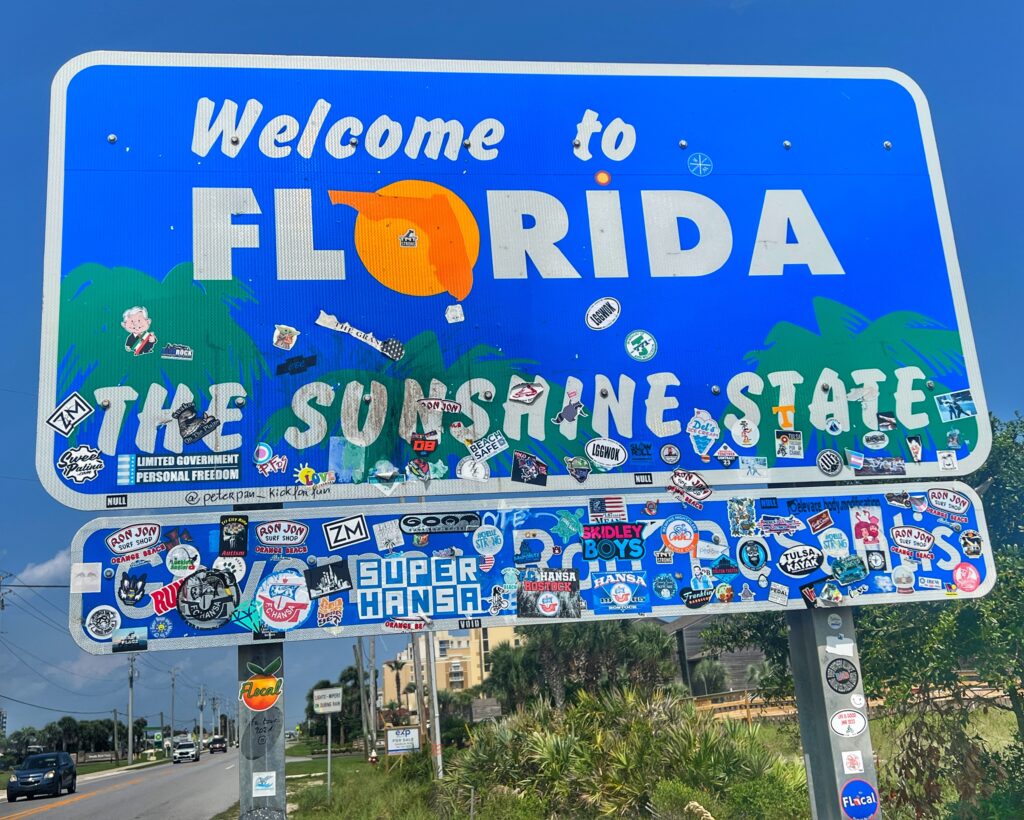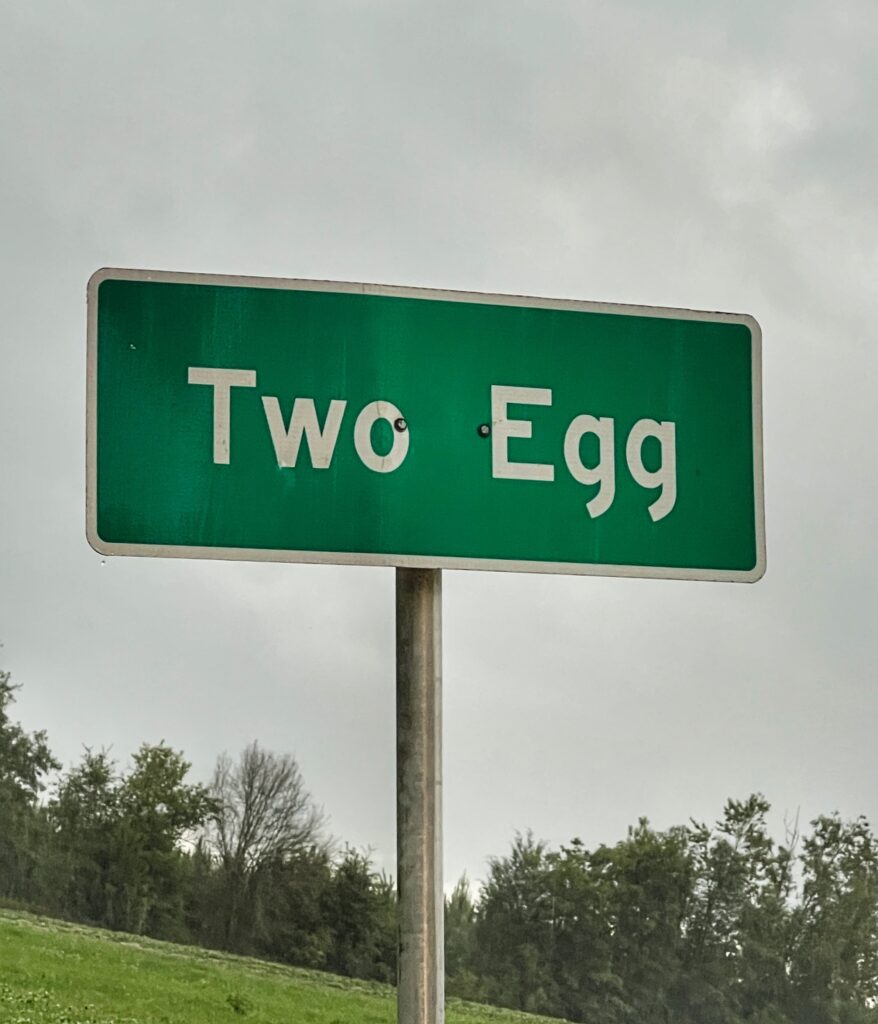 It was dark and getting late so we headed to our stop for the night in DeFuniak Springs, Florida.  We were welcomed to the hotel by a lovely rainbow to finish our day off.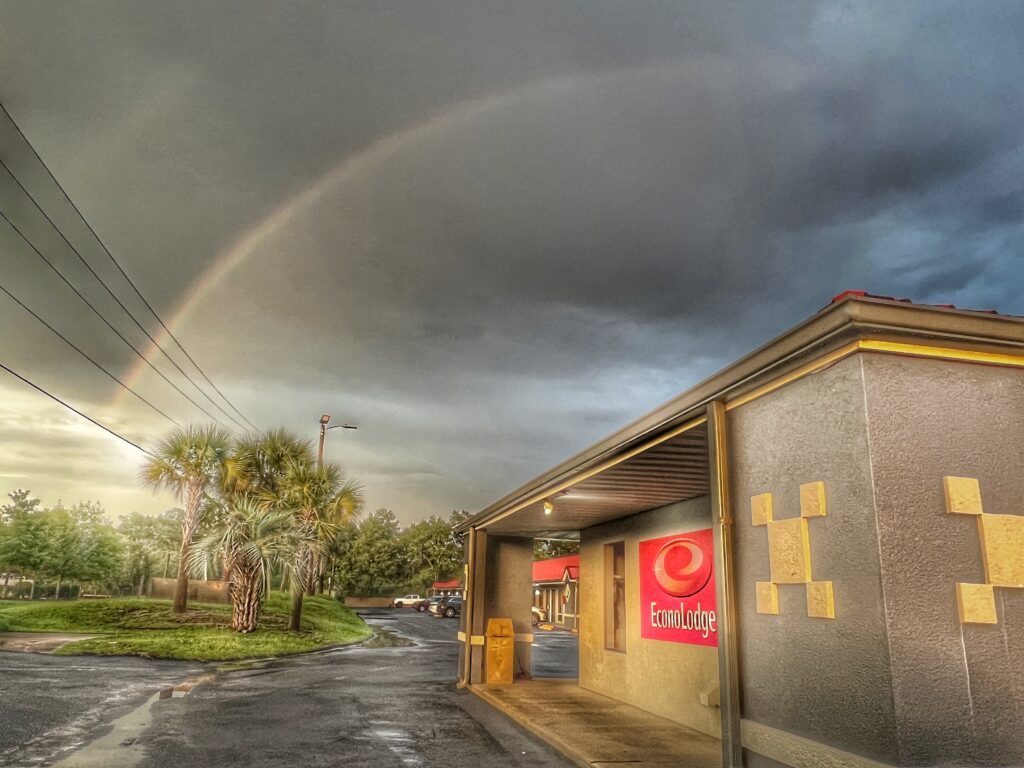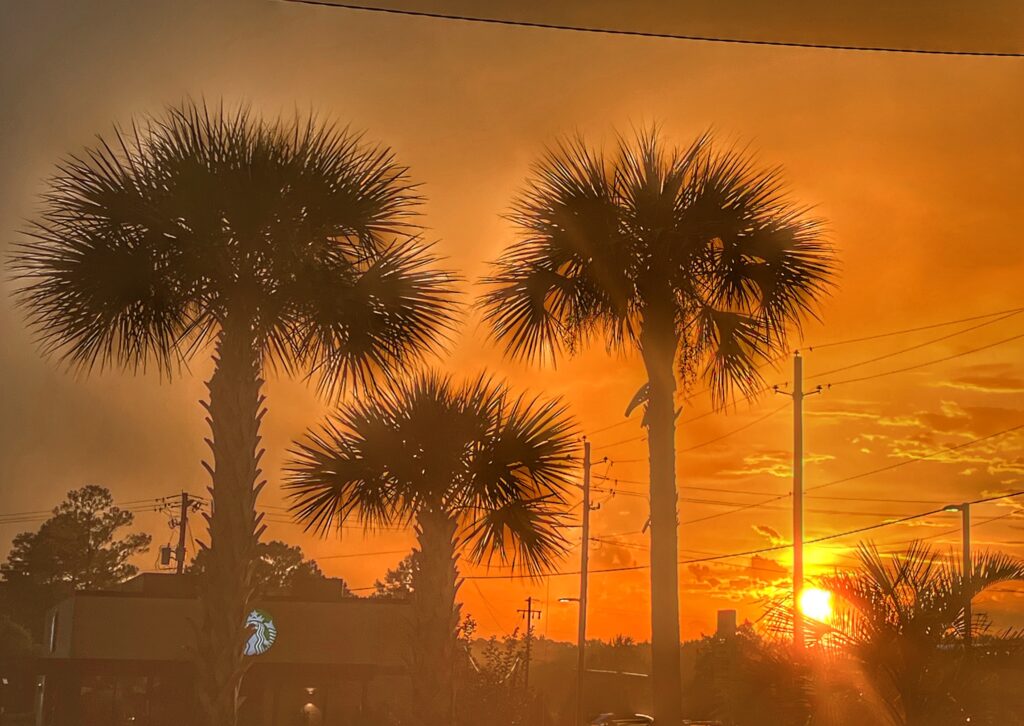 After a nice evening meal in DeFuniak Springs and a good night's rest, we were back on the road.  July 16 was to be our "Beach Day" as we would hit the Gulf Coast beaches and spend all day on the coast at beaches.  We hit Grayton Beach State Park, Deer Lake State Park and then Santa Rosa Beach early to try to get the sunrise.  We then went straight to Miramar Beach for a nice time in the heat and humidity on the lovely white sands.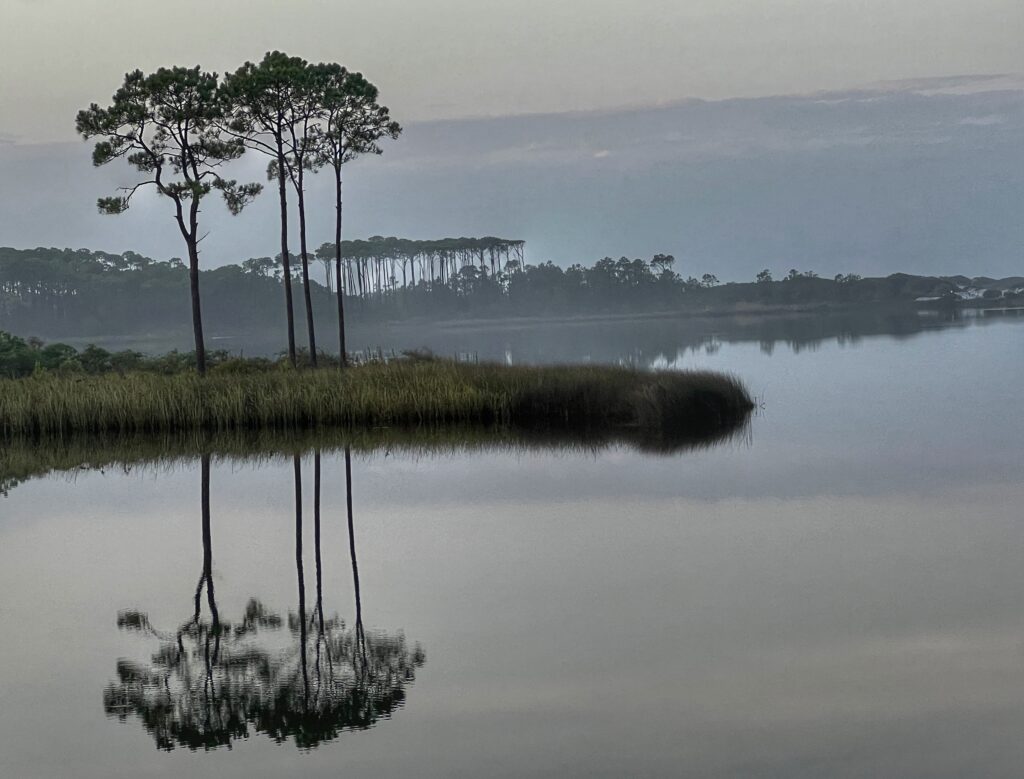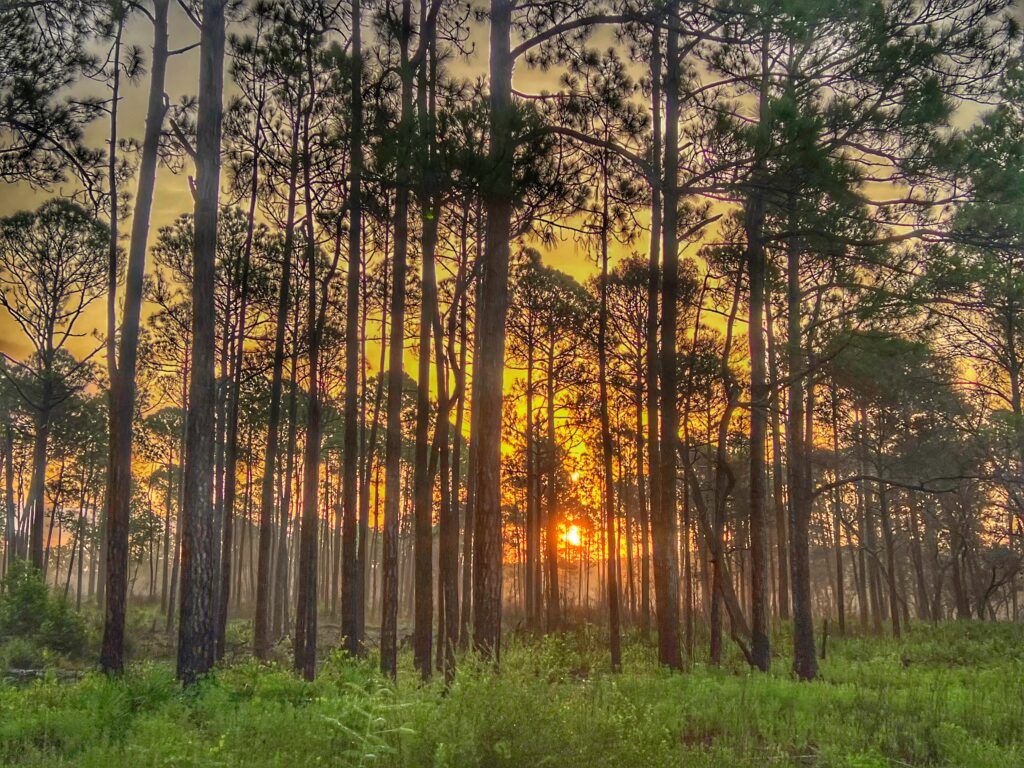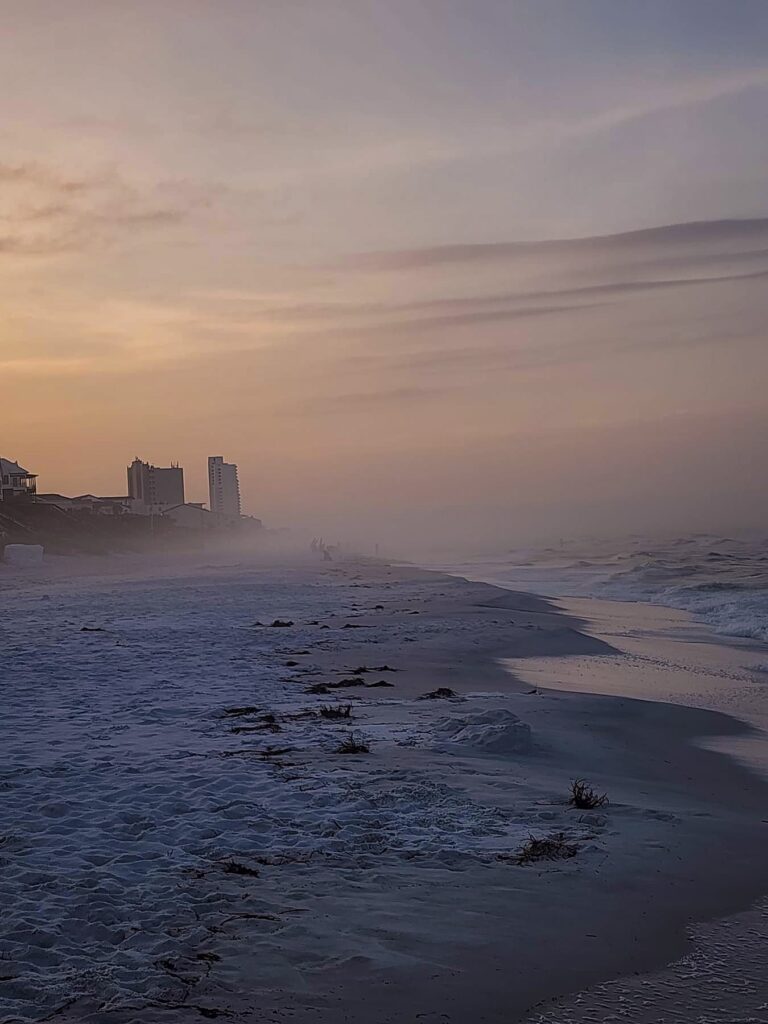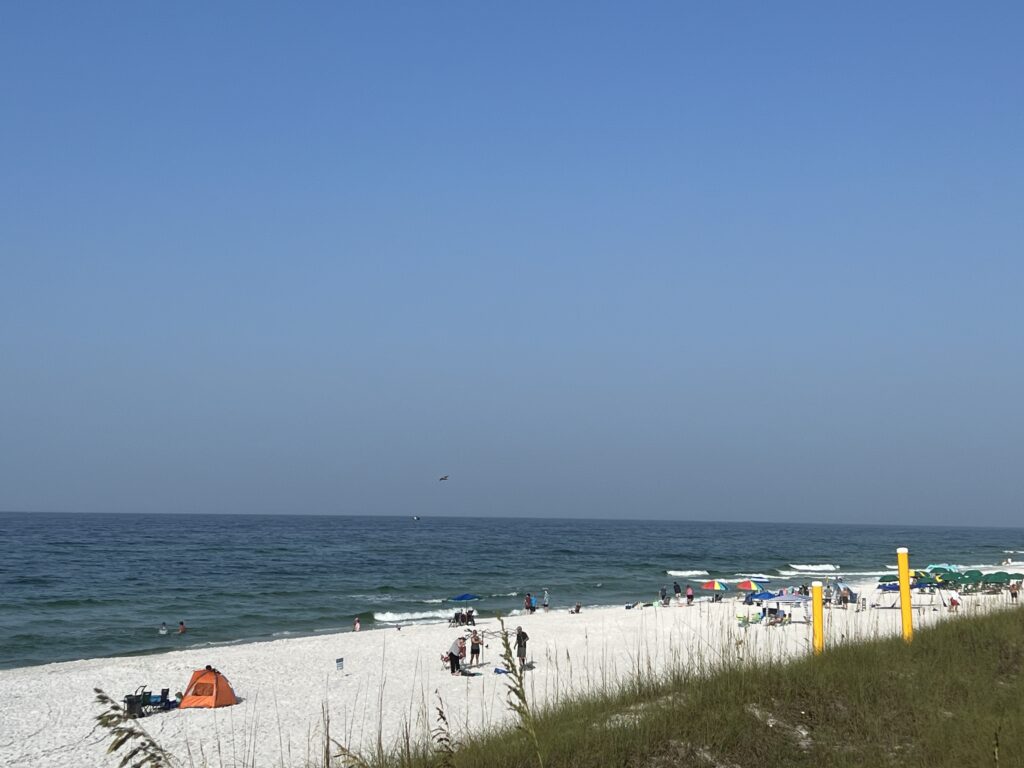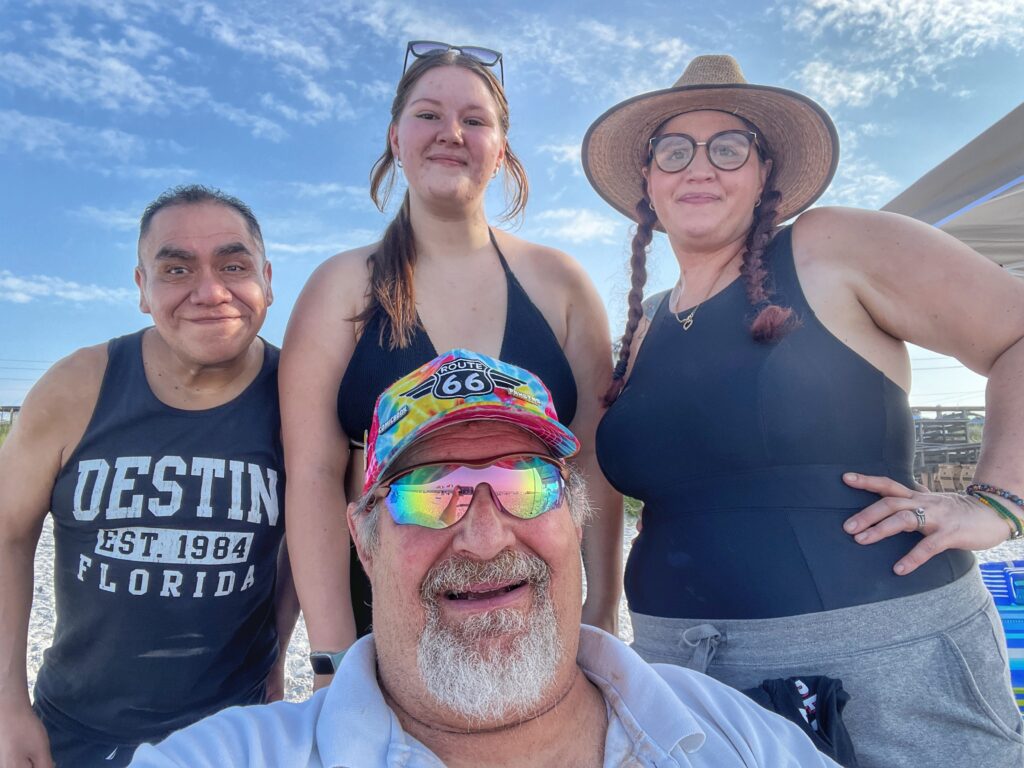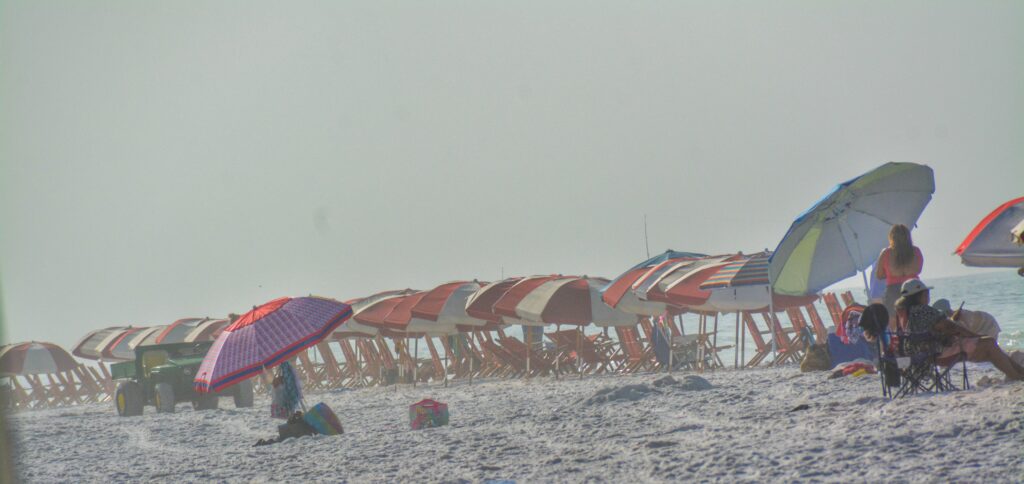 While they swam in the warm water, I kept camera in hand in hopes of a flyby by brown pelicans.  I got a number of shots and enjoyed watching them fly in formation.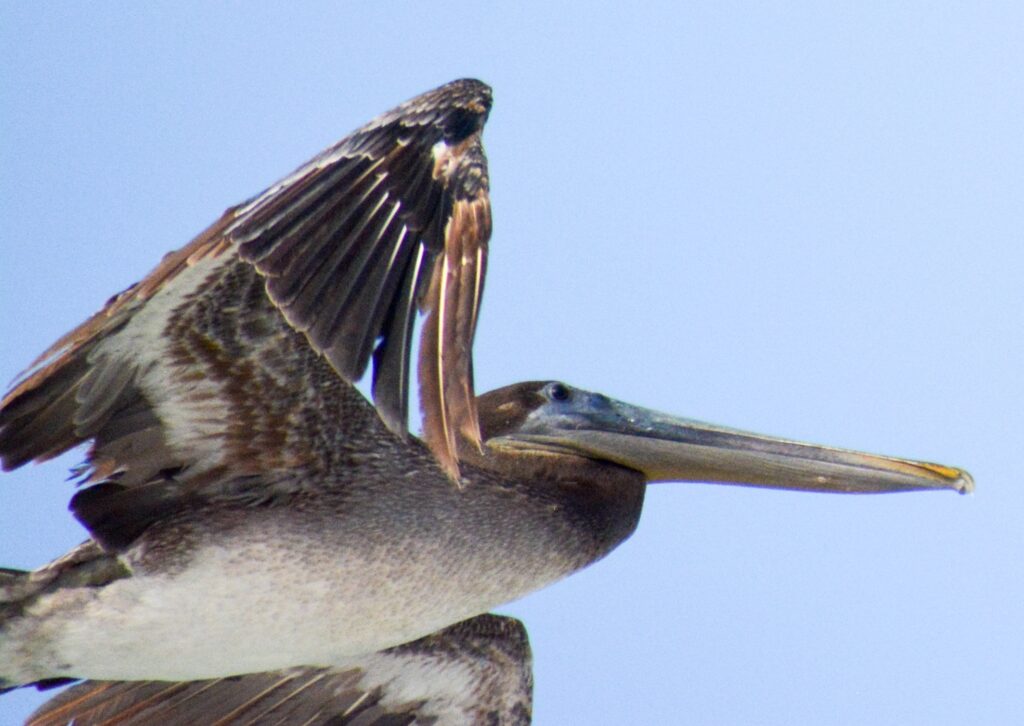 We continued west along the coast to Henderson Beach State Park near Destin, where they got out to swim again.  This state park has plenty of dunes, almost reminiscent of White Sands National Park in New Mexico, except with water.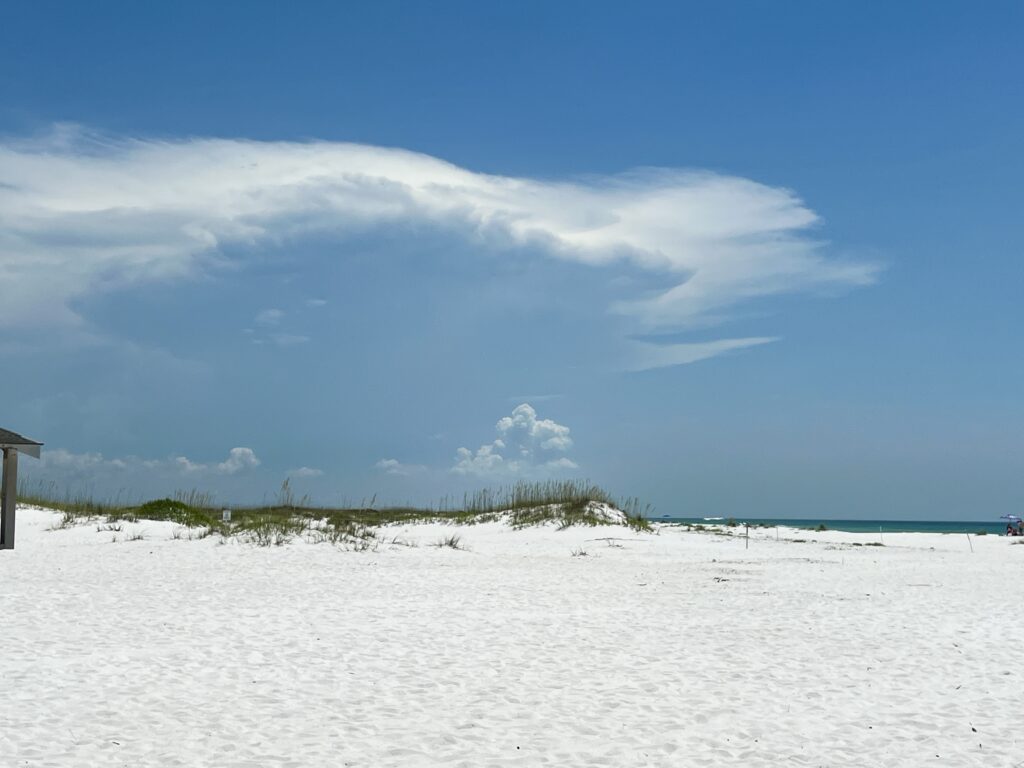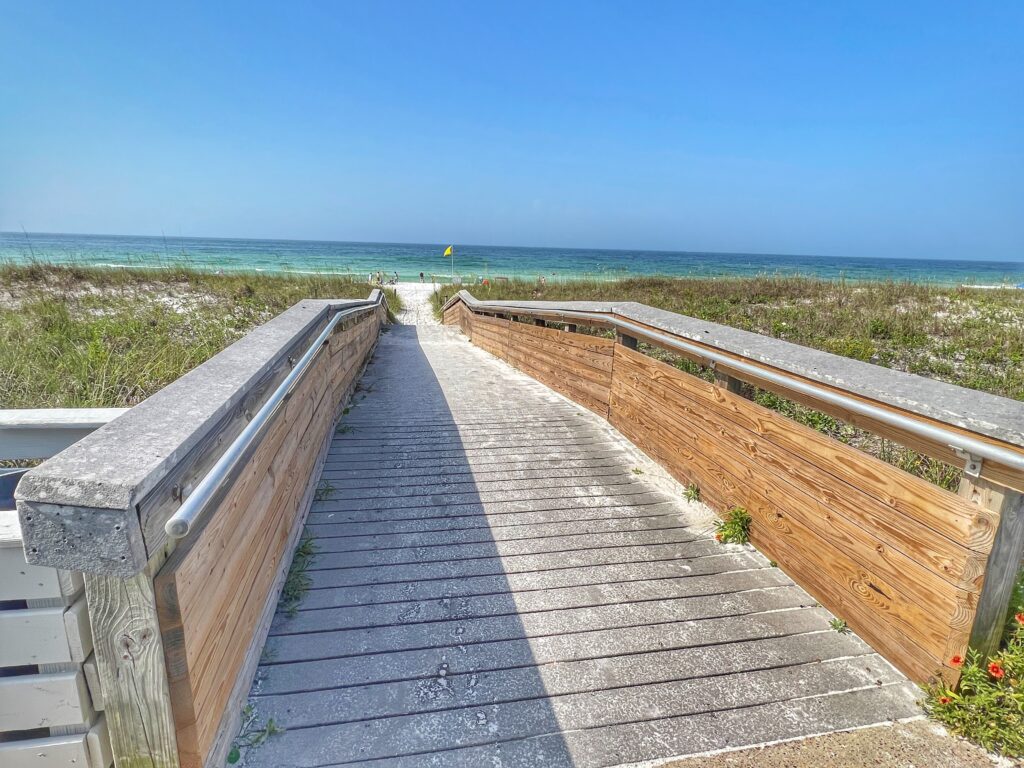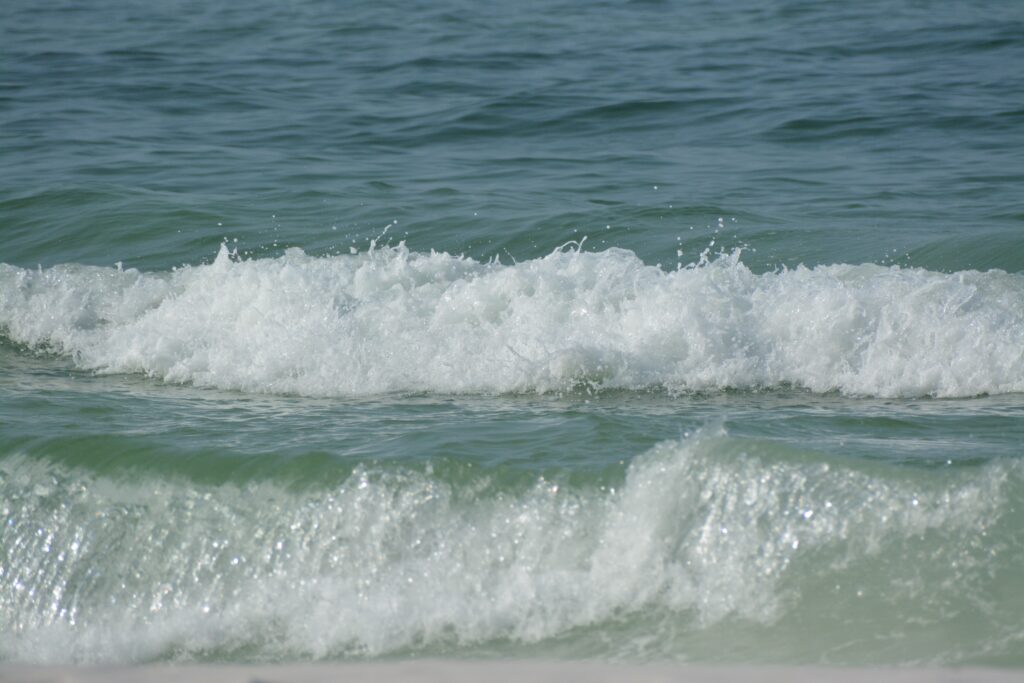 We left Henderson and made our way to Navarre Beach and then on to the Gulf Islands National Seashore, which is managed by the National Park Service. Thankfully, I had my Senior Parks Card for free entrance.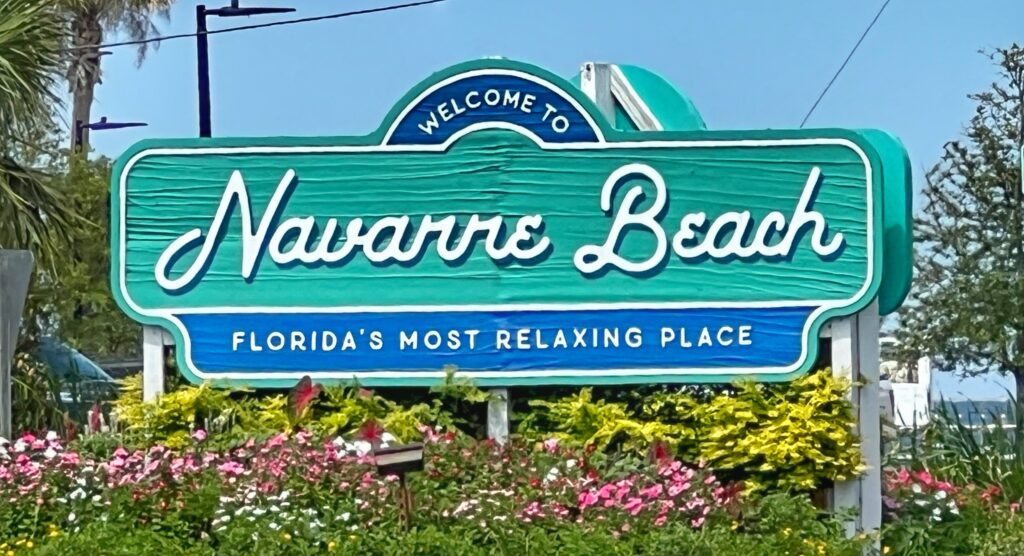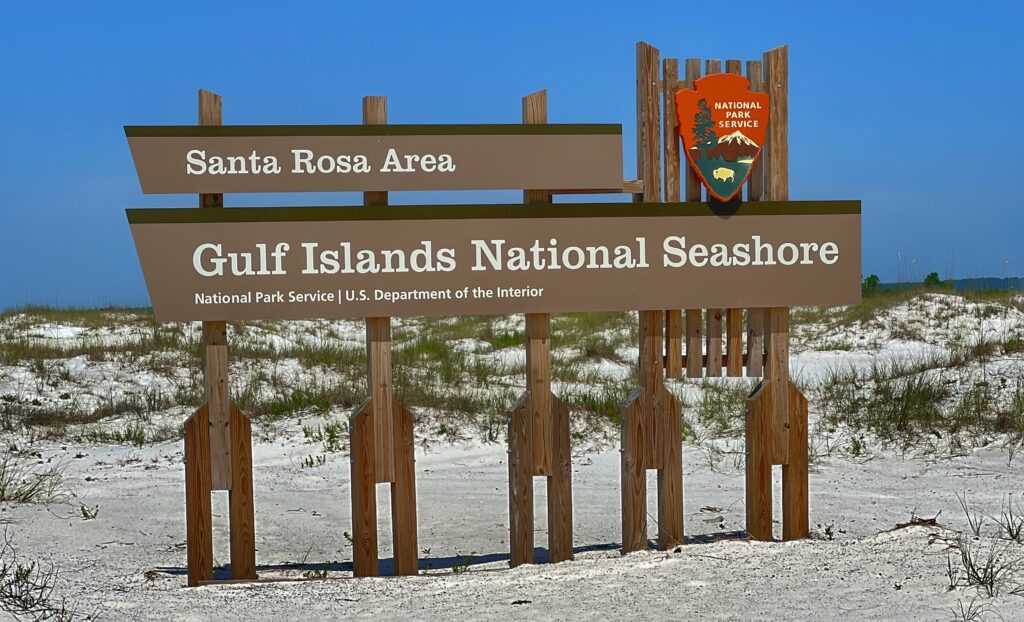 After all of the fun on the beach, we continued our journey along US Highway 98, the furthest south numbered highway. Our travels along this road finished off my four "border highways."  I have driven on US Highway 1 in Maryland, US Highway 2 across the northern U.S. from Michigan to Washington, US 101 along the Pacific Coast from Washington to California and now US 98 along the Gulf Coast.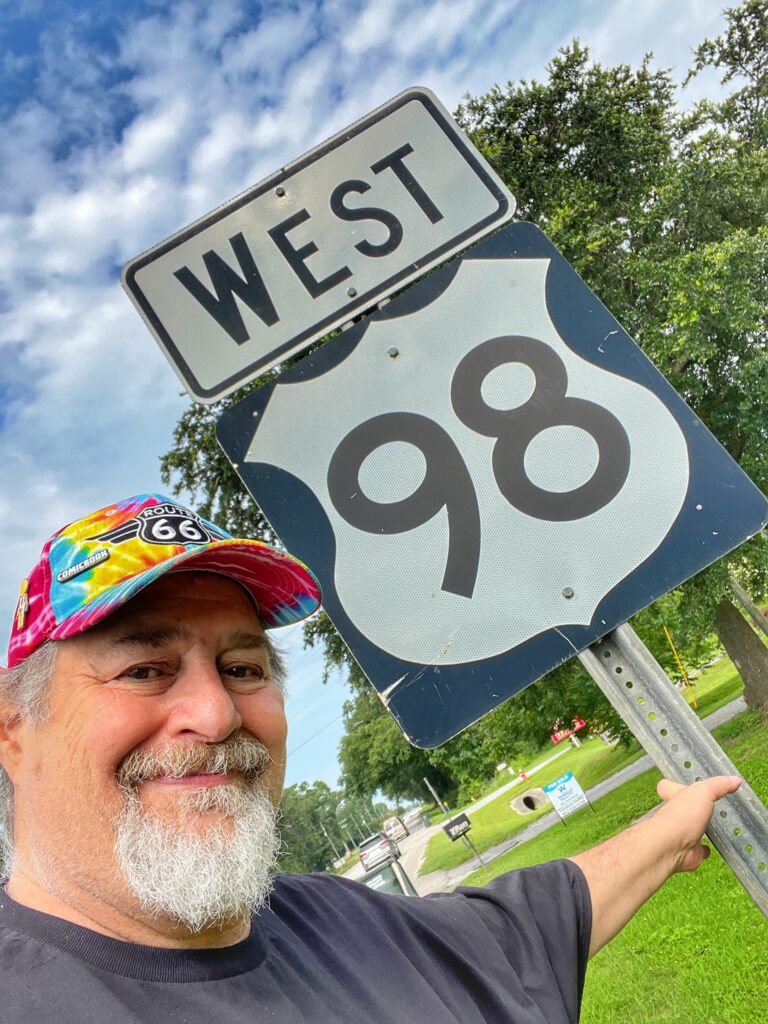 As we continued the drive, the pangs of hunger hit us as we passed by the Flora-Bama Ole River Grill on the border of Florida and Alabama on Orange Beach.  Chelsea and Jorge were craving oysters on the half shell and boy did they get them!!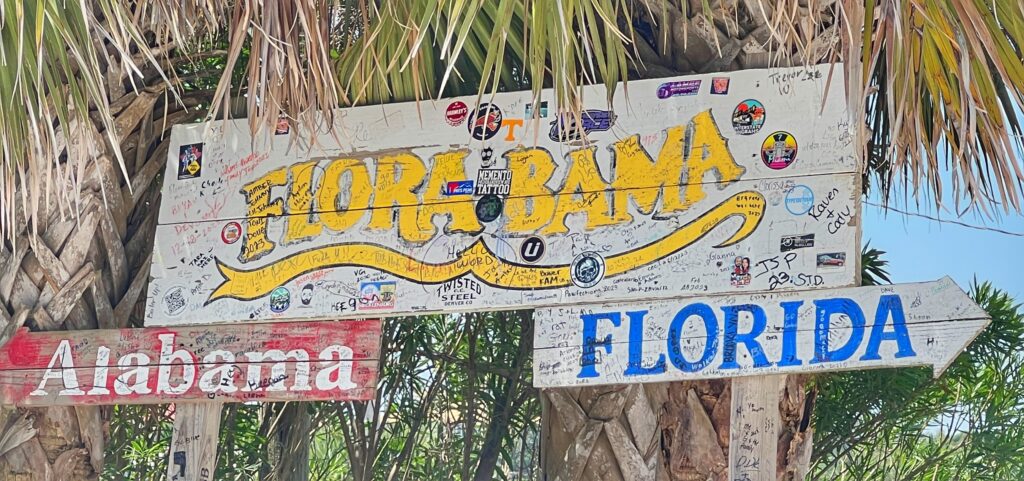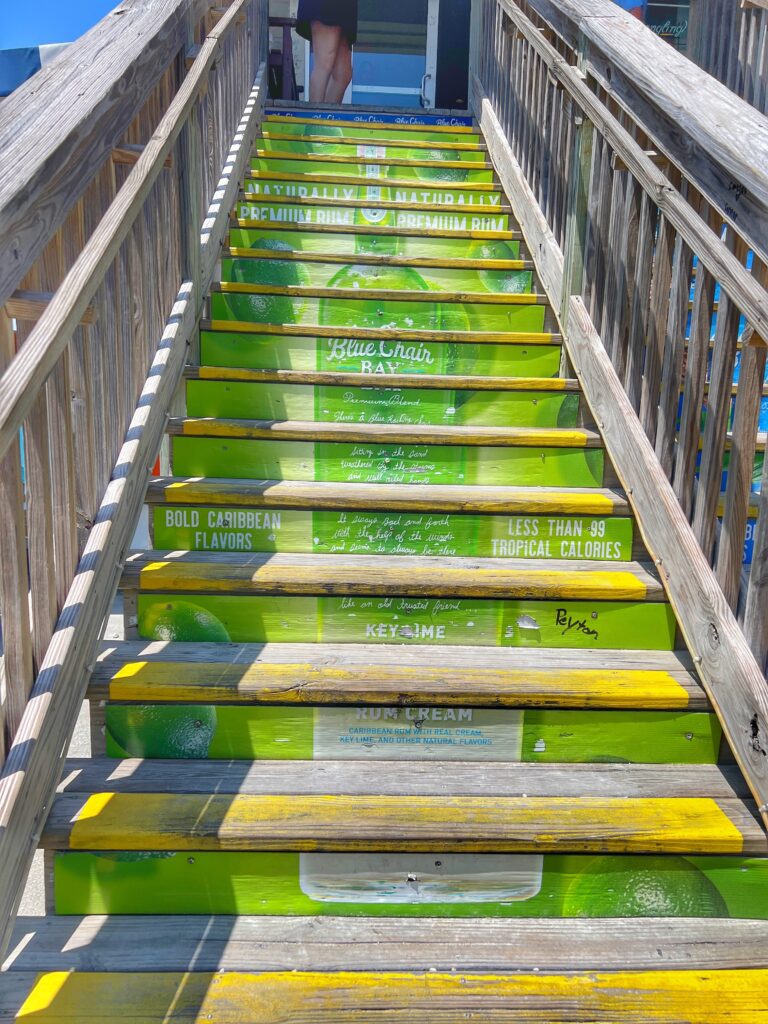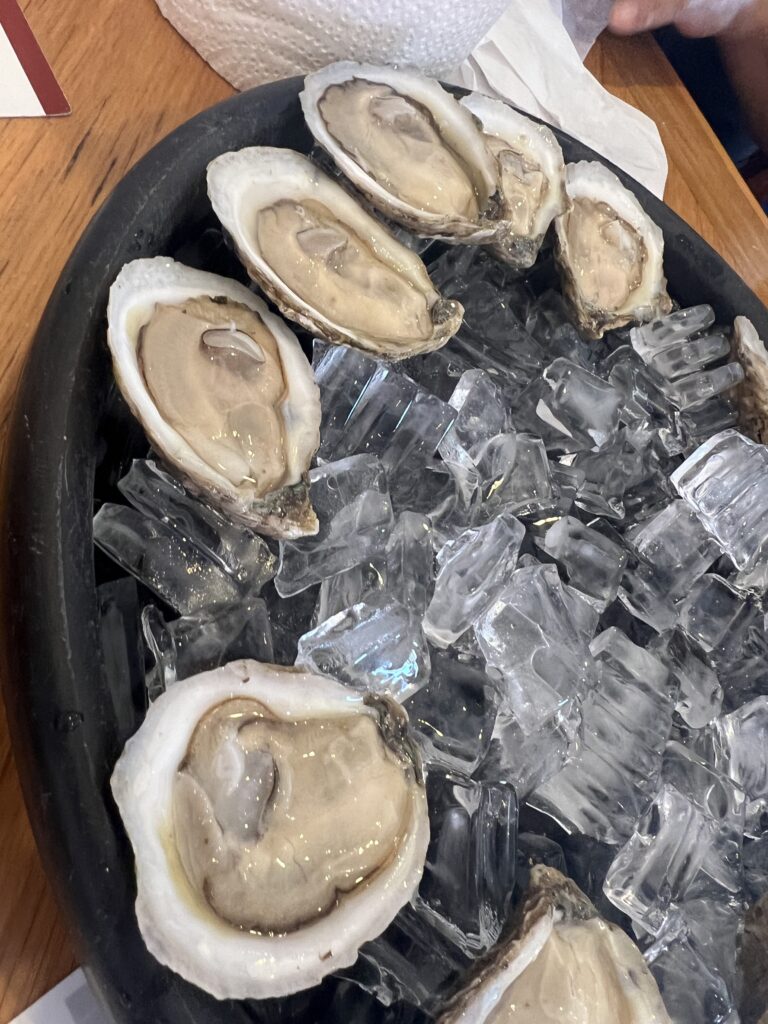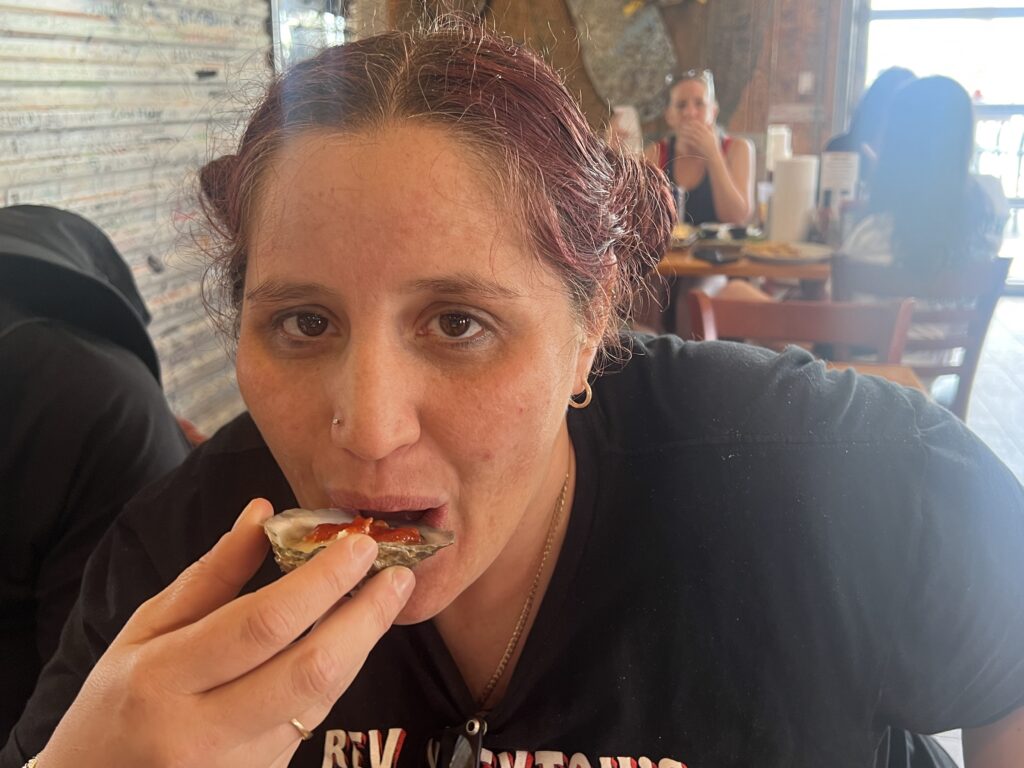 We were soon on our way to Orange Beach in Alabama following AL 182 along the Perdido Key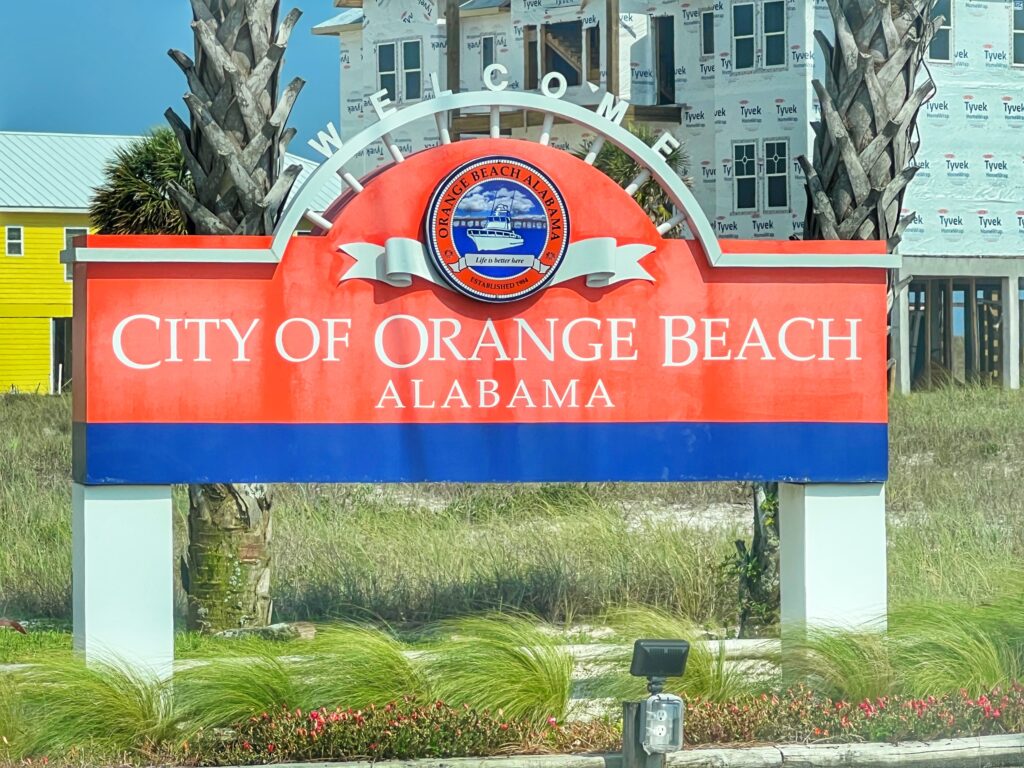 While in Orange Beach, we made another beach stop, this time at Cotton Bayou Public Beach and then we stopped for the night in Gulf Shores at the Beachside Resort Hotel. Sadly, while they were all swimming in the pool on the third floor, they saw the Bahama Bob's Beach Side Cafe take fire, explode and burn to the ground. It was a sad thing to see.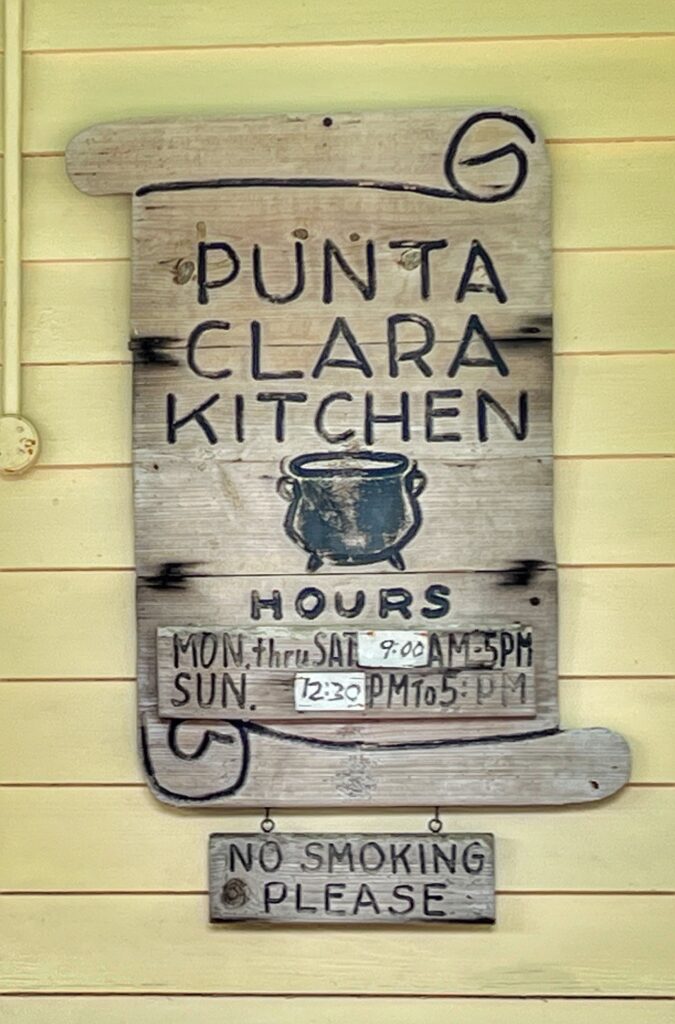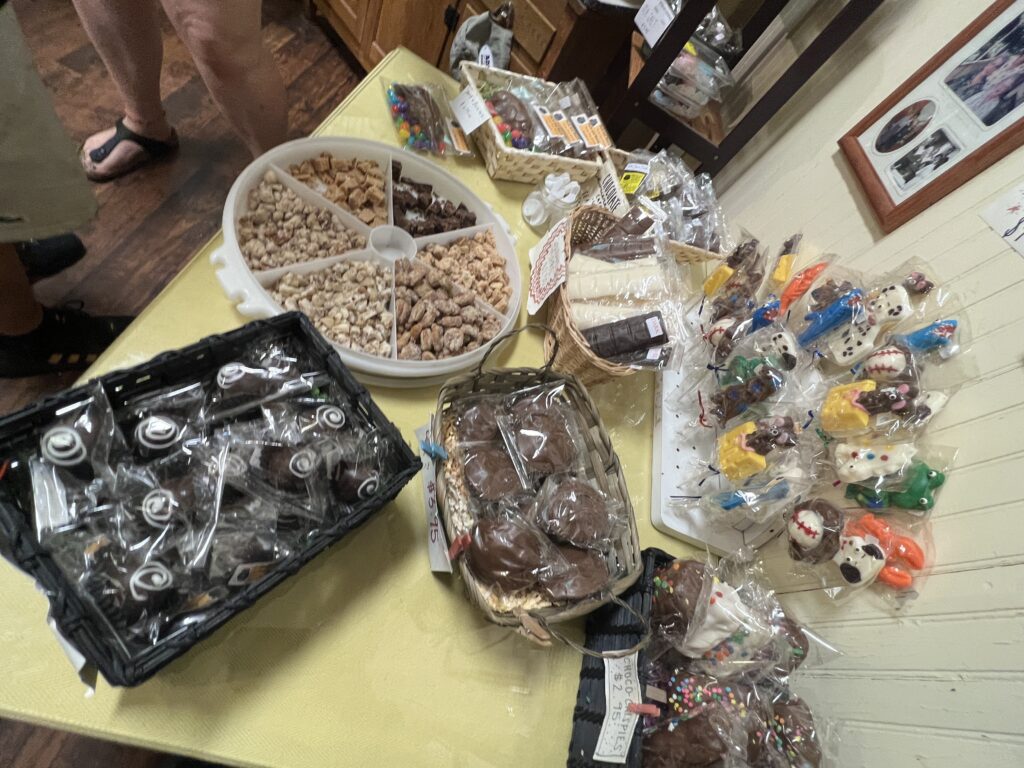 After a good night's rest, we were back on the road early to get to Fort Morgan to catch the ferry across to Dauphin Island.  After a 30 minute drive to get there, we were dismayed to discover that the ferry had been temporarily closed for Dock Repairs.  What a bummer!!  So, we turned around and took the nearly 30 minute drive back to Gulf Shores and headed north from there through Magnolia Springs, Yupon and Barnwell to Point Clear on Mobile Bay.  While driving in Point Clear we came across the Punta Clara Kitchen…a local candy shop that makes many traditional southern yummy things.
After Point Clear, we passed through other small towns like Fairhope and then crossed over the Cochrane-Africatown USA Bridge north of Mobile and meandered our way into the town of Bayou la Batre, the Seafood Capital of Alabama. The town has two huge drawbridges, also known as Bascule Bridges for boats to pass under.  The large Bayou la Batre runs through town and one can see numerous fishing boats and shrimping boats in the bayou.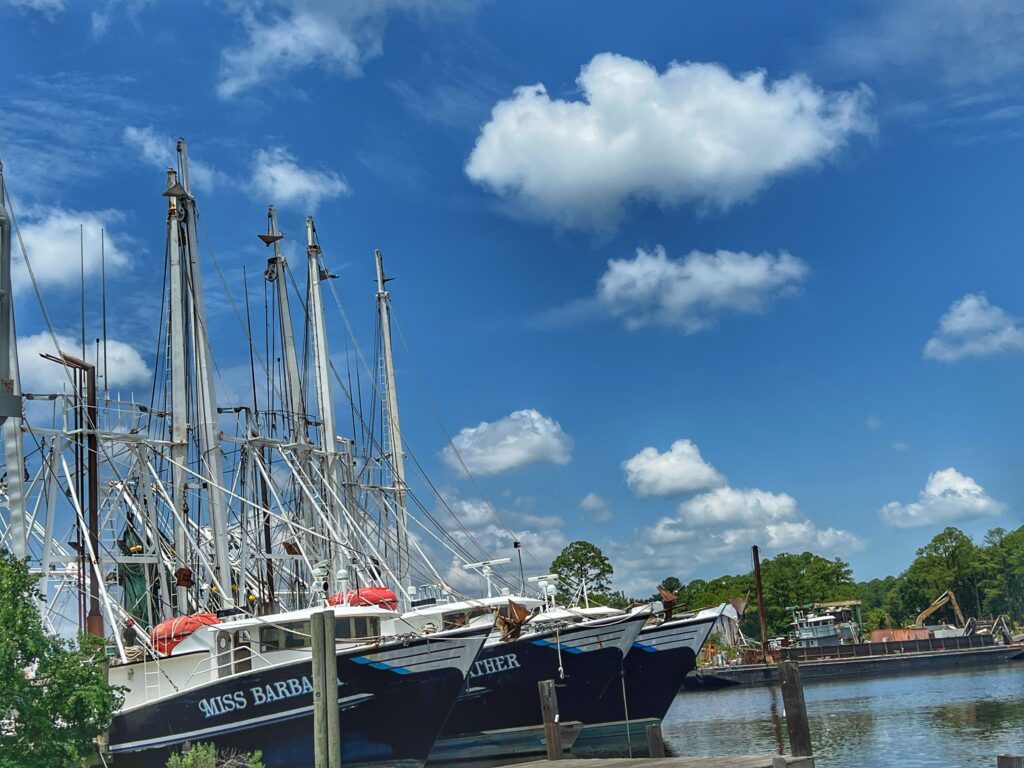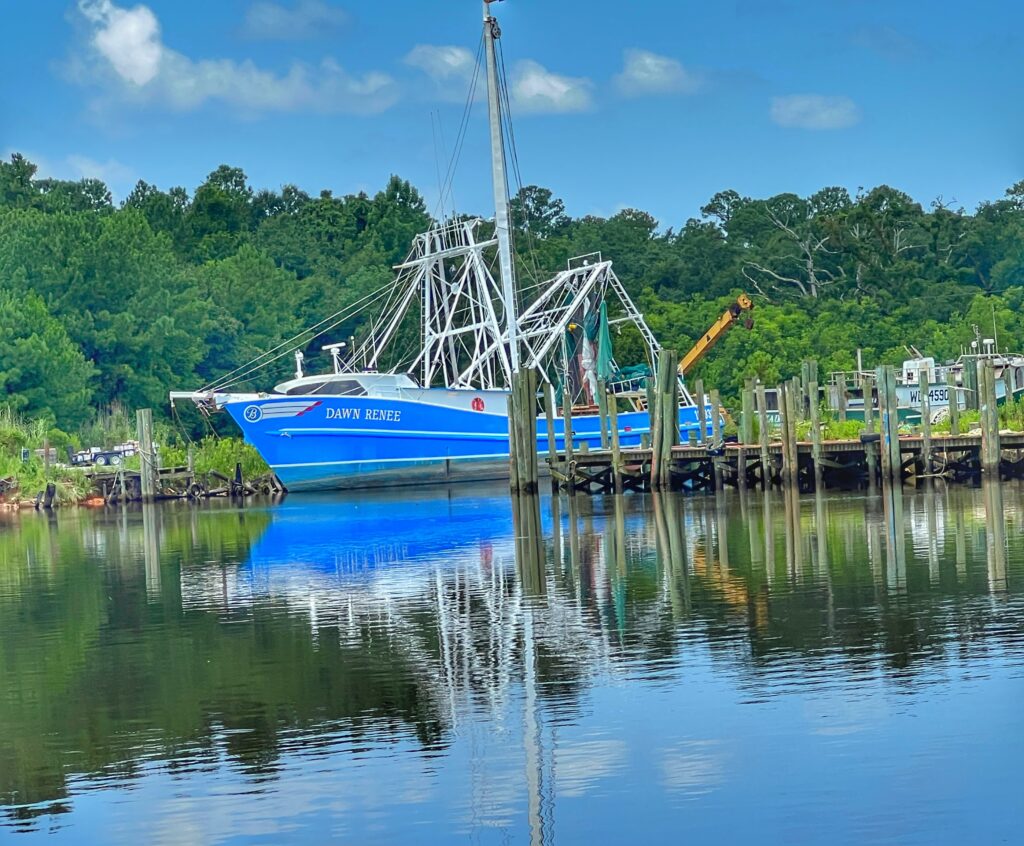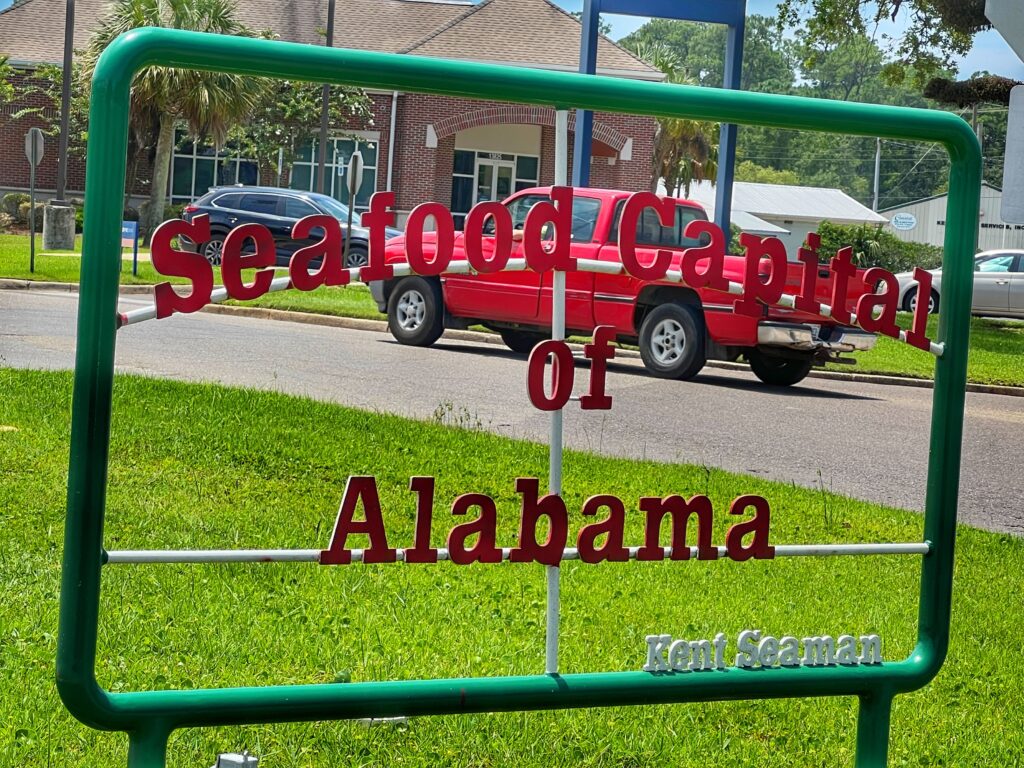 We were soon crossing into Mississippi and I had high hopes to visit the Mississippi Sandhill Crane National Wildlife Refuge near Gautier. We got there, but, the building with museum and info center was closed due to some building construction.  Sadly, the website never said anything about that.  Bummer.  But them's the breaks!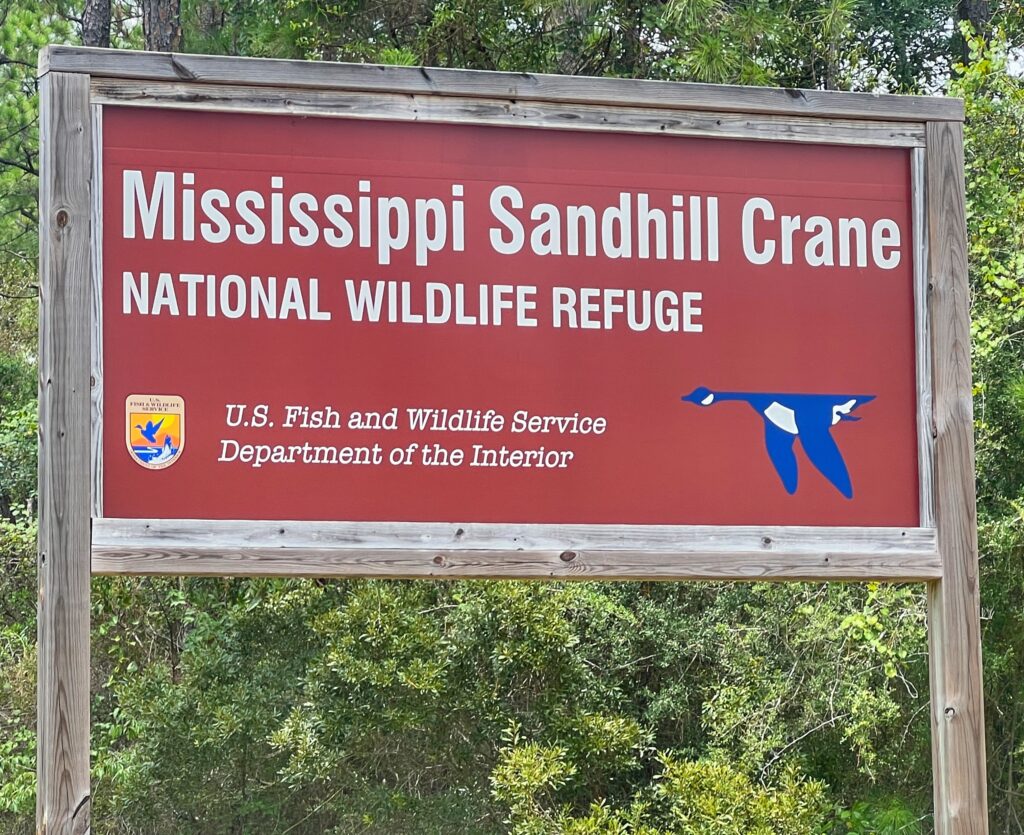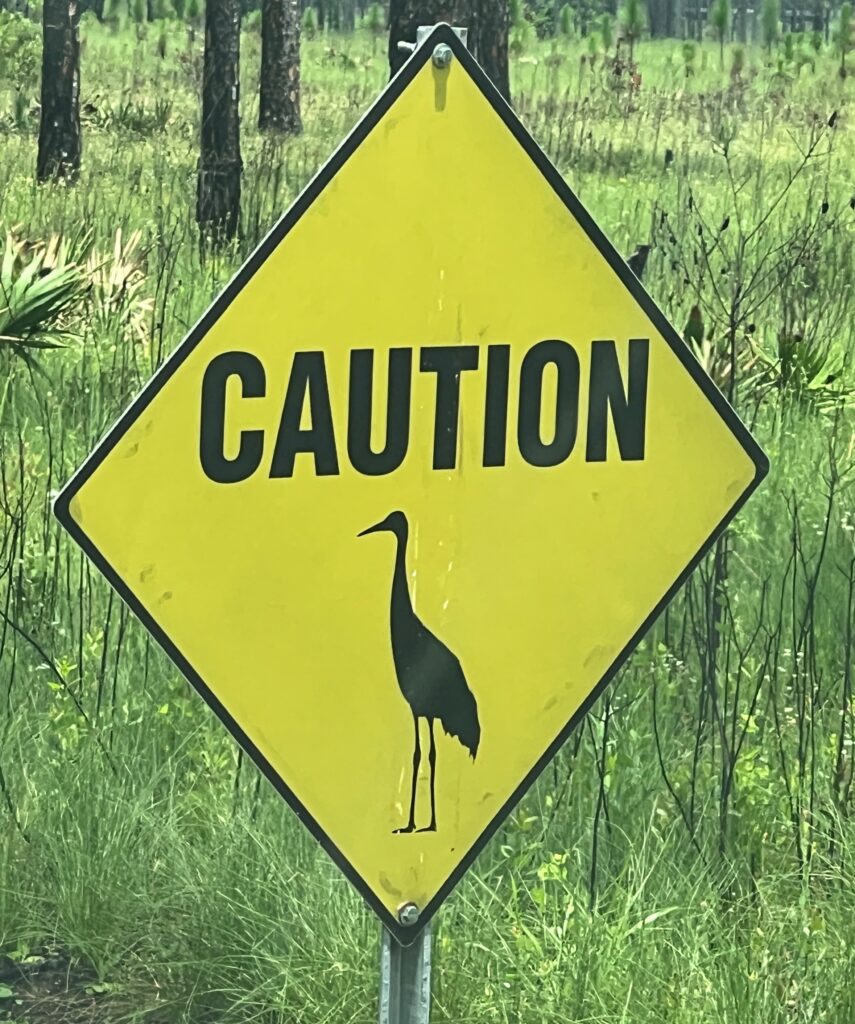 Next stop was Biloxi, another major tourist stop on the Gulf Coast.  This was not my first time here, but with new family members, we stopped for a seafood lunch at The Reef and then made the obligatory trip to Sharkheads to pose with the 40 foot tall shark hard entrance.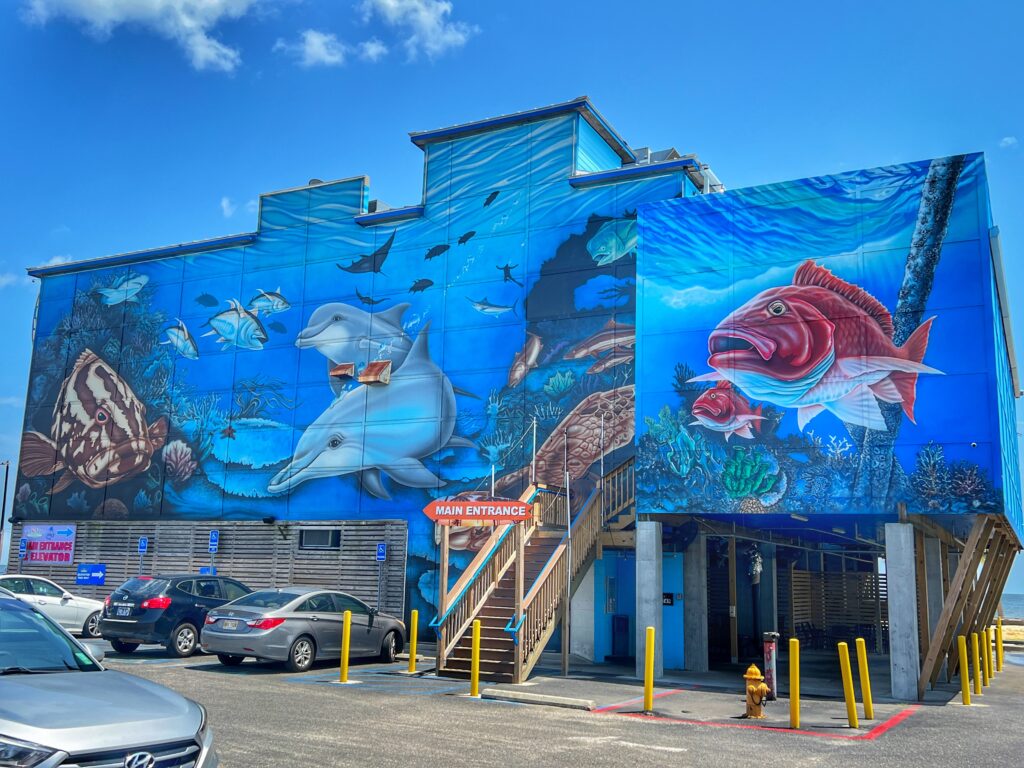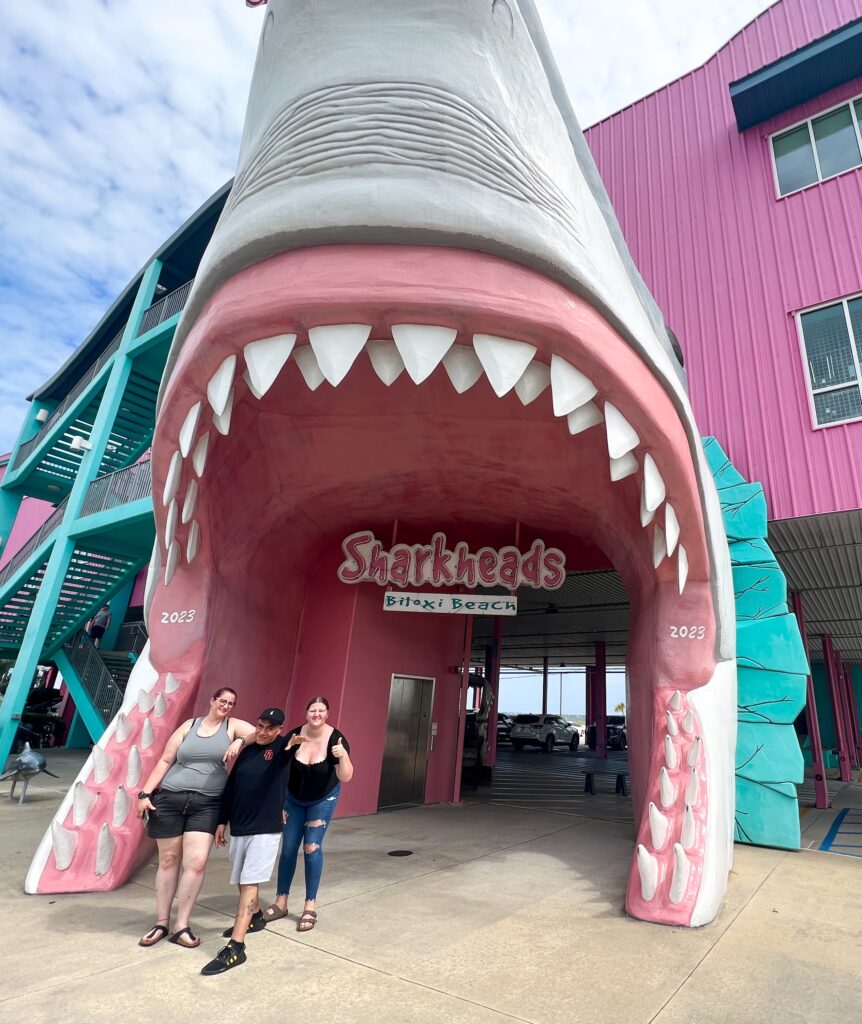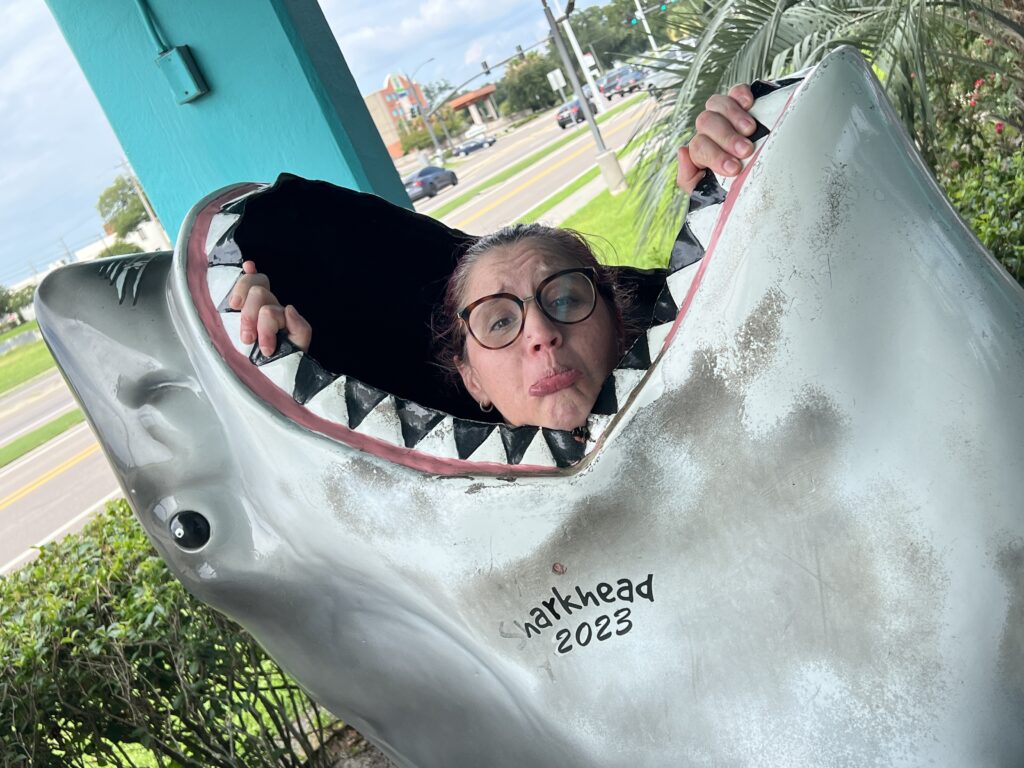 By the end of the day we made our into New Orleans, LA with an overnight stay at the St. Charles Ascend Hotel in the Garden District.  While I relaxed, Chelsea, Jorge and Autumn caught a trolley into the Bourbon Street area and visited the famous St. Louis Cathedral church and a few Voodoo places.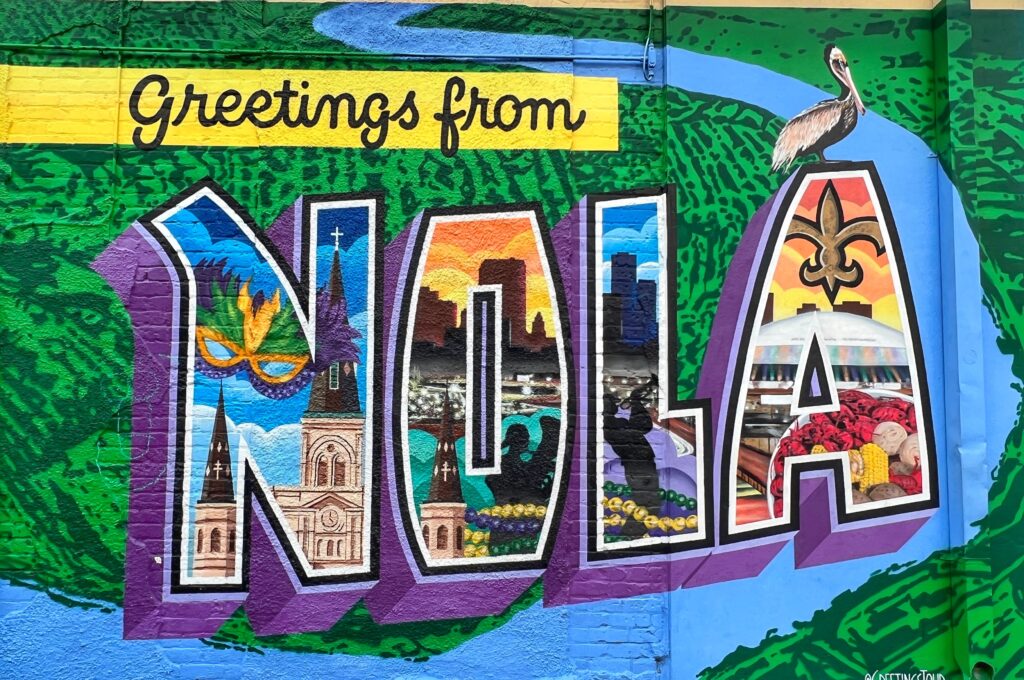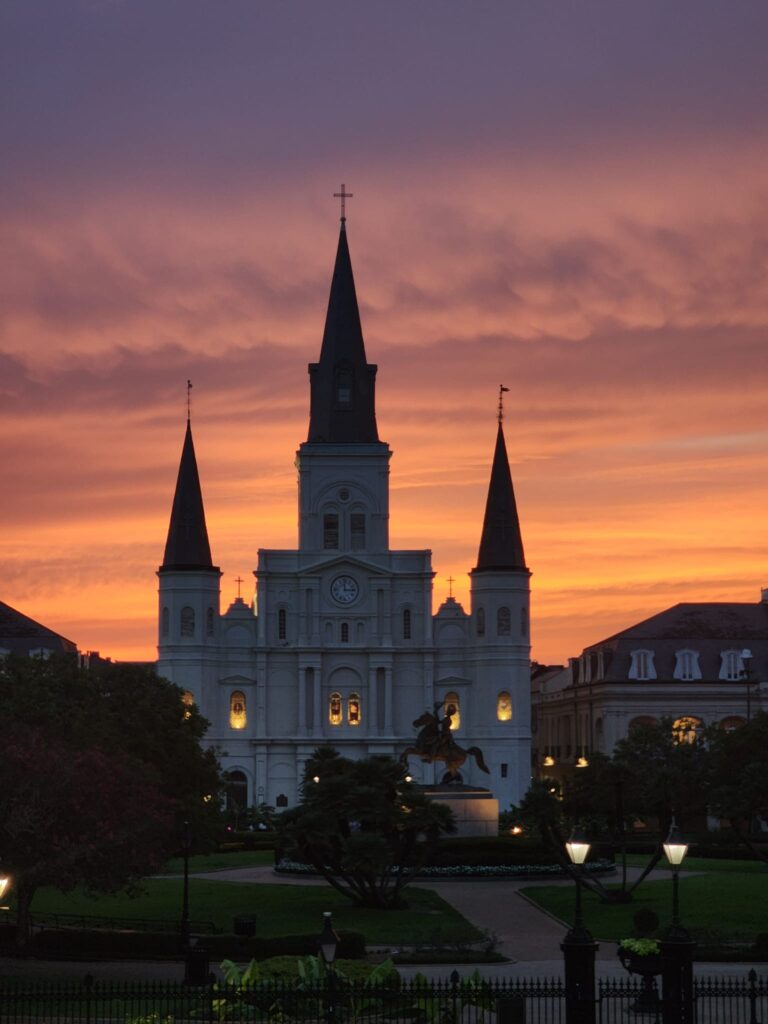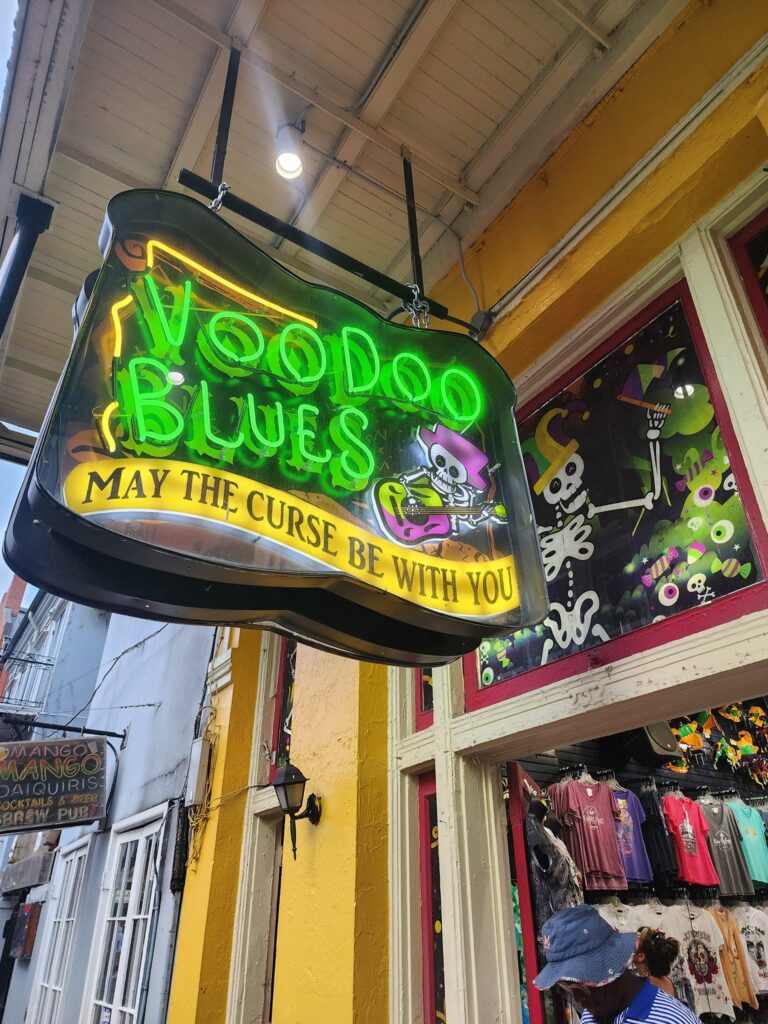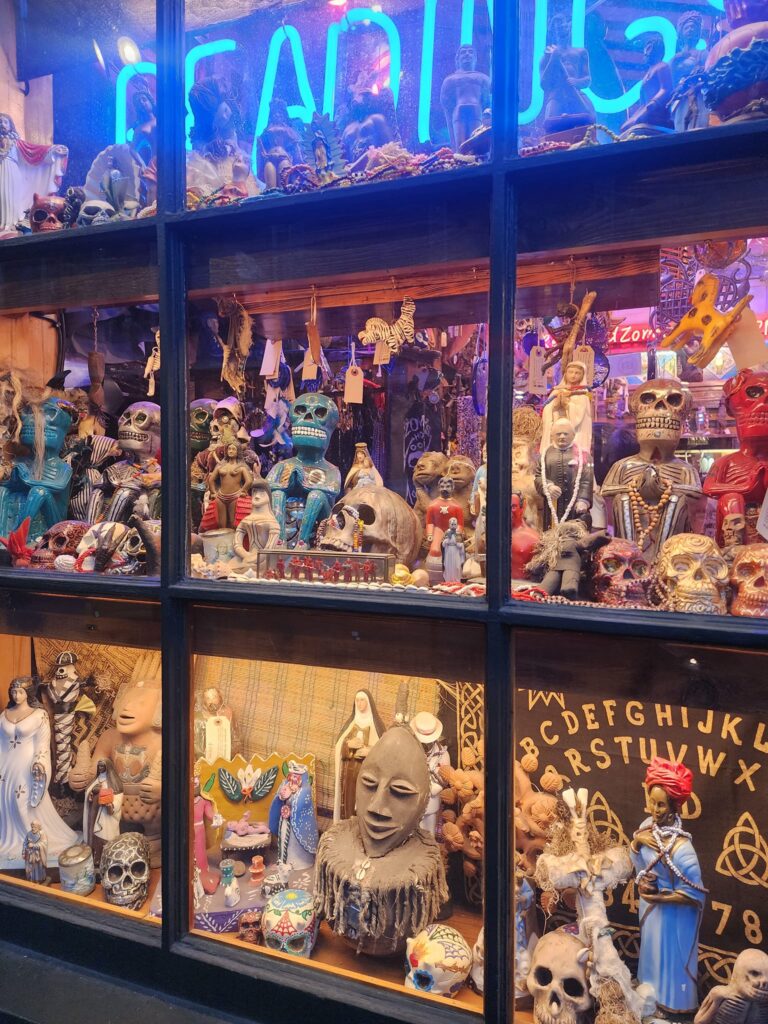 After a nice evening's rest, it was on to Houma, LA where we would grab breakfast and see what we could see.  Houma is one of the two main places on the TV Show Swamp People, but we didn't see any of that.  After visiting the lovely Welcome to Houma sign we tracked down breakfast.  We randomly chose the Bayou Country Café since it sounded like it might have some Cajun-style breakfast.  This place by the airport was really nothing fancy but it did provide a MAJOR surprise for us.  Turns out the restaurant is managed by an organization known as TARC (Established in 1962 as the Terrabonne Association for Retarded Citizens) as a means for providing the opportunity for community inclusion and the enjoyment of a meaningful life for people with intellectual and other developmental disabilities in Terrebonne Parish.  This place was so amazing to me that I will be doing my next blog post all about the café.  Needless to say, we not only had a nice breakfast, but also an amazing experience!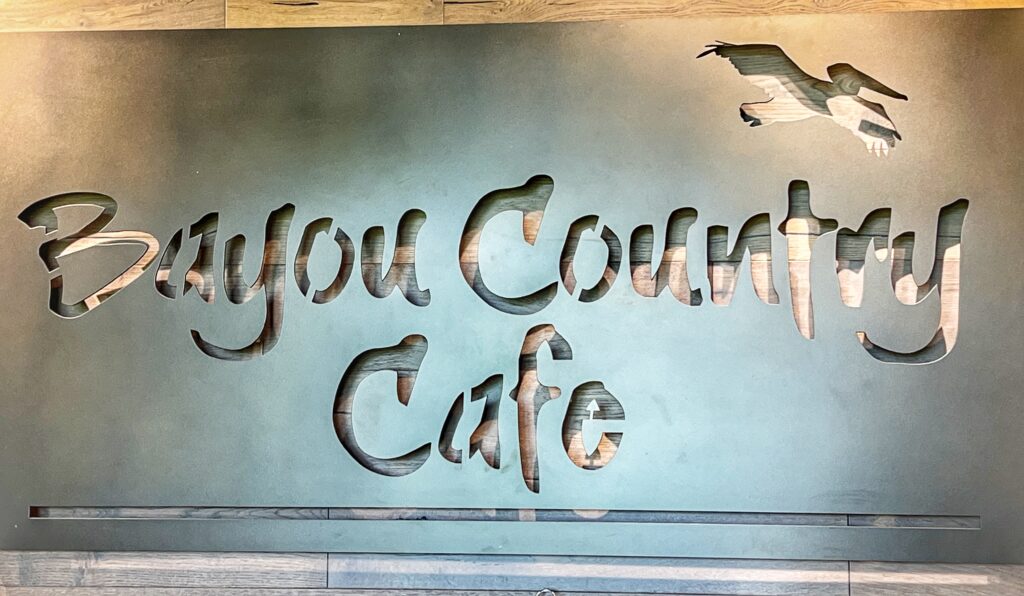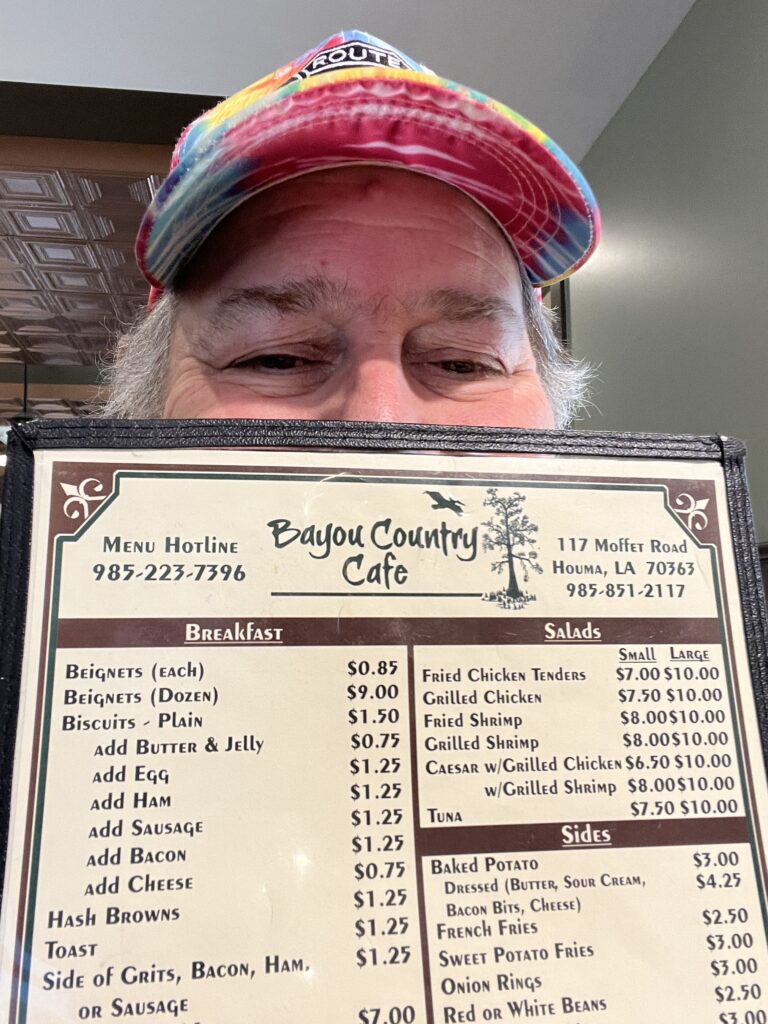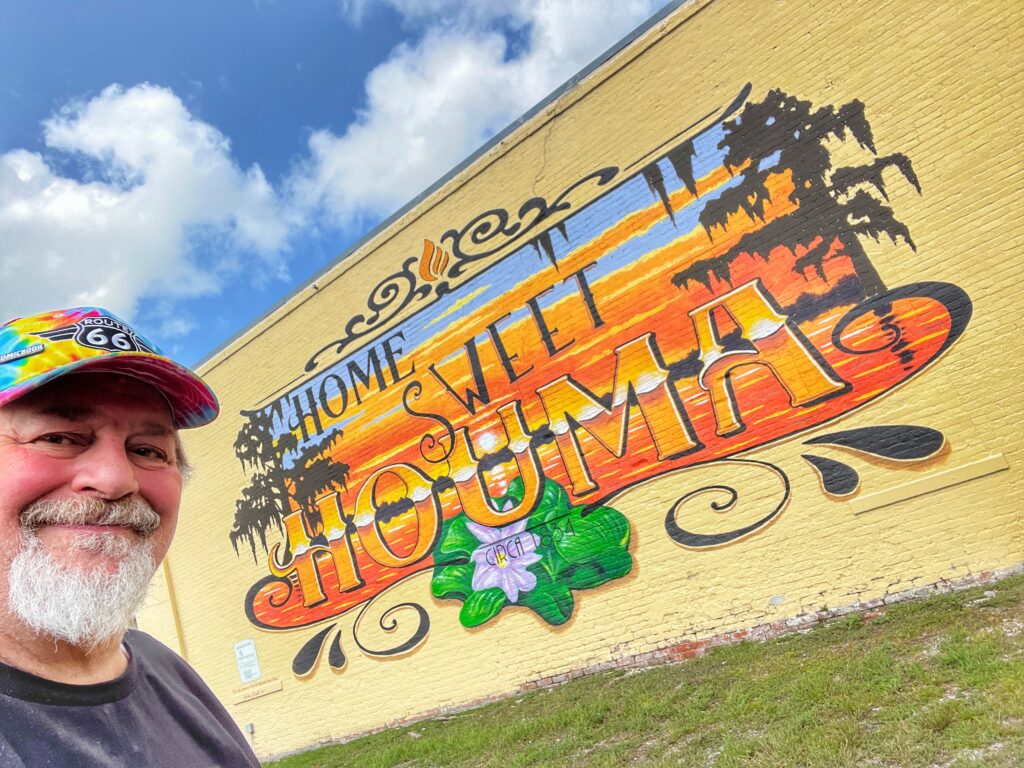 On the road again we passed though Patterson, Louisiana where we saw Black Kettle Cajun Meats and their advertisement for fresh Boudin and Cracklins.  Naturally, we were in Louisiana and so why not try both.  So we did stop.  The Boudin was OK, but the Cracklins were to die for!!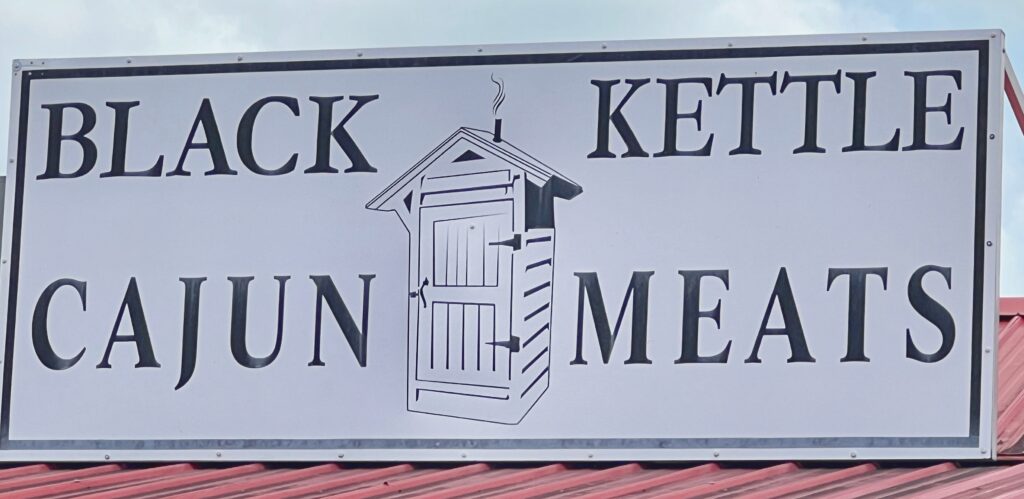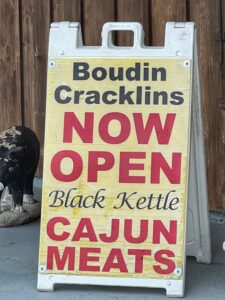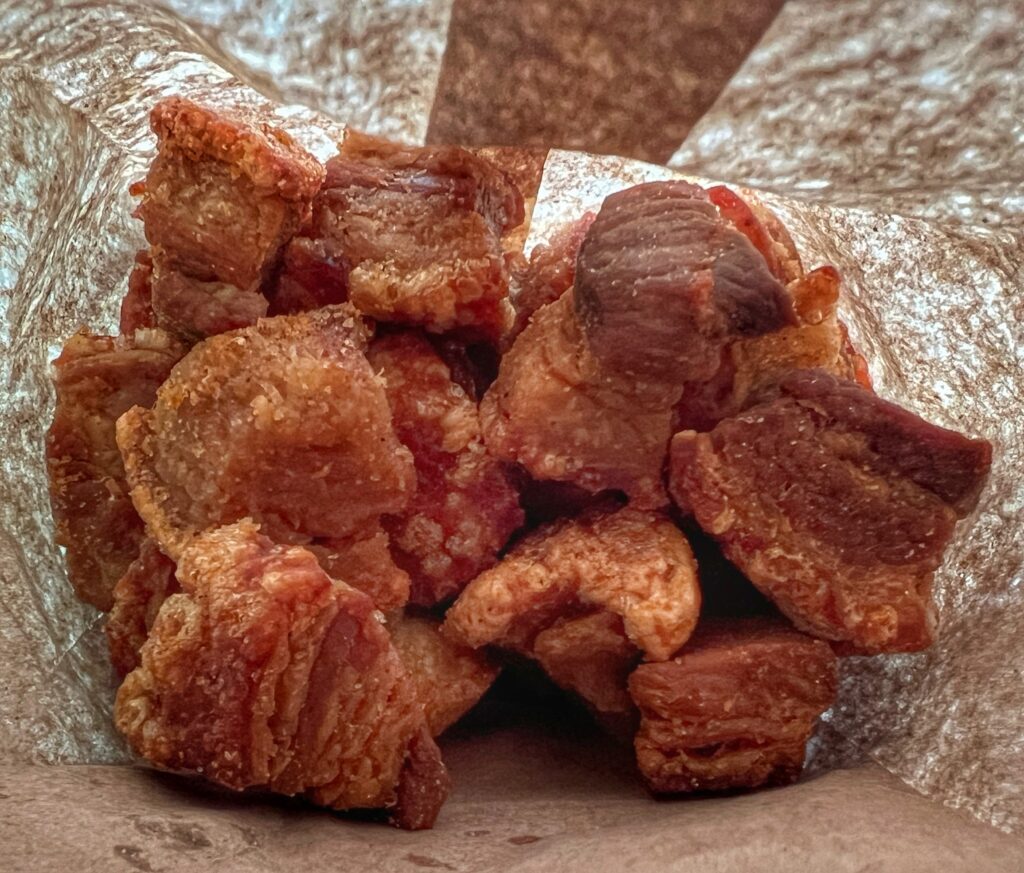 The next stop was in Avery Island, LA.  I have been through Louisiana numerous times and had always wanted to get to the Tabasco Factory / Museum / Gift Shop in Avery Island.  This time it finally worked out for us.  As a MAJOR Tabasco lover, I was thrilled to visit.  This too warrants a full blog post.  Needless to say, I was thrilled to try their Tabasco Ice Cream!!  Watch for a full report coming soon.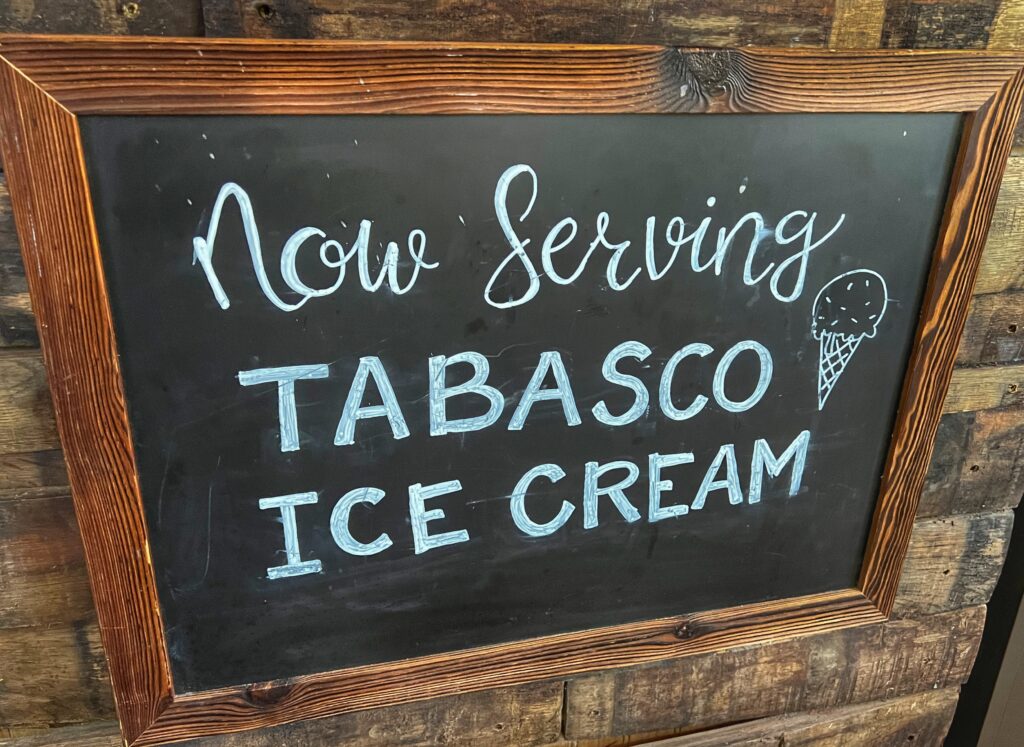 The remainder of this trip was booking it to Houston to have dinner with my 93 year old Uncle Lou Kravetz and his wife Toni.  We enjoyed some amazing Indian cuisine and then stayed the night in North Houston.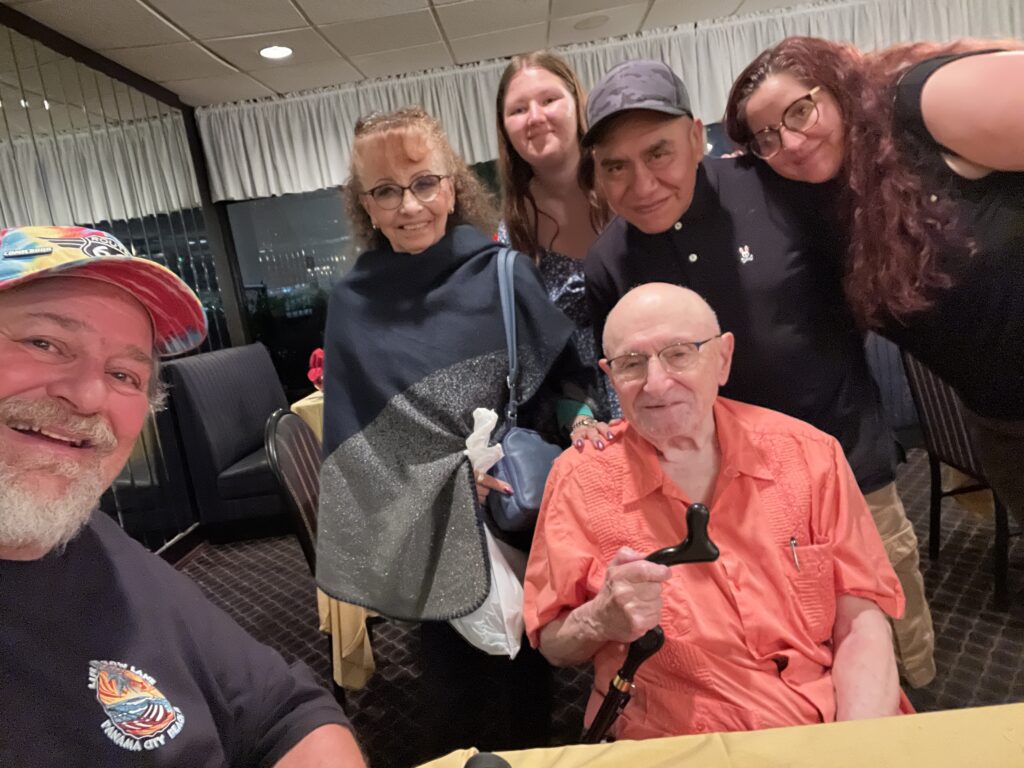 The next day we were up early and made our way to Keller, Texas to see my sister Sherry.  Along the way we made through places like Normangee, North Zulch, Wealthy and Jewett before finally getting to Keller.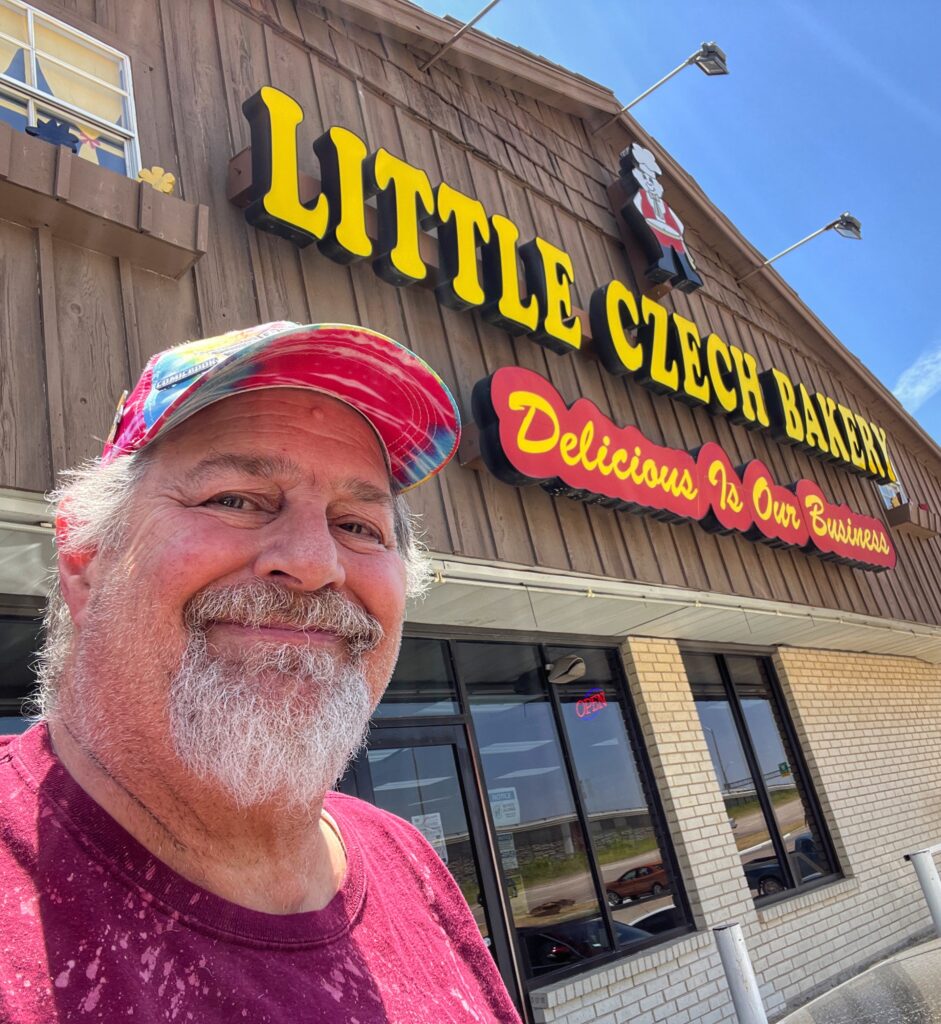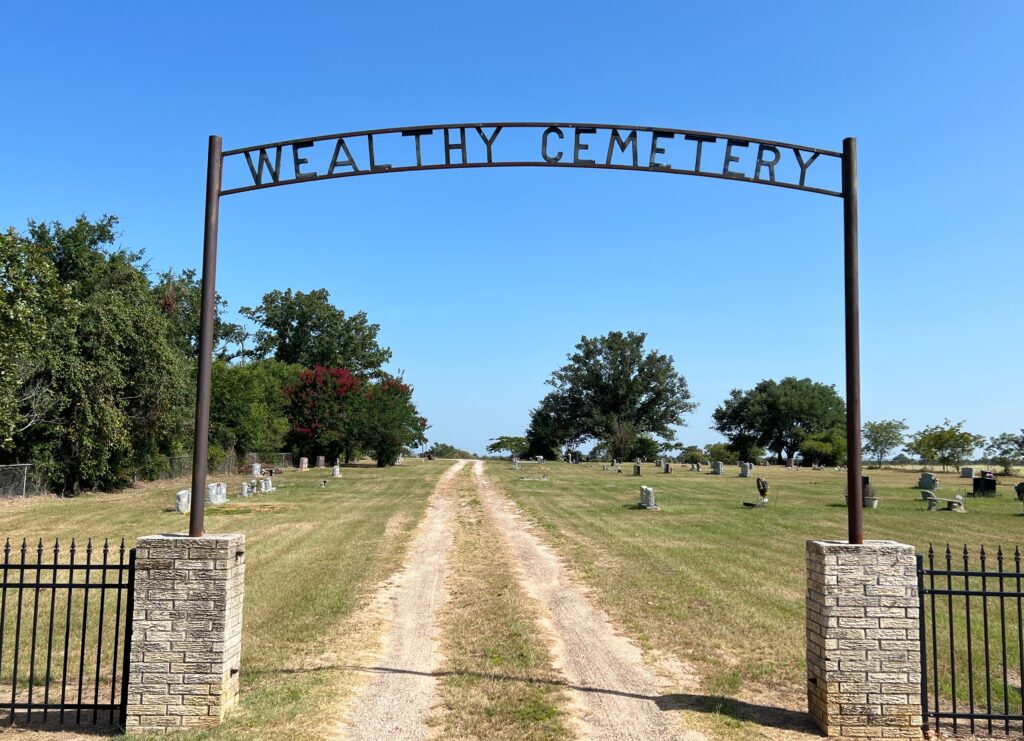 And then we stopped in Azle, Texas for the obligatory visit with my good friend and Author Mentor Tui Snider. In the past year she and her husband Larry have visited dozens of countries around the world and she had some amazing stories to tell us.  Always nice to see my friend Tui and her eternal smile.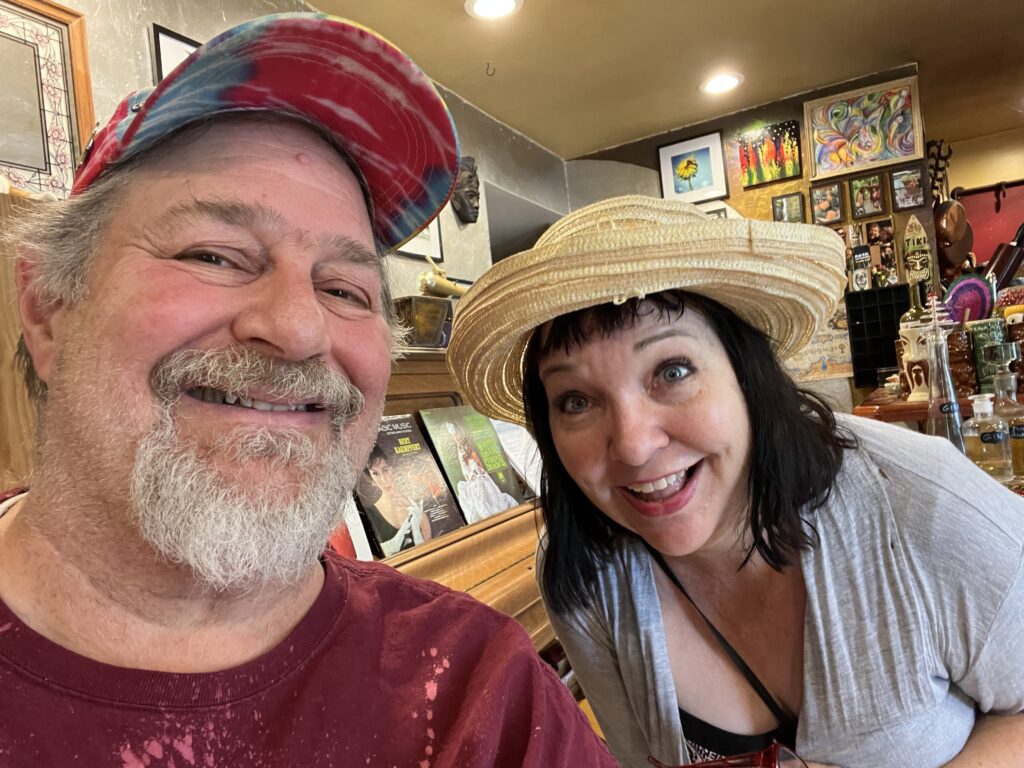 After a nice evening meal with Sherry, Brian and their daughter Savannah, we got a good rest and then an early morning to head to Uncertain, Texas for yet another boat ride on Caddo Lake with my Captain Friend Aaron Applebaum of Mystique Tours.  This was my fourth ride and first summer ride. This too will get a full treatment in its own blog post.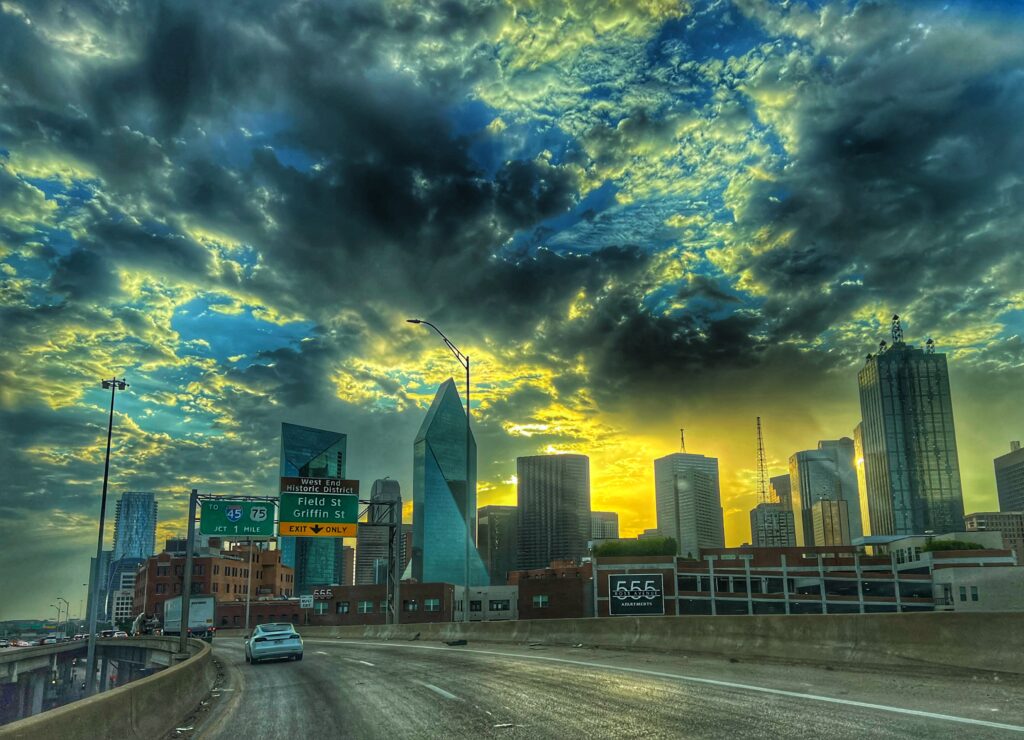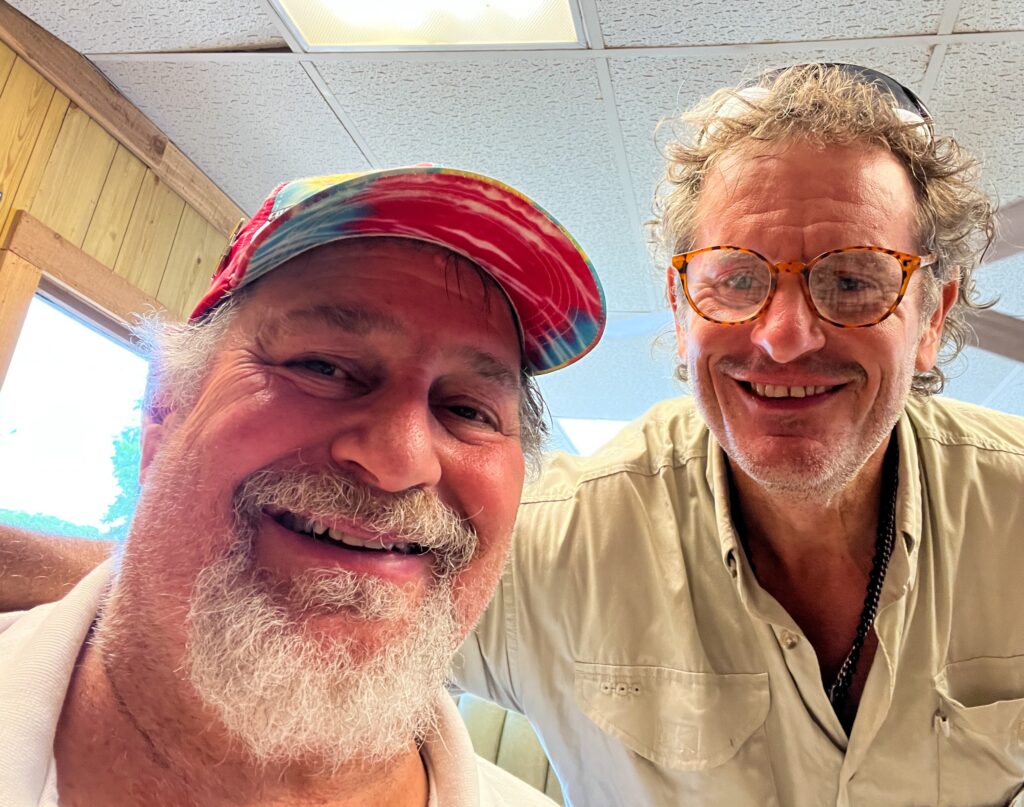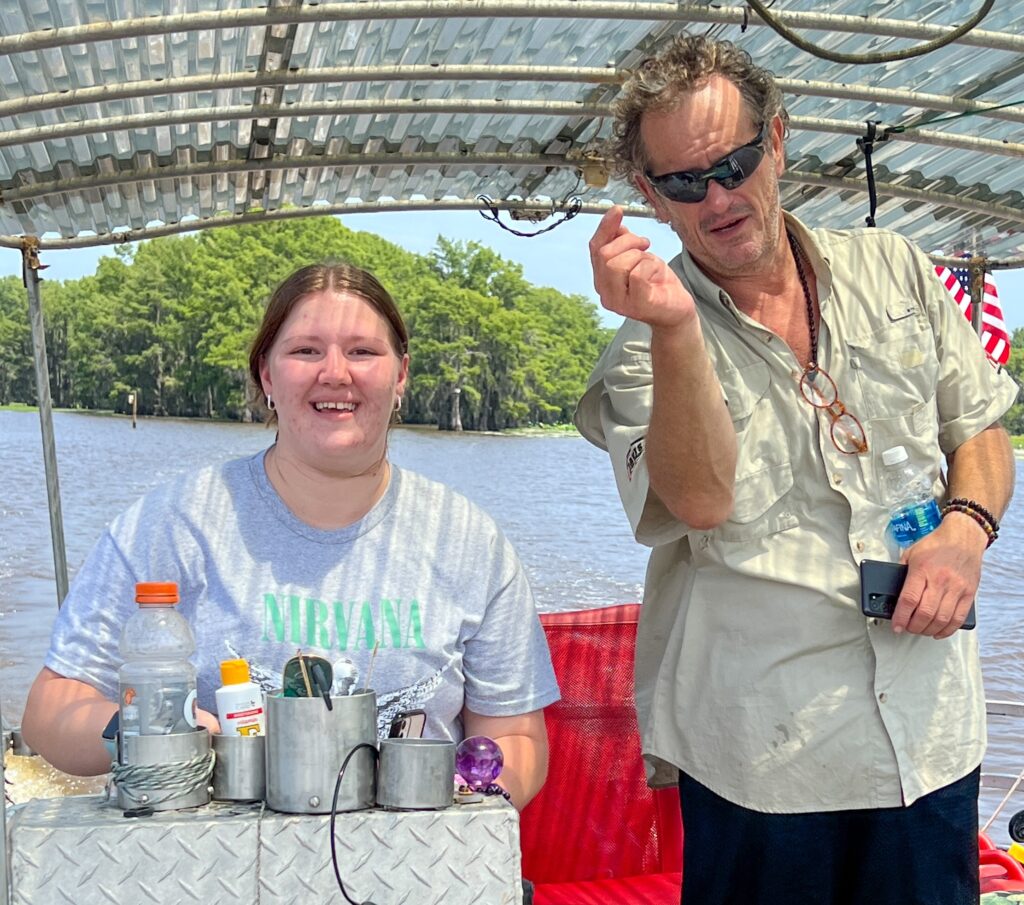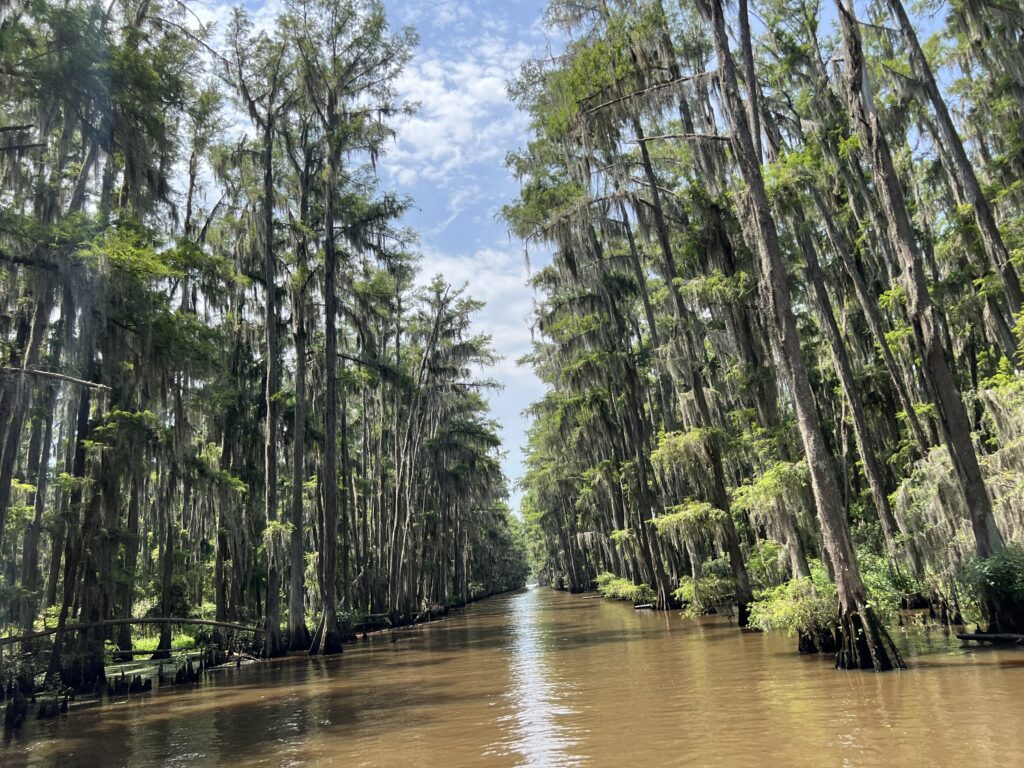 The remainder of the day took us up into Arkansas for an overnight and then back to Lexington on July 21.  It was  an amazing trip!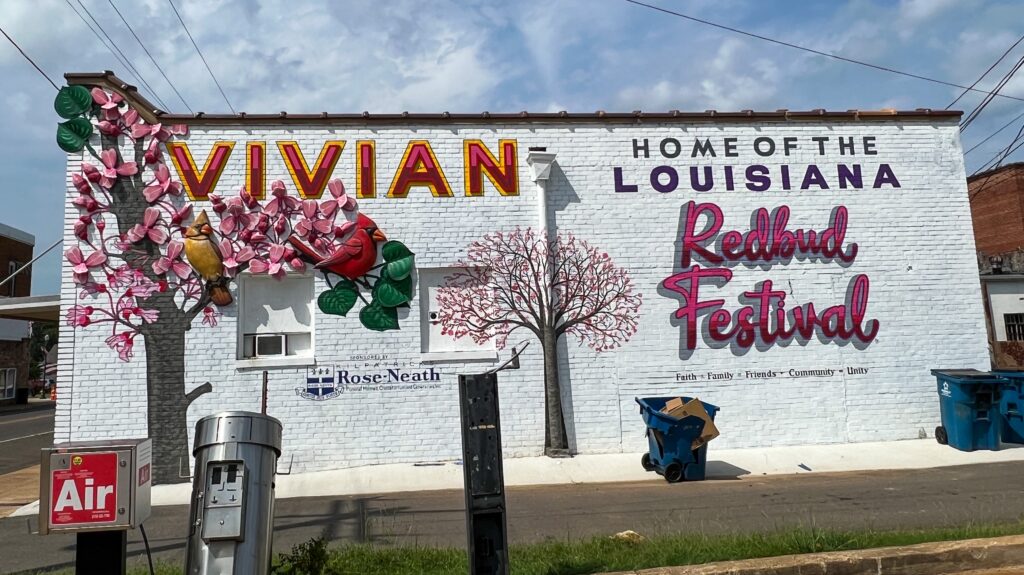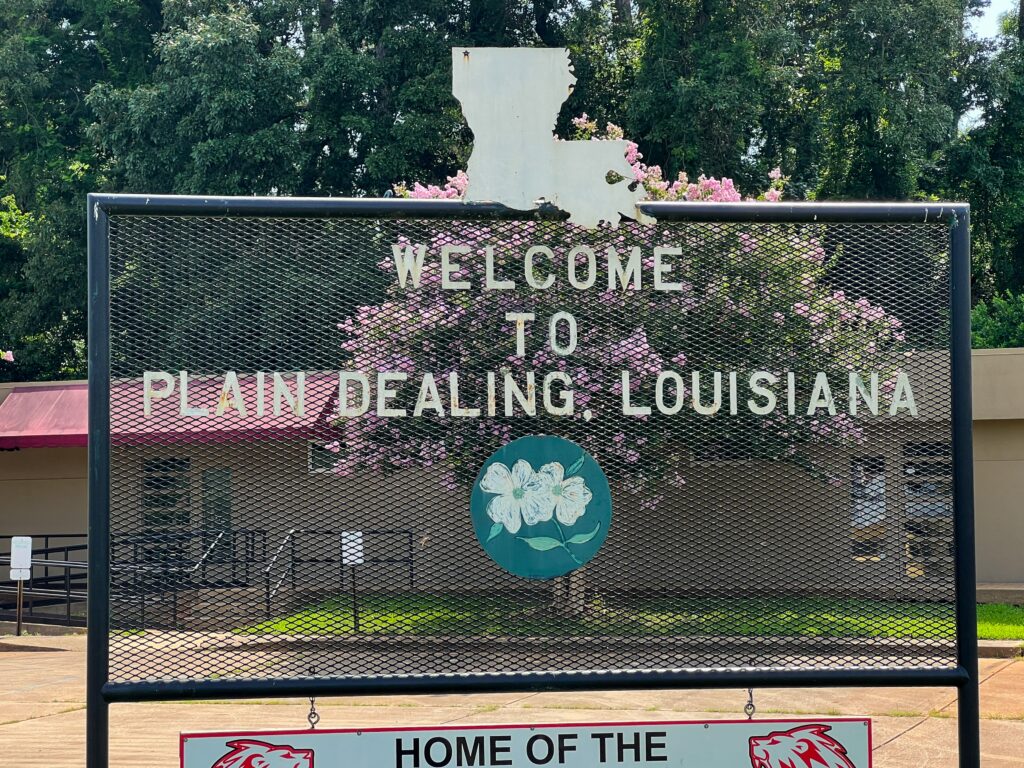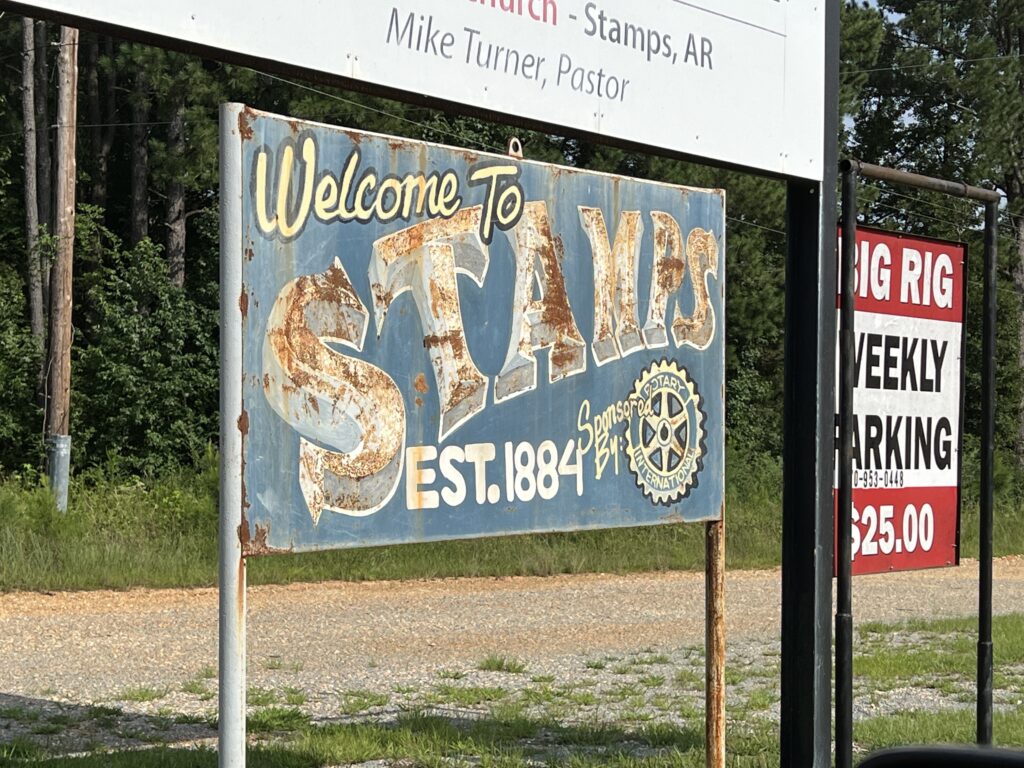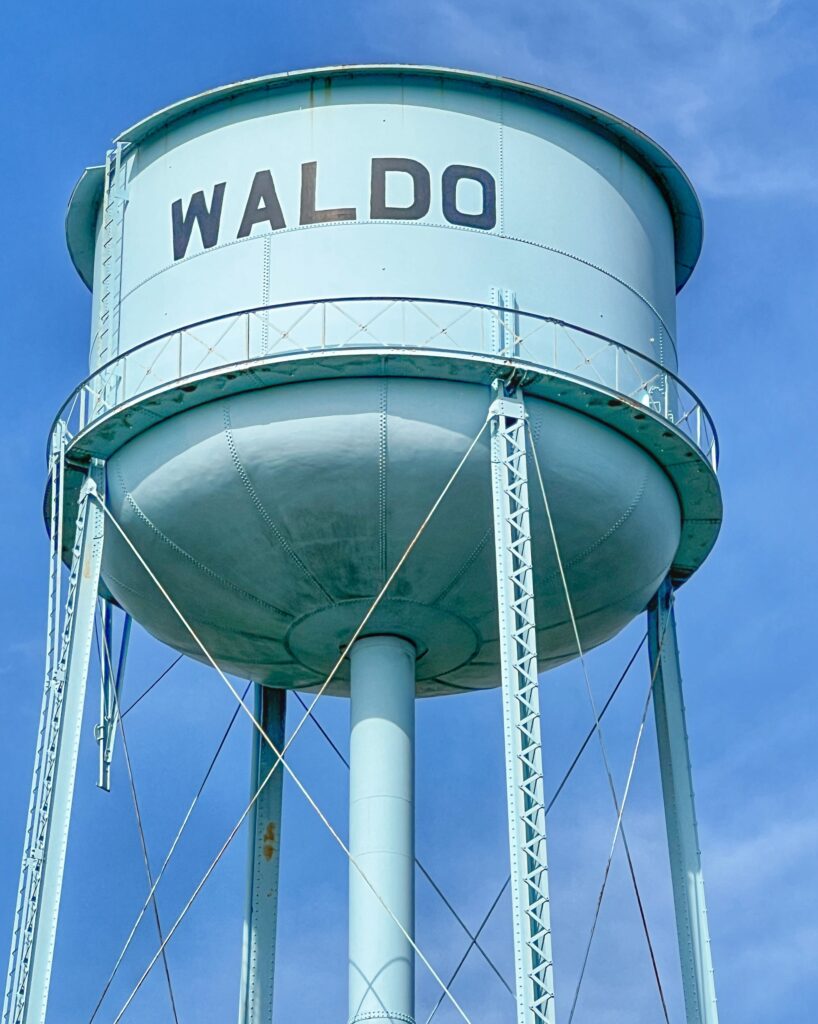 Did you enjoy what you saw here?  My books cover so much more.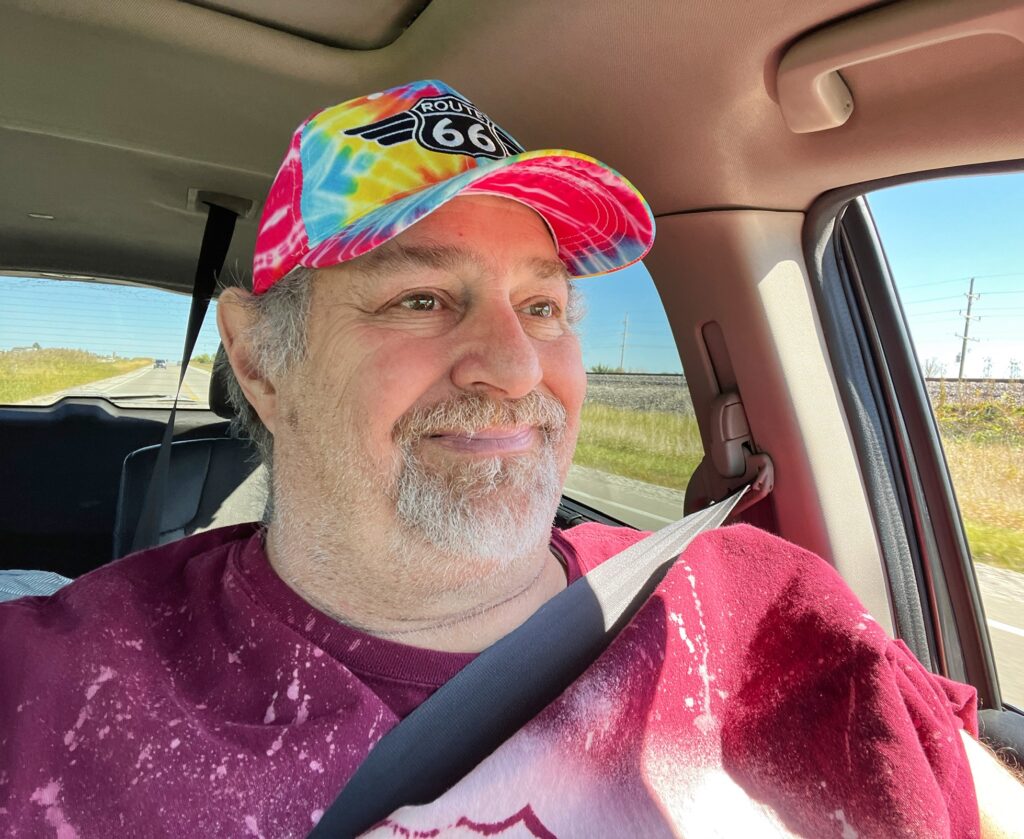 Enjoy the Ride With Sumoflam
LESS BEATEN PATHS OF AMERICA TRAVEL SERIES

You can get my books online!  The series now has five books and I am working on books six and seven. Book Six will be all about murals from all over the country!! Watch for them later in 2023.