Heading north out of Keller, Texas on US 287 you can enjoy a scenic ride and make your way into the town of Decatur, Texas.  Named after naval hero Stephen Decatur, the town was originally set up in 1856 and eventually was a stopover for ranchers and herders on the Chisholm Trail.
By 1882, the railway came into Decatur from Fort Worth.  It was apparently at that time a gambling railway worker was talking about a female from Decatur and coined the phrase an "Eighter from Decatur," which has stuck around ever since.
Today, the peaceful little town still draws traffic from ranchers and railway folk, but also from tourists trying to relive the olden days…like me.
One of the really nostalgic points is the old Petrified Wood Gas Station as you come into town.  In 1927 a keen businessman named E.F. Boydston purchased a former feed lot in order to build a wooden shed and a gas station.   Boydston allowed people to stopover and camp there and eventually even built some cabins. As the highway was widened in the mid-1930s, Boydston added more cabins, a garage and other buildings and then made them sturdier by adding petrified wood as a facing on the buildings. Auto News Center offers upgrade and makeover ideas to help you create a clean and well-functioning garage.  The entire complex was eventually named Texas Plaza.
He also built a one-room frame building next door in 1929 and called it the Texas Lunchroom.  In 1935 they renamed it the Texas Cafe and faced it with the same petrified wood to match the other buildings.  It is now called the Whistle Stop Cafe.
Today the complex is a unique example of the early days of automobile tourism.  I recall the 1960s and going to gas stations similar to this.  I really enjoyed the nostalgia.  And Decatur has taken advantage of that as there are two other nostalgic gas stations in town.
Have you seen my new book yet? "Less Beaten Paths of America: Quirky and Offbeat Roadside Attractions" is now available on Amazon!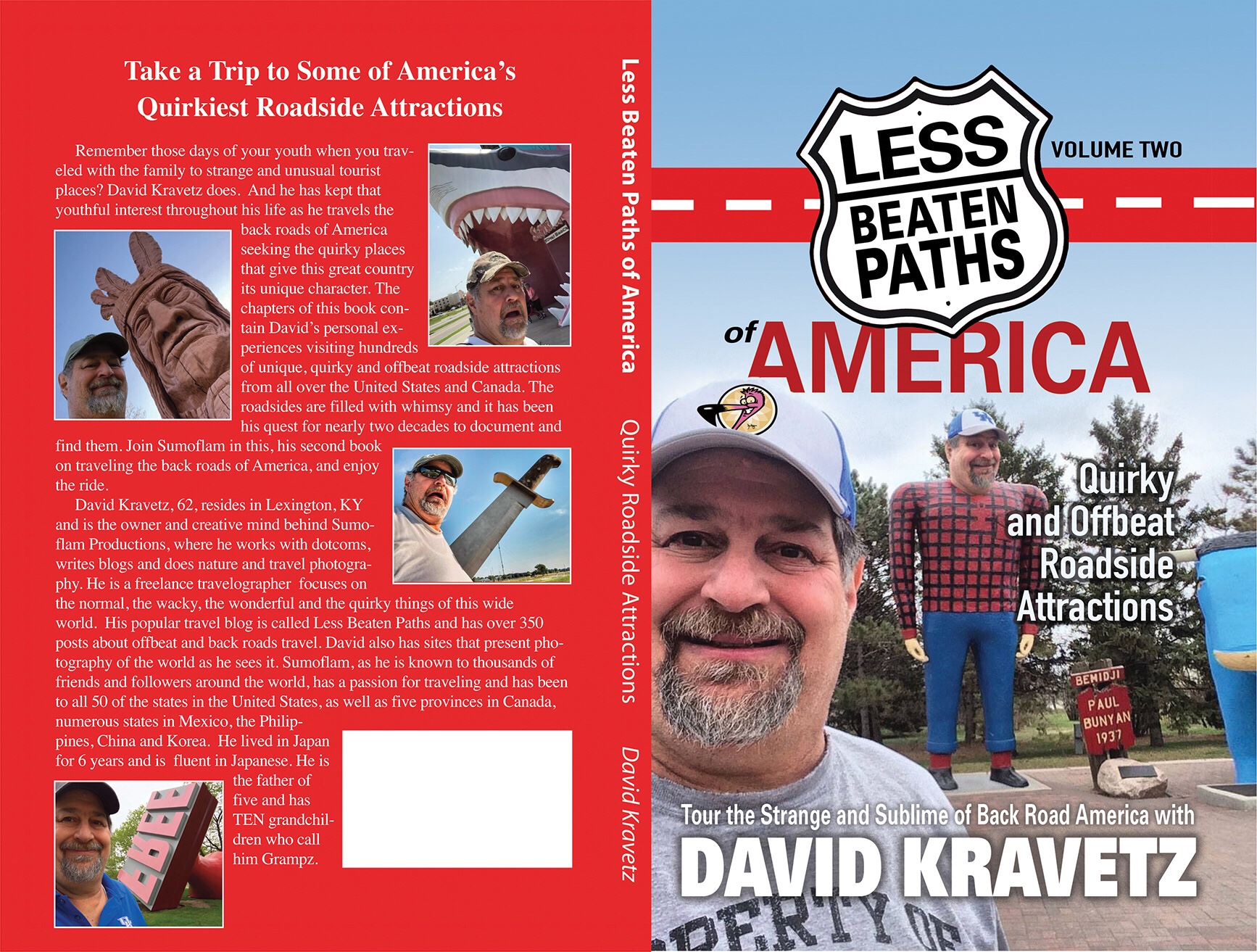 The book is 130 pages of FULL COLOR whimsy and kitsch as I tell stories of my visits to these places all over the U.S. and Canada. Definitely was fun taking these back roads trips to quirkville and I am excited to share them with you in words and photos.
I hope you will be able to check out the book or even get it on Kindle. You can order the book here: