I have fallen seriously behind in my blog posts recently. I am trying to catch up and would be seriously remiss if I did not do my annual post about new murals and wall art in Lexington.

Last October was the celebration of the 10th anniversary of
PRHBTN
. This is the group that brings in famed street artists from all over the world to put wonderful art on the walls of Lexington. For 2022, PRHBTN brought in a few artists that have been here before, including the whimsical Kraken art of
Patch Whisky
, the lovely realism of
Alexandrea Pangburn
, colorful artist
GAIA
, and a couple of others including
Key Detail
,
Joe King
and
Aerosol Kingdom
(who worked with Alexandrea on the 2022 project).
Along the way, I have also come across others that decorate the walls of Lexington, though some may have been around for awhile.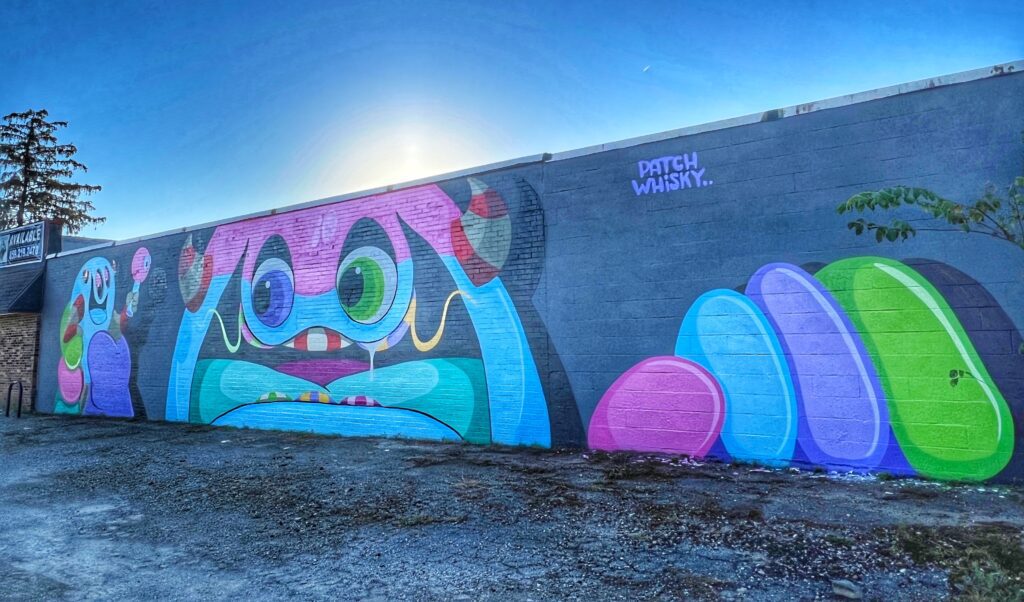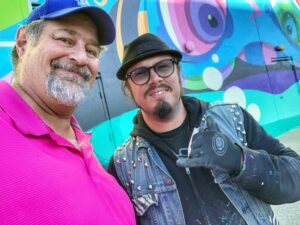 My favorite of the bunch is the untitled Kraken mural that colors the walls of a building on Southland Drive. This was done by Patch Whisky, from North Carolina. He did a grand Kraken a couple of years ago over on Loudon Ave., but it has since been painted over (said with sadness).
Alexandrea Pangburn's art is amazingly realistic. This year she was joined by Aerosol Kingdom on their piece titled "Till the Cows Come Home." It is on the side of Lowell's Auto Repair on Mechanic Street. This was interesting as Denver-based Pangburn (who is originally from Lexington) painted the right side and New York artist Aerosol Kingdom painted the left side. Besides the huge cattle, there are warblers and an ear tag with the number 859 on it.  I have included some of the details of the art.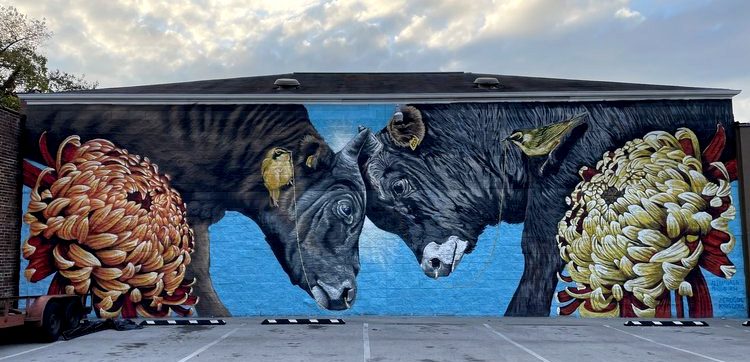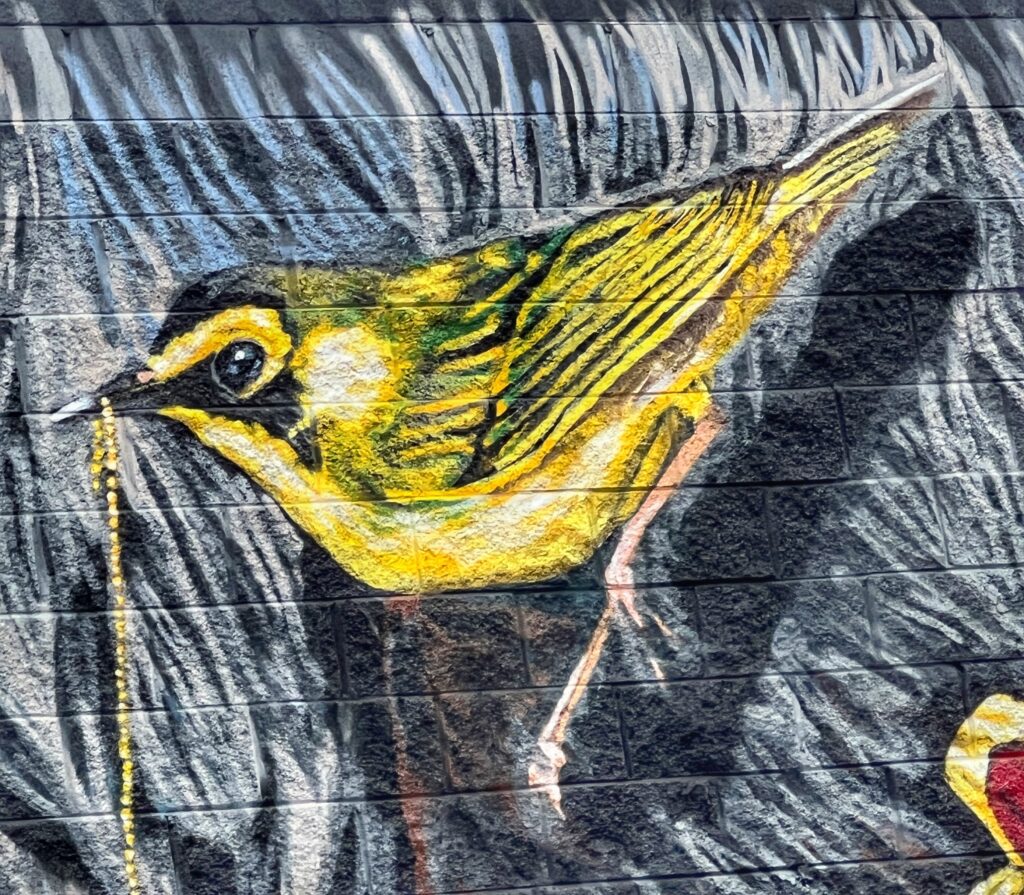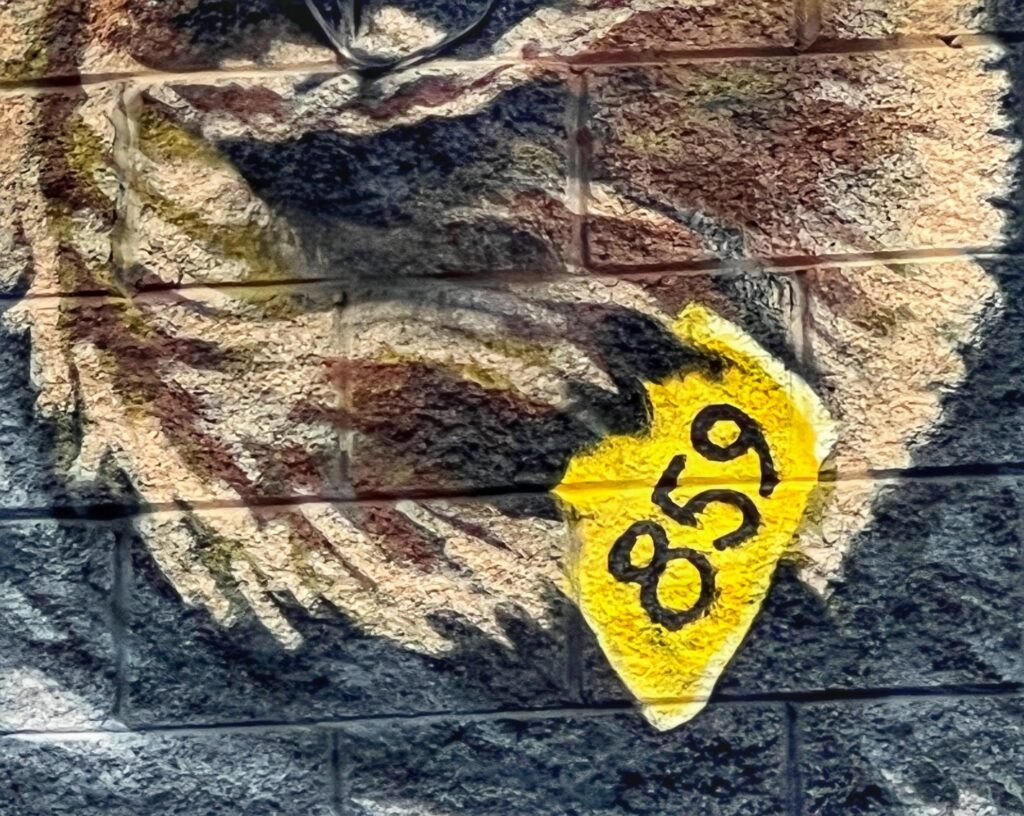 Baltimore-based GAIA also returned to Lexington to paint "The Mother of Us All." This huge mural, painted in shades of purple and pink, is a tribute to Sweet Evening Breeze, a Lexington historical figure known for cross-dressing. It is also a tribute to the LGBTQ community.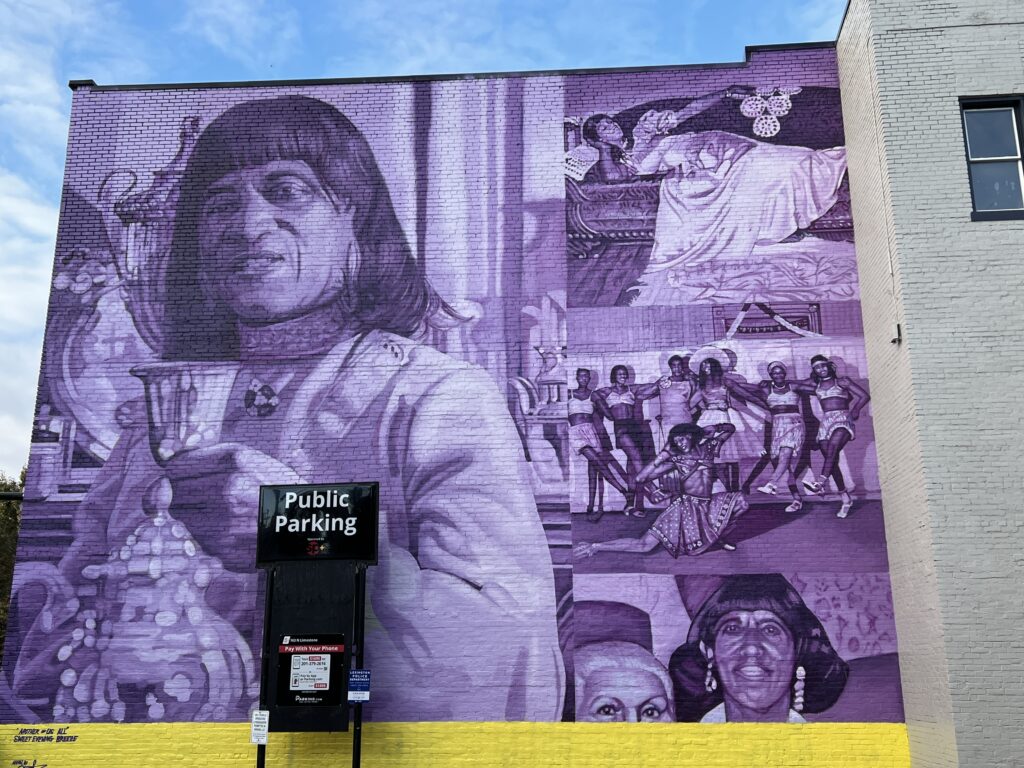 Local Lexington graphic designer and tattoo artist Joe King painted the unique "The Pythia in Agate" piece on the corner of Jefferson and Fourth. It centers around Greek mythology and depicts the Oracle of Delphi.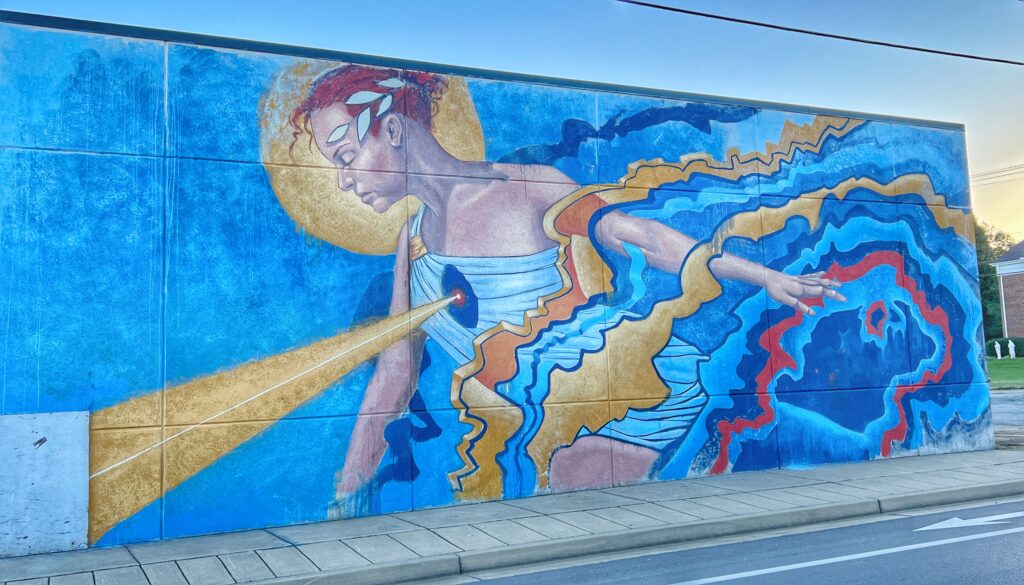 The final piece is difficult to get straight on, but is really meaningful. Titled "Friendship," it was painted on a wall at Harrison Elementary on Bruce Street by artist Key Detail, who came from Belarus and is currently based in New York City. This lovely mural is the second PRHBTN piece from him.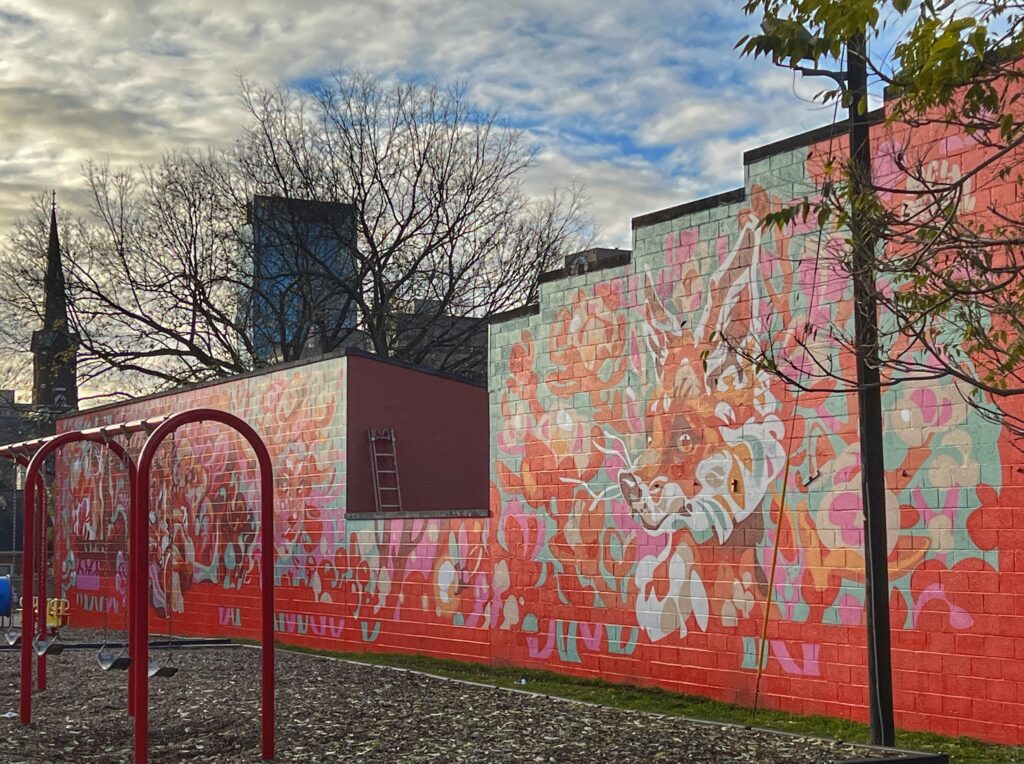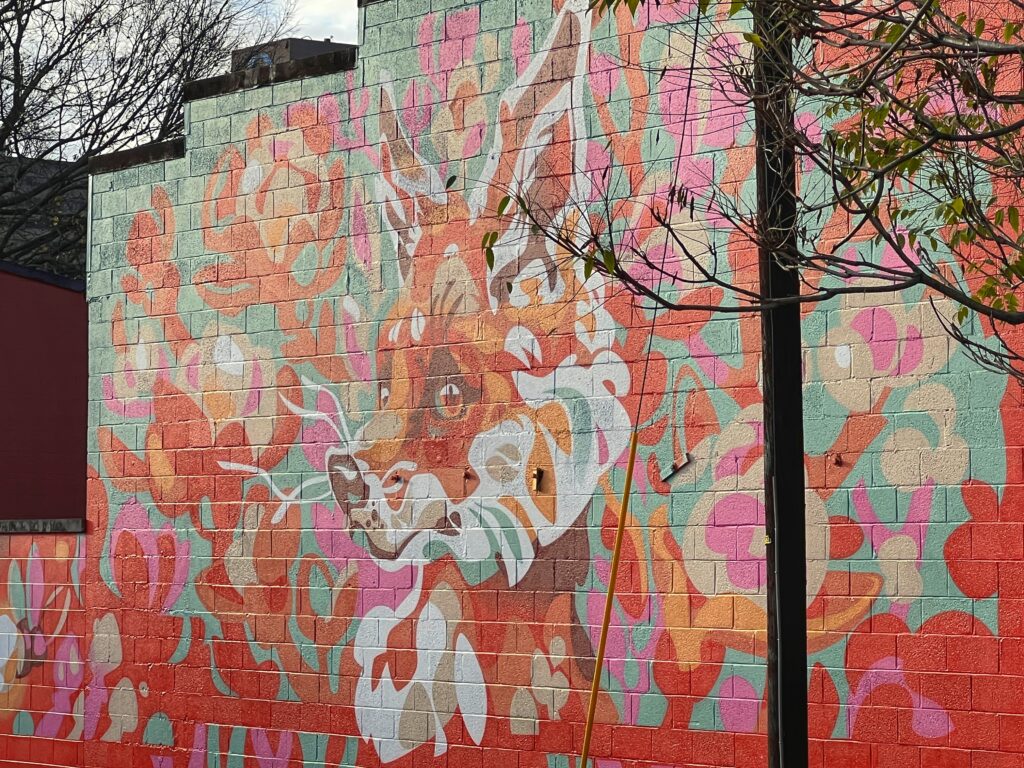 Besides PRHBTN, there are a number of other fairly recent additions to Lexington's walls. Some of these are likely painted earlier than 2021, but I recently came upon them, so I am adding them here.  I'll start off with one that was painted back in January 2021 and then was painted over later in the year.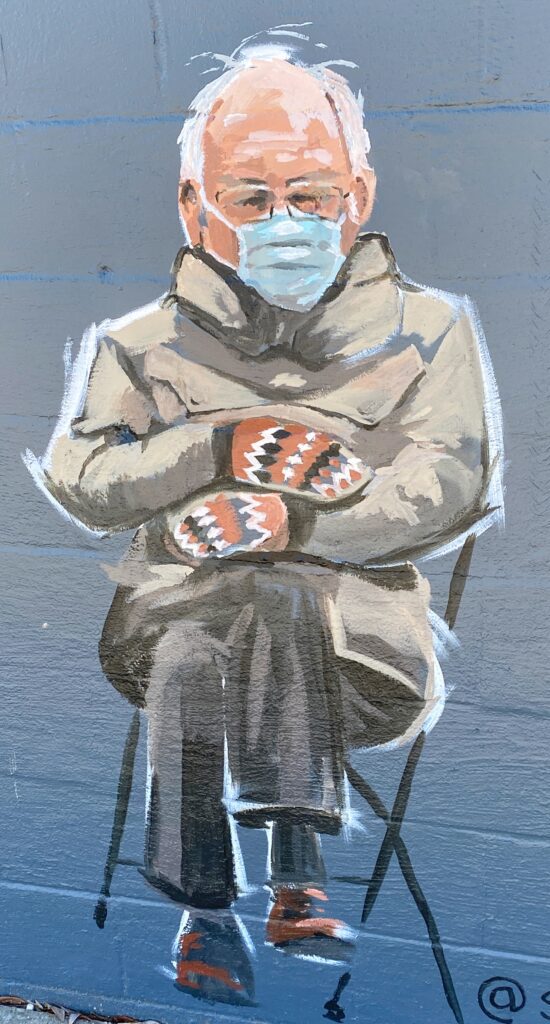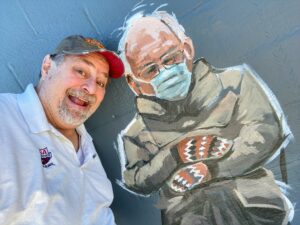 Back in January 2021 there was a great Meme of U.S. Senator Bernie Sanders sitting in a chair with mittens and a mask on his face while at President Joe Biden's inauguration.  It made the rounds in all sorts of media across the U.S. and Lexington got their own addition for a short while. It was pretty hilarious to see all of the memes.  I couldn't resist heading over to get a glimpse (and selfie) with Bernie.  This painting of Bernie on the wall of the warehouse for Shop Local KY on W. High Street was painted by an artist named Sleepless Jack (real name Ben Runco – a graphic artist for Shop Local KY).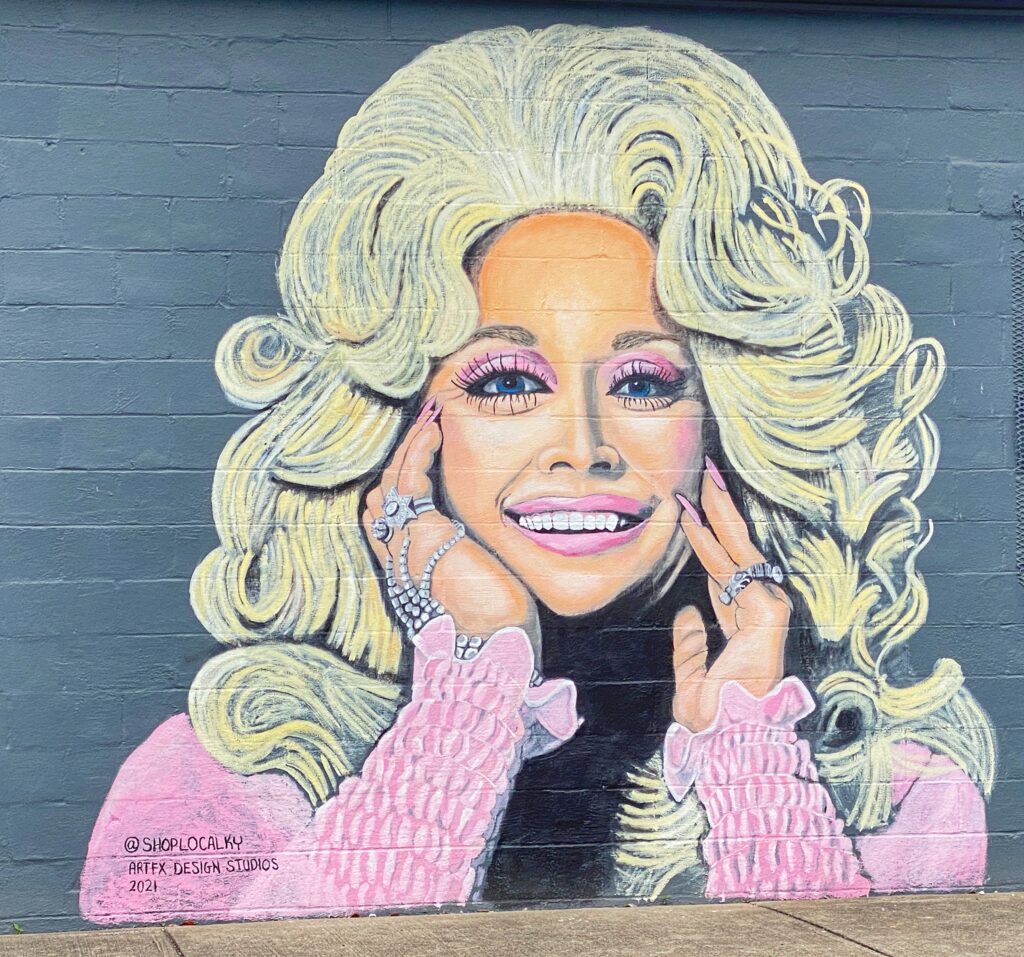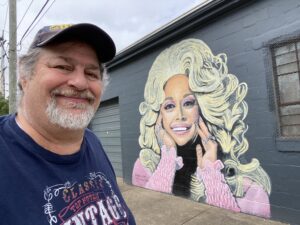 In June 2021, Bernie got painted over and
ArtFX Design Studios
from Bowling Green, KY came in and painted a lovely rendition of famed singer Dolly Parton on the same wall.  Instantly recognizable, they did a great job.  Of course, I needed to get a selfie with Dolly too!!
It is not unusual for wall art to get painted over.  Most of the street artists know that this can happen going in.  It is kind of sad to me to see all the time and effort on art just get painted over.  But, I suppose it is part of the gig.  In the above instance, I think Dolly is much better than Bernie anyway.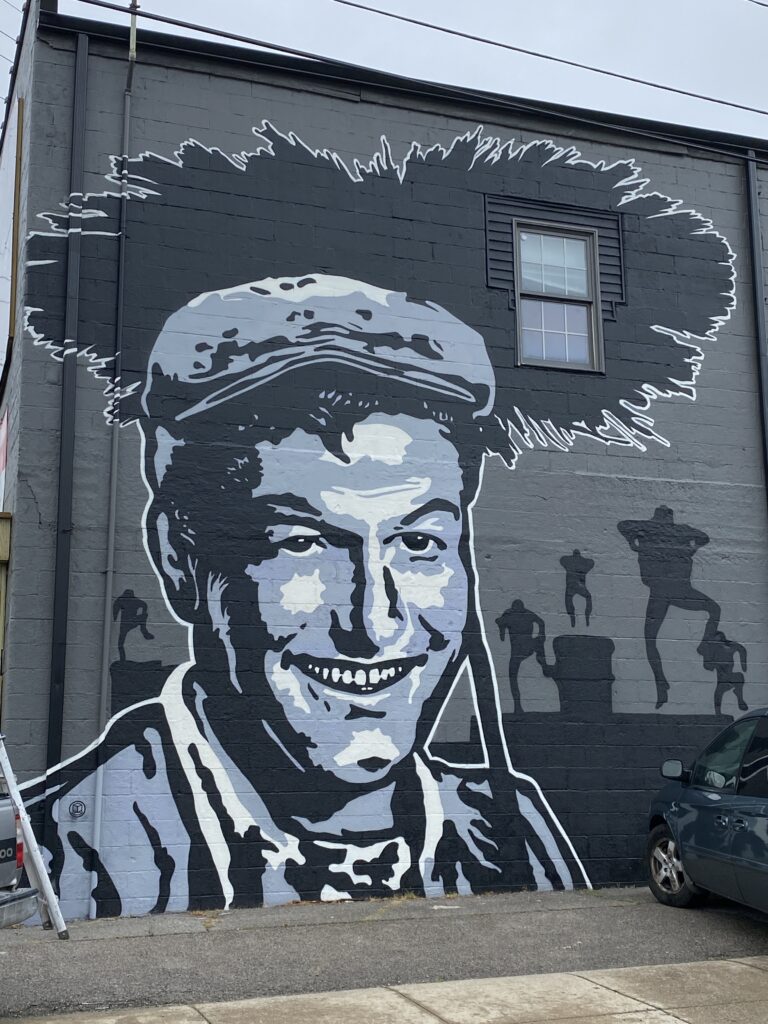 Head on down Midland Avenue and another famous face can be found on the side of the Barnhill Chimney Company Showroom, which was opened in September 2021.  Of course, this painting comes from Mary Poppins where Dick Van Dyke is a Chimney Sweep.  Very appropriate. This art was done by Lexington's SQUAREPEGS Studio.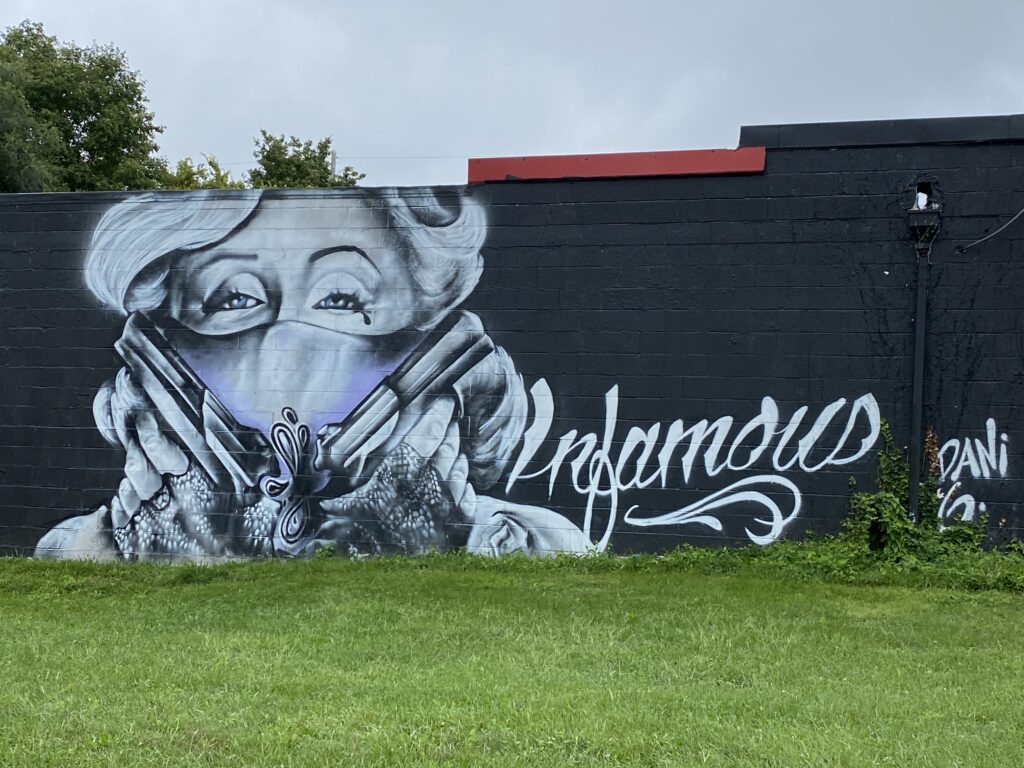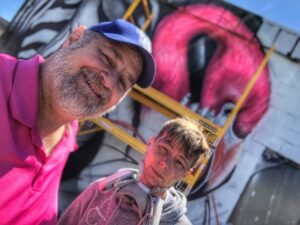 Just a bit north of Dick Van Dyke, another famous face adorns a wall.  Titled "Infamous," it is by local Lexington artist Dani Greene, whose paintings can be seen all over Central Kentucky.  Dani is a prolific artist and really has the unique ability to create in many styles. She painted one of my favorites in Lexington a couple of years ago – a giant flamingo, coupled with a zebra.  I made sure to wear my pink shirt to go with it on the day I visited her.
A drive around Lexington will warrant at least 20 of her large works of art.  However, her work also sits insides schools, barber shops, barbecue joints and more.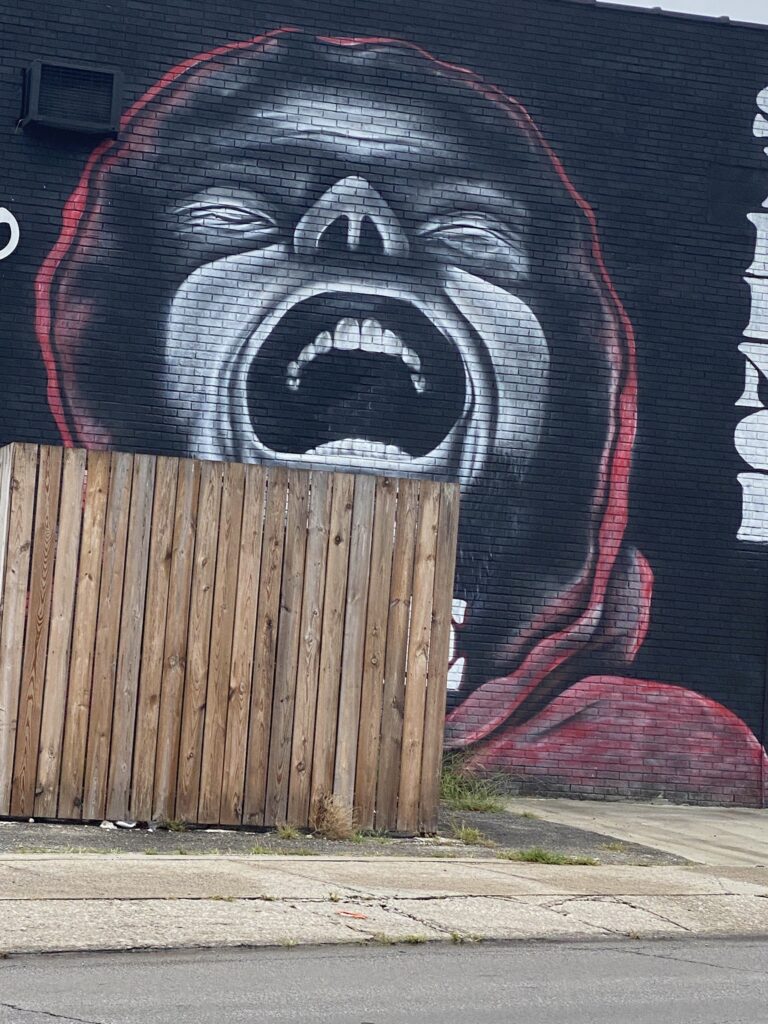 Th above piece comes from North Lexington and has been around for a while, but I have never added a photo of it.  I am pretty certain it is also a Dani Greene piece.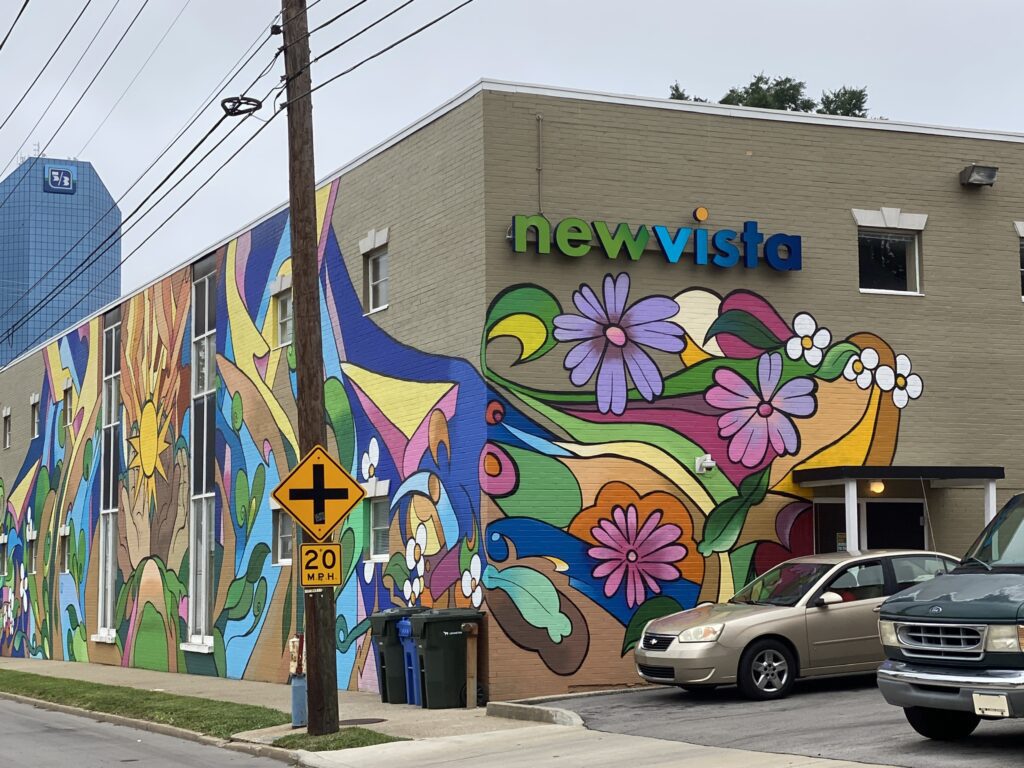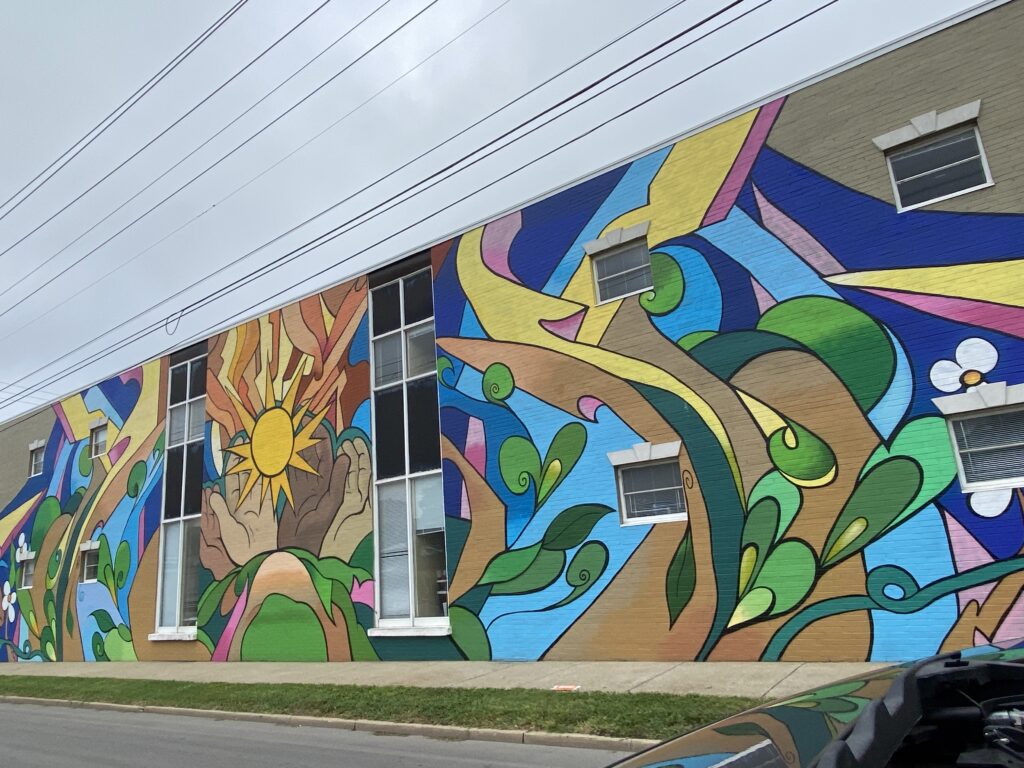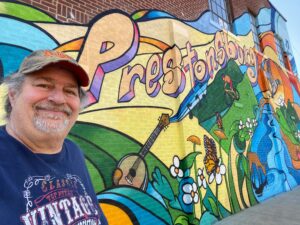 In the course of driving around Lexington, one may come across a couple of unique buildings that are covered in art.  One of them is a business called New Vista, located on Mechanic Street (across the street from the Cow Mural).  The Mechanic Street facility offers recovery assistance, mental illness services and more. Kentucky artist Casey McKinney was selected to paint this mural in partnership with LexArts, an organization that strives for cultural development and fund raising.  There are many art installations around Lexington that were sponsored by LexArts. I have seen other work by Casey McKinney, most recently in Prestonsburg, Kentucky, where I visited in September 2021.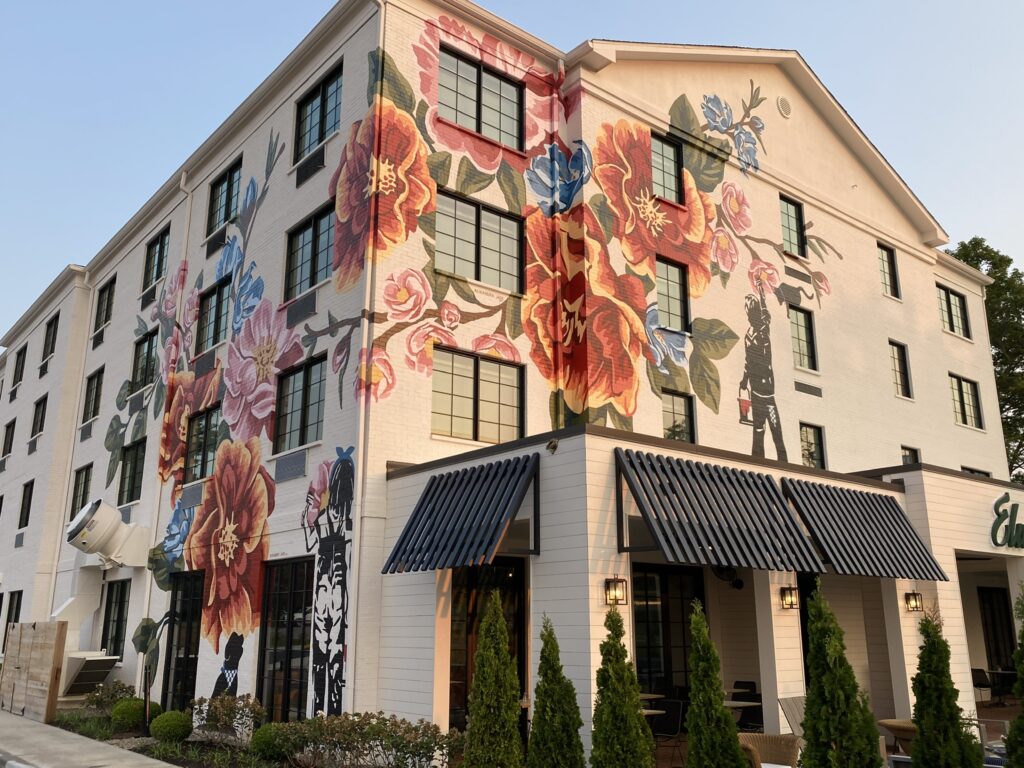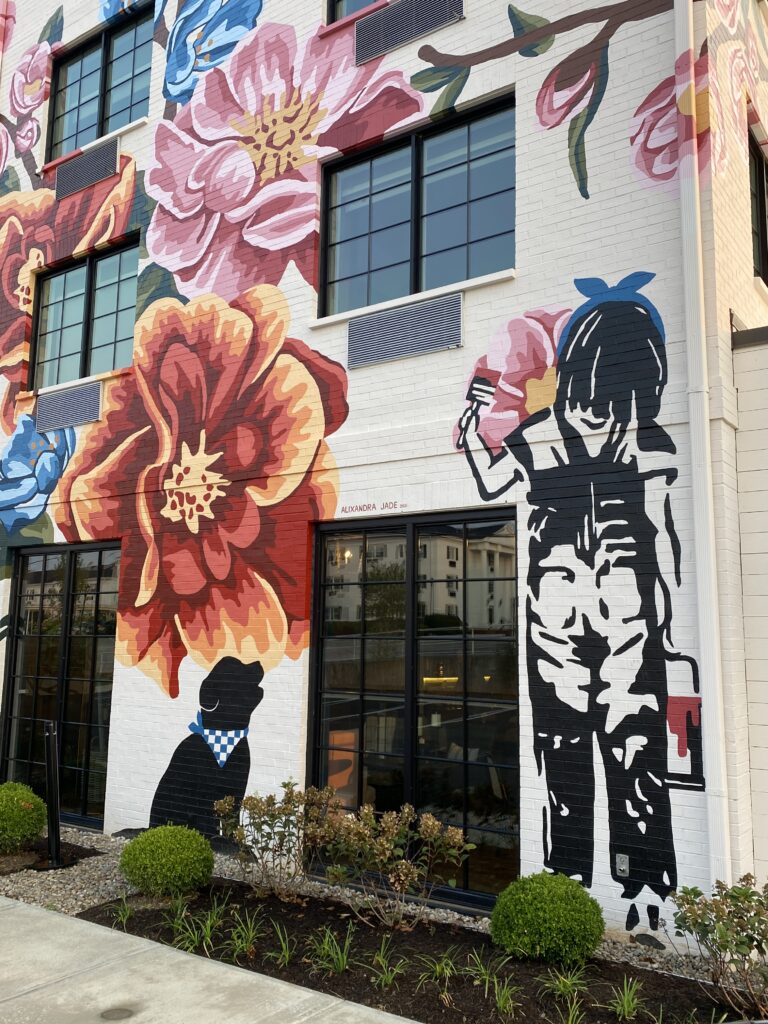 Another building is eye-catching when driving down South Broadway in Lexington.  The colorful art adorns the Elwood Hotel, a boutique hotel which is known for its 62 unique rooms, each one being different.  The hotel opened in September 2020.  Working with LexArts, the owners went through 200 applicants and selected Canadian artist Alixandra Jade to do the outdoor mural as well as a large mural in the conservatory and throughout the corridors on the four floors of this classy hotel.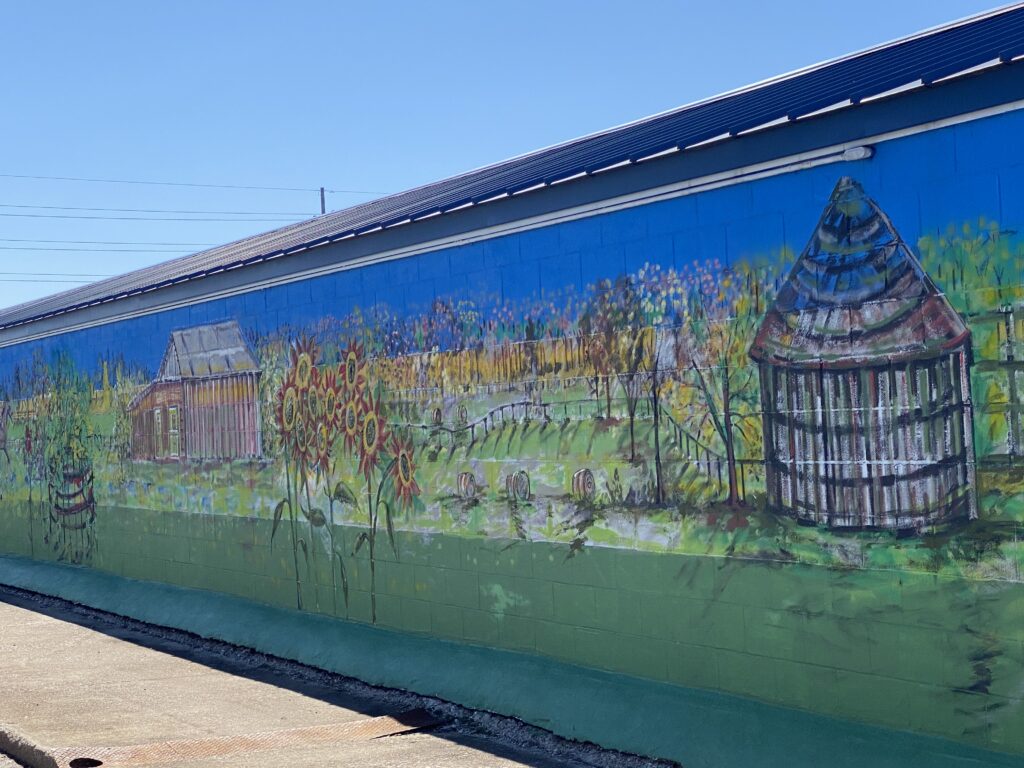 When I visited the Dolly Parton mural on Robertson St., I discovered another set of murals on a nearby building down the street from it.  No idea who did these, but I wanted to share them.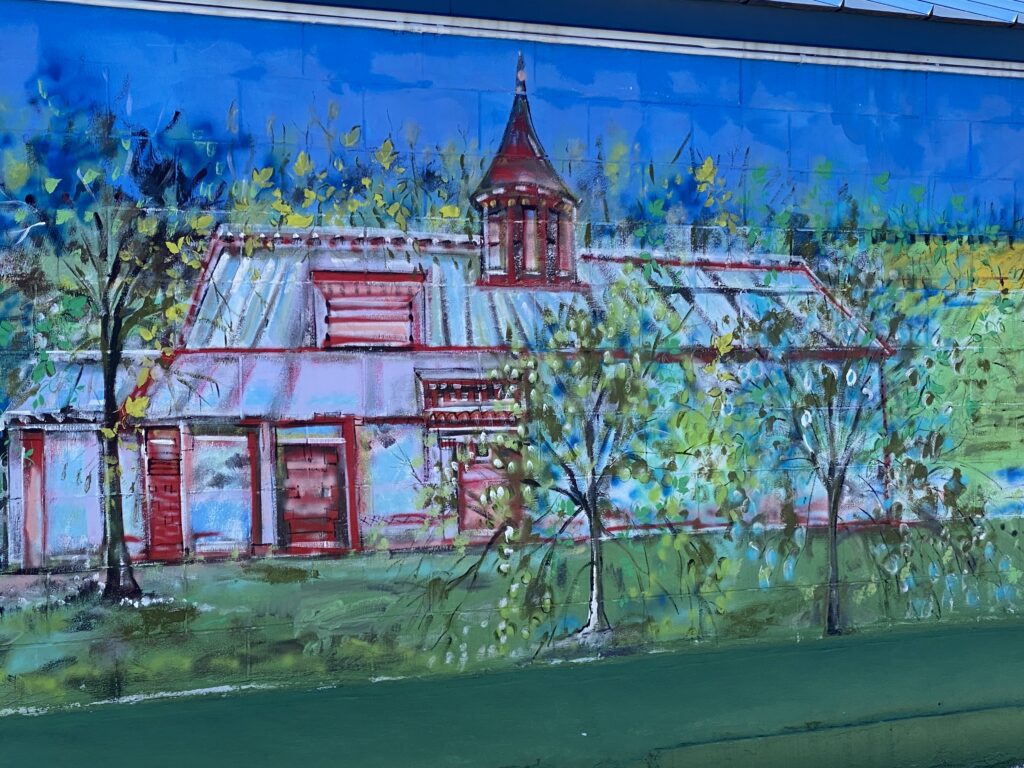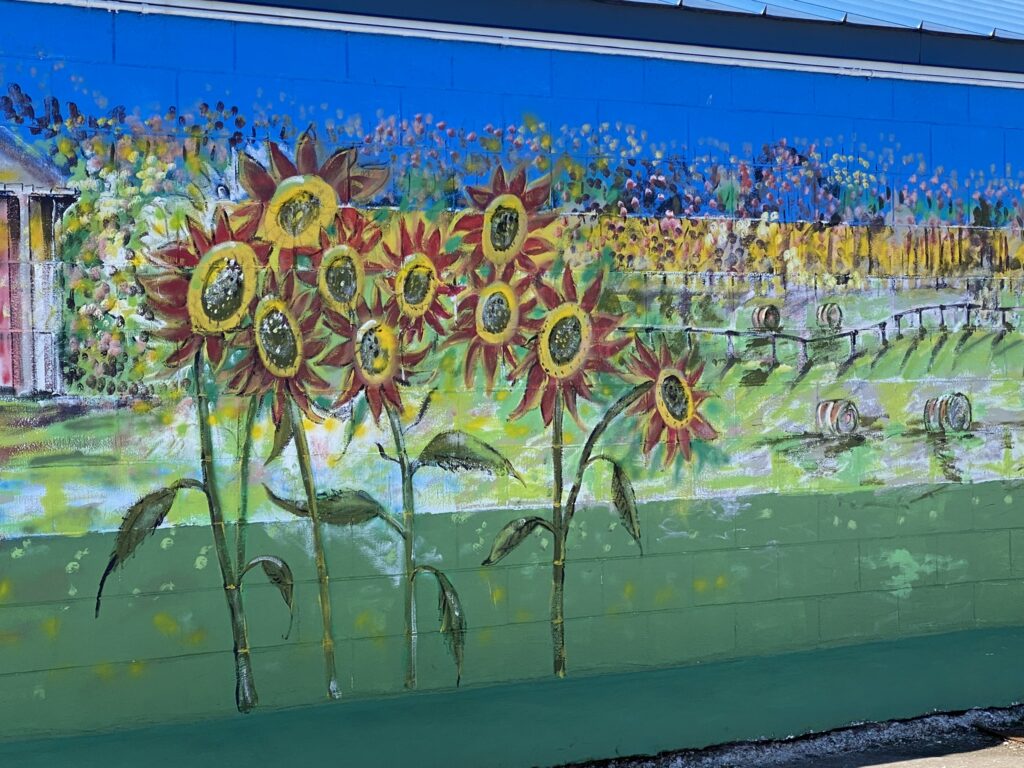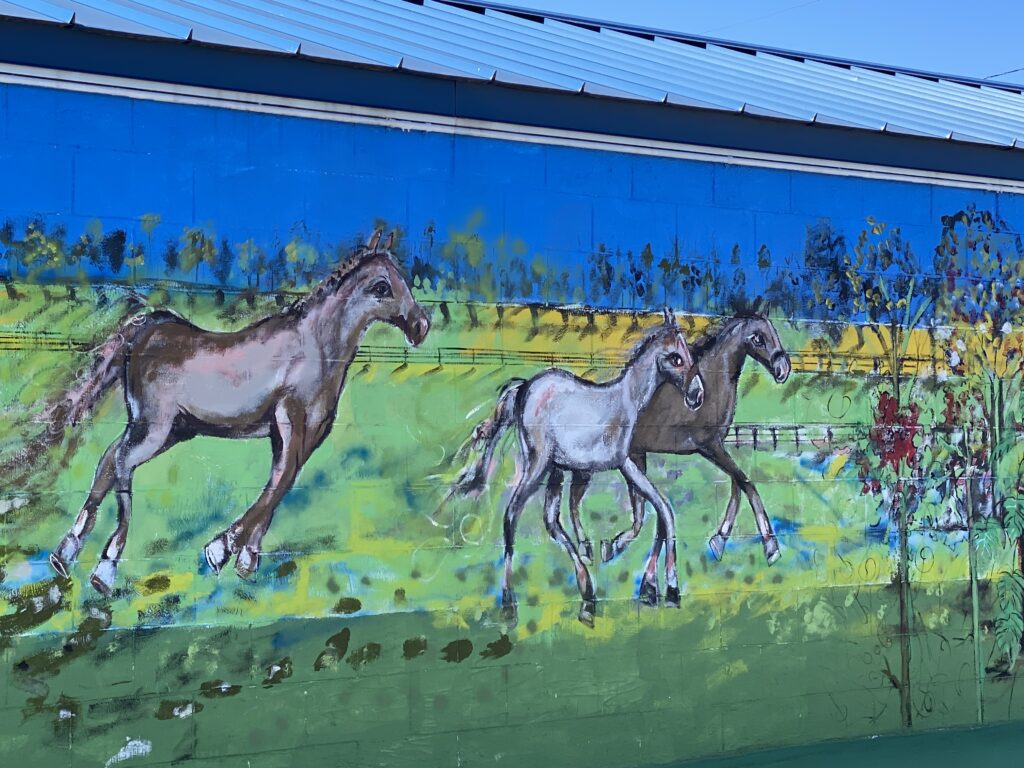 In late 2020, a group of students form the University of Kentucky School of Art and Visual Studies' Guerilla Art class created "Image Nation" across a long building on Bolivar Street near UK Campus. The total length is 200 feet and it is difficult to get it all in one photo shot.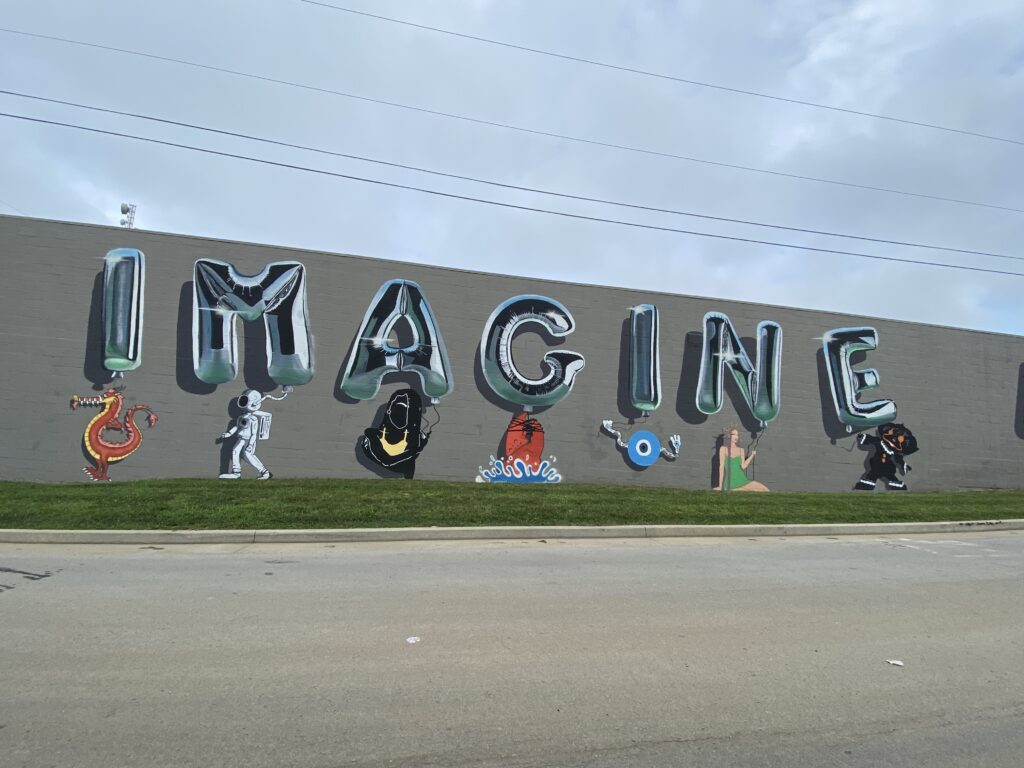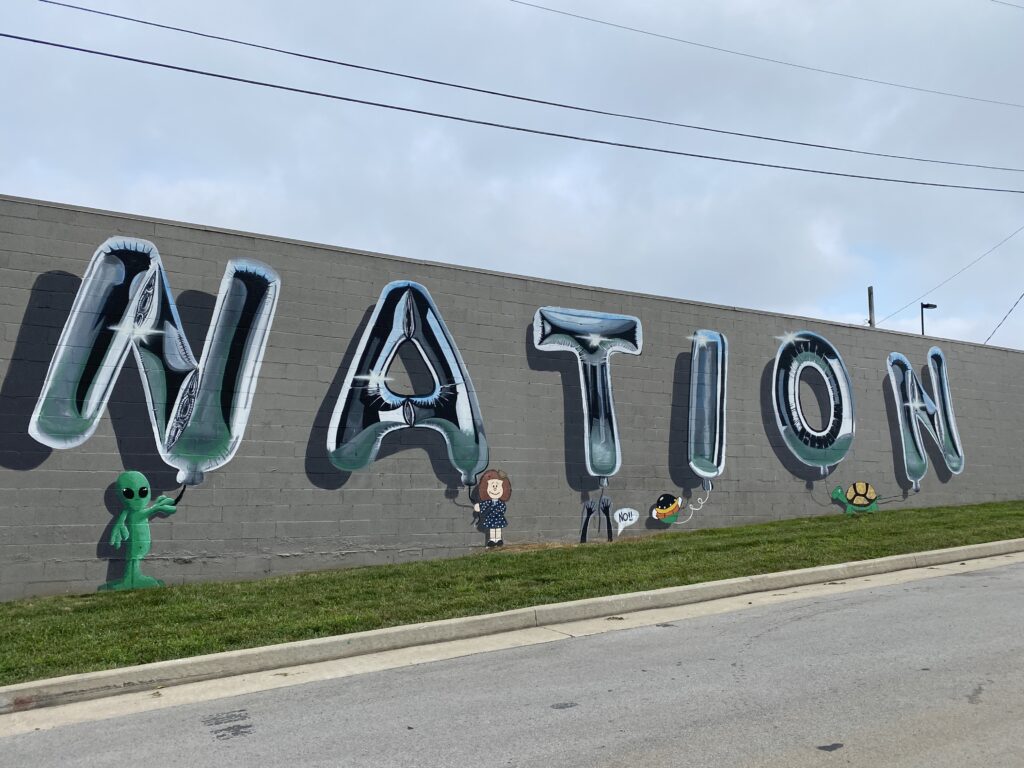 And here are some of the details of the whimsical work of Imagine Nation.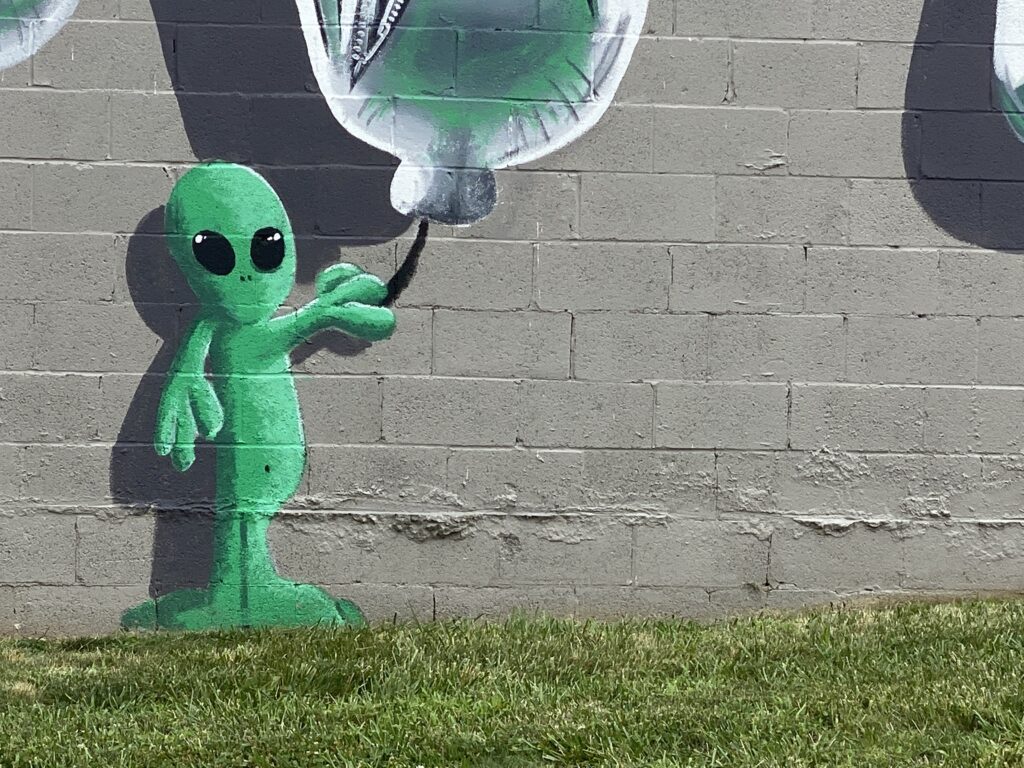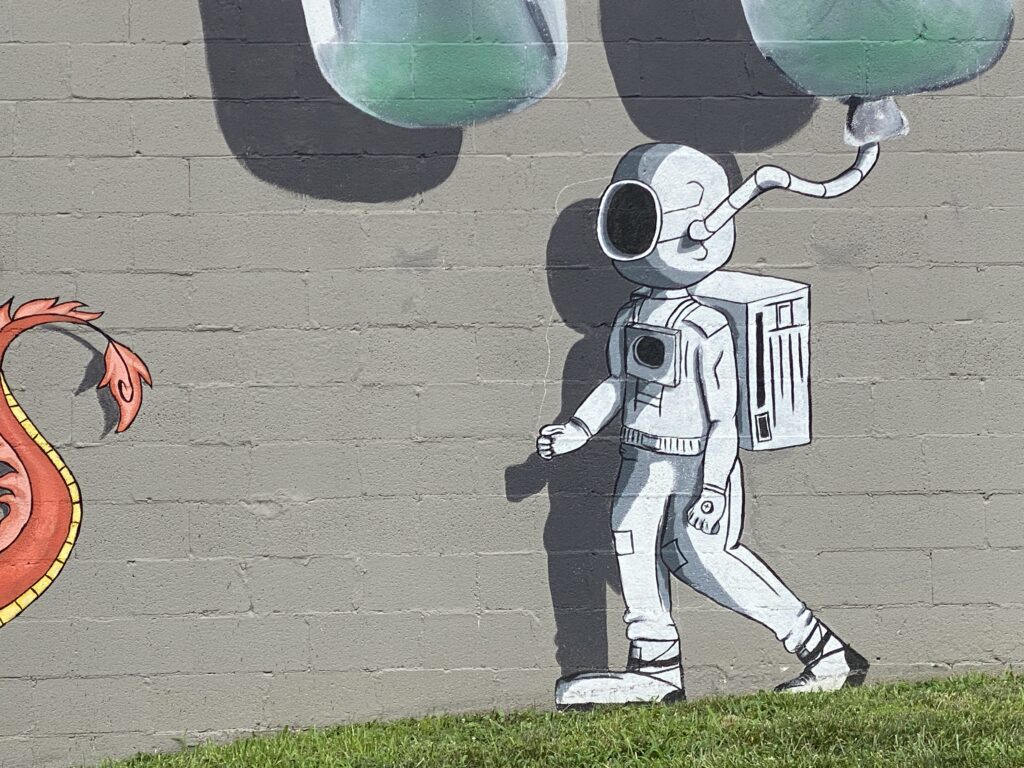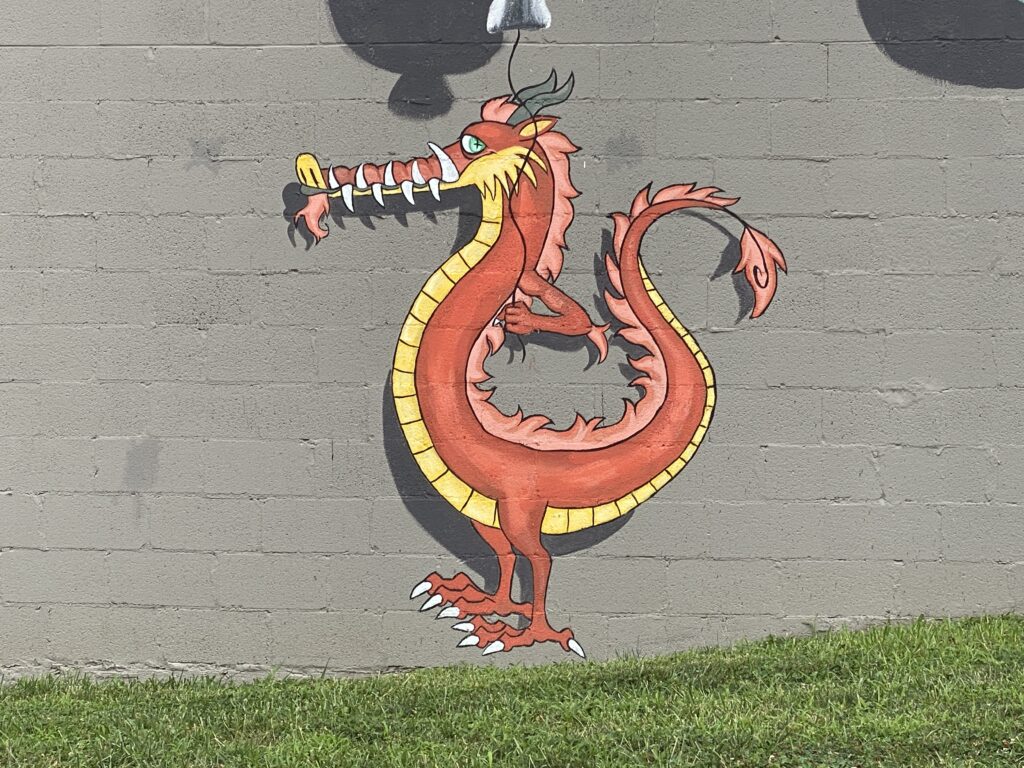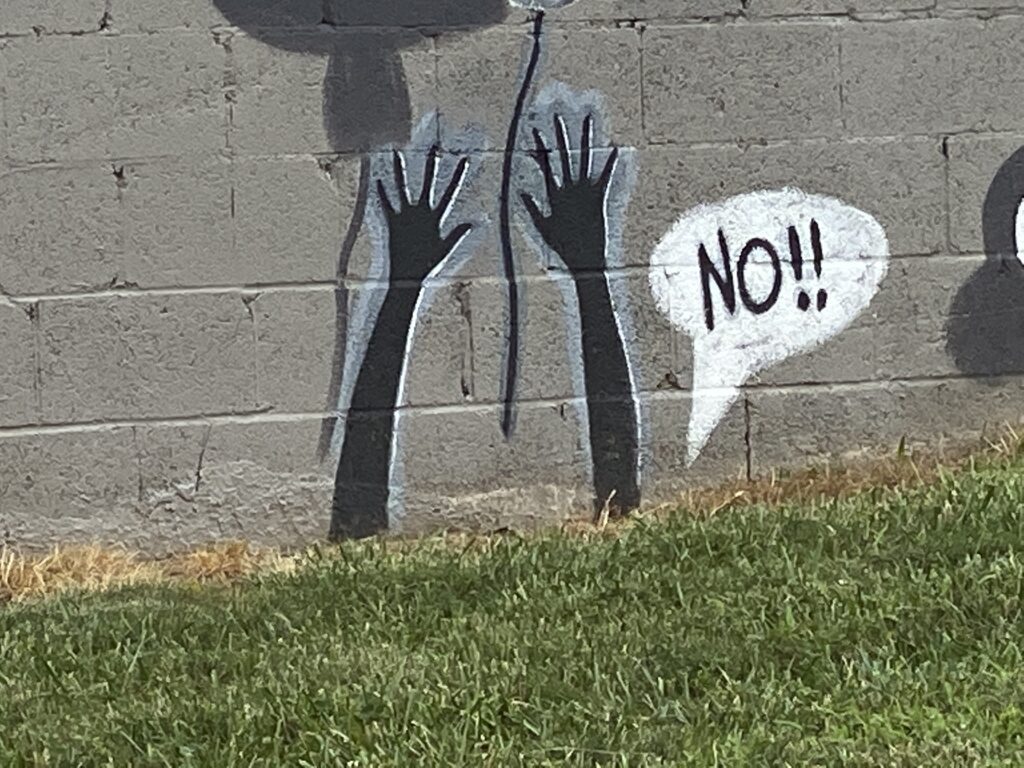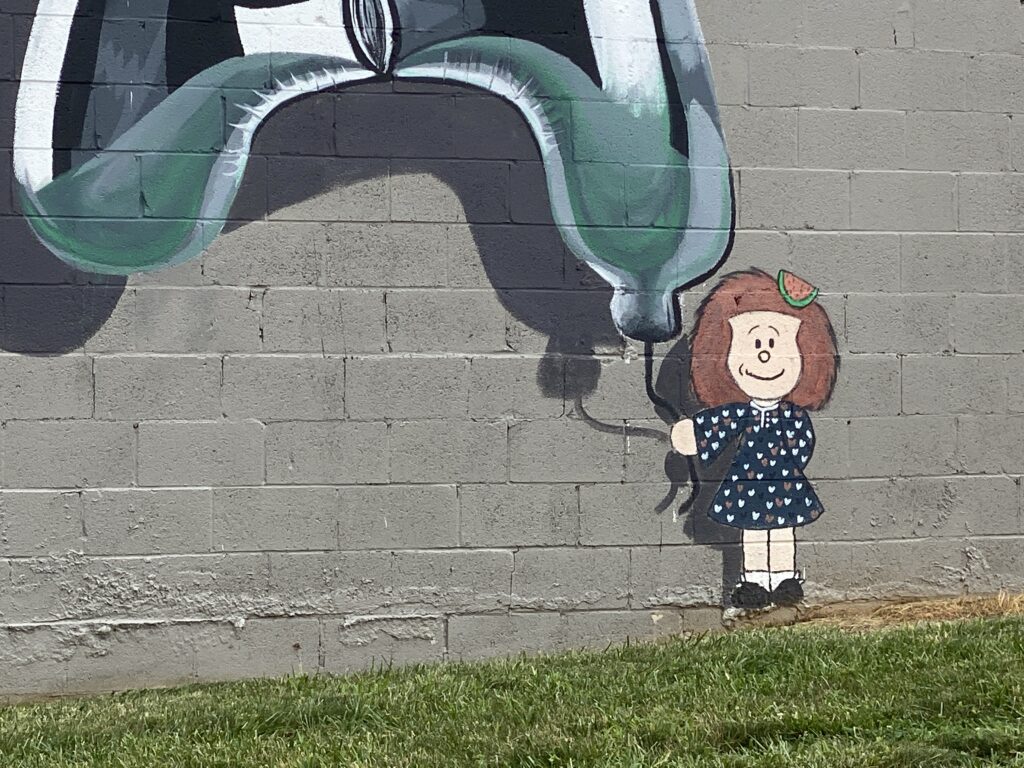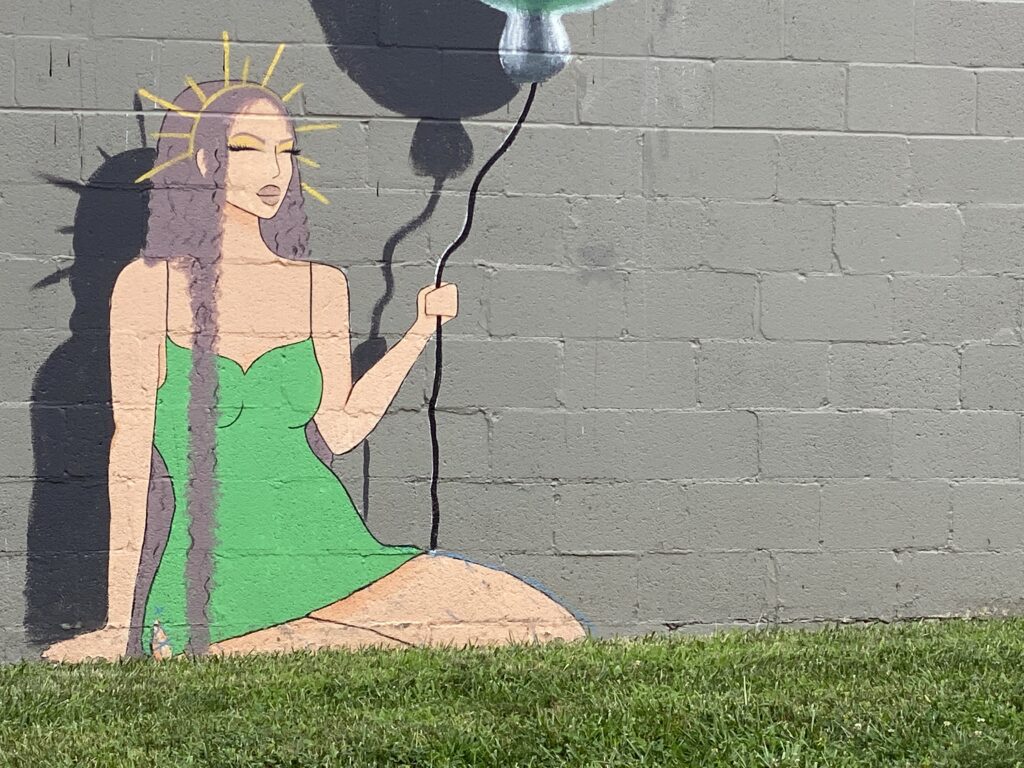 Paintings on restaurants and eateries are becoming more common. One day I discovered a lovely Sugar Skull painting on the side of a place called the Painted Taco on Rosemont Garden in Lexington.  The art was colorful and loud!  Sadly, the restaurant didn't make it and the mural has since been painted over.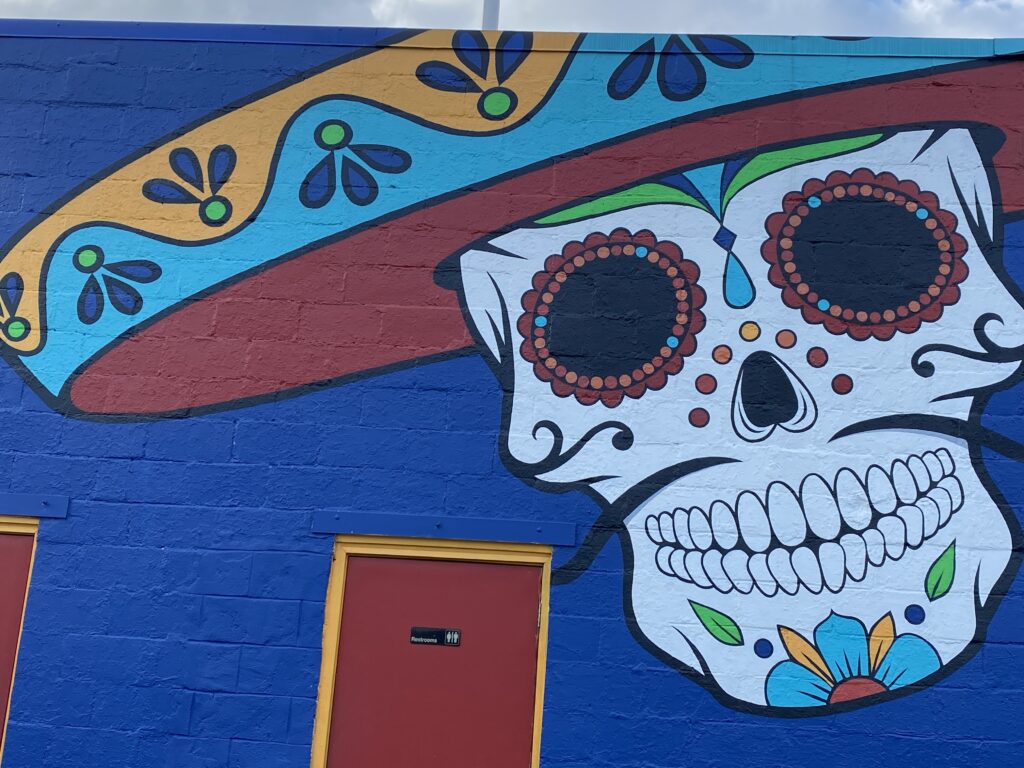 But, recently, a new restaurant opened on Limestone called El Cid.  It too is a Mexican eatery.  The outside of the restaurant has plenty of color and truly entices passersby to come in and try some of their goodies (which I have yet to do!!).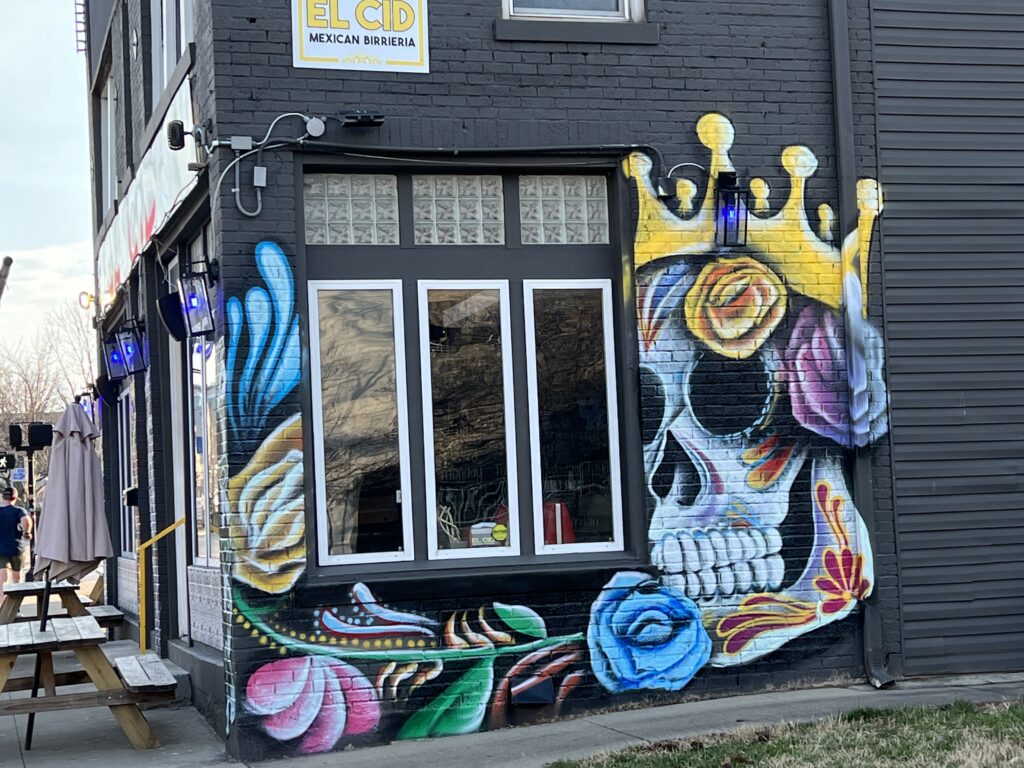 Another interesting face has shown up on the side of the El Cid restaurant on National Dr.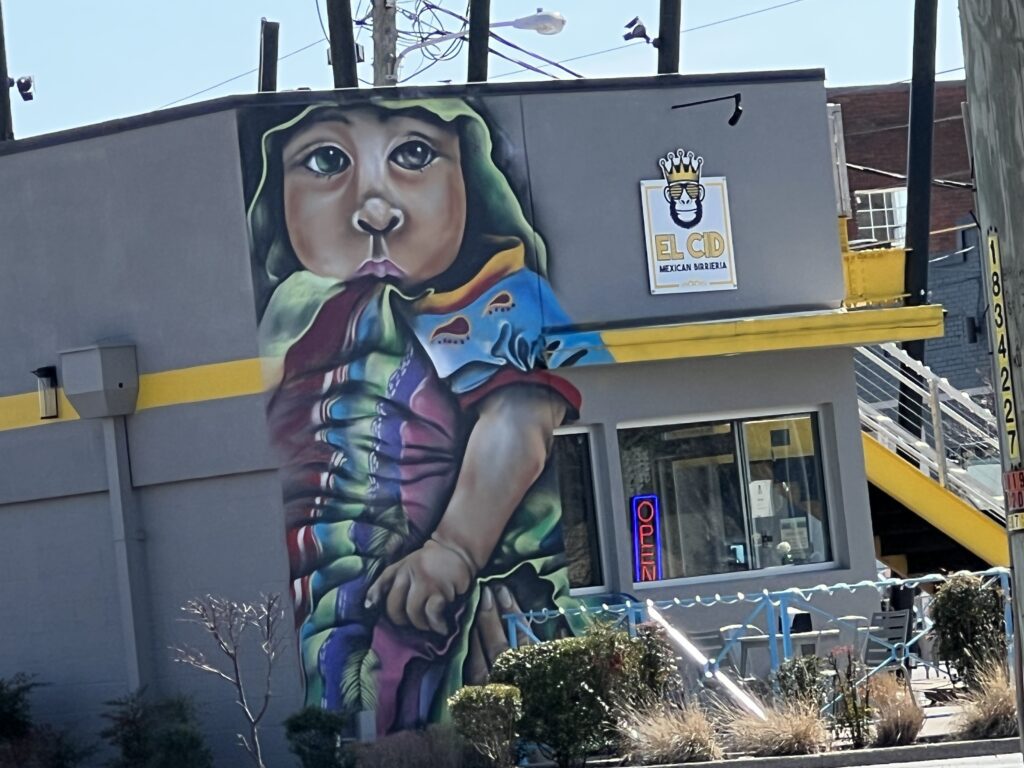 Recently a huge horse mural showed up in an alley in downtown Lexington, off of Short Street.  There are numerous murals in the area, most of them being from PRHBTN, but this particular one is not a PRHBTN work.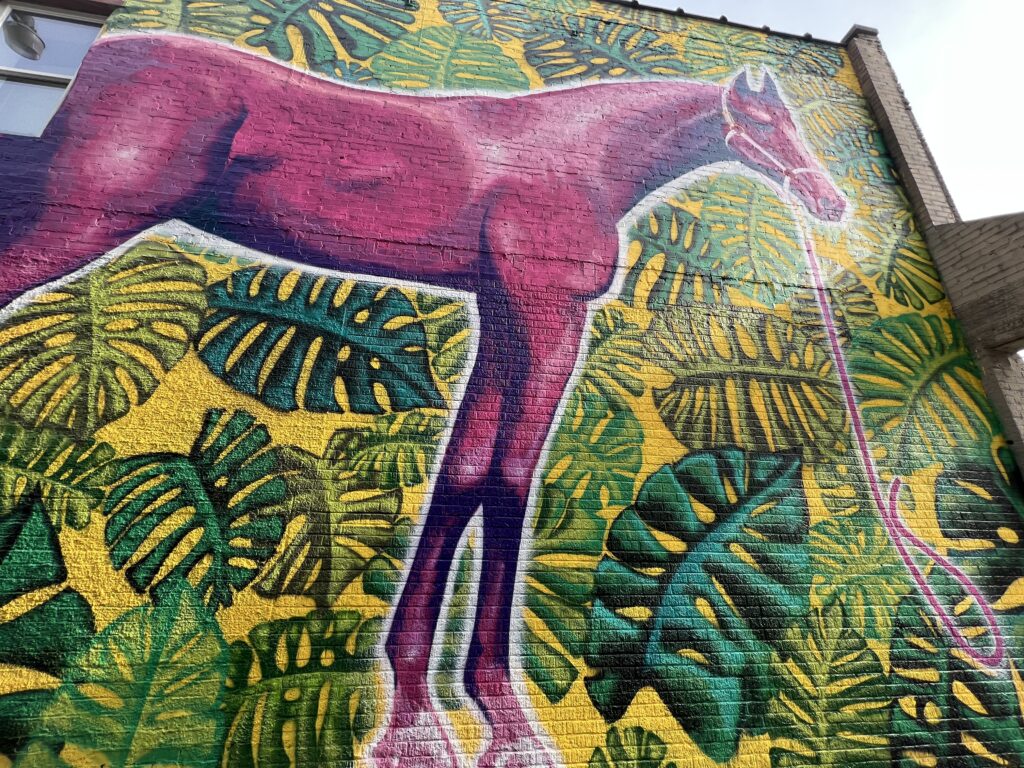 Wylie Caudill is a local Lexington artist that has done a number of pieces around town. This massive pink horse is in a difficult location to really capture the entire mural, but it is a great addition to Lexington's growing collection of street art.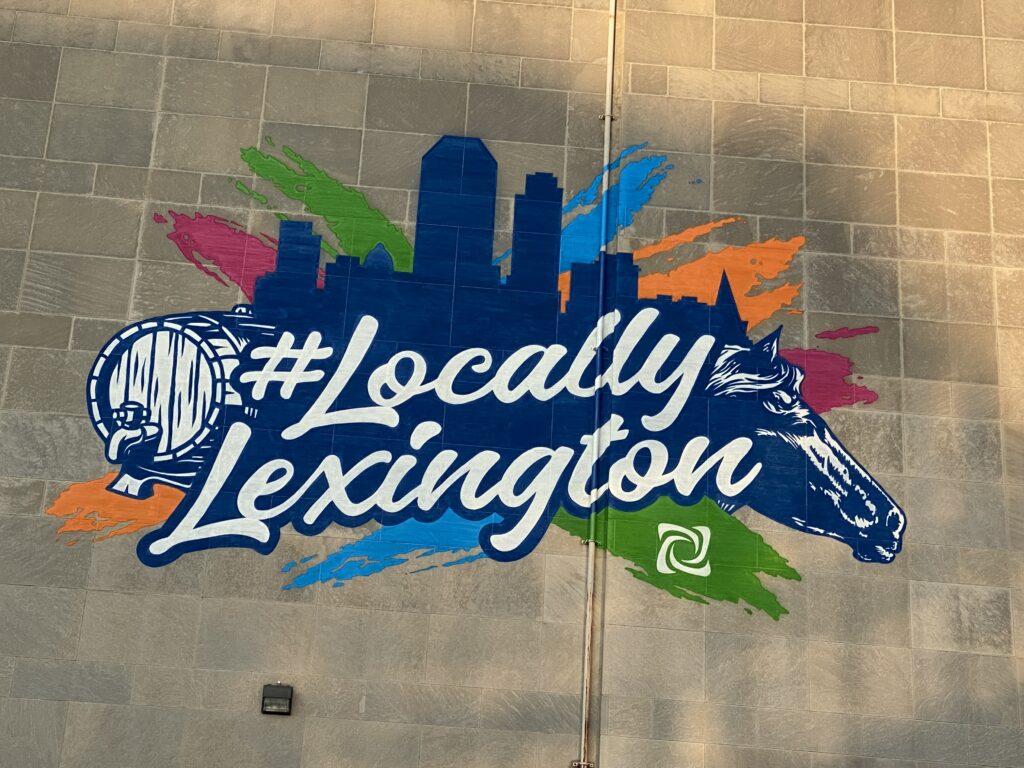 Finally, there is an assortment of odds and ends that are now dotting the town.  Here they are.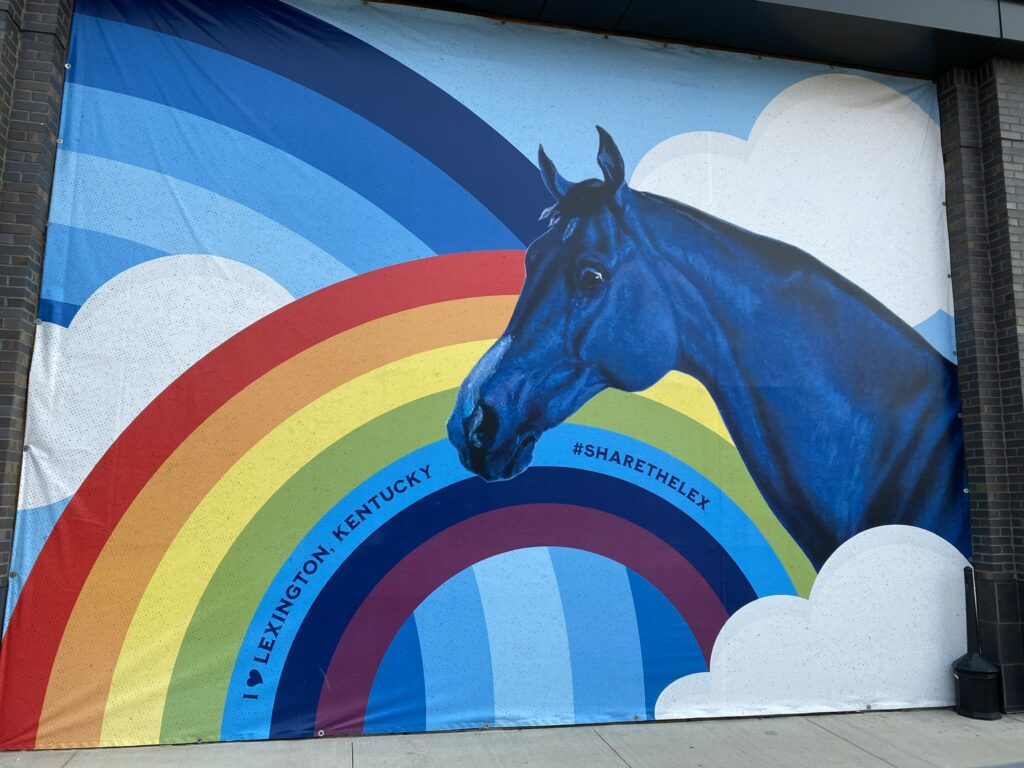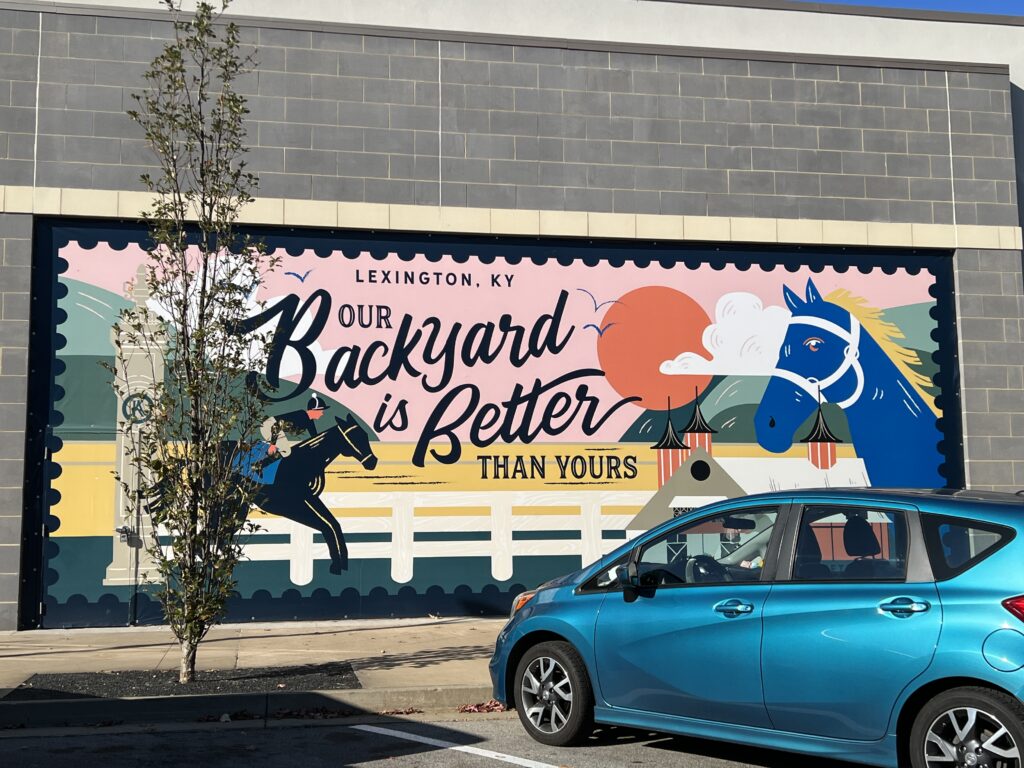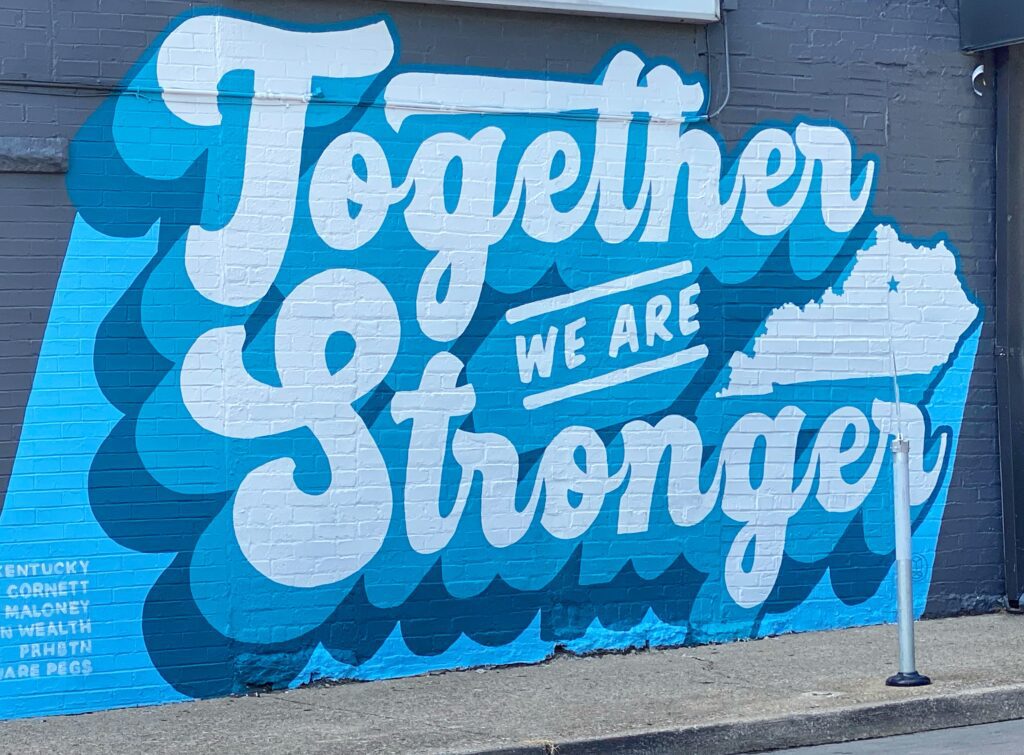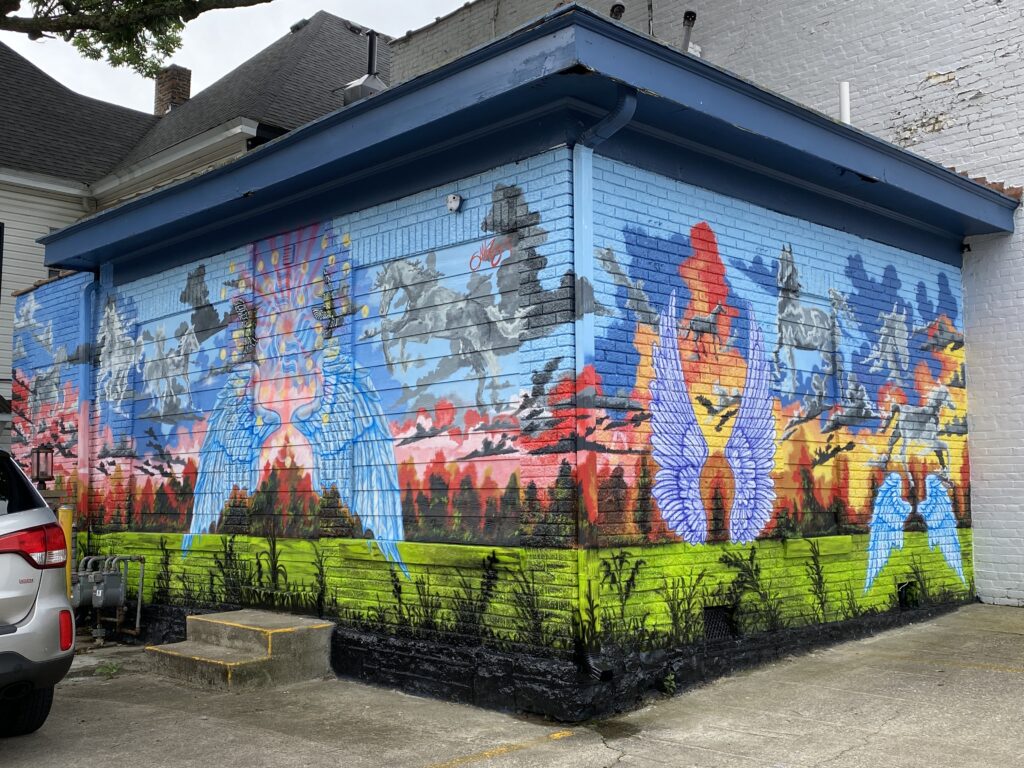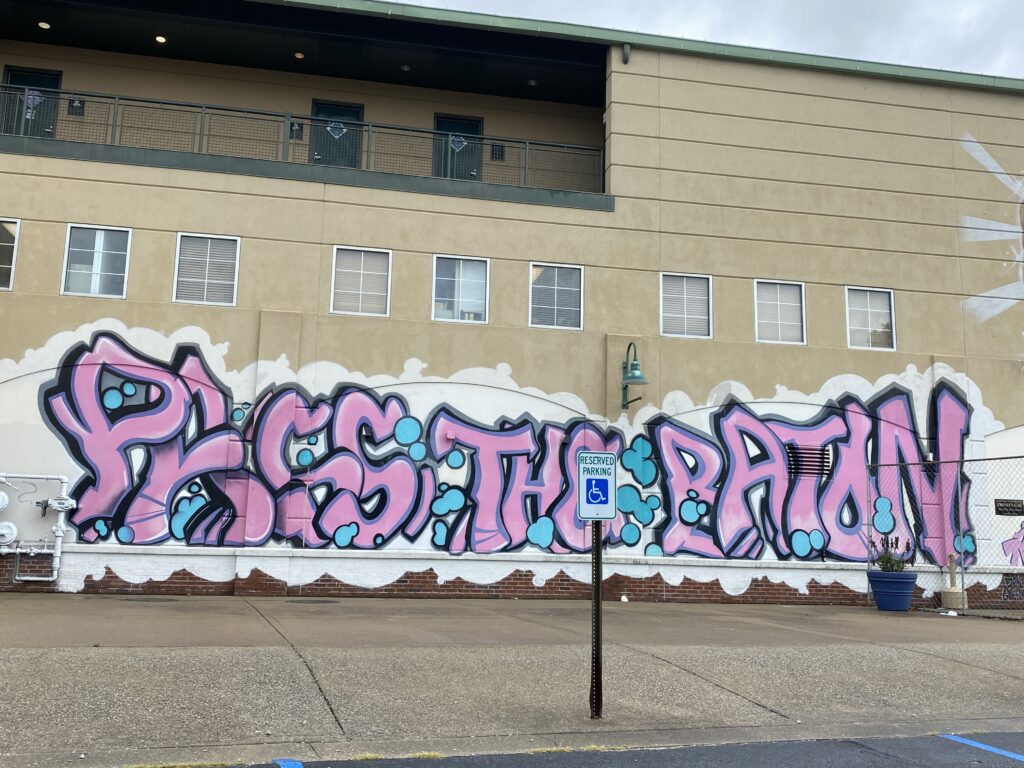 LESS BEATEN PATHS OF AMERICA TRAVEL SERIES

Have you seen my books yet? The series now has five books and I am working on books six and seven. Book Six will be all about murals from all over the country!! Watch for them later this year.