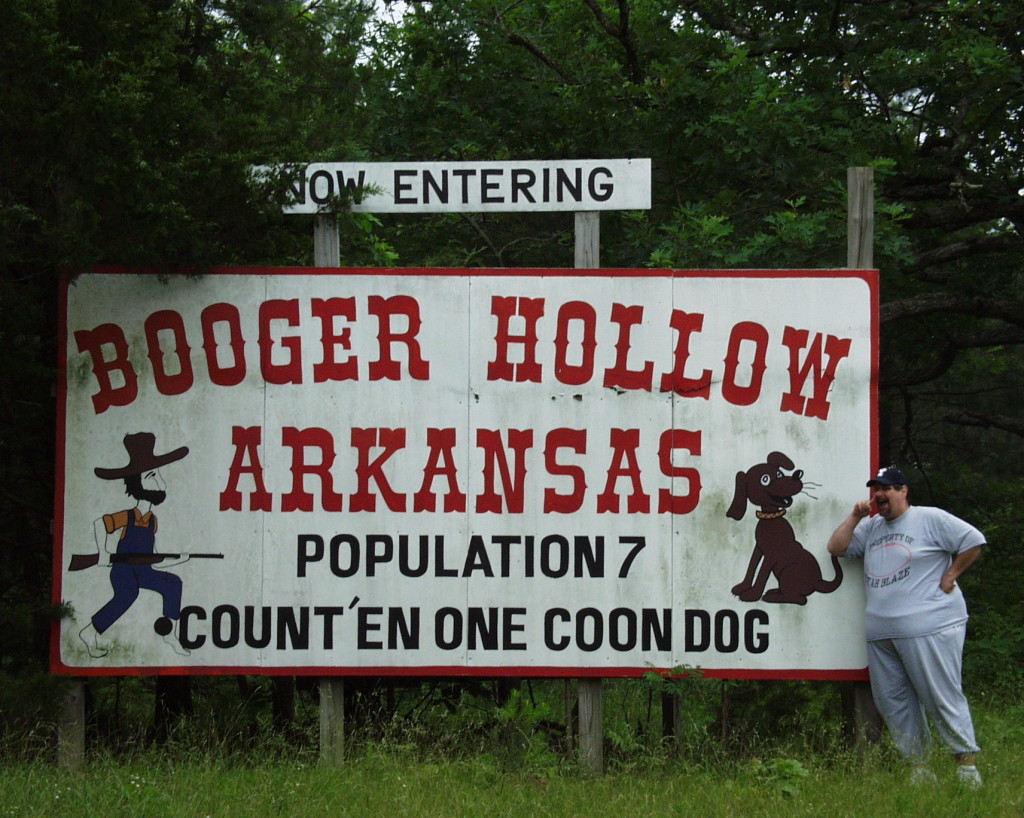 For this edition of Throwback Thursday (a day late….),  I look back to June 2007, when my son Solomon graduated from Lafayette High School in Lexington.  He was the last of my five children to graduate.  On the occasion of this event, my sister Sherry and her husband Brian, in Ft. Worth, TX, kindly and generously offered to give Sol their 1998 Toyota Camry, which they no longer needed.  There was some work required, which Solomon had paid for, but the real catch was that he needed to go down there to pick it up.  So, early on June 2 he and I drove down to Ft. Worth to get the car.  It would be a short trip in terms of days and a long trip in terms of miles.  However, determined as I was to make a mini-vacation out of the trip, I set out to create a fun and eventful itinerary.
Naturally, my first stop in planning was the Roadside America
website and of course, I used my MapPoint software (Google Maps was not as effective back then) to layout the itinerary.  I also followed the map carefully looking for towns along the way so as to peruse the internet for other sites of interest including historical, geologic and possible National Parks or monuments. Following is my record of this trip, including thoughts and photos.
June 2, 2007: Today we departed on our trip to Forth Worth, Texas to go get Solomon's car and to also satiate my wanderlust as I had not taken a real road trip since the Montana Trip two years ago. This quick Road Trip will comprise about 2500 miles over a three-four day period as we drive south thru Tennessee and Arkansas then into Texas and then return north through Southern Oklahoma, across
northwest Arkansas and southern Missouri and then back home.  A general map of the trip can be seen below:
We got up early and left Lexington at about 4:00 AM since we have such a long trip ahead of us and the plan was to drive all the way to Ft. Worth before the day was up.  As always, we stopped at a convenience store and loaded up on ice and some drinks.  We already picked up snacks, fruit, granola bars, etc.  Typically, when I take these trips, I do a detailed itinerary, which I plan knowing that some stops may not happen.  It is more for a guide.
After filling up with gas we left Lexington at 4:37 (EDT – all times in military 24 hr clock) with my odometer reading at 139719.6.  I like to keep track of these on the trip to kind of match it up with the  itinerary.  Anyway, we drove all the way to Jackson, TN before we needed fuel.  We finally arrived in Memphis, TN around 10:00 (CDT). We made a stop at the Memphis Visitor Center, which is the last exit before crossing the Mississippi River into Arkansas.
My last visit to Memphis was clear back on December 31, 2001 when we went with some friends from Utah to go see the Liberty Bowl.  At that time BYU played Louisville (and lost sorely 28-10).  While there we visited Graceland and Beale St.  This time we did not have time to go to any of those sites, but we did get pictures with Elvis and B.B. King as can be seen below.
Outside of the Visitor's Center you can see the Mud Island monorail, which takes people across to Mud Island River Park. Unfortunately, we didn't have time to go there, but we did see the monorail. We also got a photo with the "Memphis Egg".  I am not sure what the significance of the mosaic egg is, but it does make a very common photo op.
My REAL REASON for stopping at this point in Memphis was to get my photos of the Memphis Pyramid Arena.  The pyramid is 32 stories tall and is the THIRD largest pyramid in the world.  It is apparently taller than the Statue of Liberty. Its base covers 360,000 sq. ft. and can seat nearly 21,000 people inside. Quite an impressive building!!
We left Memphis at about 10:30 and then crossed the mighty  Mississippi into Arkansas.  Our next "tourist stop" would be at one of the many unusually named locations in Arkansas…Toad Suck. There are others coming after that, but we made our way to Toad Suck, which is near Conway, Arkansas.  On arrival, we found the Toad Suck gas station first and indeed, they sell T-shirts, key chains, post cards, and other great Toad Suck merchandise!!  Below are photos of Solomon modeling his Toad Suck t-shirt and me by the Park sign.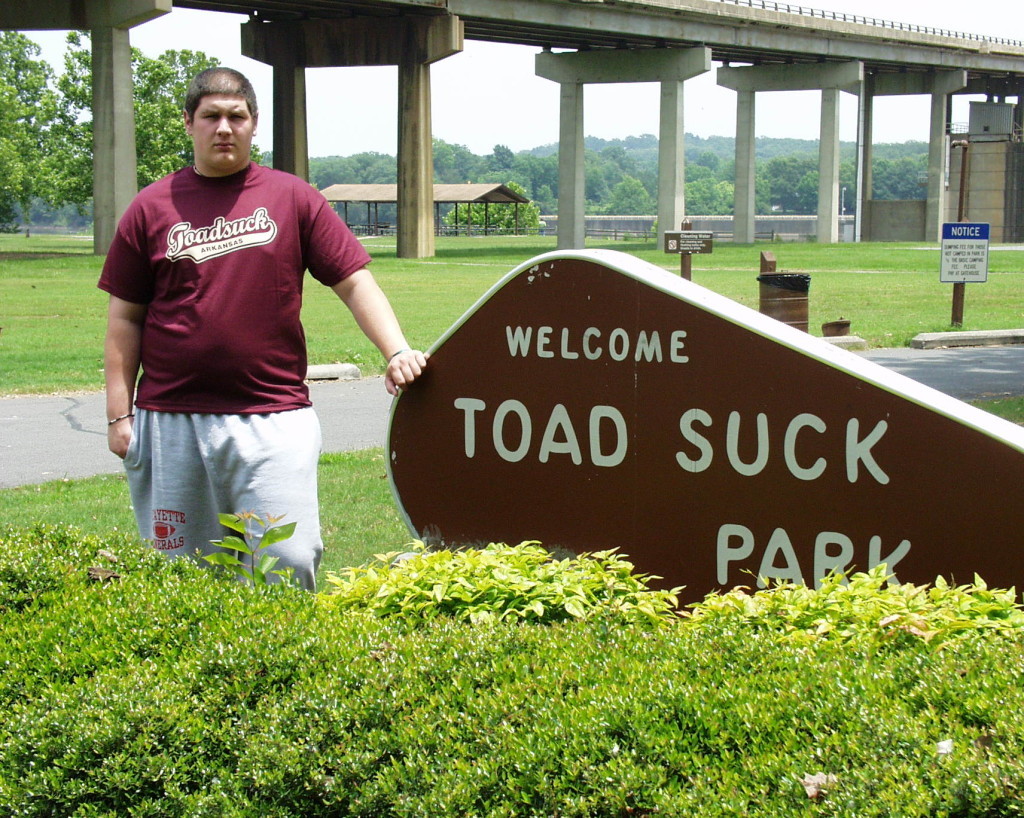 Behind me in the photo is the Murray Lock and Dam and the Toad Suck Ferry.  The park is situated along the Arkansas River and is very scenic and offers camping and picnic facilities. It is quite nice.
The real question is, where did the name Toad Suck come from?  The people there at the gas station had no idea and there was no Toad Suck info pamphlet, etc.  According to one web site, The Arkansas Roadside Travelogue (which has some EXCELLENT writeups on places to see in Arkansas!!!), Toad Suck Park took its name from the Toad Suck Saloon which sat on the south bank of the river and probably was the center of operations for the original ferry across the river. It appears that the going story that "you'll hear from the locals and read in the Arkansas Historical Quarterly is that this place was a popular spot for the bargemen to pull over and drink rum and moonshine. They are said to have "sucked on bottles until they swelled up like toads." There you go. Toad Suck." (taken from the above site –you can read more there).  One last comment: one of the  biggest festivals in Arkansas is "Toad Suck Daze" which is held in Conway in early May annually.
We had already fallen seriously behind schedule and so we were not able to visit the other site in Conway that I had hoped to see.  There is a metal sculptor named Finton Shaw who does some interesting work.  As Solomon is an artist, I thought he would be interested in seeing this work.  Unfortunately, time ran out.
We left Toad Suck at around 13:15 and continued east towards Russellville and Scenic Byway 7, which runs through the Ouachita National Forest and the eastern portion of the Ozarks.  I had planned for a lot of stops through here, but time was killing us and we had to try to get to Ft. Worth at a decent hour.
One of the misfortunes of using the internet for information is that sometimes details are sketchy and people don't provide correct or updated information.  The OCD in me makes me want to be  meticulous.  A case in point is Booger Hollow, Arkansas.  This is another of those strange-named places and was next on my list of places to see. All I could glean from the web was that it was situated on a hill near Dover, AR on Highway 7.  We drove from Russellville to Dover (which is north, and the opposite direction from Ft. Worth, so it was out of our way, but I really wanted to see Booger Hollow!!)   Dover was about 24 miles from Russellville. When we got there, we could find no signs to Booger Hollow Trading Post, so we stopped at a gas station and then said it was about 12-13 miles east of there on
the left up Highway 7.  So, we headed east.  Turns out it was 18.5
miles east of the turn off and was on the RIGHT side of the road!! Along the way we could see signs on trees that said things like  Country Hams and souvenirs, etc., for Booger Hollow.  We rounded one corner and saw a sign on the right partially covered by a tree "…gger Hollow" and began to slow down only to find out it was Chigger Hollow, so we continued east.  Basically, you pass Pleasant Grove, you pass Chigger Hollow and you also go past the sign
to the Ouachita National Forest.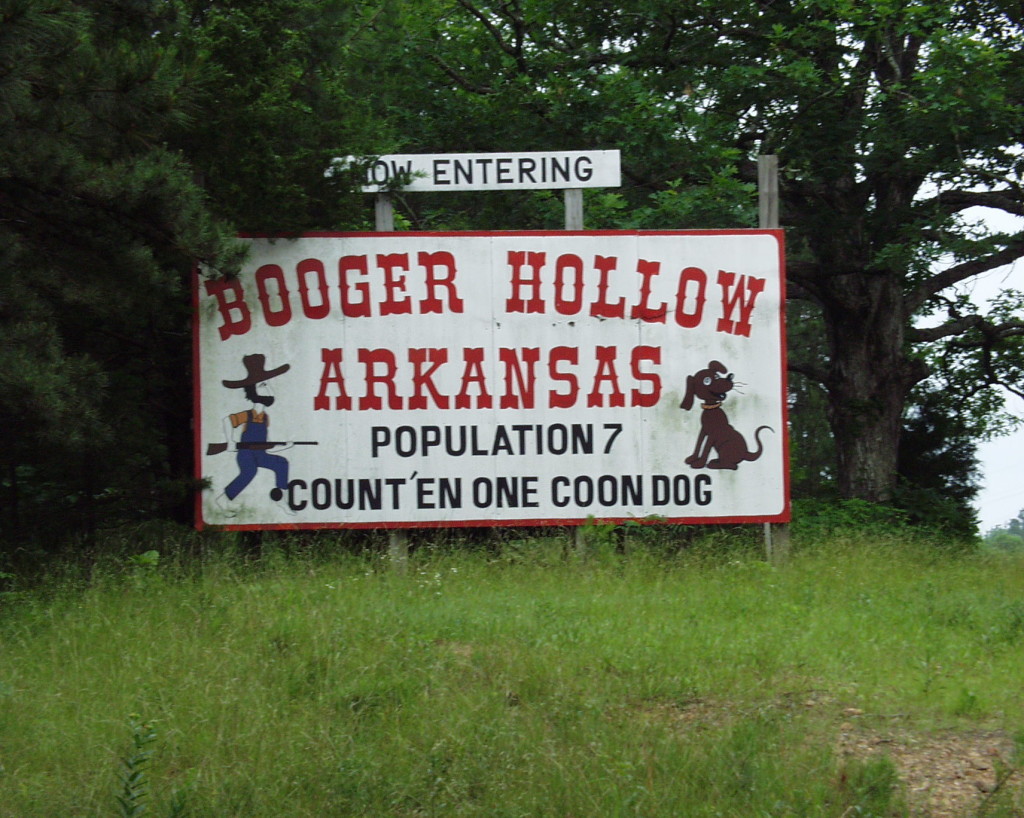 Once we arrived at Booger Hollow, we were sorely disappointed.  The place was in a shambles.  The Trading Post had obviously been closed for sometime.  But, there were still the signs and the famous double-decker outhouse.  True tourist photo ops for fans of the Off-Beat.  In the past the Trading Post apparently "featured loads of hillbilly themed knick-knacks as well as local simple-life goods like honey and
sorghum and lye soap. The diner offered the usual fare, but with a colorfully worded menu aimed right at the gigglebox of your carbound, stir-crazy eight-year-old… "boogerburger," "boogerdog," etc." (from Arkansas Roadside Travelogue).
The best part of this was the sign as seen above.  Says it all. The outhouse above does not really function any longer either.  It was in great disrepair.  On the left entrance there was a ladder inside where they were trying to fix the ceiling.  The Trading Post is still there as a building, but has obviously been closed for a while.  I was disappointed to make the trip all the way up here only to see this.
However, if you are driving on Highway 7 and just happen to drive by, it makes for a fun stop.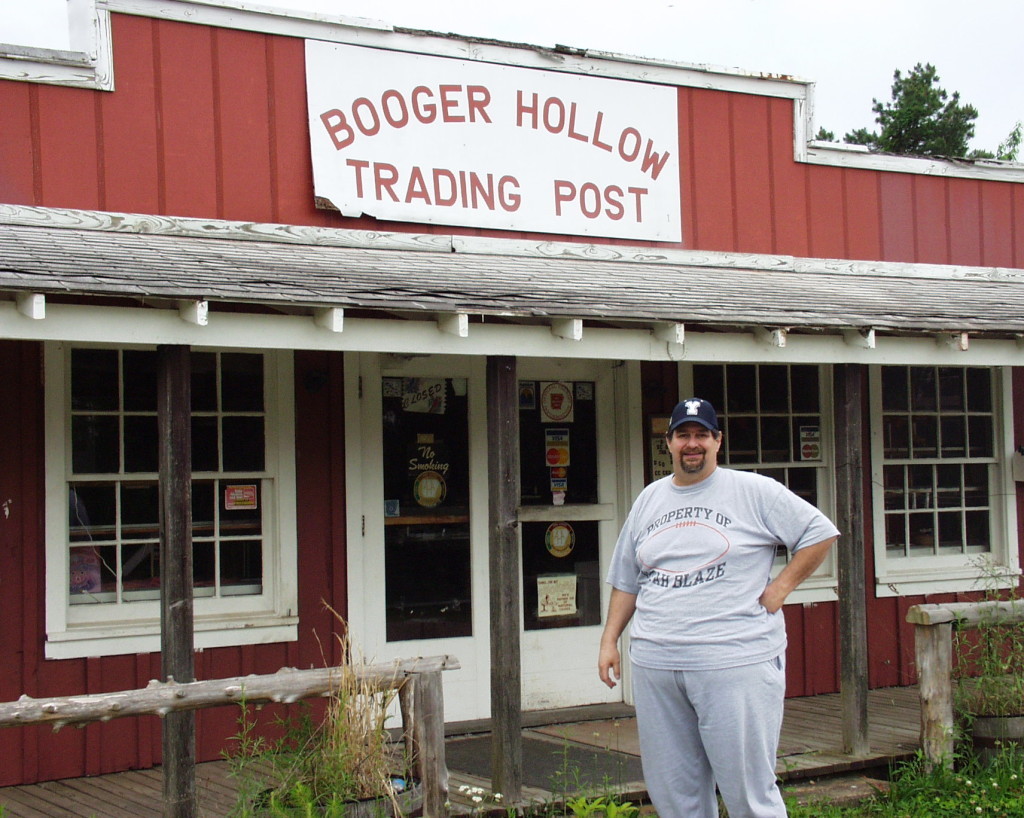 Booger Hollow apparently derived its name from the belief that the hollow was haunted due to the numerous graveyards located there. Booger in this case is a variant of bogie or boogie, as in "boogie man." So to call the place Booger Hollow is a colorful local term meaning Ghost Valley. According to the USGS, Tennessee (near Fairview in Williamson County) and Kentucky (near Heidrick in Knox County) each have valleys named Booger Hollow.
We headed back to Dover and about 10 miles back we stopped at Chigger Hollow Trading Post, which still is in business.  We met owner David Standridge and found out some information about Booger Hollow.  Apparently, two brothers owned the place and it succumbed to business losses.  David, who owns the land across the road from Booger Hollow, wanted to buy the spot and redevelop it, but the brothers could not agree on terms, so there it sits.  David told us he was the one who painted the Double-Decker Outhouse.
Chigger Hollow Trading Post has some nice items, such as hand made bonnets and quilts, some wood work, as well as some touristy things in the gift shop.  David is also working on an antique shop and sells some local food items like soup, honey, sorghum and jellies. Unlike Booger Hollow, Chigger Hollow is worth the stop if even for just a look-see, a candy bar and a soft drink.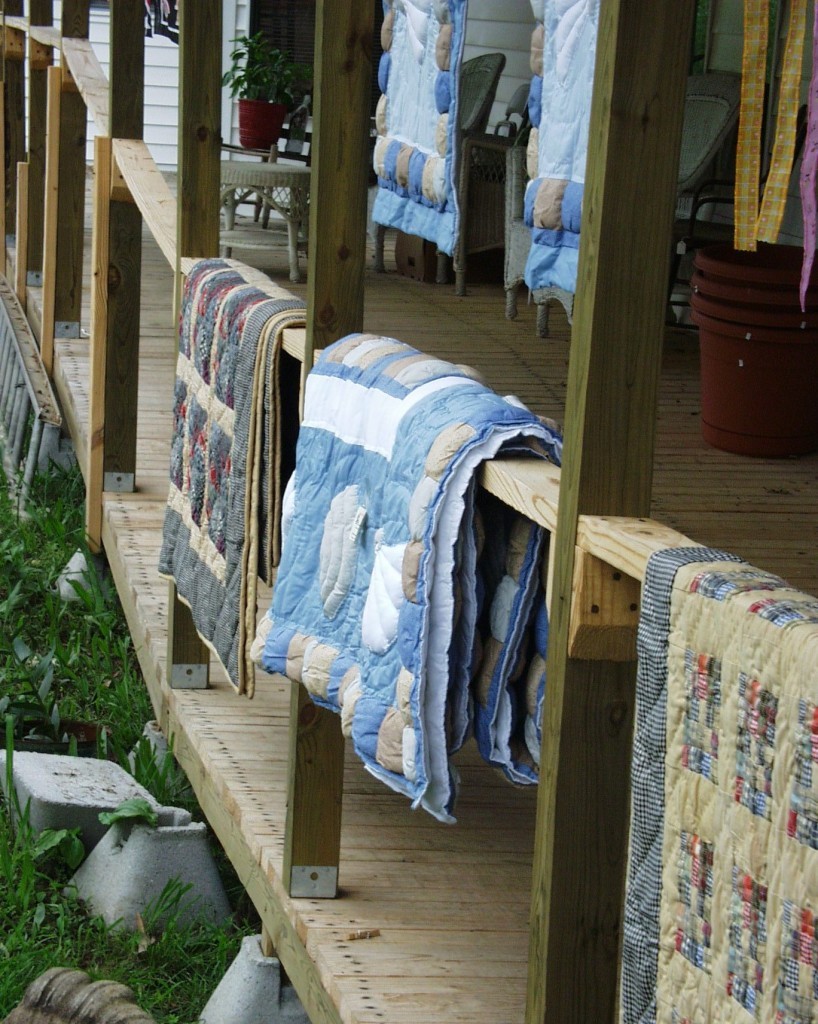 All along the road we saw many old trailers and houses, with cars parked in front and these dilapidated buildings seemed to still be lived in. Solomon noted that it seemed that every one of the old trailers and houses had an old Firebird parked in front…
By the time we left Chigger Hollow, we had already fallen behind in schedule by nearly 3 hours.  We headed back through Dover and then back through Russellville and south on Highway 7 towards Hot Springs.  Along the way we took another detour towards Lake Ouachita. This took us down some more windy roads and finally upon the shores of the largest lake in Arkansas.  Obviously, since I didn't have a boat and since we weren't planning on camping, there is the question of "Why Ouachita Lake?". Well, as many of you reading this know, I am the webmaster for Antsy McClain and the Trailer Park Troubadours and on their newest CD, called Trailercana, there is a song called "Joan of Arkansas" wherein Joan, who had just burned  down her husband's trailer, was last seen heading south towards Quachita Lake (see lyrics and hear a clip of the song).  Antsy told me that he had heard of the lake and looked it up as Quachita and it did show up. In fact, it does sound like Quachita Lake, but everything out there is Ouachita.
The lake really is beautiful and would make a nice place to camp. In  fact, just nearby is a KOA Campground so you can look for Joan of Arkansas while being a KOA Refugee (also by Antsy McClain — see
lyrics and hear a clip of the song).  Here are a couple of photos of the lake:
We had actually planned on hitting Hot Springs National Park while in the area, but it was already after 5 PM and we were falling further behind, so we skipped it.  Rather, we stopped for some food and headed further south. We also skipped our drive down through Mt. Ida (known as the Quartz Crystal Capital of the world) as well as Oden, AR, home of the Lum and Abner Museum and Jot 'em Down Store, which houses the Beverly Hillbillies truck.  These will have to be on another trip I guess.
We continued south to Texarkana and by the time we got there, it was pretty dark.  However, we were still able to get over to the
Post Office there.  This is the only U.S. Post Office that sits in two states. The Post Office resides within the courthouse, which is said to be one of the most photographed in the U.S.  And much like Four Corners (near Durango, CO), you have a photo op where you can stand in two states at once.  Here I am in front of the Post Office:
After filling up with gas and soda in Texarkana, we took the last leg of the trip into Ft. Worth. We finally got into Ft. Worth around midnight.  It was about a 20 hour day and we were excited to finally get to rest.