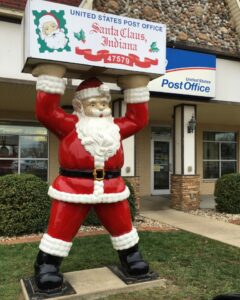 Over the years, I have traveled to a number of what I call "Theme Towns." These would include places such as Vulcan, Alberta with its Star Trek theme (see post of my visit in 2007); Metropolis, IL and its Superman theme (see post of my visit); Hershey, PA and its chocolate theme (see post about recent visit in 2015); Roswell, NM with an alien theme; Douglas, WY and its Jackalope theme (see post here); and Hell, MI with its Devils and hell-fire (see post here). Another one I visited back in 2012 was Santa Claus, IN with its Santa and Christmas inspired themes. That visit was a short pass-thru visit on my way west to Kansas City.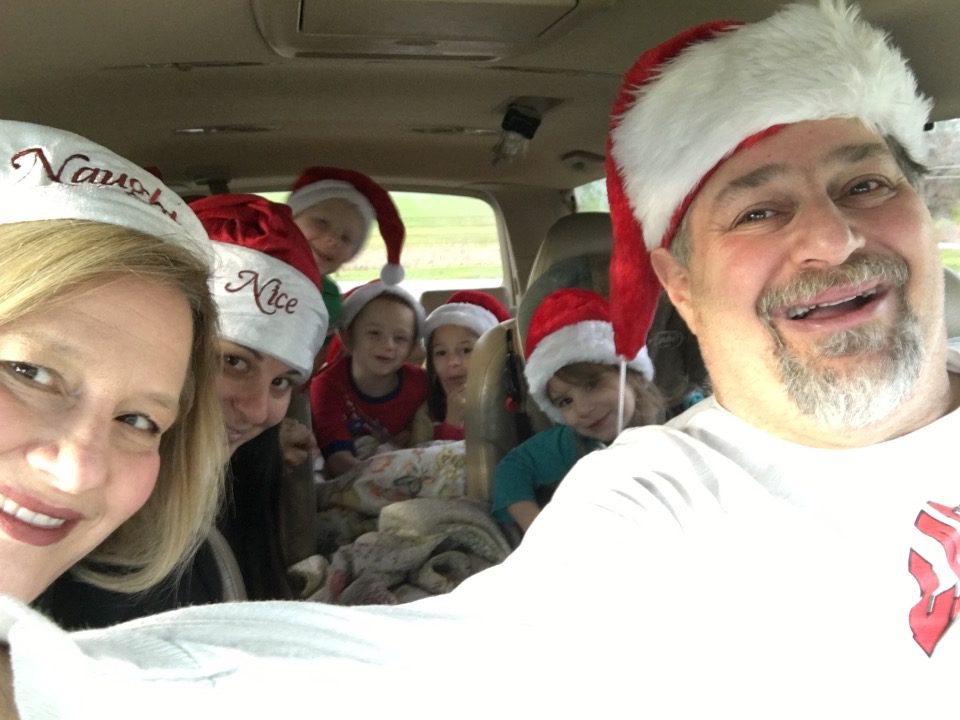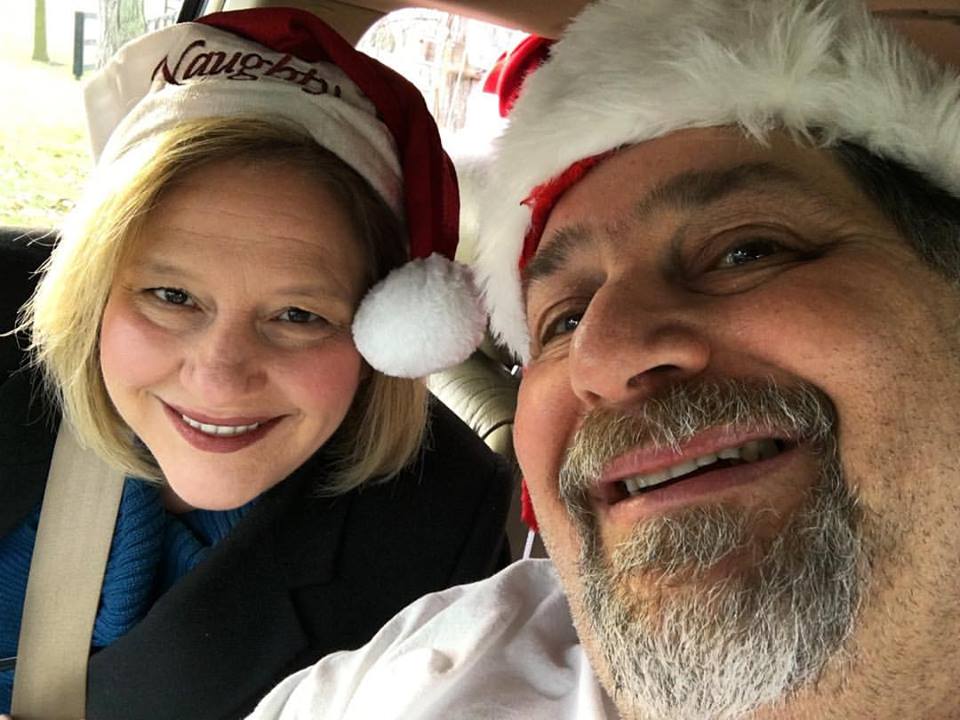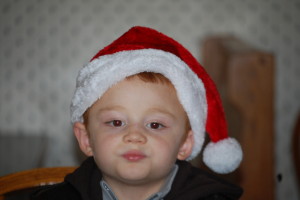 On my grandson Landen's 7th birthday, Dec. 17, we gathered up Landen, his sisters and his cousin Rockwell, along with my daughter Marissa and my wife and took a day trip to visit Santa Claus during the holiday season. It was a lovely, though quite cold, day to take the two and a half hour trek from our own horse and bourbon themed Lexington up to Santa Claus.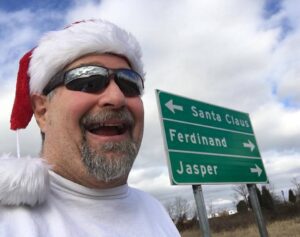 Our trip up was uneventful. It was cloudy in the morning so we didn't
see a sunrise. However, by the time we got to the Santa Claus exit off
of I-64 west, the skies was bright with sunshine and a few spotty
clouds.
We got into town about 11:30 EST, but it was Central Time there. Our
intent was to head to lunch first and then visit the town.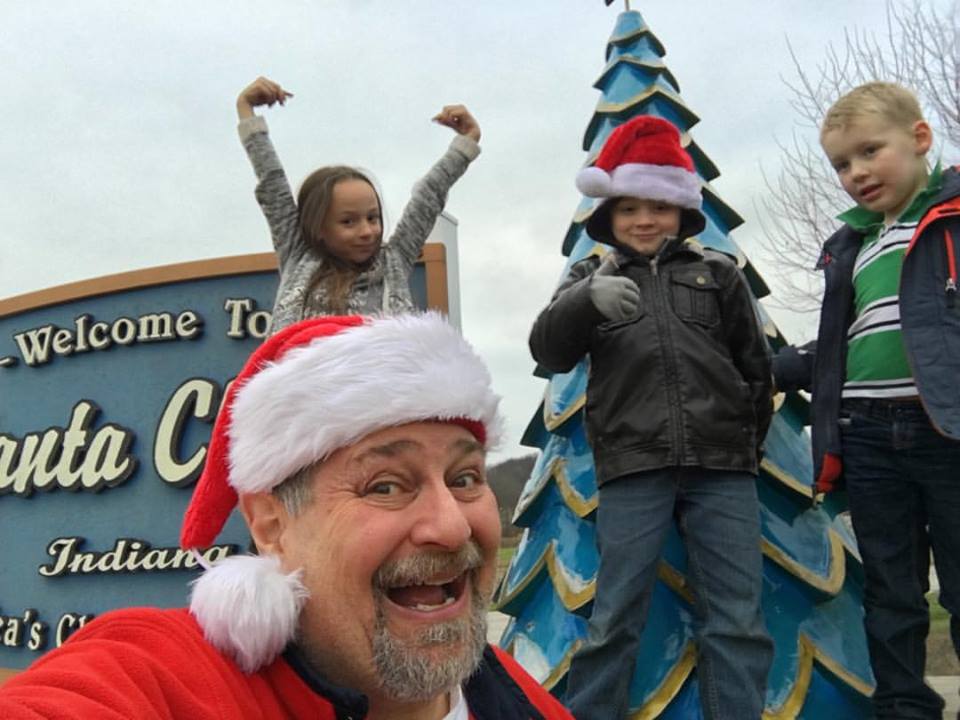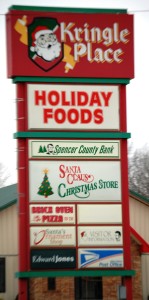 One might think that Santa Claus would have a quaint little rustic
downtown area with Christmas-like cottages and a Gatlinburg-esque
atmosphere. Unfortunately, this is not really the case. Though there
are Santa statues throughout the small town, the actual town consists of a strip mall (Kringle Place) with a few Christmas-themed shops, then, a couple miles down the road there is a museum, the original post office, an old church and the "Candy Castle." The town has a hotel called Santa's Lodge, with a restaurant called St. Nick's. There is a campground at Lake Rudolph. Besides the Santa-themed attractions, the biggest drawing card to the town is the Holiday World Amusement Park with its huge roller coasters and water slide amusements. Obviously, at this time of the year it is closed for the season.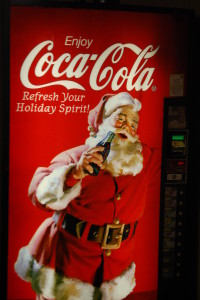 Thus, this visit to Santa Claus was really in the "off season" though,
for three weekends in December the town is bustling with Christmas
visitors and its variety of Christmas activities, some of which were
still available on this particular Thursday visit. (Mind you, the
County Tourism office recommended I visit on Saturday, but that wasn't going to work for us).
We got to St. Nick's restaurant at 10:45 and it didn't open until 11,
so we kind of hung around the lobby of the Santa's Lodge hotel, which
was nicely decked out for Christmas. The town really has sparse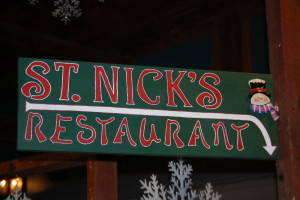 dining options. Besides the obviously Santa-themed St. Nick's, the only other options appeared to be a Subway (with a Santa out front) and a Pizza/Sandwich place in the Kringle Plaza strip mall. If you want to eat vegan, good luck!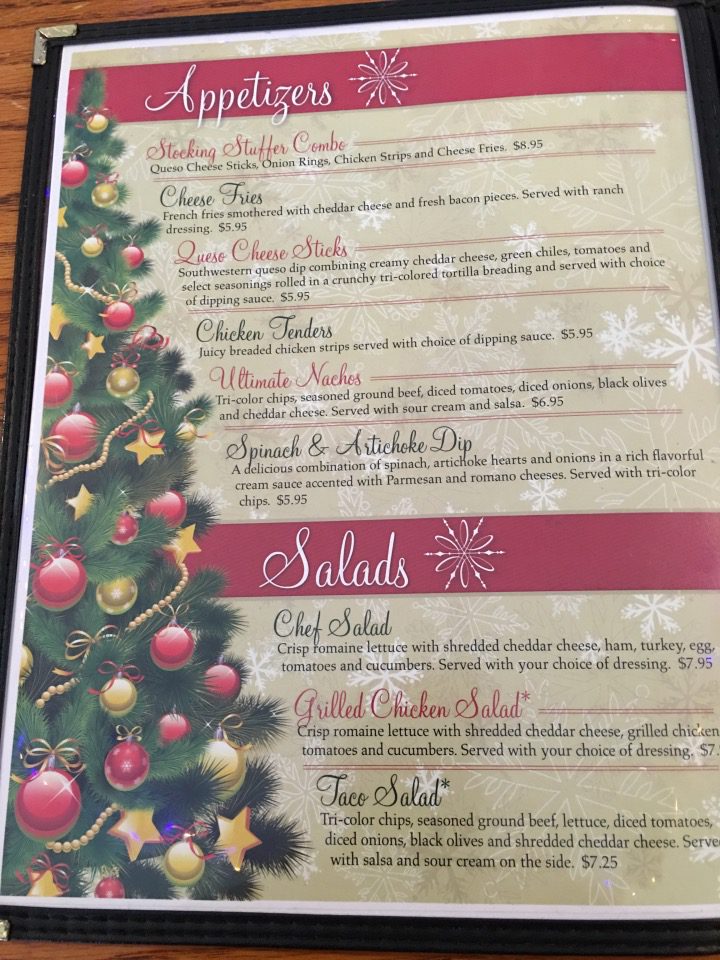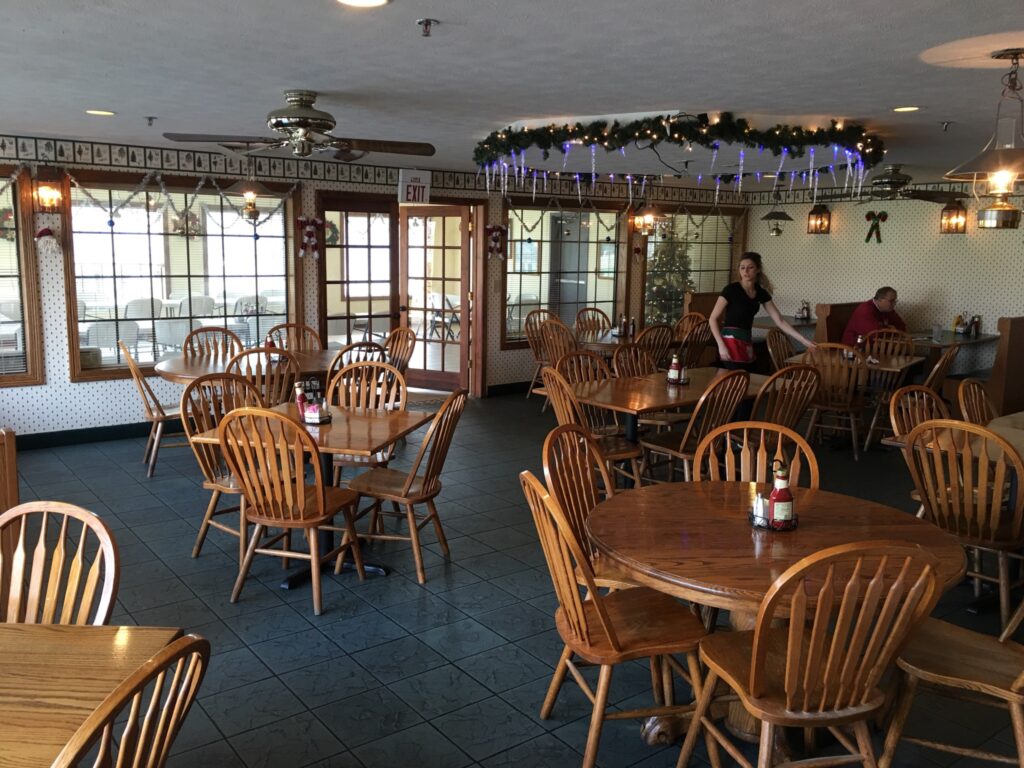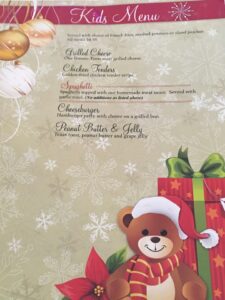 St. Nick's has a few Christmas designs and the menu is certainly Christmasy. The menu items were typical American faire. We were there on a slow day and found little that we could eat (as far as vegetarian options were concerned.) We ordered the tri-color tortellini with artichoke pesto, kind of excited about the Christmas colored noodles. But, much to our dismay, our server came back a few minutes later to tell us it had been discontinued and that the "new owners" we're getting "new menus" soon. So, we opted for the salad bar, which sufficed (somewhat). All the kids got kids meal chicken fingers and fries, which were hefty. I asked about the "Reindeer Paws," which were advertised on the Santa Claus, IN website (see here), and our server had never heard of them.  Apparently they used Reindeer Paws as the name of their Buffalo Wings but no longer.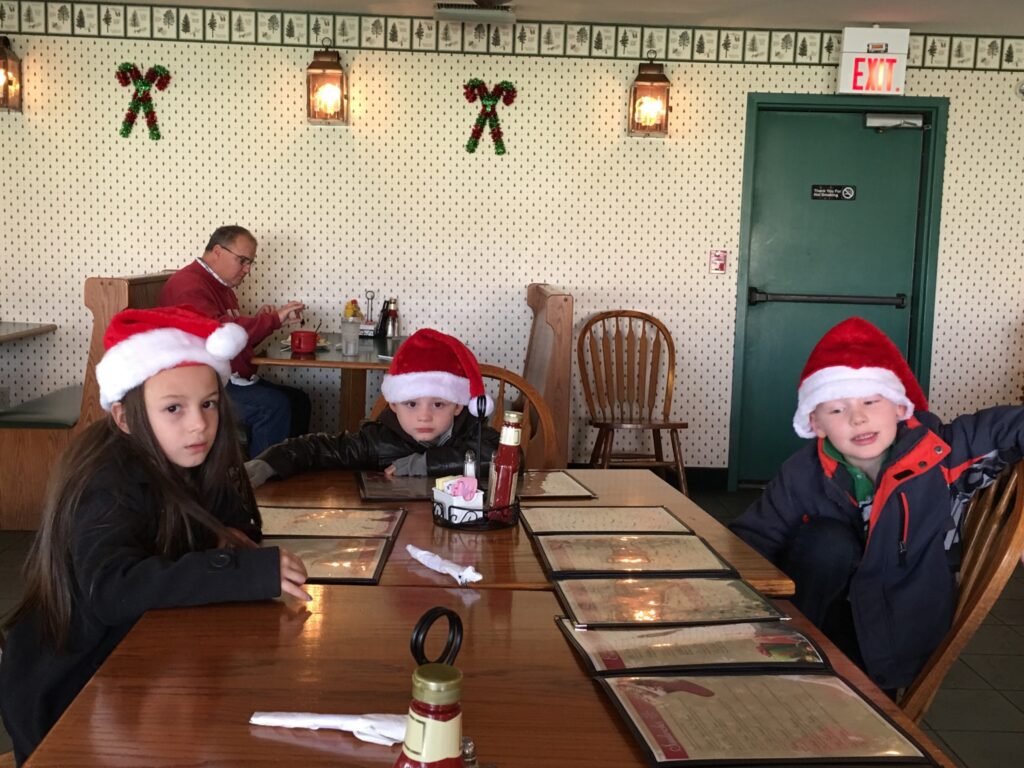 By this time, my wife was already noting another "Sandwich Fail,"
referring to our September 2015 trip to New England and our out of the way drive to Sandwich, NH to get a sandwich (and our ultimate discovery that there are no places in Sandwich to get a sandwich).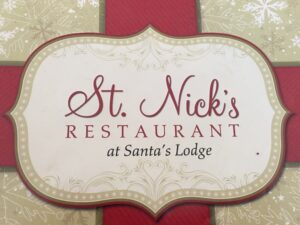 Though the waitress was pleasant, the food was lackluster. But, in a town with few choices, it was probably better than the other two places.  Thankfully, they gave us a 10% discount due to all of the troubles. That was helpful considering the cost of meals for seven people.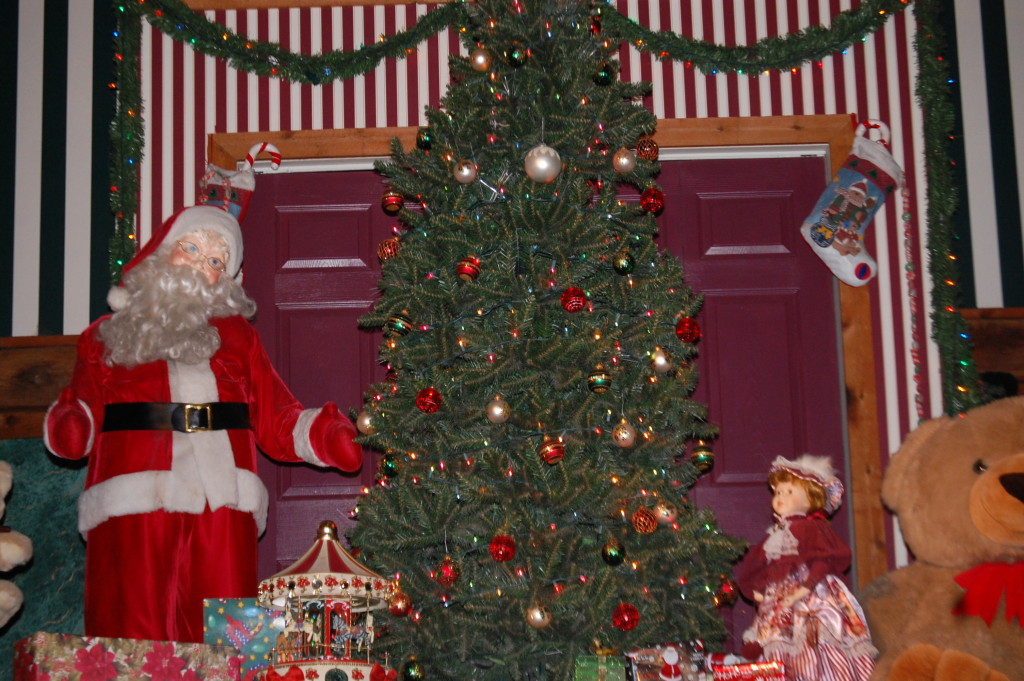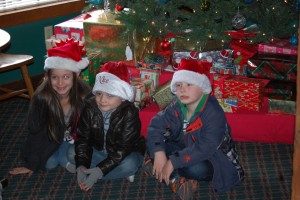 Now that tummies were full, we were ready to venture into town and see all of the offerings of this small Indiana village.  Our first stop was some photo shoots inside and outside of Santa's Lodge.  The interior is nicely decorated for Christmas (perhaps year around).  And, outside, they have the 10 foot tall "Angry Santa" statue — that's what I call it anyway.  He doesn't look too friendly, though he did pat me on my head!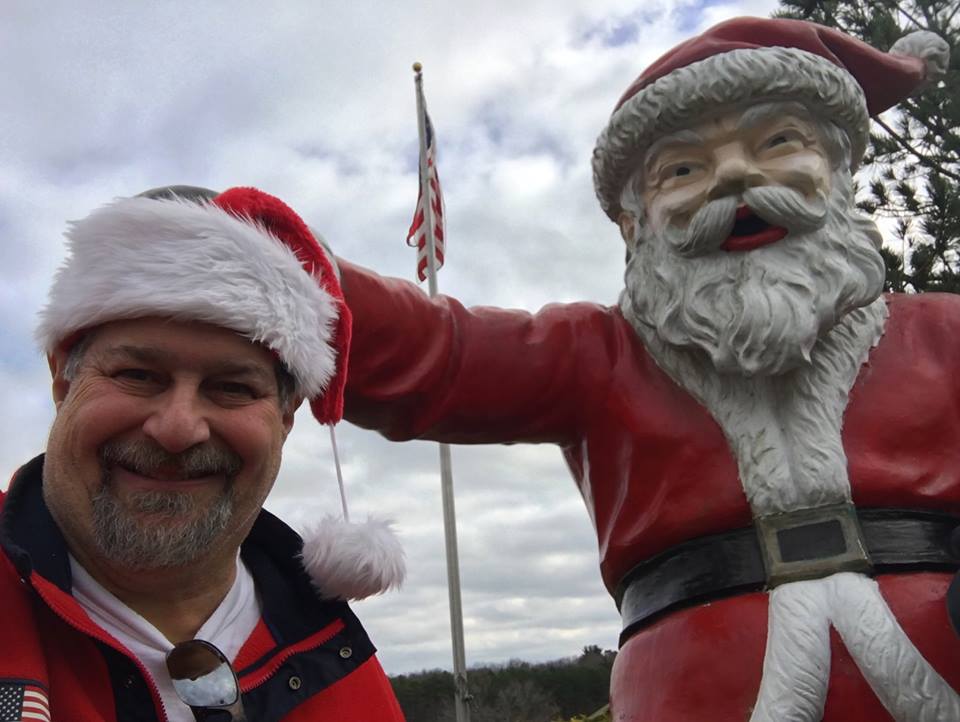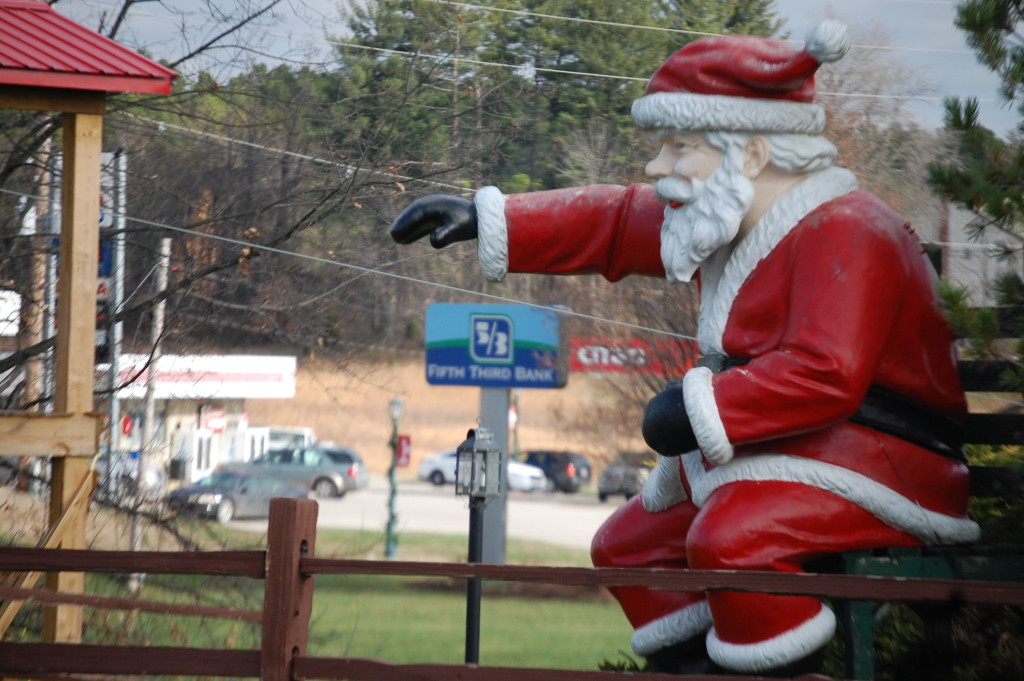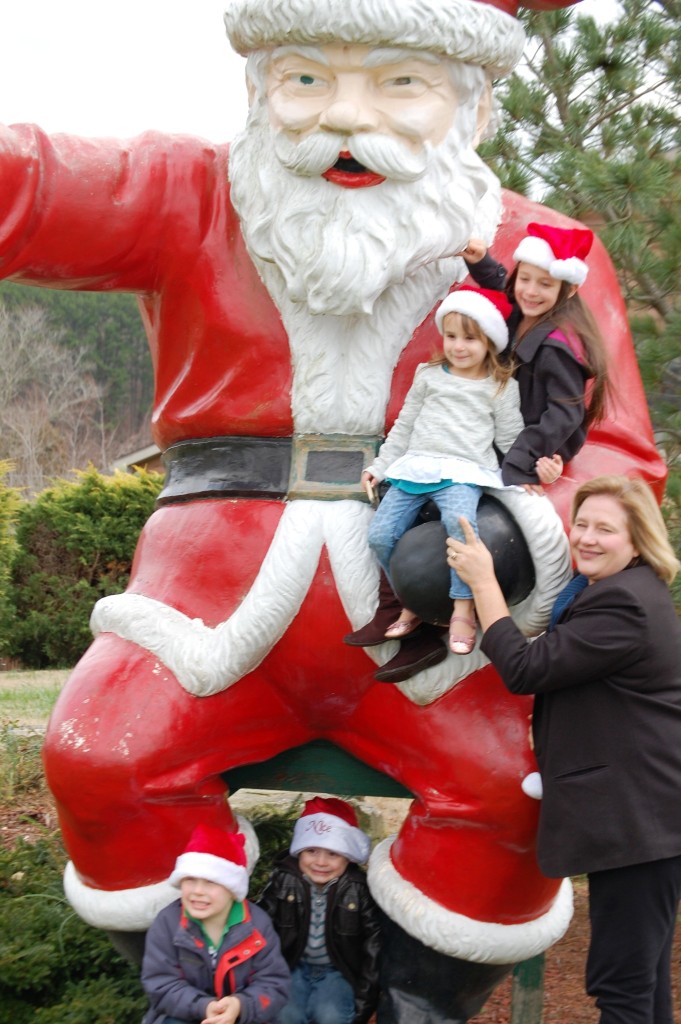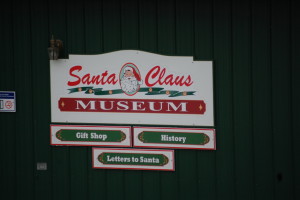 From Santa's Lodge we decided to head over to the Santa Claus Museum and Village, which was east on IN 245 a bit past IN 162. The old historic Post Office and old Santa Claus Church are located there, along with a 20 foot tall Santa Statue.  The Santa Claus Museum features historical documents, photos and artifacts illustrating the progression from the tiny settlement of Santa Fe (pop. 65) to the present day town of Santa Claus. Exhibits feature the story behind the town's famous name, the history of tourism, and artifacts highlighting the town's unique history. The town was established in 1854 and known as Santa Fe (pronounced "fee"). In 1856, when the town was working to establish a post office, the United States Postal Service refused their first application as there was already a Santa Fe established with the USPS. Several town meetings were held, during which the name Santa Claus was selected.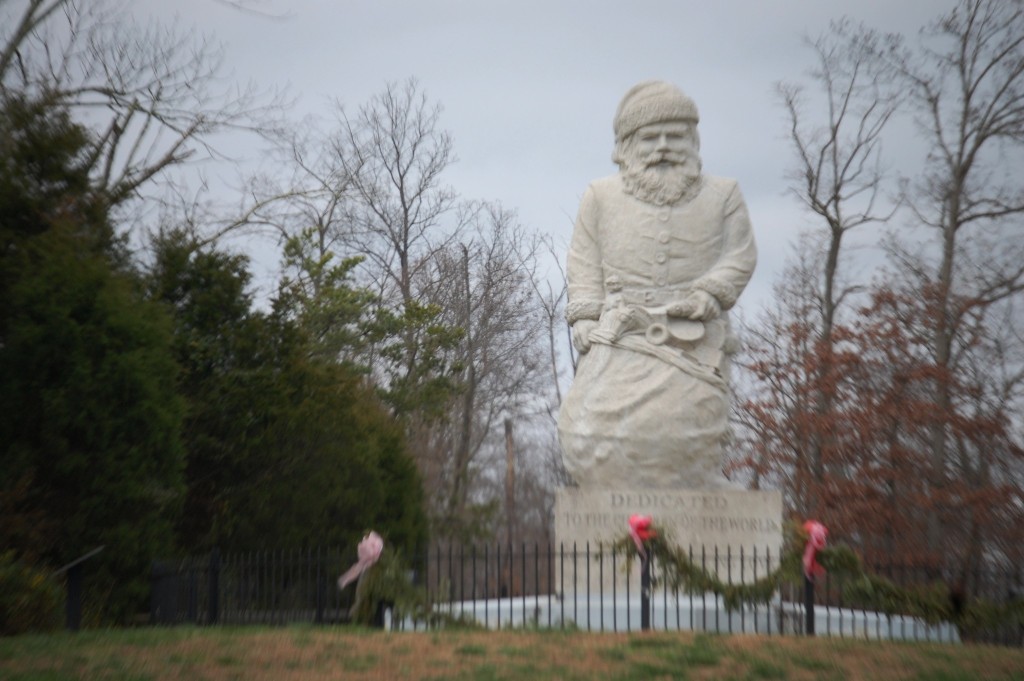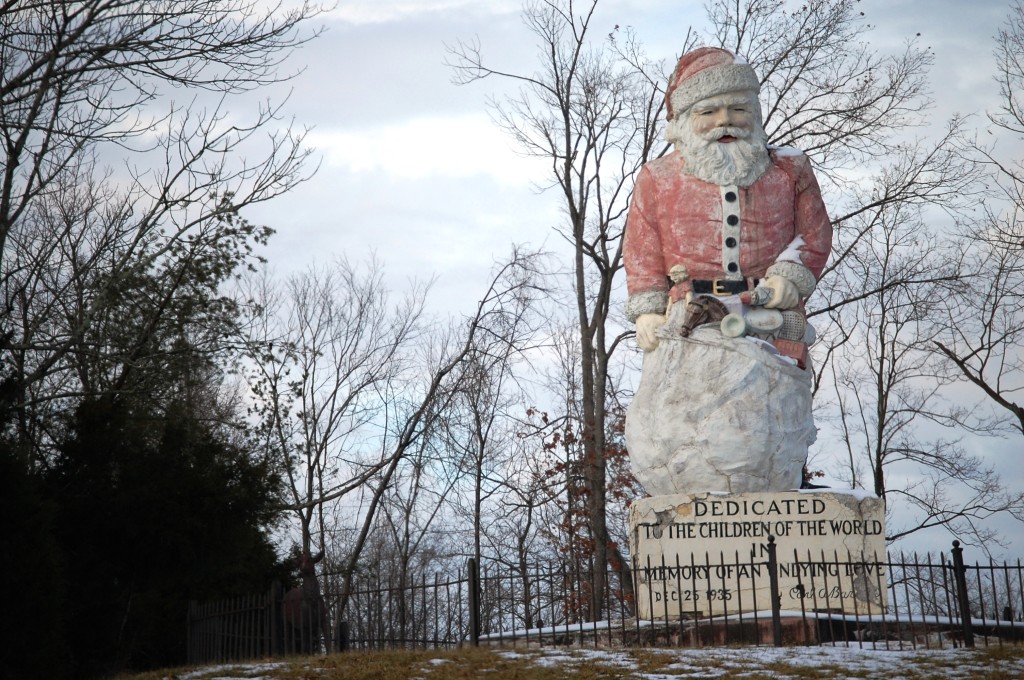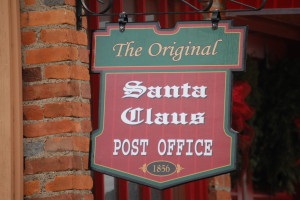 The town now has the world's only post office to bear the name of Santa Claus. Because of this popular name, the post office receives thousands of letters to Santa from all over the world each year. A group of volunteers known as Santa's Elves ensures each child receives a reply from Santa Claus; this tradition has been in existence since at least 1914.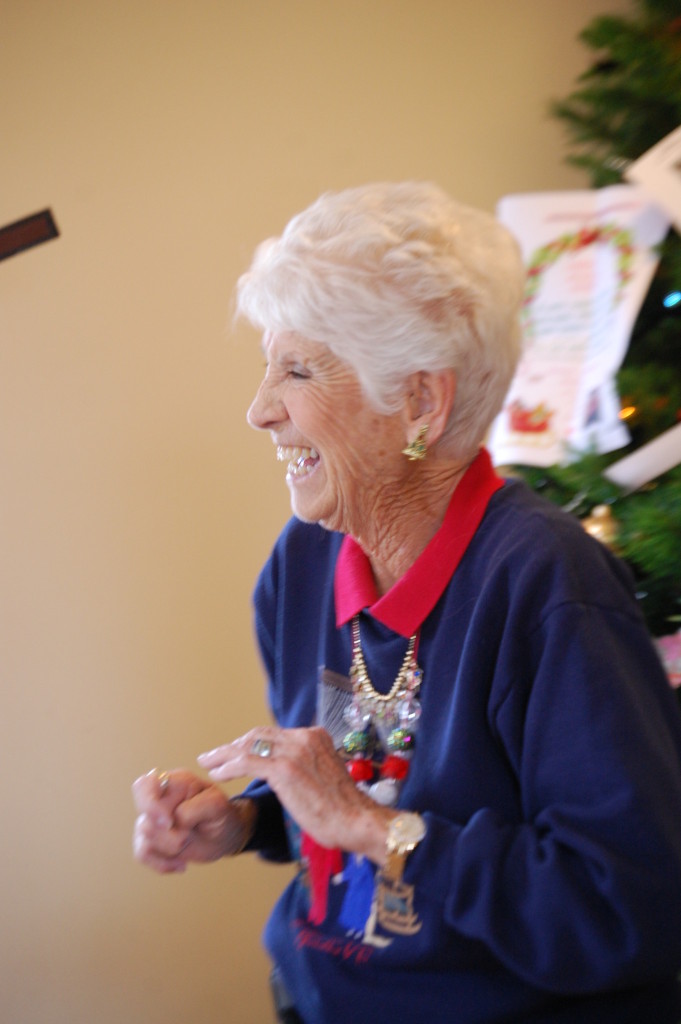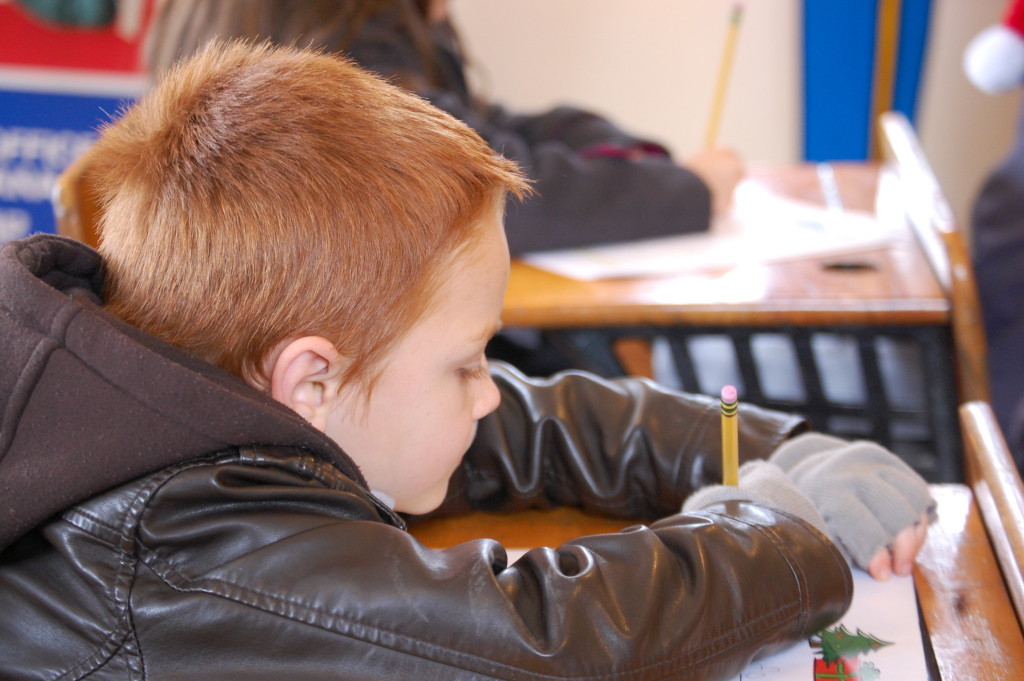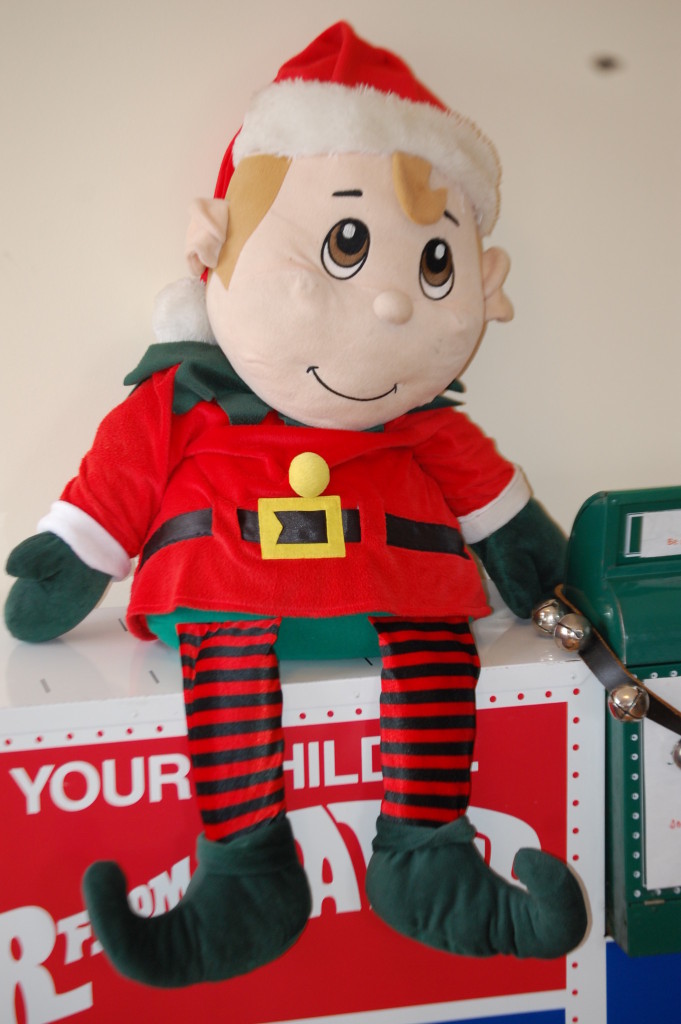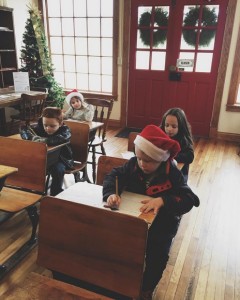 The kids sat the old style desks to write their letters to Santa.  It was a nice little unique atmosphere.
After each child completes their letter, the parents (or children) include their mailing address on the letter and Santa will send them a letter to respond to them. There is no charge for this.  It is a fun concept for the kids (and donations are accepted for those wishing to help out Santa's volunteers)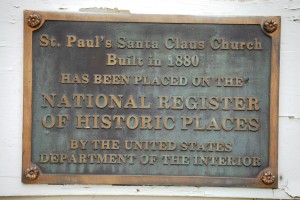 Just behind the old Post Office is the old church.  It is a small, cozy building.   It was built in 1880 and still is heated by a wood burning stove.
The inside is sparse, but warm.  There is a nice nativity scene at the front.  The grandkidz went in and sat down in one of the pews and all sang Silent Night together.  It was really sweet!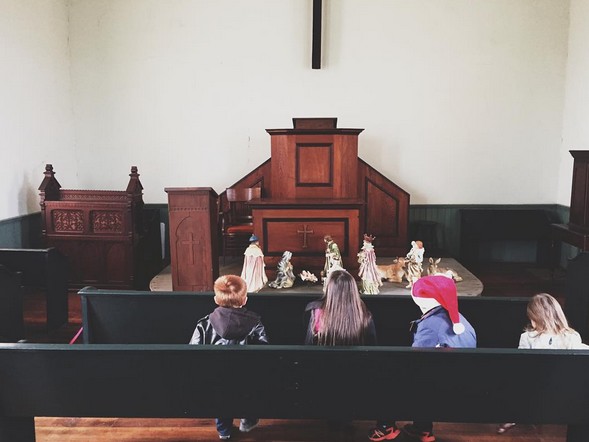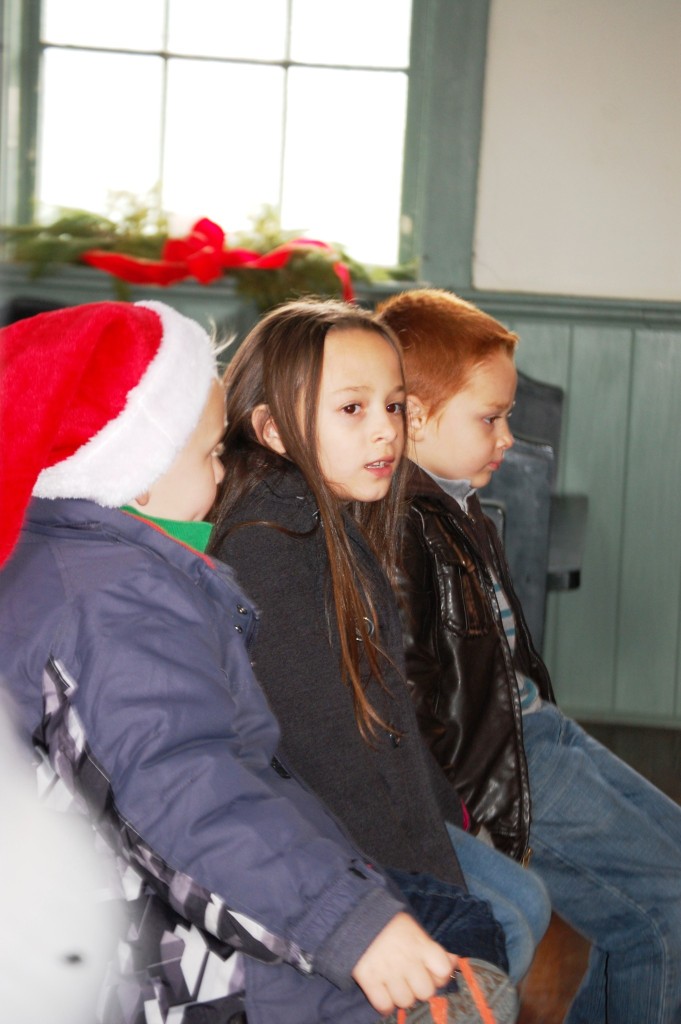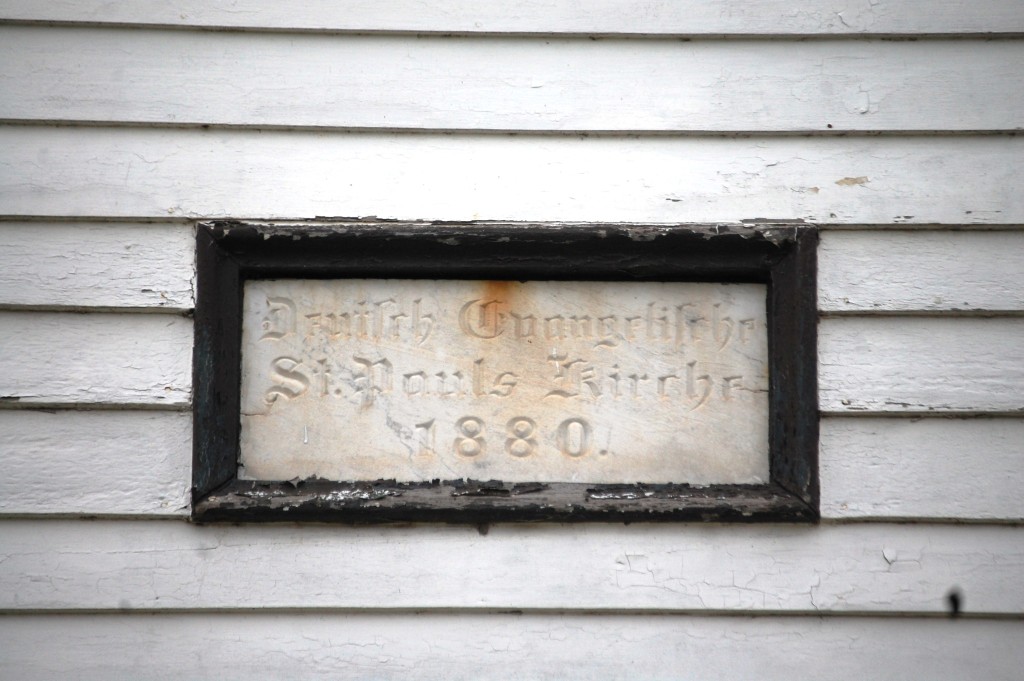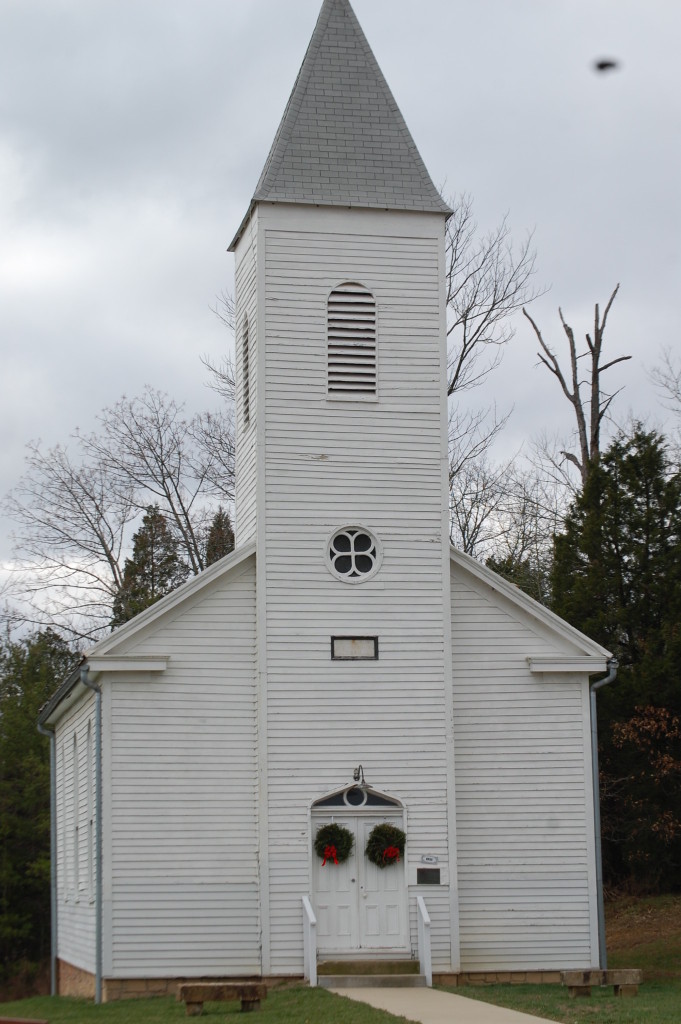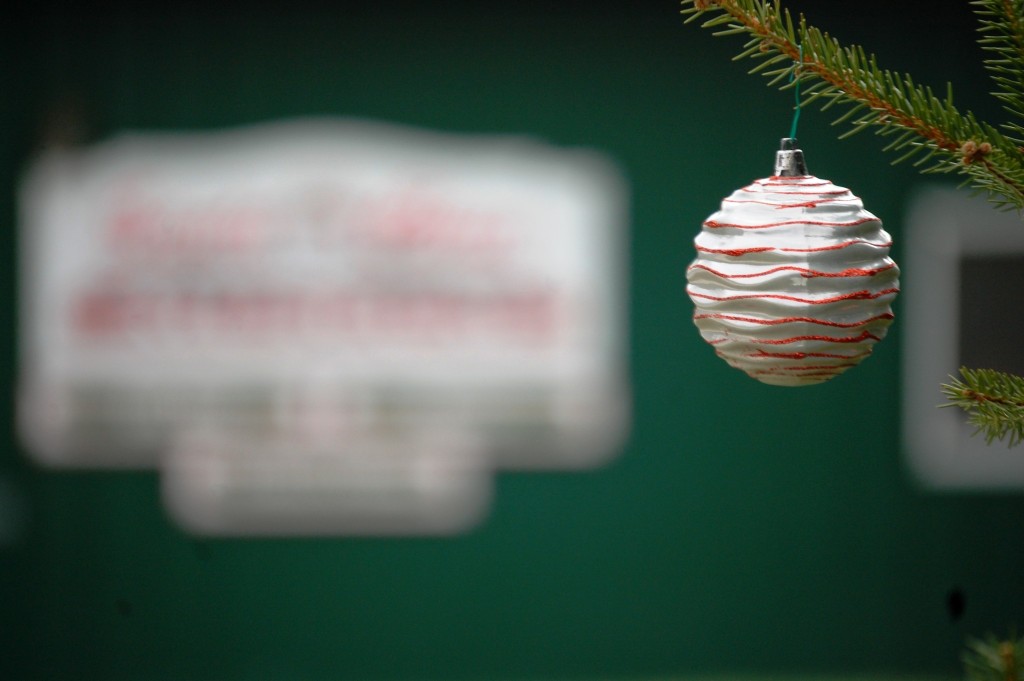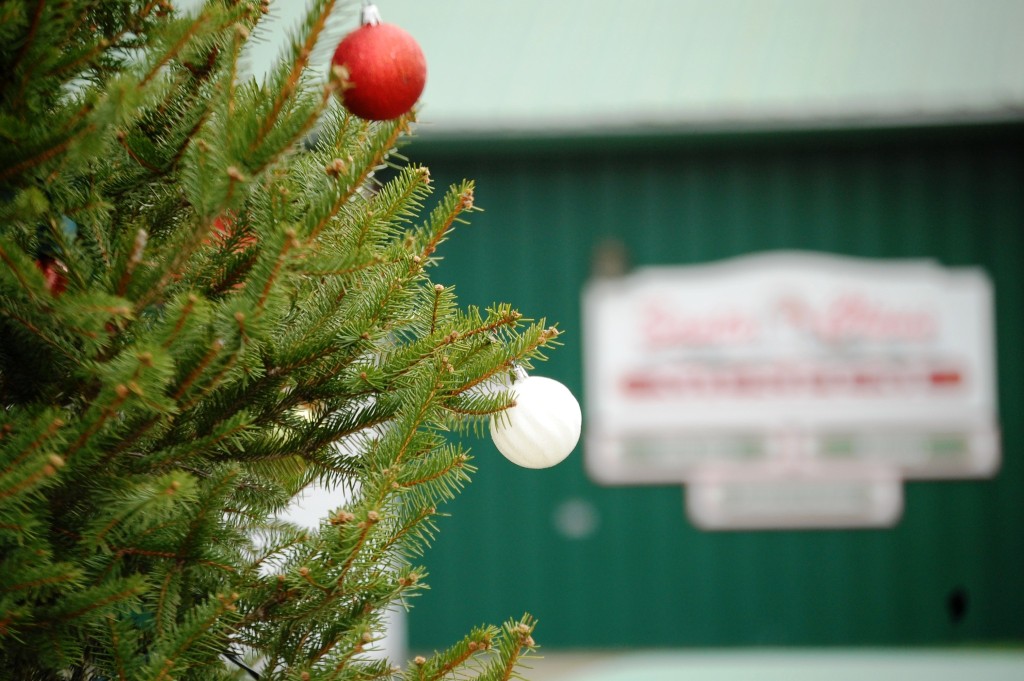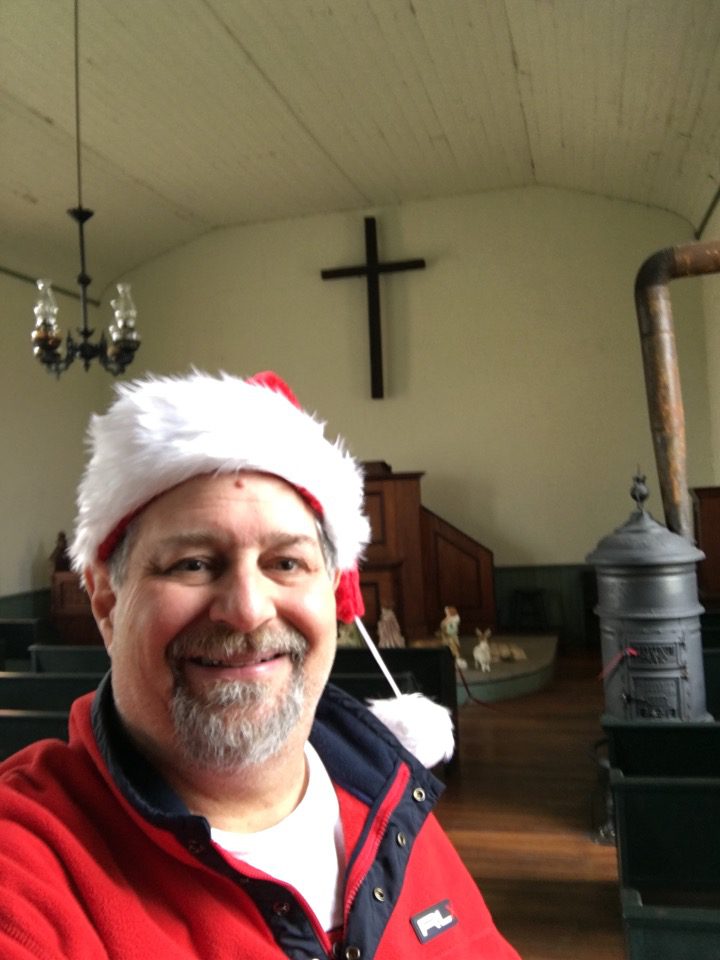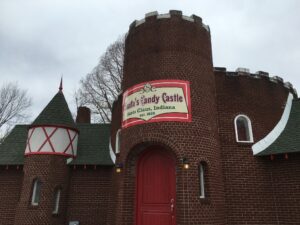 A little on further down the road is "Santa's Candy Castle," the perfect place to pick up some goodies for the kids.  And during the Christmas season, they also provide an opportunity for the kids to chat with Santa's Elves in the North Pole online and find out if they have been Naughty or Nice. Its a nice interactive thing for the kids to do and they get a certificate afterwards that is encased in plastic!  (There is a cost involved, but I was able to get coupons online and save a few dollars at santaclausind.org)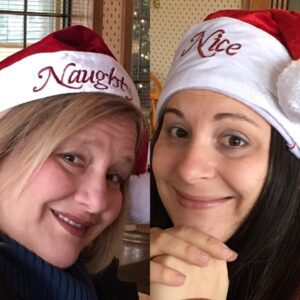 We had already determined who was Naughty and Nice between Mom and Daughter….but the grandkidz needed to wok with the north Pole elves to get that determination.
The interactive program on the computers requires a special code and each child is assigned to a specific elf for their interview.  The Elves ask a few questions and then make some advice before they finalize the certificates.  The kids have fun with this and so the adults!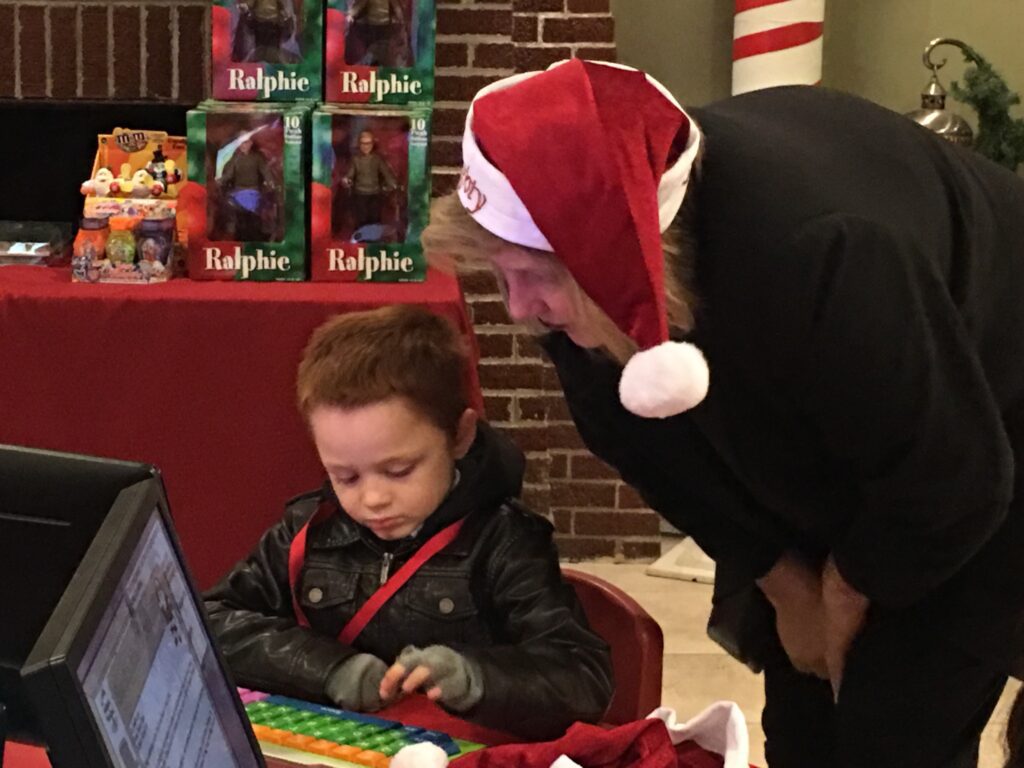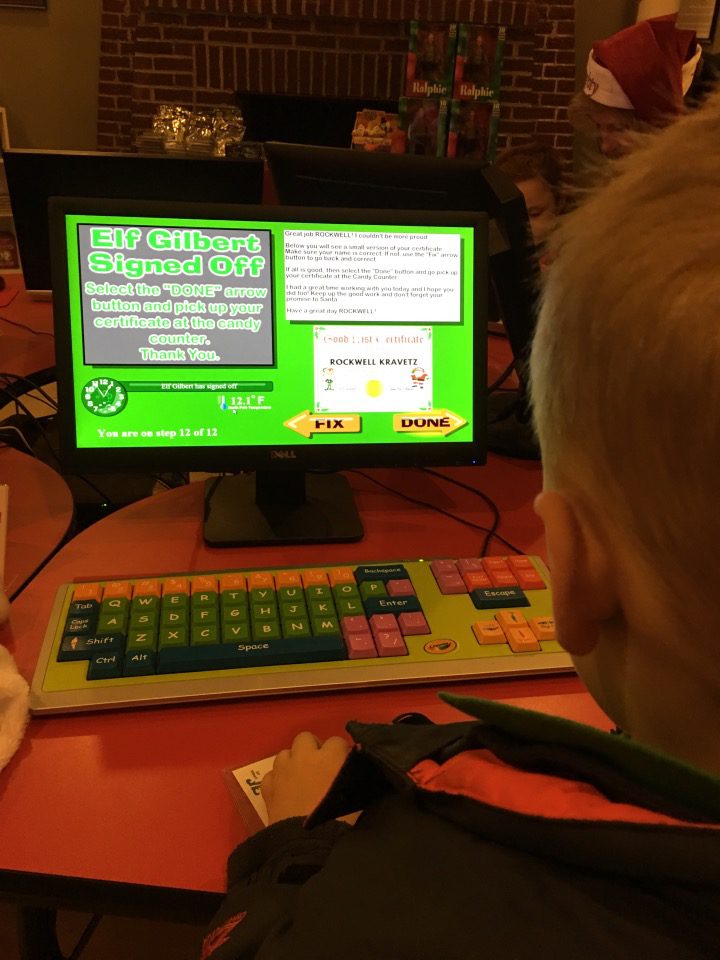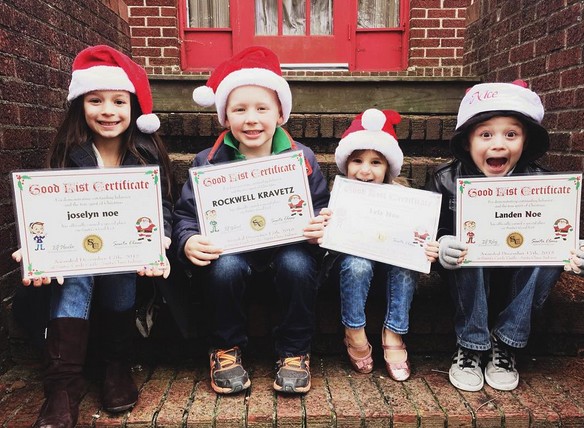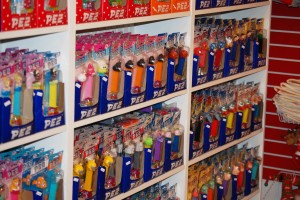 Then came the BEST part of the visit to the Candy Castle….yep, the Candy!!  The store has a Jelly Belly Room, a giant PEZ wall and a huge assortment of favorite goodies, even some that are not typically seen in the eastern US (such as the Rocky Road Bars).  Each of the grandkidz got to choose ONE thing for being on the good list (per Grampz).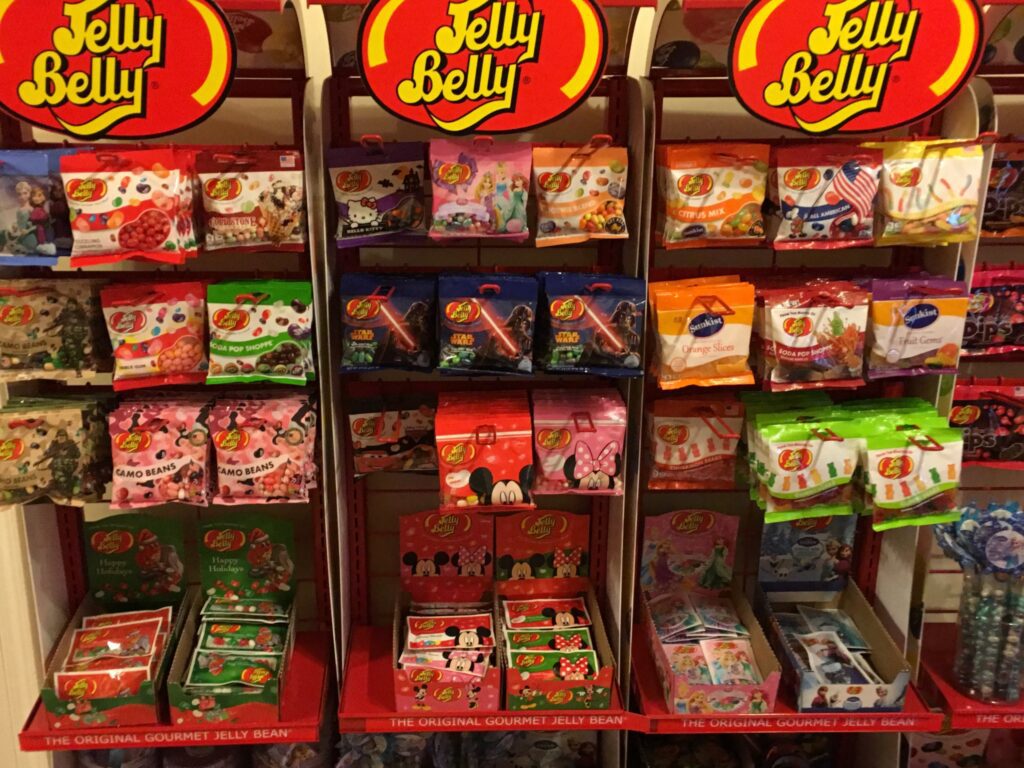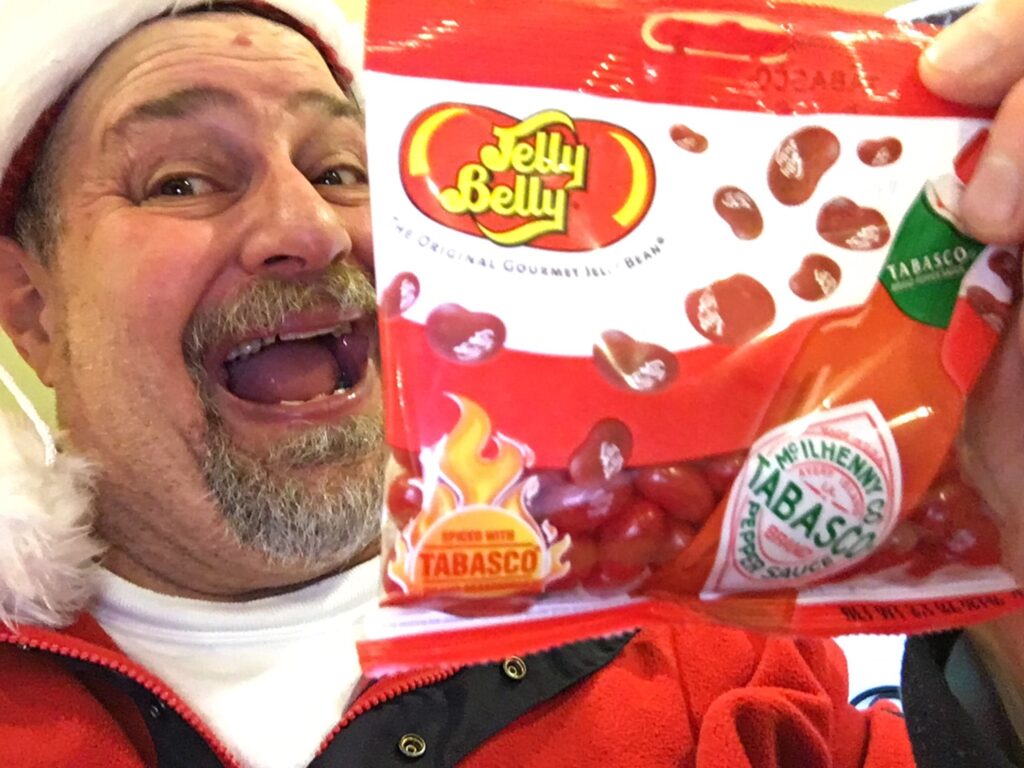 Then there are the Bean Boozled Flavors – including such yummy goodies as Skunk Spray, Toothpaste, Booger, Vomit, Baby Wipes, Moldy Cheese, Stinky Sock, and Grass Clippings.  YUM!  And yes, we got some of these too.  Take the Bean Boozled Challenge if you dare…I have and lived to tell about my vomit and skunk spray experiences.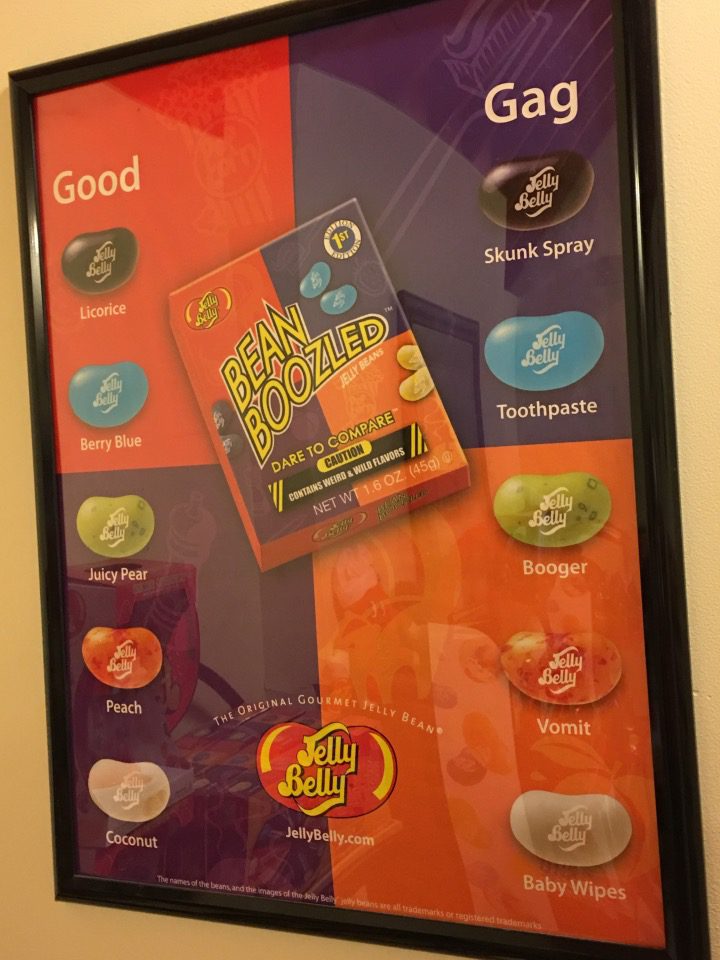 The Candy Store also offers a variety of fudge, popcorn and taffy flavors all served up by Santa's Nice Little Helpers who were there for us on this day.  If you dare (which we didn't) you could try out the famed Frozen Hot Chocolate.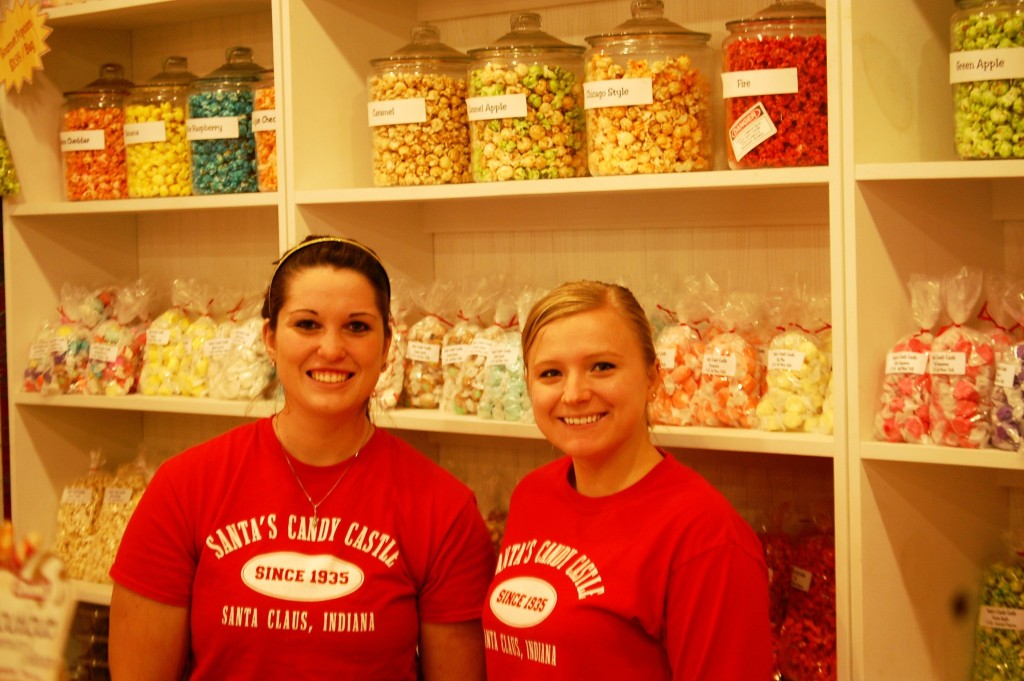 The Candy Castle also has a few ornaments and books as well as a Santa Claus Hall of Fame wall.  Here are a few more photos from this fun place.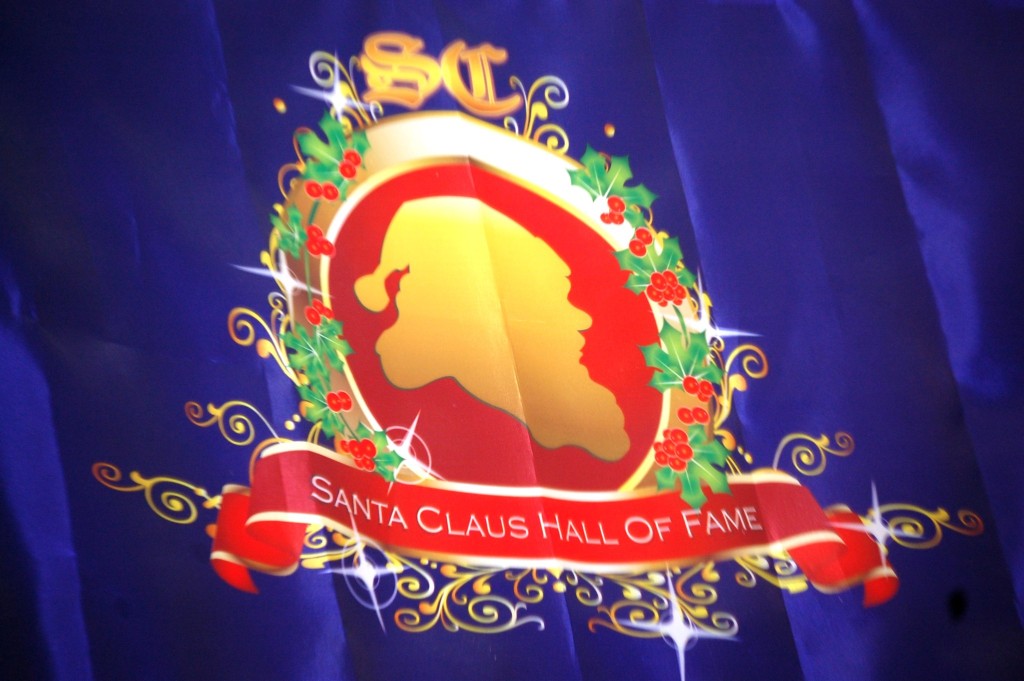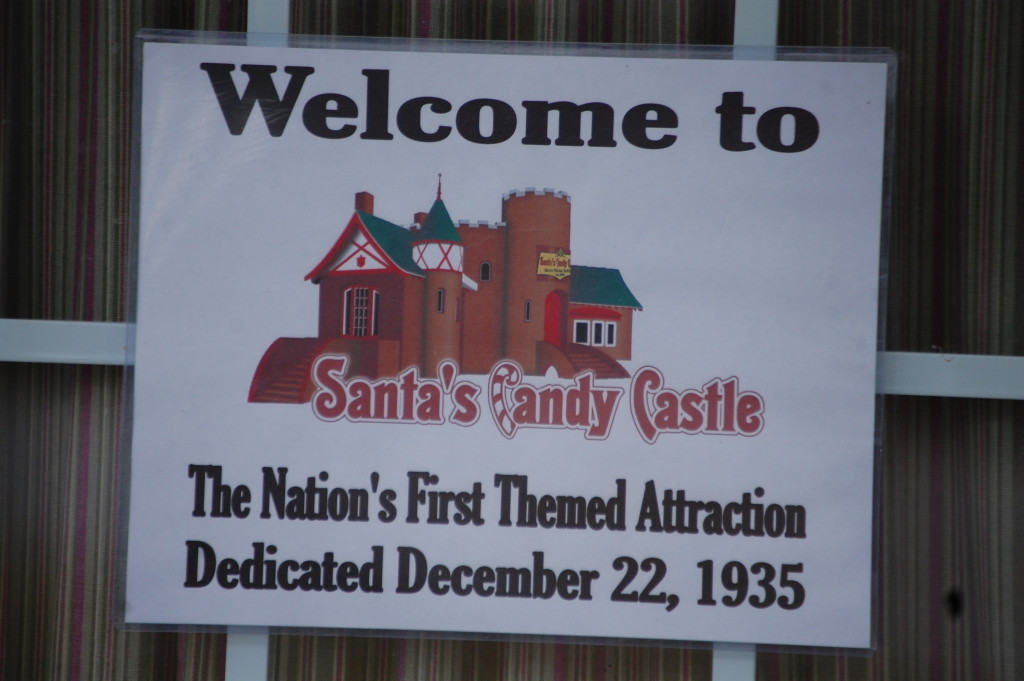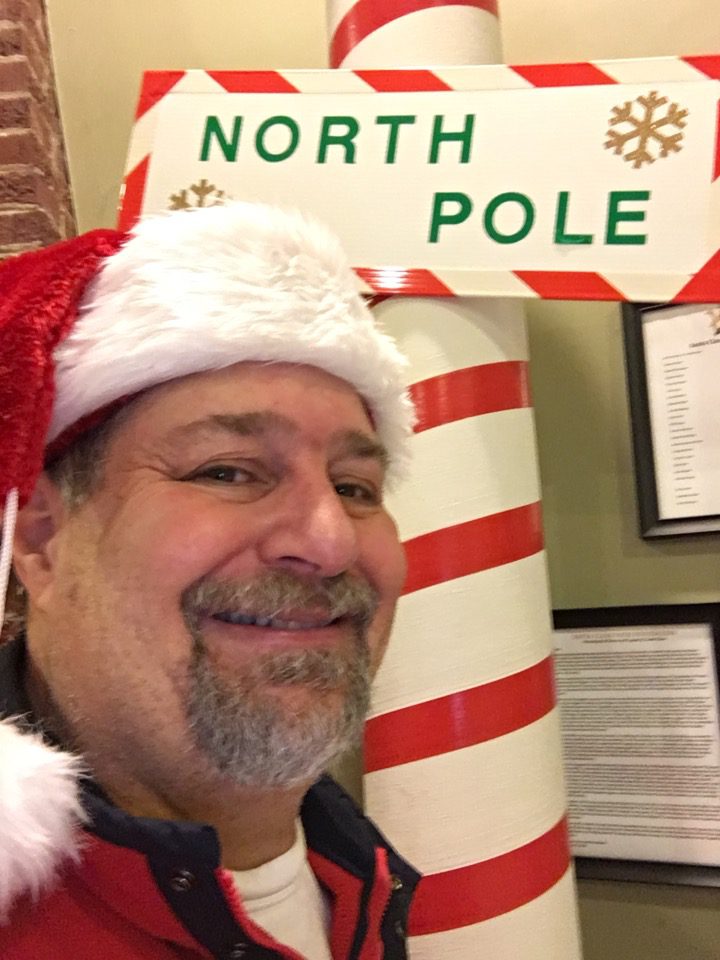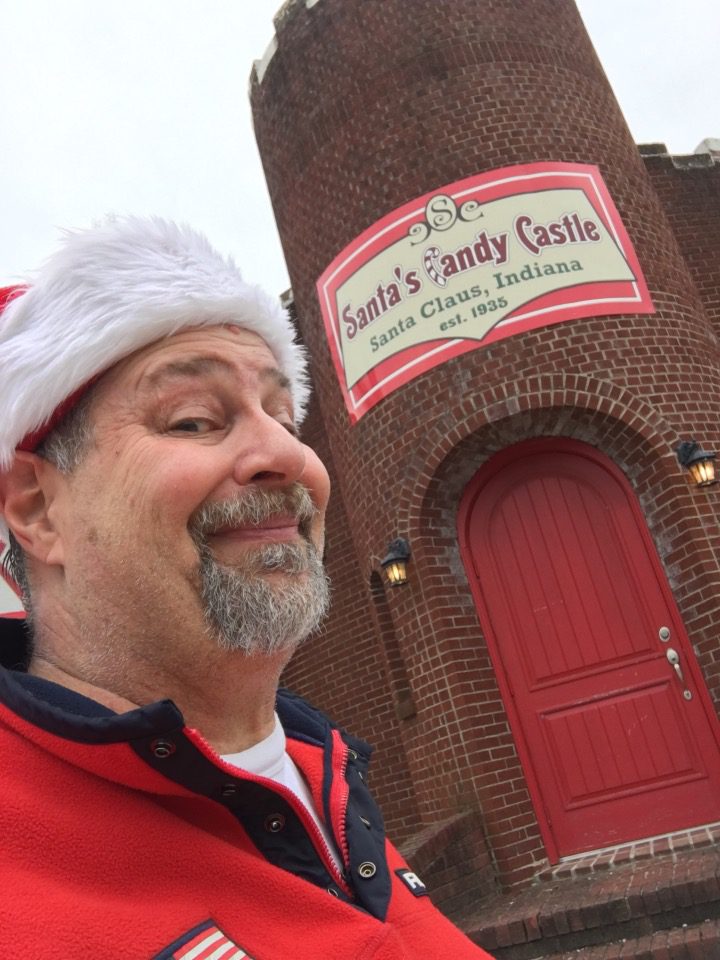 My daughter in law Holly wanted us to pick up a nice ornament from Santa Claus.  She SPECIFICALLY asked my daughter to get it and didn't want to ask me.  When I called her and asked her why she wouldn't want me to do it she said "I don't want you bringing home a pickle ornament or some other weird ornament."  Ironically, I had never heard of a pickle ornament.  But, t my amazement, there were indeed pickle ornaments for sale at Santa's Candy Castle.  They even came along with a story.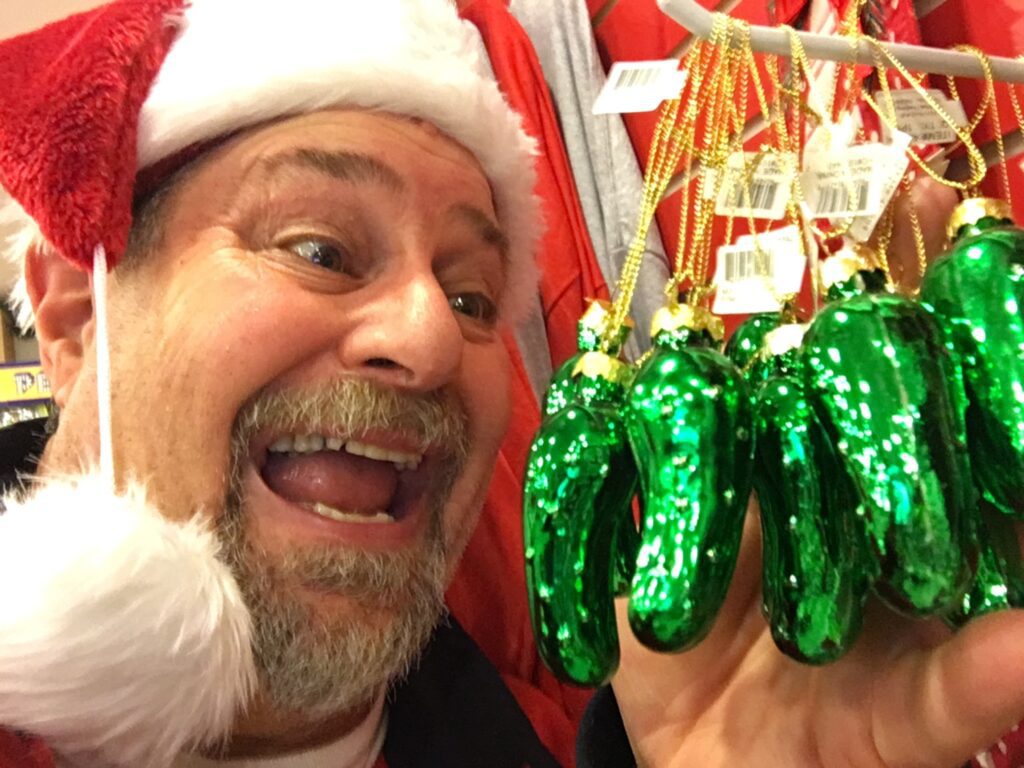 According to whychristmas.com the story of the Pickle Ornament is as follows:
The tradition of the Christmas Pickle has got to be one of the strangest modern Christmas customs in that no one is quite sure why it exists at all! It was claimed that the Christmas Pickle was a very old German tradition and that the pickle was the last ornament hung on the Christmas tree and then the first child to find the pickle got an extra present. Some families now have the tradition of hanging the pickle on the tree, with the first person/child to find it getting a present. But it probably didn't start in Germany!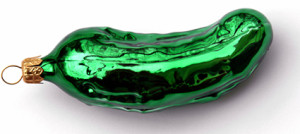 Needless to say, we got Holly her nice ornament, but ALSO got her a Christmas Pickle ornament.  I couldn't resist.  We read the little info sheet to all at the family gathering.  "An age-old German good luck emblem, this realistic, hand-painted glass ornament adds a touch of legend and humor to holiday decorating. According to tradition, the first child to find the pickle ornament, which parents hide deep within the trees boughs, gets an extra gift from St. Nick." Oh what fun it was!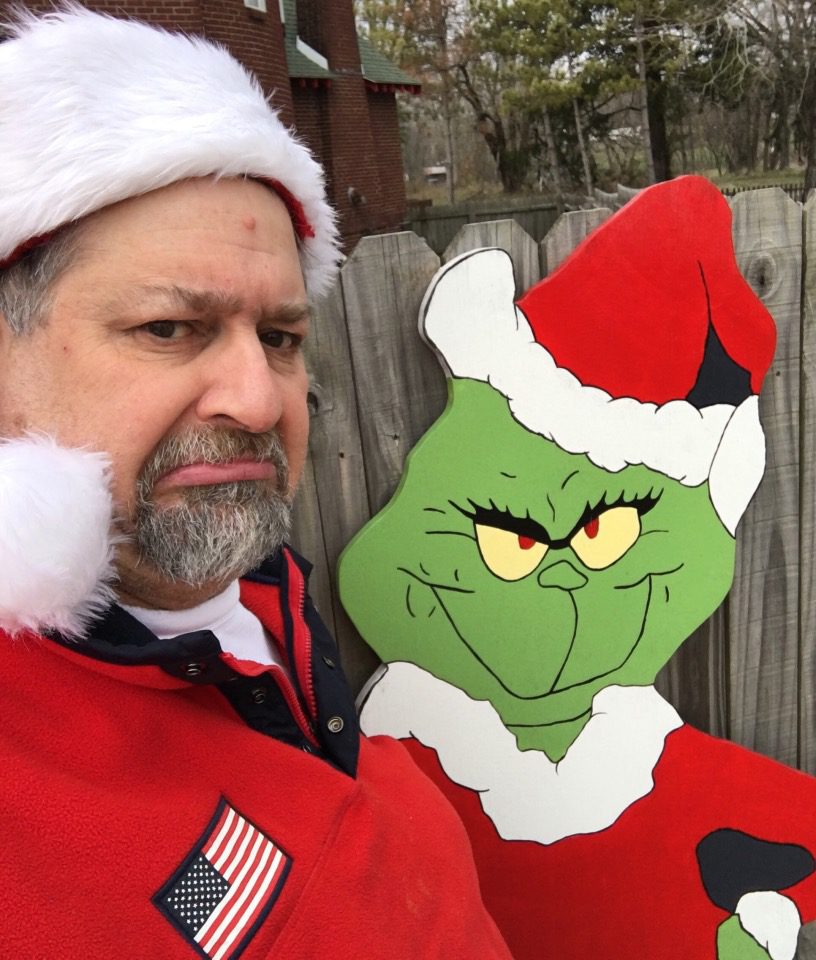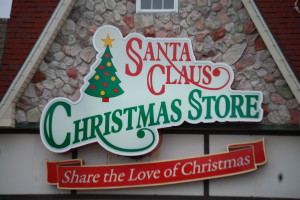 Now that we determined that the kids were all good and that they were all candied up, we got back in the van and headed over to Kringle Place to visit some of the shops there and maybe, just maybe, get a chance to see the REAL Santa. The Santa Claus Christmas Store has a HUGE selection of Christmas collectibles including ornaments, nativities, Christmas decor items and a special room to visit Santa Claus…a really special one.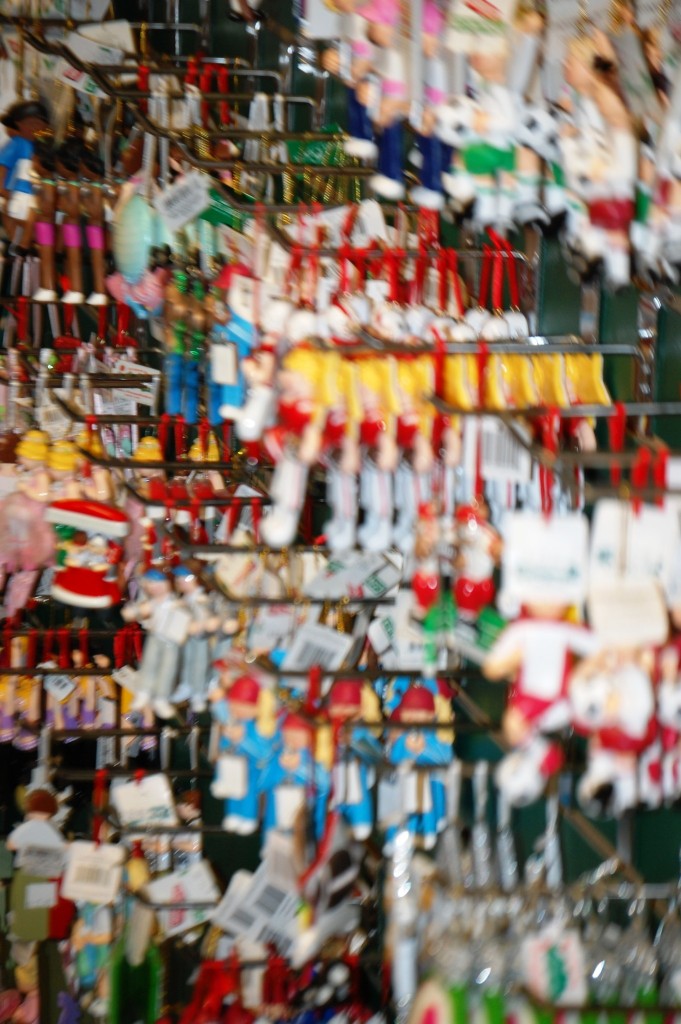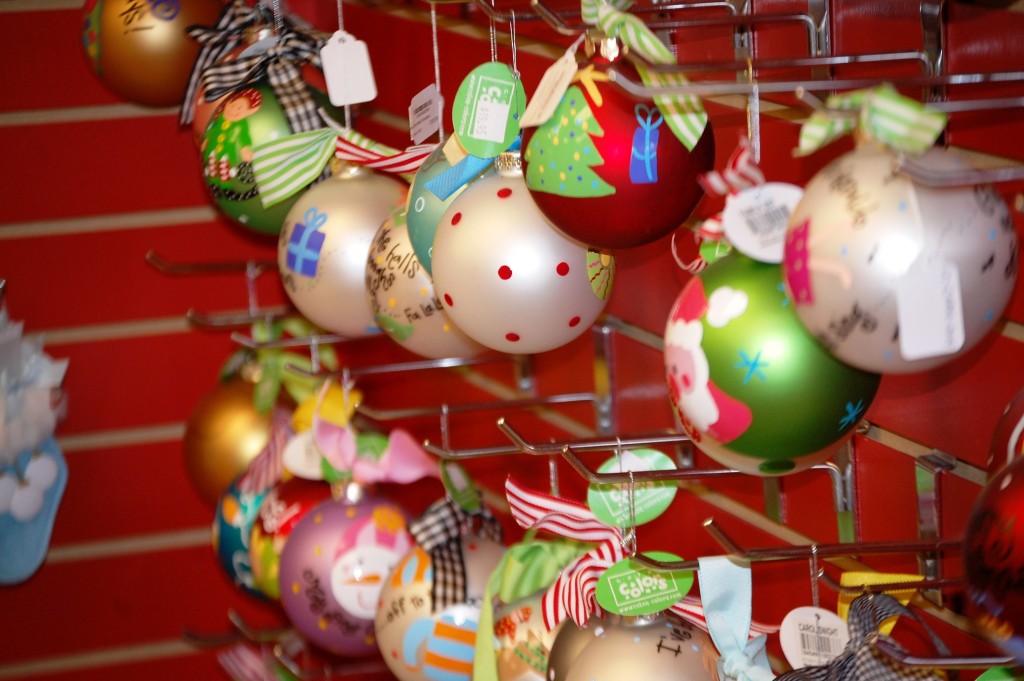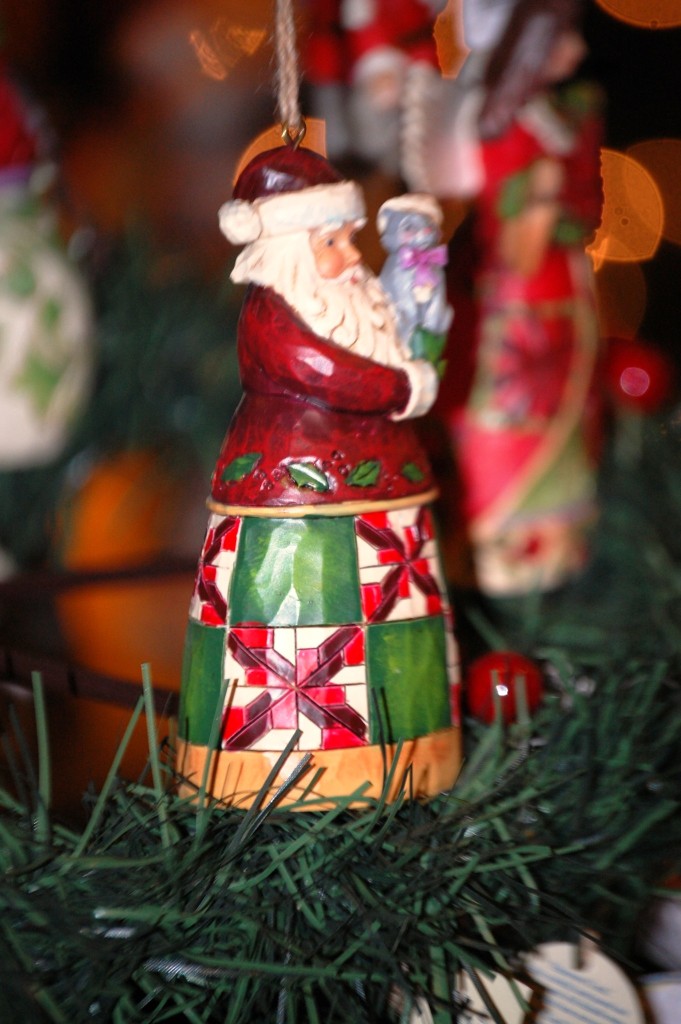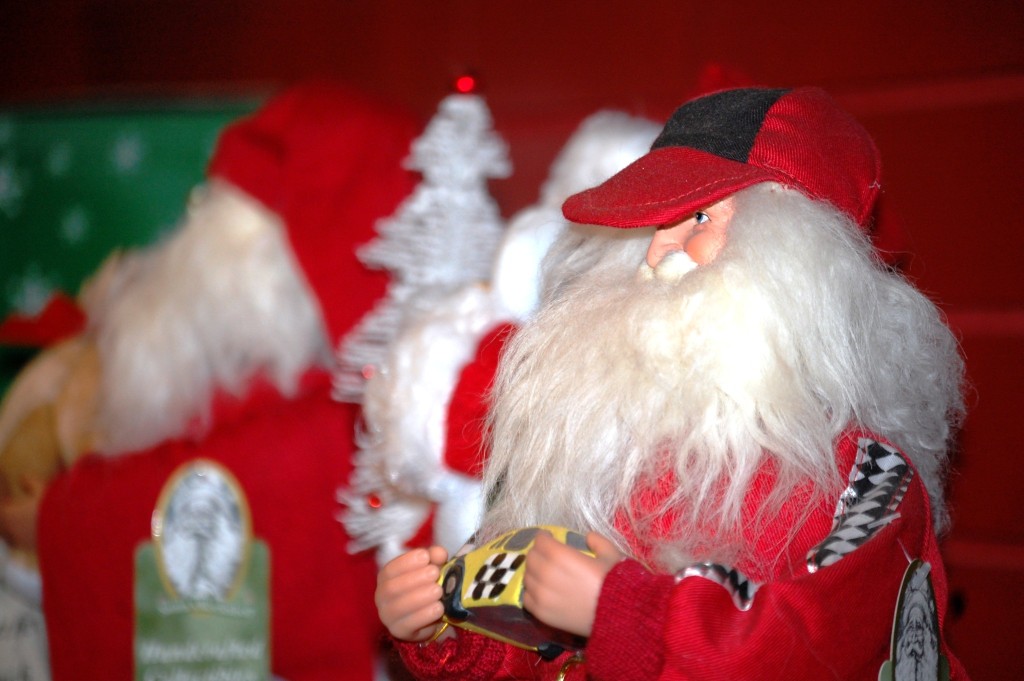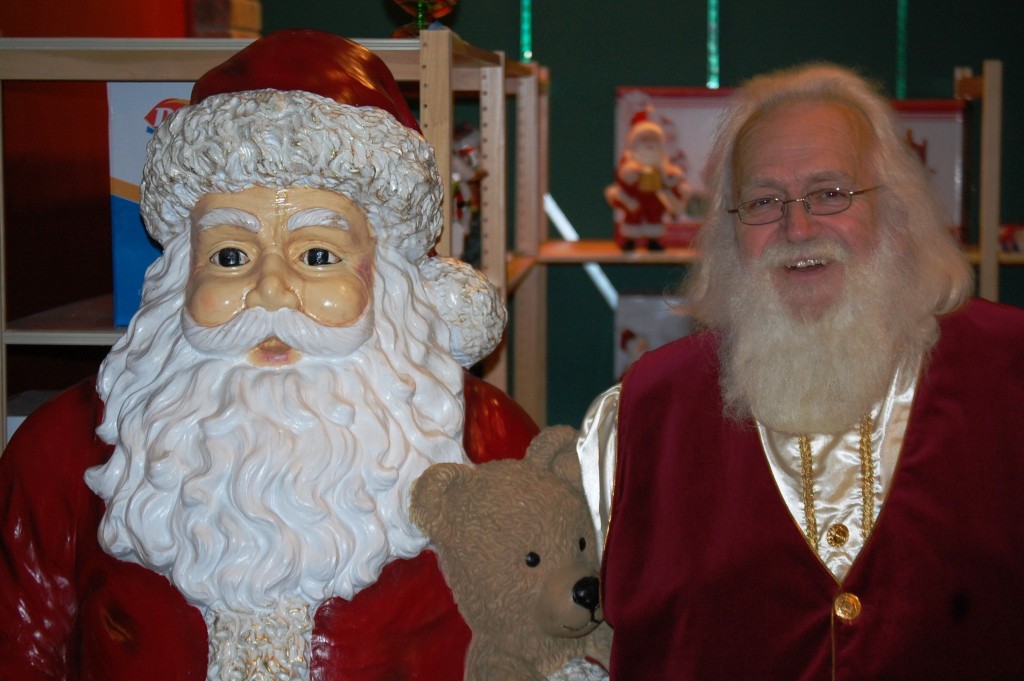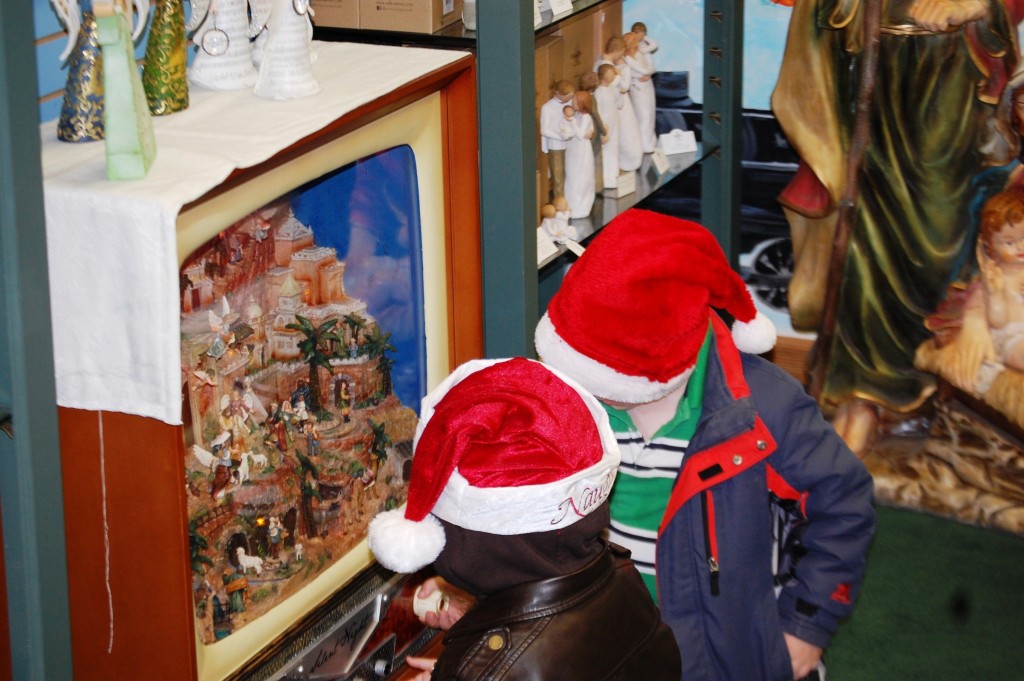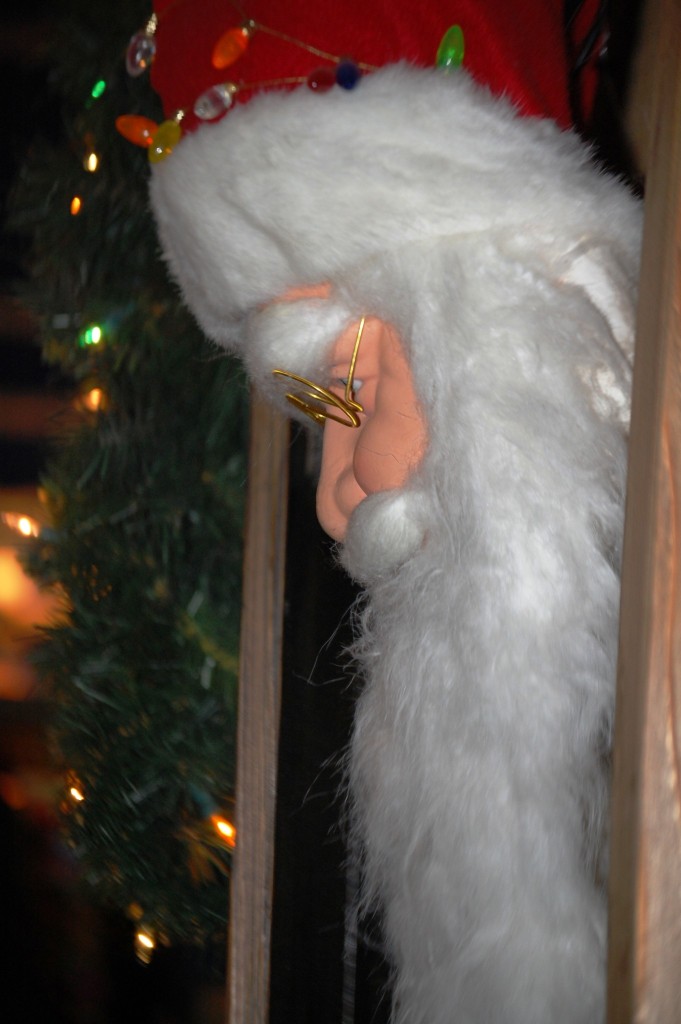 Then of course, there was the chance visit with the REAL Santa Claus. Marissa said it best…  "This Santa was pretty awesome. Lyla wasn't even scared at all- which has not been the case for the fast few we have seen. And I just loved the chair. After asking the children what they wanted for Christmas he asked them if they knew why we really celebrated Christmas. And then they had a conversation about Jesus. (And look at his chair!)"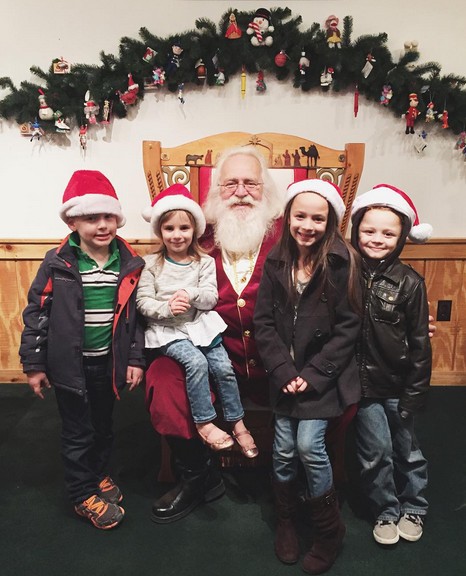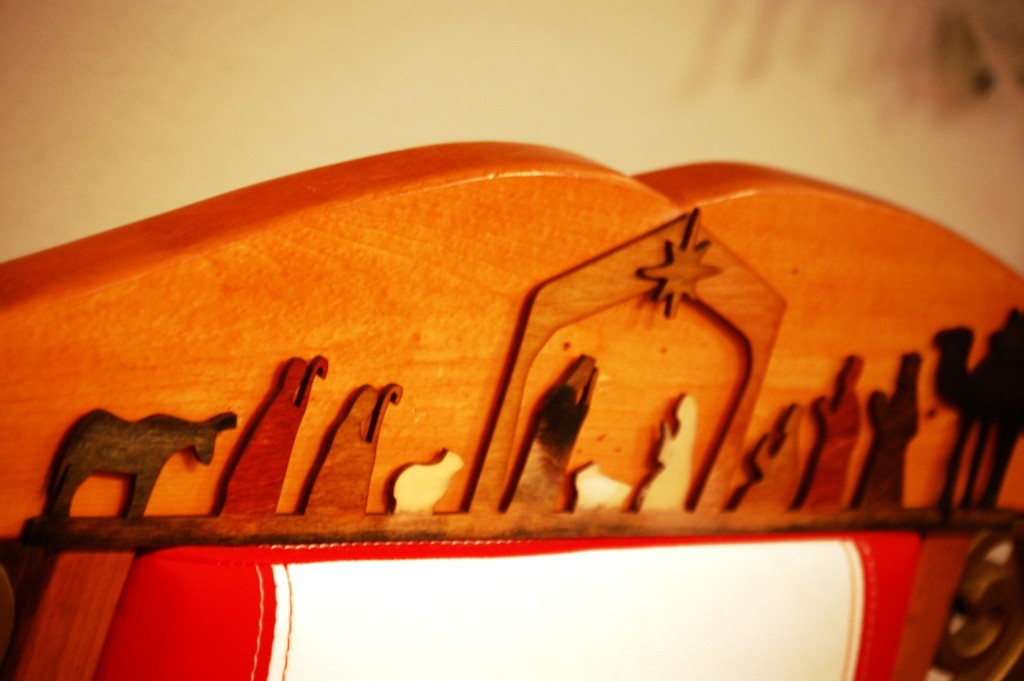 By this time we were pretty zonked.  Marissa and Julianne still wanted to do some shopping, so I took the kids and we took a drive around the rest of the town.  We found a few unique surprises along the way as we did.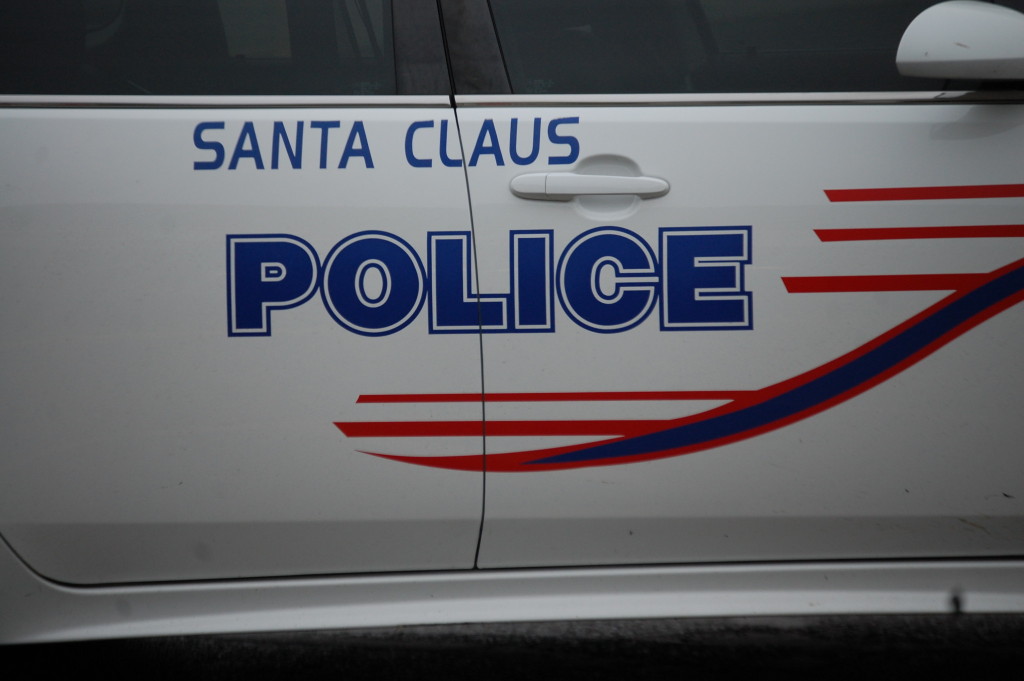 To my surprise and delight,  we discovered a Santa Claus Police Car!  I asked the kids why they would need a Police Car in Santa Claus and Landen piped up with "Santa needs someone to decide who is Naughty and who is Nice."  HA!  And now, I have another unique Police Car to add to my collection as well.  here are a few other Santa Claus fun places.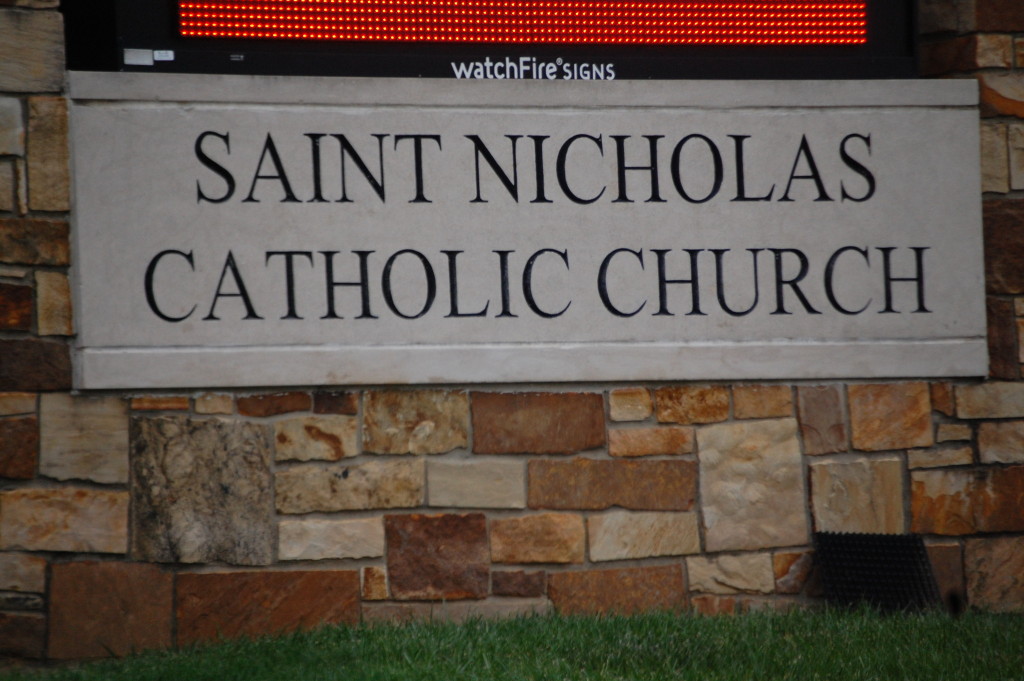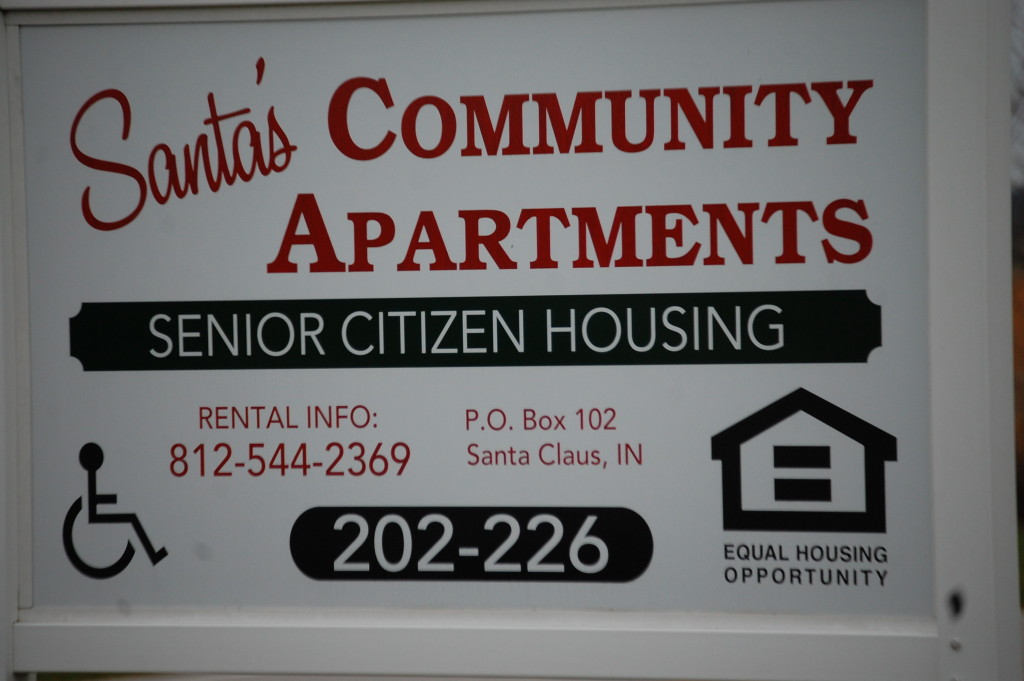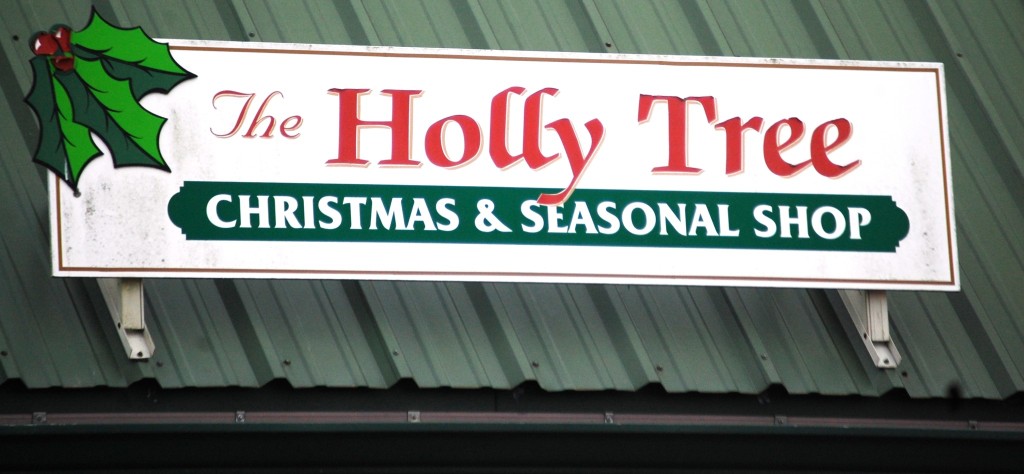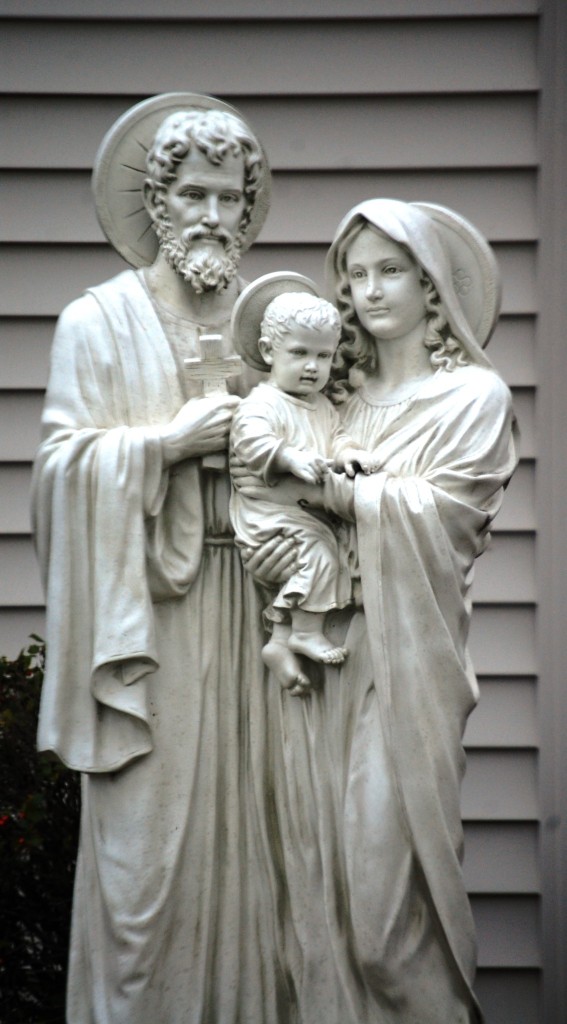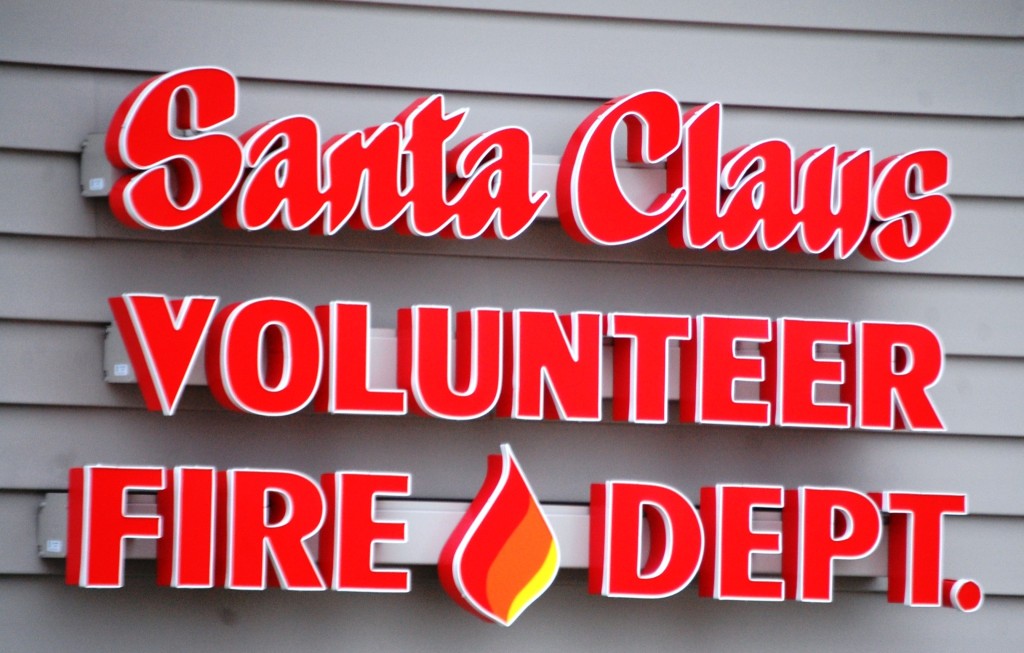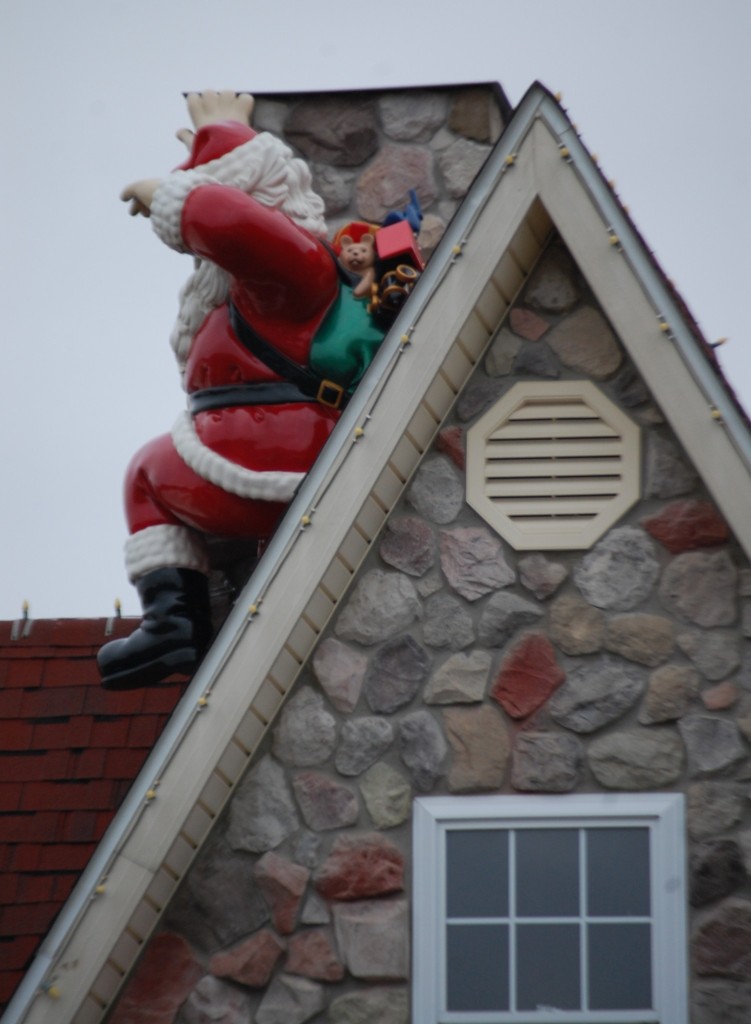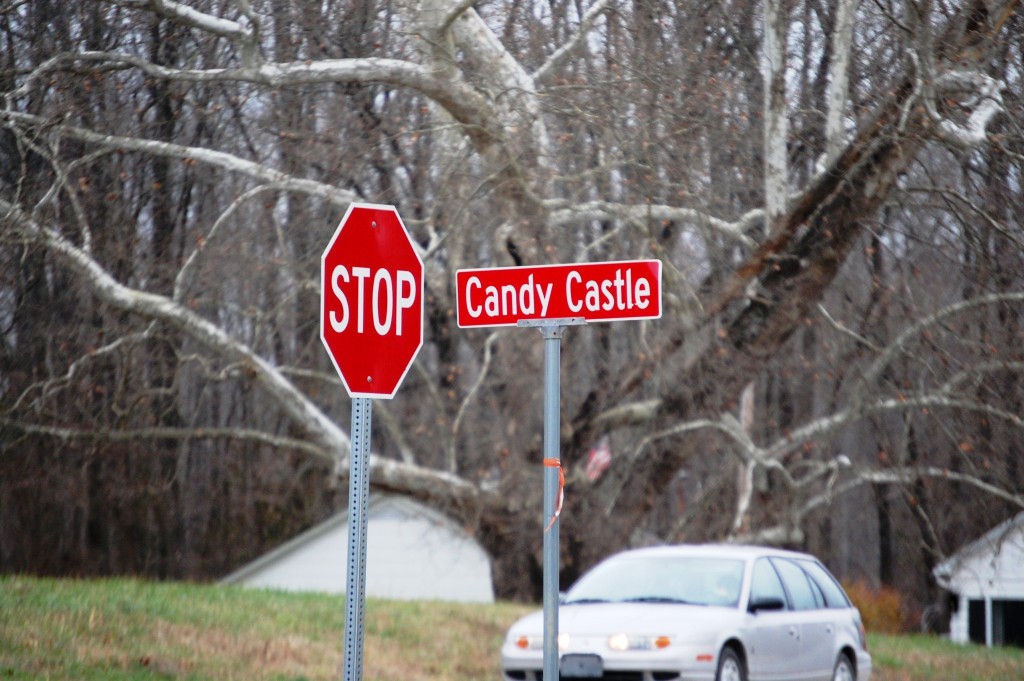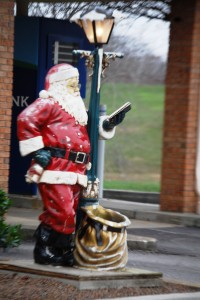 And then there are the many Santa Claus" statues in town.  The town even has a hashtag "#SantaSelfie".  I saw at least a dozen Santa statues around town at the banks, the post office, the library, the Subway sandwich shop, and other places.
These are all themed to give that wonderful feeling as one travels around town.  Even the City Hall is decked out with a Santa Claus and holiday decorations.
Some of the Santas around town are whimsical. Others are much more traditional.  Some are life size and others are larger than life.  Here are a few more of the Santas around town.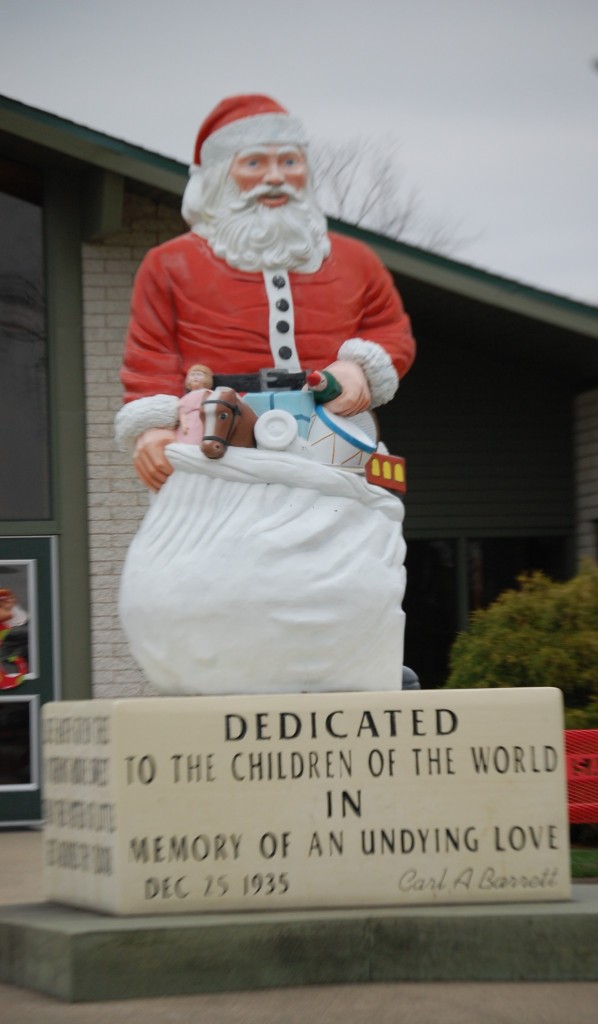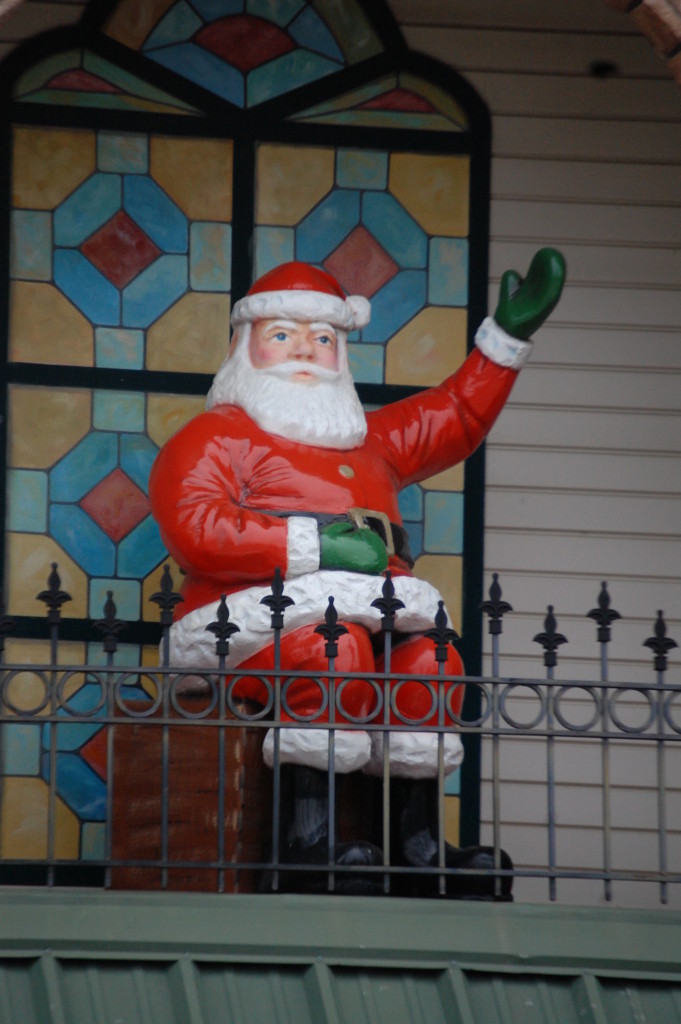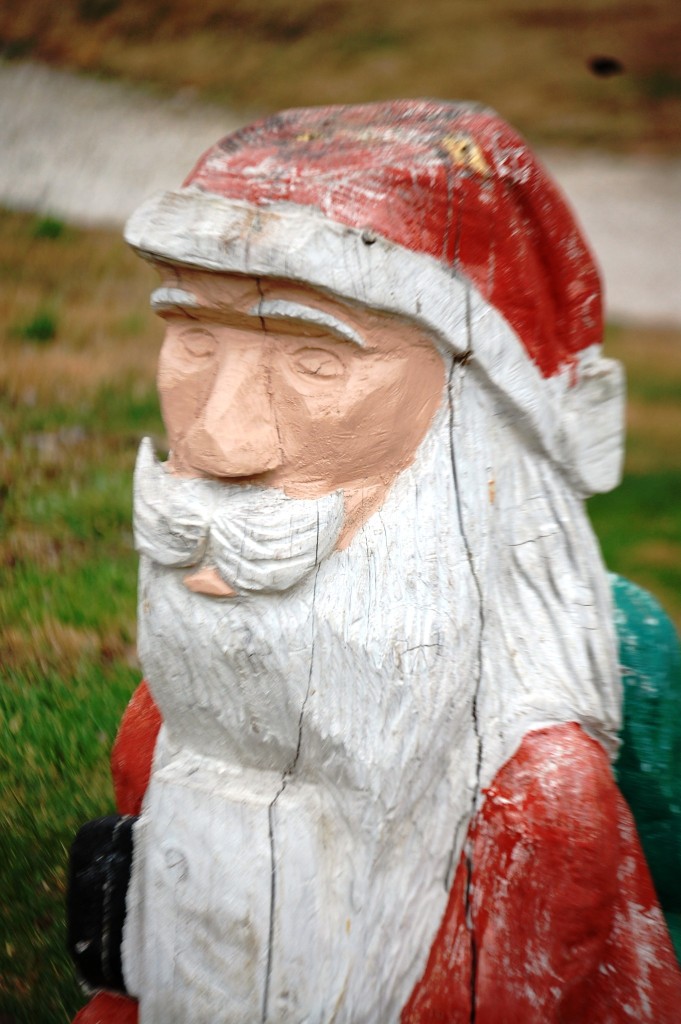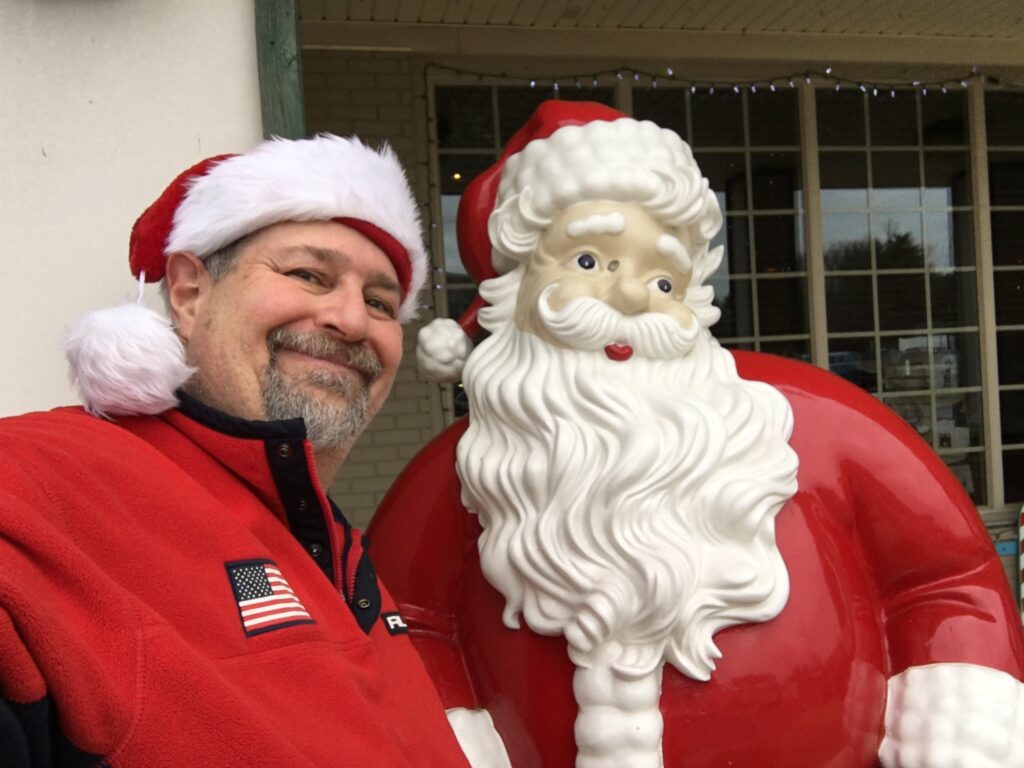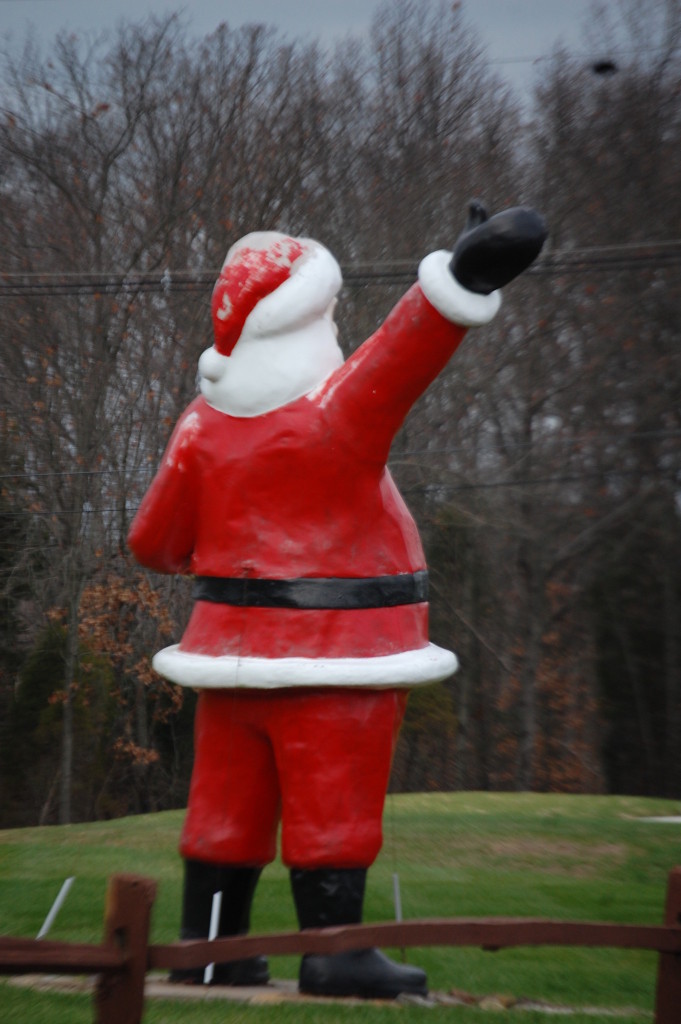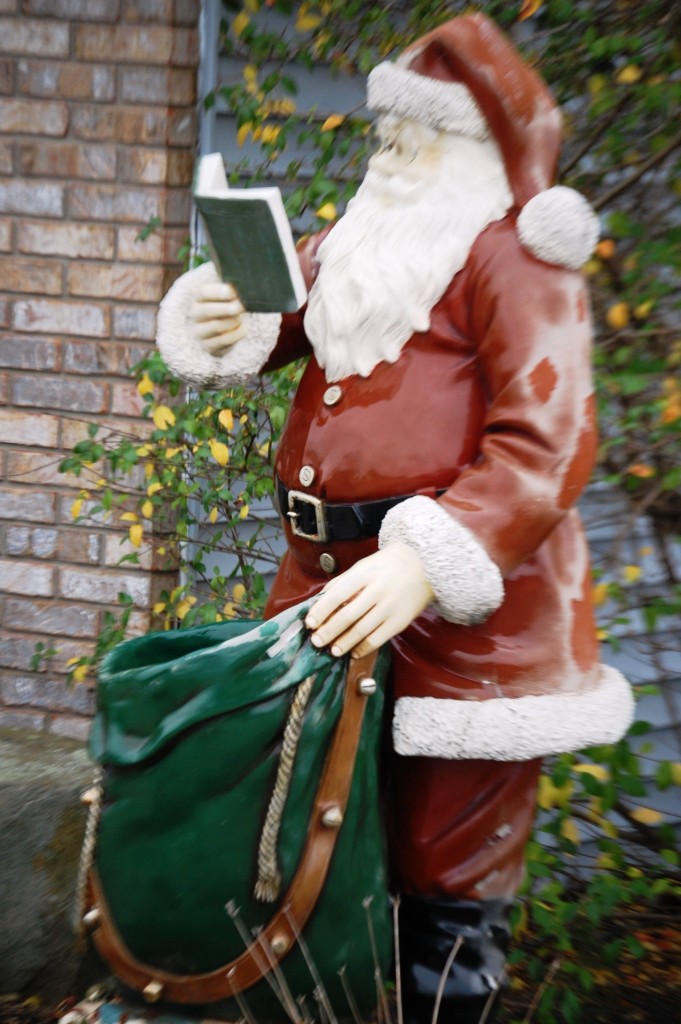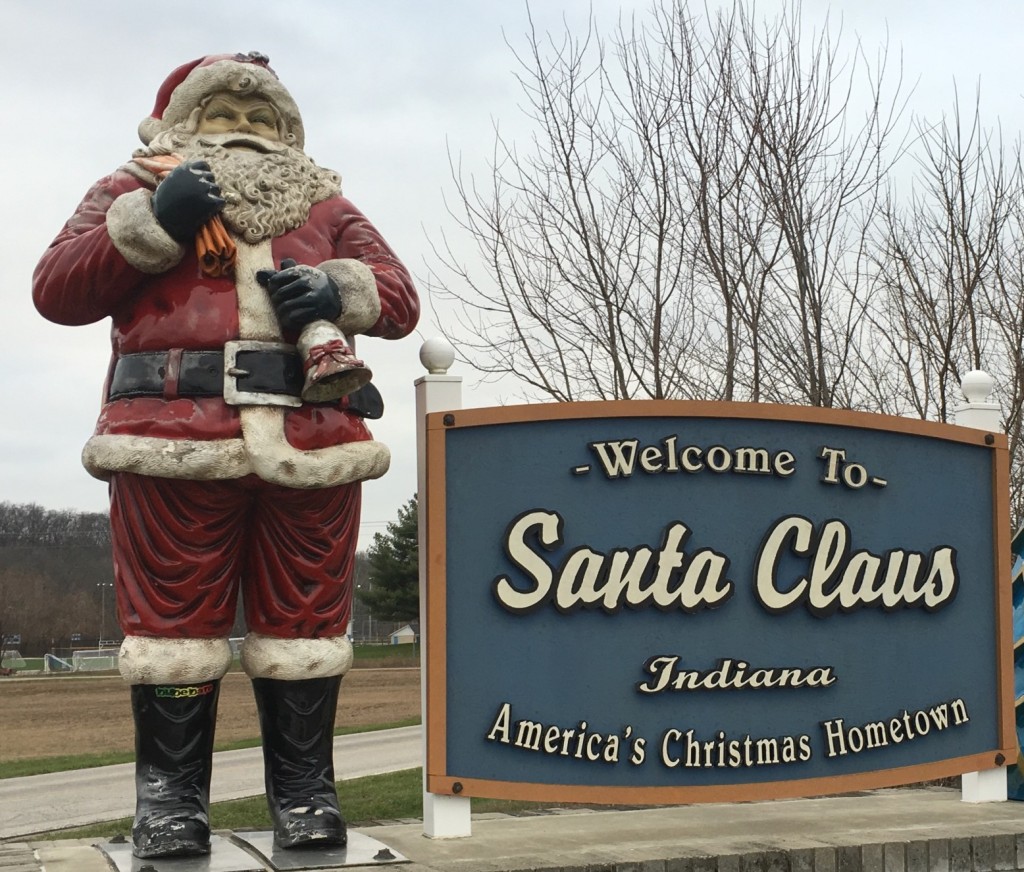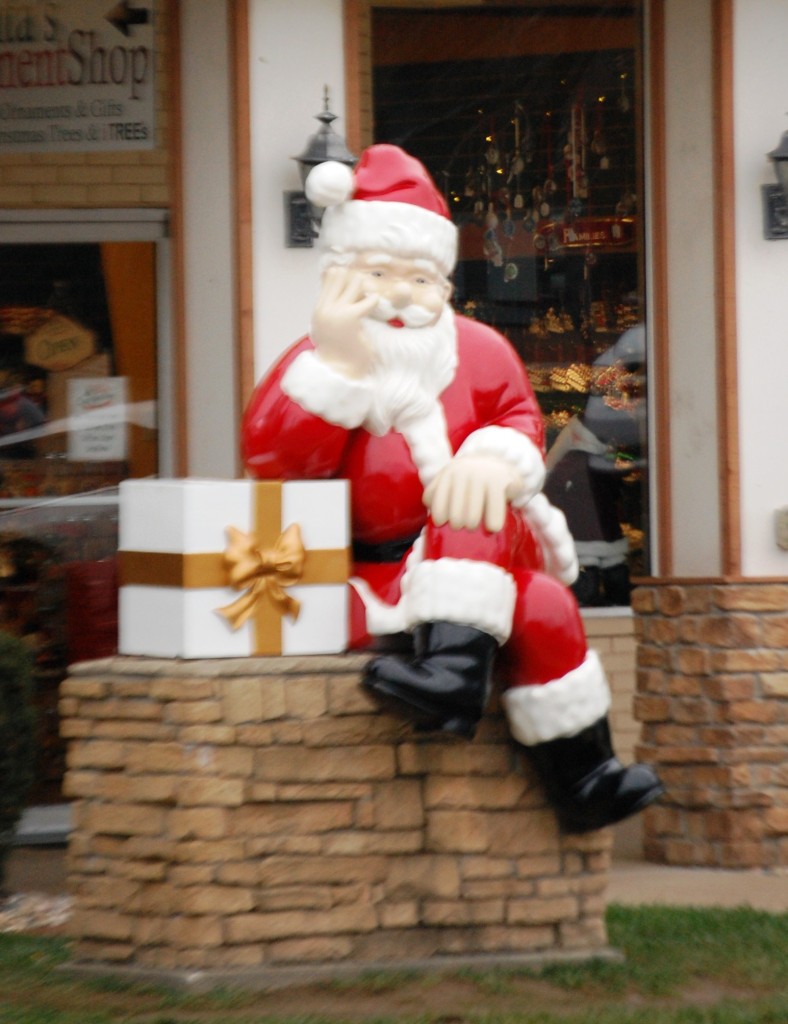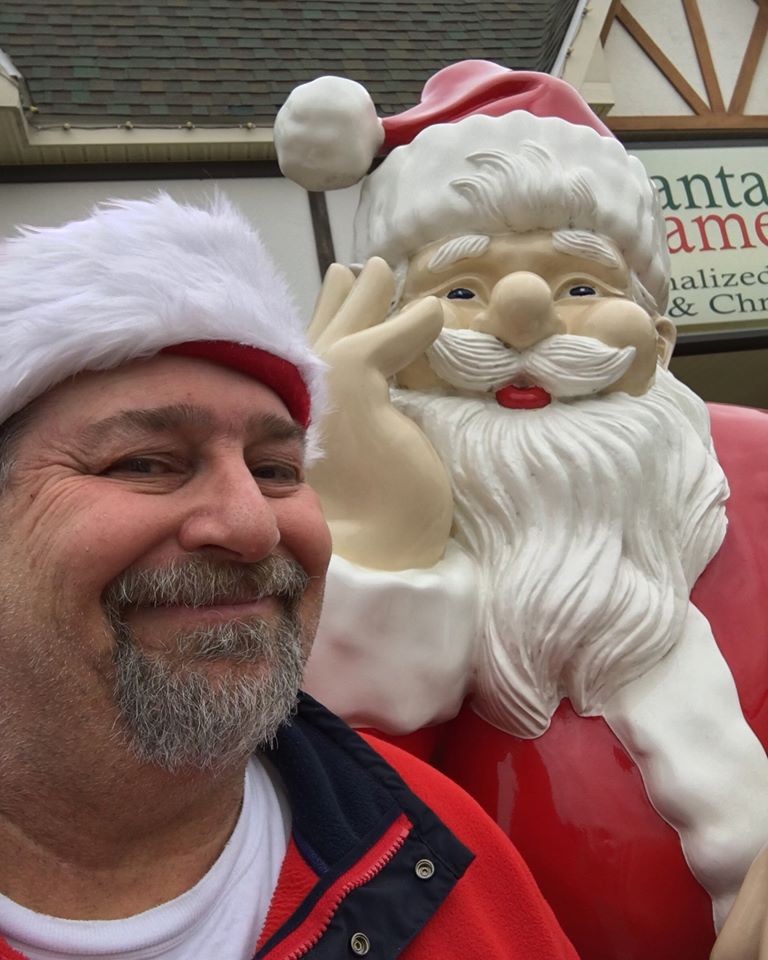 And finally, even Sumoflam gets to meet Santa Claus in person!!  He told me I was a good boy this year!!