During the month of April I am participating in the Blogging from A to Z Challenge. The challenge has each blogger select a theme and then do a post thematically from A to Z during each day of April , except Sundays. My blog is number 1337 out of 1670 participating blogs. This year my A to Z posts will take you across the back roads of America to many unique what other bloggers will be posting about, check out the link: A to Z Theme Reveal List for 2016
The K Towns
Kemmerer, Wyoming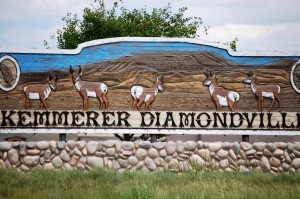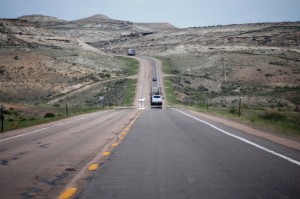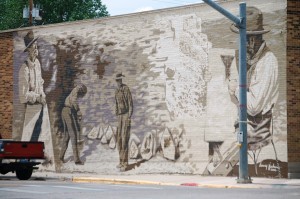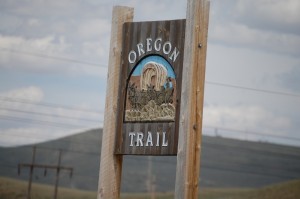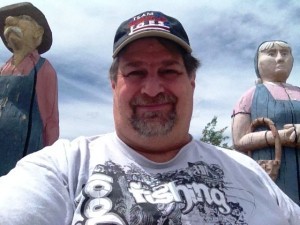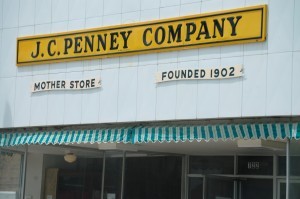 Kemmerer, Wyoming and Diamondville, Wyoming are basically twin cities that reside in what is called "The Fossil Basin" due to the abundant fish fossils in the area.  On the way into Kemmerer I passed Fossil Butte National Monument, but did not have time to stop there. Some of the world's best preserved fossils are found here including fossilized fish, insects, plants, reptiles, birds, and mammals.  They are apparently exceptional for their abundance, variety, and detail of preservation.   There are also "Dig-your-own" fossil quarries located in the hills surrounding ancient Fossil Lake, just west of Kemmerer and Diamondville.  So, this is a haven for fossil enthusiasts. Also, In 1902 James Cash Penney came to Kemmerer to open a business.  He set up the "Golden Rule Store" and opened its doors on April 14, 1902 in partnership with two other individuals. The partnership later dissolved, and, in 1909 Penney moved his headquarters to Salt Lake City to be closer to banks and railroads. The "Mother Store" still operates in Kemmerer. You can see more about my visit to Kemmerer and other Wyoming spots HERE.
Keystone, South Dakota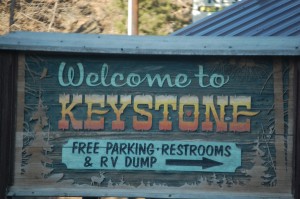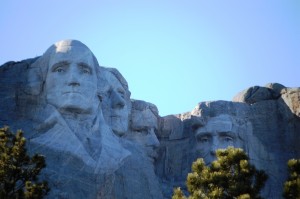 Keystone, South Dakota is the Gateway to Mt. Rushmore National Monument.  The town has a number of touristy shops, lots of hotels and motels and a few little resort types of things, typical of a "Gateway" town. The real point is that you need to go through Keystone to get to Mt. Rushmore National Monument.  A wonderful place to visit. Check out my post about my 2013 roadtrip from Glendive through the Enchanted Highway in North Dakota and into Keystone HERE.
Ketchikan, Alaska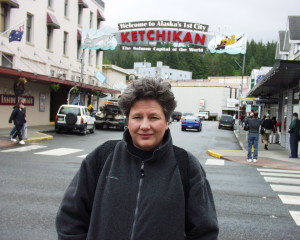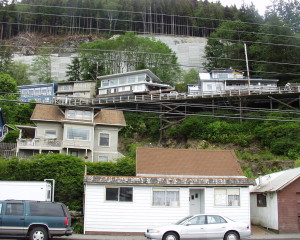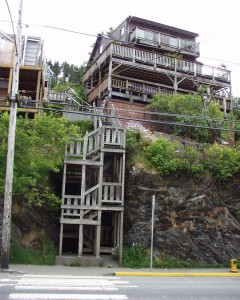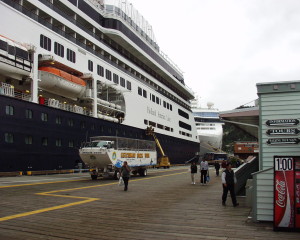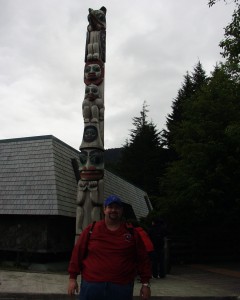 In my last post I wrote about Juneau and our cruise in 2004.  After our visit to Juneau we then went on to Ketchikan, Alaska.  The town is dotted with totem poles and lots of souvenir shops.  It really was a fun place to visit.
Kensington District in Toronto, Ontario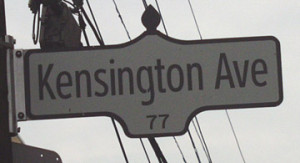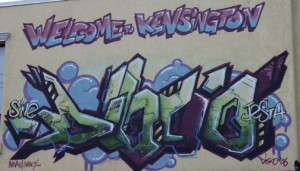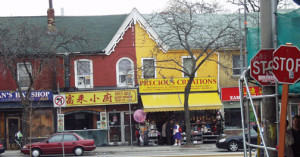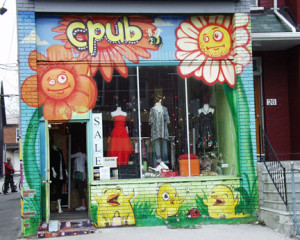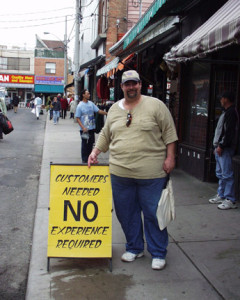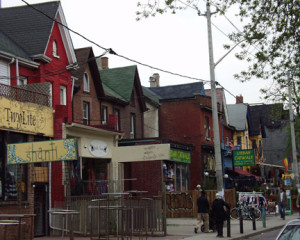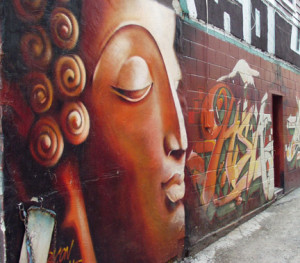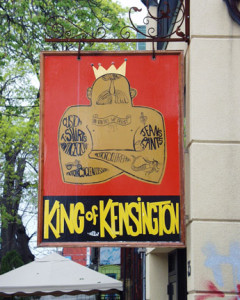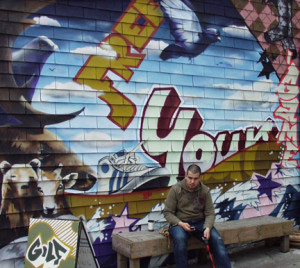 OK, I admit it…Kensington is just a district of Toronto, Canada's biggest city. But, in many respects it is like a little enclave of a town in the midst of the city. The smells and aromas of the food and markets are wonderful, but even better is the eye candy in the form of colorful store fronts, wall art, street art and shop signs.  I was always a fan of wall murals and art, but it was in Kensington that I fell in love with "graffiti" and Street Art, which has continued to this day.  I visited Kensington in 2008 on part of an all day trip to Toronto.  See the full story with a ton of photos HERE.
Kadoka, South Dakota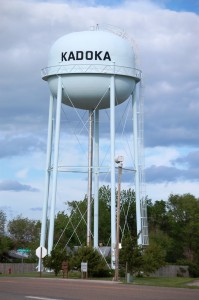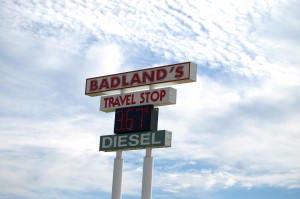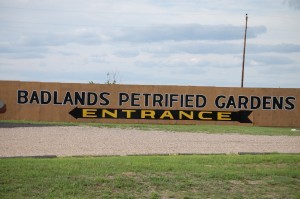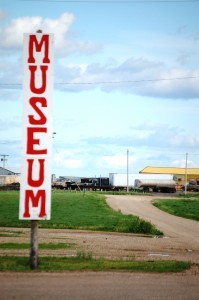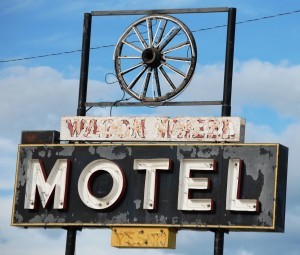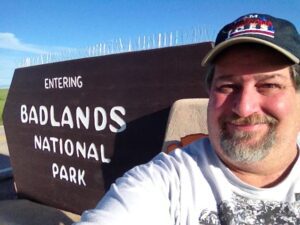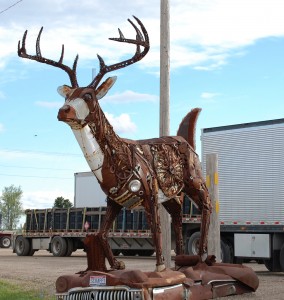 Kadoka, South Dakota is the Gateway to the Badlands National Park. A great little rustic town with a couple of Trading Posts, and a few interesting statues, etc.  Scrappy, the scrap metal deer made from auto parts was fascinating to me.  See my full post about Kadoka and the Badlands HERE and HERE.
Kremlin, Montana (Honorable Mention)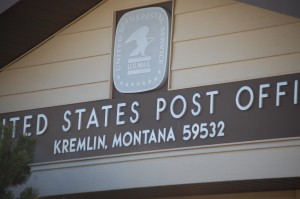 Kremlin, Montana is another of the interesting small communities on US Highway 2, the Hi-Line, in Montana. The town of Kremlin apparently got its name from a Russian immigrant who was laying railroad track in the area around 1890. He saw the Bears Paws mountains in the distance and they reminded him of home.
Kirkwood, Missouri (Honorable Mention)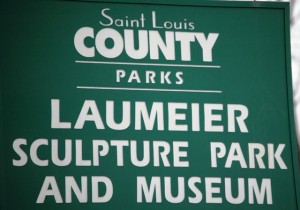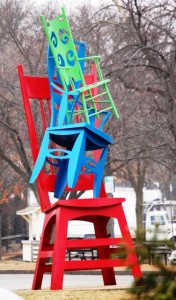 Kirkwood, Missouri is a suburb of St. Louis and is known for its massive collection of outdoor artwork, especially the pieces located in the Laumeier Sculpture Park. I am always a fan of creativity and outdoor art and the large number of huge pieces at the Sculpture Park was fascinating.  You can see photos of many of them on my post about a visit to St. Louis and Kirkwood in 2010.  The post can be seen HERE.
Did You Miss My Other A to Z Challenge Posts? Click on a letter below to see the others.
A B C D E F G H I J K L M N O P Q R S T U V W X Y Z
Learn More About the A to Z Challenge and visit hundreds of other participating blogs (click logo below)