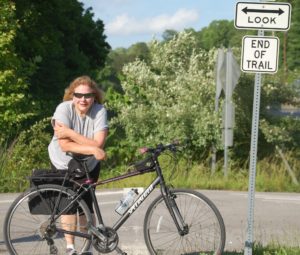 In recent weeks, my wife Julianne has taken to riding on bike trails around the upper Midwest. In the past few weeks she has ridden bike trails in Ohio, West Virginia, Pennsylvania and Kentucky, and will soon be on a nice trail in Virginia.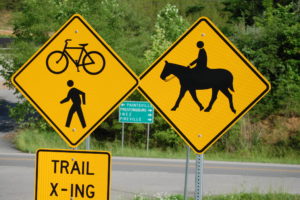 She is finding these very enjoyable and has done some with her sister and some with our daughter Marissa, and one even with the grandchildren.  As a support driver I enjoy taking her and driving the back roads to meet her (and the others) along the trail.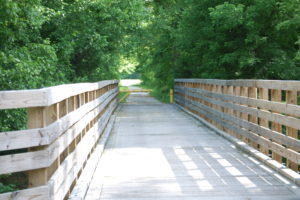 Many of my upcoming blog posts will cover some of these scenic bike trails, many which are called
Rails to Trails
. This post is an overview of these trails with links to my posts below and also brief details about the  Rails to Trails movement and some of the things that are going on with that around the country.

As some railroads have gone defunct or gone out of business, the rails have been pulled up and trails have been made to replace them. These trails include the bridges and trestles, assorted tunnels (some of which are very long) and, of course,  the wonderful scenery that these old railroad tracks pass through.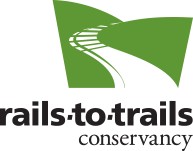 This whole movement was started by the
Rails-to-Trails Conservancy
which transforms unused rail corridors into vibrant public places—ensuring a better future for America made possible by trails and the connections they inspire.   According to their website, the "RTC serves as the national voice for more than 160,000 members and supporters, 30,000 miles of rail-trails and multi-use trails, and more than 8,000 miles of potential trails waiting to be built, with a goal of creating more walkable, bikeable communities in America."  It has been in operation since 1986 and the trails continue to get placed all over.
The RTC History can be seen in detail here
.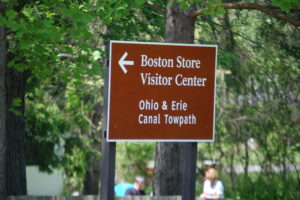 Julianne has fallen in love with these and I have too!  Currently I only provide vehicular support, but I hope to be on the trail with her in the near future after I am able to get a bike.  In the meantime, I am thrilled to drive the back roads nearby and see the small towns.  Those too will be documented.
Not all of the Bike Trails are "Rails to Trails" trails.  There are others such as the Legacy Trail in Lexington which has been built specifically as a bike trail…from scratch.  These too will be covered.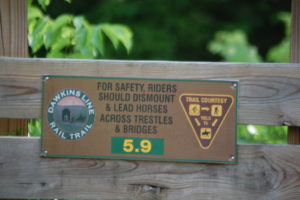 Much of the documentation on the bike trails centers on the trails, but little is written about the "support" roads that a driver would want to take to meet the riders along these long trails, if wanted or needed.  I have made efforts to document this in photos and will provide details in the posts on each trail…including maps when needed. (If links are not live, then the posts are still being worked on)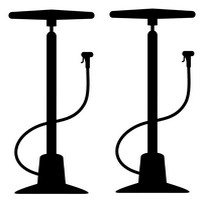 Finally, I have worked with Julianne to rate the trails.  She will rate them from 1 pump (poor) to 5 pumps (excellent).  Each separate post will include her comments about the specific trail.  Comments and details will be in each individual post, but the ratings are also shown below with just a couple of comments.
THE TRAILS
Following is a growing list of trails — long and short — that we have covered.  Check back here often as I will update links here and minor details as new trails are taken.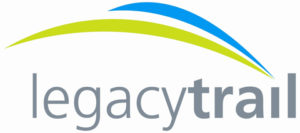 Click here for RTC TrailLink Details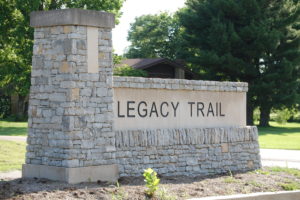 The first of the trails is perhaps our most visited due to proximity to where we live.  It is the "middle of the week" riding trail for my wife and occasionally my daughter who joins her on these trips.
The Legacy Trail runs north and south through Lexington among green spaces, neighborhoods and parks. The trail joins the Kentucky Horse Park and the Lexington YMCA. (There are plans to extend it south beyond the YMCA to the memorial art garden named for African American jockey, and multiple Kentucky Derby champion, Isaac Murphy).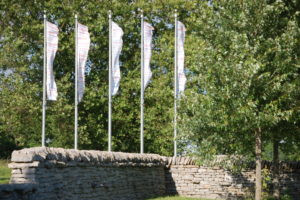 This trail is about 12 miles long and is completely asphalt.  Julianne typically takes it form the Coldstream Parking Lot, so it is a bit shorter.  But, she adds an additional 8 miles with a ride along the roads in the Kentucky Horse Park.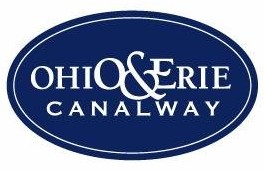 Click here for RTC TrailLink Details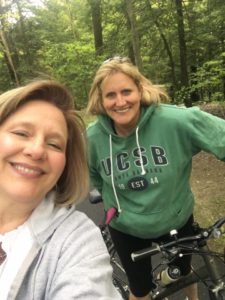 Julianne and her sister Laura rode a portion of the Ohio and Erie Canal Towpath Trail while on a trip to Ohio in early May 2016. We made a visit to the Cuyahoga Valley National Park after we found that part of the Ohio and Erie Canal Towpath runs through that park.  Julianne and Laura rode about a 10 mile section of this 85 mile long path which actually runs from Scranton Flats in Cleveland down to Bolivar, Ohio.  While they rode the predominantly crushed gravel trail, I visited some sites in the National Park.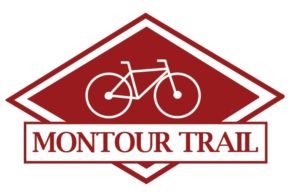 Montour Trail – Pittsburgh, PA  (Click here for Trail Post with photos)
Click here for RTC TrailLink Details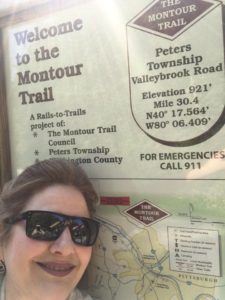 On another trip in May 2016, Julianne visited her sister in Canonsburg, PA. Right outside of Canonsburg is the Montour Trail which actually runs from the northwest of Pittsburgh (starting at Moon Township), down through Pittsburgh and into Canonsburg area. It is about a 30 mile trail. The unique thing about that trail is that it also meets up with a much larger trail called the Great Allegheny Passage Trail.  Complete from Pittsburgh to Cumberland, MD, the 150-mile Great Allegheny Passage connects with the 184.5-mile C&O Rail Trail to create a 335-mile non-motorized route between Pittsburgh and Washington, DC.  They hope to ride the complete trail in 2017.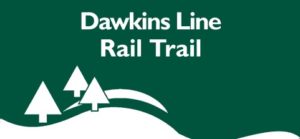 Dawkins Line Rail Trail – Swamp Branch, KY  (Click here for Trail Post with photos)
Click here for RTC TrailLink Details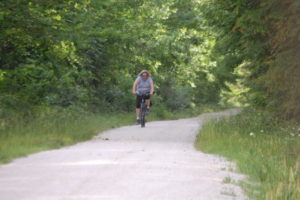 In early June 2016 Julianne and I  took a trip down to Salyersville, KY (actually to the small village of Royalton) in the mountains of southeastern Kentucky. This was at the trail head of the Dawkins Line Rail Trail, the longest Rail Trail in Kentucky.  It is currently 18 miles long, but will be extended to 36 miles in the next year or two. The second half of the trail was to be completed and opened to the public in November 2015, but was still not completed on our visit. It will supposedly extend farther west into Breathitt County and will include access to the 1,556-foot Tip Top Tunnel. The trail passes by historical coal structures, goes over 24 scenic trestles and also includes the Gun Creek Tunnel, which spans nearly 700 feet. It was the first trail that she had been on with a tunnel.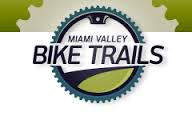 Little Miami Scenic Trail – Southern Section – Xenia, OH (Click here for Trail Post with photos)
Click here for RTC TrailLink Details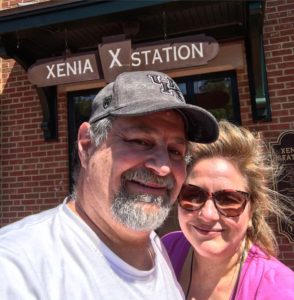 In mid-June 2016 we made our first trip to Ohio so Julianne could ride the southern portion of the Little Miami Scenic Trail, a 78 mile trail that stretches from Springfield, OH (north of Columbus) all the way to Newton, OH (just outside of Cincinnati). On this trip she decided to take the southern half of the trail, from the main Xenia Station to the small town of Morrow (the trail actually goes all the way to Loveland, but it was a bit too far to ride that day.)  as of this trip, Julianne has been happiest about this particular trail, thus a Five Pump rating.
The trail is paved all the way and has lovely shady areas, some nice bridges and also links to a number of other trails that comprise the 330-mile network of paved, off-road trails in Ohio's Miami Valley.  Eventually this trail will be a link in a trail that will go from the Ohio River in Cincinnati all the way to Lake Erie in Cleveland (called the Ohio to Erie Trail).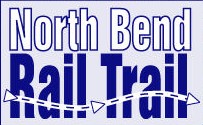 North Bend Rail Trail – Cedar Grove, WV (Click here for Trail Post with photos)
Click here for RTC TrailLink Details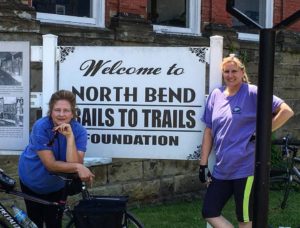 In late June 2016 Julianne once again met up with her sister in West Virginia for a ride down the North Bend Rail Trail. It is a 72-mile trail in north-central and western West Virginia and is operated by West Virginia State Parks.  It is also part of the and is part of the American Discovery Trail.  On our June trip, we started at North Bend State Park and she and her sister rode west to Cedar Grove (Happy Valley).  The trail has 13 tunnels that were originally constructed by the B&O railroad. One of the tunnels, nearly 2000 feet long, is also supposedly haunted.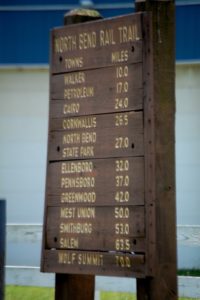 Julianne rated this trail a three due to the nature of the trail.  There are parts with rough, sharp gravel that are not conducive to hybrid tires.  But, on the other hand, the trail has some beautiful scenery.
Unfortunately for her, just after the long tunnel she got a flat tire and had to walk nearly five miles to meet me at the next location.  Cell service is scant along this trail and much of the trail is not close to any roads.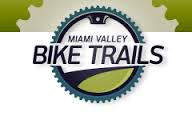 Little Miami Scenic Trail – Northern Section – Springfield, OH (Click here for Trail Post with photos)
Click here for RTC TrailLink Details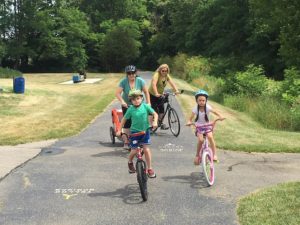 In early July 2016 we took our daughter and her three children and headed north to Springfield, OH to catch the northern section of the Little Miami Scenic Trail.  This portion of the trail runs form Springfield, goes near a great dairy (perfect for an ice cream stop!), passes through the artsy town of Yellow Springs and makes its way into Xenia and beyond.  Like the southern section, it is all paved and very scenic.  There are a number of side trails available.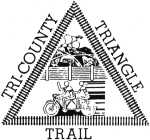 Tri-County Triangle Trail – Washington Court House, OH (Click here for Trail Post with photos)
Click here for RTC TrailLink Details
We visited this trail in early July 2016, taking a trip up to the town of Washington Court House, OH.  Julianne rode the 32 miles into Chillicothe, OH.  Like the other Miami Valley trails, this one is paved all the way and also very scenic, though it has less shade than the Little Miami Scenic Trail. Also, unlike the Little Miami, there are many more rural areas without cell phone service.  But, Julianne said it was a fun and enjoyable ride.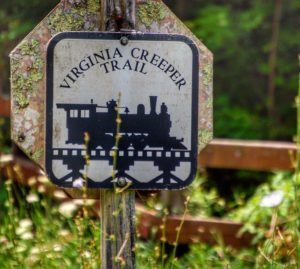 Virginia Creeper Trail – Damascus, VA (Click here for Trail Post with photos)
Click here for RTC TrailLink Details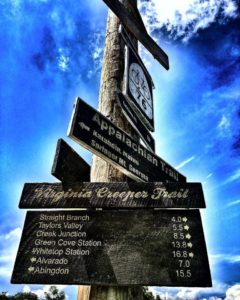 Perhaps one of the most beautiful and fun rides out there, the Virginia Creeper is about 33 miles of bike riding bliss. We visited in mid-July 2016 and took the drive from Damascus, VA to White Top Station in Mt. Rogers National Recreation Area.  From there the ride begins with a nearly 17 mile downhill glide on the crushed gravel surface.  The trail goes through luscious forests, passes by a number of Christmas Tree farms and over a number of bridges and trestles into Damascus (known as Trail Town USA), which is a perfect place to stop for a break before tackling the more challenging ride to the trail's end in Abingdon, VA.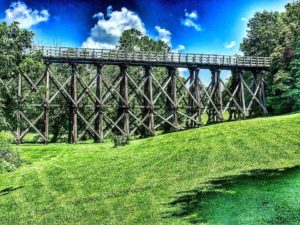 Damascus has a number of Shuttle companies that will take you and your bikes to White Top and then you can ride down.  You can also catch similar shuttles in Abingdon.
Julianne rates this a 4 1/2 only because the gravel trail can be tricky.  However, young kids and older folks all seem to enjoy the downhill ride.  The last 6 miles into Abingdon is a gradual uphill battle, but doable. Definitely one of America's MUST VISIT trails.  That is why it is a Hall of Fame Trail.