What is April A to Z?
Every April, bloggers from all over the world participate in the April A to Z blog challenge, and you can too. It's a lot of fun and it's a great way to meet other bloggers. To play along, all you do is make a blog post for each letter of the alphabet during April, then visit as many other bloggers as you can.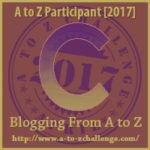 Car art. What is it? And what is it about cars that makes someone want to create art with it. Many a travel blogger has visited sites that include car art of some sort. This particular writer is included in that group, and, in fact, is an avid seeker of car art of all forms.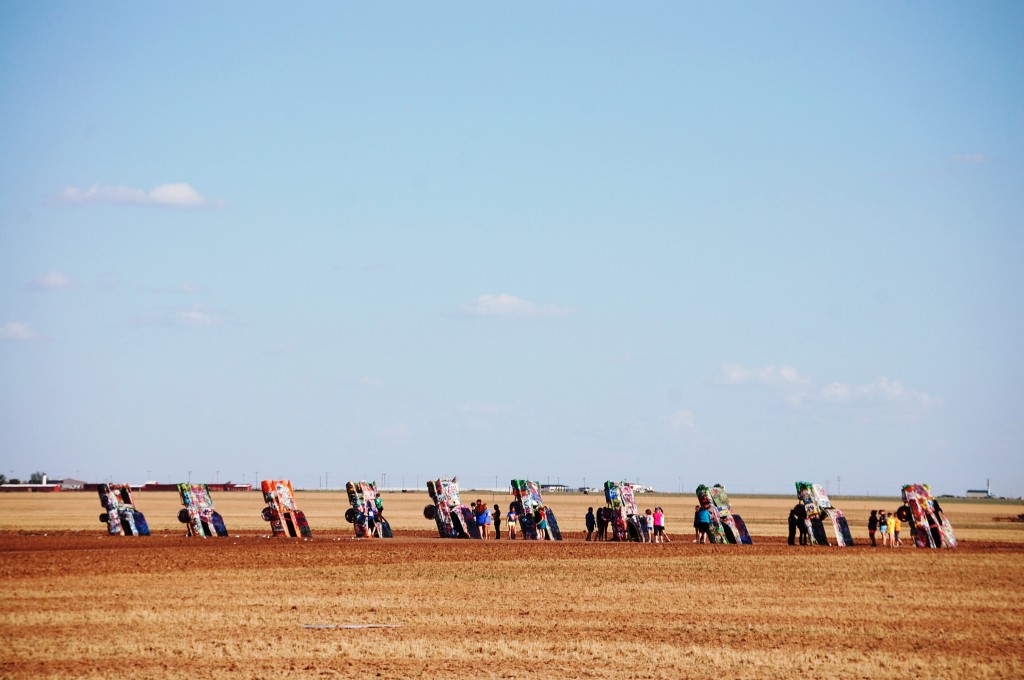 Over the years I have discovered numerous "car art installations." These are places where something was created from cars.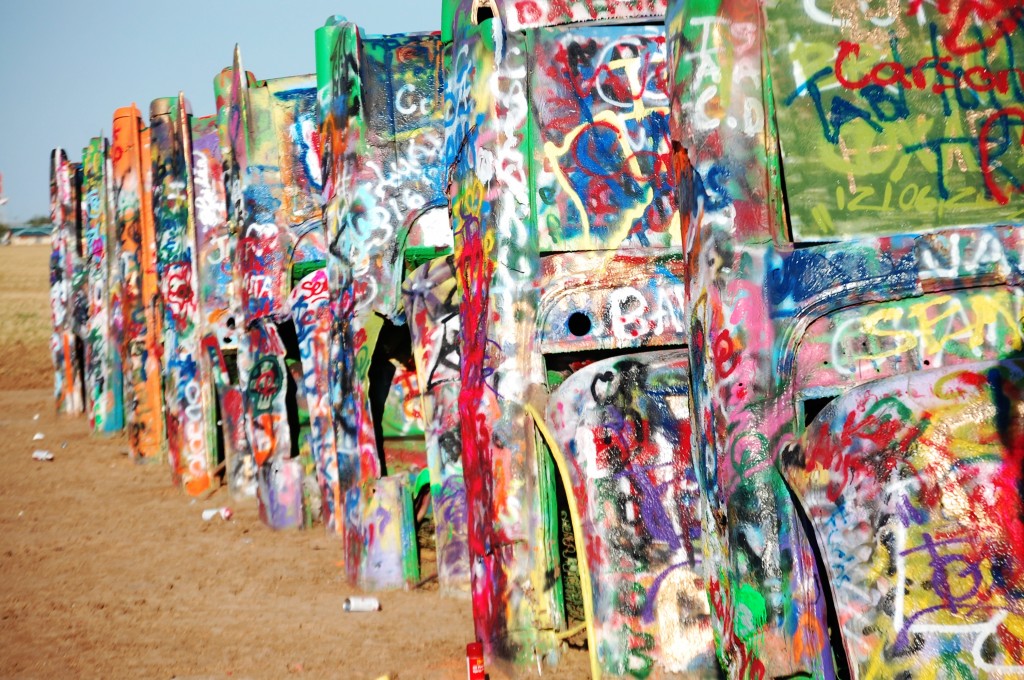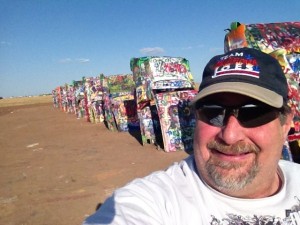 Perhaps the most famous of these set just east of Amarillo, Texas. Known as "Cadillac Ranch," it features a set of Cadillacs buried at a 45° angle in the ground going across the ground for about a quarter-mile. Fans of quirky roadside attractions have stopped by this place for many years. Nowadays you can see a different installation nearly every day as people bring spray paint cans with them and add their art to the cars. Though perhaps the most famous of all car art, it is not the only installation of its kind in this country.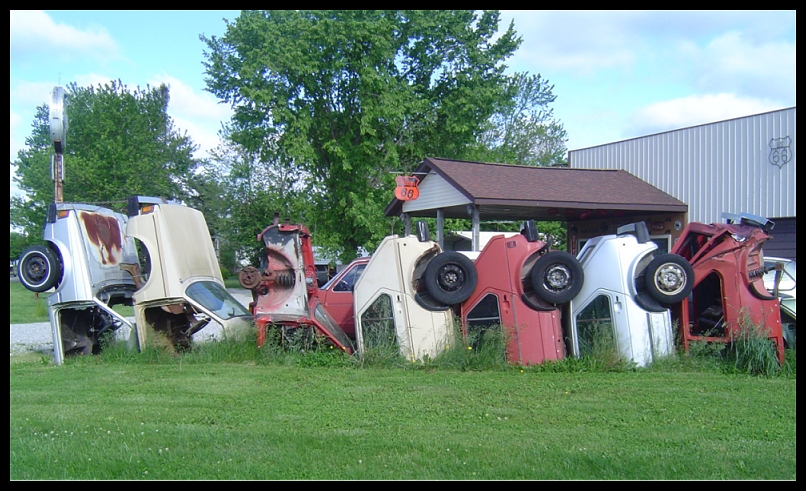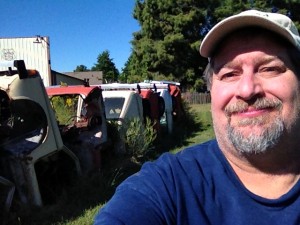 There are others that have tried to imitate in some way shape or form the Cadillac ranch concept. Take for instance Rabbit Ranch in Staunton, Illinois. Like Cadillac Ranch, Rabbit Ranch sits on US Highway 66. There is a great deal of Route 66 paraphernalia and souvenirs available. But, they also have five or six Volkswagen rabbits buried halfway into the ground. Unlike Cadillac Ranch, they do not allow spray paint all over the cars.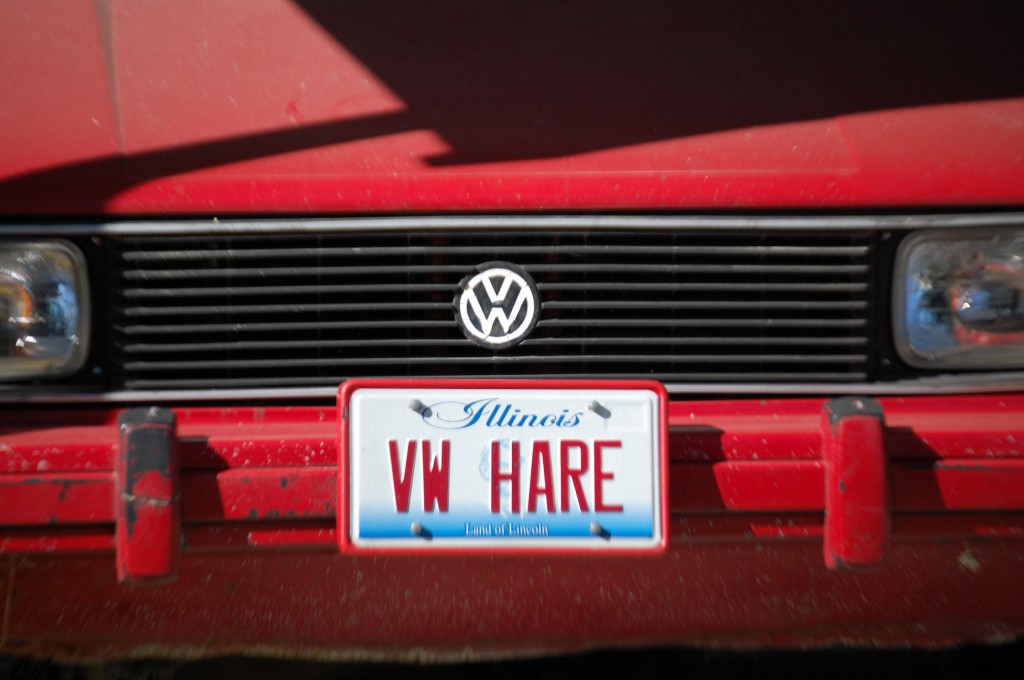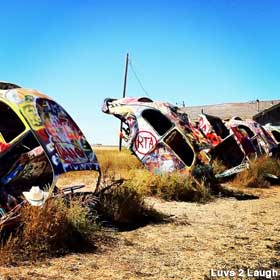 There is also a Volkswagen Bug Ranch in Conway, Texas that has a few Volkswagen bugs and some old cars buried. We visited there many many years ago and unfortunately my photographs of the place have disappeared.
But, burying cars is not the only form of car art. There is yet another practically world famous attraction made with cars in Alliance, Nebraska. Known as "Carhenge" it is probably the only Stonehenge-type of Car Art installation. Indeed, they have tried to match Stonehenge's look and feel but with cars that have all been painted a silvery gray.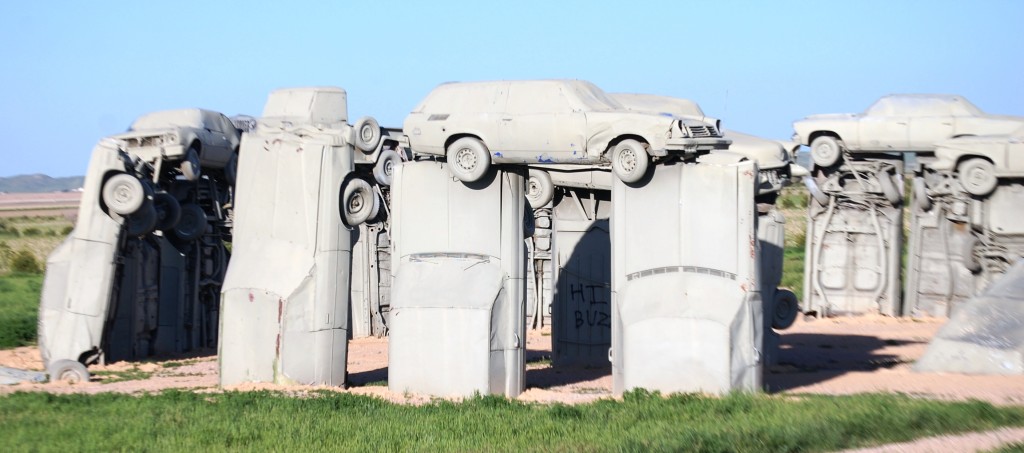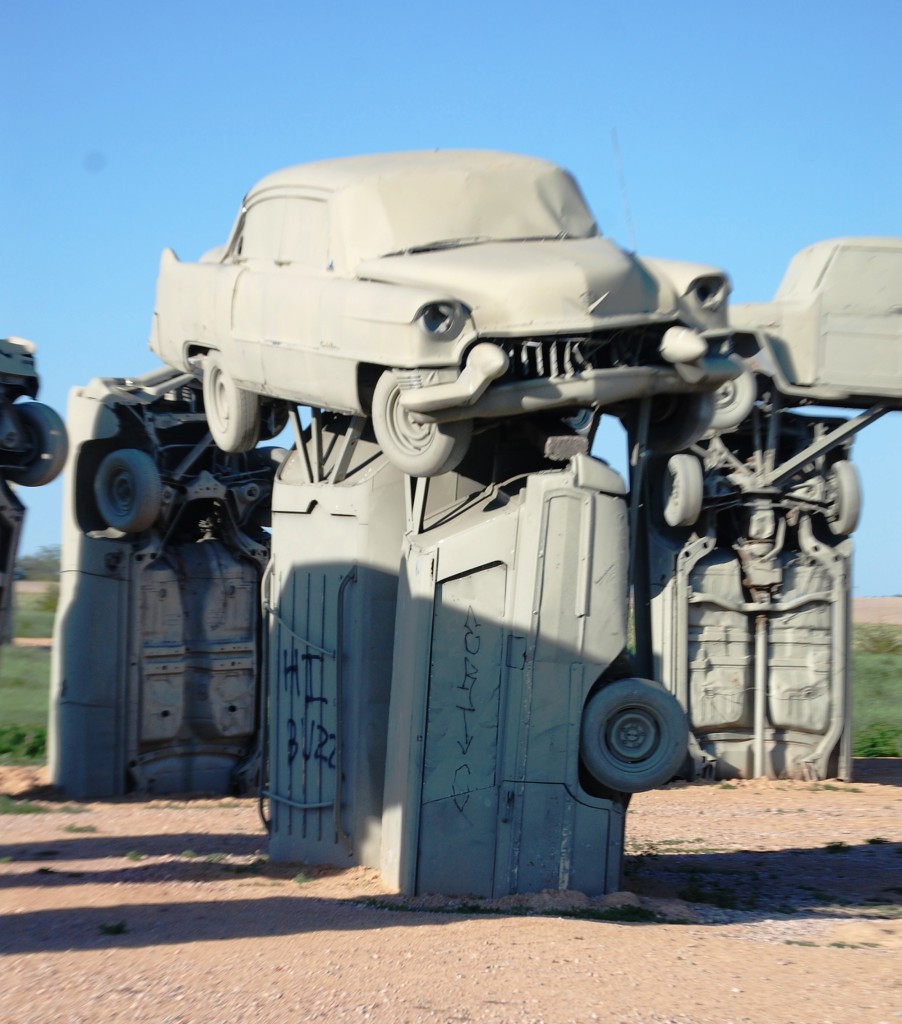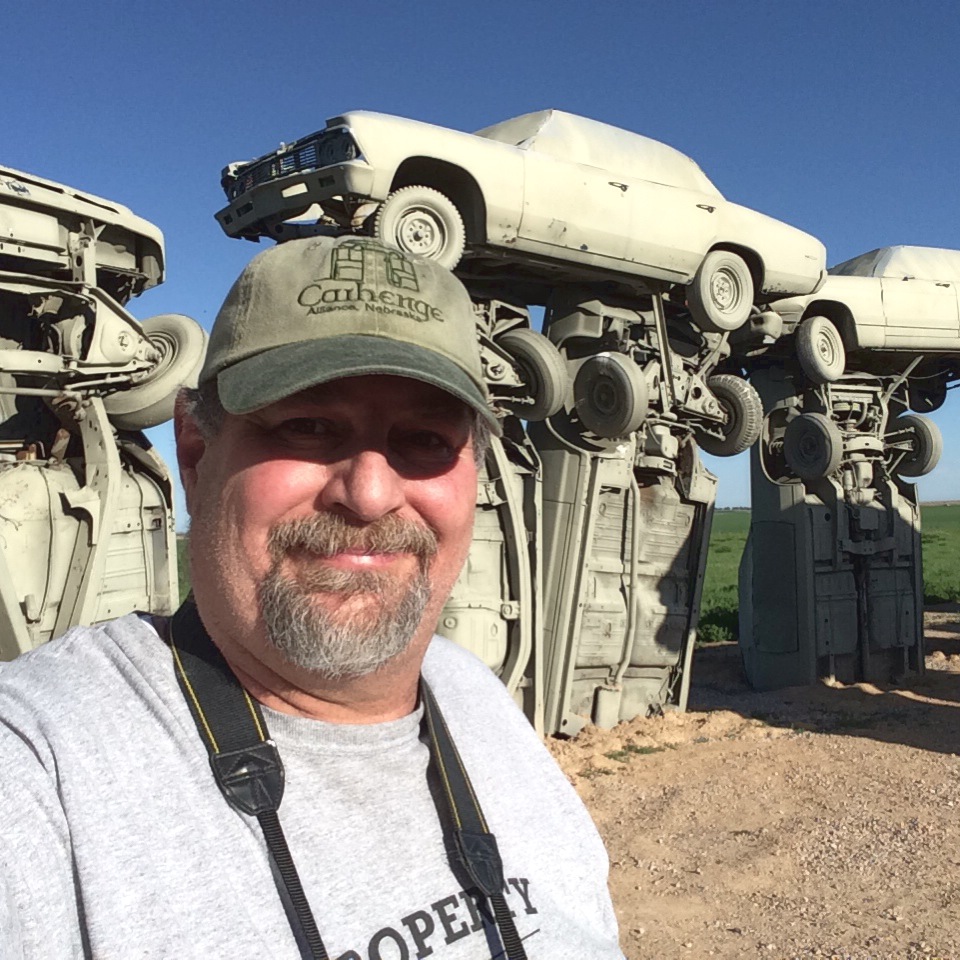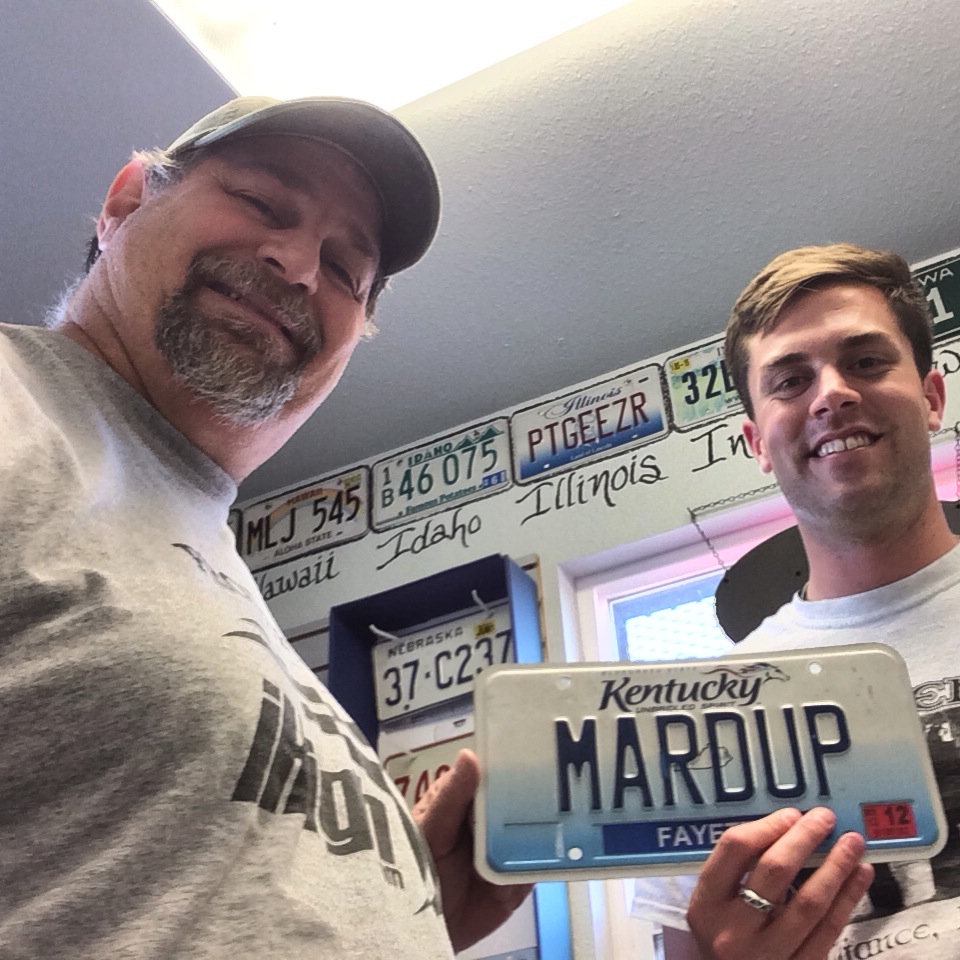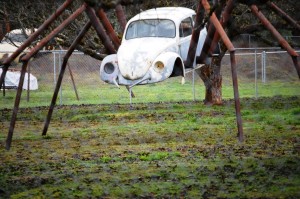 Others try to make cars into art in a number of fashions. On the back road trip in Oregon a few years ago I came across someone's farm that had two big giant spiders made from a Volkswagen beetle and another car. And there are other similar "car spiders" to be found dotting places in the United States.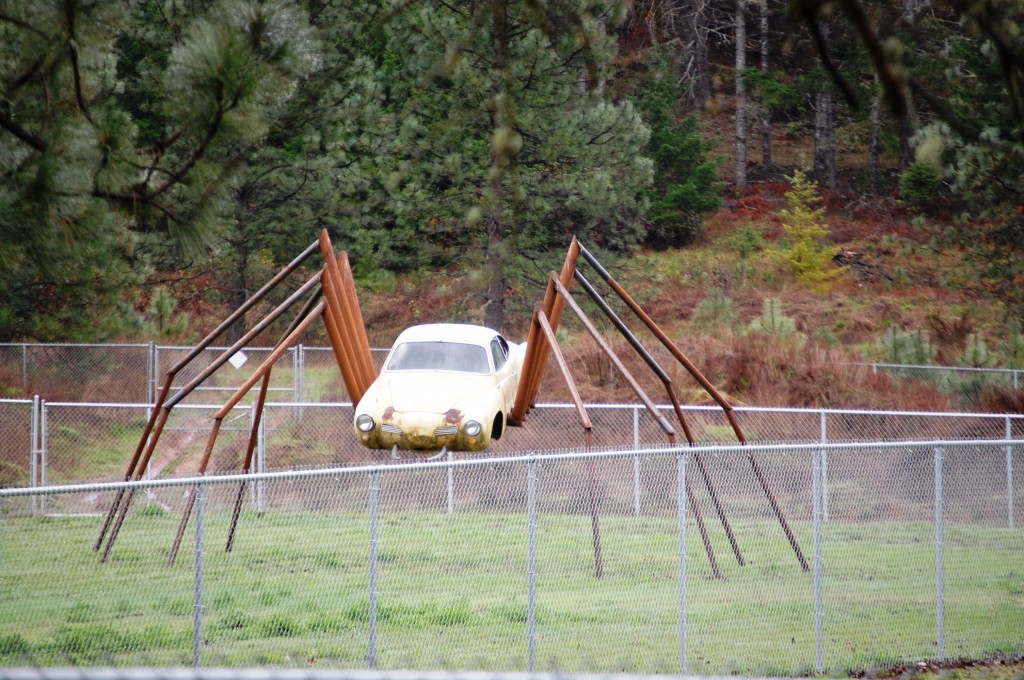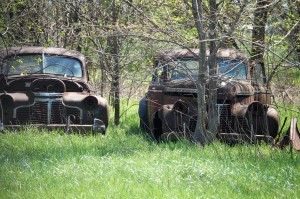 There are also a few "car artists" that have placed their old rusted out vehicles in strategic locations so they can be seen. Take the three really old cars sitting in the midst of trees and grass. They are a little on the rusty side but still interesting.  These were seen near a place called Albatross, MO.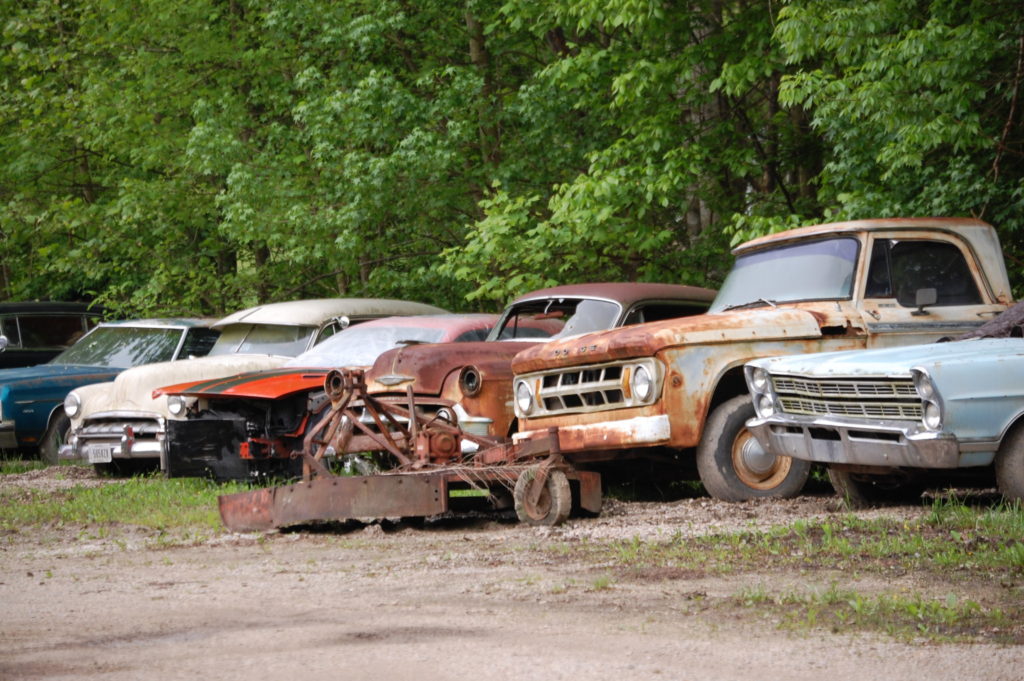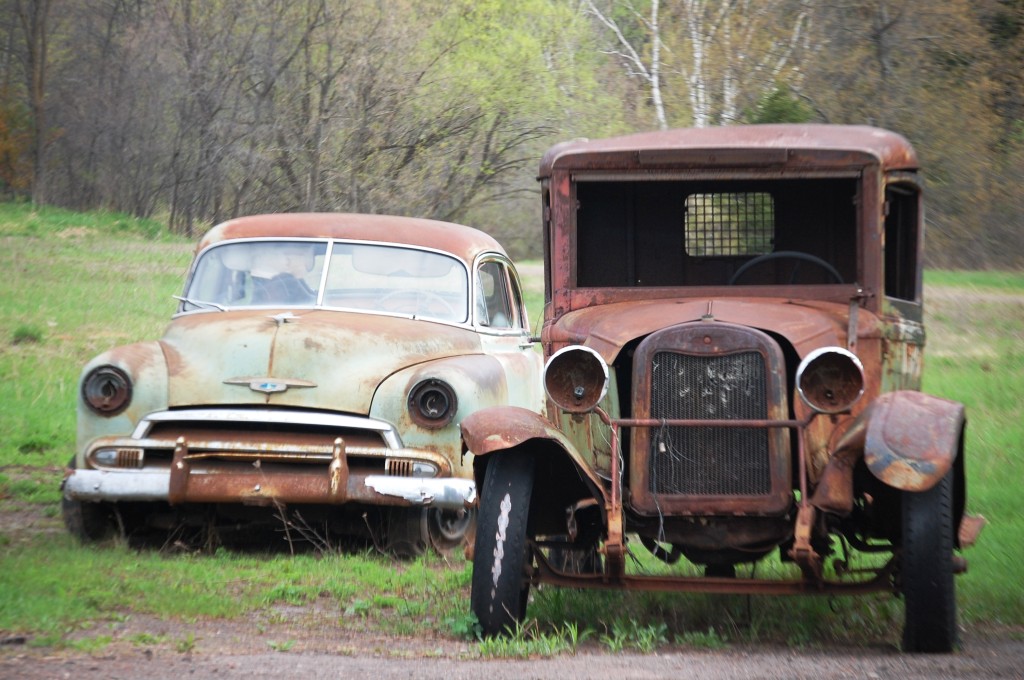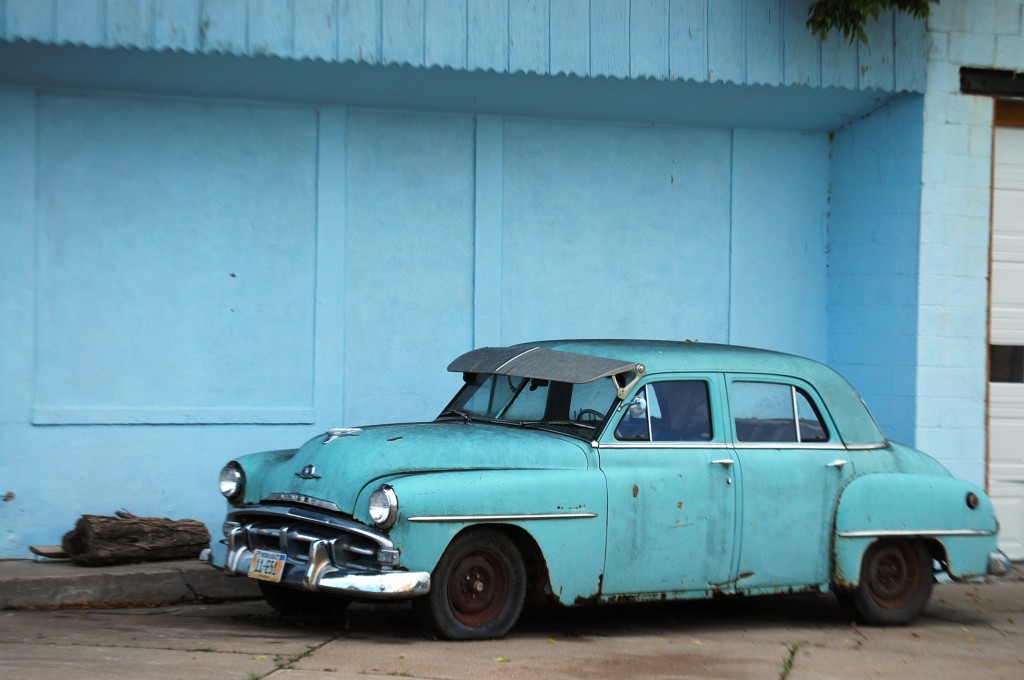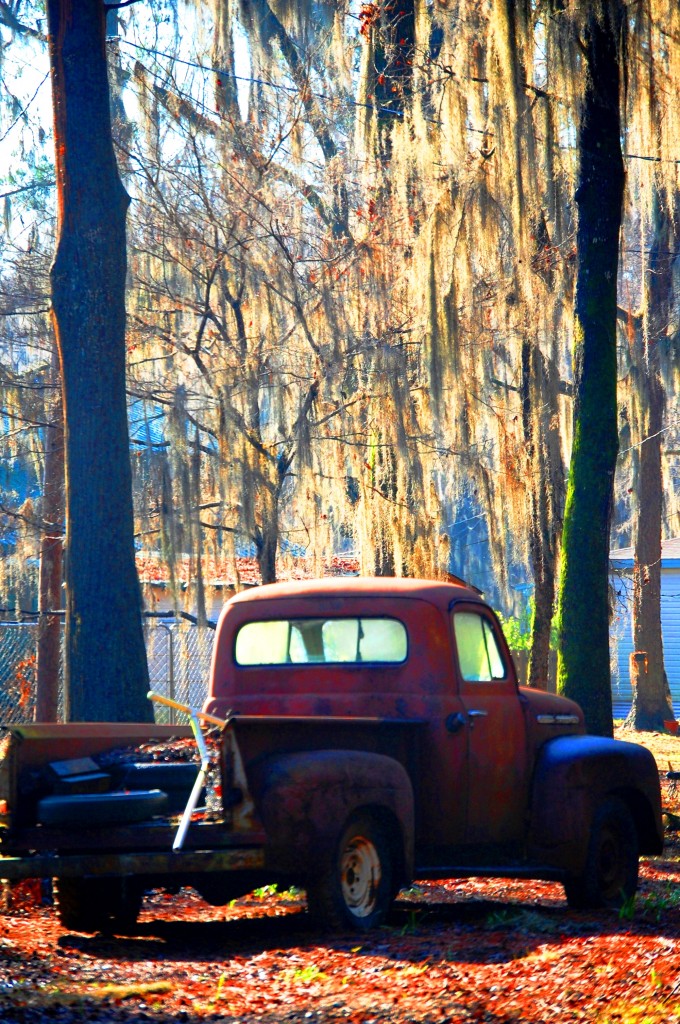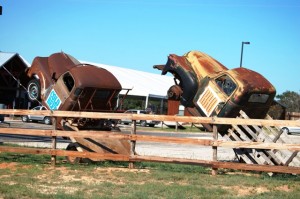 Or, how about the Rio Brazos Music Hall near Granbury, TX that has some pick up trucks placed in a 45° angle at the entrance? Is this not car art?
And cars are not the only ones didn't get to experience being turned into artwork. Also in Texas, just north of Houston in Cypress, there is a huge hamburger joint that has two big school buses that have been turned into a Canvas.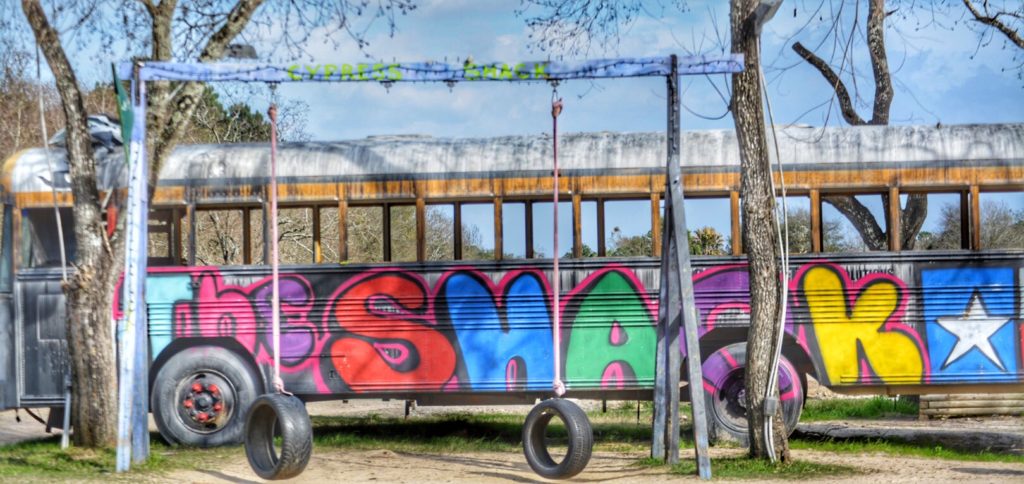 In another twist, there are the car artists that literally take parts of cars and create new art from them. One was a giant saxophone made out of a Volkswagen in Houston. Unfortunately, it is currently no longer available to be seen, but I was able to grab a photo of it a few years ago.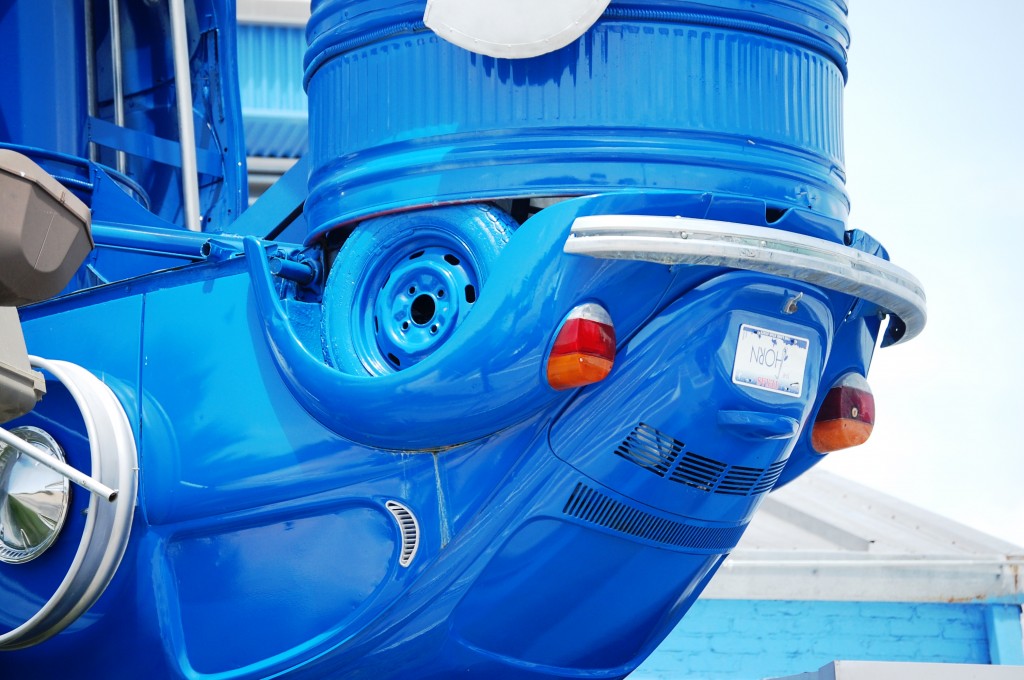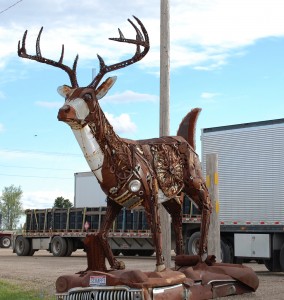 In Kadoka, South Dakota, someone is taking a number of car parts and created a giant deer. And in Montana, surrounding the Blackfoot Indian reservation there are a number of Indian chiefs that have been built from car parts.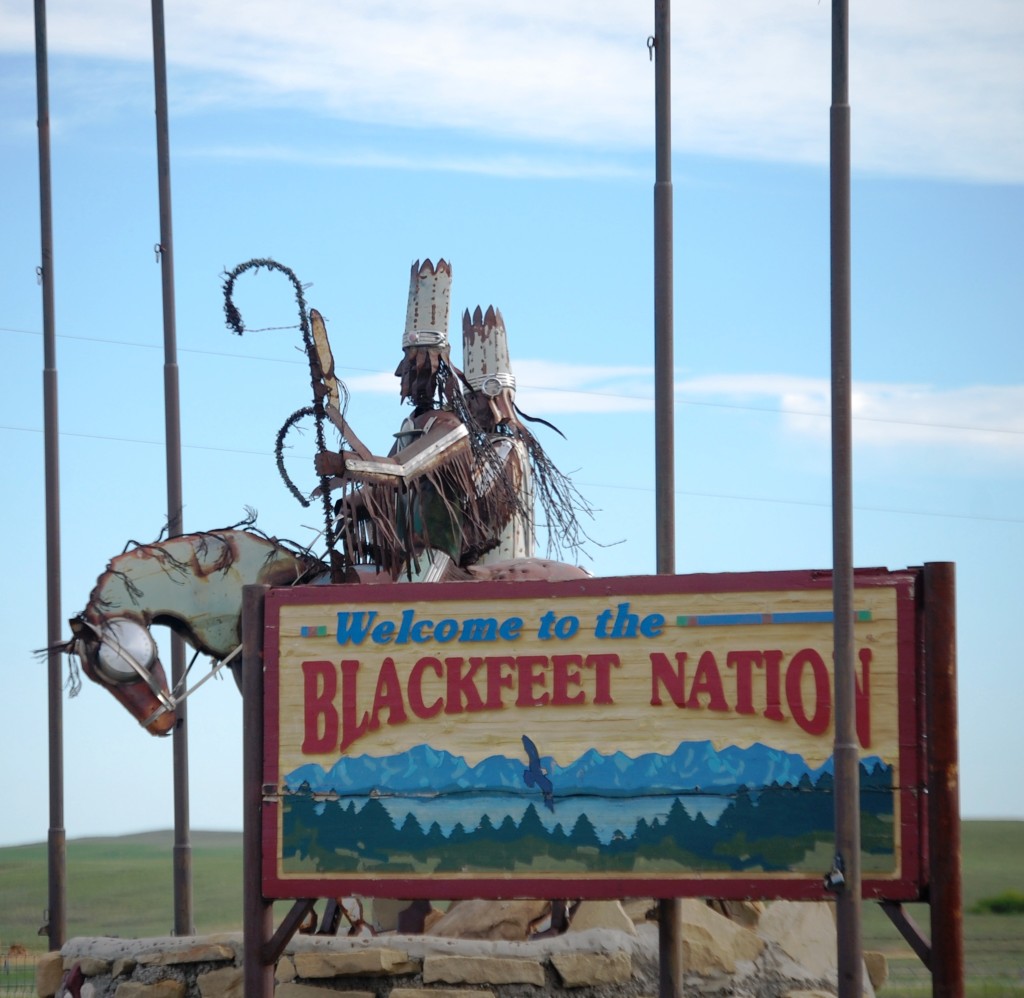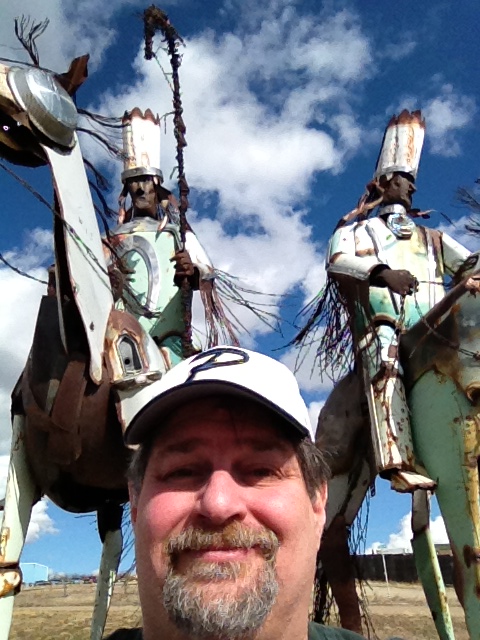 Finally, there is the one last piece of car art that is no longer around but really needs to be noted in this. Back a few years ago there was an iconic piece of car art that appeared in the movie Wayne's World. Titled "Spindle," the piece of art had eight or nine cars stuck on a spike and it was on display in a shopping center in Berwyn, Illinois. In 2015, the display was taken down to make room for a new Walgreens. Unfortunate.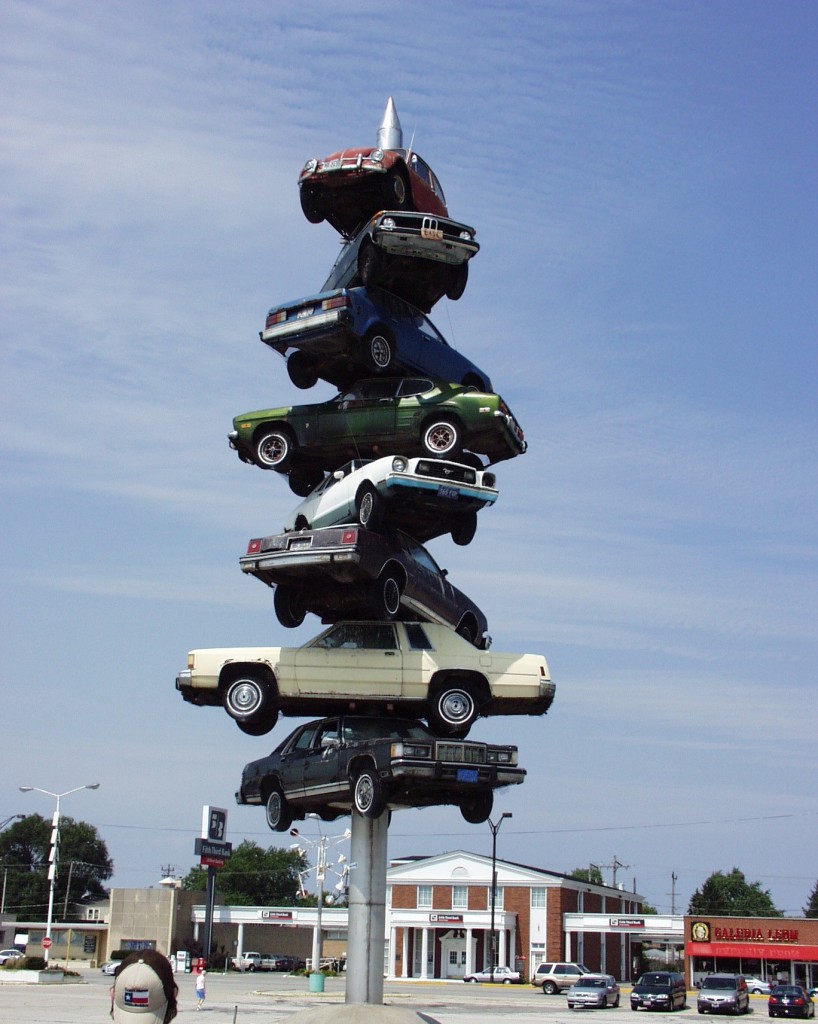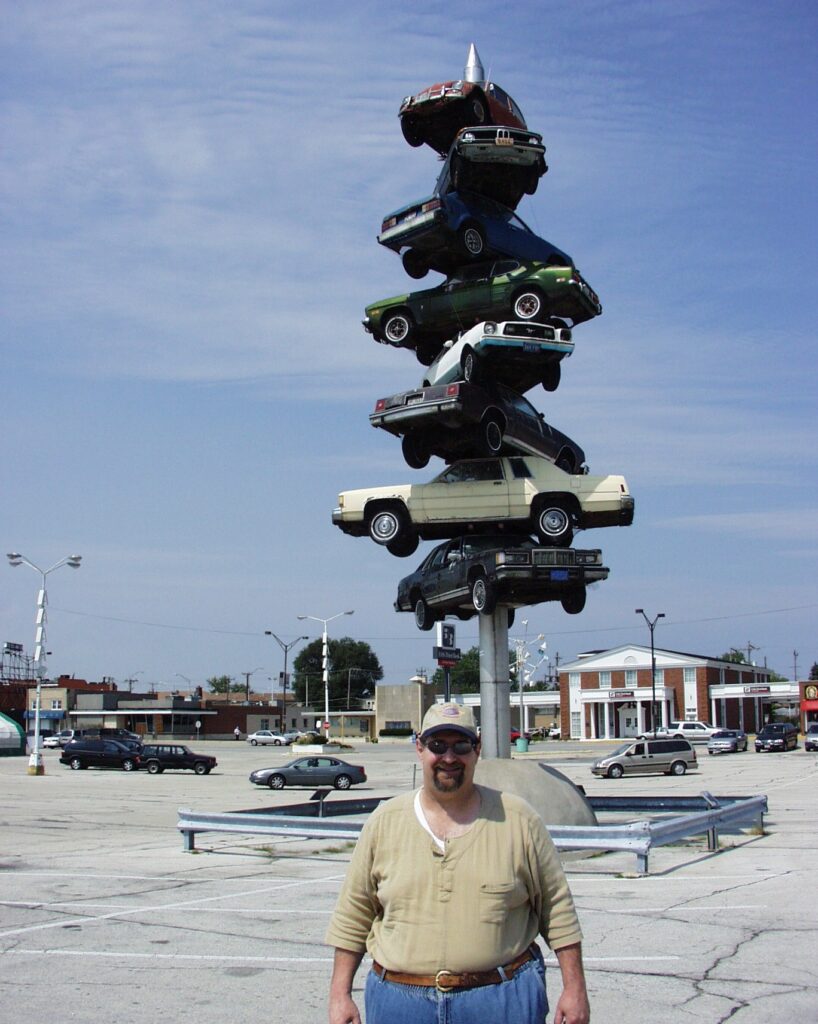 When you get out on the road, make sure to watch for Card. You'll be glad you did!