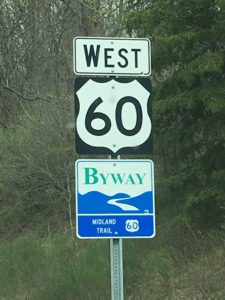 During the month of May I made several trips to West Virginia to assist a friend in need.  Also, during Easter Weekend (2017) I had occasion to take my wife to northern Virginia near Shenandoah National Park and on my return started my treks along US Route 60 in West Virginia, what they refer to as the Midland Trail.   On subsequent visits, I tried to hit US 60 in the western part of the state as well.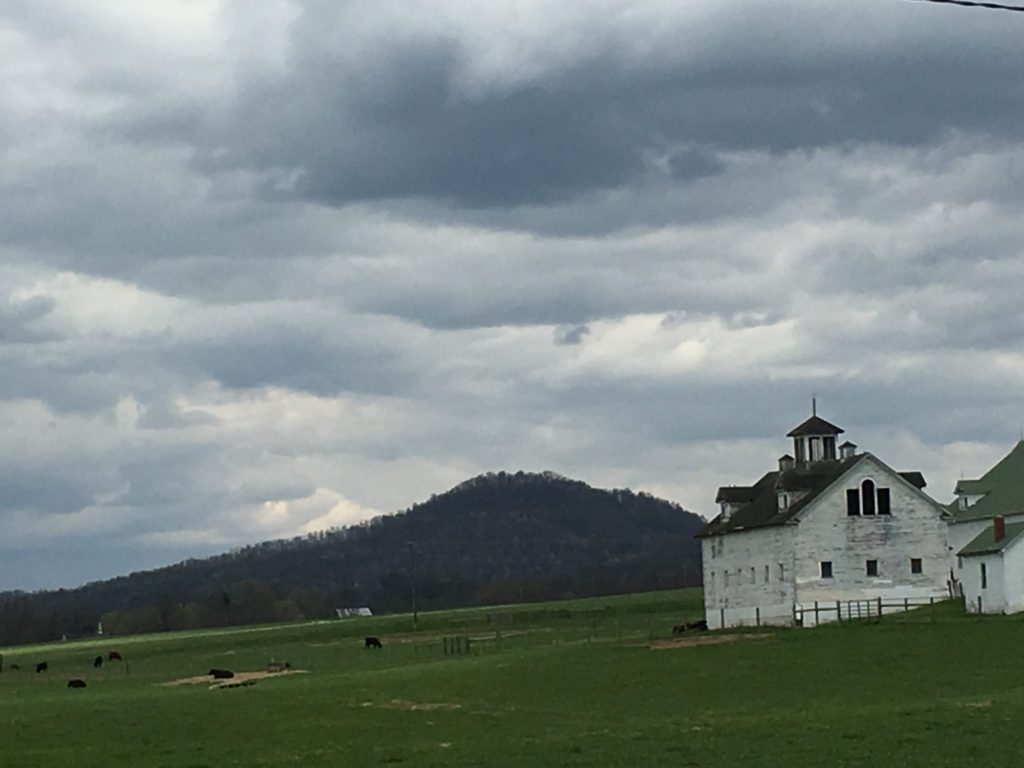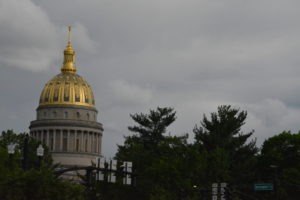 The Midland Trail crosses some of the most rugged and beautiful terrain of the Mountain State and extends for approximately 100 miles from White Sulphur Springs in the east to Charleston in the west. The trail is believed to have been originally carved into the mountains by buffalo and native peoples. In 1790, George Washington ordered the trail cleared. The trail came to be traveled by stage coaches and soldiers in the Civil War.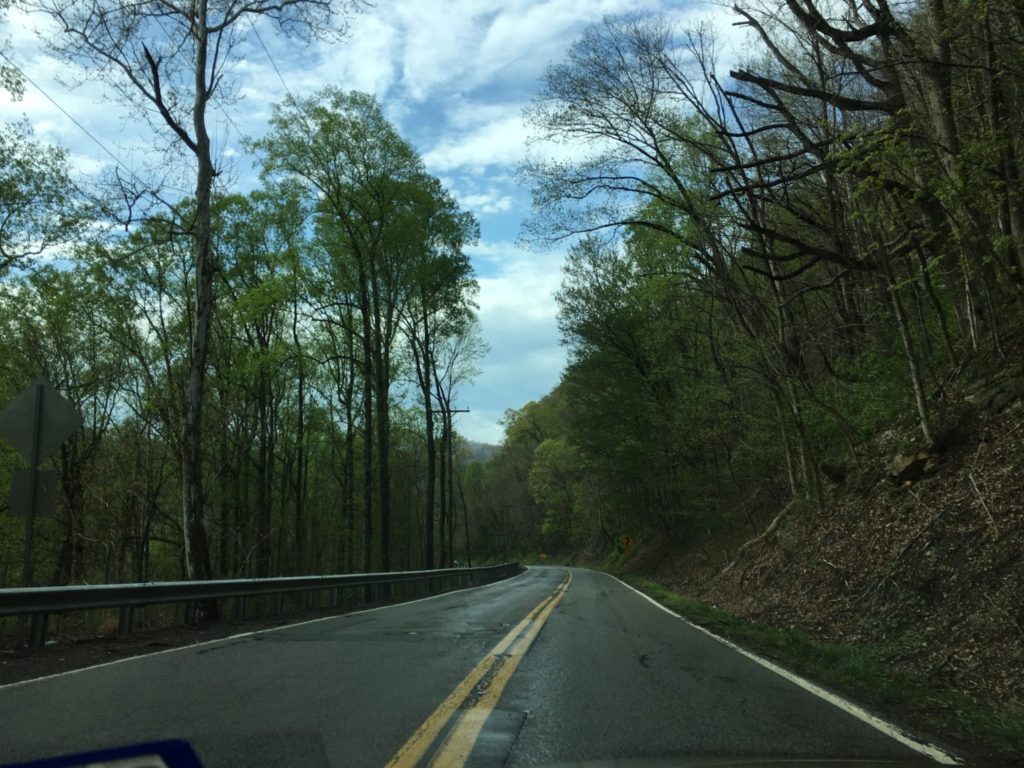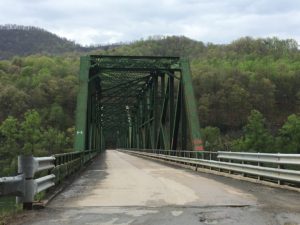 Along the route there are a number of scenic stops, some of which I had time to stop for, and others which I didn't.  But the rugged hills of West Virginia along this route made for a scenic drive, even if I didn't stop.
My first venture on the Midland Trail came on Easter morning as I headed home from Shenandoah National Park.   It was then that I actually decided to hop off of Interstate 64 and onto US 60.  There wasn't much in White Sulphur Springs, so I continued on to Lewisburg.  Like White Sulphur Springs, Lewisburg is known for its sulfur springs and their curative powers.  It is also home to the immaculate and world famous Greenbrier Resort.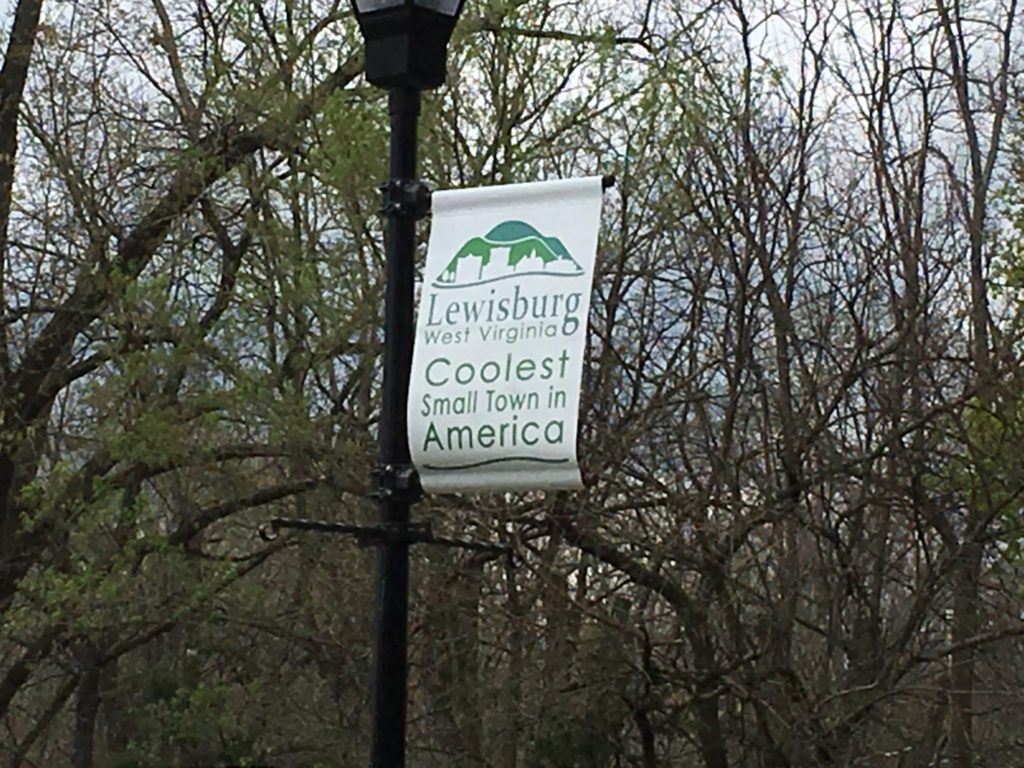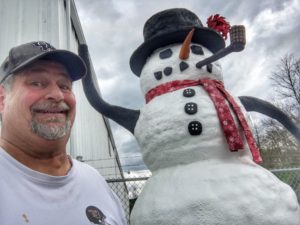 To prove they are the "coolest" town, they even have a huge fiberglass snowman at one of the businesses.
I found this guy at Brabble & Shores Insulation.  It is a classic Roadside America type of thing…perfect for the silly selfie!  That alone makes this town a pretty cool place in my opinion.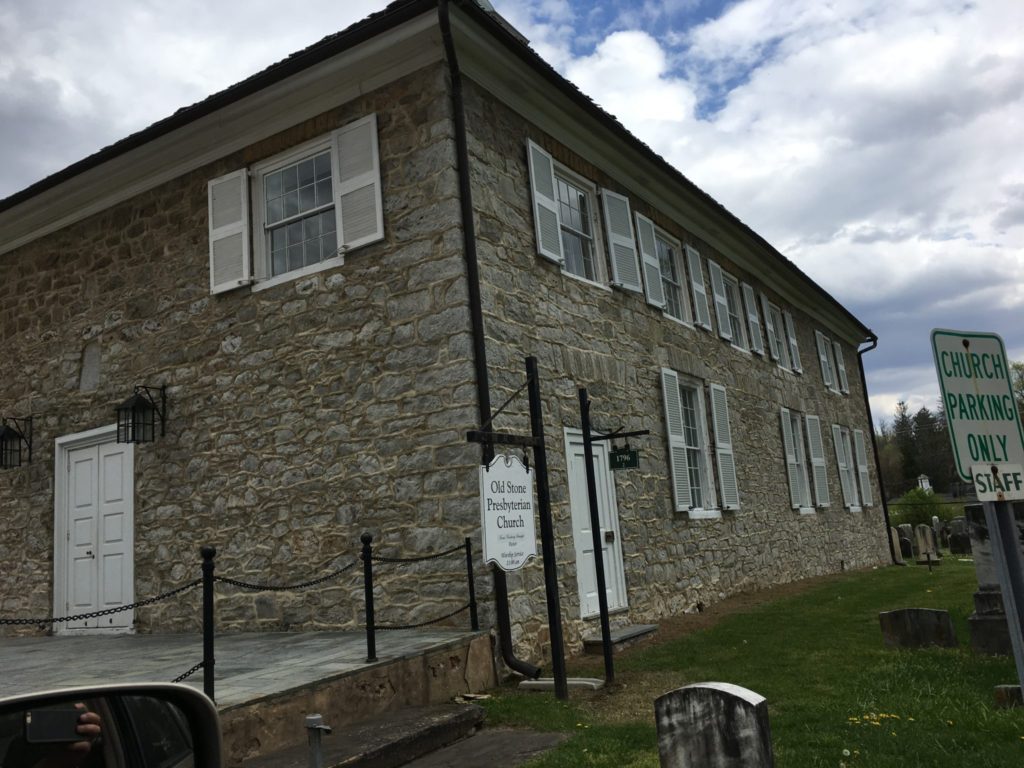 Always on a quest to document old covered bridges, I came across the Herns Mill Covered Bridge, which was begun in 1879 and completed in 1884. The bridge is approximately 54 feet long and 10.6 feet wide and is open to travel.  Many renovations were made in 2000 — concrete abutments and steel I-beams, guard walls, portal timbers, a new metal roof and siding — to ensure the cover bridge's longevity.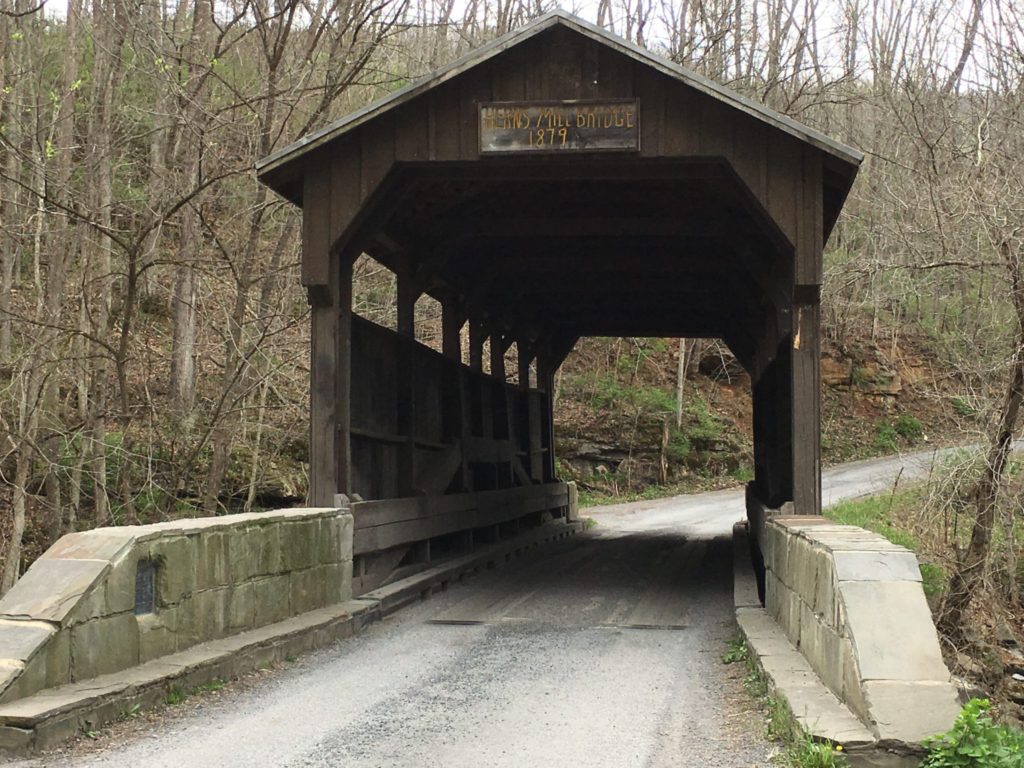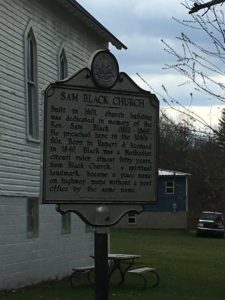 From Lewisburg heading west there are a number of small towns to pass through.  My next stop on the trail was at Sam Black Church. It is one of the few towns I have encountered that actually is named after a church building.
The building was built in a classic Gothic style in 1902 and was named named in honor of Rev. Samuel Black, a circuit-riding Southern Methodist preacher. It is a small one story building with a gable roof. It features a square, open bell tower with a hipped roof.
The building was listed in the National Register of Historic Places in 1999.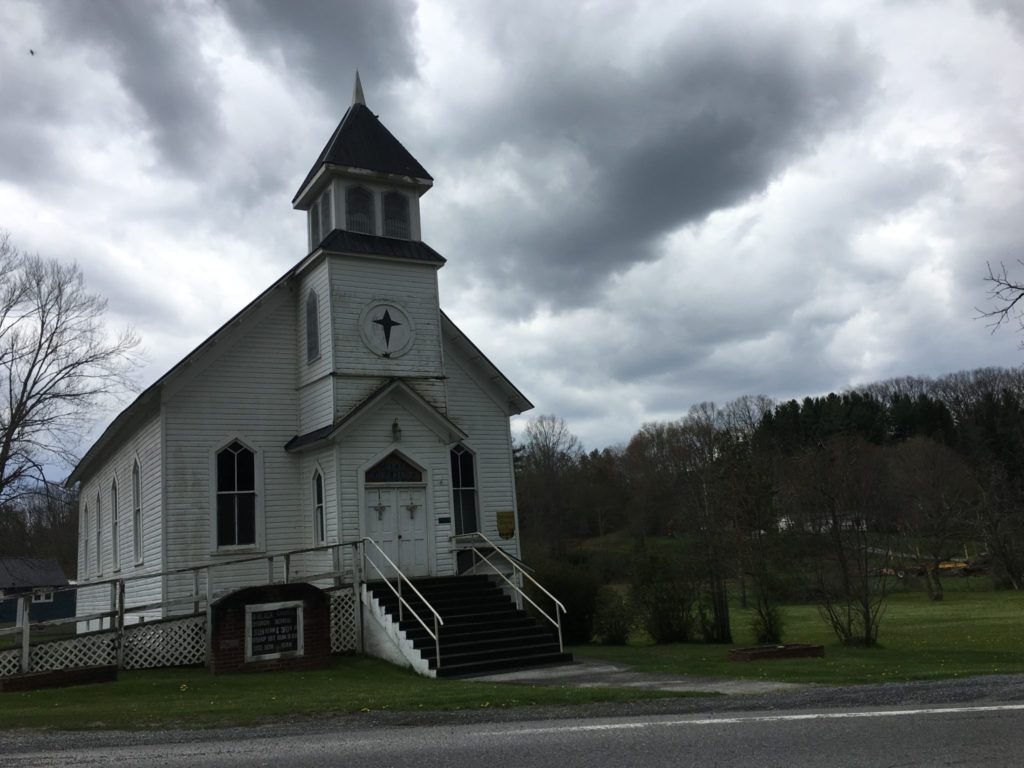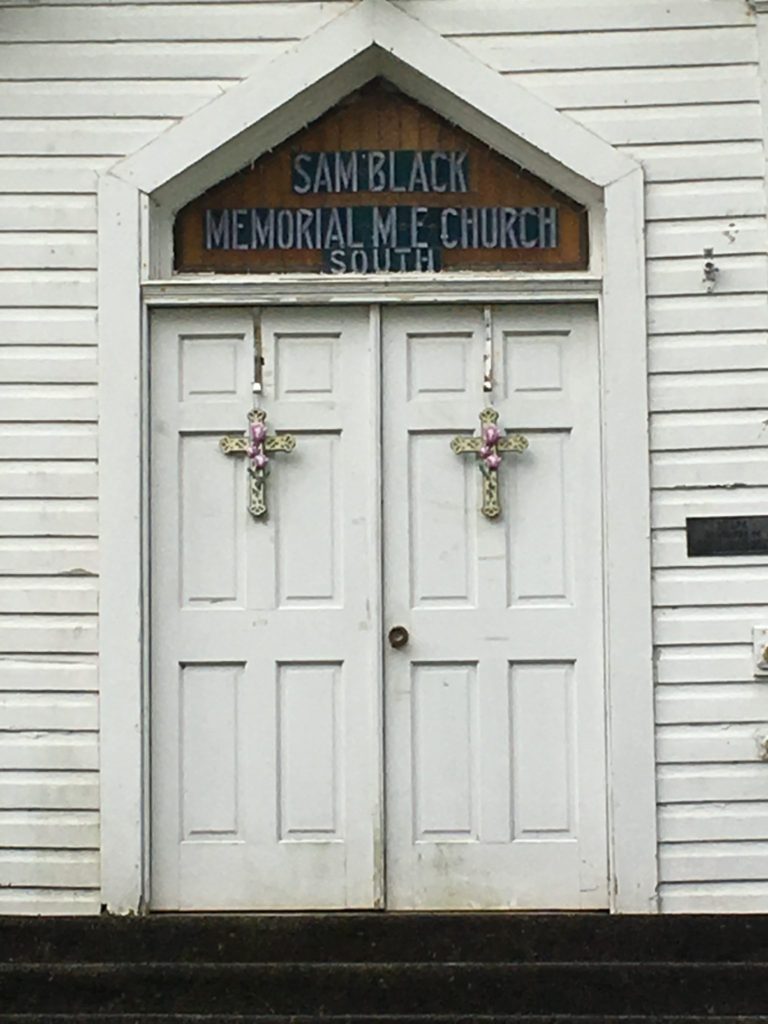 Continuing west I came to the uniquely named town of Charmco, WV.  At 2,408′ in elevation, it is a mountain town.  It remains today as a coal mining town.  I liked the "charm" part of the name (reminded me of the Amish town of Charm, OH).  However, it turns out there is really no charm intended. The community was named for the Charleston Milling Company in 1933.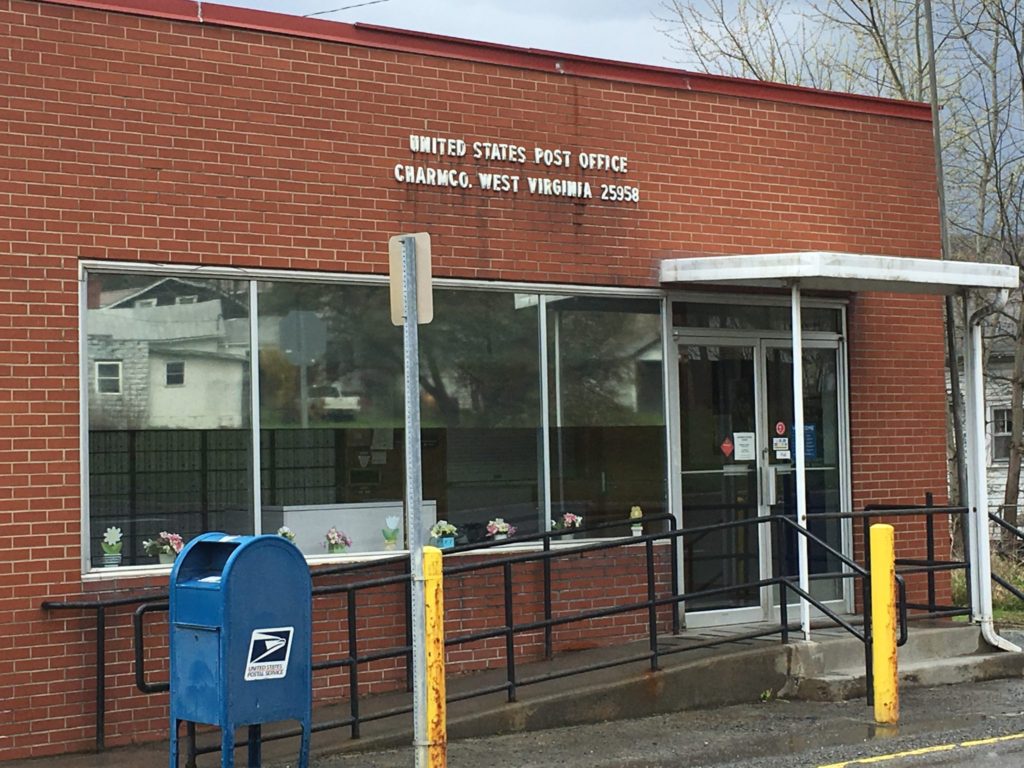 I traveled through Rainelle (and, ironically was deluged by a rainstorm so kept going).  I eventually made my way to Lookout, WV, which was supposedly named because the Native American tribes used the elevated location as a lookout point.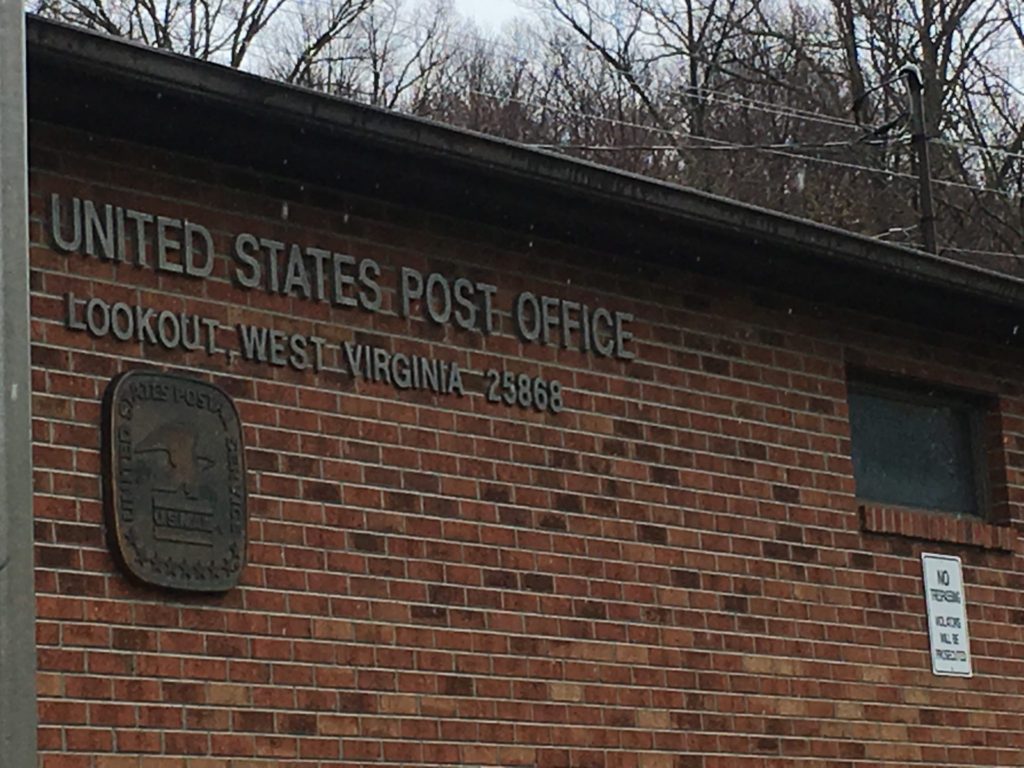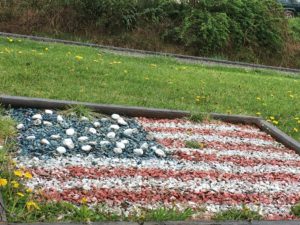 I added another unique flag to my collection of "non-flag" flags that I come across when traveling.  This one was made of stones and sat next to the Post Office parking lot.
I am always on the lookout for flags represented in other media and have found a couple of dozen in the past few years.
Then of course, there are the old retro Mom and Pop motels that can be found along an old US Highways. The Midland Trail Motel is one of these. (Route 60 is actually longer than Route 66 and has many similar features.)  A little trivia from Wikipedia: traveling 2,670 mi from southwestern Arizona to the Atlantic coast in Virginia. Despite the final "0" in its number, indicating a transcontinental designation, the 1926 route formerly ended in Springfield, Missouri, at its intersection with the major US 66. In fact, US 66 was almost given the US 60 number.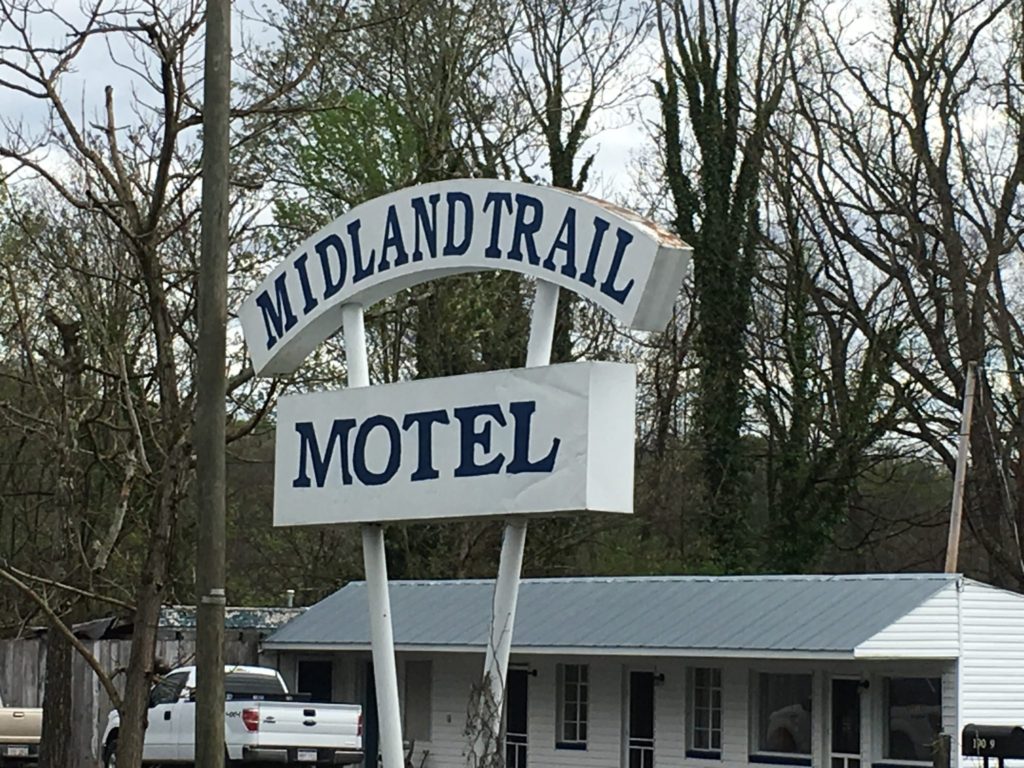 One of the most "touristy" places along the Midland Trail is found near Fayetteville, WV.  This is home to the New River Gorge and the massive New River Gorge Bridge.  This is a steel arch bridge 3,030 feet long over the New River Gorge.  I visited the bridge a couple of times in the past and so didn't want to stop on this trip due to time constraints.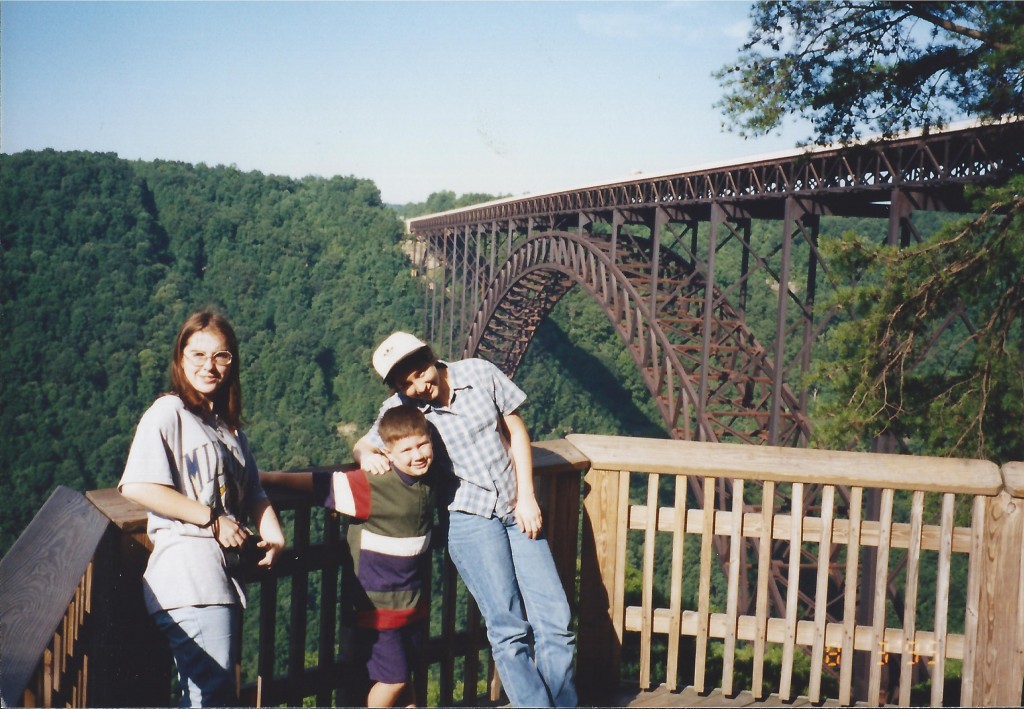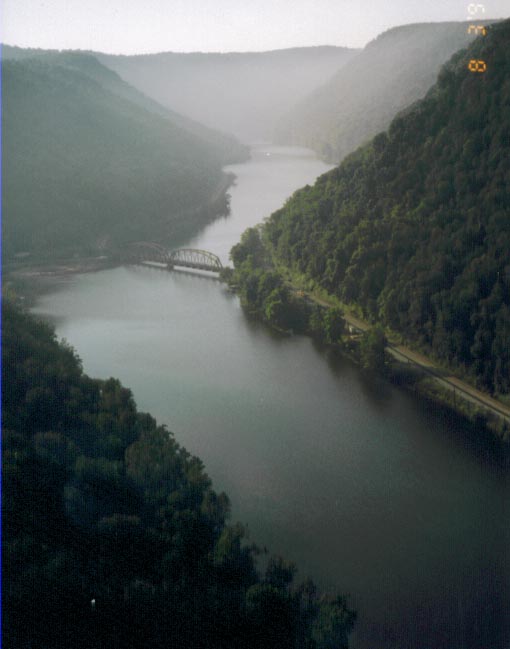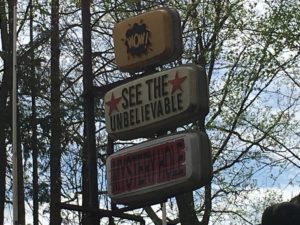 Of course, where there are National Parks or National Bridges, etc., there are always the Tourist Traps.  The "Unbelievable Mystery Hole" is one of these.  We stopped there in 1995 on our drive through (but it was closed).  When I drove by this time it was also closed.  But it has all of the quirkiness.
Bottom line, the place claims to be a gravity defying hole and draws tourists who want to have a "can't believe your eyes" experience.  It is just funny to me that it so happens to be close to a National Park site (as many of these great experience places are."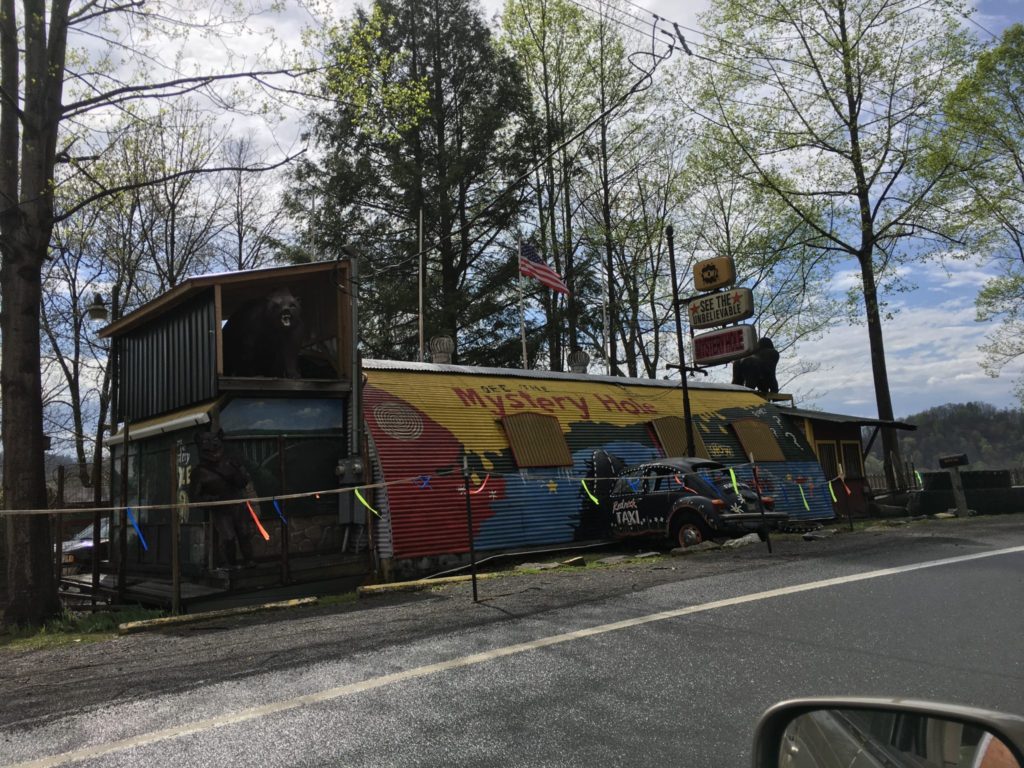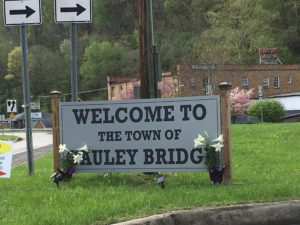 After passing by the Hawk's Nest State Park, which offers some spectacular views (we actually stayed there in 1995), I continued on my trek into Gauley Bridge, where the Kanawha River is formed at the confluence of the New River (which formed the gorge) and the Gauley River.
This is actually another scenic location with a beautiful view of the beginnings of the Kanahwa River and a very nice waterfall – Cathedral Falls. At a drop of 60 feet, the falls are considered to be one of the highest and most scenic waterfalls in West Virginia. What's better, they are literally located right alongside US 60. Definitely worth a visit.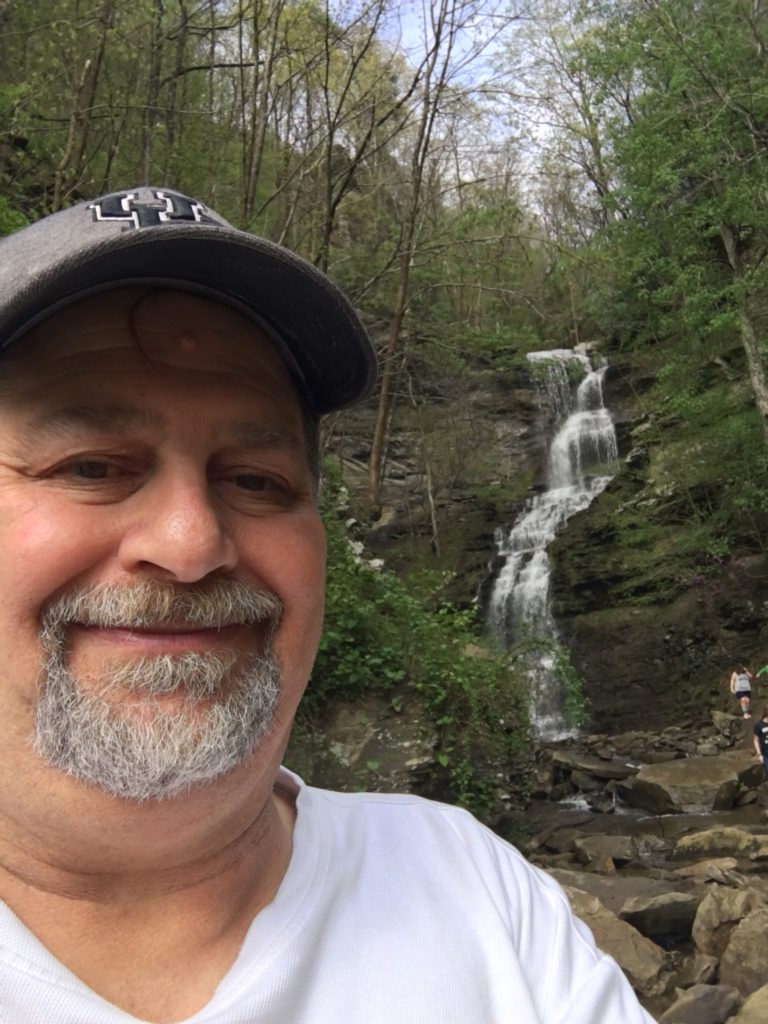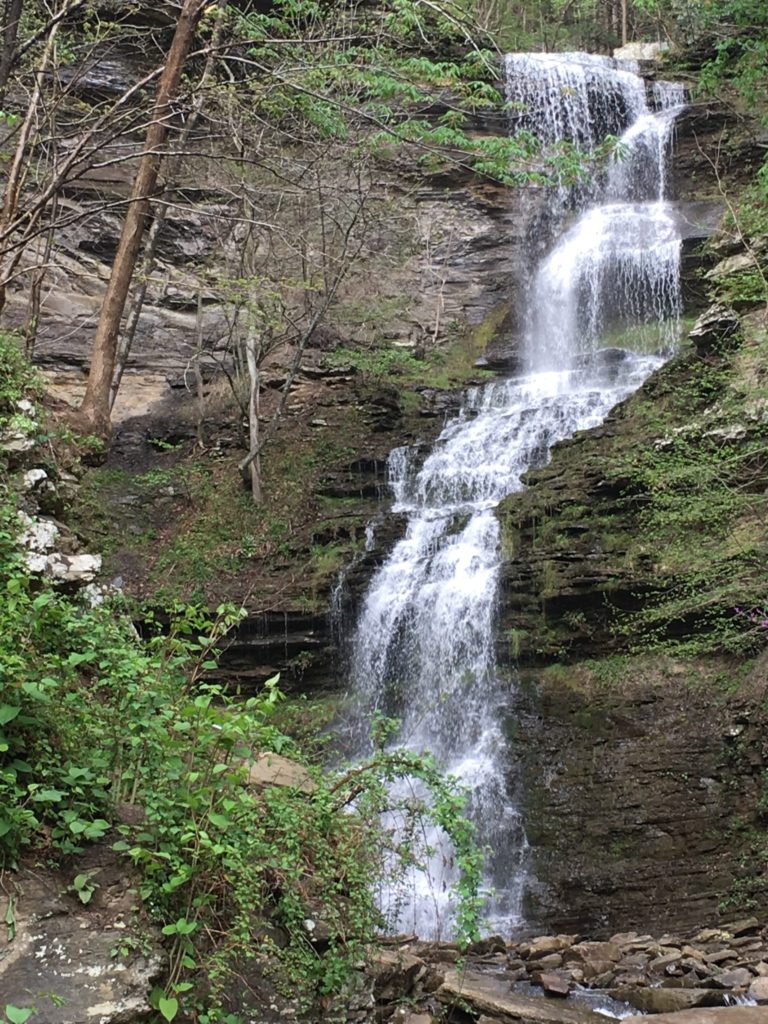 I didn't see many murals on this trip, but there was a nice one on the side of a building in Gauley Bridge.  The only actual mural I saw on the Midland Trail until I was in Charleston.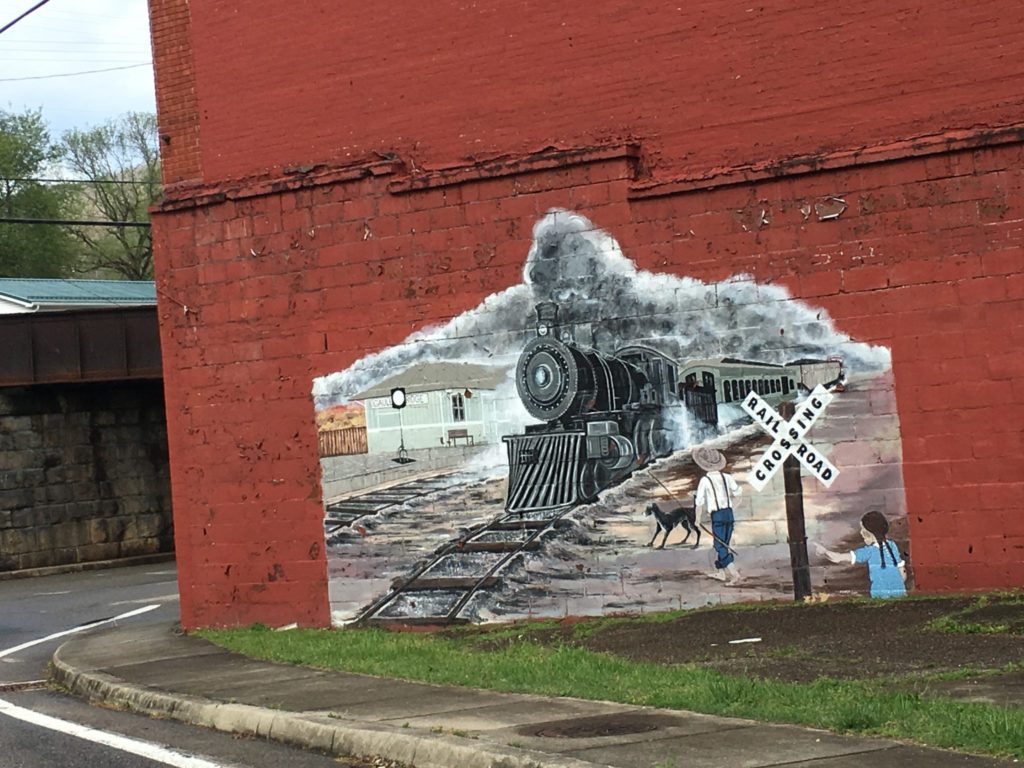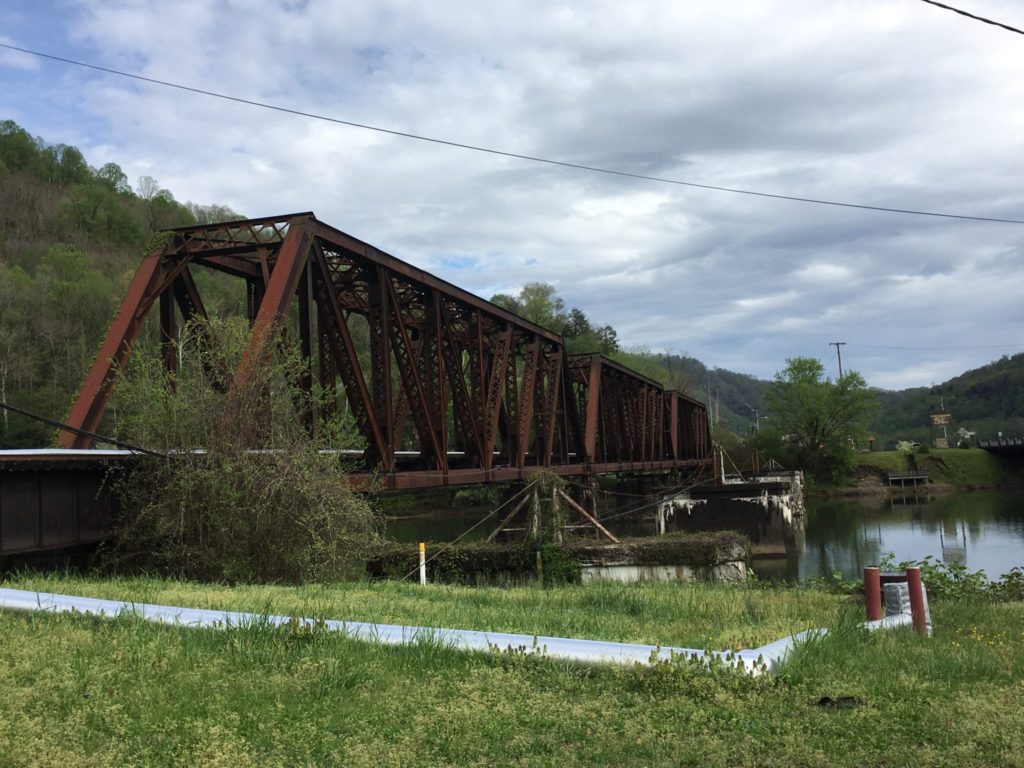 From Gauley Bridge, US 60 follows the route of the Kanawha River.  Another nice set of waterfalls can be seen at Kanawha Falls in Glen Ferris, WV.  The drop of these falls is only about 15 feet, but it is a wide and loud waterfall.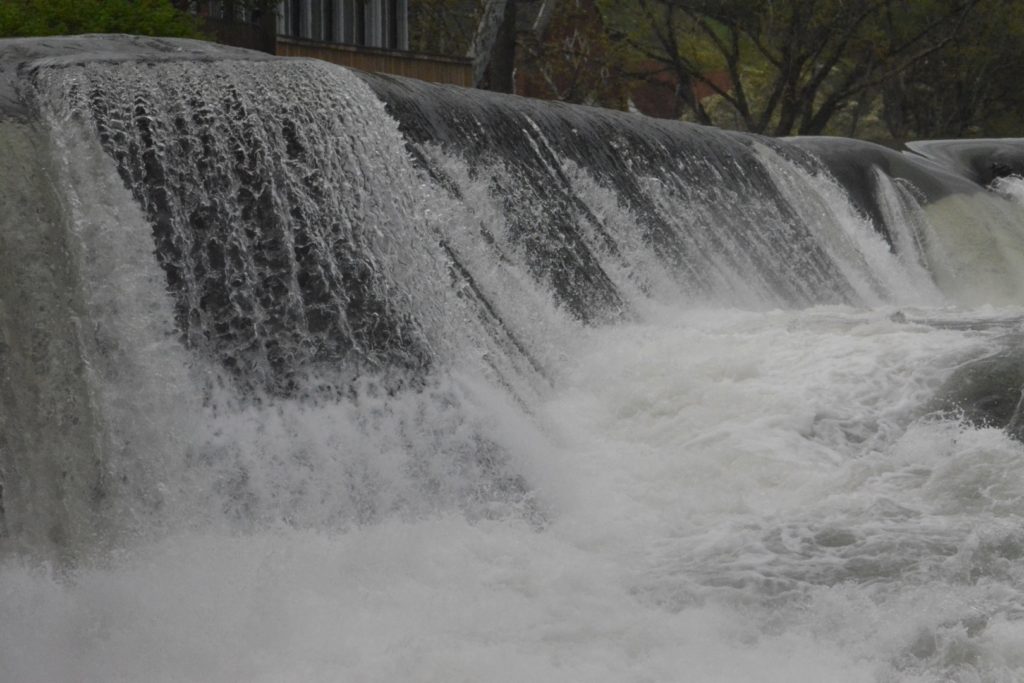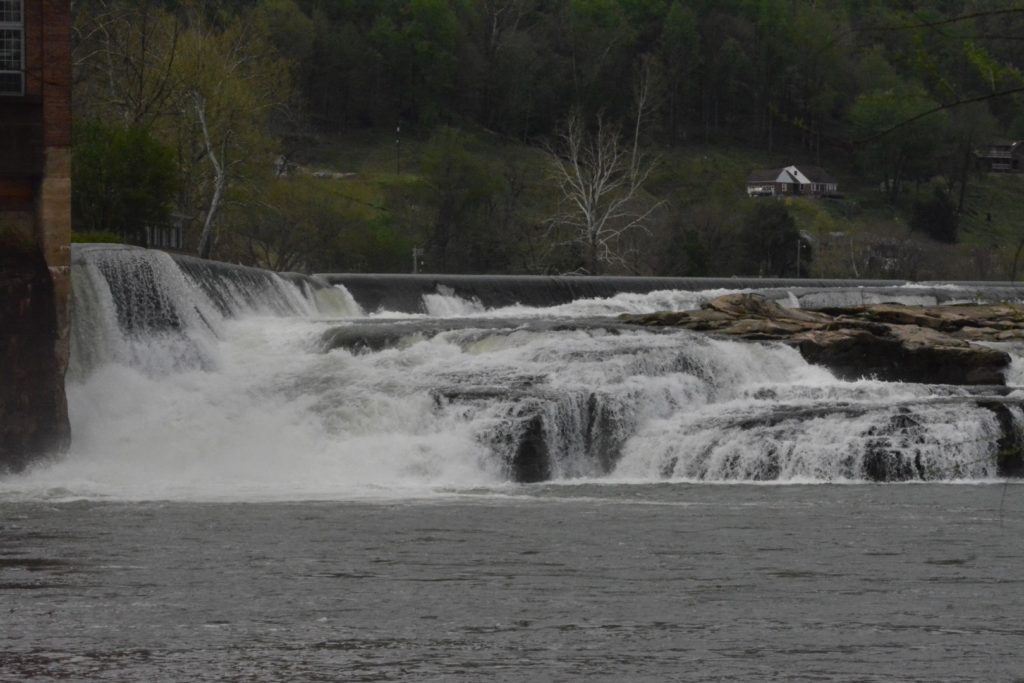 After my brief stop at Kanawha Falls, I continued into Charleston on the winding highway.  It really was a beautiful drive.  And it is always a treat to see the golden dome of the state capitol building.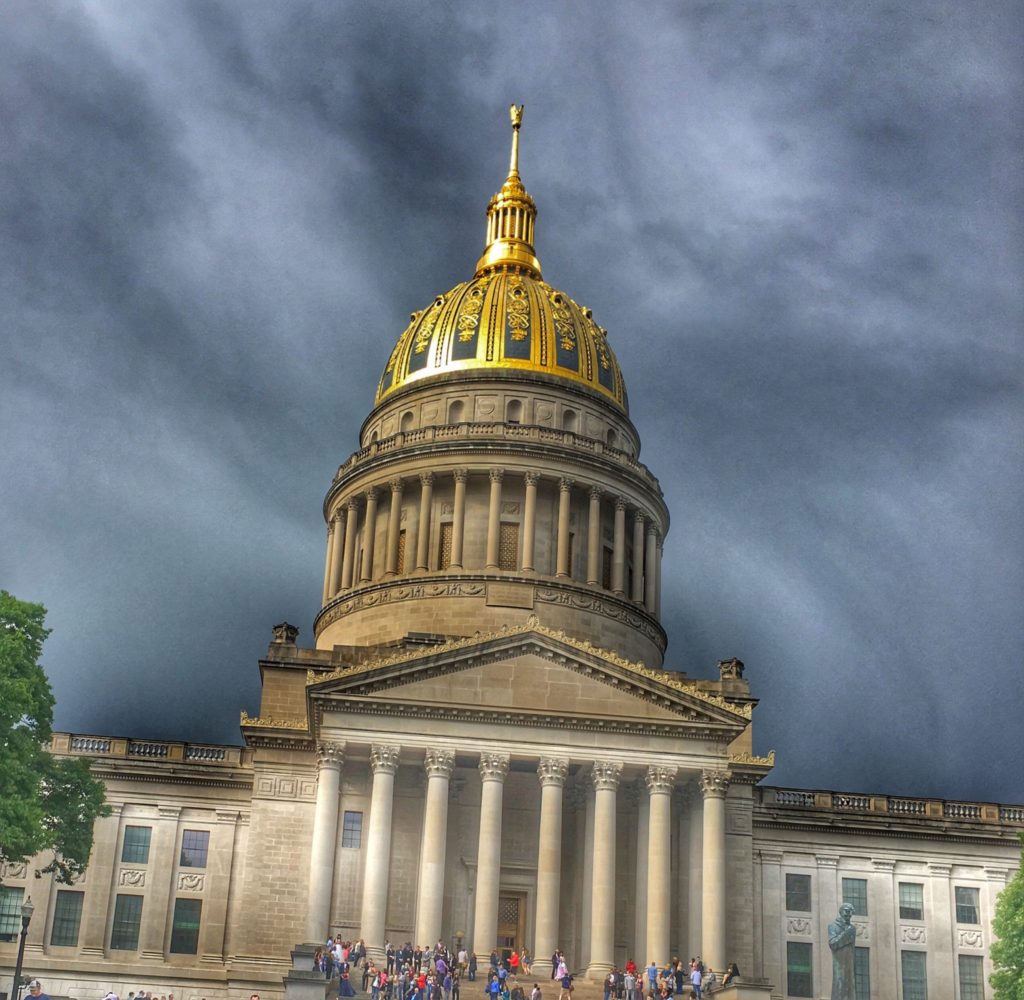 Part 2 will be posted soon and is all about the Charleston area. Part 3 will then be posted about the portion of Route 60 from Charleston to the Kentucky border.