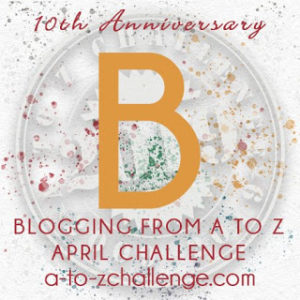 (Editor's Note:  For  my  2019  posts,  I will be posting photos from my travels in 2018.  I visited 26 states and drive over 13,000 miles in 2018.  These posts will feature of few of the road signs and business signs I came across, as well as some stories behind them.  Enjoy the Read and Enjoy the Ride!)
I love to always watch for interesting places on the road.  I will typically grab photos of town signs, road signs and other places.  Here are just a couple of "B" Signs that I came across in my road trips across America in 2018.
Belfair, Washington
As I began my return trip from Port Orchard down WA Hwy 3 (on my way to US 101), I drove through Belfair.  Didn't stop, except for the sign, because I am a big fan of Blue Herons, of which one is featured on this sign.  It was a snowy morning, so I didn't take the time to stop.
Bugtussle, Kentucky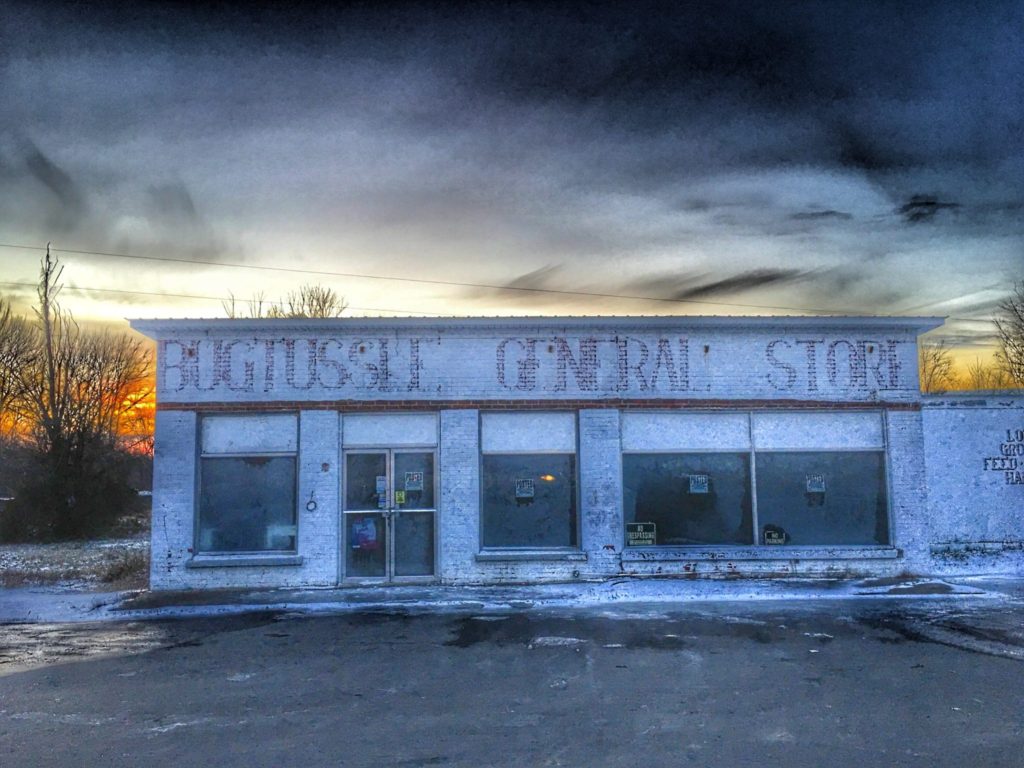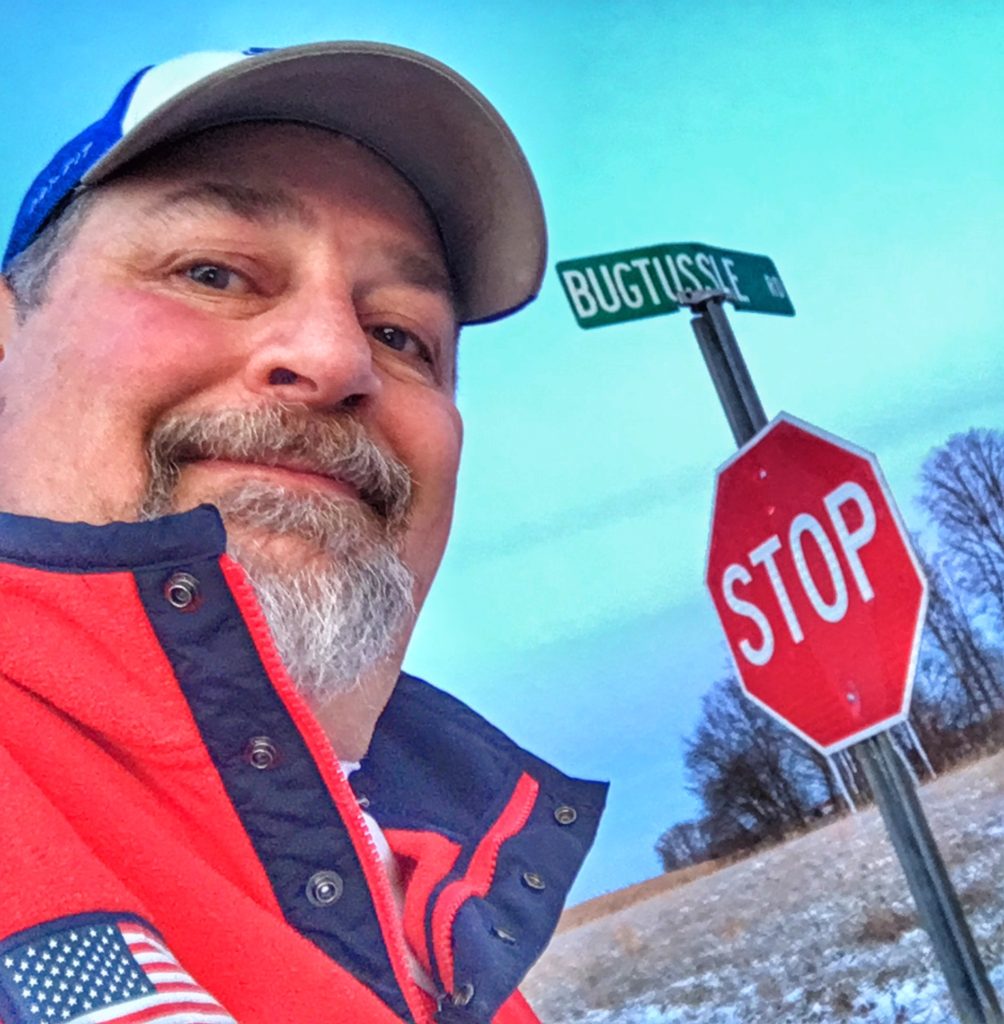 One of my favorite places to talk about (and write about) is Bugtussle, Kentucky.  In my research on the Bugtussles of America, I found three actual places called Bugtussle…one in Kentucky, one in Alabama and one in Texas.  Back in February 2010, I actually drive from Lexington through Bugtussle, KY and all the way to Bugtussle, Texas (at County Rd 34 and FM 1550).  It ended up being an 18 hour drive. But, on this trip, in 2018, I once again visited my old stomping grounds of Bugtussle for a throwback. (You can see my 2010 adventure in this post HERE or HERE)
Bigfoot Road, South Dakota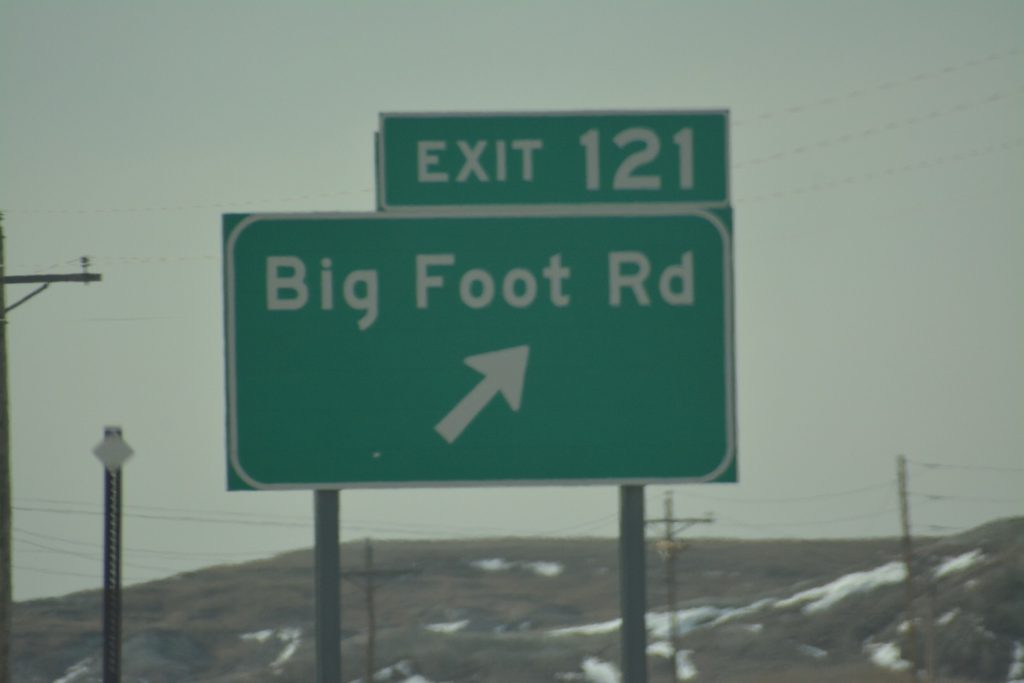 Are you looking for Big Foot?  Maybe this is the road you need.  On I-90 east of Wall Drug in South Dakota is this sign.  I did stop to take this photo in April 2018.  I did not take Big Foot Road and I did not see Big Foot.  About 10 miles further west I did see an 80 foot dinosaur.
Bat Bar, Austin, Texas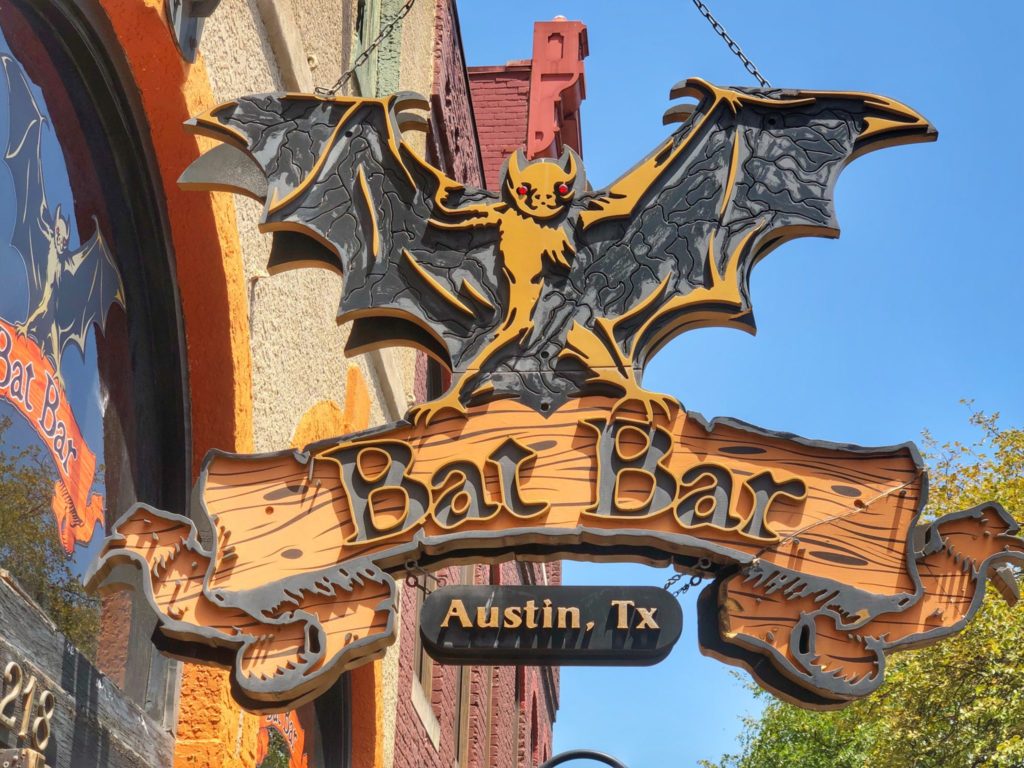 A visit to Austin's 6th Street is loads of fun.  Lots of stuff happening…music and pubs and other fun places.  I took the grandkids to the Famed Voodoo Doughnut in Austin (originated in Portland…been there too).   The Bat Bar was right next door and the sign is a classic!
Billy Burgers, Wilbur, Washington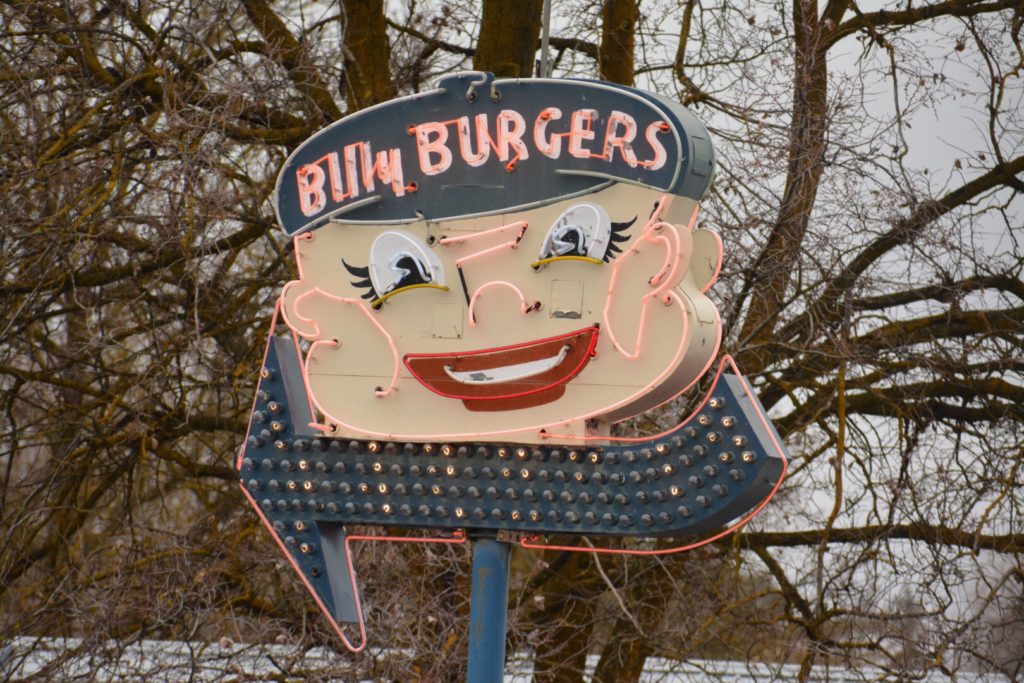 I wasn't planning to add many neon signs to this years' posts, but I couldn't resist this one.  Sadly, I drove by in the morning and they were not open yet.  Would have enjoyed trying out a Billy Burger in Wilbur, Washington
Belle Inn, Belle Fourche, South Dakota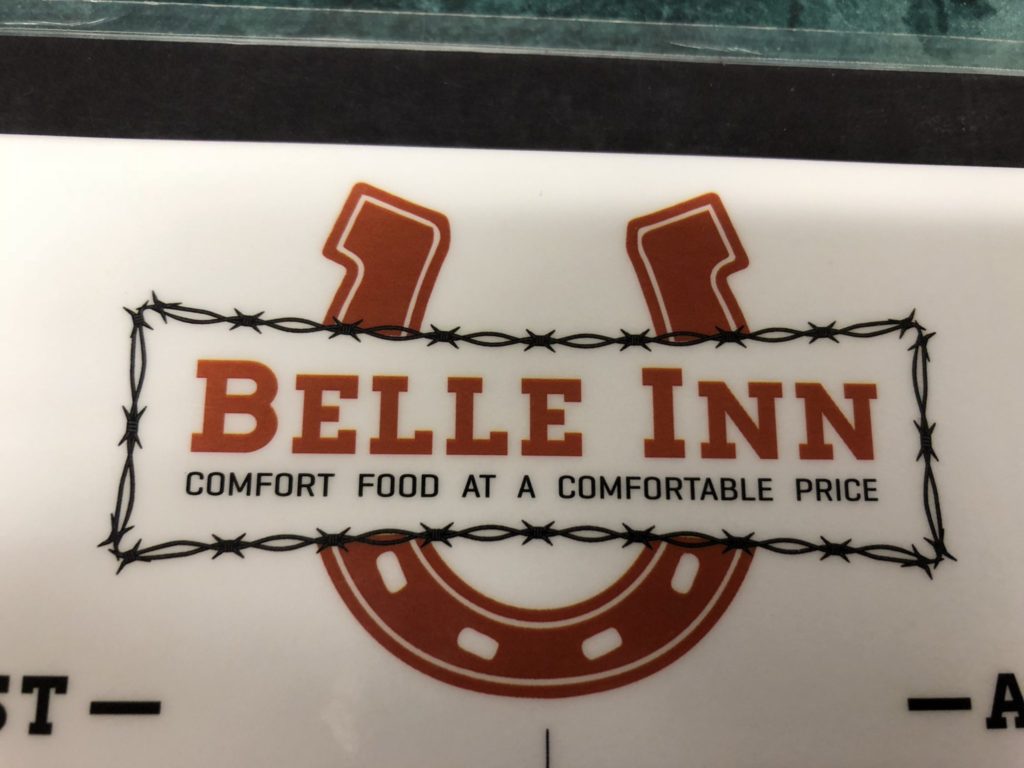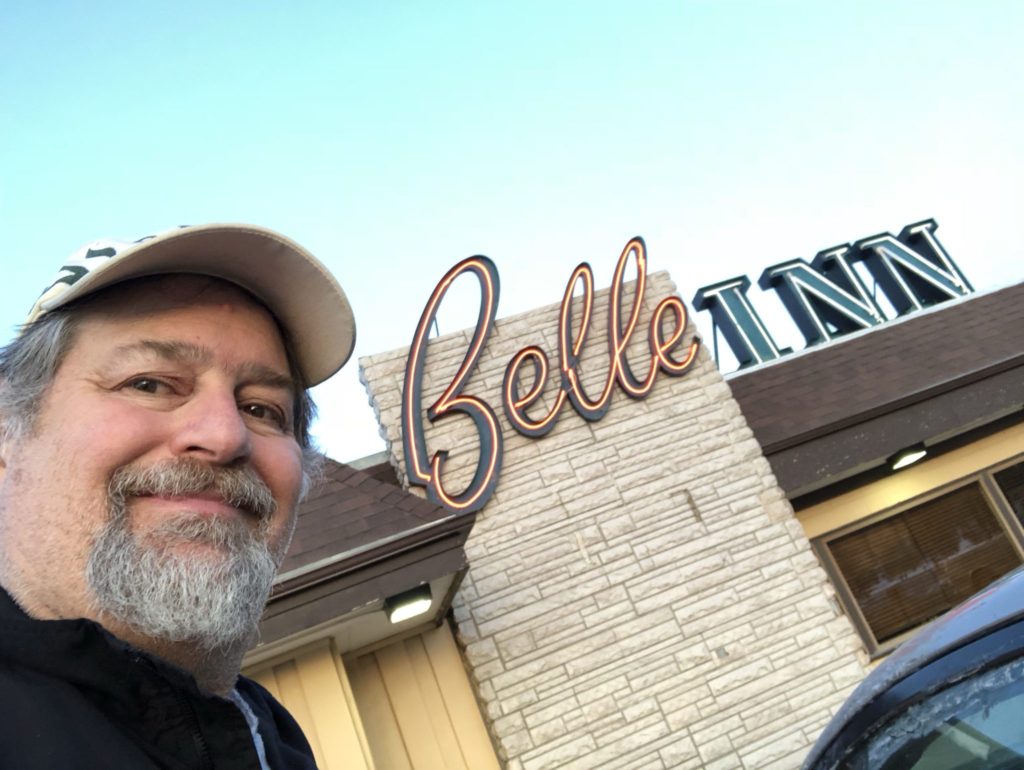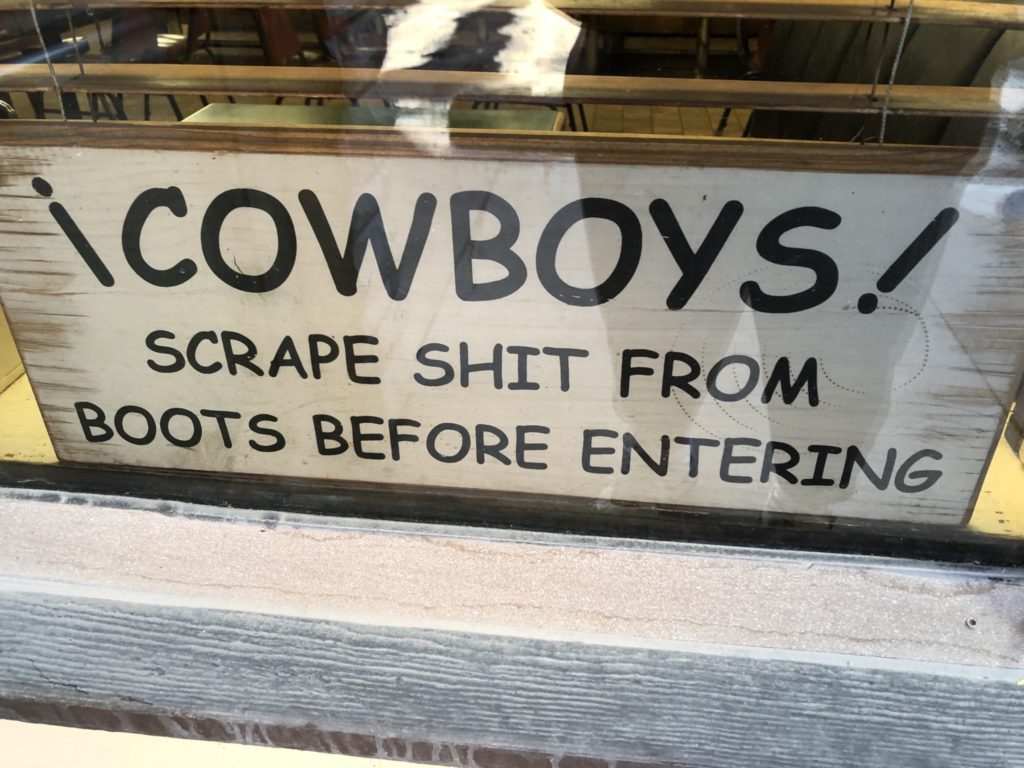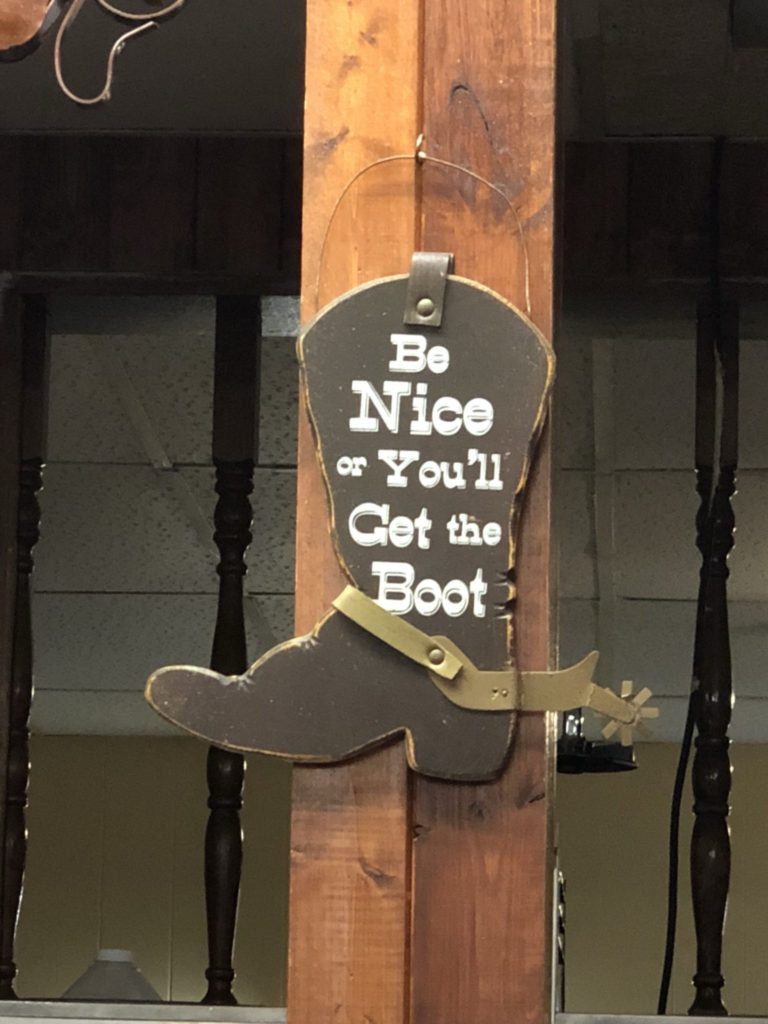 I always love a place with a sense of humor.  It is even better when the place is an eating establishment and actually has GOOD food to go along with the humor.  Such is the case with the Belle Inn Restaurant in Belle Fourche, South Dakota.  I went in by chance and had a great meal.  The head chef is also a biker…goes to Sturgis every year.  What more do you want?  By the way, I wasn't wearing boots…so I didn't have an issue.
Looking for a unique and fun gift for yourself or  your traveler friends? How about a book about offbeat and quirky places to take on your road trips? You can see both of my books at http://amzn.to/2ks6fQZ. Working on Book 3, coming in late Spring 2019!!