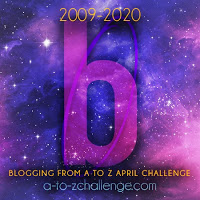 In early 2020 I traveled across the country with one of my daughters and three grandchildren.  We traveled 8154 miles through 20 states over the course of three weeks.  My A to Z posts this year will have the "8154" theme, which will also be the title of my forthcoming new book that will document the epic road trip.  Each entry will highlight a few stories with photos based on the alphabet, and not the order of the trip  I hope you will enjoy this bouncy ride across the back roads of America.  Please enjoy the A Stories. (all photography by David "Sumoflam" Kravetz)
Bald Eagles – all over
On our 8154 mile drive across the United States, we were fortunate enough to see 24 Bald Eagles…we saw them in South Dakota, Wyoming, Montana, Washington, Oregon and California.  Not all sightings provided photo opportunities, but we did get some.  Perhaps my BEST EVER Bald Eagle shot came from west of Davenport, Washington on US Route 2.  We saw two eagles fighting over a position a top of a telephone pole along the side of the road. We pulled up to about 30 feet away and that eagle WAS NOT going to give up its spot.  Well, here it is, along with a few others we were able to see.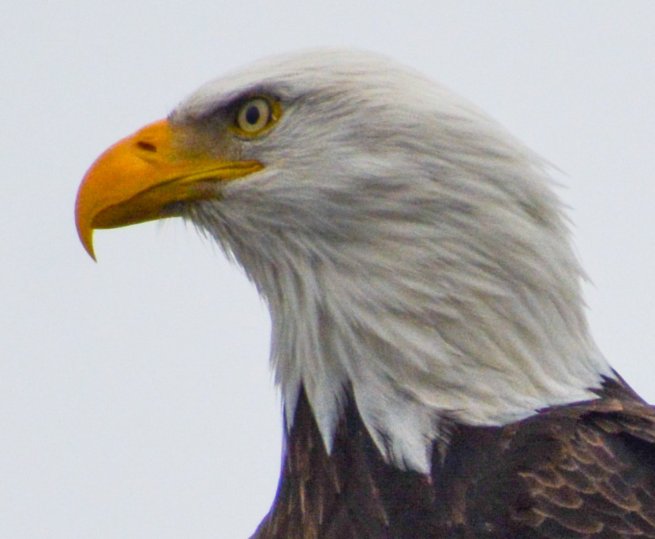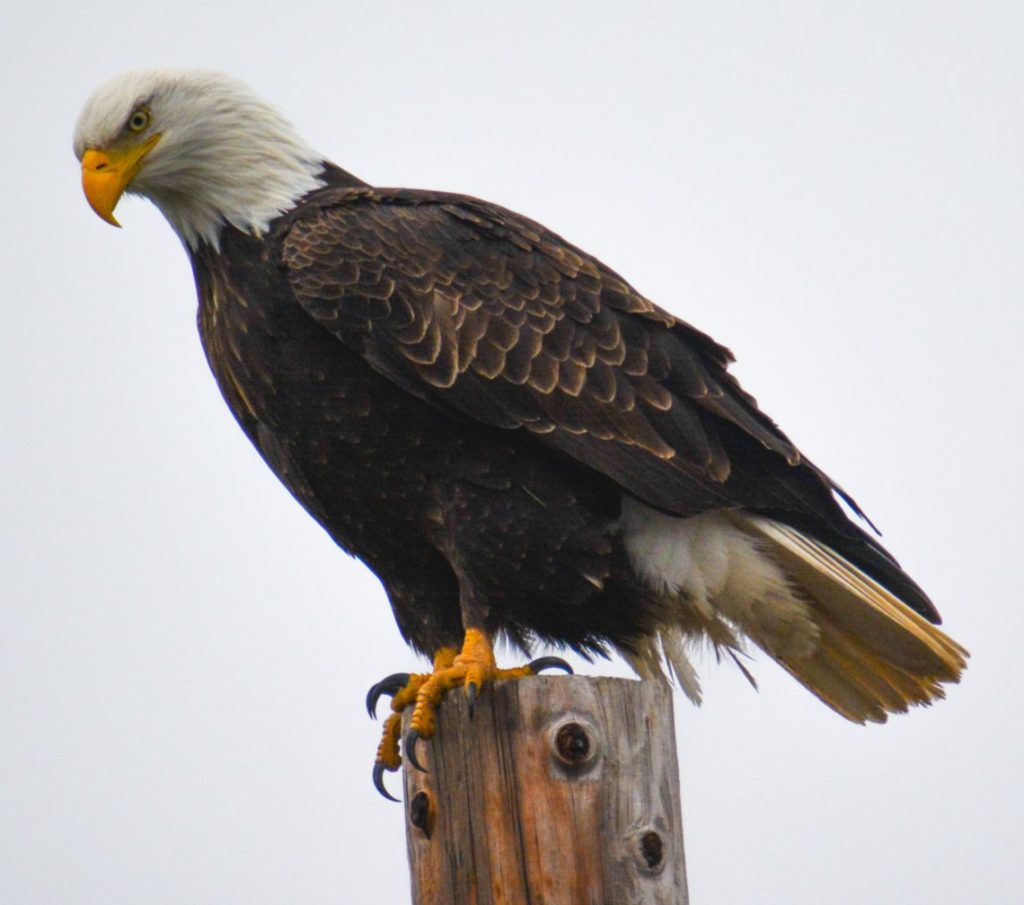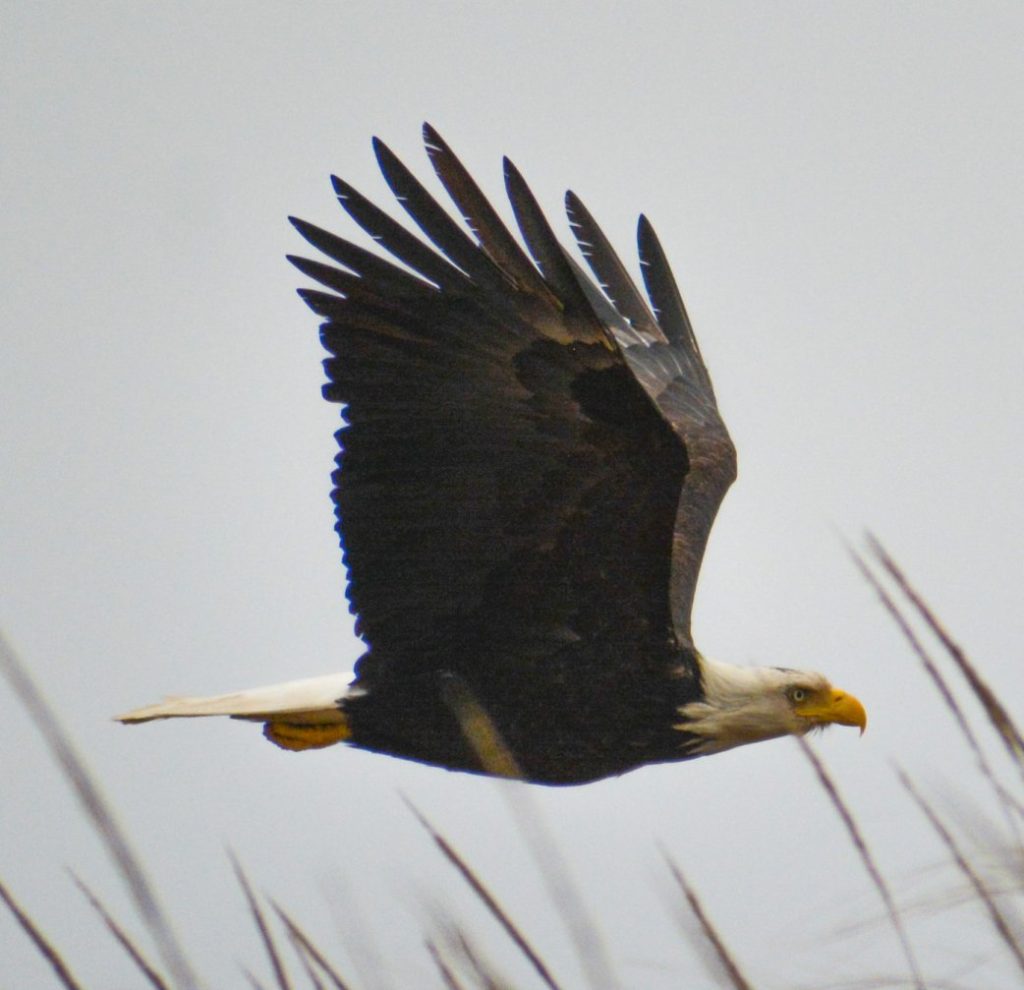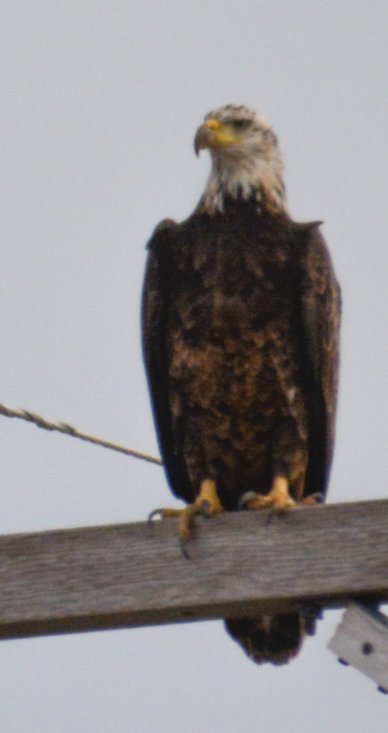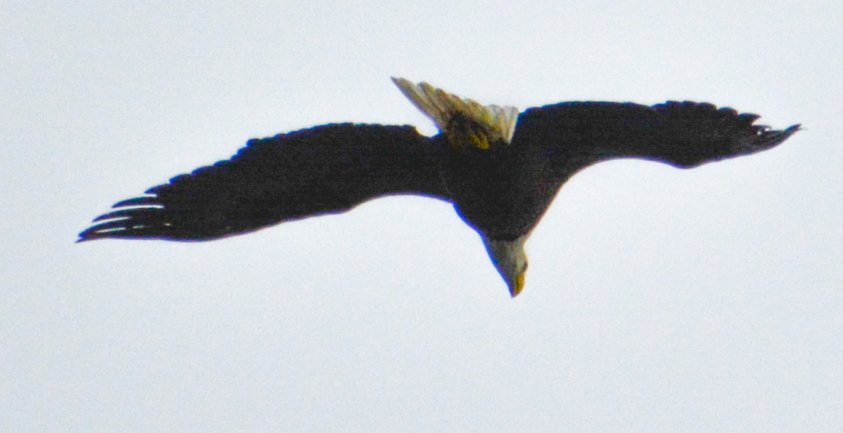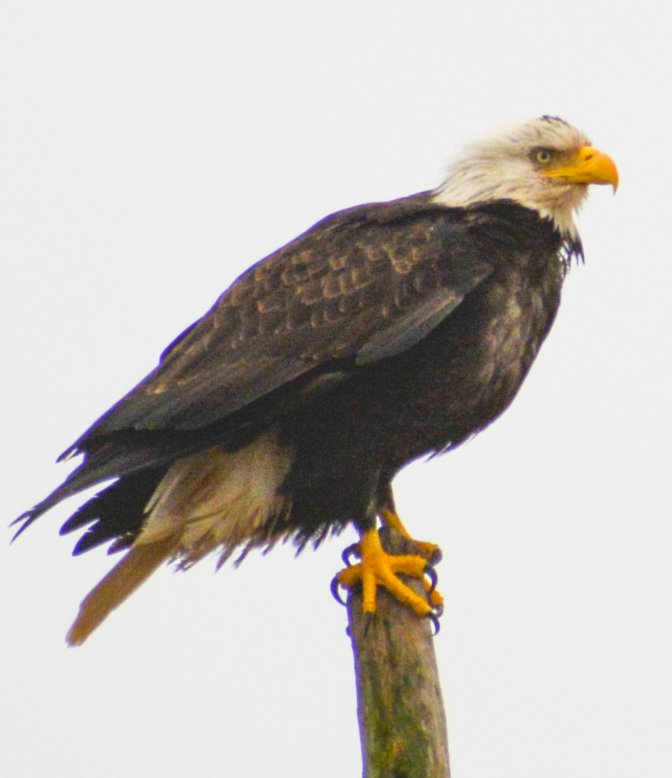 Barstow, California
Barstow lives and dies on Route 66 basically.  Nice little town.  We stayed the night here.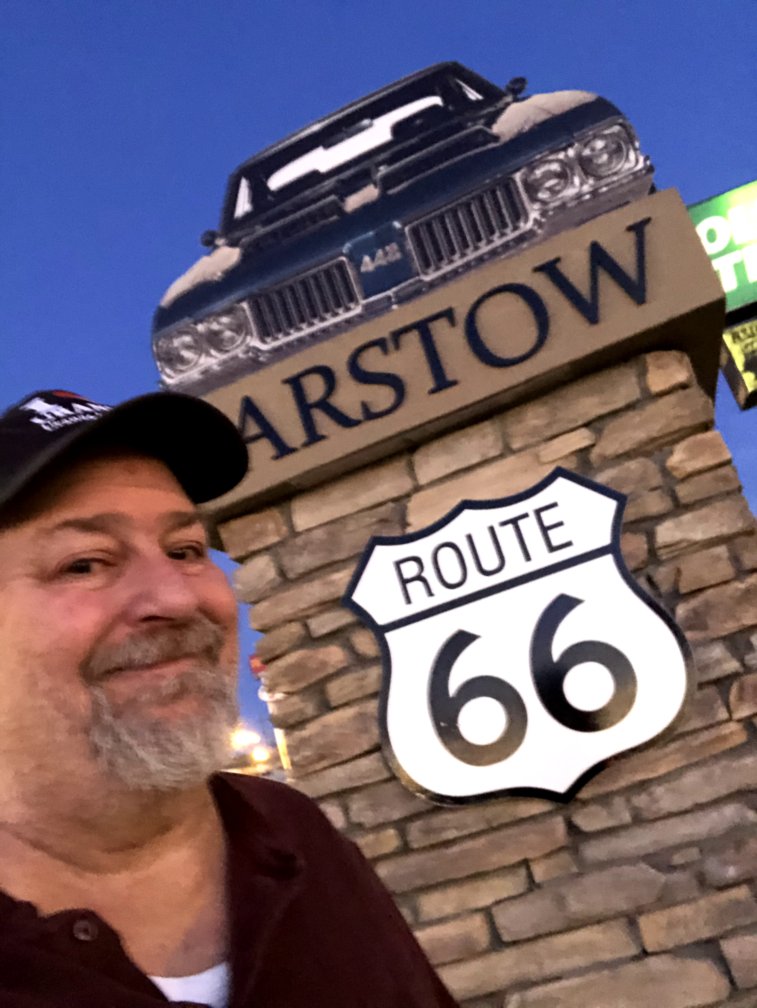 Bigfoot Sightings – Uncertain, Texas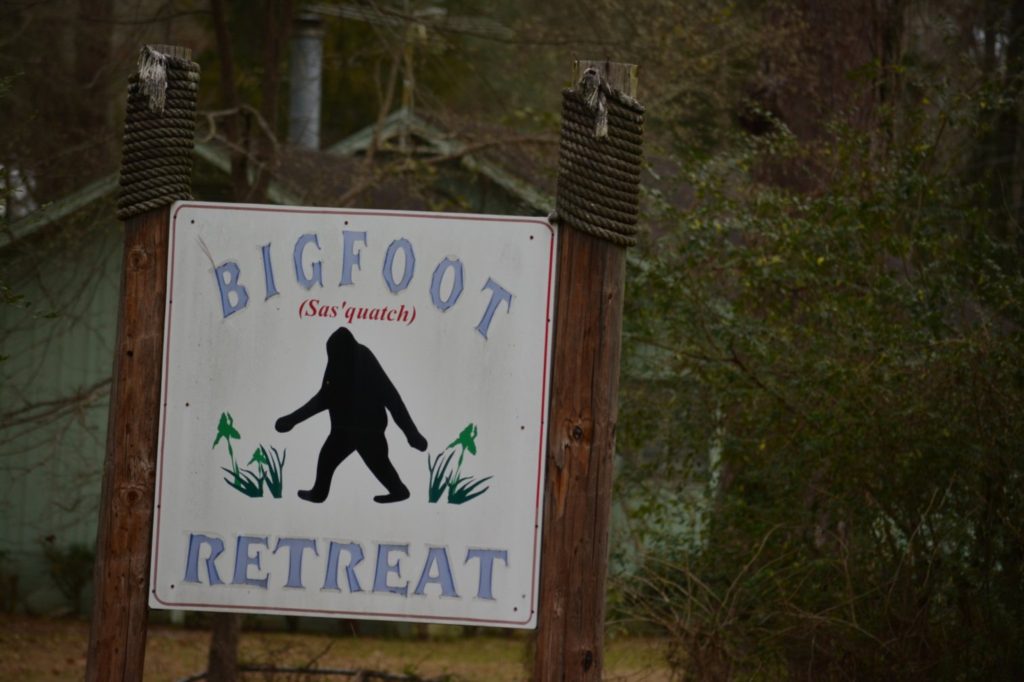 Bowlin's Bluewater Outpost – Bluewater, NM
Many of you know that I am a big fan of the Bowlin Travel Centers.  In my third book I had a chapter dedicated to Bowlin's The Thing in Dragoon, Arizona.  I have visited others as well.  Bowlin is famous for their gazillion billboards along the highways of Arizona and New Mexico.  Bluewater Outpost is in Bluewater, New Mexico, a lovely area of the state.  When I was about 8 years old our family went to Bluewater and rented a cabin by the lake.  It was my first experience riding a horse.  On this trip we didn't have the time to stop, but I wanted to honor my friends at Bowlin with a little shoutout.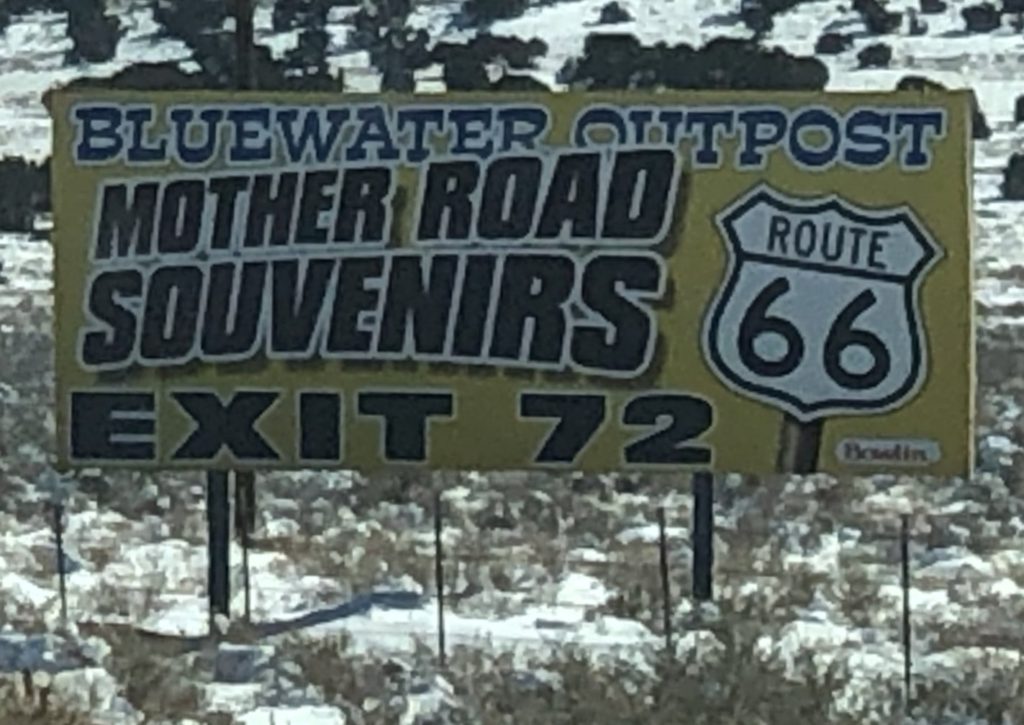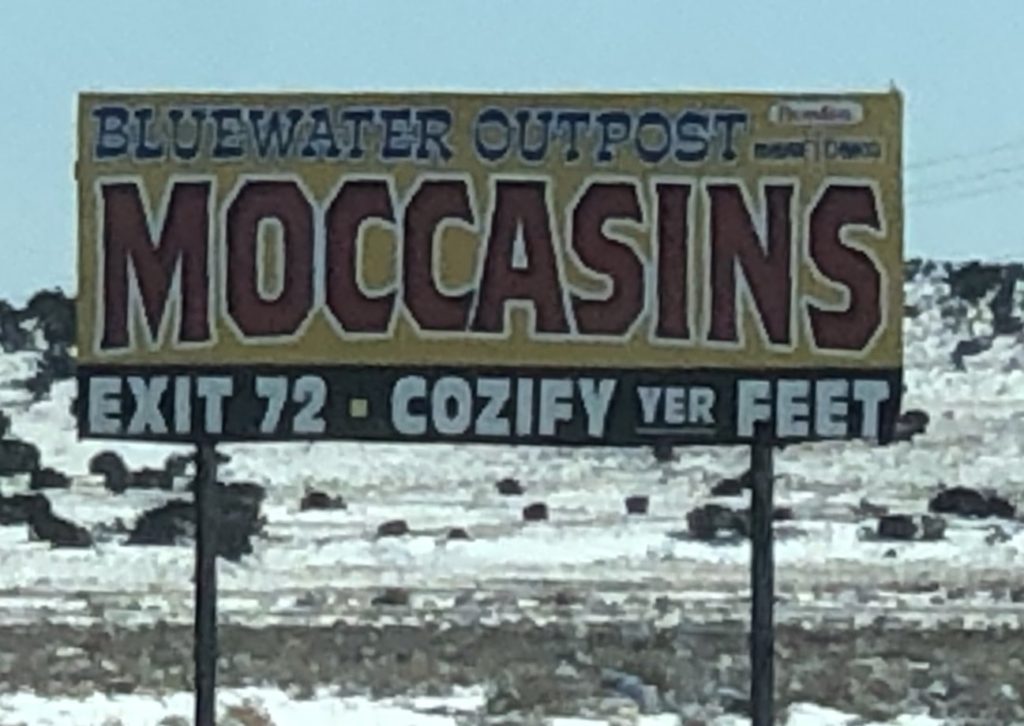 Bovina, Texas
We just passed by.  Another interesting town name.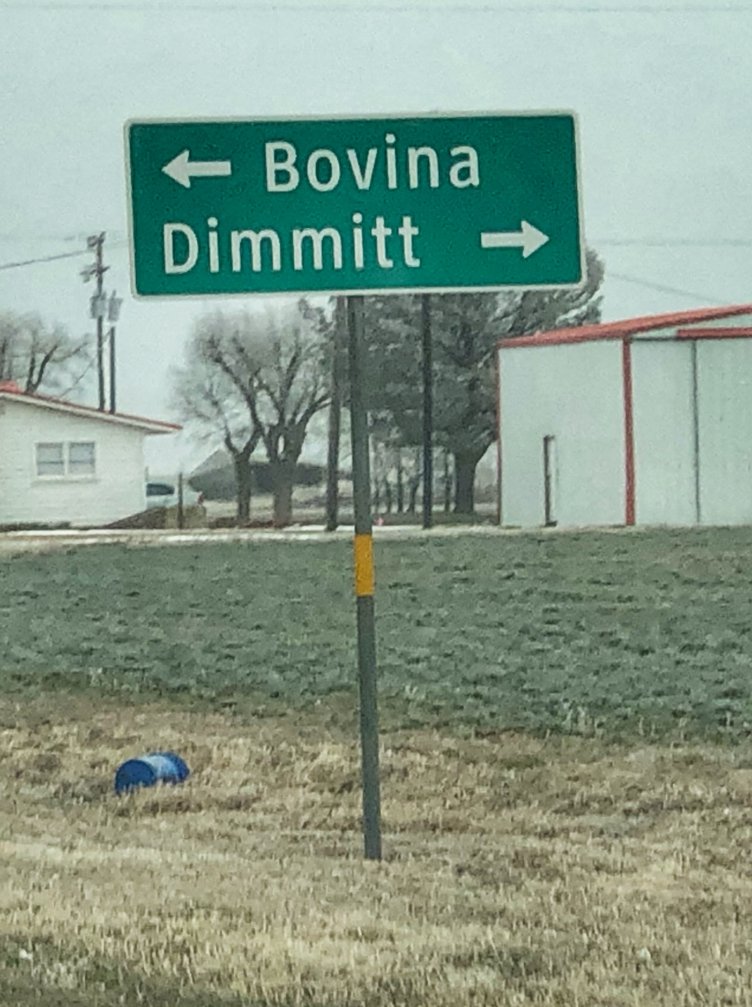 Bill's Place – Santa Rosa, New Mexico
We drive through the Route 66 town of Santa Rosa, NM on our way home.  Lots of neon.  We didn't stop for much, but I took a couple of shots of Route 66ish stuff there.  Bill's Place is a bar.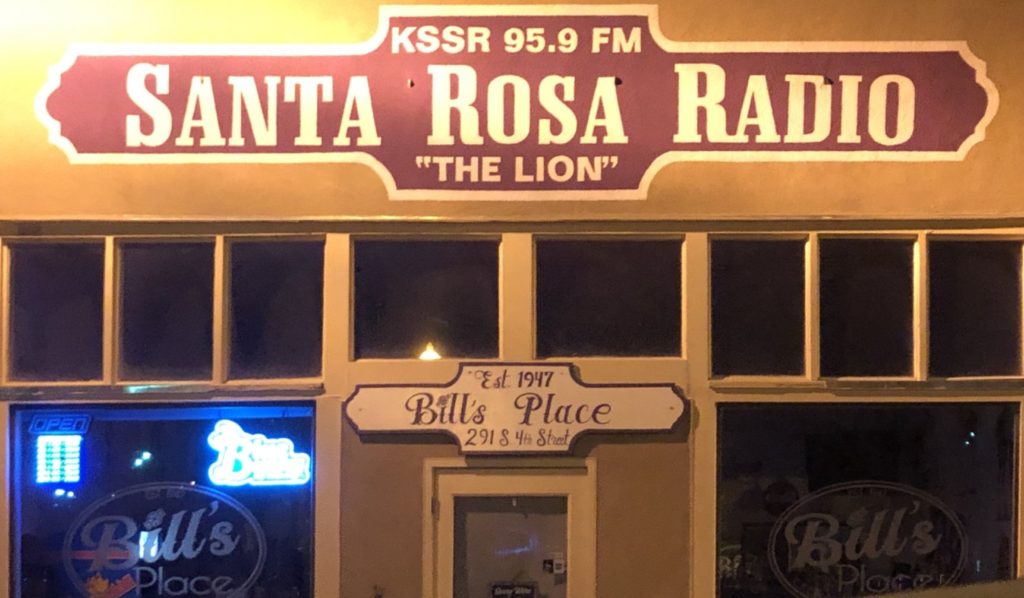 Billy the Kid Museum – Fort Sumner, New Mexico
It was late as we drove through Fort Sumner, New Mexico on our way to our overnight stay in Clovis, New Mexico.  I ran into the Billy the Kid Museum and took a shot. It was obviously closed at that late hour, but I thought it unique.
Bacon Soda (with Maple Syrup) – Nipton, California
We made our from Baker, California towards Searchlight, Nevada and passed through the small community of Nipton, California, which has a unique trading post.  One of the things they sell there are really quirky soda flavors.  The Bacon Soda and other unique flavors are created by a company called Lester's Fixins.  They have other flavors such as Buffalo Wing, Peanut Butter & Jelly, Pumpkin Pie, Ranch Dressing and Sweet Corn.  Oh, and I can't forget the Dill Pickle flavor!! Lester's Fixins is owned by Rocket Fizz, a Soda and Candy Shop based out of Camarillo, California. They have franchise shops all over the United States and even a couple in Canada.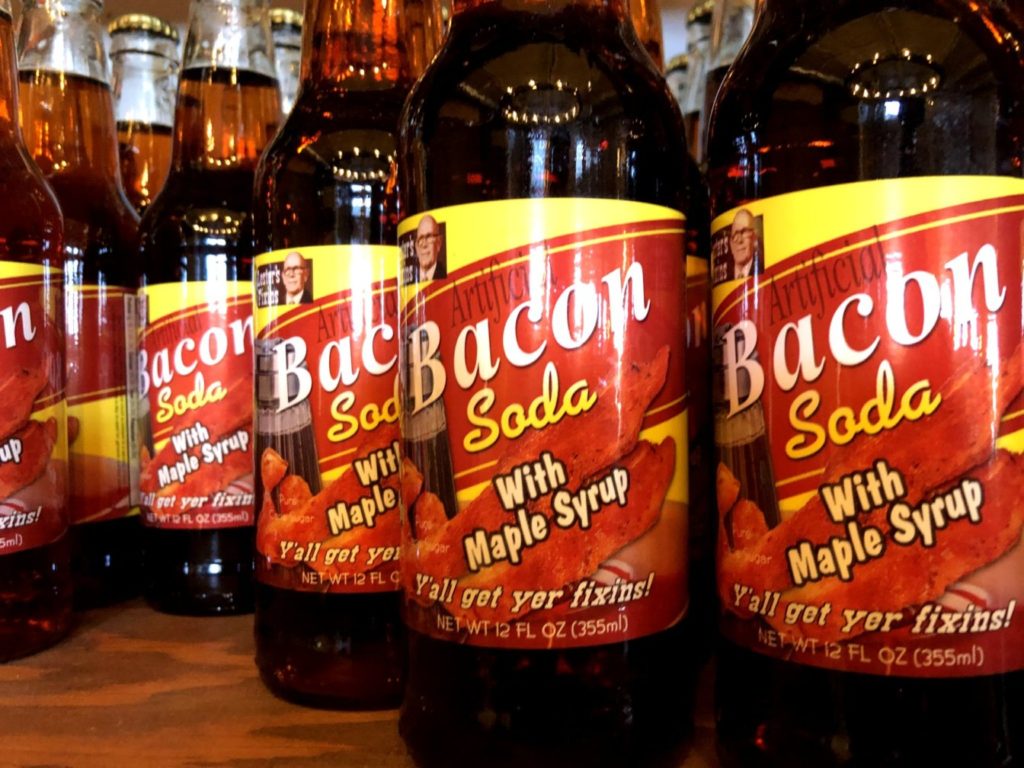 The Big Orange at Mesa Verde Ranch – Lemon Cove, California
As we drove from Cambria, California to Sequoia National Park along CA Highway 198, we passed through the small community of Lemon Cove.  It was exciting for me as I hadn't seen citrus trees in years (since our time in Mesa, AZ in the 1990s). We stopped at The Big Orange owned by Mesa Verde Ranch and bought some fresh oranges.  Yummiferous!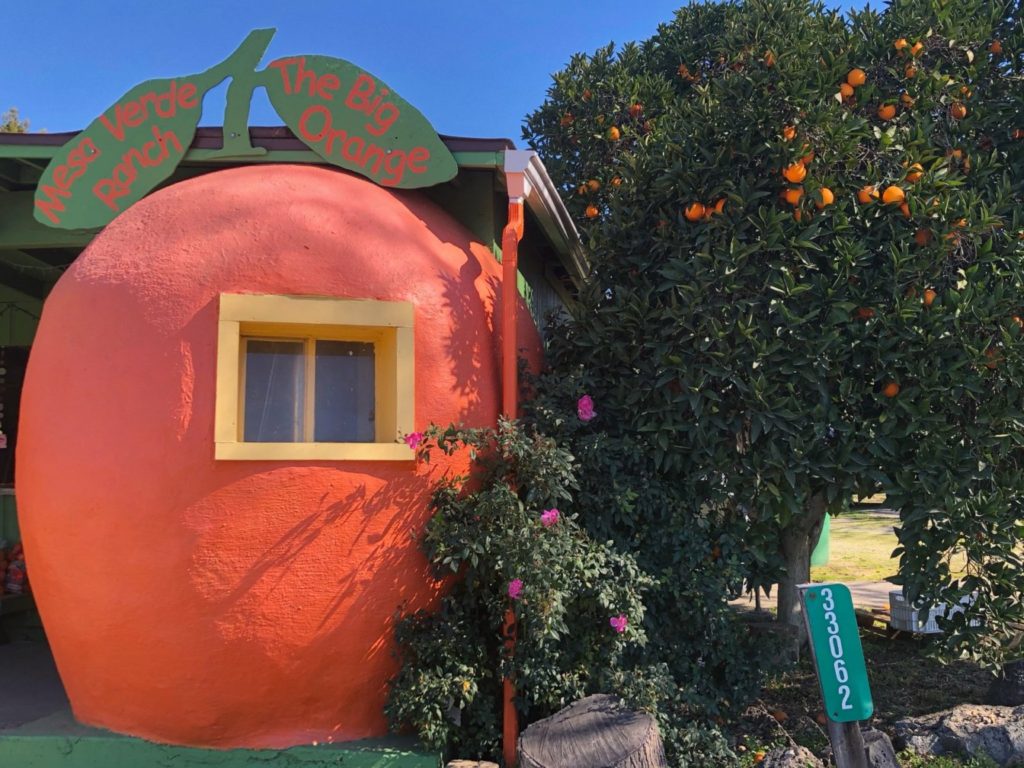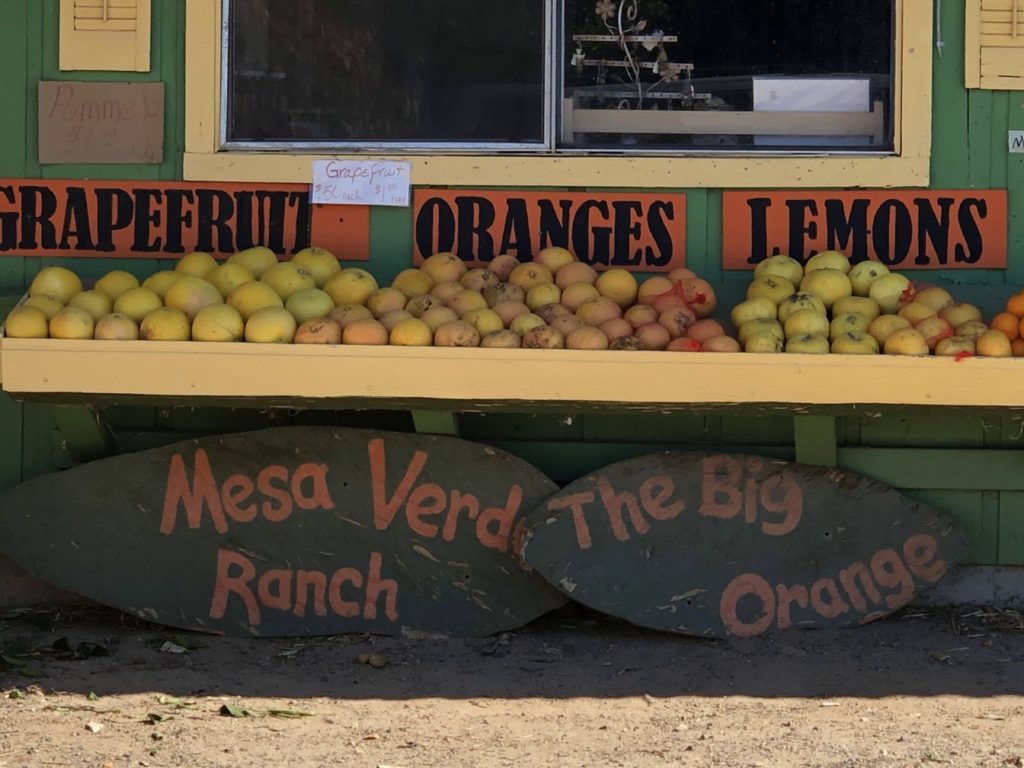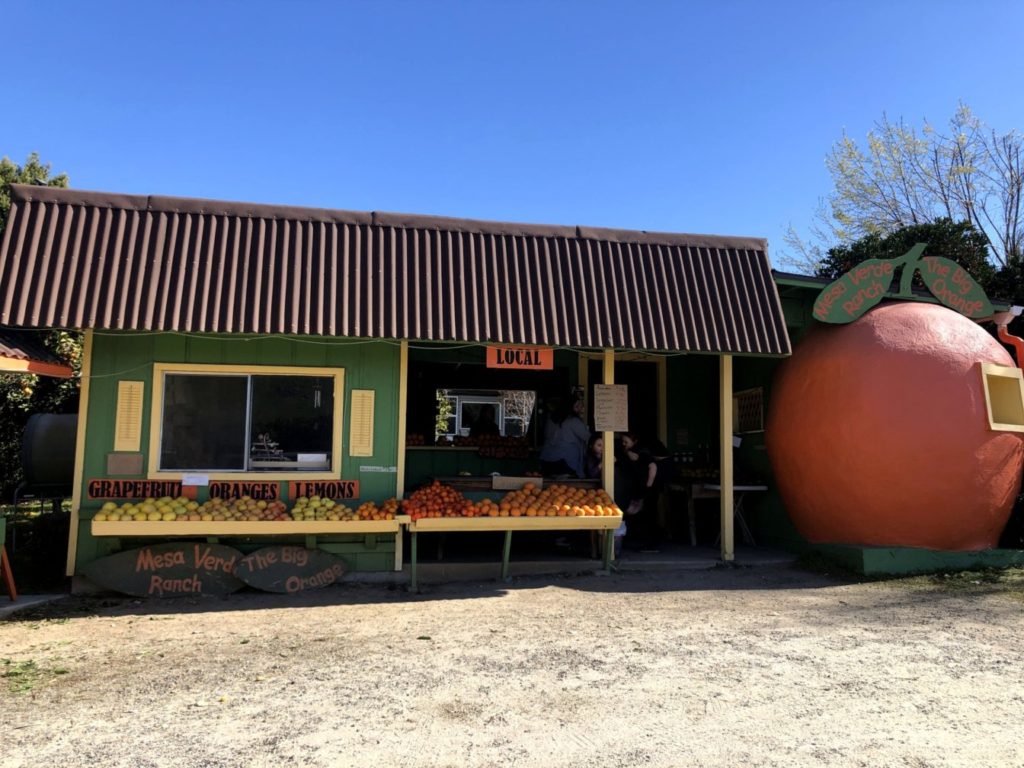 Bison Art – Quitaque, Texas
On our drive from Clovis, New Mexico into the southern panhandle area of Texas, we drove through the town of Quitaque (pronounced kitty-kway by the locals).  It claims to be the "Official Bison Capital of Texas."  My love for murals drove me to shoot a couple of their lovely murals.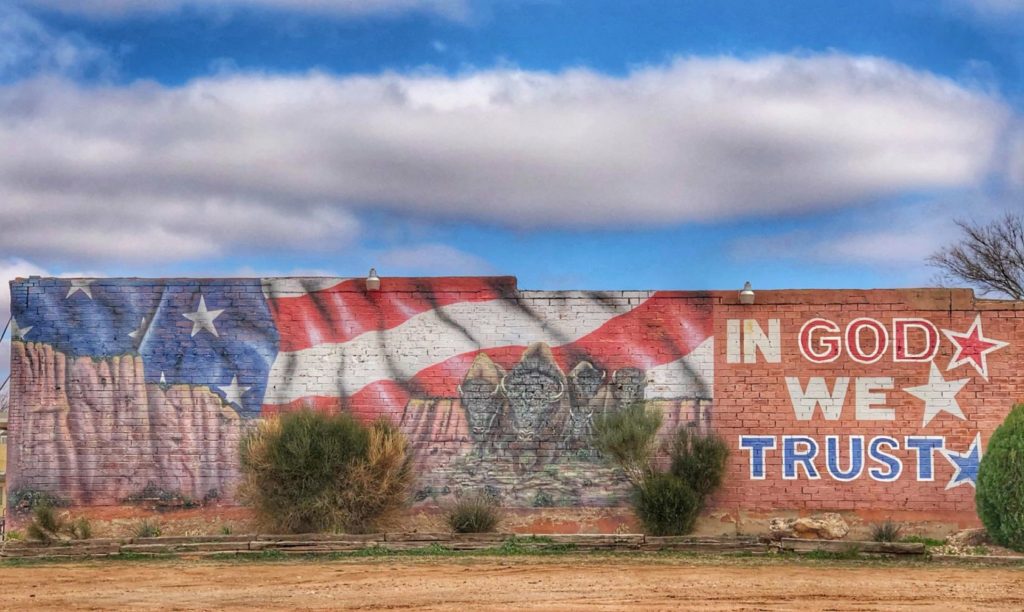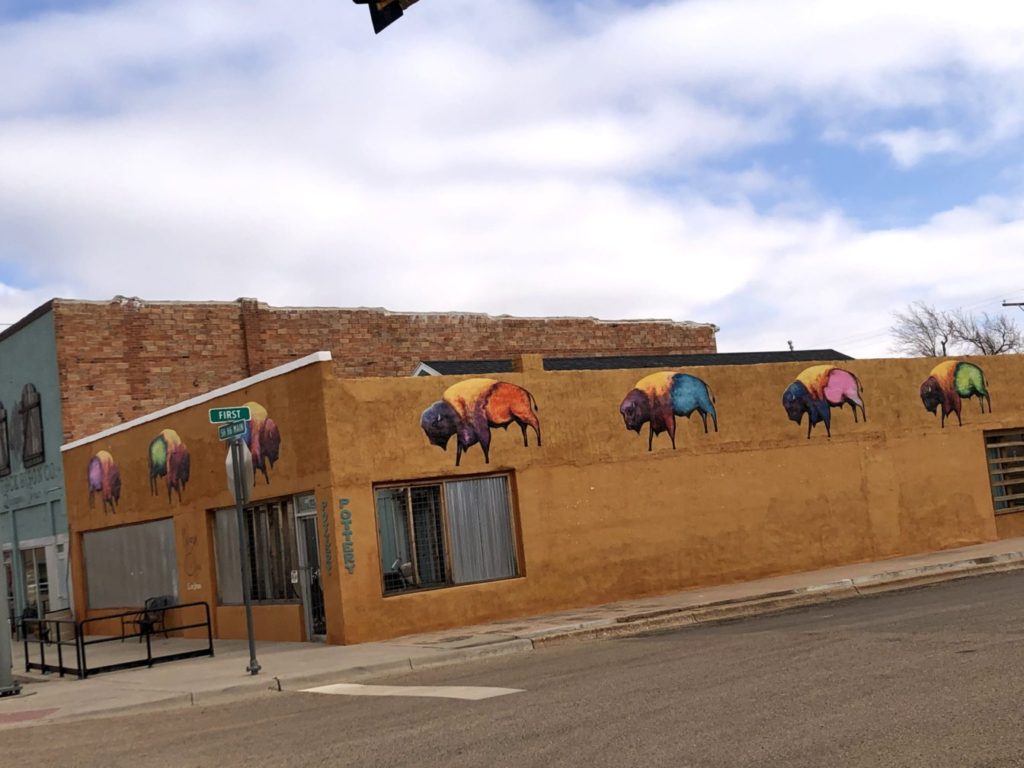 Speaking of Bison – Custer State Park, South Dakota
As we made our way north from Alliance, Nebraska towards Mount Rushmore in South Dakota, we passed through Wind Cave National Park and then through Custer State Park, both on SD Hwy 87 and then to US Route 16A.  Along the way we took the famed Wildlife Loop Road in search of bison (also called buffalo). There are over 1500 head of these large animals in the park.  We were fortunate to drive right into a dozen of them.  Here are some closeup shots of the North American Bison.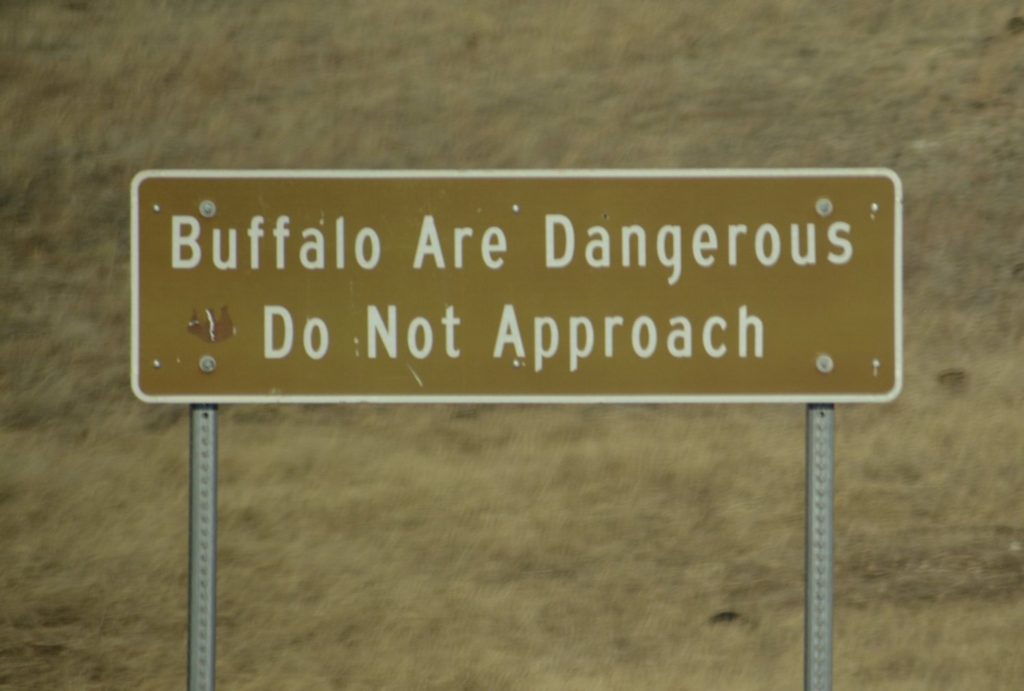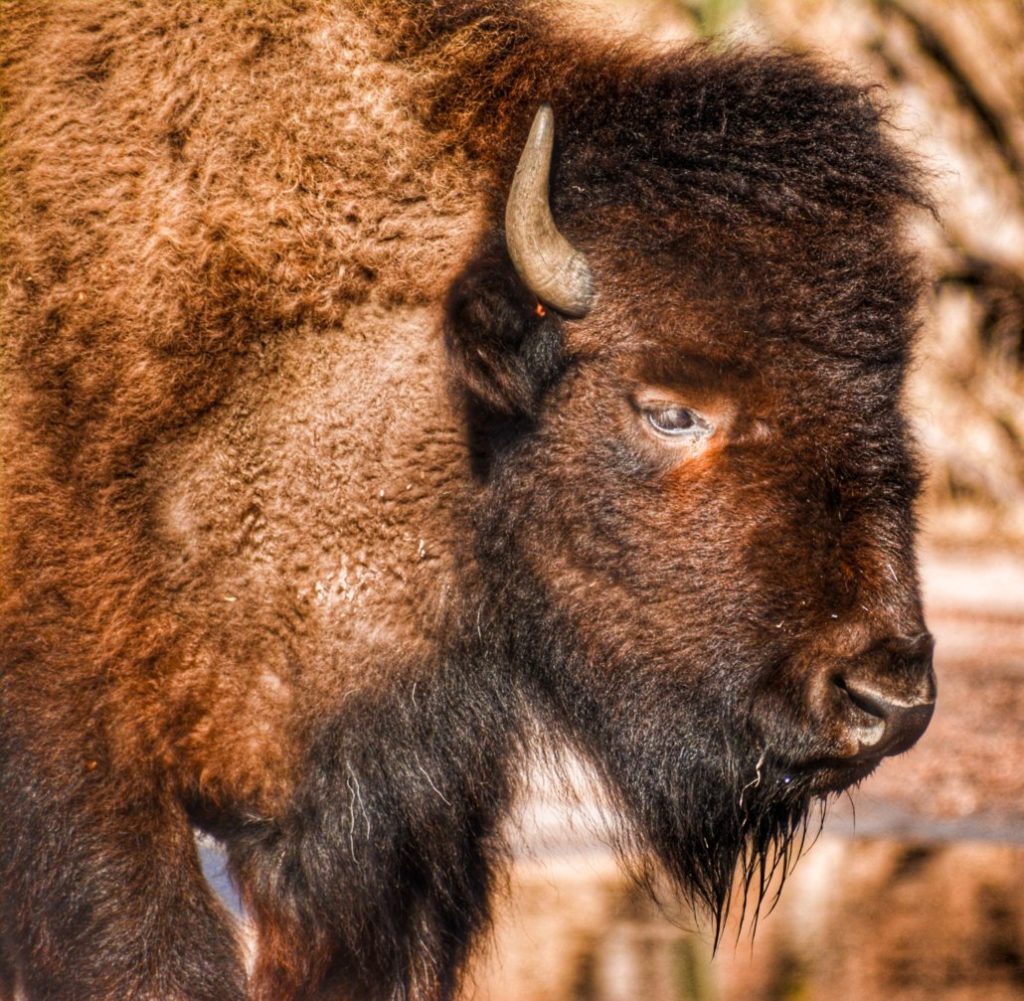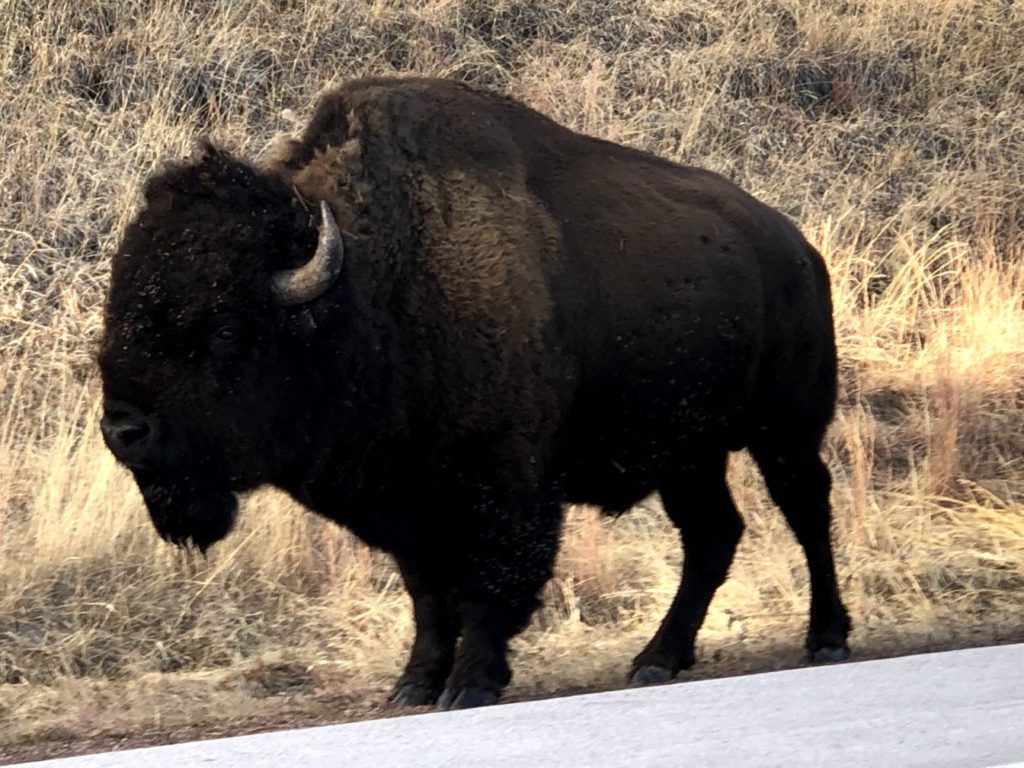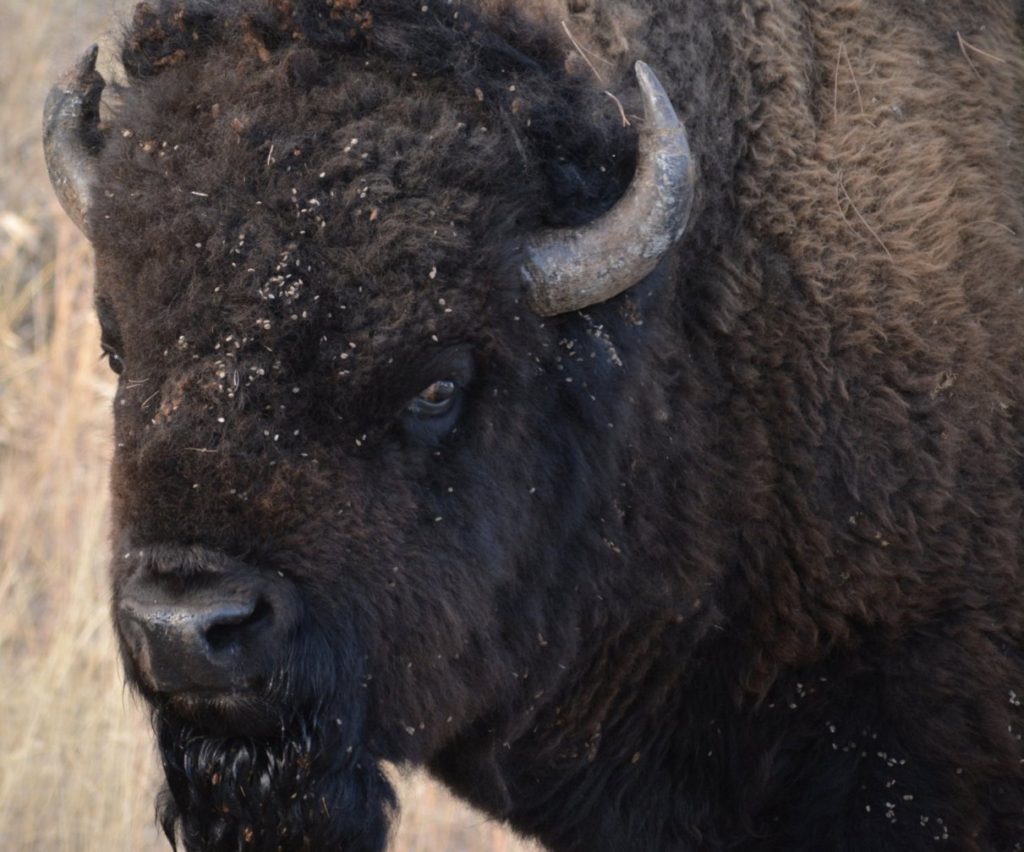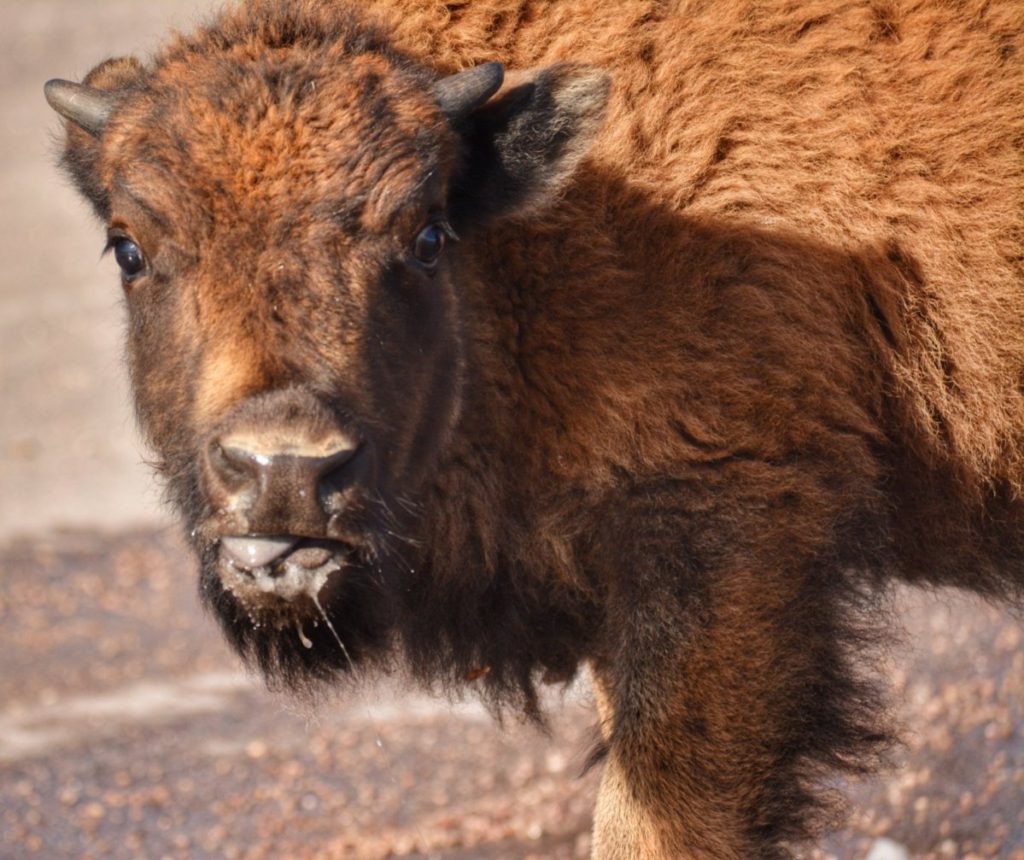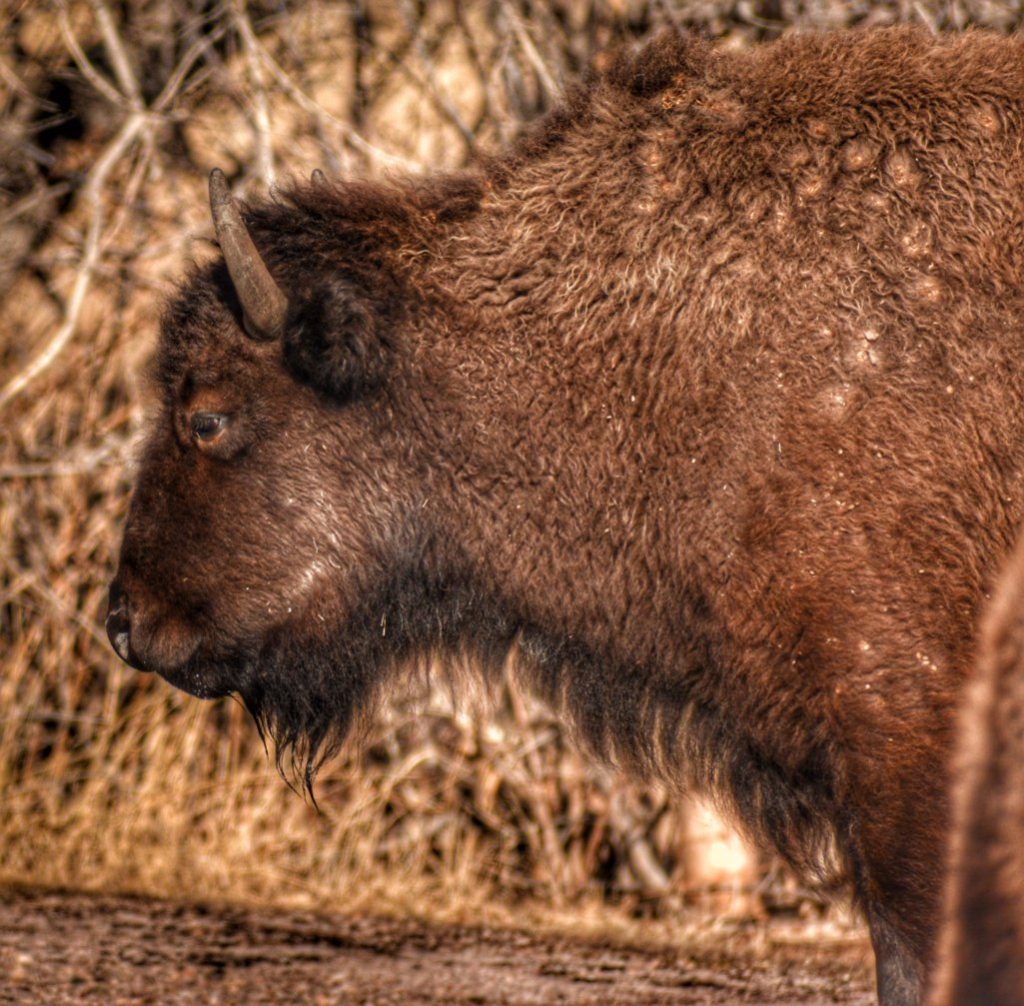 Buffalo, Wyoming
Keeping on the buffalo / bison theme, on the same day as our Custer State Park trip, we meandered into Buffalo, Wyoming. A nice little town of about 5000, it is full of buffalo themes.  I was especially fond of the beautiful buffalo mural.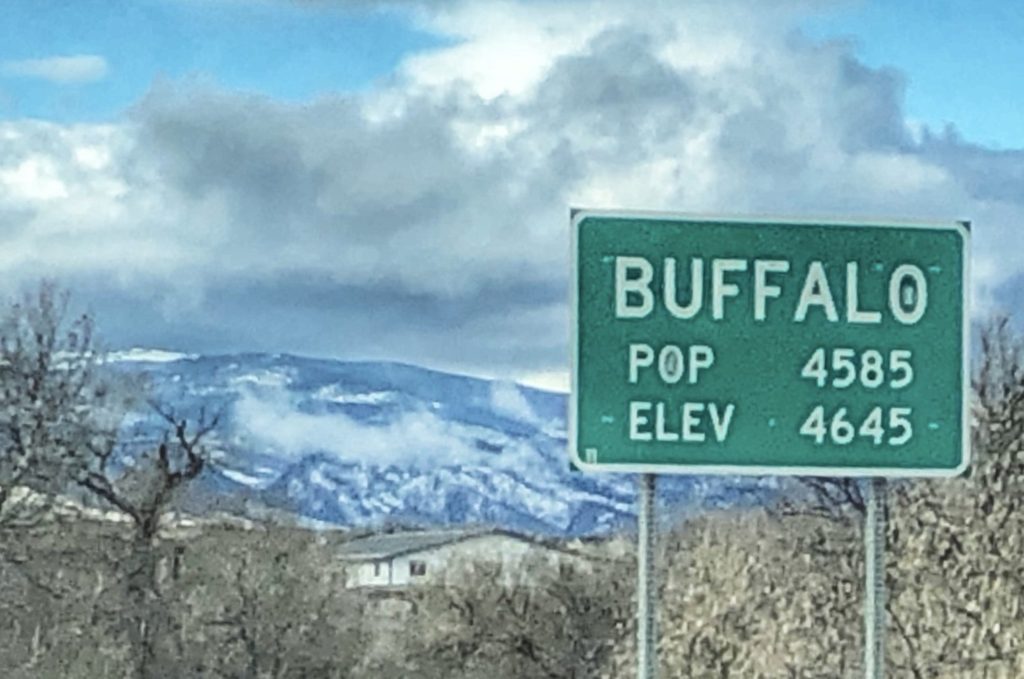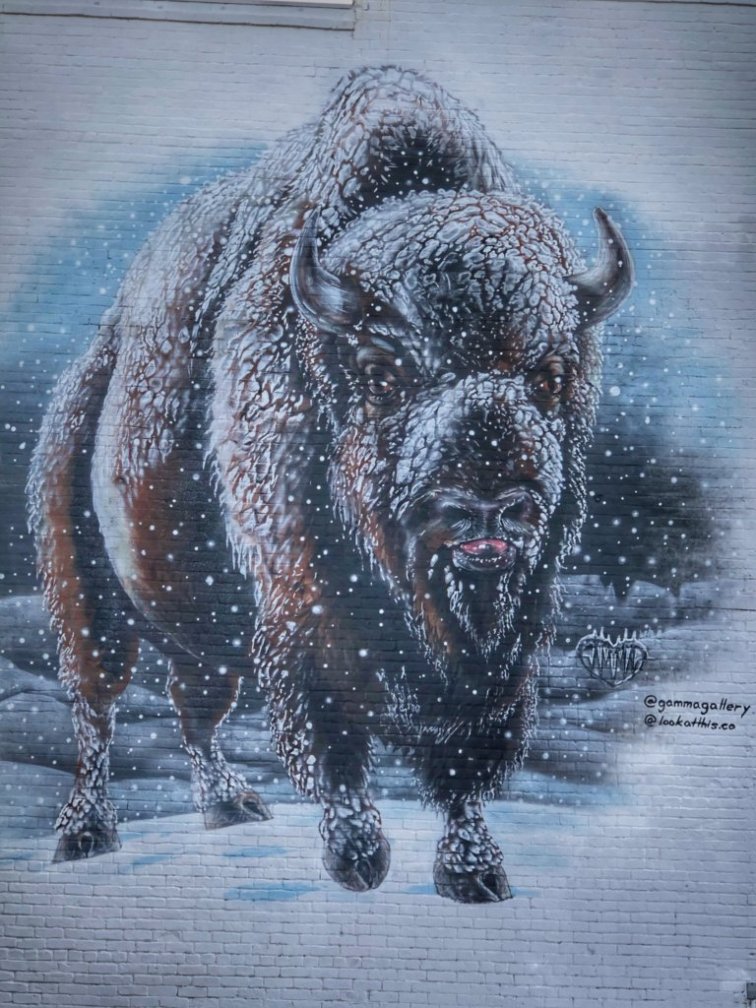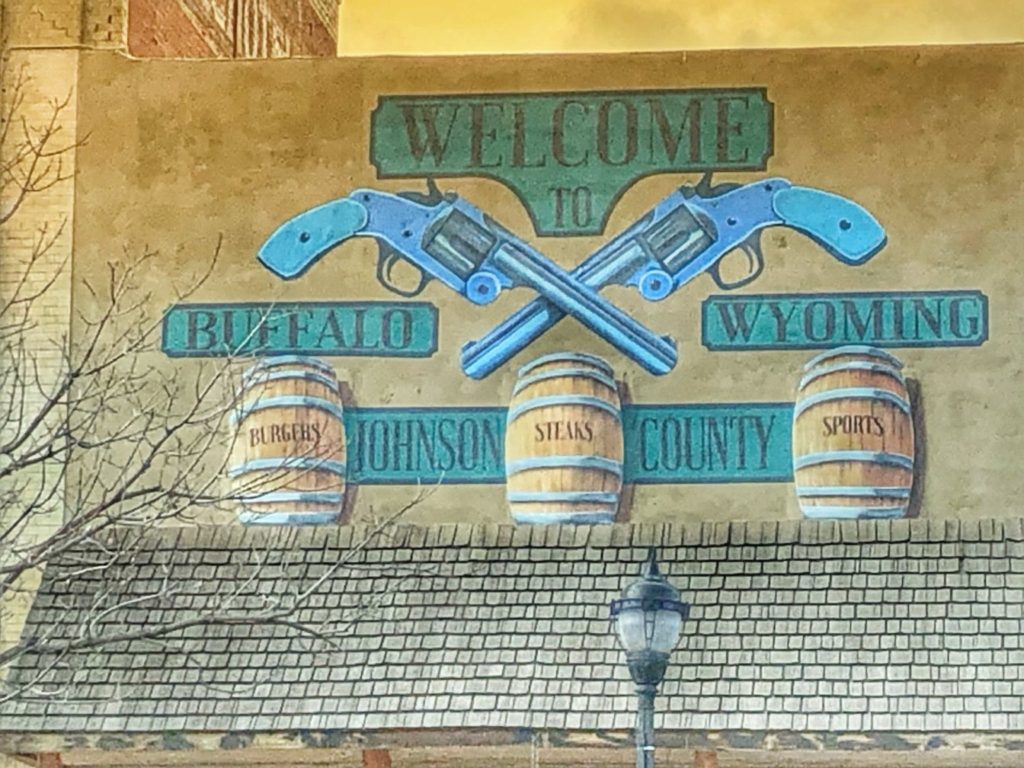 Black Bear Motel – Davenport, Washington
Davenport, Washington is quirky little town.  Got a shot of this motel sign to add to my motel sign collection.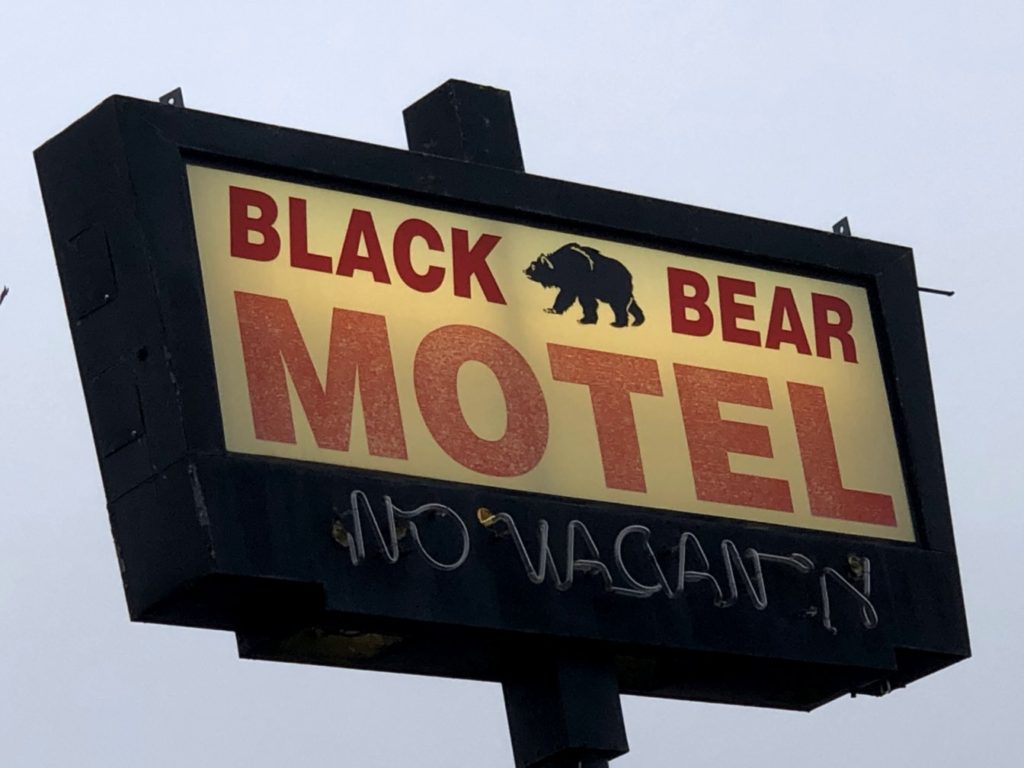 Big Sky Brewing – Missoula, Montana
I stopped at the  Big Sky Brewing Company on our way towards Idaho because I wanted to pick up a some Moose Drool Brown Ale for one of my friends in Kentucky.  this is where it is brewed and it was available cold.  I'll have more about Moose Drool in my M Stories post.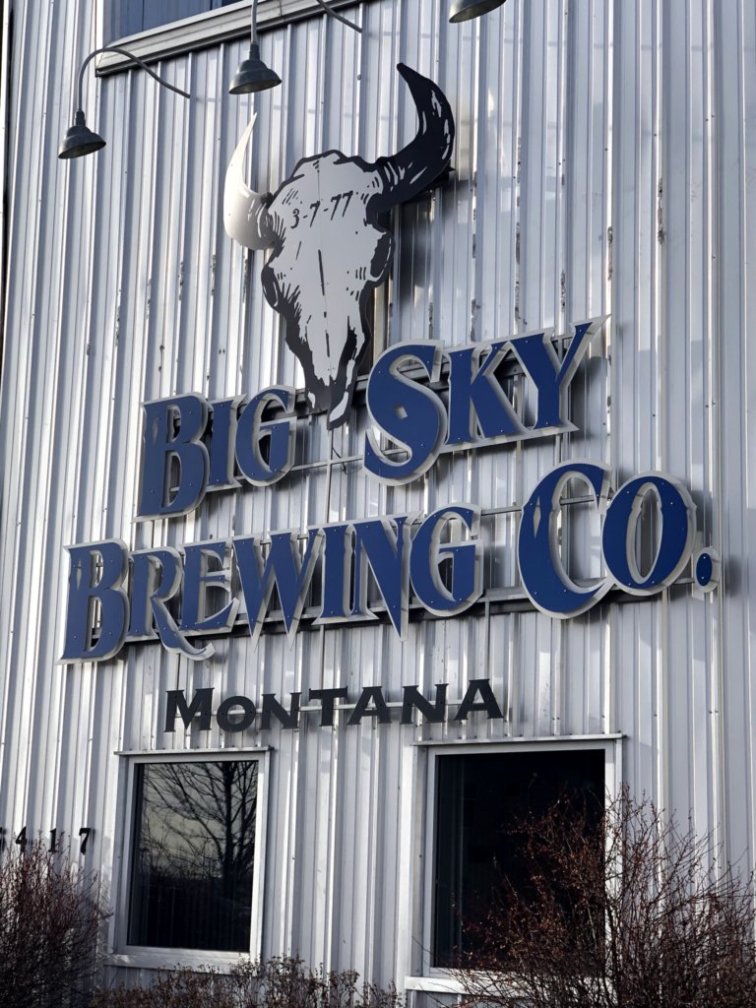 Butte, Montana – Home of 1000 Ghost Signs
OK, I am not sure there are 1000 Ghost Signs in Butte, Montana, but there are quite a few. A Ghost Sign is basically a hand-painted advertising on the side of a building that has been preserved for years.  Many have faded away, but, all across the United States you can see them on buildings. Butte has some nice ones as can be seen below.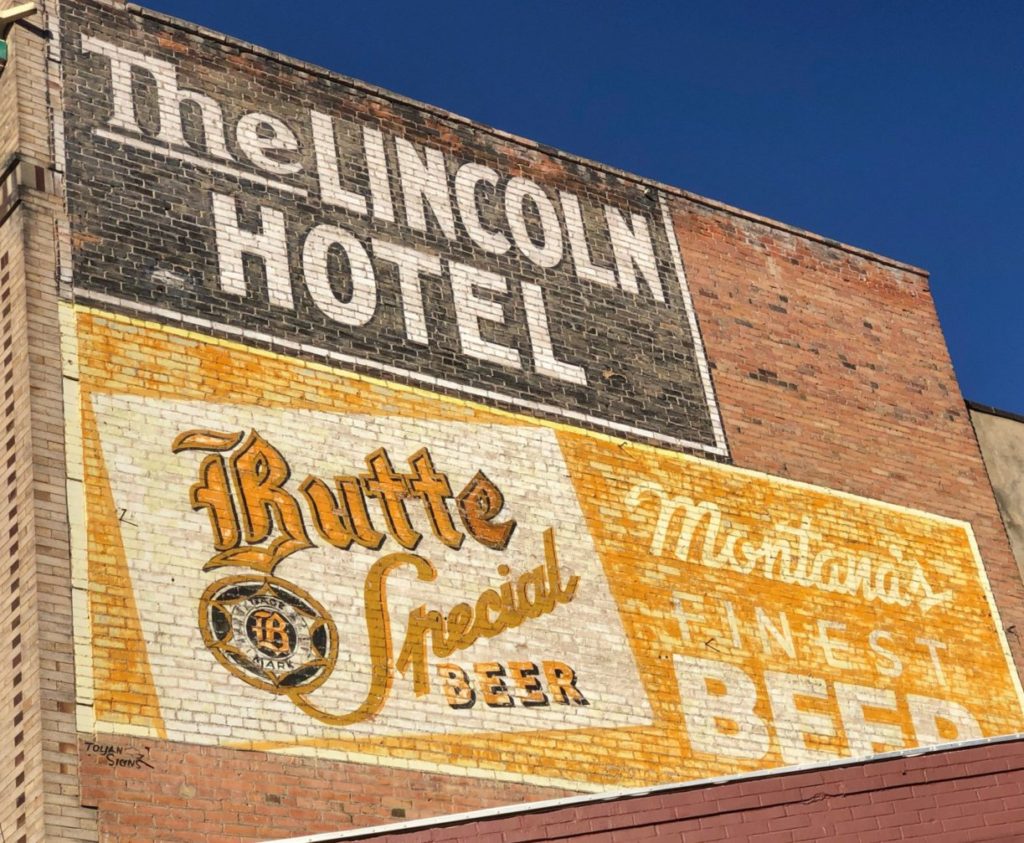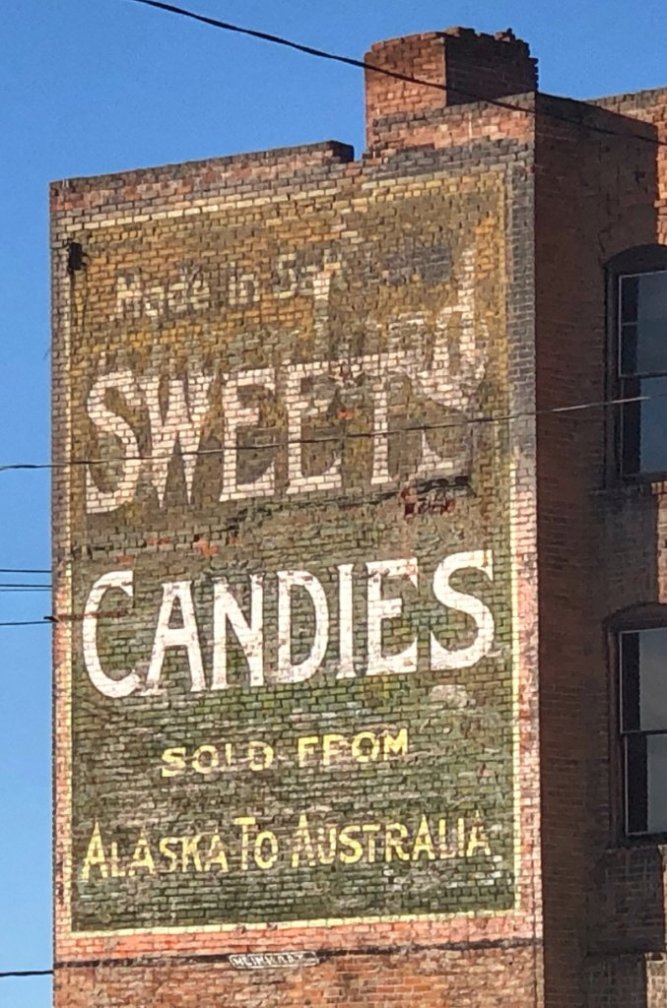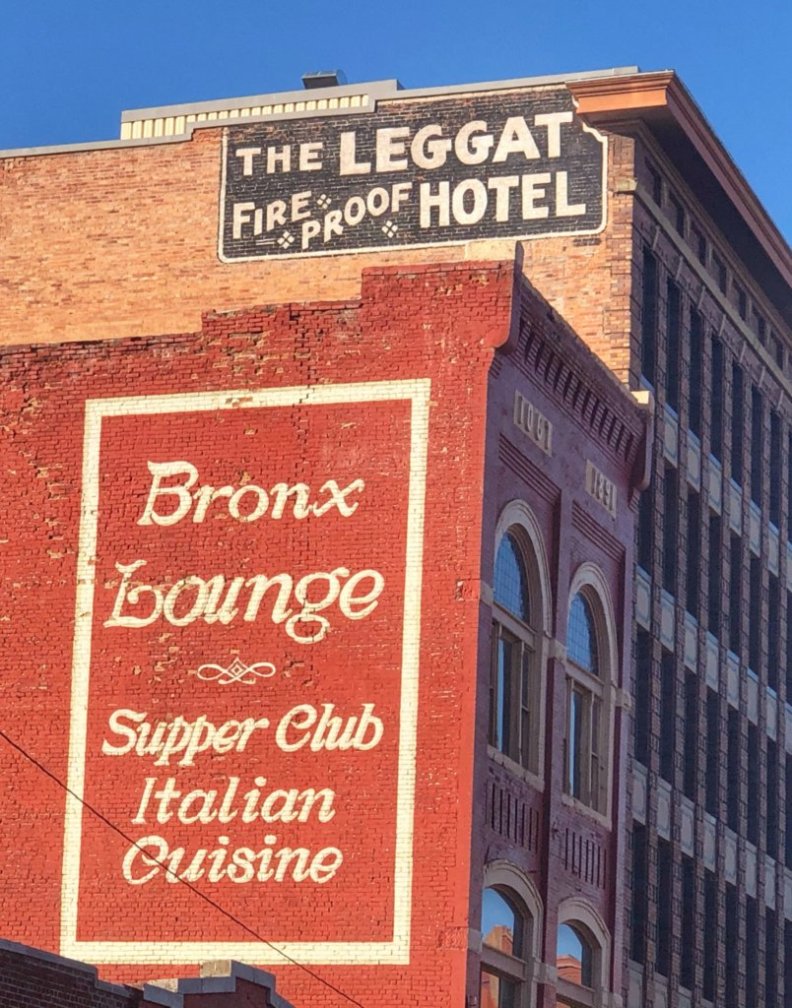 Bay Bridge, San Francisco, California
Though the Golden Gate Bridge is the famous bridge of San Francisco, the Bay Bridge is also a nice one.  We crossed both bridges while in San Francisco.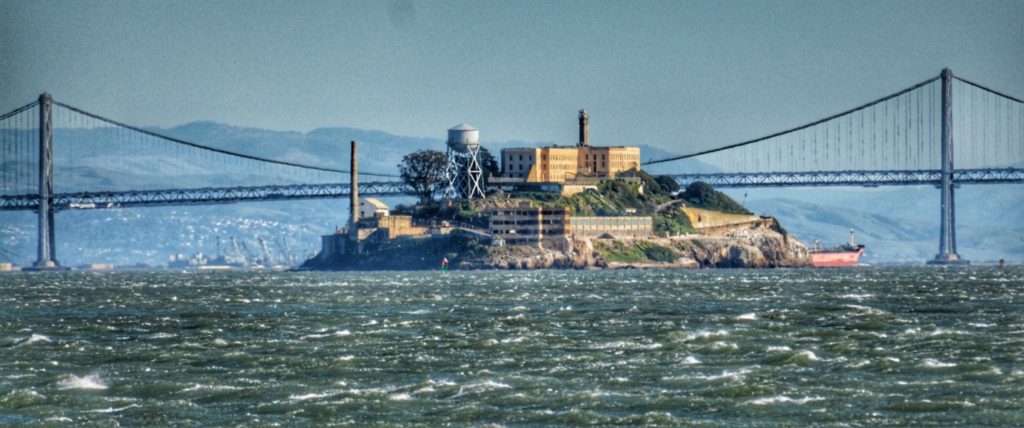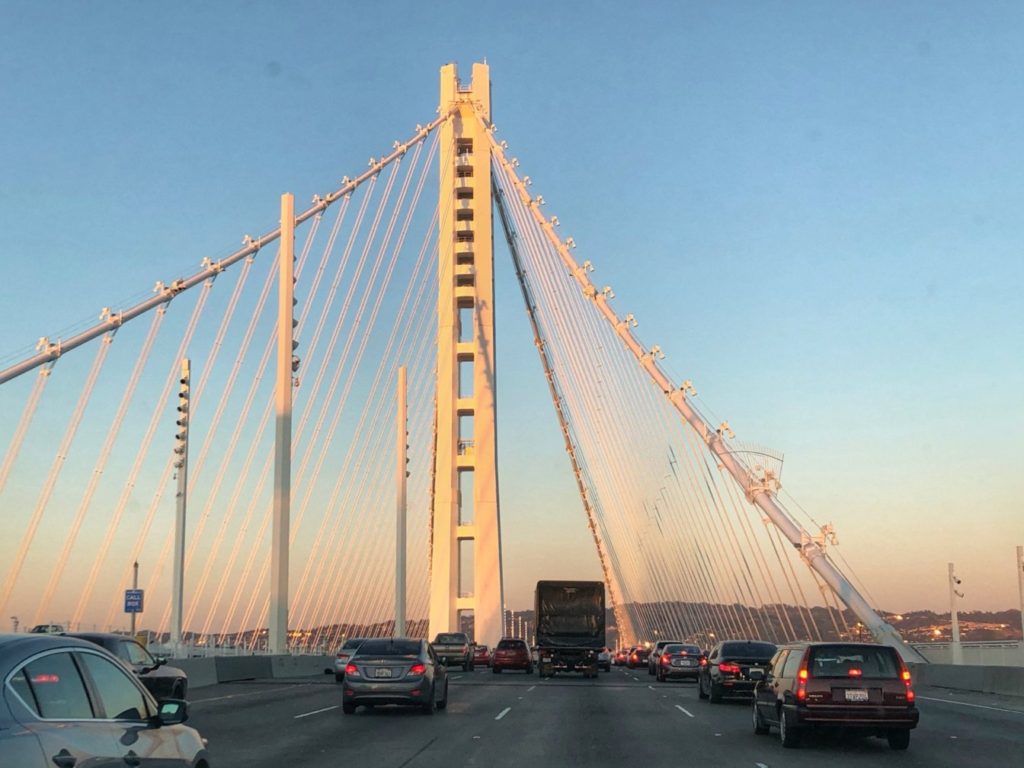 Bixby Creek Bridge – Big Sur, California
Another of California's famous bridges is the Bixby Creek Bridge on CA Highway 1 in Big Sur, California.  This drive is considered one of the best scenic drives in the world and the bridge has gained fame as a result.  We stopped for a photo of it before crossing it on our way south along the Pacific Coast to Cambria, California.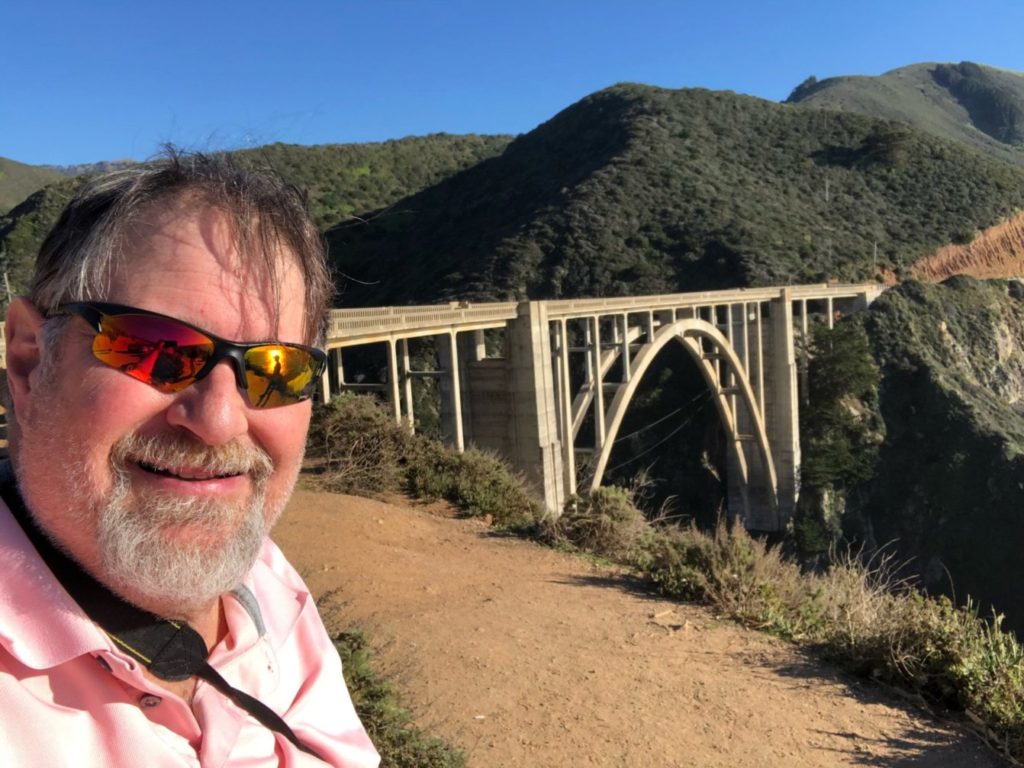 Bandon, Oregon
On our way south on the Pacific Coast Highway in Oregon (US Route 101) we passed through the artsy little town of Bandon in southern Oregon.  There are many beautiful Pacific Coast scenes along the way, but Bandon offers up some funky art.  There are two pieces on display that were made completely from garbage collected on the nearby beaches.  These were created by the organization known as WashedAshore.org.  The town also had a number of murals and other art.  Really a cool little town.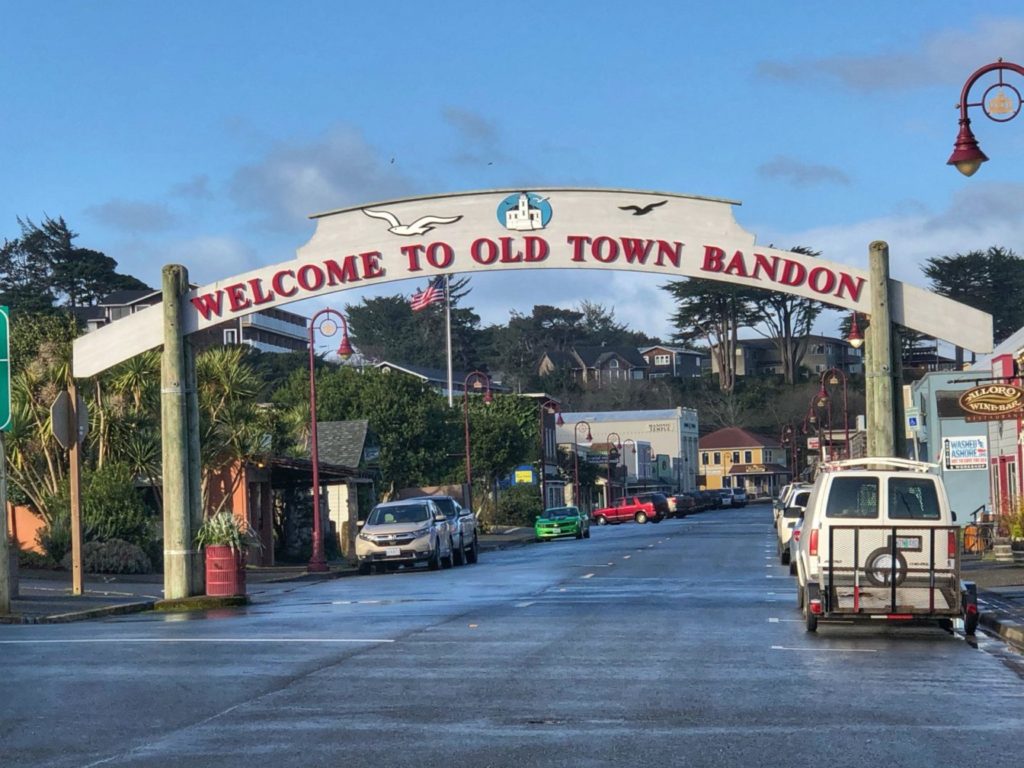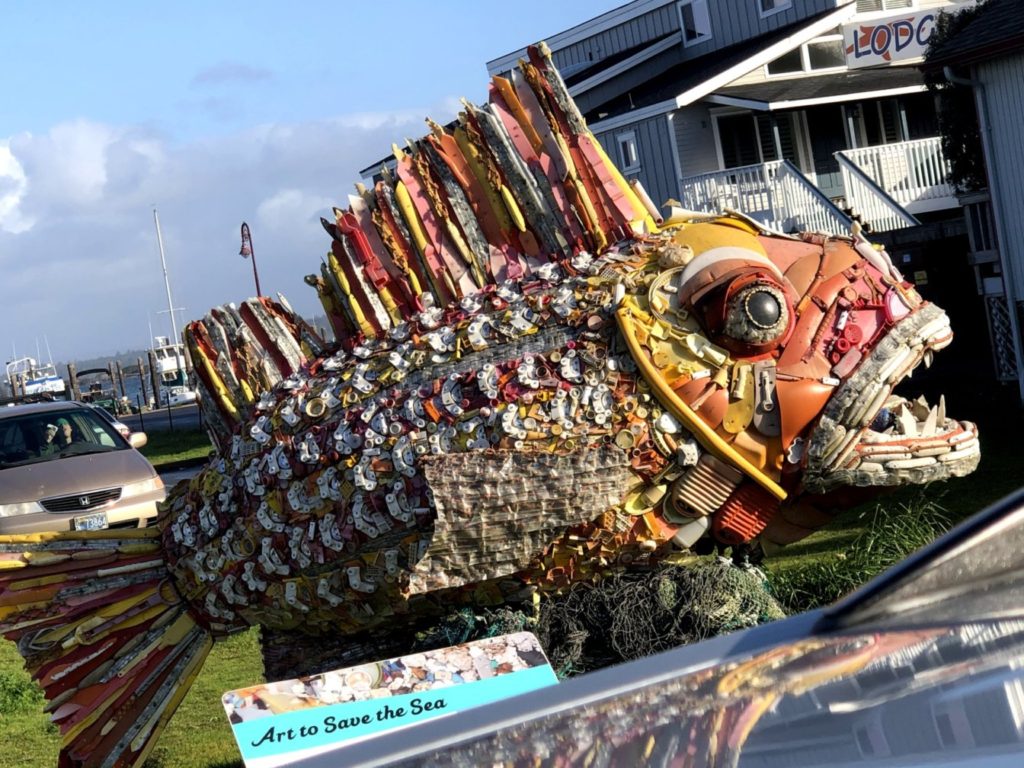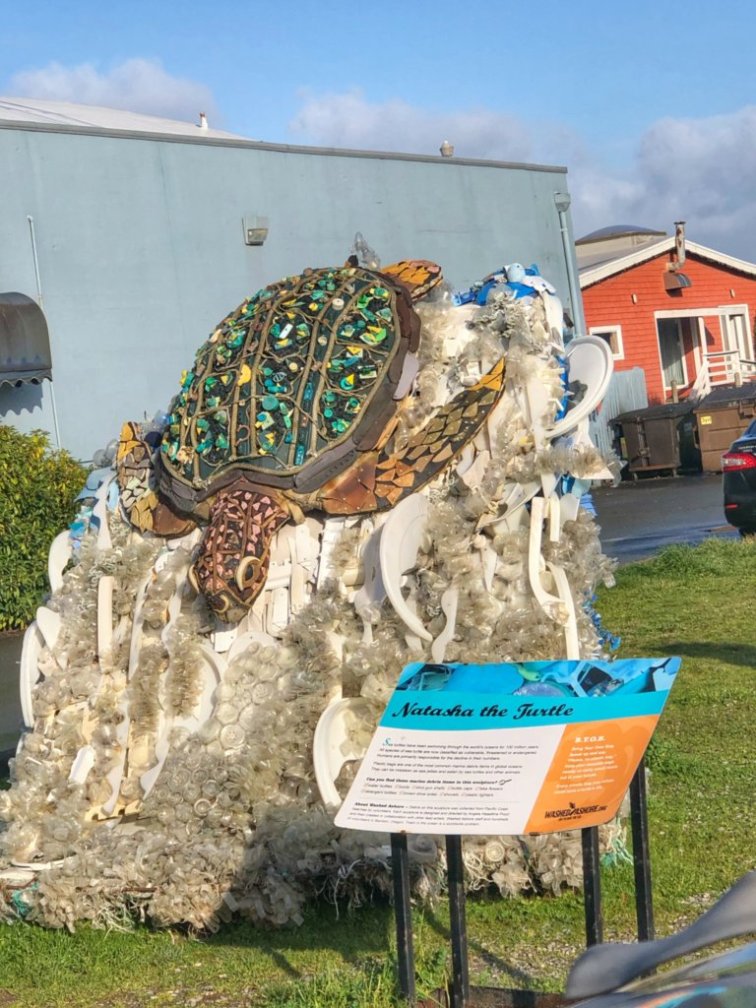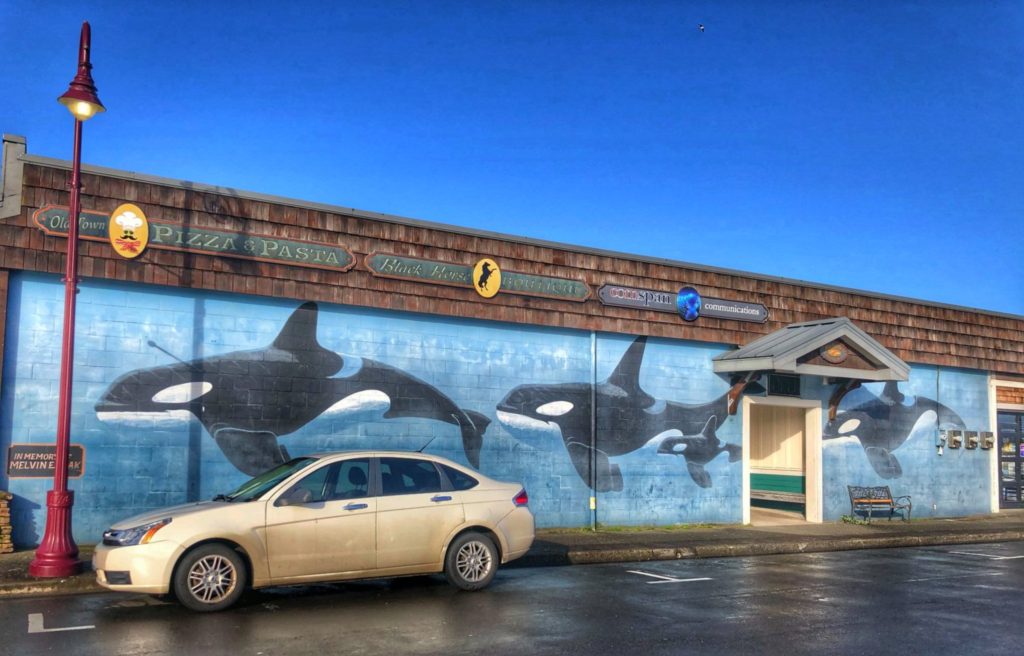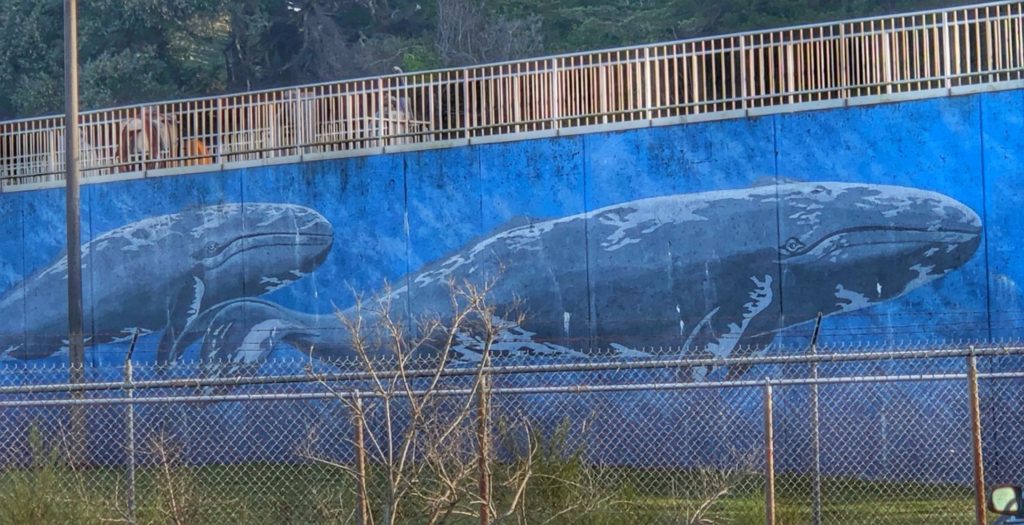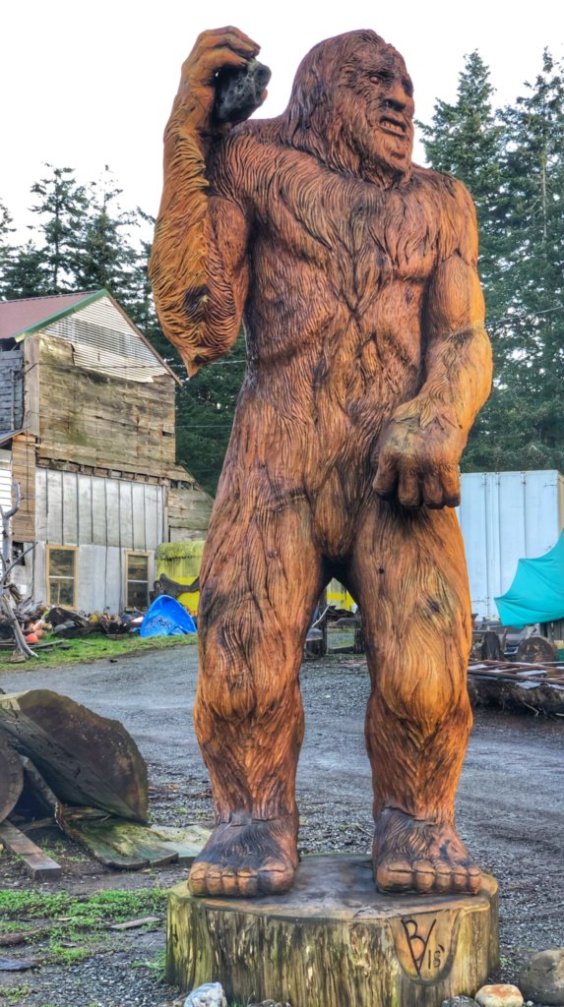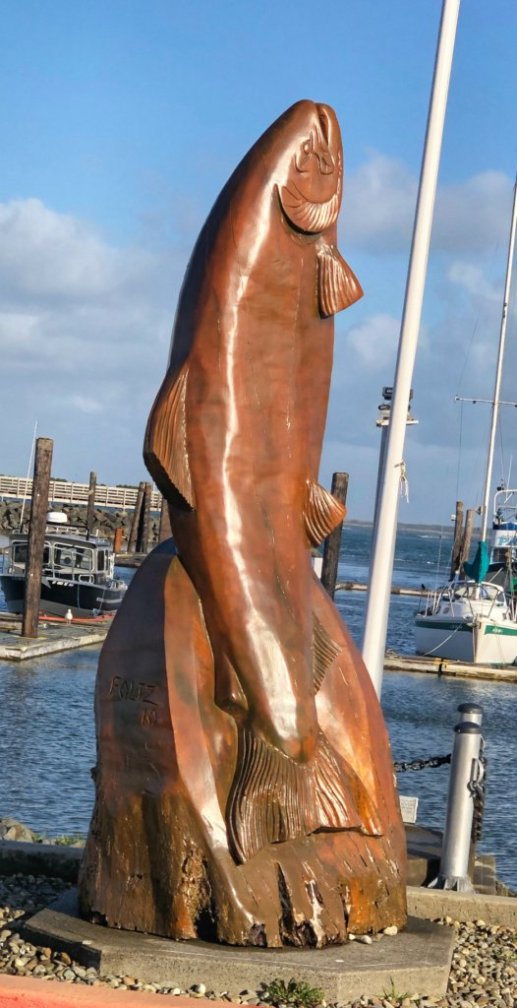 Big Mural in Baker, California
Baker, California is really one of those "must visit" places if you are into quirky tourist attractions.  This mural shows how it sits in the middle of Hollywood and Las Vegas.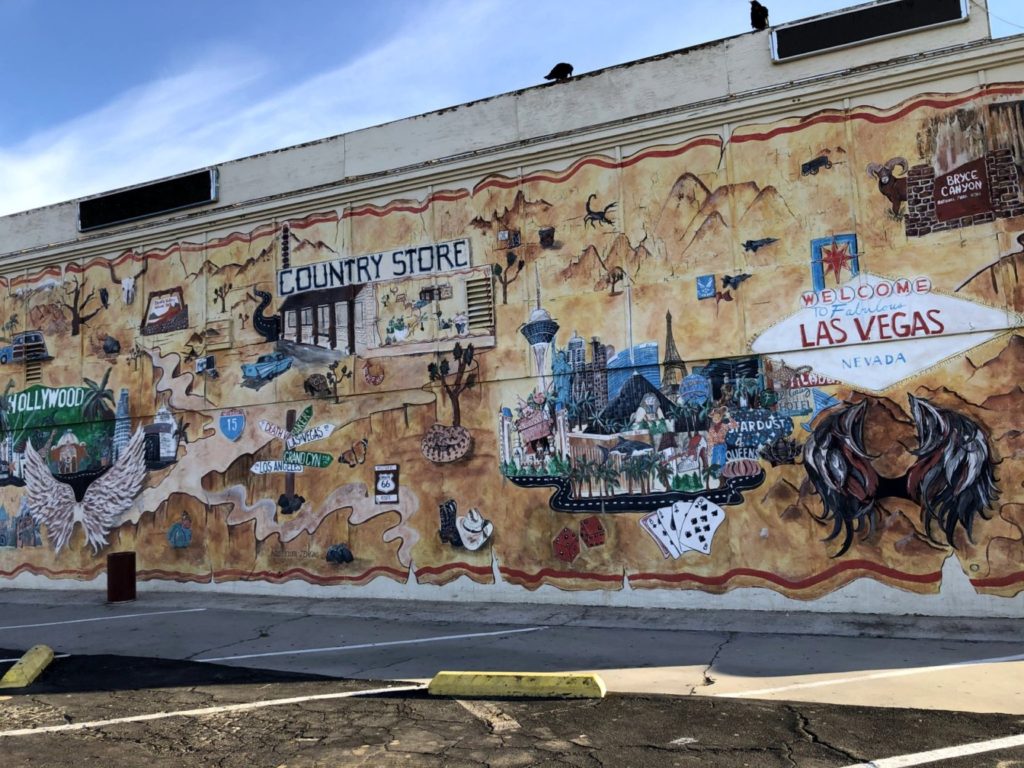 Begging Bird of Barstow, California
And finally…as I waited for my daughter and grandkids while they were picking up some snacks and new DVDs for the long ride at a Wal-Mart in Barstow, California early in the morning, this little brown bird (I think it is a type of grackle) came to me begging.  Had to include some pics.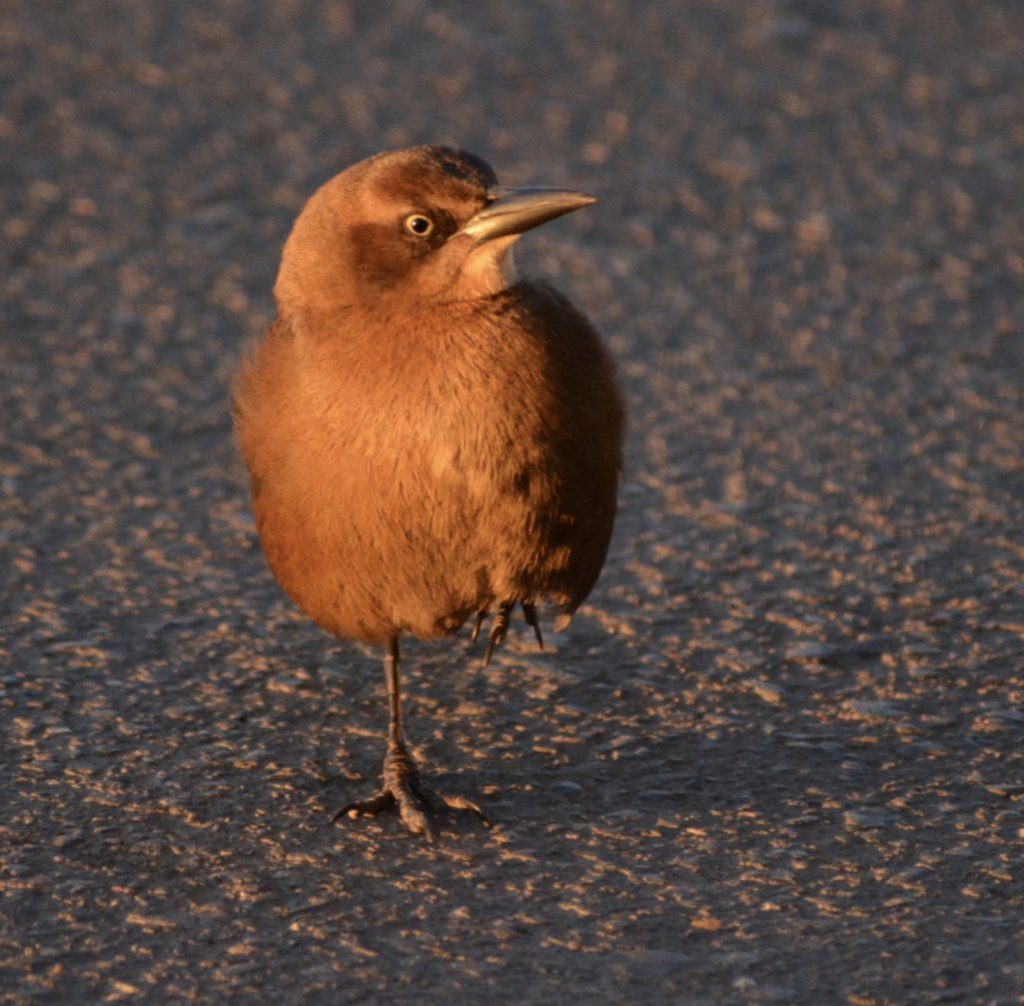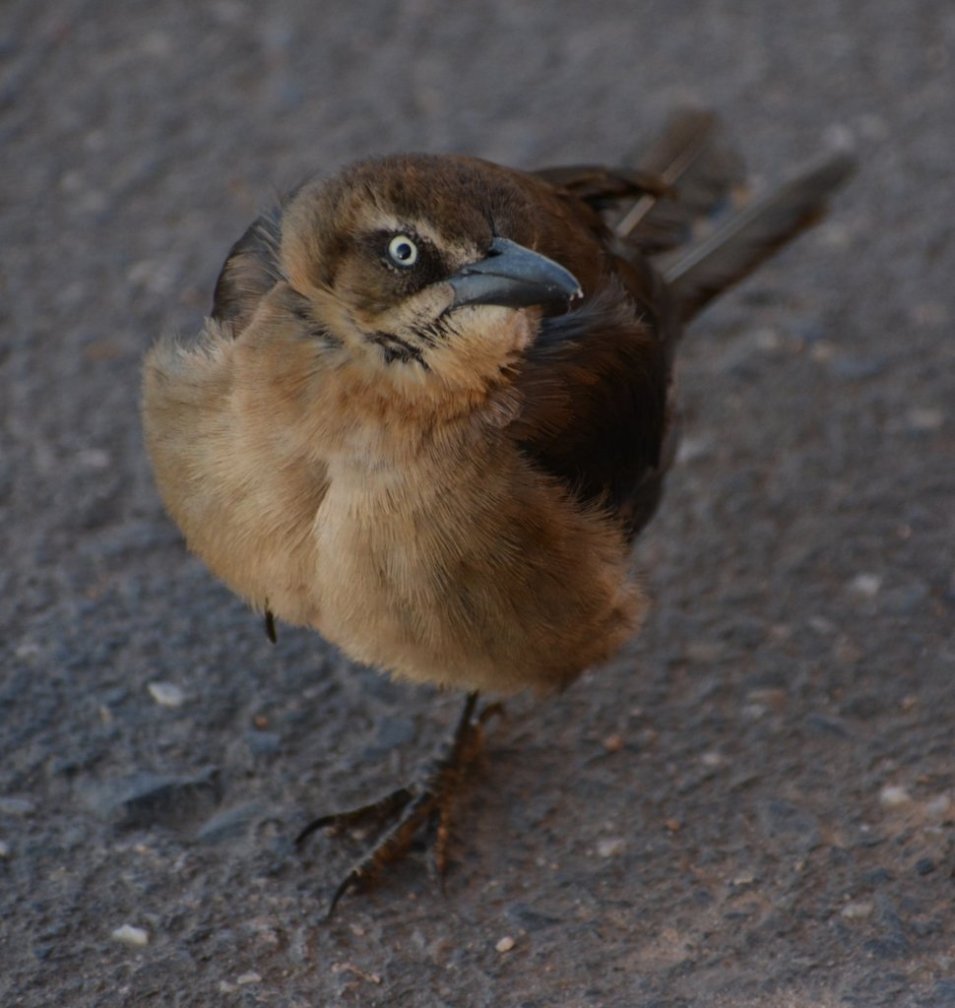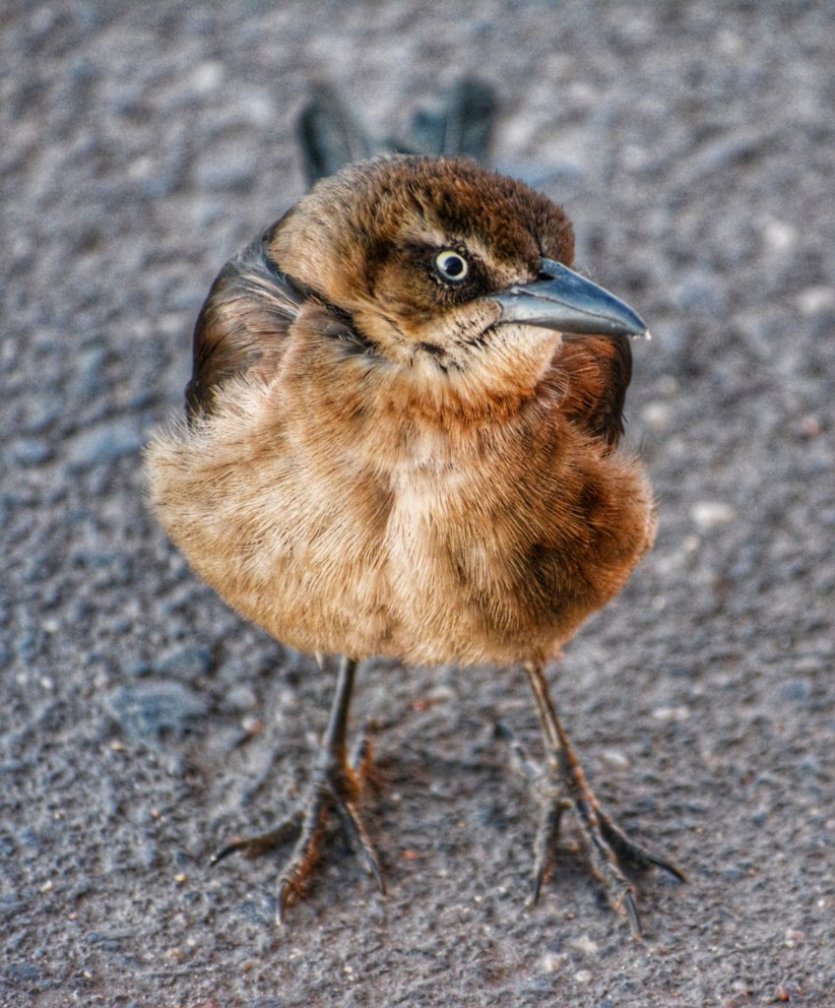 WATCH FOR MY NEW BOOK "8154" — COMING SOON TO AMAZON
I am currently working on my FOURTH book, titled "8154" to represent the mileage of my epic road trip with family.  You can visit my Amazon Author Page to see my other books at https://amzn.to/3azY36l