One of the more unique American traditions along the Less Beaten Paths is the recycling of auto parts for art. Indeed, a couple of the most famous roadside attractions in the US are made from cars. This post will look at a few pieces of "car art" that I have seen over the years and, then, at the end, I will note a few others that are out there and worth a visit from all of us — some that I hope to get to over the next couple of years.
Probably one of the two most famous Car Art pieces that I am aware of, this car shish-kabob called "Spindle" and created by artist Dustin Shuler (1948-2010), became ultra famous after being featured in Wayne's World. It has also been featured in on the cover of a book (called Oddball Illinois: A Guide to Some Really Strange Places), on postcards, state tourist brochures, and maps. It was originally commissioned by the shopping center owner, David Bermant, who donated his BMW car to be placed second from the top of the sculpture.Shuler himself owned the red 1967 VW Beetle that crowned the sculpture.The foundation of the sculpture reached nearly 30 feet into the ground; the cost of erecting it was over $75,000.
The cars on a spike never did res well with some of the citizens of Berwyn, Illinois, and thus in 1990 they voted overwhelmingly for it to be removed. Nevertheless, the Mayor argued that it drew tourism to town and had become an icon. The owner of Cermak's Shopping Center argued the same. But, alas, in July 2007, it was announced that the shopping center was to be redeveloped and that the site of the sculpture was earmarked for a new Walgreens store. New controversy ensued and finally, in May of 2008 the structure was taken down.
The impaled cars on the spindle, from top to bottom, were:
1967 Volkswagen Beetle, red
1976 BMW New Class, silver License Plate reads "DAVE"
1981 Ford Escort, blue
1974 or 1973 Mercury Capri, green
1978 Ford Mustang, white over blue
1981 Pontiac Grand Prix, maroon or burgundy
1980 or 1979 Ford LTD, light yellow
1981 or 1979 Mercury Grand Marquis, black
When I was at Cermak's in 2007 I actually made a video of Spindle along with some of the other art at Cermak's. Here it is….
Perhaps just as famous is the "Cadillac Ranch" near Amarillo, Texas. Like the "Spindle", this site has had controversy and has been featured in movies, advertisements, comics, etc. It is most certainly one of the most well known Roadside Attractions in the U.S.
It was created in 1974 by Chip Lord, Hudson Marquez and Doug Michels, who were a part of the art group Ant Farm, and it consists of what were (when originally installed during 1974) either older running used or junk Cadillac automobiles, representing a number of evolutions of the car line from 1949 to 1963, half-buried nose-first in the ground, supposedly at an angle corresponding to that of the Great Pyramid of Giza in Egypt.
The cars have gone through numerous iterations…completely black, completely white, stc., when used for ads and commercials. But, soon thereafter, the tourists with the spray paint cans make their way to make their marks on the cars. So, this ends up being a "stationary attraction" always in a state of change.
Due to the popularity of Cadillac Ranch, there have been a few imitators, none of which I have been to yet, but hope to get to sometime in the near future. These include:
VW Slug Bug Ranch – Conway, Texas
The Slug Bug Ranch consists of five VW Beetles buried nose first in the ground. There is also an older 1930s car on the site. As with Cadillac Ranch, people have left their mark in spray paint.
This place even has their own website (see combinecity.com). According to their site, "Combine City began with one Combine Harvester planted in the ground. Over time, that solitary Combine has welcomed 13 more. In total, 14 Combines are planted, standing as a tribute to the great nature of the West Texas farmer." Unlike Cadillac Ranch and Slug Bug Ranch, Combine City does not allow folks to come in and spray paint.
Airstream Ranch – Dover, Florida
Indeed, this is not cars…it is Airstreams, but these are a great addition to this collection. These are located at Bates RV in Dover, Florida and have been the subject for many photos in the past. My good friend, the musician Antsy McClain has actually done a photo shoot here for some Trailer Park Troubadours stuff (see below).
Like Cadillac Ranch and Slug Bug Ranch, the Airstream Ranch has not been without controversy. Neighbors have argued that it was unsightly, but, ultimately, the Tourist Attraction and Art Factors won out.
Like the other sites, this attracts tourists from all over and has been used in advertisements, etc.
The historic value of Airstreams in travel always leads to an interest in these aluminum domiciles on wheels. There are rallies all over the country and one can always see them on the road. Indeed, many are happy to be "Living in Aluminum" and following the Aluminum Rule – "Thou Shalt Enjoy the Ride"
Henry's Rabbit Ranch – Staunton, Illinois
Henry's Rabbit Ranch is one of those iconic Route 66 stops on the back roads of America. Located just west of Interstate 55 in southern Illinois (and a short drive north of St. Louis), it lies along the old Route 66. Along with tons of Route 66 memorabilia, they have a set of buried cars.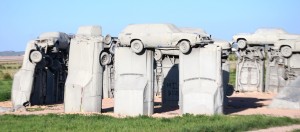 As with the others above, there are buried cars, but, in this case the creators of Carhenge tried to emulate the famed Stonehenge of England. They too have their own website, including a history of the Jim Reinders creation. This 1987 piece of Car Art has 38 automobiles and there are other pieces of Car Art on "Car Art Reserve". Like the locations above, Carhenge has been the subject of numerous commercials and film productions.
All of the locations above are big tourist attractions for the back roads adventurer seeking the offbeat and quirky. But, there are many other smaller pieces of car art and/or "car displays" around the country, many of which I have had the opportunity to see. Here are a few.
The flattened car (called "Pinto Pelt") is another creation by Spindle artist Dustin Shuler and is also located in Cermak's Plaza. This too went the way of the world apparently in the reconstruction project in Berwyn's once famous shopping center.
The Art Car Museum in Houston, Texas is dedicated to true Art Cars, those cars that have had art added to them. According to the "Art Car Manifesto", "an art car is a motor-driven vehicle which a car artist alters in such a way as to suit his own aesthetic. In other words, the artist either adds or subtracts materials of his own choosing to or from the factory model or he may renovate an earlier model to revive a beauty and style that once was. The result is a vehicle which conveys new meaning through design, mechanical or structural changes, renovation, and/or the addition of new images, symbols or collage elements."
The Art Car Museum website has a great Photo Gallery of some of the more unique cars featured at the museum. When I visited in 2010 the museum was not open so I didn't get a chance to get any good car shots. But, along the way I have found a couple on my own…
Some of the more unique pieces utilizing cars as art that I have come across in my travels:
"The Smoke Sax" was built in 1993 by artist Bob Wade of Austin, TX. It is 70 feet tall and is made of an oil field pipe, an upside down Volkswagen Beetle, beer kegs, canoe, hub caps, a surf board and chrome. Until March 2013 this was located at the Horn Bar and Grille on Richmond Avenue in Houston, TX. However, in March 2013 it was disassembled and will be eventually added to the unique folk art center called the Orange Show Center for Visionary Art. They also are the sponsor of the Houston Art Car Parade.
Clear across the country in Wolf Creek, Oregon an artist has created two Spider Bugs out of old Volkswagens. Roadside America covered these and, it turns out that these are not the only ones around. There are actually dozens of them. The website Weburbanist has a fine page dedicated to a number of these from around the U.S. including Oklahoma, Idaho, California, Ontario, Nevada, Colorado, Iowa and even in the Netherlands and New Zealand.
Heading back eastward one can venture into Kadoka, South Dakota, near the Badlands National Park and see a unique piece of art made from car parts, including a smashed car as a base…
Then there is the old truck with a Giant Potato on it at The Spud Drive-In in Driggs, Idaho
More emulation of Cadillac Ranch can be found at the now closed down Rio Brazos Music Hall in Granbury, Texas
Commerce, Oklahoma, one of those Route 66 touristy towns has used parts of cars for advertising
Then there are the places with Cars on roofs and signs and walls to draw people in:
Big Daddy's is located in the heart of NASCAR Country in North Carolina. And to prove it they have a number of cars on their roof and on their lot.
The Route 26 Mart in Scottsbluff, Nebraska touts itself as an Americana Convenience Mart and has on old finned Chevy on its roof to pull you in….
The Pioneer Auto Show in Murdo, South Dakota tries to draw you in with advertising some of the unique cars…
Angel's Diner in McAlester, Oklahoma uses old cars to advertise their 60's themed restaurant and Happy Days Motel.
Of course, what would a Car Art post be without limos with Longhorns on their hoods??
The Big Texan Steak House in Amarillo, home of the 72 Oz steak, offers rides in their Longhorn Limos.
I have run across a couple of places where cars have been integrated into the buildings. Here is one example from western Oregon:
I would be remiss if I didn't include the iconic and well known Nash AirFlyte that sits outside of Antique Archaeology in Le Claire, Iowa, better known as the home of the History Channel's American Pickers.
The only Corvette Factory in the world is in my home state of Kentucky, in Bowling Green. They are also the home of the Corvette Museum and they have a nice one on a pedestal…
Finally, there are all of those old trucks and cars that scatter the landscape in yards and fields around the U.S. These can be seen on back roads and some are obviously used as yard decor…
I have a dozen more of these, but I think you get the "pictures." So, get out and Enjoy the Ride and be on the watch out for those old vehicles that helped someone else Enjoy the Ride in the past!!!
Some roadside assistance provided by friends at……