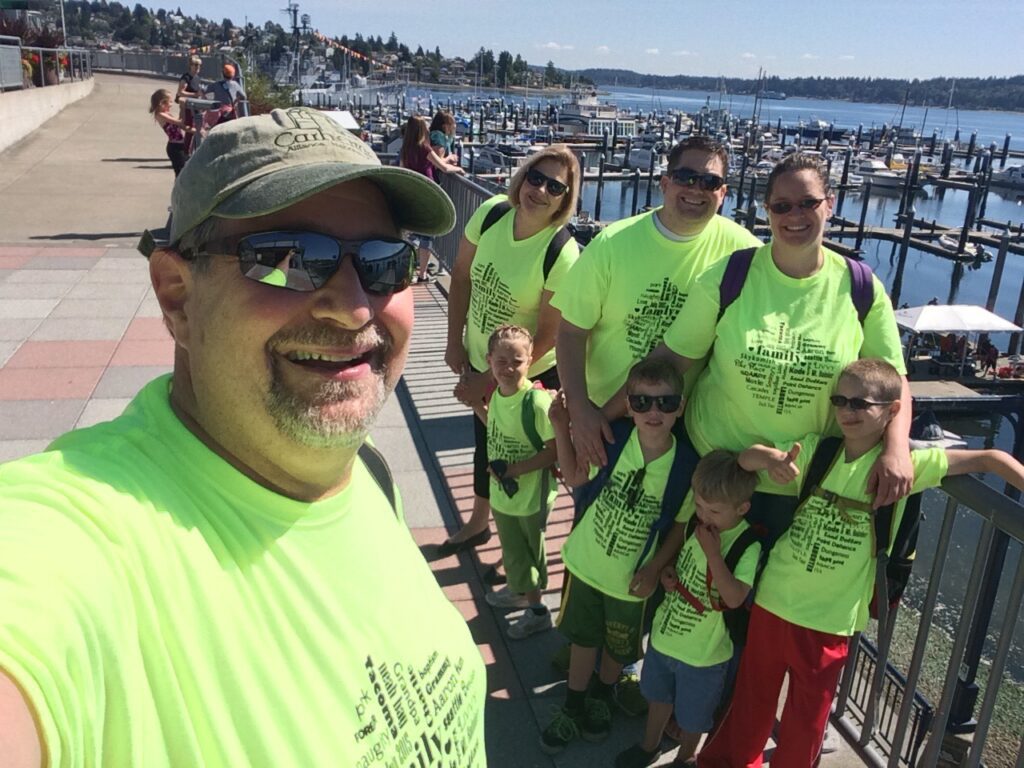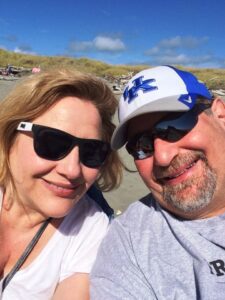 After our beautiful vacation and stay at the Borneo lodge which you can find on borneoecotours.com/borneo-rainforest-lodge, my wife and I had the opportunity to fly to Seattle at the end of July for a nice week (actually 9 days) of fun with our family out there.  Over the next couple of weeks I will have a few posts about our adventures, but wanted to provide a brief preview of what we experienced: Beaches, Mountains, Sights, Sounds, Eats and Quirky fun!!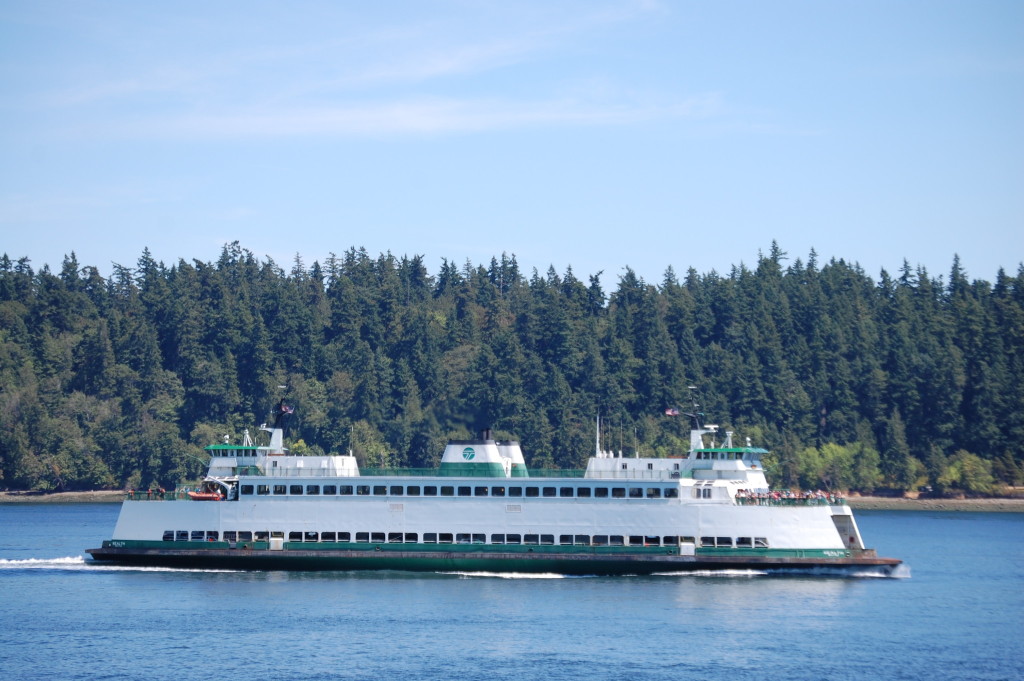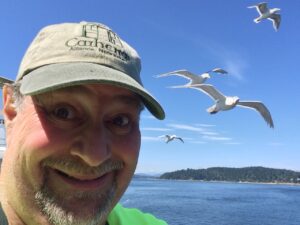 Day 1: We  took a ferry from Bremerton, WA and then spent a full day walking around parts of Seattle…then took a Duck ride.
The ferry is followed by hungry seagulls who would swoop down and eat from people's hands. I got some amazing closeups of the birds.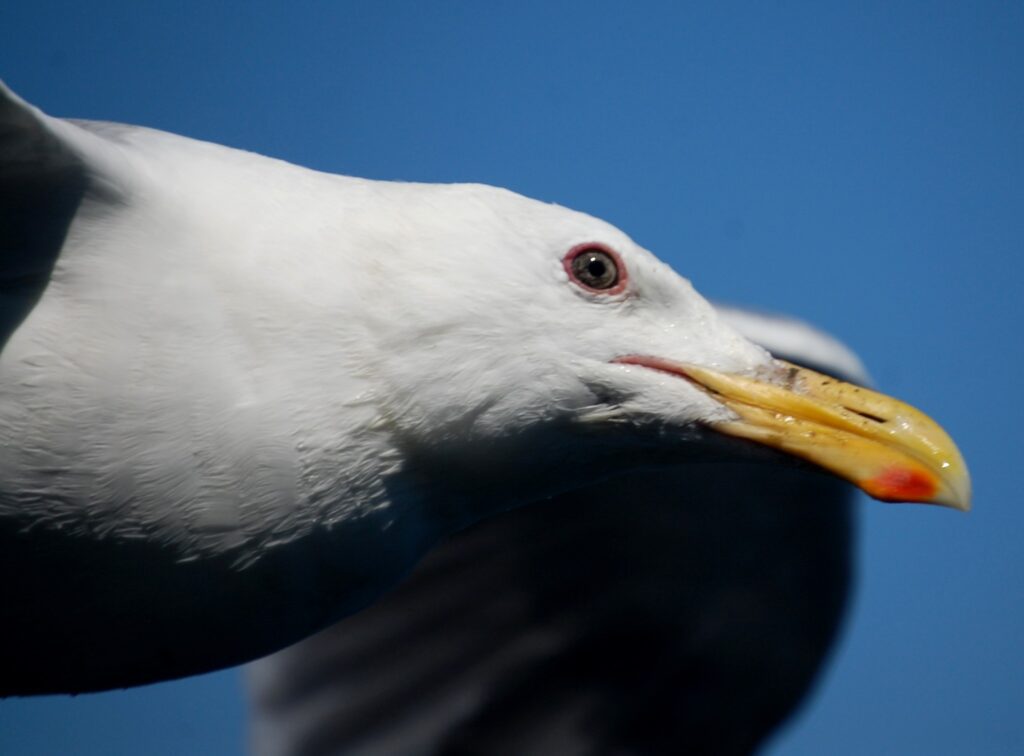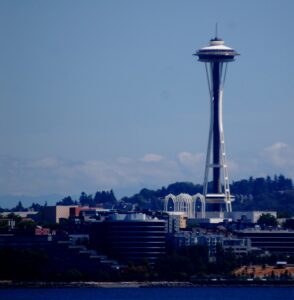 Once we arrived in Seattle, our sea legs turned into walking legs as we visited the Ye Olde Curiosity Shop, Pike Place Market, walked along the boardwalk, rode the Ducks, saw the Space Needle and more.
There were street musicians everywhere, lots of fish in Pike Place Market and a general atmosphere of fun in spectacular beautiful (but a bit hot) weather.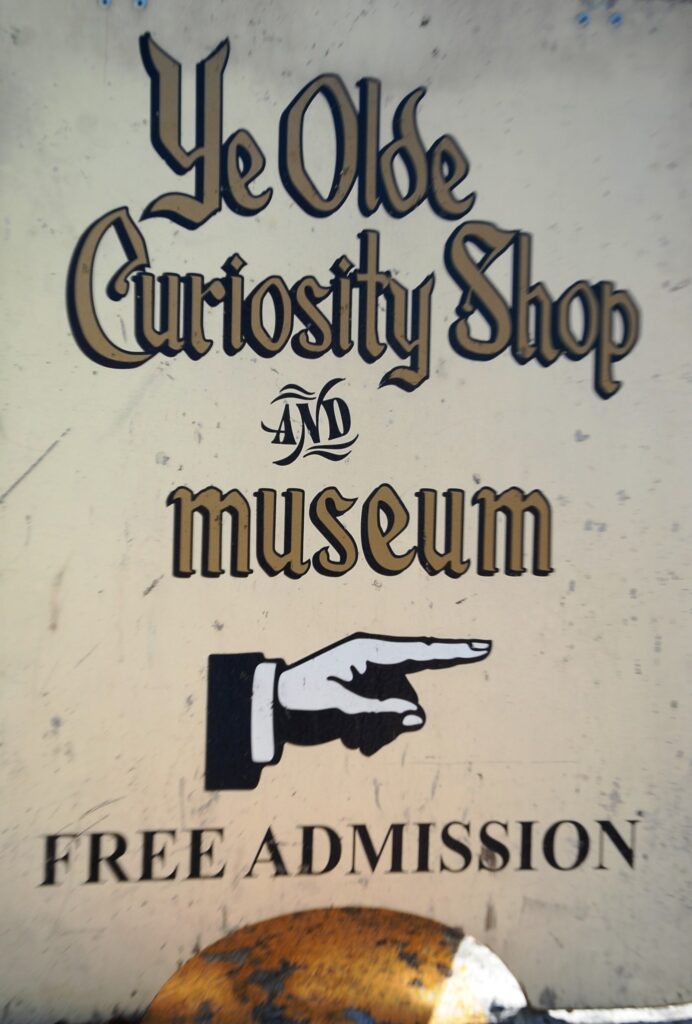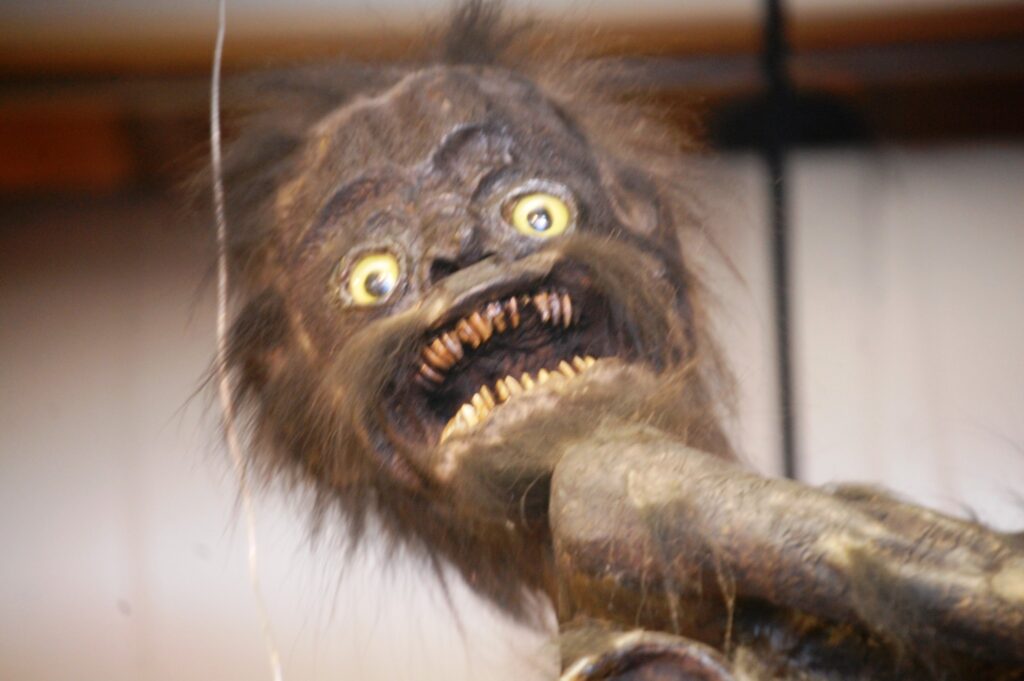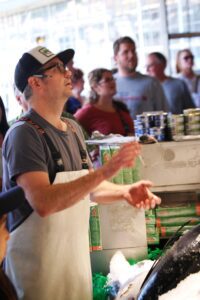 Of course, a visit to Seattle is not complete without muscling your way through the massively crowded Pike Place Market (even on weekdays).  Famous for its fish mongers, there are a plethora of other goods there for perusing and partaking.
It was fun watching all of the people, but there is no place to stop for a sit down break and the market goes on forever and forever.  One could really take a full day just visiting each merchant and seeing what they offer.  But, probably better to go when school is in session.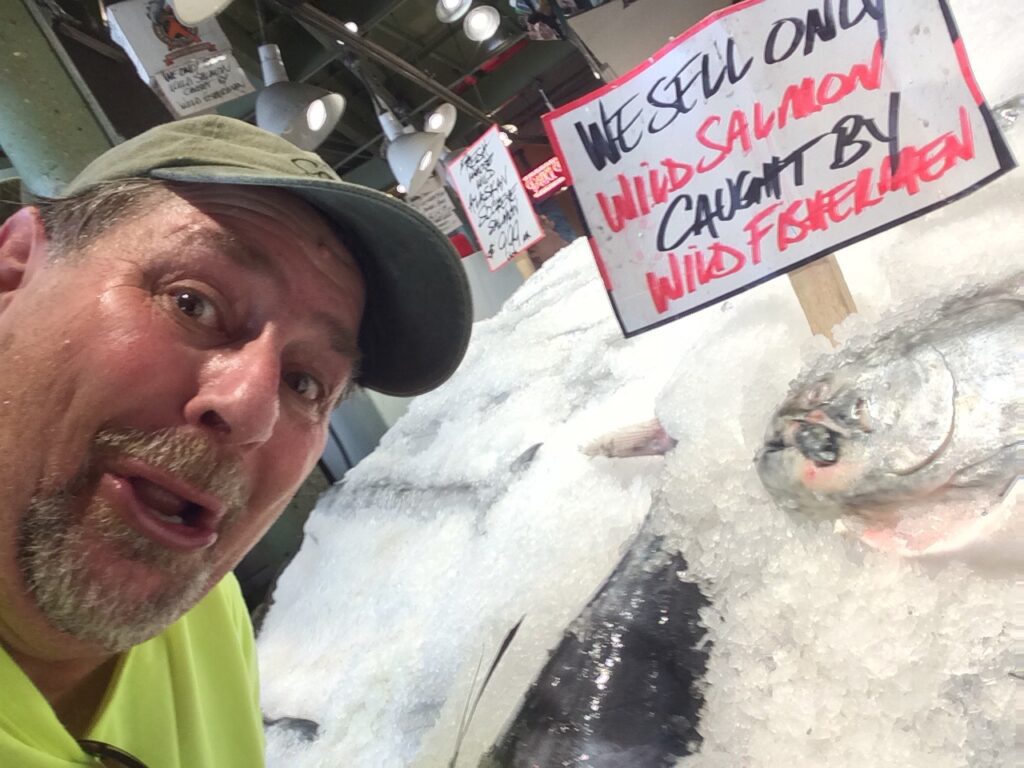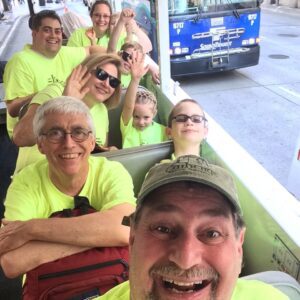 One of the more unique tours of the city are the Duck Tours.  We rode the Duck for fun.  The drivers are a riot and the open air drive around the time and in a lake were really fun (not to mention the wonderful respite from all of the walking)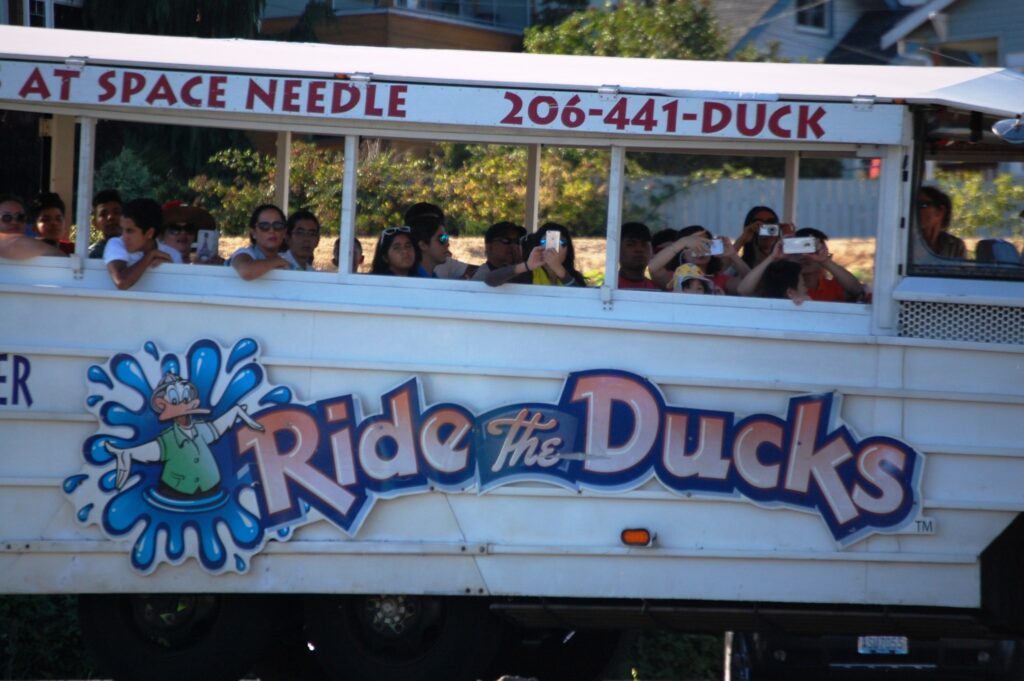 The Duck Tour does provide a fun sample of Seattle.  I will have much more about Seattle in an a future post.  Seattle is a fun place!!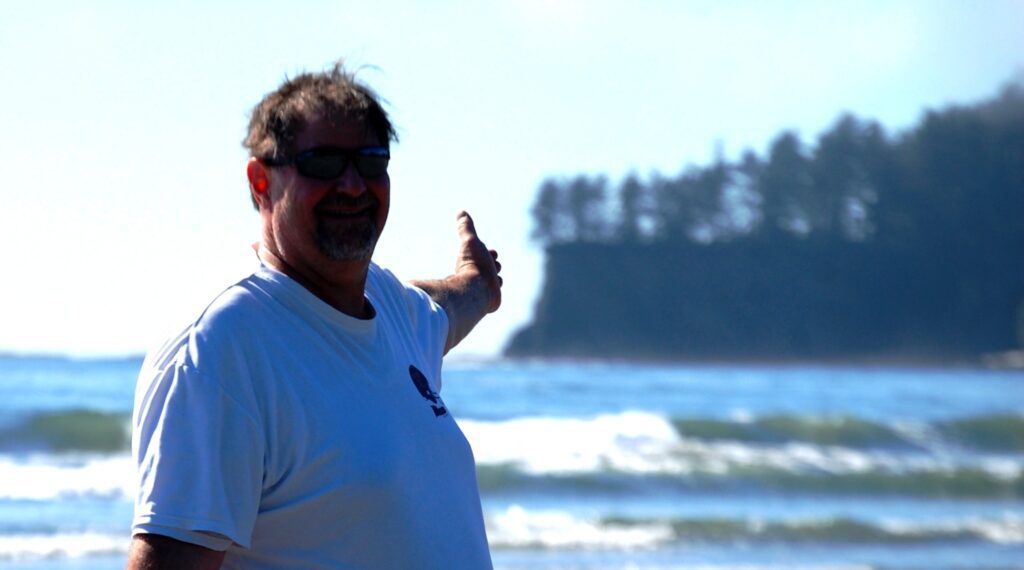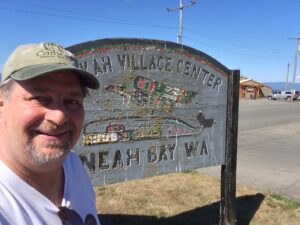 After a "Recovery Day," we were back on the road on Day 3 heading north to Neah Bay, which is the northwesternmost point in the contiguous United States. Julianne stayed back in Port Orchard as we traveled the road along the Strait of Juan de Fuca Scenic Highway. Honestly, there may be a Strait, but the road ALONG the Strait is ANYTHING but straight.  A crooked windy road to Neah Bay.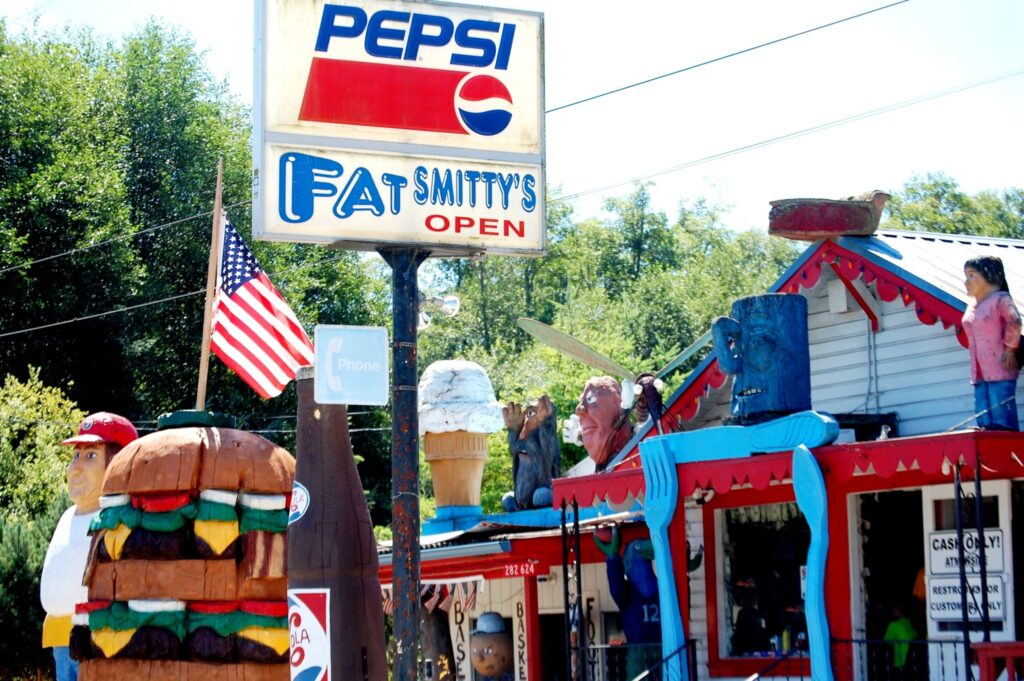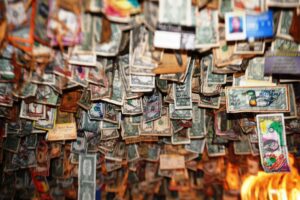 As it was a long and winding road, literally, we did stop along the way for lunch at one of those quirky eateries.  Fat Smitty's in Port Townsend, WA is a real kick!  Indeed, the outside wooden art is a drawing card, but the real fun is when you walk inside and see the thousands of dollar bills plastered everywhere.  They claim to have over $10,000 in there. I'll have a special post just about this place.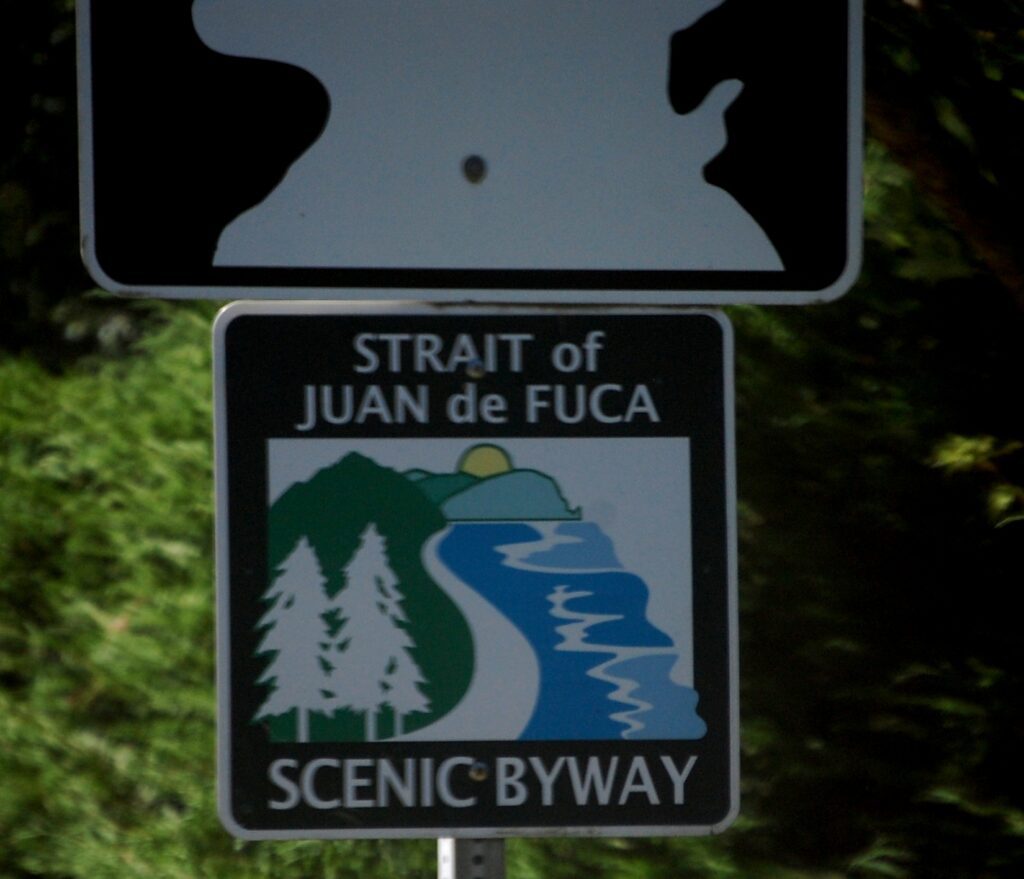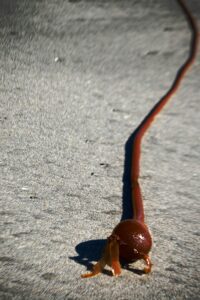 The drive up US Route 101 along Olympic National Park and then along the Strait on WA 112 is very scenic.  Mt. Olympus can be seen along with other rugged northern Cascade peaks.  The Pacific Ocean scenes at Neah Bay are fabulous…and the beach is sandy. And there is all sots of strange looking seaweed up there.
We took US 101 home along Olympic National Park and made our way back eventually getting to the Tacoma Narrows Bridge at sunset.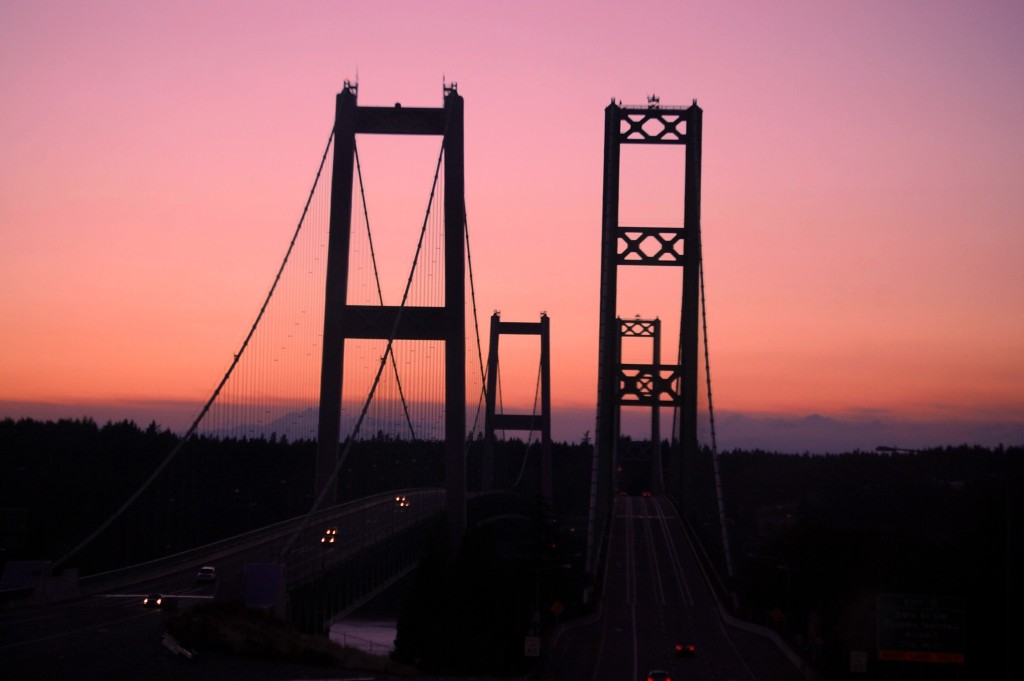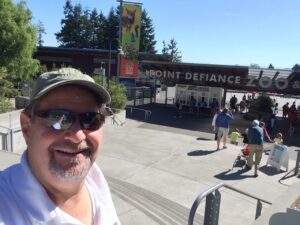 Day 4 had us going down to Tacoma with the family and some of the Matthews family too.  We visited Point Defiance Zoo…a smaller zoo, but with some great animals.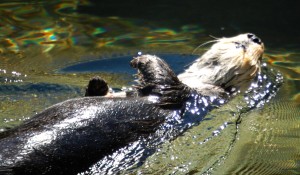 I enjoyed watching the otter roll around and it was also a blast watching the kids feed the budgies.
We saw tigers, an elephant, seals, a polar bear, etc.  I'll have a post about the zoo coming up too.  I love the flowers, the animals and the joy on the kids' faces.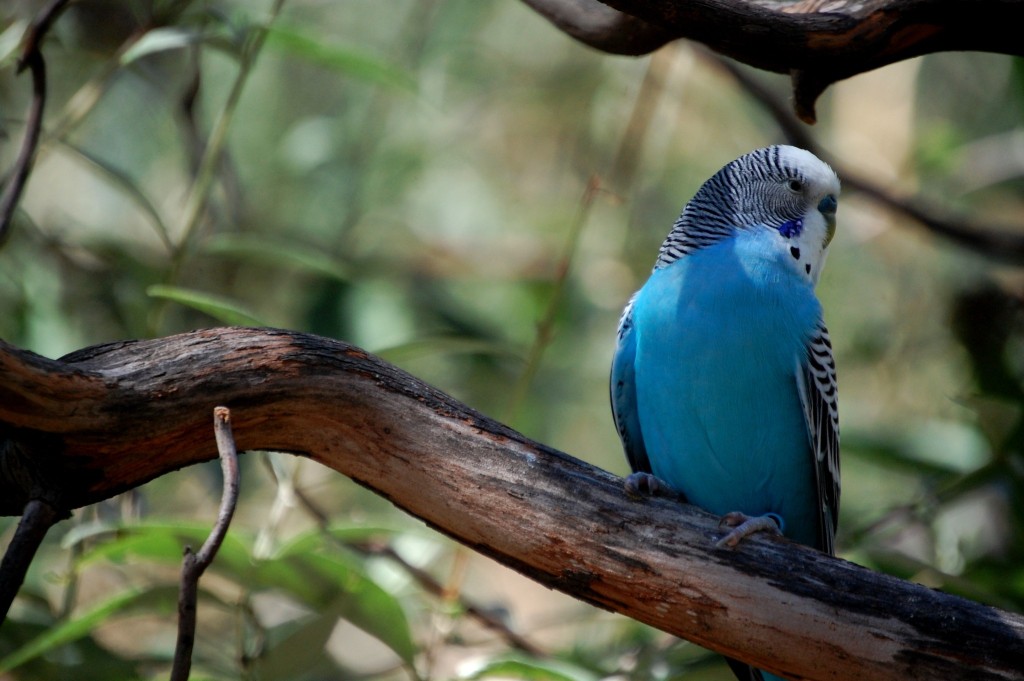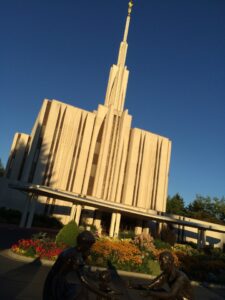 After a nice trip to the zoo, we returned to Port Orchard and the adults all took another ferry across to Seattle (with the car this time) to visit the Seattle Temple of the Church of Jesus Christ of Latter-day Saints.  Another beautiful building…built in 1978.  It is always nice to attend the temple, where we did baptisms for the dead and spent a nice evening away from the kids.
The ferry ride this time was also amazing as there were some spectacular views of the glacier covered Mt. Rainier.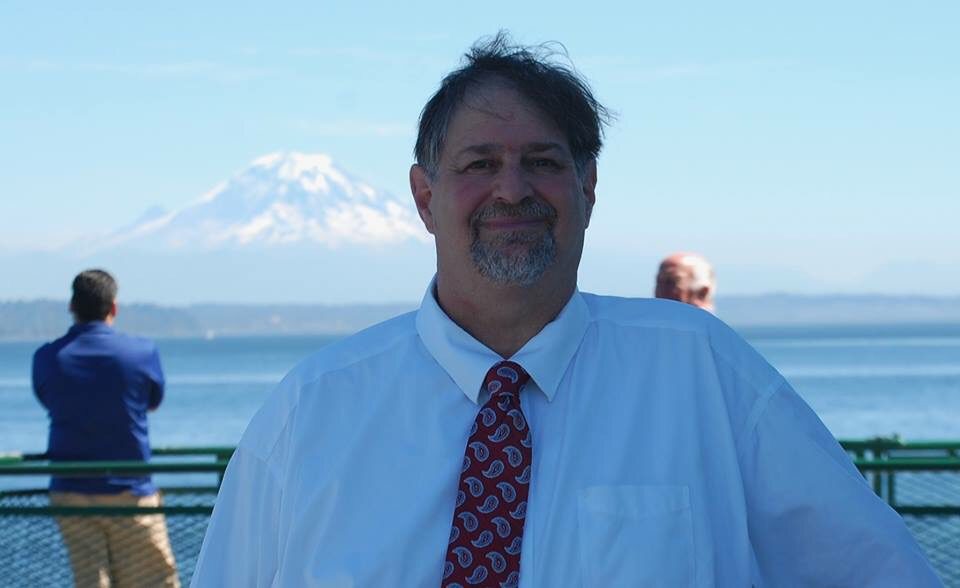 Day 5 was another rest day.  We took a visit to a regional park along the coast and Julianne and I sat there and watched the boats while the kids hiked.  It was nice to chillax as the next day would be a big one.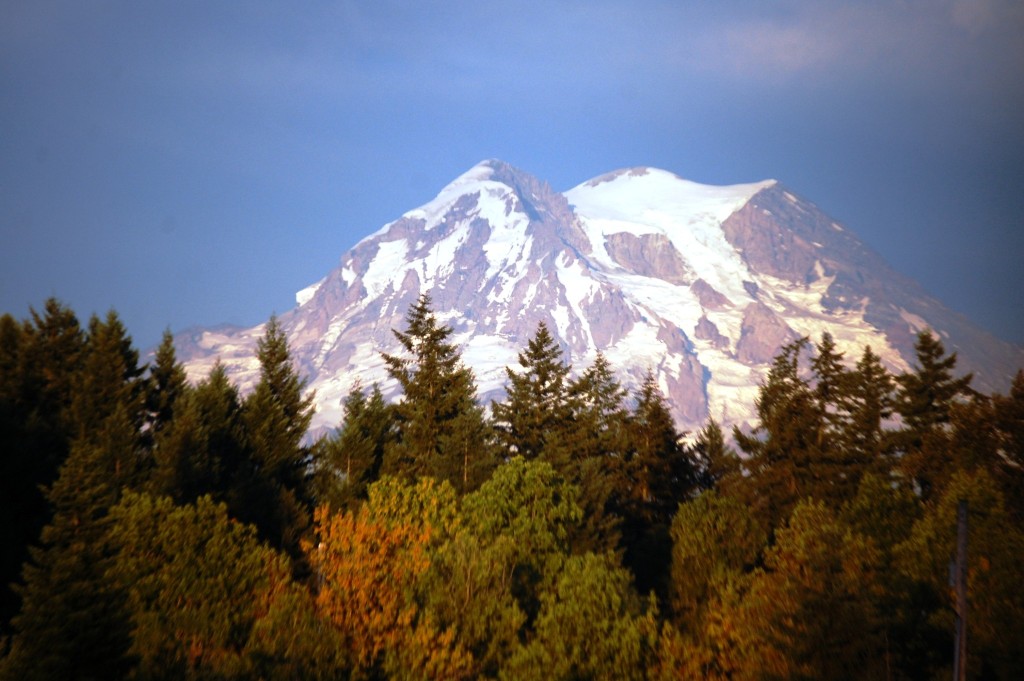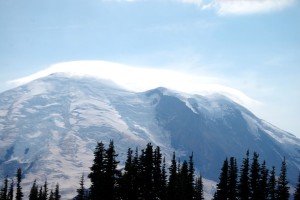 Our next to last day was a visit to the spectacular Mt. Rainier National Park.  This is certainly one of America's great mountain peaks.  At 14,400 feet it towers above the landscape and can be seen everywhere on a clear day.  It reminded me of Mt. Fuji in Japan, which I lived at the base of for 5 months in 1978.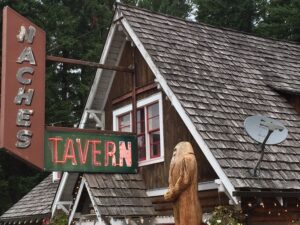 Along the way to Mt. Rainier we stopped at a fun place for lunch in the small scenic town of Greenwater.
The Naches Tavern has a nice menu, walls with dollar bills all over it, lots of old implements and a GIANT Bigfoot wood carving.  More about this on the Mt. Rainier post in a couple of weeks.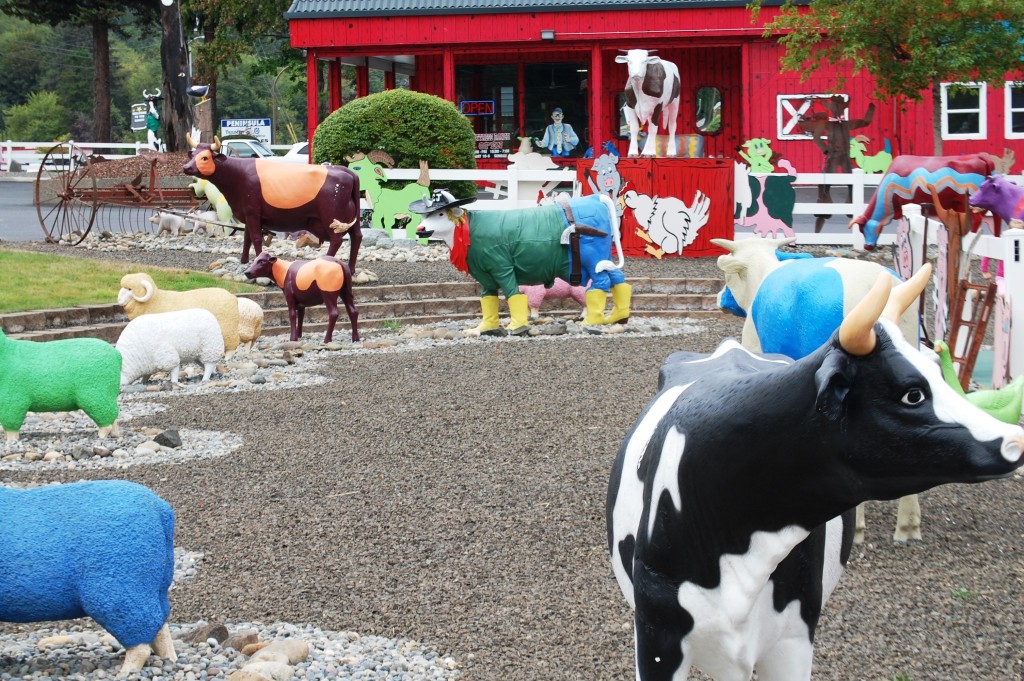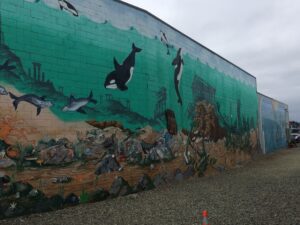 Of course, I can't avoid the quirky places on a trip like this and the Mattress Ranch in Port Orchard is udderly mooving with dozens of cows, bulls, chickens, lambs, rams, etc.  Port Orchard also has a bay complete with old US Navy destroyers and the town has some fun wall murals.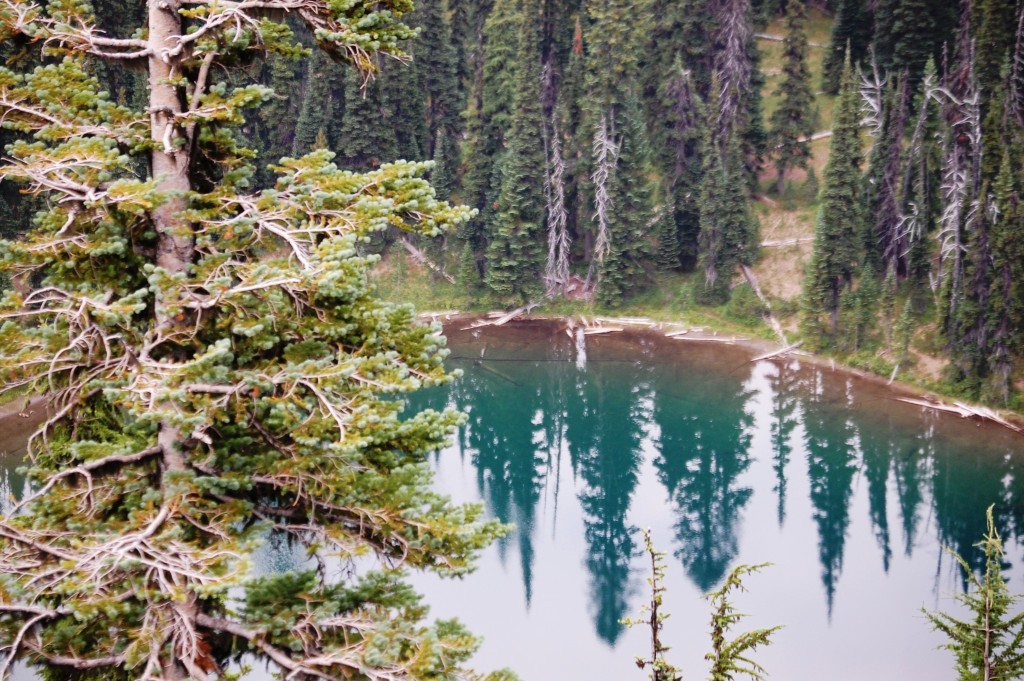 I am excited to share the details of our long trip to Washington over the next couple of weeks.  Hopefully those that read it will get some fun inspiration for their own trip to Washington!