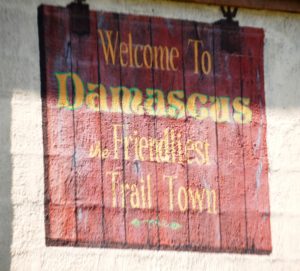 Last weekend we made a trip to Damascus, VA with the goal of Julianne and our daughter Marissa riding their bikes on the Virginia Creeper Trail, one of many wonderful Rails to Trails bike trails that can be found in this part of the country.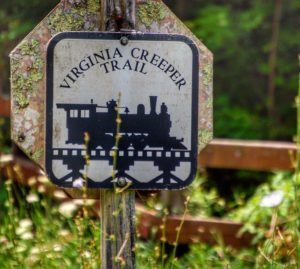 I will have a different post about the Virginia Creeper Trail as part of my Bike Trail Series, but I wanted to post an article about the non-bike portion of our trip to Damascus, Abingdon, and Bristol, VA.  Besides the bike trail, there is so much more to see and do on a  road trip down to this part of Appalachia.
We began our trip by leaving early in the morning on Saturday to drive to Damascus via the towns of Hazard and Whitesburg in Kentucky on US Highways 23 and 119. Once into Virginia, we passed through the small towns of Pound and Wise.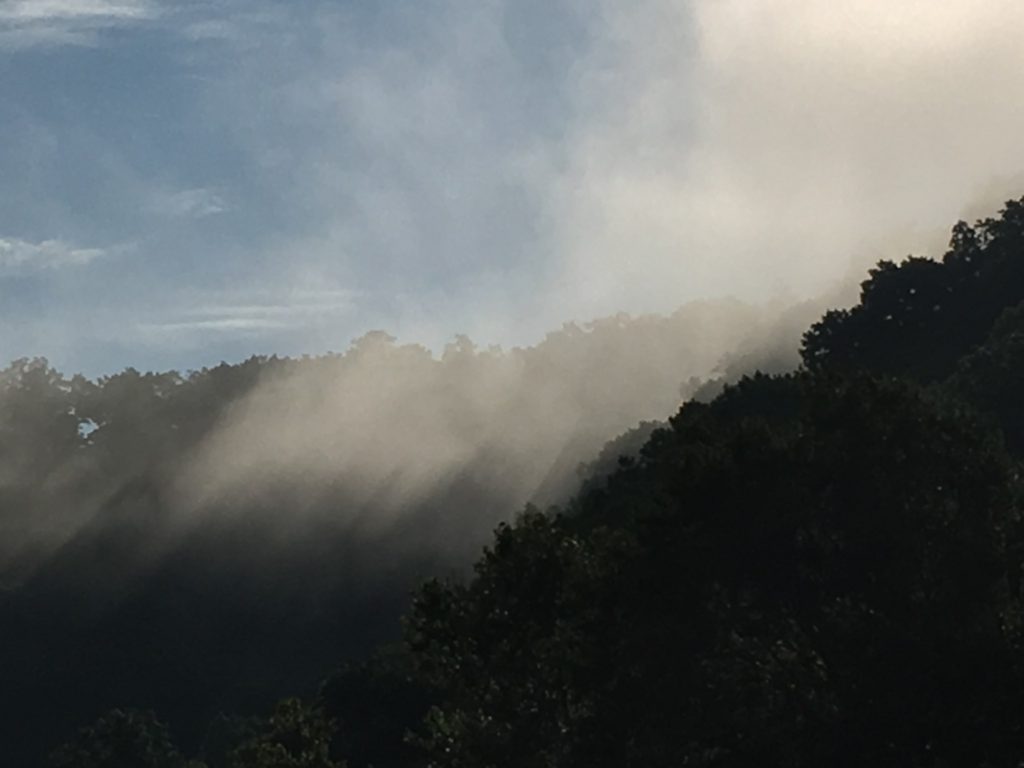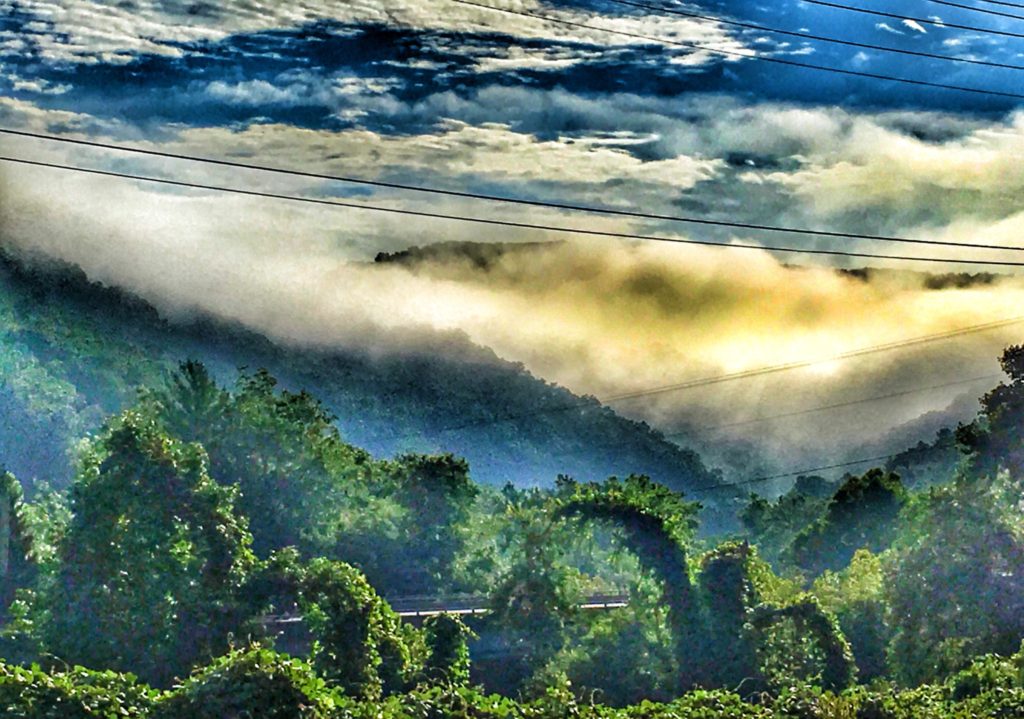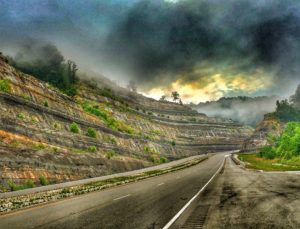 The entire drive that morning was beautiful as we passed through the mountains of Kentucky and Virginia. The mountains were laced with fog and low clouds in this beautiful part of Appalachia.  Many of the plants and telephone lines were covered with the invasive Kudzu (also known as Japanese Arrowroot) plant…though obnoxious, it does have its own eerie beauty.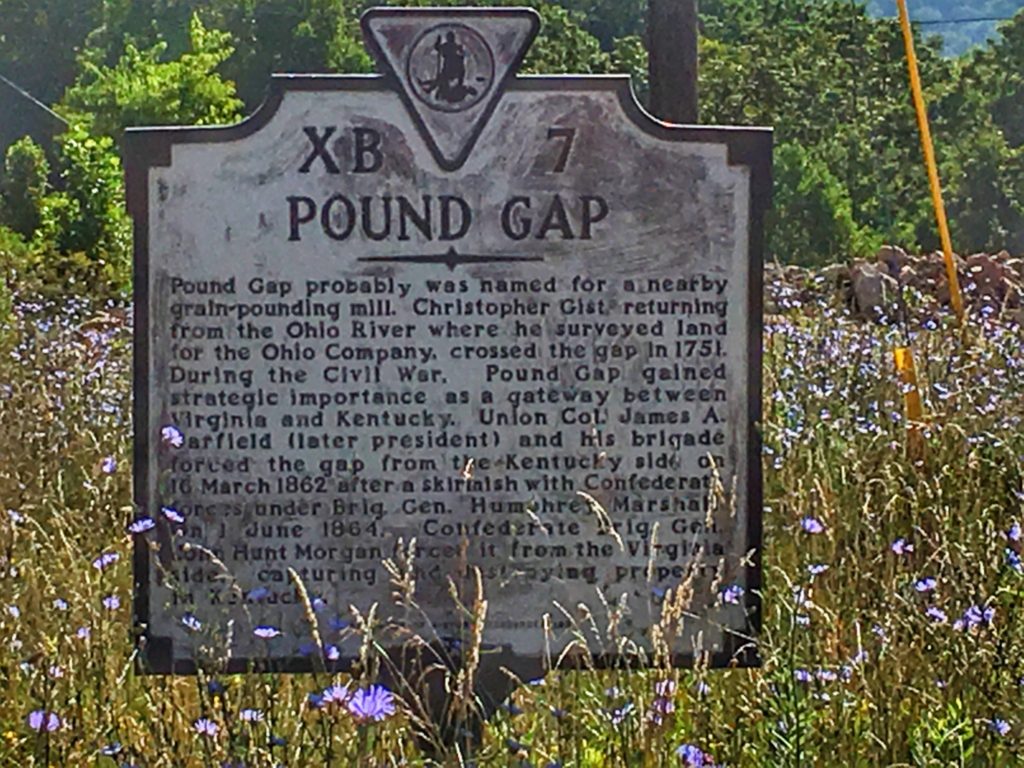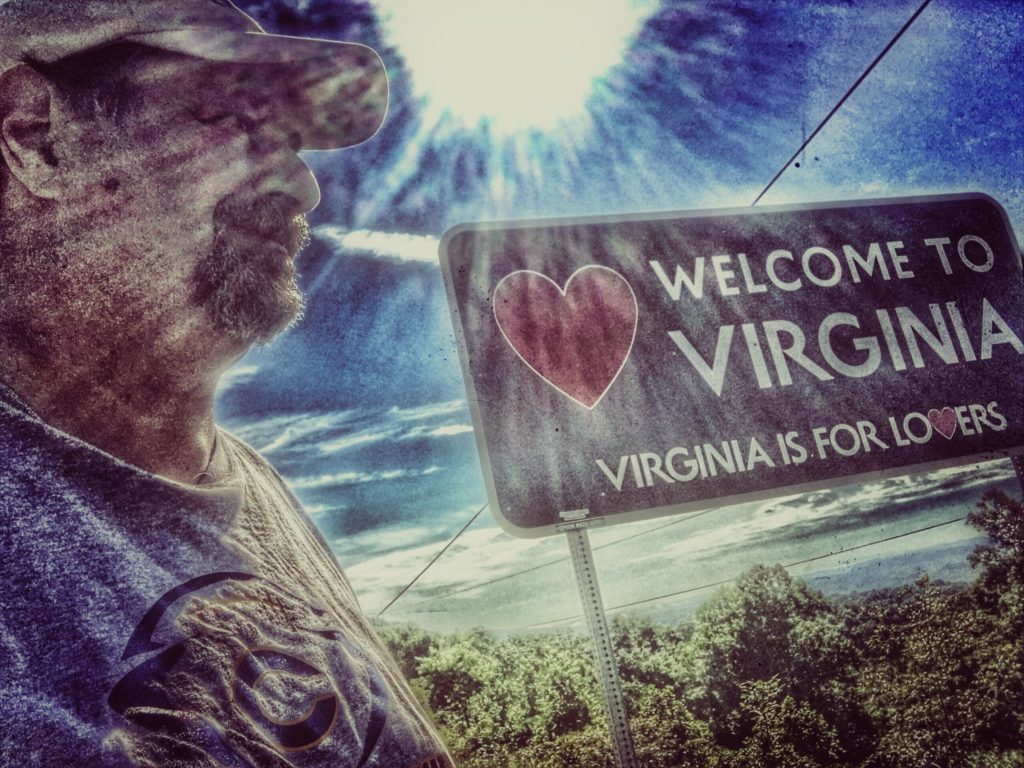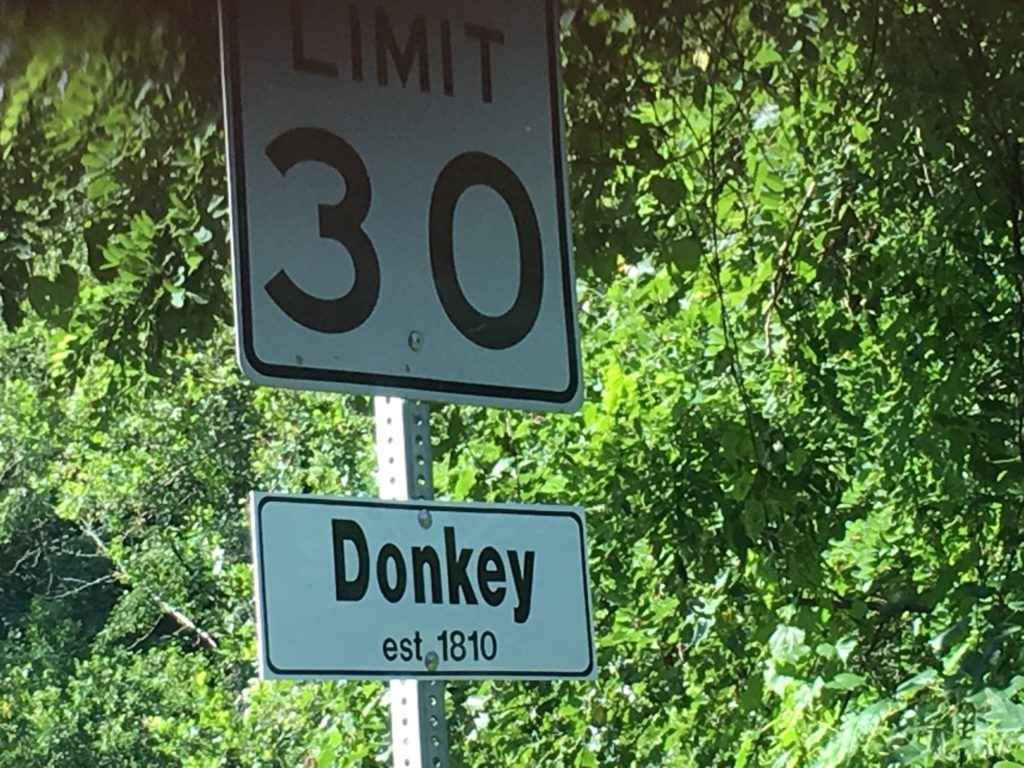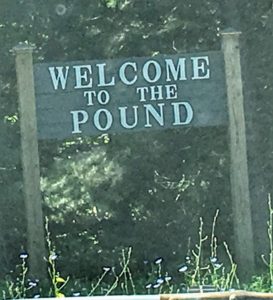 Our first actual stop on the road was right as we entered the town of Pound. As we come down the hill there is a large mural painted on the side of a wall by the highway. As always, I stopped to grab a photo to add to my growing collection of wall murals from around the US and Canada. We then drove through the little village of Pound to see if there was anything interesting, which there wasn't.  But, these small little towns always have a charm about them.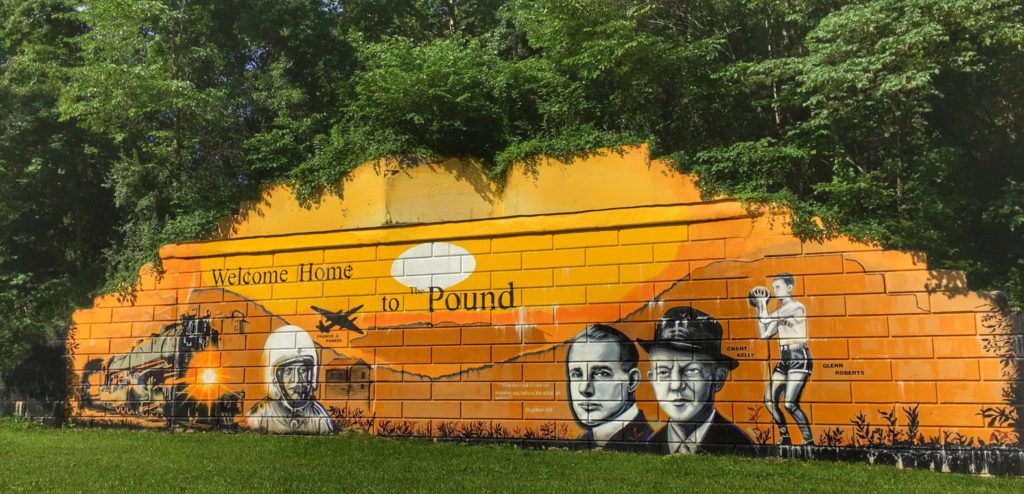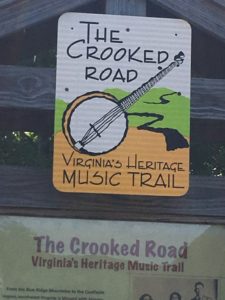 Along US 23 after getting into Virginia, we came across signs that said we were on "The Crooked Road."  The Crooked Road is Virginia's Heritage Music Trail, a driving route through the Appalachian Mountains from the Blue Ridge to the Coalfields region, following U.S. Route 58, but also with parts on U.S. Route 23.
The road winds through over 333 miles of scenic terrain in southwest Virginia, including 19 counties, four cities, and 54 towns.  Famed Bluegrass musicians such as Ralph Stanley, Joe Wilson, the Carter Family Fold and others, all hailed from this area.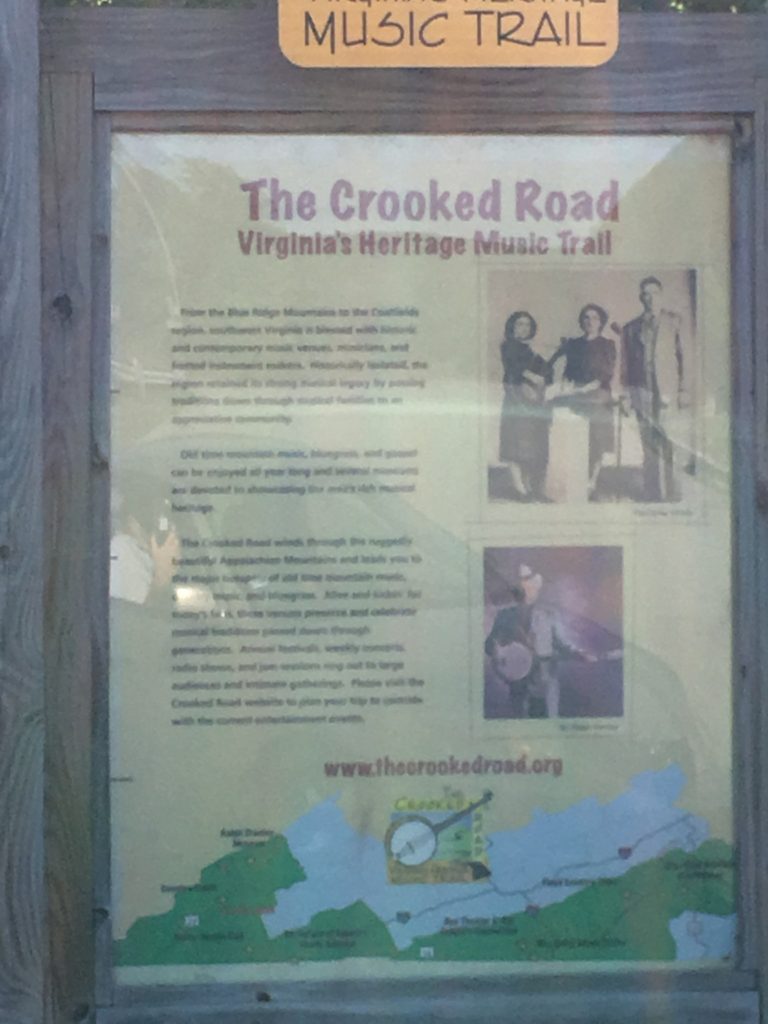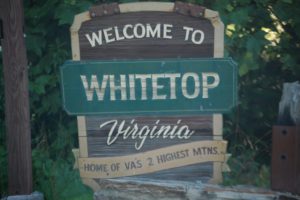 From Pound we made our way into Wise, VA on US 23 and just continued on the road to Damascus.  Our trip eventually took us into Abingdon and then on to Damascus. From there we then went up US Highway 58 to Mount Rogers National Recreation Area and near the top of Whitetop Mountain where there is a station called Whitetop Station where the bike trail begins (actually begins about a mile away in North Carolina).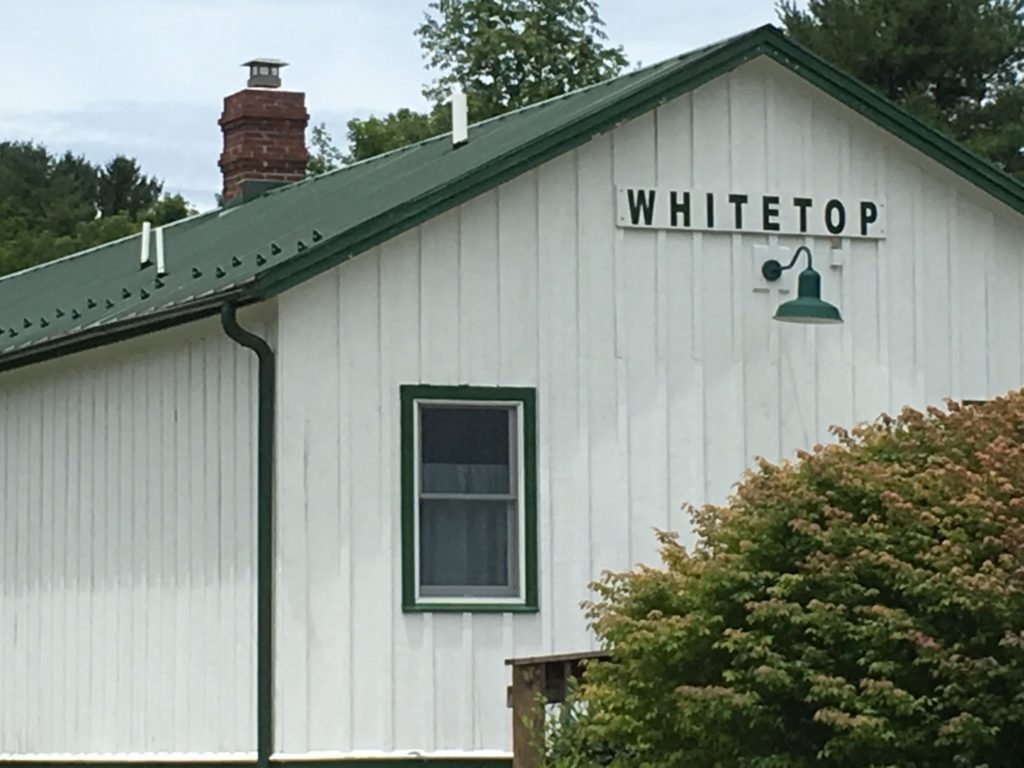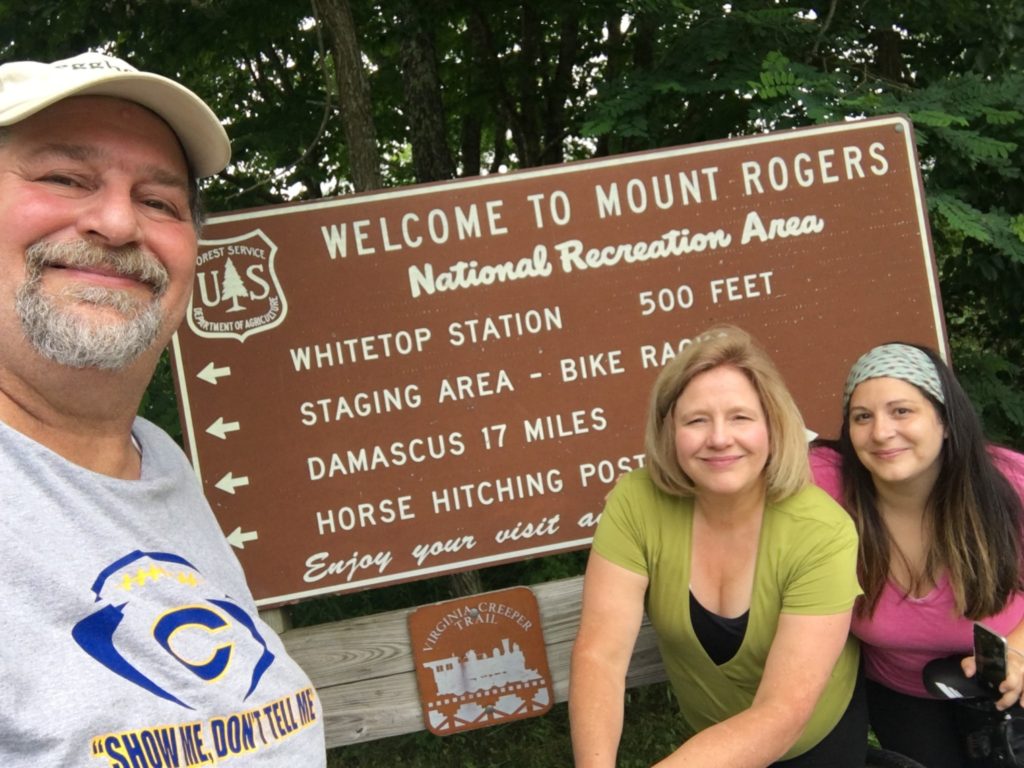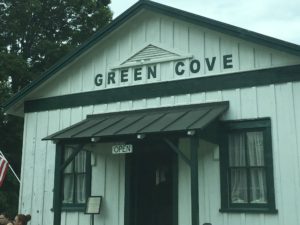 It was a beautiful drive up there and they departed on their ride down the hill. Whitetop Station is about 3500′ in altitude and Damascus is at 1952′, so in a 17 mile stretch they would drop about 1600 feet. (I'll cover that in a separate Bike Trail Post)  After dropping them off, I drove a few mile back to Green Cove Station, which is another stop along the Virginia Creeper Trail.  It was packed with bikers, but is also a very scenic part of the route.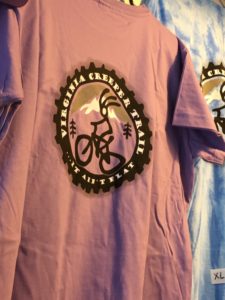 Both Whitetop and Green Cove have snacks, drinks and also sell some t-shirts and hats, proceeds of which go to benefit the Creeper Trail Association that maintains the trail.
The stations also carry a few tools and some spare tires, etc., that have been donated by other riders.
Certainly worth a brief visit to see their offerings if you are up that way.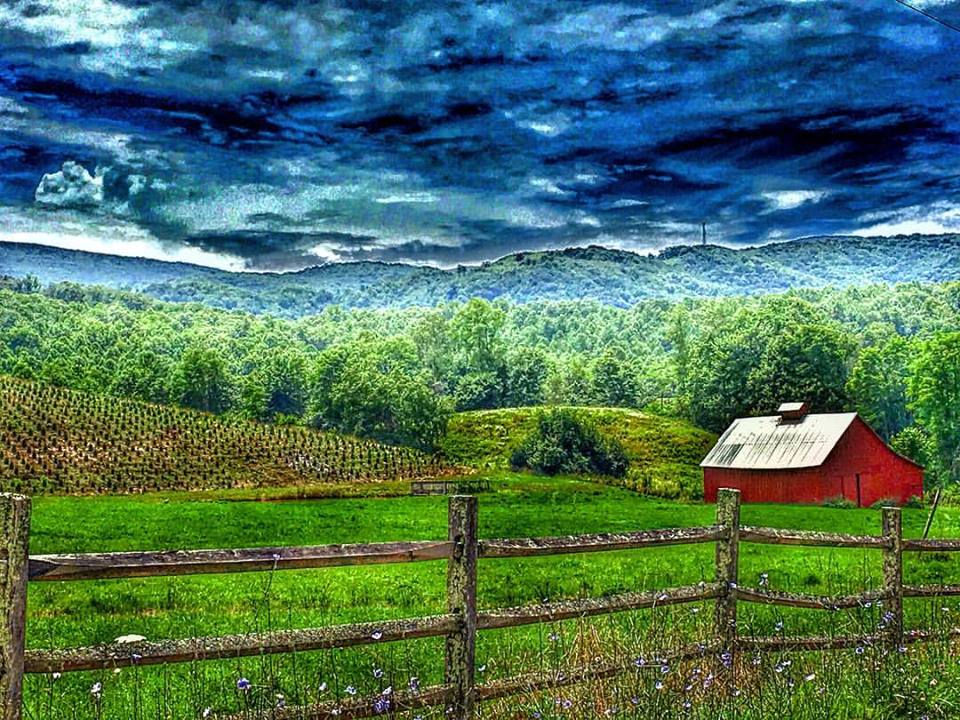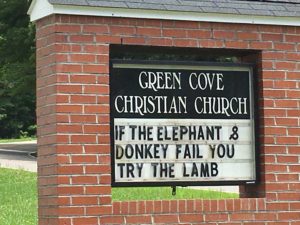 This area near Green Cove is dotted with Christmas Tree farms and is a lusciously pastoral environment for both the bikers and those tat are driving the back roads. The scene above is indicative (and you can see the Christmas tree grove on the left side).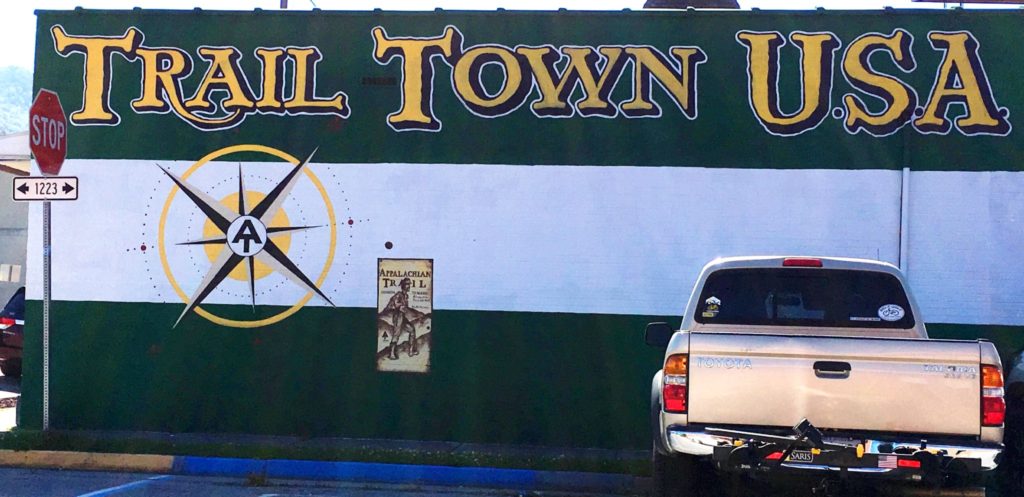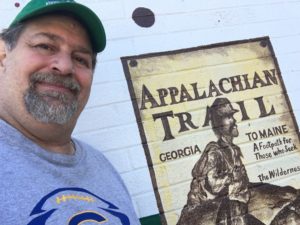 From Green Cove I headed back down to the town of Damascus and drove around. Damascus touts itself as "Trail Town USA." The reason for this is because many trails seem to converge into this town, most specifically the Appalachian Trail which is America's most famous hiking trail and then the Virginia Creeper Bike Trail, which is one of the more well-known bike trails. There are apparently a few other trails that come through the area.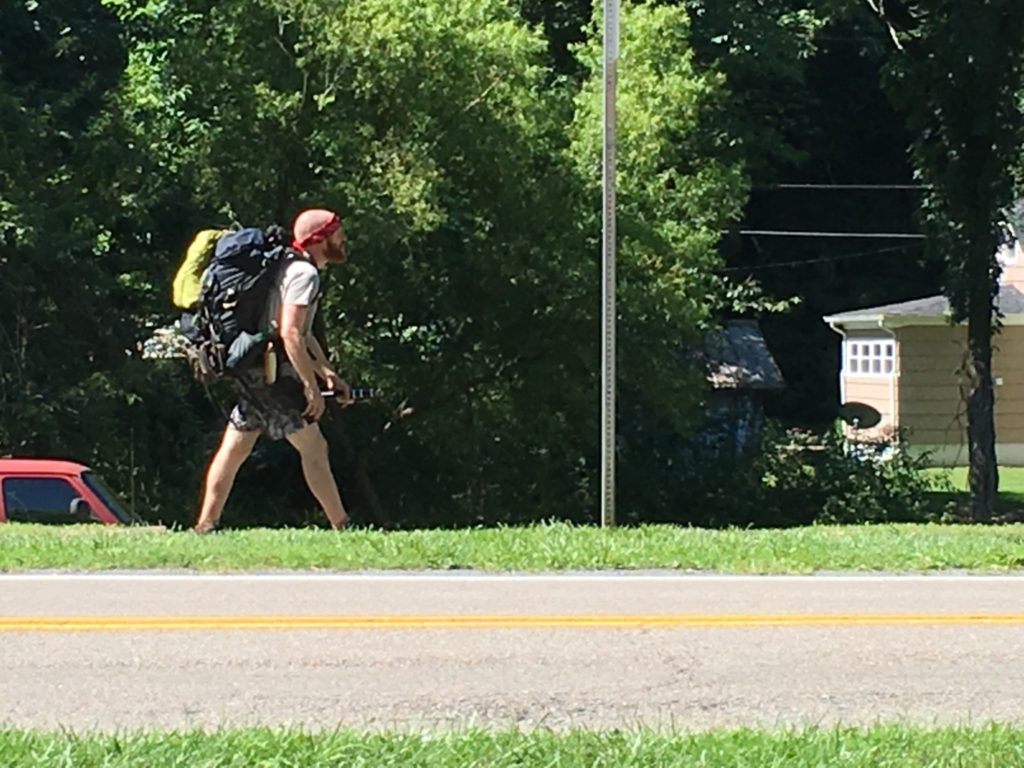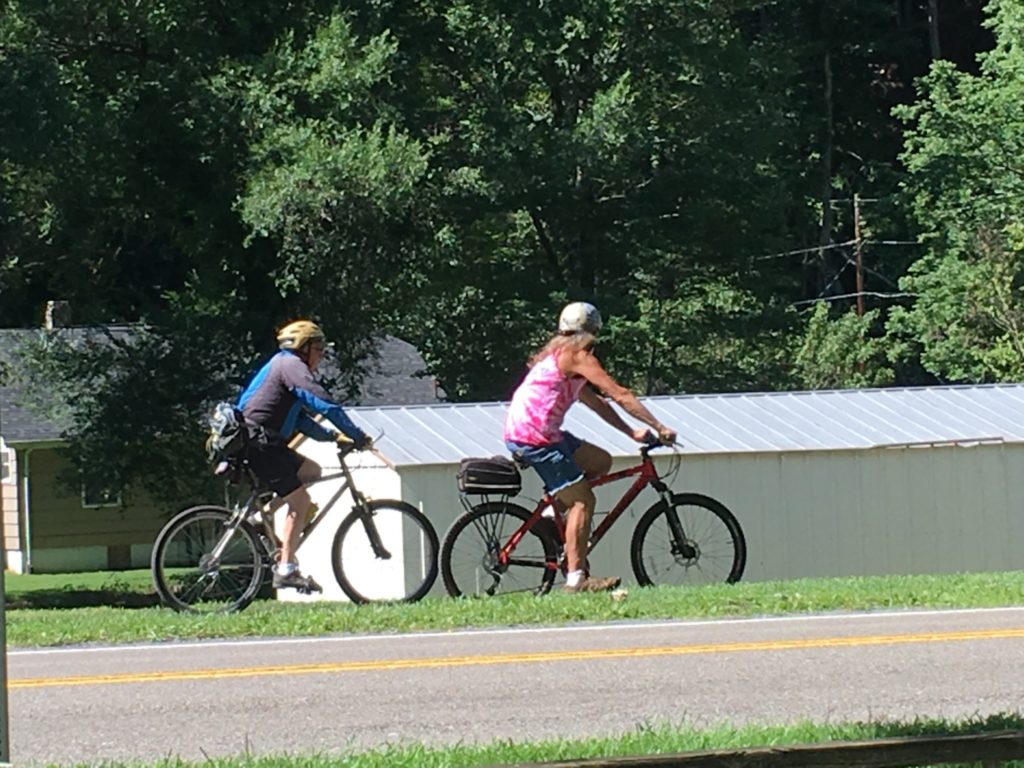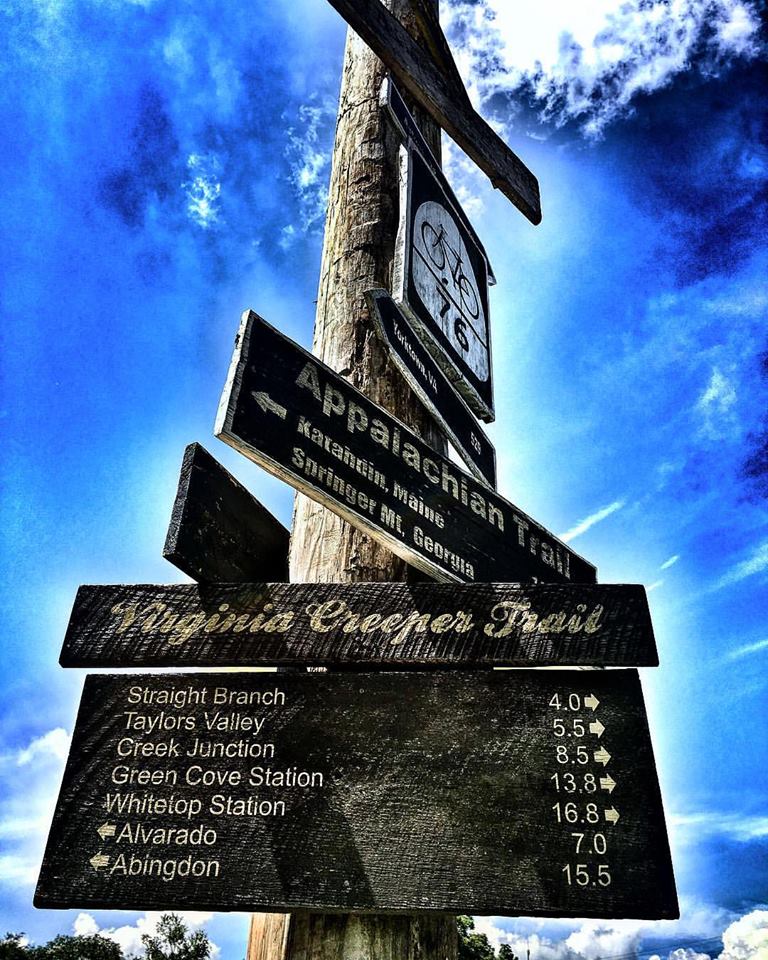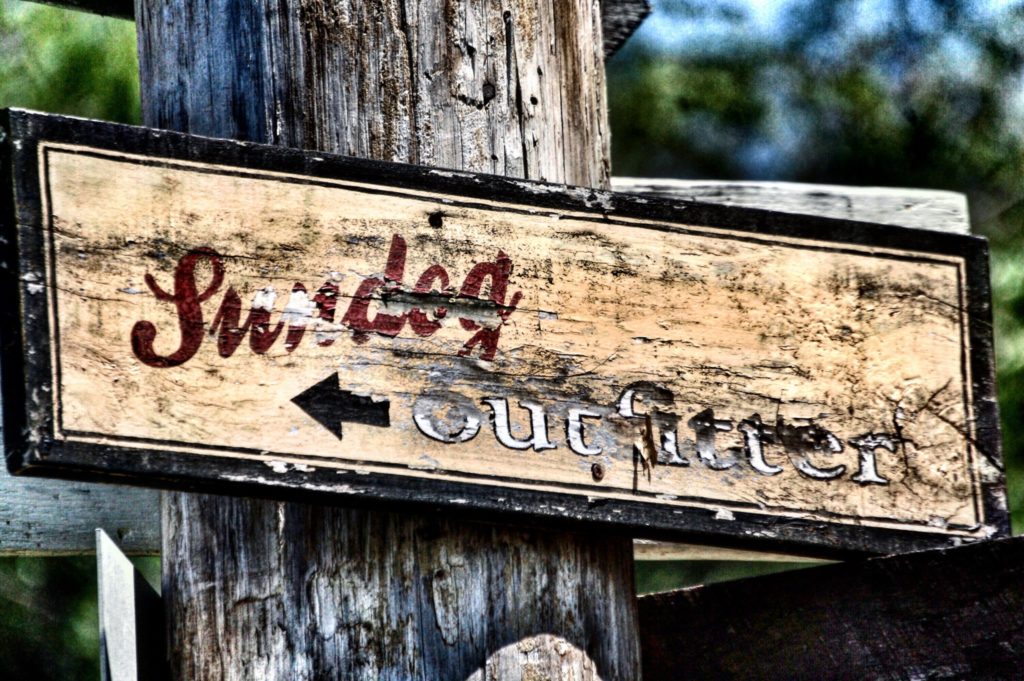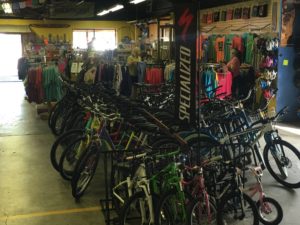 The entire town is set up to handle this "trail traffic." There are outdoor shops, a number of bike shops that sell and rent bikes, there are outfitters that provide the things needed for hiking and camping such as tents and sleeping bags. Many of the eateries in town also cater to this type of crowd, thus giving the town a very relaxed and very friendly atmosphere.  Sundog Outfitters was a great place for this and also has a large bike repair area with most of the items needed.  We know as we had to get a repair done  there during our visit.
Looking for Sleeping Bags?  Check out this review.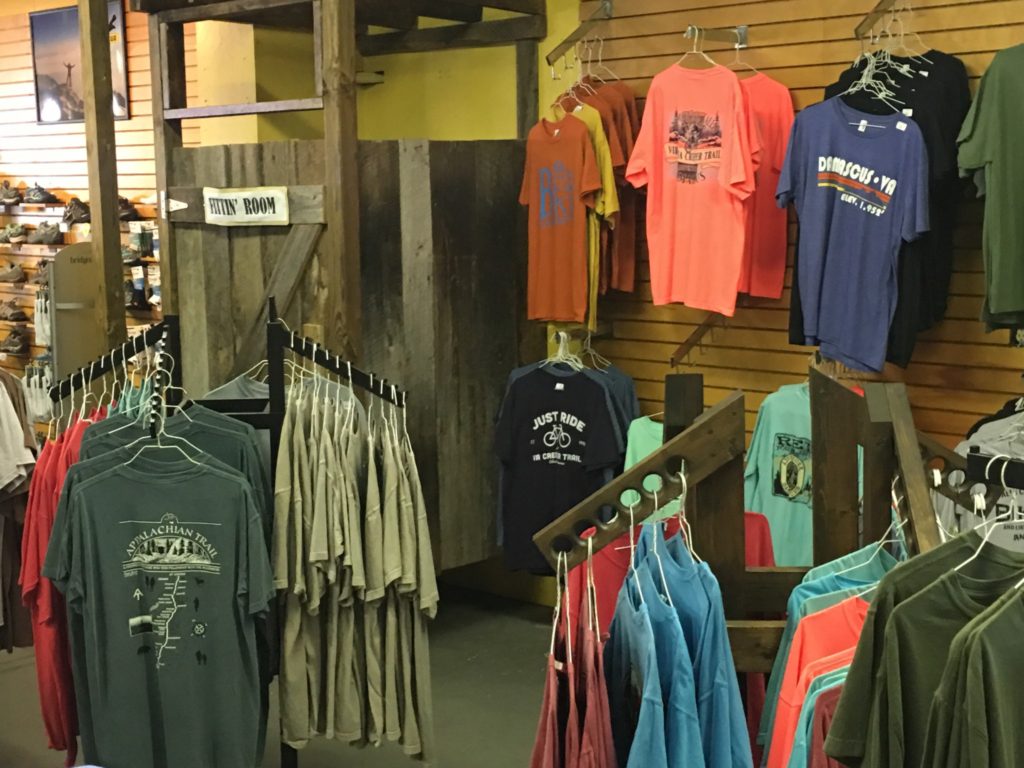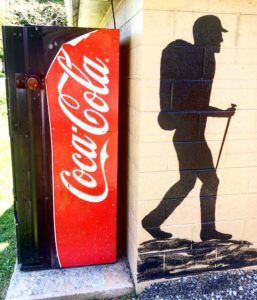 Another thing I liked about the town was the murals. I am always looking for interesting murals and wall paintings. There are 4 or 5 murals including the Trail Town USA mural (shown above) which features a large compass and a life size mural poster of the Appalachian Trail with a pioneer on it.  The Town Park features some interesting murals on the Restroom Walls…one of them I took has become one of my more popular Instagram photos. Following are a couple more I came across.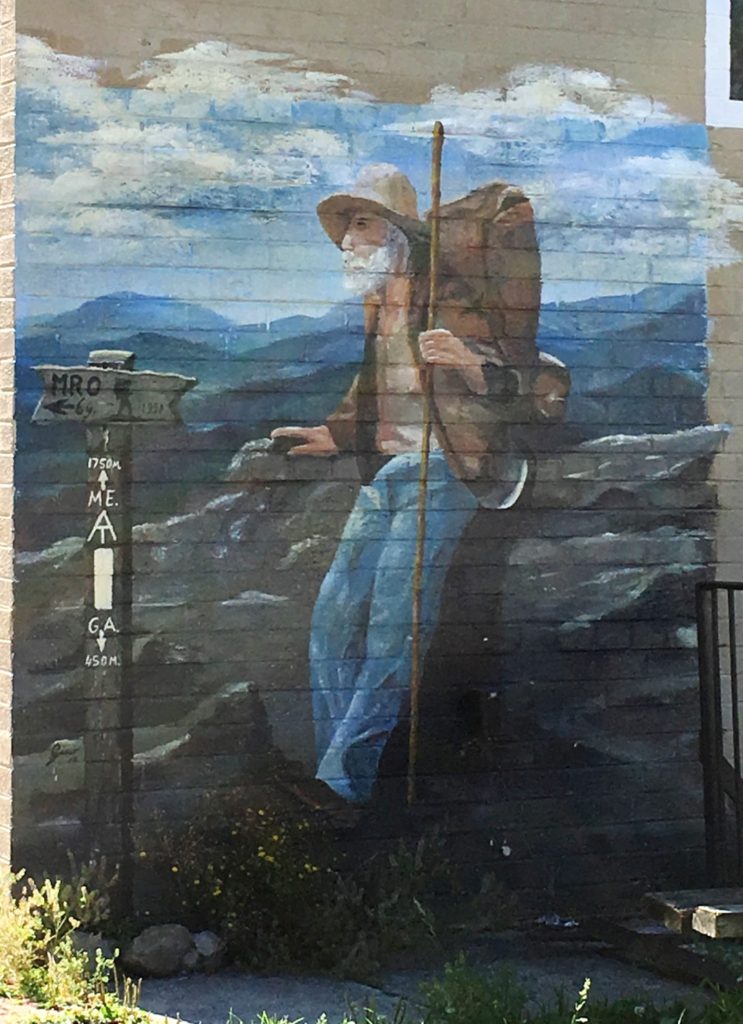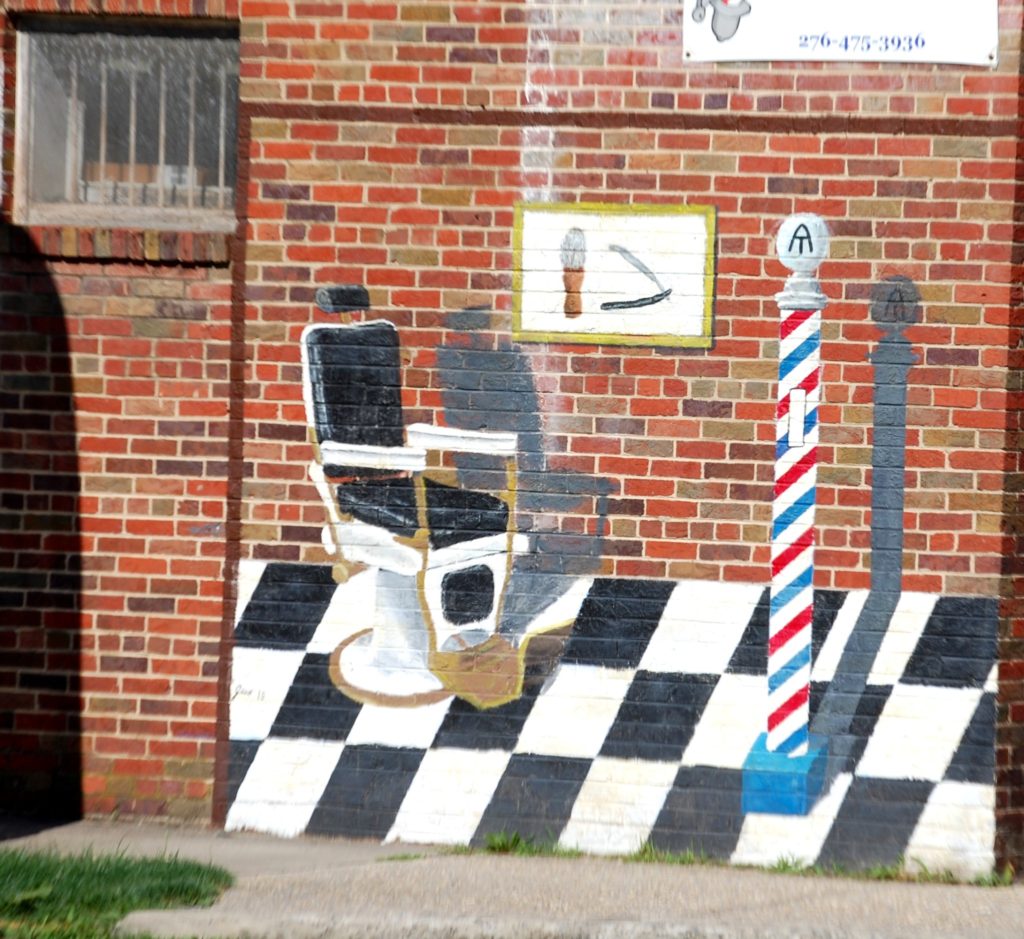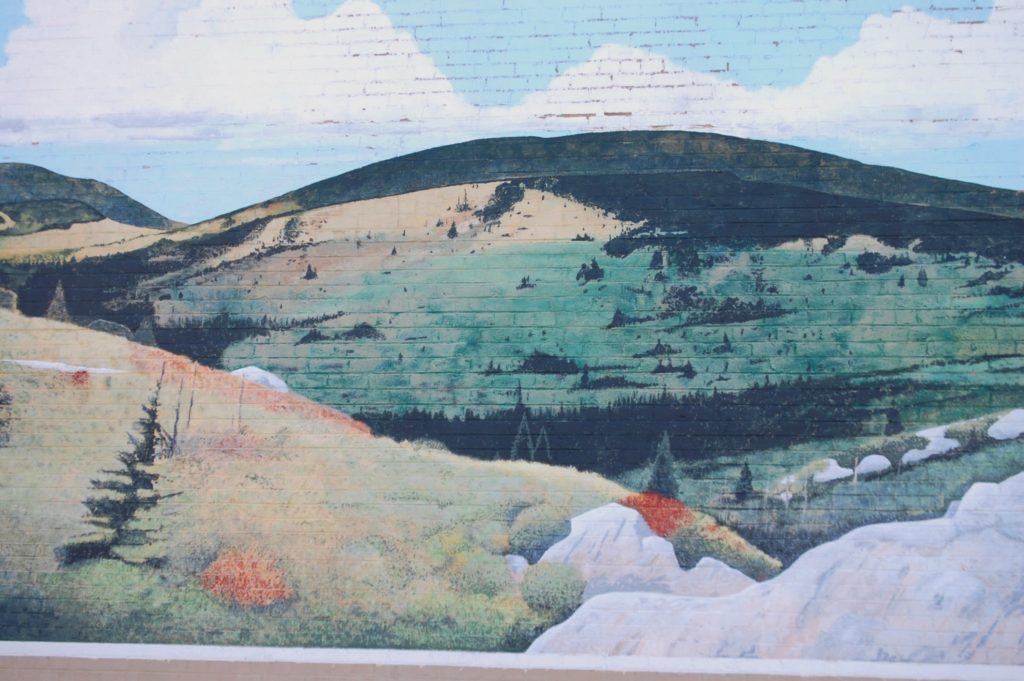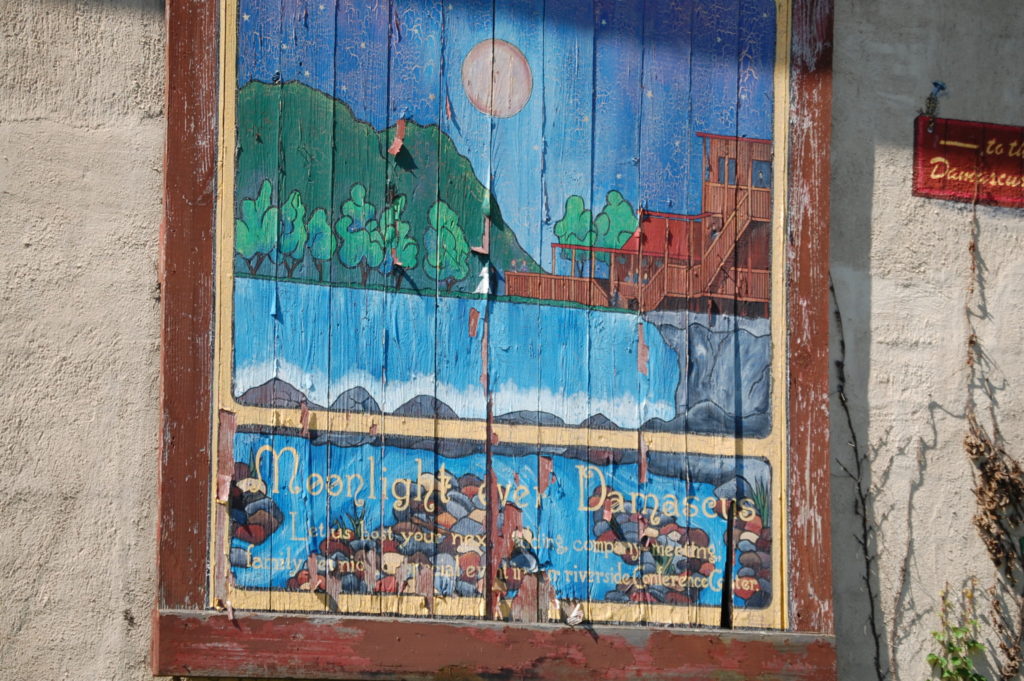 Unfortunately, as I noted above, Julianne's bike broke down along the first few miles of the trail and she and Marissa ended up being stranded.  They made their way to the Upbeet Cafe and the Creeper Trail Cafe, located along the trail on Taylor Valley Road, but really way out of the way for a car from Damascus.  Map is below.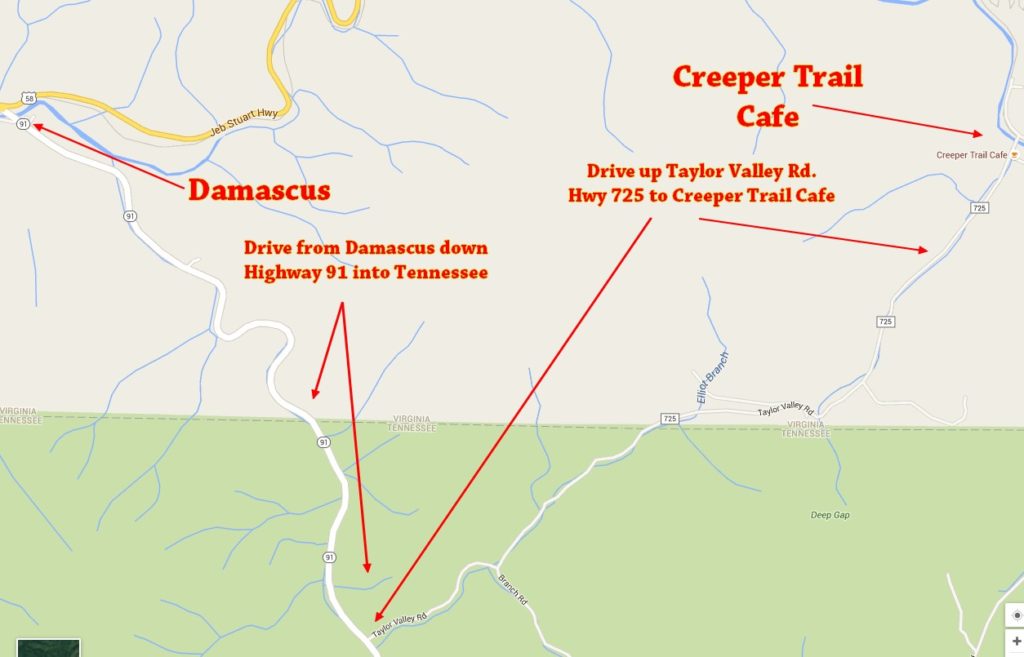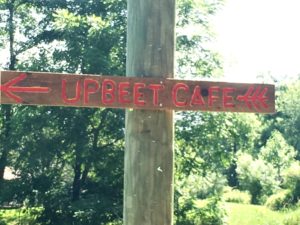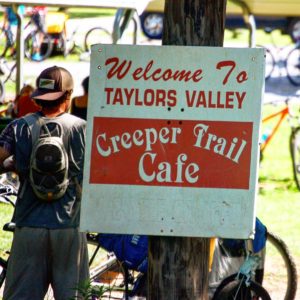 Actually, the Upbeet Cafe, where Julianne was stranded, is further north up VA 725.  Fortunately, a good Samaritan took her in a truck from the Upbeet to the famed Creeper Trail Cafe where I was able to find her and get the bike loaded.
As a result of the downed bike and the time required to drive to Taylors Valley and back to Damascus, we decided to call it a day and go again on the next day.  So, we drove back into Damascus, got the bike repaired at SunDog and then found our way to a place to eat.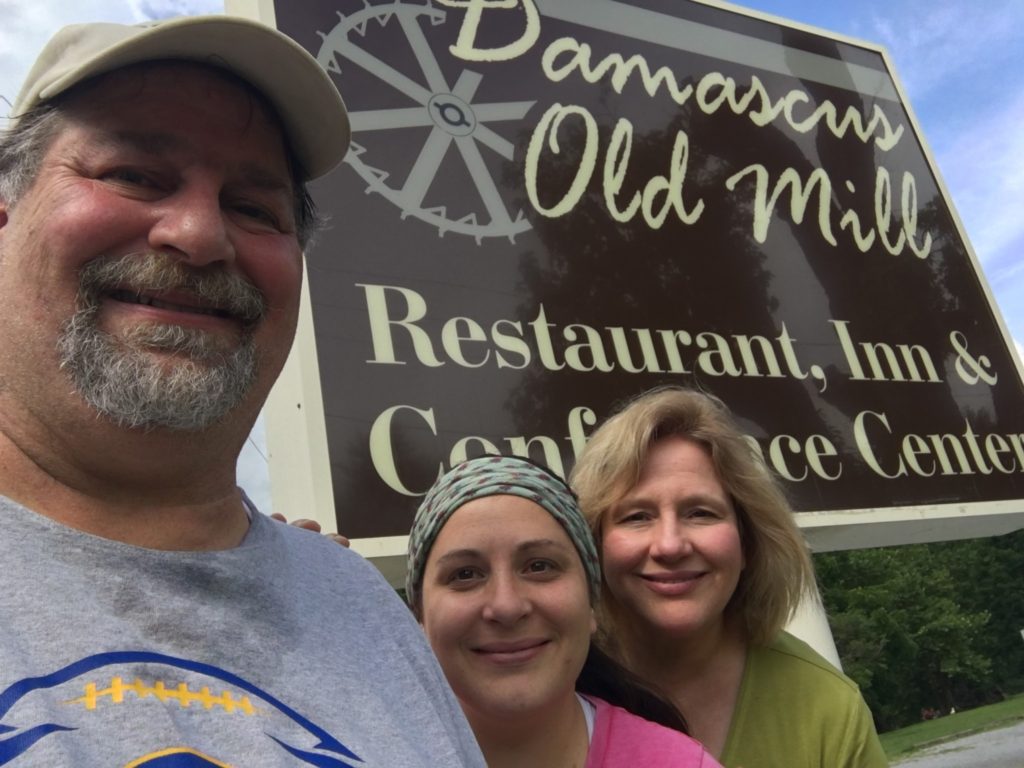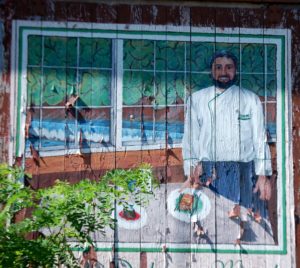 I am always about eating at local places when on the road and had researched to find that the Old Mill Inn in Damascus was THE place to eat in town.  There are many other eateries, but this one is along the river and overlooks a scenic waterfall.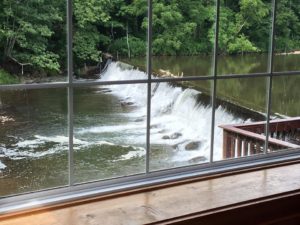 The thing about this unique eatery is that the menu is upscale and the dining experience is nice, but they cater to the casually dressed bikers and hikers. We were given great treatment by Kara Maguire, who is related to the owners.  And we got a special treat when the Head Chef, John King, came out personally to serve us our unique and tasty dishes.  All this while we sat at a table overlooking the waterfall behind the mill.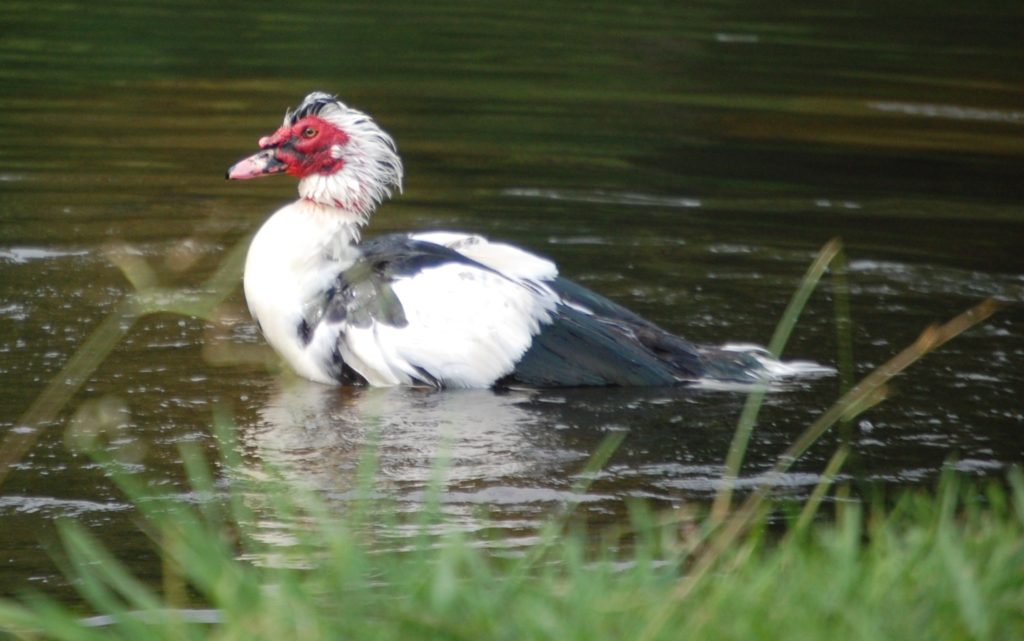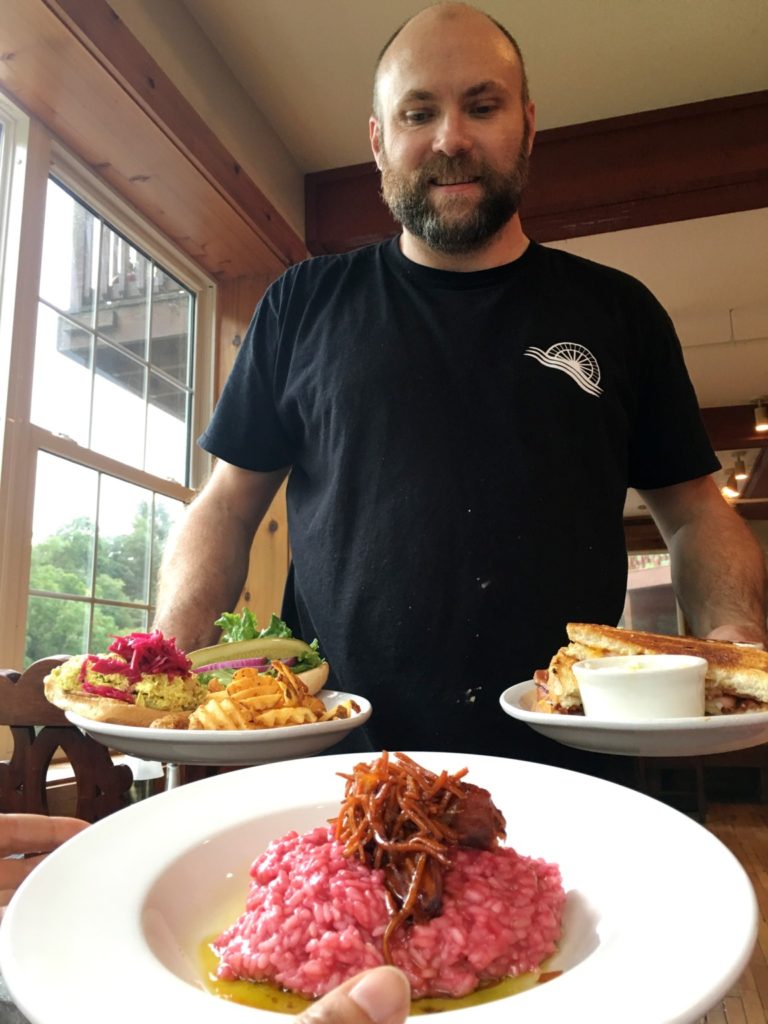 The atmosphere was casual, but the dining experience was upscale. They first brought us some Asian inspired tacos as an appetizer. These were so good that they disappeared before I could even get a photo!  For dinner, Julianne got a vegan dish called Beet Risotto that included some root vegetables that had been steamed and spiced and were laid on top of the risotto. It was very tasty. I picked up a nice pulled-pork three cheese sandwich with their homemade "Mill Slaw."  Marissa had a chicken curry sandwich which was also quite amazing.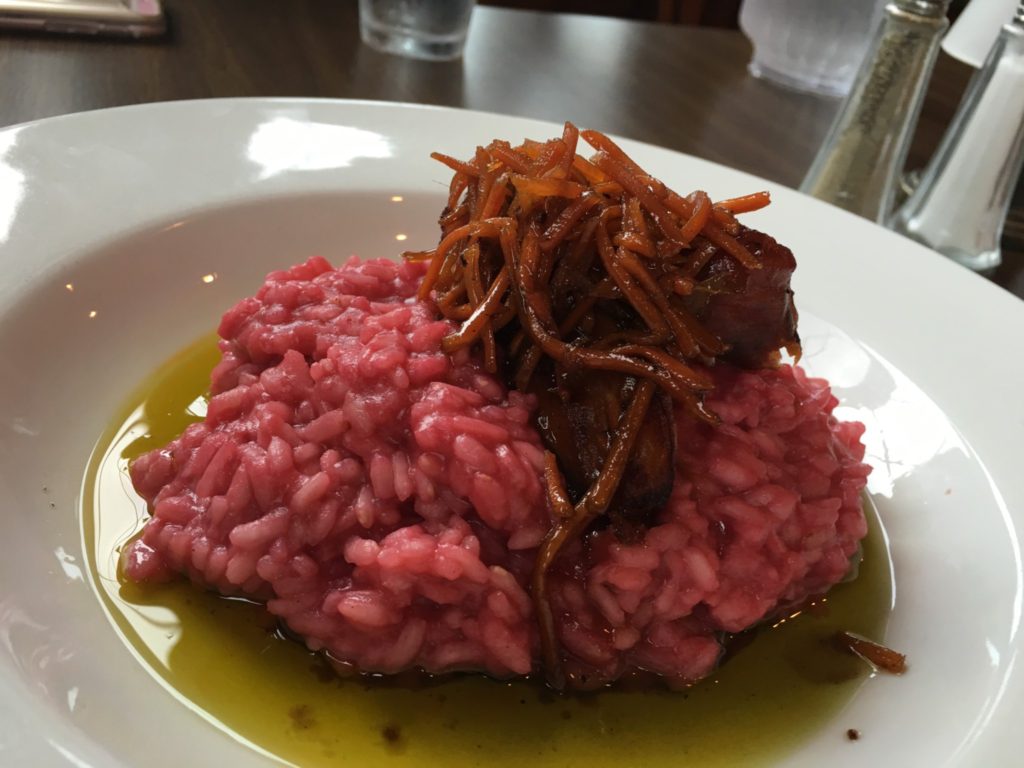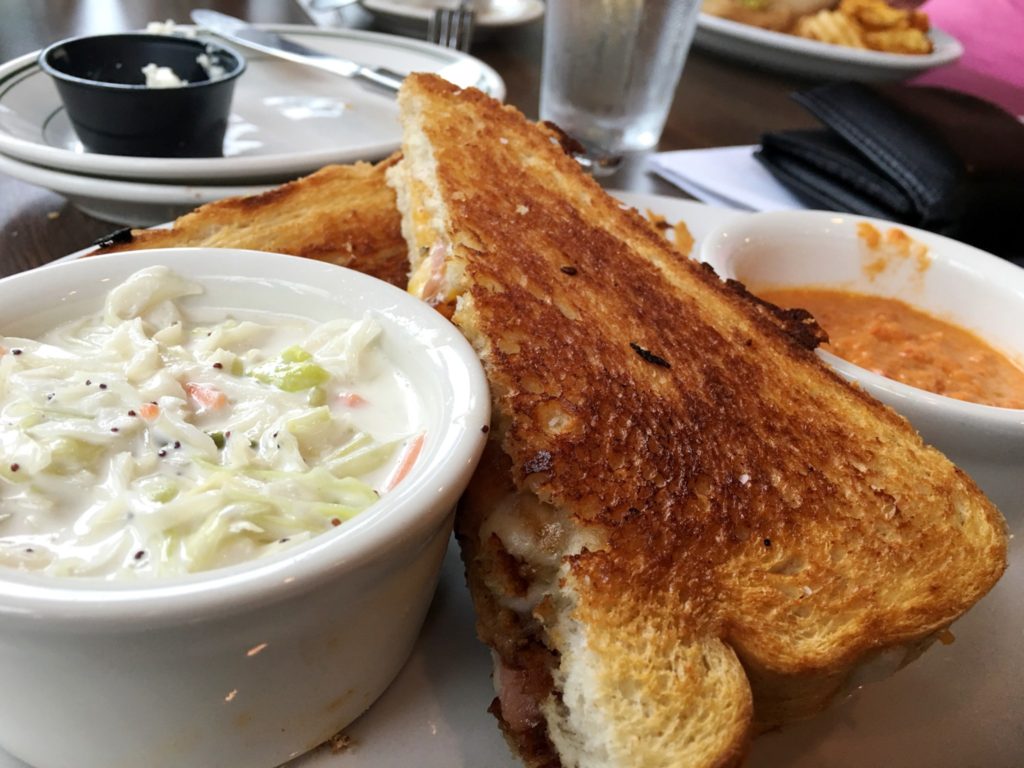 After dinner, we  spent the night in Bristol, Virginia. I had earned a free night through my Choice Hotels points and stayed at Quality Inn and Suites.  It was a nice restful evening as prepared to get up early the next morning to return to Whitetop.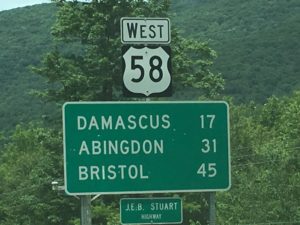 Our drive up to Whitetop Station on Sunday was phenomenal! Along the roadway there were many places where we saw sunbeams coming through the trees, such as the photos that I have included below.  Reminded me of a reference to Paul the Apostle in Acts 9:3 in the New Testament that says: "And as he journeyed, he came near Damascus: and suddenly there shined round about him a light from heaven." Indeed, on US 58 near Damascus, we too enjoyed the lights from Heaven on that Sabbath morning.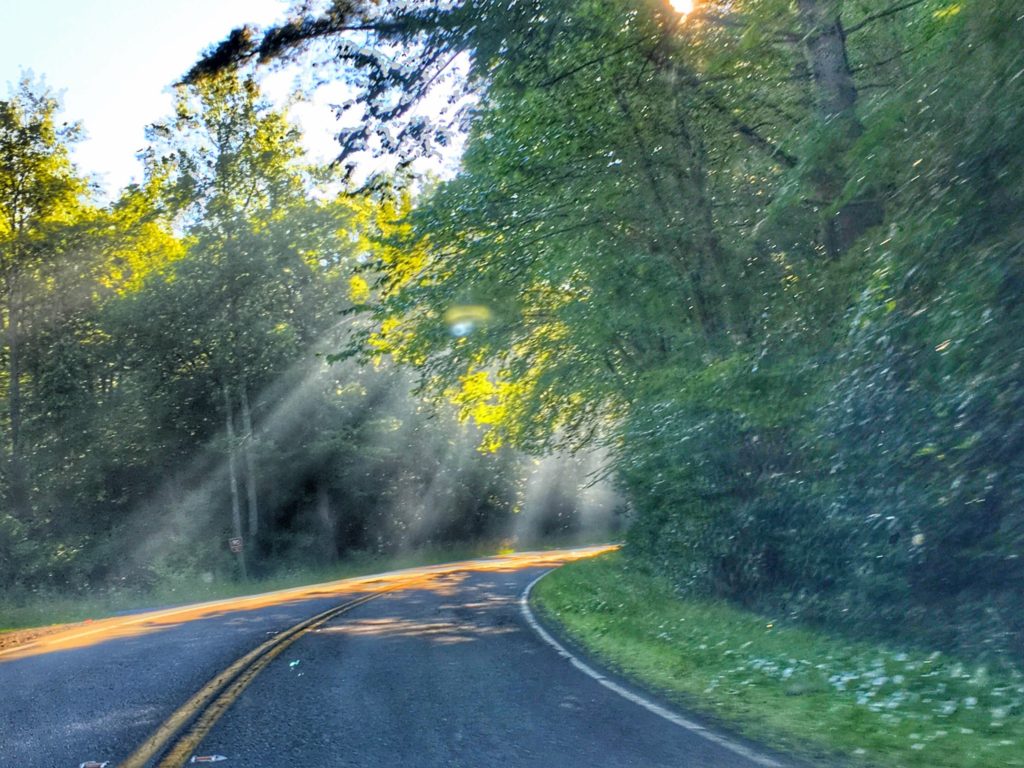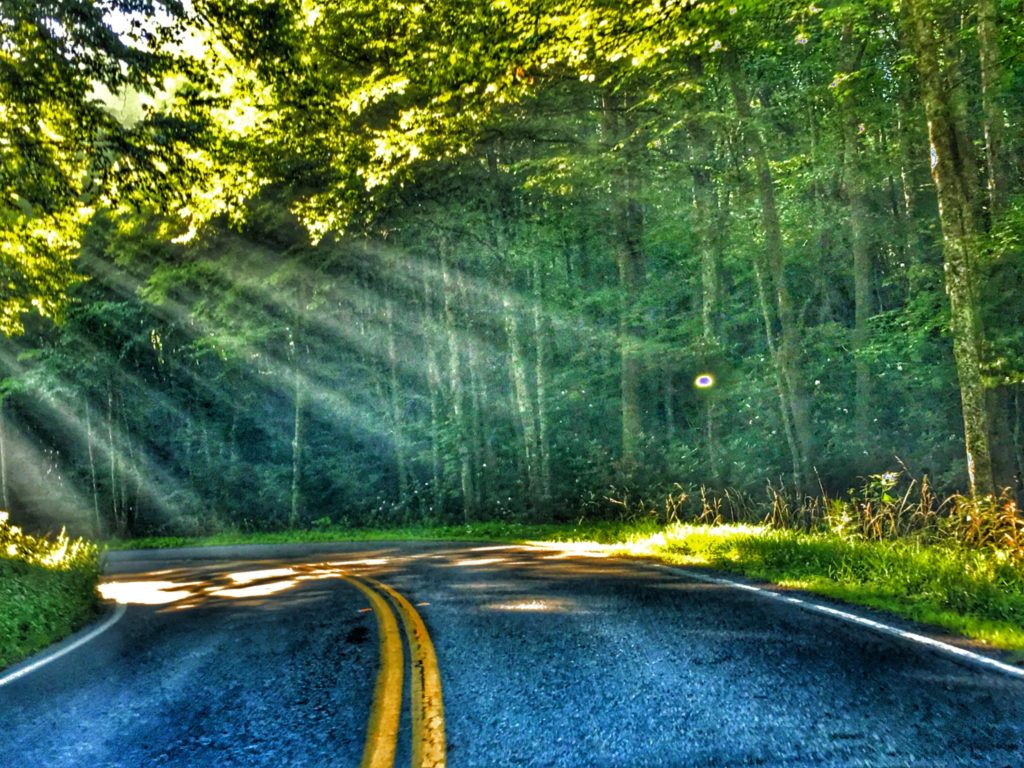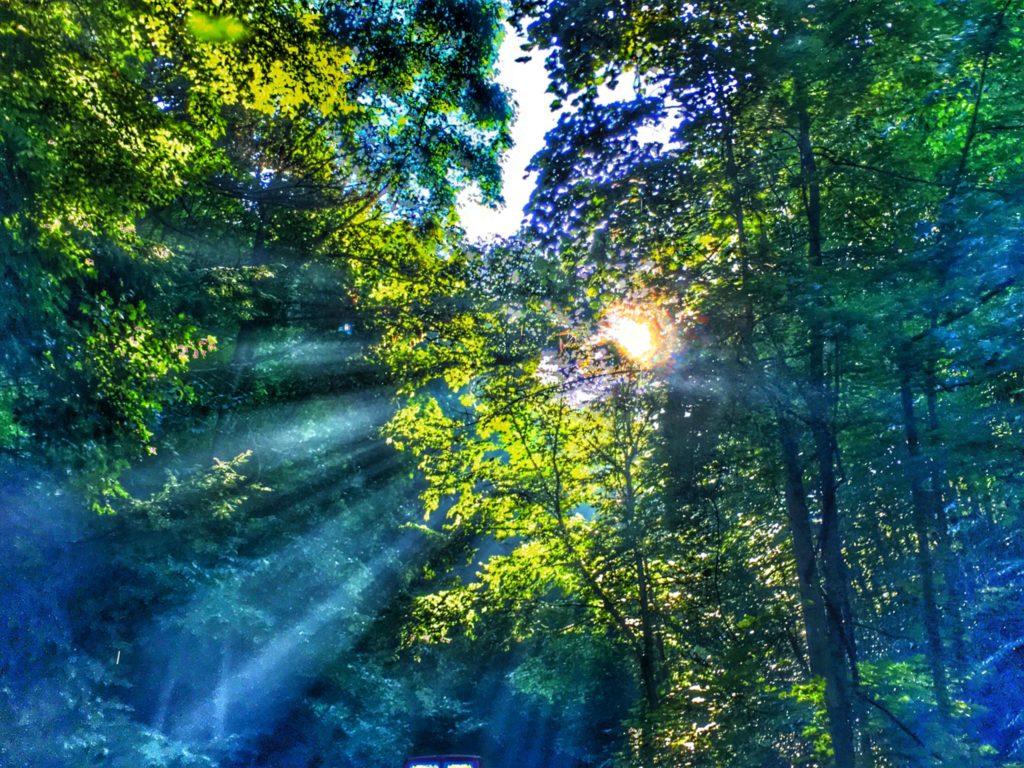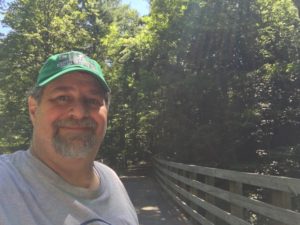 After dropping them off on the trail,  I made my way back down the road and visited a couple of the bridges and then went on to Damascus and did more driving around town to find old buildings, little bed-and-breakfast places and ultimately a place for us to eat dinner.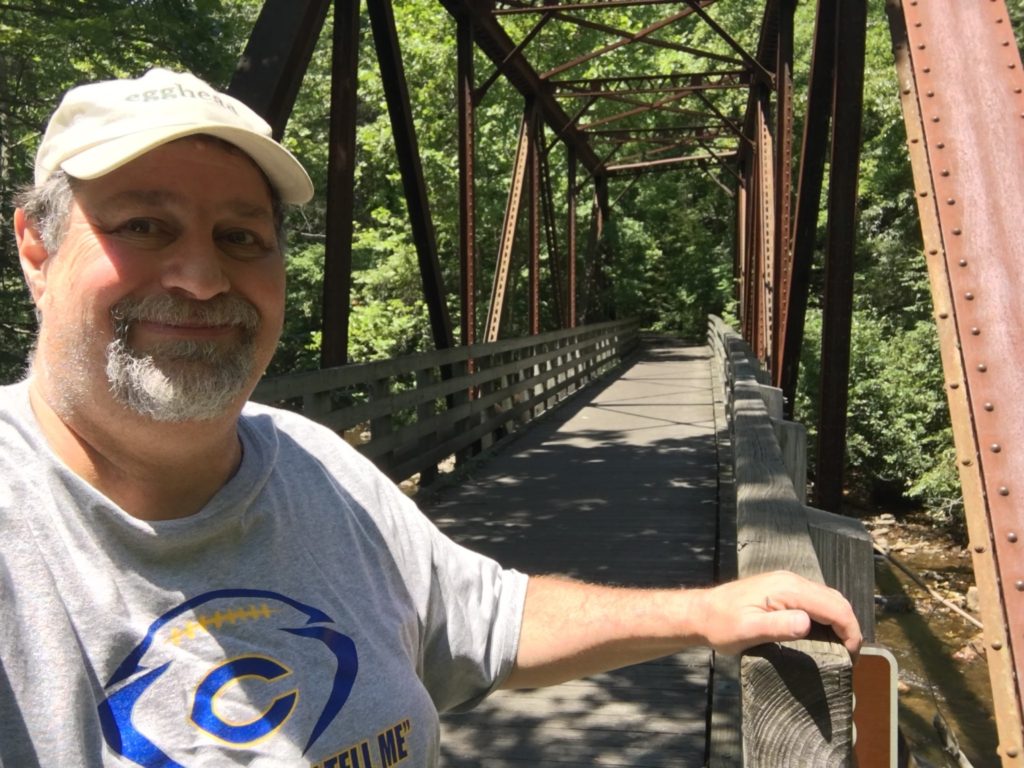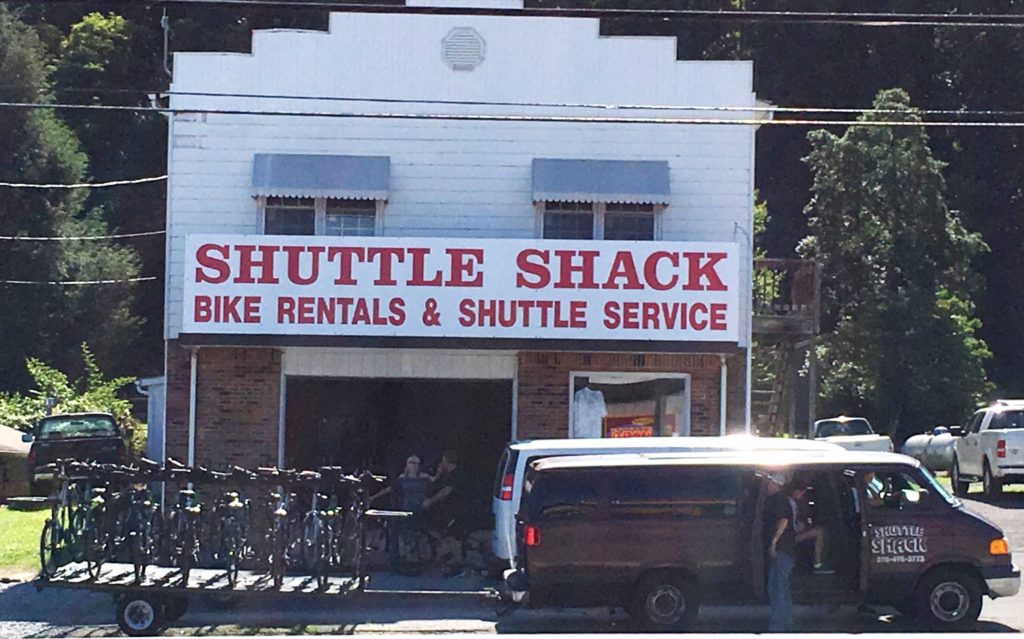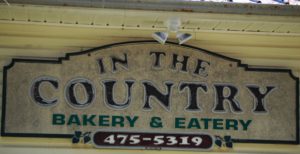 On Sunday we stopped for lunch at a place along the trail called In the Country Bakery and Eatery. There are actually many places along the trail, some of which are actually a challenge to get to via automobile but have been built specifically to handle trail traffic. I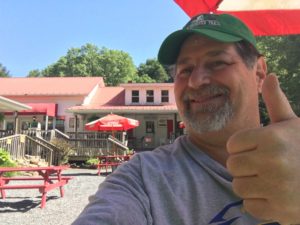 already mentioned the Upbeet Cafe and Creeper Cafe above. But on this day we stopped at In the Country which sit on the outskirts of Damascus. They offer sandwiches, baked goods and home made fudge. Their food was reasonable and they had indoor and outdoor seating with a view of the trail across US 58.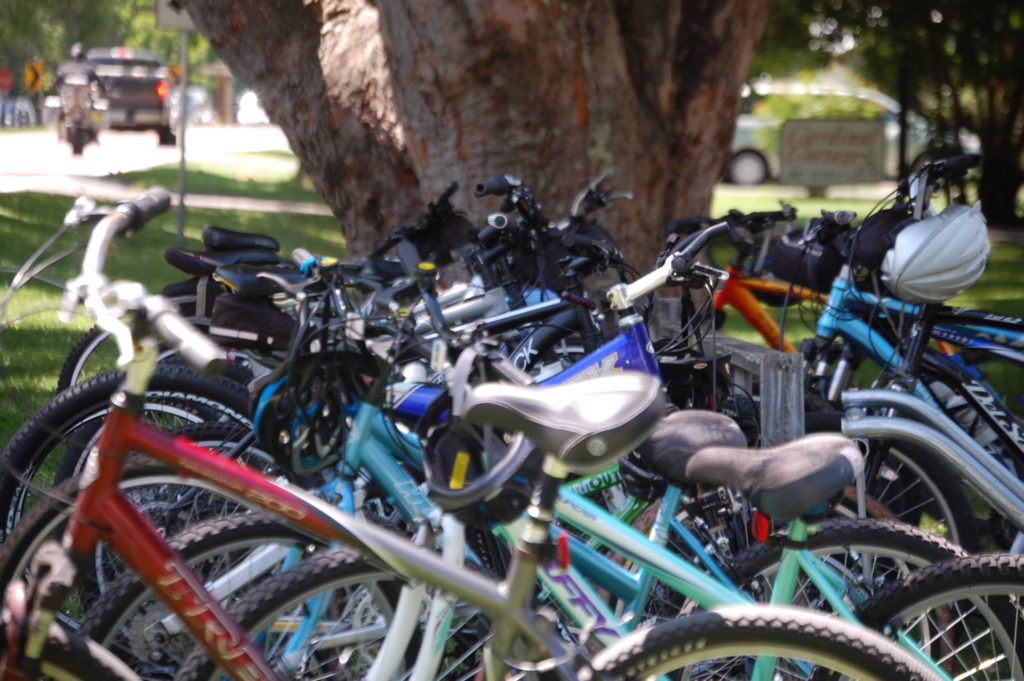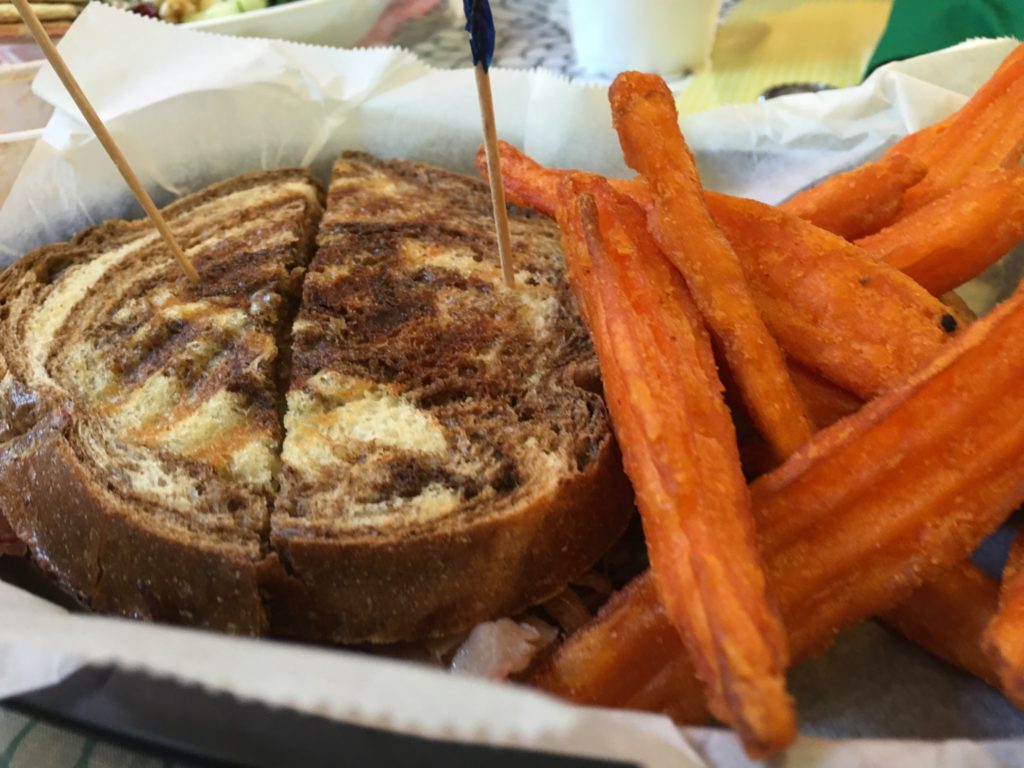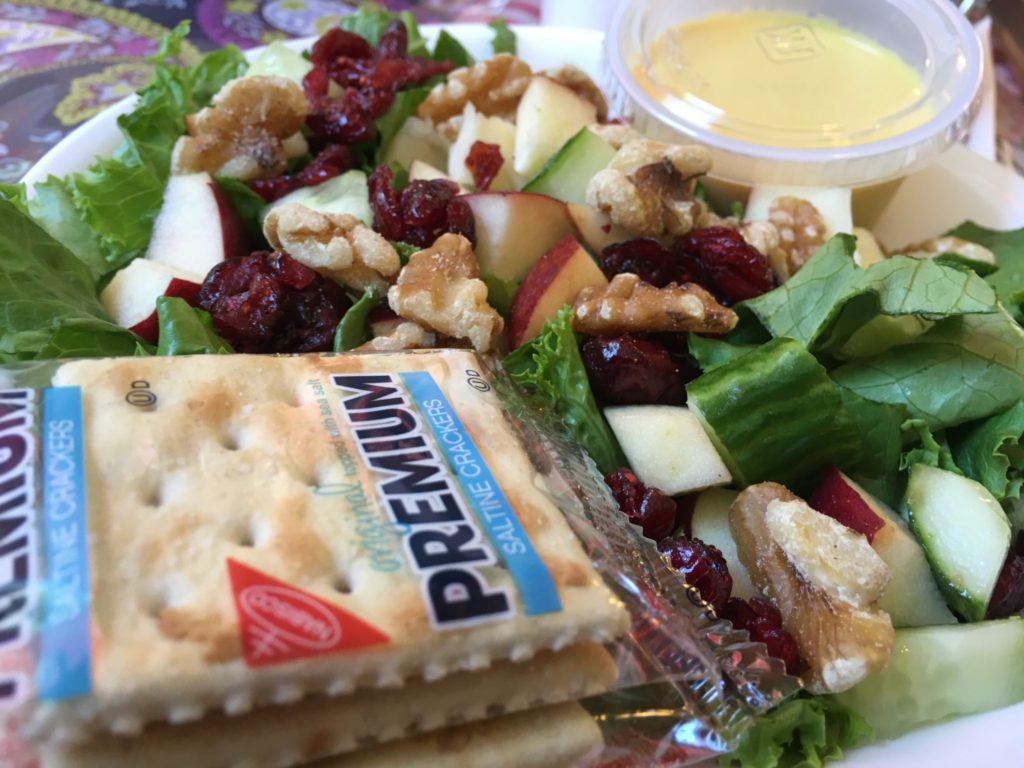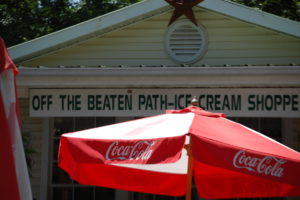 On the same site they have a great ice cream place called Off the Beaten Path Ice Cream Shoppe.  It so happened that July 17 was National Ice Cream Day so we all indulged in ice cream.
They offered about 20 different flavors and also had some sherbets so it was perfect for a very warm day.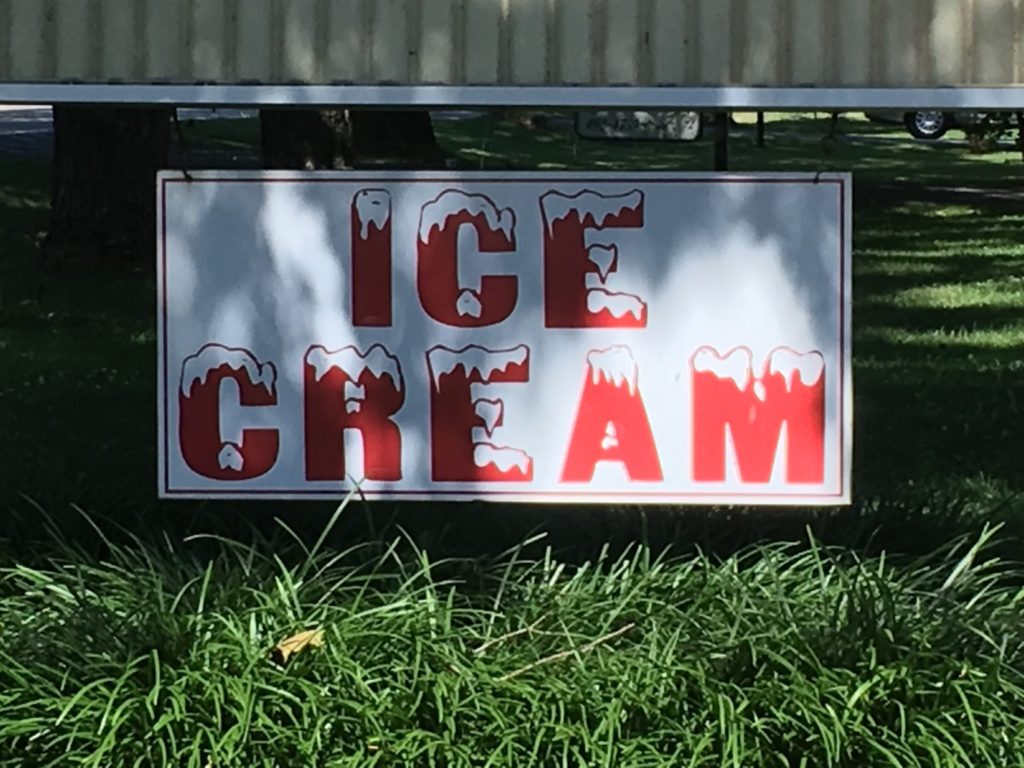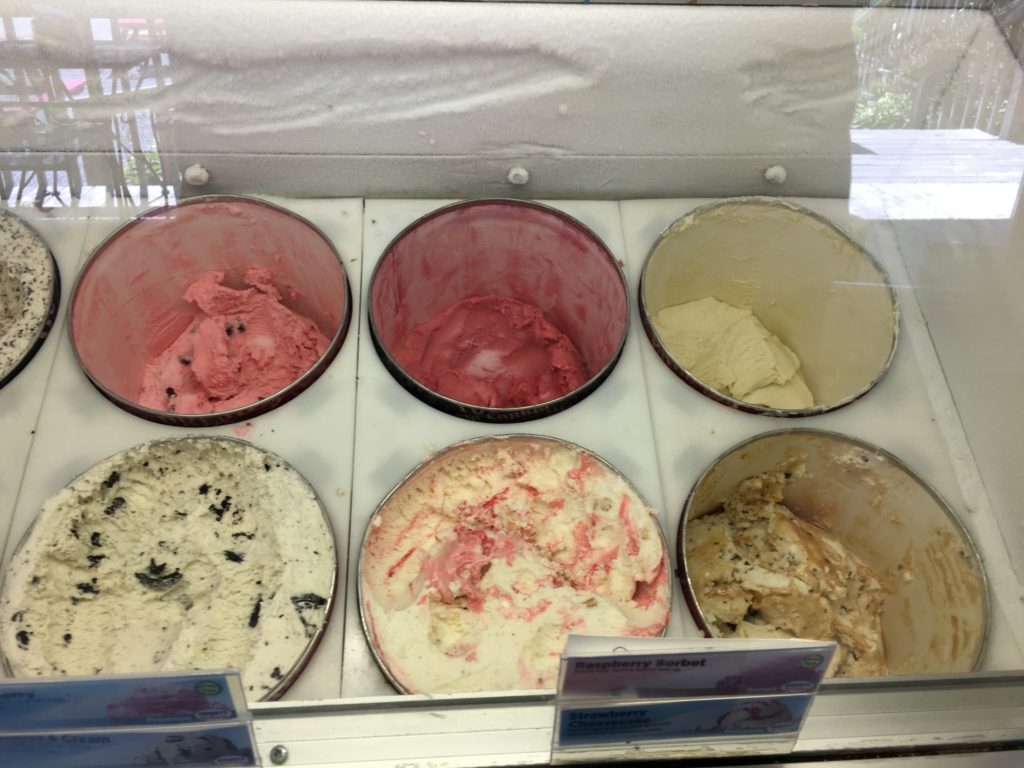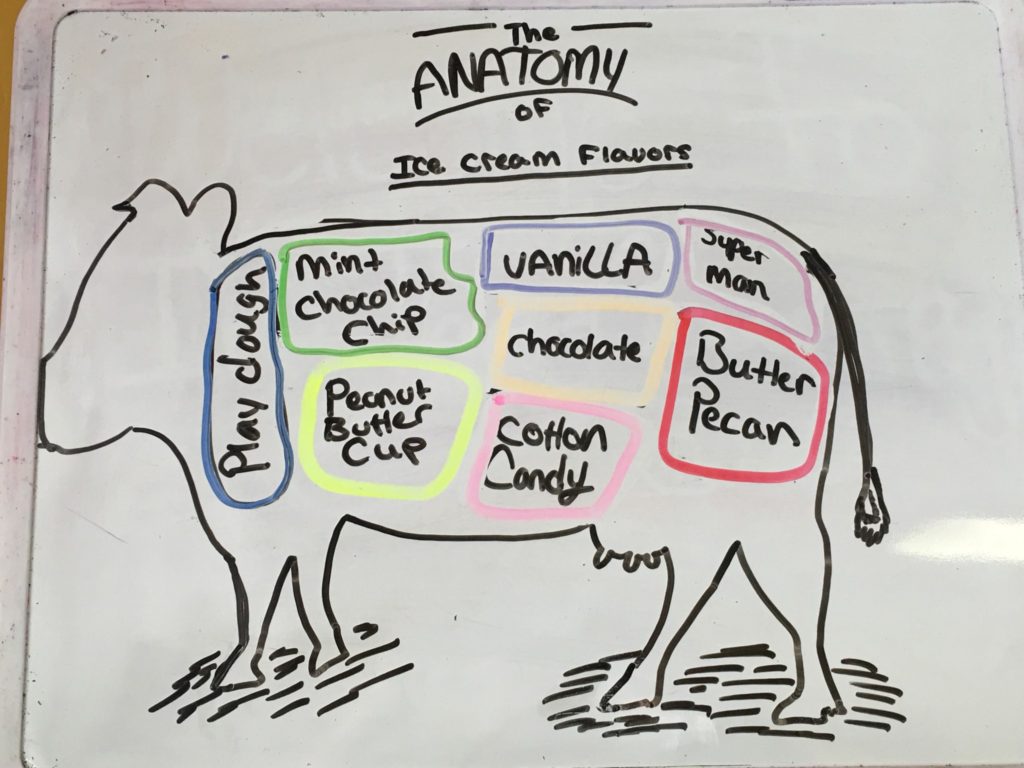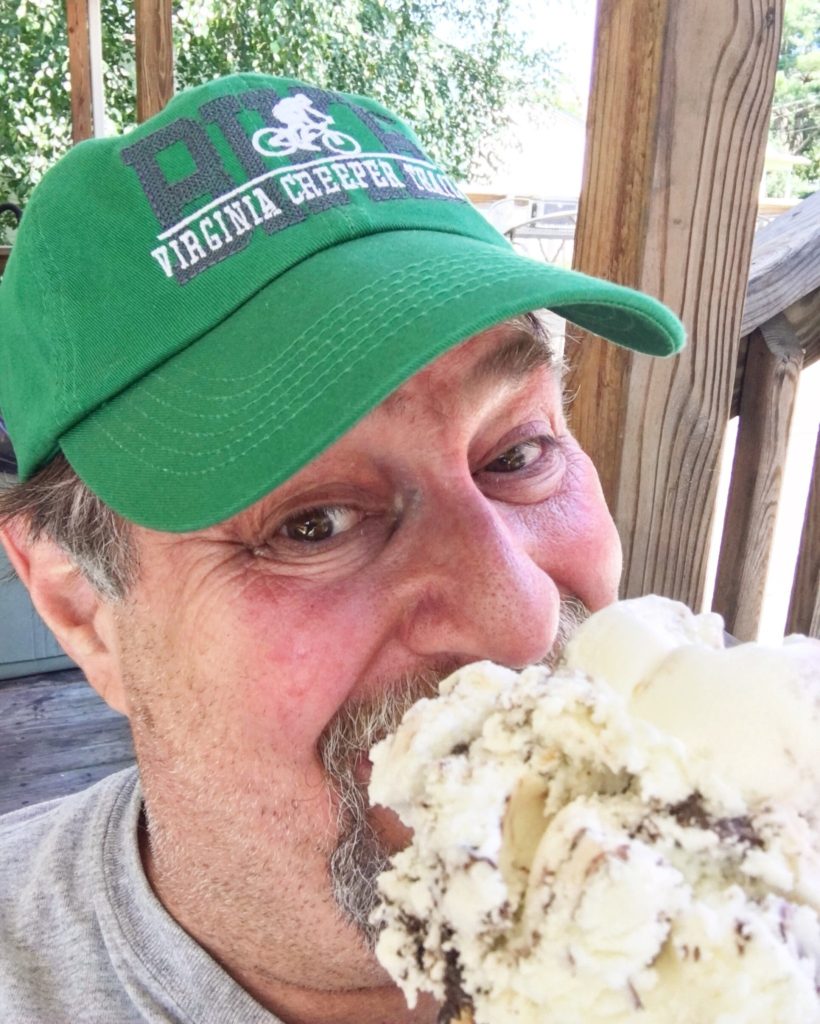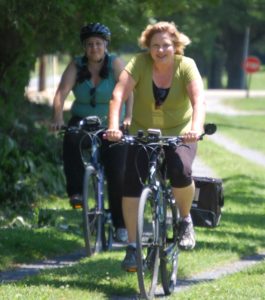 After lunch and a little relaxing Julianne and Marissa took off for the remaining 13 or 14 miles of their trip to Abingdon, Virginia on the Creeper Trail. I too made my way to Abingdon via US Highway 58 and took a couple of detours to get photos of the trail with them riding on it.  I also found a couple of nice bridge shots along the way.
Apparently, the last few miles of the trail to Abingdon have a grueling gradual uphill climb, but not nearly the altitude change.  Indeed, Damascus sits at 1952′ while Abingdon is at 2087′, which means about a 100′ rise.  However, there was still some downhill from Damascus apparently.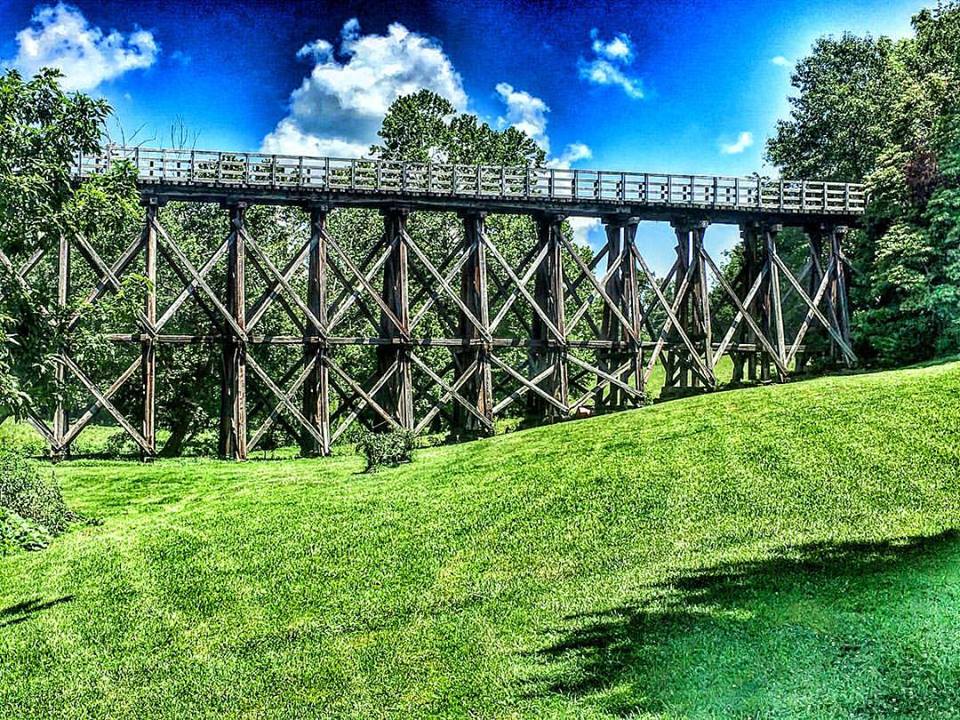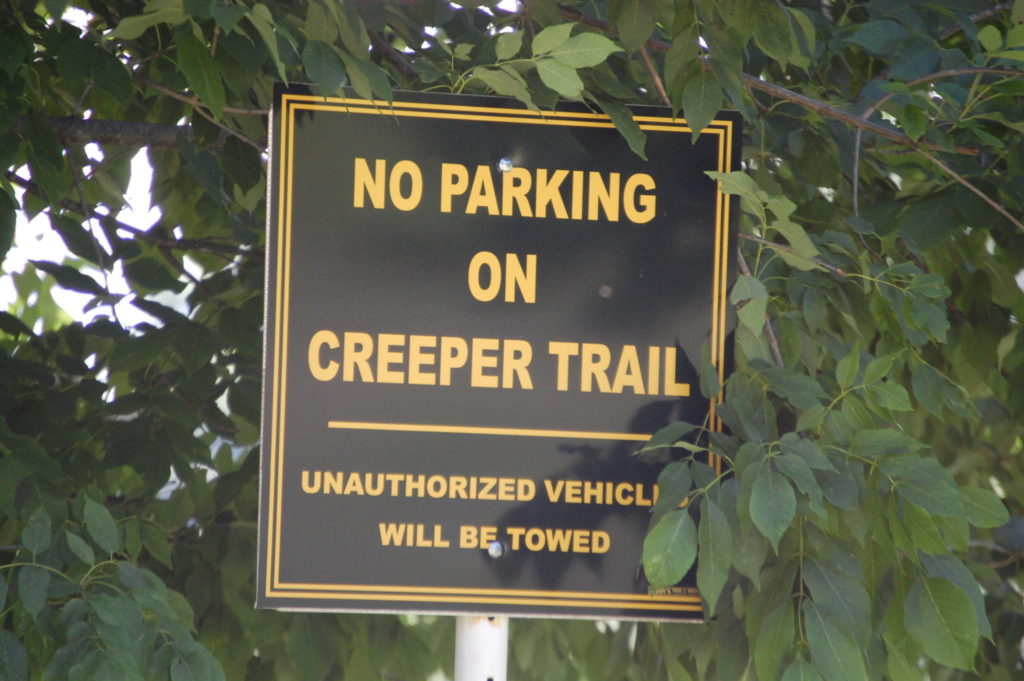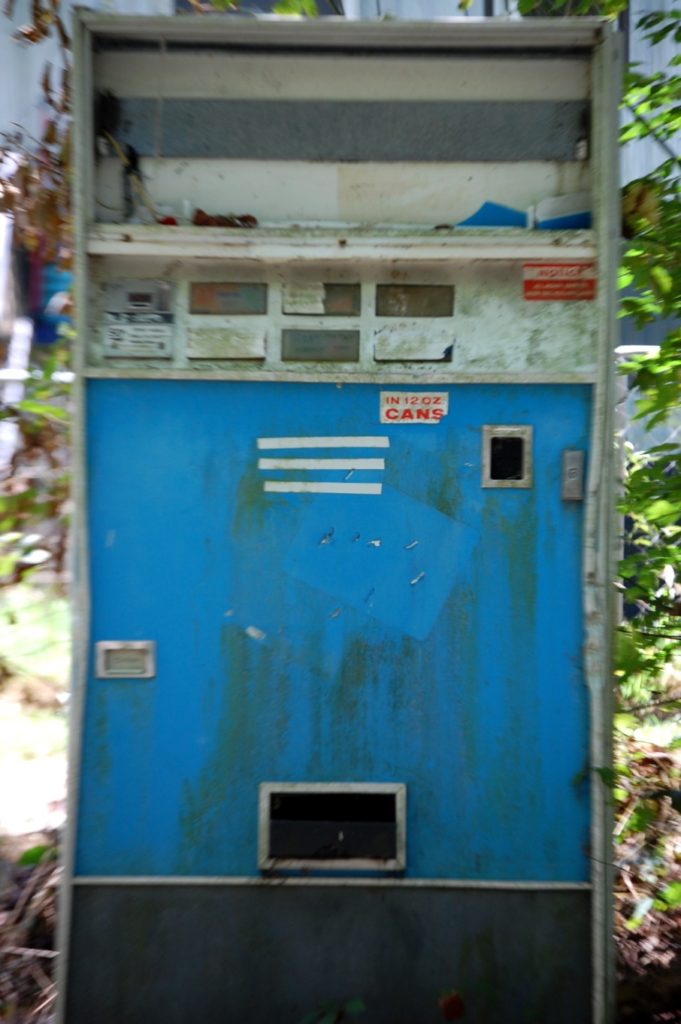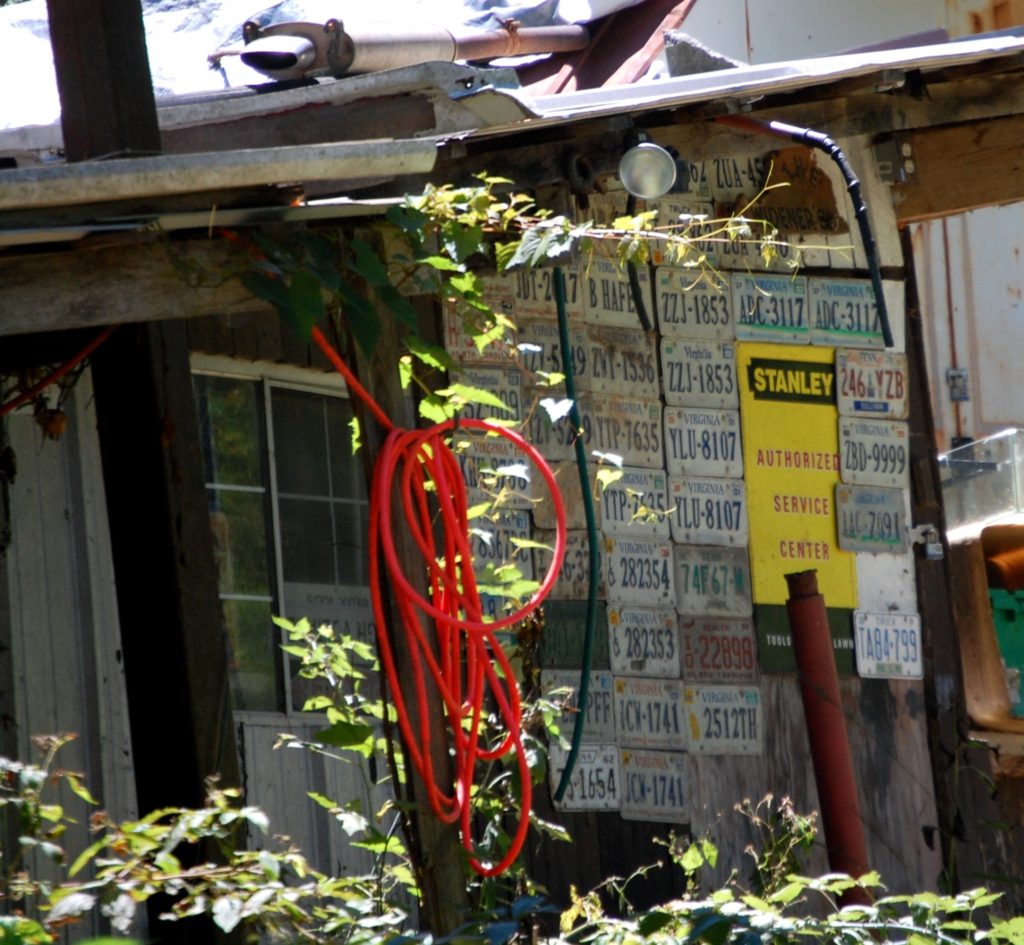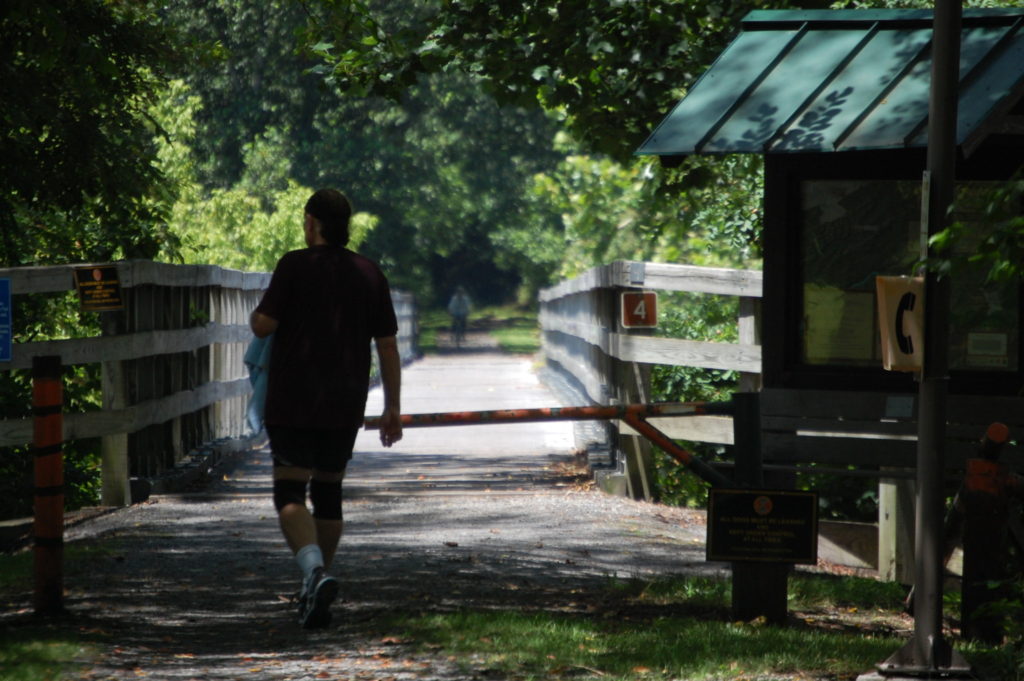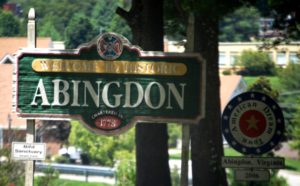 I got to Abingdon much earlier than they did and was able to drive around the little town, which also caters to the biking crowd and to the hiking crowd.  I discovered a movie complex with great wall art so had to grab a couple of shots.  Always like fun Wall Art.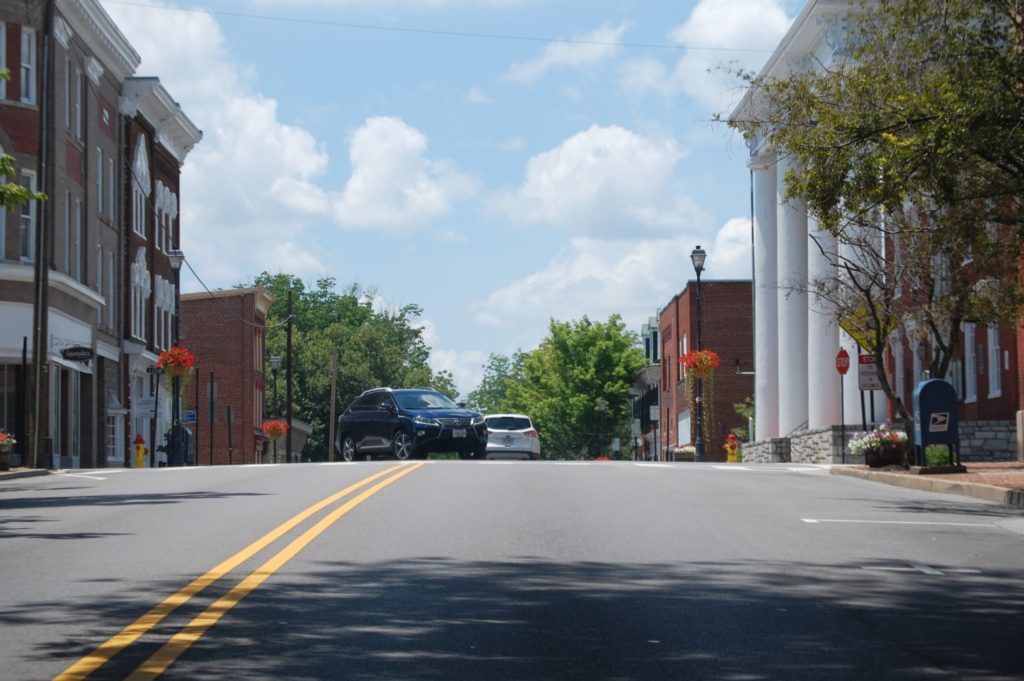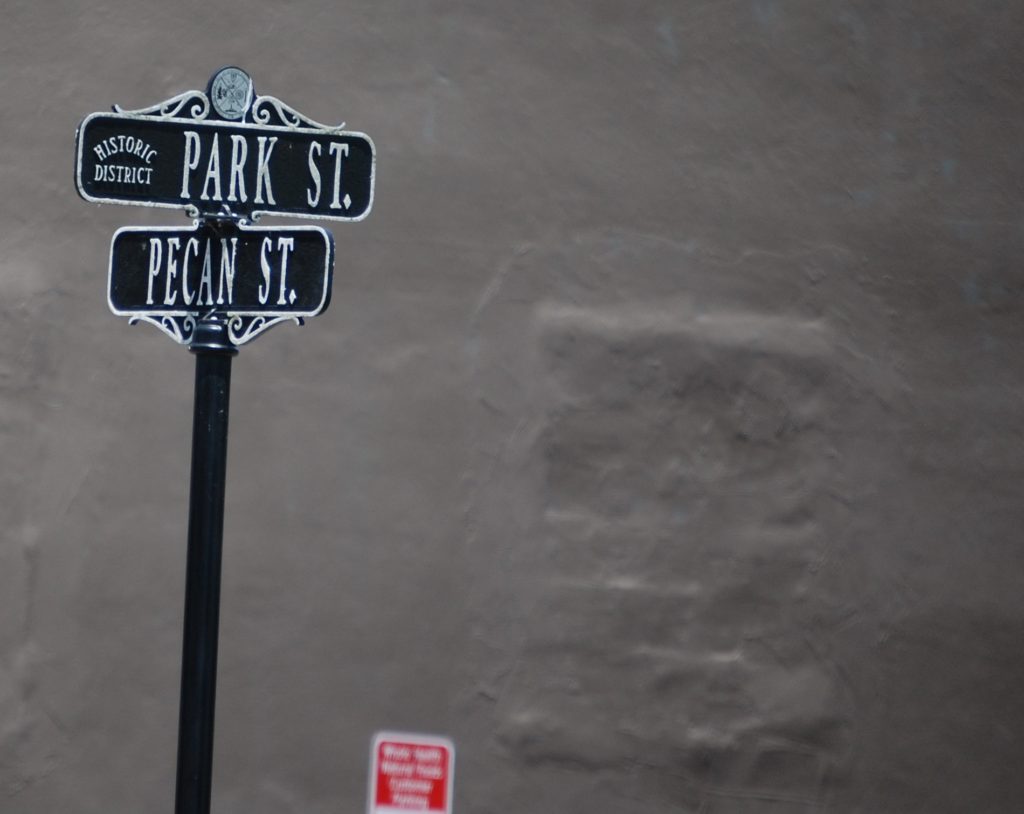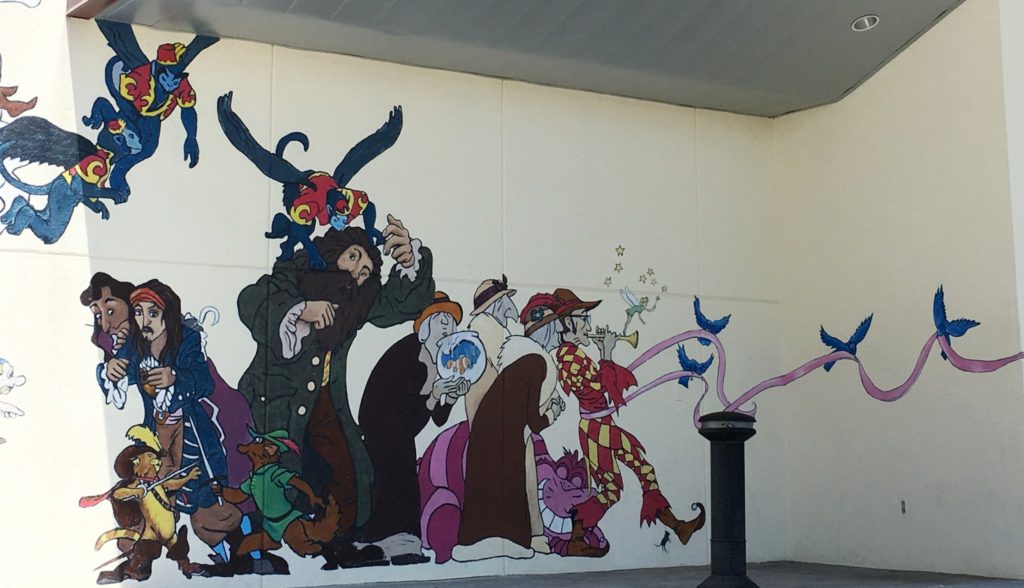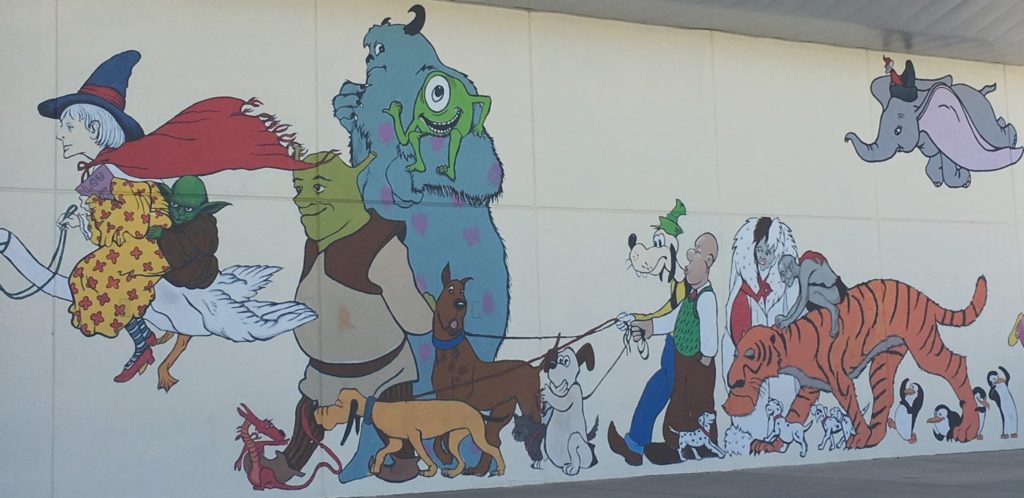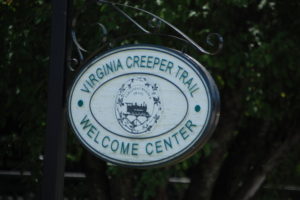 Abingdon has a Virginia Creeper Welcome Center at the end of the trail and it includes many old relics from the railroad and also has the last train engine to ride along that railroad from the 1980s. The final bridge, bridge number one, is the end of the trail and in that vicinity there are other little things to see.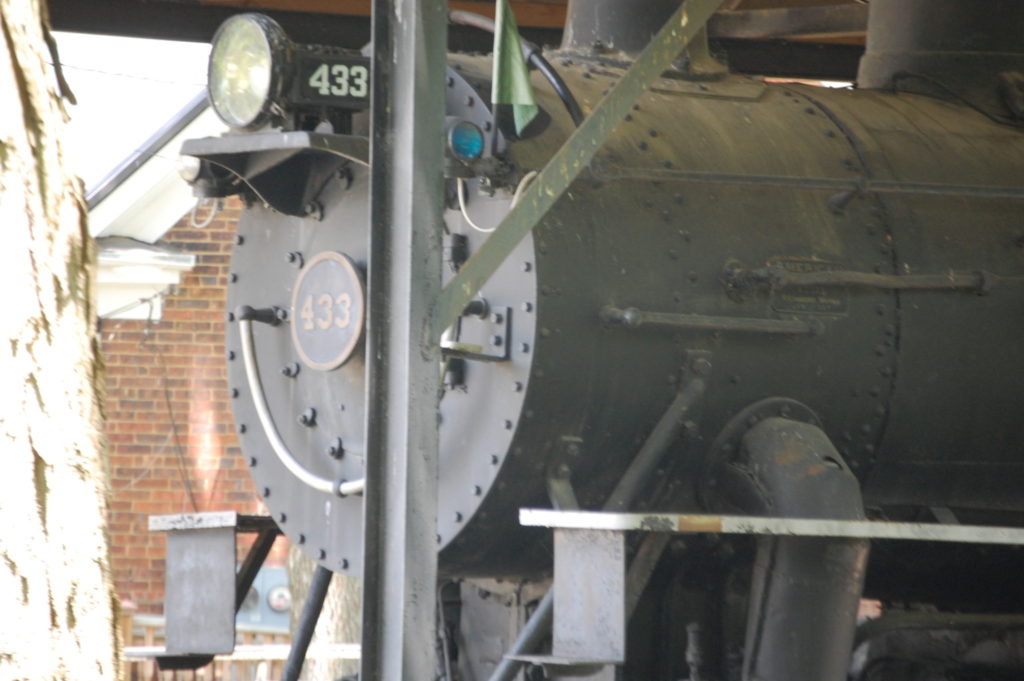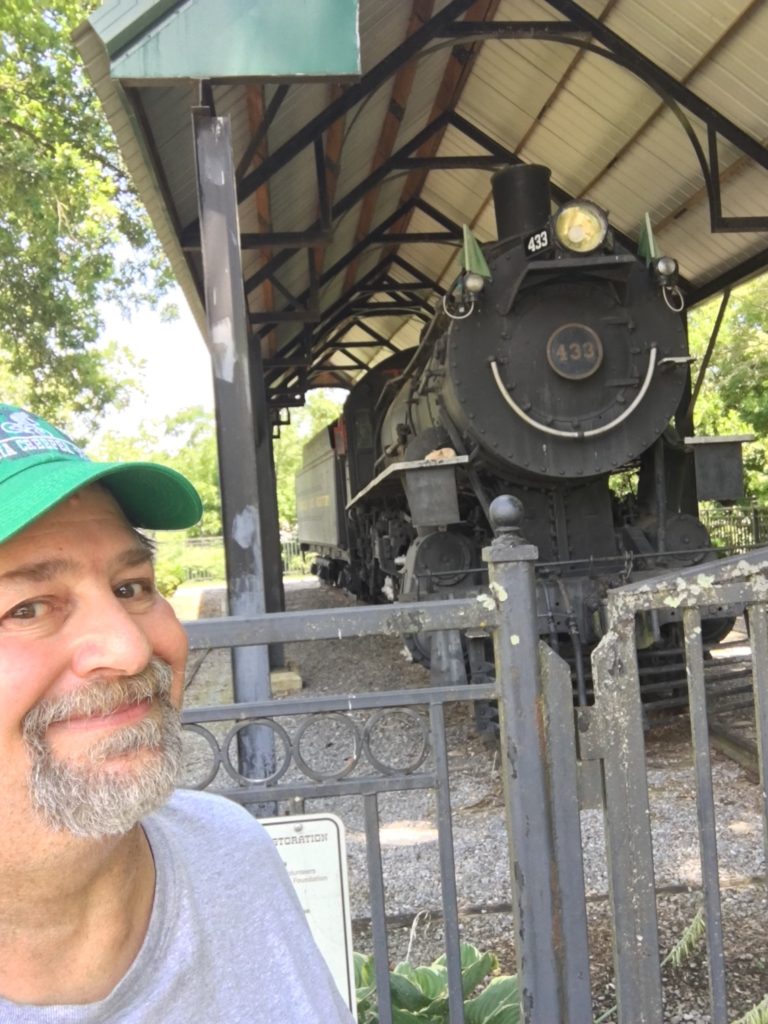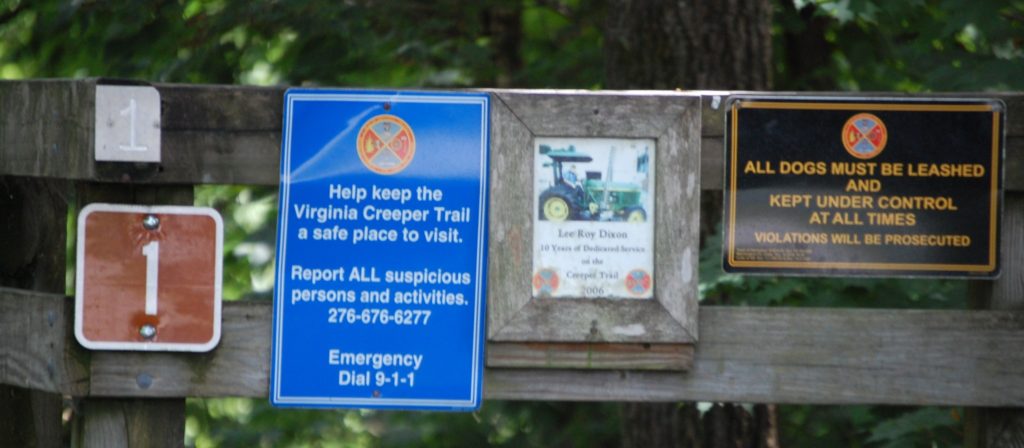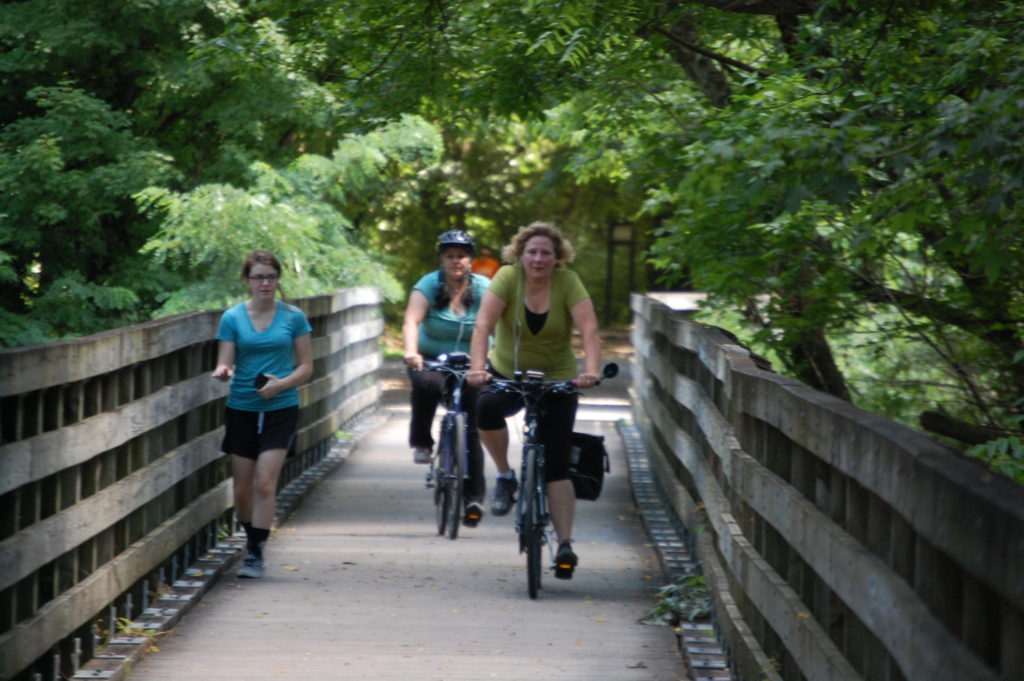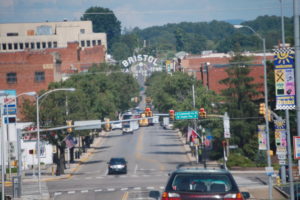 After we loaded the bikes, we departed for Kentucky via Bristol, VA where we had spent the night previously. Bristol, VA is one of those unique towns that actually is split into two states. The drive along State Street will feature flags of the United States and Virginia on one side of the highway and flags of Tennessee and the United States on the other side. There are theaters, and number of murals in the town and the fairly well known large archway that welcomes people to Bristol.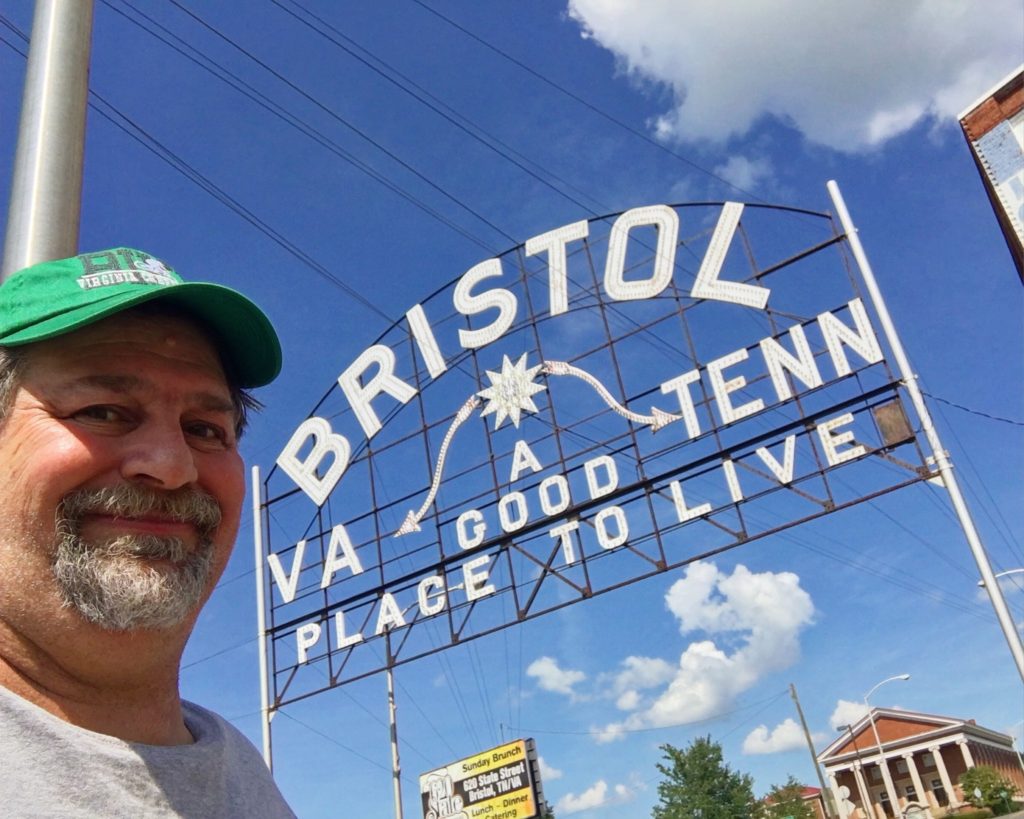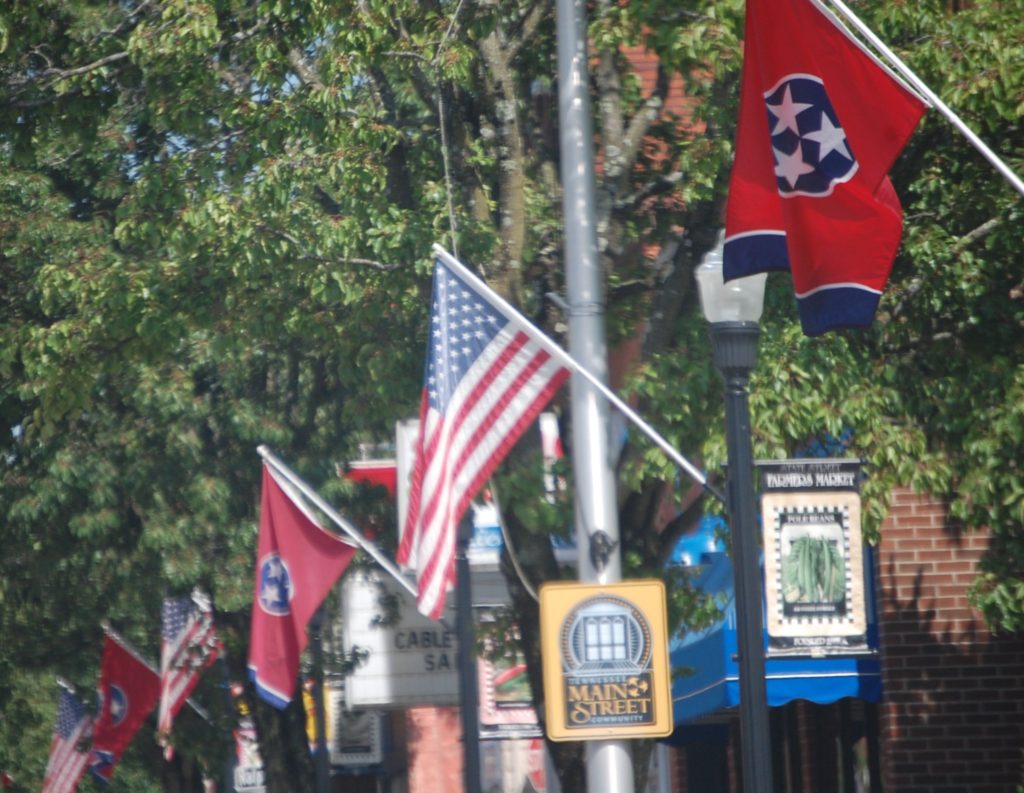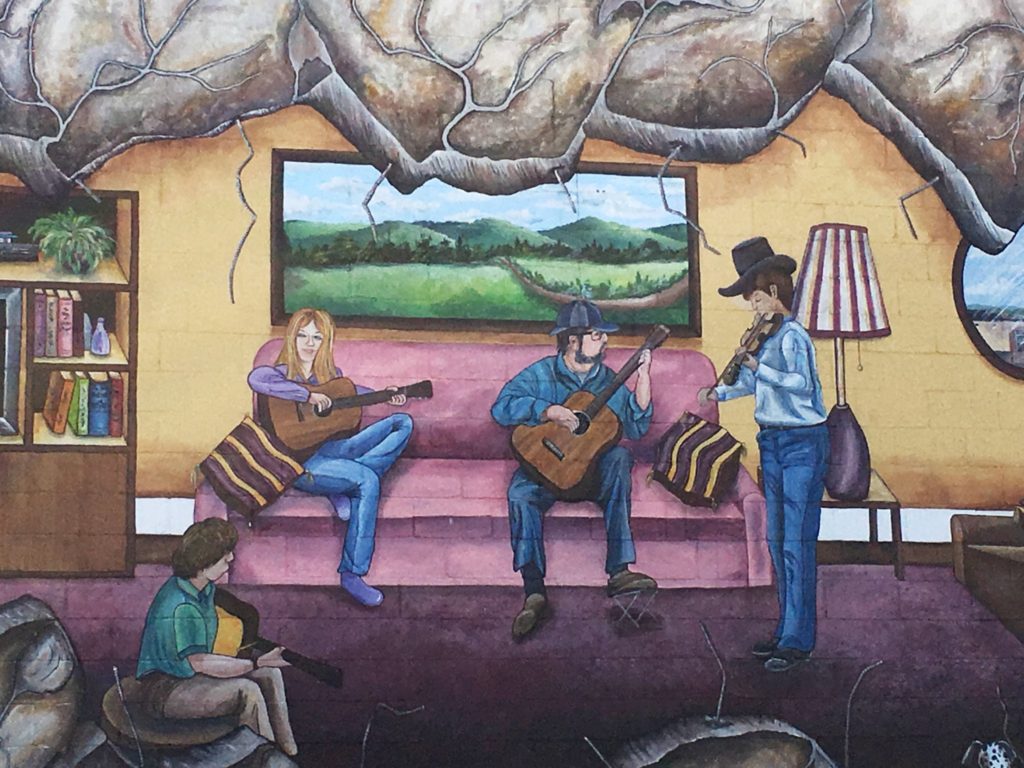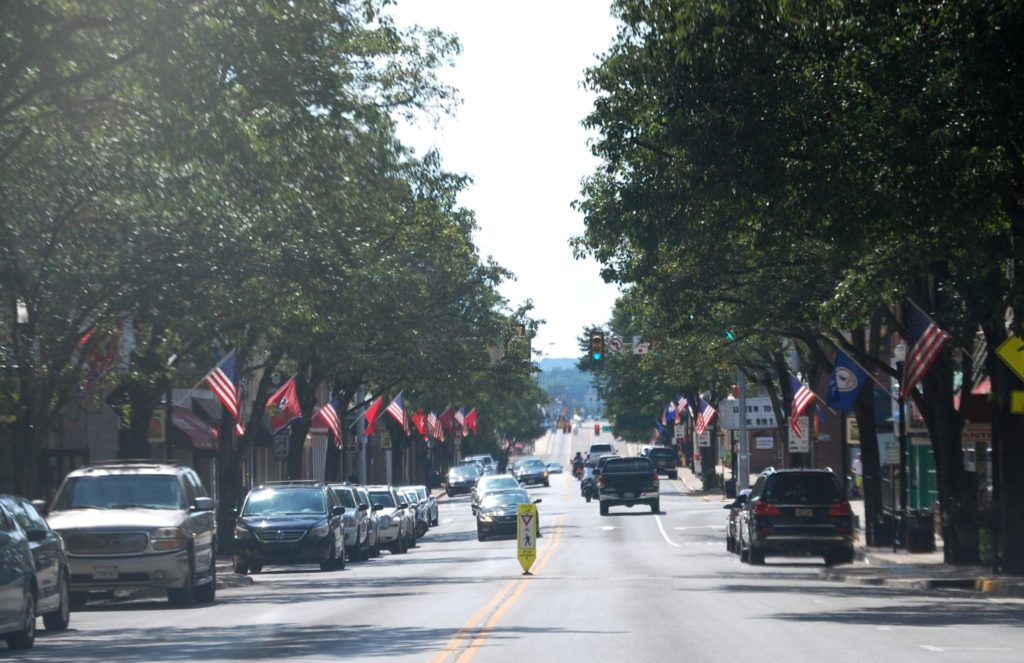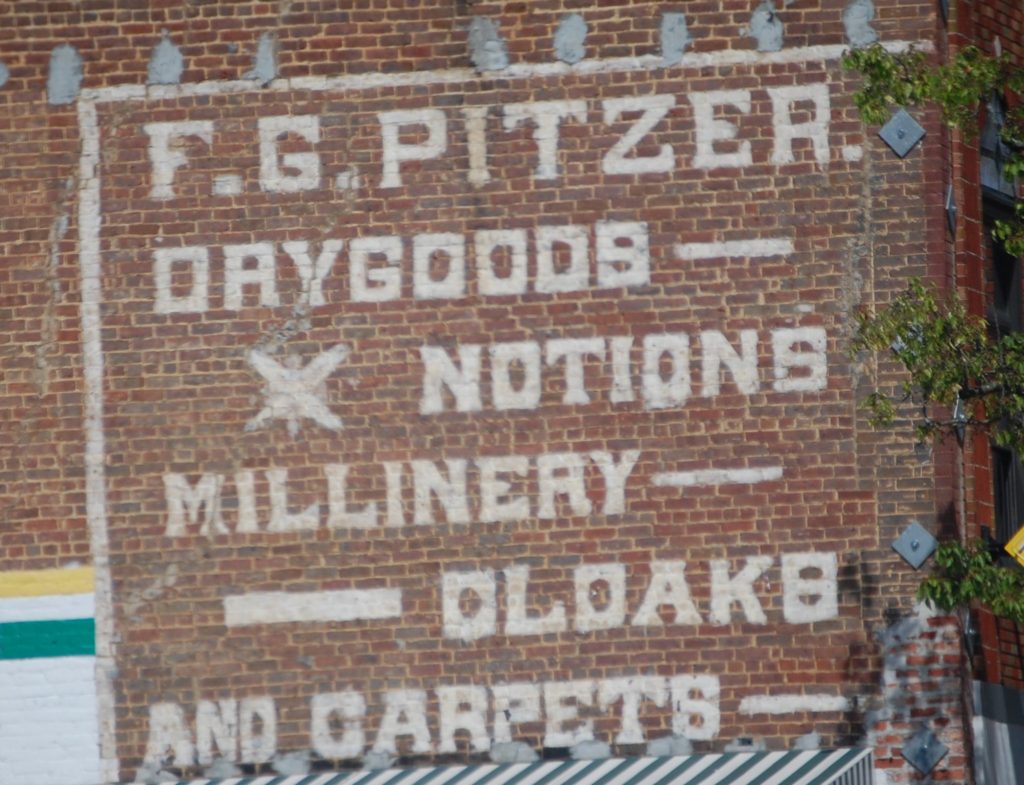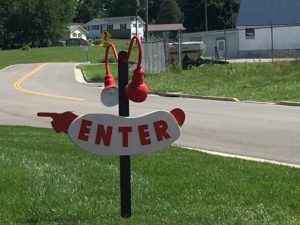 While driving through town we came across a fast food place called Pal's Sudden Service.  We didn't stop there to eat (we were already full), but I loved the unique building design — totally quirky.  And I really got a kick out of their  road sign — Exercise Daily.   The building only has drive thru windows and no other windows. But the giant hot dog and hamburger can't be missed!  They apparently are located mainly in east Tennessee and southwest Virginia, with 28 shops dotting this region.  The company got its start in Kingsport, TN, where the original Pal's still sits with its giant Burger Holding Muffler Man statue (looks like I need another trip!)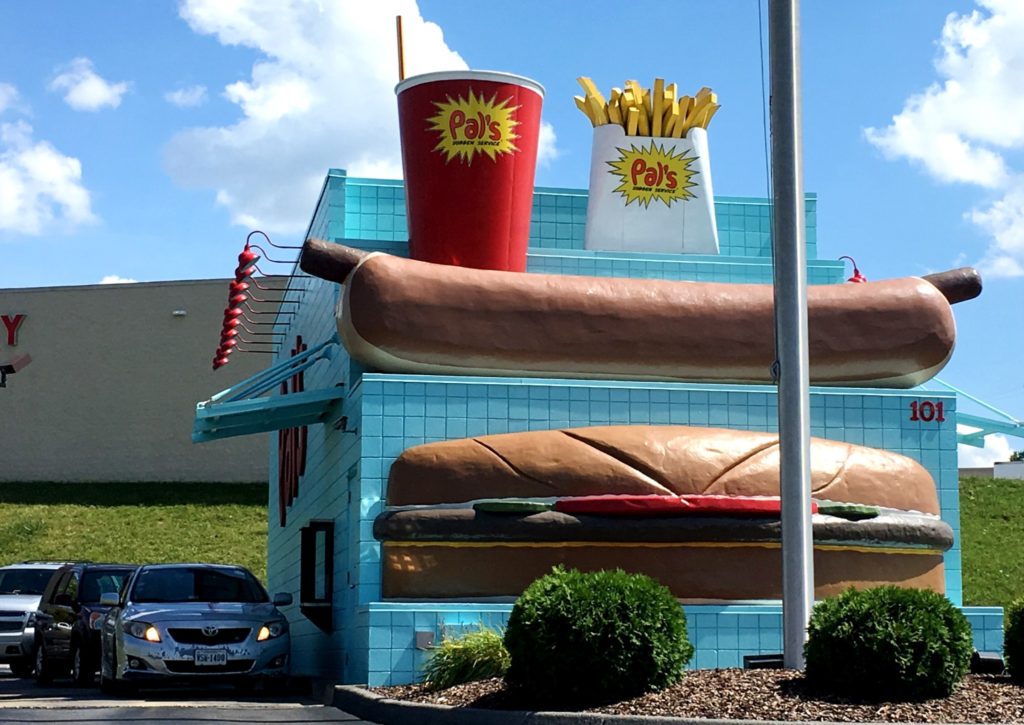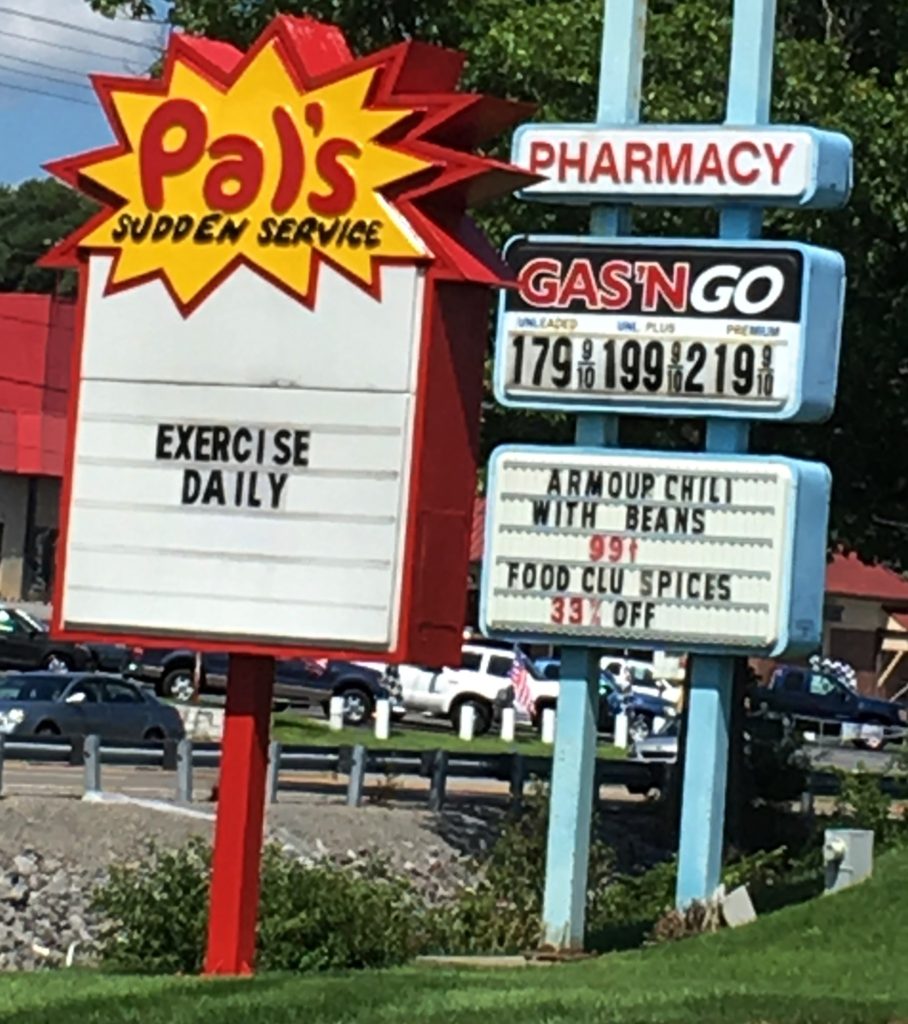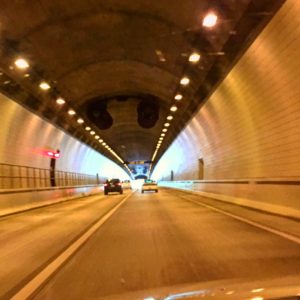 Our Drive back to Lexington from Bristol took us through Cumberland Gap and we were able to take the famed Cumberland Gap Tunnel which brought us into the town of Middlesboro.
Originally completed in October 1996, the tunnels each carry two-lanes of traffic.  Each tunnel was bored through 4100-feet of solid rock. At the tallest point, the tunnels are 30-feet high. Cross passages, located every 300-feet, connect the two tunnels and are equipped with fire extinguishers and phones for emergency use.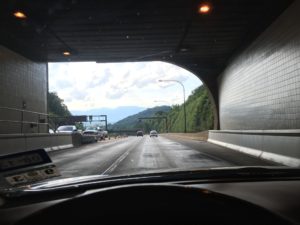 Since the mountain releases approximately 450 gallons of water every minute, thick PVC liner around the tunnels ensures that the bores stay dry. Air quality is monitored constantly by electronic sensors, and ventilation fans are located every 600-feet to keep air circulating in the tunnel. Variable message board signs are located in the Cumberland Gap vicinity to warn drivers of impending hazardous traffic and weather conditions or to direct traffic flow. AM and FM radio stations can be overridden with emergency messages as well.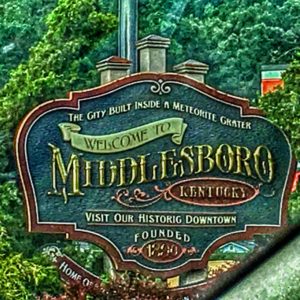 The town of Middlesboro, KY is one a few towns in the United States or perhaps even the world, that is built completely within the confines of a meteor crater. We stopped there for dinner at a Mexican restaurant and enjoyed some fairly good food. From there we zipped back up through Barbourville and Corbin and then back into Lexington.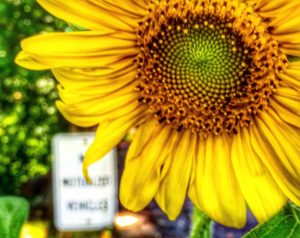 It was a quick two day trip, but it was very fun and the scenery was amazing. The mountains of Appalachia especially in southeast Kentucky southwest Virginia and Northeast Tennessee are very beautiful. We look forward to taking another trip to the area in October when the colors should all be changed.   Needless to say, the summer brings its own variety of colors in the wildflowers, some of which I captured in digital form…another plus to a trip like this!