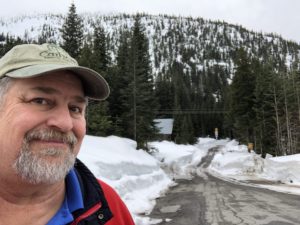 On a long road trip like the one I did in April, there are so many places visited, but some didn't fit into a post for one reason or another.  Here are some odds and ends leftovers from my 6000 mile cross country trek through 14 states.  There is really no rhyme or reason, but the opportunity to address these places in a little more depth.
Papa Joe's Stop & Go – Crescent Junction, Utah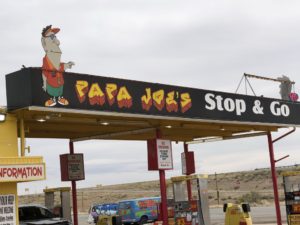 Out in the middle of nowhere in Utah is the small place called Crescent Junction at the junction of I-70 and US 191.  There is really not much there and it is basically a tourist-trappy stopover point for folks heading to and from the lovely canyons of Moab.  At the center of it all is Papa Joe's Stop & Go.  Called a C-Store (short for Convenience Store), Papa Joe has a number of unique "attractions" in store.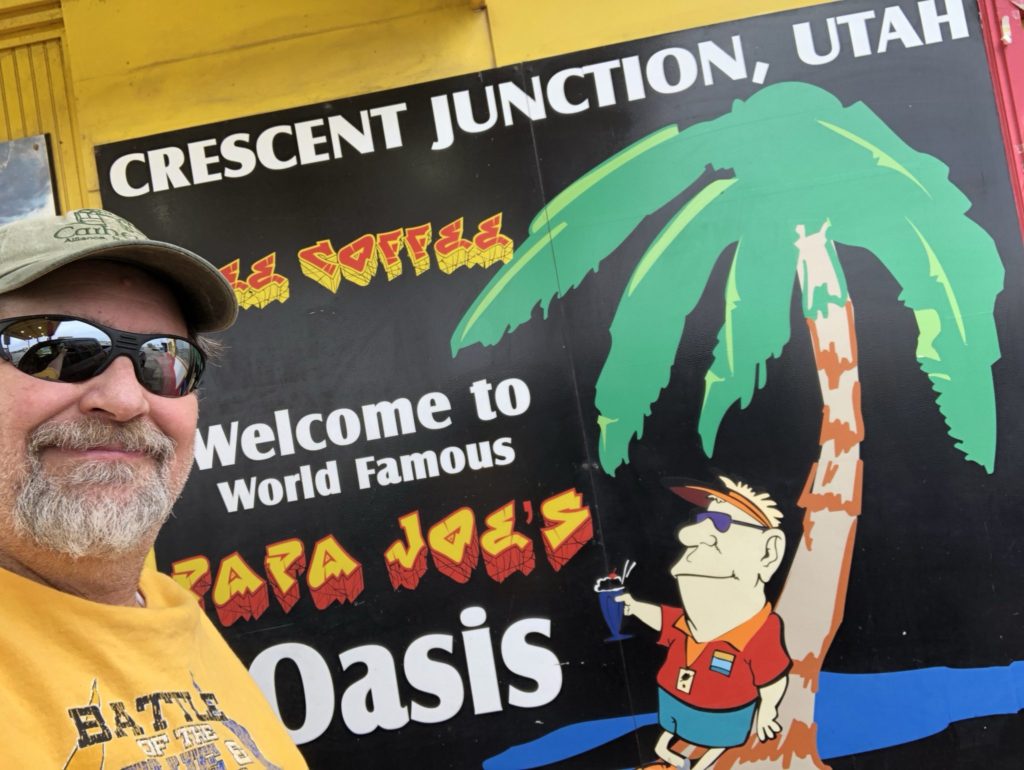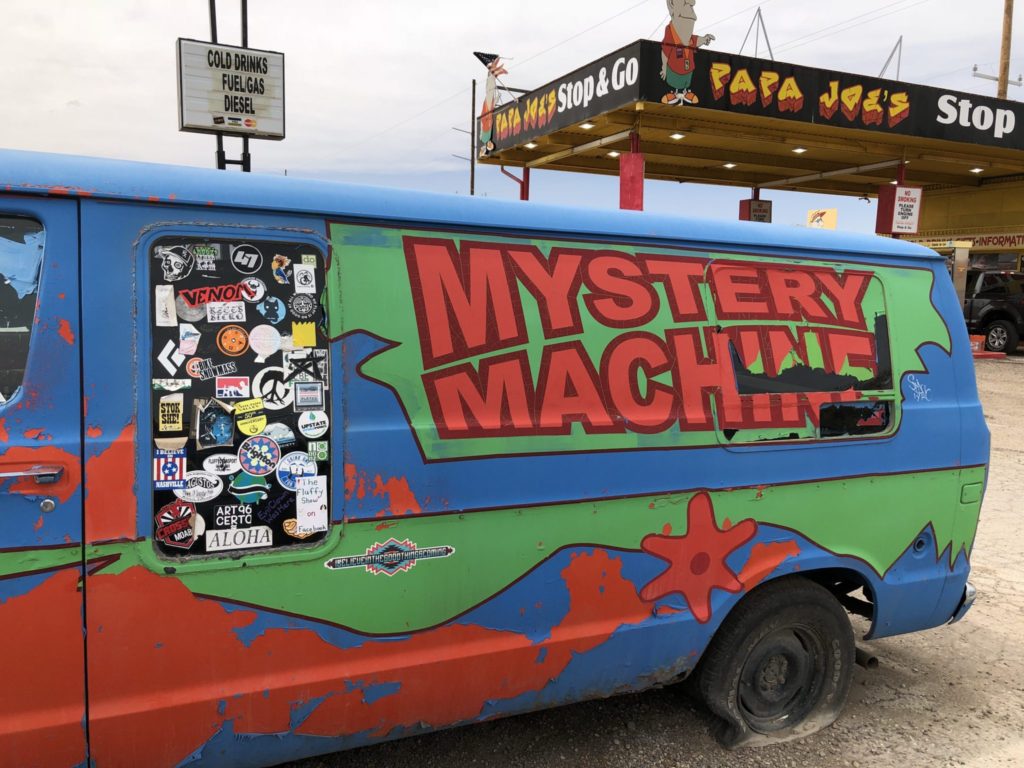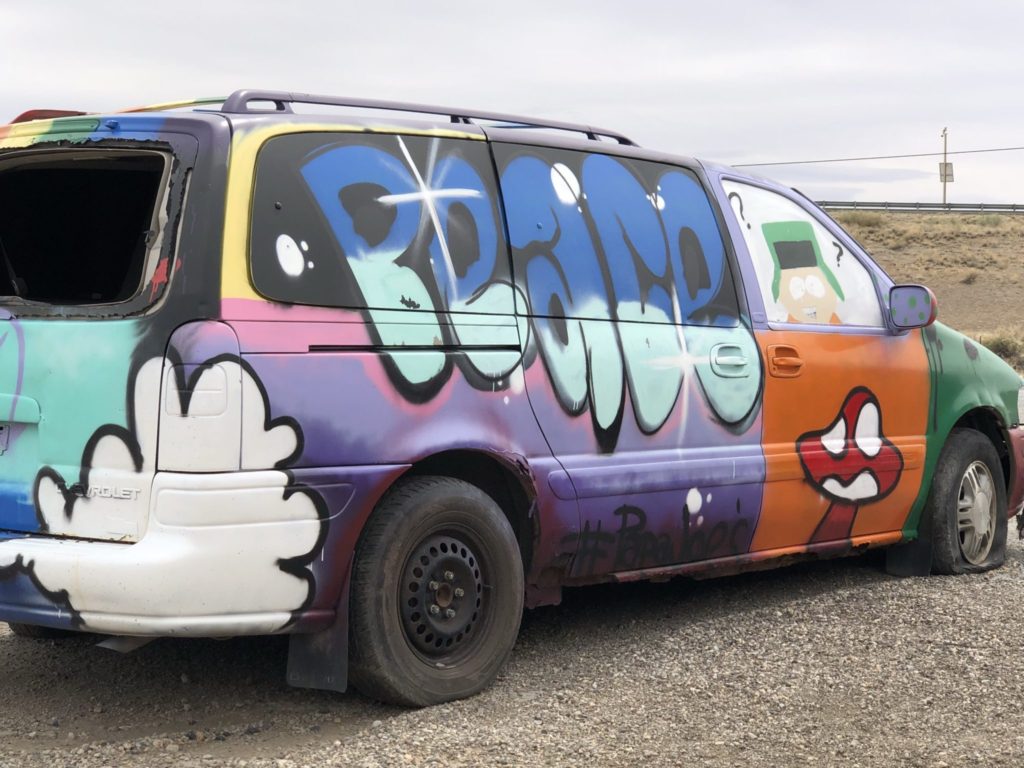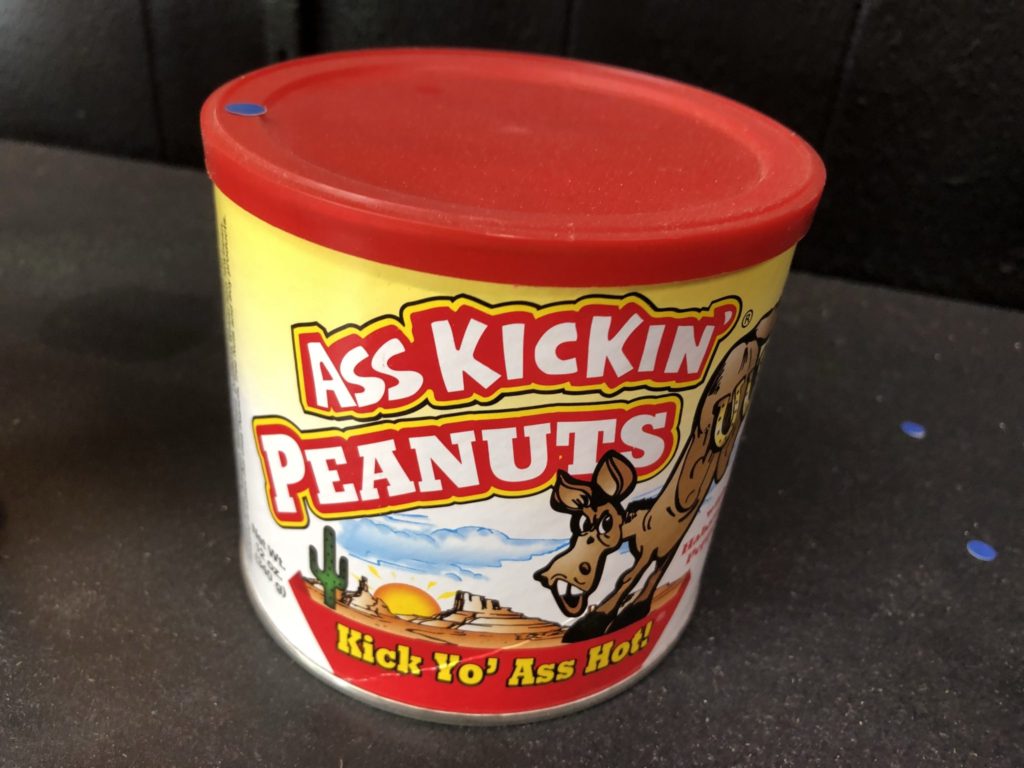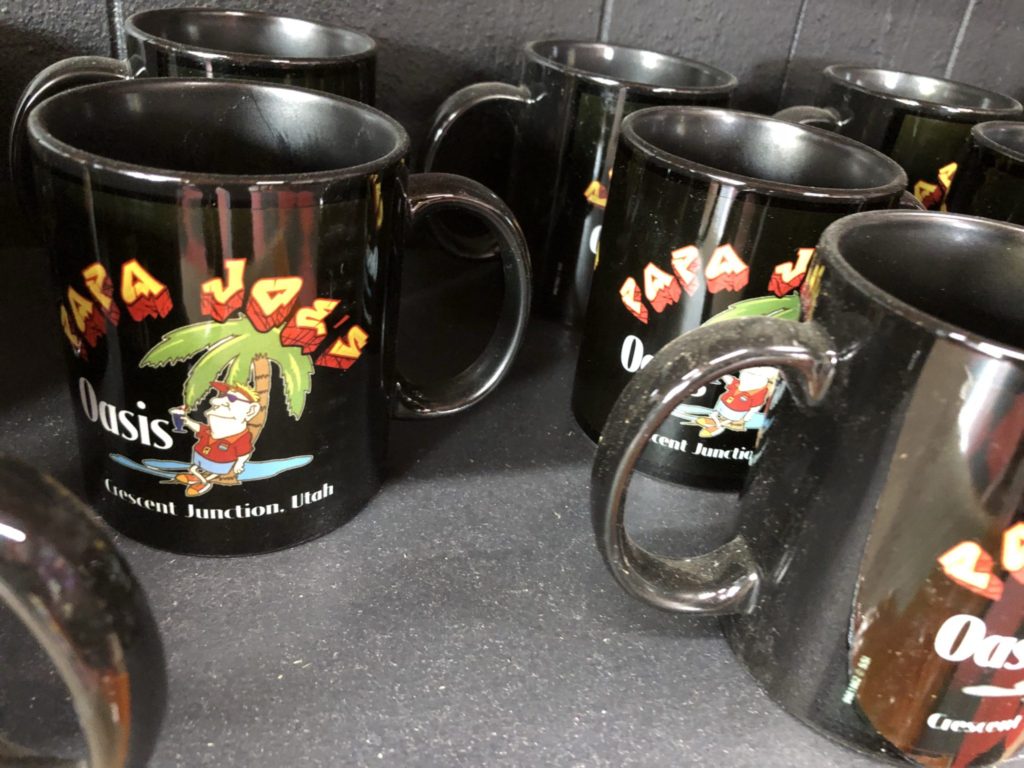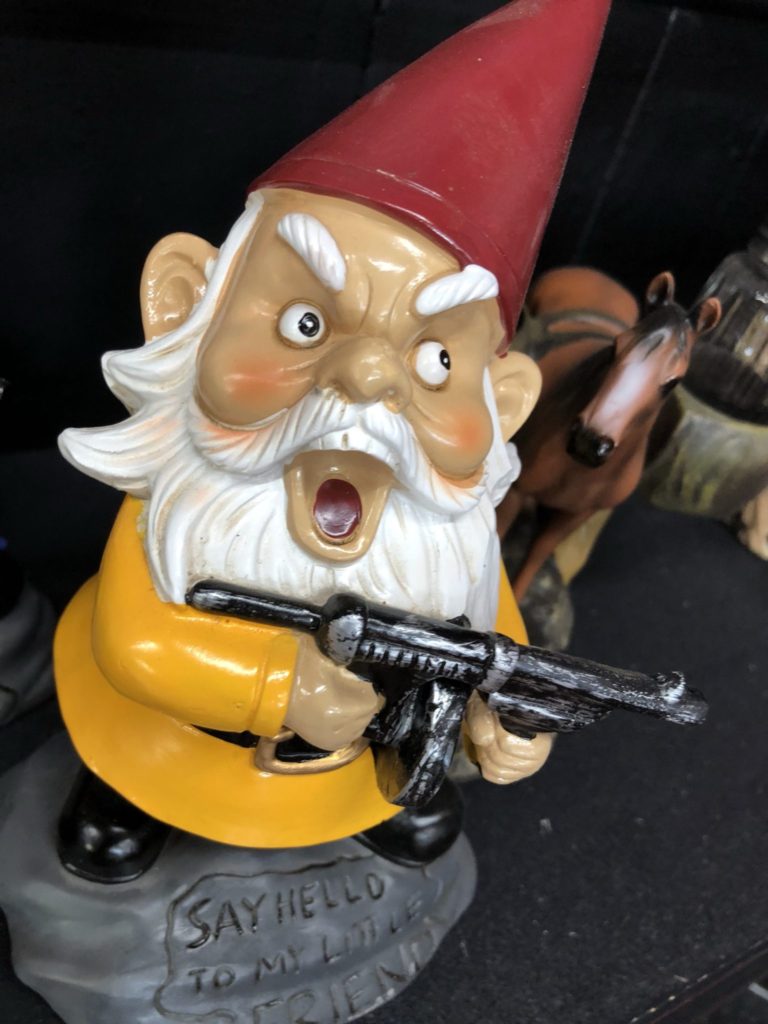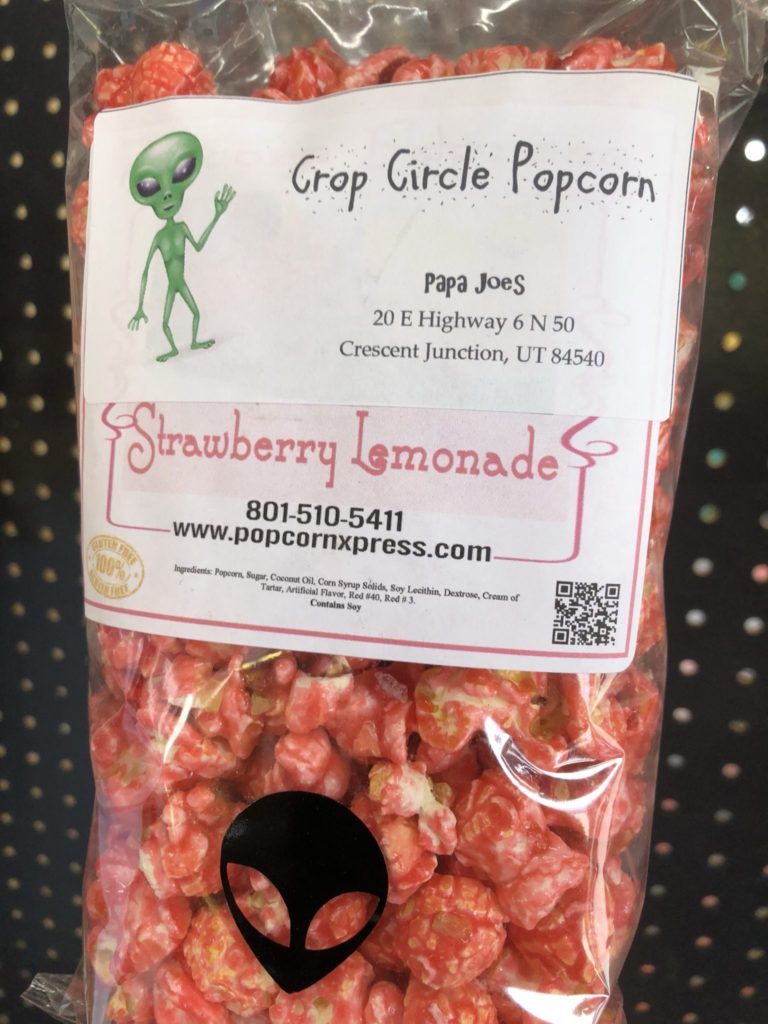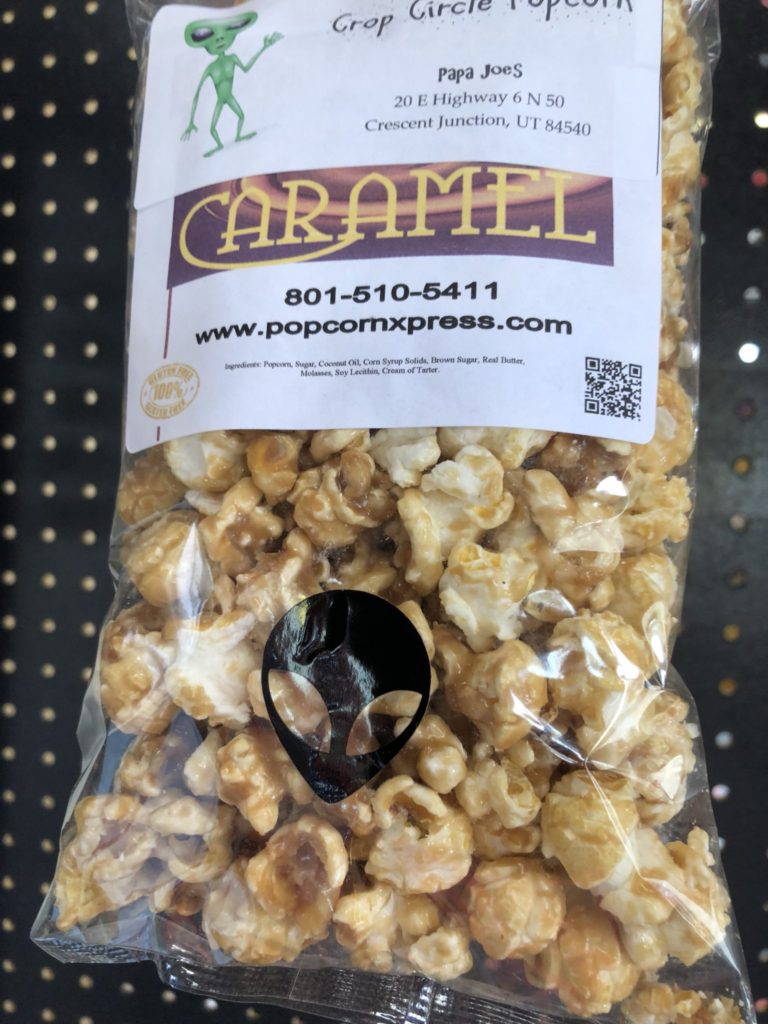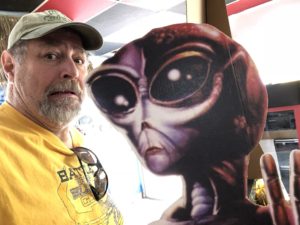 The main store has all of the amenities… a restroom (if you are a paying customer of course — but face it, water is in short supply out here), drinks and food and quirky and kitschy knick-knacks and then there is the "gourmet" crop-circle popcorn.  Recently he has opened a second building next door that he is calling "Bad Ass Joe's Jerky" and it has a UFO-esque theme complete with life size cutouts of Star Wars characters and aliens.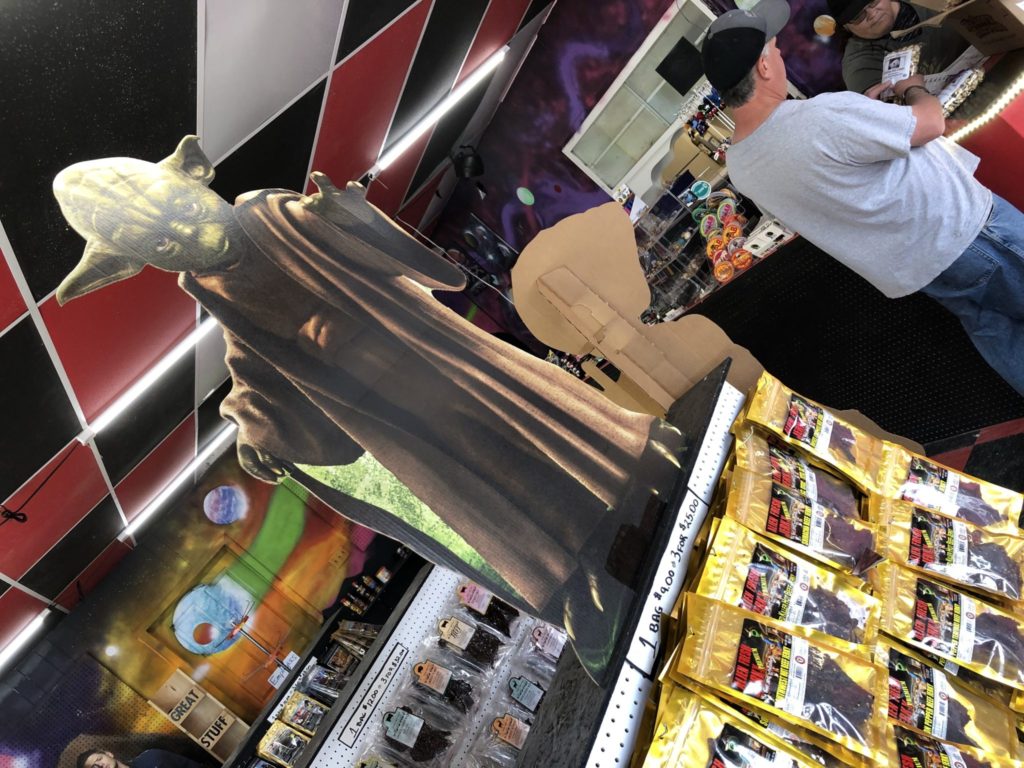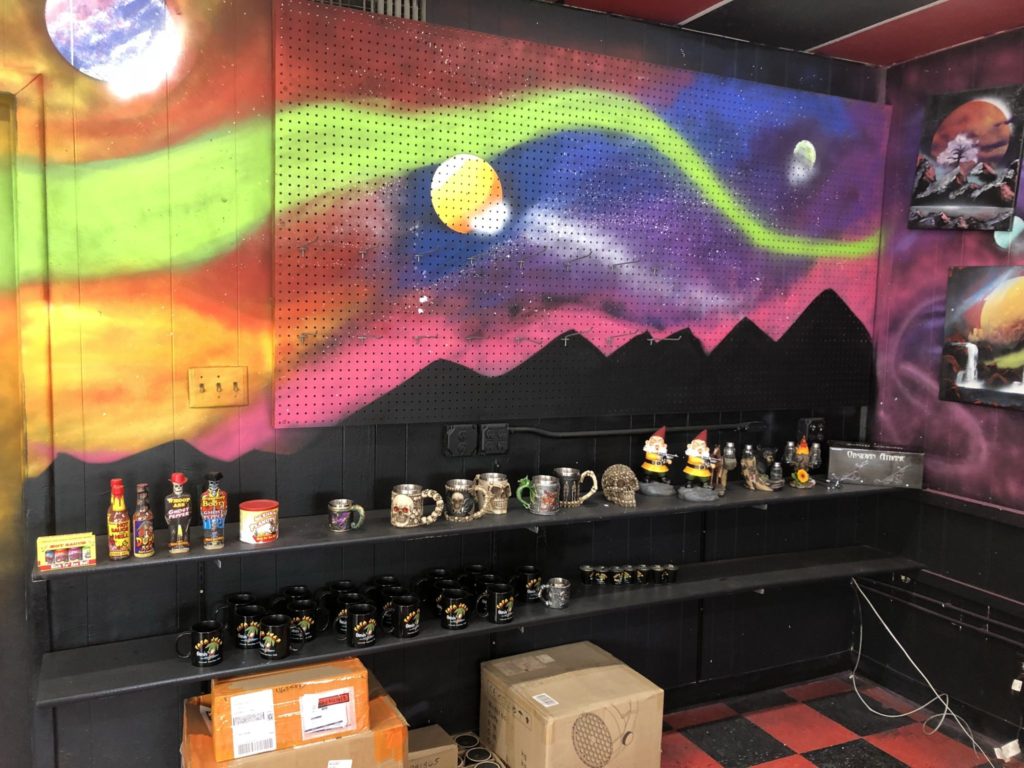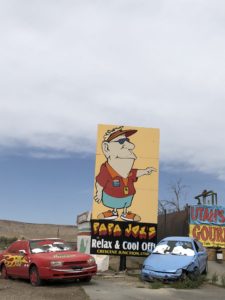 If you get online, you will see many nasty reviews of the place.  And, honestly, Joe and his gal are really not the friendliest sorts.  But, I am always the optimist and try to find the good out there.  The place offers some fun photo ops, the "gourmet" popcorn is OK.  Prices are quite high, but then, I have been to dozens of places like this across the country.
He has a replica Mystery Mobile from Scooby-Doo, a South Park themed car, a Lightning McQueen "replica (actually an old Toyota Camry) and some other odds and ends.  They are all in poor repair.  Mystery Mobile has a flat tire (or two).  But heck…its quirky.  Just make sure you are filled up with gas BEFORE you get there.
Belle Inn – Belle Fourche, South Dakota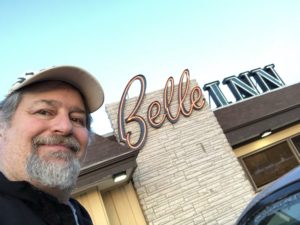 You know you have found THE PLACE to eat when the sign in the door tells Cowboys to "scrape shit from boots before entering." When I stayed the night in Belle Fourche I sought after a locally owned place that would perhaps have some comfort food.  I found that place in Belle's Inn.  Not just burgers, but other things like chicken fried steak, mashed potatoes, etc.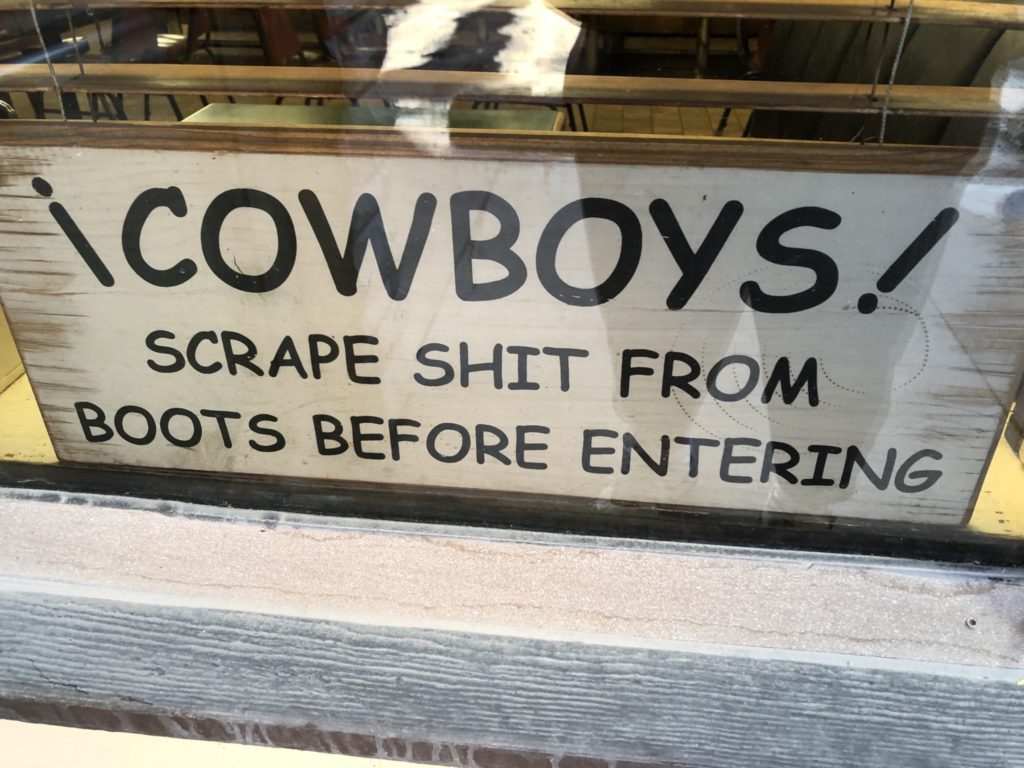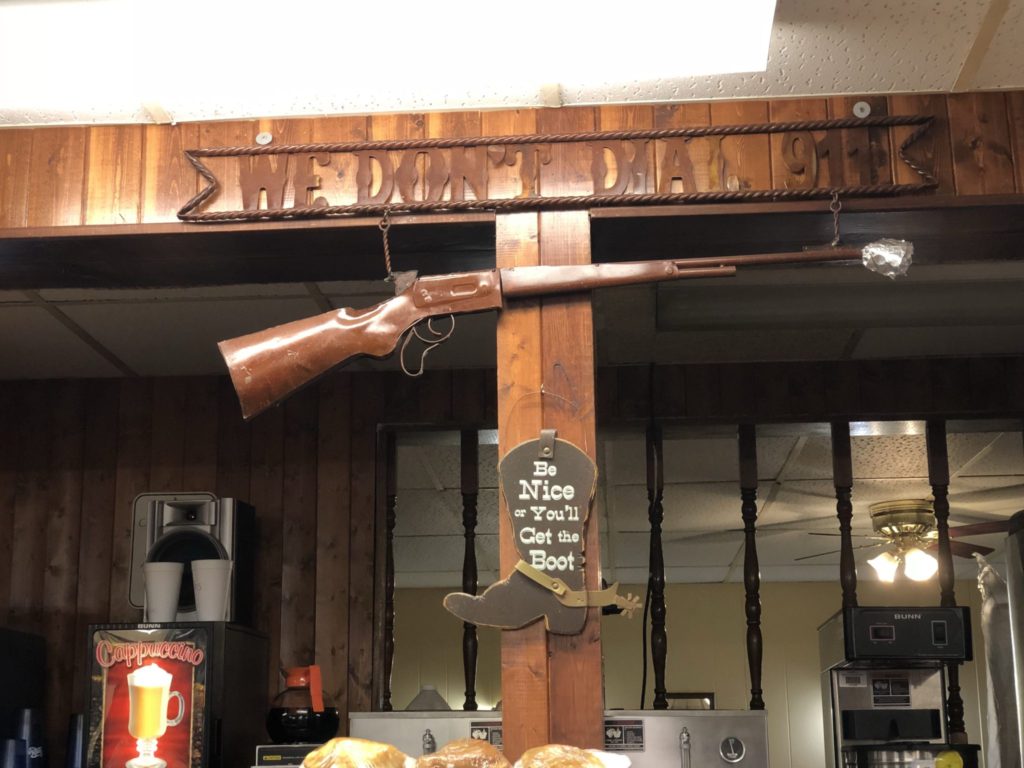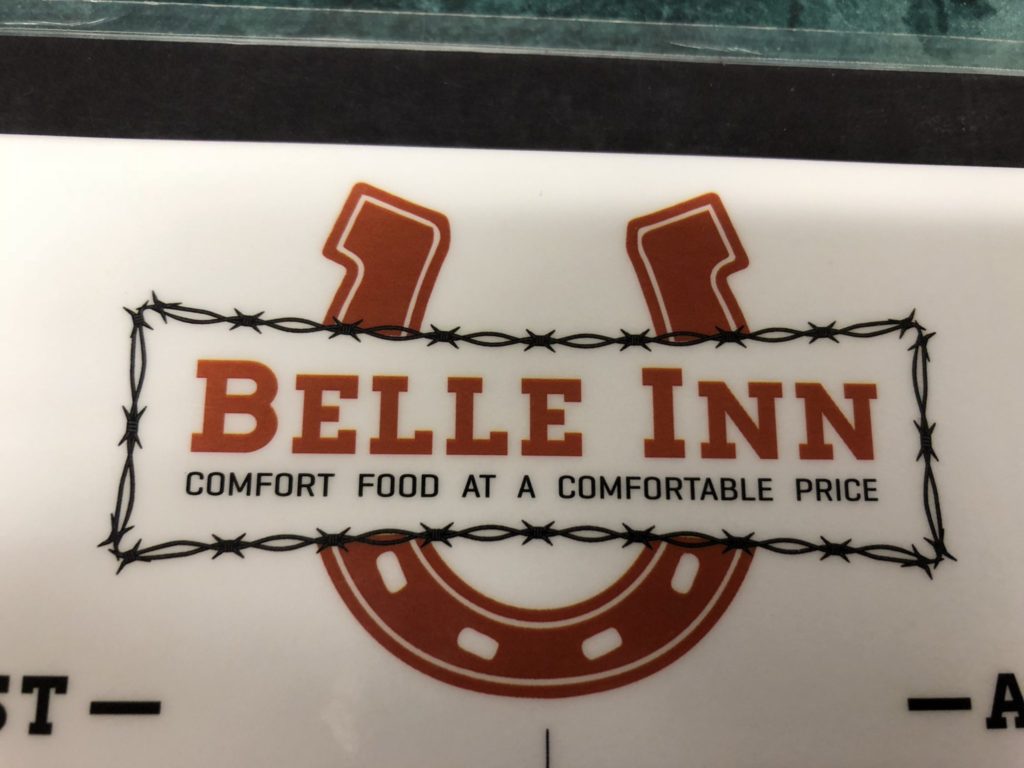 There were only four staff members when I got there.  The chef looked like a renegade biker (and turns out that indeed he was!!  From Lead, SD — but he didn't like his Harley. Preferred his Kawasaki!).  The food was good…freshly made chicken fried steak, onion rings, mashed potatoes.  And it was indeed a comfortable price.
Kreative Korners Krazy Kreatures – Kingston, Washington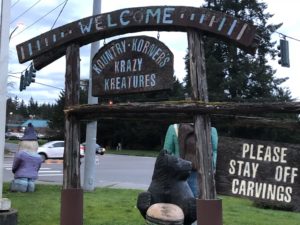 I am a sucker for wood carving.  And this little collection is a trip!
After we had gotten off of the Ferry in Kingston and were driving to Port Orchard, WA, this place just suddenly showed up on a corner.  I had to turn around and do my thing.
Some fun stuff here.  Most of the carvings are pretty well life size — five or six feet tall.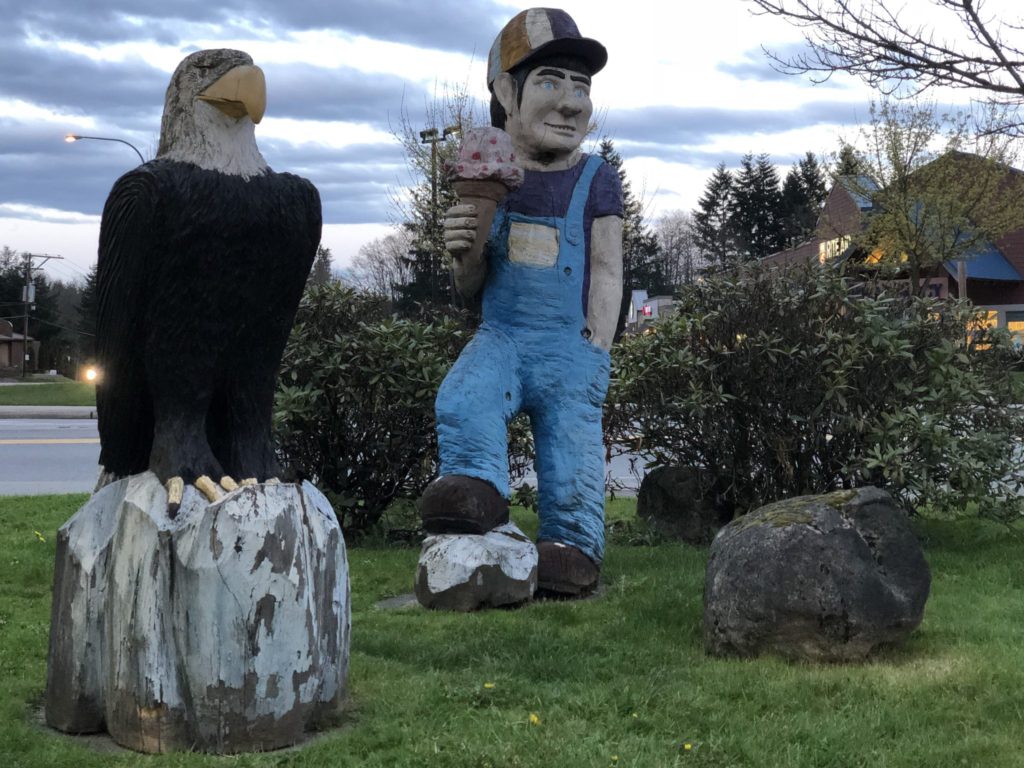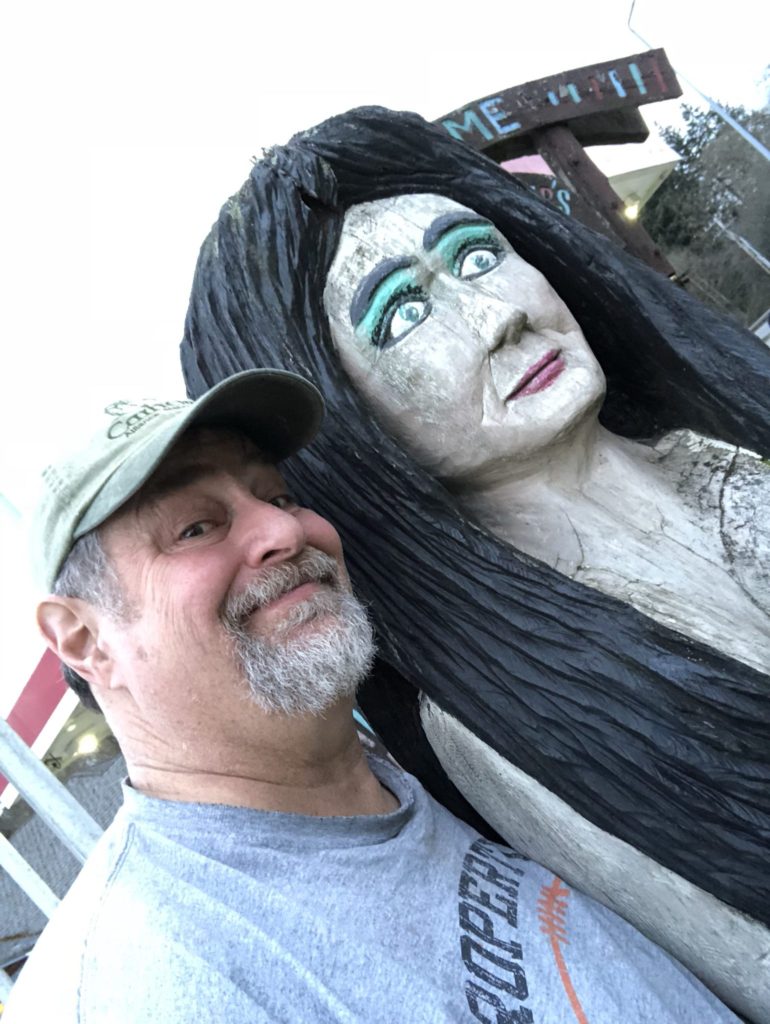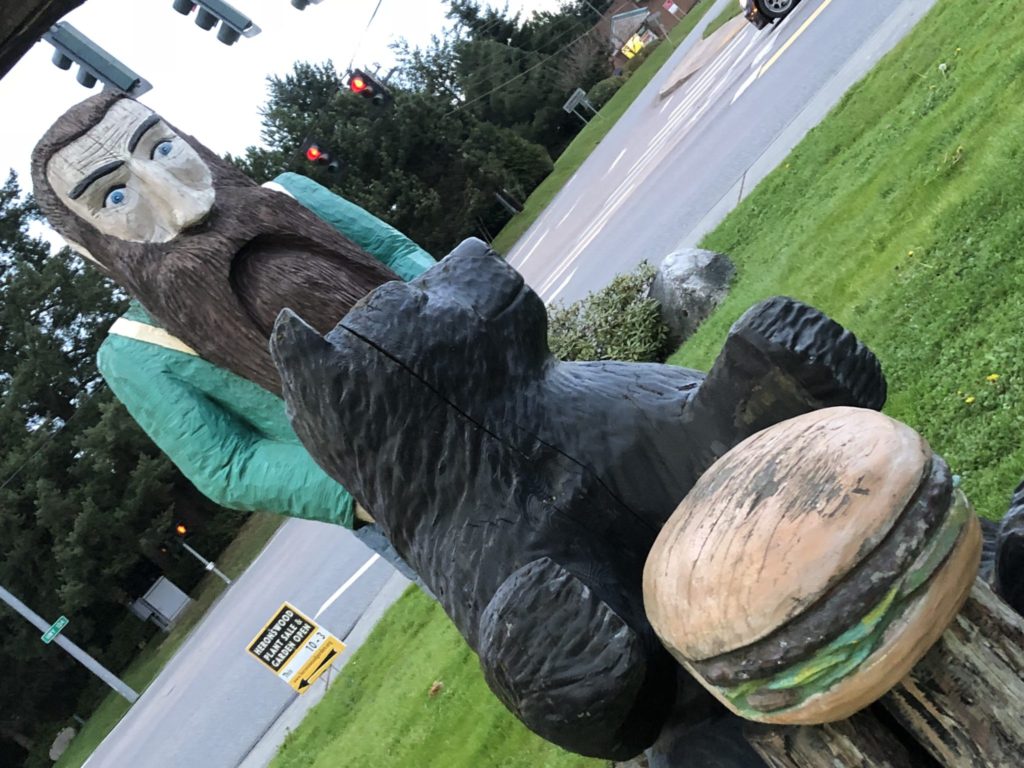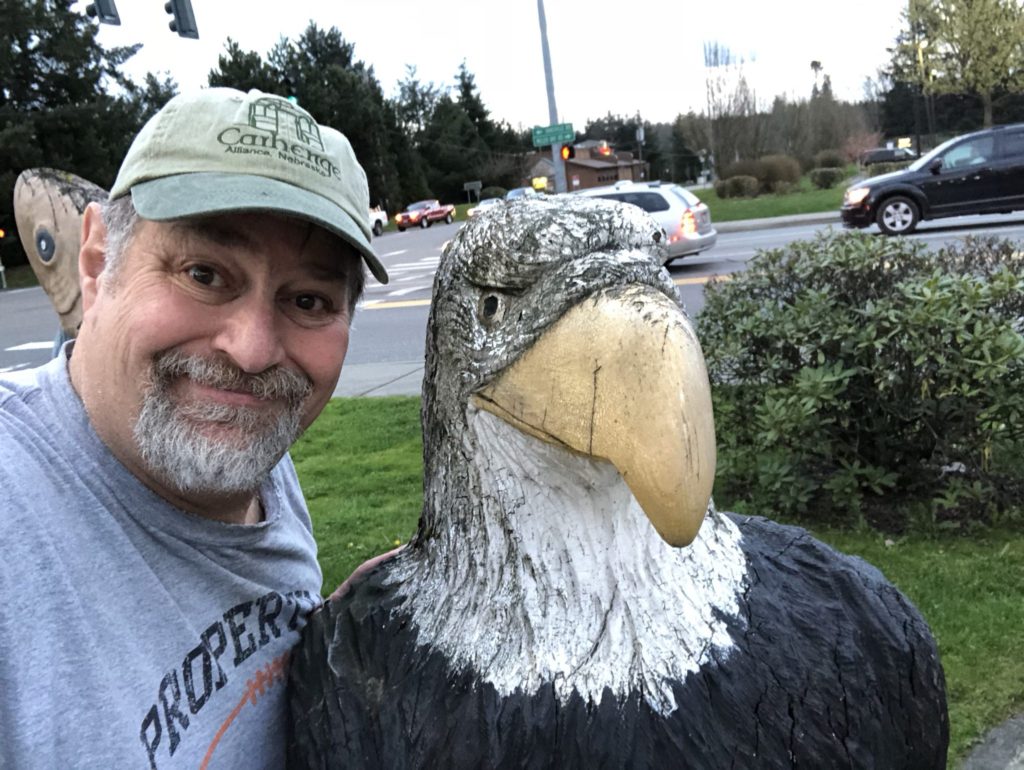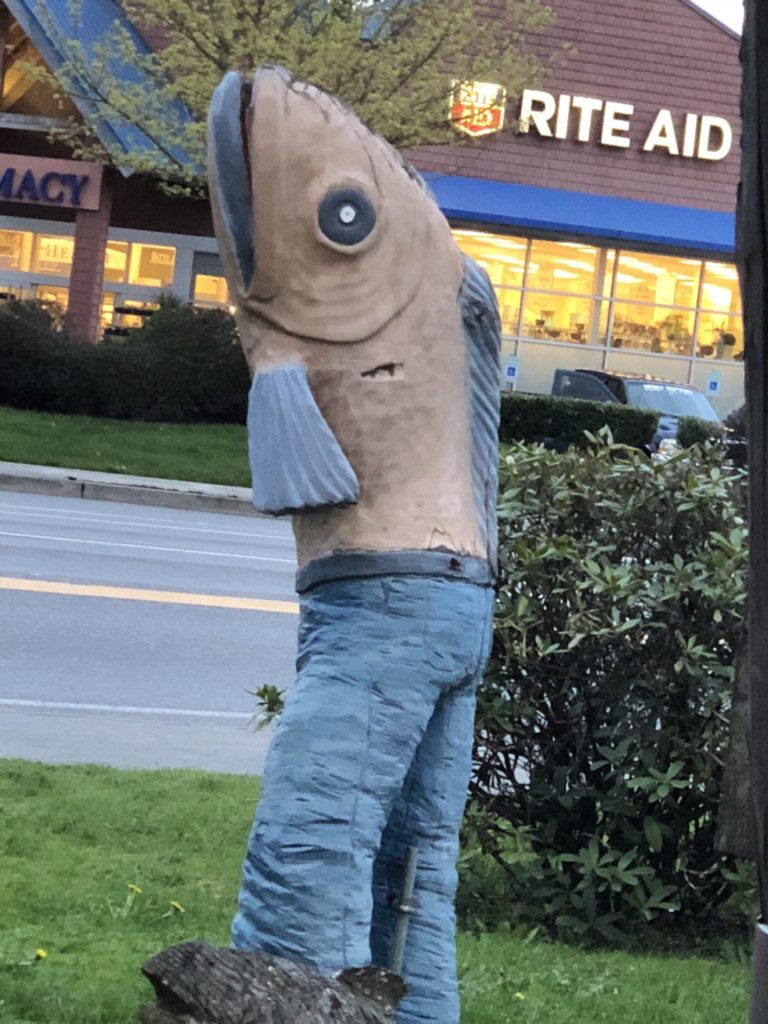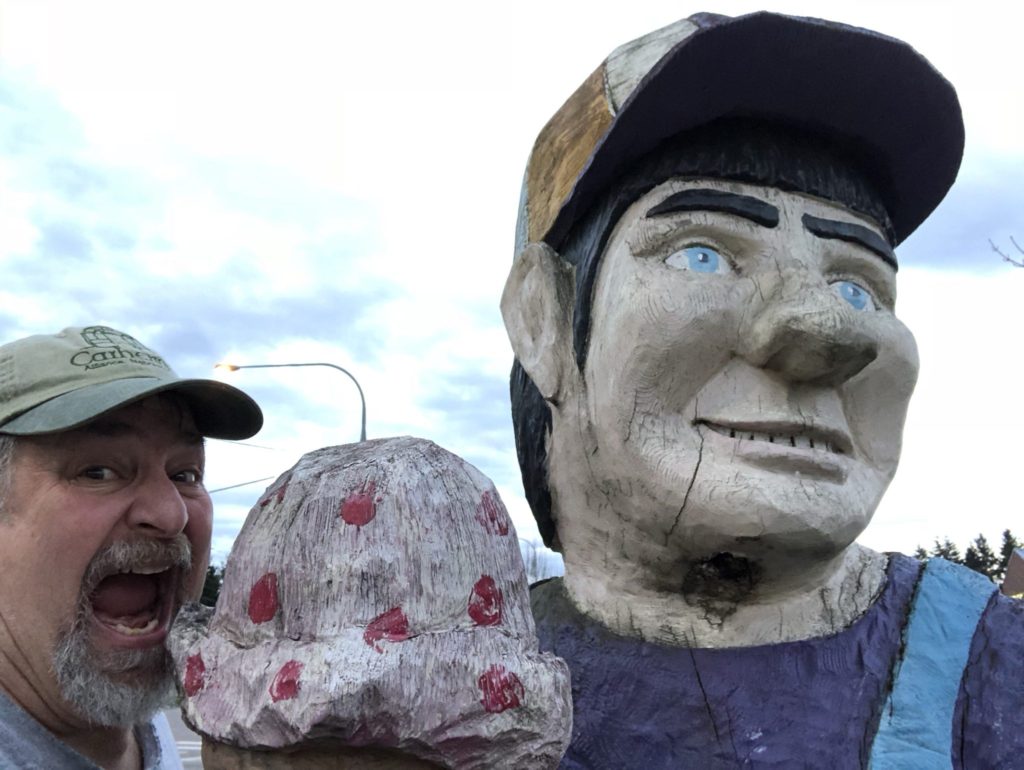 Murals and Metal Art – Ottawa, Illinois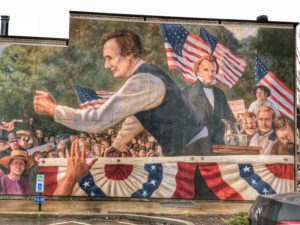 Yet another town with lots of murals, this is Abraham Lincoln country and Ottawa was where the great debate between Lincoln and Douglas took place.  Murals and park statues depict the scene and the history.
Ottawa calls their mural art projects "A Brush With History," a program which began in 2002.  There are now eight or nine murals in town including the massive "Day of the Great Debate" mural by artist Don Gray.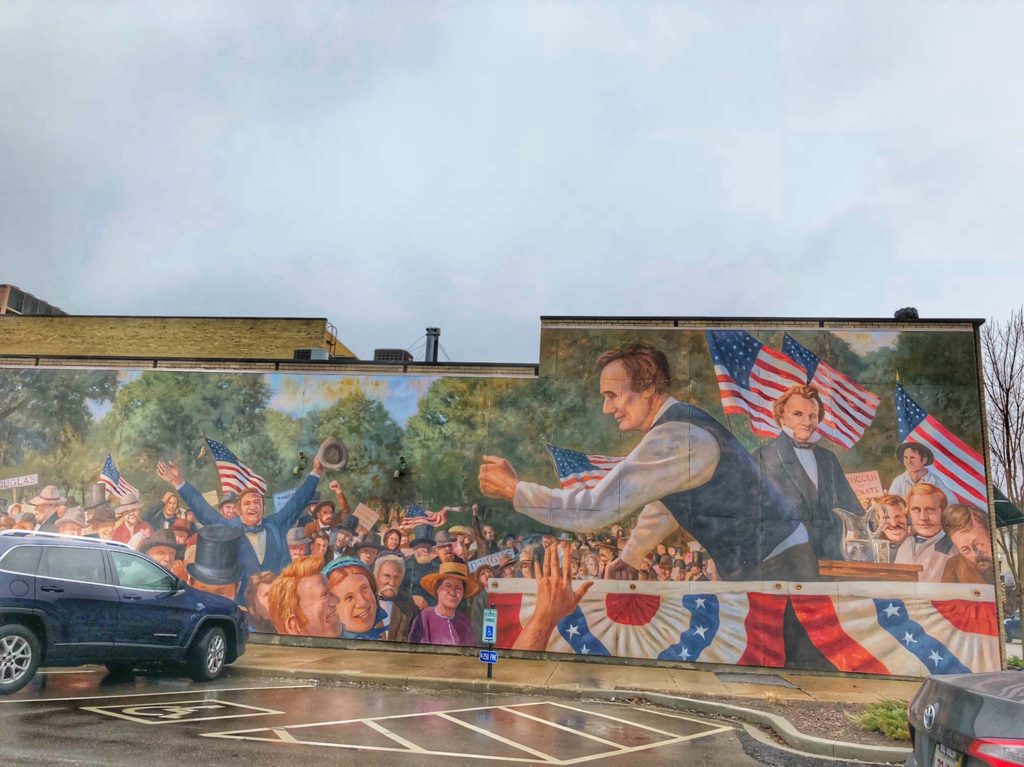 Some of the other murals I found in my quick drive through town include the following: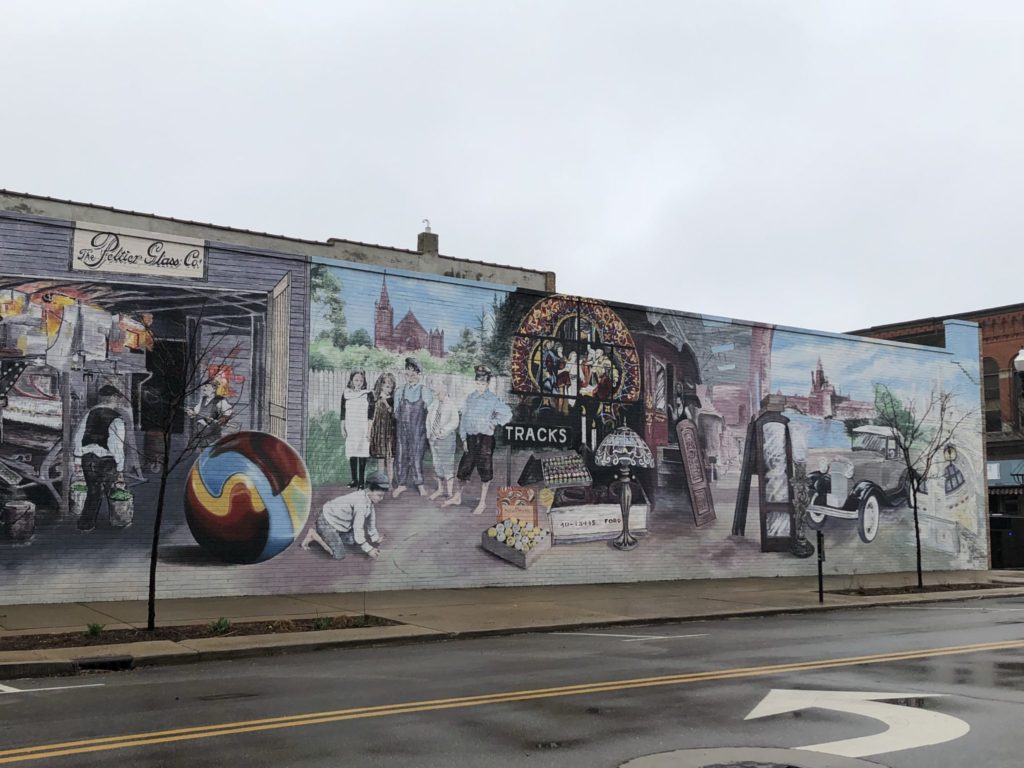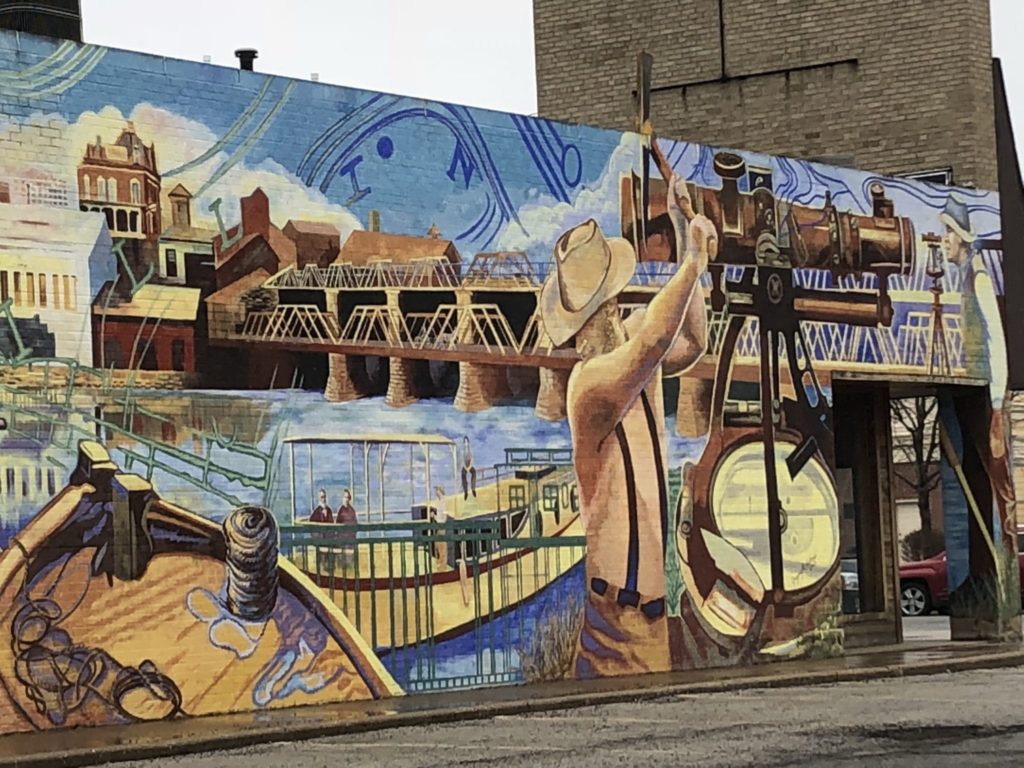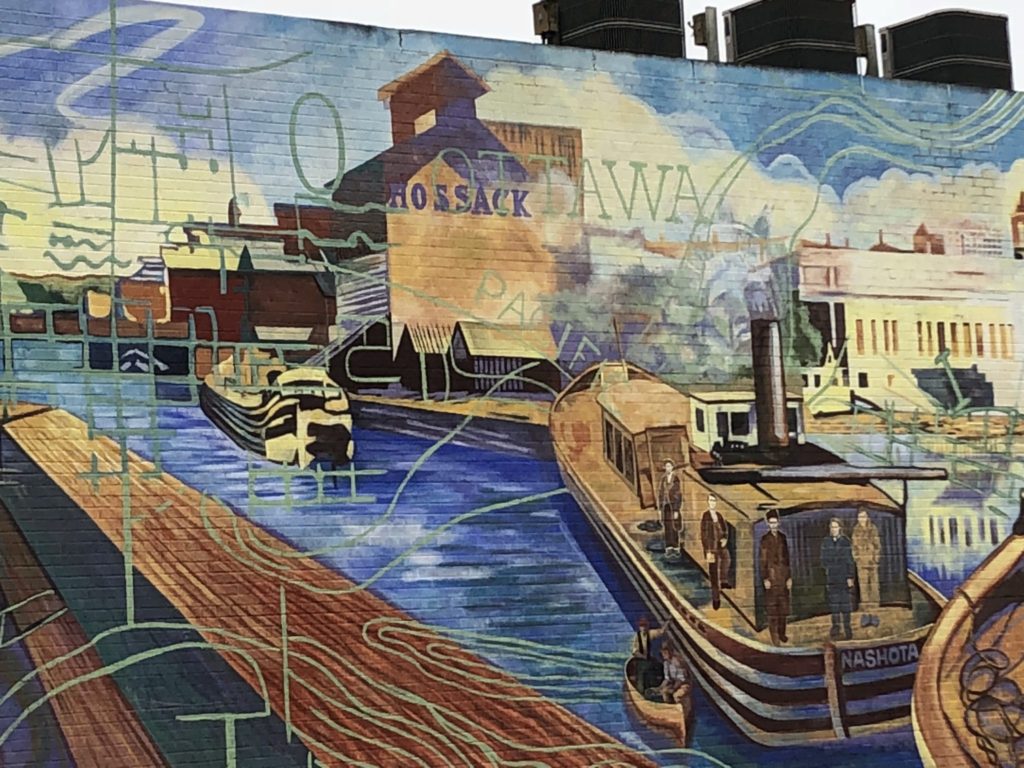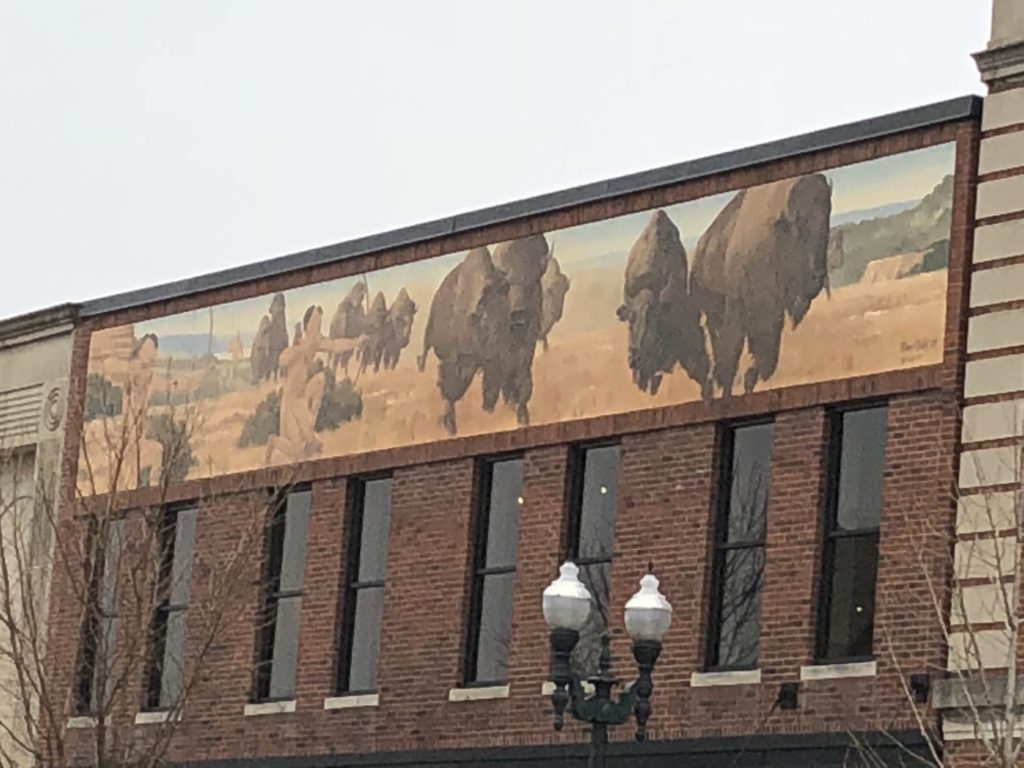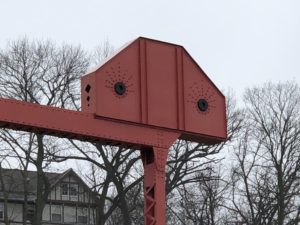 But murals aren't all that is in the town.  Over in Allen Park, along the Illinois River, I found one of the Whispering Giants.  While there, I also discovered two big metal sculptures, which I didn't know anything about. Created by native artist, Mary Meinz-Fanning, these historical art structures were fashioned from parts of Ottawa's old Hilliard Bridge, originally built in 1933. Ms. Meinz-Fanning built these two to commemorate the bridge: the yellow sculpture is named "Reclining" and the red one is known as "Bending".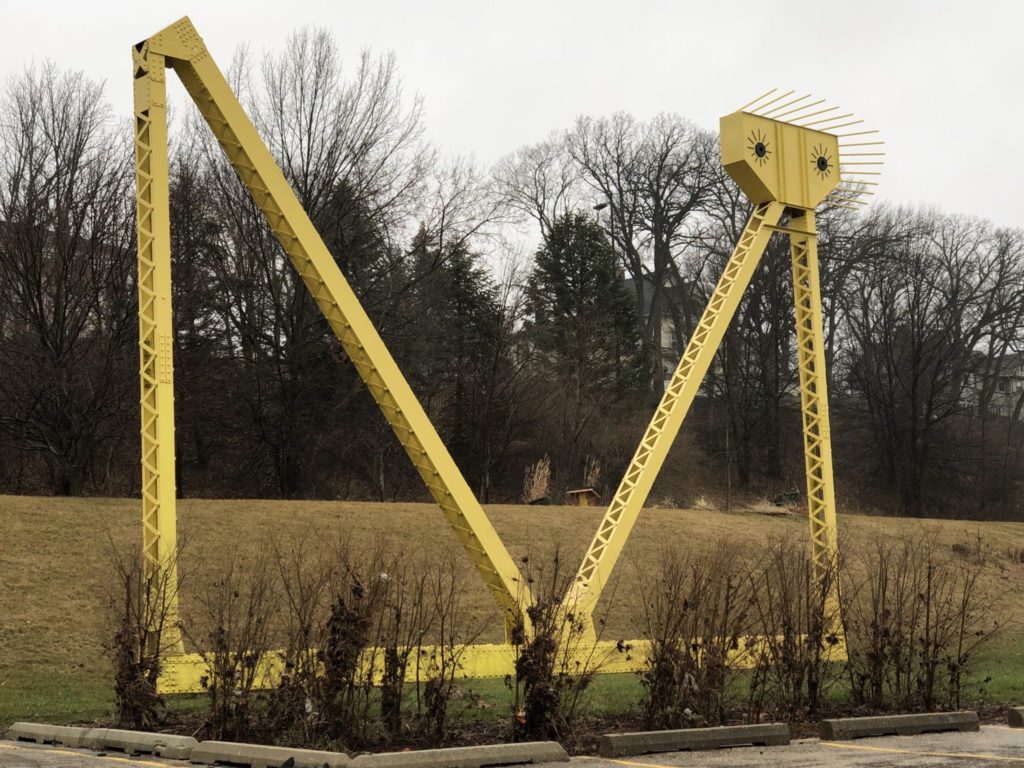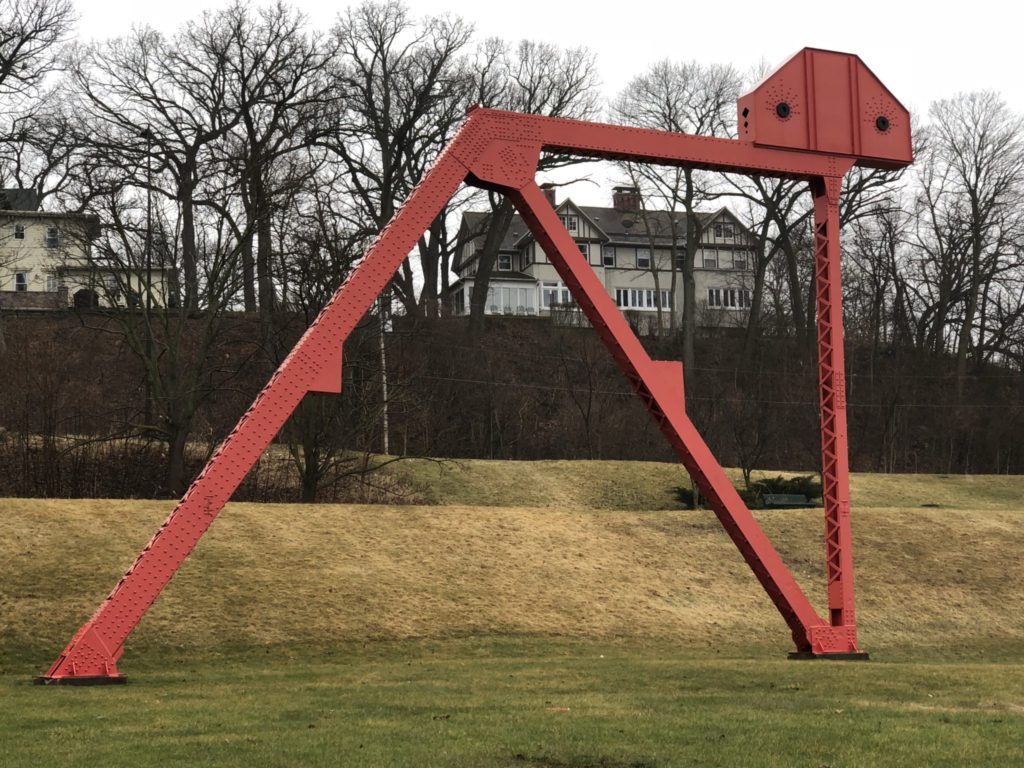 Cheyenne Murals in a Sinclair Convenience Store – Ashland, Montana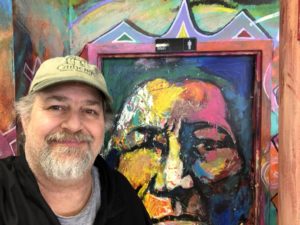 I had to stop for drinks and gas while on US Highway 212.  I was driving over the pass and stopped in Ashland, Montana, which sits in the Northern Cheyenne Reservation.  Went into this little Sinclair gas station in the small town and was stunned by the fabulous art.  Turns out the guys working the registers and managing the store were also the artists.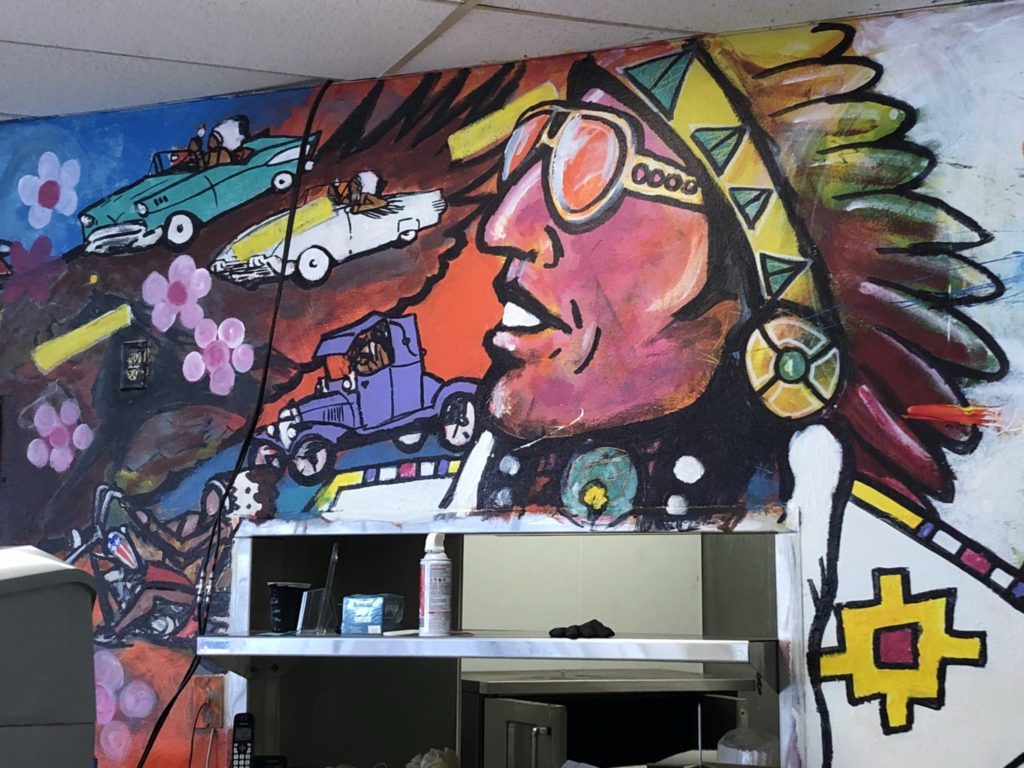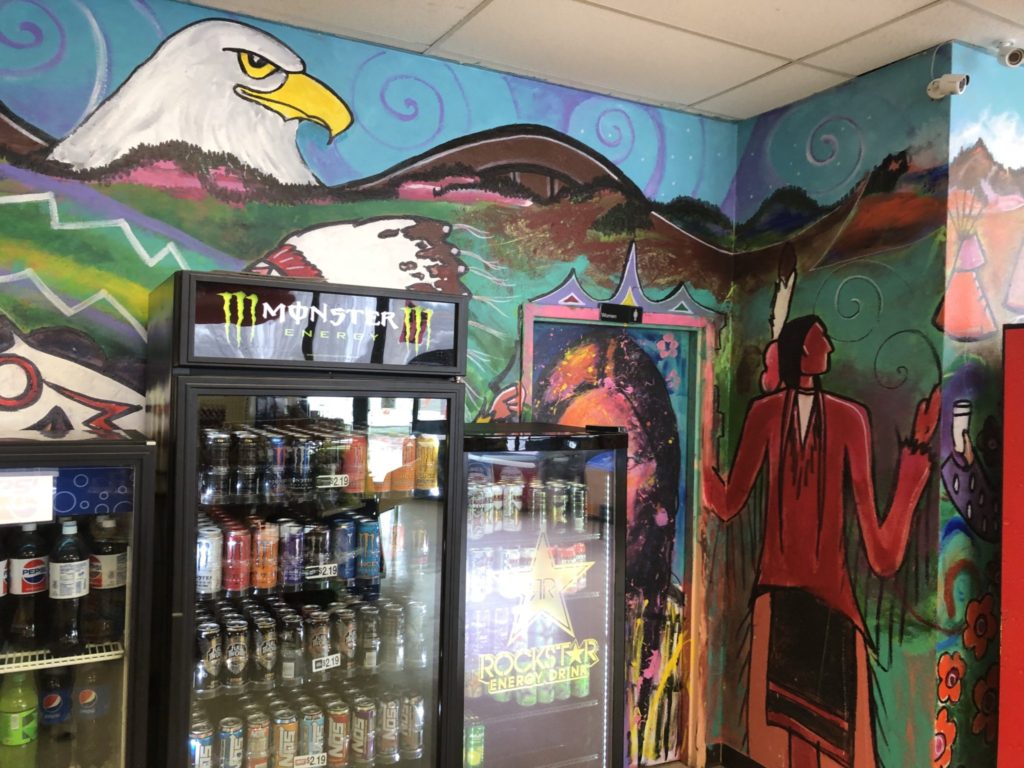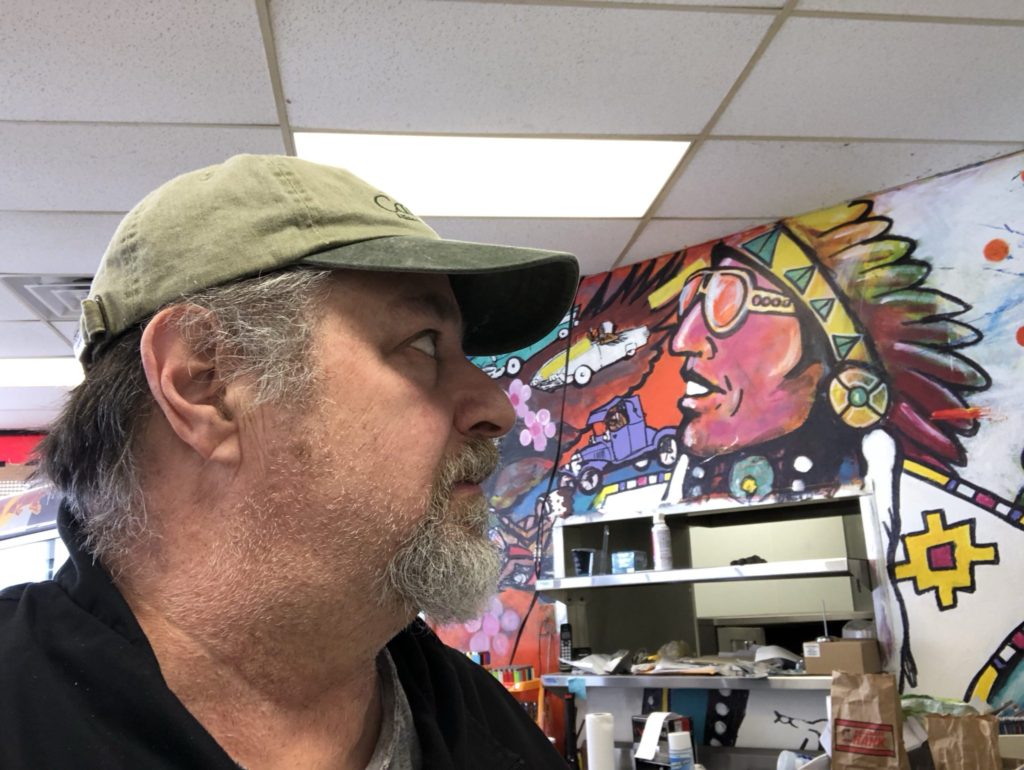 Bear in a Box Wood Carvers – Allyn, Washington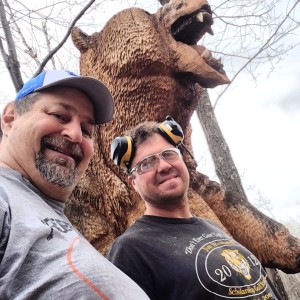 A few years ago I was driving on US Route 2 through Maple, Wisconsin when I ran into a place called Grizz Works.  It was filled amazing chainsaw wood carvings of bears and other unique characters.  I had to feature it on its own post.
On my trip in April, driving down Washington Highway 3 into Allyn, Washington I ran into Bear in a Box, another "must stop and get photos" wood carving place.  Their work was a tad more whimsical than was Grizz Works, but amazing nonetheless.  I loved it.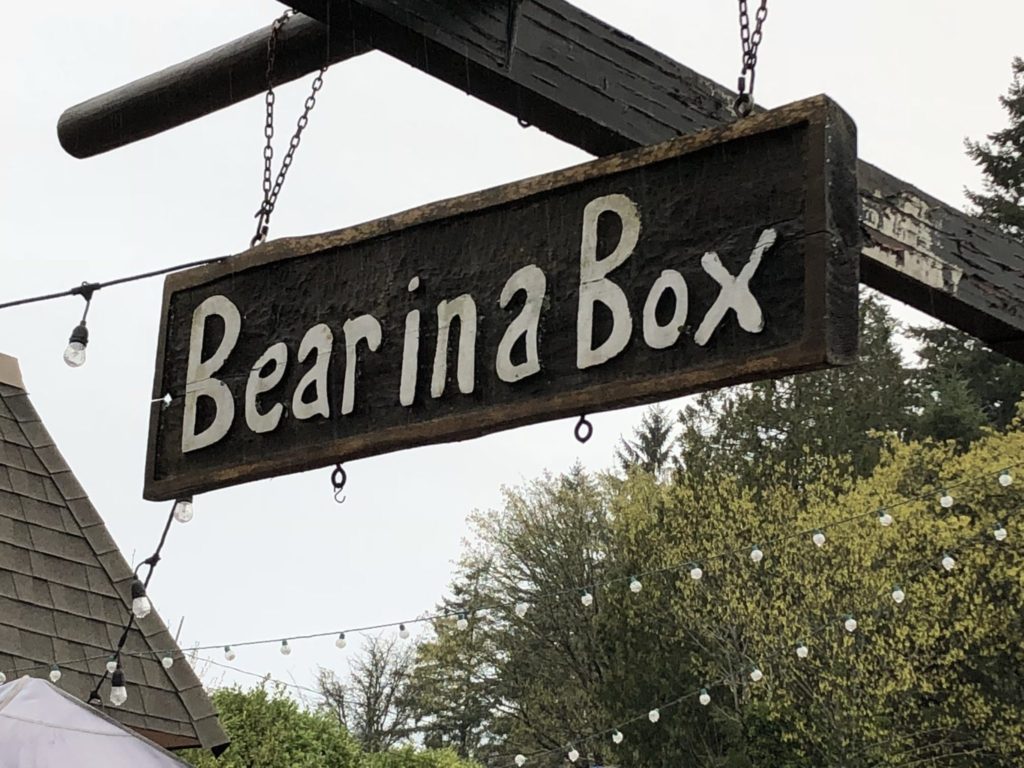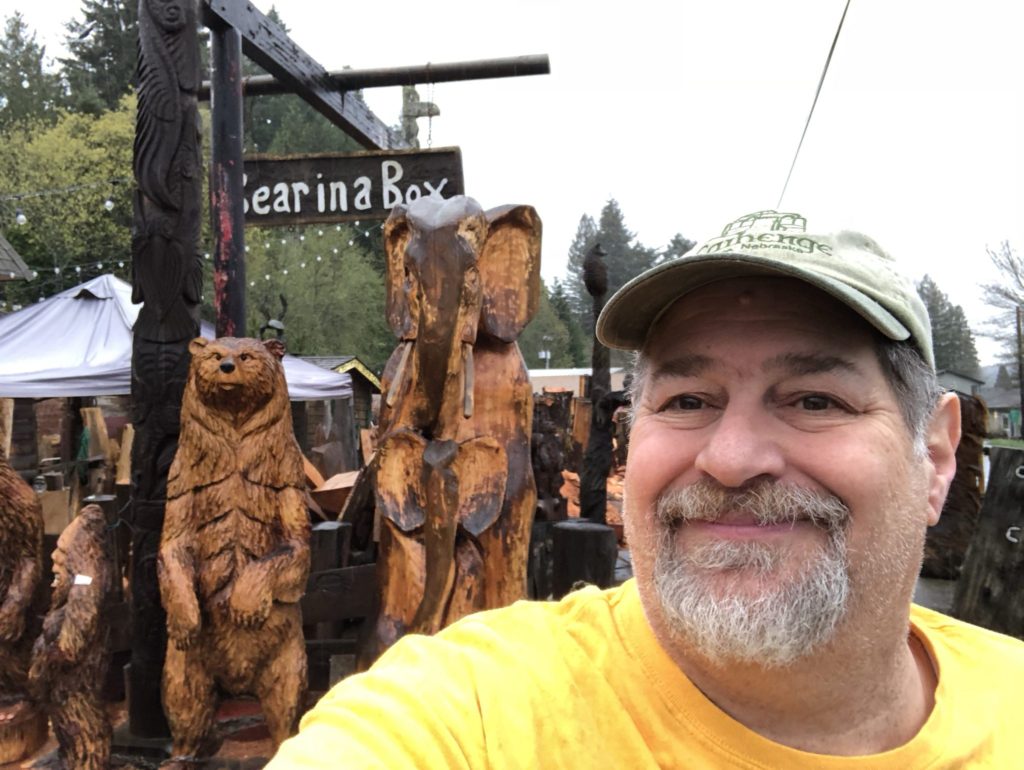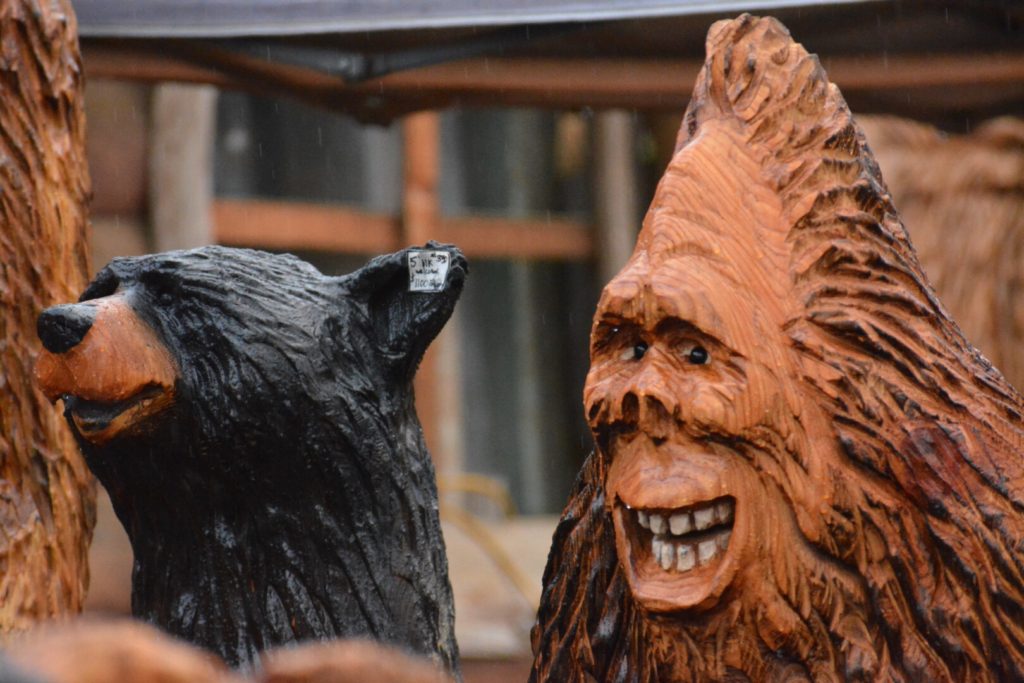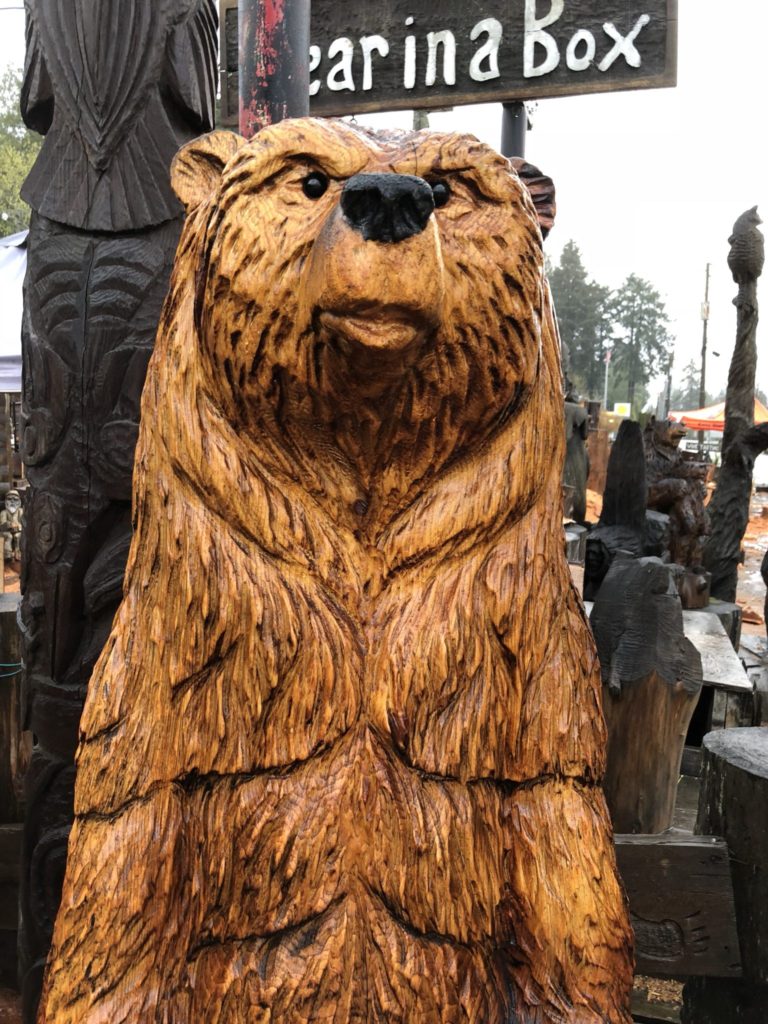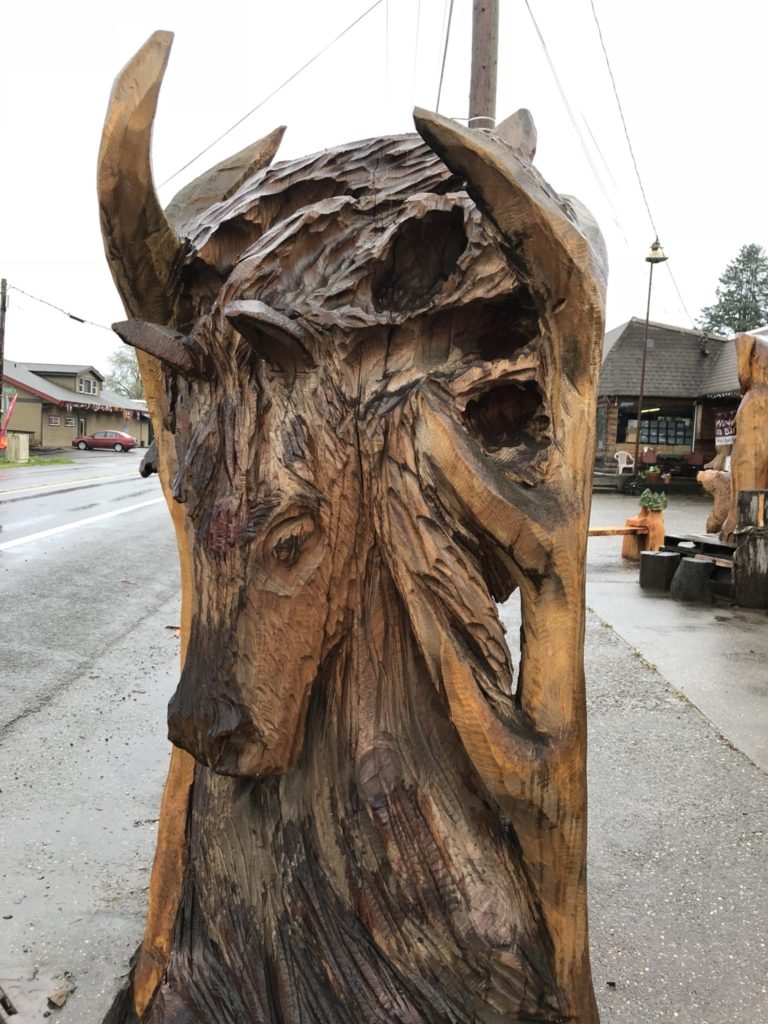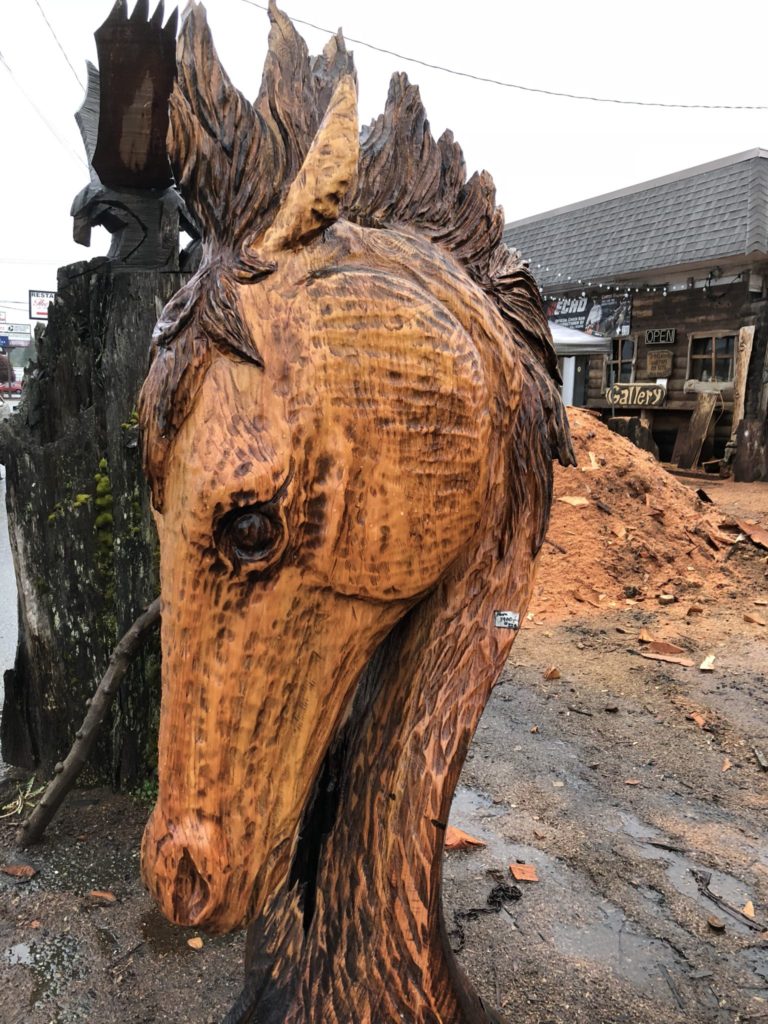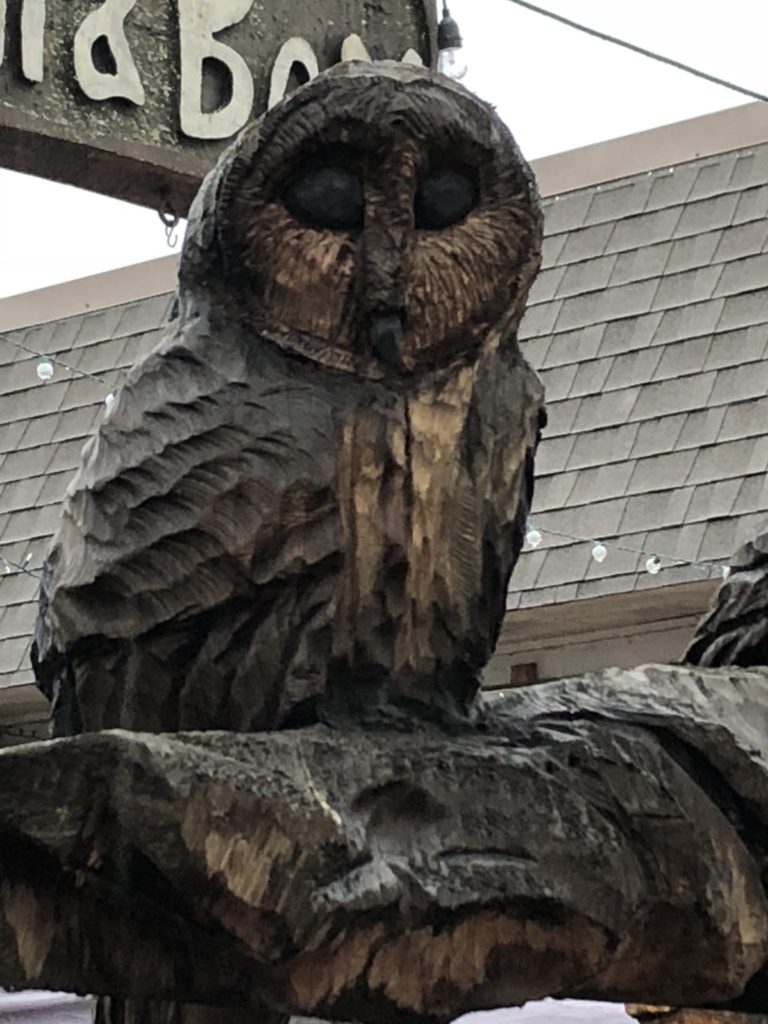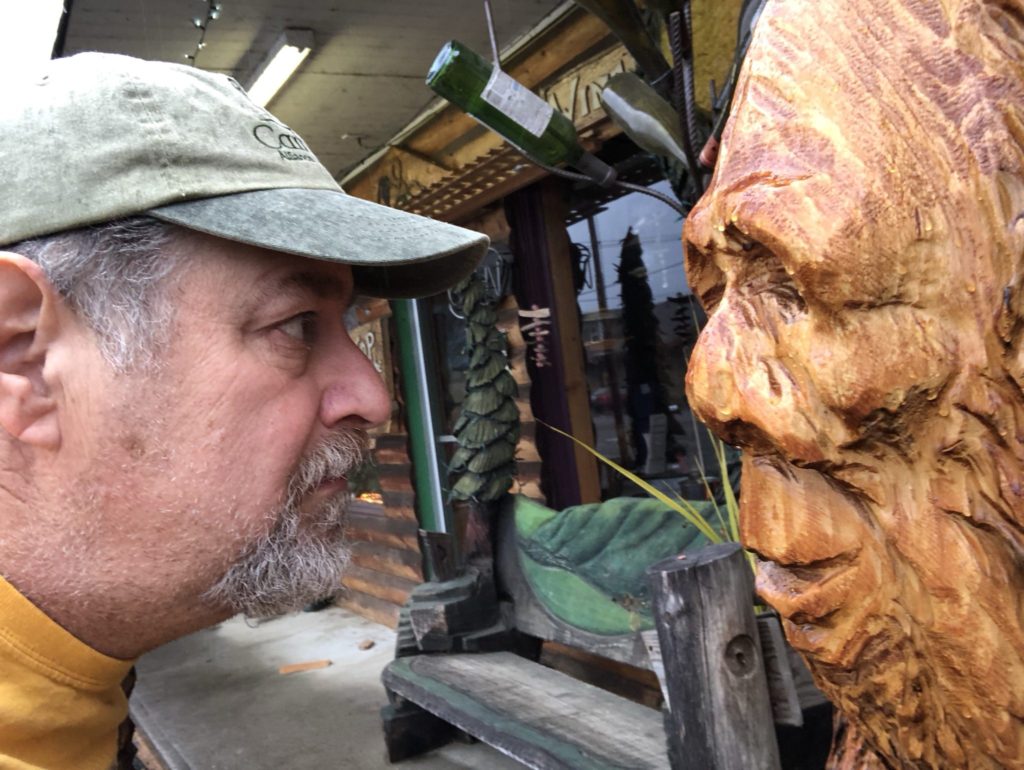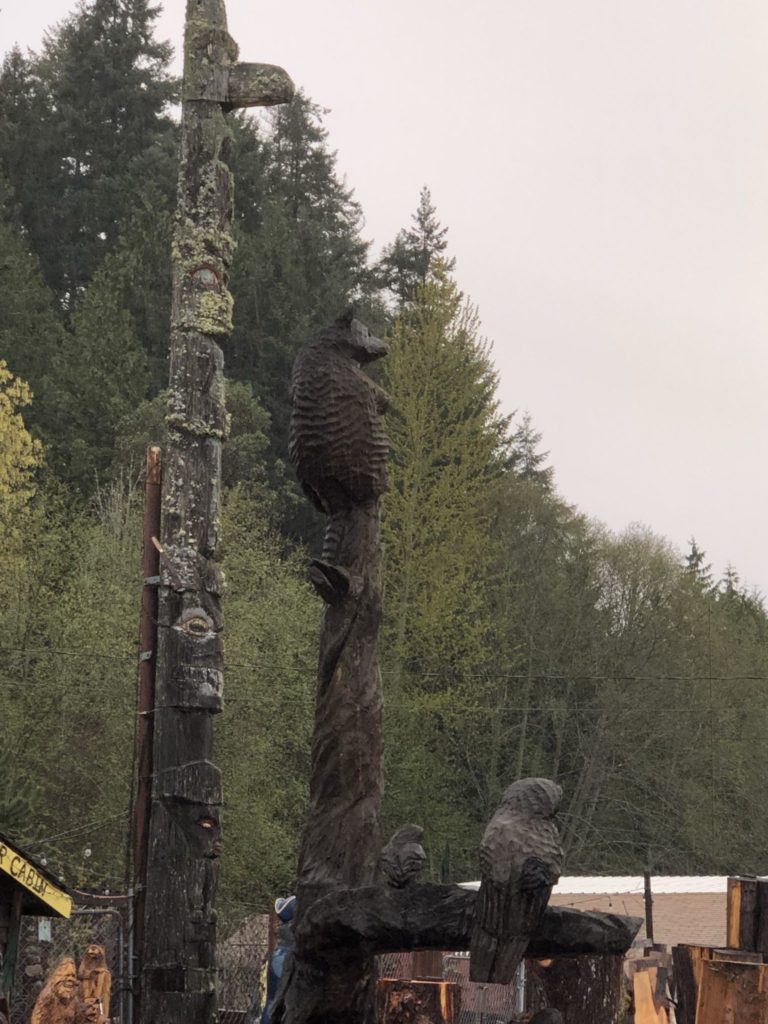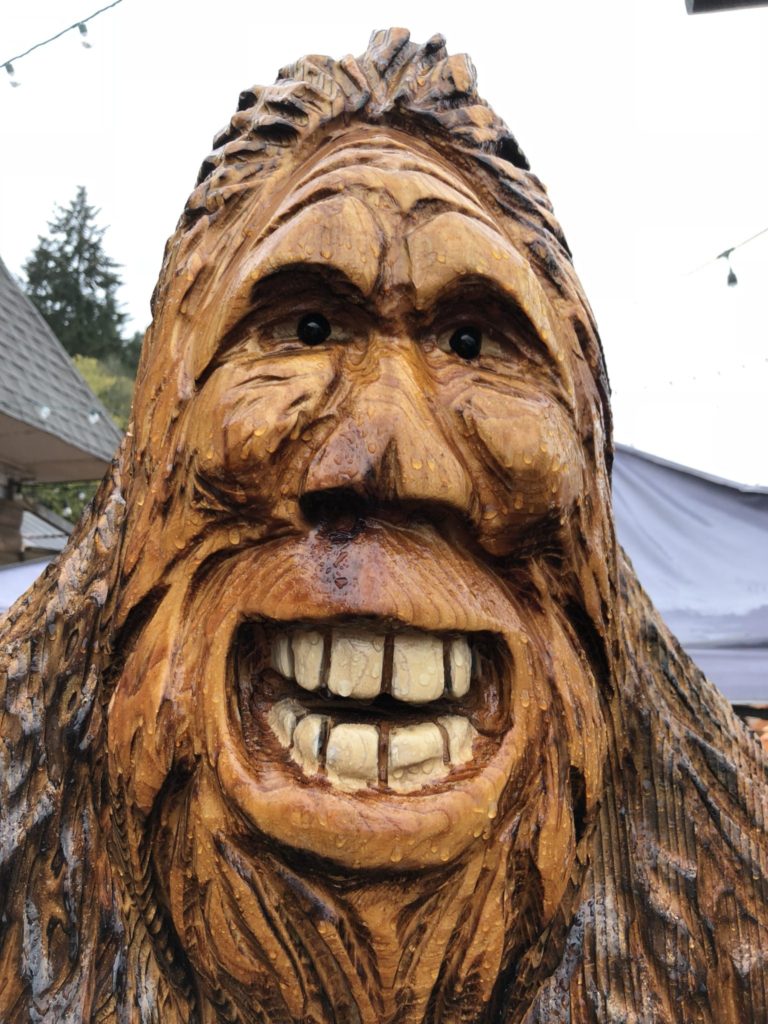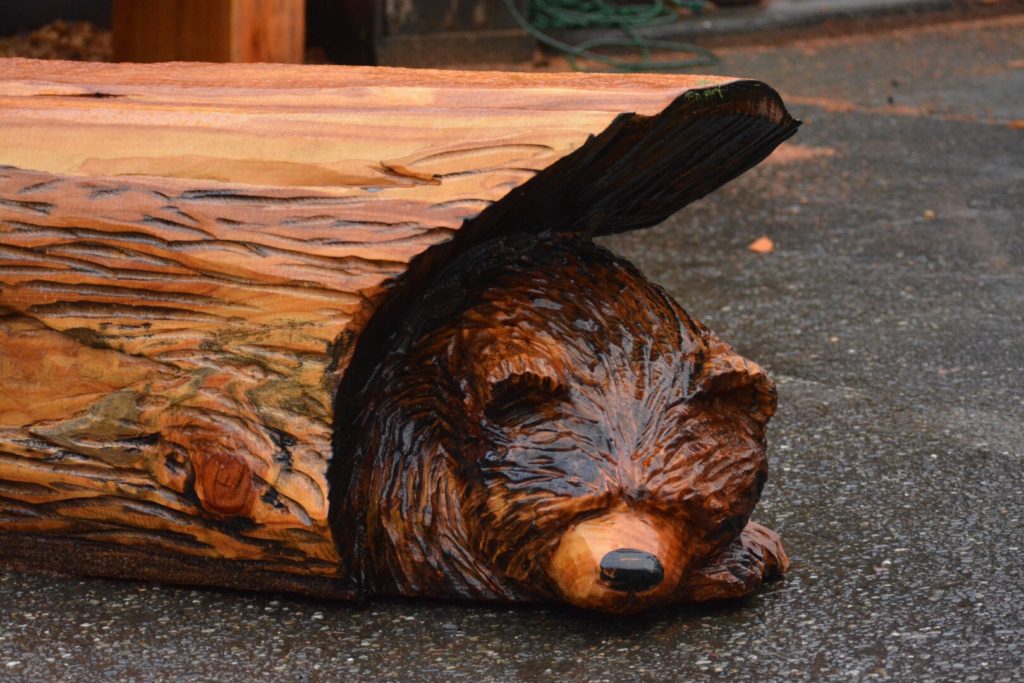 Orval's Used Cars – Delta, Colorado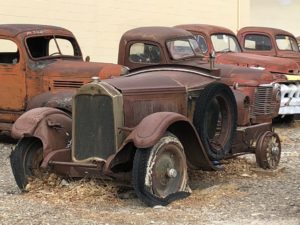 On my drive down US Route 50 in central Colorado, I came across a most unexpected scene in Delta, Colorado.  I found a "Used Car" lot that carried a couple dozen or more REALLY used cars.  I am talking about antique classics.
In my travels I have come across these kinds of old cars dotting the scenery here and there, and usually only one or two, and sometimes three.  But, in this unique lot in Delta, an out of the way little town in out of the way Colorado, I would have never imagined I would see the collection like this guy had.  In fact, I was so amazed by the collection that I forgot to get a photo of the place's sign.  But, the place does have a name — Orval's Used Cars.  And it is like a walk back in time.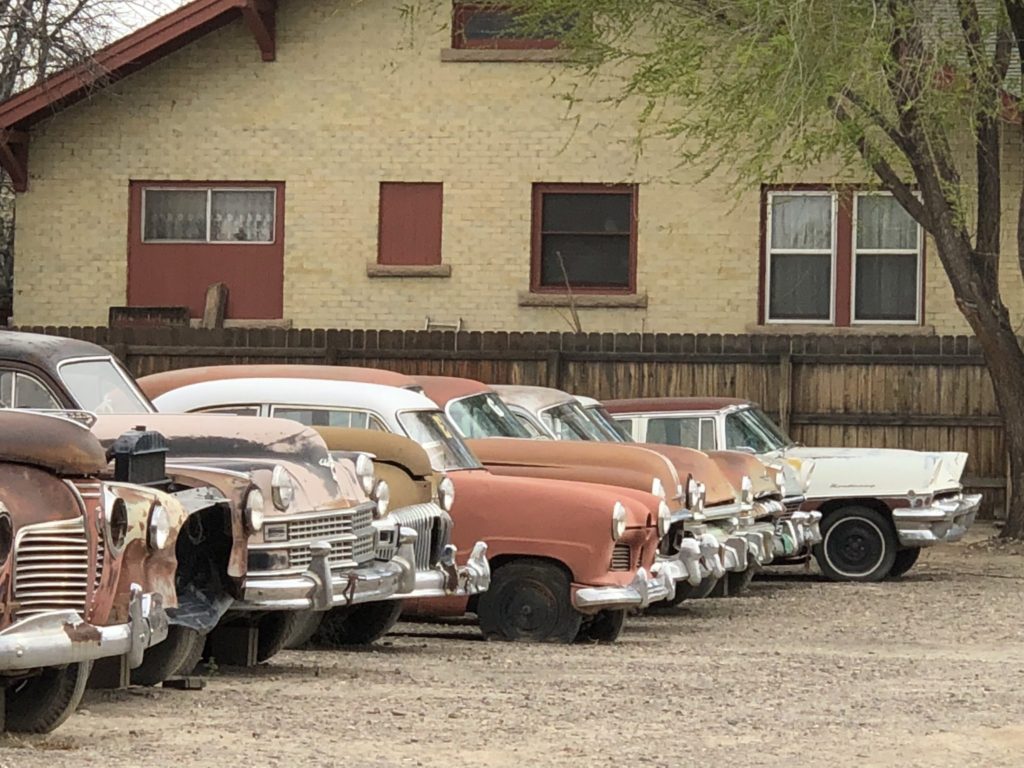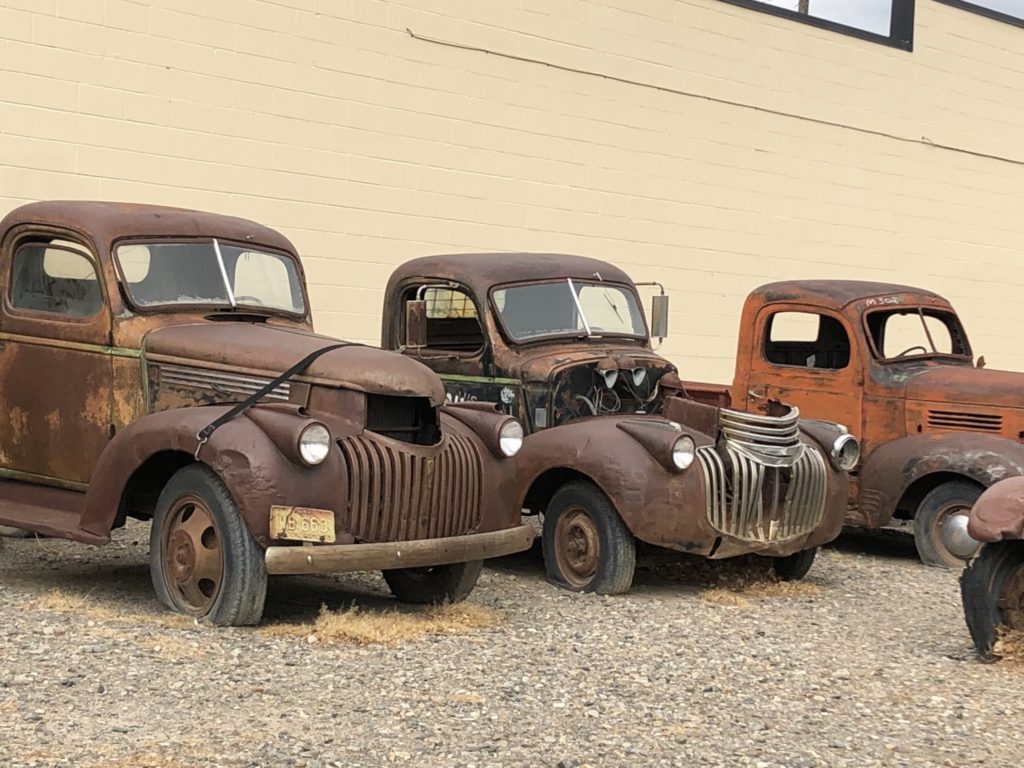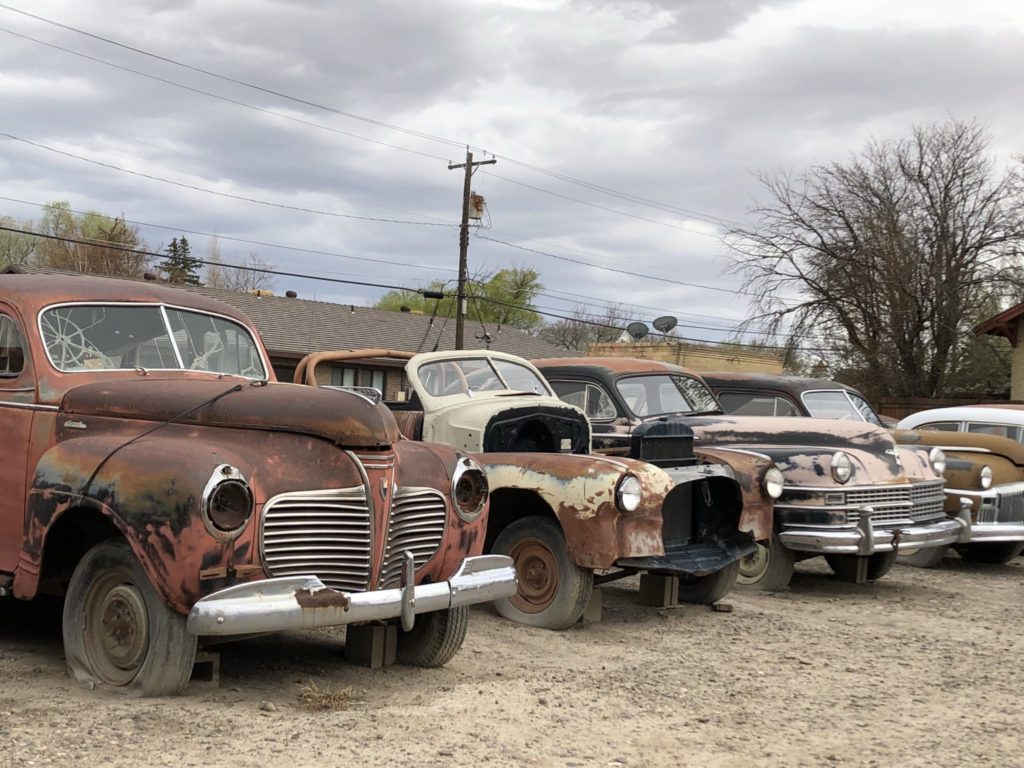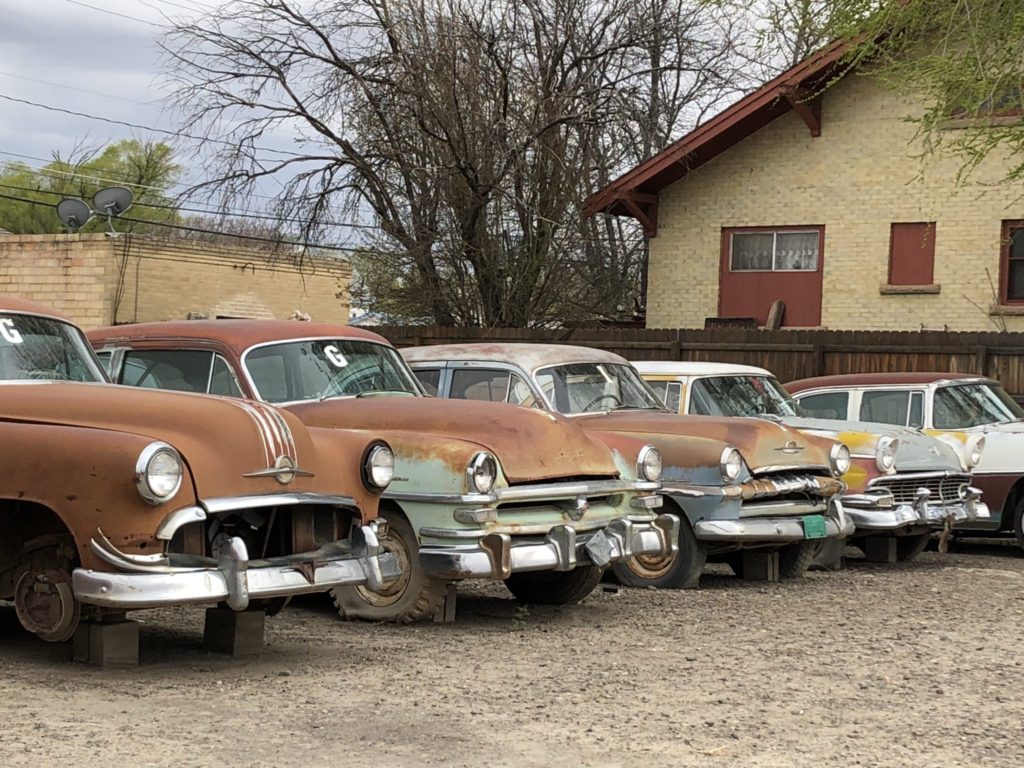 Murals and Wall Art – Delta, Colorado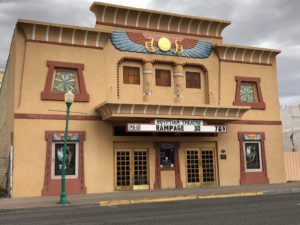 While on the subject of Delta, Colorado, a nice little town that came about originally to be a trading post for the Ute Nation and later was the home of Fort Uncompahgre, I should add some of the great murals that can be found here.  I was not able to get all of them, but here are a few.
I am also adding a photo of the lovely Egyptian Theater of Delta, which was built in 1928 and remodeled in the 1990s.  Unusual to find something like this in a small town in the middle of Colorado.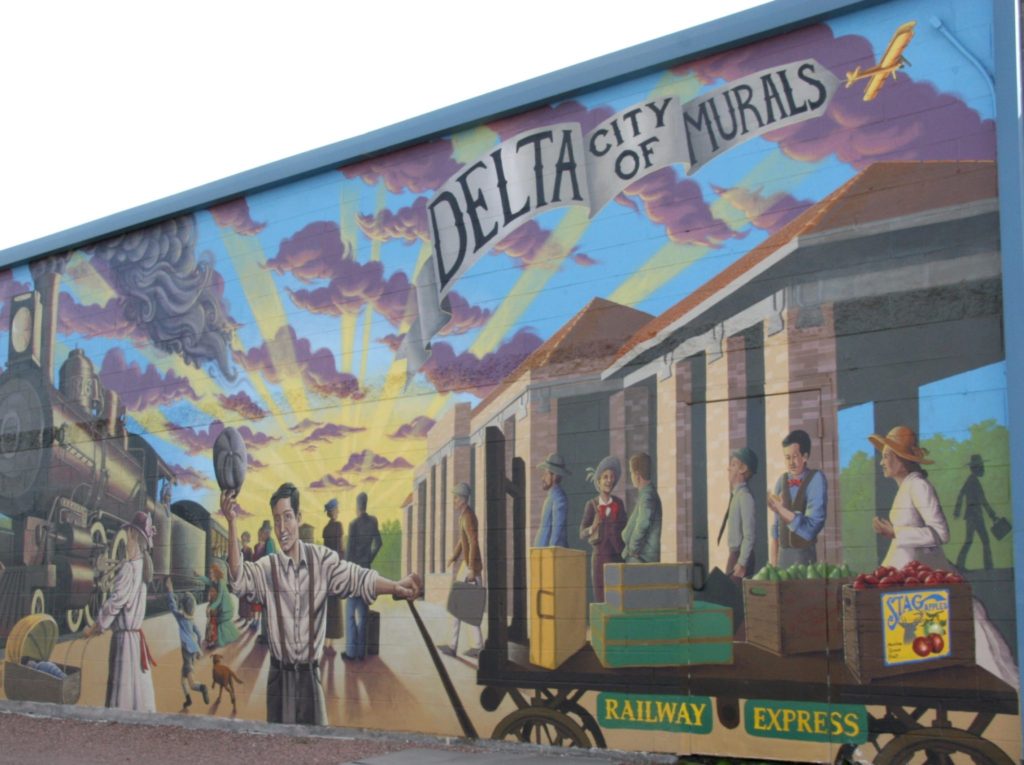 Delta, like other cities with a number of murals, calls itself the City of Murals as the town boasts at least 15 murals that dot the small city of about 8000.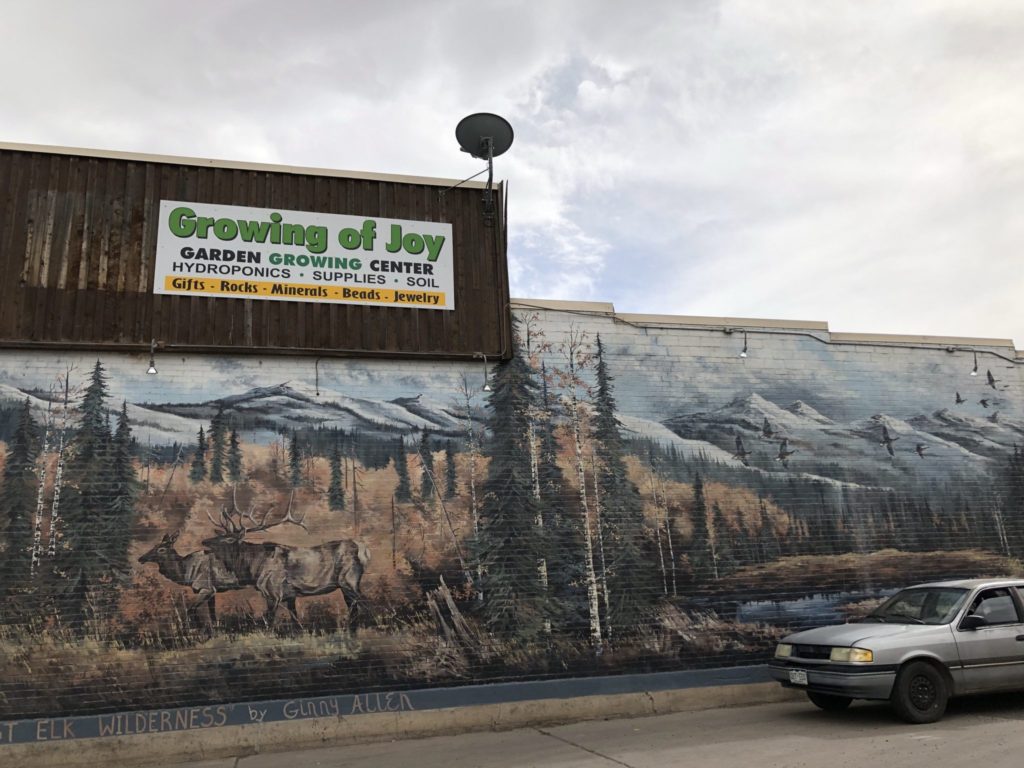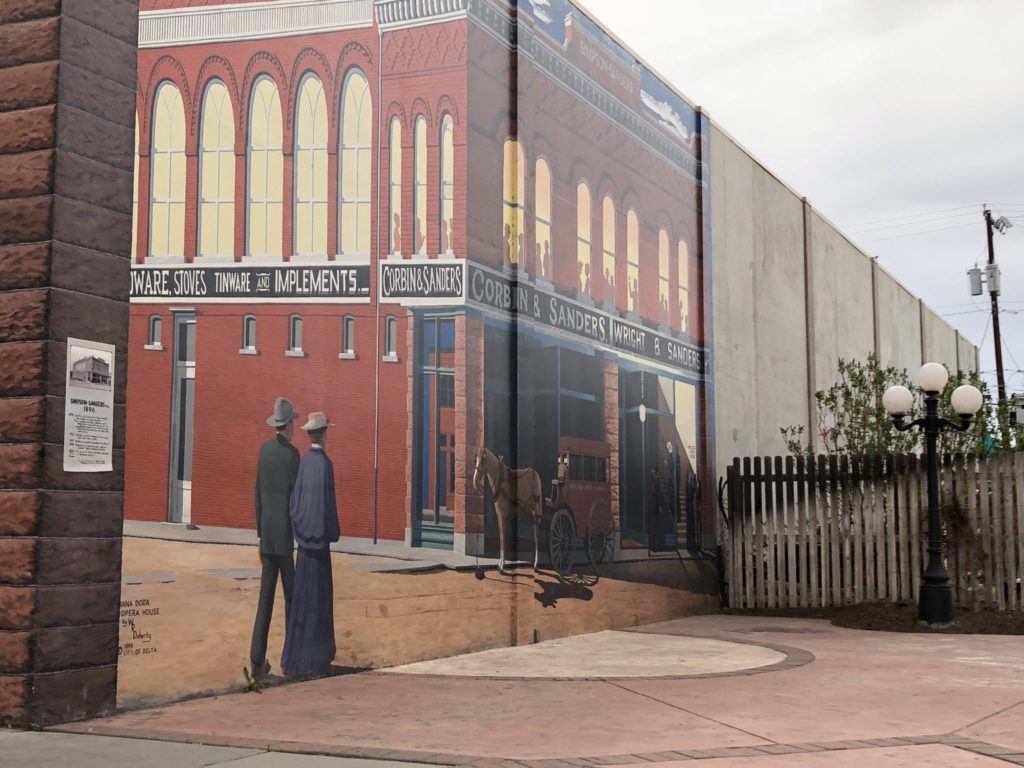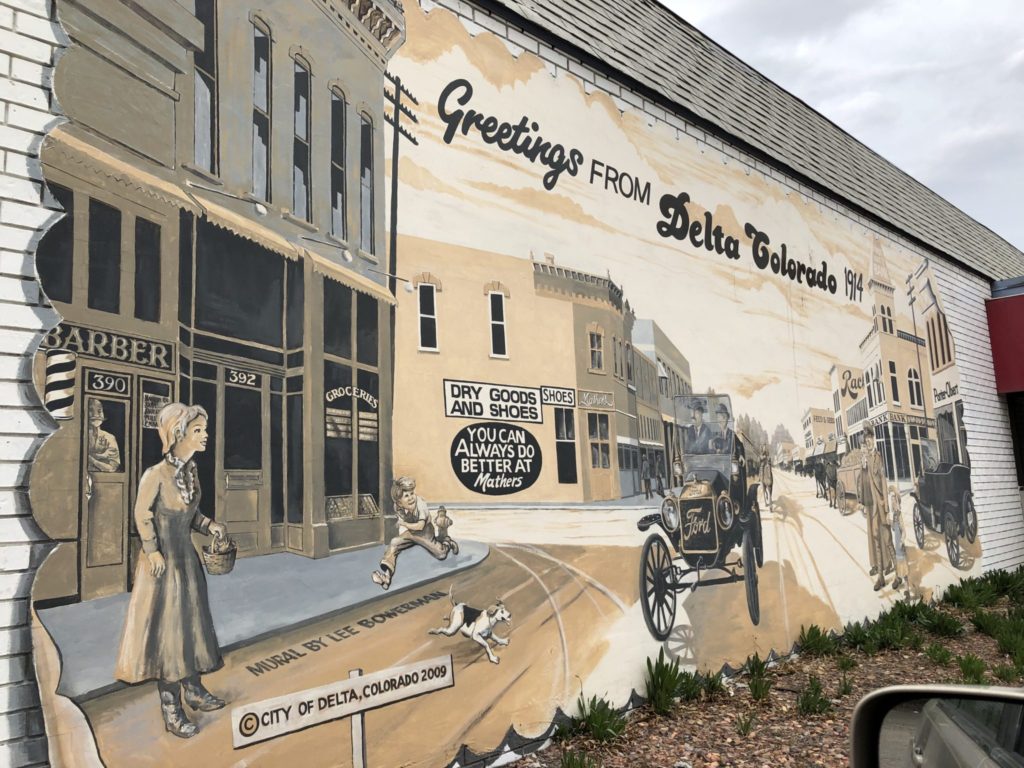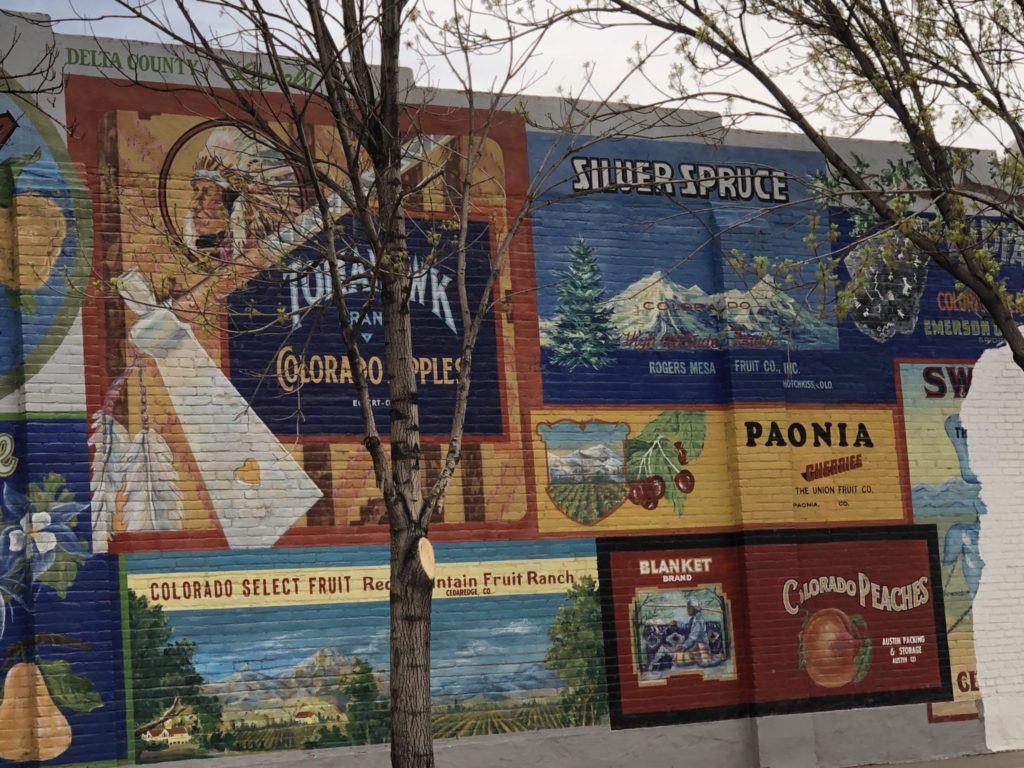 Starved Rock State Park – Oglesby, Illinois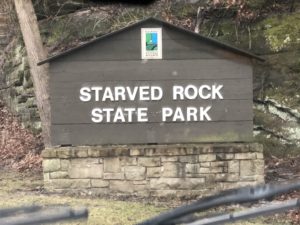 On my first day of my 6000 mile long road trip across America, I had hoped to hit the three Peter Toth "Whispering Giants" carvings in Central Illinois since they were relatively close to each other.   One of these was located in Starved Rock State Park near Oglesby and Utica, Illinois and not too far from Ottawa (see above).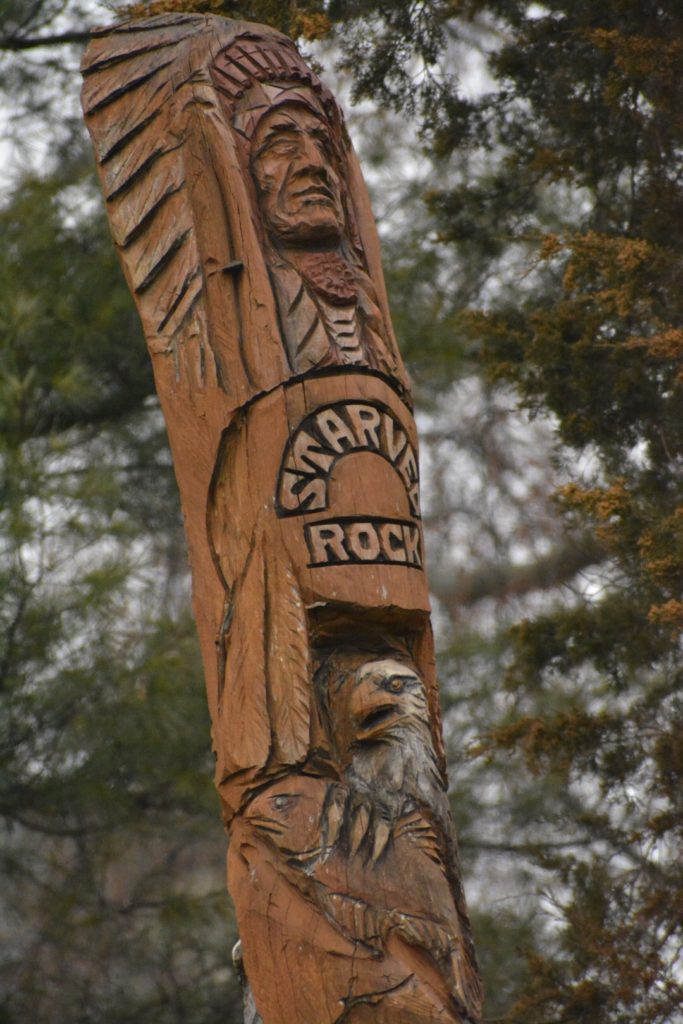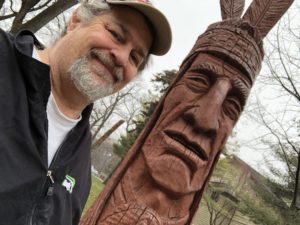 I had never heard of the park, but some tout it as the #1 Attraction in the State of Illinois (at least, that is what the park says on its website).  I drove around on the main road to find the Peter Toth giant and discovered a number of other wood carvings along the road, a nice lodge and more.  Sadly, this is one of those parks that deserves an all day visit and I couldn't do that.  The park is apparently full of trails to waterfalls and gorges and more.  All I got to see was a few of the wood carvings and the main lodge.  This is certainly a "visit again" place in the future.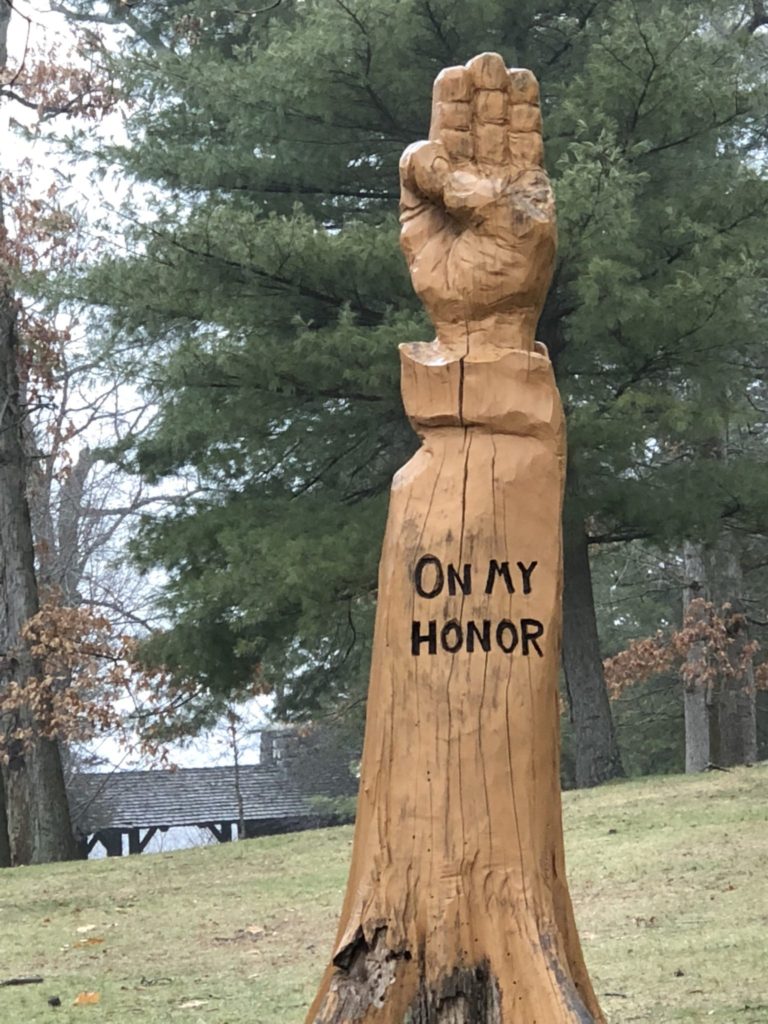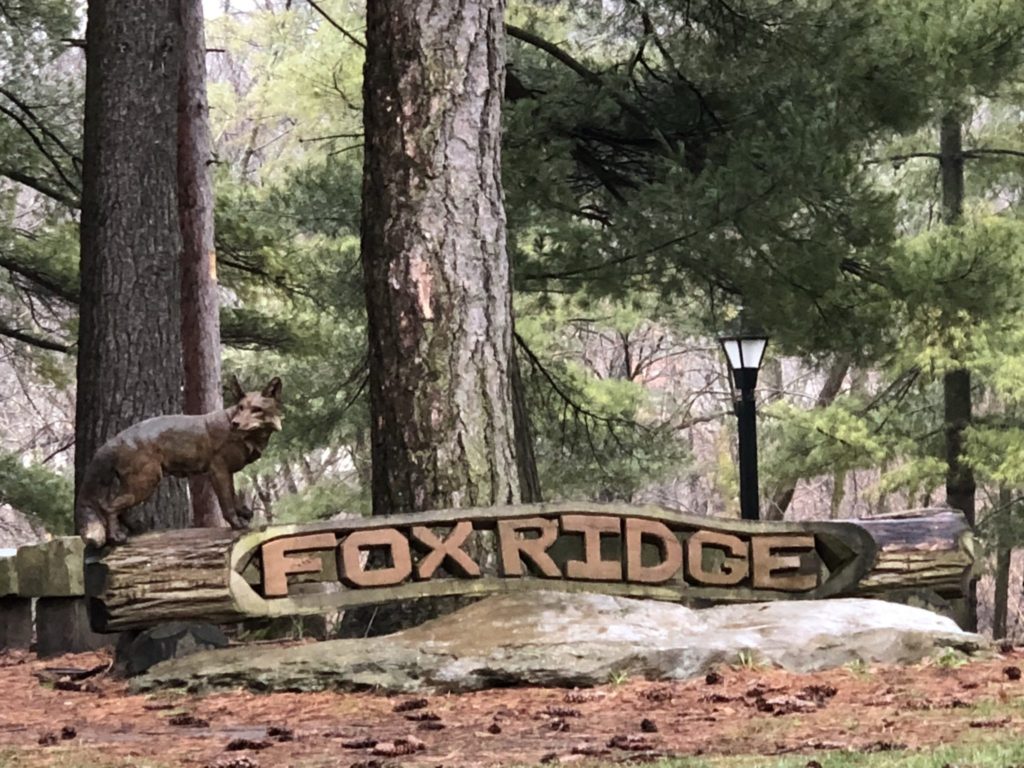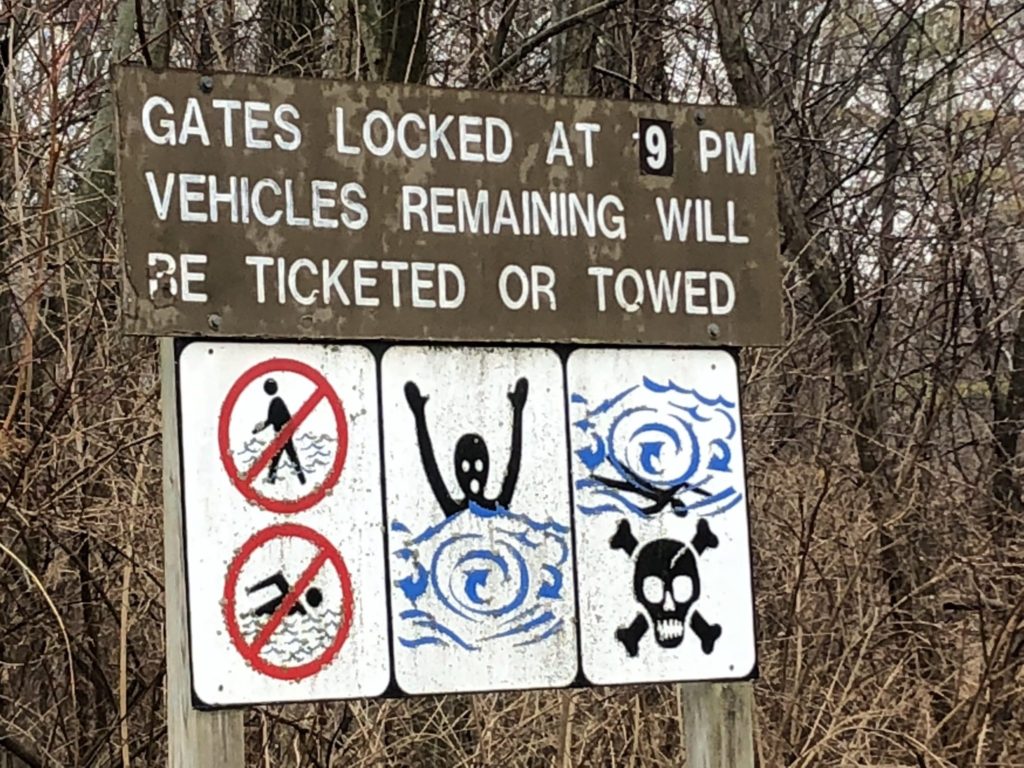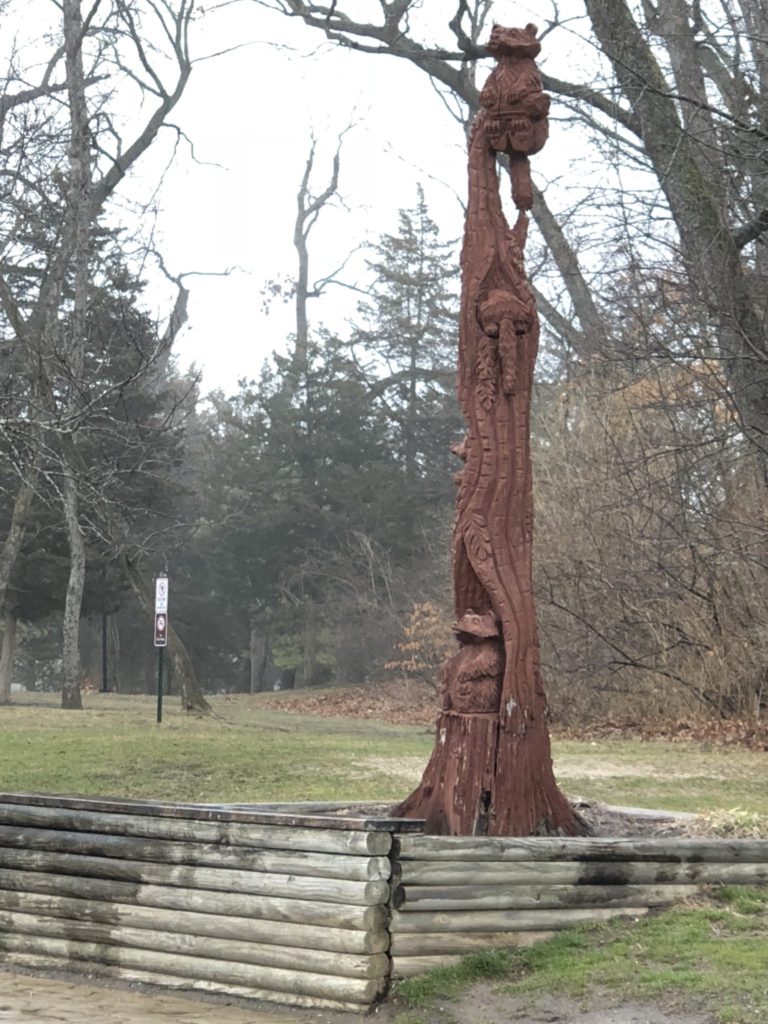 ENJOY THE RIDE!  CHOOSE HAPPY!
If you like what you see, you may want to check out my book: Less Beaten Paths of America: Unique Town Names, available on Amazon.  My second book, Less Beaten Paths of America: Quirky and Offbeat Roadside Attractions, is currently being worked on and I hope to make it available in late  June 2018. Click on the photo below for more details or to get a copy of the book.