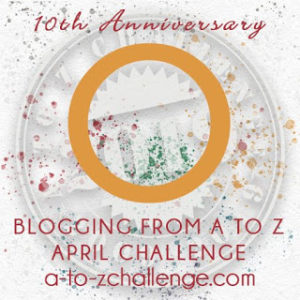 (Editor's Note:  For  my  2019  posts,  I will be posting photos from my travels in 2018.  I visited 26 states and drive over 13,000 miles in 2018.  These posts will feature of few of the road signs and business signs I came across, as well as some stories behind them. )
Obviously, there are many outstanding places to visit in this outrageously wonderful country. Whether you are an occasional traveler or you take every opportunity to wander, there is always something to see. Here are some of the odd O signs I discovered in my 2018 travels. Enjoy the Read. Enjoy the Ride.
Old Potter, Arkansas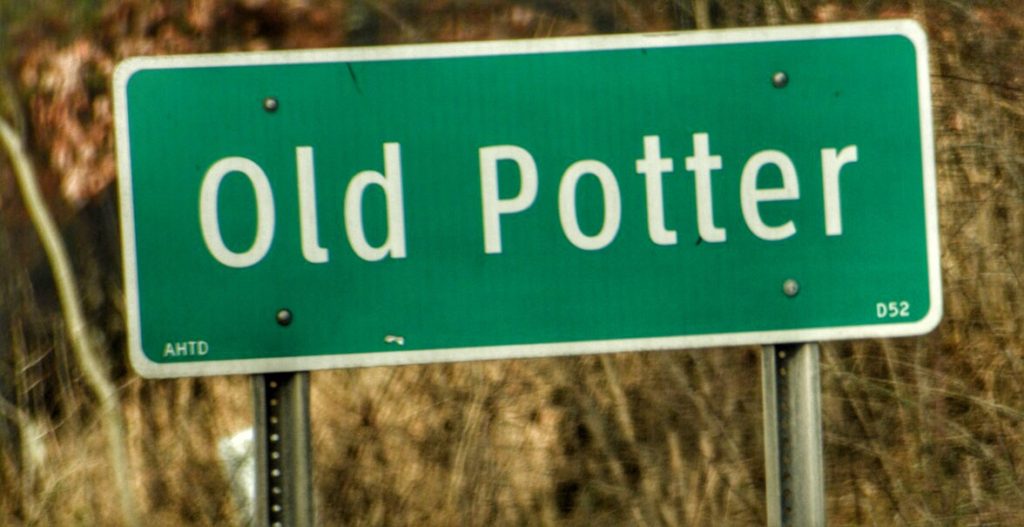 A few miles south of Mena, Arkansas, on US Routes 59/71, is a small unincorporated community called Old Potter.  It is also referred to as Potter Junction.  One can take AR Hwy 375 west from there a couple of miles, to Potter, Arkansas.  I have no idea how the name Potter cam about.  But I like the name Old Potter.  Kind of fun.
Okie Noodling Tournament Sign, Pauls Valley, Oklahoma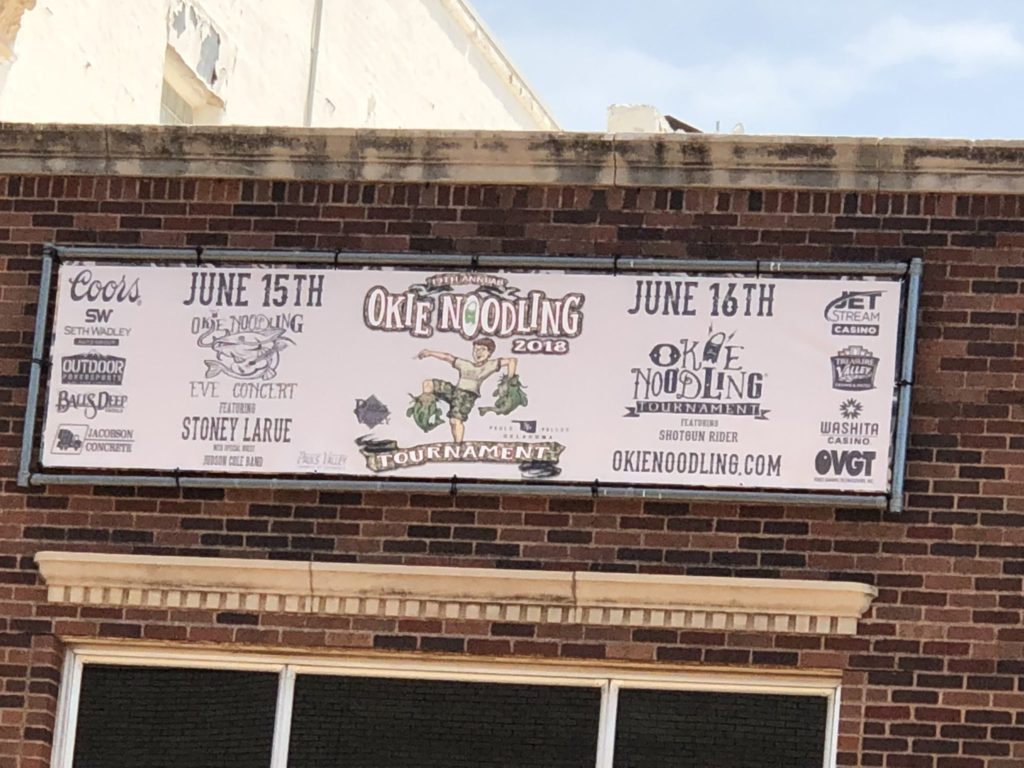 I first learned about the sport of Noodling on a documentary television program by Bradley Beesley titled Okie Noodling, which came out in 2001.  If you are not sure what noodling is, well here is the scoop…(or the grab is probably better) — it is the practice of wading in murky water and sticking your hand into dark holes hoping a 30-pound plus catfish will latch onto your hand and arm. Missing fingers and toes on some noodlers attest to the danger and excitement of the sport. The film emphasizes how noodling is believed to have originated with white settlers, with at least one reference known to have dated from 1775.
From that documentary, a tournament was developed at Bob's Pig Shop in Pauls Valley, Oklahoma.  This year (2019), on June 14/15, the Okie Noodling Tournament will celebrate its 20th anniversary.  There is an "O'FISH'Al" Okie Noodling website with all of the details, if you are interested.  I will be returning from Texas on that weekend and may just drop by for a looksee and maybe a visit to Bob's Pig Shop on June 15!
Check out the trailer for the movie here:  https://www.youtube.com/watch?v=x8E83pzt_MU
By the way, the rock band, The Flaming Lips, did the original music for the 2001 documentary.
Octagon Hall, Franklin, Kentucky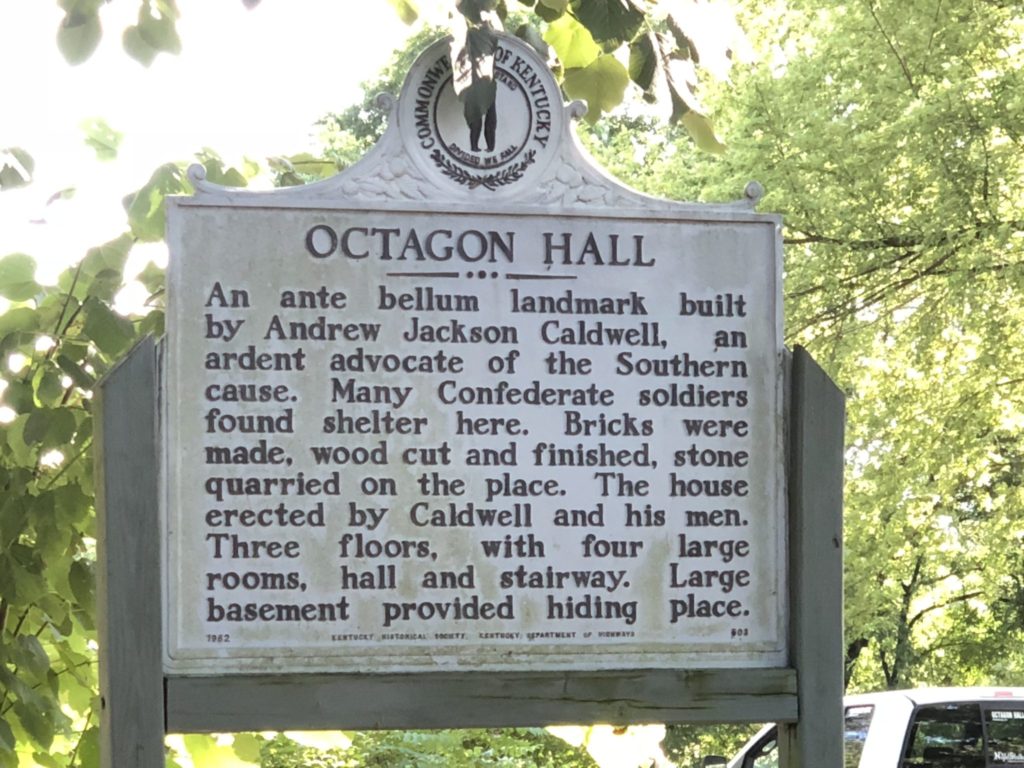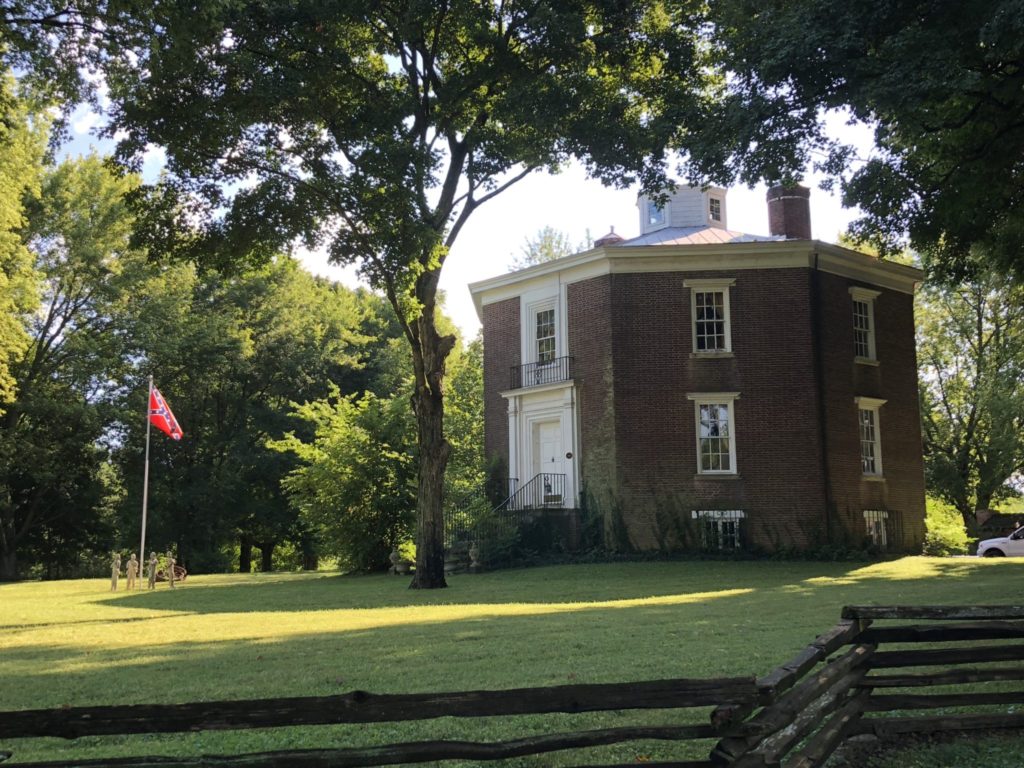 Driving south on US 31W near Franklin, Kentucky, I came across a sign to Octagon Hall Museum. This is one of the joys of traveling back roads.  I have come across so many unique places that were unplanned on my trips.  Though we were early and couldn't visit this Antebellum eight-sided Civil War home built by Andrew Jackson Caldwell, it was still a unique place to see, especially from the outside. Octagon Hall is listed on the National Register of Historic Places and was used during the Civil War by both Confederate and Federal troops and served as a Civil War hospital.
Orlinda, Tennessee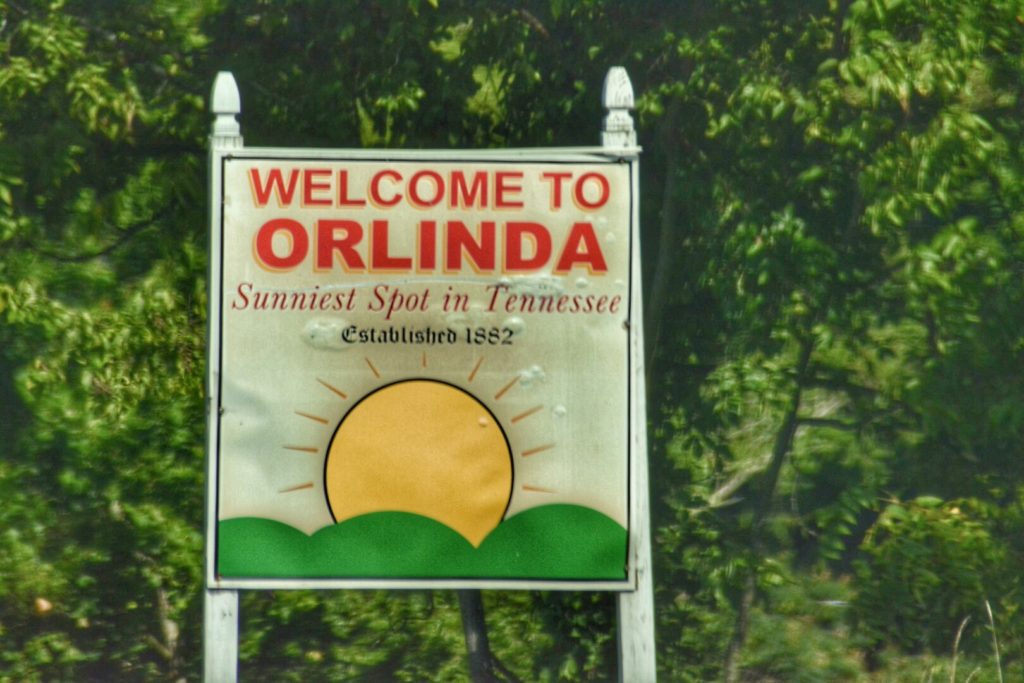 I always like town signs, but this may be in my favorites list.  I love the "Sunniest Spot in Tennessee" catch phrase.  The town of Orlinda is located off of US Hwy 31W, just south of the Kentucky border (and not too far from Octagon Hall).   There are about 1000 sunshiny folks living in this community.
Okemah, Oklahoma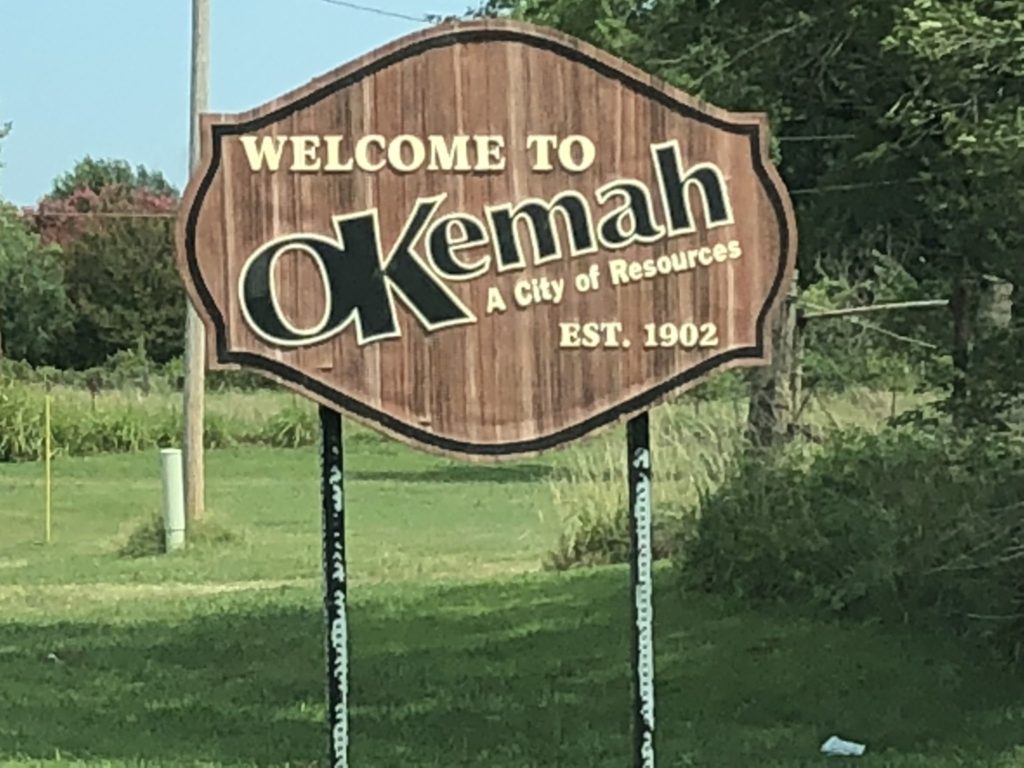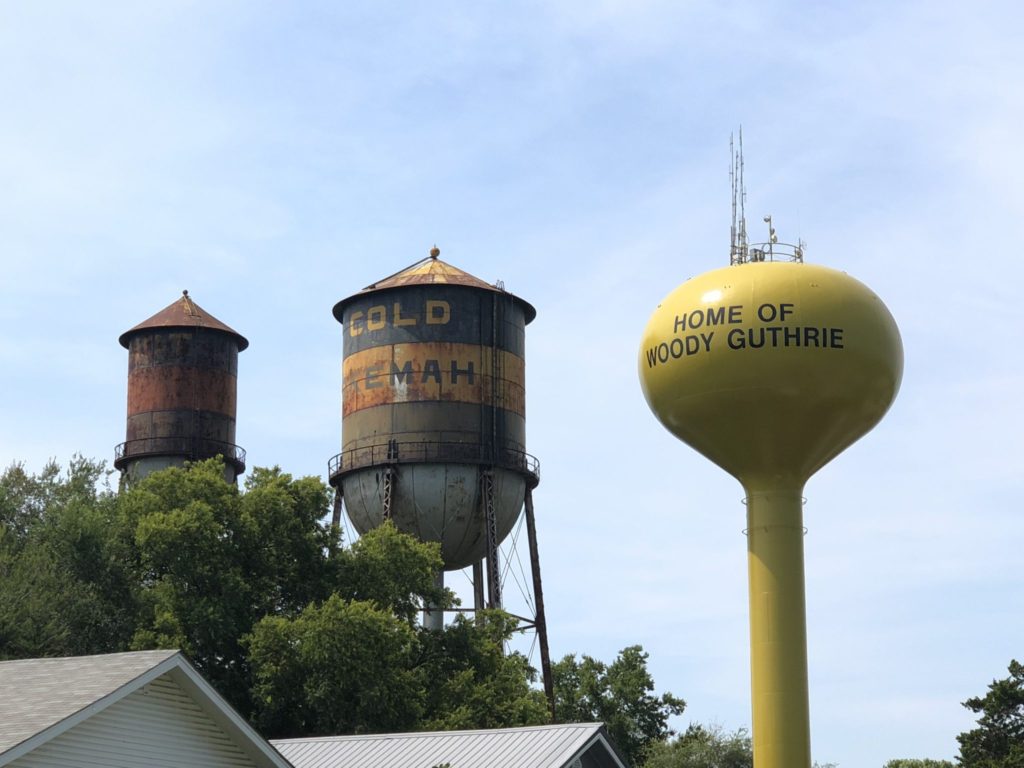 Okemah, Oklahoma was named after a Kickapoo  Indian Chief and is the home to the Creek Nation and specifically the Thlopthlocco Tribal Town, a group that speaks the Mvskoke language (thus Muscogee).  Even though there is a great Native American Heritage here, it is also the birthplace of the famous Folk Singer Woody Guthrie who wrote such well-known songs as This Land is Your Land, Mule Skinner Blues, and hundreds of other songs.  Okemah is just off of Interstate 40 and US Highway 62 passes through the town.
Olive Hill, Kentucky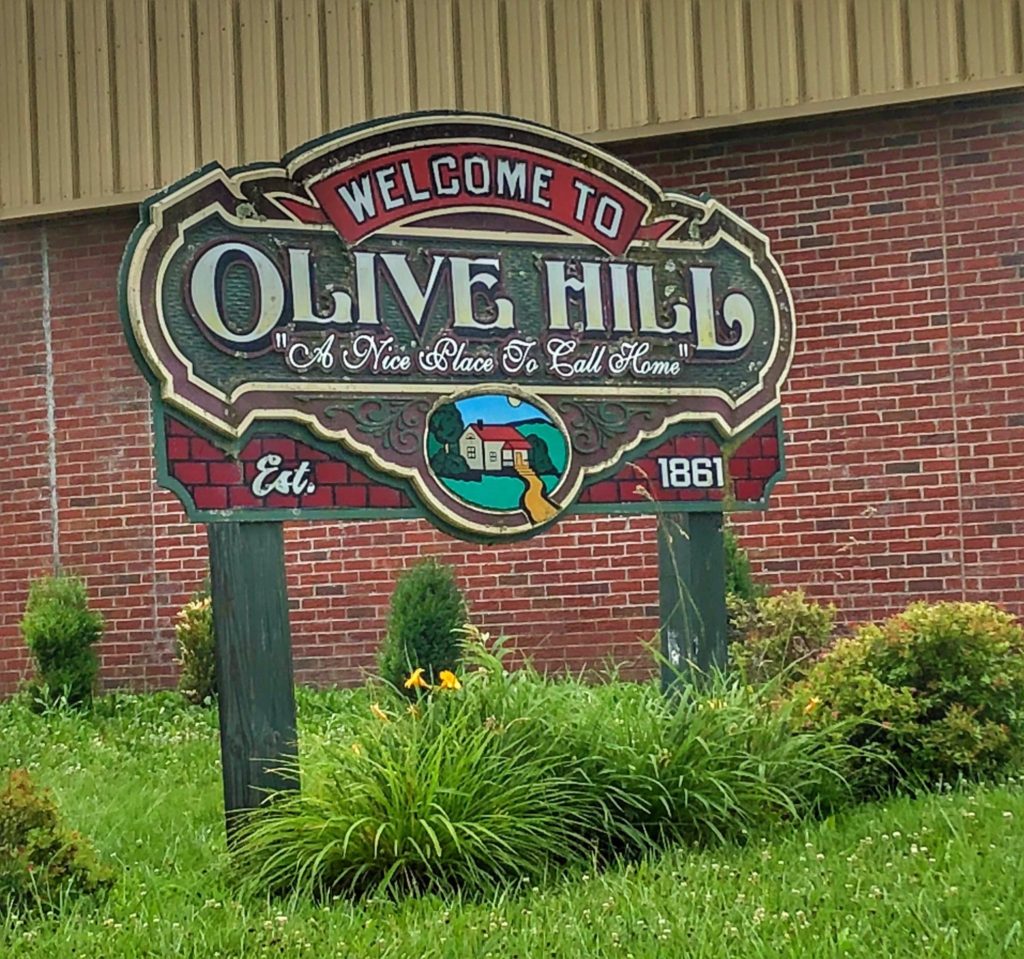 Last on my O list is one closer to home.  Olive Hill, Kentucky is in eastern Kentucky on US Highway 60.   It is an old railroad town established in 1861.  I especially like the town because of its layout and the many murals that can be found along a wall in town.  The main street of town is Railroad Street.  Just a cool little town.
Like what you see? Well, there is lots more!  I currently have two books about offbeat and quirky places to take on your road trips. You can see both of my books at http://amzn.to/2ks6fQZ. Working on Book 3, coming in late Spring 2019!!