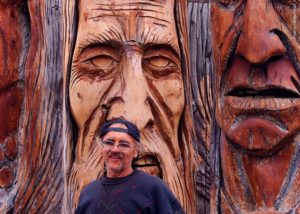 On August 20 I had a wonderful opportunity to spend a couple of hours on the phone with American artist Peter Wolf Toth who took time to speak with me from his Florida Studio.
I had contacted Peter to get more details about this interesting man with the intent on adding a chapter about him and his Trail of the Whispering Giants into my new book, which will be available in August 2019. (Actually, the Kindle version is now available…see the link at the end of this post)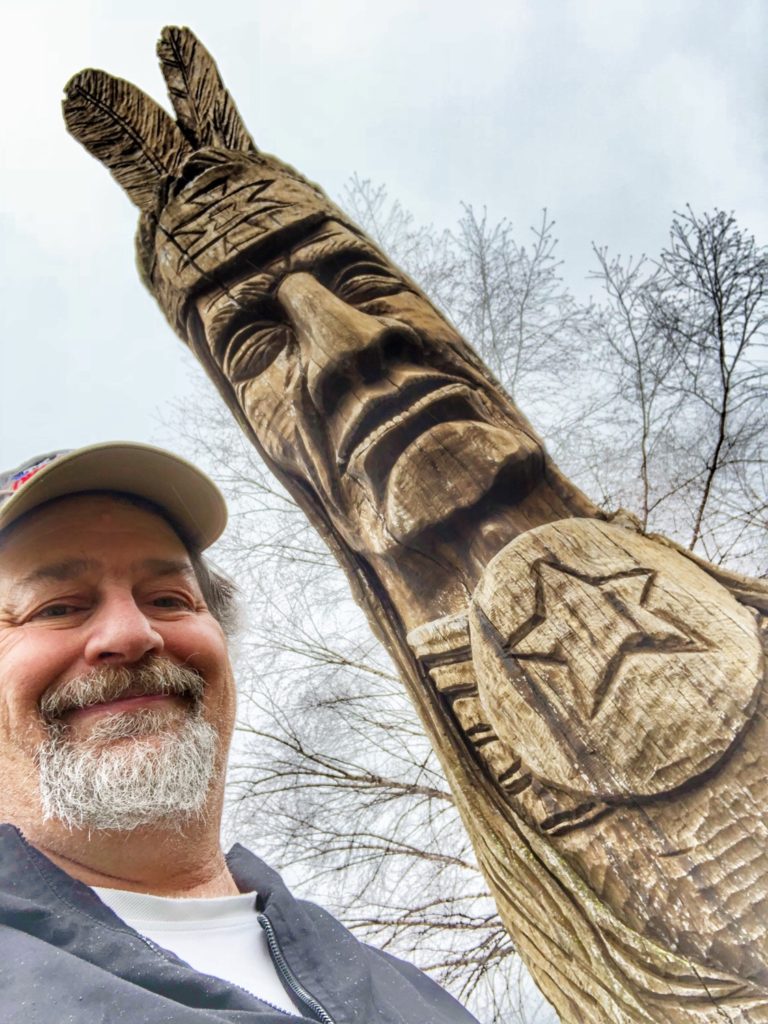 If you are not familiar with the Trail of the Whispering Giants, it is a cross country collection of huge wooden sculptures created by Toth. Each is a tribute to the indigenous peoples of North America and each was done by Peter as a donation to the communities he created them in. His goal was to carve at least one in every state in the United States, which he finally accomplished in 1988 with his large sculpture in Hawaii.  Altogether, Peter has done 74 of these intricate statues.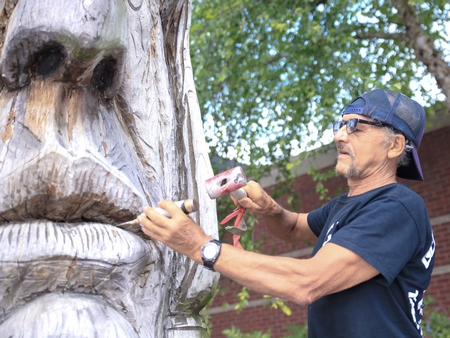 When I spoke with Peter, he explained that he was born in Hungary, but came to the United States at a young age, landing in Akron with his family.  As he grew older, he grew interested in Native American culture and sought for ways to honor the indigenous people of this land.   He became a self-taught sculptor, using a hammer and chisel to work with stone. He told me that his first sculpture was in stone in La Jolla, California. He wanted to do another in stone near his home in Akron but, as he explained to me,
"It was in a remote location and really not visible to many.  I wanted to make these to honor the Native Americans, so I felt that making them from local trees in all of the states would honor them best."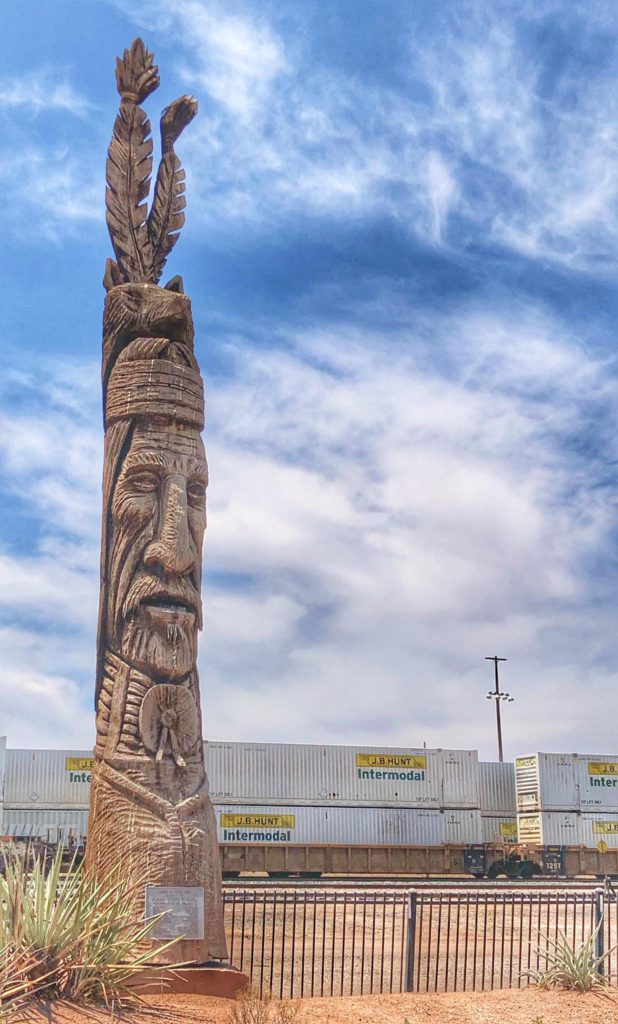 Unlike many artists that work with wood, Peter chooses to utilize a hammer and chisel to create these giants, which range in height from 12 feet to well over 40 feet.  He has no issue with those that so their work with chainsaws, but he likes doing his statues his way.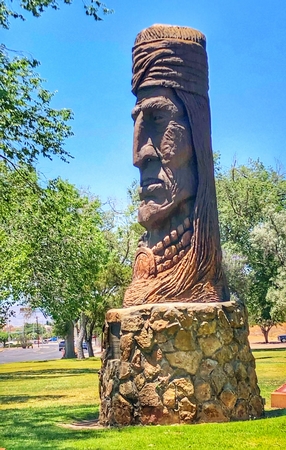 Peter takes great care and makes great efforts to create these donated works of art to honor the Native Americans, who he feels "were victims of long abuse" and also wants to make sure that all victims of abuse and hardship are honored.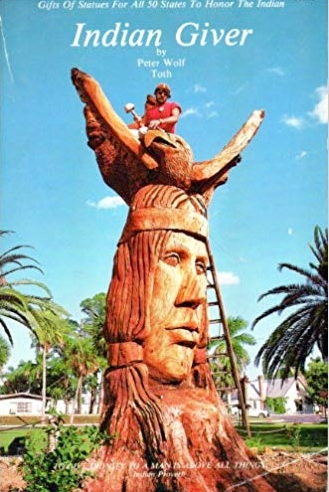 In 1980 Peter published a book on Tribal Press titled Indian Giver: Gifts Of Statues For All 50 States To Honor The Indian and tells the story of the artist's gifts to each of the 50 states to honor the Indian monuments now erected in the united States-the Trail of the Whispering Giants. The book is illustrated with both color and black and white photos of each sculpture.  Peter commented about this book.
"It was a custom among the many Indian tribes that when a man was presented with a gift, he in return gave back as a gift, an object of comparable value. This was an act of honor and respect. The white man distorted this philosophy and degraded it into a selfish act-a person who gives but expects to take back something in return. Hence, the term "Indian Giver" came into our language. If that is the case, then I too am an Indian Giver because I want something in return for these monumental gifts I am sculpturing. In return, I ask that honor and understanding be shown toward the Native Americans because of the tragic fate that has befallen these noble people."
This book is available on Amazon for those interested in seeing the artist's perspective on his work.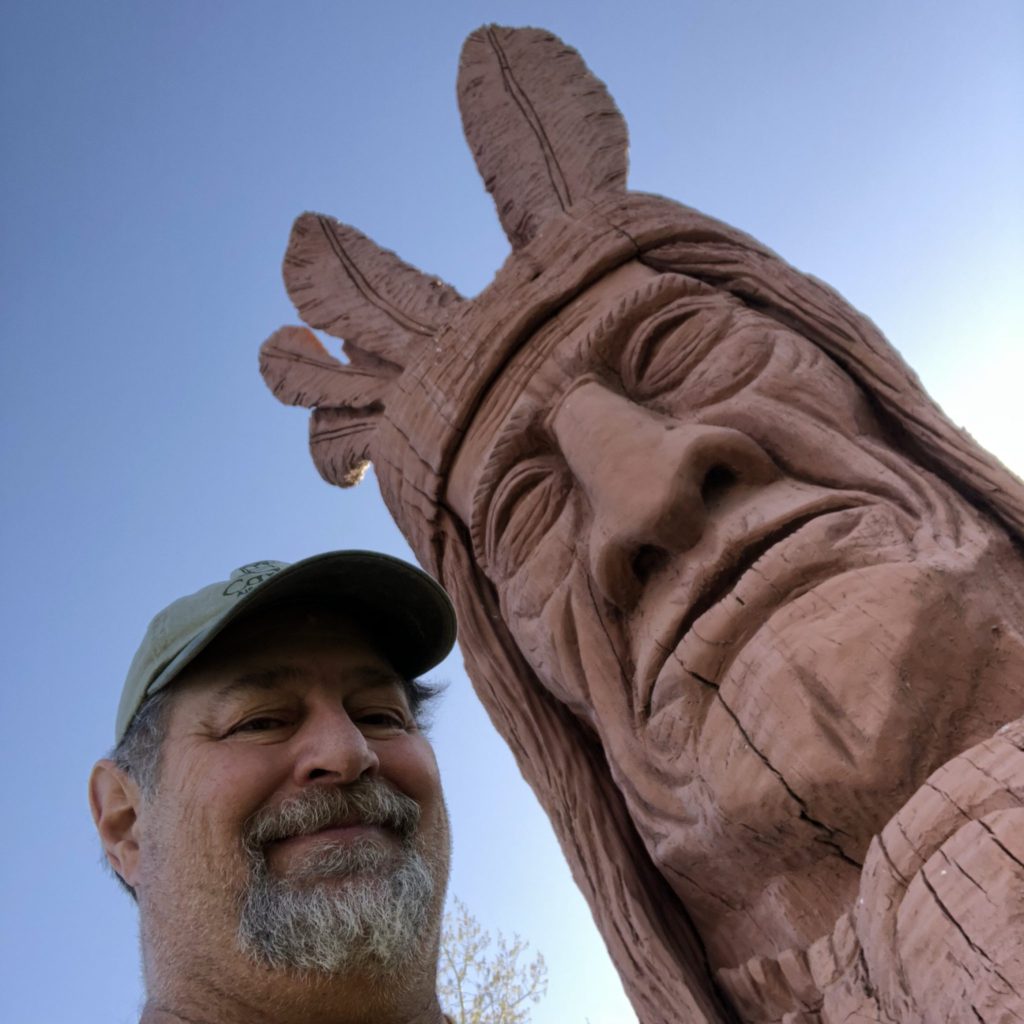 I am grateful to have become acquainted with Peter Wolf Toth.  I have admired his works, even though I have only been to 13 of them so far.  I will make it to more and hope to get down to his Florida studio sometime in the near future to see his work and enjoy the view of the Atlantic Ocean with him while we talk of the wonders of the world.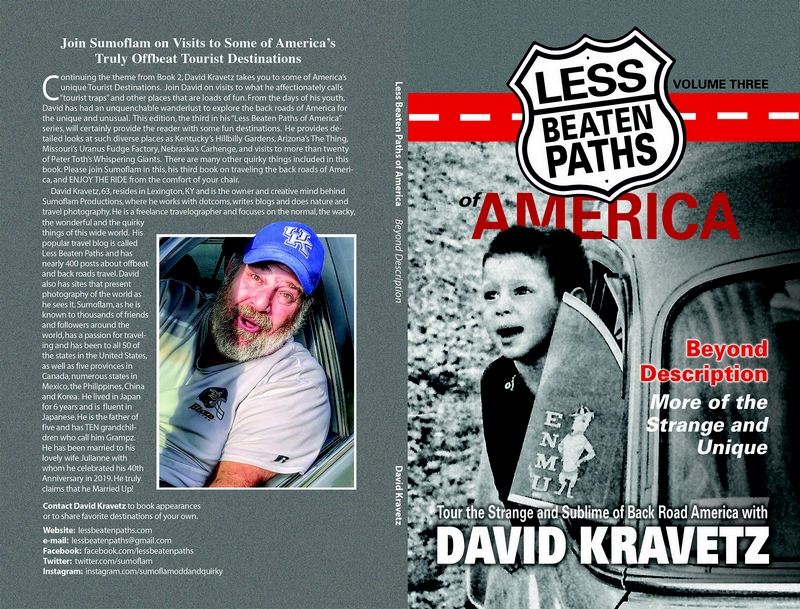 Like what you see? Well, there is lots more!  I now have three books available about offbeat and quirky places to take on your road trips. You can see all of them at http://amzn.to/2ks6fQZ. Book 3 was published and available on August 24, 2019.