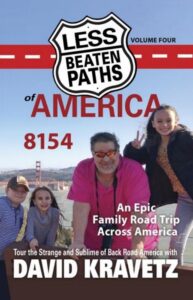 Big News!!  My newest book, titled "8154: An Epic Family Road Trip Across America" is now available on Amazon in both print and Kindle versions. The book details the three week long 8,154 mile road trip with my daughter Marissa Noe and her three children. New print programs on Amazon have also made it cheaper than previous books!!
The book is 138 pages and full of color photos from 20 different states.  I have included a chapter all about how to plan for a long trip like this, especially with children.  A long road trip can be a challenge for the kids, so there are all sorts of ideas including in this book for making it fun and memorable for the kids. There are also hints how to make it fun for the adults too.
Each chapter of the book highlights a particular day of the trip, unique places seen, activities, fun stuff, history and more.
Unlike my other books, my daughter Marissa assisted in writing some passages and provided additional photography.  All photos in the book were taken by either myself or Marissa.  The book cover Art Work was professionally done (as always) by my good friend -singer/songwriter/musician/artist Antsy McClain (who, by the way, has recently released an excellent new album — CLICK HERE to see it)
The Print Version of the book retails for $17 and is available on Amazon (CLICK HERE).  As well, the new book, along with my others, will soon be available at the Uranus Fudge Factory in St Robert, Missouri as well as at Apple House Mercantile in Central City, Kentucky.  There will be other places carrying the book(s) in the near future.
Many thanks to all of my great supporters throughout the years and to those who provided housing and other opportunities for us on our Jan/Feb 2020 Road Trip.
A special thanks to Roadside America for travel advice and support.  Check out their amazing travel app below: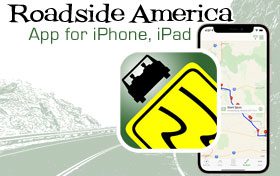 SEE SAMPLE PAGES BELOW!!