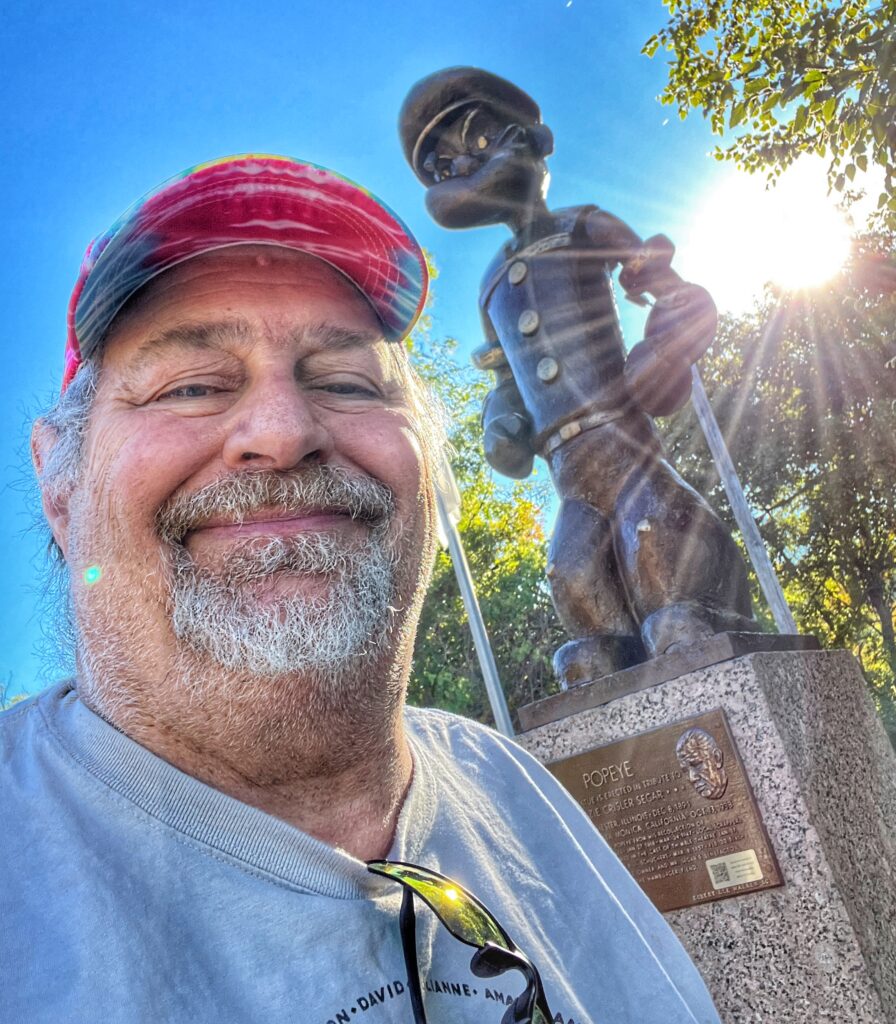 With every trip I take, I am always looking for something interesting.  Not just a one off quirky statue somewhere, but hopefully something bigger.  Back in October when I visited Route 66 in Illinois, I looked for something interesting to see on the way home.  Thanks to my good friends at RoadsideAmerica.com, I was guided to the river town of Chester, Illinois.  It sits on a hill overlooking the Mississippi River just across from Missouri.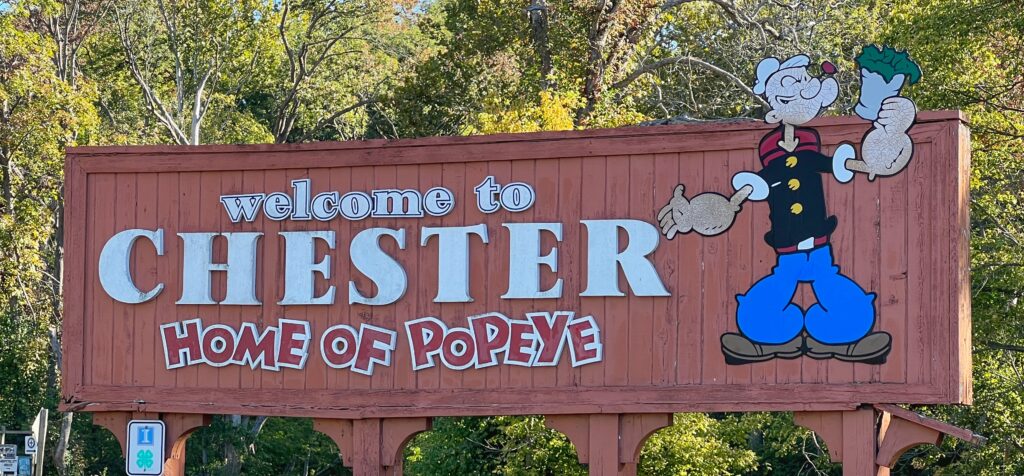 The view of the Chester Bridge over the river from Segar Memorial Park is really a splendid view and the town itself is a pleasant little town.  That in and of itself was worth the visit.  But, the real treasure to this town is its connection to the famous cartoon character Popeye.  Indeed, Chester is the birthplace of the iconic sailor with a pipe in his mouth and a squint in his eye.  The aforementioned Segar Park is named after Elzie Crisler Segar (pen name E.C. Segar) who had become an illustrator in the early 1920s.  On January 17, 1929, Elzie introduced the character of Popeye in his "Thimble Theatre" comic strip.  By August Olive Oyl kisses Popeye on the cheek and the love affair begins.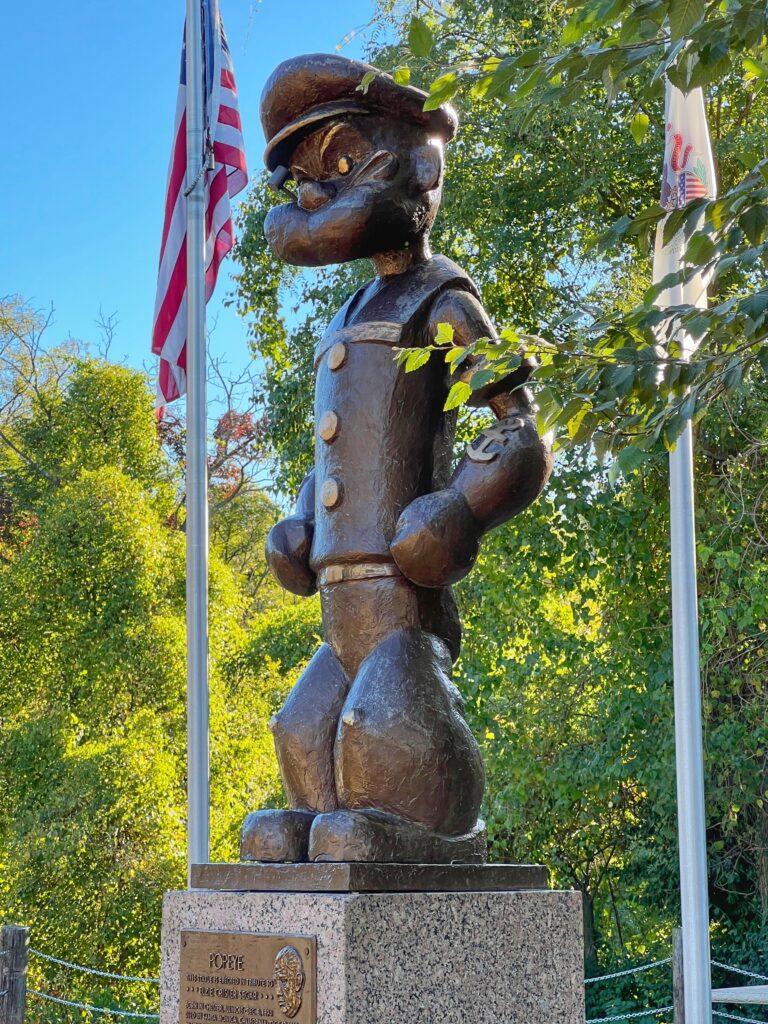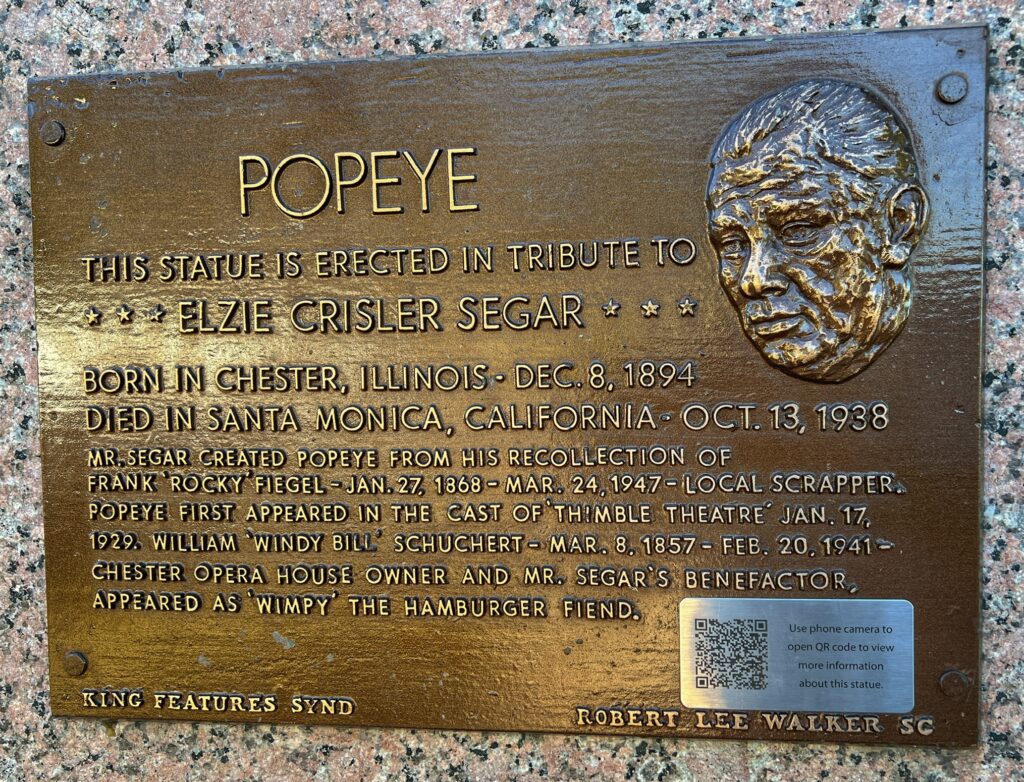 Popeye was famous for eating spinach to make him stronger and eventually led to an increase in spinach in consumption in the 1930s.  In the 1960s the Allen Foods Company from Arkansas got the copyright to add Popeye to their label and sell Popeye Brand Canned Spinach, which is still available to this day.  In 2009 I visited Alma, Arkansas, which claims to be the "Spinach Capital of the World."  They are also home to a large bronze statue of Popeye.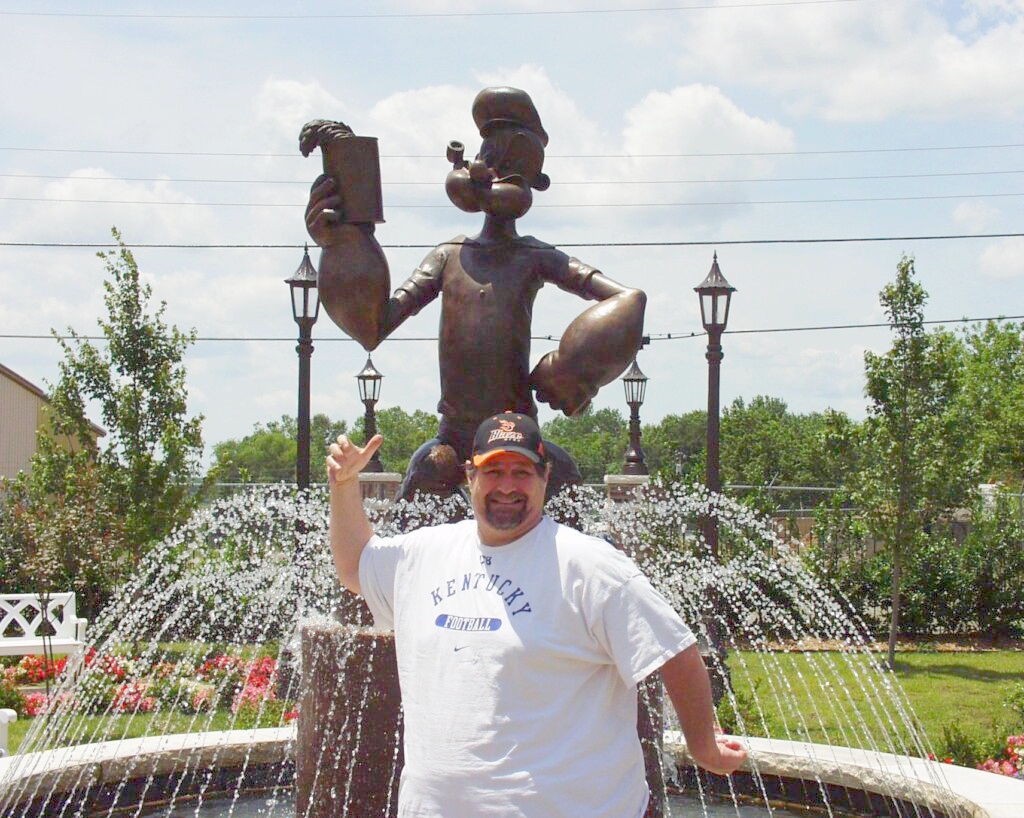 Back to the Popeye story. According to numerous report, Segar's characters were all inspired by real-life people from Chester.  A scrappy old bartender and immigrant from Poland named  Frank ' Rocky" Fiegel (1868-1947) was apparently the inspiration for Popeye. He smoked a pipe, was strong as an ox and even had a squinty eye. His gravestone in Chester actually bears an engraving of Popeye's face as it first appeared in Thimble Theatre. Sadly, I didn't have time to get there and check it out, but I did get a photo of it.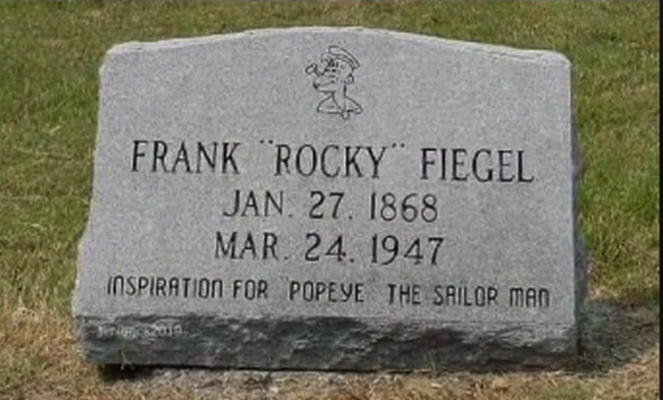 The fun part of Chester is their Popeye / Character Trail.  A bronze Popeye statue had been installed in Segar Park in 1977 to honor E.C. Segar.  Jump to 2006 and someone had come up with the idea of creating statues with the characters from Popeye and dot them around the town.  The first of these was "Wimpy", who stands proudly in the Chester Gazebo Square with the burger in hand. From that time onward, the Tourism folks in Chester began adding more granite character statues, one per year.  I visited on October 2022 and there now stand 19 granite statues around the town.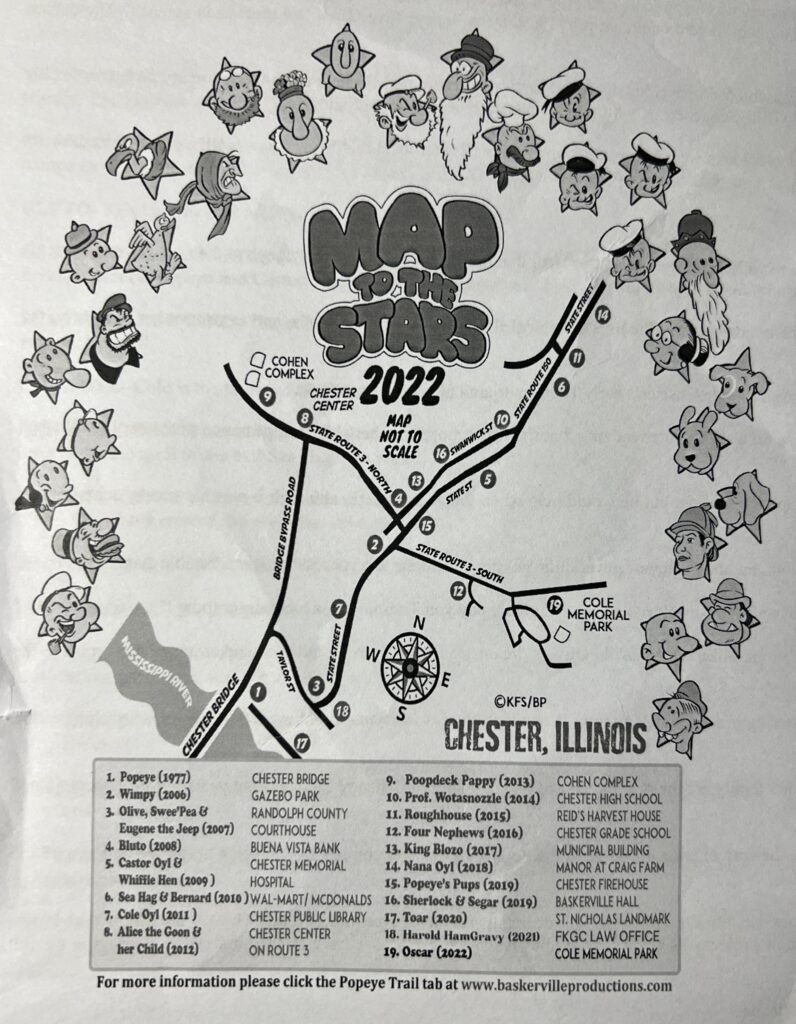 I had plans to visit as many as I could find, but I also had a tight schedule, so I didn't get to most of them.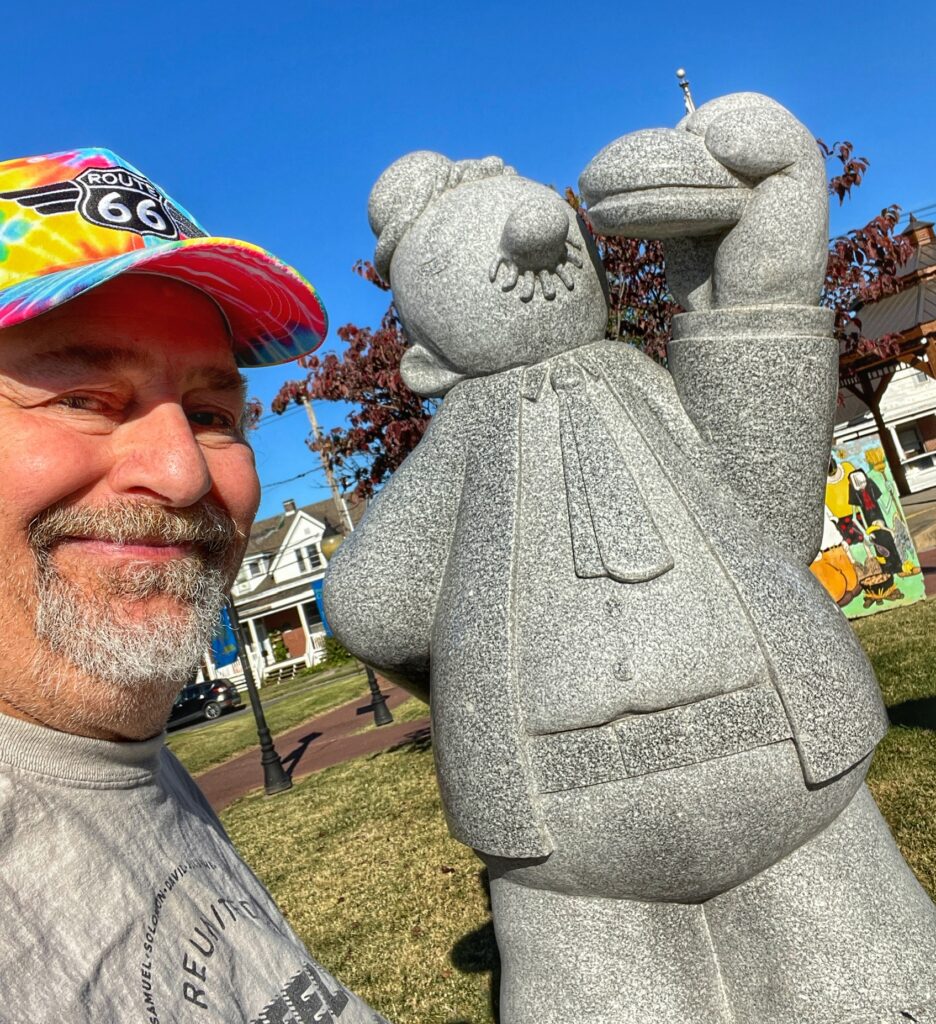 The Wimpy statue in Gazebo park was actually patterned after another member of the Chester Community.  J. William Schuchert, inspired the character J. Wellington Wimpy in the Thimble Theatre comics.  While Segar was a teen working at the Opera House, Schuchert was  his boss and later became a benefactor. Like Wimpy he was rotund and had a voracious appetite for hamburgers.  Like Popeye, Wimpy also laid claim to a food business.  In 1934 an Indiana man named Edward Gold opened the Wimpy Grill.  By 1978 there were 25 locations nationwide and a number of units in the United Kingdom.  Gold has said that the inspiration for the name came from the J. Wellington Wimpy character.  Ironically, a few years ago I had snapped a photo of a Wimpy's Famous Hamburgers sign in the Dallas, Texas area.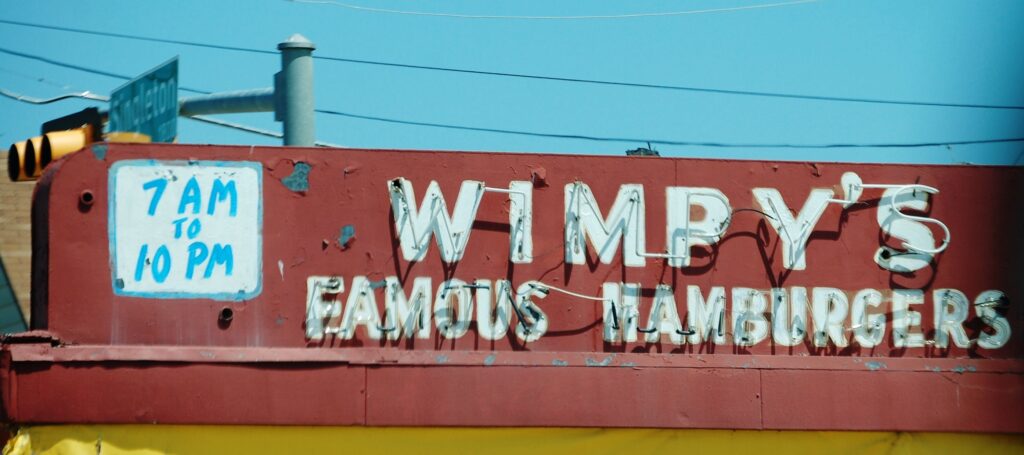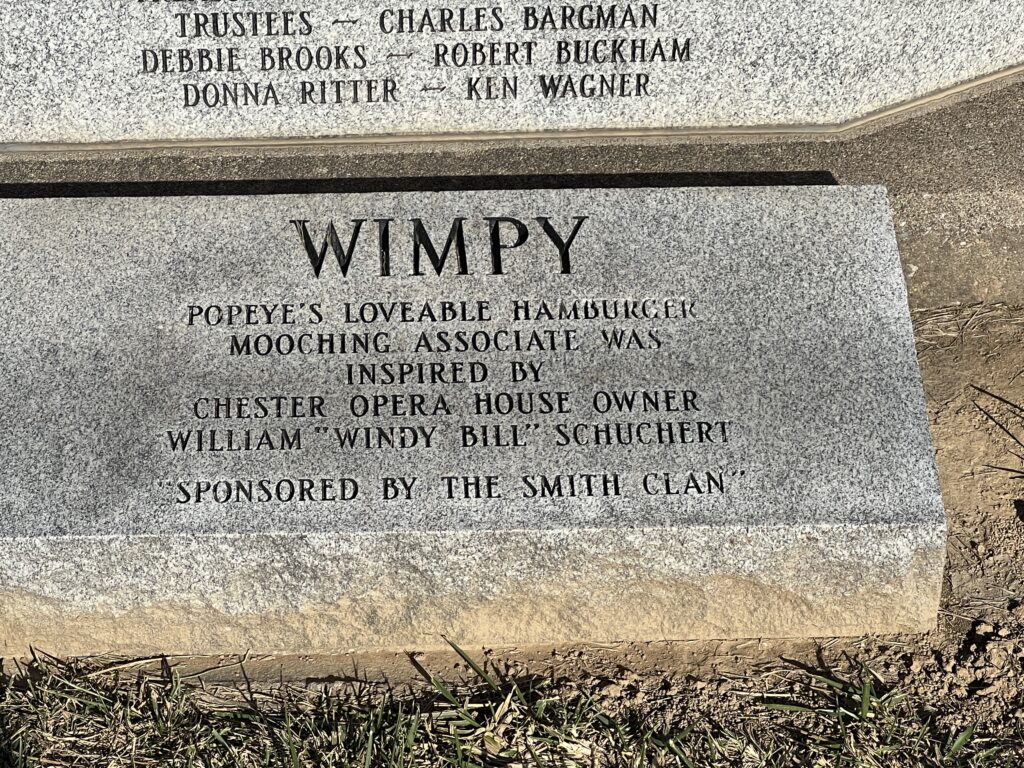 My next stop was to find Bluto / Brutus.  Back in 2015 my wife had teased me that I was so scruffy looking that I reminded her of Bluto.  So, I did a little montage…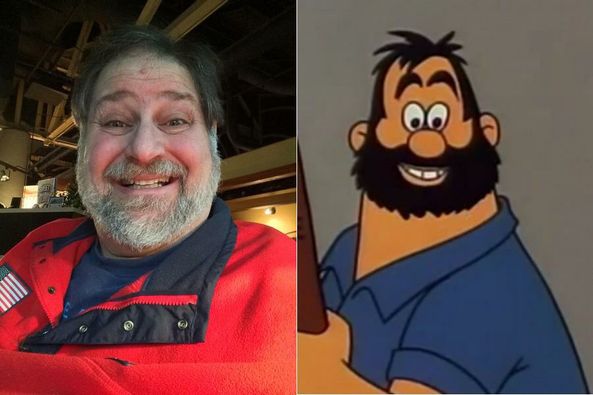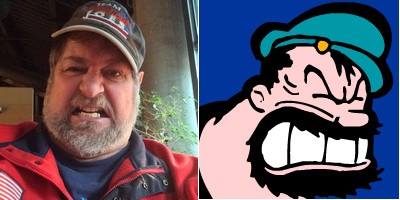 So, on this trip I had to also get a nice shot with the Bluto statue.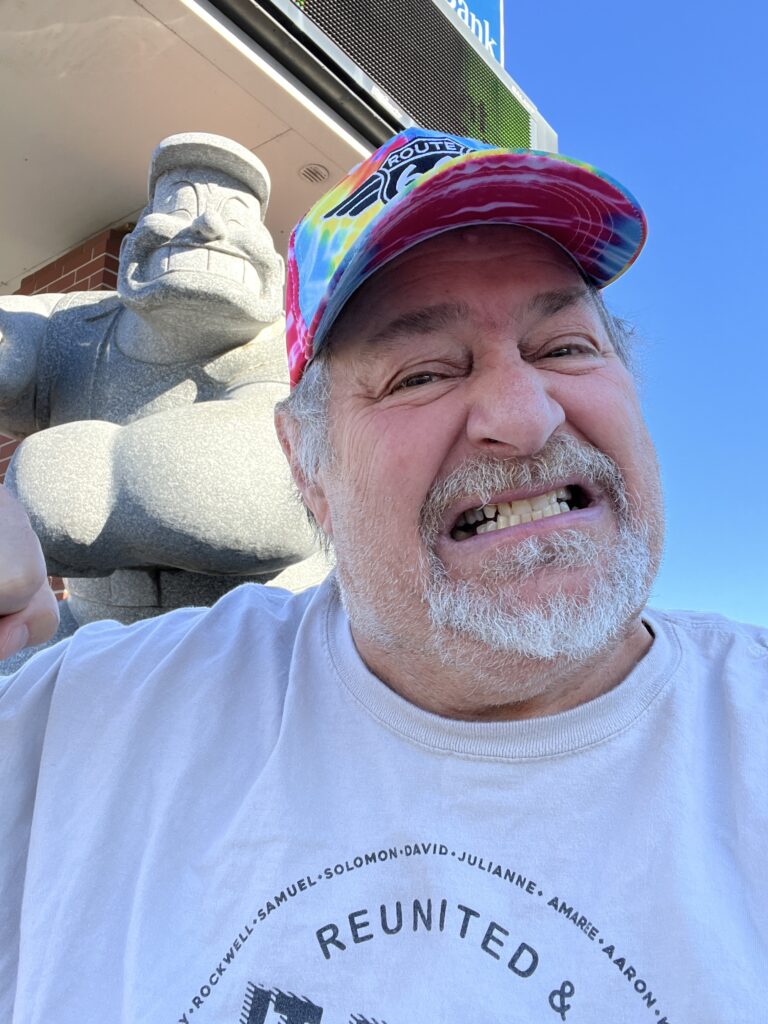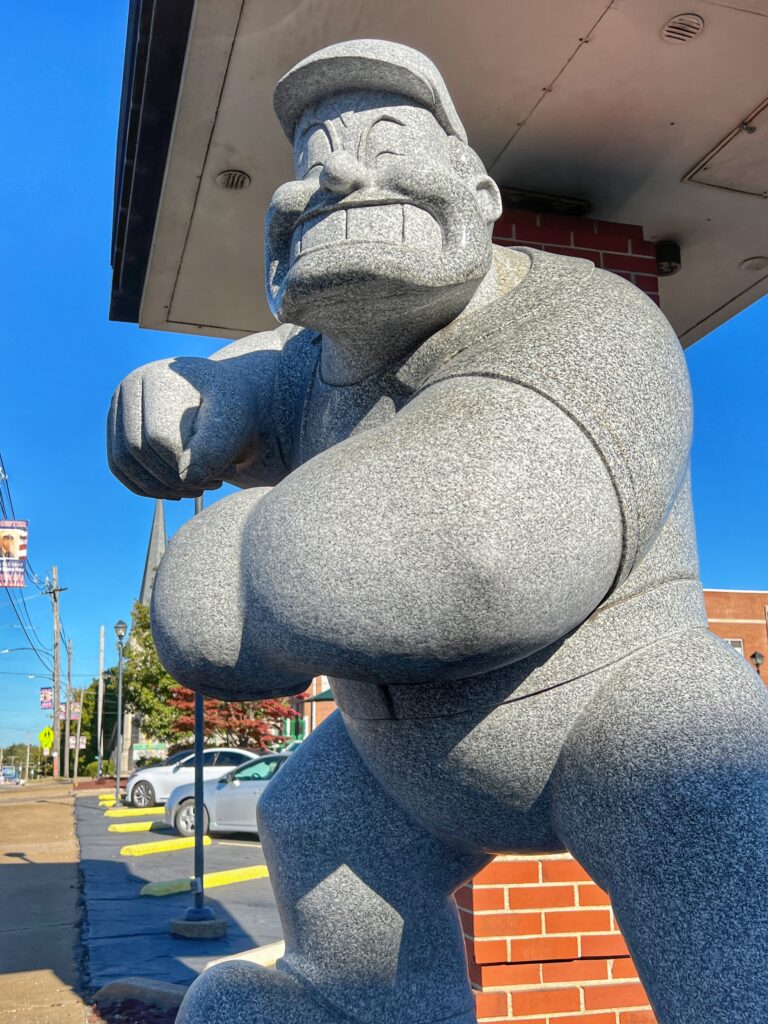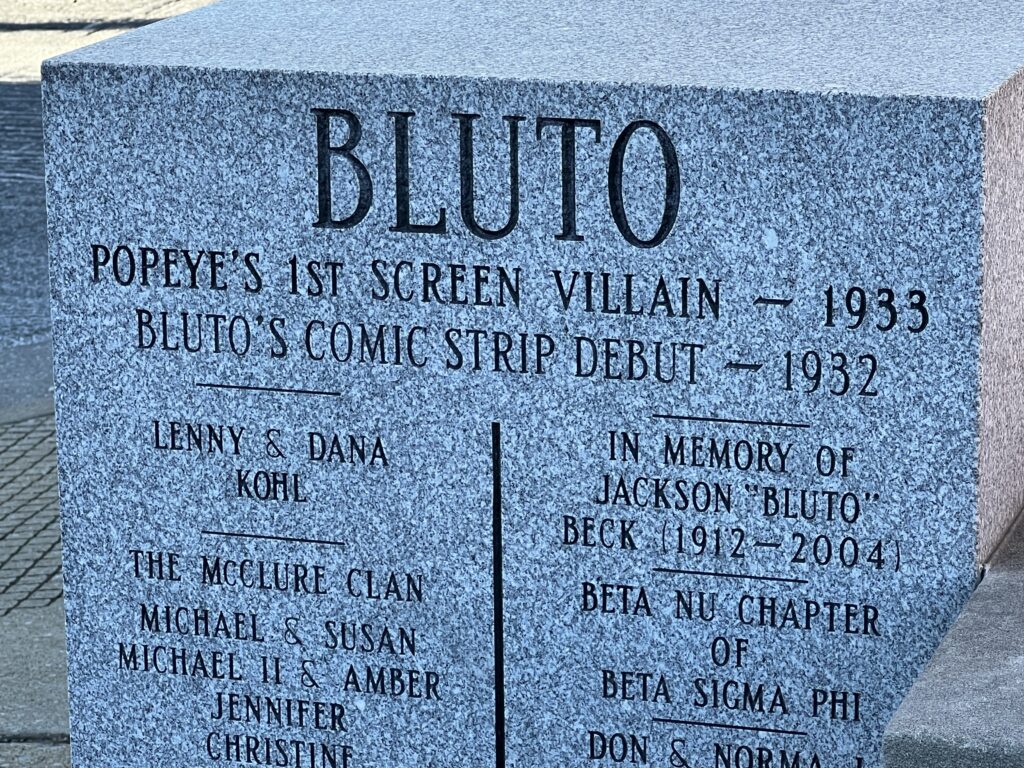 Of course, a tour of Popeye characters would not be complete without the lovely Olive Oyl (Oyl was actually here last name). She is said to have been modelled after Chester resident Dora Paskel, a store owner who was apparently "unusually tall and thin and wore a bun at the nape of her neck." Olive Oyl was actually a main character in the Thimble Theatre comic strip for nearly a decade before Popeye's appearance, having first debuted on December 19, 1919. Her parents were Castor Oyl and Crude Oyl.  Her baby Swee'Pea was also a cutie.  Then there was Eugene the Jeep which had some magical abilities.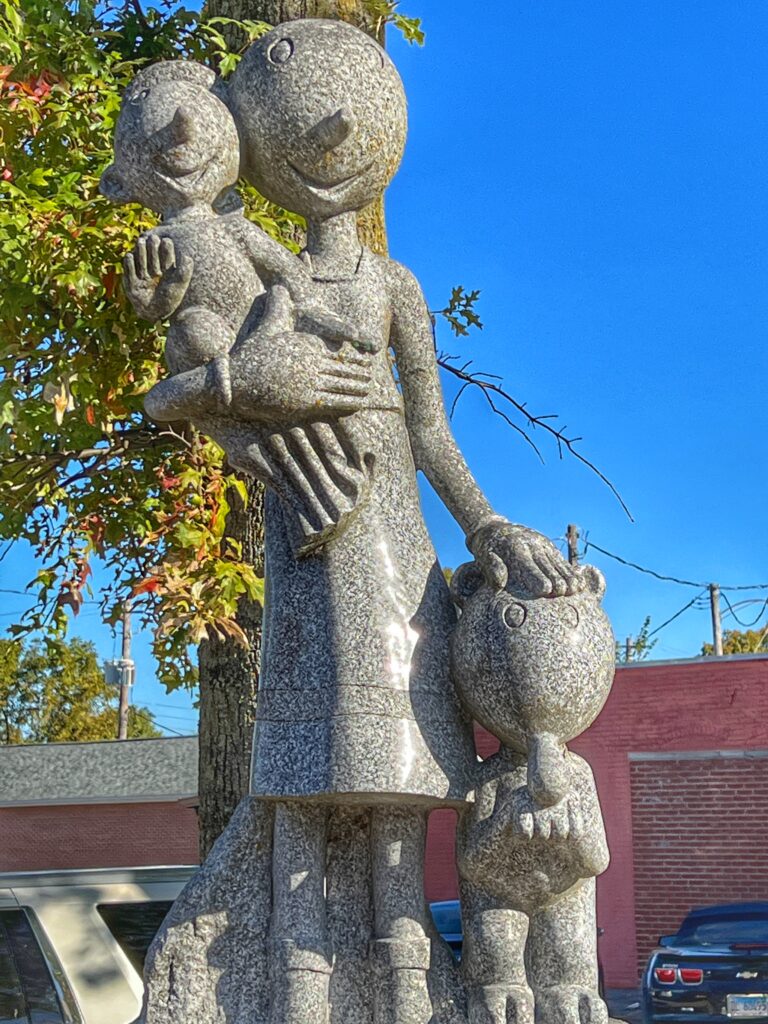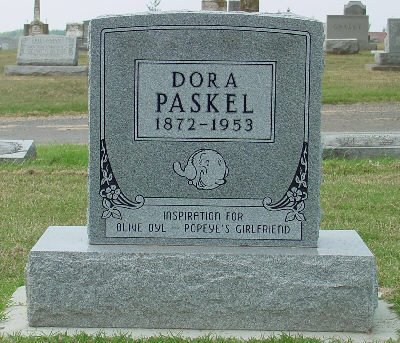 I continued to drive around town to shoot what I could and got a couple of others.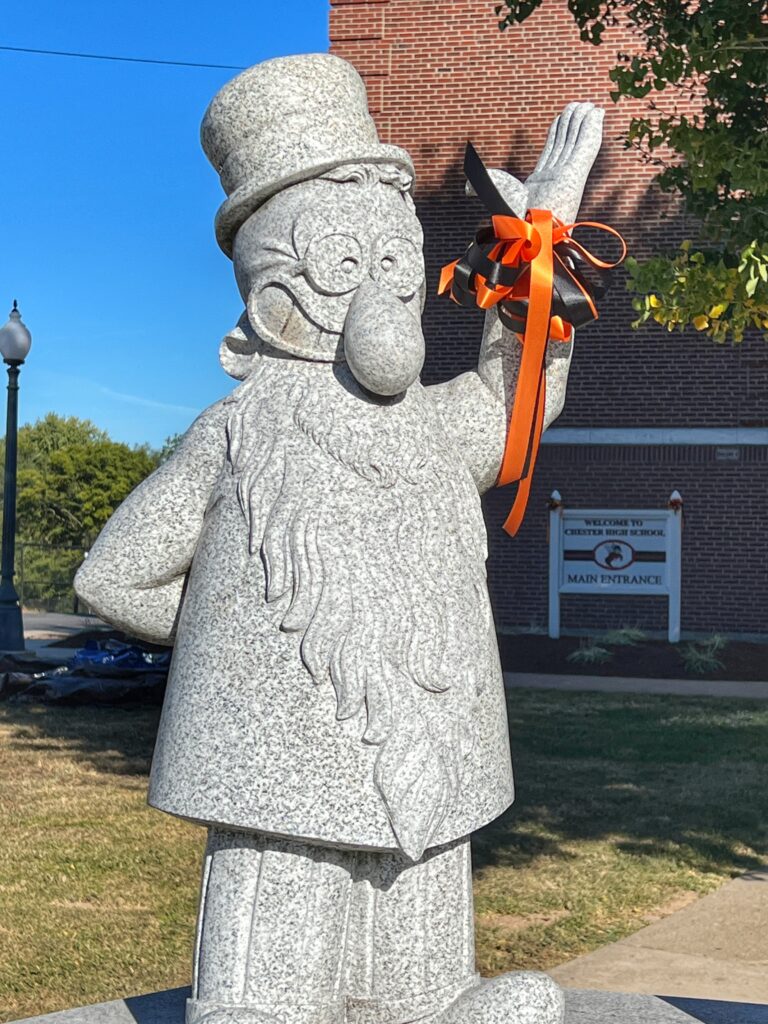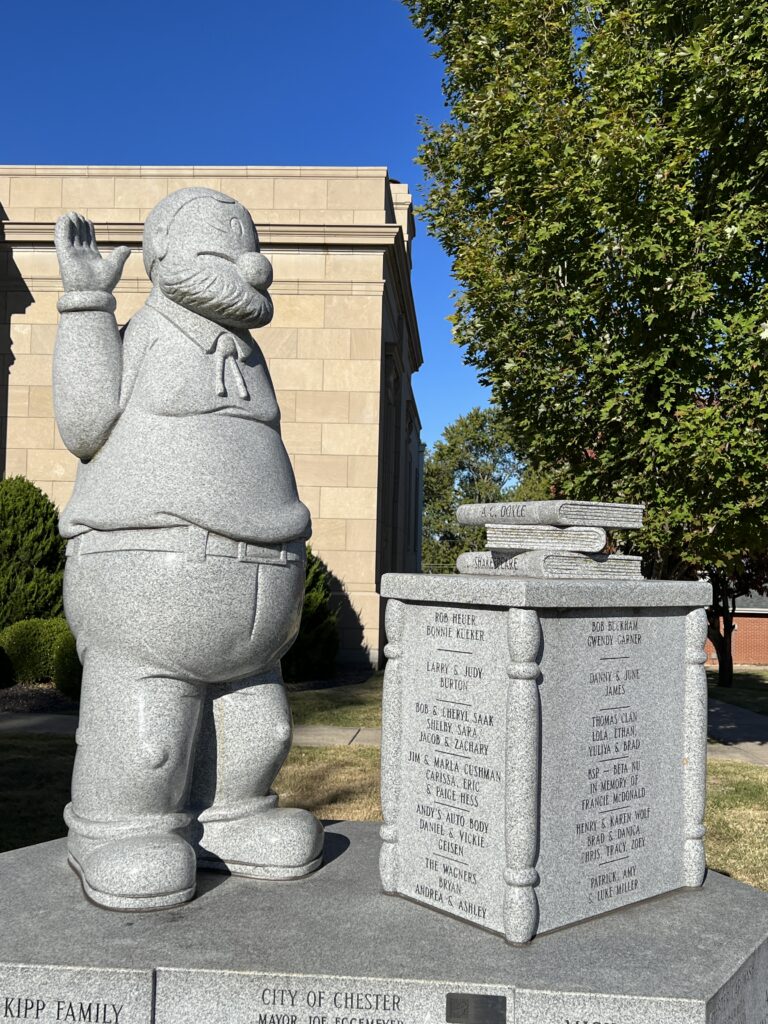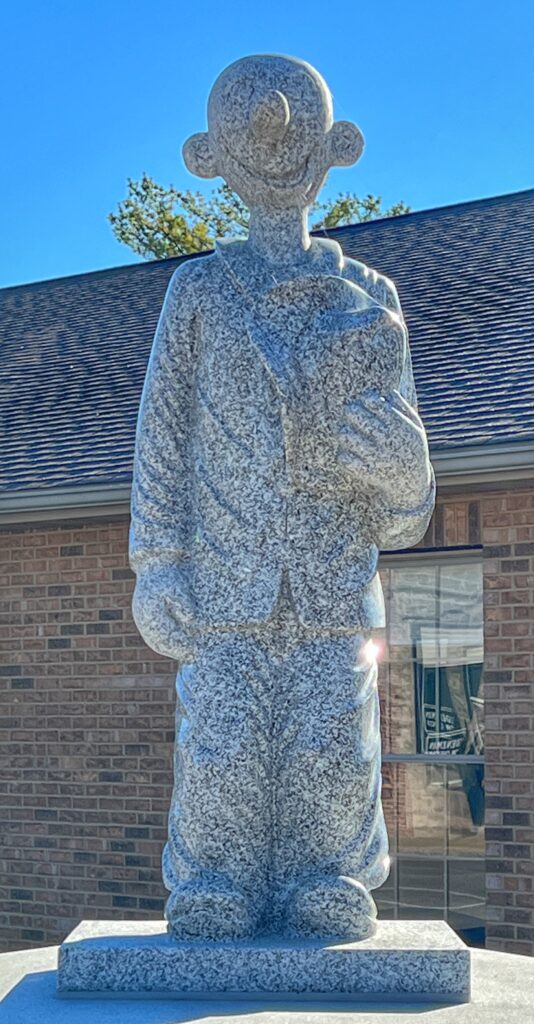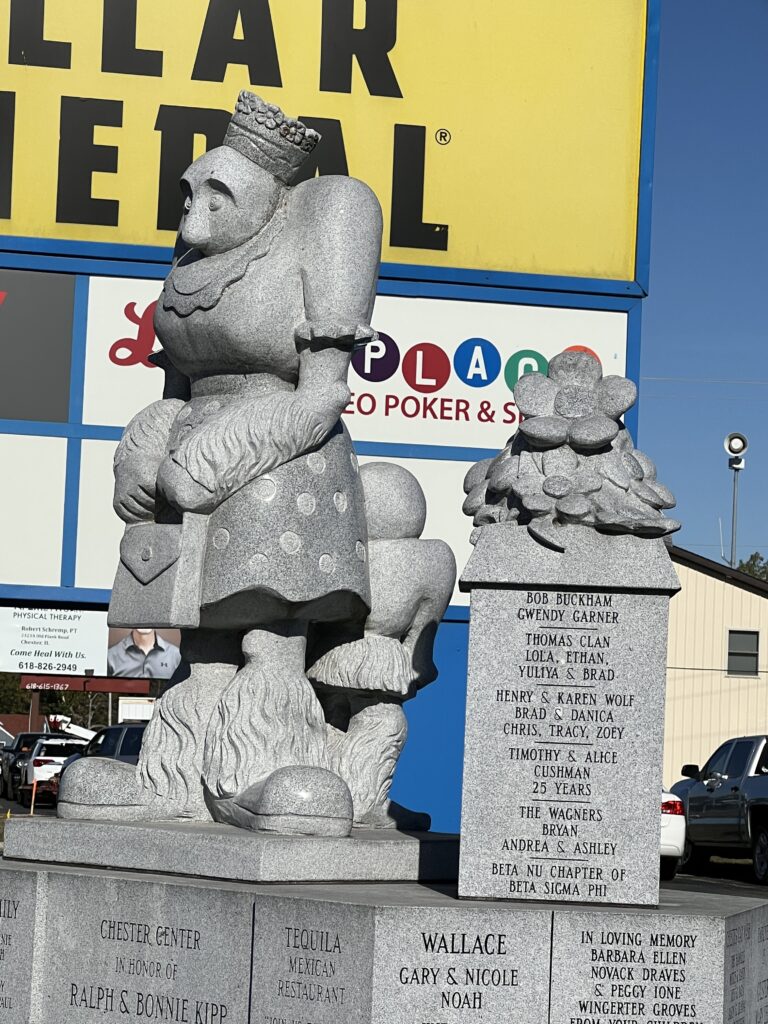 Besides the statues, the town square has a large mural celebrating the town, the river and the Thimble Theatre.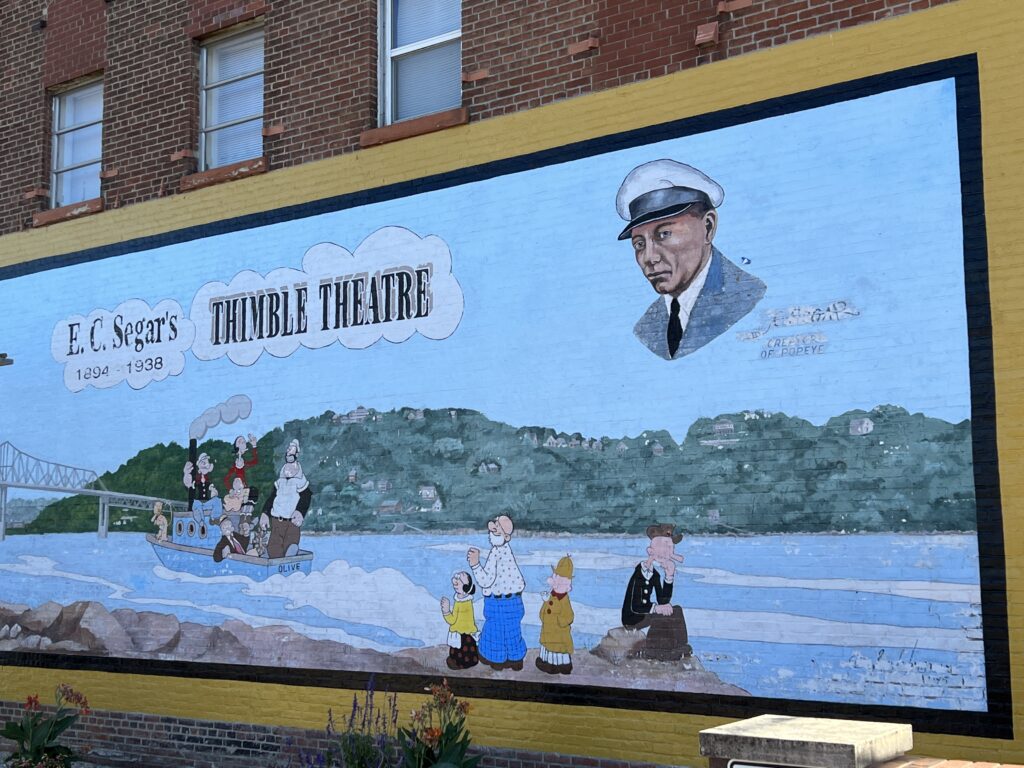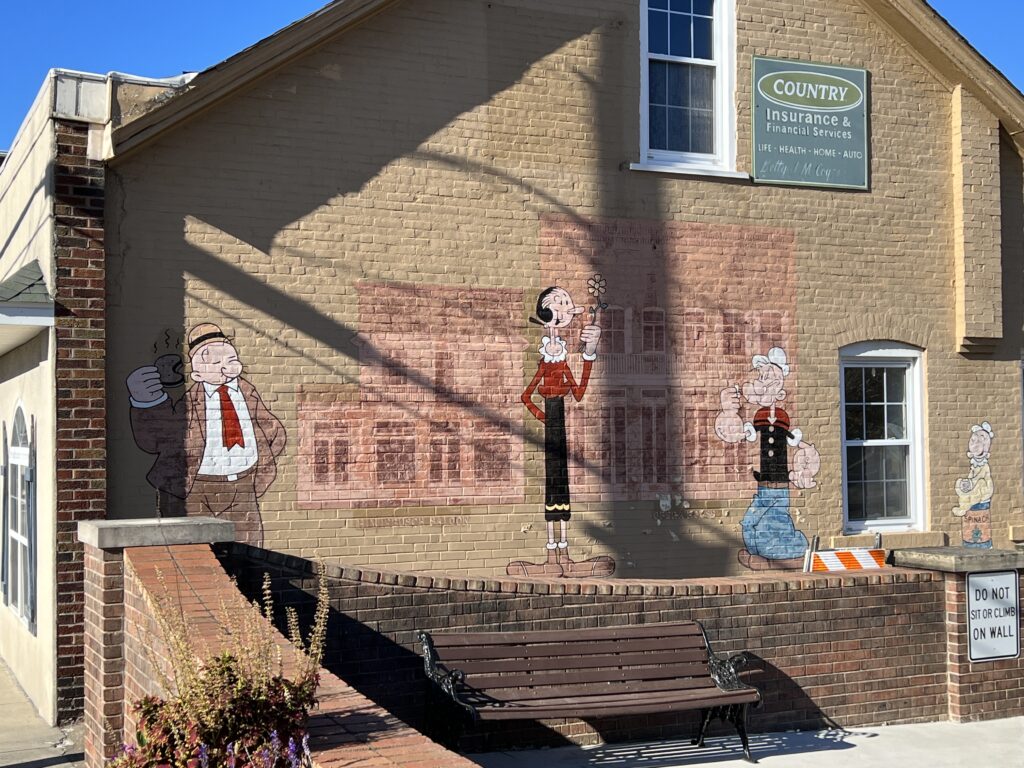 The county welcome sign also includes a drawing of the Popeye family of characters.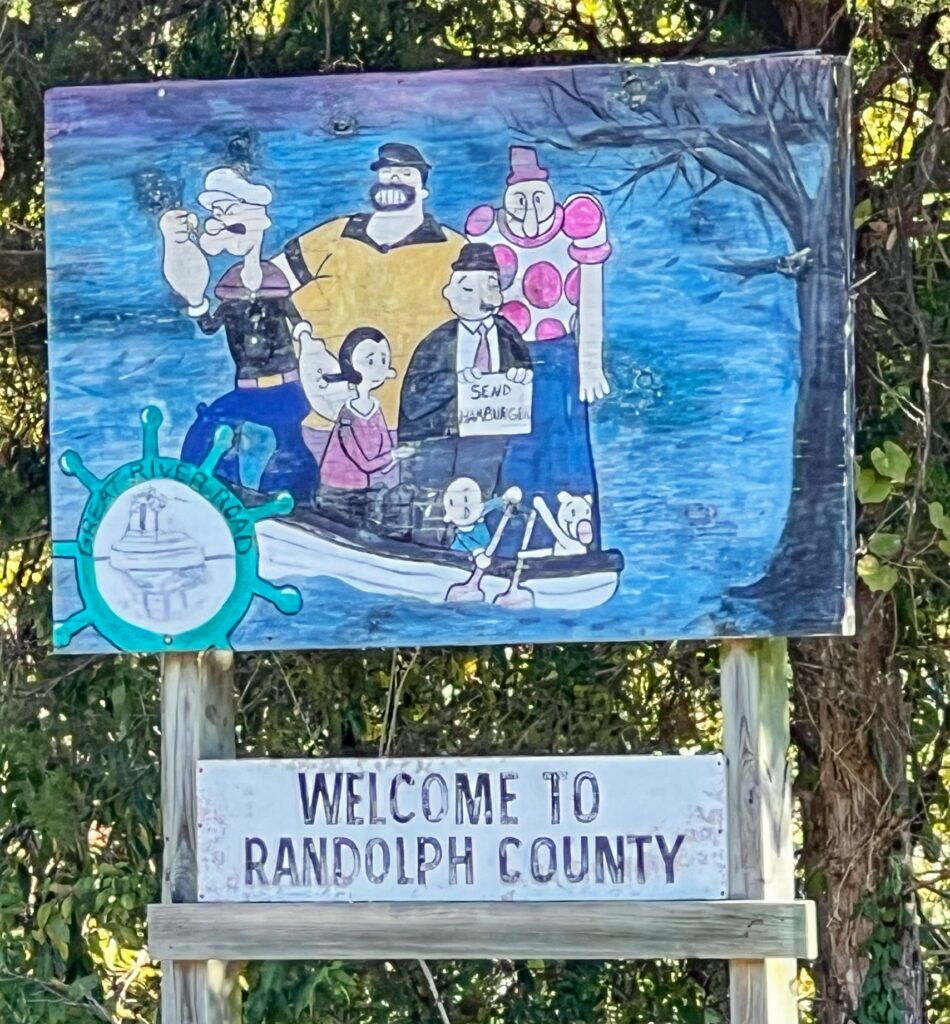 Chester even has a Popeye-themed gift shop.  Spinach Can Collectibles is "Your One Stop Popeye Shop," and museum located on State Street next to the park.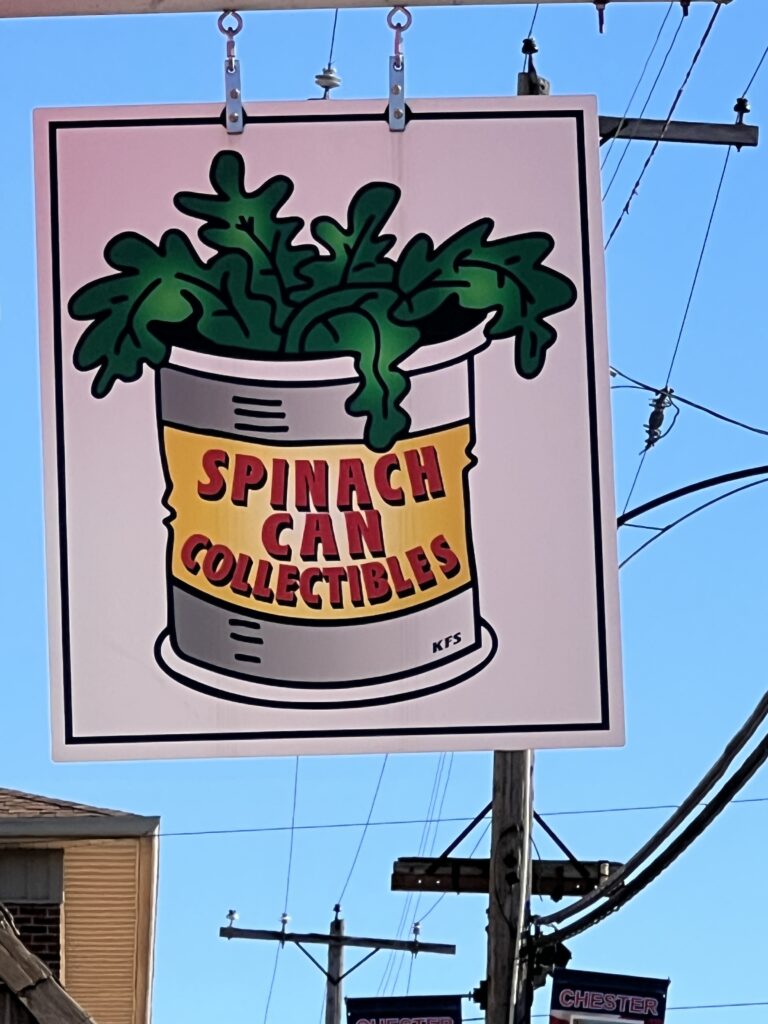 On a final note, way before Popeye was a thing, America's famed explorers Lewis and Clark visited the area now known as Chester. Throughout all of my blog posts, I have tried to include any Lewis and Clark monuments.  Segar Park has a small corner dedicated to their visit of November 27, 1803.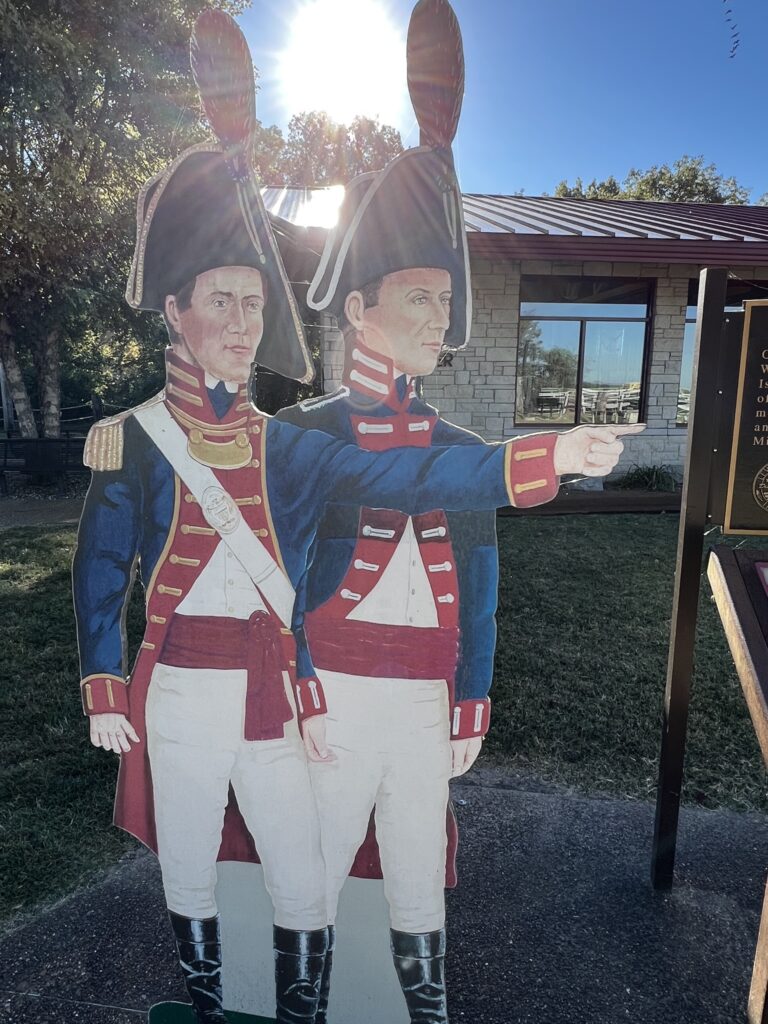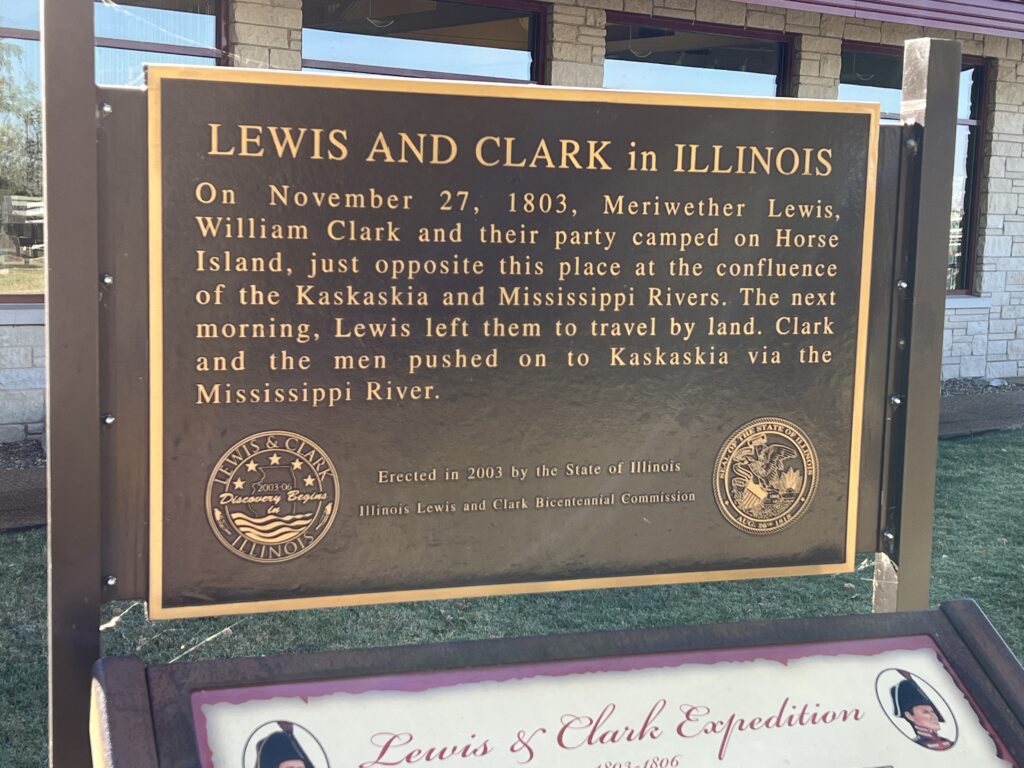 So, like Lewis and Clark, if you meander your way into the Chester area, make a visit to the home of Popeye.  And don't forget to eat your Spinach!
If you like what you see, you can check out my books which cover so much more!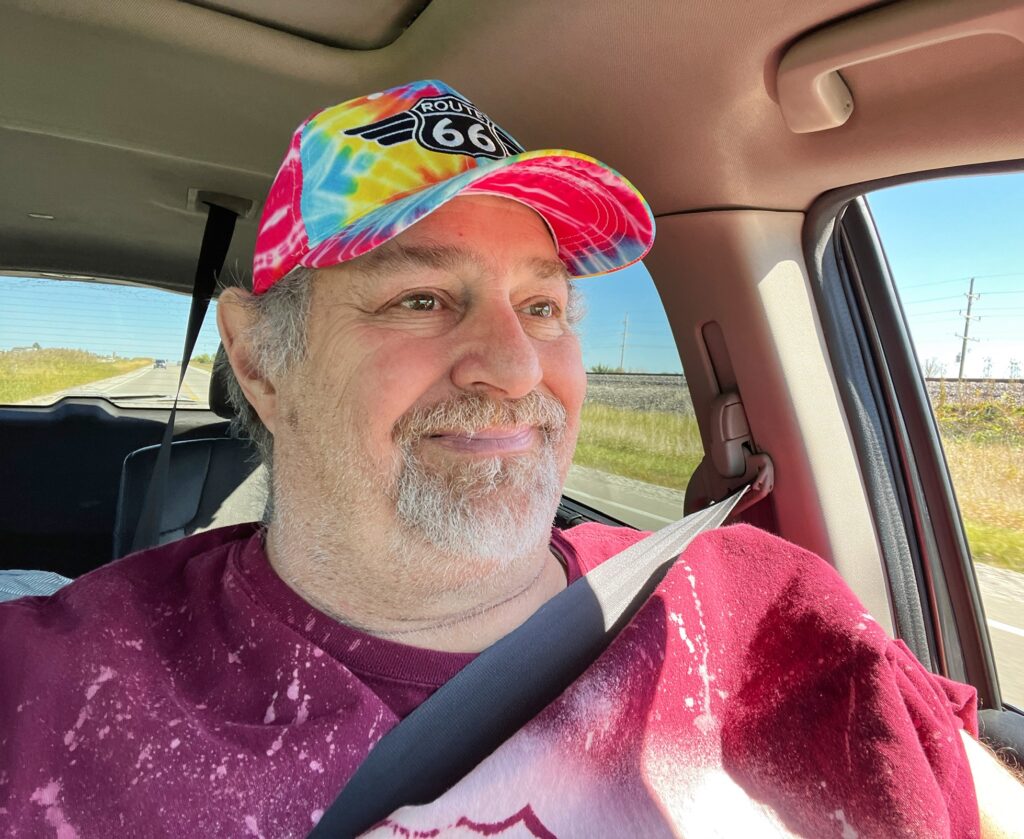 LESS BEATEN PATHS OF AMERICA TRAVEL SERIES

You can get my books online!  The series now has five books and I am working on books six and seven. Book Six will be all about murals from all over the country!! Watch for them later this year.