As I travel across these great United States (and Canada too) perhaps the most common sight along the way is Barbecue (BBQ) places and diners, big and small.  Following are a few of the places I have visited (or at least passed and wished I had time to stop in for a visit….).
Hillbilly Hot Dogs – Lesage, WV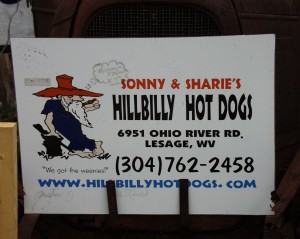 Ever eaten at a junk yard?  Ever had enough guts to do so?  Well, if you head north of Huntington, WV along the Ohio River to the small little village of Lesage you can do just that at Hillbilly Hot Dogs.  A junk collector's dream and a neatnik's nightmare!
I really got quite a kick out of some of the wackiness here…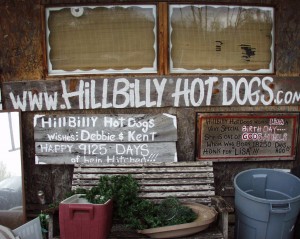 And they have their own song "We Got the Weenies"
Like many offbeat roadside eateries, Hillbilly Hot Dogs has been featured on TV shows.  They have also been featured on the Travel Channel, the Food Network and others. Here is a short clip from Diner's Dives and Drive-ins.
Then, there is their famous BIG SIZE dog called the Homewrecker!! They also have a Big Bad Bubba Burger!!
Oklahoma Joe's BBQ – Kansas City, Kansas
Oklahoma Joe's in Kansas City, Kansas is a BBQ joint in a gas station.  I actually think the gas station takes second fiddle to the BBQ. Fortunately for us, we got there just before the rush.  By the time we got our food, the line was clear out the door.  Like many of the places on this post, Oklahoma Joe's has been featured on TV shows including some on the Food Network and PBS.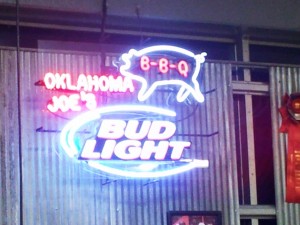 I have discovered thru my travels that many BBQ places participate in competitions for best sauce, best BBQ, etc.  Oklahoma Joe's is no exception.  In fact, that is how they got their start.  Owner Jeff Stehney began his career in BBQ by participating in Kansas City Barbecue Society (KCBS) competitions. In 1993 he and his partners (team Slaughterhouse Five) won eight grand championships. They did this with their Oklahoma Joe's 24″ smoker.  In 1996 they opened their first shop in Stillwater, Oklahoma. The Kansas City location opened in 1996.  They now have three locations in Kansas.
But, of course, the best part….the BBQ!!
Big Jud's Country Diner – Archer, Idaho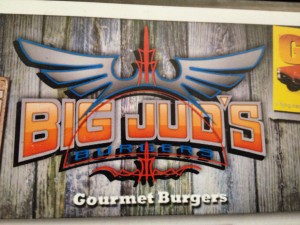 Continuing the string of made famous by TV diners, I visited Big Jud's in March 2013.  Located in Archer, Idaho, a small town outside of Rexburg, this "country diner" is rustic, but, the food isn't!  I have never seen such HUGE burgers and portions anywhere!!
Like many places, they have their "Chow Down" contests.  Eat the big burger in a certain amount of time and you get a t-shirt, a photo on the board and even a free meal.  My friend Trevor Mortensen, from Rexburg, joined a team to try this…
But check out what this other kid was having while we were there….
Hutch's on the Beach – Hamilton, Ontario, Canada
Hutch's on the Beach in Ontario is a classic 1950s style burger joint (actually, since 1946!).  This place is practically right out of American Graffiti (even though it is in Canada).  Black and white checkerboard floors, big fresh made burgers, great fries and shakes.  A juke box that played music from the 1950s….
I loved the nostalgia that Hutch's brought me….
Of course, like any of these places, we came for the "real" food…burgers, fries and milk shakes made the old fashioned way.
Stewart's Drive In – Russell's Point, Ohio
Located in central Ohio, southeast of Lima, Russells Point, Ohio is a touristy destination with Indian Lake bordering it.  While driving to Indian Lake to see the sights, I came across the old fashioned drive in.  I had to stop for a drink and an ice cream cone.  What a pleasure!!  Had someone come to the car and everything!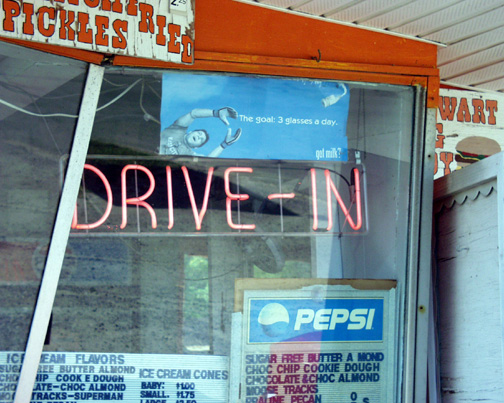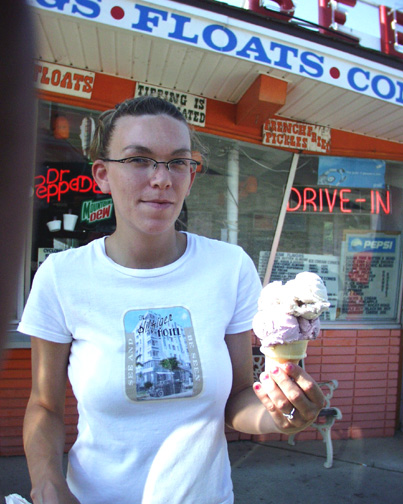 Snappy Lunch – Mt. Airy, North Carolina
If you have ever watched the Andy Griffith show or Mayberry RFD, you would have heard about "The Snappy Lunch," which was mentioned in Episode 007 of the Andy Griffith Show on November 14, 1960.  Andy Griffith actually ate there as a young boy growing up in Mt. Airy.   Opened in 1923, it is the oldest eating establishment in Mt. Airy and is famous for its Pork Chop Sandwiches.
The pork chop sandwiches served up at Snappy Lunch were a first for me.  I had never had one, but I would most certainly return for another.  I caught owner Charles Dowell busy at work cooking up his specialty back in March 2012. He passed away in September 2012 at the age of 84.  He began working at The Snappy Lunch in 1943 and by 1960 he had purchased the cafe.
So, if you are wondering what time it is…..
Space Aliens Grill & Bar – Waite Park, Minnesota
While on a trip to Montana in 2005 with my kids, we made our way into Waite Park, MN, just west of St. Cloud.  We got in fairly late after a day of traveling in Wisconsin and Minnesota.  We had pushed to get here in time so that we could eat at Space Aliens.  And, we were lucky, it was a Wednesday and all you can eat night.  I had two BIG HUNGRY boys, along with myself and one of my daughters.  We chowed down to say the least!!
Mort Bank and David Glaser, like other BBQ proprietors, got their start in BBQ competitions. Having won the National Barbecue Convention for "America's Best Ribs" in Tennessee, they returned to their home in North Dakota and opened up a store in Bismarck and a second one in Fargo, North Dakota.
As for the Barbecue — they have actually trademarked "Positively the Best Ribs in the Entire Universe".  Their slowly smoked 20 spice ribs were really fantastic.  In fact, we ate them empty that evening!!
Stoneville Saloon – Alzada, Montana
Alzada is a very small unincorporated community in the far southeast corner of Montana, practically bordering Wyoming and South Dakota.  The long empty stretch of U.S. Highway 212 is basically the only way in and out.  Originally named Stoneville in 1880, the town's named needed to be changed due to a Post Office conflict.  In 1885 it was named Alzada in honor of the wife of the postmaster.   It is an old cowboy town steeped in cowboy history.  But, it also is known for the Stoneville Saloon – "Conveniently located in the middle of Nowhere!"
I think the real draw is the tag line "Cheap Drinks – Lousy Food"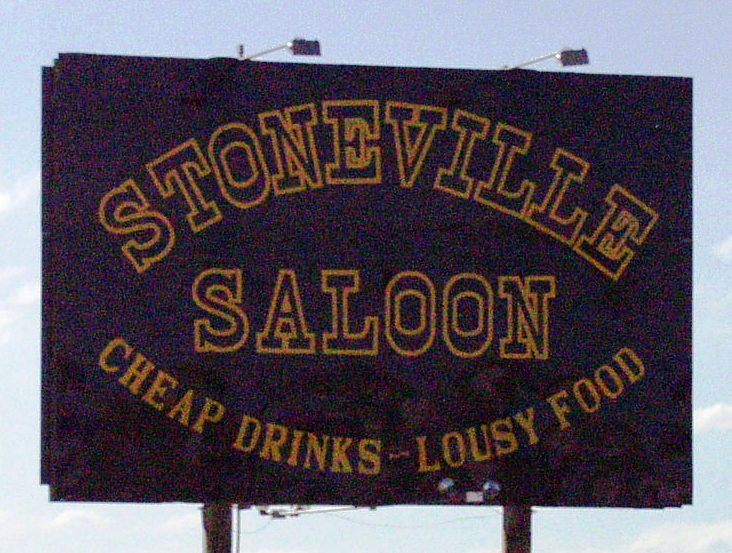 We had been driving all the way from Great Falls in 2005 on our way home from Montana and this was one of the MAIN destinations for us that day.  We got here starved.  Turns out that this is now a "biker bar" frequented by many bikers on their way to Sturgis, SD, which is about 67 miles to the southeast of Alzada.  We stopped and ate, but enjoyed the atmosphere more than anything…
OK, we had some burgers and fries while here.  But they do serve steaks and a few other goodies.  Needless to say, we were in a hurry so we didn't try their famed canned delicacies…
Geno's Steaks and Pat's King of Steaks – Philadelphia, Pennsylvania
A write up about diners cannot truly be justified without noting the Philly Cheesesteak rivalry in Philadelphia. No place represents the heart and soul of the Philadelphia better than the corner of 9th Street and Passyunk Avenue in South Philly. This is the cheese-steak epicenter where Pat's King of Steaks and Geno's Steaks face off 24 hours a day for the Cheesesteak crown.  So, what's the best way to do it?  My friend and I hit BOTH places in the same evening.
First stop was Geno's Steaks, located in a corner of the intersection of E. Passyunk and 9th Street.  Geno's was started in 1966 by Joe Vento with $6.00 in his pocket, 2 boxes of steaks and some hot dogs. If you can't order in English, then don't try this place.  They have signs up that explicitly state you must order in English.
The intimidation doesn't stop at English only.  There is a specific way to order as well.  You must order with Provolone, American or Cheese Whiz.  If you don't do it right they may chew you out!!  Fortunately, there is a constant stream of customers ordering so you can listen and learn.  They whip out those steaks with whiz pretty quick!
After indulging in a tasty, hot and yummiferous Geno's  Steak sandwich (mine had Provolone), my friend and I meandered across the "X" to Pat's King of Steaks. This shop is older than Geno's, having opened in 1930 by Pat Olivieri, who ran a hot dog stand originally.
Their website claims that this was where the cheesesteak was invented … there is even an historical marker on the site:
Unlike Geno's, there are not "Speak English" signs, but they are still persnickety in terms of ordering in a timely fashion as they also whip those cheesy meaty sandwiches out quickly.
The final product is what everyone comes for:
And the winner?  It was definitely ME!!  I got the best of Philly in a double take.
Dash-Inn Drive In – Shelby, Montana
This is another one of those drive up diners where someone will come out to your car and serve up great burgers, fries, onion rings, tater tots, etc.  My wife and I had the opportunity to eat here in March 2013.  It was as you would expect…great prices, great service and great food!
Camp 31 BBQ – Paris, Ontario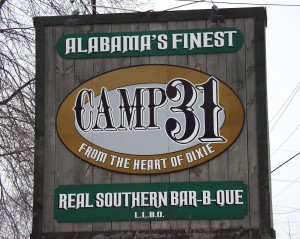 I have eaten at BBQ places all over the U.S. and in parts of Canada.  However, I have to admit that the absolute best experience I ever had was at Camp 31 in Paris, Ontario.  In 2008 I had the opportunity to work in Woodstock and I rented a place in Paris, about 20 miles south of Woodstock.  I made my way to Camp 31 at least twice a week.  It was heavenly.
Started originally in a Sawmill in Alabama, the owners moved to Canada and opened up in an old sawmill building in Paris.  The inside is rustic which makes the BBQ all the better tasting.
Camp 31 BBQ has a diverse menu and a good variety of goodies.  Their cornbread is sweet, their BBQ sauce is tangy, their meats are tender and their service is impeccable.
Many BBQ places compete and Camp 31 is no different.  In fact, they compete all over Canada and in the US.  They even have a tour bus with built in smokers!!
And here is why….
Goody Goody Diner – St. Louis, Missouri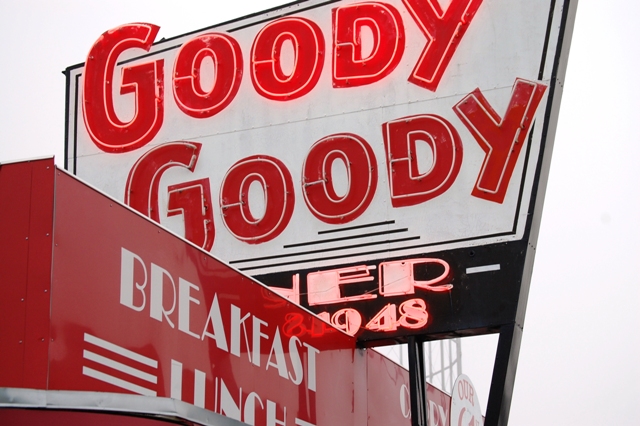 Goody Goody Diner opened their doors as a Diner in 1948.  Started by Cecil Thompson, it is now owned by Richard Connelly who has worked at Goody Goody since 1955, when he was 14 and began peeling potatoes and working as a carhop.
There is plenty of seating at Goody Goody and very little wait.  They really move the folks through and the service is fast.
The diner has a diverse menu, but they are especially famous for their "Wilbur", a breakfast omelet filled with potatoes, peppers, onions and tomatoes and then covered with chili and cheese. Sometimes it is referred to as a "slinger"  A delectable delight of a dish.
Another favorite is Goody Goody is the waffles and fried chicken, a good southern dish.
Gronk's Grill and Bar – Superior, Wisconsin
Gronk's Grill is the ultimate mixture of hamburger joint and BBQ joint.  Like Jud's, they offer HUGE 6 and 8 pound burgers (The "Enger Tower Burger" and the "Great Divide" respectively).  You finish these off you get a t-shirt and a place in their Hall of Fame.  They also offer BBQ ribs and hot dogs.
This is what you can get if you are really really hungry…the Enger Tower
Arthur Bryant's Barbecue – Kansas City, Missouri
Kansas City is known for its barbecue and one of the prime establishments of Kansas City Barbecue is Arthur Bryant's. This BBQ joint opened in the 1920s and once it moved from its original location to the corner of 18th and Brooklyn, near the old Municipal Stadium, it gained its national fame as major league baseball players and others visited the place.  Some claim that Arthur Bryant is the "legendary King of Ribs" and is considered by some to be "the most renowned barbecuer in history."  Bryant died in 1982 at the age of 80, but the legendary flavor continues.
Unlike many BBQ places, Arthur Bryant's serves their BBQ on slices of white bread.  I had never had it that way except at home.  Apparently, Bryant had created his special sauce so you "could put it on bread and eat it."  Well, they did put it on bread and I did eat it.  Fabulous barbecue, great prices, good smoky environment (smoky from BBQ that is) and sweeeeet sauce!
Cozy Drive In – Springfield, Illinois
Springfield is one of those iconic Route 66 towns and along this road is the Cozy Dog Drive In, which claims to be the home of the all-American famed Corn Dog! Though there is some dispute as to the true origin of the corn dog, the Cozy Dog story is that Ed Walmire and his friend Don Strand invented the deep fried battered hot dog on a stick while stationed in Amarillo, Texas during World War II. They called them crusty curs, but, upon Ed's return to Springfield, Ed and his wife decided on the name "Cozy Dog" and began selling them from their house and at the Illinois State Fair in 1946. Ed's wife designed the "hot dogs in a loving embrace logo" for the drive in. In 1996 they moved their Drive In a bit up the road to its current location and gave it a decidedly Route 66 theme.
And of course, this is why we come to Cozy Dog – not healthy at all, but sure Yummiferous!!
Paul's Drive In – Kansas City, Missouri
Apparently, Paul's is so good that locomotive engineers literally stop the train on the tracks and get out to get some of Paul's tenderloins and burgers.  On my visit we were more interested in something cold and sweet on our palate after enjoying some great Kansas City BBQ elsewhere.  And, this was a chart topper!!
Patche's Mini Mart – Bradfordsville, Kentucky
As I drive the Less Beaten Paths, I do run into little gems like Patche's.  Patche's is named after owner Patsy, who is called Patche's by all her friends.  It is a gas station, mini mart and a little grill.  I was hungry on a long drive so I stopped.  I asked her what was the specialty and she told me "grilled boloney sandwich with egg and cheese."  I had her make one up for me.
Patche's is a two person show – Patche's on the grill and her assistant.
There are so many places on the road to stop.  I have another set of shots I will include in a "Leftovers" section in a week or so.  But, as you enjoy the ride, also make sure to enjoy some of the local fare.  It'll do you good.
(922)