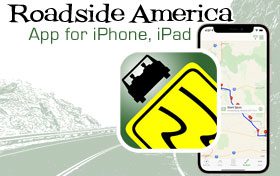 Over the years of my blogging, I have often mentioned Roadside America, both the website and the iPhone/iPad app, as excellent tools to assist in both your road trip planning and actual road trip guidance while on the road. In this post I am going to explain the app and why one should use it on a road trip. This is not a sponsored post, but rather a detailed post based on my own personal experiences with the app for the past 13 years. I will note upfront, however, that I highly recommend this app to all who may plan on traveling.
WHAT IS ROADSIDE AMERICA?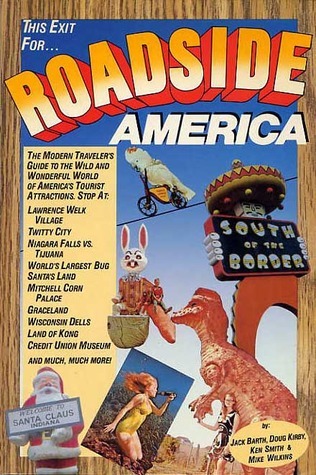 I have been a fan and user of Roadside America content since 1992, when I discovered their book in a public library in Arizona. We were planning a move across the country from Arizona to Kentucky and I wanted to take my family of five on a unique road trip and see some unusual sites. The well-versed Road Trip "know-it-alls" — aka Doug Kirby, Ken Smith and Mike Wilkins — teamed together to compile a giant list of unique and quirky roadside attractions and published their first book titled Roadside America (co-authored by Jack Barth) in 1986. The book had 50 color photos. Then, in 1992 they published a revised edition titled The New Roadside America. This 2nd book had about a 70% change of attractions, stories, and a couple of new chapter concepts. It had more pages, but only b/w photos. It was that second edition that I came across in the Mesa Public Library and my use of Roadside America has not stopped since that time.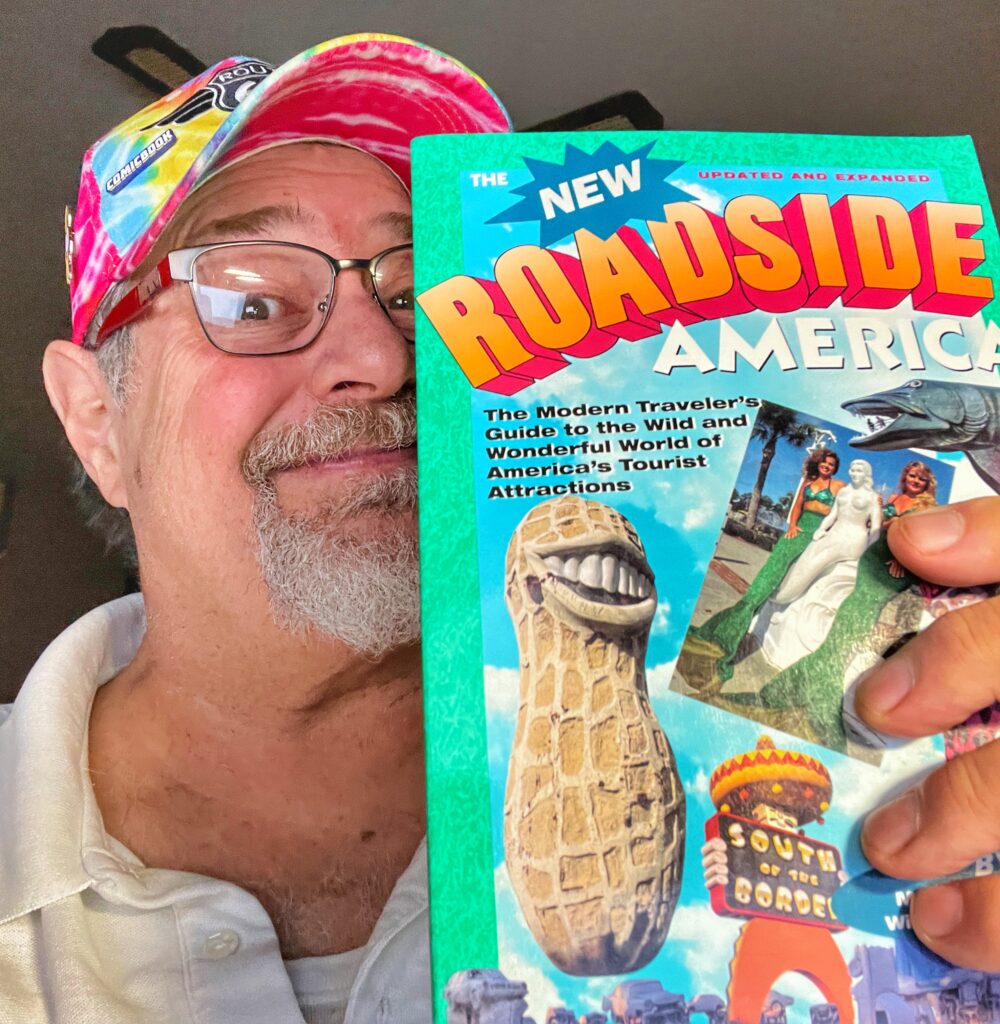 Then, in 1994 the team discovered a new way to get their content into the eyes of many more folks when they got a face on the World Wide Web. In 1996 they officially obtained their own domain of www.roadsideamerica.com and have not slowed down since. They continue to add and/or update offbeat curiosities around all 50 U.S. states and many locations in Canada. As of June 2023 the RA Team has documented over 16,000 sites.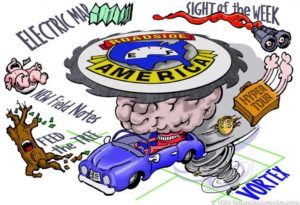 In 2010 they stepped it up again with the creation of a companion iPhone application which is constantly updated both with new places and new technical updates as any other iOS app would go through.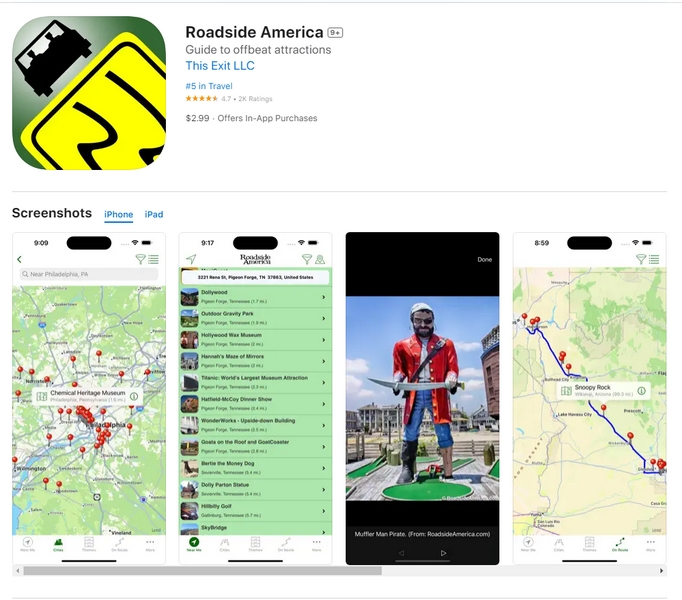 For the application, author Doug Kirby let me know a few items that may be of interest to users.
• All attractions in the app are hand-picked by the Roadside America authors/editors and may include this kind of content:
Stories on places they visited and/or conducted interviews
Places suggested by fans and app users
"Research" targets, potentially worthy, in need of an eyewitness tip and photos. Research records appear in the app, not the website.
• The app focuses on places still open and publicly accessible. If an attraction closes for good, it's removed. Many of the defunct places can still be read about in the "Gone But Not Forgotten" sections of the Roadside America website.
• App is available in the US and Canada App Stores only, and works on compatible iPhones and iPads.
Over the years I have been one of the "super" users as I provide updates to current or closed sites, submit photos of potential new sites (which are always in the hands of the RA Team to determine if they will be added to the site and app.) I have personally submitted well over 200-300 photo and info tip submissions. I have also visited a few "research" targets and submitted details for them. All of this is totally voluntary and can be done by anyone using the app, as I will show below.
HOW TO GET THE ROADSIDE AMERICA APP FOR iPHONE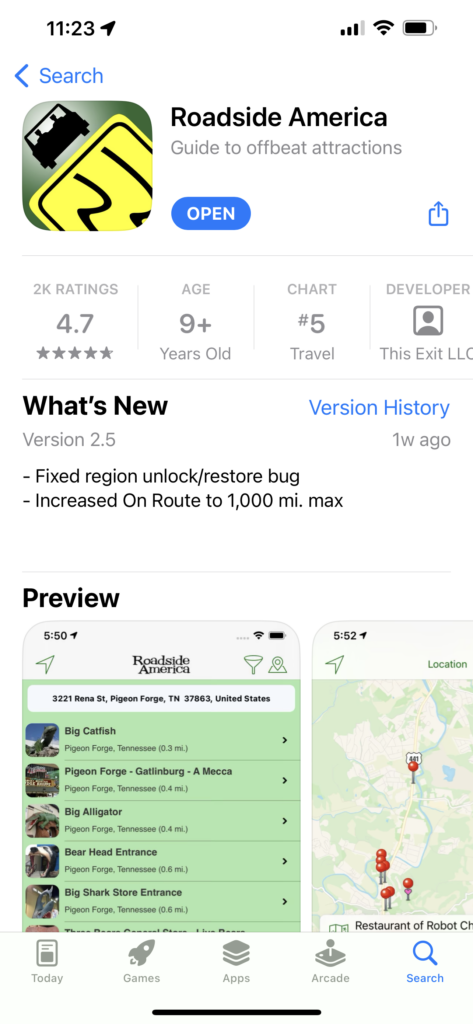 The app is easy to get…just like any other app. Just go to the iPhone App Store, search for Roadside America, find the app and download. The app includes 1 region you choose for free from 7 oddity-rich U.S./Canada regions. You can then purchase more at $1.99/region or all remaining regions for only $6.99 more. Purchasing all regions is the best and most cost-effective choice and I highly recommend it. As I noted above, the RA Gurus have spent decades exploring the weird, amusing wonders on America's highways (often with assistance of hundreds of other travelers). The app puts that expertise at your fingertips for your own adventures. Roadside America has included many fun stories from their own visits along with thousands of unique photos and hundreds of tipster reports that will guide you to less traveled places just off the next exit.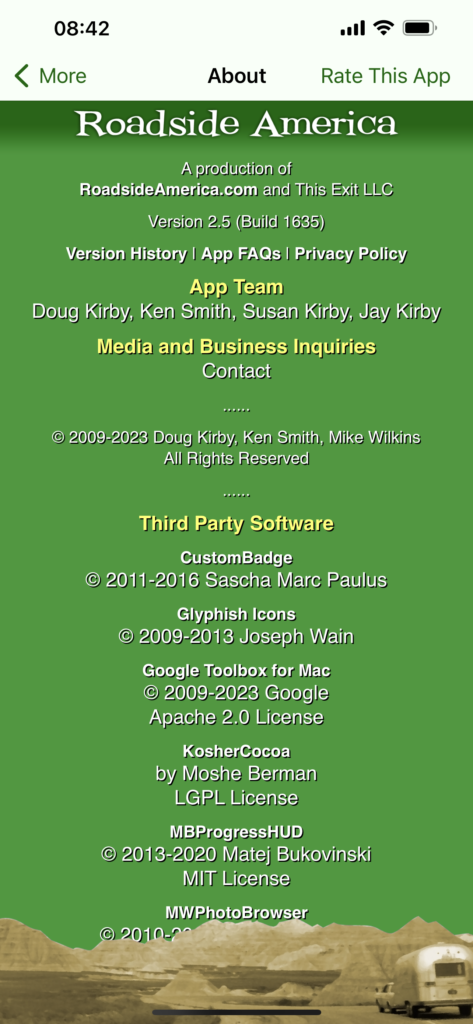 USING THE APP
This is a powerful app. With over 16,000 locations from across the United States and Canada, the app is indexed with precision and works fabulously when your Location Services are turned on. (To do this –> Go to Settings > Privacy & Security > Location Services and then make sure that Location Services is on.) As noted above, there are seven regions available in the app, and the first one, of your choosing, comes with the app for free. So, say you live in Colorado, you may want to choose the region that includes Colorado as your free selection. Other regions are available for $1.99 each or $6.99 for the complete set (Go for the complete set!!). There is a map on the app that lets you know which regions are unlocked. (Click on the three dots at the bottom right of the app and then the All Access link to see what is available.) If you have purchased all of them it will show that "All regions are unlocked," as shown below.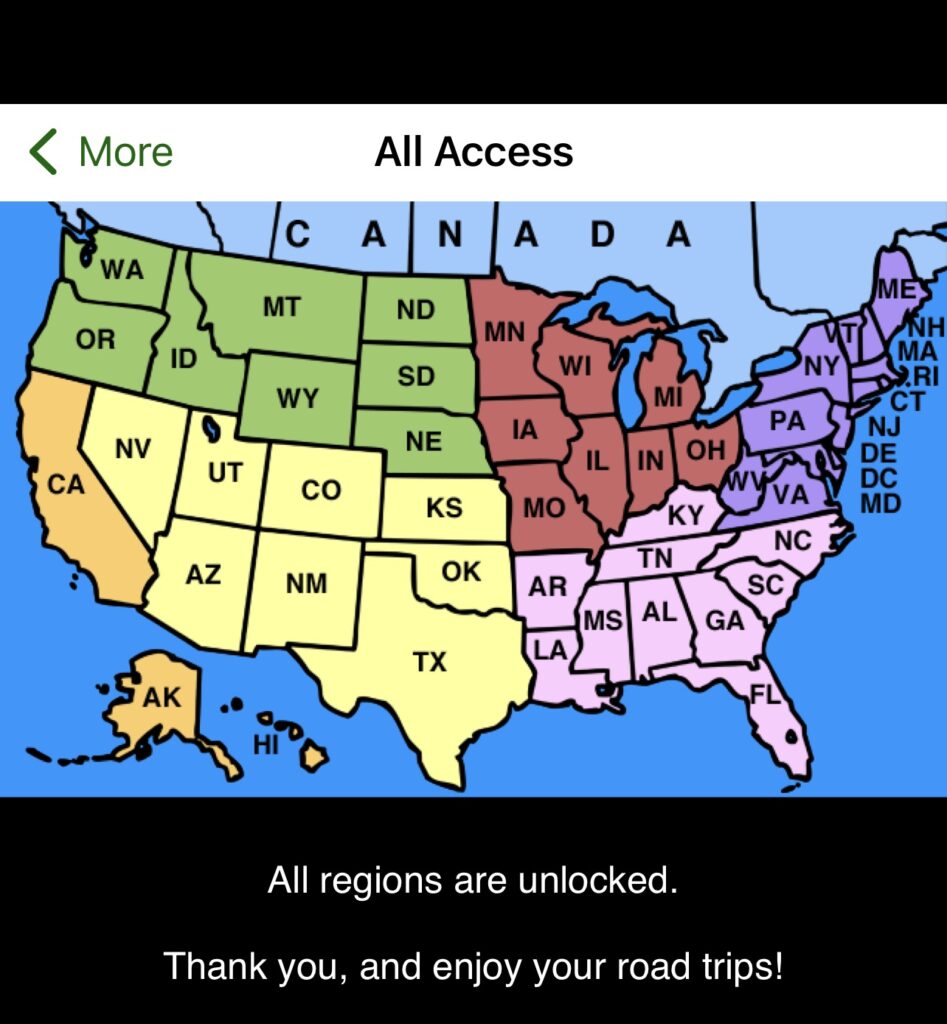 Once you have all of the regions, you are ready to travel to thousands of destinations around the U.S. and Canada with directions and details literally at your fingertips.
HOW TO FIND YOUR PLACES
Let's next play with the app a bit to find some places nearby. With your Location Services turned on, click on the app link on the phone and it will open with a Splash Screen and then defaults to your current location and provides a list of the 25 closest sites to where you are as can be seen below.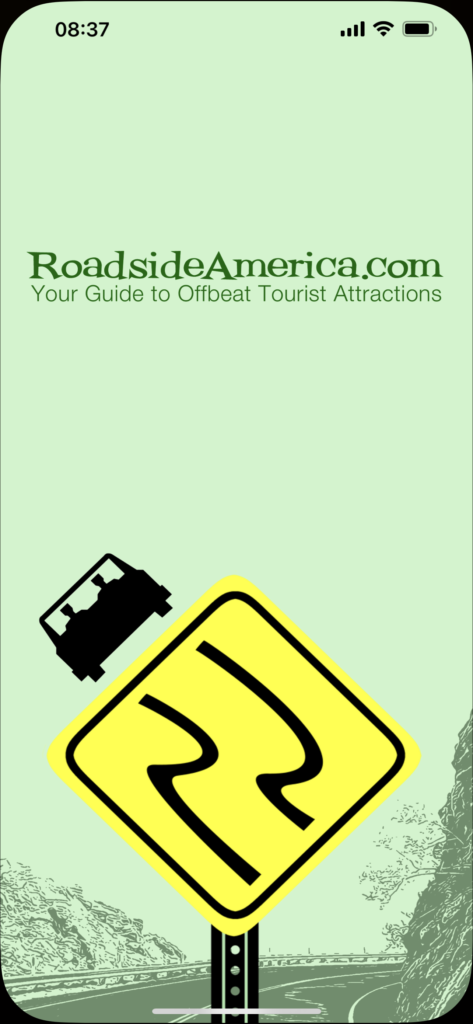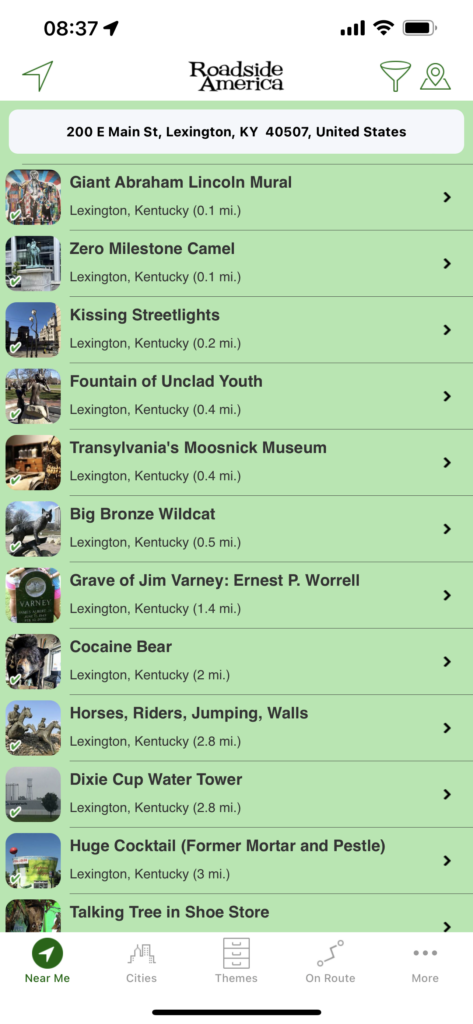 Now, say you're taking a road trip to Baton Rouge, Louisiana and want to know what's around there to see for fun. At the bottom of the app click on the Cities icon, scroll down to Louisiana and then scroll down to Baton Rouge and click on it. You should get the following page appear on your phone.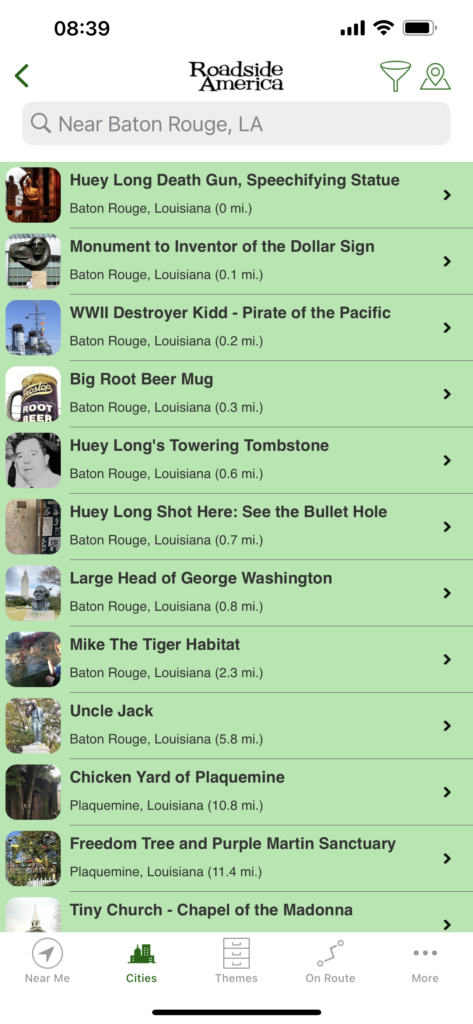 That same kind of search can be carried out for most cities and towns across the United States and some locations in Canada. If you have all regions, you will have access to all of the currently open or accessible places that Roadside America covers. But there is another way to access information if you are already on the road and want to know what may be near to you. With your iPhone / iPad Location Services turned on, in the Near Me view you'll see a list of places closest to you (to reorient/refresh, tap the upper left arrowhead icon). The app will grab the location from your phone and then drop down a list of the closest 25 sites and you can be off on a fun discovery of America's quirkiness!!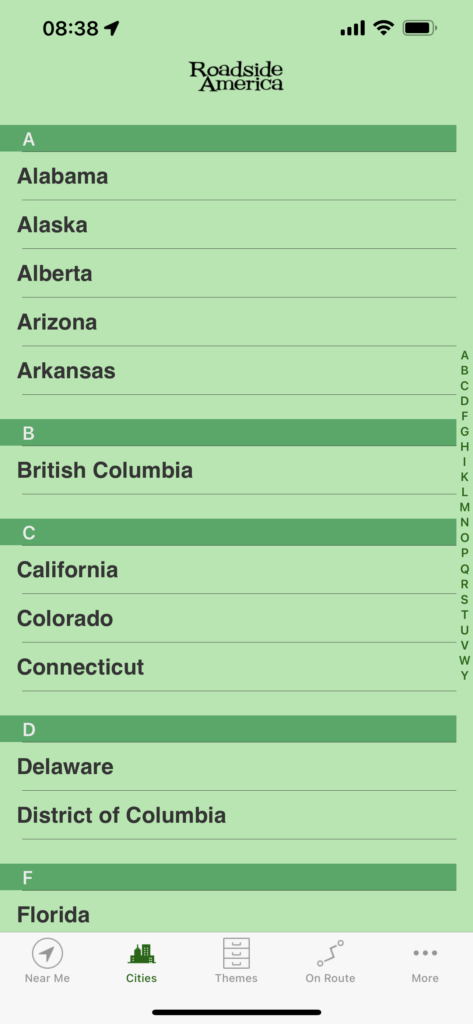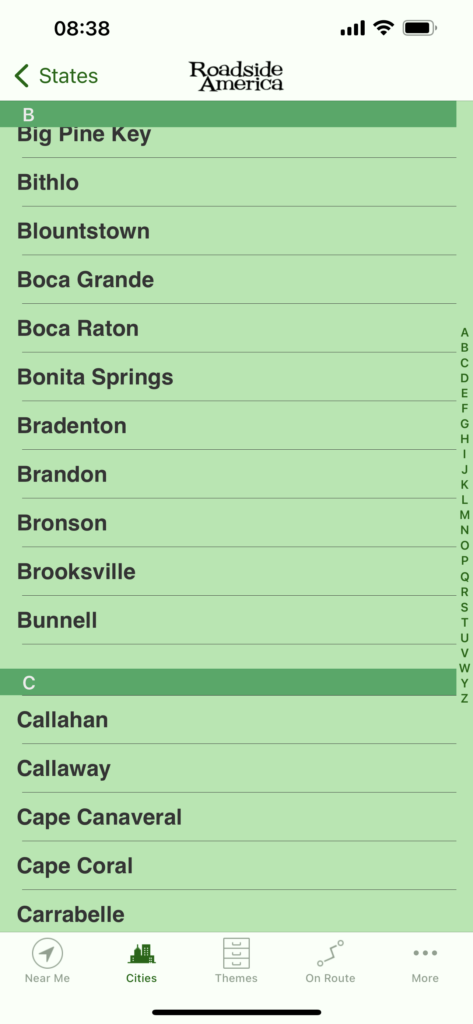 SEARCHING BY THEME
But wait! That's not all you get!! Go to the bottom of the app and click on the Themes icon. Maybe you don't want to see the Muffler Men (at least 234 of them) or giant dinosaurs (at least 294 of them), but are more interested in geographical oddities like the Geographical Center of North America or a decades old U.S. Population Center. After you click on the Themes icon, click on Irrational Geographics and then click on the All link to see a current complete list of unique geographical sites. You can continue to add sites by going to the bottom and clicking More Attractions. You can continue to the Geographical Center of North America (Rugby, SD) or the Geographical Center of the 48 States (Lebanon, KS). Or, for real fun you can click on the Longest Named Thing in America to learn about Lake Chargoggagoggmanchauggagoggchaubunagungamaugg in Webster, MA!! Makes for a great photo op.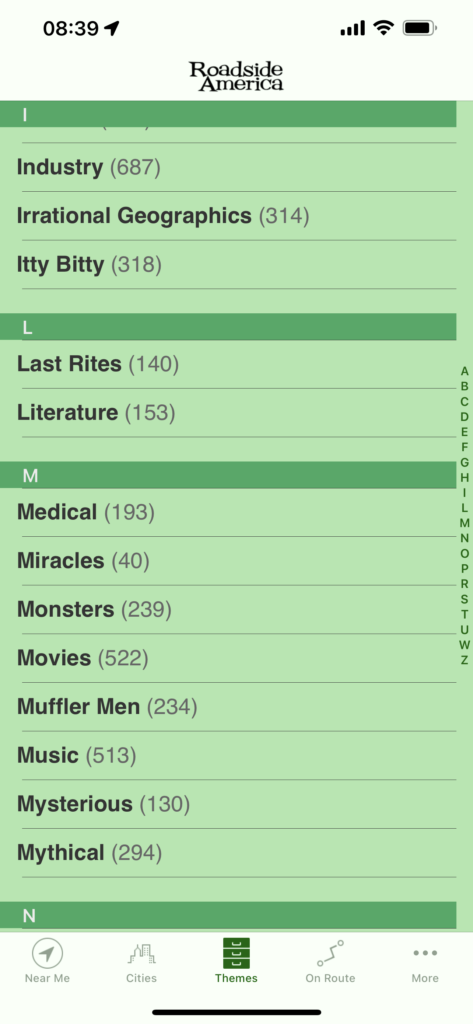 The RA geniuses made it even easier for you as you can search the Theme of your choice by U.S. State if you so wish. You will see the options of All and then each state in alphabetical order.
USING SITE PAGES IN THE APP
Every site in the app has its own page. When you click on the site name it opens the individual page for that place. I am a huge fan of Carhenge in Alliance, Nebraska, so I am going to use that page as an example (see below). Herein you will find a number of cool tools, directions, information, Roadside America rating (in Smiley Water Towers), associated themes and weblinks for the site (if available).
Neat Tools
Photo Gallery – Most of the sites have at least one photo, many of them submitted by app users like you. You can see how many photos are in the gallery by looking at the number in the bottom right.
Been There – Once you have been to a place you can click on the Been There button and it will light up Green. It will all add it to the Been There directory so you can keep track of how many places you have been to.
Save – If you are really fond of a place, you can add it to your Saved directory on the site so you can refer back to it in the future. When you click on the heart icon it will change to Saved in red.
Directions – Not only does the RA app provide written directions, it also provides a link to a map app that can actually provide directions from your current location (if you have Location Services turned on)
Submit Tip – In the upper right corner of any site page, you can Submit a Tip to the RA Editors. This is actually an important tool. Perhaps you visit a place and it has closed, you can let them know so they can update. Or, maybe it has moved down the street or has expanded. You can submit that info and can even submit up to five photos for the most up to date photos. They don't guarantee to publish any of the tips, but, if they do, you'll get a thank you email and a link to the updated tips with your name on there as a submission. If they use your photo, they will include your name as the submitter in the bottom right corner of the photo. Fun huh? They are happy to give credit where its due! (Note: The RA Editorial team may make changes and/or edits to your submission)
Read Submitted Tips – On most of the site pages, in the What section, you should see a Read xx Tips (where xx means the number of tips). If you had a submitted tip that the RA editors added to the site, you should see your tip and your name and date submitted.
Tip Submissions
If you are published in the app or the website, the RA gurus are very good about crediting you. Following is a photo and a tip submission from me for a fairly new site in Clarksville, Indiana. In fact, it was one of their "Research Target" locations and was close enough to me that I could submit for them.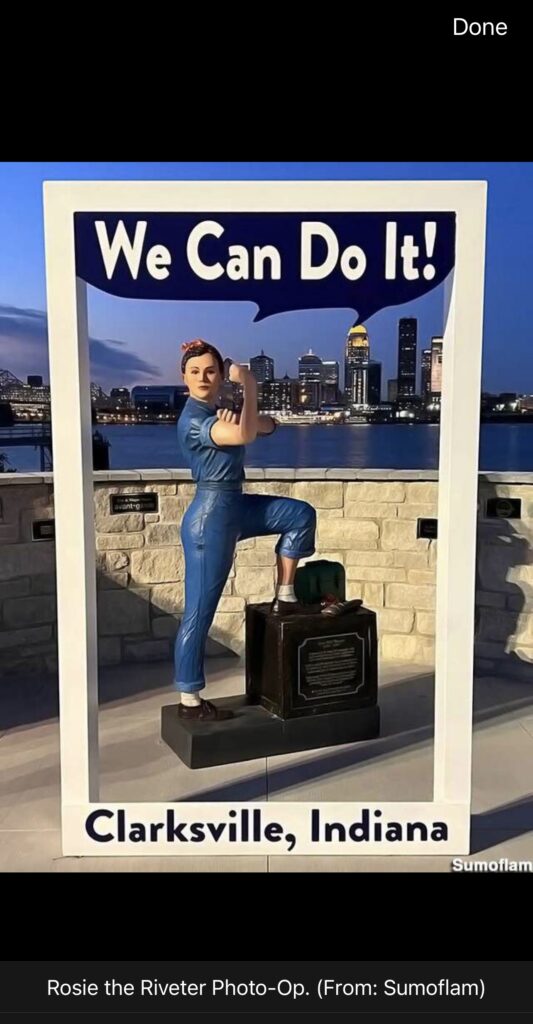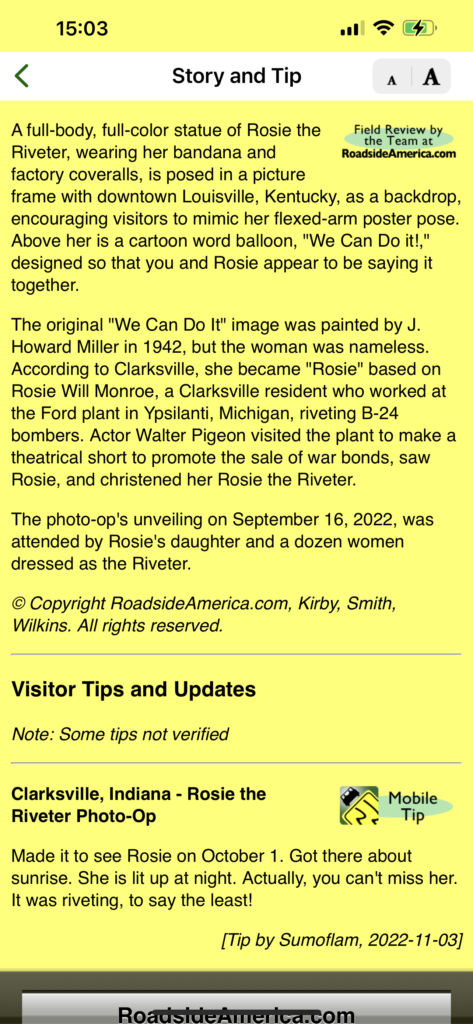 Rating System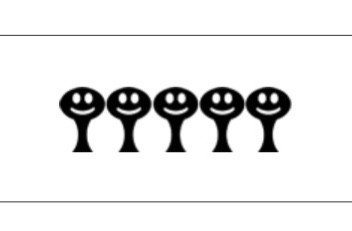 Every site is rated by the RA team. These ratings are based on a number of criteria and are usually pretty accurate. They use Smiley Water Towers as their ranking image with the following info:
Mildly Interesting
Worth a Stop
Worth a Detour
Major Fun
The Best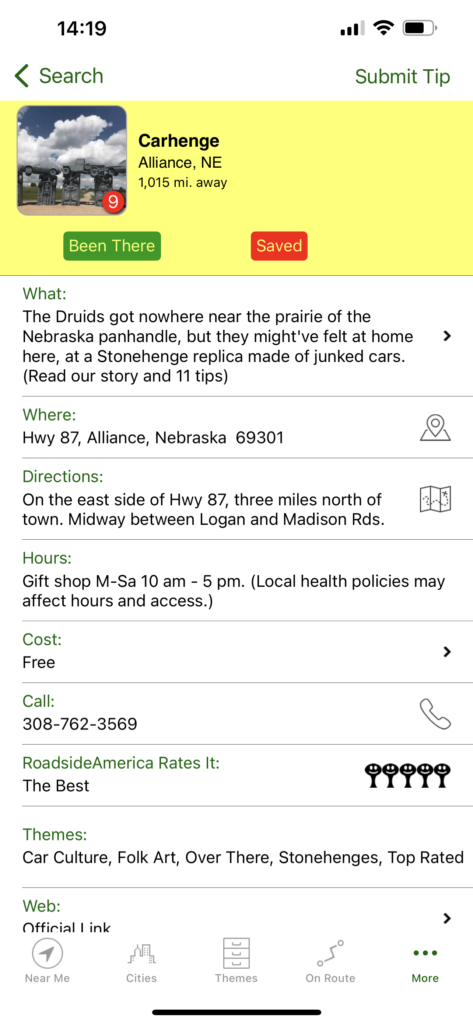 MORE FUN STUFF FOR YOU
If you go to the bottom icons and click on the three dots (More), there are more things you can do.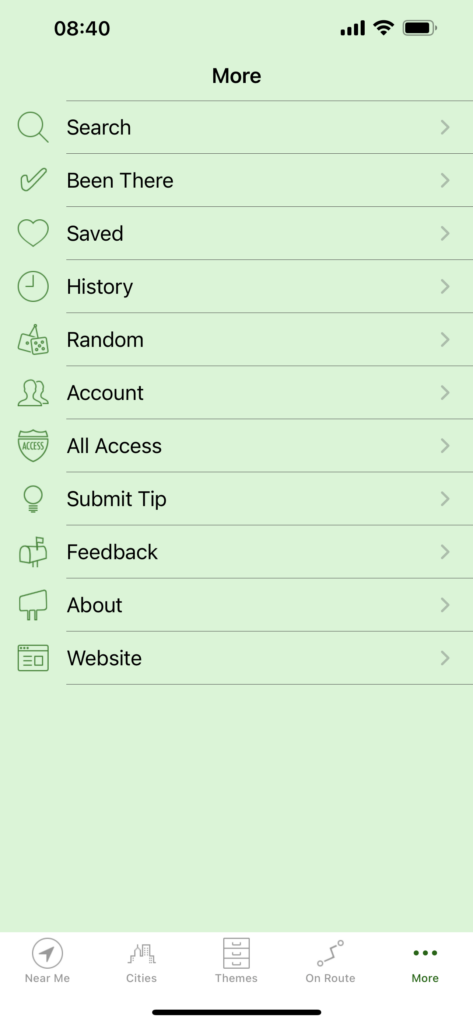 Search
You are out on the road traveling in the middle of nowhere near Bozeman, Montana and someone says, "Oh…you have got to see those funky sculptures in someone's yard in Bozeman." If you go into the Search mode and type in "Odd Yard Sculptures," a long list will drop down, and the second item you may see might be Yard Sculptures of Ted Koterwas, and you will see it is in Bozeman. You can click on it and it will take you to the site page. (See above for more details on Site Pages). You can also search for towns, such as Monkey's Eyebrow, a 1 Water Tower site located in Kentucky.
Been There
As noted above, after visiting a place, you can click on the Been There icon and it will add that location to your Been There index listing, which is broken down by All and by State. You can actually get an idea of how many of the places from the app you have visited. Sometimes I get busy and forget to do it when I am there, so I can go back later and do it too.
Saved
Like the Been There, you also have the ability to Save your favorite places separately and it too separates by State
History
The History link provides you with the most recent site pages you have visited
Random
This is a fun little link. It is a randomizer that brings up a few of the sites. If you are just interested in seeing something unique on the app, click on this and visit those site pages for funsies.
Account
Like any app, this link lets you verify your account, change your password or account email, export you Been There and Saved info. Not going to mention thee Delete Account button… who in their right mind would do that?
All Access
I noted this one above. This allows you to see what sections you have purchased. (Hopefully it is all sections!!)
Submit Tip
This is a good place if you visit a place that you can't find in the app and think it might be interesting for the RA Gurus to add. I have submitted over a dozen of these and they have added four of them over the years. Not all places get added for a number of reasons, chief ones either being redundancy or not of interest (based on their viewership experience).
Feedback
Do you like the app? Tell them! Do you think there is another feature or an improvement you would like to suggest? Feel free to let them know. Or, just send them a note and tell them how much you love their app and how great they are!!
About
These are your typical details about the app including Version number and credits (See the image of this page near the top of this post)
Website
Finally, click here and you go to their actual Website, their selected Sight of the Week, see the Latest Tip submissions from viewers all over the place or to their Trunkations Blog.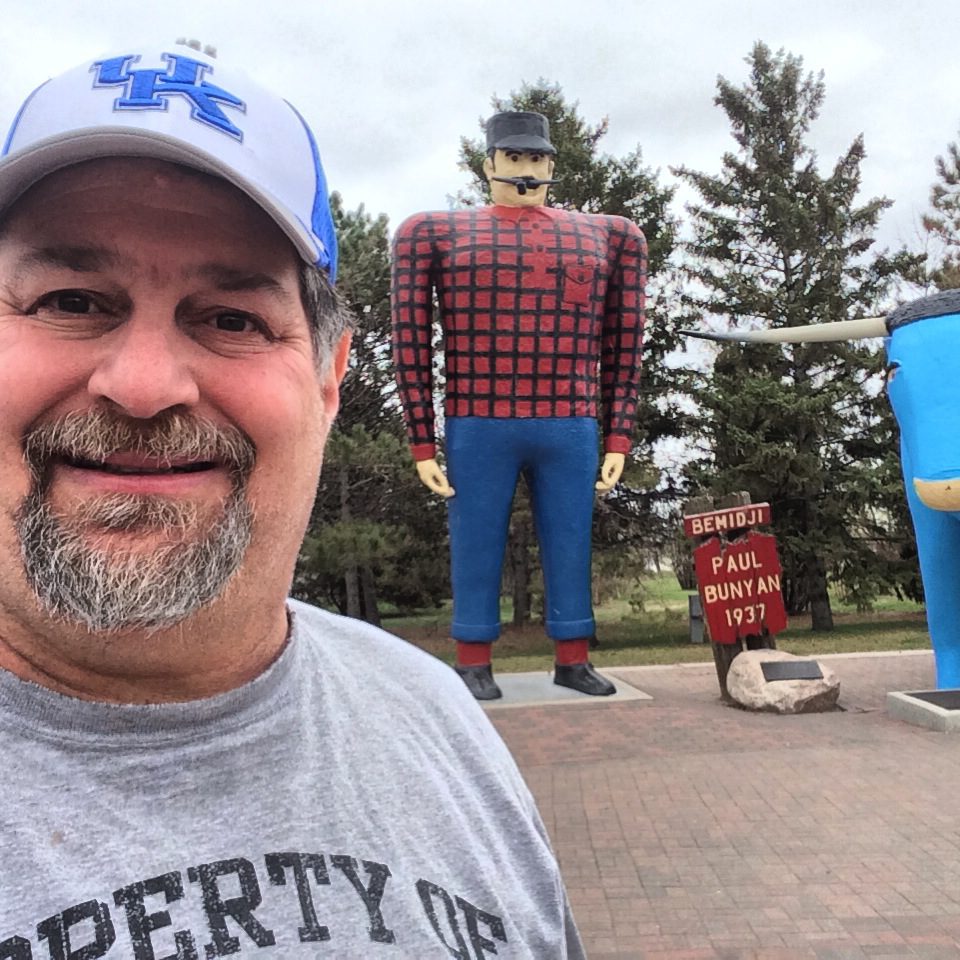 In closing, I want to express my thanks to Doug, Ken and Mike for their decades' long effort to provide quality travel guides for places you won't normally find on any other maps or apps. This is a unique and very helpful, not to mention extremely fun, tool for your back roads travels across America.
Did you enjoy what you saw here? My books cover so much more.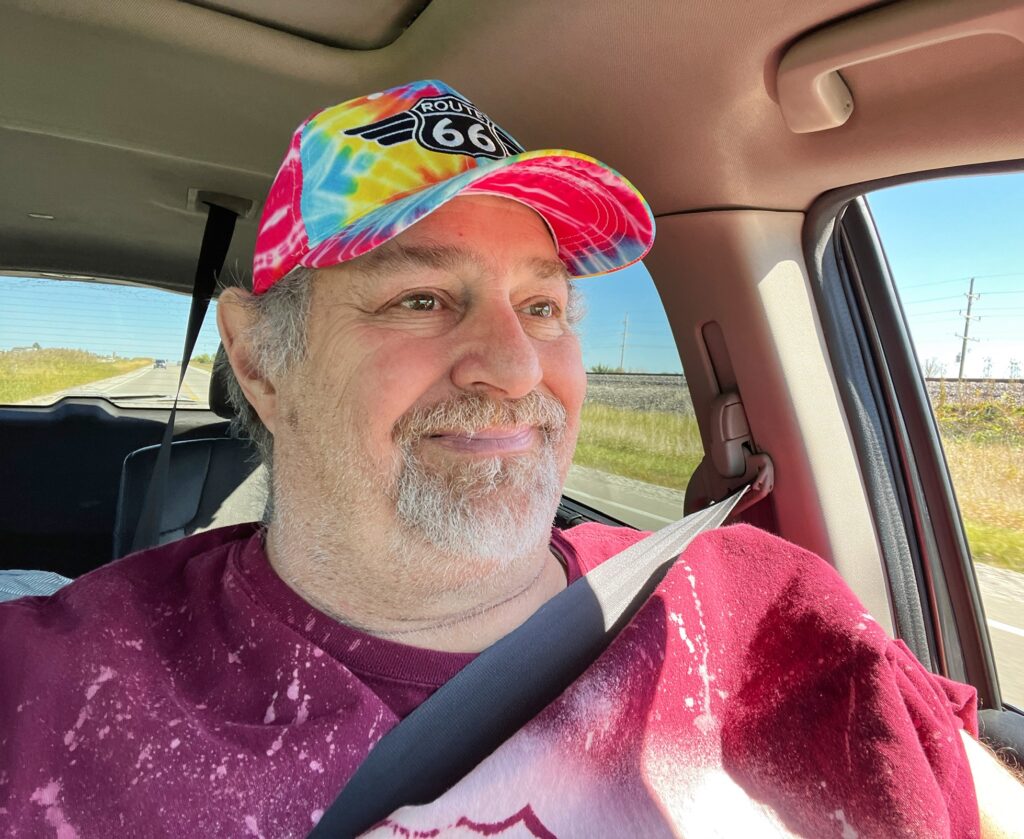 Enjoy the Ride With Sumoflam (with additional assistance always from Roadside America)
LESS BEATEN PATHS OF AMERICA TRAVEL SERIES

You can get my books online! The series now has five books and I am working on books six and seven. Book Six will be all about murals from all over the country!! Watch for them later in 2023.