One of the important facets of traveling the less beaten paths of America (and Canada) is the food.  As I travel the country, I look for good food at local places. This post covers some of the restaurants, steak houses, cafes and fine (or semi-fine) dining places.  Subsequent FOOD posts will include Diners/Drive-Ins, Barbecue Joints, Burger Places and Bakeries/Donut Shops.
Ric's Grill – Lethbridge, Alberta

Ric's Grill – Lethbridge, Alberta, Canada
Ric's Grill is one of those REALLY unique places to eat.  I visited Lethbridge on a cross-country trip from Kentucky to Washington in 2005.  I have friends in Lethbridge who took us here for dinner.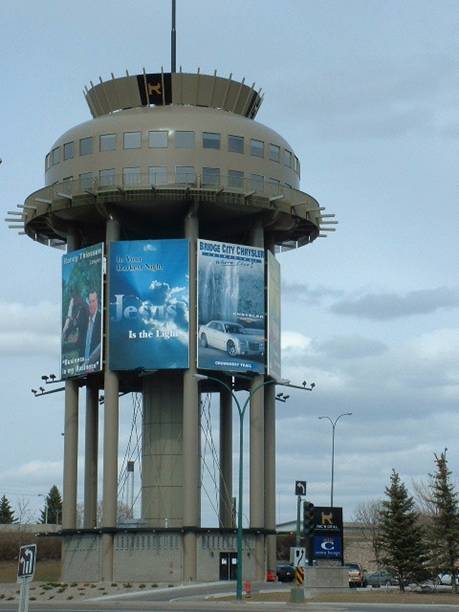 Though it looks strange from the outside, actually, the atmosphere and food is very high class.  This is a top notch steak house with fancy china, excellent waiters and delectable food. There are 11 Ric's Grills in western Canada, though this is by far the most unique one.
Ole's Big Game Steakhouse and Lounge – Paxton, Nebraska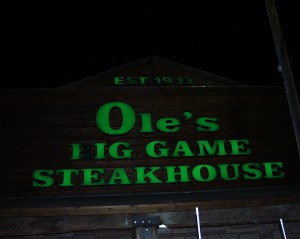 Ole's Big Game Steakhouse is a unique steak house in the small town of Paxton, Nebraska.  Opened on August 9, 1933 (the day after prohibition ended) as a bar by Rosser O. Herstedt (locally known as "Ole").  Originally stared as a tavern, Ole and his friends would talk about their hunting trips.  Then, in 1938 Ole bagged a nice buck and was so proud of it he had it displayed in the tavern.  This was the first of many animals to make their way into the tavern that later became Ole's Steakhouse and Lounge.  Ole's also serves breakfast.
So, now one can sit and enjoy a wonderful steak with a moose or an elephant or a buffalo peeking over your shoulder.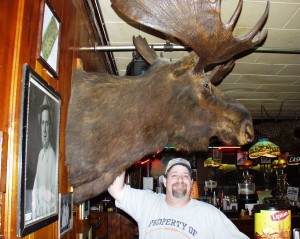 All totaled there are over 200 mounts now showcased at Ole's with animals from all over the world.
Lambert's Cafe – The Home of Throwed Rolls – Ozark, Missouri
Another fun place to eat and enjoy a great meal is Lambert's Cafe, the home of "Throwed Rolls".  I have been to the two restaurants in Sikeston and Ozark, Missouri (which is near Branson). They have one more in Alabama.
So, why "Throwed Rolls"?  I am not sure, but Lambert's serves the side dishes family style, all you can eat.  The seating arrangement is in a big square with an open center for the staff to bring in the food and throw the rolls.
If you miss the flying rolls, too bad….   But, there will be more.  According to their website's Fun Facts, their ovens turn out rolls from 9:15 a.m. to 9:00 p.m. usually without stopping. and they average baking 520 dozen rolls per day, for a grand total of 2,246,400 individual rolls. in one year.  Pass the butter please!!
Besides the rolls, Lambert's also has what they call "Pass Arounds", sides that come with the meal and include Black-Eyed Peas, Fried Okra, Macaroni & Tomatoes, Fried Potatoes & Onions and unlimited Sorghum to go on the rolls.
Astoria Shish Kebob House – Toronto, Ontario
If you are in the mood for some awesome Greek food in a totally Greek atmosphere, then try the Astoria Shish Kebob House in Toronto's Greek Town.  We went to Greek town on a whim and fell in love with this place.  We enjoyed Saganaki (pan-fried and flaming kefalotyri cheese) and then shish kebob with some of the most savory tadziki sauce my tongue has experienced.
Saganaki is a small Greek frying pan that is best used for frying a variety of sheep and goat's milk cheeses. Astoria uses kafalotyri, which is a hard and salty cheese.  When fried it actually flames and that is how they bring it to the table.
Astoria serves a variety of shish kebob and we tried some.  It too was YUMMIFEROUS!!
While at Astoria, I got to meet the owner, who loves having his photo taken with patrons, including numerous celebrities. I am now included in the menagerie!!
Mo's Seafood – Newport, Oregon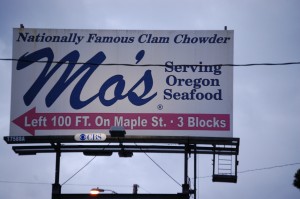 Mo's Seafood is not a fancy place in terms of the dining area.  It is nice inside, but the tables are picnic tables.  But don't let that fool you.  Their seafood is amazing.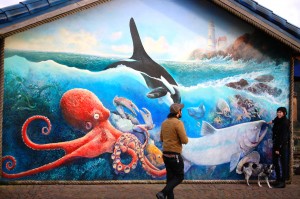 Mo's gets its name from Newport native Mohava Marie Niemi, who started the restaurant in 1946 with her partner Freddy Kent.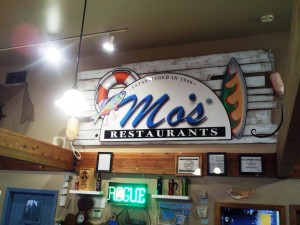 Mo's is especially famed for the luscious and buttery clam chowder.  Indeed, they claim it to be World Famous, and I can see why.  So, I ordered the Halibut (so I could say I came to Mo's just for the halibut", but also enjoyed the creamy buttery clam chowder, which was almost so thick my spoon could stand up in it!!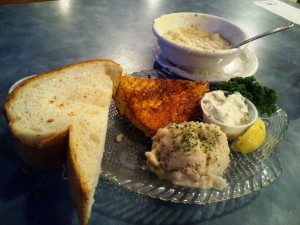 It was a wonderful meal and a wonderful experience to see the Pacific Ocean out the window while enjoying the bounty of the ocean inside.
Armadillo Palace – Houston, Texas
Deep in the heart of Houston, Texas is a cafe and bar and home to some good live music – The Armadillo Palace.  Protected by a 20 foot tall silver armadillo, this place is a real kick and gives you a real down home cowboy feel.
This restaurant, owned by the Goode Company, a purveyor of a number of good restaurants in Houston covering the gamut from BBQ, seafood and Mexican, the Armadillo Palace is decorated with mounted longhorns and buffalo, has a bar with saddle seating and the western decor and photos take you back to the days of the Old West.
The old decor and the smell of leather just add to the flavorful and generous portions dished out at Armadillo Palace.  One of their signature dishes is Chicken Fried Steak and this slab of yummiferousness is almost as big as the plate.  Their spicy green beans and special mashed potatoes help make a rib sticking dinner!
Frontier Bar and Supper Club – Dunkirk, Montana
A few miles east of Shelby, Montana, on US Highway 2 (The Hi-Line), is a non-descript old whitewashed building with an old yellow sign (above).  The Frontier Bar and Supper Club certainly does not look like much, but once you are inside, the atmosphere is rustic and the steaks are to die for!
Upon arrival you are greeted by the whimsical mailbox dude.  I don't know what to call him, but he is a work of folk art.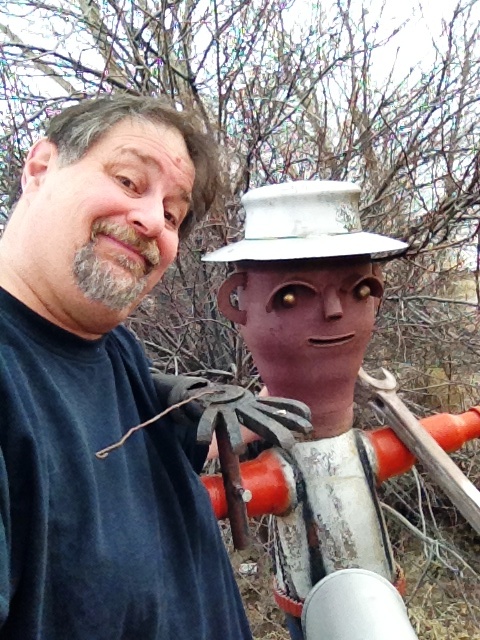 The atmosphere inside is like many Montana bars.  Lots of longhorns, neon signs, a country music jukebox.  The dining room is decorated with wood paneling adorned by the many cattle ranch brands of the area.  But the best part of this place is the blackened steaks.  On this visit I had the Chipotle Blackened New York Steak…. spicy and pricy but tasty good!!
El Toro Bravo Restaurant and Bakery – Roswell, NM
Ok…so, you mix Mexican food and aliens and you get this weird mix…only in Roswell…
Of course, we were hungry so we had the real food….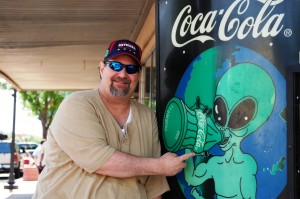 The Olde Heidelberg Restaurant and Tavern – Heidelberg, Ontario
Olde Heidelberg Restaurant in the small town of Heidelberg is family restaurant and also has a mini brewery.  Located in the heart of Ontario's Mennonite and Amish country, this place is famous not only for its Weiner Schnitzel, but also for its pig tails, something I had never had in the past.
But, I don't drink the beer, just eat the good food…and here is what I had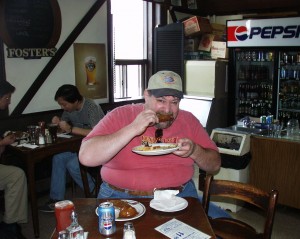 Past Time Cafe – Crab Orchard, Kentucky
Yes, there are less beaten paths in Kentucky and many of them lead to Amish Country.  Crab Orchard is in the heart of Kentucky Amish country and the Past Time Cafe is right there in Crab Orchard.
This cafe has generous portions of country cooking and is well known for their fried catfish, their soup beans and corn bread.  The walls in the place are covered with the history of Crab Orchard and surrounding communities, including many old newspapers and photos.  Plenty to browse while waiting for a good meal.
Chriswell's Trails Inn – Ashton, Idaho
Ashton, Idaho is one of the southern gateways to Yellowstone National Park and is also a western gateway to the Grand Tetons.  The small Idaho town is a touristy place and on the edge of town is Chriswell's Trails Inn restaurant.  This rustic place is a steak house and also has some other great meals.  Like Ole's and Armadillo Palace, this place is full of mounted animals, included a rare White Buffalo Head.
Of course, the food is why we were here.  We were starved and this placed fit the bill.
This chicken fried steak was HUGE!!  Covered the whole plate.  Of course, the potatoes were huge too and stuffed goodness!!
Carrie's Tightwad Cafe – Tightwad, Missouri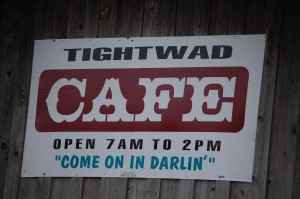 I have written about Tightwad in earlier blogs, especially concerning the famous Tightwad Bank.  But, there is also a great little cafe in Tightwad called Carrie's Tightwad Cafe.  Originally just called the Tightwad Cafe, owner Carrie Fields purchased the once Cafe and Bar from her aunt and then closed the bar.  Carrie is unabashed and very friendly, but she doesn't take credit cards…doesn't want to pay the fees (HA!).  But, she also insists that she is not a tightwad!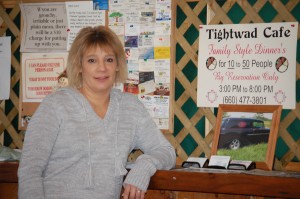 Carrie was correct about the not being a tightwad part.  The meals at the cafe are not expensive and they are very large portions.  No skimping on the food!!  I had "Delmer's Big 'In" for breakfast this day which included 3 eggs, ham, bacon, sausage, hash browns and biscuits and gravy, all for about $8.00 (try to beat that McD's!)
Mud Street Cafe – Eureka Springs, Arkansas
Eureka Springs, Arkansas is a wonderful little town in the Ozarks.  In the midst of town is a shopping section known as the underground and housed within is the Mud Street Cafe. This is a one and all – Coffee shop, Bar and Cafe, all in one.  My wife and I visited for breakfast one nice morning in November 2012.  What a great little cafe!!
Once downstairs we were enthralled by the kitschy decor.  Painted chairs, painted glass, sculptures, tapestries…decor that was nice and cozy.
But, the coziness was nothing compared to the food.  Freshly made HUGE muffins, fruit salads and tasty breakfast food.
Just a few more places to note….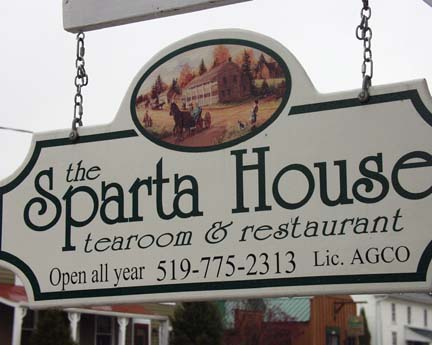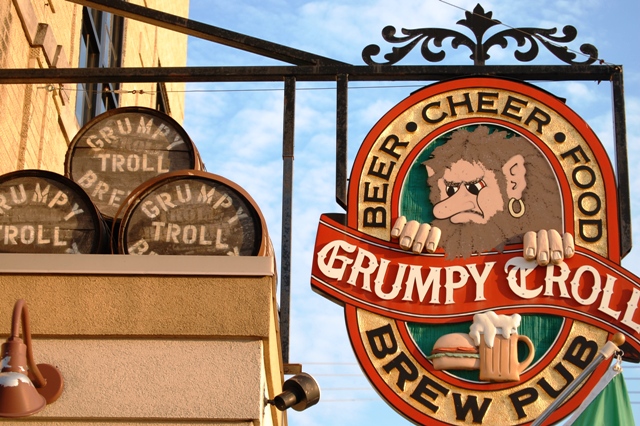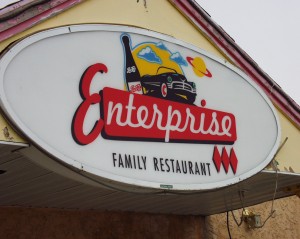 Coming soon – FOOD FOOD FOOD – Part 2: Barbecue Places and Diners
Some roadside assistance provided by friends at……
(2069)