April 1, 2013:  We started the month of April off with a non-foolish bang as we got up fairly early to hit the road towards home, with a detour through North and South Dakota.
This is the route we took on this leg of the trip:

View Larger Map – Glendive, MT to Oacoma, SD
We first took a brief zip around Glendive to catch some of the sights…
Glendive, Montana is surrounded by badlands and there have been many finds of dinosaur bones and tracks in the area, thus the signs, museum, etc.  We went to Makoshika State Park, which is a nice badlands area.  In fact, Makoshika is a Lakota word for "land of bad spirits."
From Glendive we headed east on I-94 towards North Dakota with a brief stop to get the sign for "Home on the Range", an unusual sign in the middle of the prairie in North Dakota, east of Beach, ND.  It turns out that Home on the Range is a working Catholic-run ranch for boys and girls ages 12-19, especially those that were abused or come from broken families. It helps them readjust and cope.  Appears to be a great program.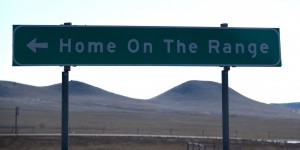 We continued east until we got to Exit 72, which leads to the Enchanted Highway, one of those AWESOME adventure highways with some unique roadside attractions.  I recently did a full blog post just on this highway.  Therefore, I will only post a couple of photos here. Please see the blog post for the details on that portion of this trip.
The main attractions are shown below.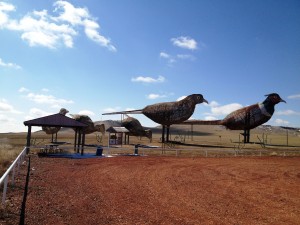 After the trip down the Enchanted Highway, we arrived in the small town of Regent, home of the Enchanted Highway museum and gift shop, the Enchanted Castle Hotel and a couple of gas stations.  We had hoped to eat lunch there, but nothing was open.  And it was a Monday….oh well…
Still hungry, we decided to move on and head south towards Mt. Rushmore.  We went west on ND Hwy 21 until we got to Hwy 22 and then went south towards South Dakota.  We stayed on Hwy 22 until we got to South Dakota.
We then followed SD Hwy 79 all the way into Newell, South Dakota, which is known as the Sheep Capital of the United States. We meandered into T.J.'s Cafe and Waterin' Hole in Newell for lunch.  It was almost 3 PM so we were quite hungry.  This unique diner was what we needed. I loved some of the furnishings, as you can see below.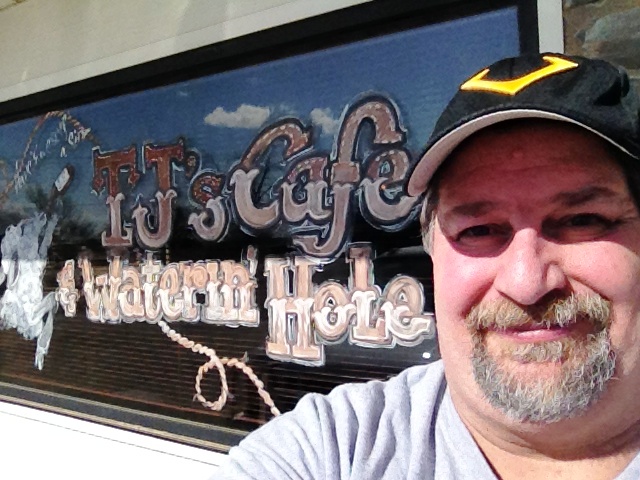 After a nice lunch and some homemade pie for dessert, we were back on the road heading towards Mount Rushmore.  On the way we passed through Sturgis, SD, famed for its annual motorcycle event in August.  I had never been here.  We passed right by the Full Throttle Saloon, claimed to be the World's Largest Biker Bar and also famed for its TV Show on TRU-TV, which, but the way, I have never watched.
Lighting was not good for this shot, so see this photo for a better one (not my photography).
From Sturgis we booked it down to Keystone and to Mt. Rushmore.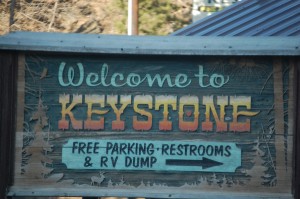 We pulled through Keystone, SD at about 5:10 PM on our way to Mt. Rushmore.  As this was the off season, almost everything was closed.  We made it to the National Monument after closing time but still with daylight.  We were able to get up into the parking lot for free and got some good photos before the sunset.
We were thrilled to be able to see Mt. Rushmore.  BY the time we were done it was getting dark.  We headed east from there, passed by the Badlands National Park, by Underwood, South Dakota, home of the World's SMALLEST Biker Bar, and by Wall Drug (which I have visited in the past – see my post from 2005).  We also passed by the big dinosaur skeleton being led by a human skeleton near Pioneer Village and could barely make it out as it had gotten dark.
We finally got into Oacoma, SD, our stop for the night.  It was another long day, but was lots of fun!! Nothing like a full day of road tripping and seeing the sights and creating the memories!!
(1119)