I spent two weeks in Rexburg from March 11 thru March 25, 2013 working on a job possibility.  During my free time I spent a good deal of time in town and also looking around town and some of the surrounding areas.
Perhaps Rexburg is best known for its LDS (Mormon) population, BYU-Idaho and the Rexburg Temple of the church (shown above). But Rexburg is also famous as the town that was practically destroyed by the Teton Dam Flood in June of 1976 (see story here).  The town has been totally rebuilt since that time.
Rexburg is kind of in a bowl, with mountain ranges all around it.  To the east are the Grand Tetons, to the northwest is the Lemhi Range, which includes the 12,197 foot tall Diamond Peak. To the southeast are the mountains of the Caribou-Targhee National Forest.  The Craters of the Moon National Monument is southwest of Rexburg. (Unfortunately, I didn't have a chance to get there on this trip.
There are a number of old things in and around town that have remained from the flood.
The Teton Vu Drive-in has had a few resurrections over the years.  It was reopened in 1999, closed again in 2006 and has since reopened again in 2009 under new ownership.  They offer shows and goodies.   I liked the drive in sign – totally vintage.
In and around Rexburg there are a few great places to find goodies to eat.  I had dinner a couple of times at the Frontier Pies Restaurant, which not only has pies but some good home cooking. The pies were awesome…
There is another famous place on the outskirts of Rexburg where giant burgers are the norm…
Big Jud's Country Diner is located in the small community of Archer, Idaho, a few miles south of Rexburg.  This place has the hugest hamburgers I have ever seen and has even been featured on the TV Show Man vs. Food. Here are a few shots from Big Jud's:
Home of the 1 LB Burger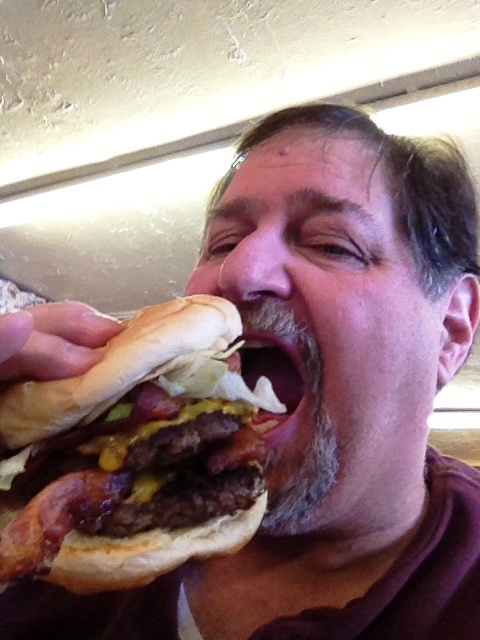 Another notable place to get goodies in Rexburg is Florence's Exquisite Candies Chocolate shop, which can be found downtown.  They hand make all of their chocolate offerings and the shop also has a unique interior.
Another interesting item in and around Rexburg are the gas stations with "Coke Can" gas tanks.  Here are a couple of examples.
There are other nearby communities that have some unique things to see as well.
Sugar City is a bedroom community to Rexburg. Like Rexburg, it went through some devastation during the Teton Flood.  The town was founded in 1903 to house sugar beet factory workers of the Utah-Idaho Sugar Company.   The factory closed in the 1940s and then, after the devastation of the flood in 1976, most of the businesses did not reopen.
The Rocky Mountain Elk Ranch is located in Sugar City and I got to take a drive by there and see all of the elk.  I only saw a couple of bulls with their antlers.  They breed the elk locally and then release them to some of the mountain areas for hunting trips, etc.
One afternoon, while my wife was out in Rexburg, we took a drive north towards St. Anthony, Idaho, another nearby community.  We had as a goal to get to the St. Anthony Sand Dunes then, if possible, take a drive up the Mesa Falls Scenic Loop north of there, near Ashton, Idaho.  Following is a map of the exact route we ended up taking and some of the photos we took during the trip.
St. Anthony, Ashton and Driggs
St. Anthony is a small town of about 3500 just north of Rexburg and is the gateway to the St. Anthony Sand Dunes, a unique area west of town and one of those unexpected discoveries.  I would have never thought about sand dunes in them as much as 400 feet tall.   To get there we had to go through Parker and then to the Egin Lakes area campground.
Along the way we saw a house in Parker that has lined their fences with old highway signage.  Amazing how people do these things!!
From the dunes we returned to St. Anthony and then headed north to Ashton, Idaho, which sits at the base of the mountains north of Rexburg and is the gateway to the Mesa Falls Scenic Byway, which we had hoped to take.
Upon arrival in the small town, the first thing I noticed was the Frostop Drive In – a page out of nostalgic America. Frostop Root Beer is one of those old well known brands, having its start in Springfield, Ohio in 1926.  The diner in Ashton has been there since 1965 and has gone through a few owners.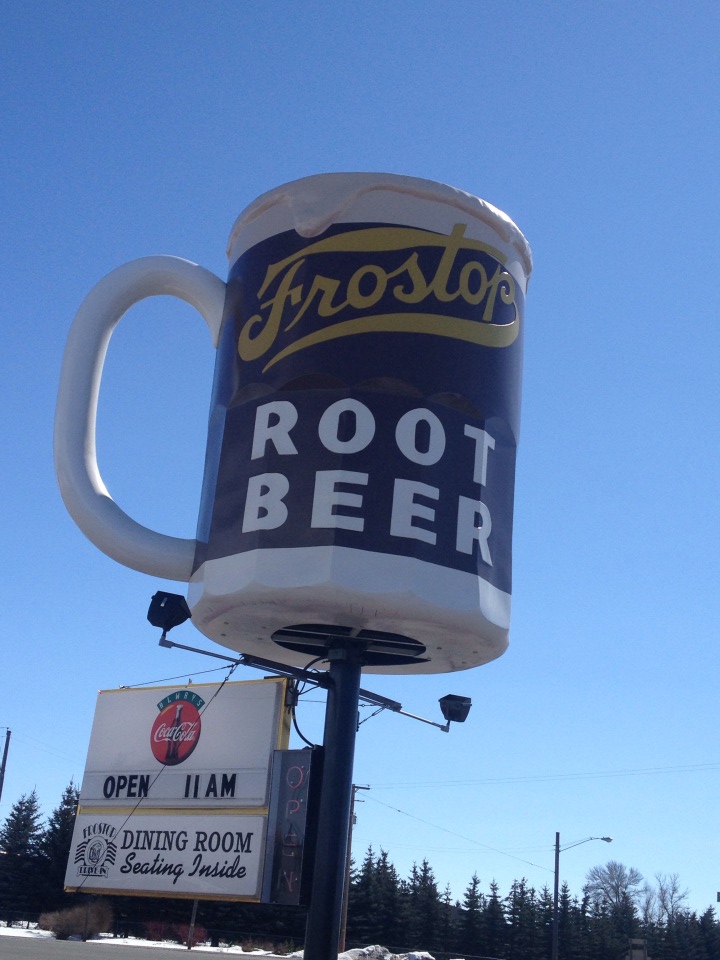 The big root beer mug rotates and draws you in to the old style drive in.  We didn't really want drive in fare, so we meandered across the street to a restaurant that looked like a huge log cabin.
Chriswell's Trails Inn Restaurant is rustic, homey and full of animal trophies.  Last time I was in a place like this was at Ole's Big Game Steak house in Nebraska (see the blog post here).  I ordered a chicken fried steak, their speciality, and the thing was bigger than my plate.  Further, unlike the chicken fried steaks I have had in the past, this one was made with real steak, not ground steak!!
Like other small towns in the west, there are still plenty of nostalgic signs.  Here are a couple from Ashton.
From Ashton we headed up north on Idaho Highway 47, which is the Mesa Falls Scenic Byway.  There were signs warning us that the road was closed ahead, so we followed it as far as we could go.  It took us up into Targhee National Forest, and as we climbed in altitude, the snow got ever deeper. Bear in mind that this was the end of March.
We finally hit the dead end where only snowmobiles were allowed, and had to turn around and head back to Ashton.
Once back in Ashton we made our to Idaho Highway 32 which would take us through the small towns of Drummond and Felt, and hopefully would offer us a few glimpses of the Tetons from the west.  This was an extremely beautiful drive, particularly since we went through pristine snow covered hills…snow was very deep and practically untouched most of the way.
All in all, that Sunday drive from Rexburg to Ashton and Drummond and back was marvelous.
On another trip south of Rexburg, near Rigby, on US 20, you can see an old sugar mill off to the side of the road.  Someone has meticulously painted the facade and it was, apparently at one time, the Old Sugar Mill Market.  It appears to be out of business now, but it is eye catching from the highway.
Also, Rigby, Idaho is noted as the birthplace of the television. Philo T. Farnsworth invented the television tube here and there is a museum dedicated to him (along with other items from the Rigby area.)
There are a few other places I visited in the area…here are some of the sights
(7668)