One of the norms of driving the back roads of America are the town signs.  Anyone that drives any roads typically sees hundreds of them.  Of course, some are pretty typical town names, but, there are many that aren't typical.   Here are a few "descriptive" town name signs that I have picked up along the less beaten paths of America.  I have written about some of these places, but now we can "compare."
I would like to say I have made it to all of the strange and wacky town places, but indeed I have not.  Here is one non-definitive list from infoplease.com.  Here are a couple more links to the topic – Top 10 Worst Named Cities, Bad Names for Towns, Interesting Town Names.
As my photo above shows, there are quite a few adjective towns….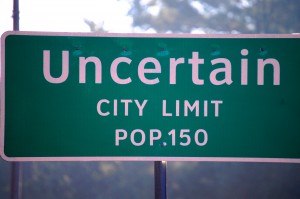 Uncertain is a small town in Texas on the shores of the mysterious Caddo Lake, which is the only naturally formed lake in the state of Texas. Uncertain derives its name from surveyors who were attempting to delineate the border between Texas and Louisiana and discovered that they were "uncertain" as to which side of the line they were on as they began surveying that particular part of Caddo Lake.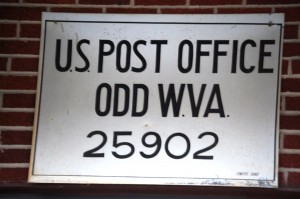 Odd is an unincorporated town in Raleigh County, West Virgina. According to one story, a group of people gathered at the post office to name the town. Several names were suggested, and to one suggestion, someone in the group responded "That's odd." And so the name of Odd was adopted for the town.  Odd is basically south of some other towns – Hurricane, Tornado and Comfort…all on the same road in West Virginia.  Odd is home to the Odd Elementary School, which was apparently the last remaining wooden school house in West Virginia.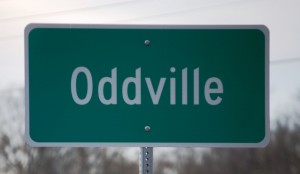 Travel west from West Virginia into the Lexington, KY area and you can work your way to Oddville, Kentucky. Oddville is located on U.S. Route 62 5.4 miles (8.7 km) north-northeast of Cynthiana. Settlement began in 1799. The name was apparently an attempt to satisfy the postal authorities with a unique name for the post office, which opened in 1851.
Further west into Missouri is the town of Peculiar, easily reached from Interstate 64 just east of Kansas City.  On July 29, 1868, the county surveyor, Robert Cass, platted Peculiar and was filed as "The Town of Peculiar". Apparently, the community's first postmaster, Edgar Thomson is attributed to the name. His his first choice for a town name, Excelsior, was rejected because it already existed in Atchison County, Missouri. Several other choices were also rejected. The story goes that the annoyed Thomson wrote to the Postmaster General himself to complain saying, among other things, "We don't care what name you give us so long as it is sort of 'peculiar'." Thomson submitted the name "Peculiar" and the name was approved. The post office was established on June 22, 1868.
Unlike the Odd and Peculiar and Uncertain names, Normal, Illinois got its name from the Normal School located in the town.  Of all of the strangely named towns I have come across, Normal is by far the largest, with well over 50,000 people and a college.
Heading further west into Oklahoma you can come to the town of Okay. The town is located in the southeastern corner of Wagoner County on State Highway 16. The community lies on the east bank of the Verdigris River in the Three Forks area about fifty miles southeast of Tulsa.  Formerly known as Rex, North Muskogee and Falls City, the name was changed in the early twentieth century the settlement was became Okay in 1919, honoring the O. K. 3-Ton Truck and Trailer manufactured there by the Oklahoma Auto Manufacturing Company.
Head way west into Oregon and you can get to Boring. The townspeople call it an "exciting place to live and work."  It actually got its name from 1n 1903 whenthe unincorporated area was named after one of its first residents, W.H Boring. The town is very close to Portland and really is not boring.  There is a new restaurant that just opened there and was not there on my last trip.  Called "The Not So Boring Bar and Grill".
If the other names were not so interesting, then try out Cool, Texas. It is a very small incorporated town on U.S. Highway 180 eleven miles west of Weatherford in western Parker County, Texas. Cool was incorporated after 1960 and was first shown on county maps in the mid-1960s.  I have not been able to find out how it got its name, but it was likely after someone named Cool.  There is a Cool Cafe there is they are open when you go though.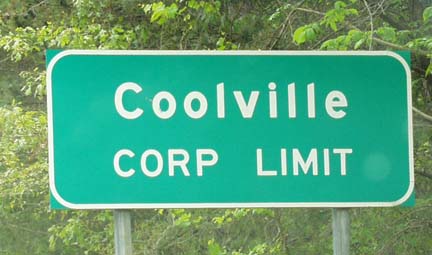 And then there is Coolville, OH. This town is located in the extreme southeast corner of Ohio. In 1818 Coolville was platted by Ashel Cooley, for whom it is named, and incorporated in 1835. I believe that Ashel Cooley is actually a distant cousin of my wife, whose grandmother was a Cooley. Coolville is located close to a couple more "hot/cold" communities: Torch and Frost.
Speaking of Torch, I might as well add it and warm things up.   Not sure how it got its name, but, since we are getting warm here, let's take the real jump….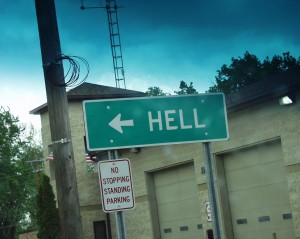 Hell, Michigan is probably one of the more famous wacky town names in the United States (along with Intercourse, Pennsylvania).  The story of Hell starts out around a sawmill, gristmill, distillery and tavern. All four were operated by George Reeves. Reeves moved to the area in the 1830s from the Catskill Mountains in New York.  Apparently, soon after Michigan gained statehood, George Reeves was asked what he thought the town he helped settle should be called and replied, "I don't care, you can name it Hell for all I care." The name became official on October 13, 1841.  The town has a bar, an ice cream shop and a tourist shop.  That's about it.  But, it is a beautiful drive from Pinckney, through Gregory, which is the gateway to Hell.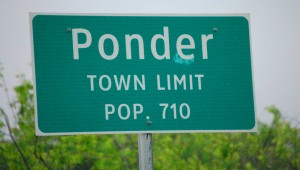 So, these names make me want to ponder what other places I can visit.  Ponder, Texas.  Ponder is located about 10 miles from Denton, Texas.  Not sure how it got its name. But how about these next few places?
Looking for Talent?  You can find it in the far southwestern part of Oregon.  Like its counterpart Oregon town of Boring, Talent was actually named after a person. In 1889, A.P. Talent platted a town-site and named it "Talent." On November 2, 1910, Talent became an incorporated town.
Seeking Wisdom? Well, it is a dot on the map in Metcalfe County, Kentucky.  There is not much from here, but the country rock band Kentucky Headhunters, famous for their cover of Bill Monroe's "Walk Softly on This Heart of Mine" hail from Wisdom.  As for the name, I have not found out how it got the name yet.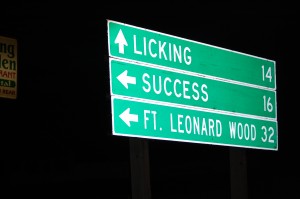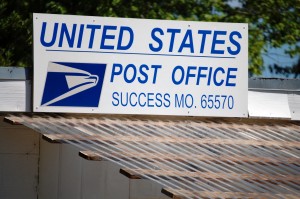 Looking for Success? It is a small town about 17 miles northwest of Houston, Missouri. The road to Success from Houston is lined with old doublewides and rusted out cars.  No joke!!  And once you find Success, you will see that there is not much there.  At least you can say you found it.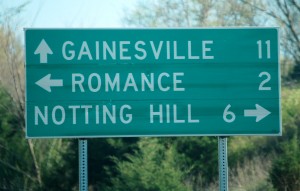 Maybe you are looking for Romance instead?  Well, good luck.  Romance is down in the Ozarks, about 9 miles north of Gainesville, MO.  I took the partially paved and partially dirt road to Romance and found nothing but a couple of houses.  There apparently used to be a church there.  But, take it from me, the road to Romance is a dead end.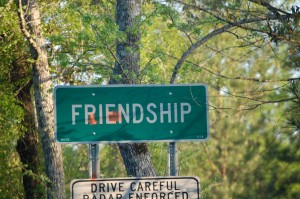 Perhaps you are looking for Friendship instead.  It is located in north of Arkadelphia off of Interstate 30 in Hot Spring County and has a population of just over 200. It is a quaint little town.
Or maybe you just want some Comfort. You can find it on the windy Coal River Road (Hwy 3).  If you go to Hurricane, WV off of Interstate 64 and then head southeast on US 60 through Tornado and get on Coal River Road you will eventually find Comfort.  Yes, you must go through a Hurricane and a Tornado to get to Comfort.  By the way, keep going south and you will get to Odd.
Or, maybe you just want some Charm. This small town on Hwy 557 in the heart of Ohio Amish Country got its name in 1885. If you like cheese, there is plenty of cheese in the area. Other Amish goods are available.  Honestly, this little burg really lives up to its name!!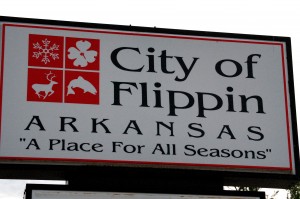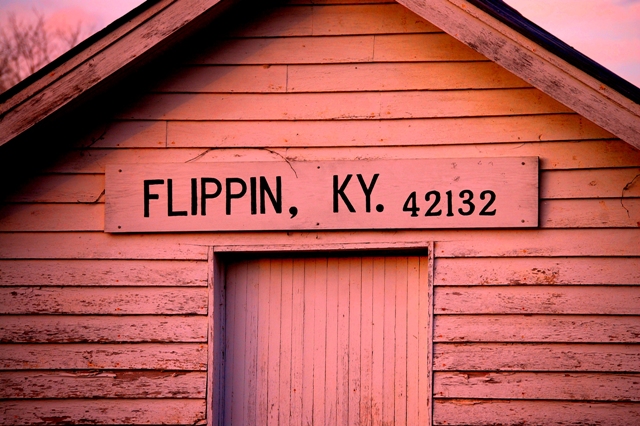 There are two Flippin places that I have been to.  The larger Flippin is in Arkansas.  It is close to some great recreational areas in the Ozarks and is the home to ranger Boats.  There is a Flippin Police Department, a Flippin High School and a few Flippin Churches.  There are about 1500 residents in Flippin, Arkansas.  The name of Flippin comes from Thomas J. Flippin, who left Hopkins County, Kentucky in 1821. There is a nice history of the town here. Flippin, Kentucky, on the other hand, is very small.  It is located in southern Kentucky in Monroe County.
Part III will cover some of the more unique place names I have visited.  Enjoy the Ride!!
(880)