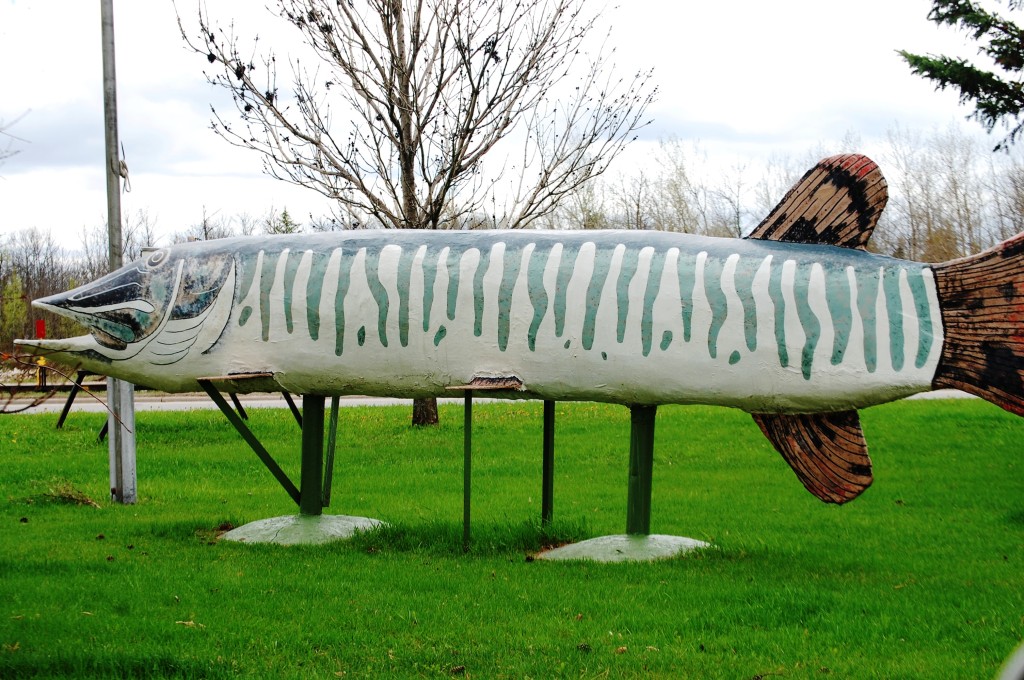 Traveling US Route 2 across Wisconsin was beautiful and had its share of offbeat and quirky places, but Minnesota's section of US Route 2 is one to be reckoned with when it comes to quirky and fun destinations on the same road. Entering from Superior, Wisconsin, Route 2 starts south of Duluth and proceeds through Proctor, MN.  From there the road heads northwest into the beautiful lake and birch country that gives Minnesota its name "Land of 10,000 Lakes."
Before I go any further, I do need to give a SHOUT OUT to fellow travel blogger Seth Hardmeyer, who does the Highway Highlights blog (also see @HHighlights on Twitter and highway_highlights on Instagram).  He provided me loads of information on spots to visit along US Route 2 in Minnesota (though I didn't have time for them all!).  Give him some love and visit (and LIKE) his sites.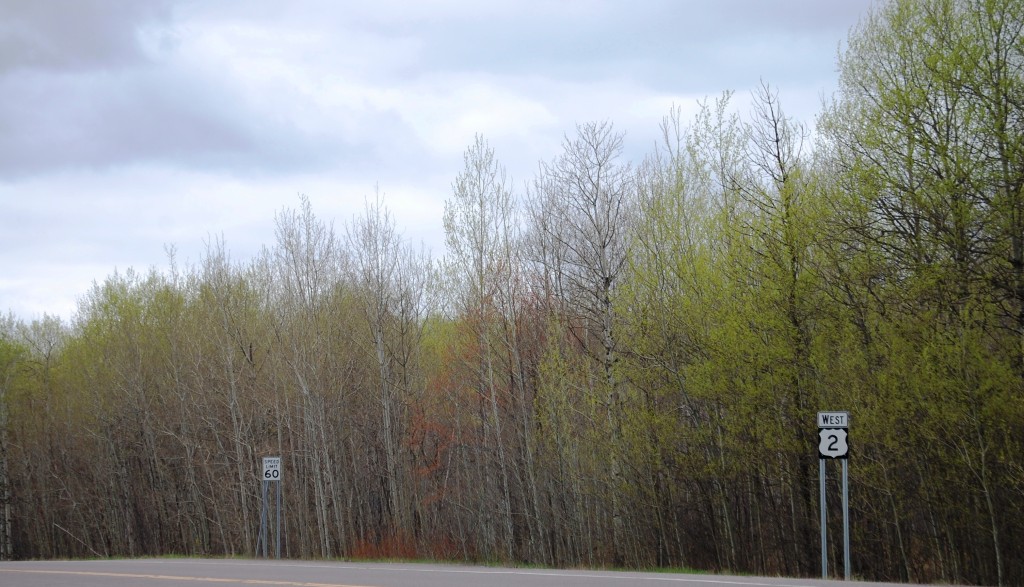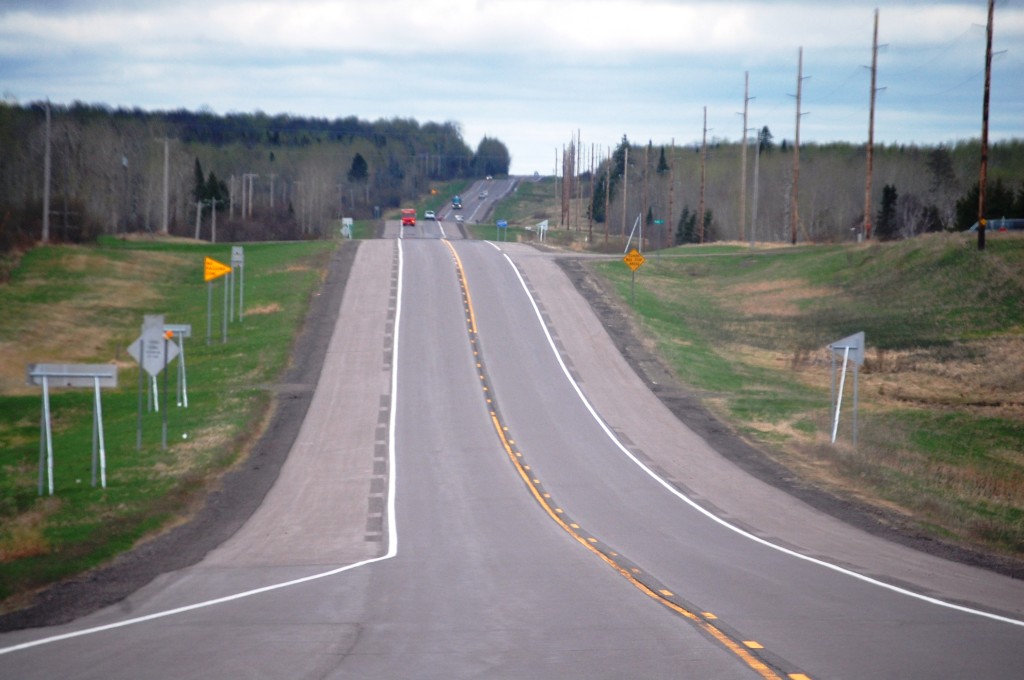 My first stop in Minnesota was in Floodwood, about 45 miles west of Duluth.  There are just over 500 folk in this small town, which is known for its Catfish Festival in July.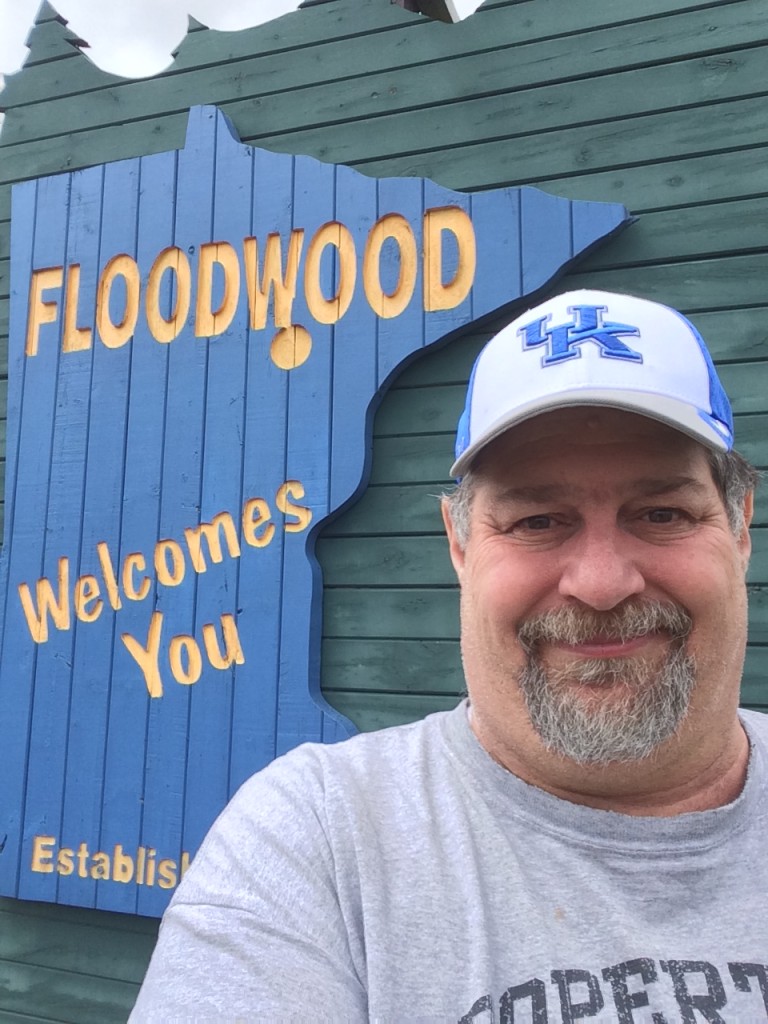 Floodwood claims to be the "Catfish Capital of the World" because of its festival. (There is apparently another place in Mississippi that claims the same…Belzoni, MS).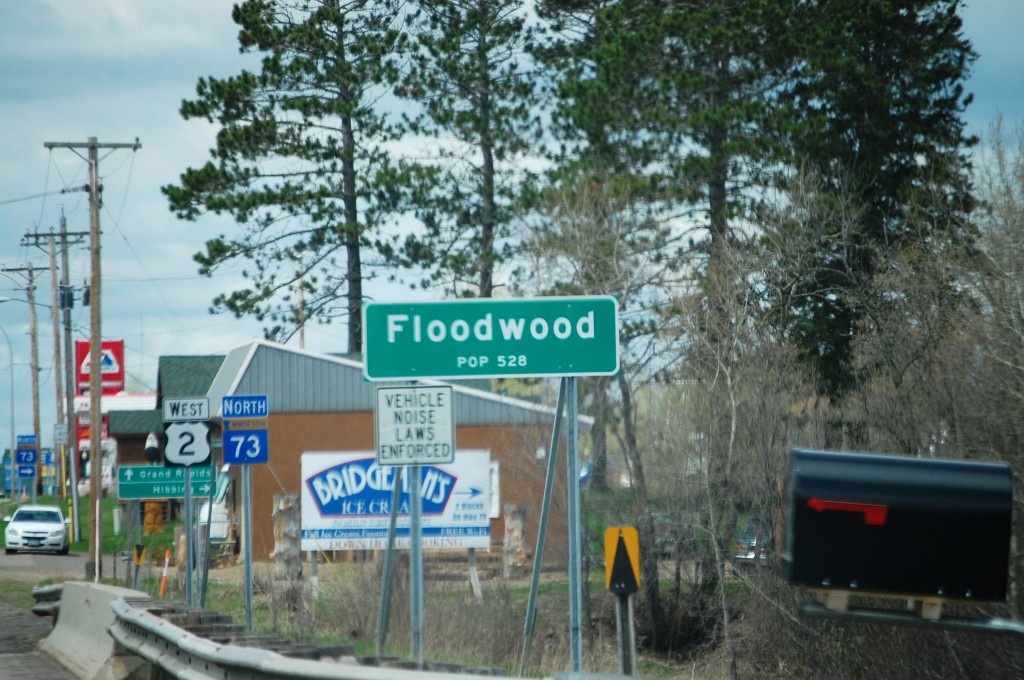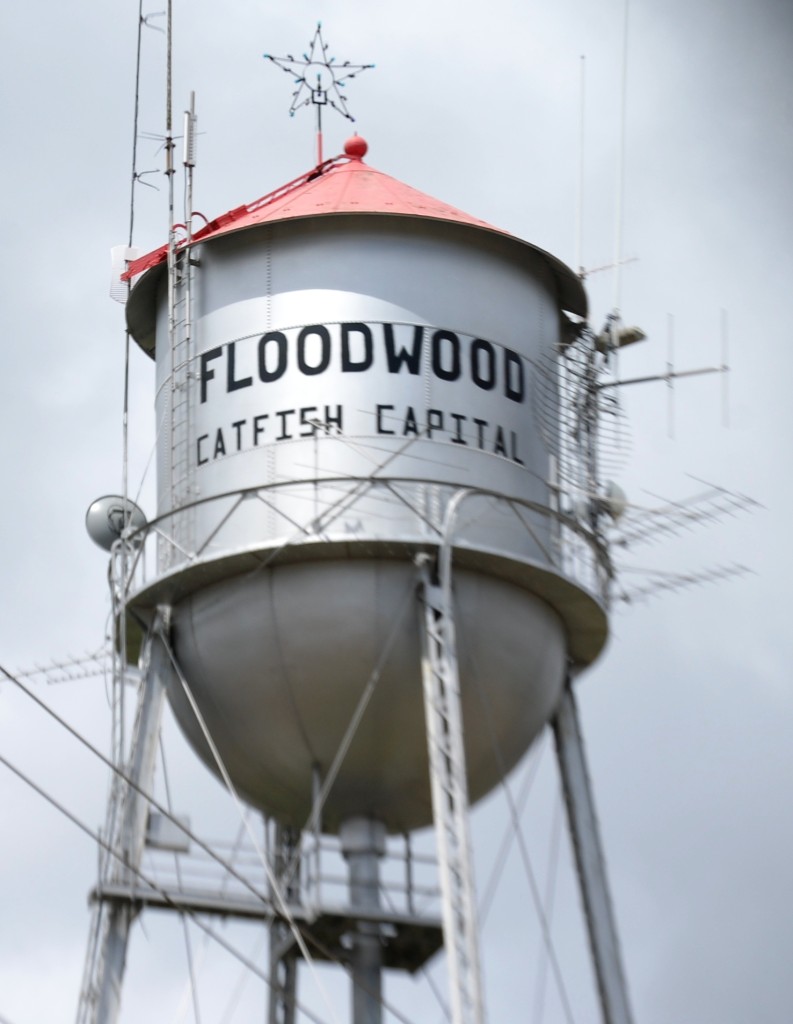 Floodwood is the home of the first of three big fish that get bigger and bigger the further west you go.  They have a moderately sized catfish statue in the city park as one enters town. Always a great photo op….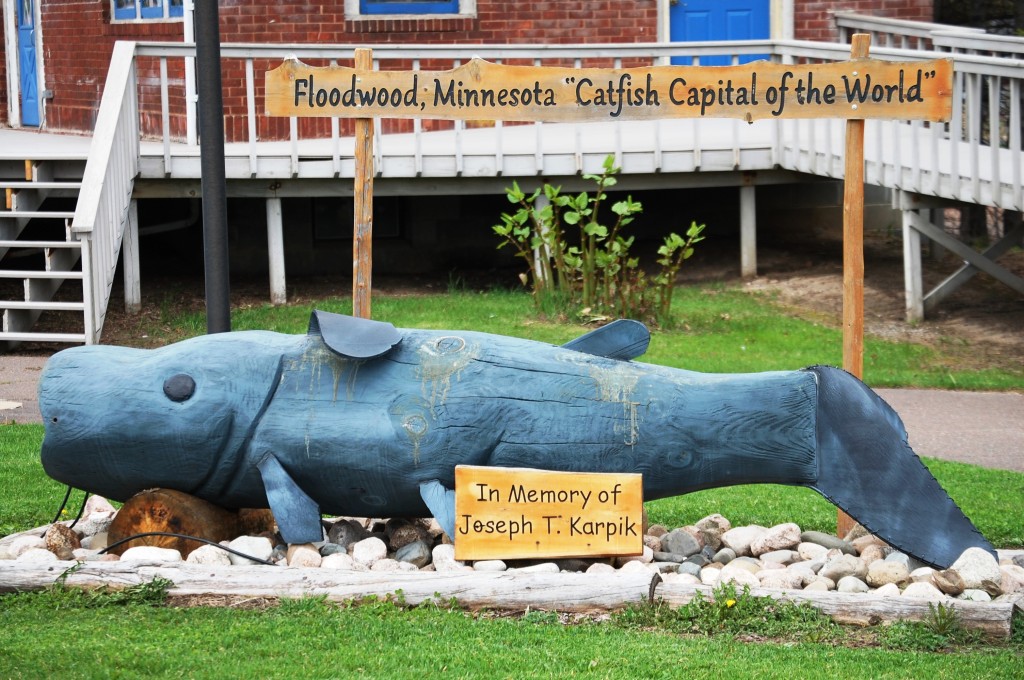 This wooden statue has a sign claiming it to be the Catfish Capital of the World.  It also has another "In Memory of Joseph T. Karpik" who was apparently a local-grown inventor with a couple of patents. He was the President of Floodwood company Mat, Inc. which makes erosion control products.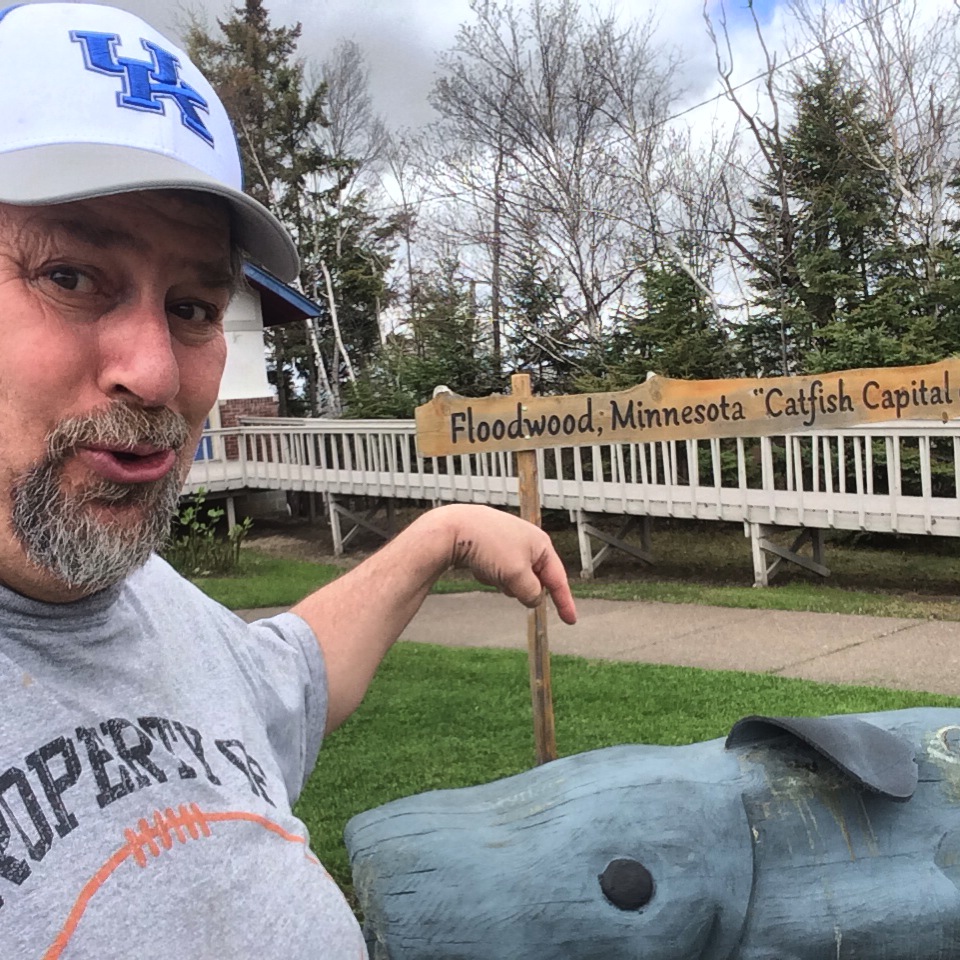 From Floodwood the highway enters pine and birch forests as one gets closer to Grand Rapids.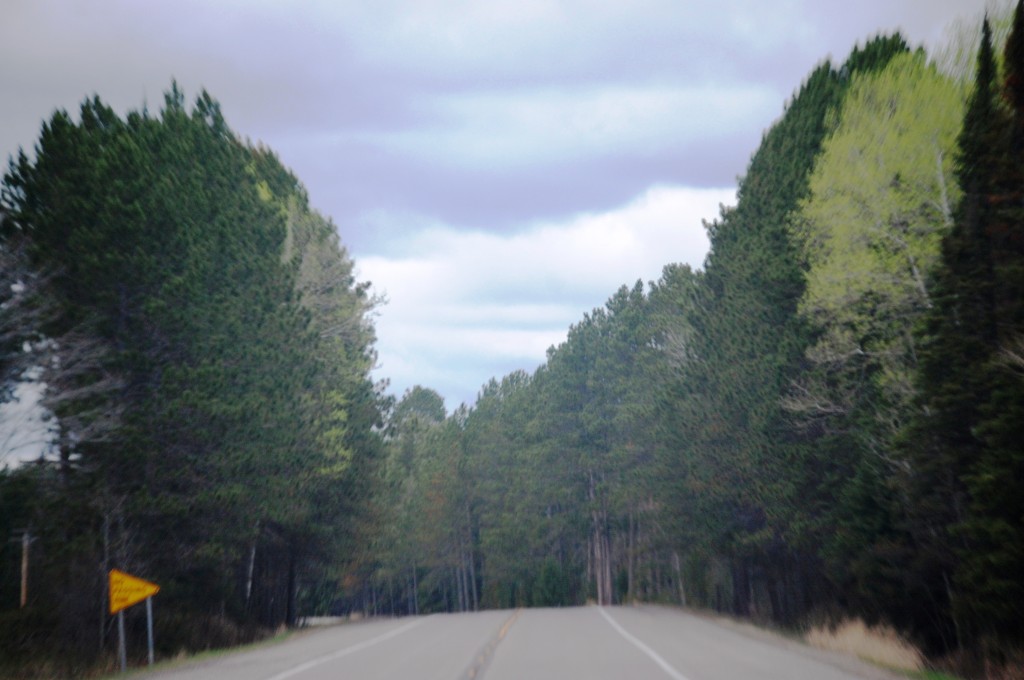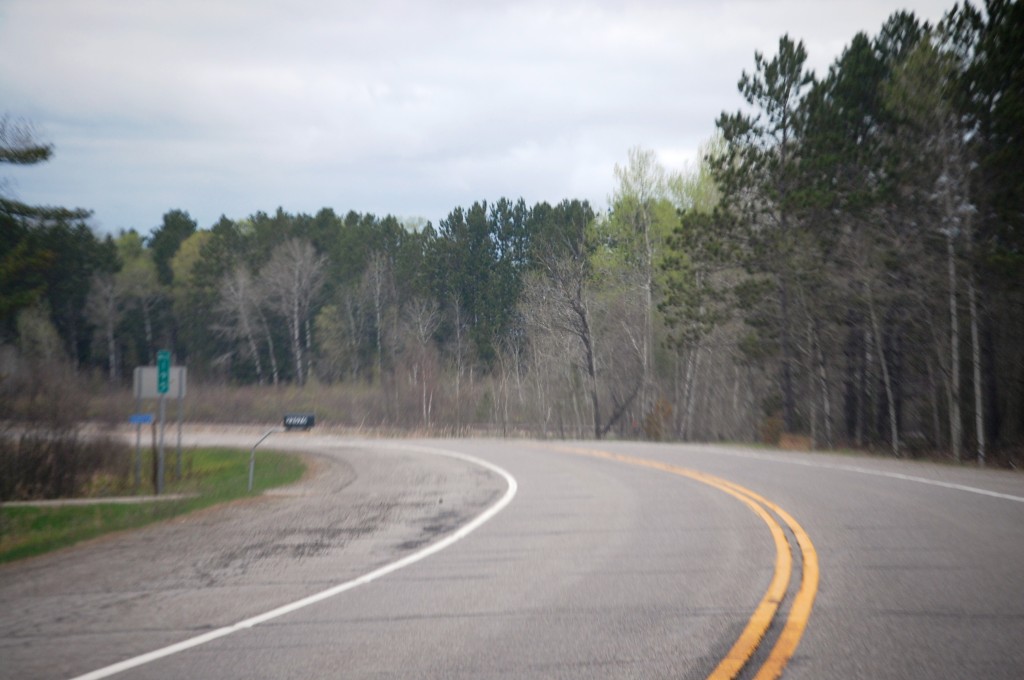 Next stop along Route 2 is Grand Rapids, MN.  The town is a well known tourist spot for outdoorsmen, but is probably better known as the Birthplace of Judy Garland, though I found no Yellow Brick Roads!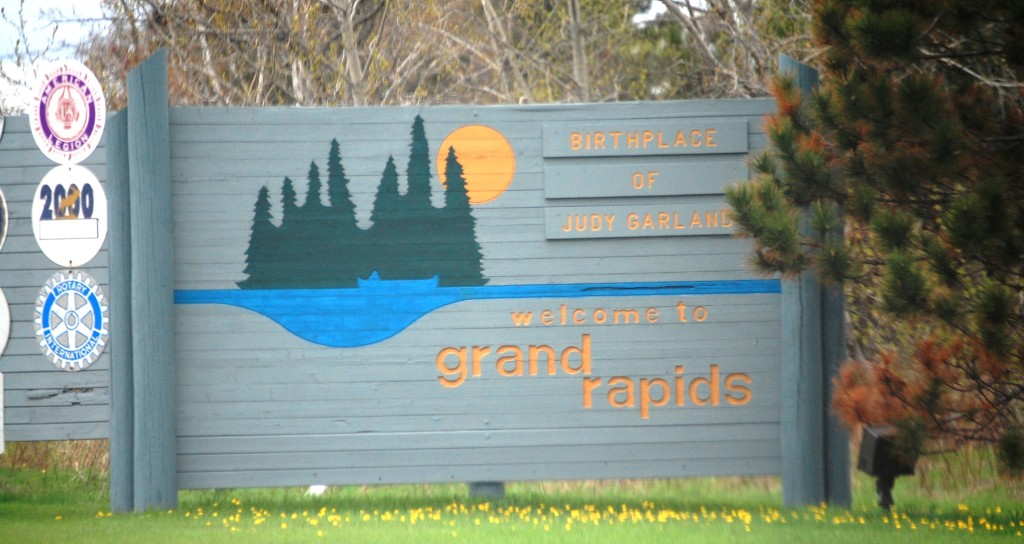 First thing I saw as I entered town was a giant Adirondack chair which is apparently called "Paul Bunyan's Big Chair."  It was dedicated in October 2013, so its a fairly new attraction, though there had been a smaller one there built in 2008 that eventually became dilapidated.  The chair is at the main intersection of US Route 2 and Pokegama Ave.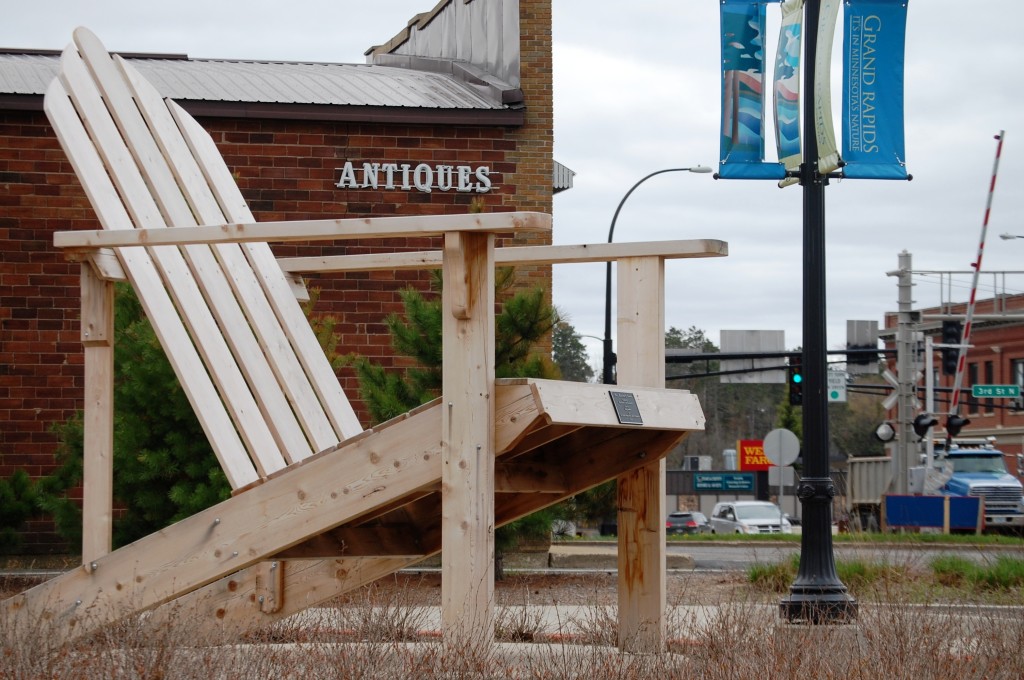 To get to Judy Garland's birthplace I turned left on Pokegama Avenue and made my way to the "Land of Oz" which is the home of the Judy Garland Museum.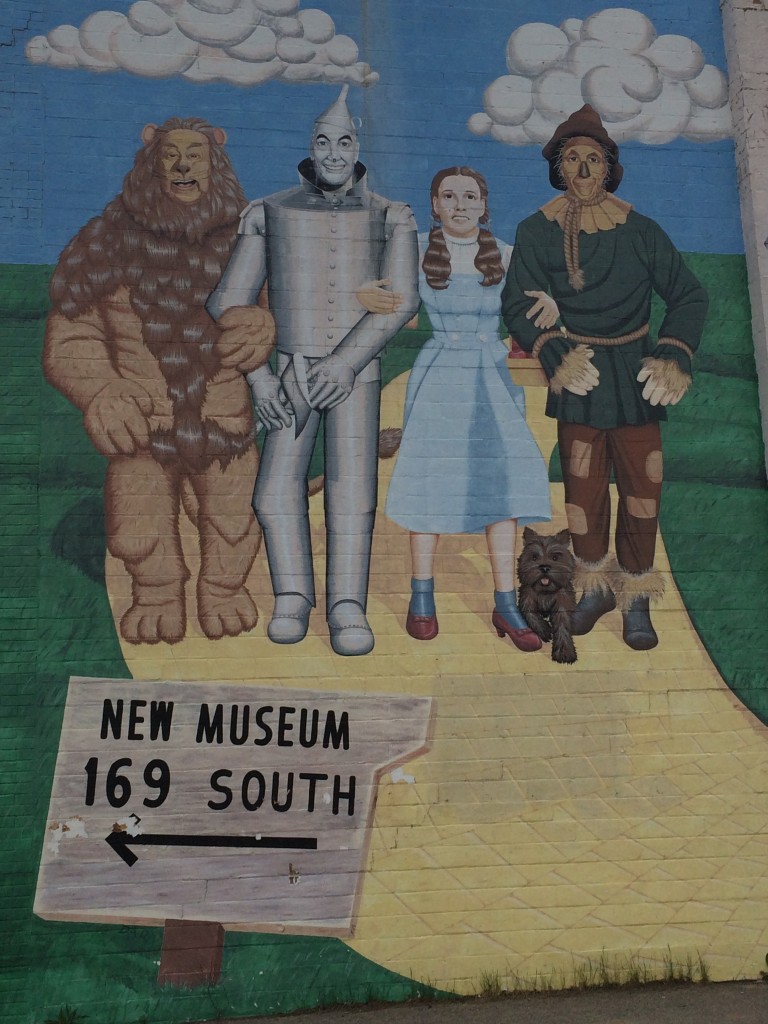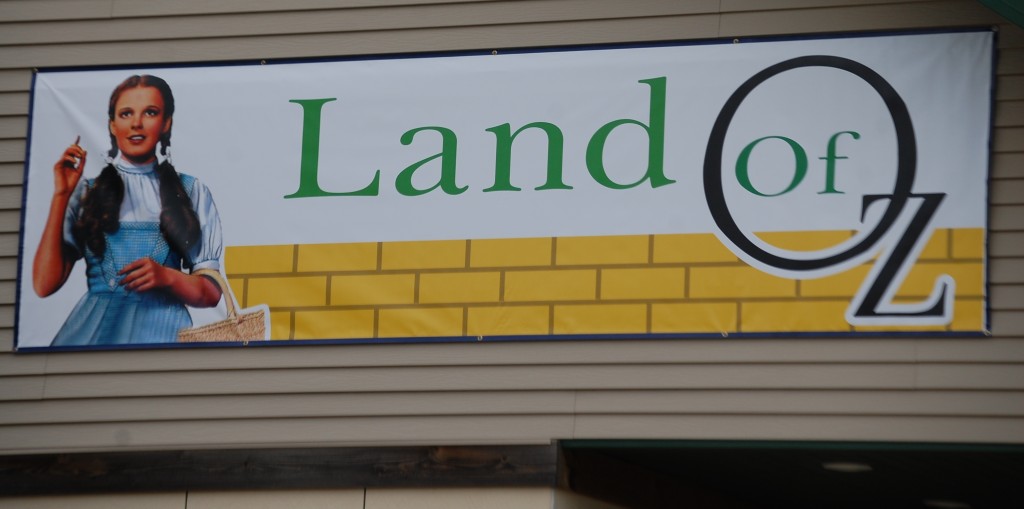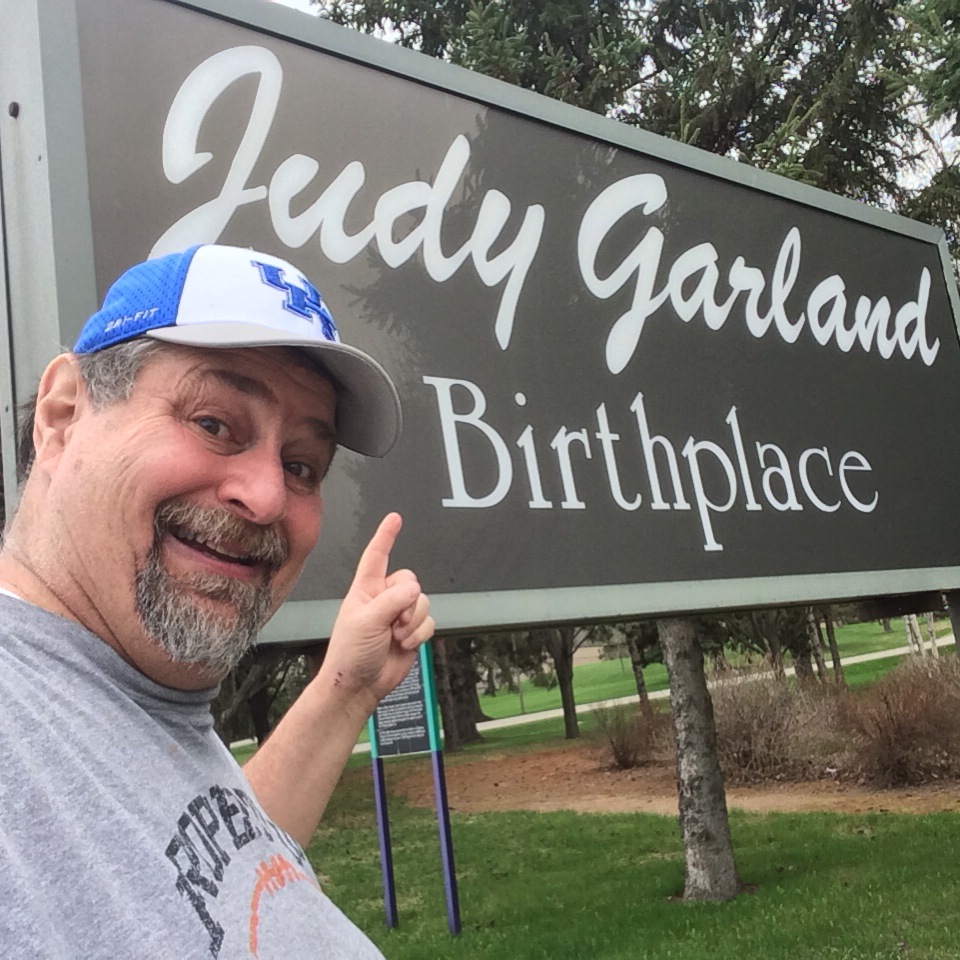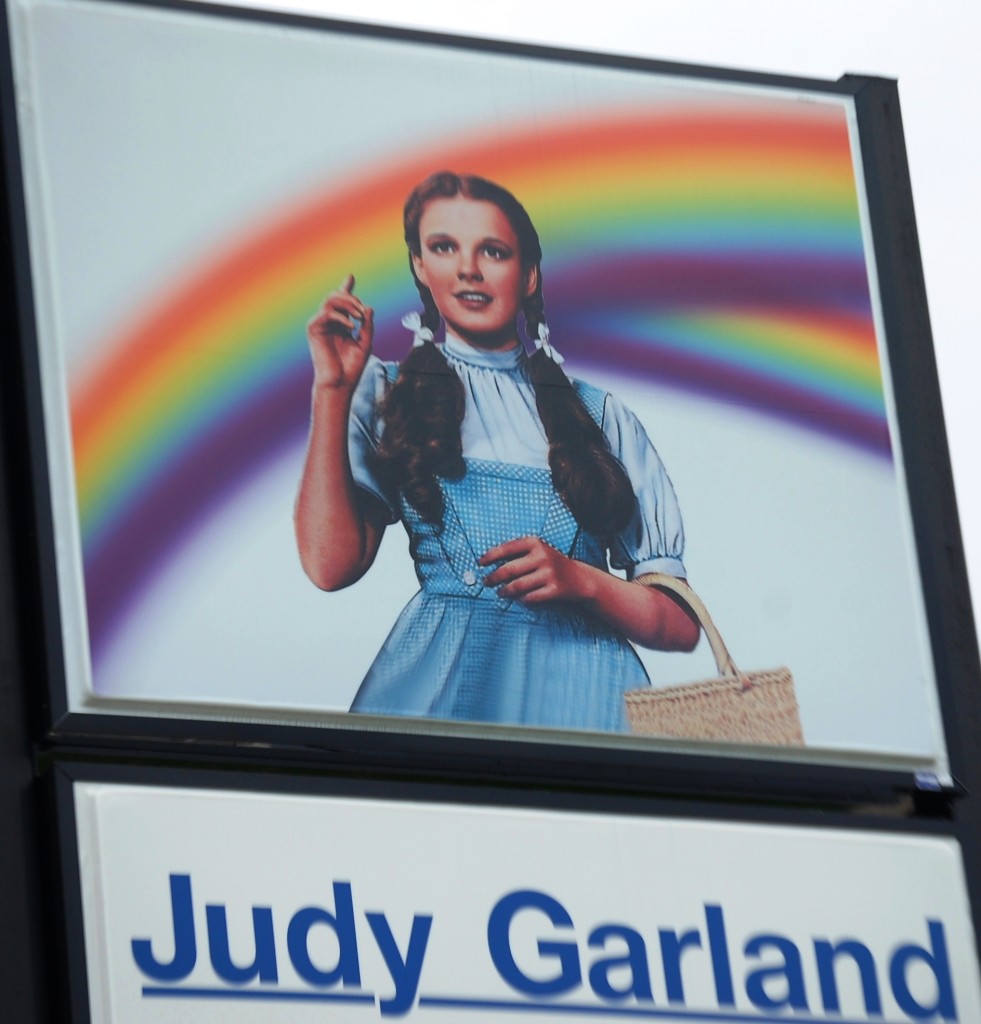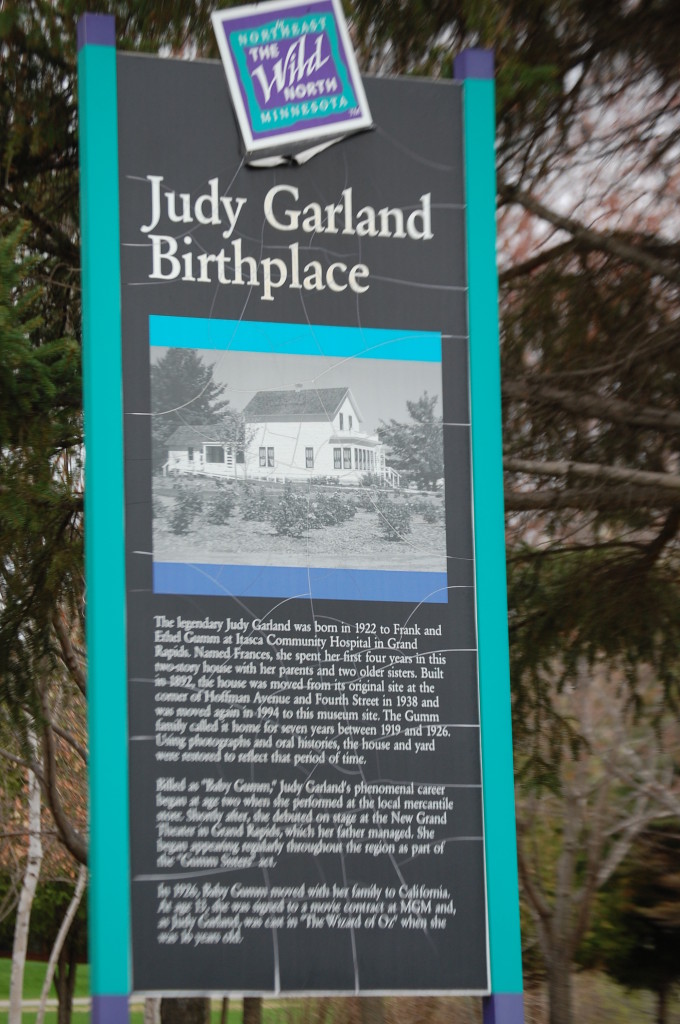 After the brief photo ops and a quick stop for lunch in Grand Rapids, it was Westward Ho on Route 2 again.  I was headed for Deer River, home of the next big fish statue – a larger than life Northern Pike with a toothless grin.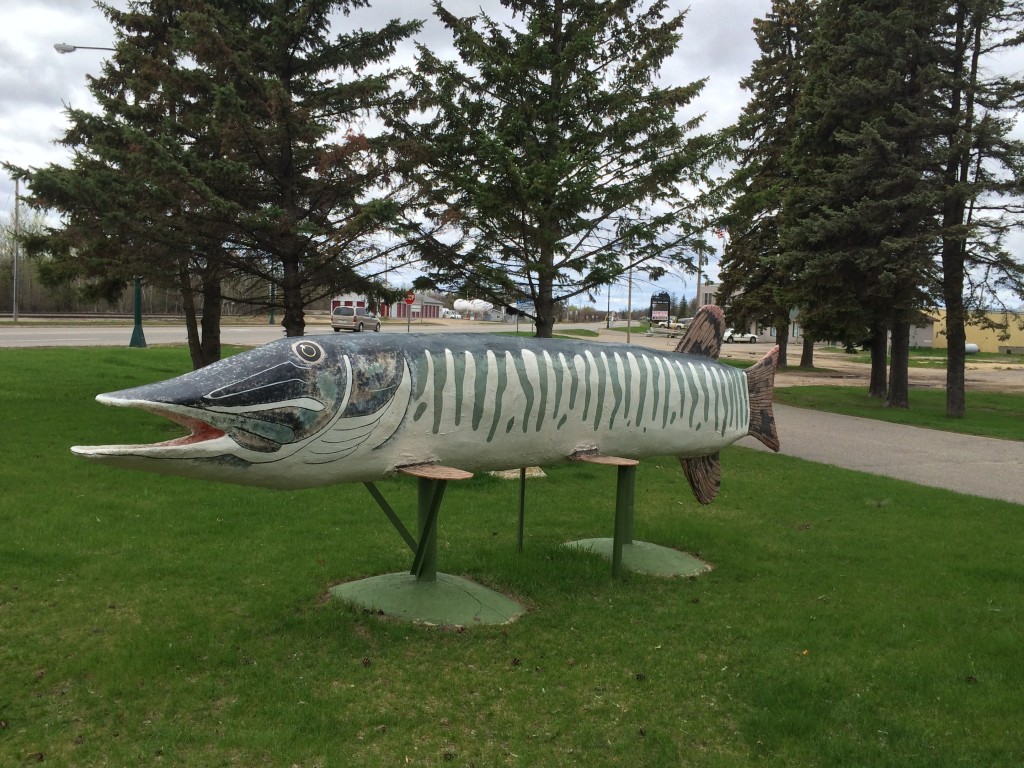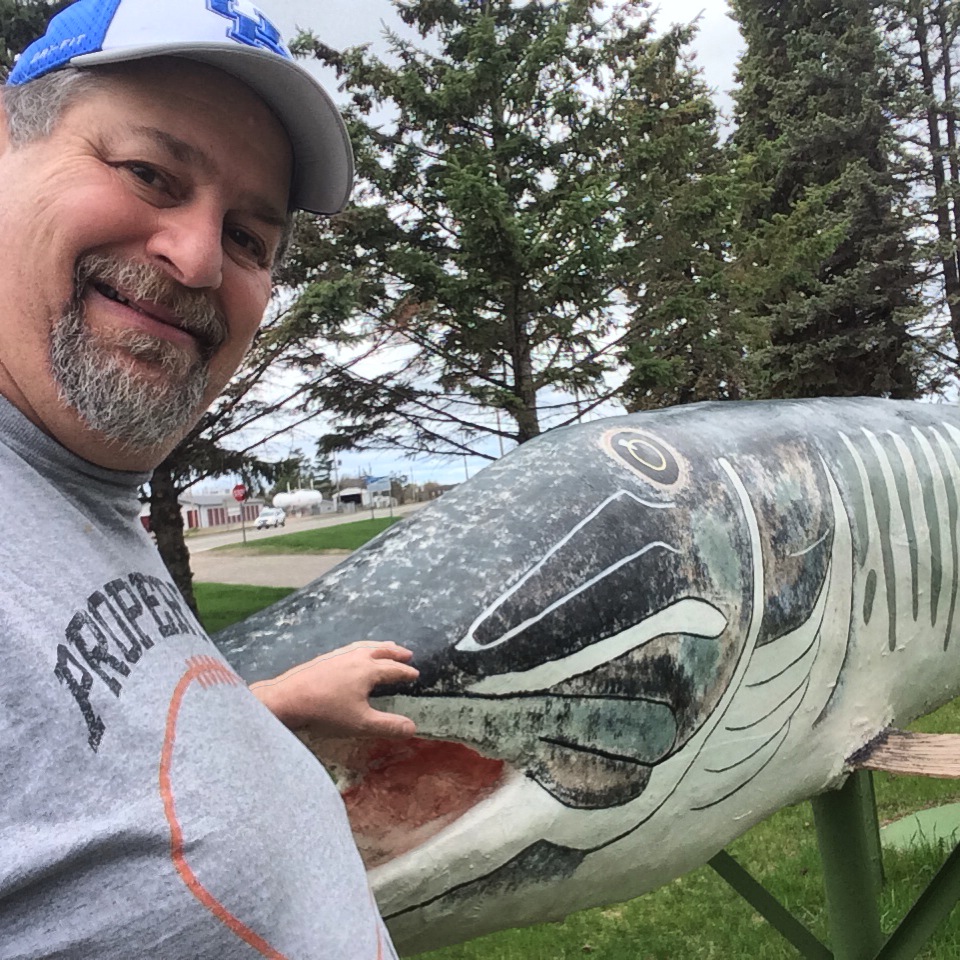 While in Deer River I came across two classic neon signs for the Bahr's Motel, which apparently sat on the grounds behind my fish friend. All that remains are the two signs. I did find a photo of the old 60s style motel here.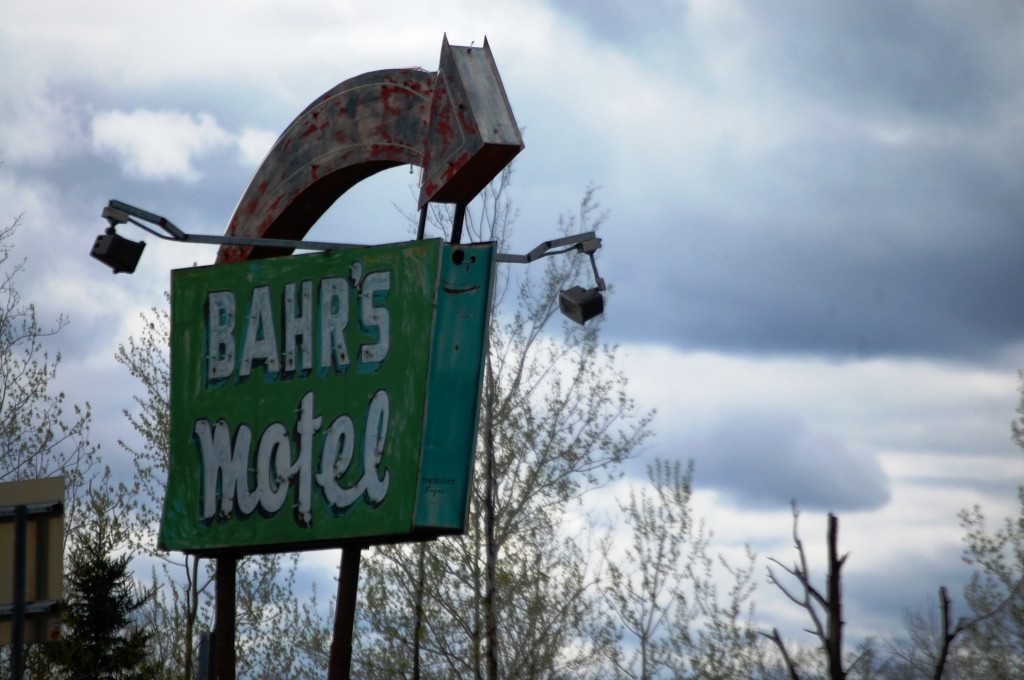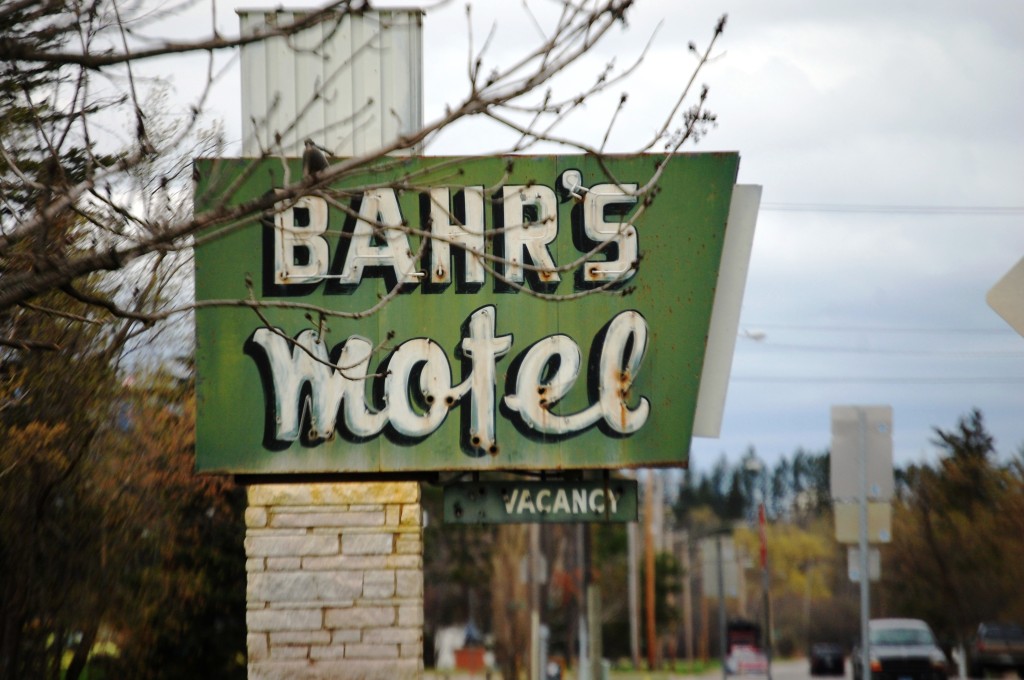 Continuing west along the lakes and the woods I collected 1000s of bugs on the front bumper as I passed by Ball Club, MN, my sole "unique town name" for the day.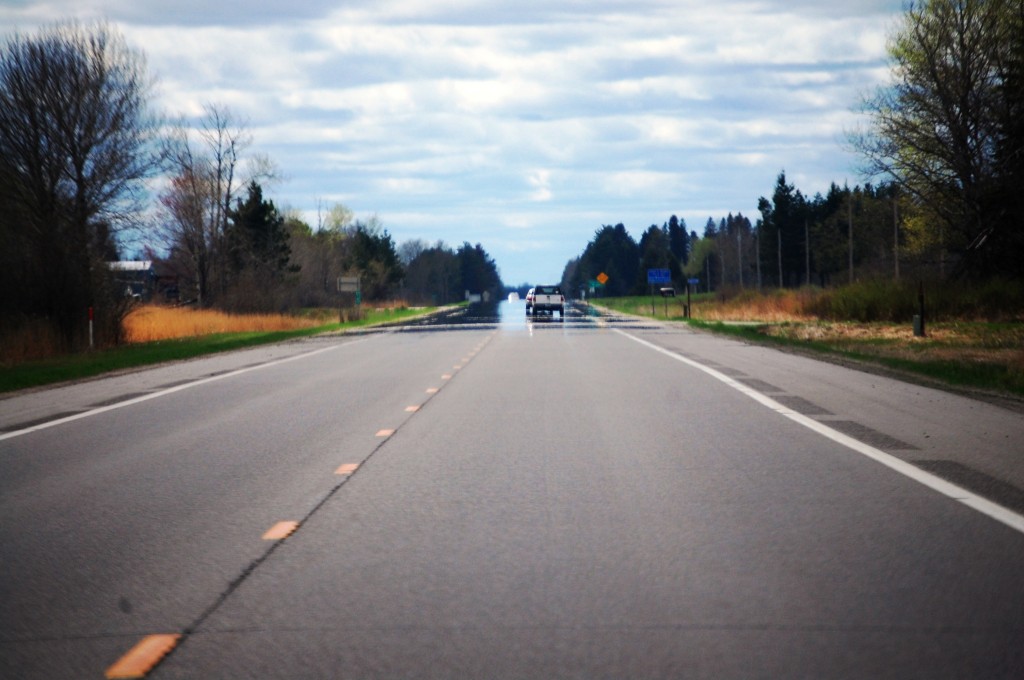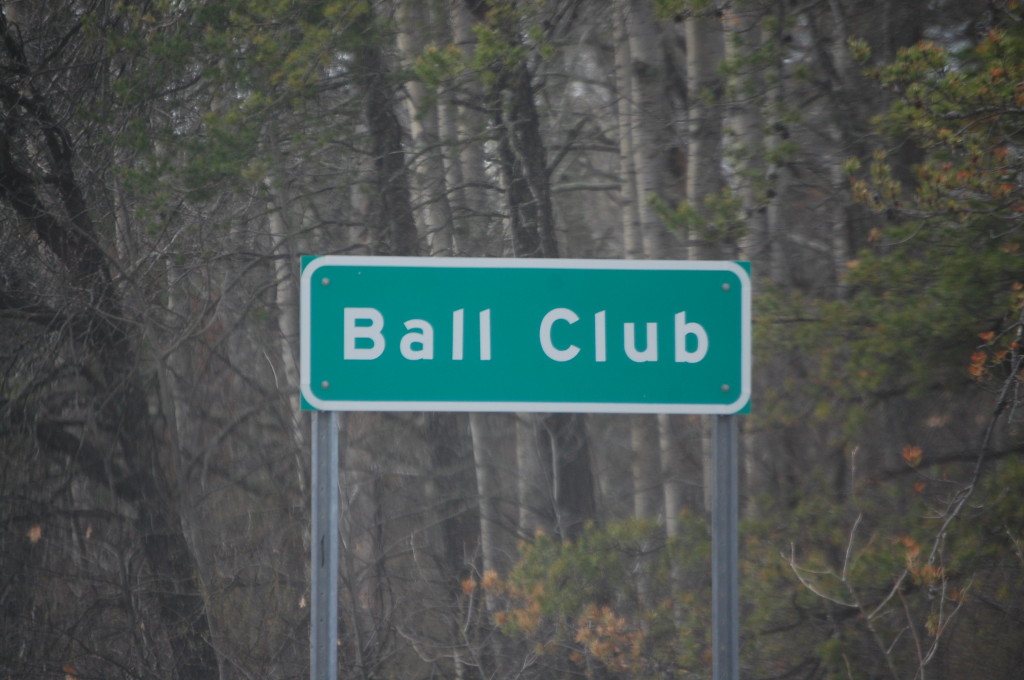 The majority of the community is populated by Native Americans of the Leech Lake Band of Ojibwe, but I am not sure how the town got its name. The Mississippi River surrounds Ball Club on both the East and West side of the community. Indeed, the Mississippi up here is not "mighty" at all as it meanders its way from its headwaters nearby.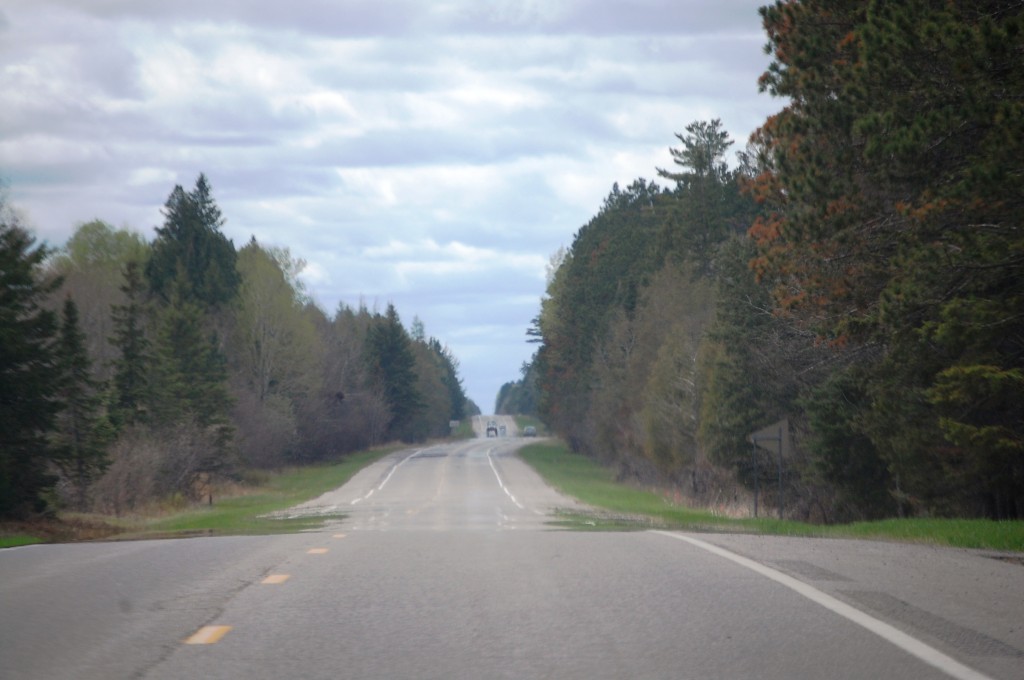 Traveling through the Chippewa National Forest I enjoyed the cool breeze and fresh smells of the trees and lakes.  Then, out of nowhere came this interesting site called the "Big Winnie General Store" which is a national historic landmark. According to some histories, the store was built in 1932 by Ernest Flemming, but he apparently got some design sketches from none other than Frank Lloyd Wright. According to the link noted above "The unique architecture of the store was influenced by a world-renowned architect. Back in the early 1930s, Frank Lloyd Wright was staying on Lake Winnibigoshish when Flemming and Wright met and got to know each other. Flemming explained that he was looking to build a store outside the Bena city limits and wanted an Asian and Bavarian look to the building."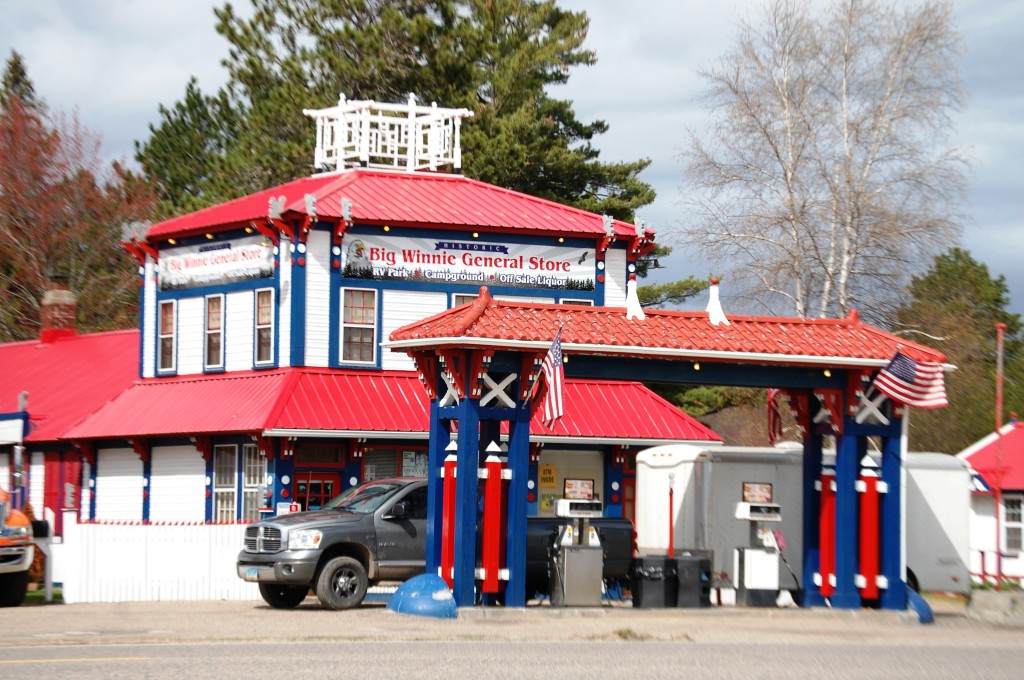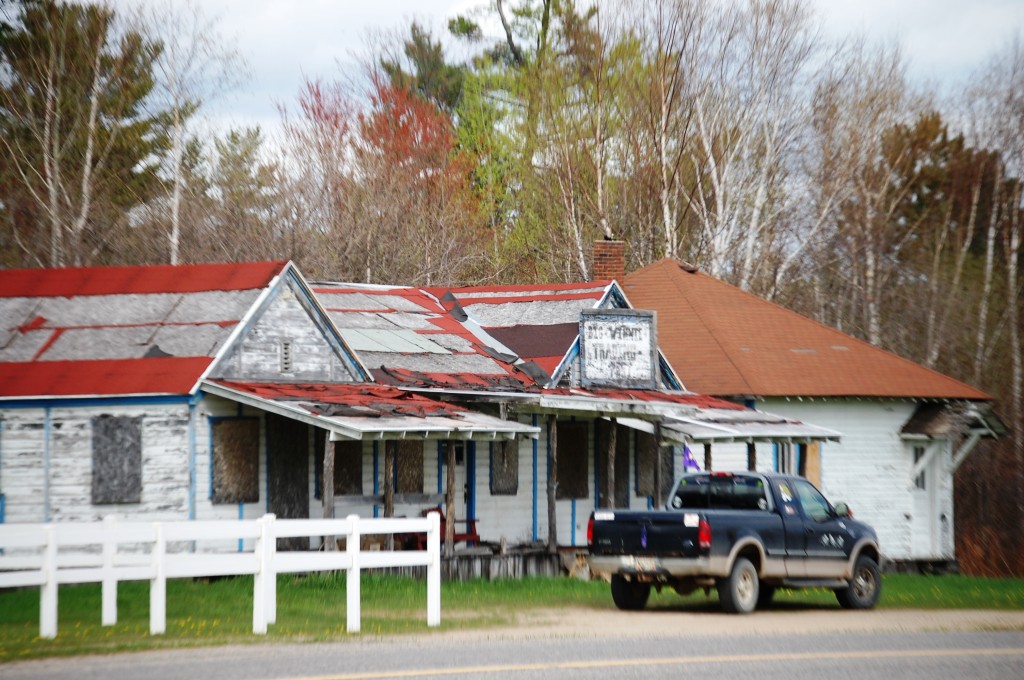 Just down the road is another "Big"…in fact, it is the "Big Fish Supper Club." I am not sure how the food is there, but there is certainly a BIG FISH there!!  This toothy muskie appeared in the opening credits of National Lampoon's "Vacation" with Chevy Chase. (Ironically, this movie was also filmed in Flagstaff, AZ and Monument Valley while I worked as a tour guide and I watched them film the scene with Chevy Chase and family driving through the rain near the Grand Canyon.) And here are 25 things you may not have known about "Vacation" — just for fun. But I digress, back to the fish….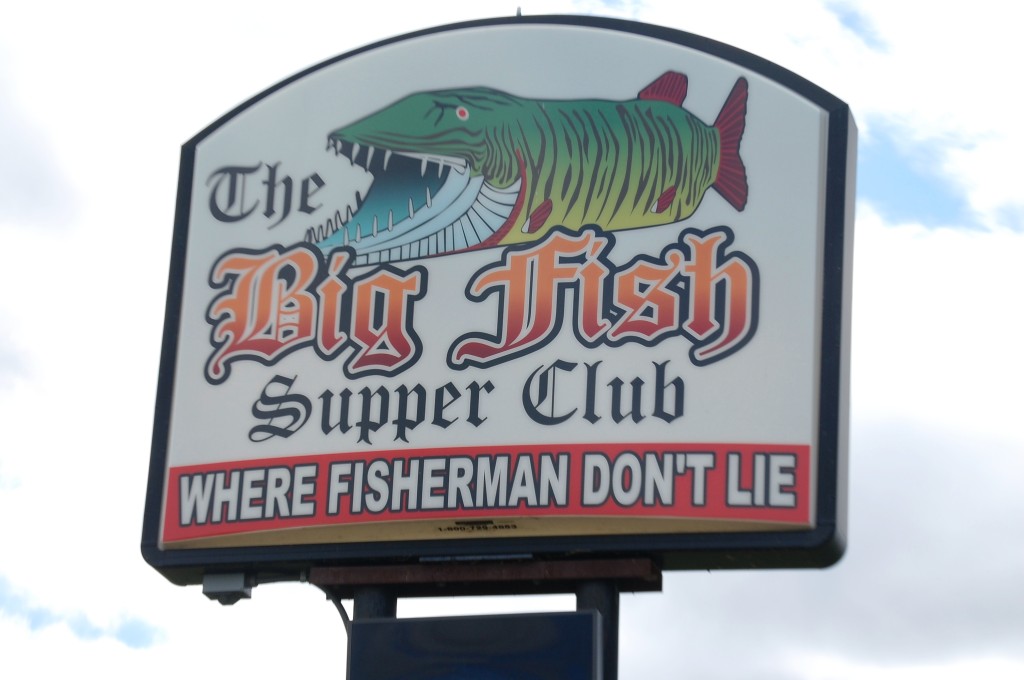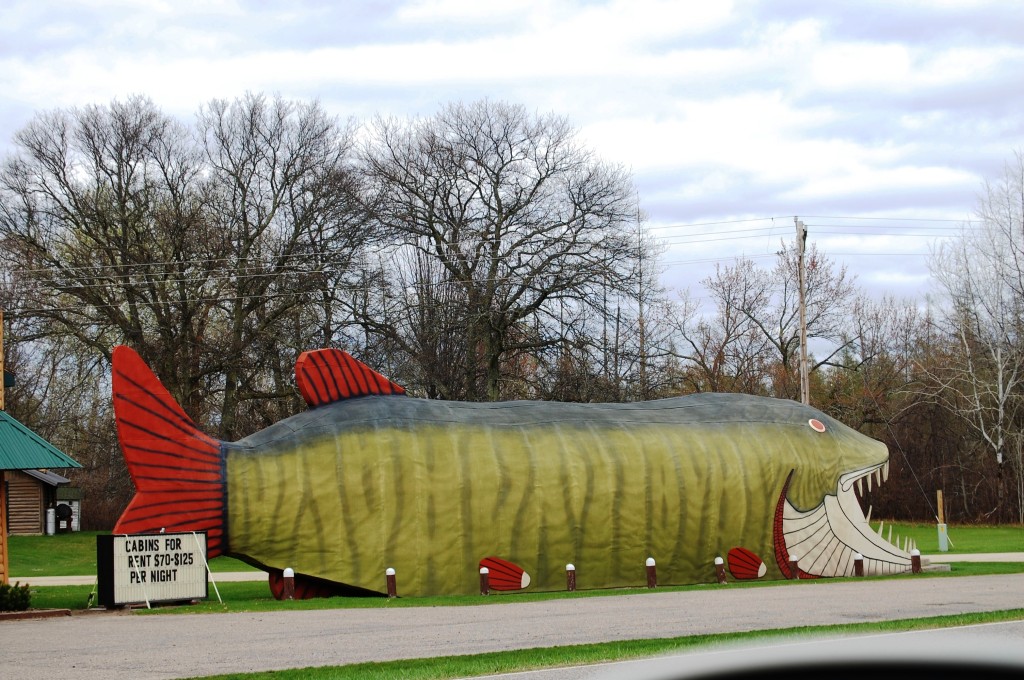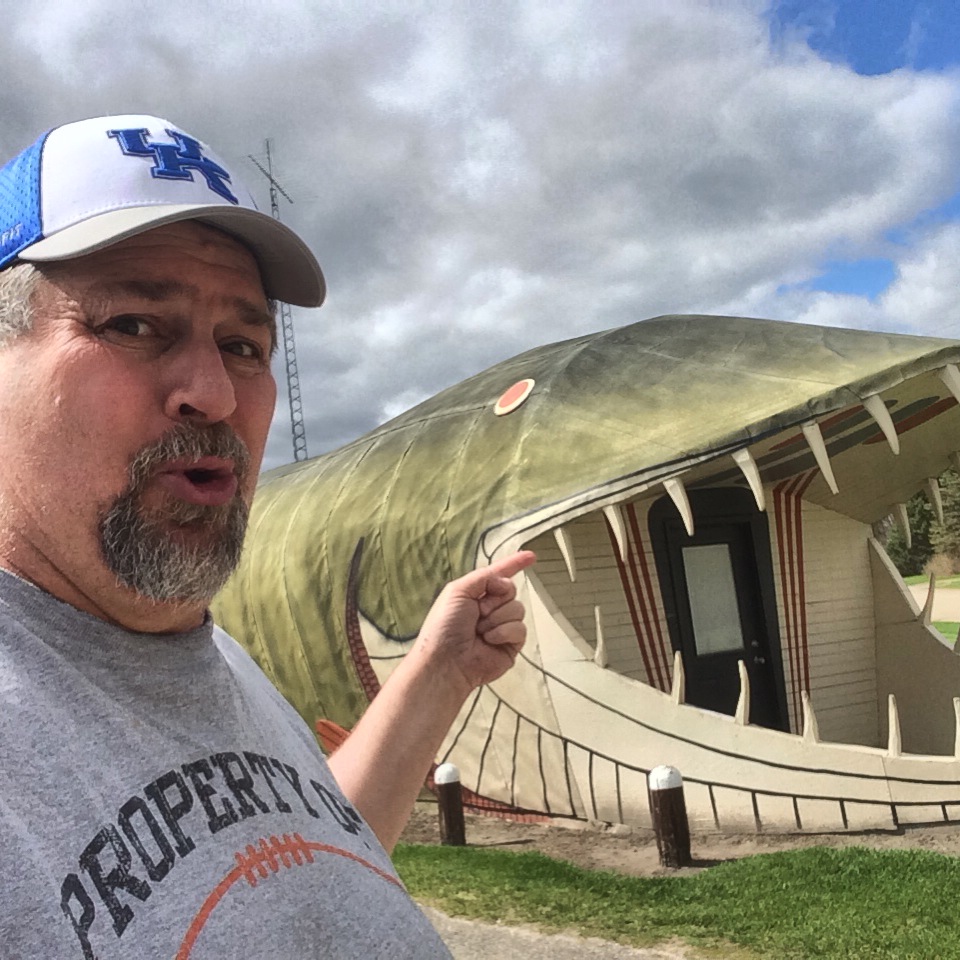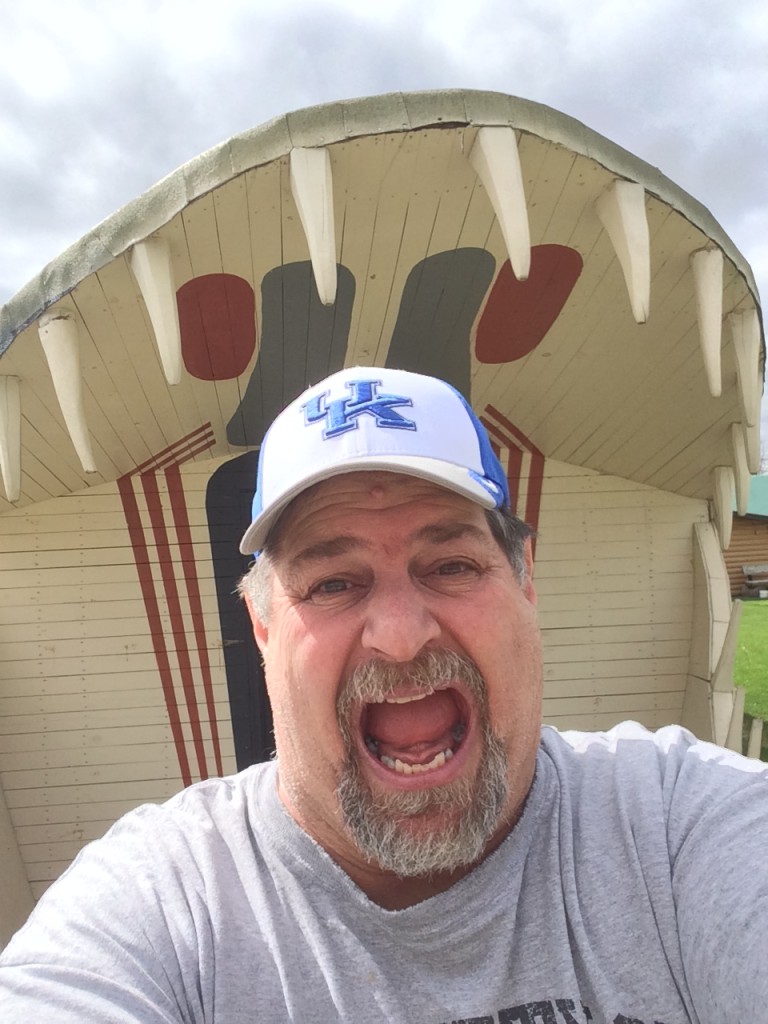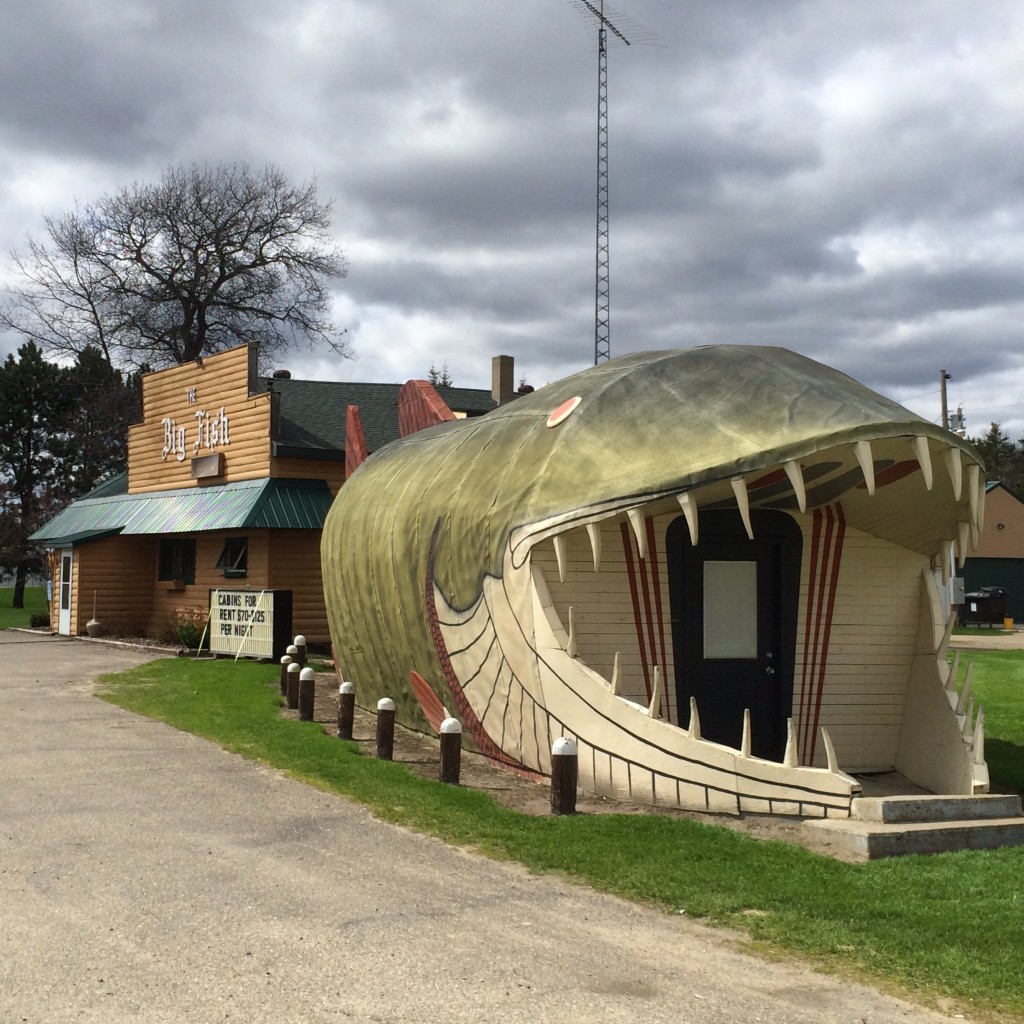 Indeed, this is the kind of site a quirky roadtrip should have.  But US Route 2 in Minnesota certainly was not finished providing amazingly fun road trip stops.  Next stop….Bemidji, MN!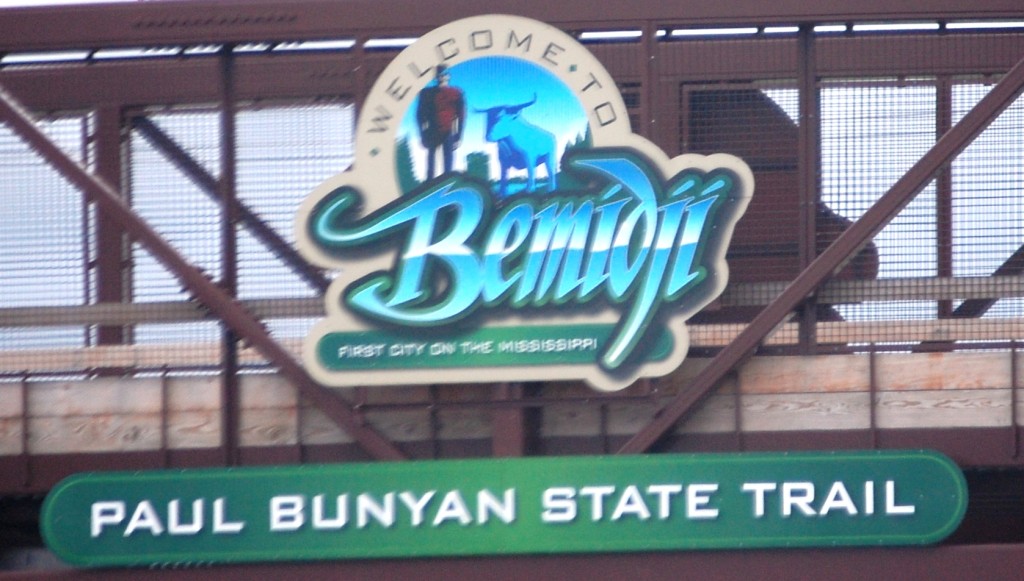 Bemidji, Minnesota is one of the ultimate "quirky places" to visit in Minnesota, but perhaps in the U.S.!  In fact, I will have a feature post of Bemidji with many more photos and details about the place.  But for now, here is the real story for me: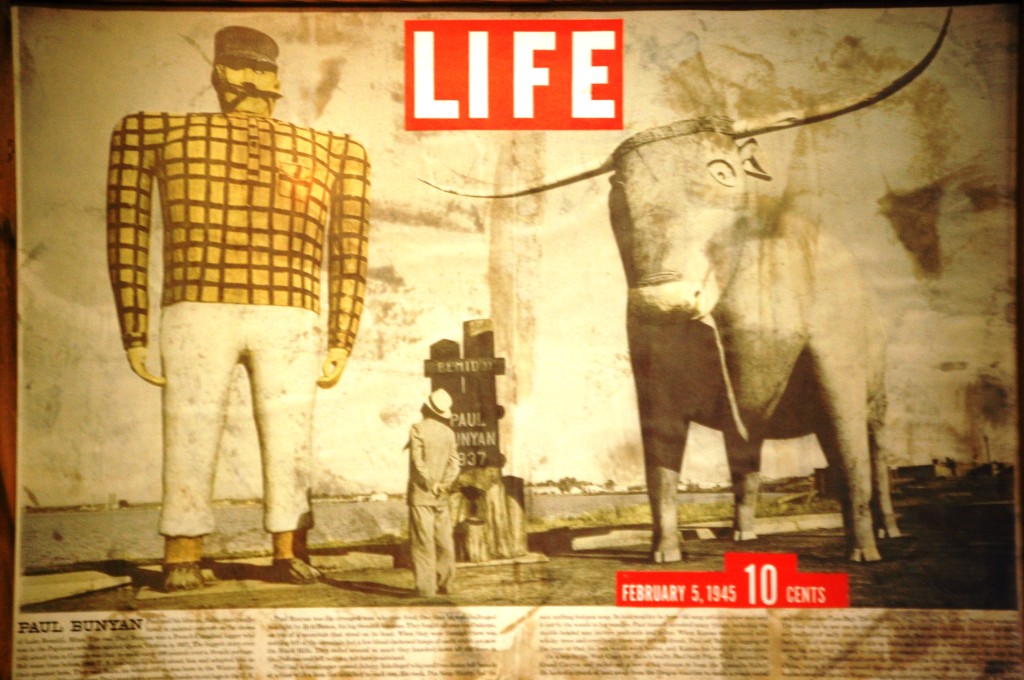 My whole fascination with travel and the birth of my wanderlust can be traced back to 1963 when I was flipping through a book about the U.S. that was published by LIFE Magazine.  Almost all of the photos were black and white in the book, but I was determined that one day I would see the sites.  One of the ones that struck me as "exotic" as a 7 year old was the Paul Bunyan picture (as shown above).  The photo above was taken from the 1945 issue which they have in the Visitor's Center and which I held in my hands.  My 50 year old dream had come true as I made my way to one of the oldest "roadside attractions" in the country (this one was made in 1932!!). History of this unique attraction can be seen HERE.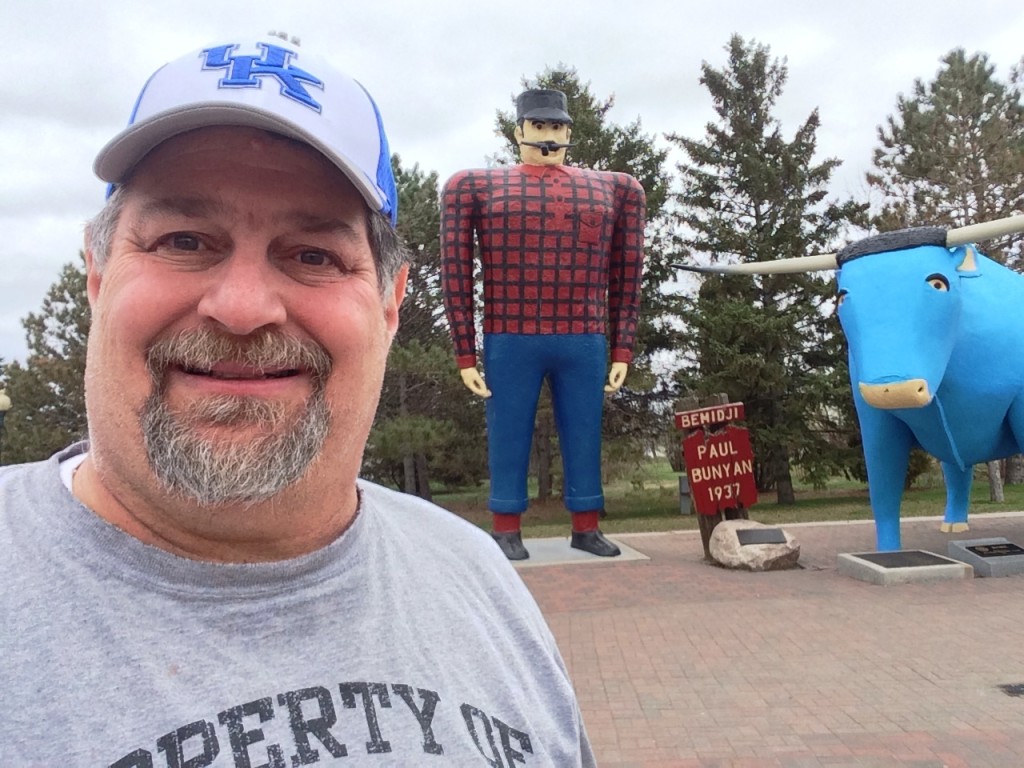 I have written more about all of this in my special feature blog post on Bemidji (CLICK HERE).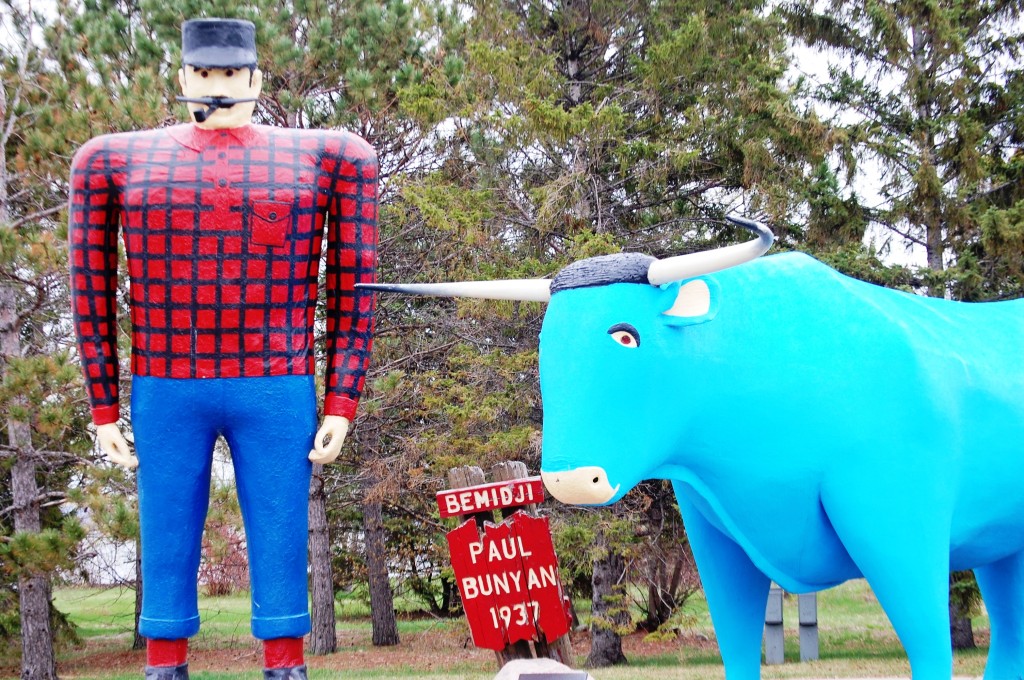 These sculptures are at the Visitor's Center in Bemidji, which also has the "Fireplace of States". The Fireplace of States was constructed in 1934-35 under the U.S. Federal Works Program. In 1995, this fireplace was moved to its present location in the new Tourist Information Center on the Lake Bemidji waterfront.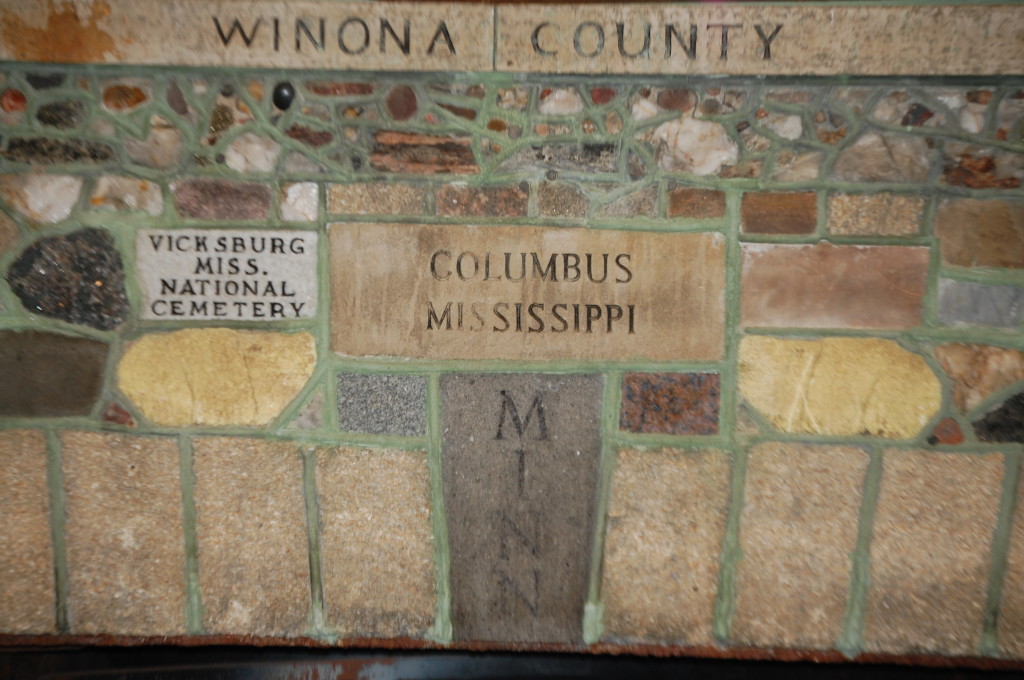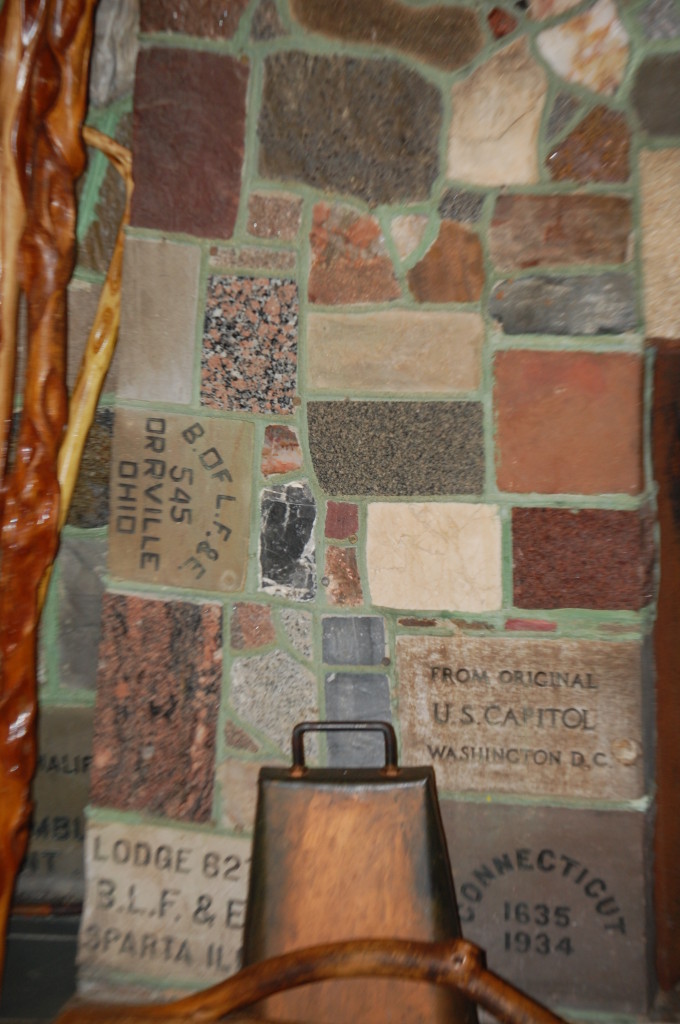 Besides the Paul Bunyan, Bemidji does have a number of other things to see and do, much of which I didn't have time for.  Though covered much more in my Bemidji feature post, here are a couple of more unique sites from Bemidji: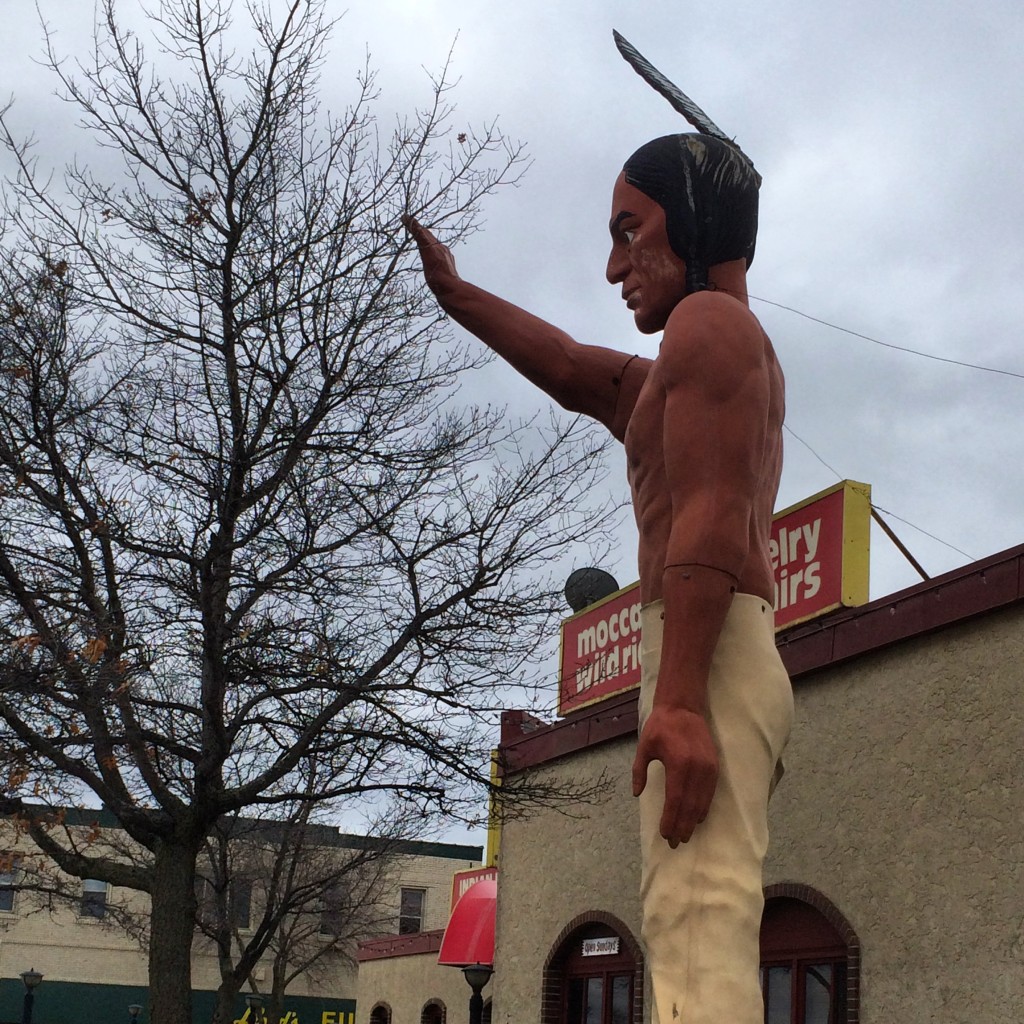 A big Muffler Man statue was converted to an Indian Muffler Man just across the street from Paul Bunyan's statue.  It is apparently supposed to be of Nanabozho, a Paul Bunyan nemesis.
Nanabozho was considered a spirit father among the Ojibwe tribe. He most often appears in the shape of a rabbit and is characterized as a trickster. He was sent to Earth by Gitchi Manitou to teach the Ojibwe. One of his first tasks was to name all the plants and animals. He is also thought to be the inventor of fishing and hieroglyphs. This deity is a shape-shifter and a co-creator of the world. There are myths among the Ojibwe that tell how Nanabozho saves the forests from Paul Bunyan. The story goes that they fought for forty days and nights, and that Nanabozho killed Bunyan with a Red Lake walleye.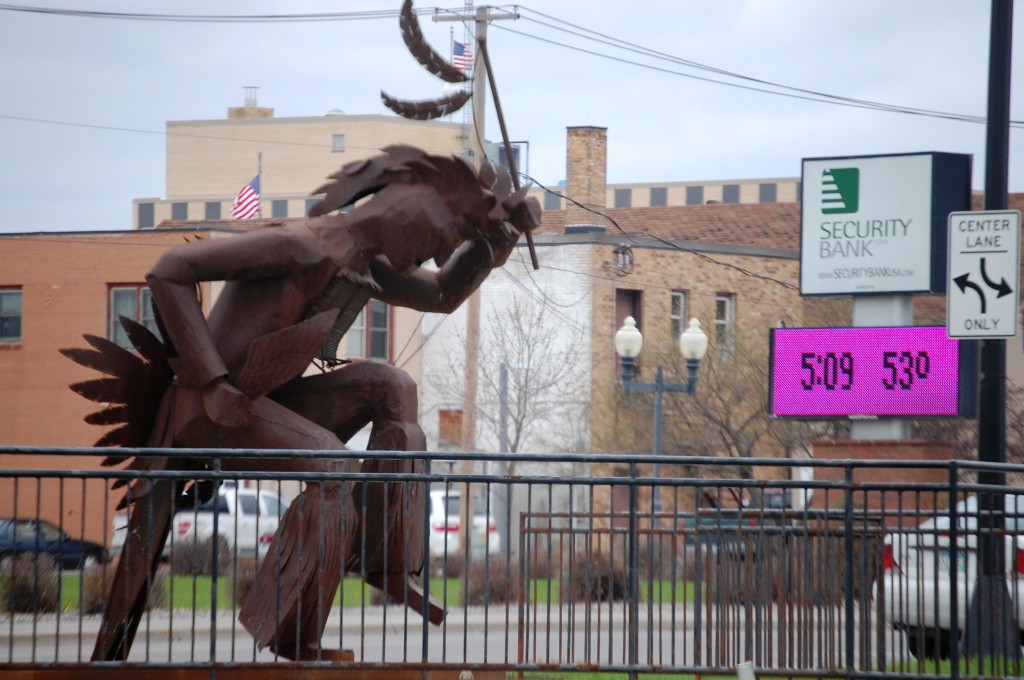 Nanabozhou is not the only Native American representation in Bemidji.  As part of the Bemidji "Sculpture Walk" series, this piece was created by Wanda Odegard.  Niimii is a 12 foot tall northern traditional Powwow Dancer made of steel. The traditional head piece is the essence of a large porcupine hair roach. Niimii wears a breast plate made of metal pipes which in real life they would be made of bone.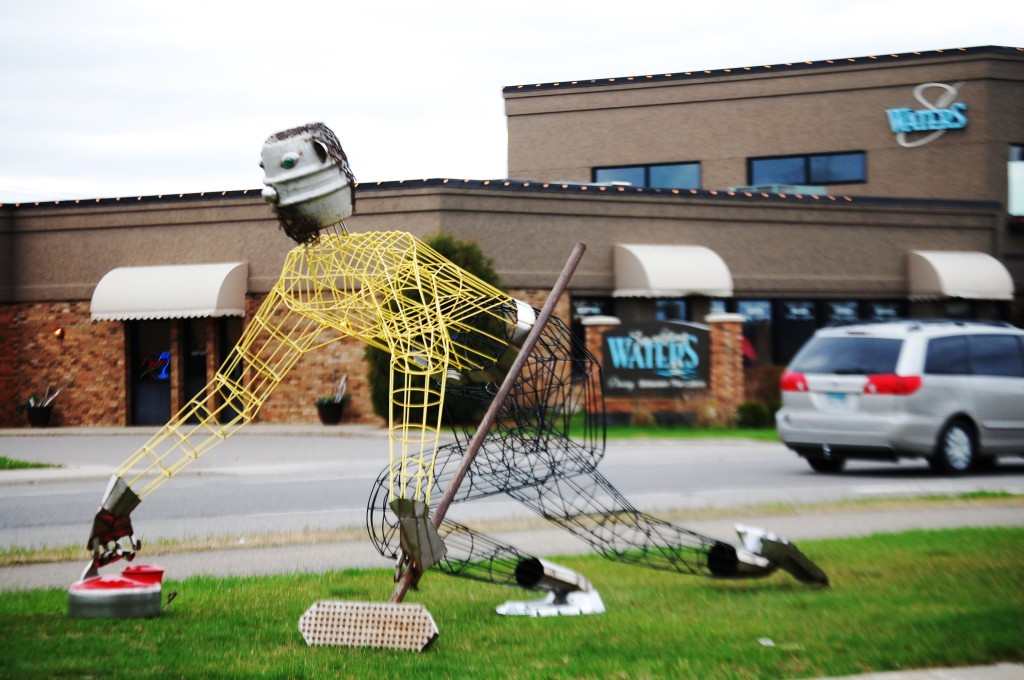 Bemidji has been doing their Sculpture Walk since 1999 and there are a number of unique pieces around town.  I took shots of many of them and will include them in my more detailed Bemidji post. Here is one last one for this post — there is also a nice map of the Sculpture Walk HERE.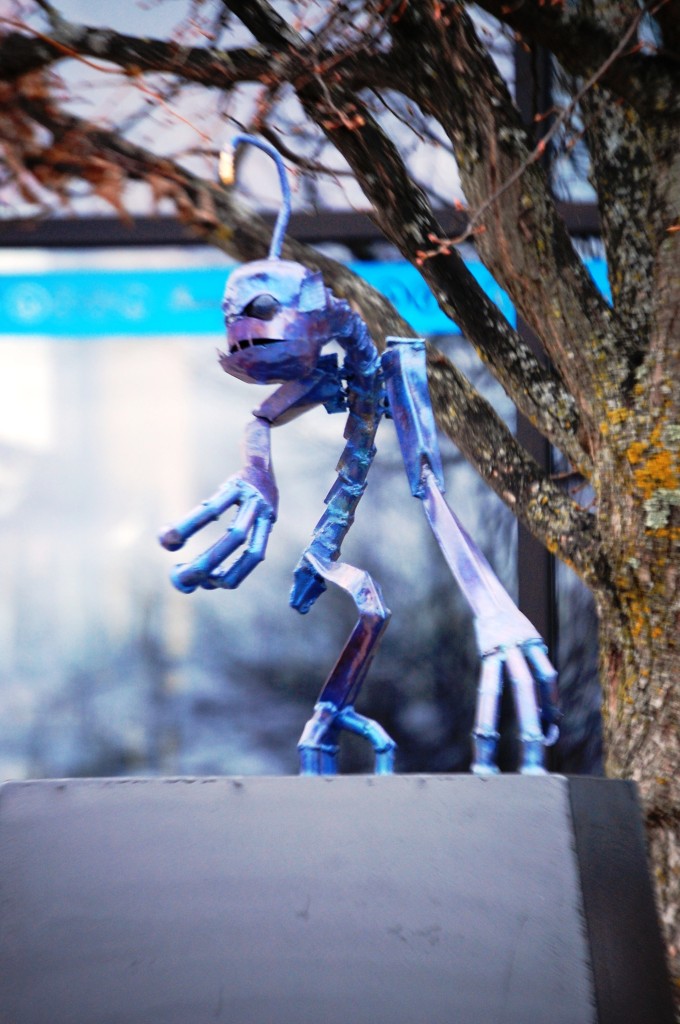 It was getting later in the day so I had to move westward and continued my trek across Minnesota on US Route 2.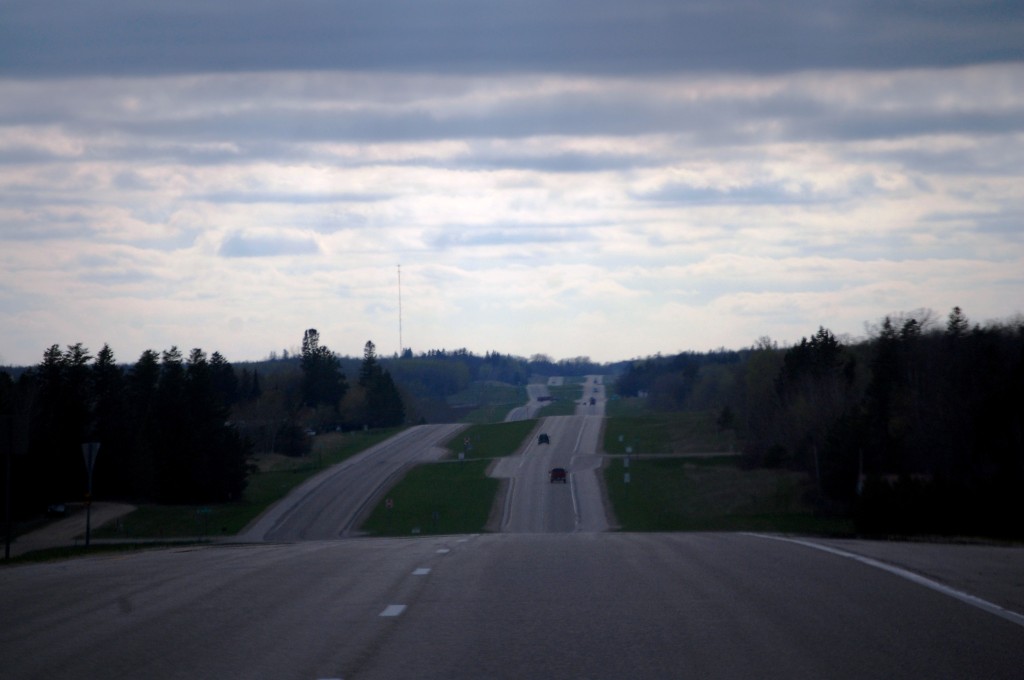 I made way into McIntosh after passing a few other small towns.  I had to stop for the metal rooster (one of four or five I have now captured in road trips). I also liked the huge historic wall mural in the town.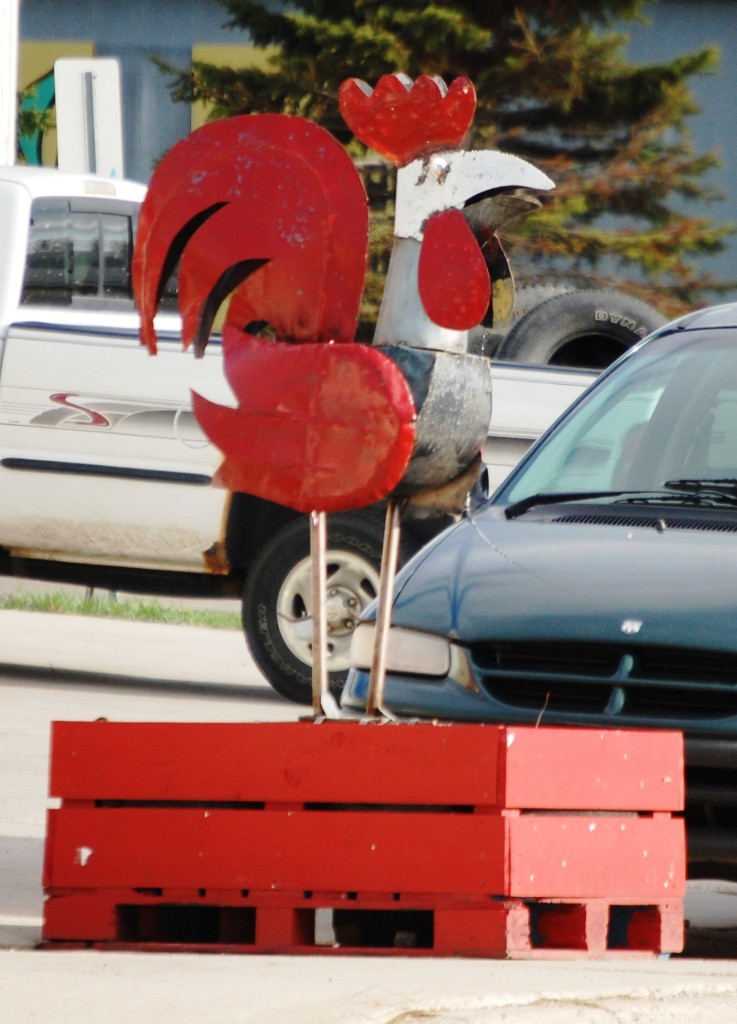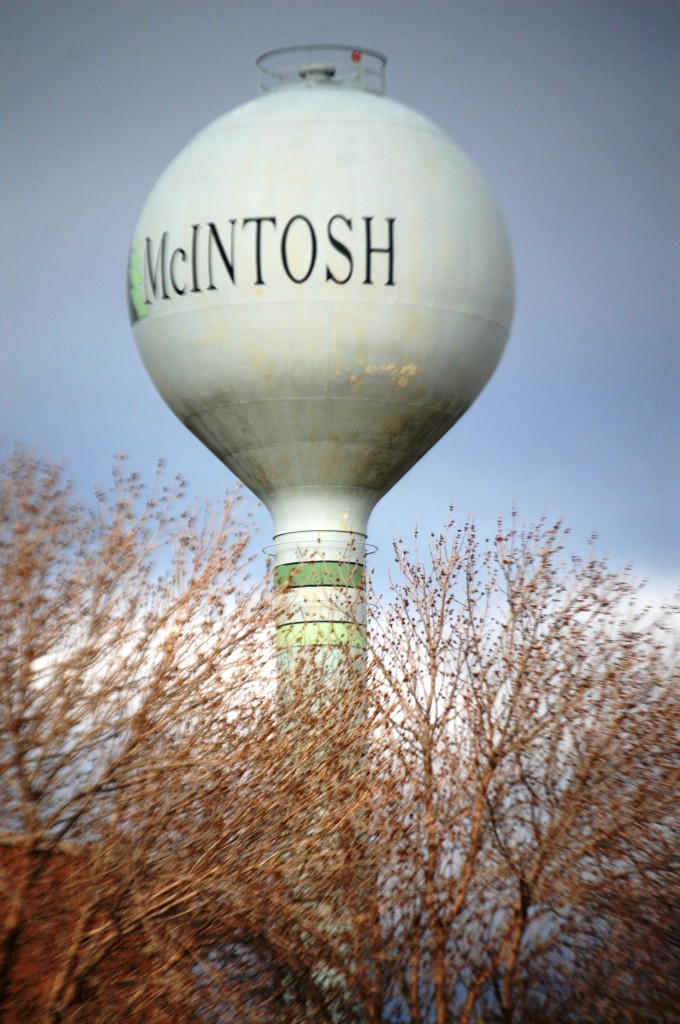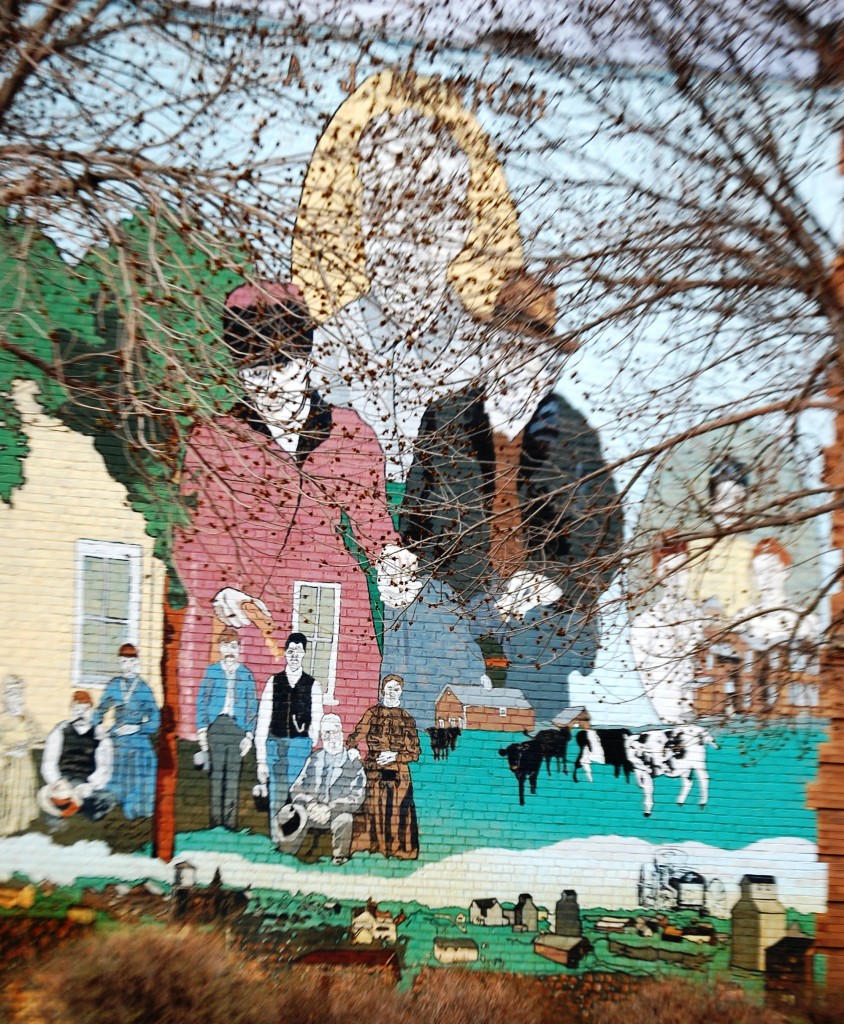 From McIntosh it was on to Crookston, MN, the last town before North Dakota.  The town has a huge Ox Cart as you roll in from the east.  They celebrate an annual Ox Cart Days in Crookston. There is also a nice Welcome Mural in town.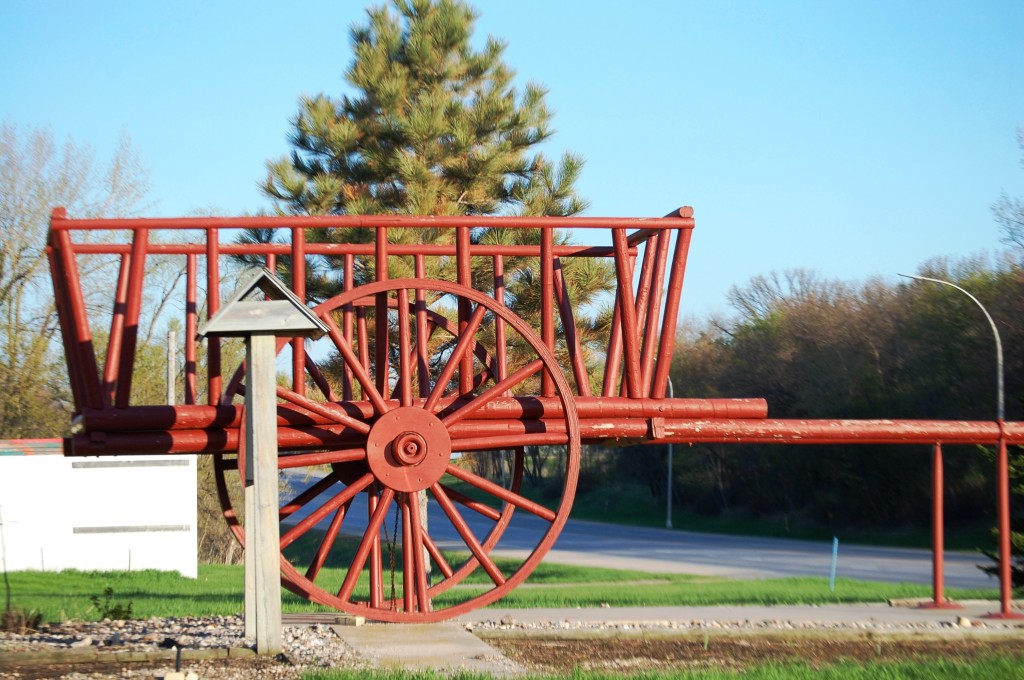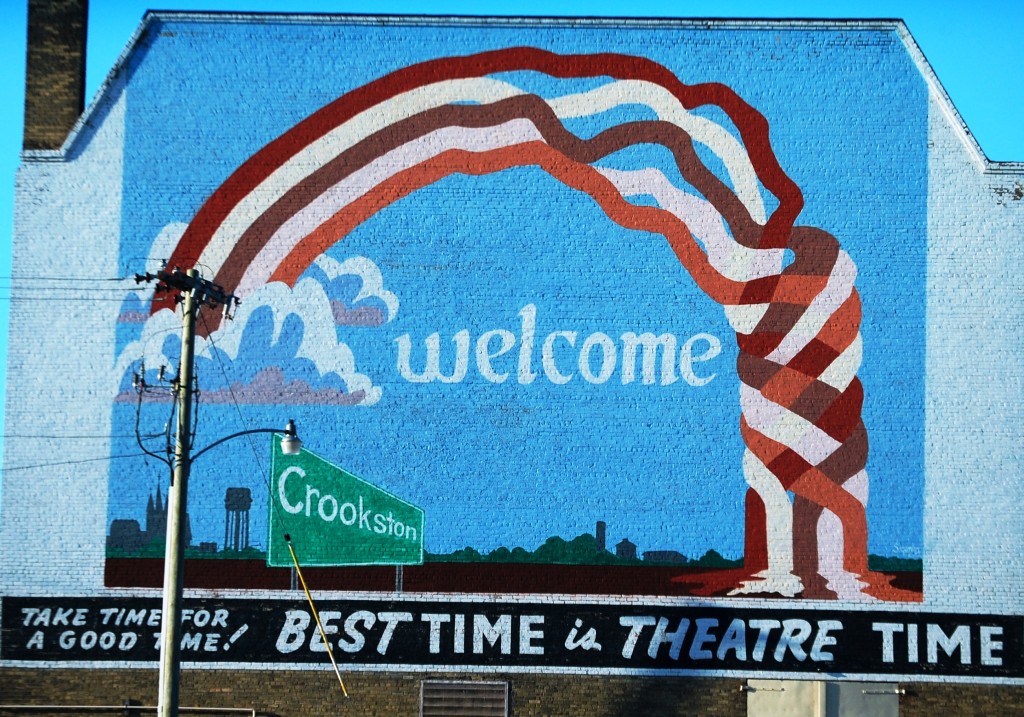 Next post will cover US Route 2 across North Dakota.