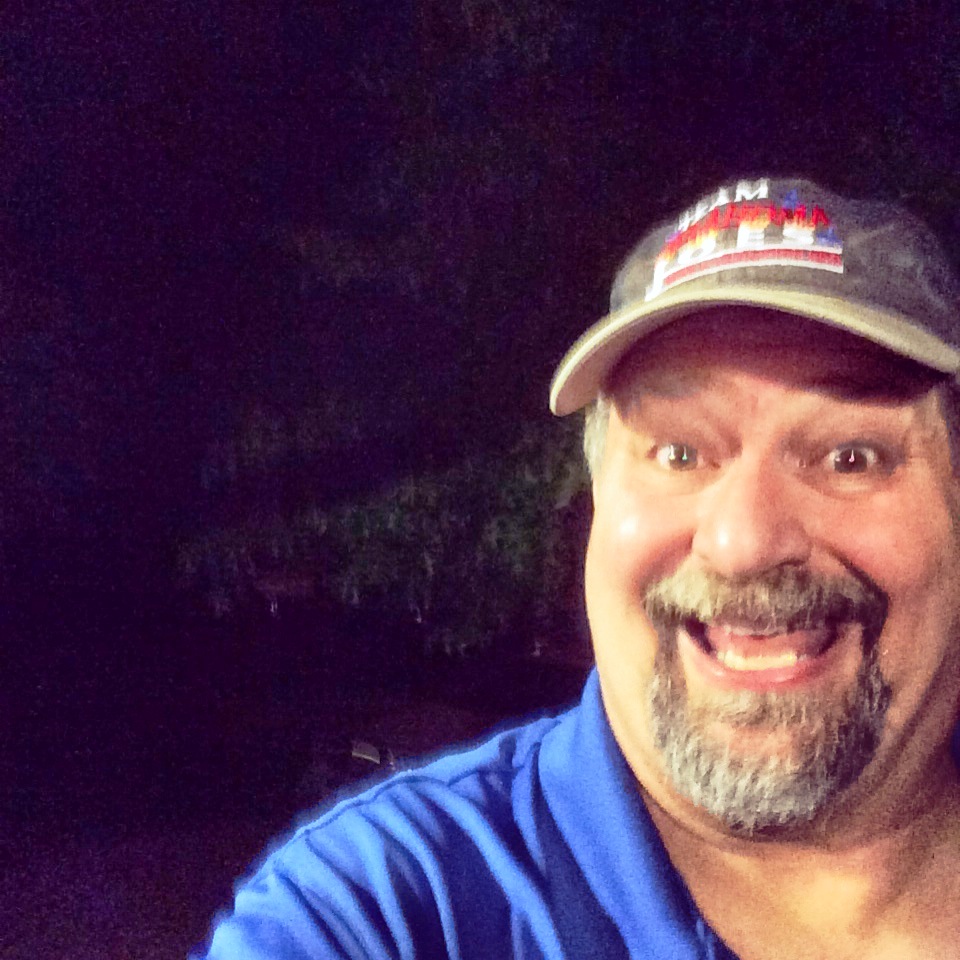 I began my 4600 mile trek to Montana and back by driving from Lexington, Kentucky to the Upper Peninsula of Michigan (these folks call themselves "Yoopers") and the small town of Ironwood.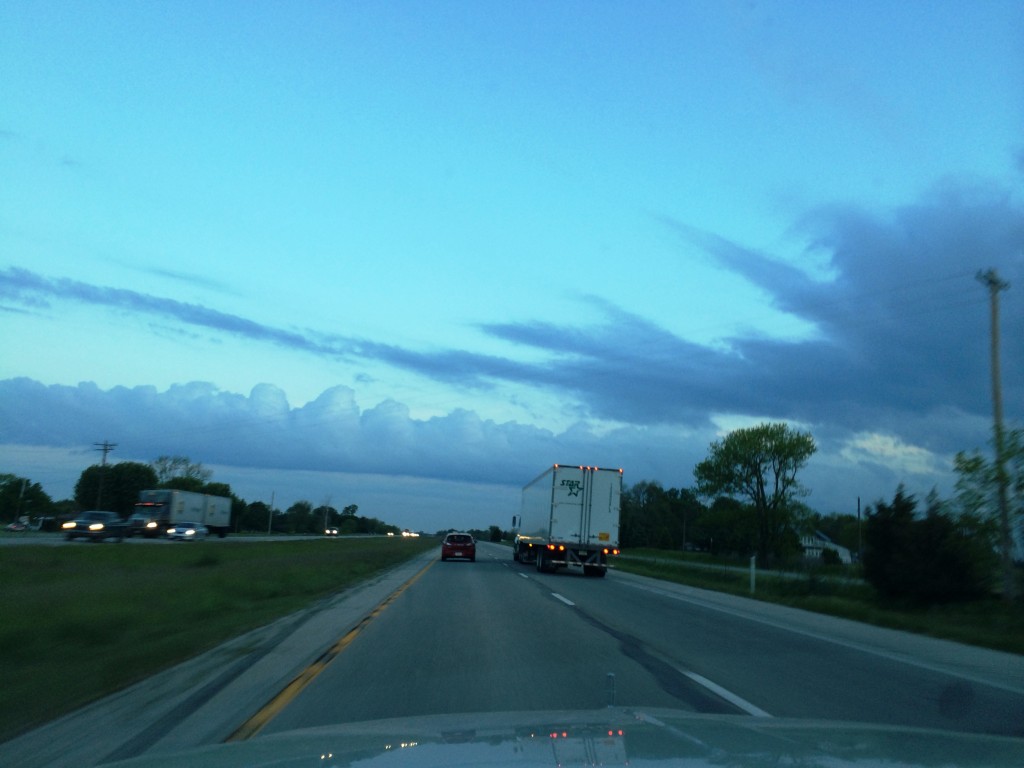 As with most of my long road trips, the first leg did require a bit of driving on the interstate which I try to avoid once I get into the midst of a trip. For a change of pace, I headed north to Cincinnati and then west on I-74 to Indianapolis and then continued on I-74 all the way to Bloomington, IL.  I have made numerous trips to Indianapolis and into Illinois, so I am not documenting much about those states in this post. I should note however, that from Bloomington I followed US 51 north, though much of it was along I-39 all the way into the middle of Wisconsin.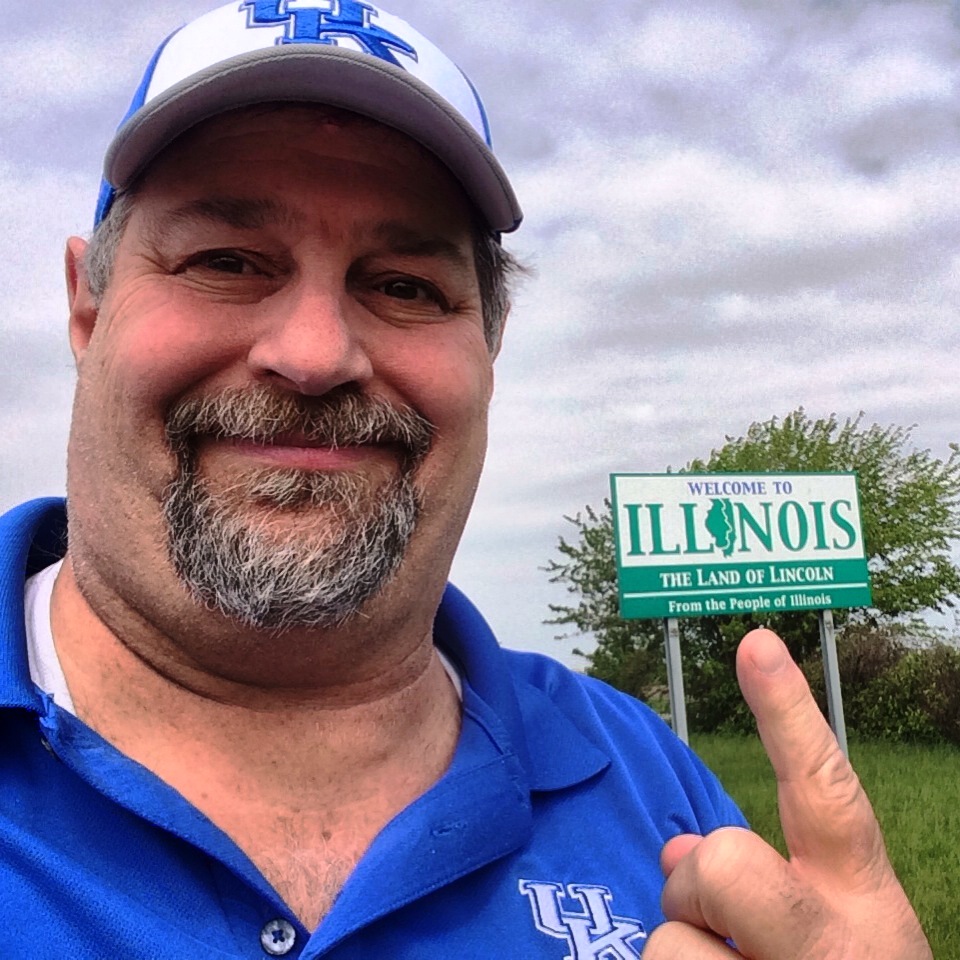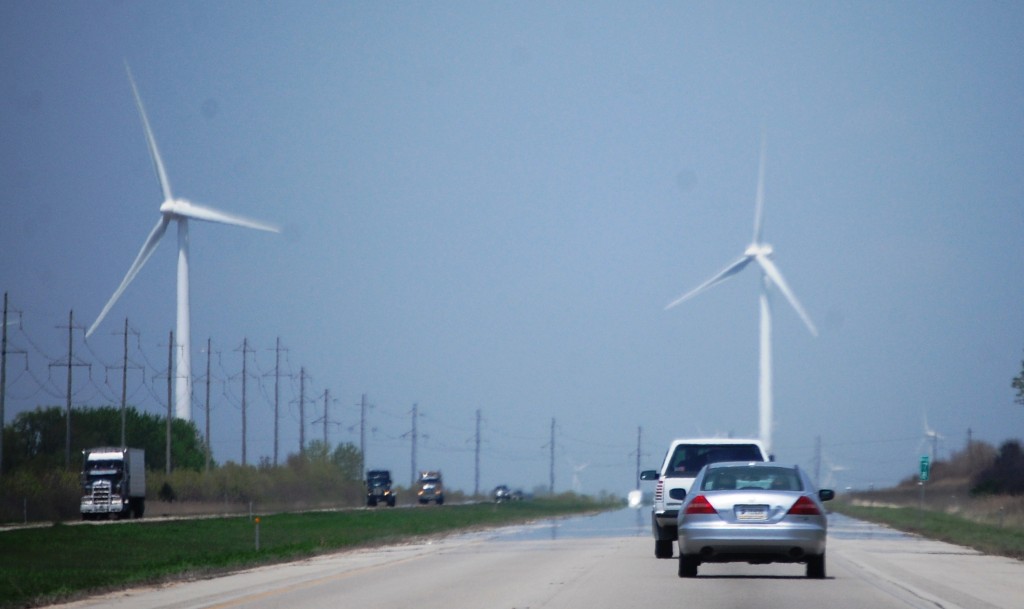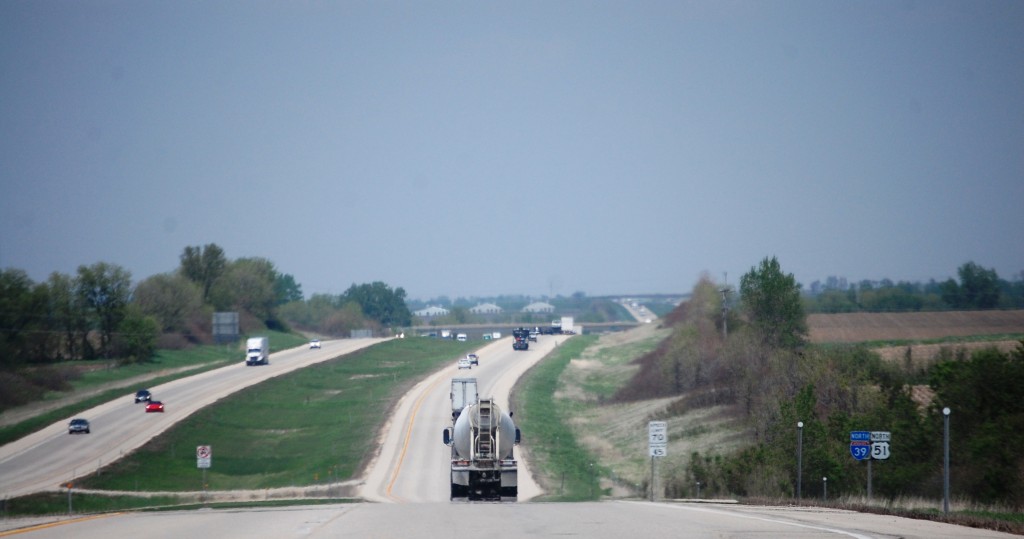 Of course, whenever possible, I do try to take some side trips off of the interstate to visit new places. On this particular venture, I strolled into El Paso, Illinois for a looksee. This is one of those small towns that give you a good taste of Americana. I had seen a photo of this old bed-and-breakfast type restaurant with an old neon sign. So, I wanted to check it out myself and see if it was still there. And, to my joy it was!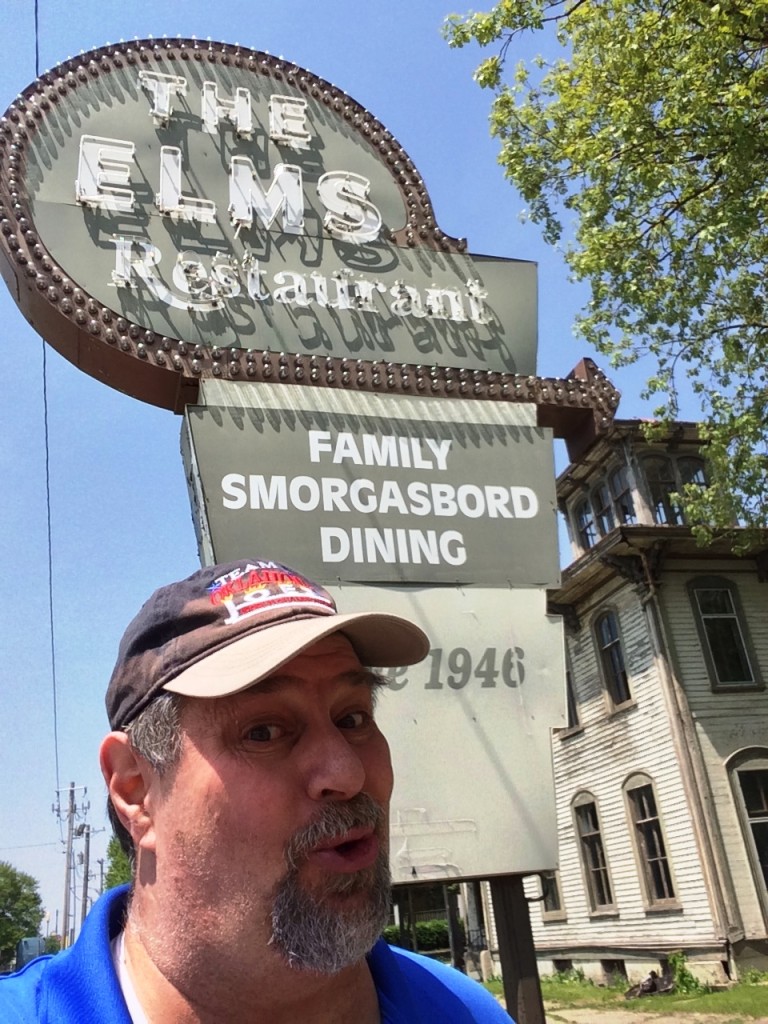 If I were a filmmaker, I would add "The Elms" restaurant and the building that it used to be housed in as part of the set of "Bates Motel."  It has that old feel, yet it also has a spooky appeal to it.  The restaurant opened in the 1940s and finally closed down in March 2003. In its heyday it was a draw from all around.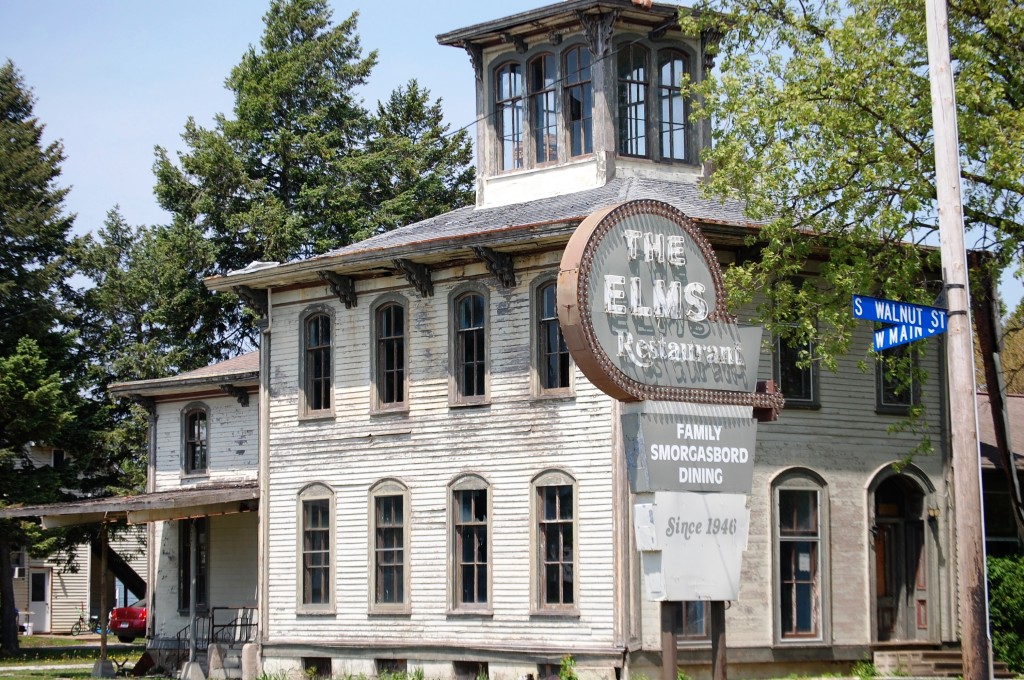 From El Paso, I continued north into Rockford, Illinois. I had a number of places I'd hoped to go see, but due to time constraints and my desire to get to the Upper Peninsula before dark, I skipped over all but one site there. I made my way to the Keeling-Puri Peace Plaza since it was right off of the road. Established in 2002, the plaza celebrates the United Nations' official September 21 International Day of Peace. The plaza showcases 44 flags, and has messages of peace in more than 60 languages. The photo below is of the "Harmony Index" it was designed for this particular location by nationally known sculptor Lee Sido.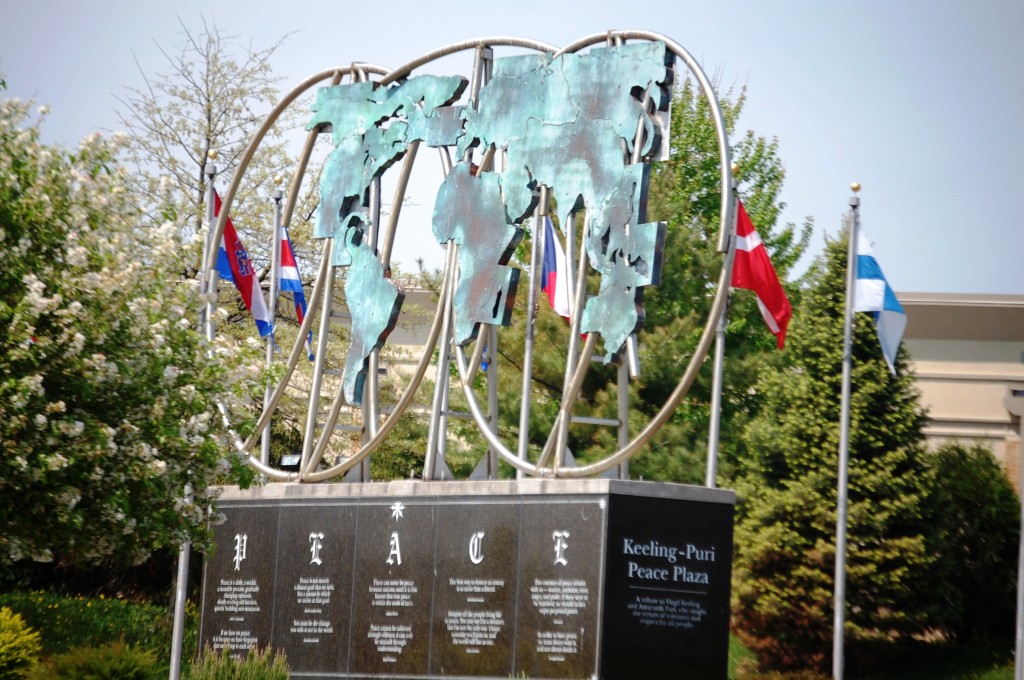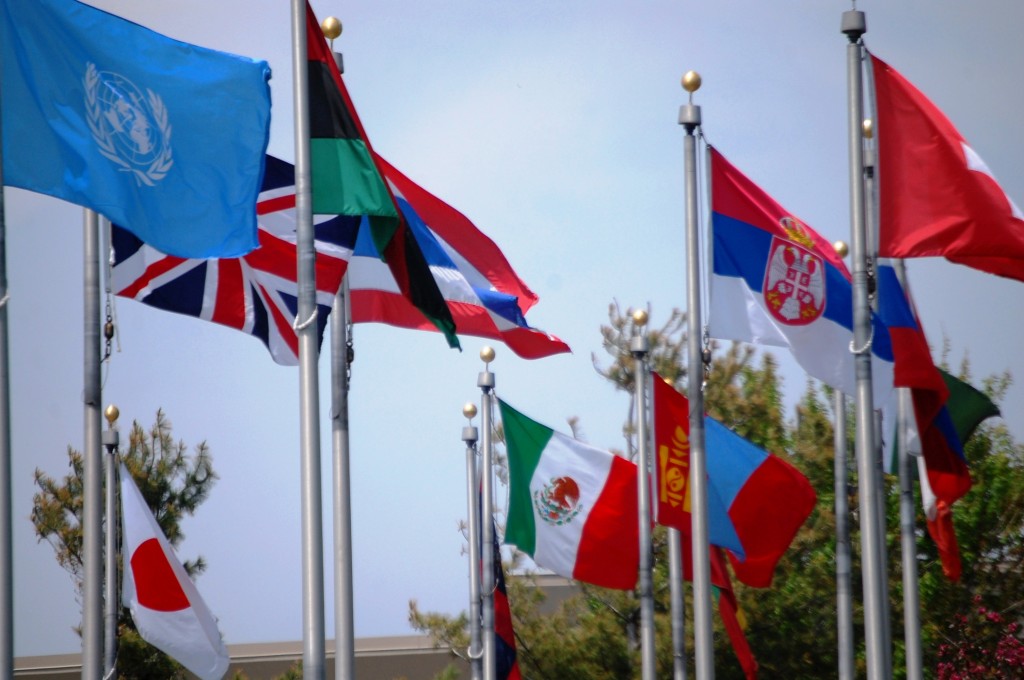 After Rockford, I headed north into Beloit, Wisconsin. People that make it into Beloit are greeted by the uber-friendly Smiley Water Tower. Of course, entering Wisconsin also brings you face on with cheesiness everywhere!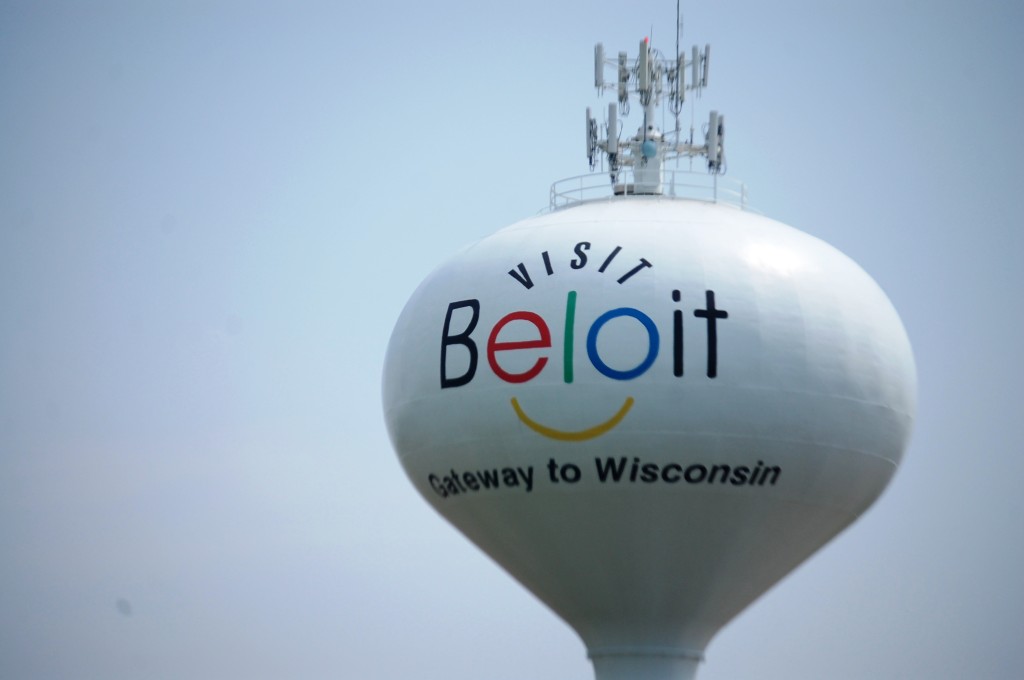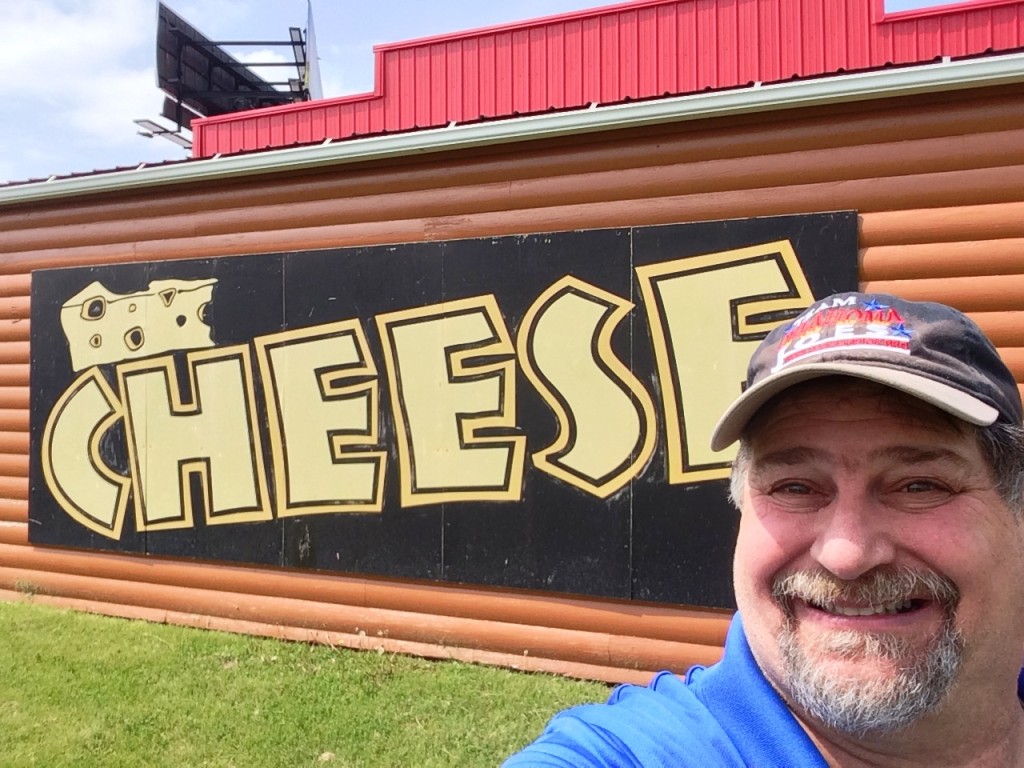 In this case, I don't necessarily just mean cheese as in the food, but Wisconsin is dotted with unique big animal statues. My first bout was with a big bulldog near the water tower. This is the mascot for the Road Dawg Restaurant in Beloit.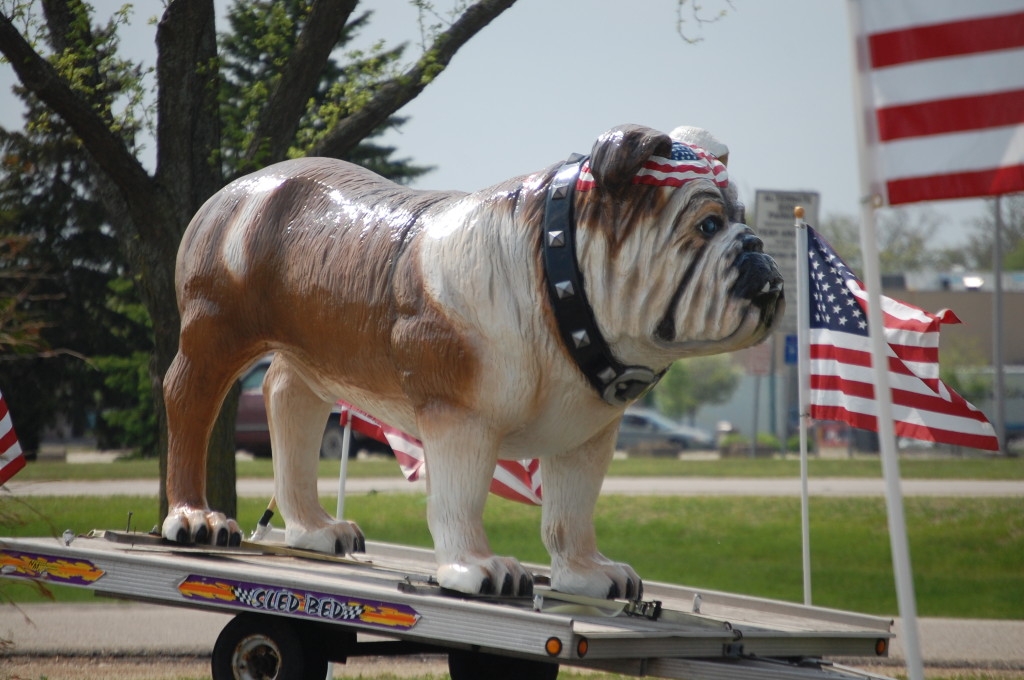 And around the corner things got even cheesier at the Cornellier Superstore (cheese-r-us.com)! There is cheese all over the wall (outside that is) and a number of cheesy looking statues of animals outside as well. If you like taking cheesy selfie photos, then this is a good place to start!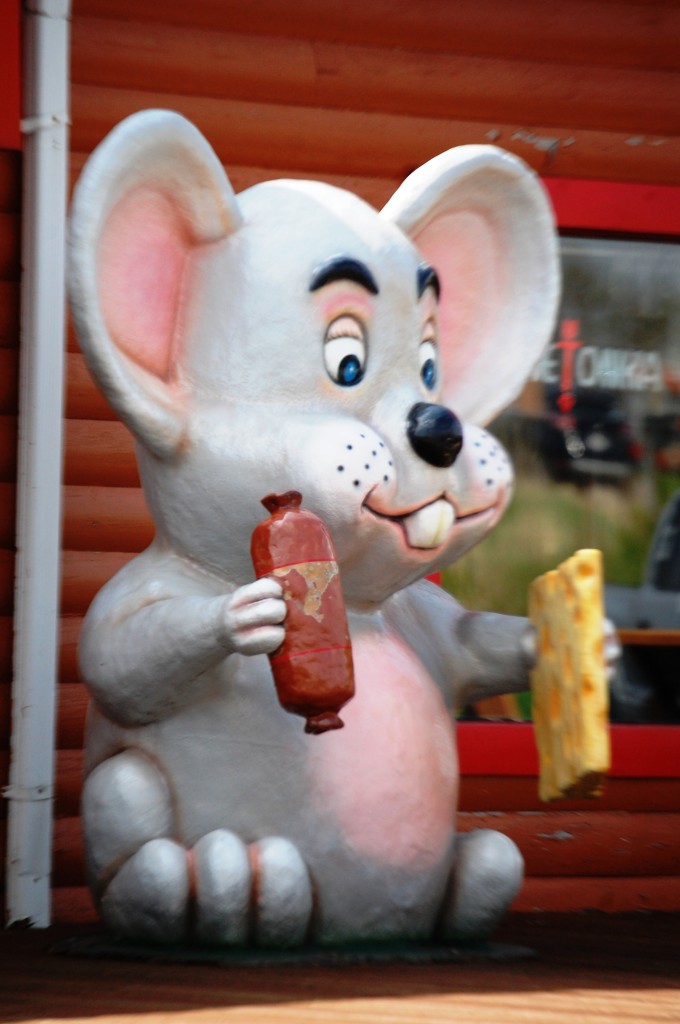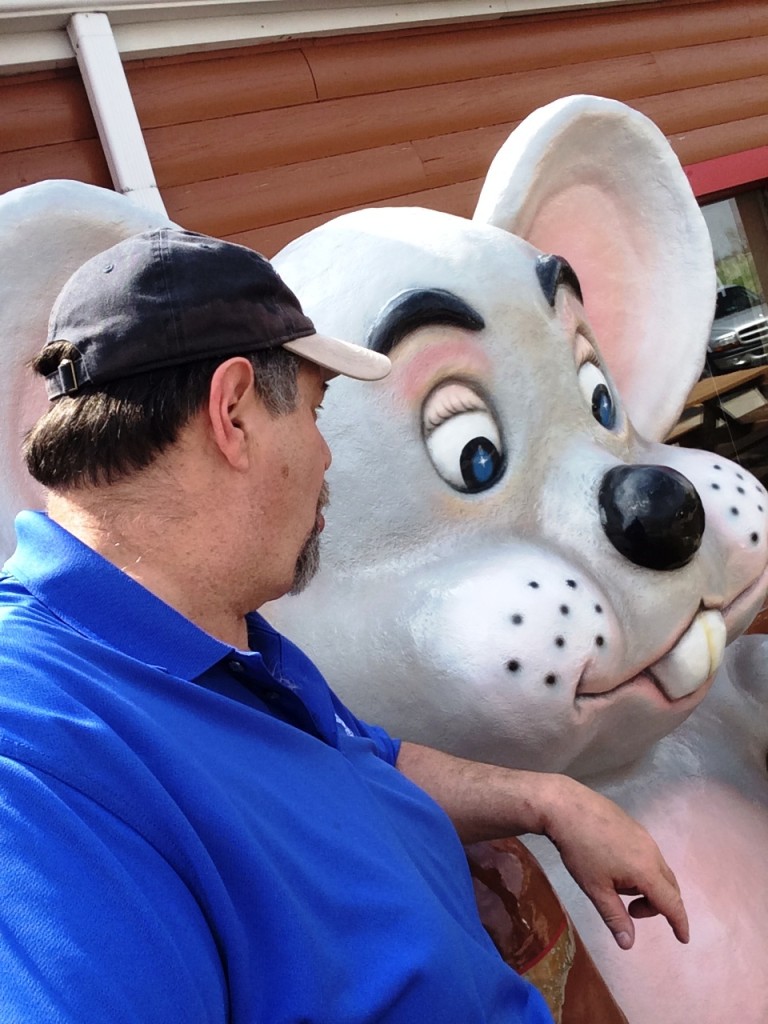 Besides the cheesy mouse, there is a big Holstein cow at front. If you're not into cows, there is also a big cuddly bear with honey and lots of interesting things inside the shop. And, of course, you can get all kinds of cheese!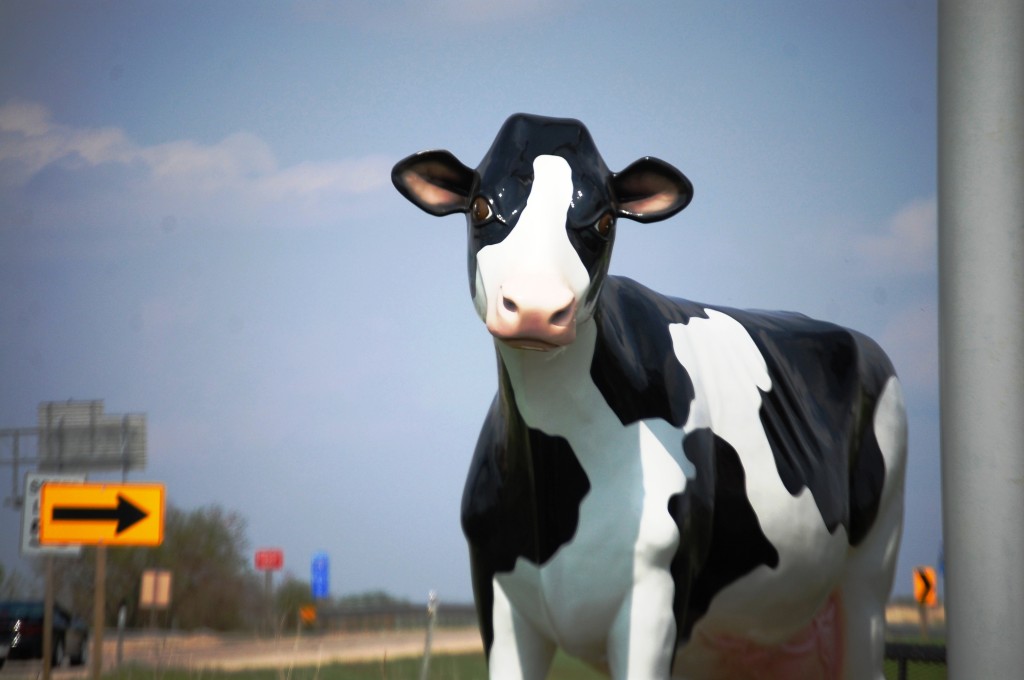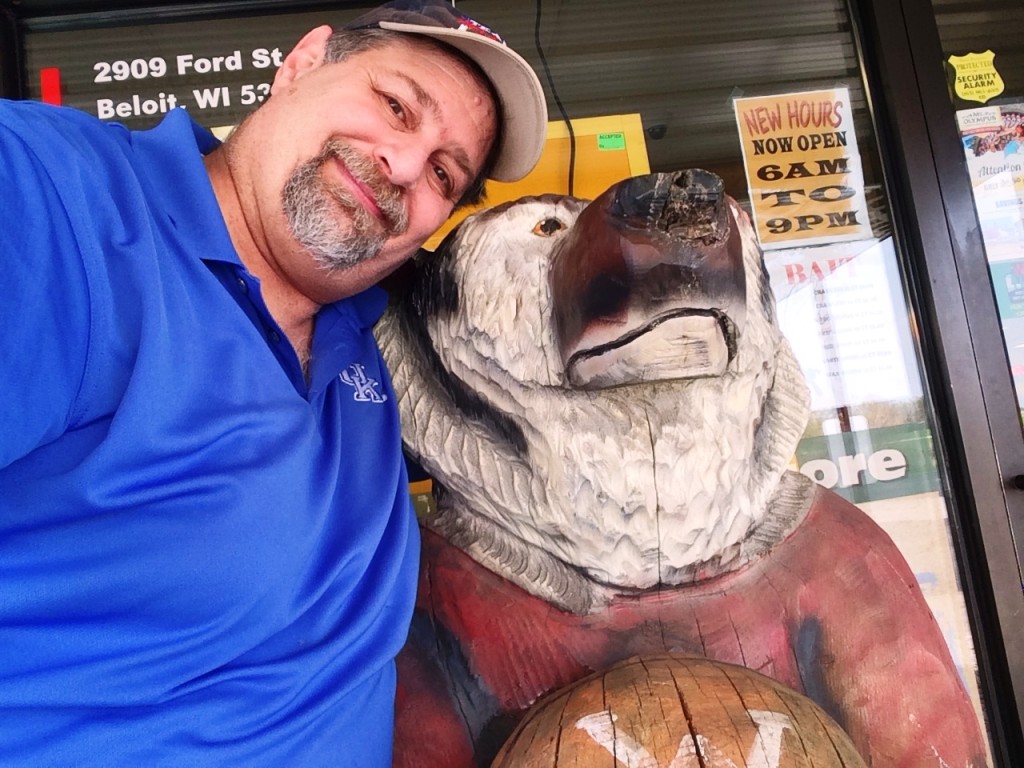 From Beloit I continued north to Janesville. It is the home of "Bessie the Cow."  I was really udderly fascinated by the big brown cow out front of the Arby's Restaurant. Though not nearly as big as "Salem Sue" in New Salem, North Dakota (see my photo from 2005), it is the second largest cow statue I have ever seen! (And I do have a collection of them)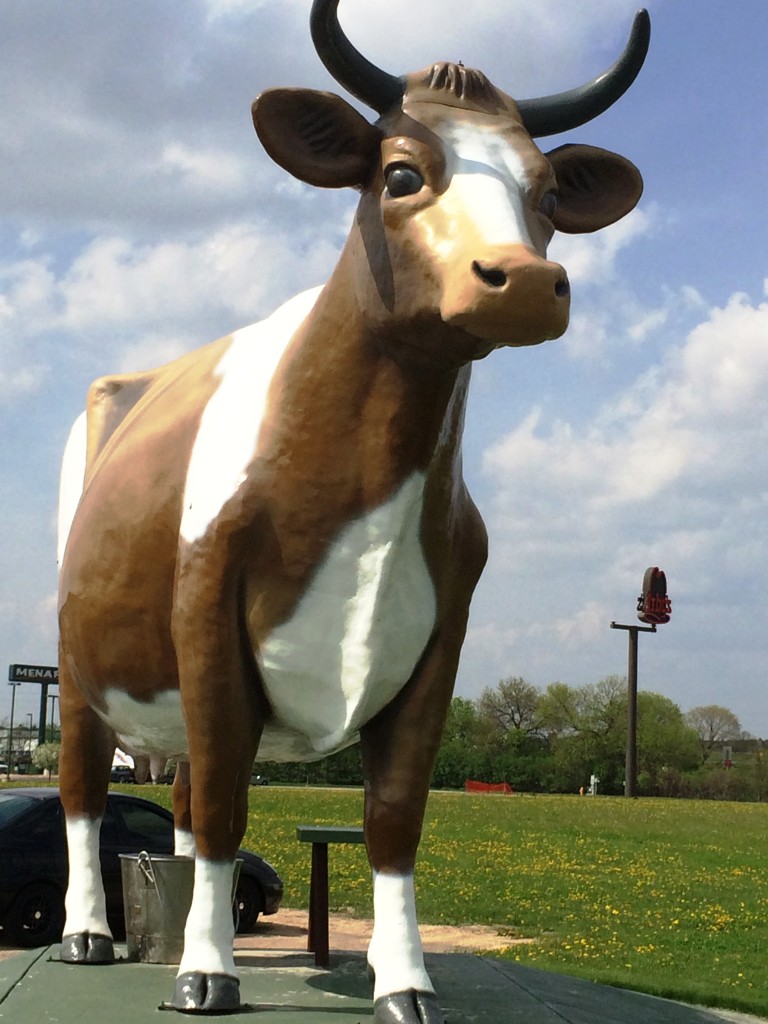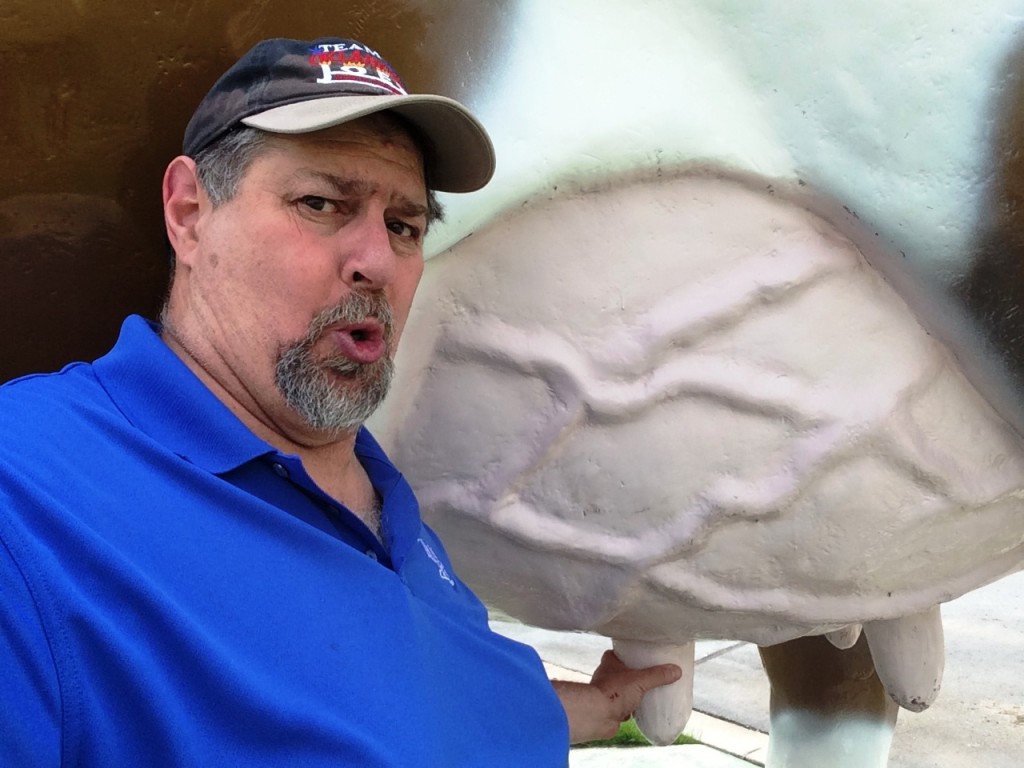 Continuing north, I made my way into DeForest, Wisconsin. As a traveler, if you were at all interested in the quirky or offbeat, then this is a must stop if you are in the area! Their famous pink elephant with big Buddy Holly glasses is a site worth beholding and worth getting into a photograph with. I understand that there are a few of these elephants around the country, but this is the only one that I am aware of with glasses. And, if you go into the Shell gas station, they sell pink elephant magnets, T-shirts, stickers, and they even have a pink elephant liquor store.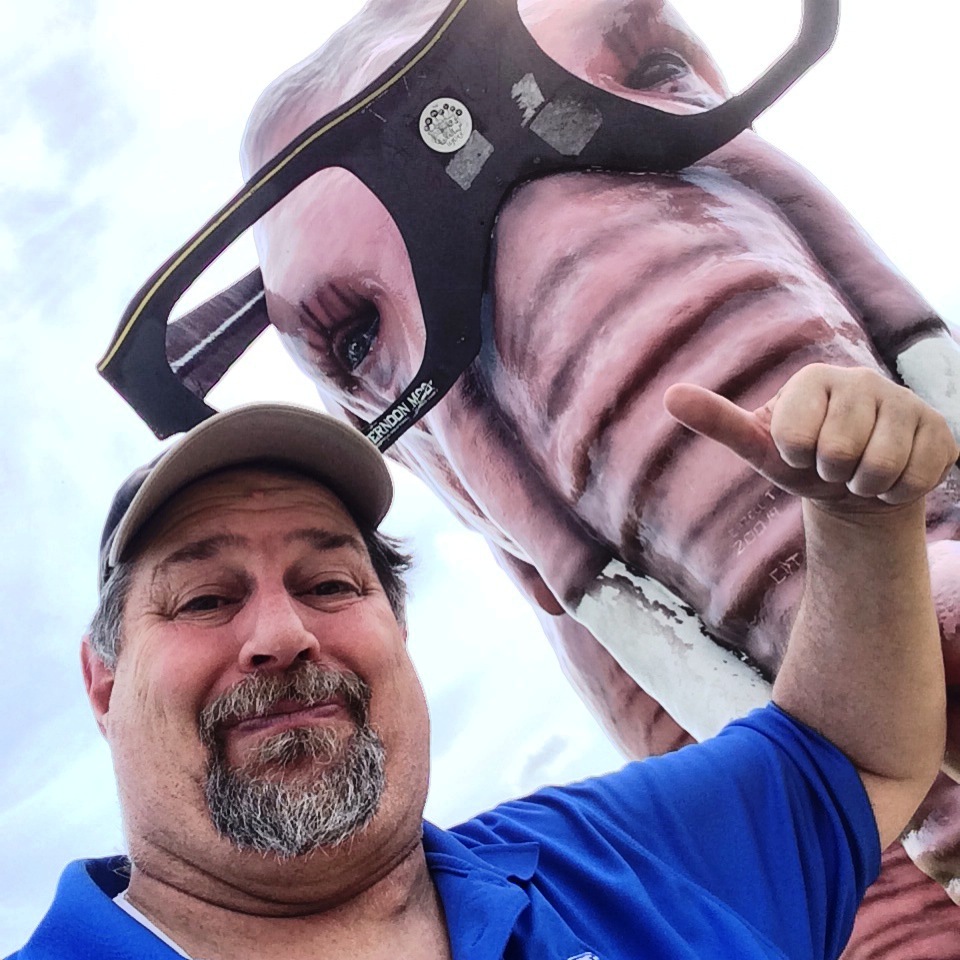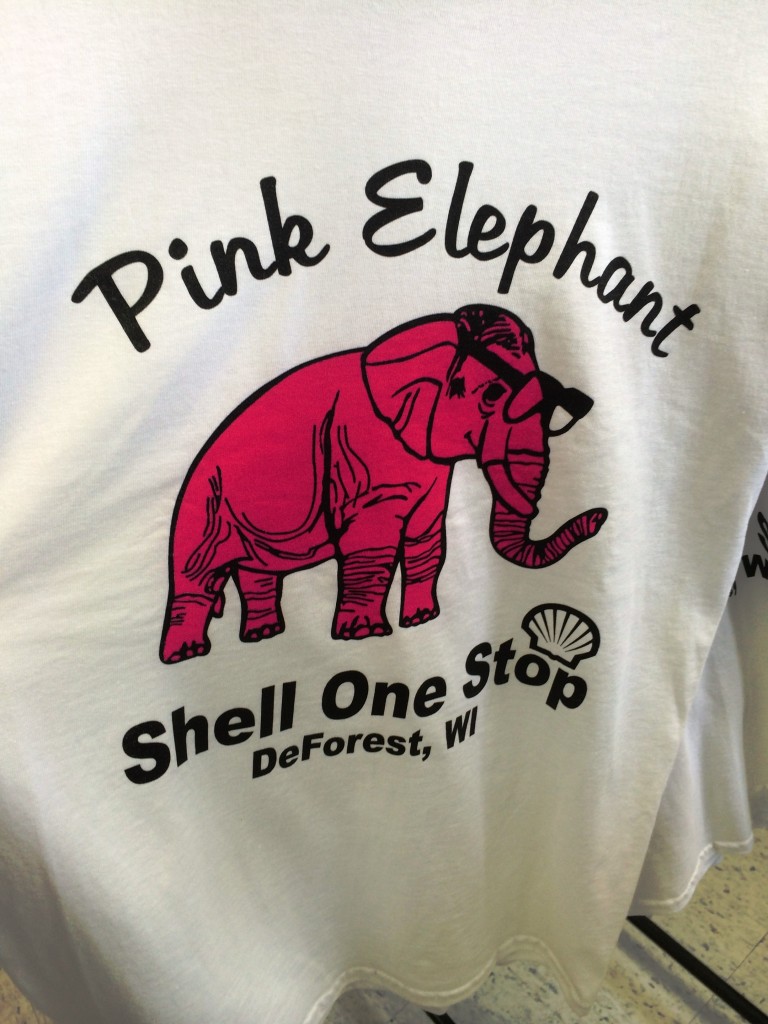 Just down the street from the Pink Elephant is Ehlenbach's Cheese Chalet. They have a big Holstein Cow as well.  This one is named "Sissy the Cow." Sissy is very close in size to Bessie.  Indeed, they may be sisters!!  I was really lucky to get the shot I did as Bessie has done a "Chick-Fil-A" to Burger King….look carefully….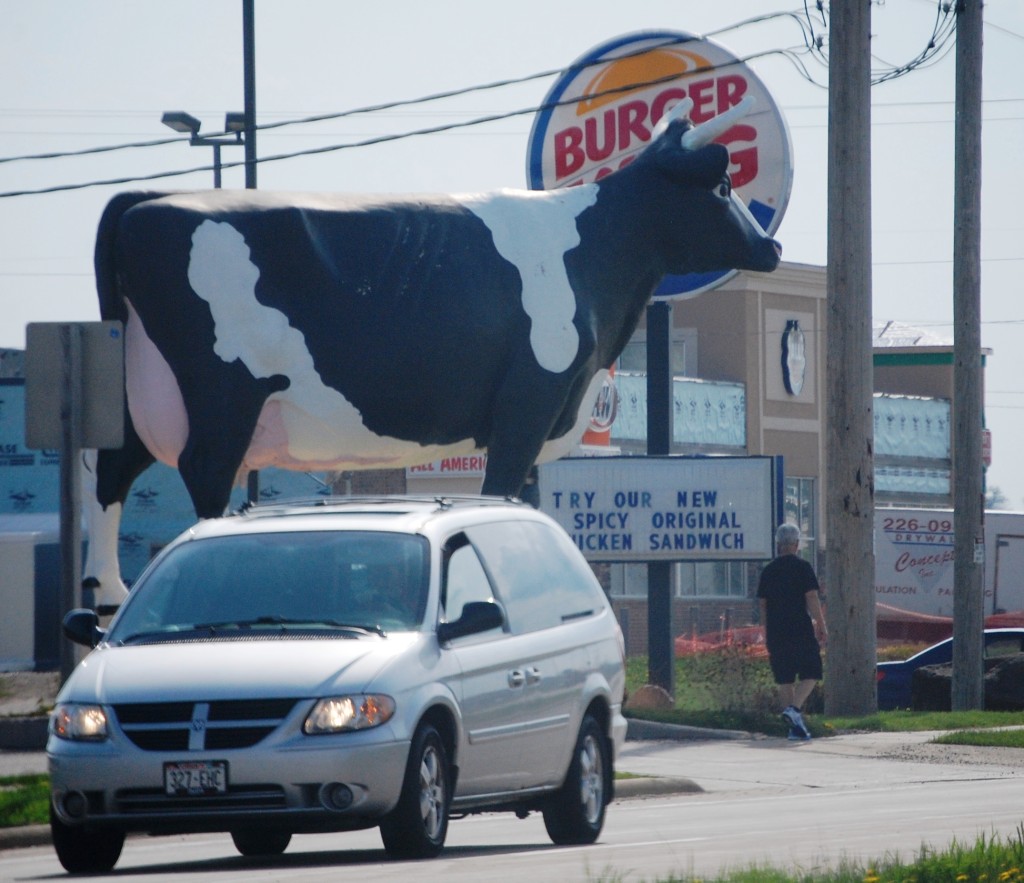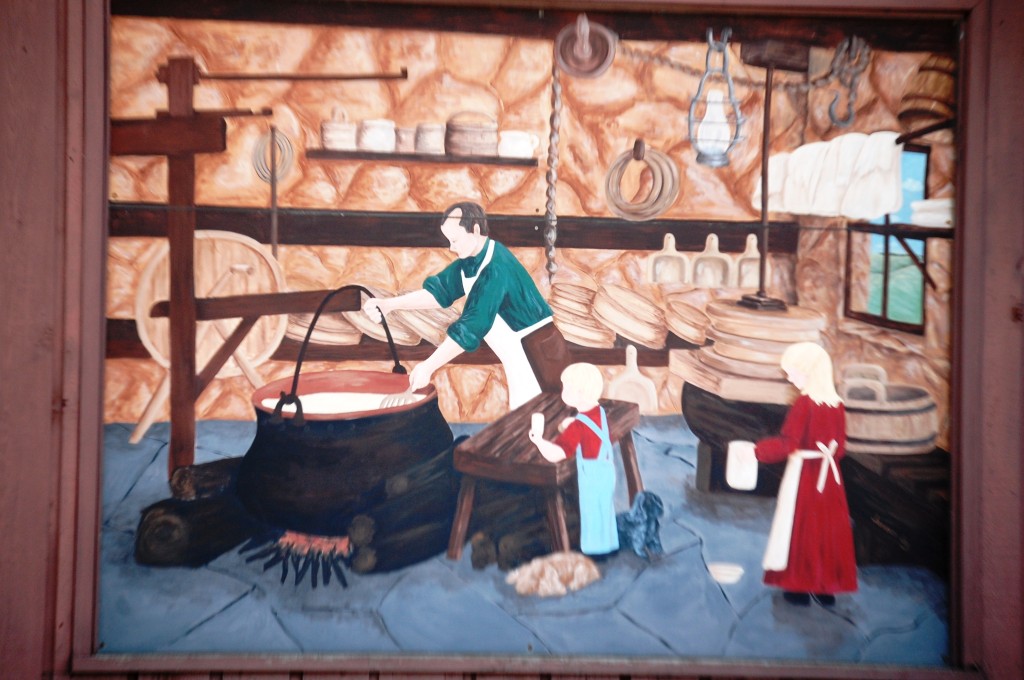 As is known to many of the followers of my travel blog, I always endeavor to find towns with unique names. This time, I actually came upon one named Endeavor in Wisconsin.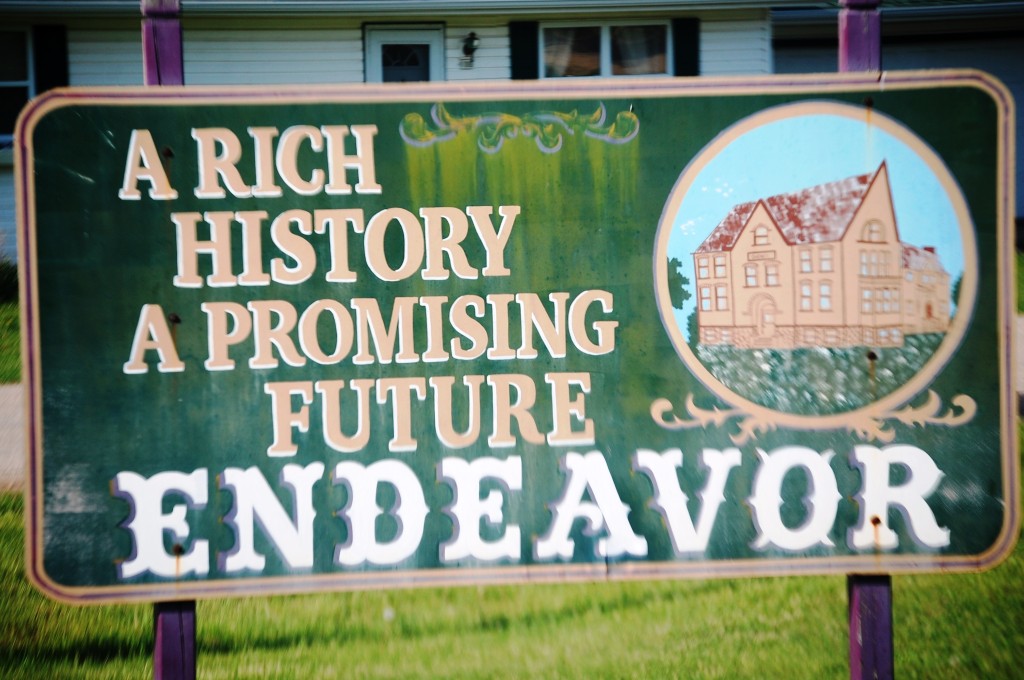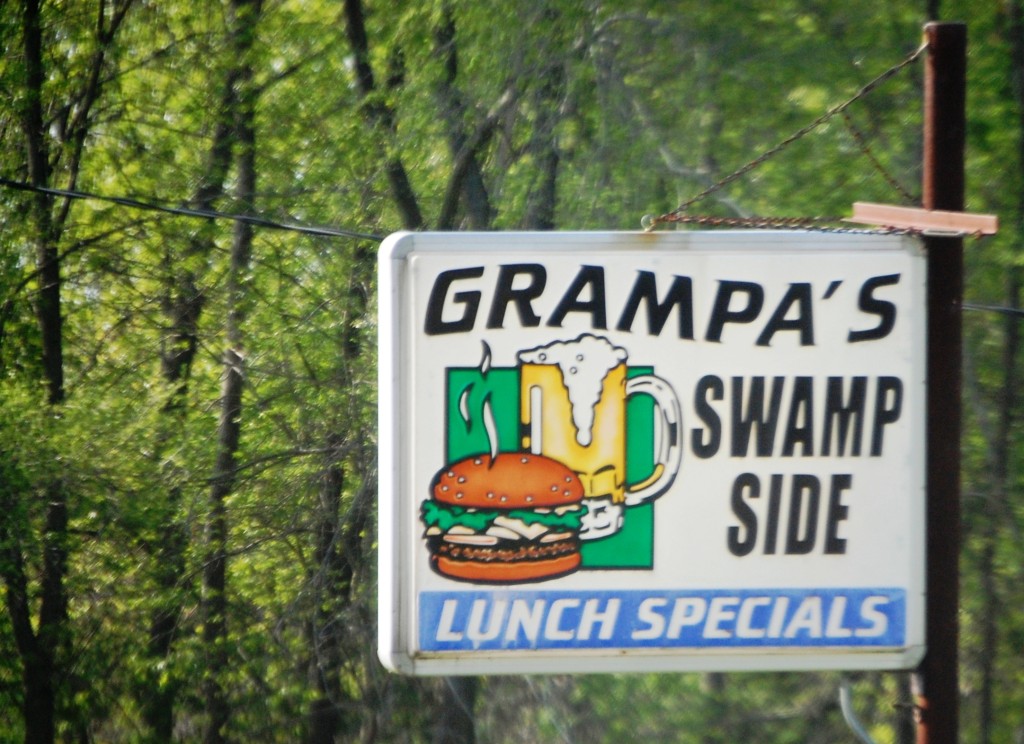 One of the reasons I take joy in driving the back roads of America is that I run into places that are an expected. I'm always looking for a Smiley Water Tower, or barn with a smiley on it. But this time as I passed through Hancock, Wisconsin I came upon Smiley's Old Time Diner! Now, how fun is that! I just wish I would've had time to stop and check out the menu (which includes things like meatloaf o Monday, etc.) but had to press onward.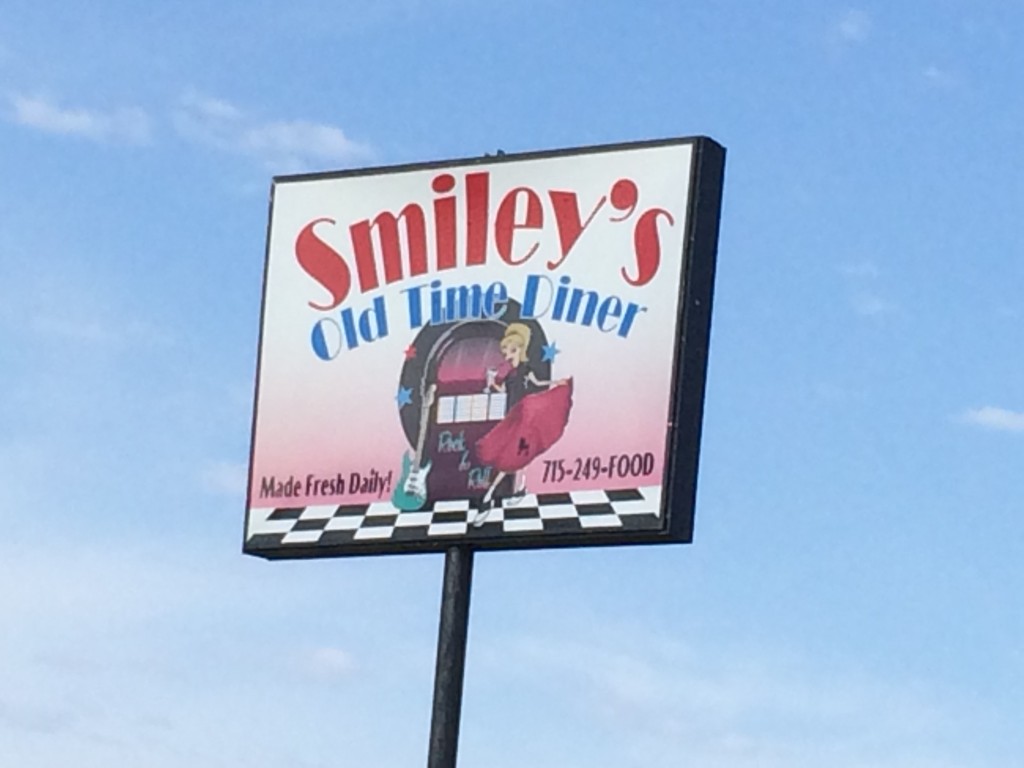 I continued north on Interstate 39 until I got to Wausau, Wisconsin. From there the freeway ends and US 51 continues on its own past the colorful town of Tomahawk, Wisconsin (which I visited in 2012 and you can see pictures of it here). US 51 continues north and passes numerous lakes, ponds and touristy towns such as the scenic town of Minocqua, Wisconsin, which is basically on an island in the midst of Lake Minocqua.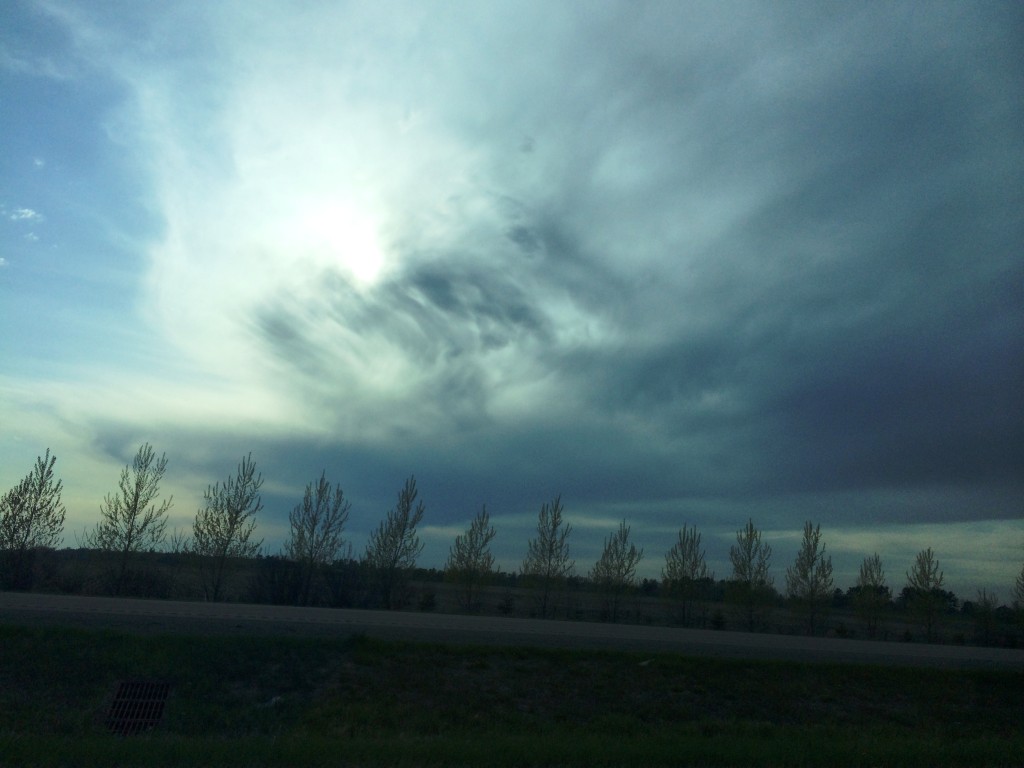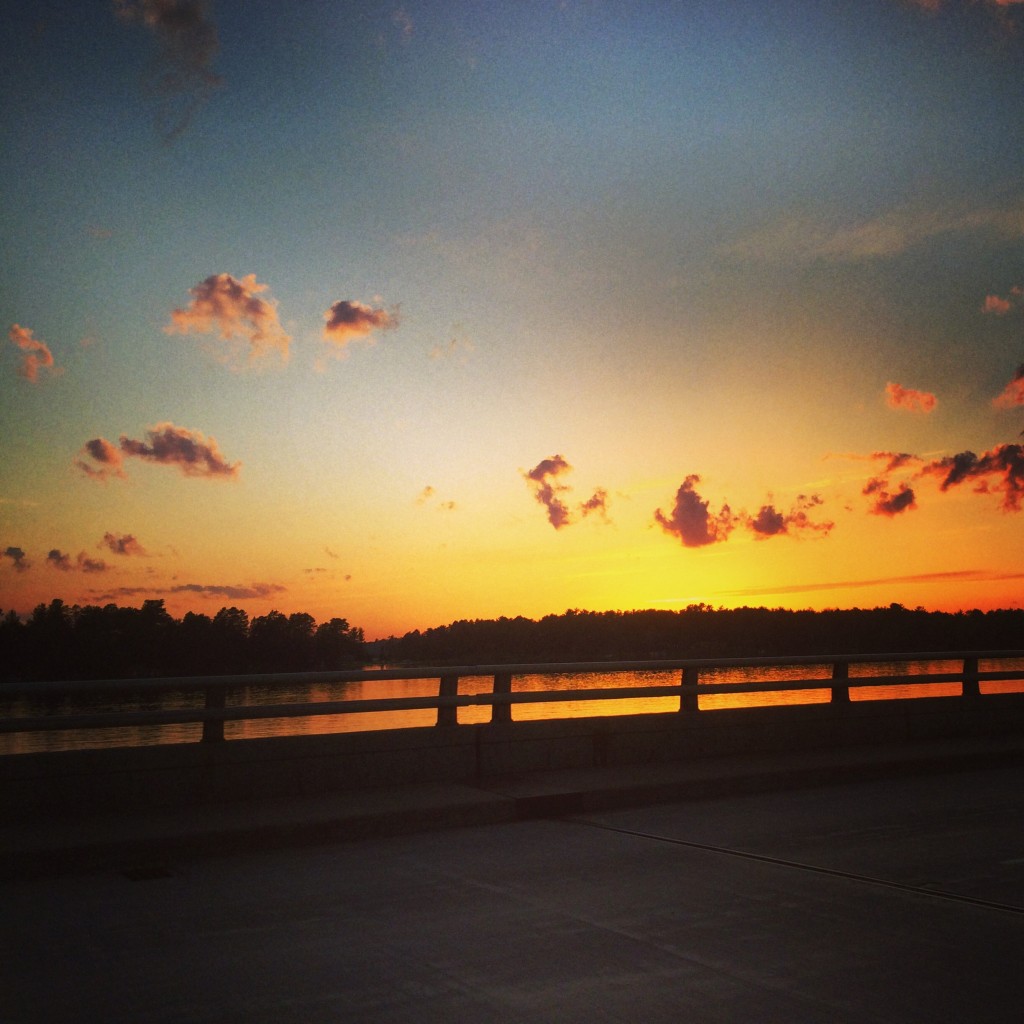 I pulled into this small lovely village right near sunset, and so I was blessed to get some beautiful sunset pictures with the lake. As well, they have a big diner called Paul Bunyan's Cook Shanty, which was closed at the time, but has a big old Bunyan and Babe statue and so I joined them for a photo opportunity!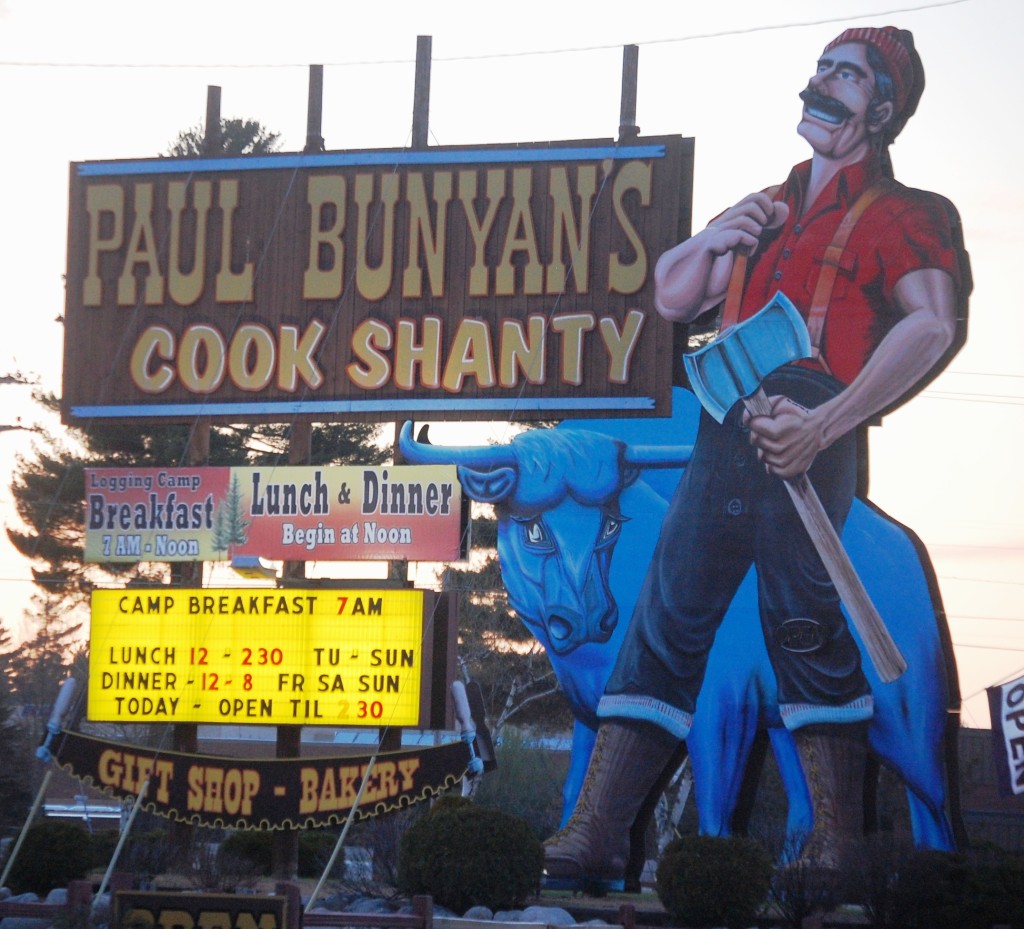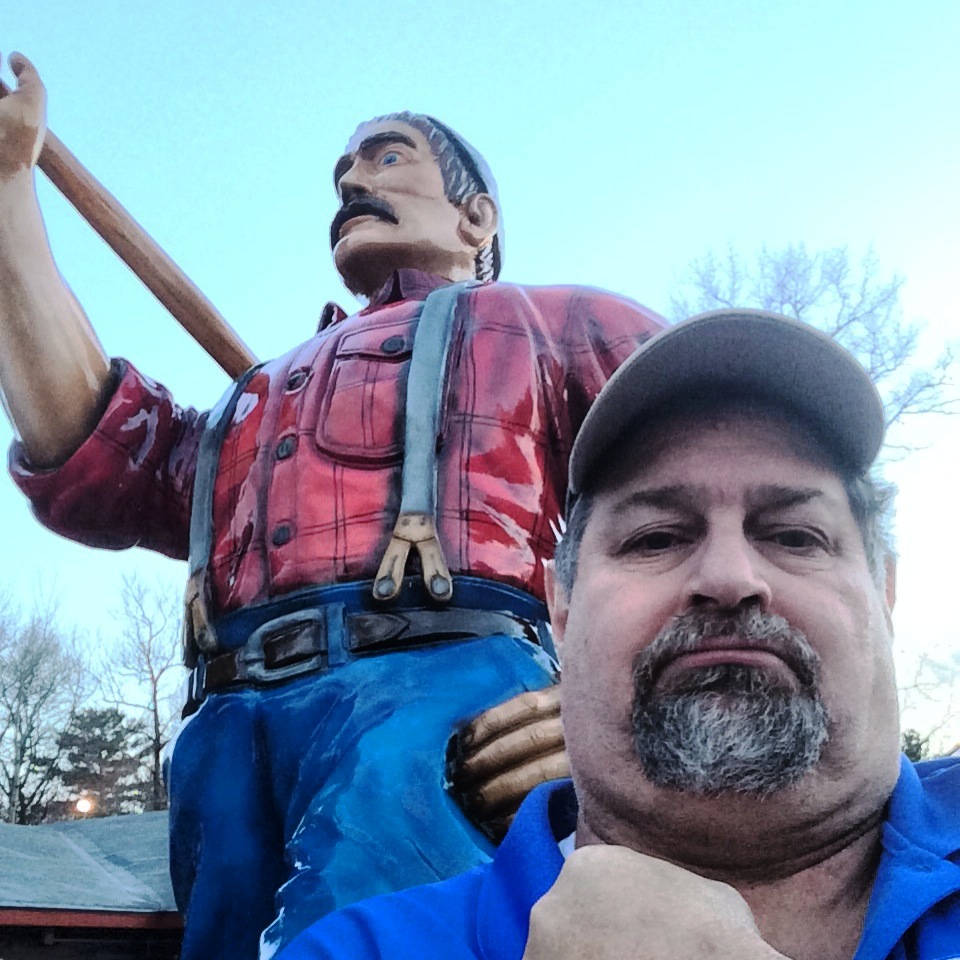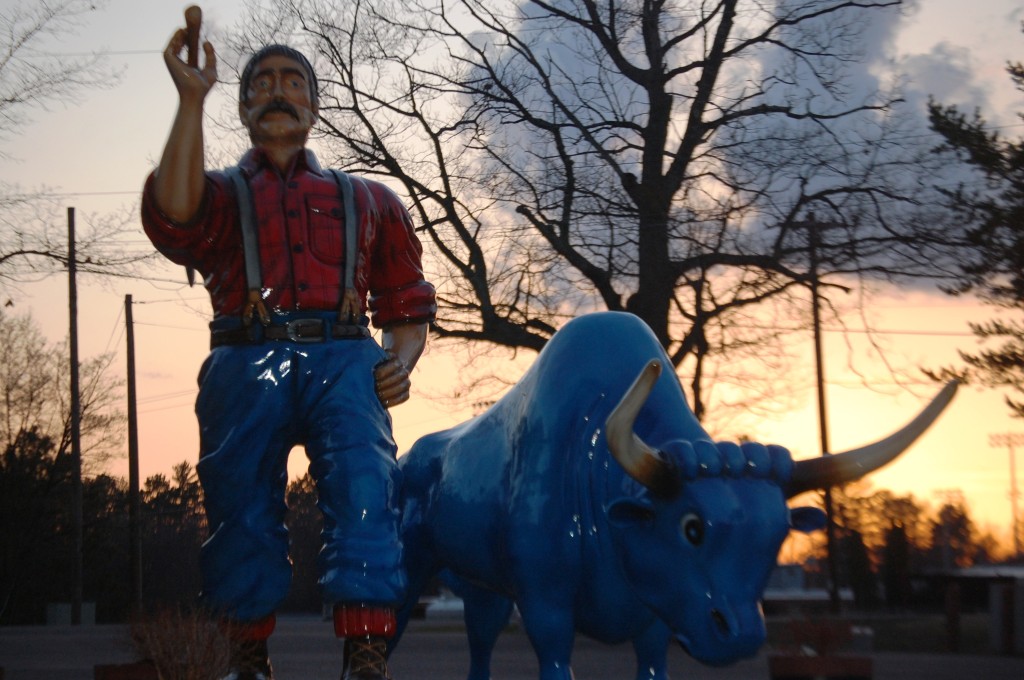 Continuing north on 51 hit got darker and so I just pressed forward missing some other sites such as the second largest black duck statue and a couple of others along the way. I finally made my way to my hotel in Ironwood, Michigan fairly late in the evening.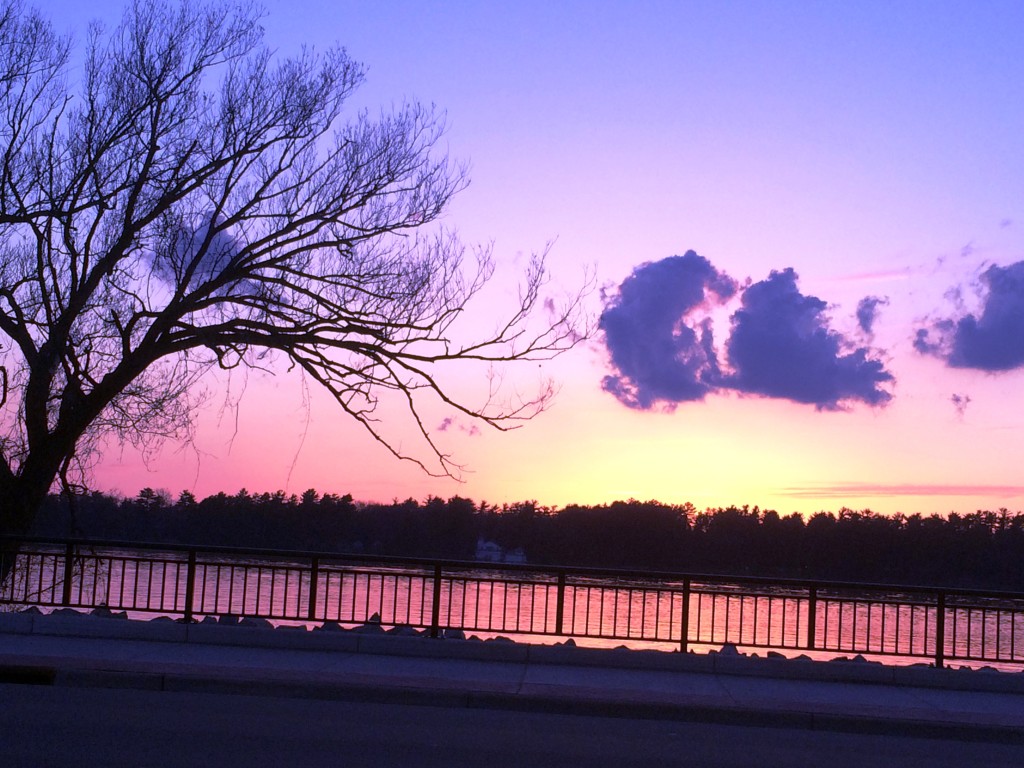 This long "Day One" trip covered approximately 825 miles and I was on the road for over 16 hours in total enjoyment!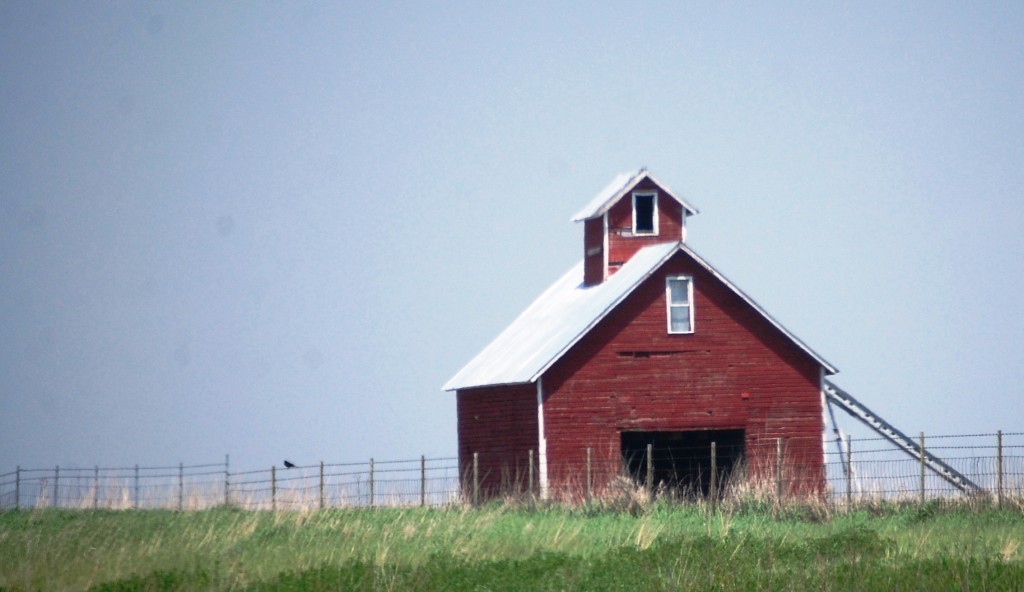 The next leg of the trip will be covered in my next post and will feature the sites of Ironwood, Michigan and the drive all the way across Wisconsin to Duluth, Minnesota.