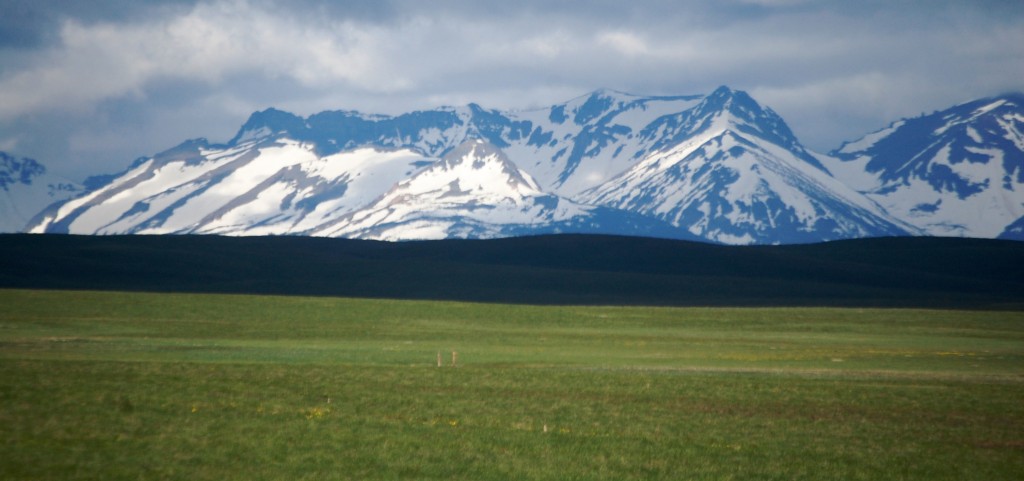 As I continued my trip in Montana, I spent some time with my daughter and her children in Shelby.  From there I proceeded to head back to Kentucky the "back roads" way over a number of US Highways and State Highways.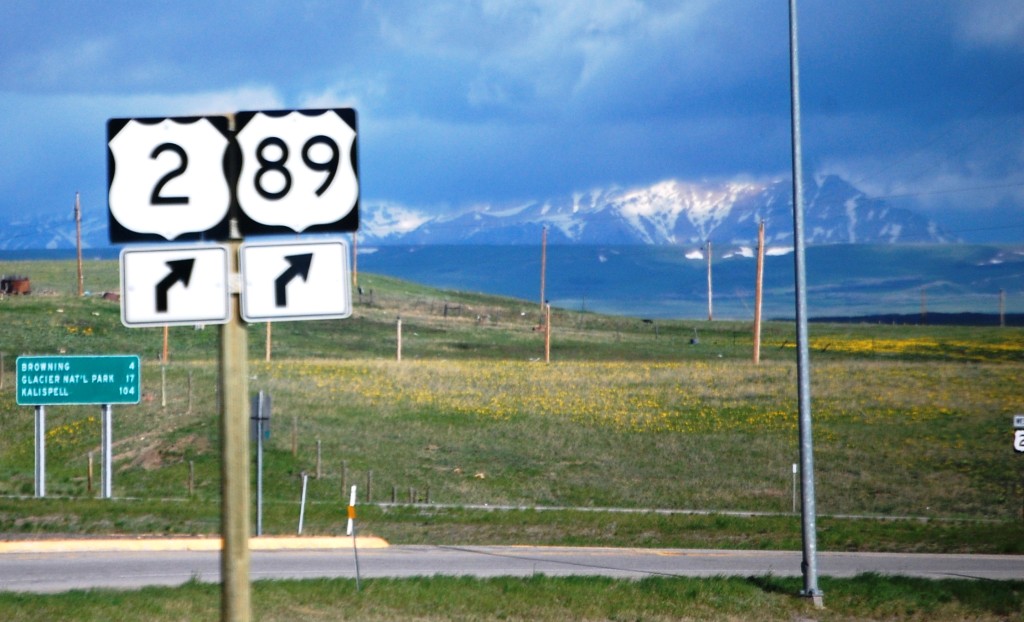 My goal was to travel the majority of Montana's US 89 during this trip.  I did not hit the portion north of Browning to Alberta on this trip, though I have traveled it in the past.  In fact, over the years I have traveled US 89 from the Canadian border all the way to Mexico (back when US 89 went that far). This post will cover the section of US 89 north of Great Falls and I will follow with a second post covering the portion of US 89 in Montana south of Great Falls.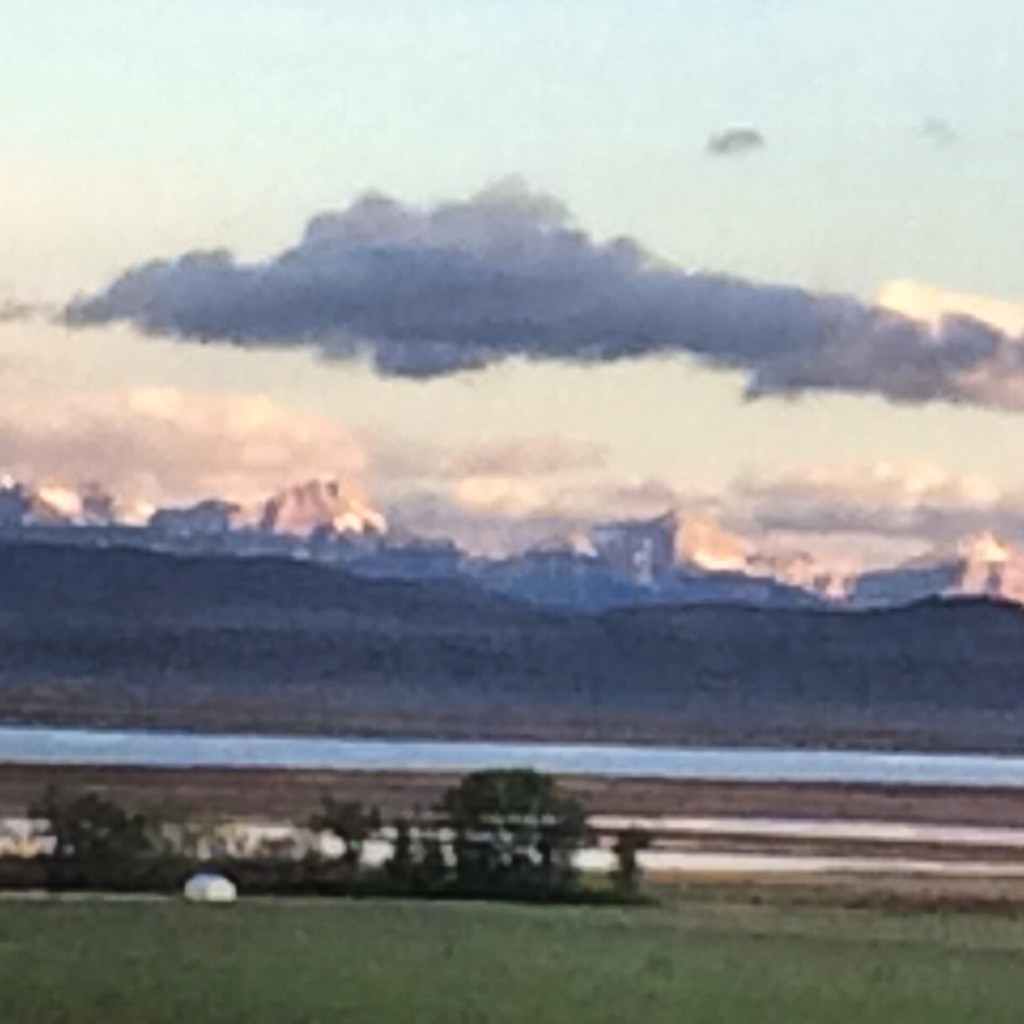 Sometimes called the National Park Highway, U.S. 89 links seven national parks across the Mountain West. In addition, fourteen other national park areas, mostly national monuments are also reachable from this backbone of the Rockies. The highway goes through prairies, mountains and deserts and, in my opinion, is the most scenic US Highway in America.
My wife flew out to Montana so I took her down to Great Falls and spent the night there.  The next morning she had an early flight, so I dropped her off and then headed north on US 89 from Great Falls and would travel all the way to US Highway 2 near Browning and then back to Shelby for one more night with the family.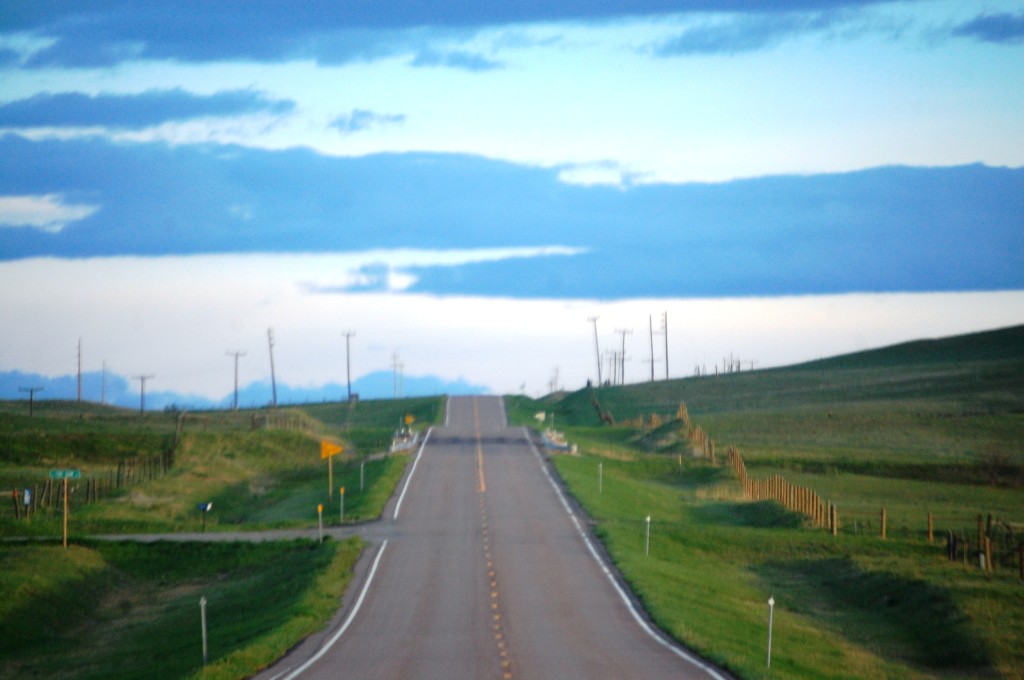 US 89 near Great Falls merges with Interstate 15 until Vaughn, Montana, where it cuts northwest towards Glacier National Park.  In the early morning, this is a fabulously beautiful drive along the eastern edge of Glacier.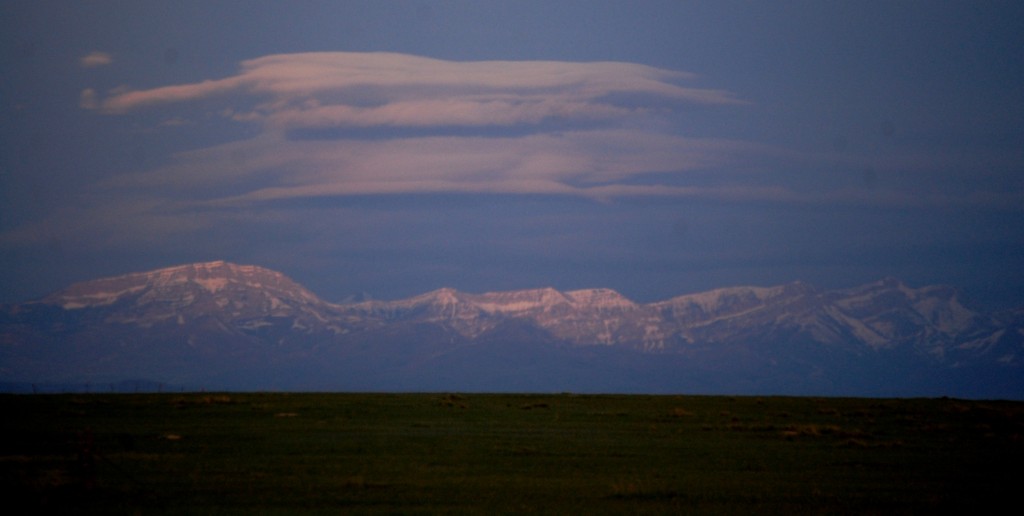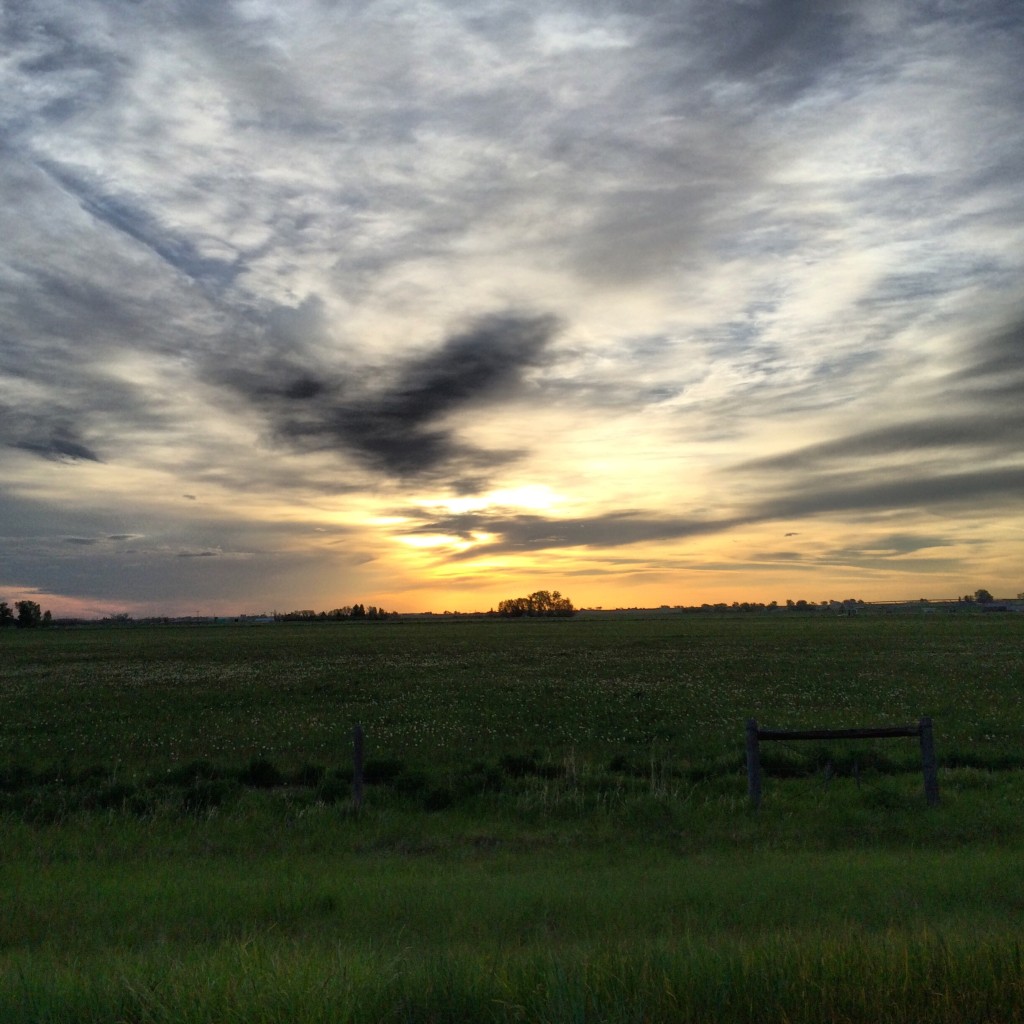 The first town along US 89 north is Fairfield, where the highway continues northward. I pulled into town on an early Monday morning and things were still quiet. Like many small Montana towns, there are old neon signs, old buildings and a unique personality.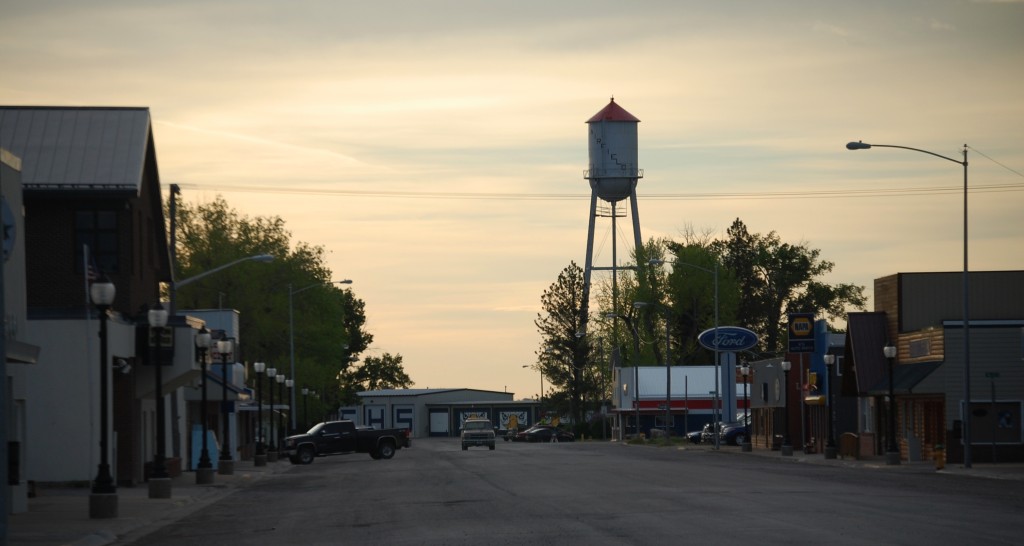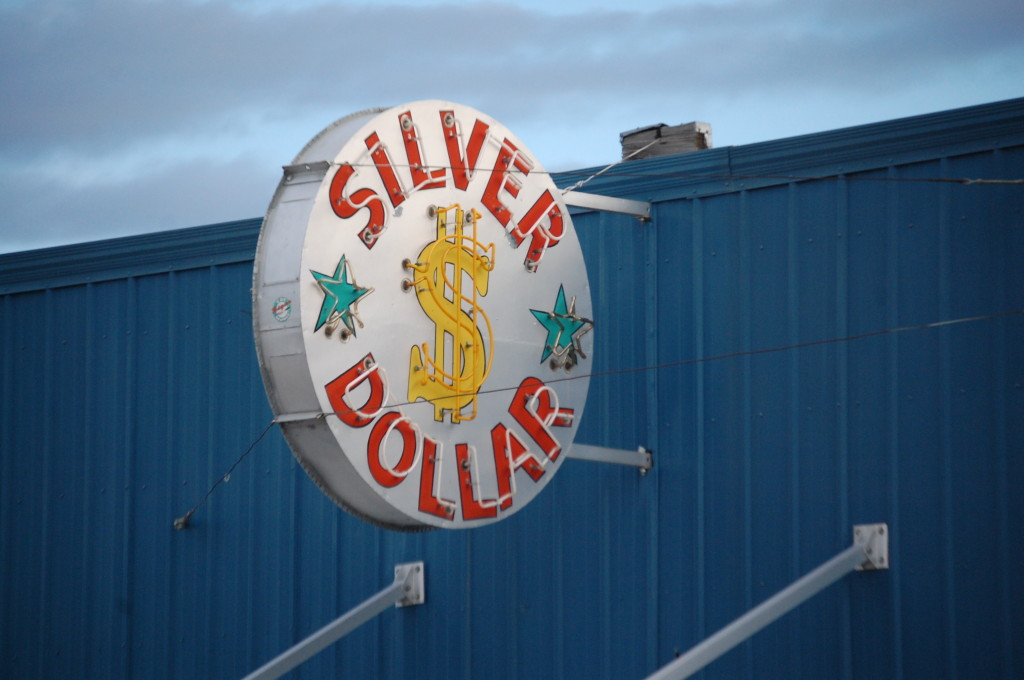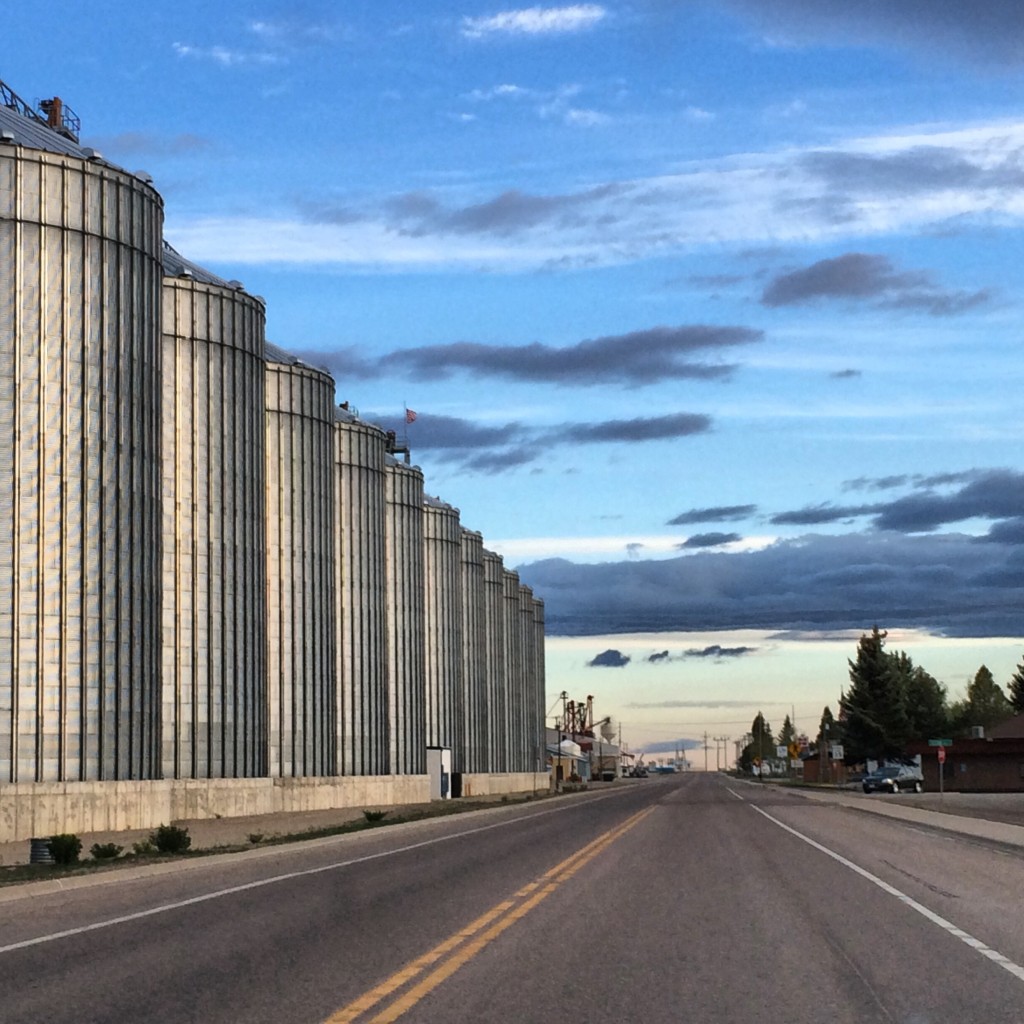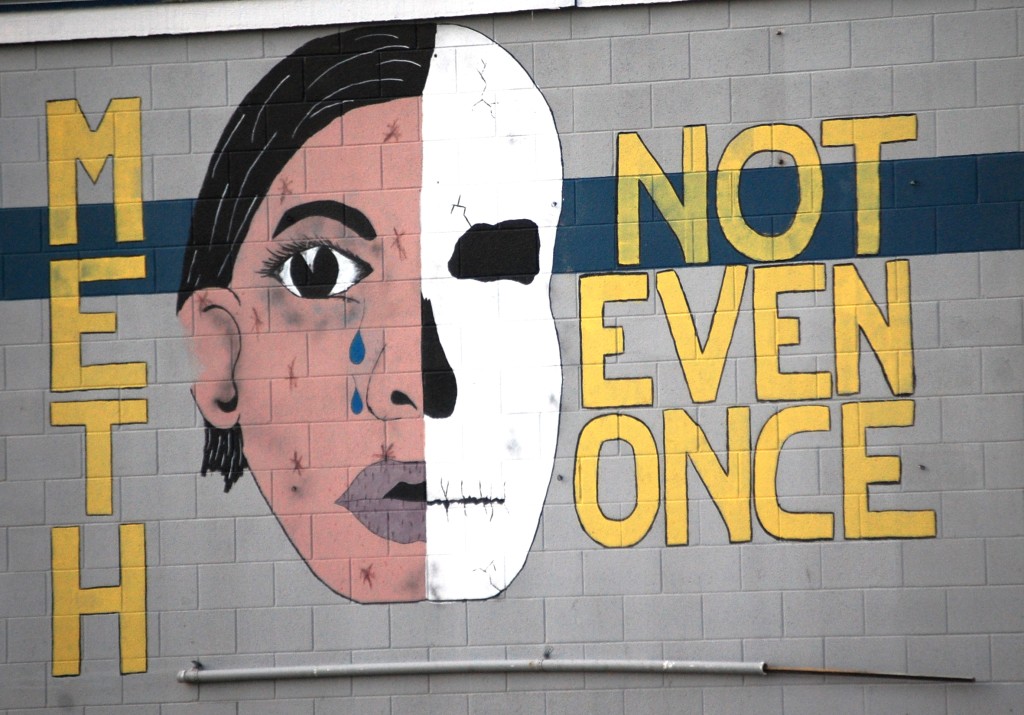 Fairfield is also the southern gateway to Freezeout Lake, which can be seen from US 89. This lake is a spring home to snow geese and swans as they fly north to Canada in the spring. I drove by a bit late to see the swarms of birds, but I did catch a couple of bird shots as I drove by.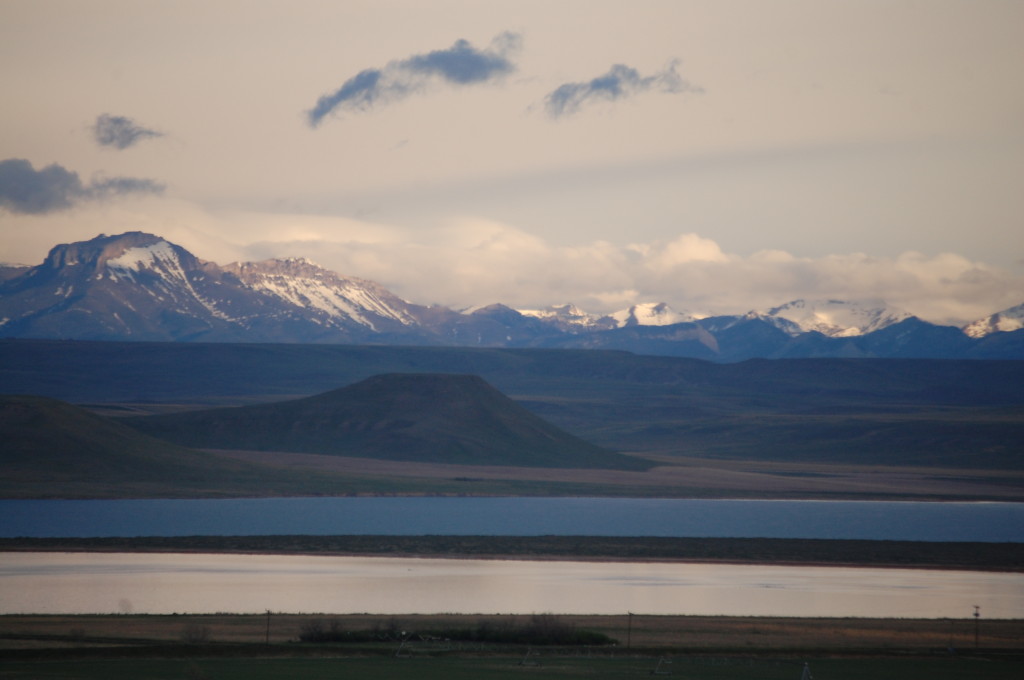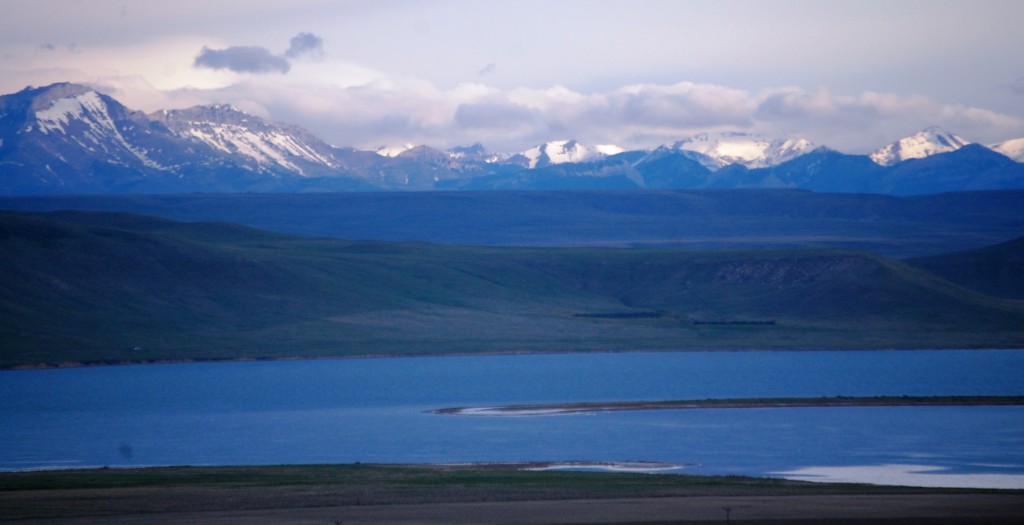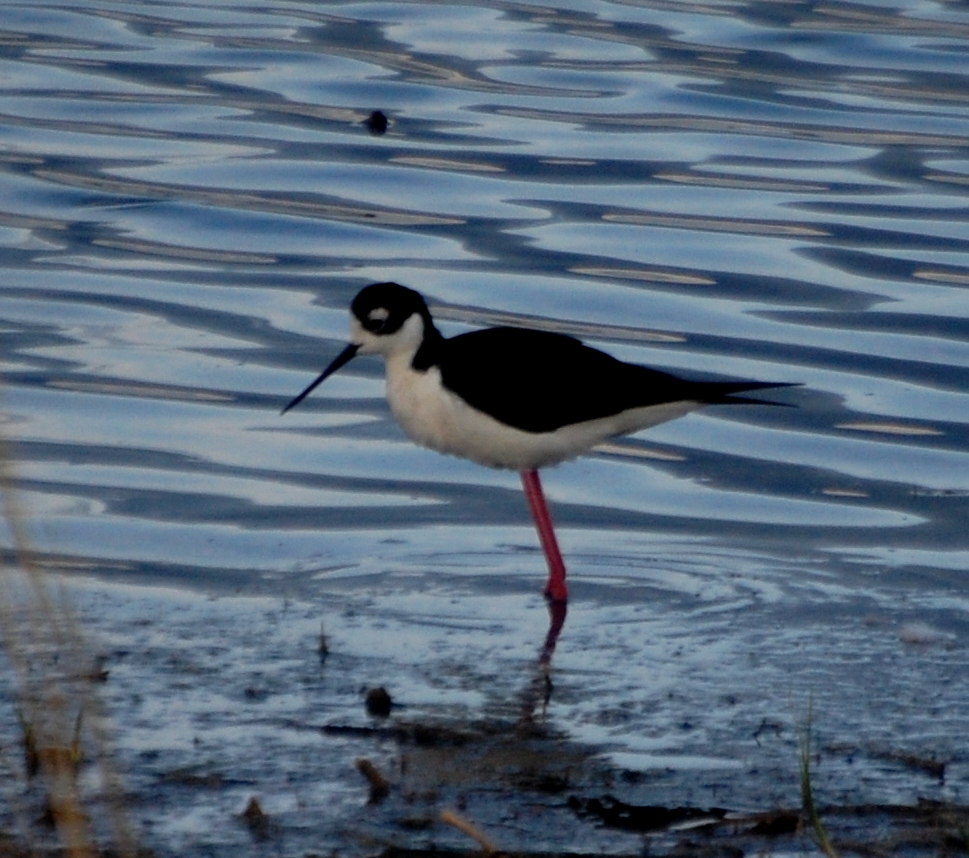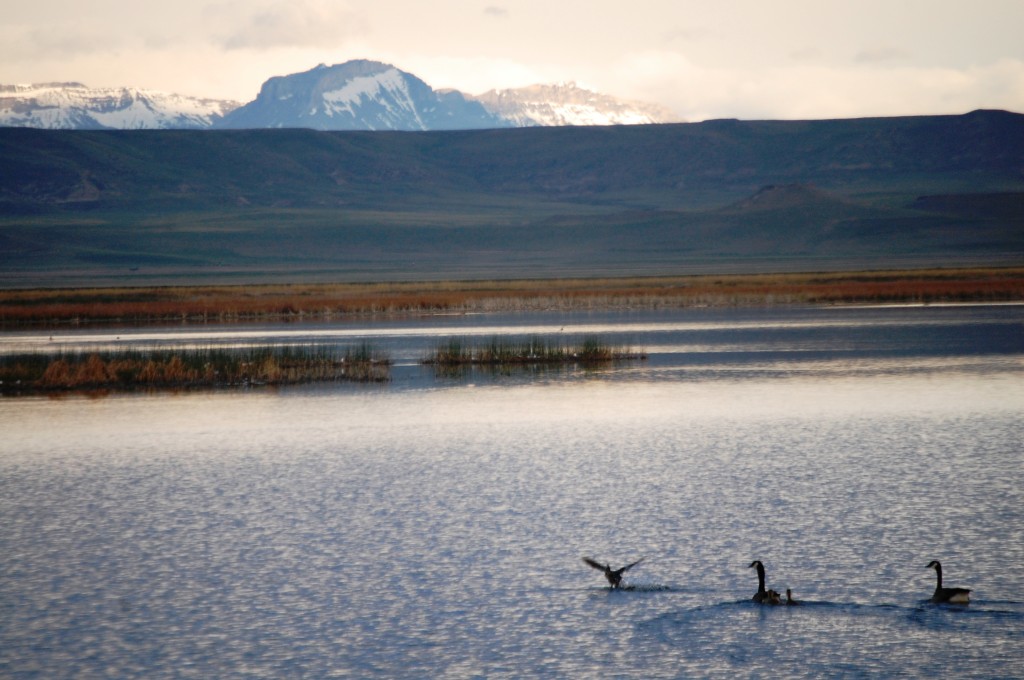 Route 89 continues north into beautiful country on the approach to the town of Choteau, which is a southwestern gateway to Glacier (the town refers to itself as "The Front Porch to the Rockies").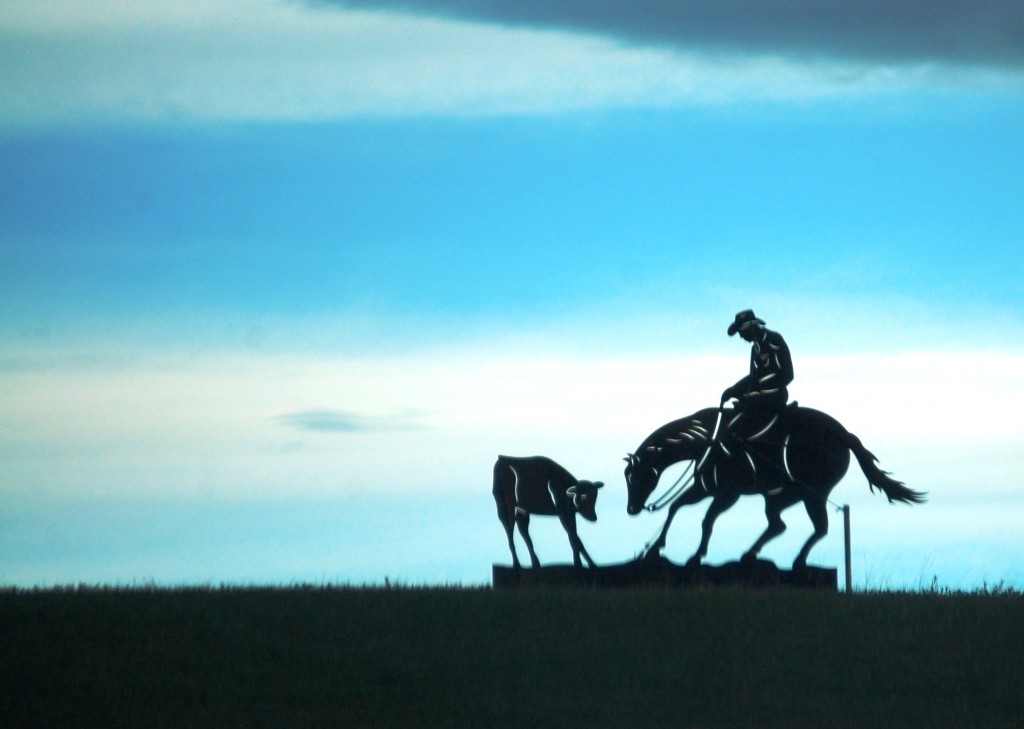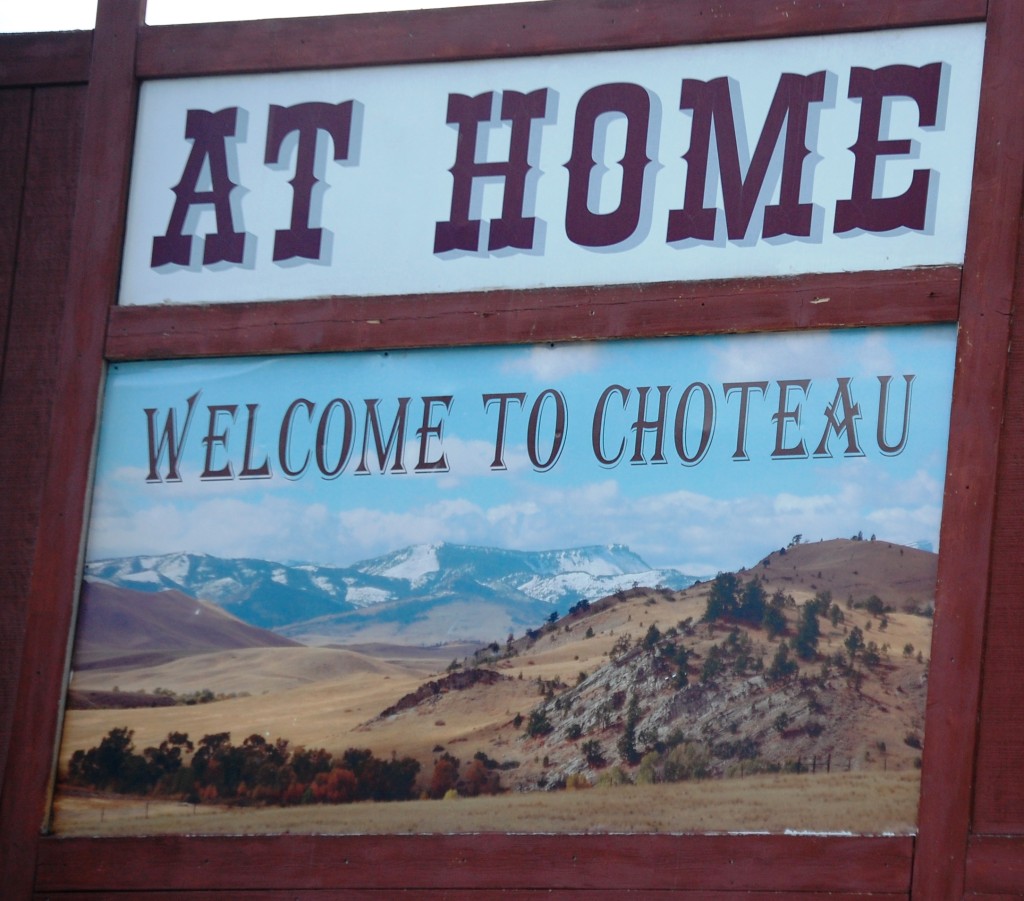 The town is the northern terminus of US 287 which actually starts in Port Arthur, Texas, about 1,791 miles away.  (I actually drove a good portion of US 287 on a previous trip to Texas from Dalhart through Amarillo and Wichita Falls into the Dallas area.) As I pulled into Choteau from the south I was greeted by two grumpy looking cowboys (in the Ace Hardware parking lot).  I contacted Ace owner Steve Nyland to inquire about the pieces and learned that they were made by Lincoln, Montana born artist Rick Rowley who now runs the Lost Woodsman Studio in Sedona, Arizona (which, by the way is ALSO on US 89 in Arizona) and is world renown for his art.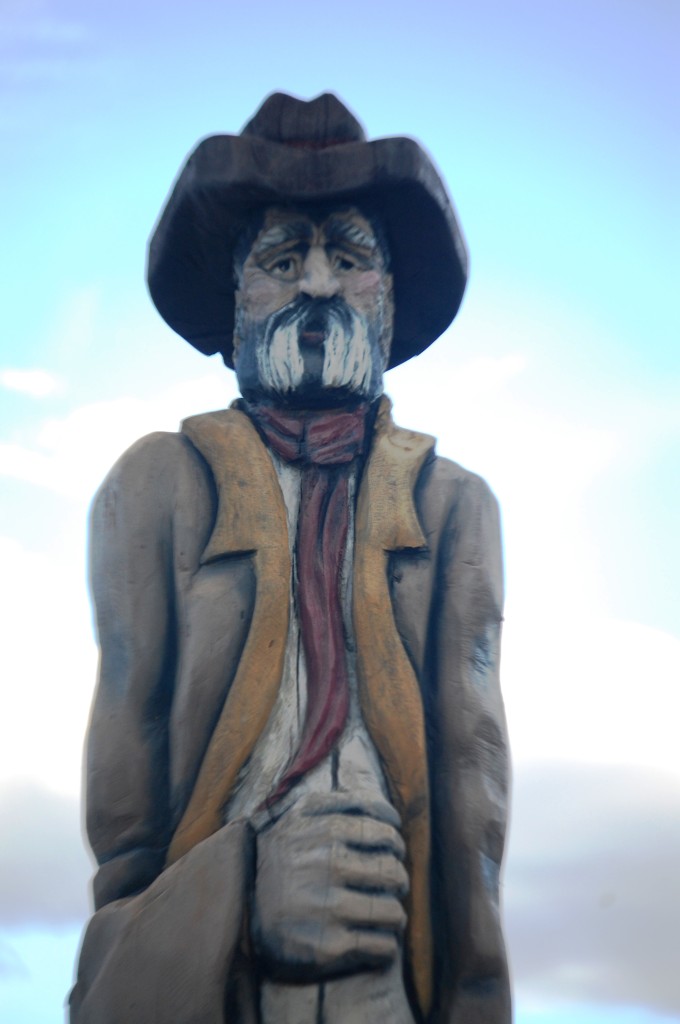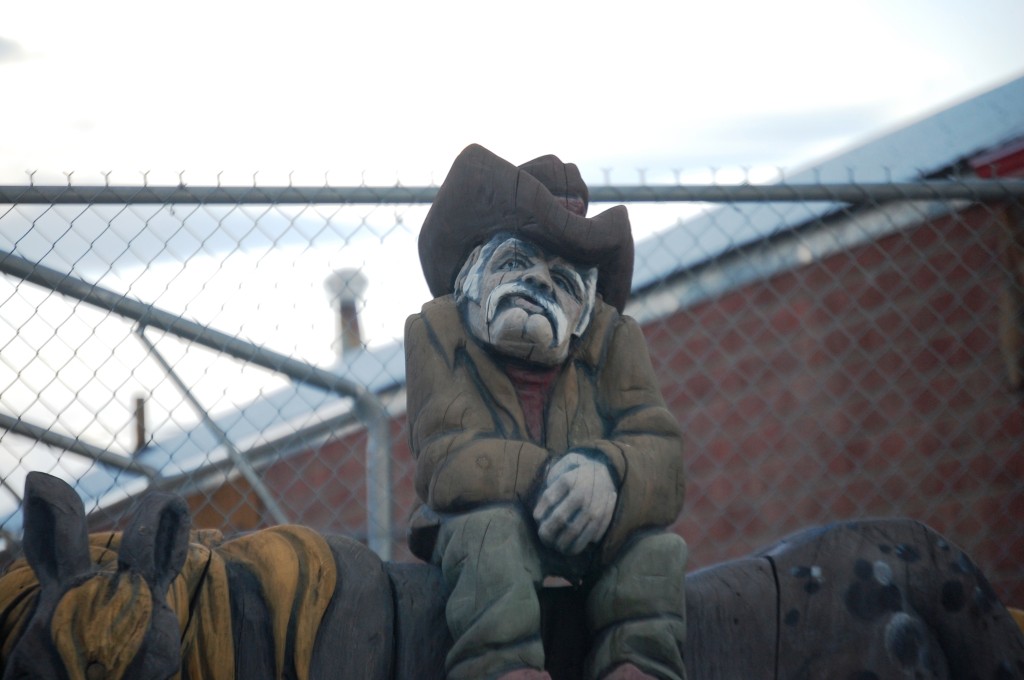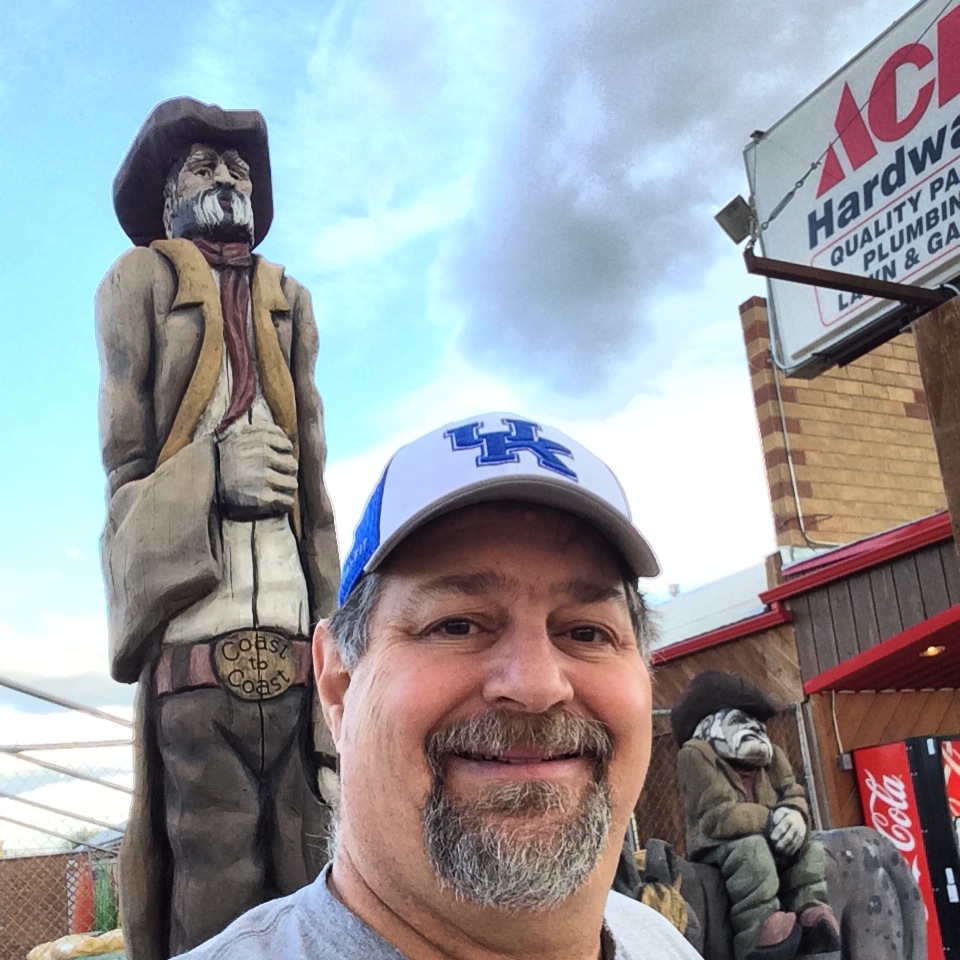 Choteau is home to a beautiful old courthouse, a 70s style motel and a few other unique things.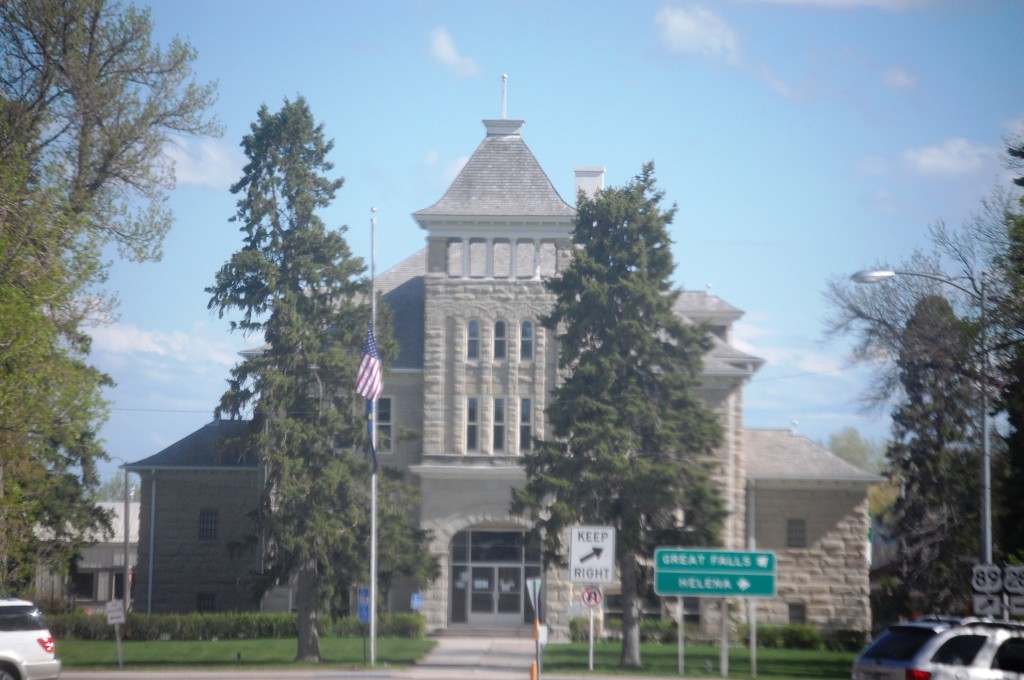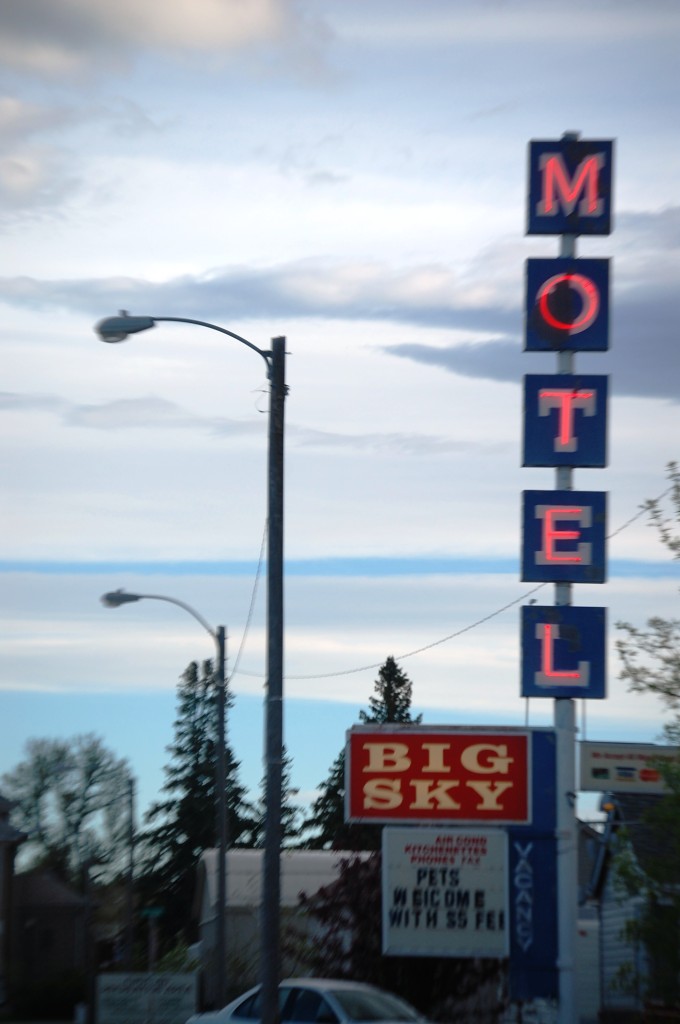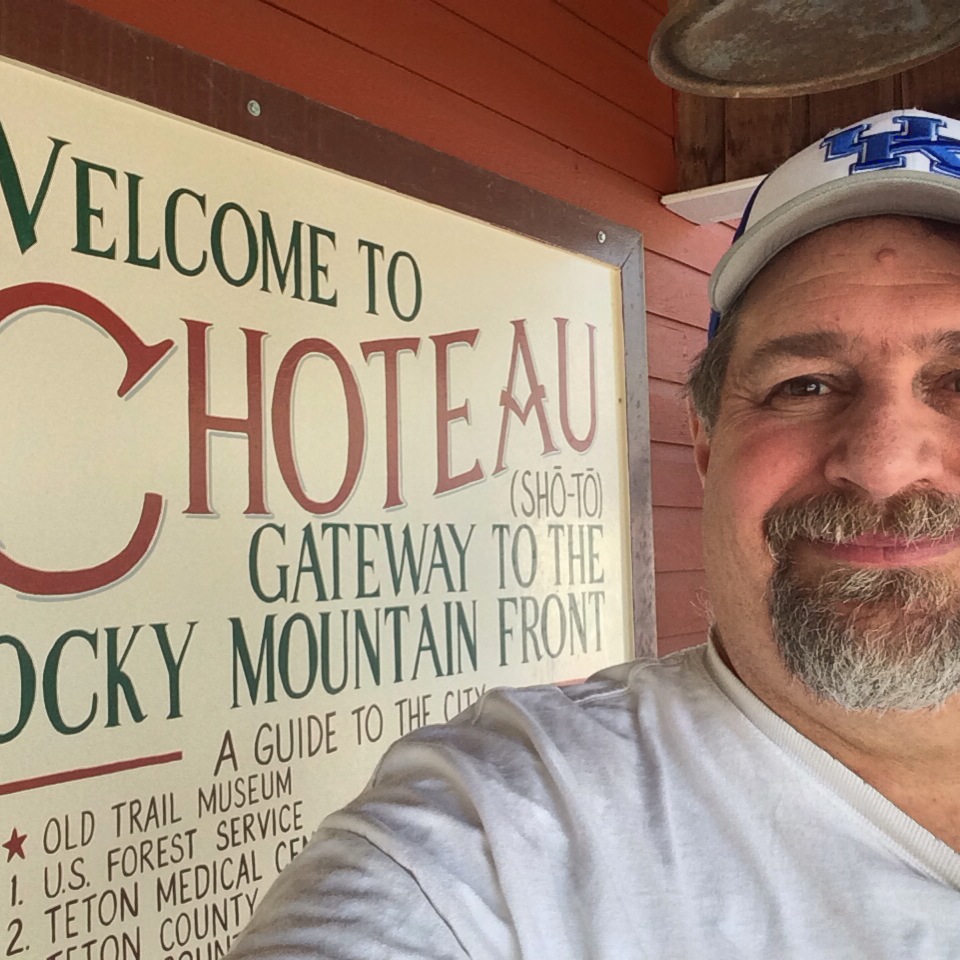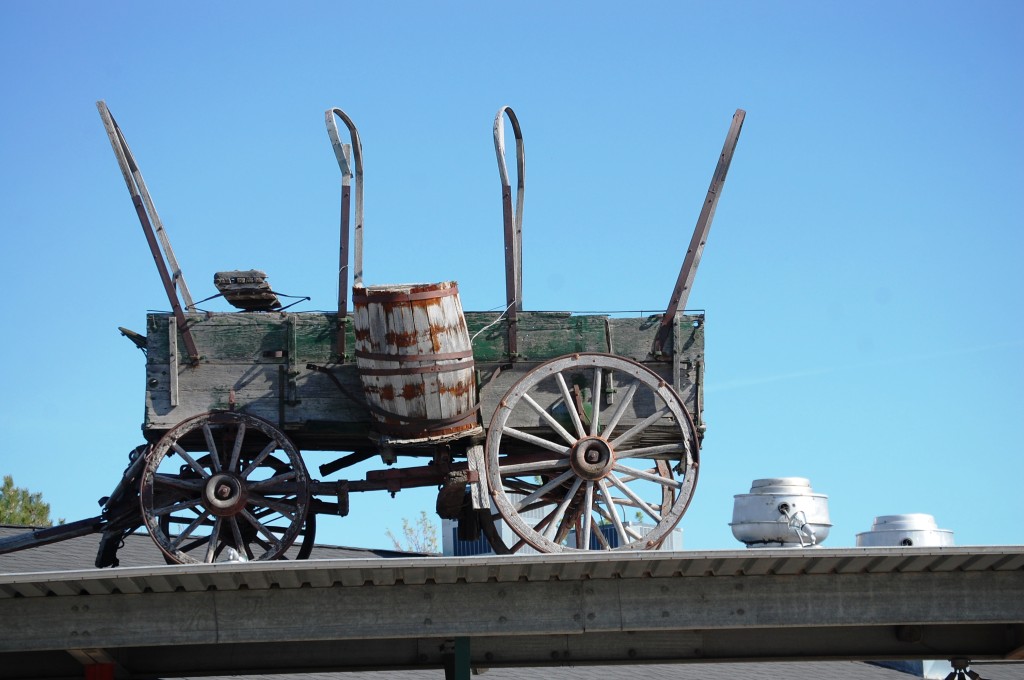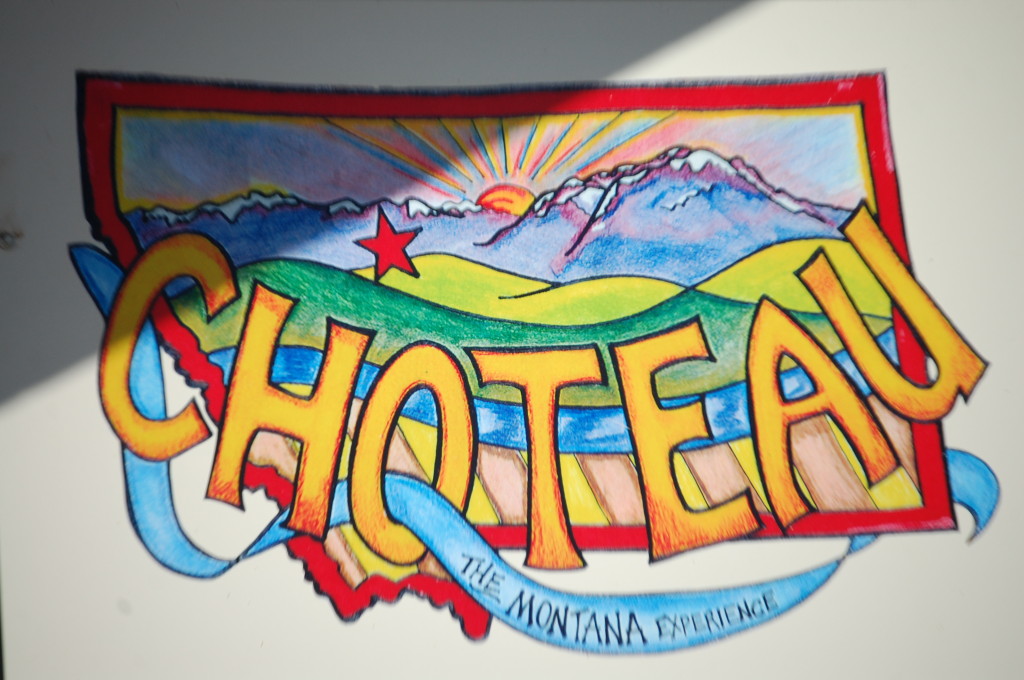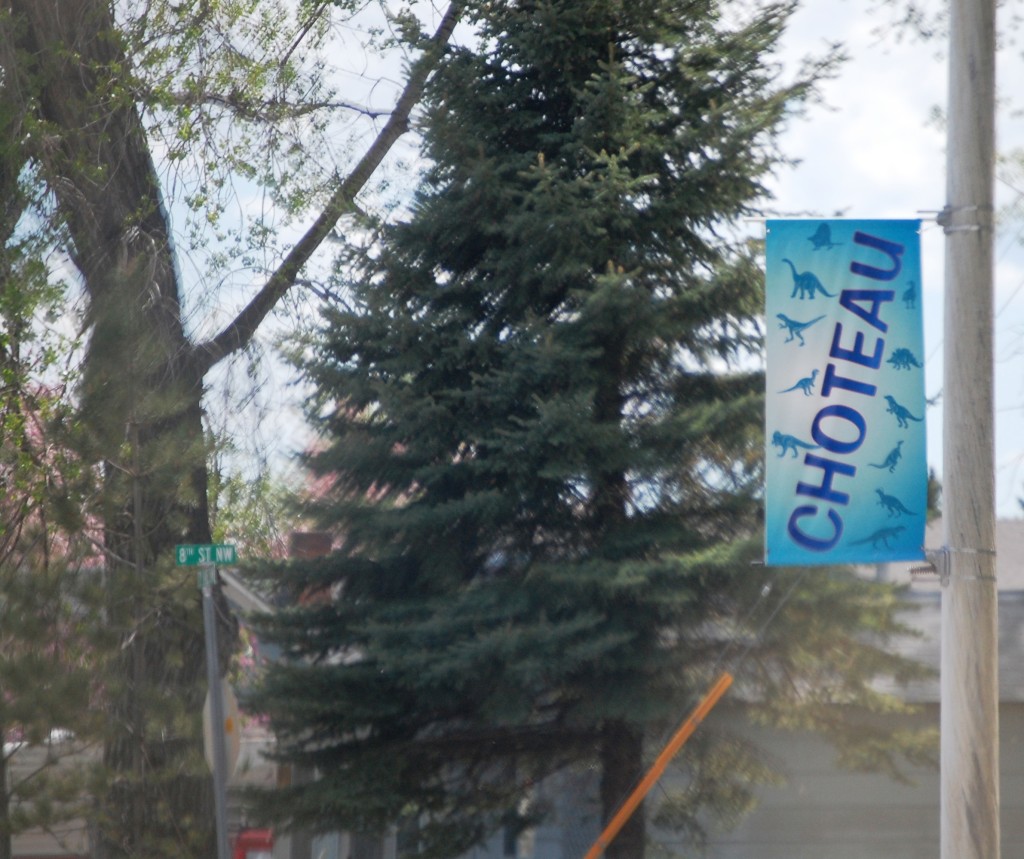 It is also home to a unique little museum called the Old Trail Museum, and is one of 14 stops on the Montana Dinosaur Trail. They even have three big dinosaur statues outside of the museum.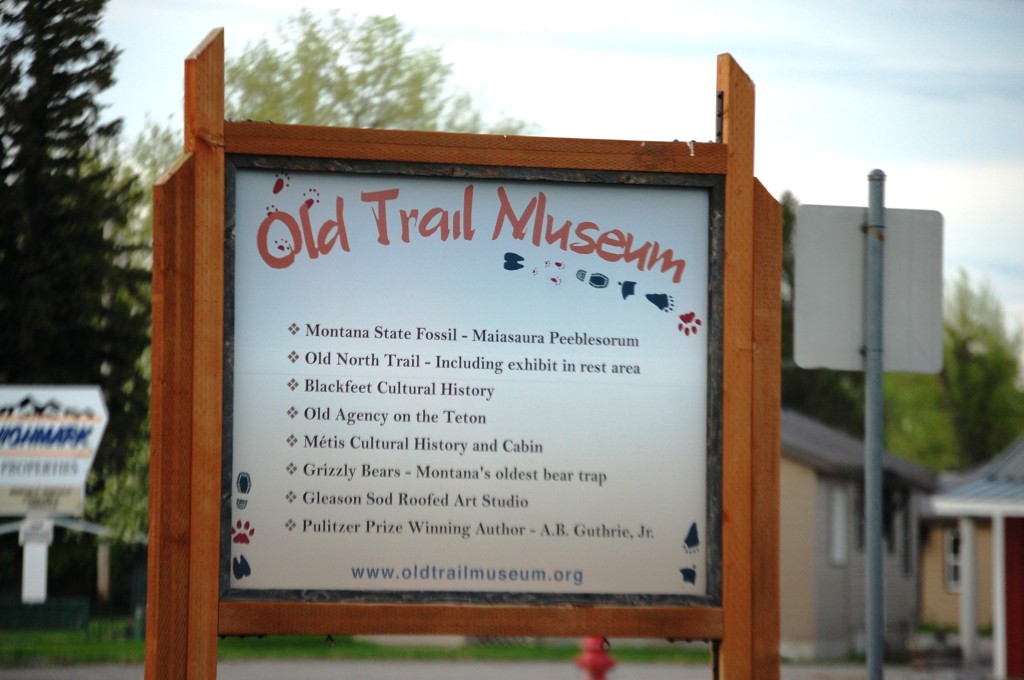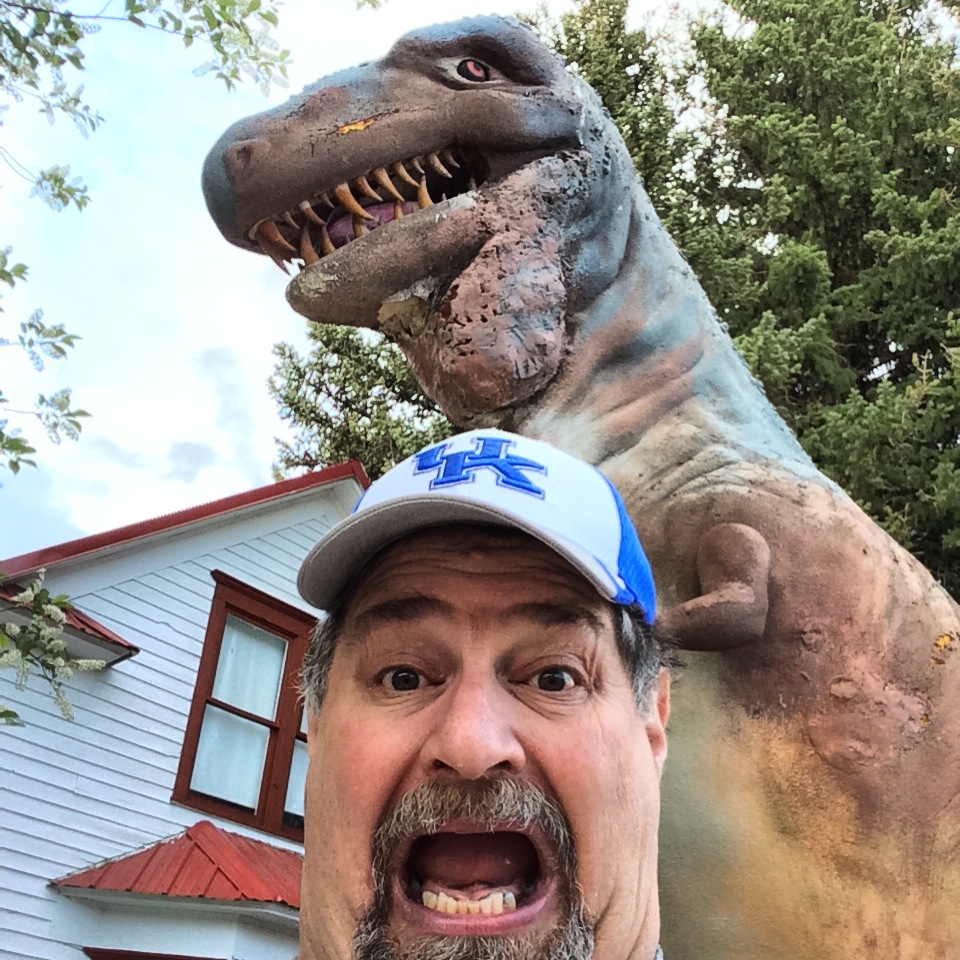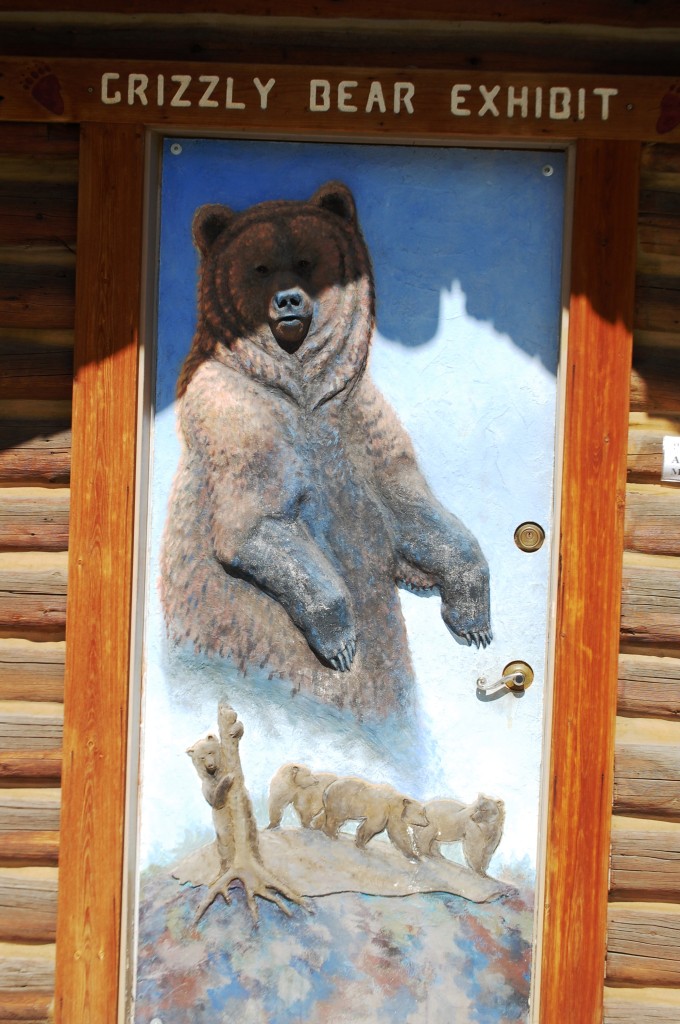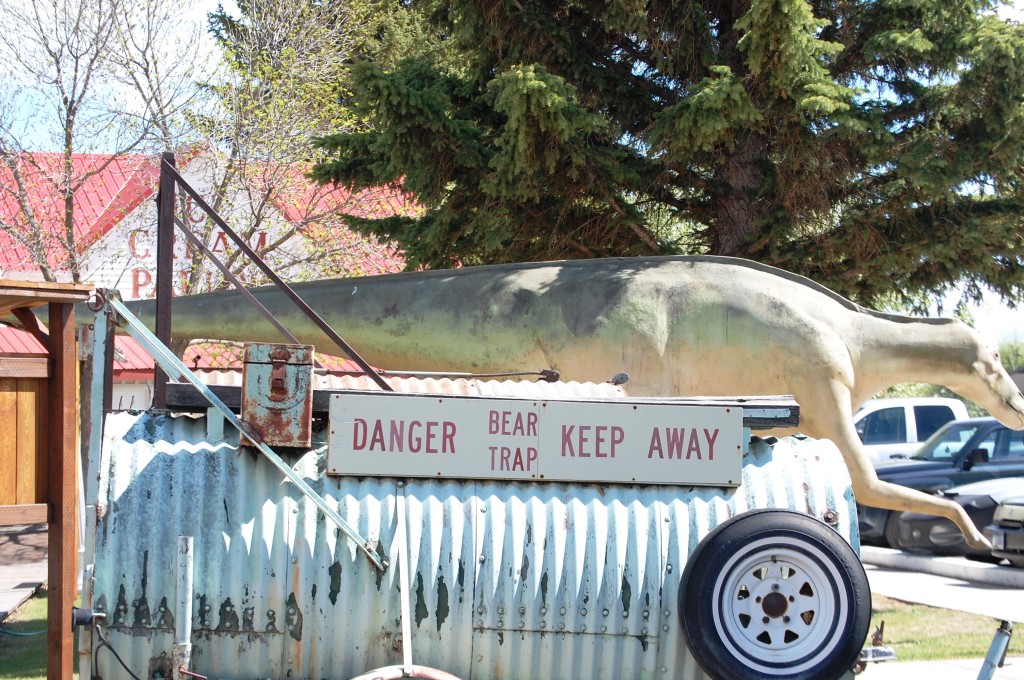 The folks at the Old Trail Museum are ultra friendly and there is a lot to see there including paleontology exhibits, grizzly bear exhibit, an art studio and a luscious ice cream shop!  A great place to bring the kids…and that is why we came with the grand kids.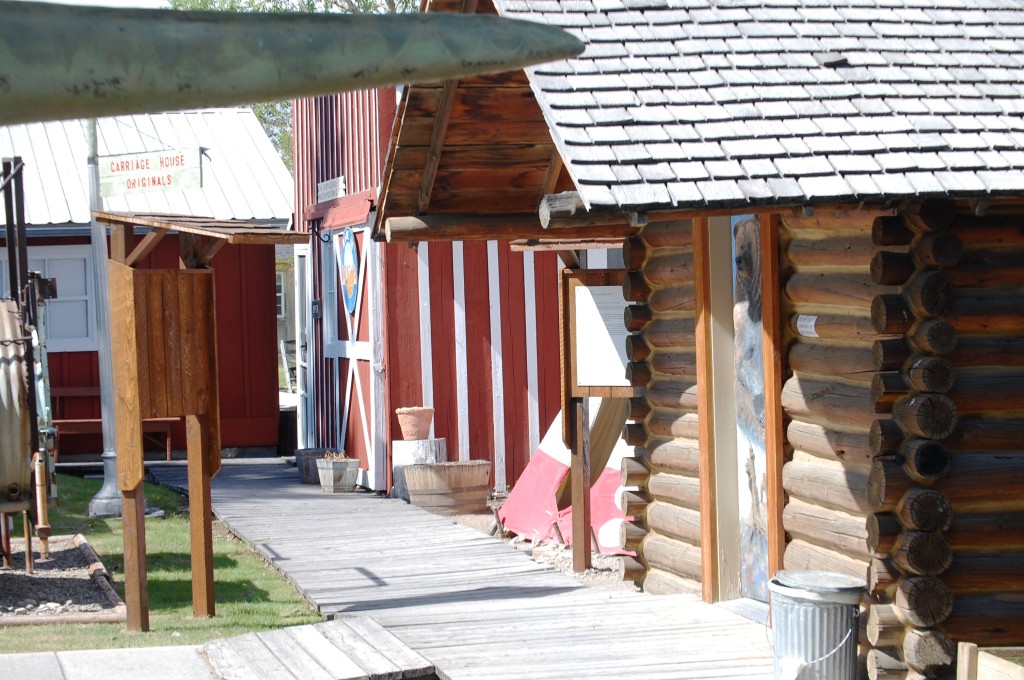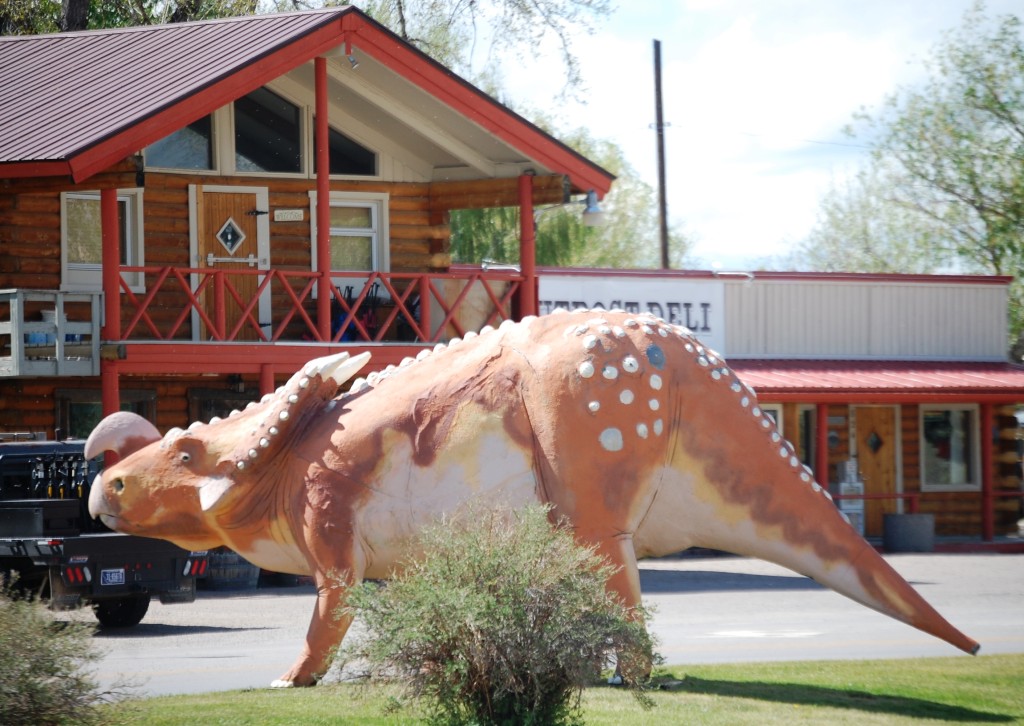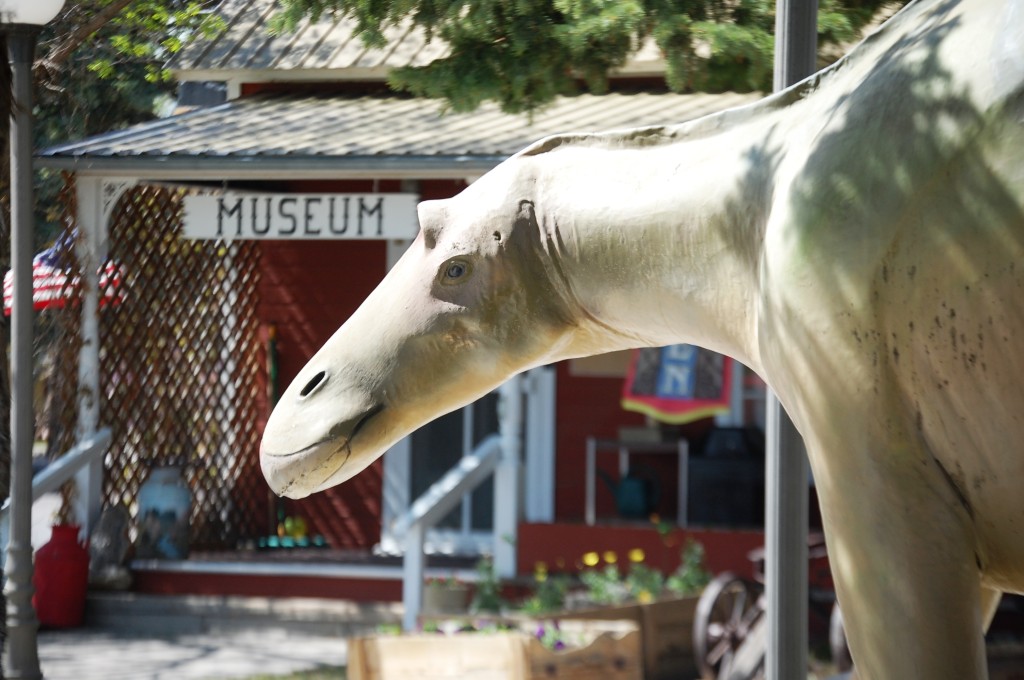 The next town north of Choteau is Bynum, Montana.  The town is home to yet another dinosaur museum, the Two Medicine Dinosaur Center, another Dinosaur Trail stop.  The center includes the world's longest dinosaur, a skeletal model display of a Seismosaurus, according to the Guinness Book of World Records. Other displays include the first baby dinosaur remains found in North America and the actual remains of other new dinosaur species.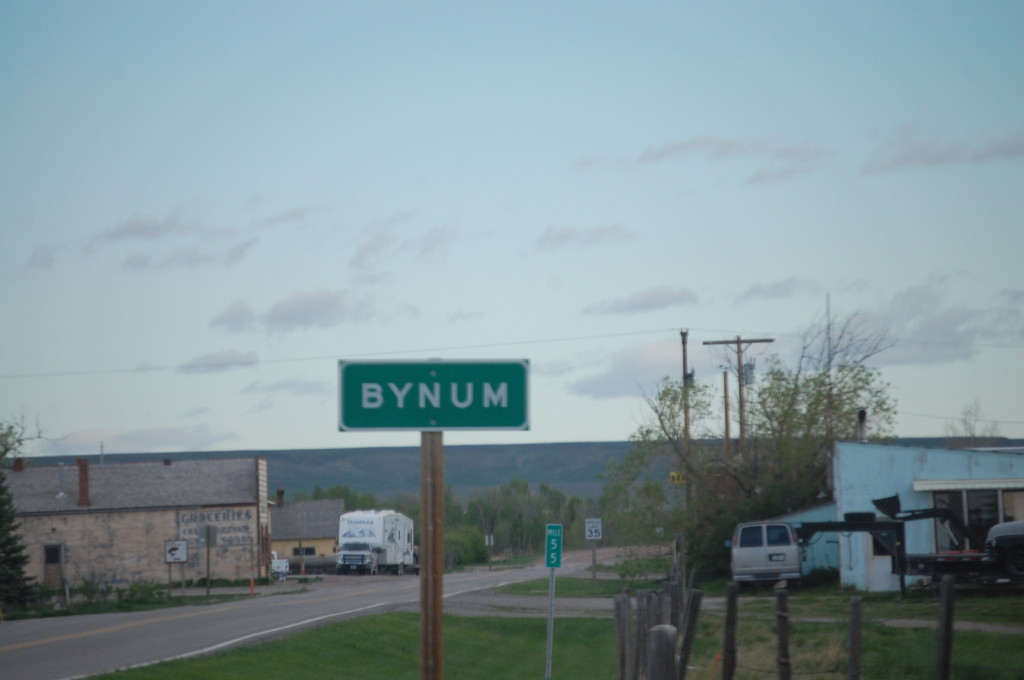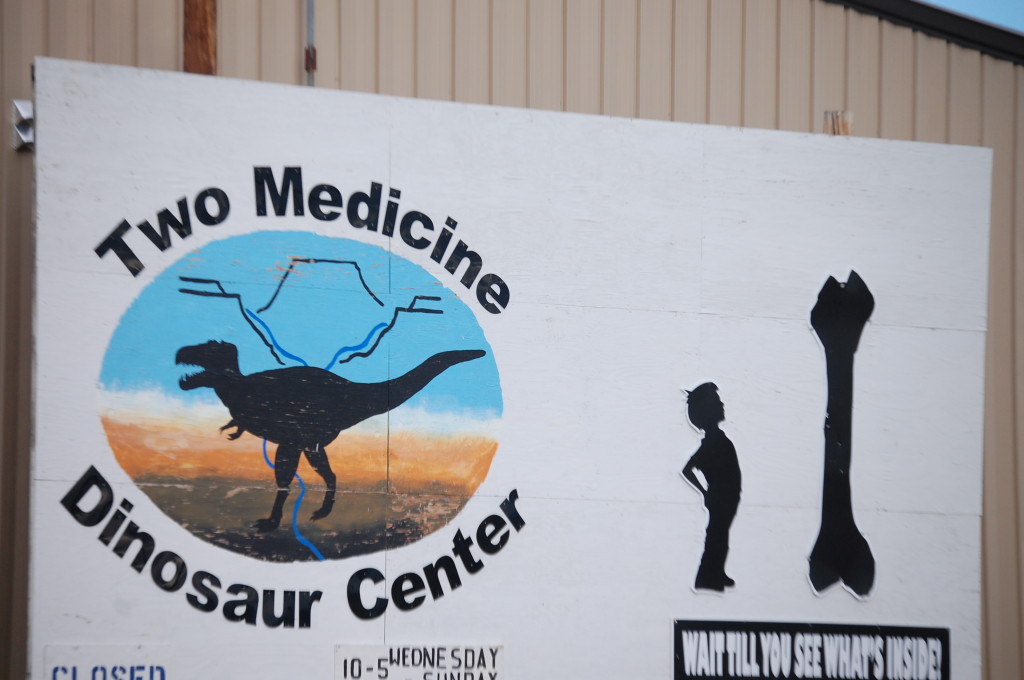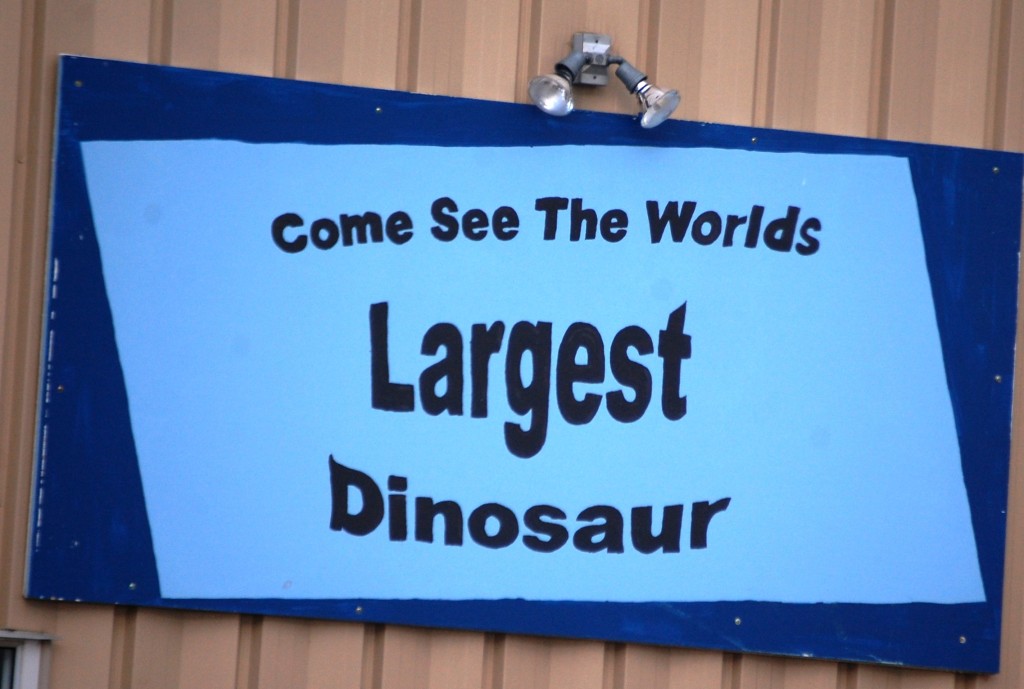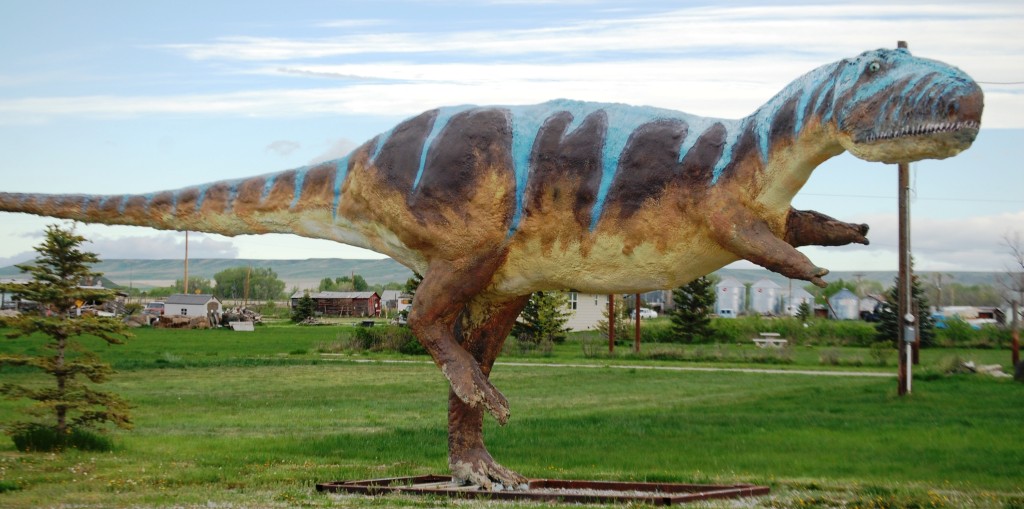 This is another one of those very small towns, but it does have a unique character in that it has a dinosaur museum in a giant T Rex that you can see from the highway. Great for a photo opportunity!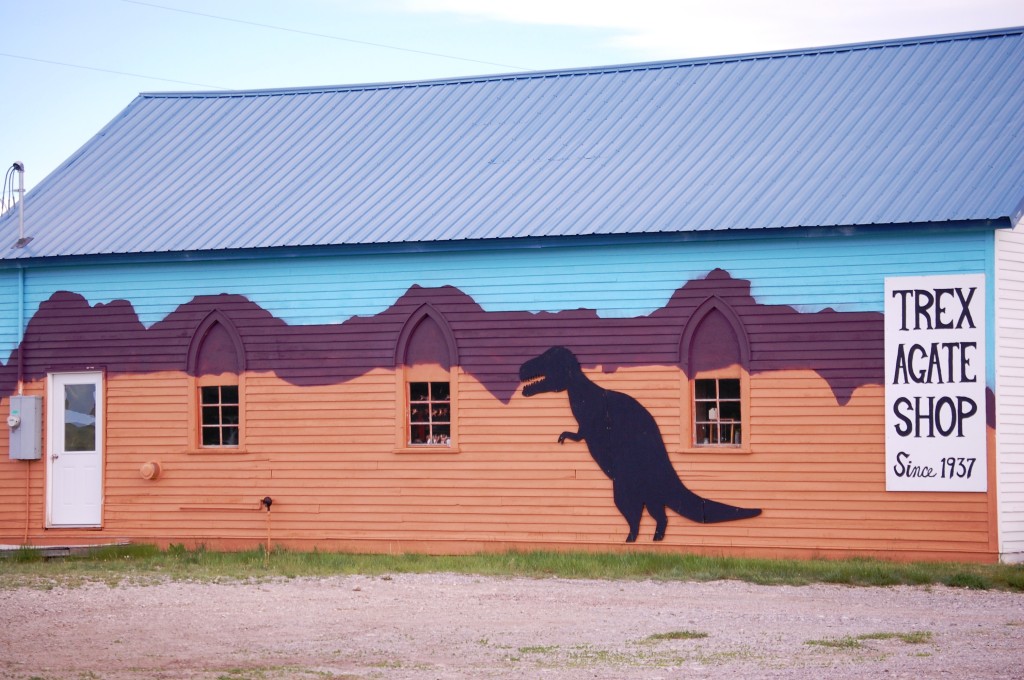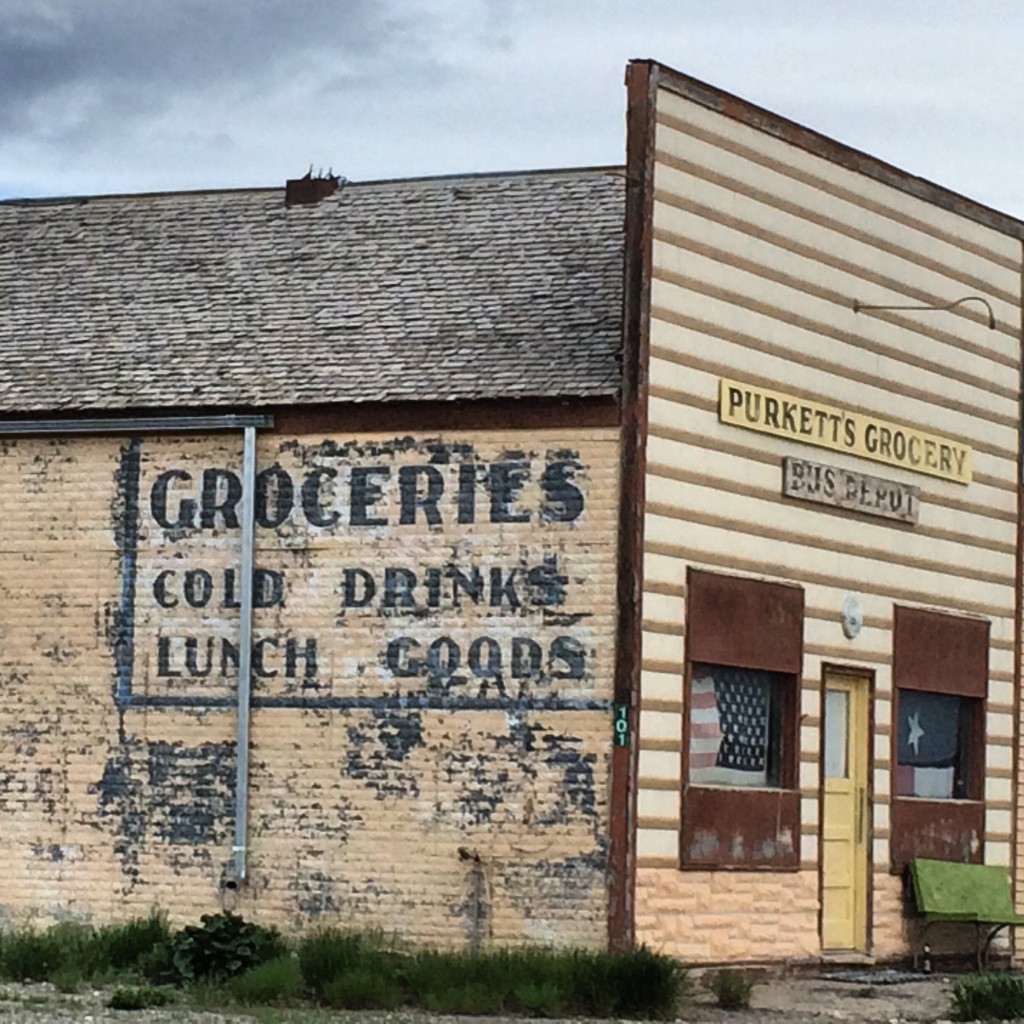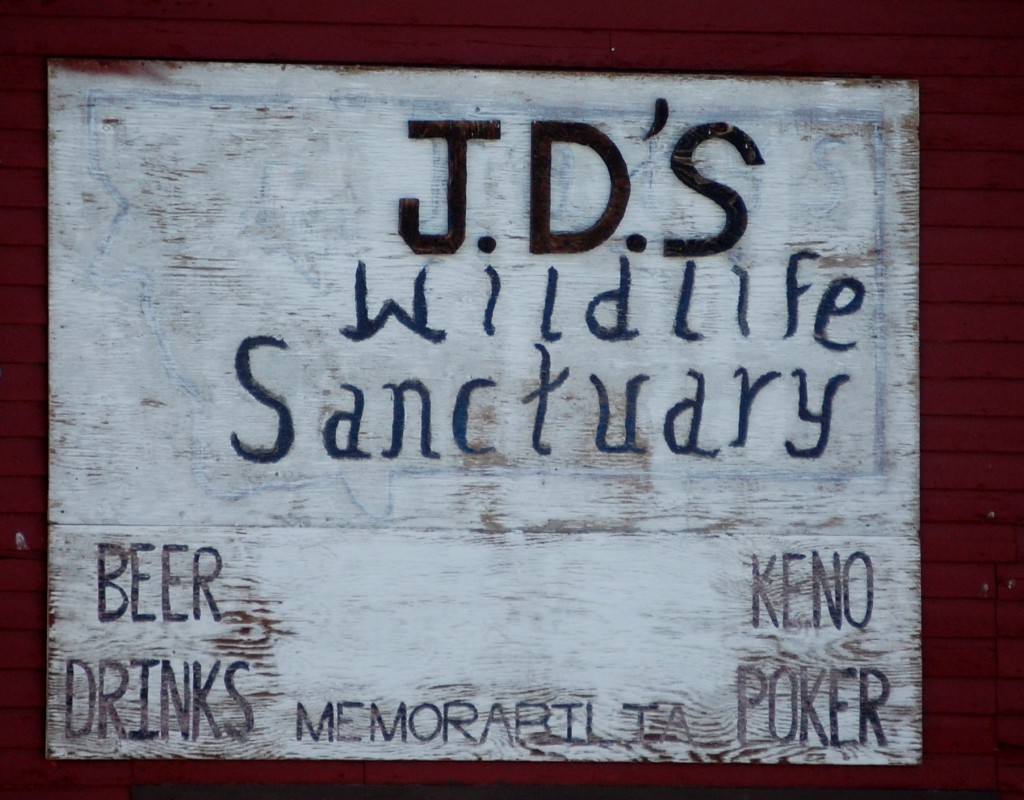 Another few miles up the road US 89 meets Montana 219 which leads to Pendroy and then on to Conrad on Interstate 15.  Pendroy, Montana is a sparsely populated little place.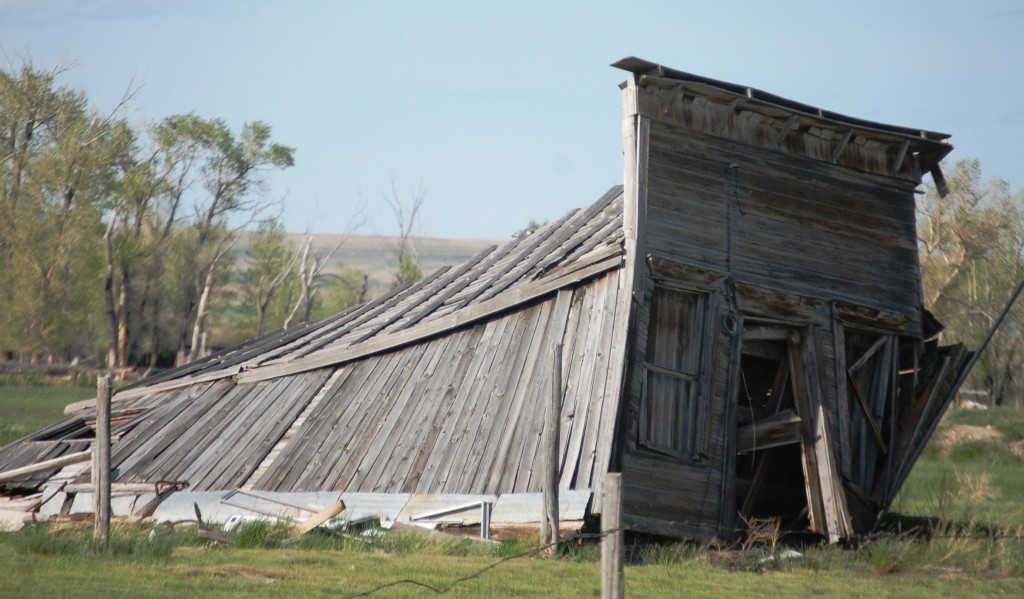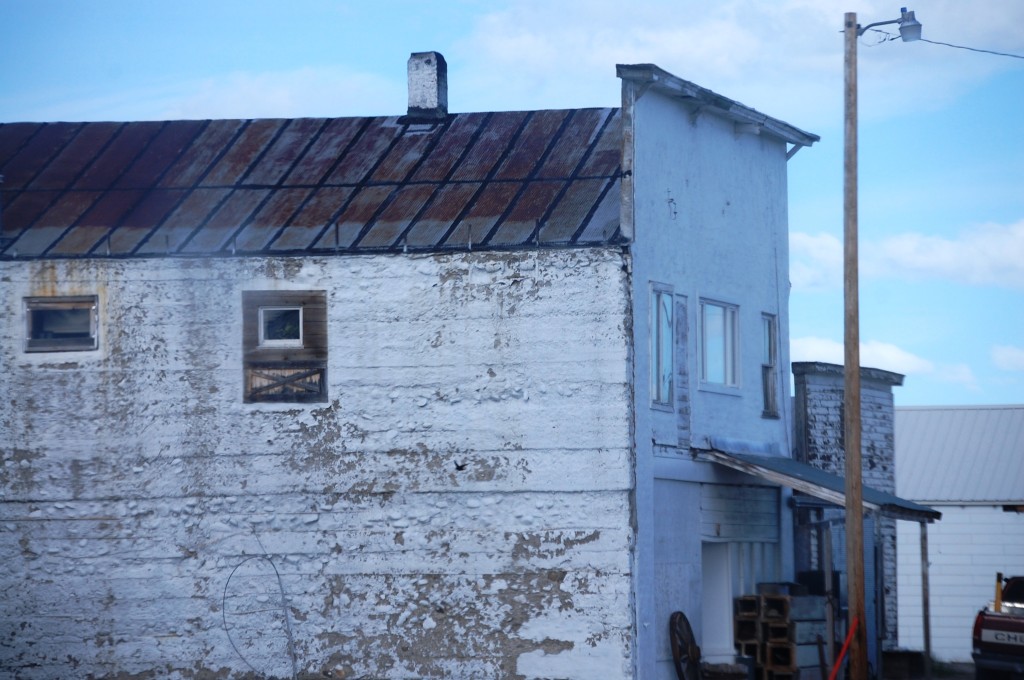 My biggest excitement about Pendroy was the discovery of some unique yard art outside a house there. It included a wind chime made of oxygen tanks, a metal bear sculpture, a metal gal on an old tiller and more.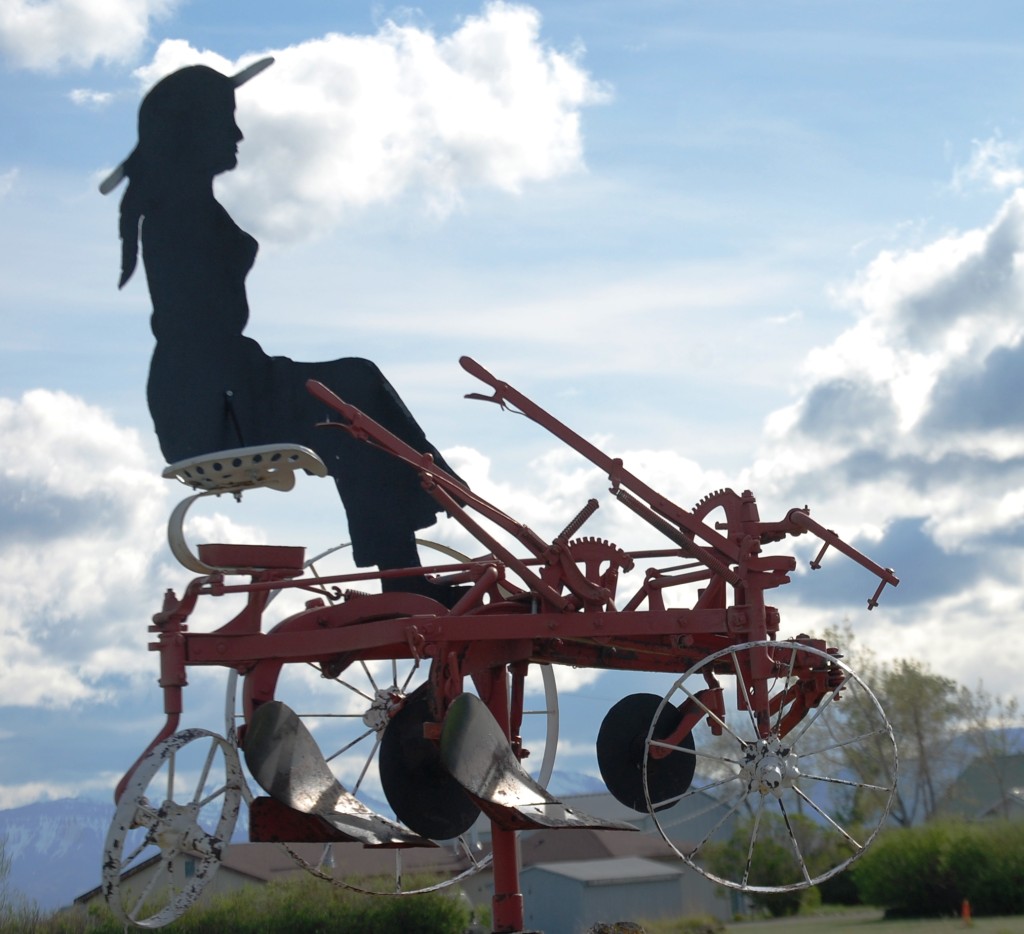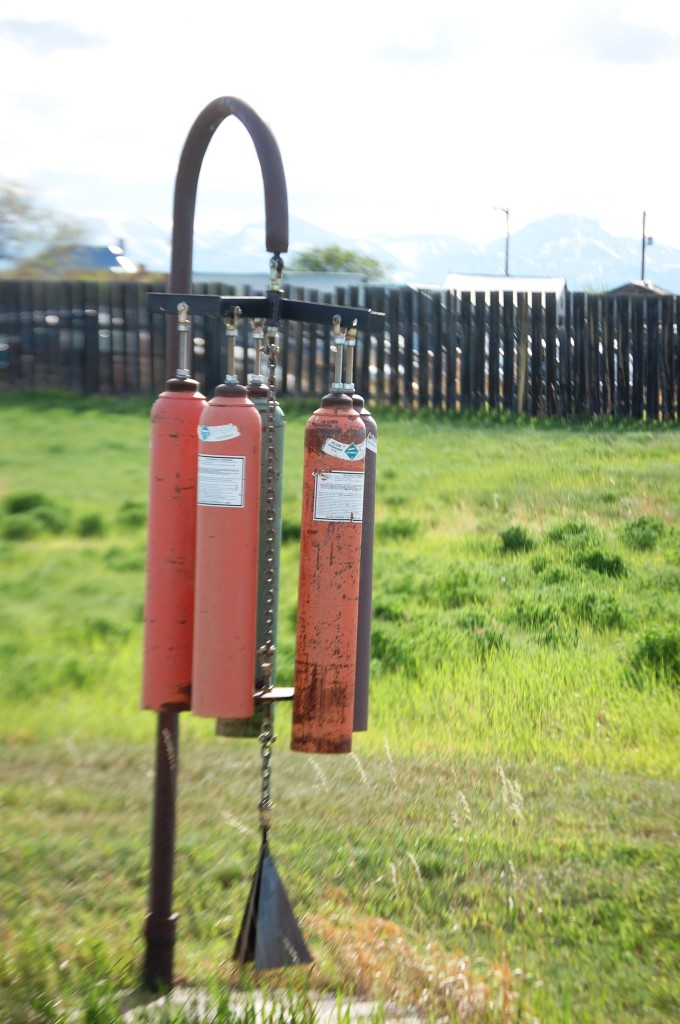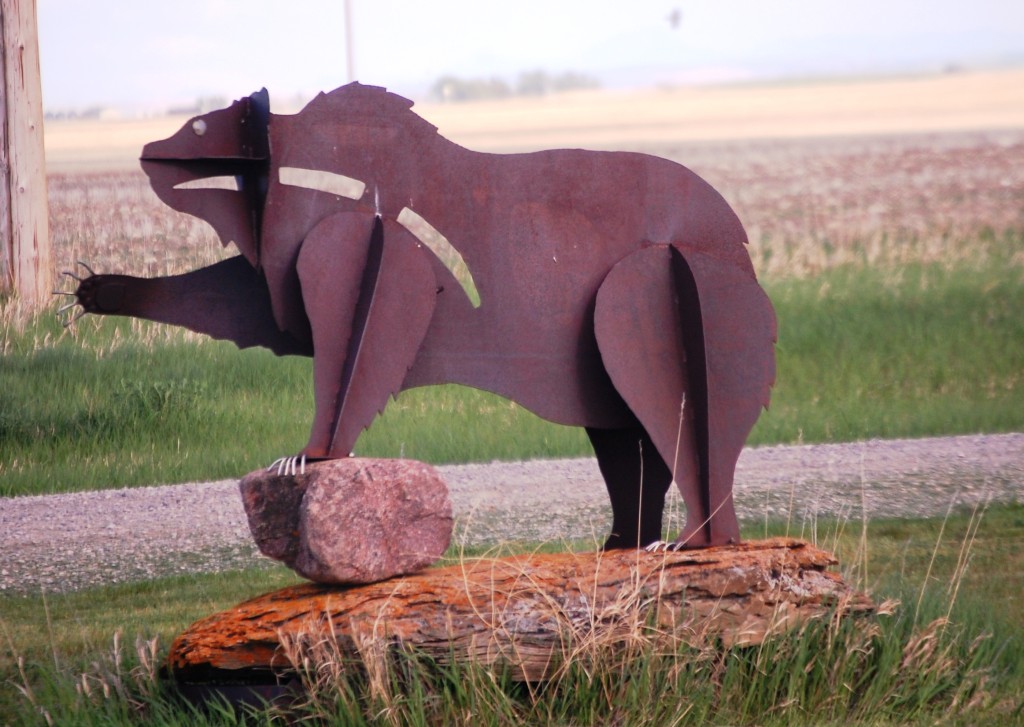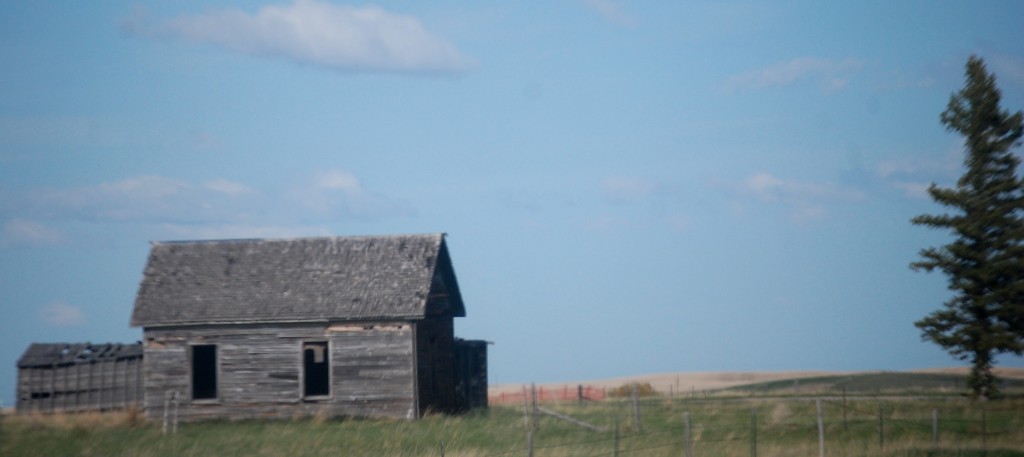 The drive north on US Route 89 really offers some spectacular views of the mountains to the west and they are extra beautiful when the sun is coming up.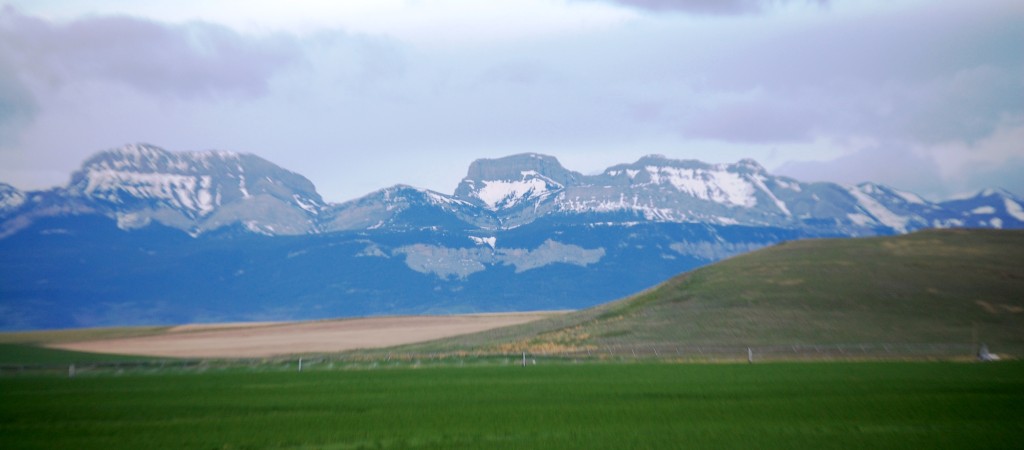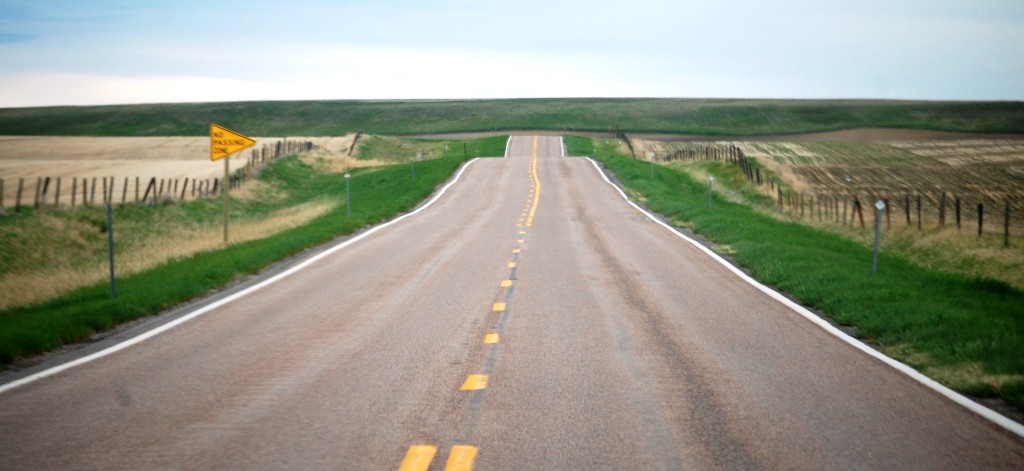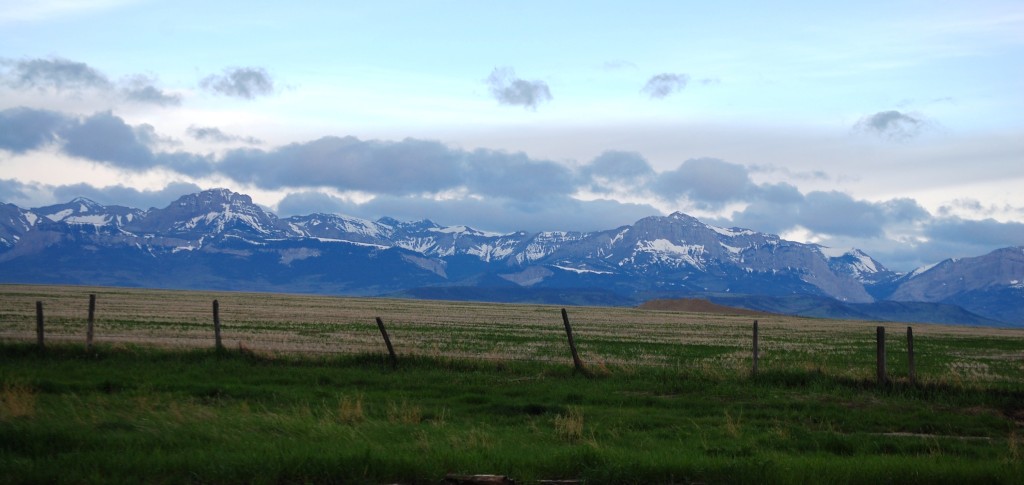 The next town on US 89 is the historic town of Dupuyer, Montana.  The sign below says it all, calling is a "colorful cattle town" and the "oldest town between Fort Benton and the Rocky Mountains."  I found it to still be colorful.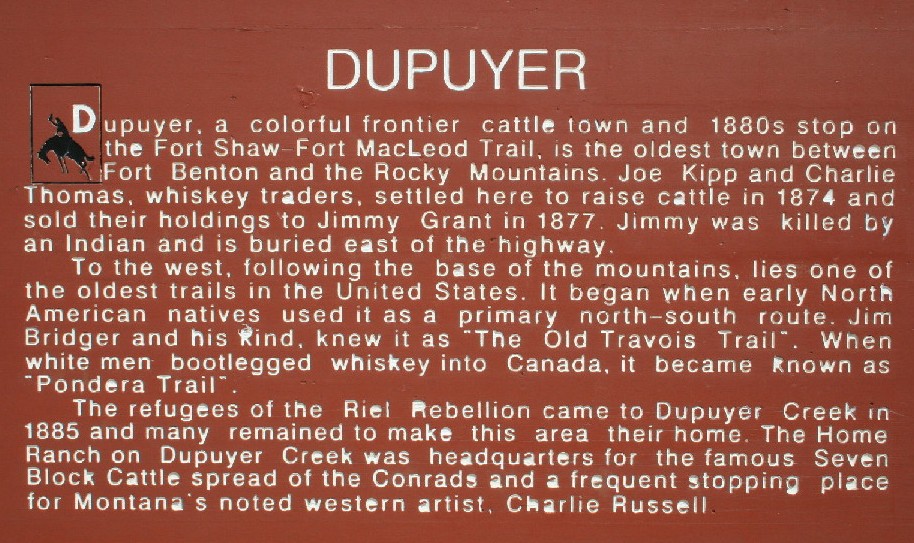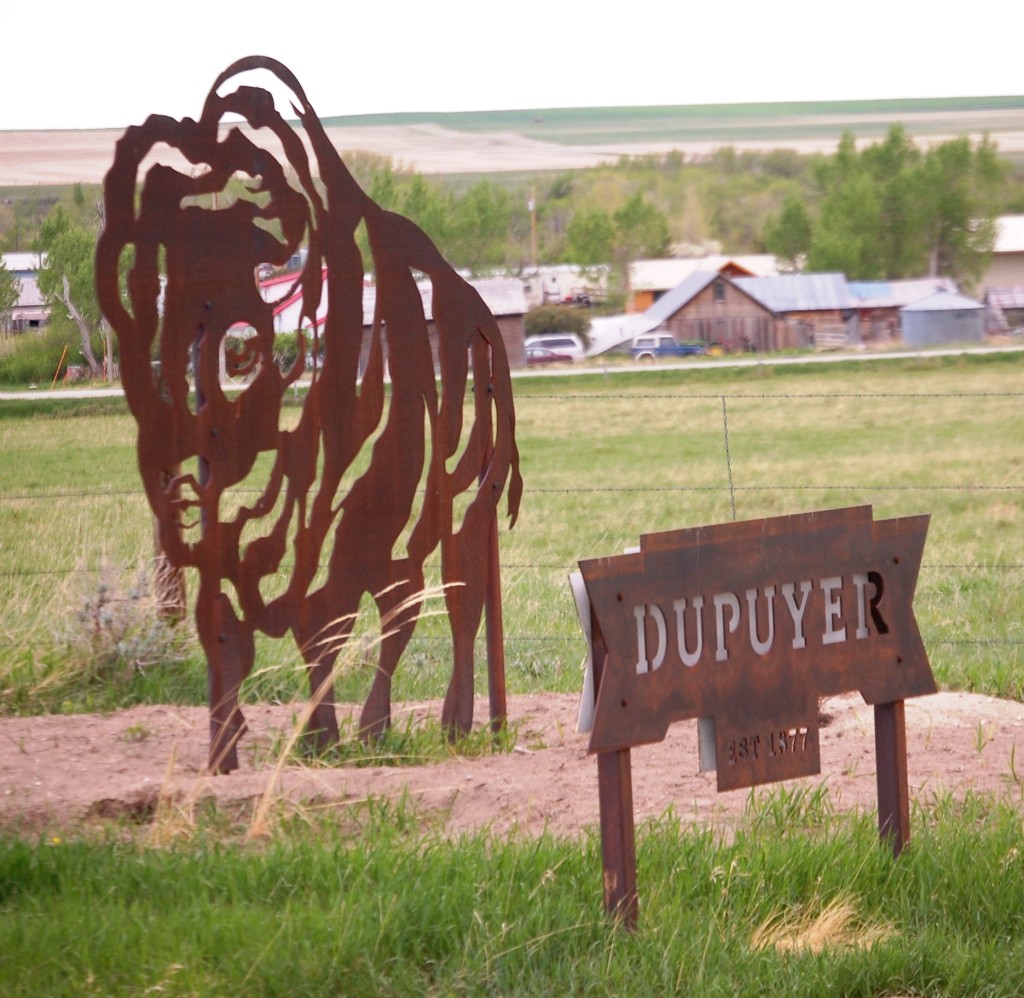 While driving into Dupuyer, I noticed a unique cemetery on a hill west of town with the flag flying high and the Rockies in the background.  I decided to veer off the road a bit onto Dupuyer Creek Road and catch some of the scenery and was glad I did.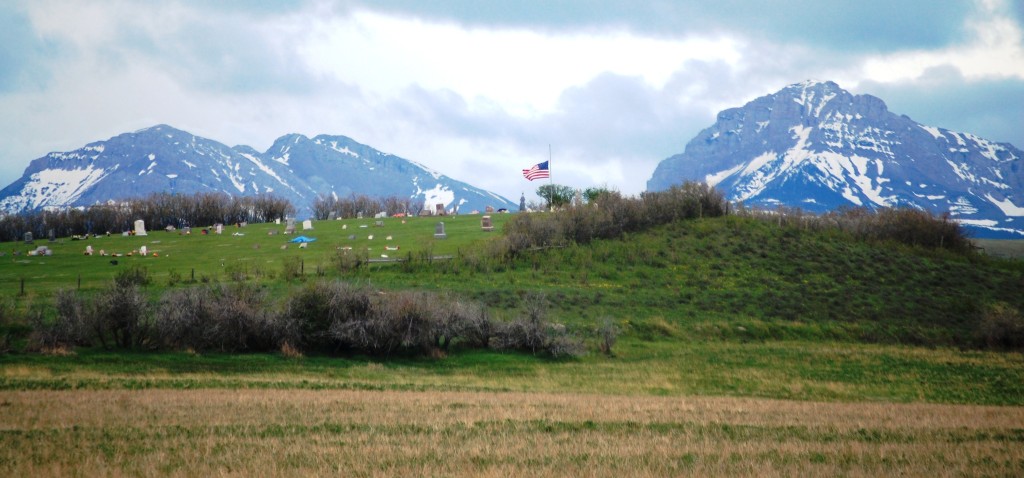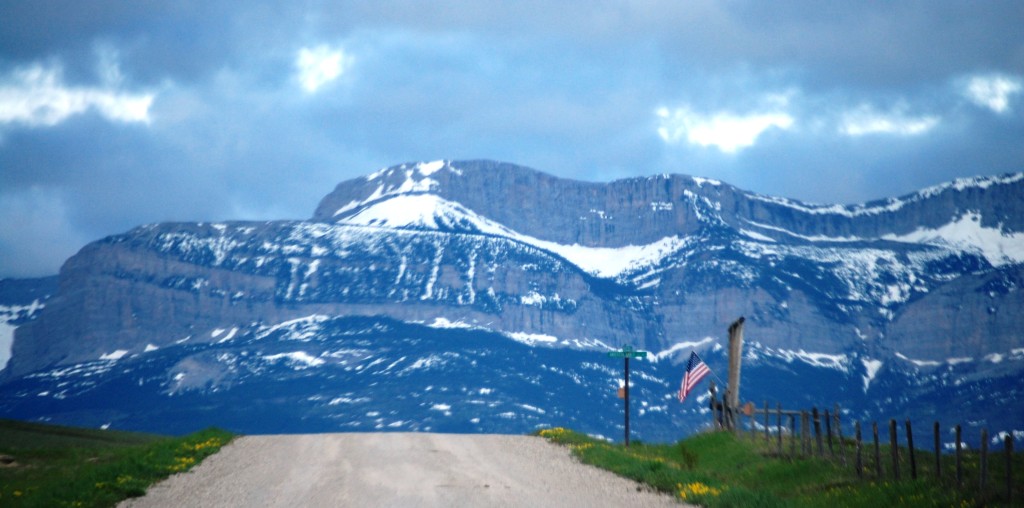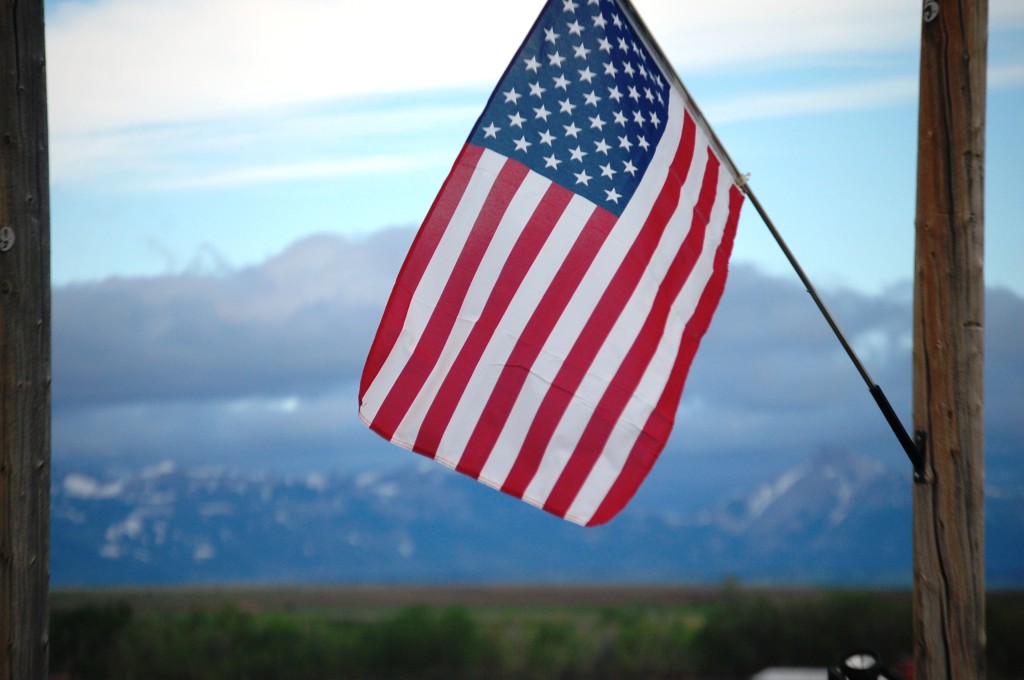 The road was also lined with colorful wildflowers all on bloom on this early morning.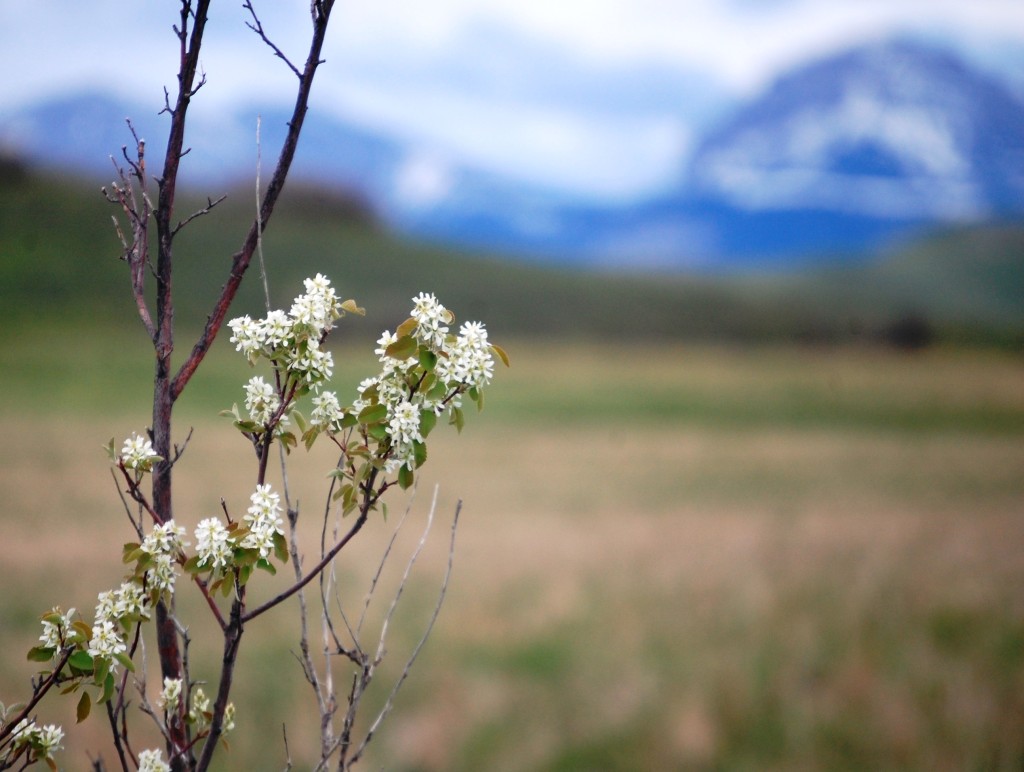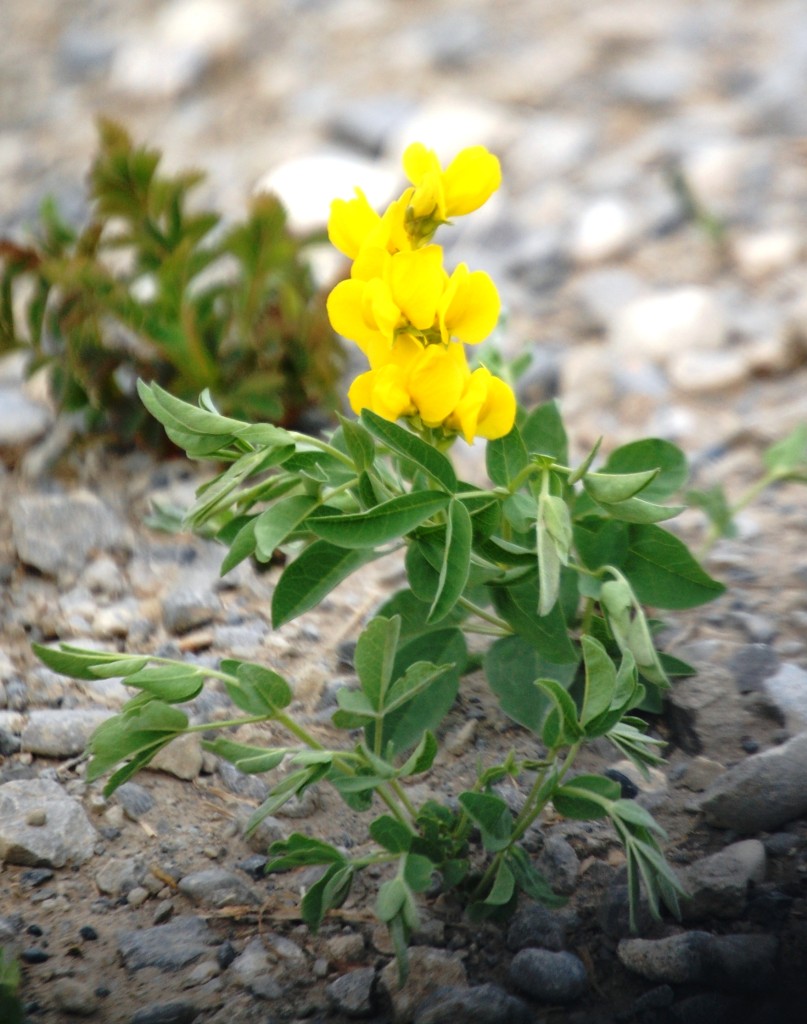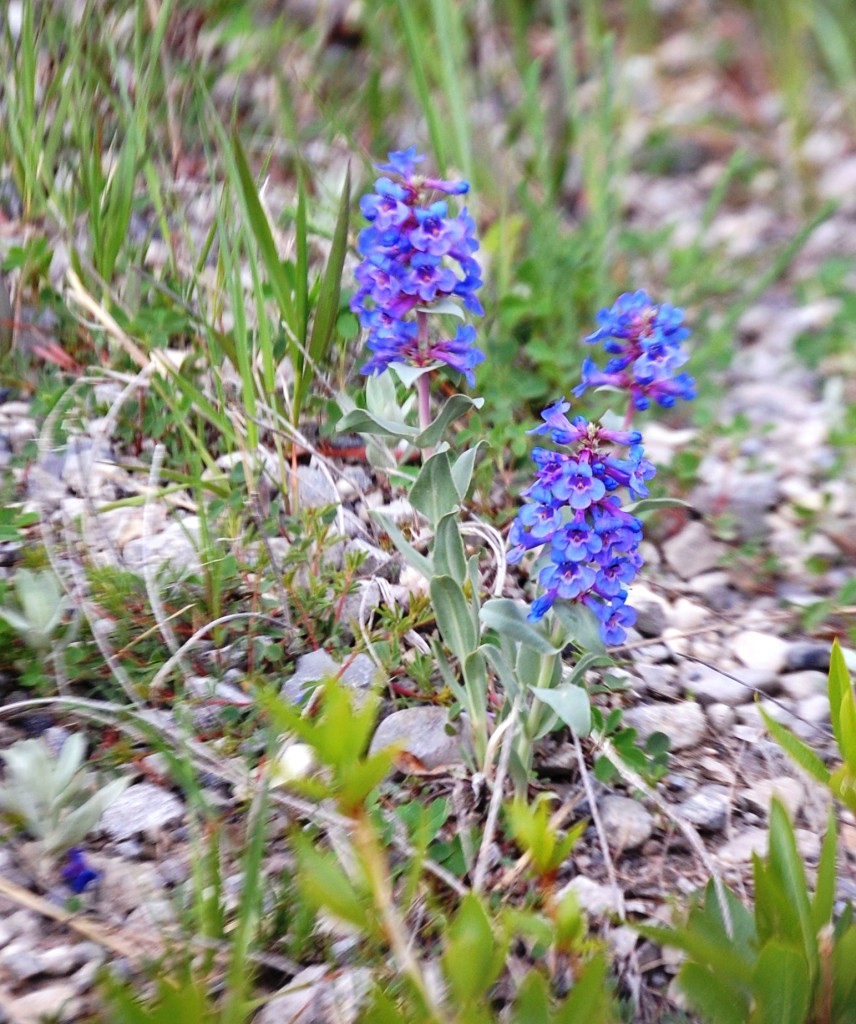 Then, what struck me as fun was the "Boot Fence."  I had seen one similar on a highway in Idaho in 2013.  Each post had its own boot on it.  I have also seen it in Texas.  I wondered about the tradition and found a few write-ups about the tradition. A search in Google images shows dozens of photos of boots on fences.
Many ranchers wear cowboy boots and like everything else, they eventually wear out. Ranchers are very resourceful and when this happens — they put the boots on top of the posts to keep them covered and prevent rain water from seeping into the posts and rotting them out.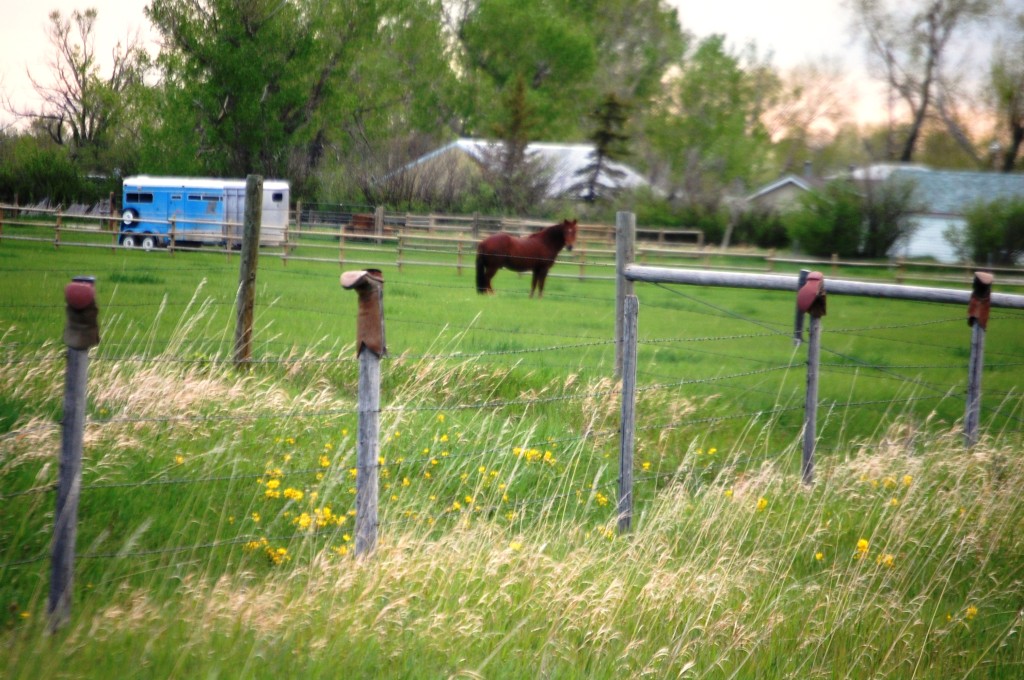 Sometimes, a rancher will put boots on the fencepost to honor the passing of a beloved horse, a hired hand or fallen comrade. Also, before telephones were invented, a rancher would indicate he was home and the workday was over by hanging boots on the fence. Whatever the reasons, it is an interesting tradition in the west.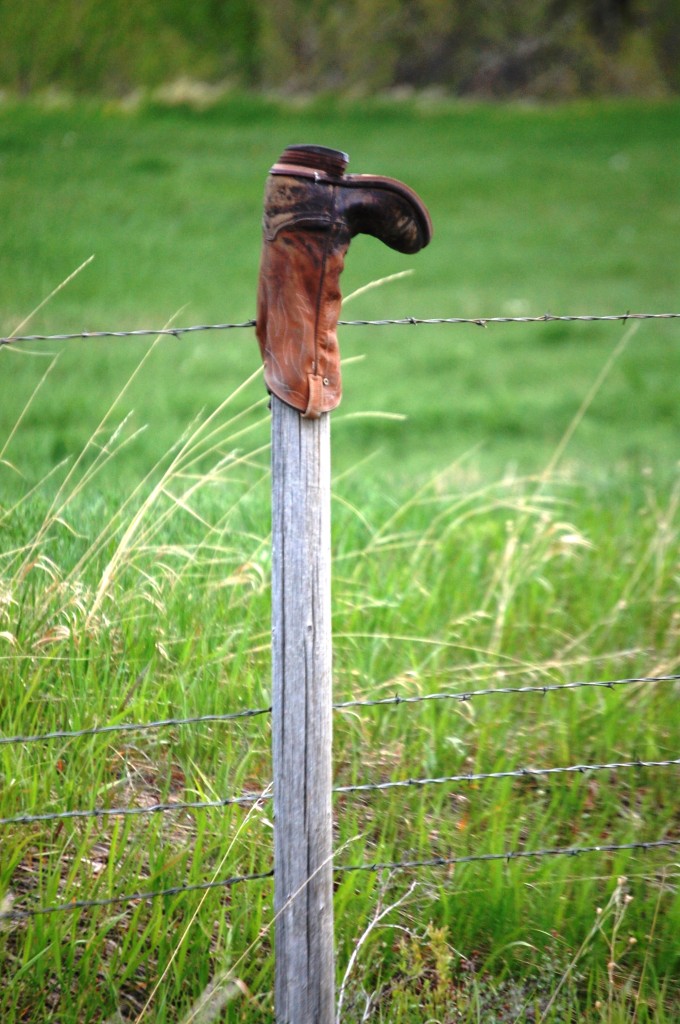 Finally, back on US 89 I was tempted to visit the Dupuyer Cache, but they were still not open when I drove by at 8:45 AM.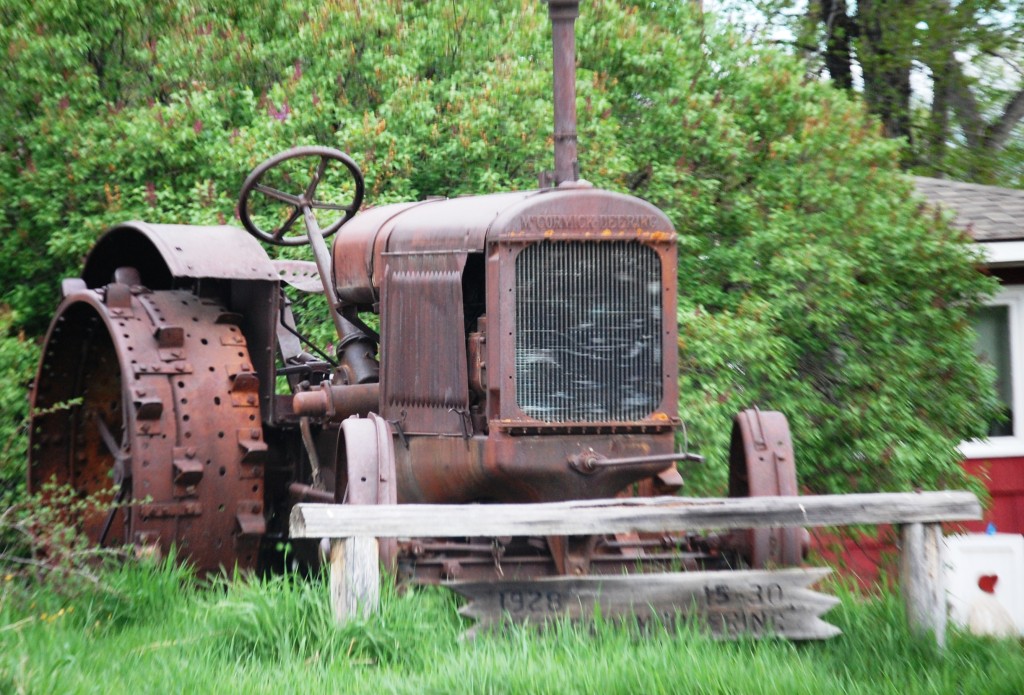 A couple of miles north of Dupuyer on US 89 is a cut off to Valier. In and of itself, Valier is not too exciting of small town but it is scenic as it borders Lake Frances, a great bird estuary.  On the afternoon leg of my trip with my grandchildren we ventured to Valier on our way to Choteau in order to take a ride out to "Rock City."  It is a six or seven mile drive due north of town.  This is not the same Rock City that is located near Chattanooga, Tennessee and has advertisements on barns all over the southeast.  Rather, this Rock City is a natural "city" of rock formations that have been eroded away by the Two Medicine River. (See my detailed post about here)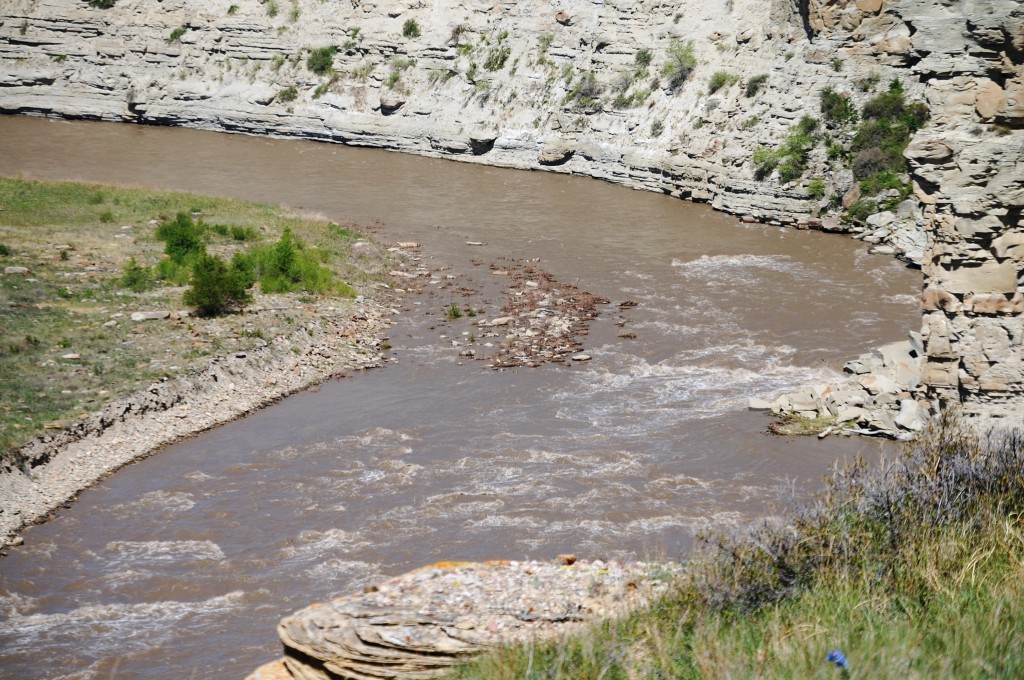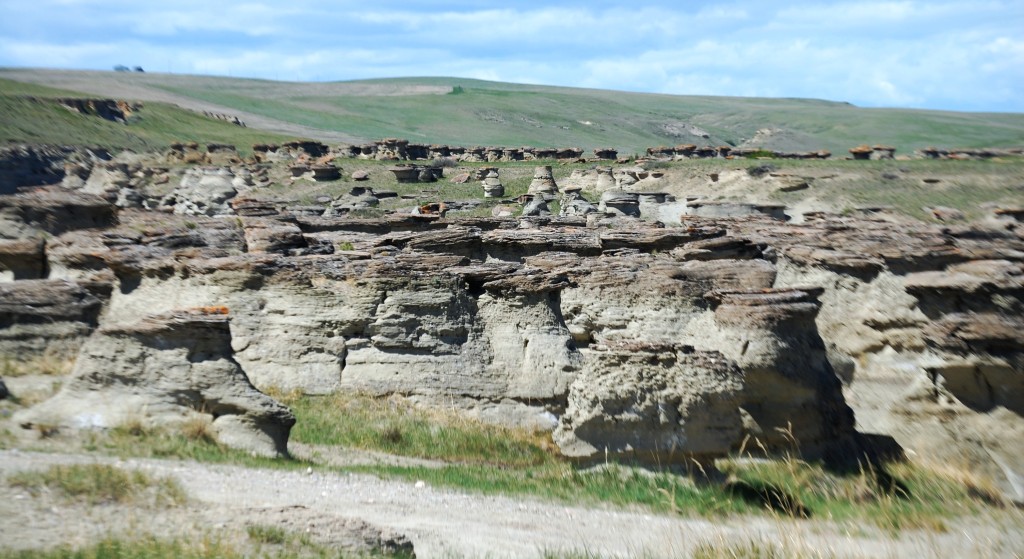 To get to Rock City you drive north towards Cut Bank out of Valier on Cut Bank Highway and as the road turns west, you continue north on a dirt road which eventually turns into a little path that's kind of bumpy and probably more suited to a four-wheel-drive or a large base vehicle.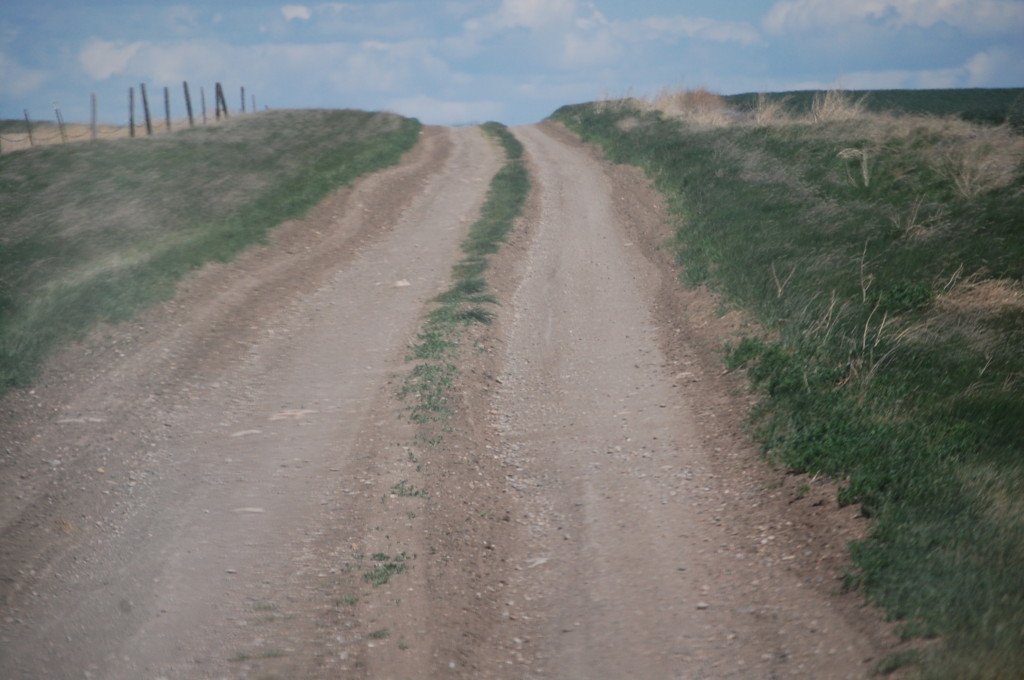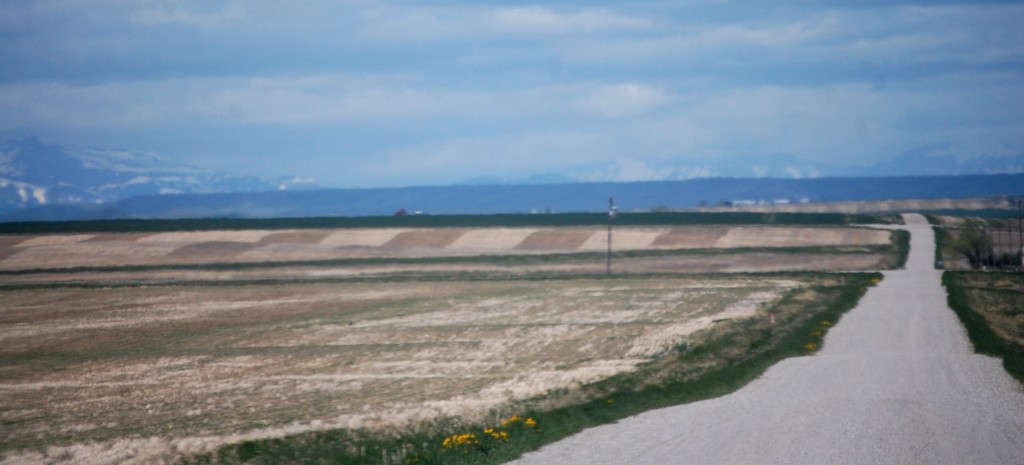 On the approach through prairie lands and farmlands, a big Valley, a chasm opens up in front of you. The Two Medicine River flows down below and it was quite a strong current at the time we visited due to all the glacier runoff as spring had gotten started.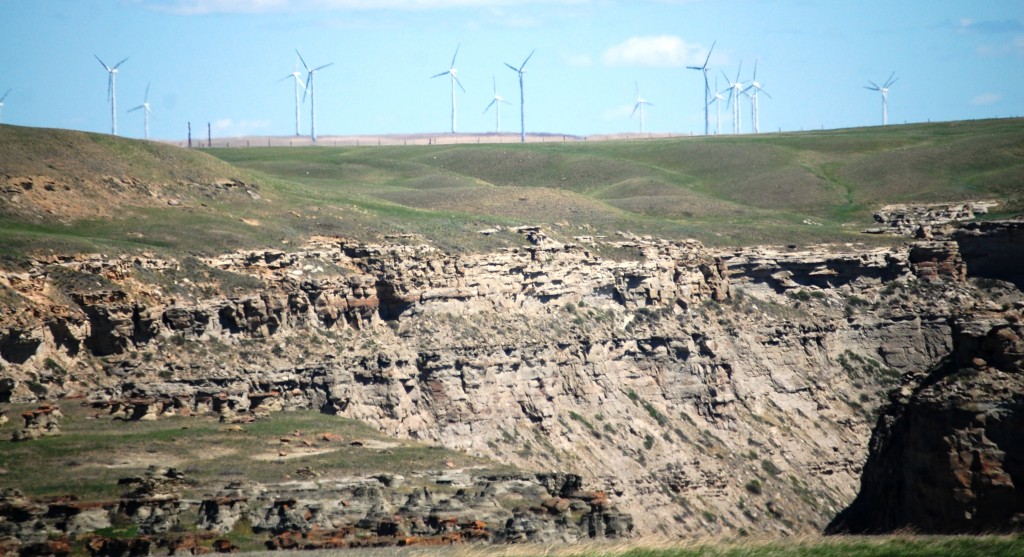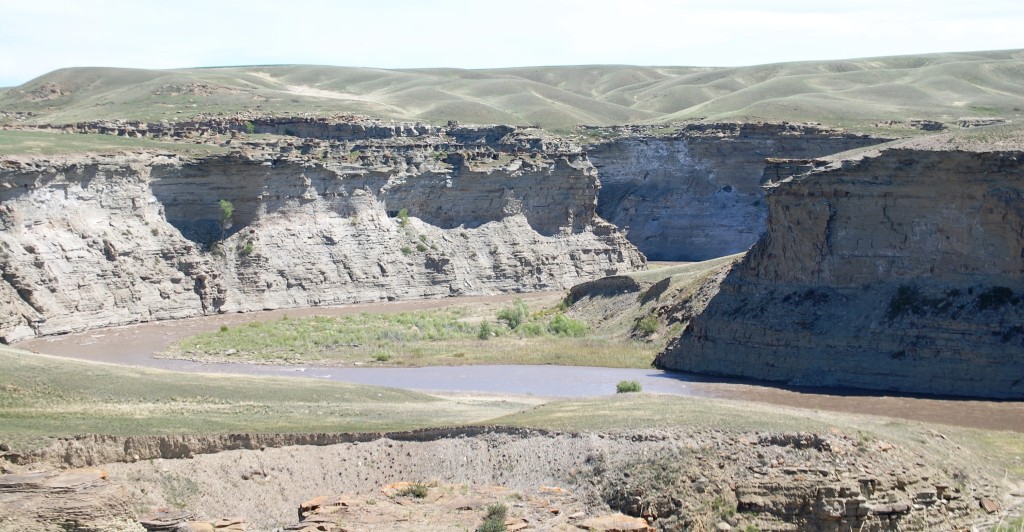 Hundreds of strange rock formations dot the landscape, creating many eerie features.  Many of the formations are 12 to 20 feet tall and many have big flat tops on them indicating massive amounts of water in wind erosion over but I would assume is centuries of time.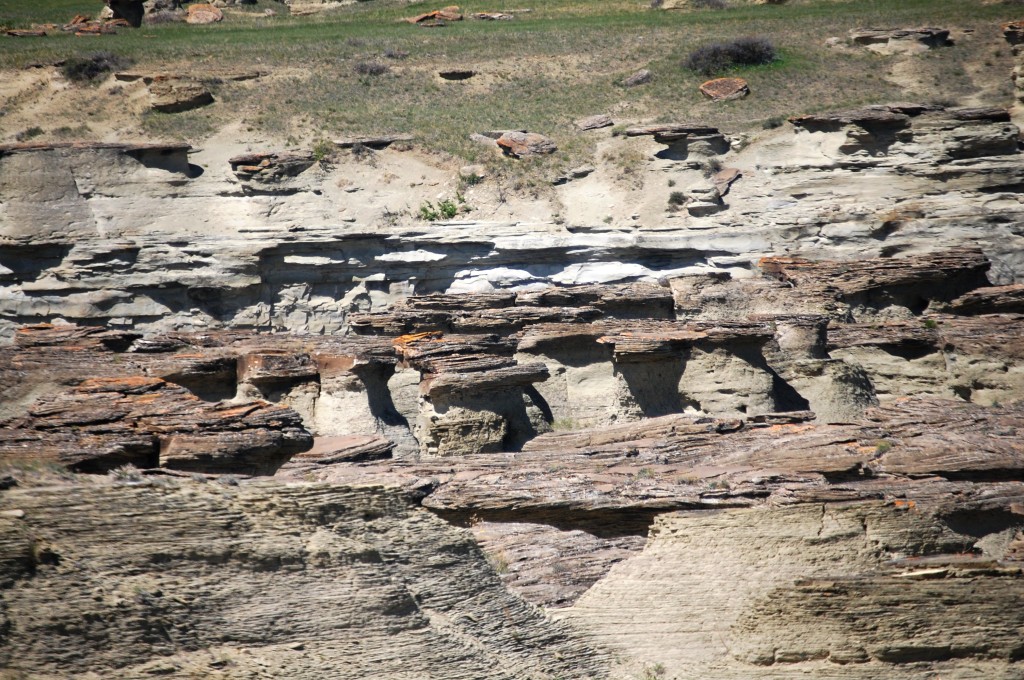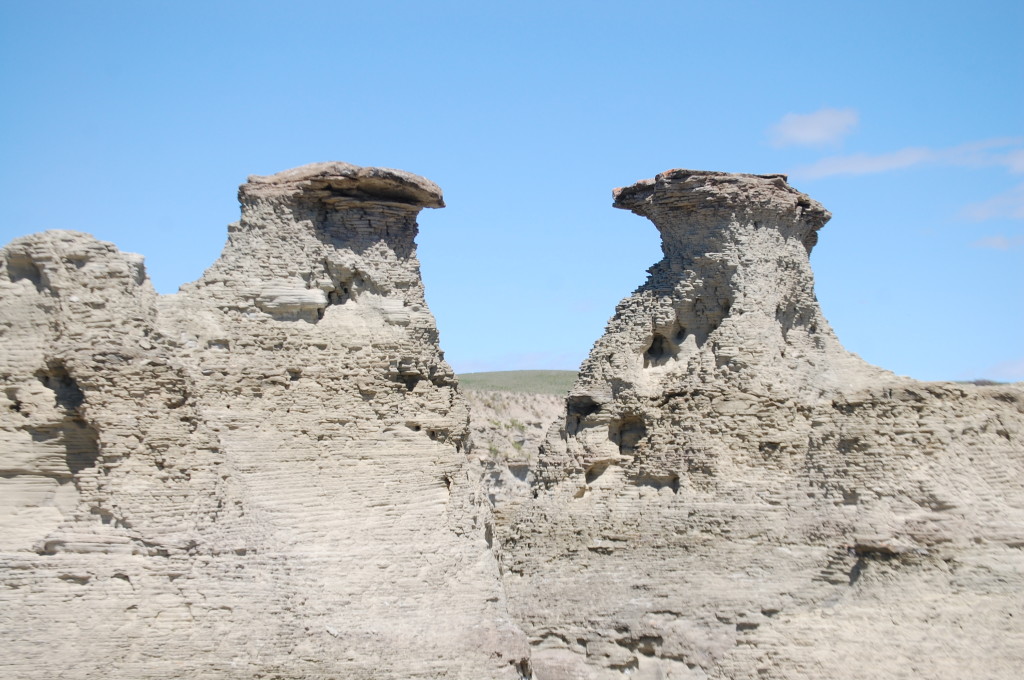 For the adventuresome person, hiking down to the river is probably quite possible as there are many locations that are not beholden with cliffs. On this occasion we walked around through many of the formations, but didn't venture down into the canyon itself.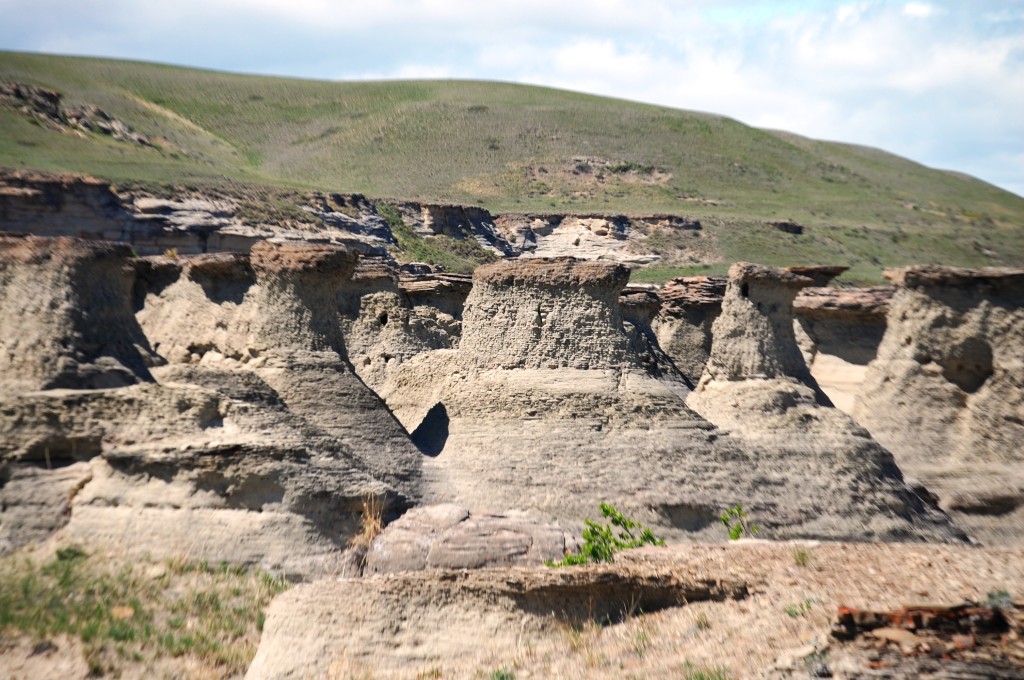 To me, though much different in appearance, it was not unlike Coal Mine Canyon which is located on the Navajo Indian Reservation east of Tuba City, Arizona. Like Coal Mine Canyon, it is an undeveloped geologic location that might otherwise be a National Monument or a State Park. But in both cases neither of these appear to be headed in this direction. Both require going down narrow dirt roads and paths to get to them. Both have unique and otherworldly formations. And both have big chasms with beautiful scenes.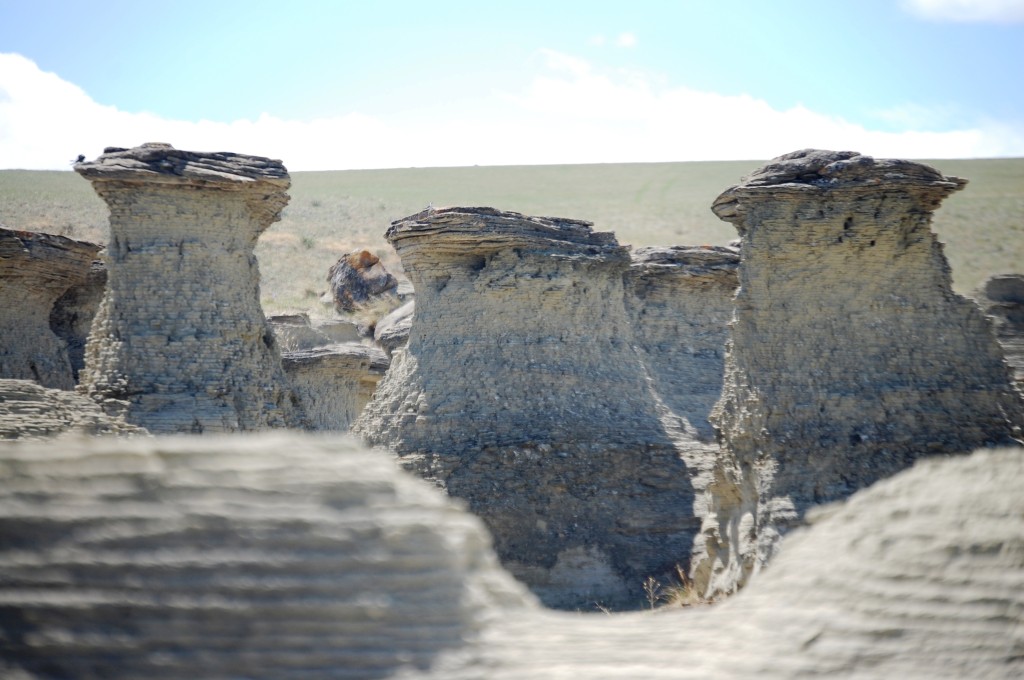 Up in northern Montana near Sweet Grass, there are some similar formations known as the Jerusalem Rocks. But the Rock City formations are much larger and much more expansive. (See my detailed post about Rock City here)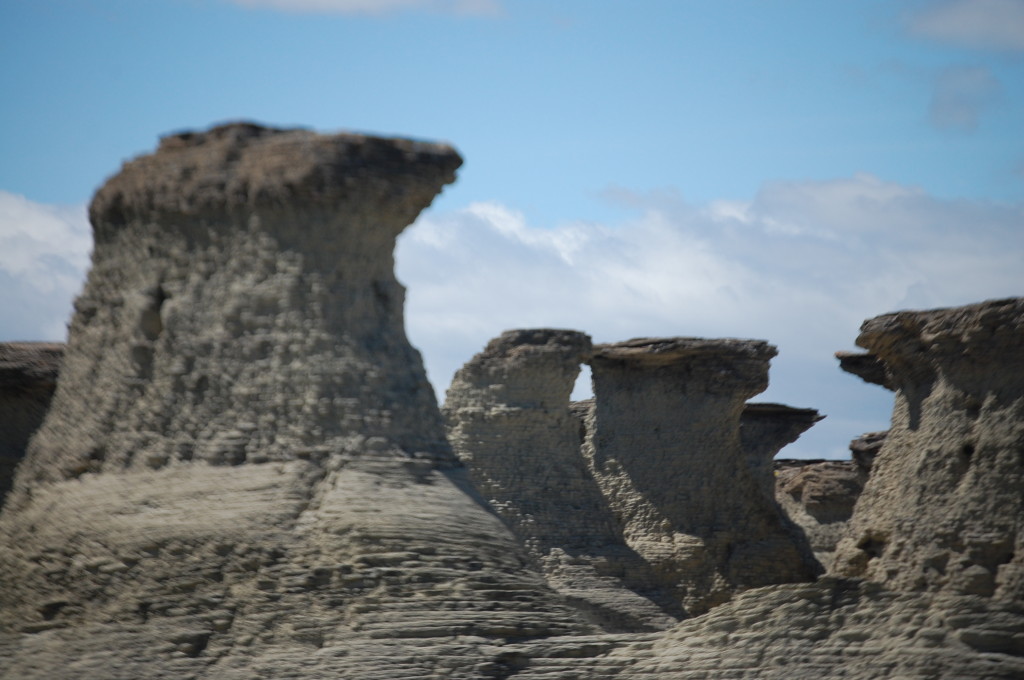 Continuing north on US 89 I entered the Blackfeet Reservation at its southern entrance. And, similar to the East Entrance in Cut Bank (see photos in THIS POST),  there are two scrap metal Indian Chiefs that greeted me. The same artist, Jay Polite Laber has put these sculptures at all four directional entrances to the reservation.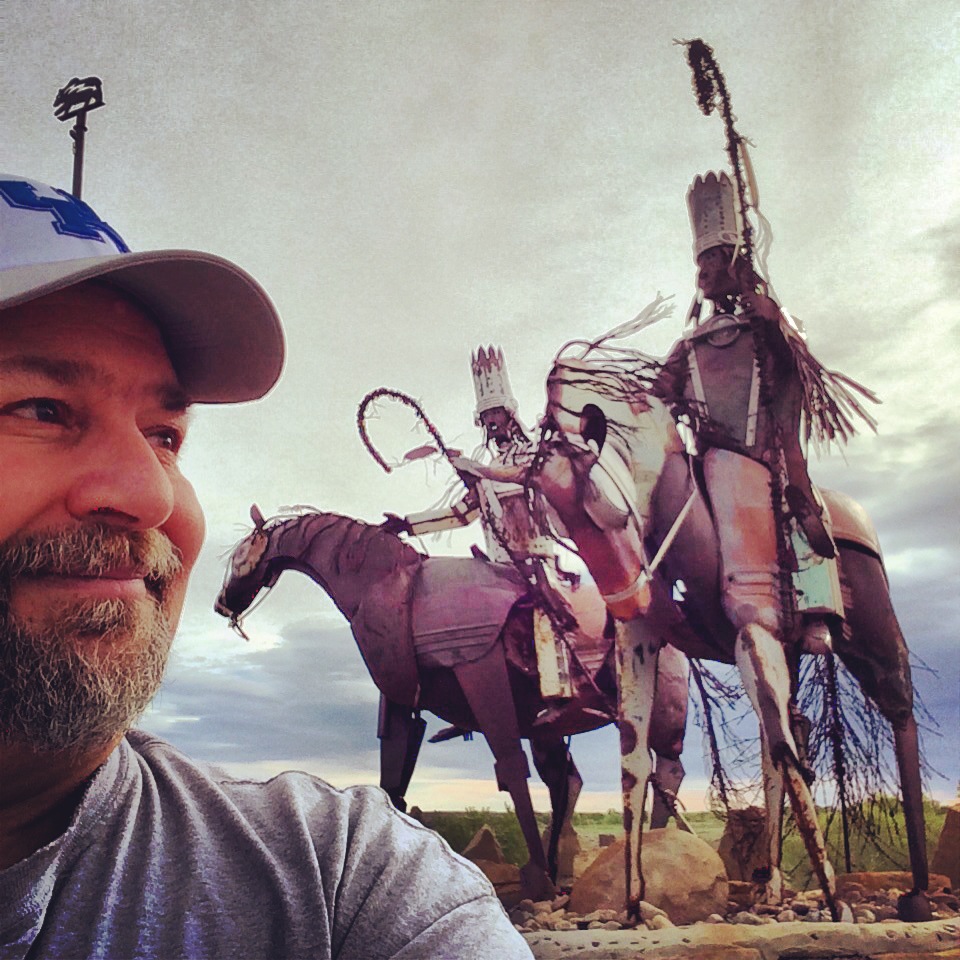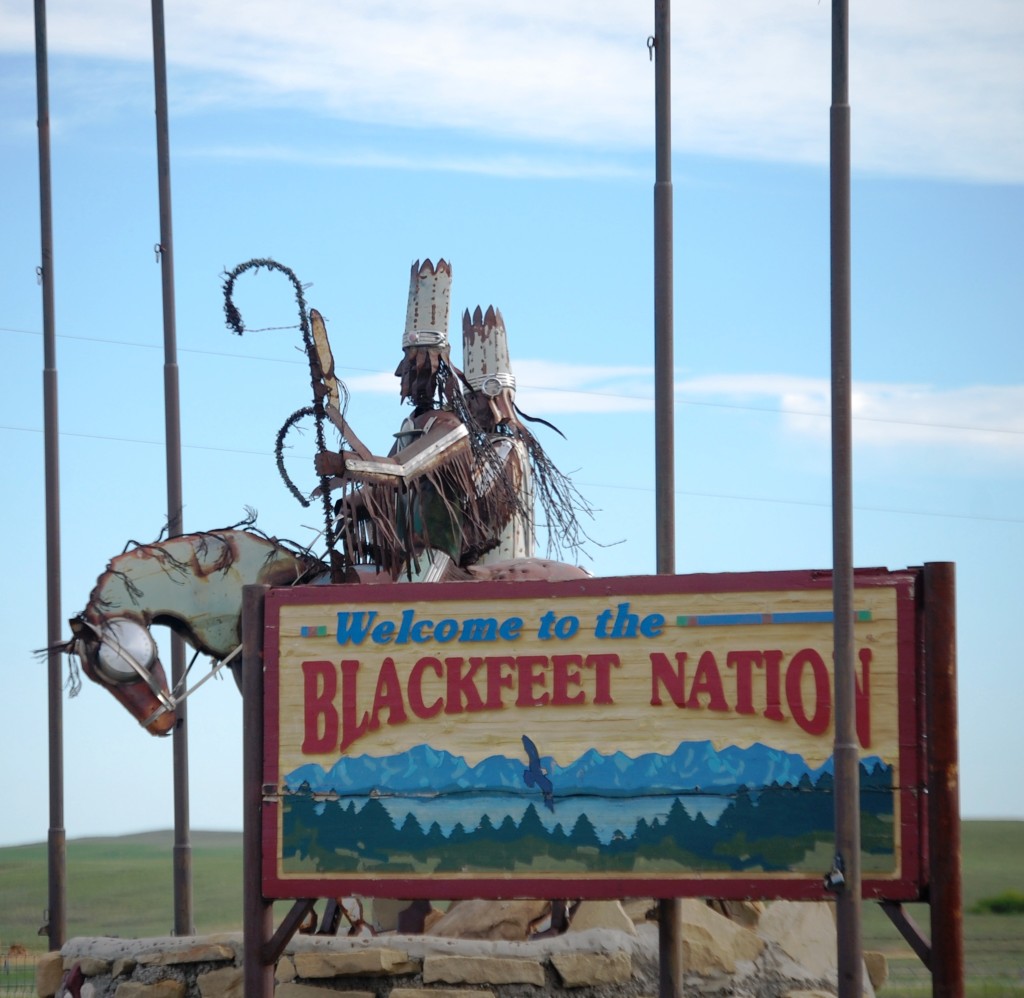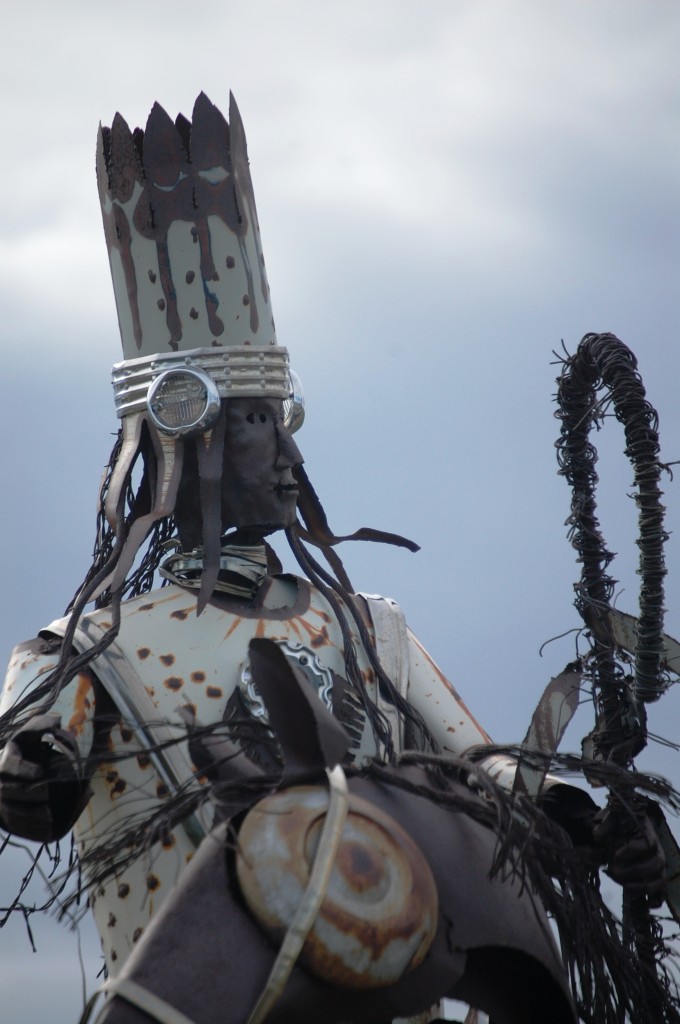 From this location looking west, one can see the grandeur of the massive snow covered mountains of Glacier National Park.