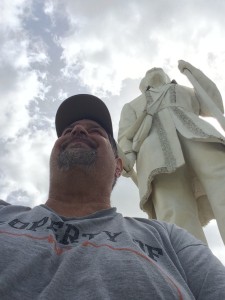 Texas is the home to three giant free standing statues, all of which exceed 70 feet in height (including the pedestal/base).
This puts these giants in the top seven tallest monuments in the United States.
The tallest of the three is the "Tribute to Courage" statue of Sam Houston, located in Huntsville, Texas.  This one stands 67 feet but also has a 10 foot pedestal, giving it a ground to top height of 77 feet.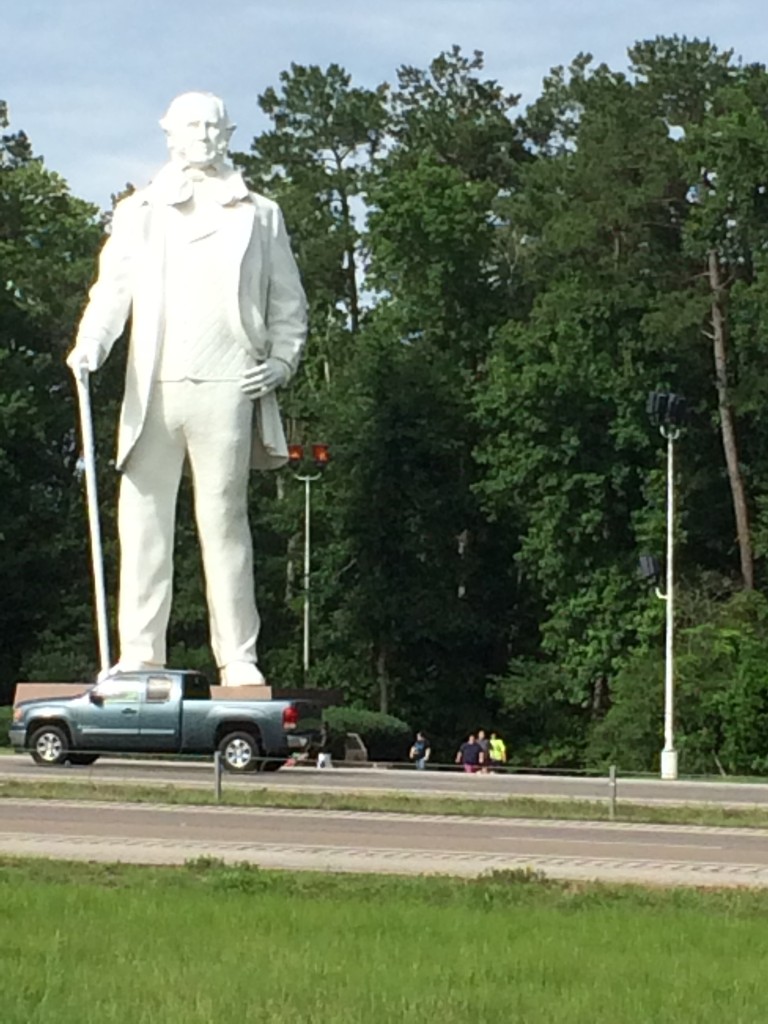 The second tallest of the giants is the 76 foot tall Stephen F. Austin "Father of Texas" Statue in Angleton, TX.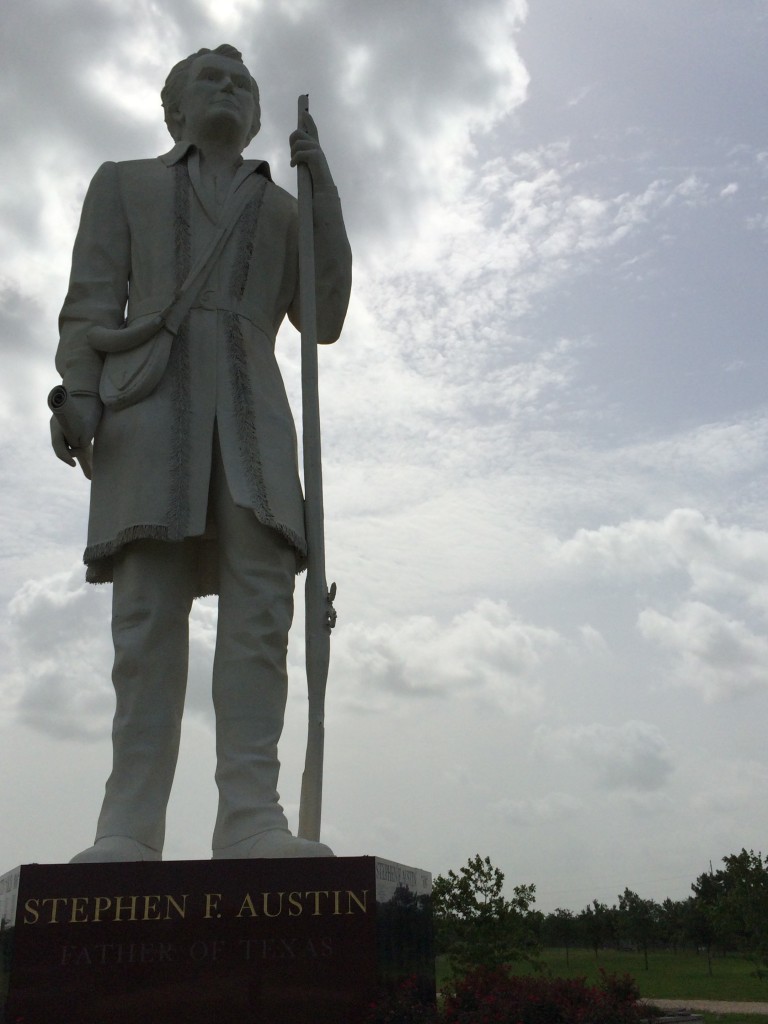 The third giant doesn't quite fit the nature of these two Texas heroes.  Instead, the Quan The Am Bo Tat (Also known as Quan Am – Mother of Buddha) statue in Sugar Land stands 72 feet tall as it towers over the Vietnamese Buddhist Center.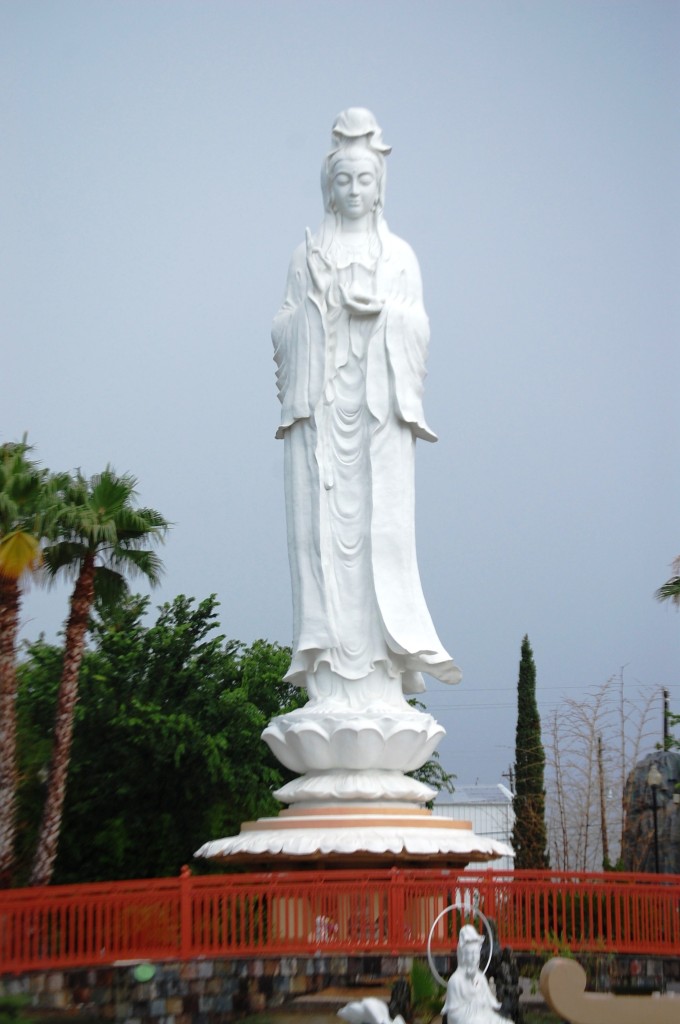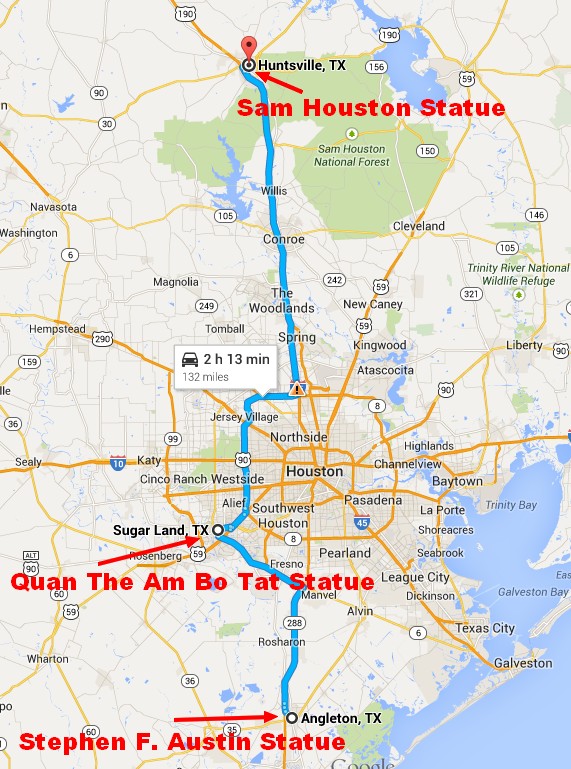 Back in June 2014 I had occasion to visit all three of the statues in the same day as I began a road trip home from a family reunion in Galveston (there will be some posts about that trip soon).  Since my plan was to get to Austin for the evening, I drove from Galveston to Angleton first, then into Sugar Land in the outskirts of Houston and finally north to Huntsville.  The visit to all three of these was well worth it!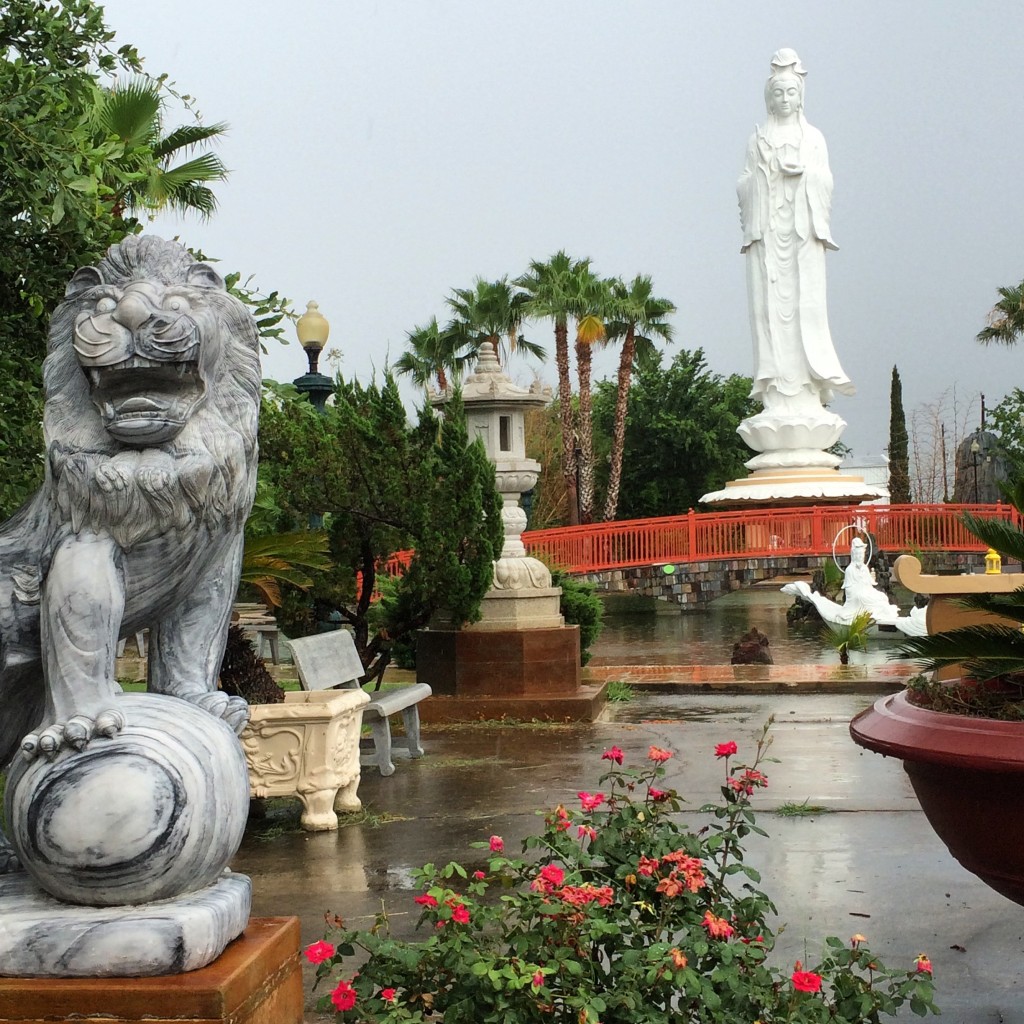 The statues of Stephen Austin and Sam Houston were both done by Houston Artist David Adickes form his Sculpturworx Studio.  Adickes has created a number of giants, including a huge sculpture of the Beatles (36 feet tall) and a number of Presidents' busts (each about 12 feet tall), many of which can be see at his studio in Houston (see map)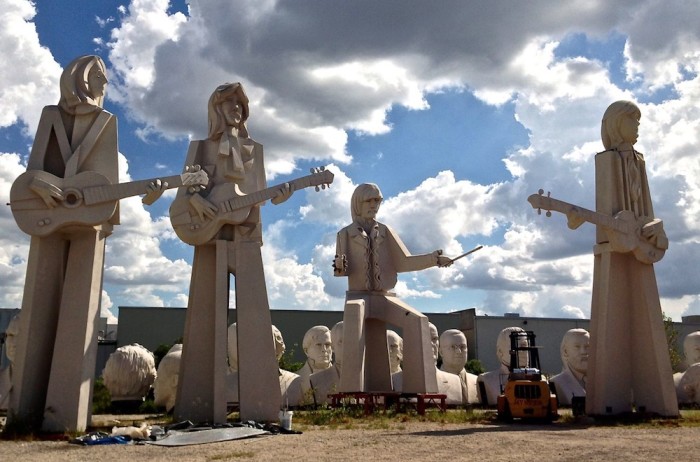 I had hoped to have time for a visit there on my trip through Houston, but couldn't get there on this trip.  Hopefully I will have another opportunity to visit.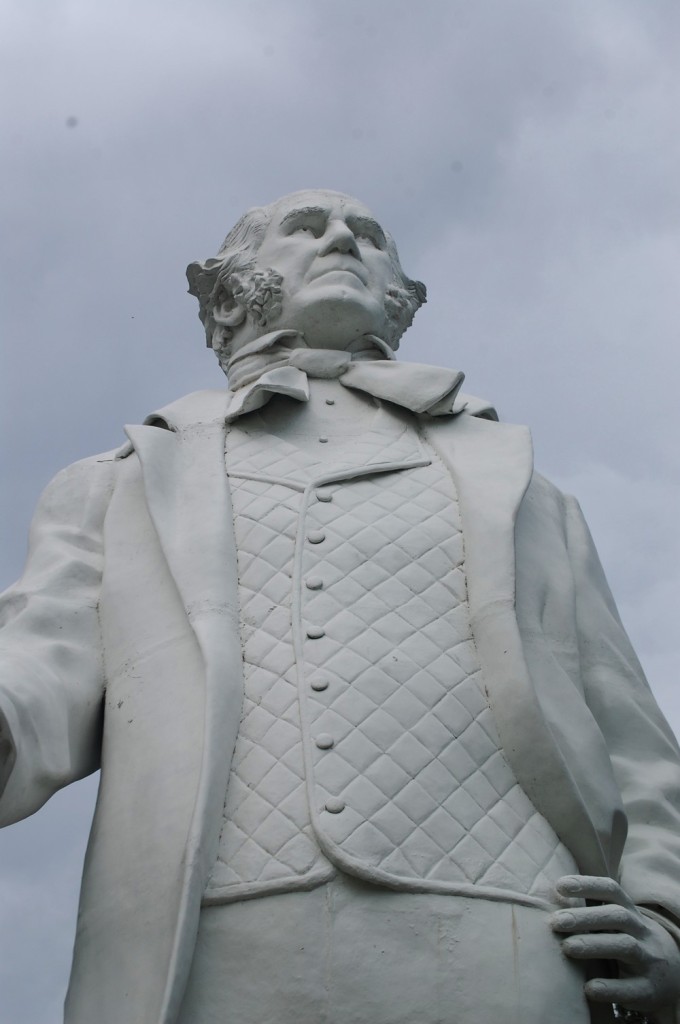 "Tribute to Courage" – Sam Houston Statue – The First Texas Giant
"World's Tallest Statue of an American Hero"
The first of the giants was built in 1994 just off of Interstate 45 near Huntsville, Texas. The sculpture itself is 67 feet tall, and then it sits atop a base that adds an additional ten feet.  The locals have nicknamed him "Big Sam."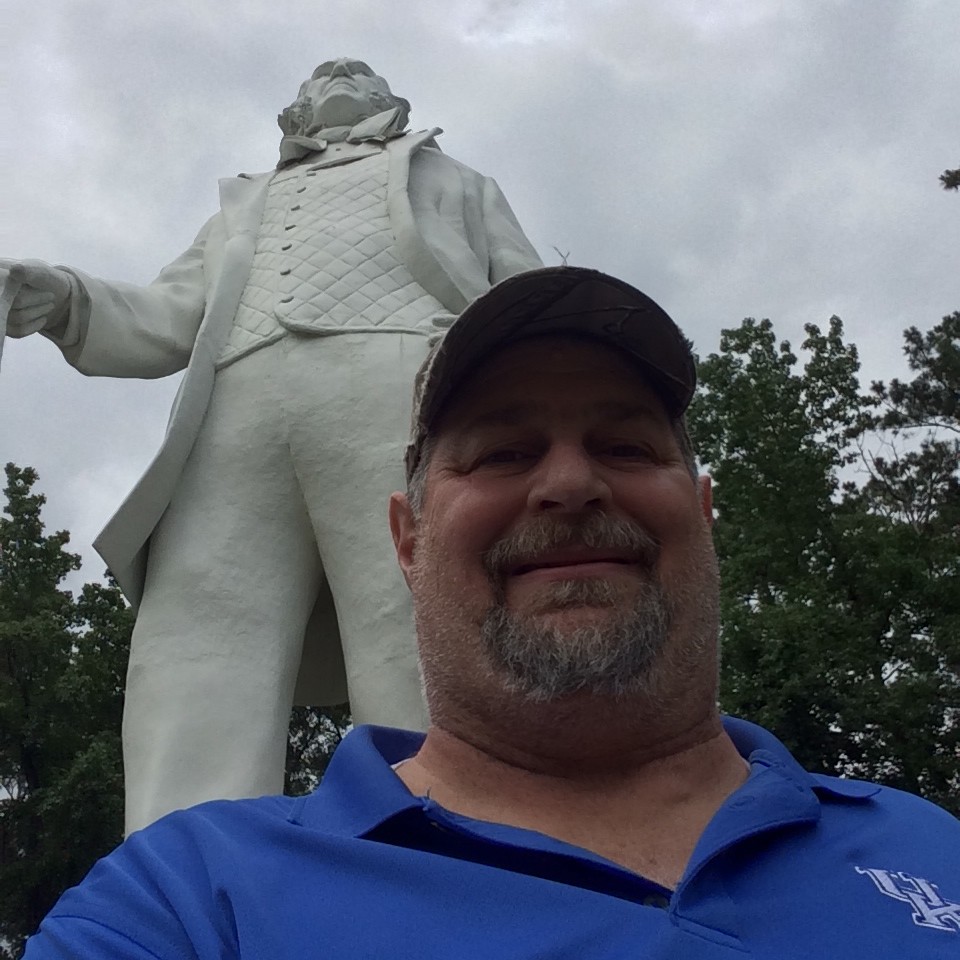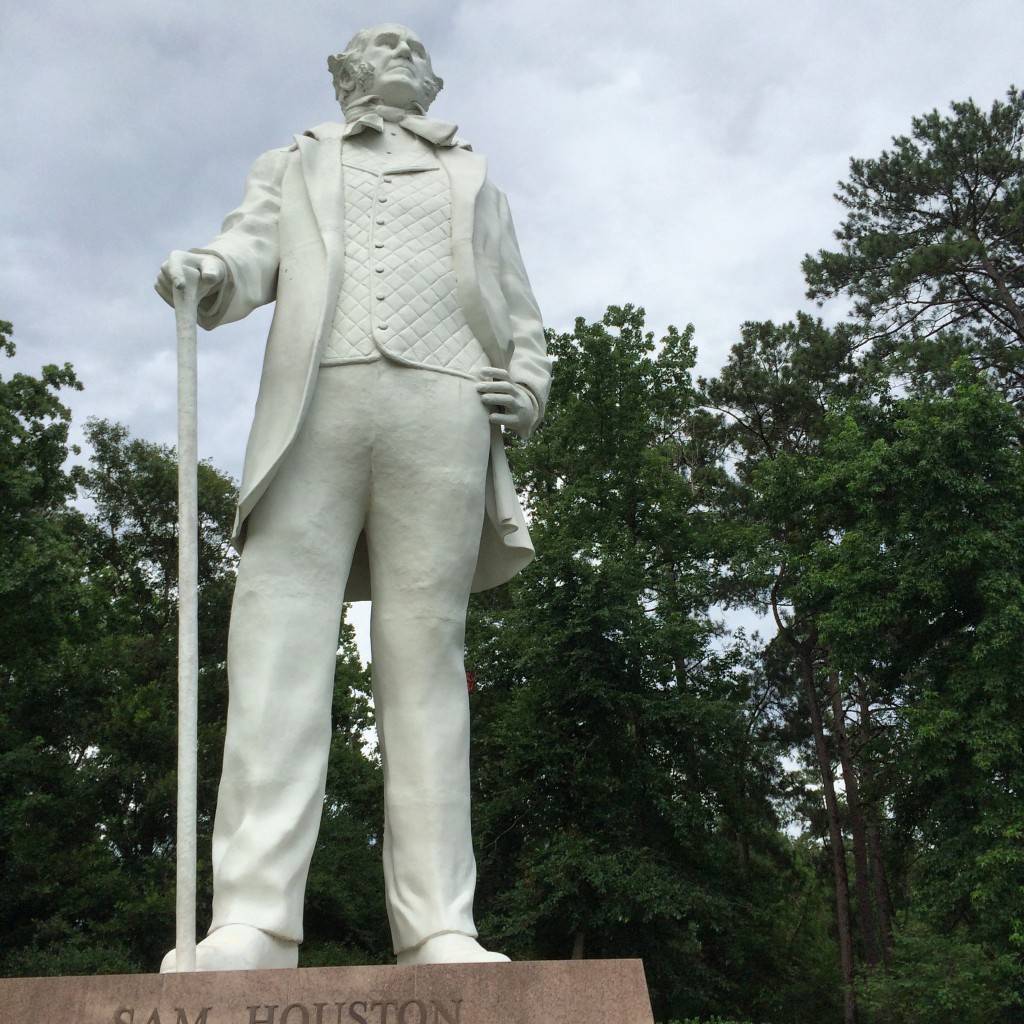 According to the Huntsville Visitor's Center, Sculptor David Adickes needed 30 tons of concrete and two years to work on the project. The statue was dedicated on October 22, 1994. Every year, between 50,000 and 65,000 people visit the huge tribute.  Adickes was born in Huntsville, Texas. After graduating from Sam Houston State University with degrees in both math and physics in 1948, Adickes went to the Kansas City Art Institute. He studied painting there, and then went to Paris where he studied art for two years. In 1957, he lived for a year in Japan and then traveled extensively over the next 10 years in the Far East, Mid East, Europe, Russia and North Africa.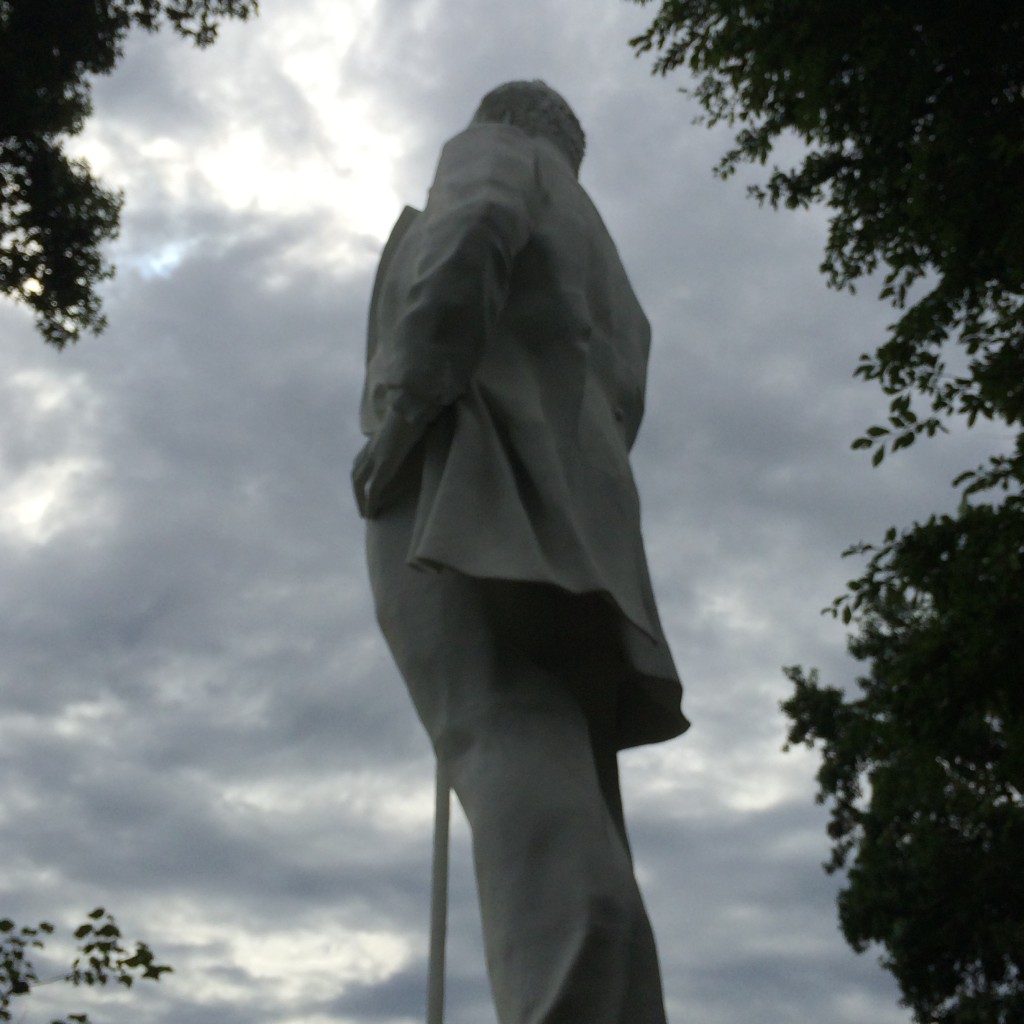 Big Sam consists of five layers of concrete laid over steel mesh attached to a welded steel framework. There is a great page with diagrams about the building of this statue HERE.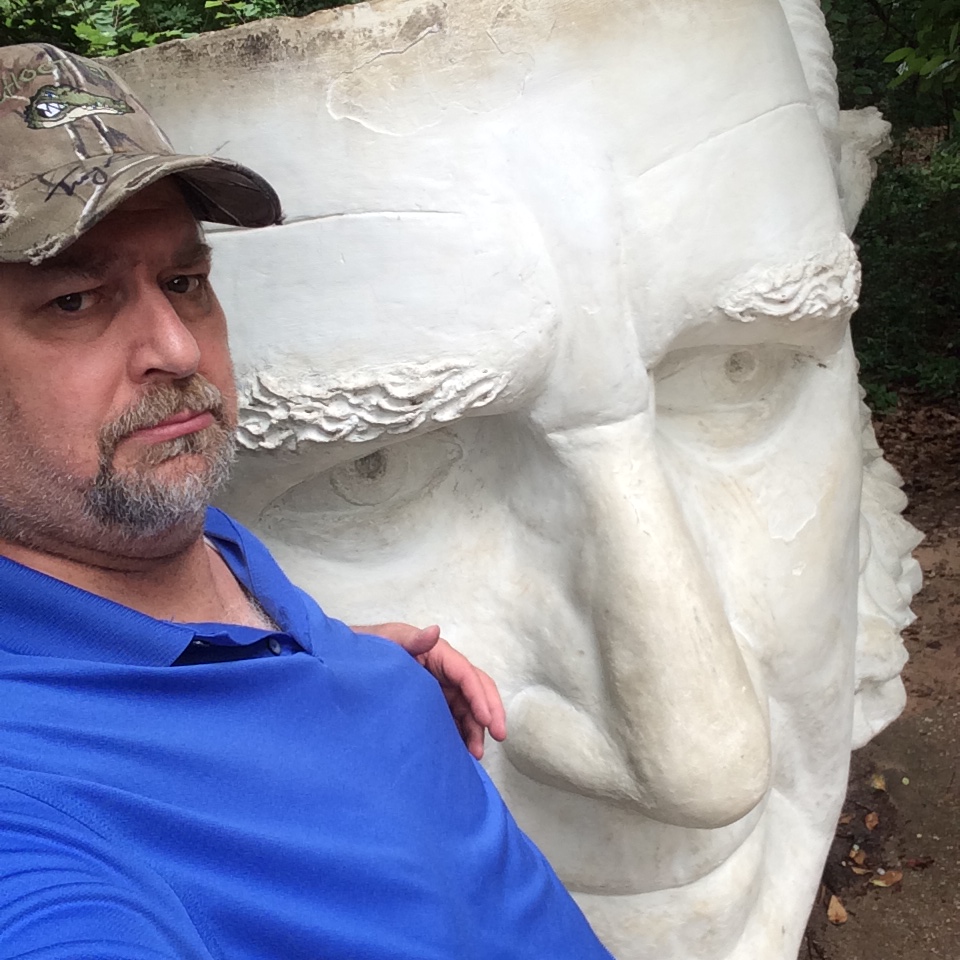 There is a replica of Sam Houston's head at the Visitor's Center, which is reminiscent of David Adickes' other Presidential heads.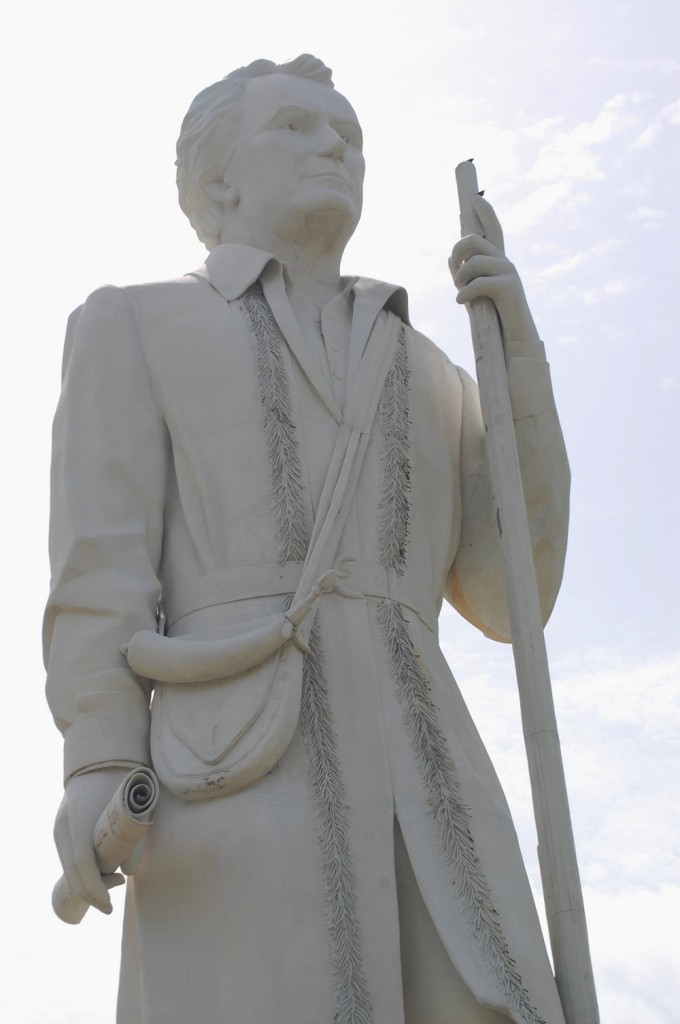 "The Father of Texas" – Stephen F. Austin Statue – The Second Texas Giant
Soon after artist David Adickes unveiled his Sam Houston statue, a group of Brazoria County businessmen decided that it was time to honor Texas founder Stephen F. Austin, too.   Adickes agreed to do the statue at the same time he was working on his series of gigantic presidential busts for his Presidents Park in Lead, SD.  By 2003, Adickes was ready to start assembling the concrete and steel statue. He assembled the 15 sections  of the statue on a 12-foot, five-sided granite base, that took almost a year to piece together.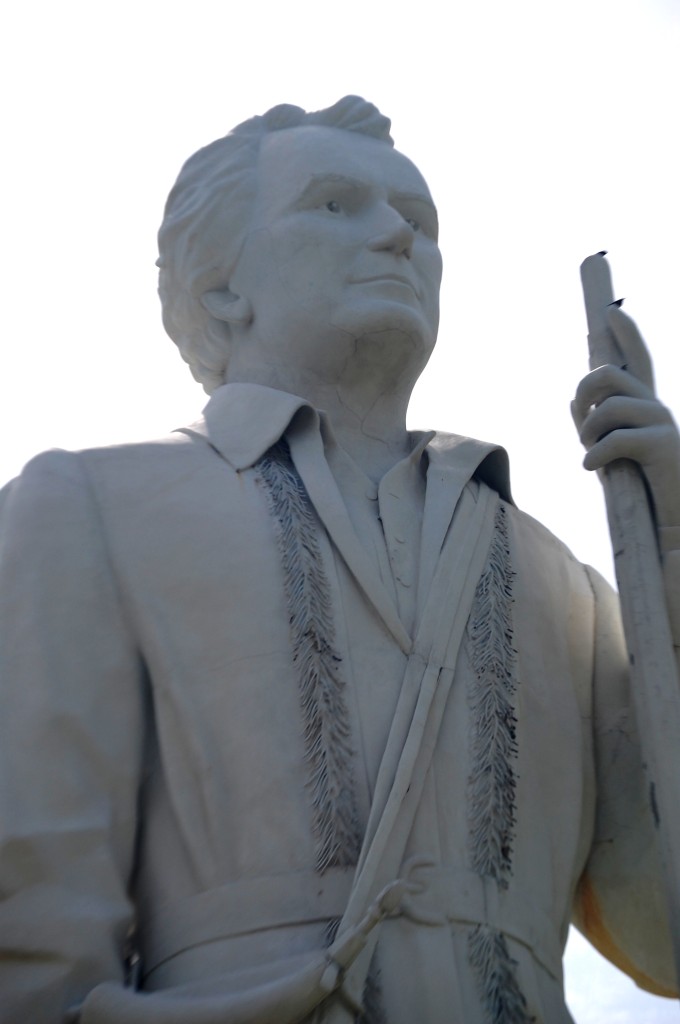 Much like the Sam Houston Statue, this one is 60 feet tall and sits atop a 12 foot tall pedestal, giving a total height of 72 feet.  It can clearly be seen from Highway 288.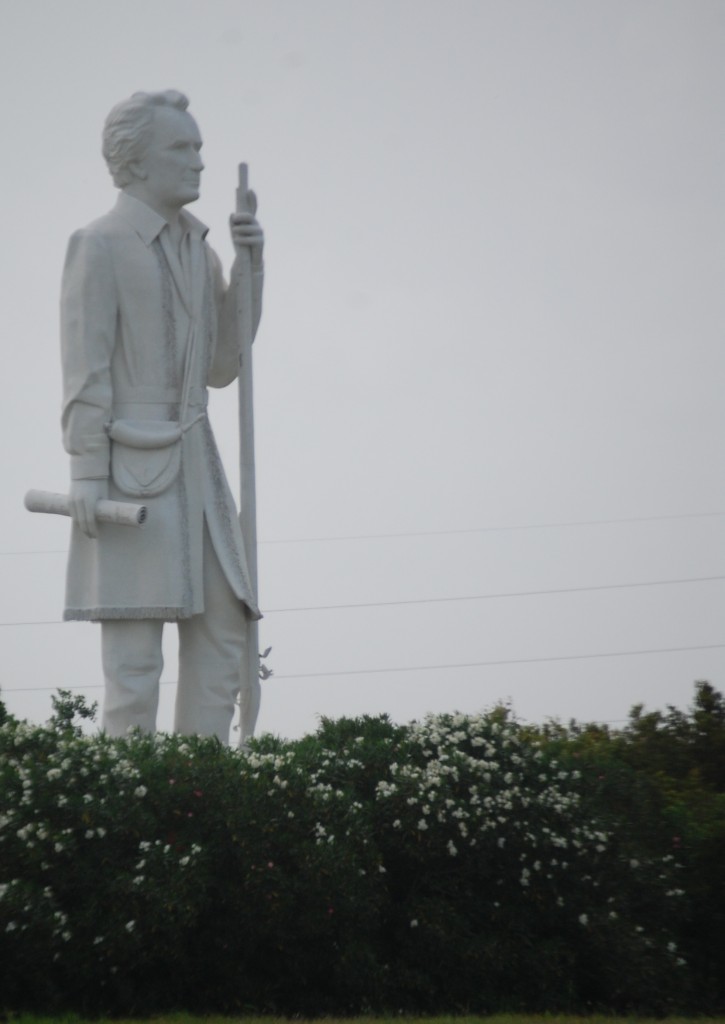 The visitor's center here does not always have a volunteer to assist, but there is a nice path around the park that provides a number of different views from the park.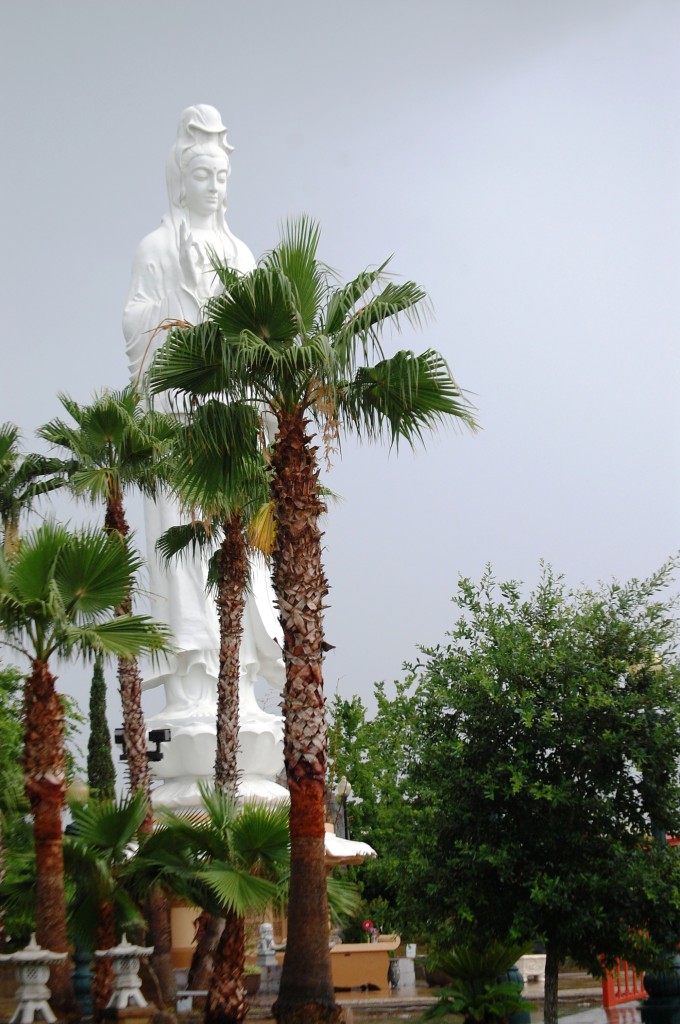 Quan Am – The Mother of Buddha

The idea for this statue was conceived in 1994 as the Vietnamese Buddhist Center in Sugar Land, sought for an artist to do one.  By the end of June 2001, this 72 foot tall statue was dedicated.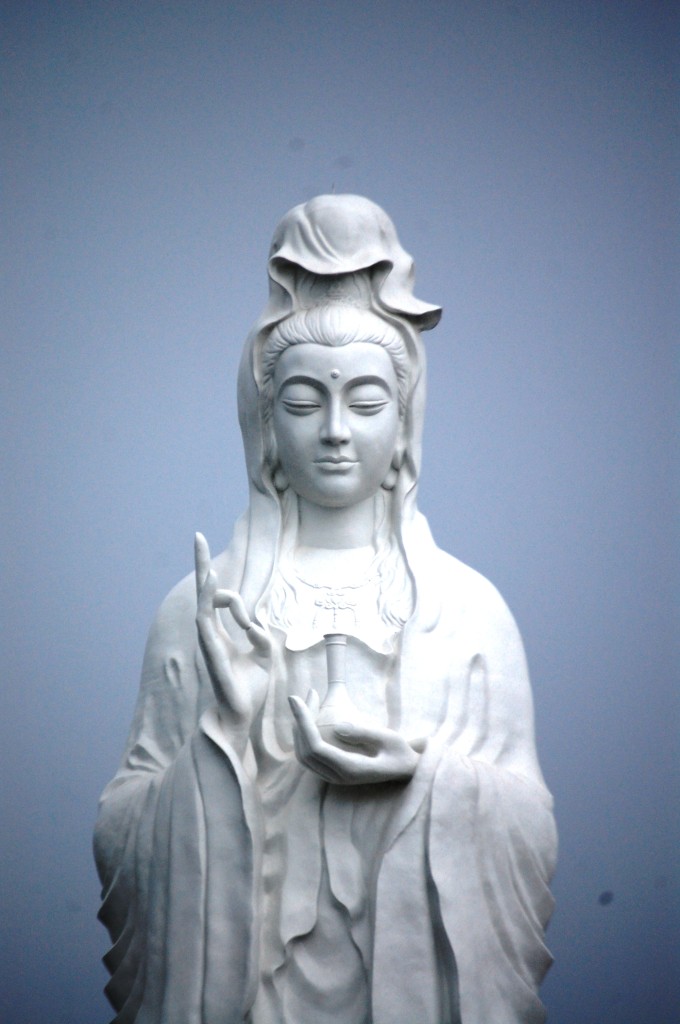 The statue was designed an build by New Orleans artist Mai Chi. She escaped from Vietnam in 1989 and spent four years in a refugee camp in Indonesia.  She has a literature degree from the University of Saigo and took up sculpting clay religious figures for Buddhist, Catholic and Muslim refugees while there. She also took up wood carving.   After being asked to build this, Chi took a year to design the statue.  According to Chi, the face came from dreams she had during the design period.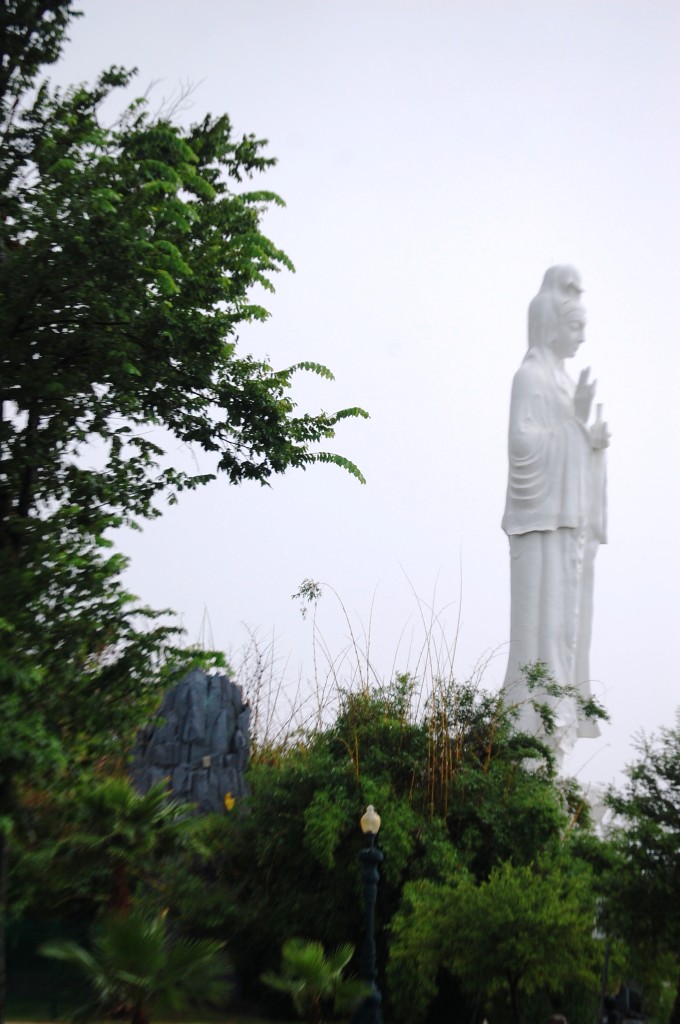 The statue is garbed in a long stately robe. Her right hand forms the circular Buddhist finger symbol meaning happiness and compassion. In her left hand, she holds a container of dew that brings peace and harmony.  She stands atop a lotus flower, a universal symbol of Buddhism.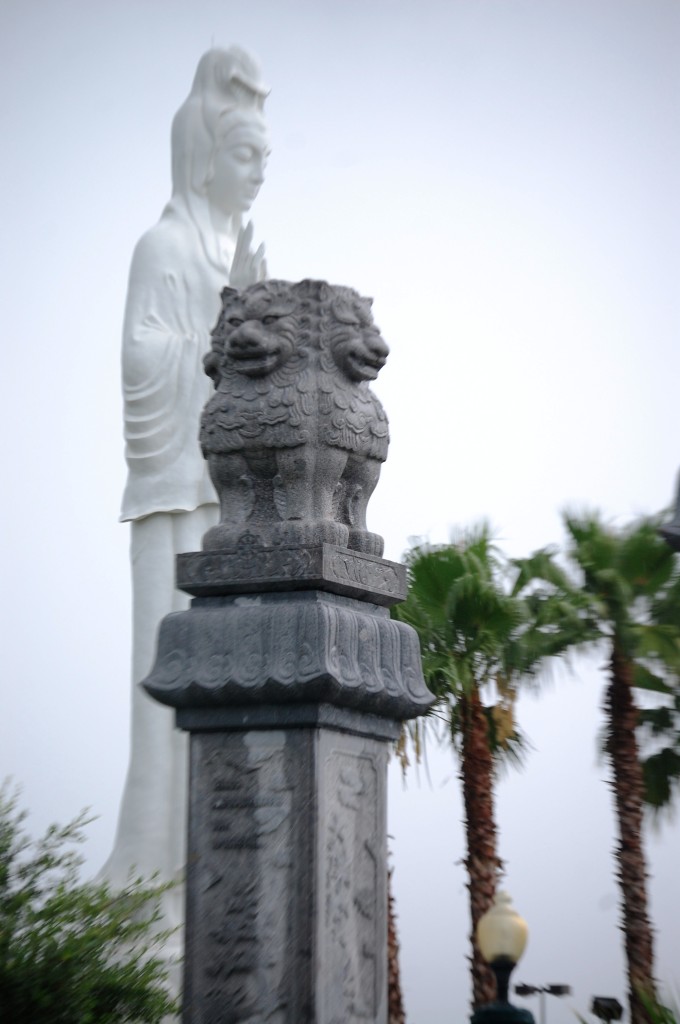 Without a doubt, perhaps the most interesting part of this work was that Mai Chi turned to her artistic mentor, David Adickes, the sculptor of the other two giants, for advice on the designing the interior.  She completed the statue in seven sections and erected it in January 2001.
Other Giants of the U.S. that I have been to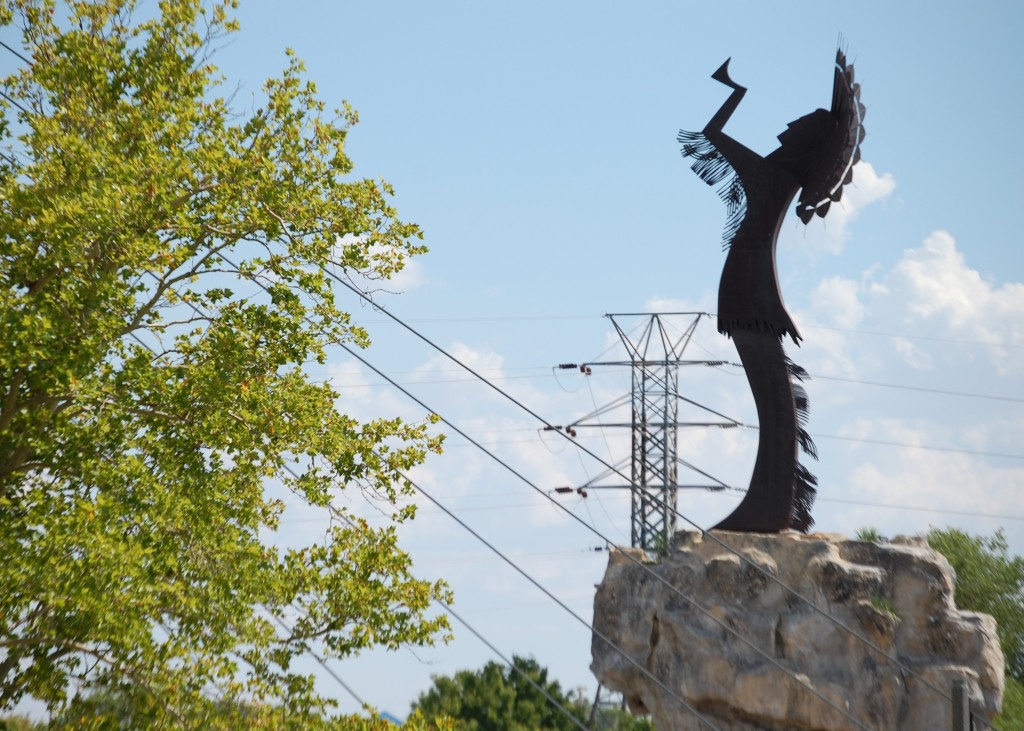 Over the years, I have traveled and seen many other giants.  Following is a list from Wikipedia (which does need some updating as two of the above are not on it).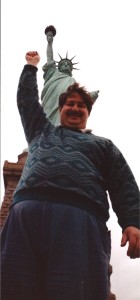 Statue of Liberty in New York is the tallest of all statues in the United States.
It is 151 feet tall and stands upon a 154 foot pedestal giving it a total height of 305 feet.
This was completed in 1886 and was designed and sculpted by Frédéric Bartholdi.
I have visited the Statue on four occasions. The photo on the left was taken in December 1991.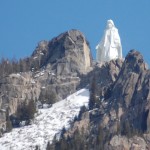 The second tallest statue in the United States (according to the Wikipedia list) was completed in 1985 high on a mountain in Butte, Montana.
Designed by Laurien Eugene Riehl, this statue stands 88.6 feet tall and can be seen from Interstate 15 in Butte.
I took this photo in March 2013 from way below using a zoom lens to capture it.
I have not visited the third largest, which is the National Monument of the Forefathers in Plymouth, MA, which stands 81 feet tall.  The fourth largest is the Golden Driller in Tulsa, OK, standing 75 feet tall.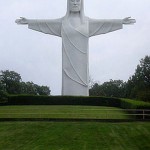 Standing 65.5 feet tall, the Jesus of the Ozarks statue was completed in 1966 and overlooks a nice park in the touristy town of Eureka Springs.
I got to visit this statue in 2012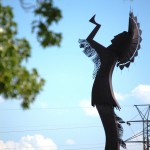 The "Keeper of the Plains" statue in Wichita, Kansas only stands 44 feet tall, but it also sits atop a 30 foot pedestal making the total height of 74 feet.
This was designed and created by Kiowa-Comanche artist Blackbear Bosin in 1974. It stands at the confluence of the Arkansas and Little Arkansas Rivers.  I visited this in 2012.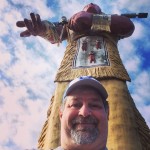 The "World's Tallest and Largest Indian" Statue of Hiawatha in Ironwood, MI is another wonderful giant.  Hiawatha stands at 52 feet and weighs 16,000 pounds, including anchoring internal steelwork, and is engineered to withstand 140 mph winds.
Hiawatha was built in Minneapolis in 1964, transported to Ironwood and erected in the "caves area," on the site of the Old Norrie .Iron Mine.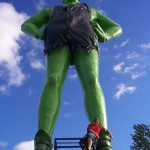 An icon of television advertising, the 55.5 foot tall Jolly Green Giant in Blue Earth, MN is another giant.
This was built in 1979 by a radio station owner and commissioned by a Wisconsin company to build it.
I have visited twice and both times was not able to do much due to torrential rains. The picture at left is of my son Seth from a trip he took in 2005.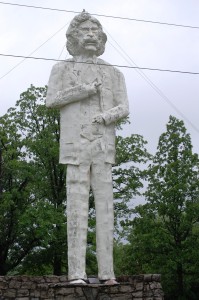 One last "giant" that I have visited is along the highway near New London, MO.
This nearly 45 foot tall statue of Mark Twain is kind of funky with a giant head and small hands, but, it definitely fits the category of "giant"