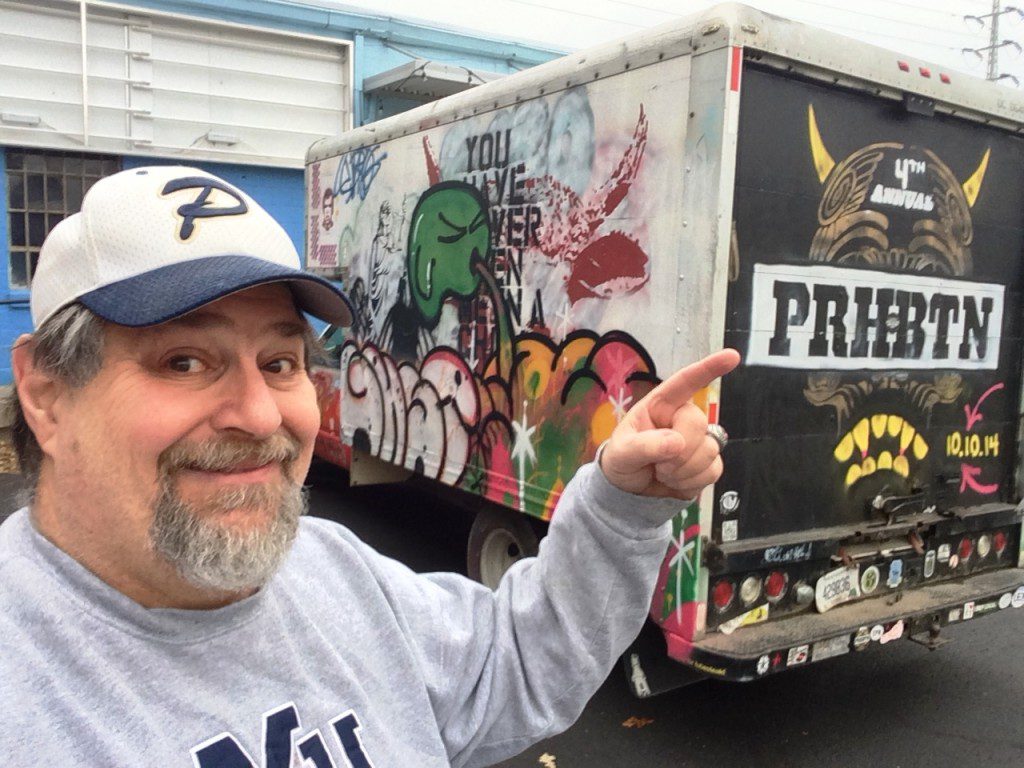 Lexington again has new art covering some of its formerly barren walls around town as the Street Art promoting organization PRHBTN brought in four new world renown street artists to enhance the growing collection of unique murals that dot the town.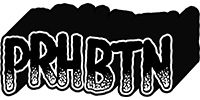 The contributing artists this year included How and Nosm (twin brothers Raoul & Davide Perre  originally from Spain), ROA (from Ghent, Belgium), Andrew Hem (a Cambodian immigrant currently from Los Angeles) and MTO (a French born graffiti artist currently from Berlin). Each of these four artists have very unique styles and techniques as can be seen from their photos in this post.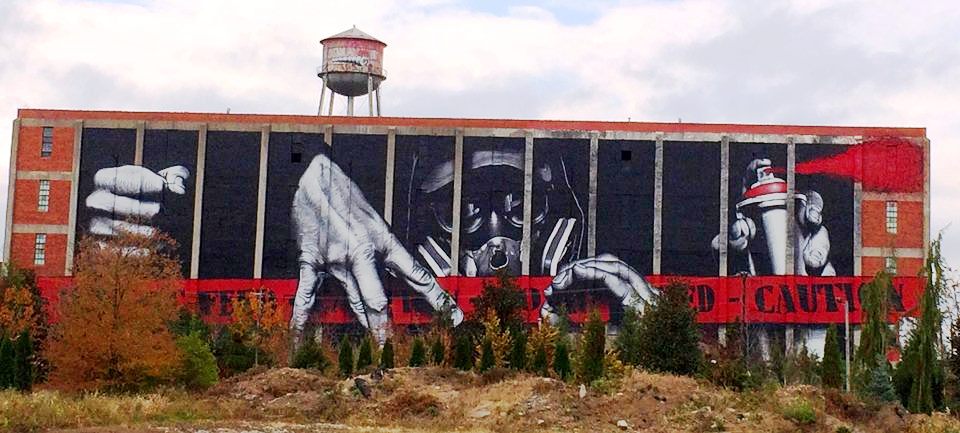 Perhaps the most amazing (and controversial) is the behemoth 75 foot tall by 270 feet wide mural by MTO on the side of the Pepper Distillery Warehouse on Manchester. Titled "My Name is MO," this piece of Street Art is stunning in its accuracy and complexity.  Though MTO is more well known for painting giant murals of famous celebrities, this particular character is not one. Rather, he created a complex story that explains the creation and it is artistically presented in a video that MTO produced.
http://vimeo.com/111310990
This particular massive mural has been accused of using gang symbolism. The neighboring garden center has complained that they don't like being stared down at be this monster mural. But, ultimately was painted on private property and went through the appropriate approvals before a drop of paint made its way onto the brick and mortar canvas.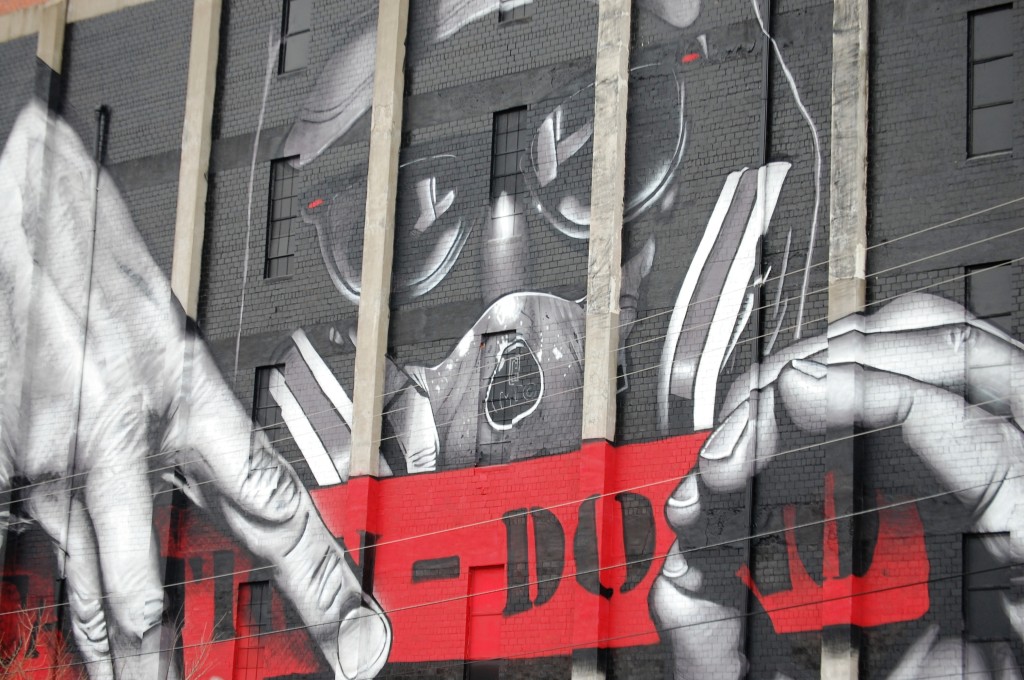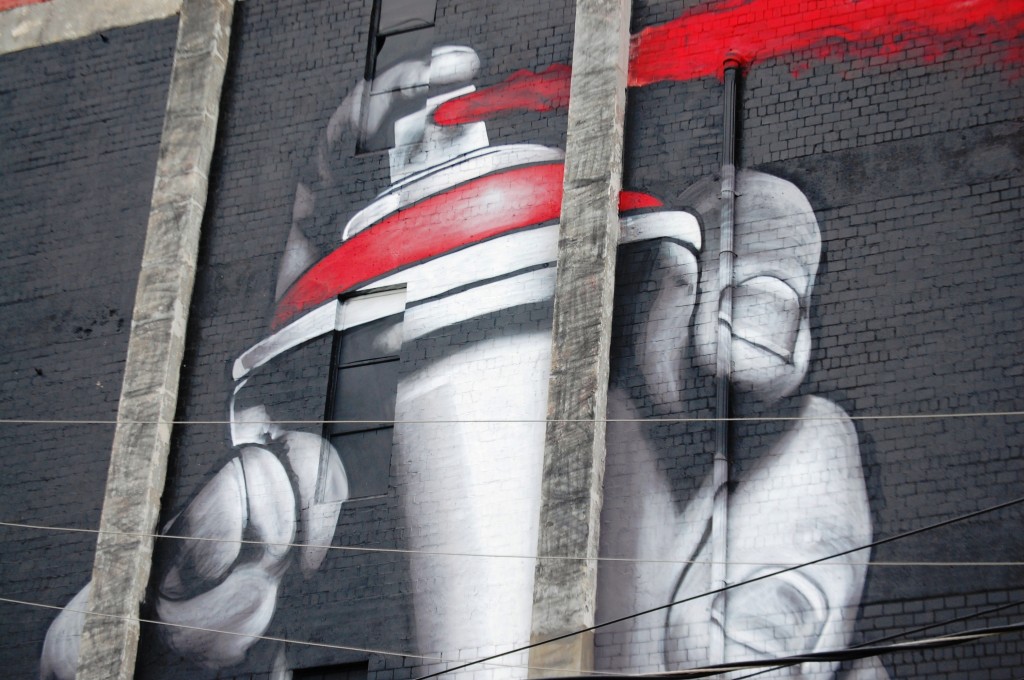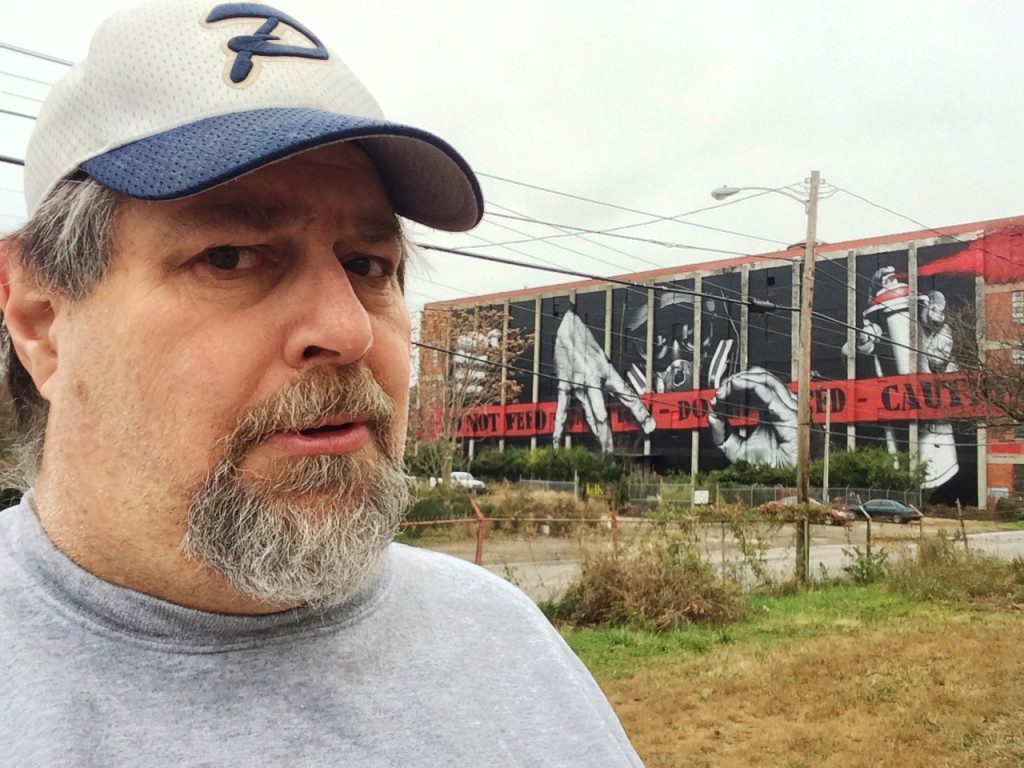 In a nutshell, this MTO mural epitomizes what PRHBTN is all about. PRHBTN is short for Prohibition, which is what many graffiti and street artists face. PRHBTN was started by John and Jessica Winters in 2011 to encourage the growth of street art in Lexington. They have invited well-known international artists to town to create new mural works on vacant downtown walls, getting support from private donors, local business and community organizations (including me through Kickstarter). They work with property owners to secure the brick and mortar "canvases." Their goal to highlight this new genre of art is turning Lexington into a living street art gallery, as more than 25 large murals and a number of minor ones adorn many of the formerly bare walls of the community. Indeed, one of last year's pieces, "Abraham Lincoln" by Brazilian street artist Eduardo Kobra, has drawn national attention and is a new drawing card for tourism downtown.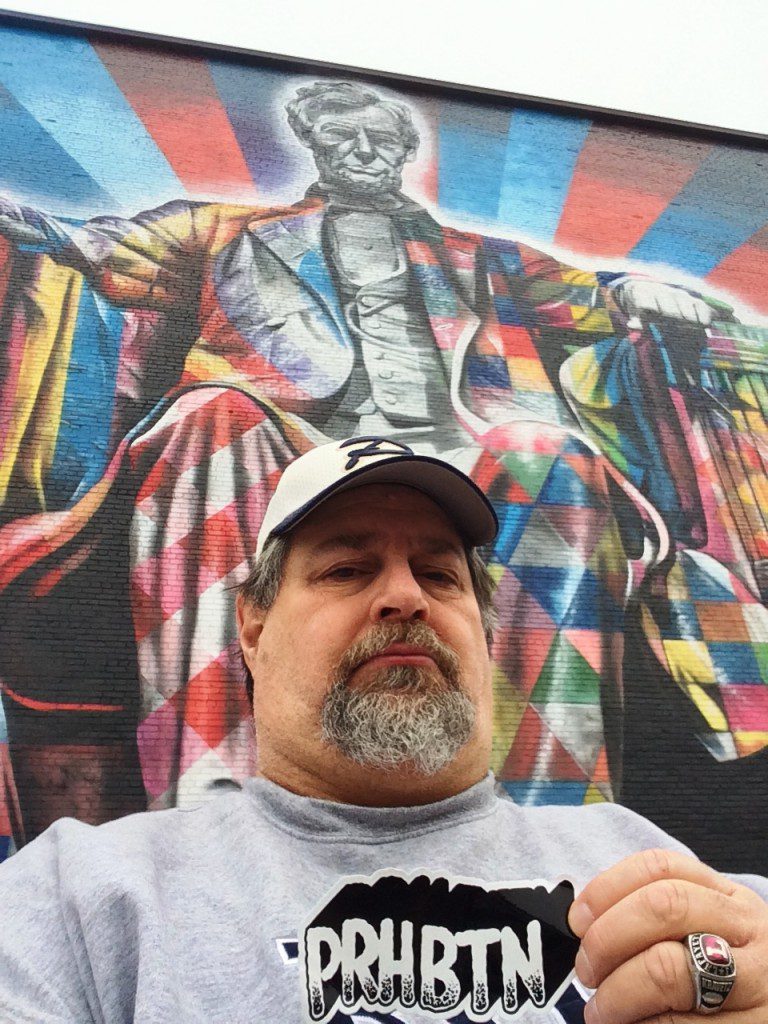 Adding to the collection this year is the huge mural entitled "Moonshine" by Twin brothers How and Nosm. They are known for their black, white, red and pink color schemes as well as their whimsical work. This mural does not disappoint. Painted on the four story side of the LexPark parking structure in Short Street, it is sure to be missed by those driving down the street. But, for those walking to the garage from Mill St., it is difficult to miss. Try as I might, I have not been able to track down the story behind this giant masterpiece of whimsy.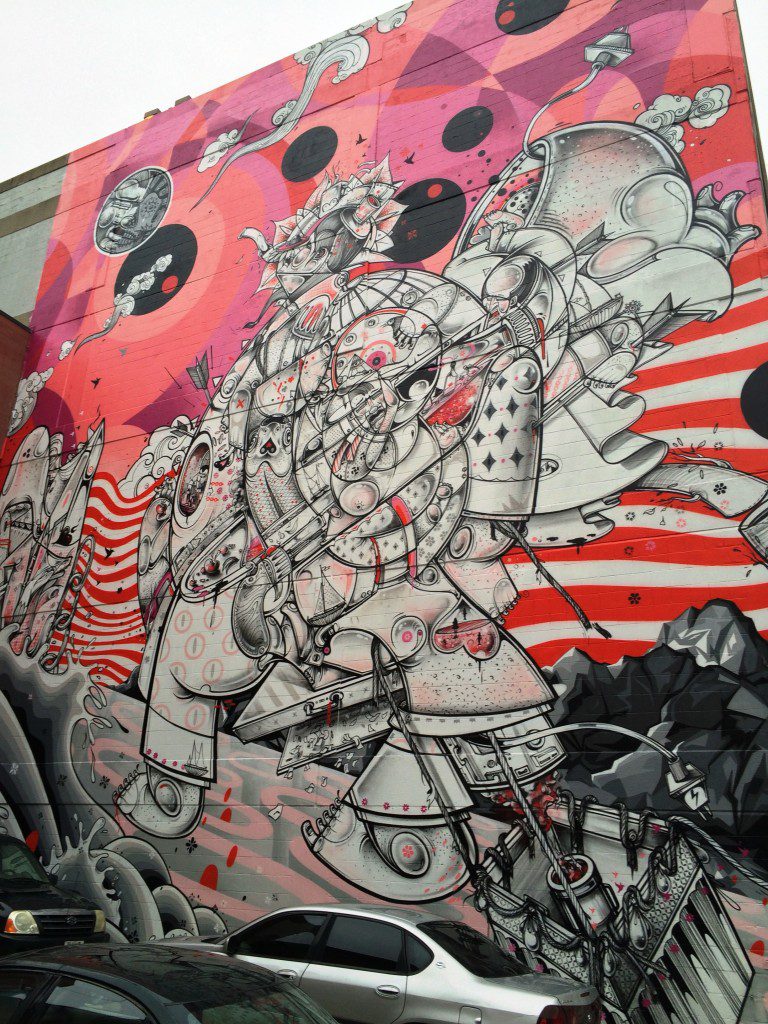 Just down Short Street, about three blocks from "Moonshine," is another new work on the side of a building, this one by Los Angeles artist Andrew Hem. Titled "The Night Watchers," it is the latest creation by Hem, a 2006 graduate of Art Center College of Design (Pasadena, CA), and an internationally recognized muralist. Andrew has created public artworks most recently in the Arctic, as well as Los Angeles, Chicago, Seattle, New York and London and now Lexington.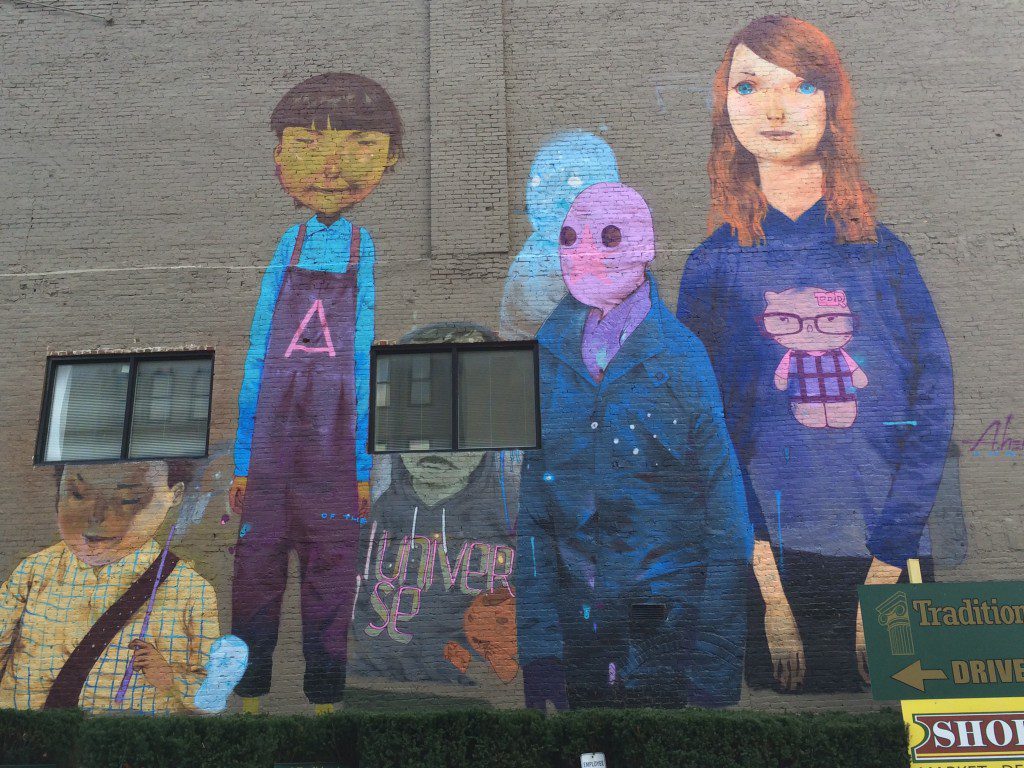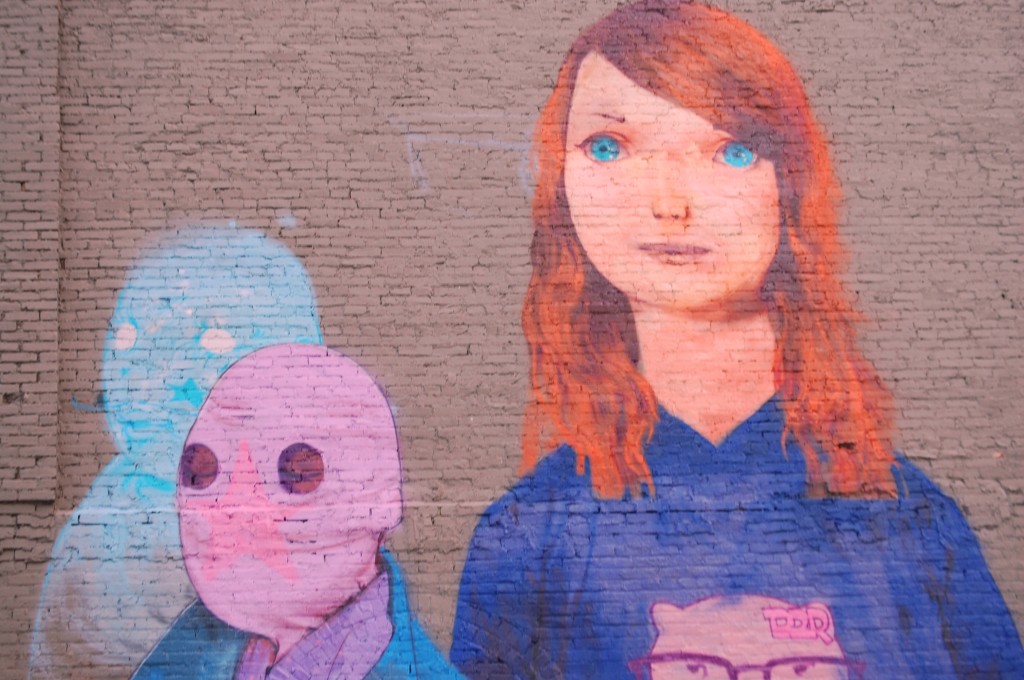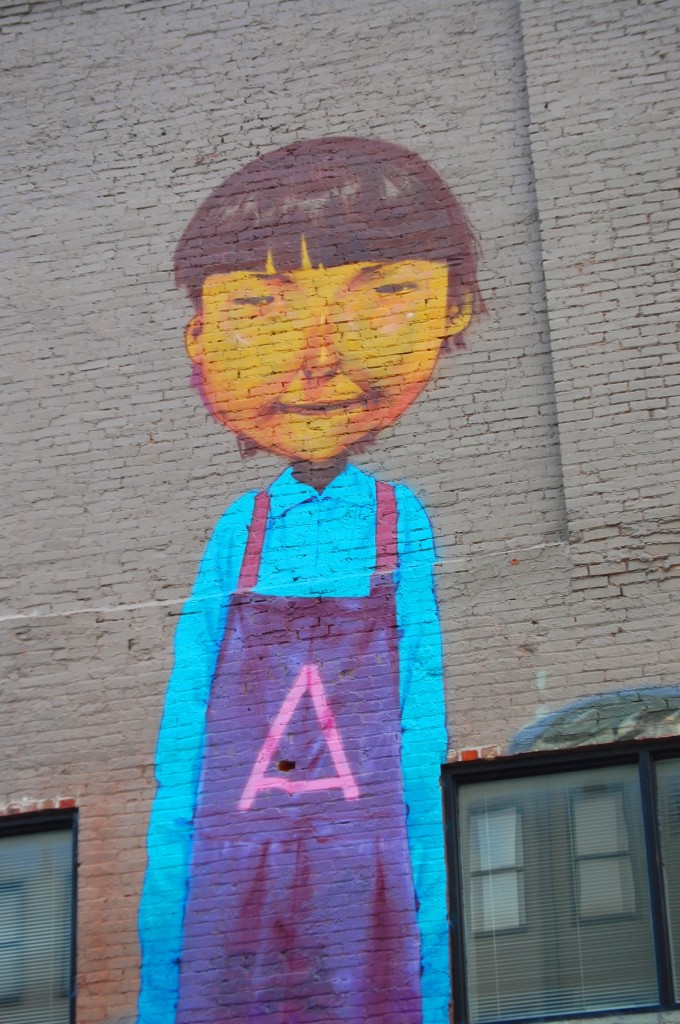 The fourth artist, ROA, was commissioned to do his mural on the side of building just off of North Limestone in his trademark monochromatic style. His dying bison is about three stories tall and is well worth a ponderous peek.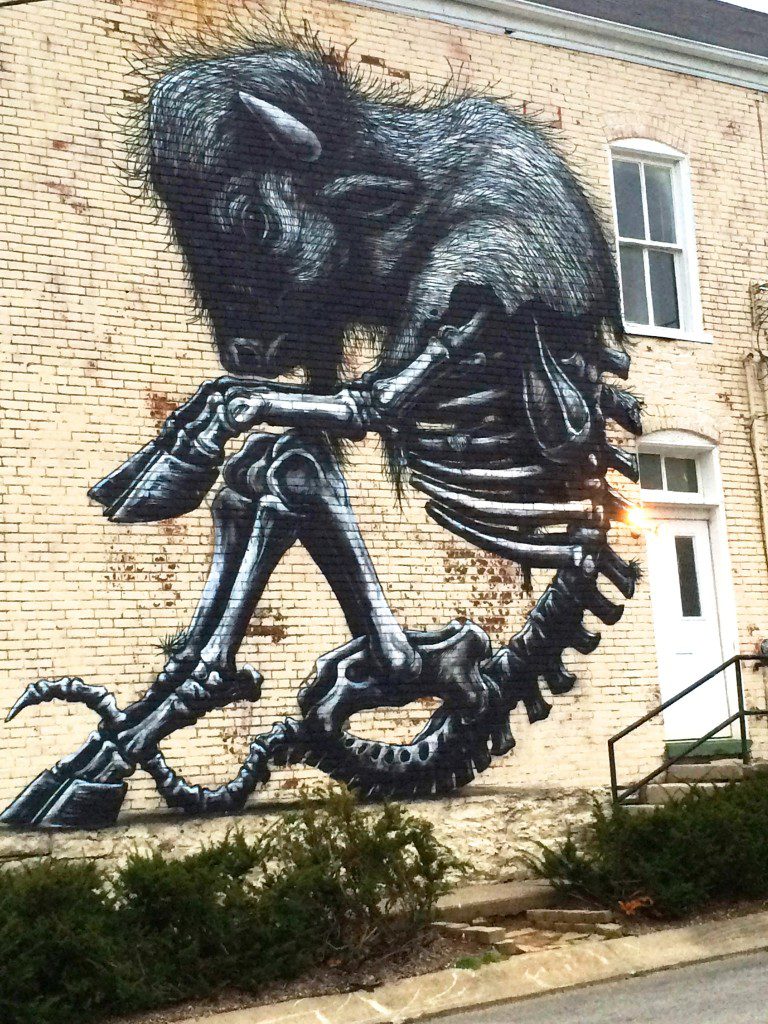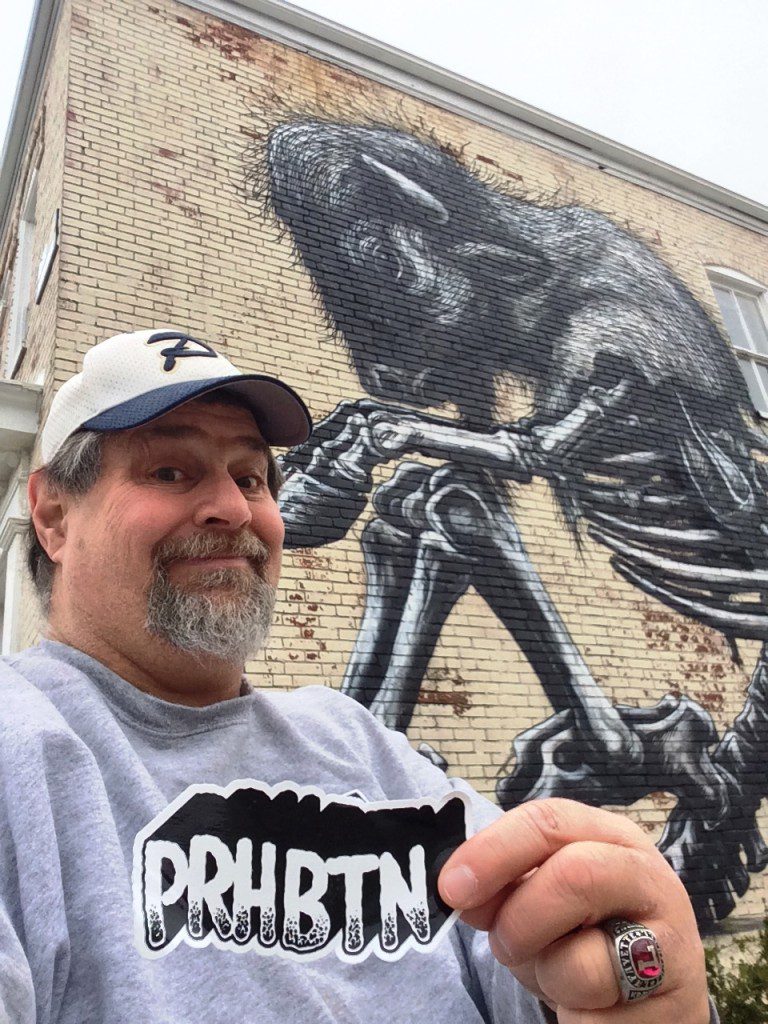 And, while in Lexington, ROA added a second piece in the Lexington Distillery District on the side of an old water tank. This giant bee appears as if it had rolled over and died.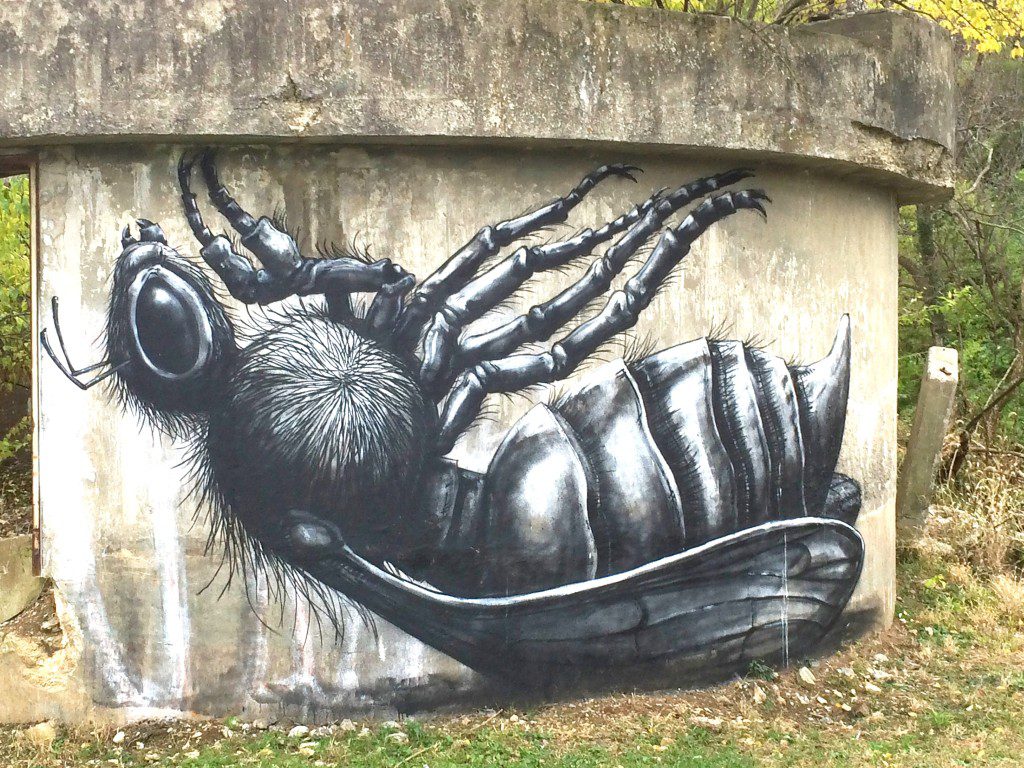 The annual PRHBTN commissions and party typically happen in October. Apparently, another well-known Chicago-based street artist with a defined style, named Left Handed Wave, just happened to sneak into town and left his mark on the front of the same building that 2013 PRHBTN artist Odeith had painted horses on the side of. His iconic style is a signature in and of itself.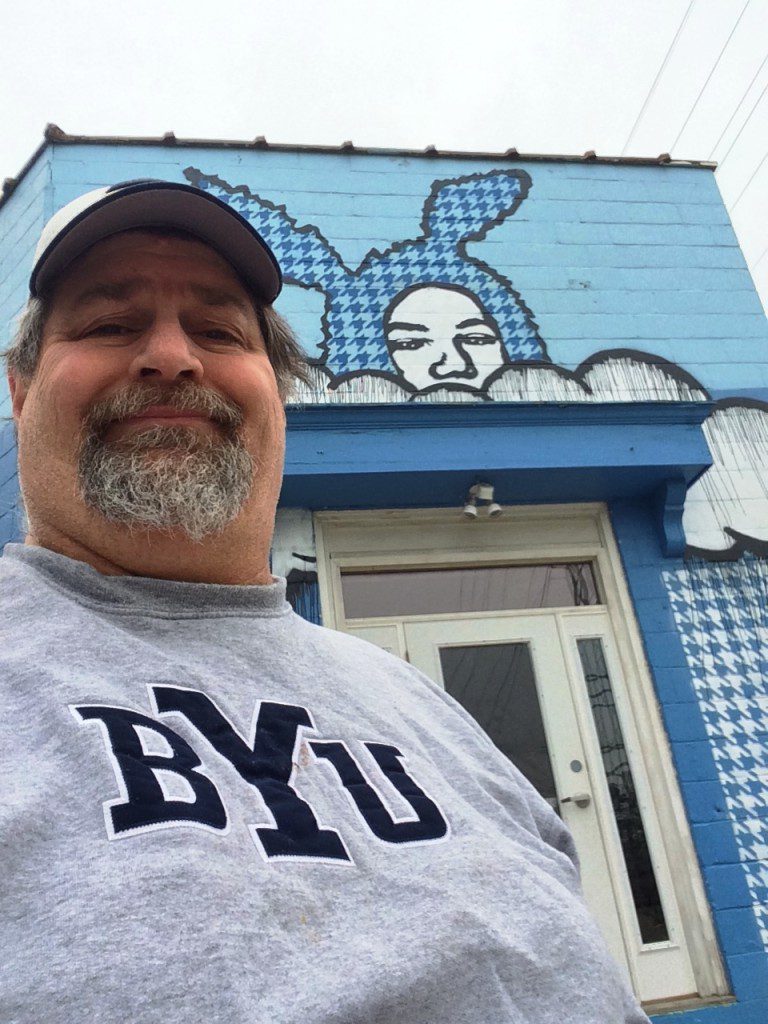 But PRHBTN was not the only group commissioning work this year. LexPark, in conjunction with the Saul Good Restaurants and a couple of other companies, brought in Appalachian artist Lacy Hale, with her brother Seth, painted a wonderfully colorful Tulip Poplar mural at the stairwell entrance to the LexPark garage near the corner of Main St. and Broadway (118 North Broadway). The Tulip Poplar is the state tree of Kentucky.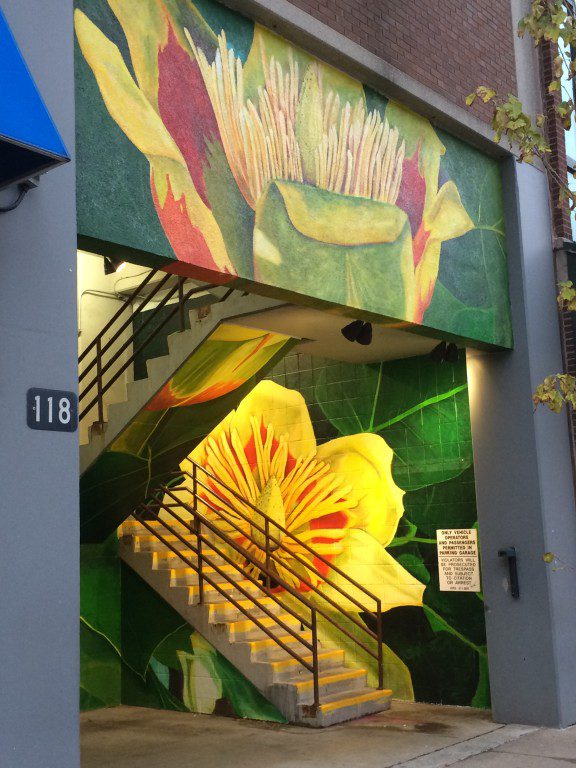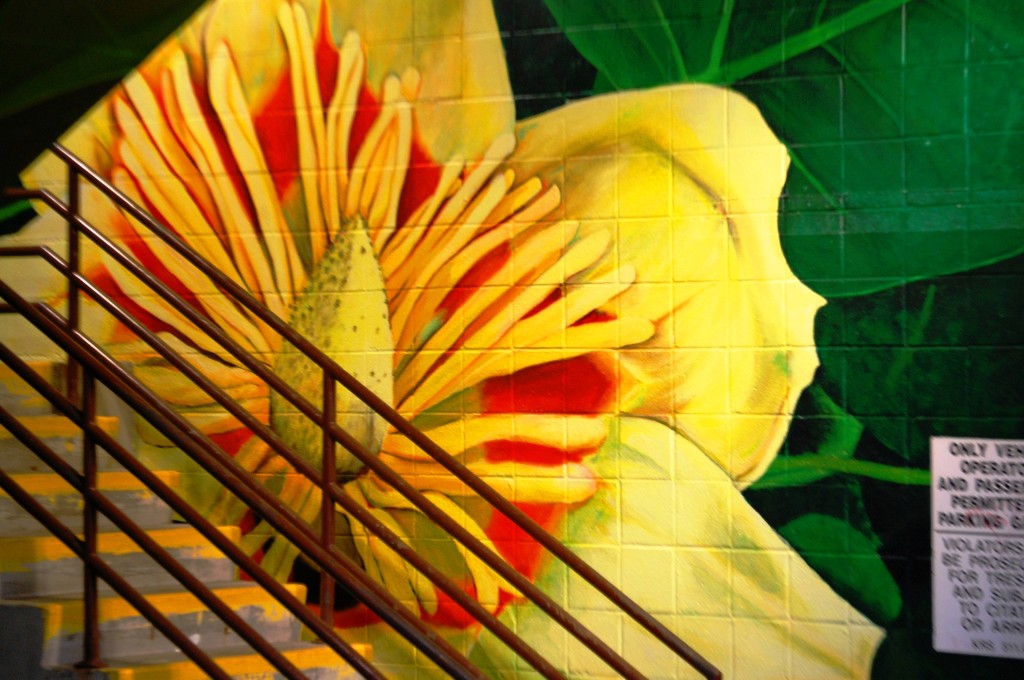 While on my quest to discover more art work in town, I came across two 2013 pieces by Dronex, Inc., a collaborative of artists headed by Myke Dronez, of Lexington, perhaps the most well known street artist from Kentucky. They have two wonderfully whimsical pieces in town (and perhaps more). The first is of a train hauling bourbon barrels and can be found in the Lexington Distillery District by Buster's. The other is on the side of a building on Lisle Industrial Ave and is called "Stockyard Commons." Both have the Dronex drones dotting the work.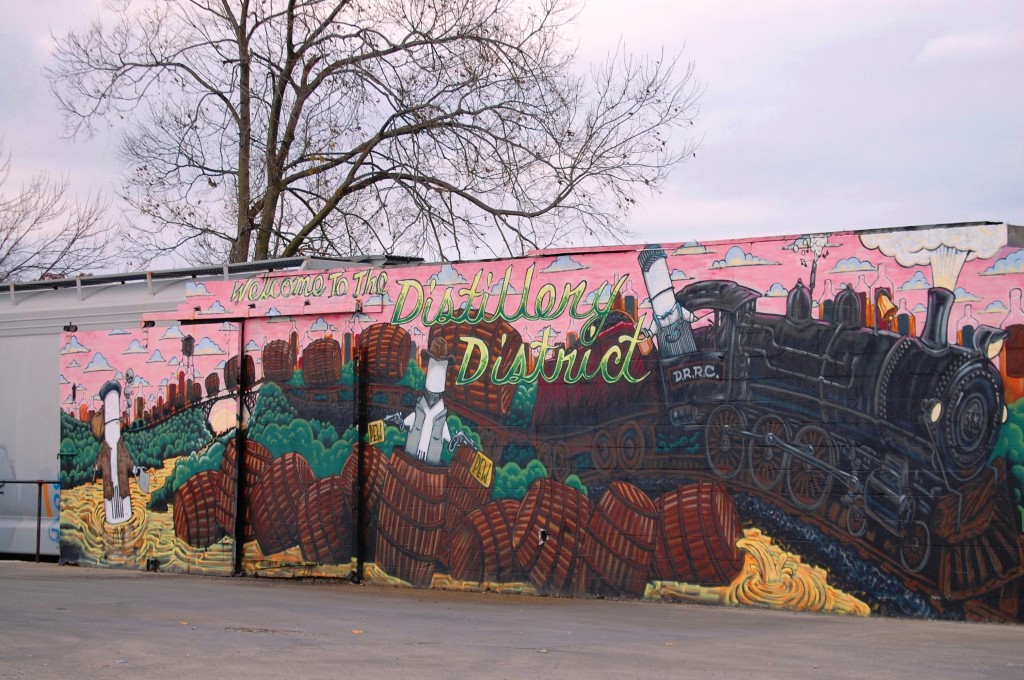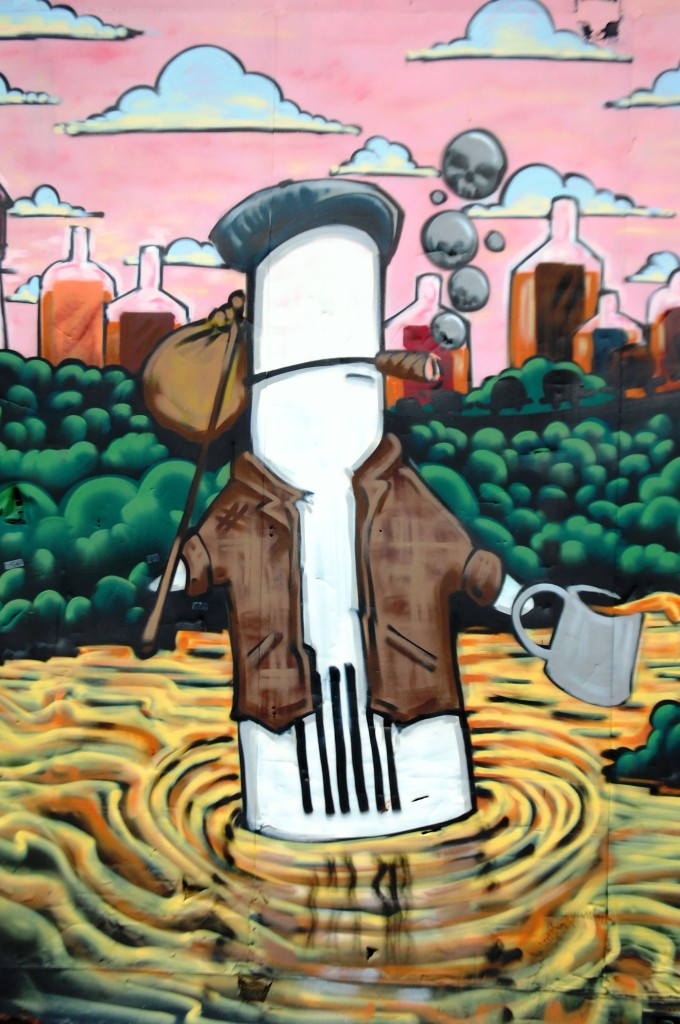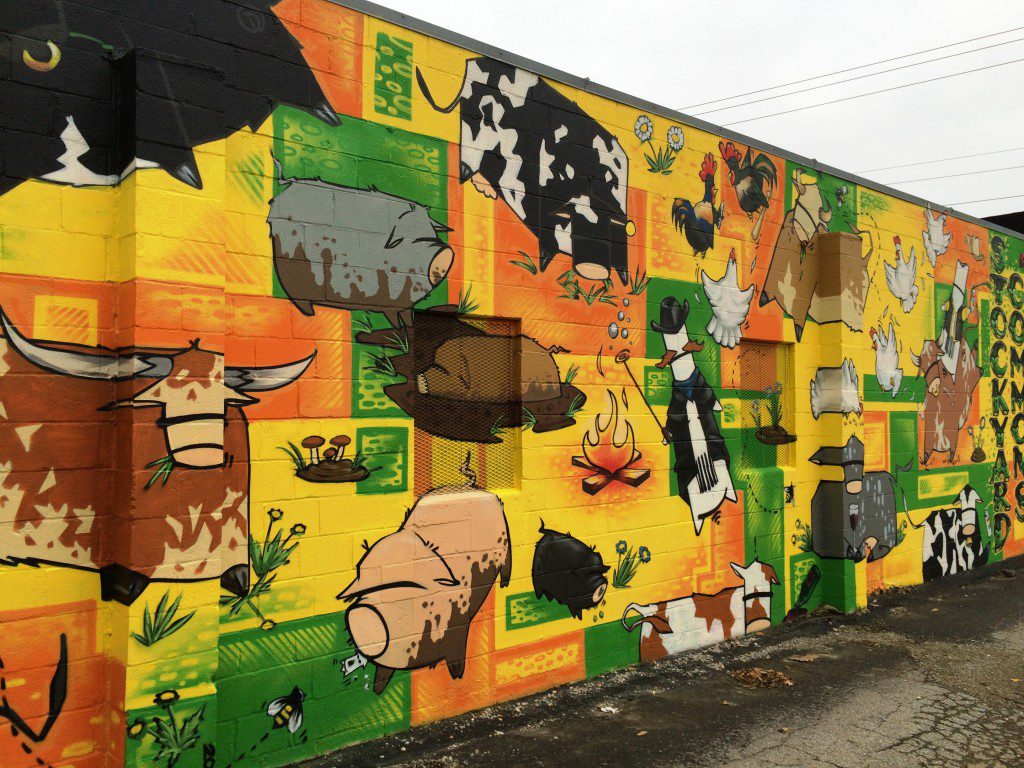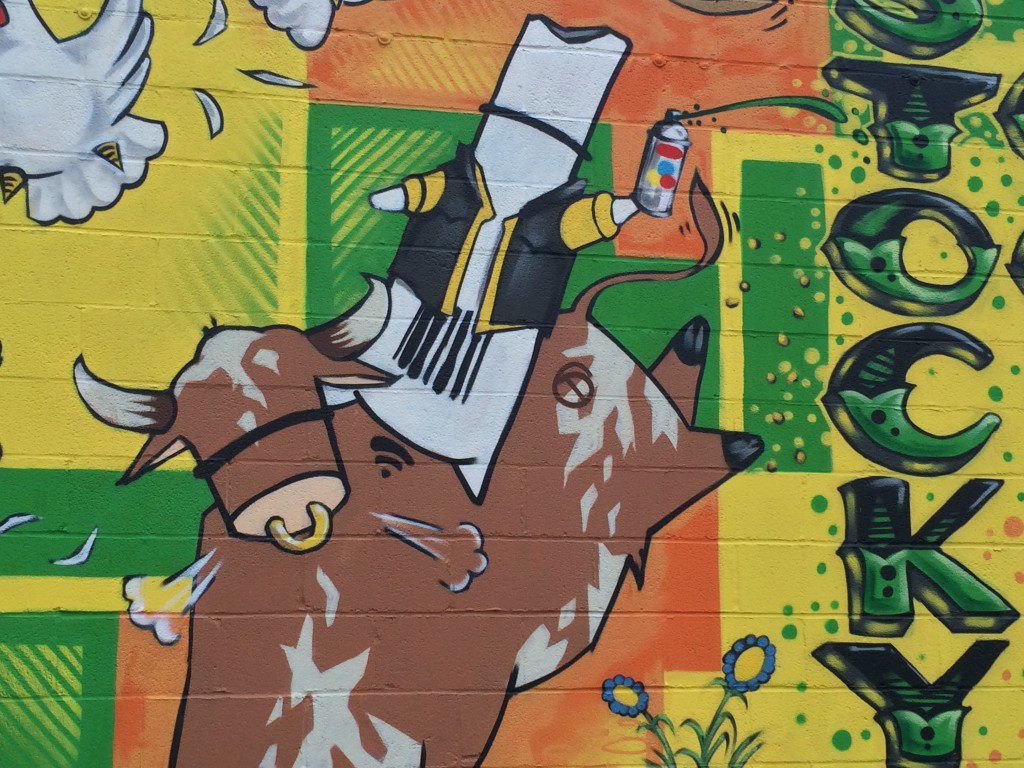 Another fun discovery was just off North Broadway past Loudon Ave., on Washington St., which is home to the BroCoLoco Agency.  They have painted a flock of migratory origami titled "Origami Tsunami" on the side of a building., apparently completed in early July 2014.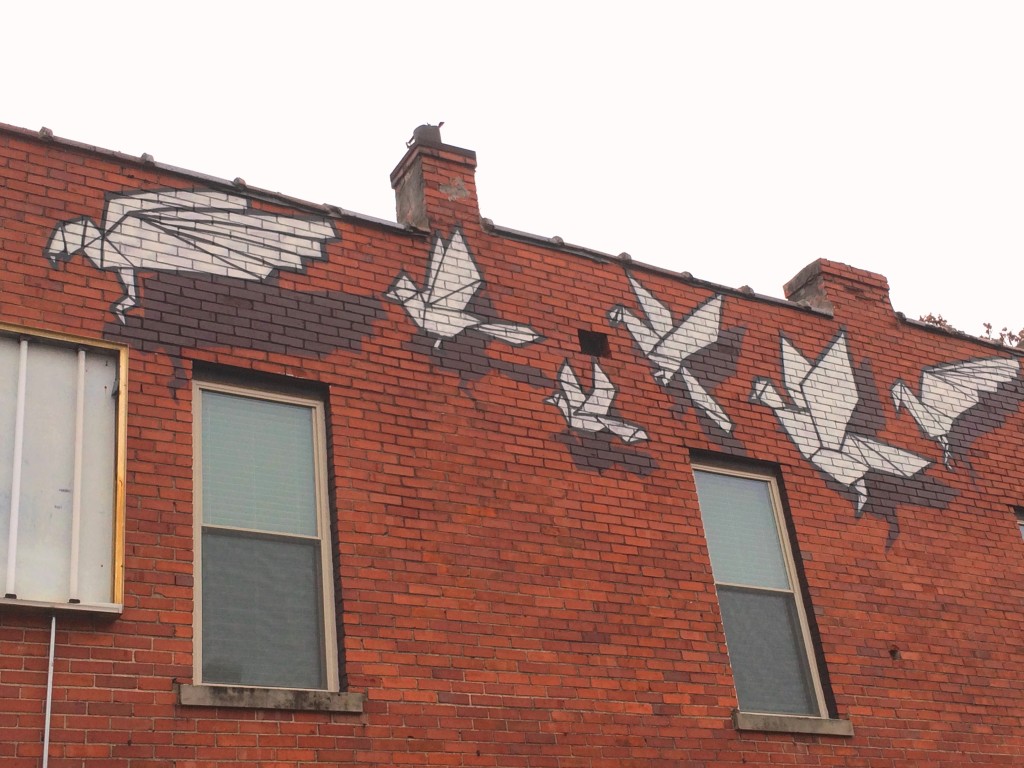 UPDATED DEC. 1, 2014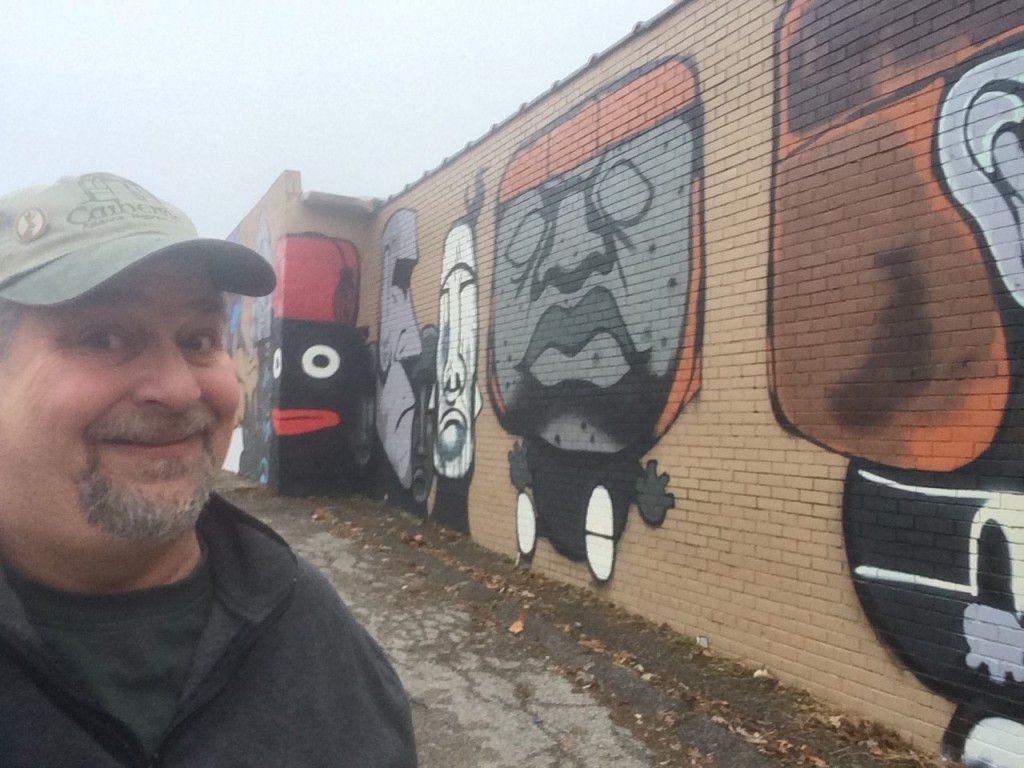 I heard a rumor that there were a couple of murals I missed in my recent whirlwind tour of Lexington.  The one above is at 600 N. Limestone on the side of Progress Market.  No idea who painted it and can't locate any info.  Here are a couple more pics.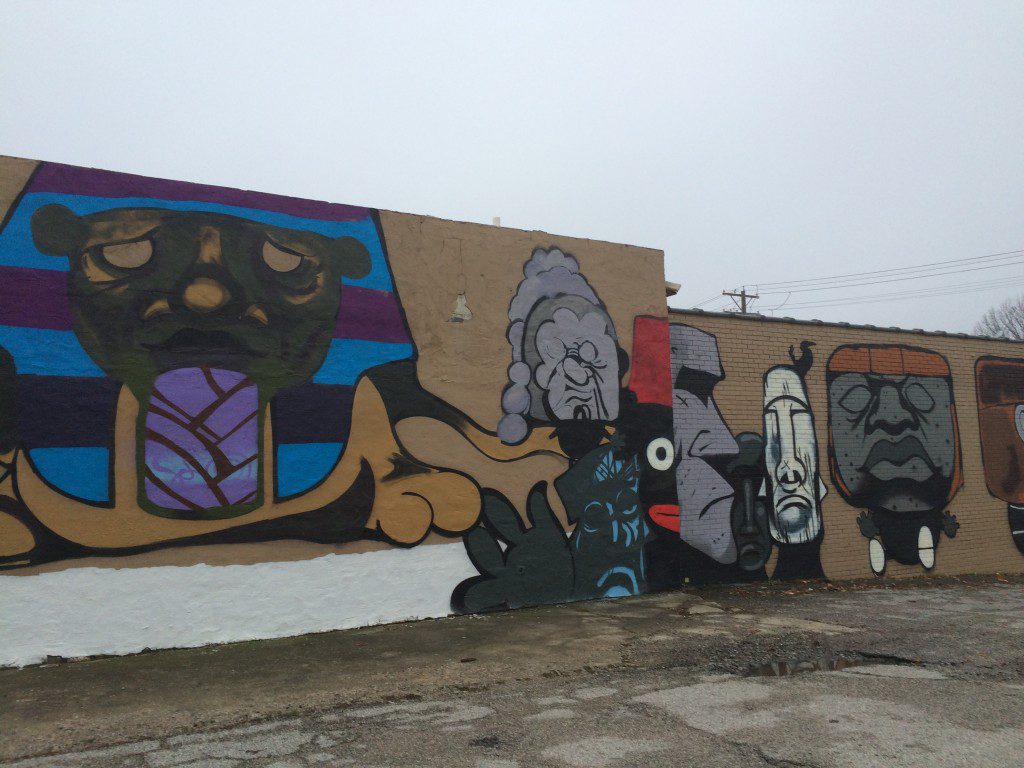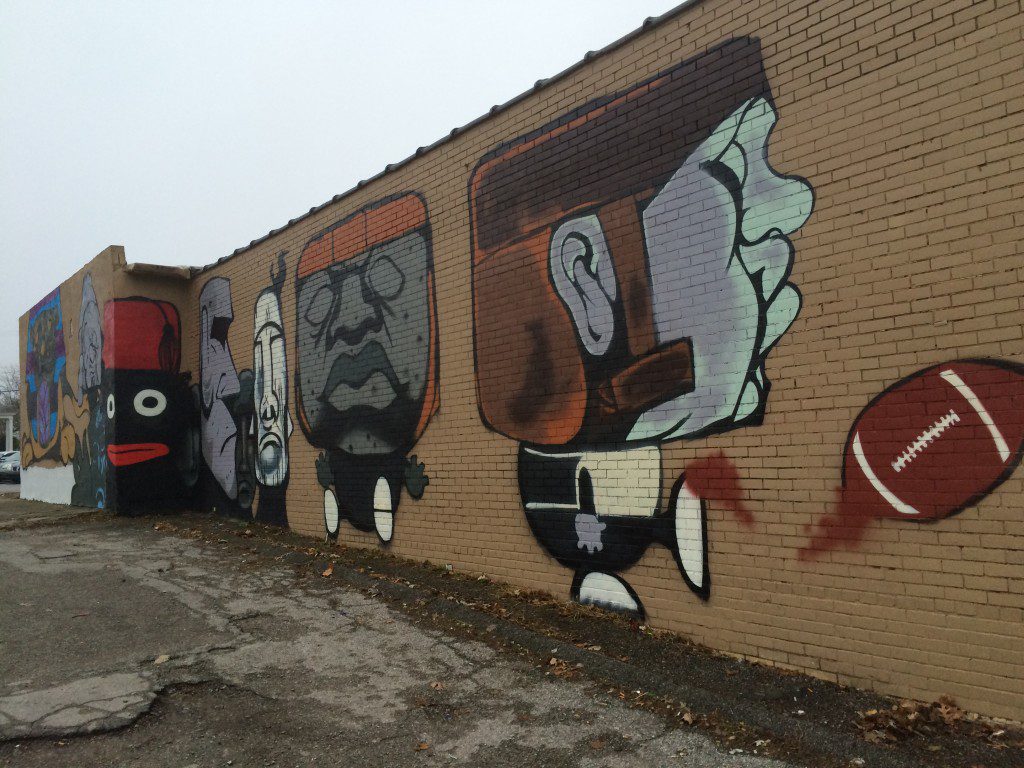 Just down the street a couple of blocks is a small shop called Vintage Creations on Lime. The BroCoLoco Agency recently completed the wall art on the side (facing True Alley).  I really like this one!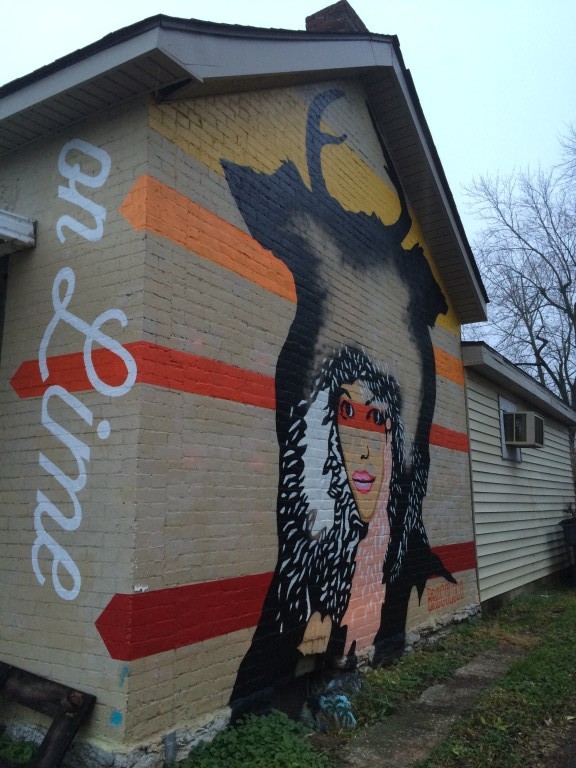 In fact, on that coolish day in November I actually made a whirlwind trip around Lexington to do a selfie at as many of these as I could find and get to. I managed most of them. I have created a slideshow of my "Selfie Tour" and posted it HERE. You can also see my posts from last year PART I and PART II for more details.
Custom map of locations for all of the murals and street art works in Lexington is below: