Throughout my travels I drove over 10,000 miles and took over 3000 photos in 2014. I have numerous shots from the road of quirky places, offbeat sites and some nice looking places.  If you missed my "nature photos", some of which are from my travels, please check them out on my Sumoflam's Singlewide Site.  Following are my ten favorite travel shots from 2014 and the stories behind them (and a number of honorable mentions).
NUMBER 1 – OLD PRAIRIE SCHOOL HOUSE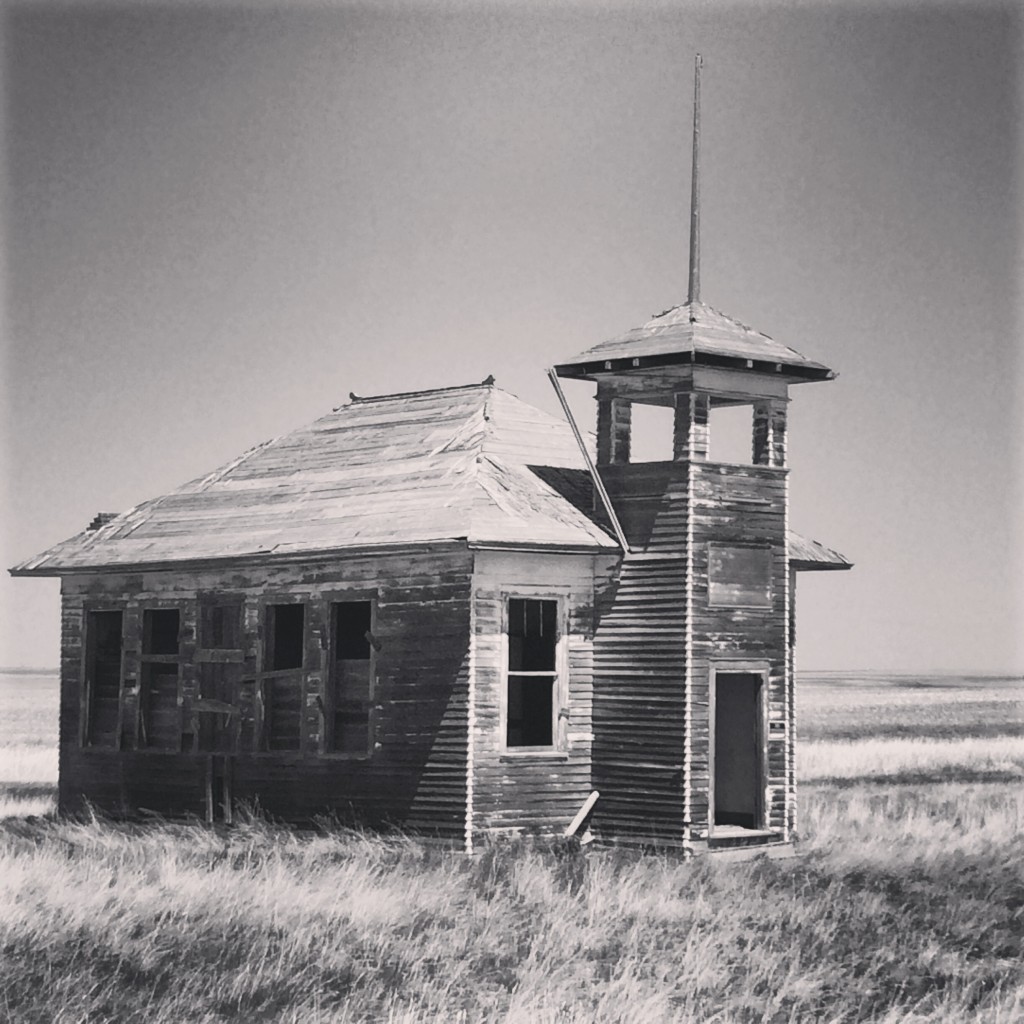 I once saw a photo of this old school house and knew that I had to get to this relic of the past.  So, on my way to Shelby, MT from Havre, I sought to track it down.  Instructions from most are difficult to find, so I figured if I could find the place I could also document its location.  I took color shots, but edited this one to be in black and white. Gives that old-timey feel.
NUMBER 2 – PAUL BUNYAN AND BABE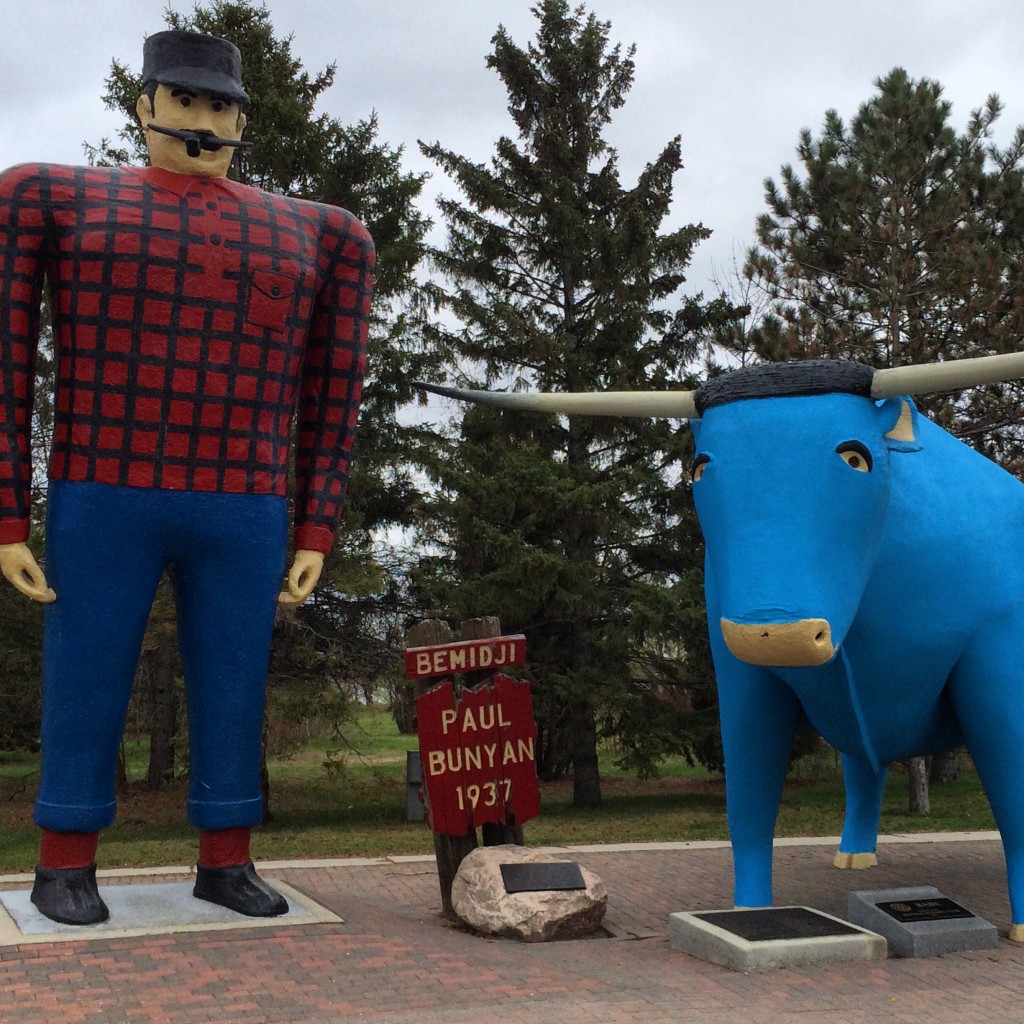 It had always been a dream of mine to get to this famed roadside attraction from 1937 located in Bemidji, MN.  I first saw this in a LIFE Magazine Travel book in the 1960s. From that time my wanderlust kicked in and finally, in 2014, I was able to get there.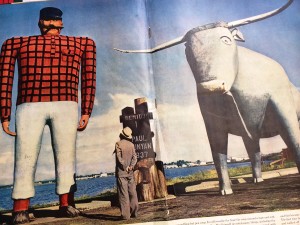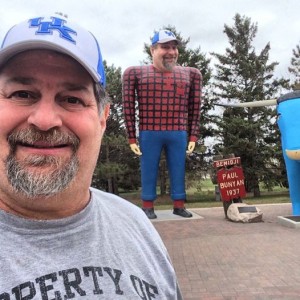 NUMBER 3 – CARHENGE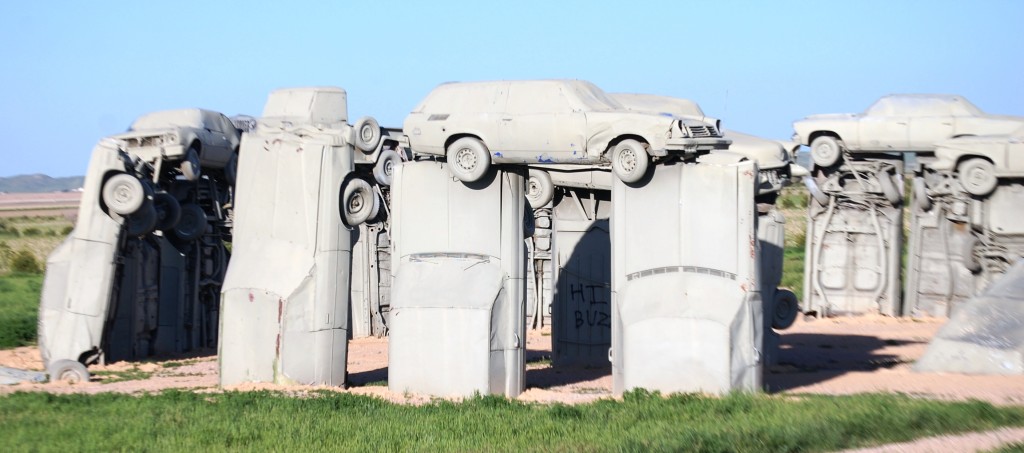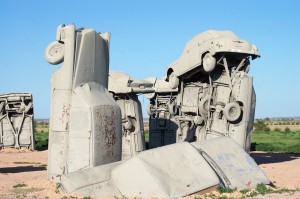 Car art at its best, my 2014 visit to this famed roadside attraction fulfilled my goal to hit the trifecta of car art sites (the other two being Cadillac Ranch, which I visited in 2013 and "Spindle", the Cars on a Spike,  which I visited in 2007)
NUMBER 4 – GIANT HIAWATHA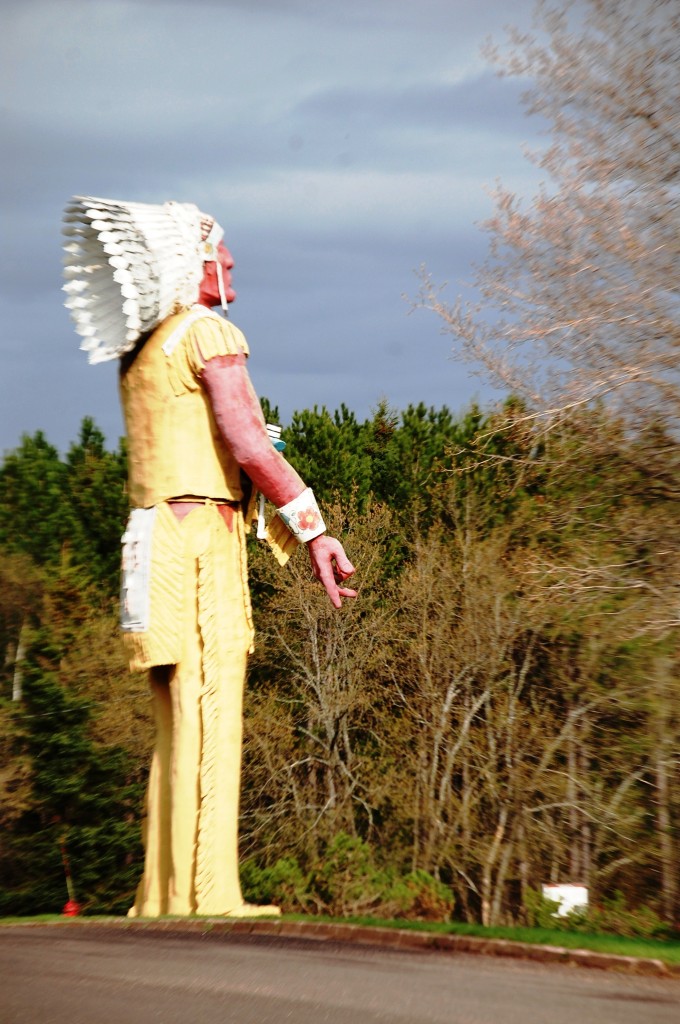 I went to Ironwood, MI to begin my journey west on US Highway 2, which I drove for over 1200 miles, eventually to Browning, Montana. This giant can be seen down the road as one enters the town of Ironwood from the south.  It was one of many "giants" I would see in 2014.
NUMBER 5 – "I AM MO" MURAL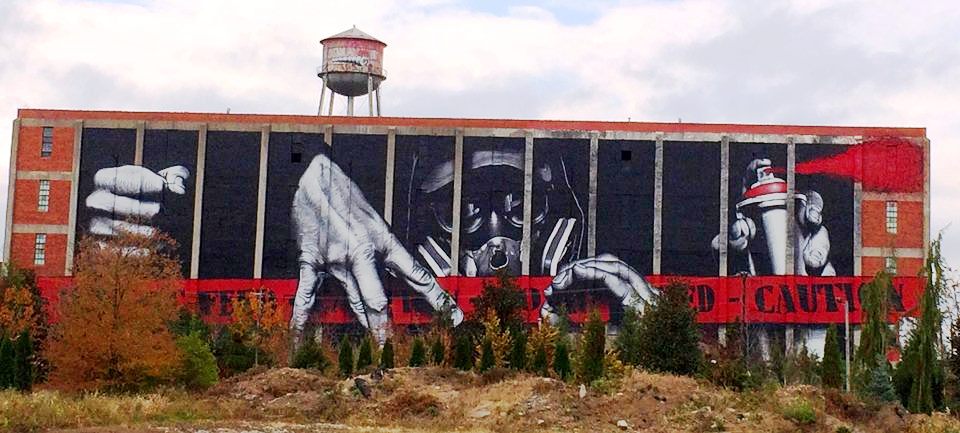 Sometimes the best sites are in your own backyard.  This amazing mural was done in the summer of 2014 as part of the PRHBTN Arts program.  A number of murals were added to Lexington.  But this one is humongous!!
NUMBER 6 – GREETINGS FROM AUSTIN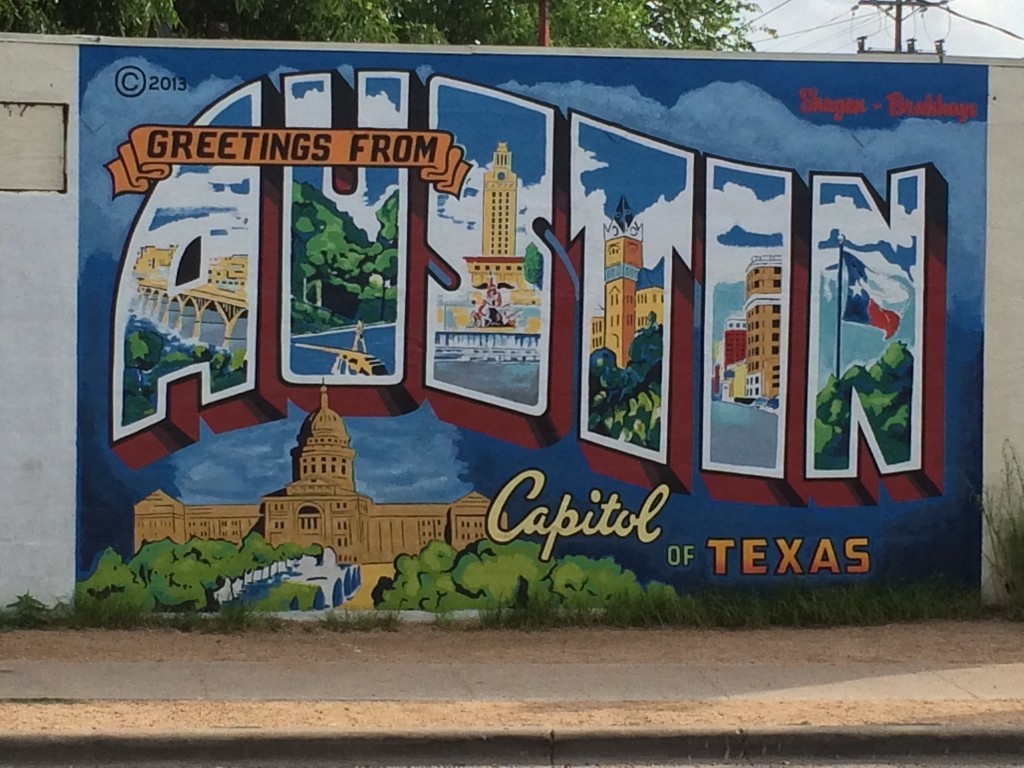 One can't visit Austin without visiting this famed mural.  They continue to update it over the years, but it is well known.
NUMBER 7 – TEE PEE MOTEL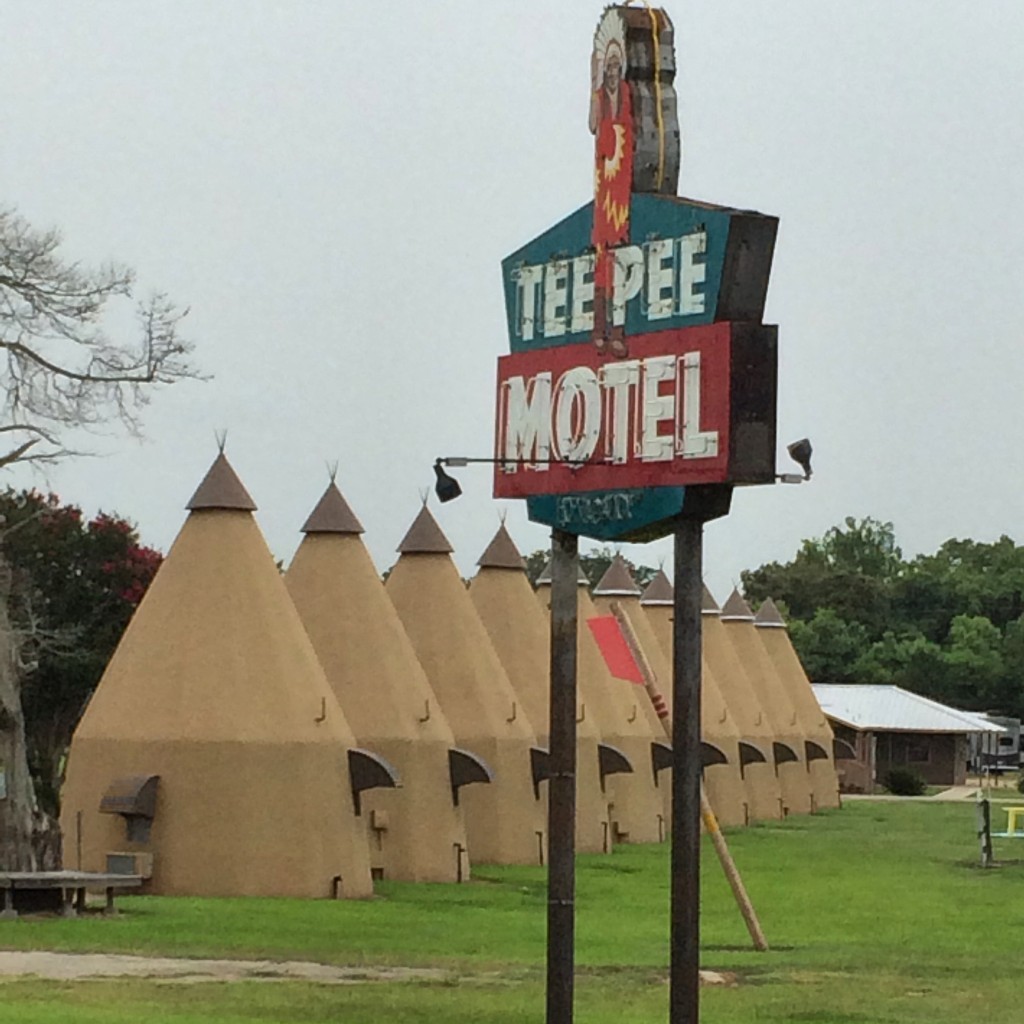 A throwback to the 50s and 60s, this motel was rebuilt in the 1980s but left with the vintage style buildings and furnishings.  A few other similar ones can be found dotting the country.
NUMBER 8 – THE GREAT TEXAS SUPPER

The Great Texas Supper at LSA Burger in Denton, Texas
This mural is play on the Last Supper but features famed Texas musicians enjoying a meal with Jesus.  It was painted by Icon Studios in Dallas.  I got the opportunity to visit LSA Burgers for a special visit before they opened for the day (back in June 2014). They were kind enough to give me a nice tour thanks to Denton's famed ghost tour lady Shelly Cumbie Tucker. L-R in the painting: George Jones, Selena, Roy Orbison, Waylon Jennings, Scott Joplin, Janis Joplin, Bob Wills, Willie Nelson, Freddy Fender, Stevie Ray Vaughan, Buddy Holly and T-Bone Walker.
NUMBER 9 – MAMMY'S CUPBOARD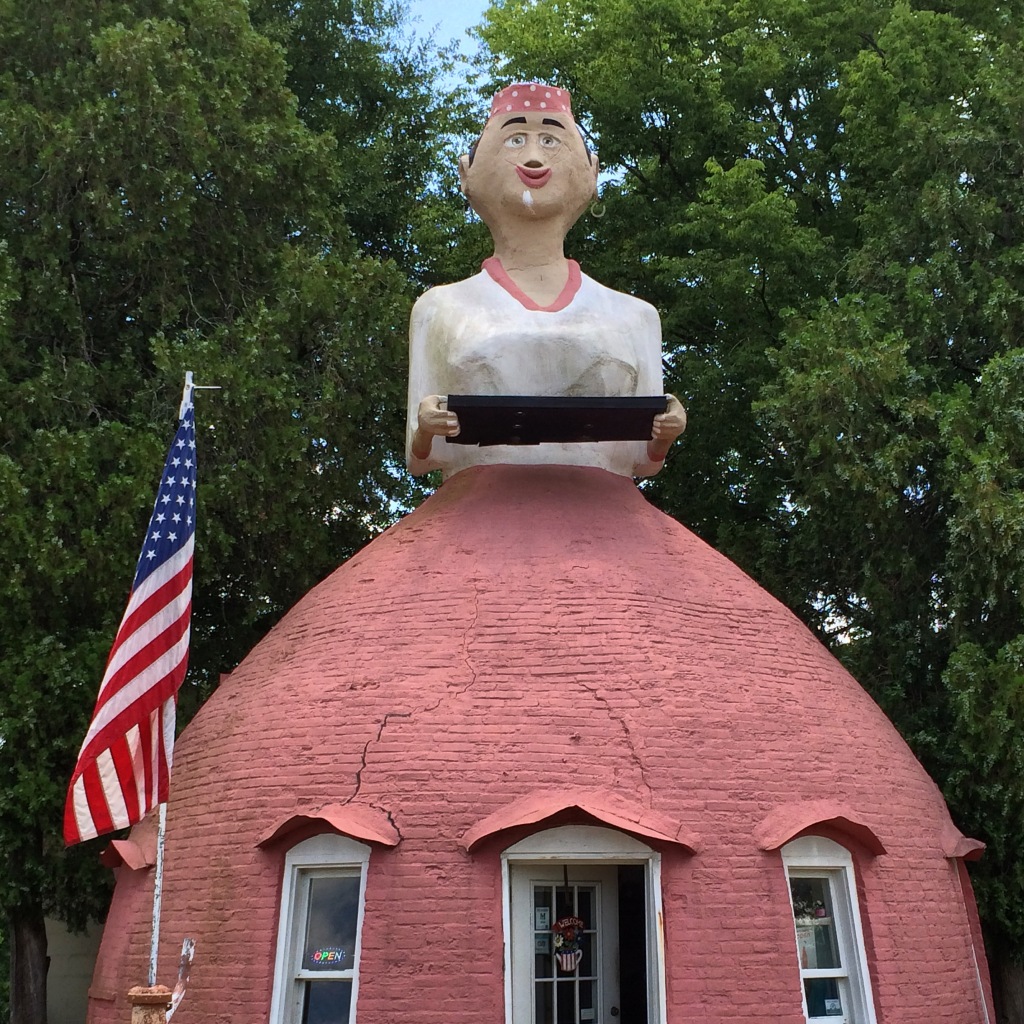 Mammy's Cupboard is a great place to eat and an awfully unique roadside attraction.  I found out about it as I researched my trip to Galveston.  I had to not only grab a photo, but had to stop for a bit to eat just so I could say I have eaten in this historical roadside attraction.
NUMBER 10 – THE BIG FISH
This Big Fish is, in my opinion, one of the "Big Three" roadside attractions in Minnesota (though there are dozens of other good ones – the other two are Paul Bunyan in Bemidji, above, and the Jolly Green Giant in Blue Earth). I got a number of angles, but I loved this one where it looks as if the giant fish is about to devour the little house.
SOME HONORABLE MENTION SHOTS