Around the country one can find a number of fun and large Fiberglass Giants. Though most of what I touch on in this post is fiberglass, I do mention so HUGE giants made of other materials due to their fame and as a comparison to the sizes.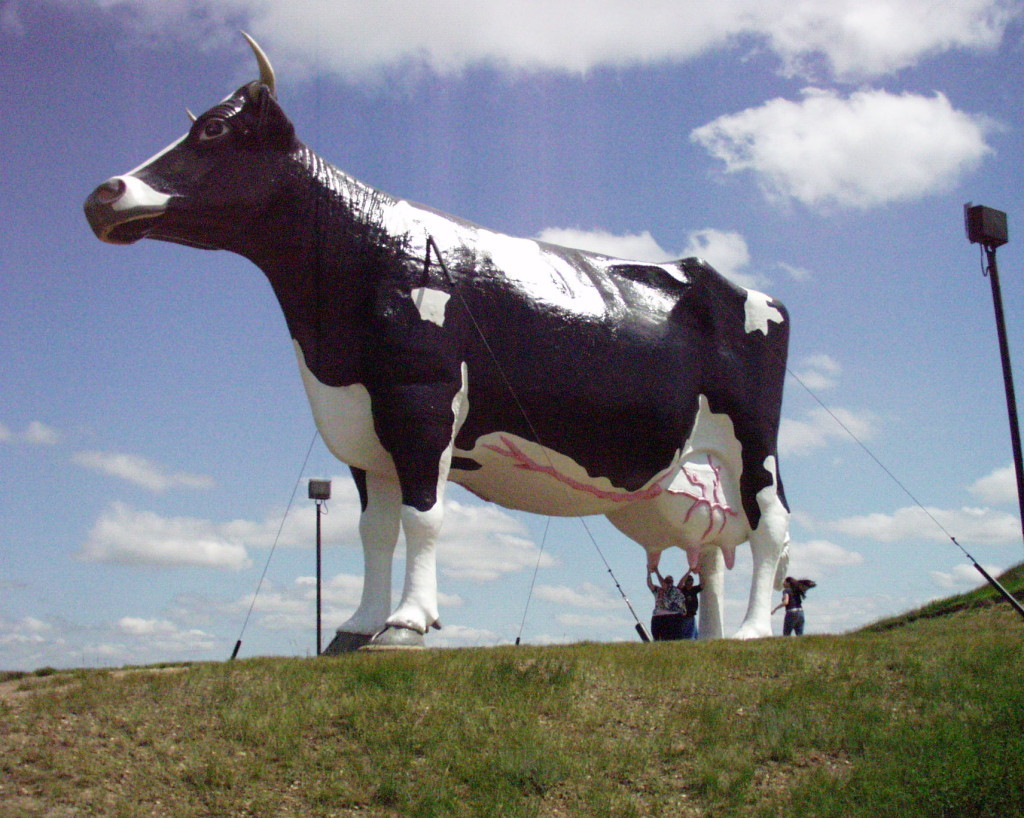 GIANT COWS AND BULLS
The fiberglass giant makers have had fun over the years as they have created some real huge and udderly mooooving creations.  The giant shown above Salem Sue, the World's Largest Holstein Cow.  This monstrous mooer was built in 1974 at the cost of $40,000.  The project was sponsored by the New Salem Lions Club in honor of the local dairy farming industry. The statue stands 38 feet high and is 50 feet long. It stands proudly on School Hill near Interstate 94 off exit 127 S and can be viewed for several miles.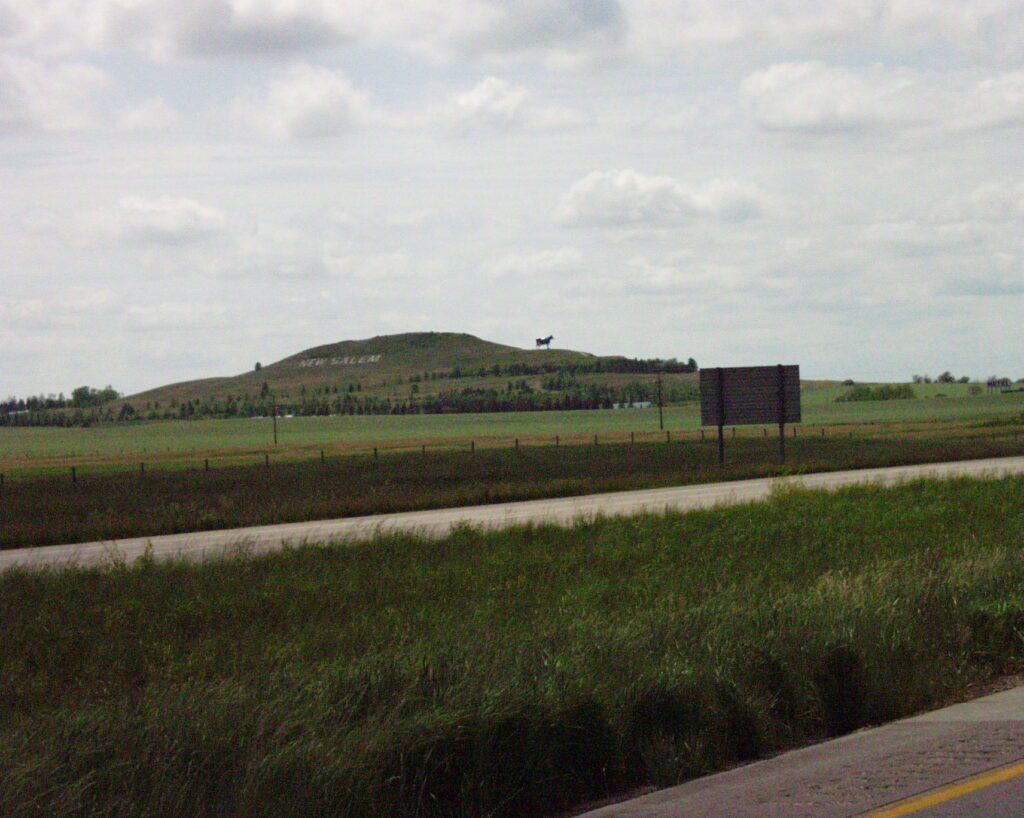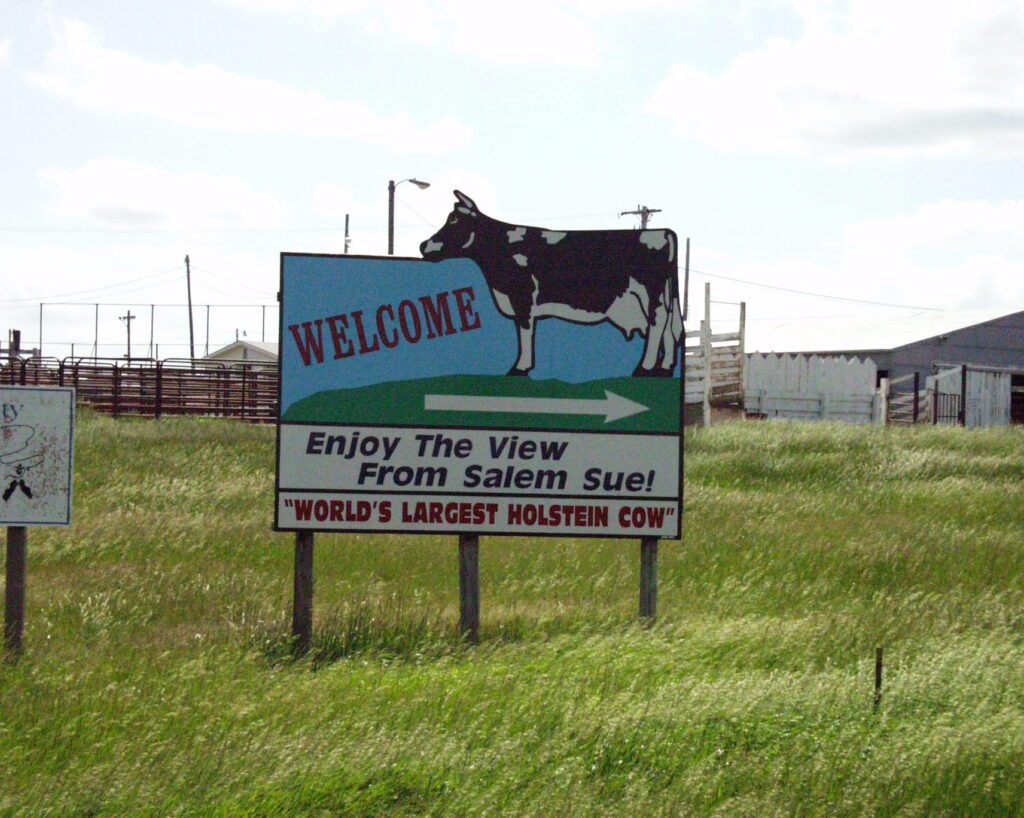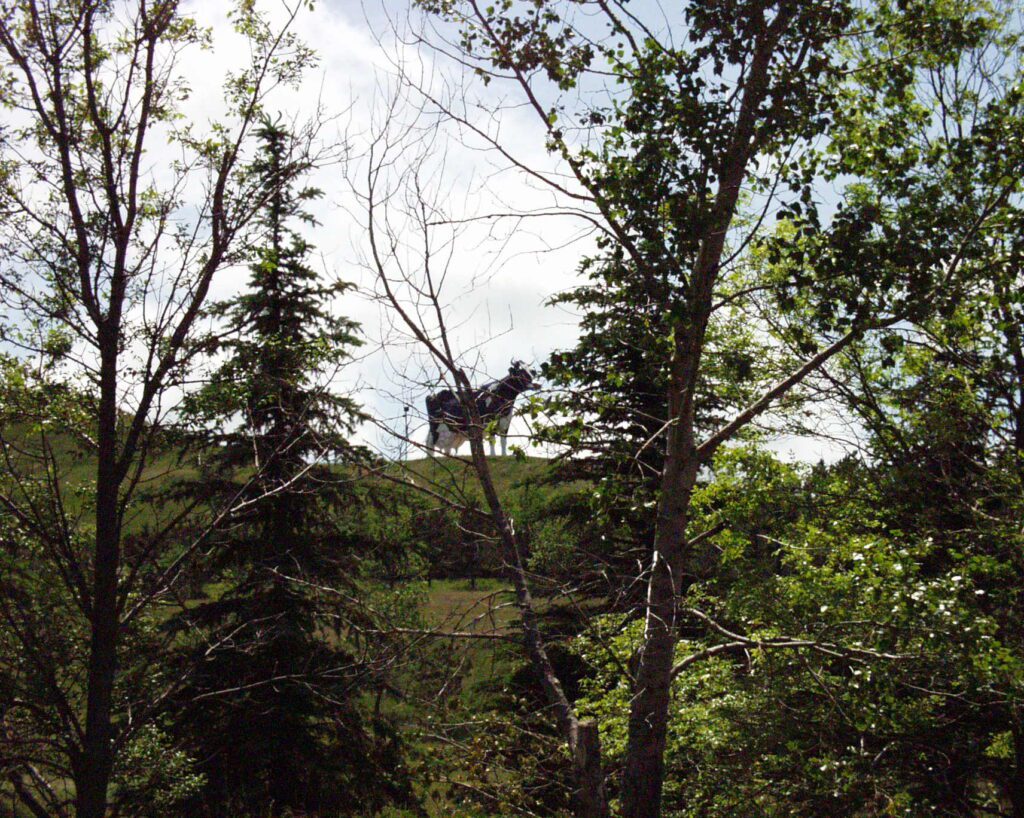 Though Salem Sue is the Giant, there are many more cows out there strutting their stuff, from smaller than life to much larger than life…..here are a few from past road trips: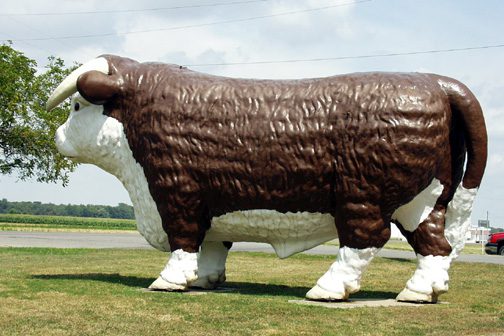 Another big steer can be found outside of the Big Texan Steak Ranch in Amarillo, TX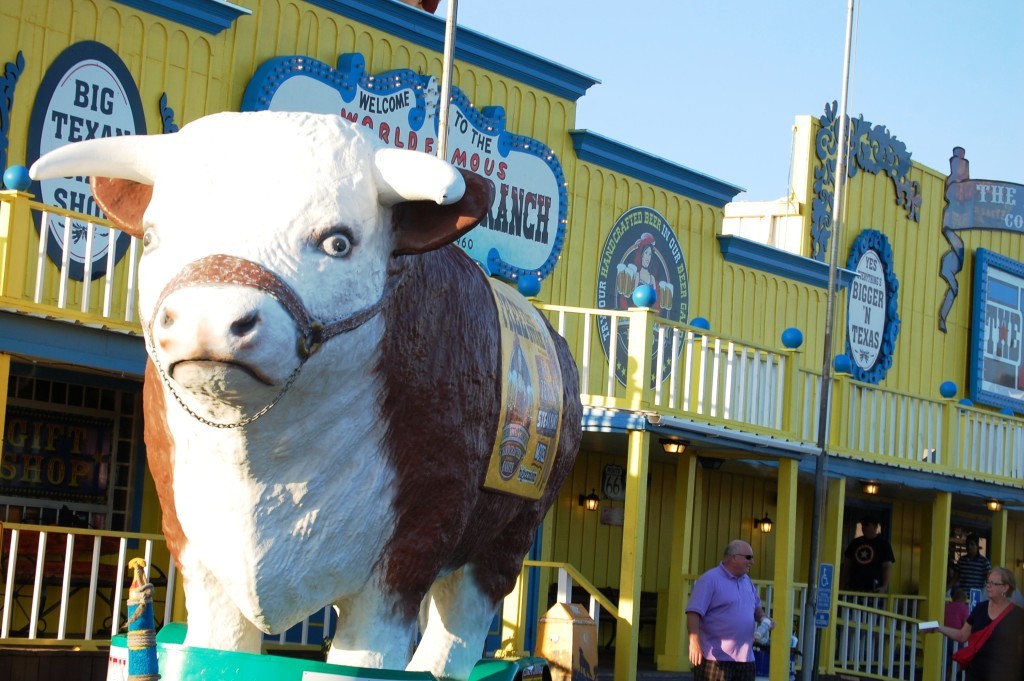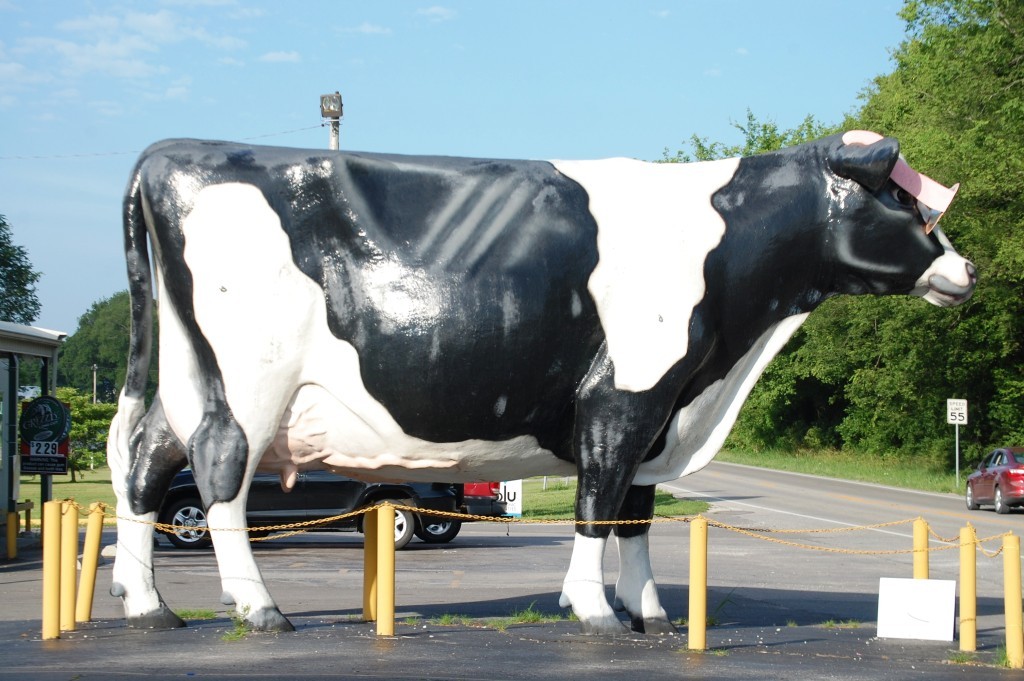 Perhaps the second largest cows can be found in Wisconsin.  Not nearly as big as Salem Sue, these huge heifers still provide some awe. Ehlenbach's Cheese Chalet is home to Sissy the Cow (below).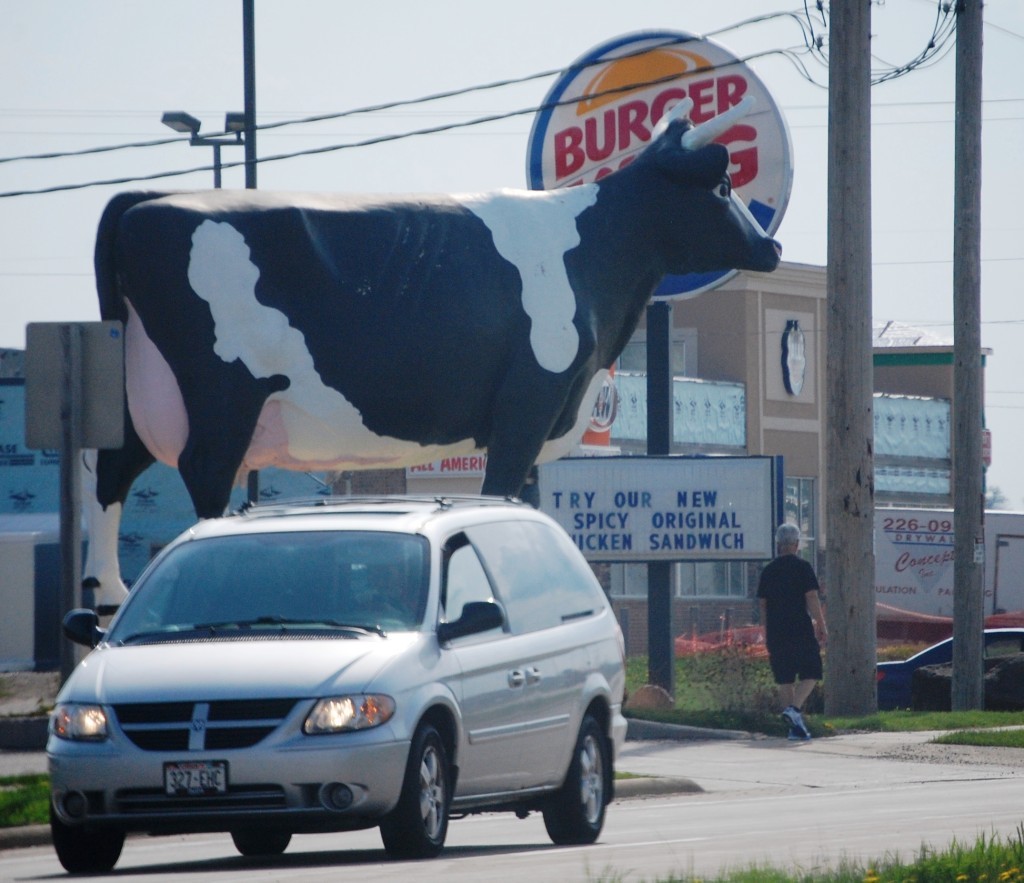 Just down the road from DeForest, in Janesville, WI is Bessie the Cow, who is likely about the same size.  These two Cowlossus girls are both about 19 feet tall and 20 feet long.  Both were manufactured by F.A.S.T Corp in Sparta, WI (as were many of those in this post)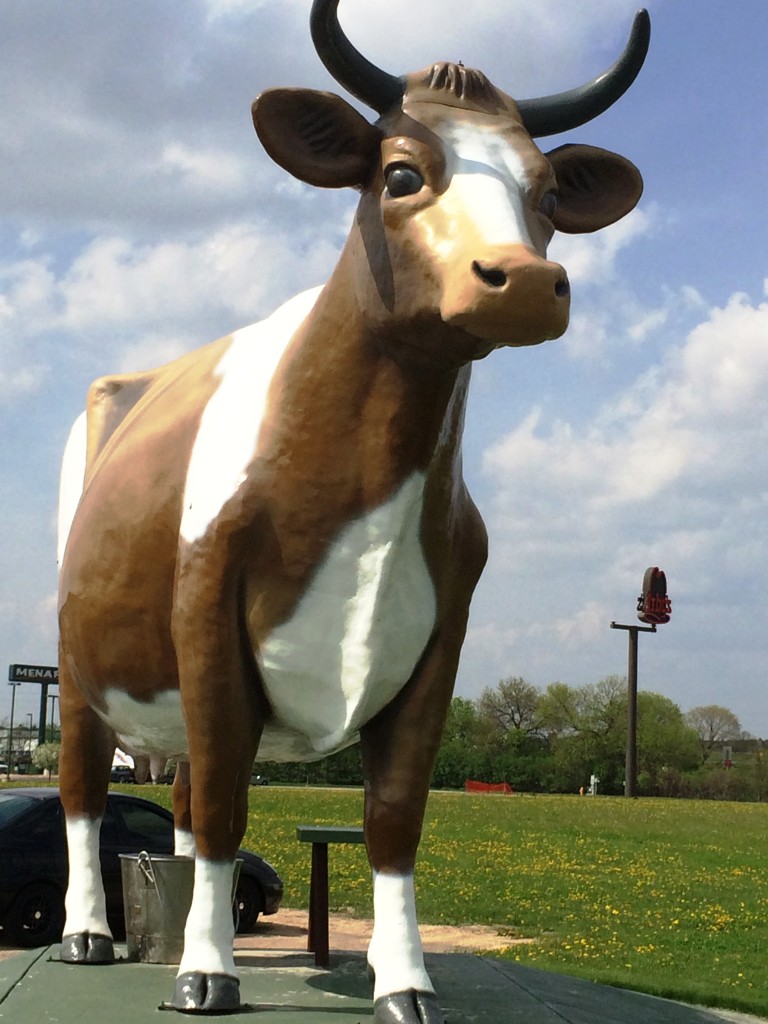 Of course, there are many "lesser bovines" out there and here are a few of the fun ones I have come across over the years….
The first of these if the Springbank Snow Countess Monument in Woodstock, Ontario.  She was a, champion milk producer (she became the World Champion Lifetime Butterfat Producer with a total of 9,062 pounds of butterfat and 207,000 pounds of milk), was born, raised, and died on the Springbank Farm, in Oxford County, Ontario.  Her record held until 1954. She was designed by local artist Ross Butler.  I include her for the honor even though she is actually made of cast iron and not fiberglass.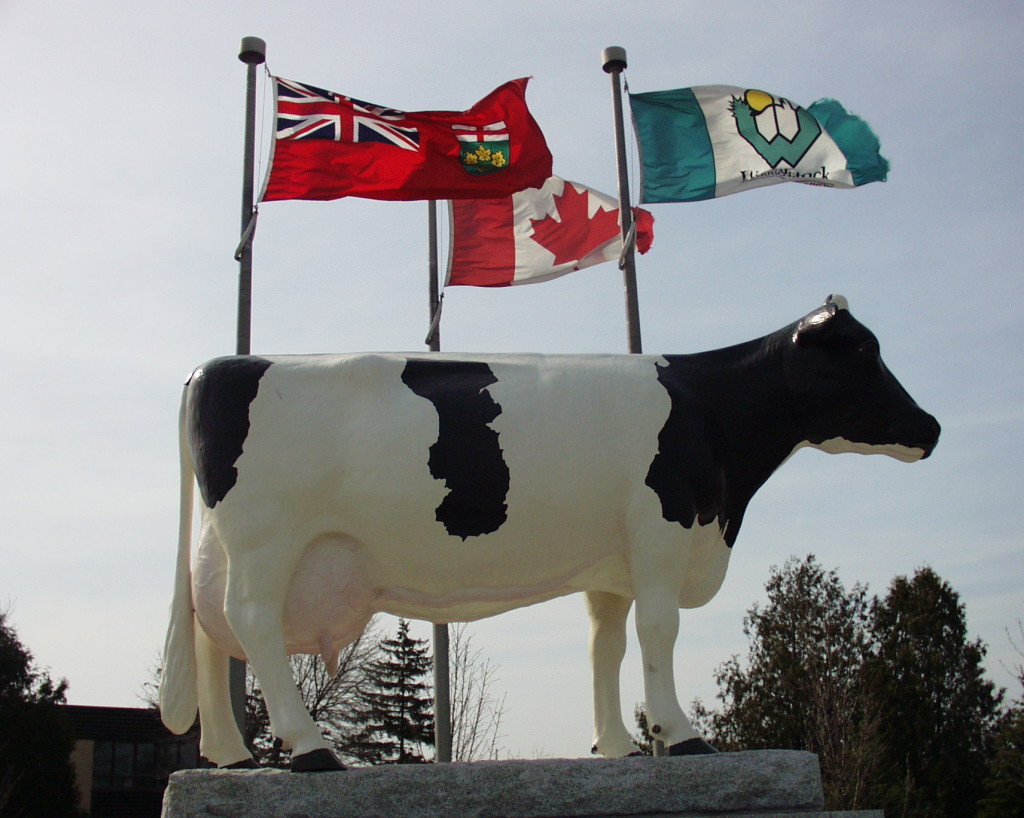 F.A.S.T. Corp is well known for their mass manufacture of fiberglass animals for local art projects.  Dozens of these events have popped up around the country, including two in Lexington that featured horses.  Some have features art on cows and here are a couple of fun examples: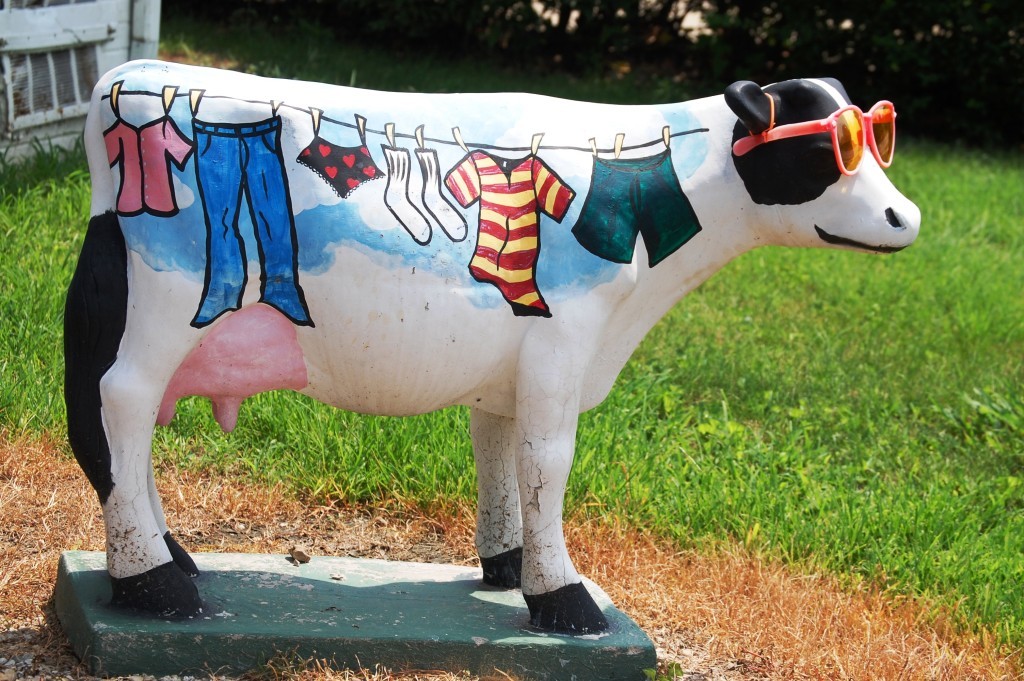 The JELL-O Gallery in LeRoy, NY is a fun offbeat place to visit and they have a colorful cow!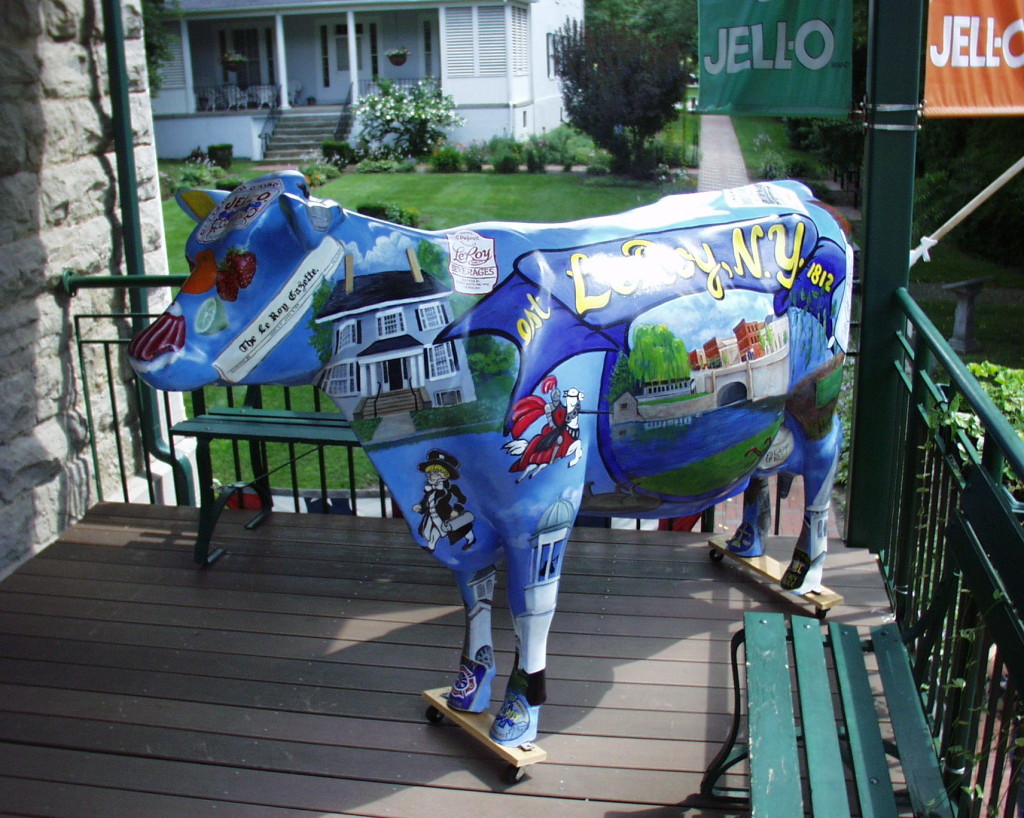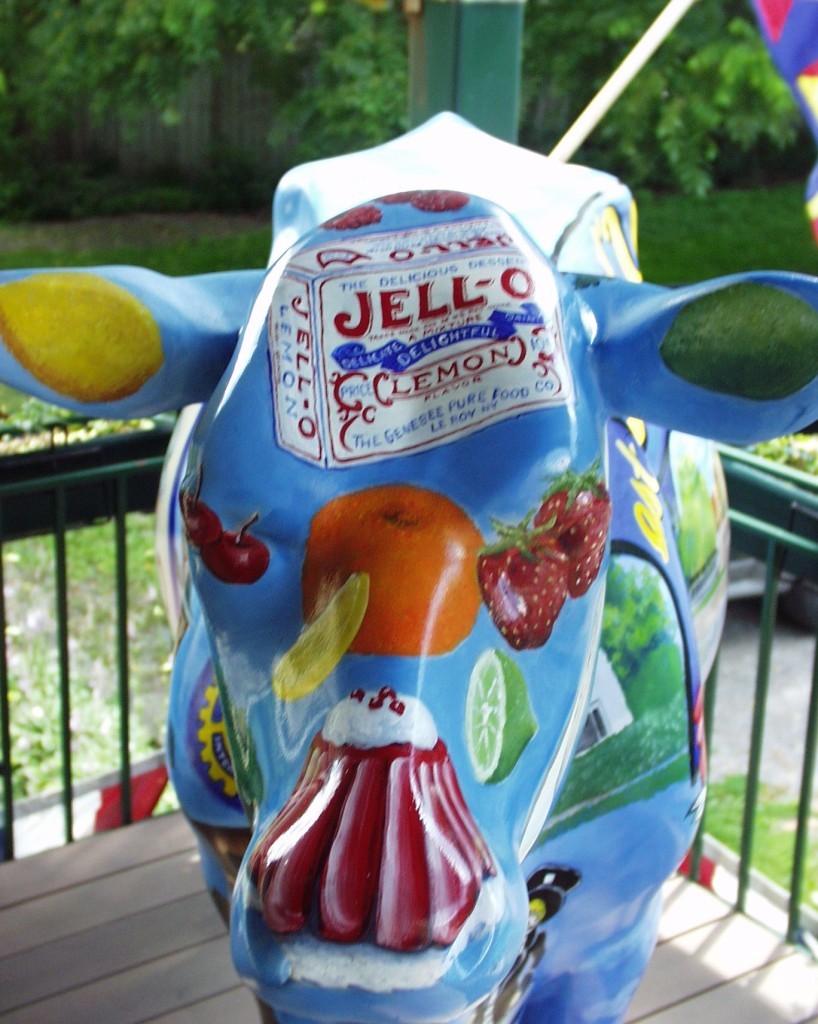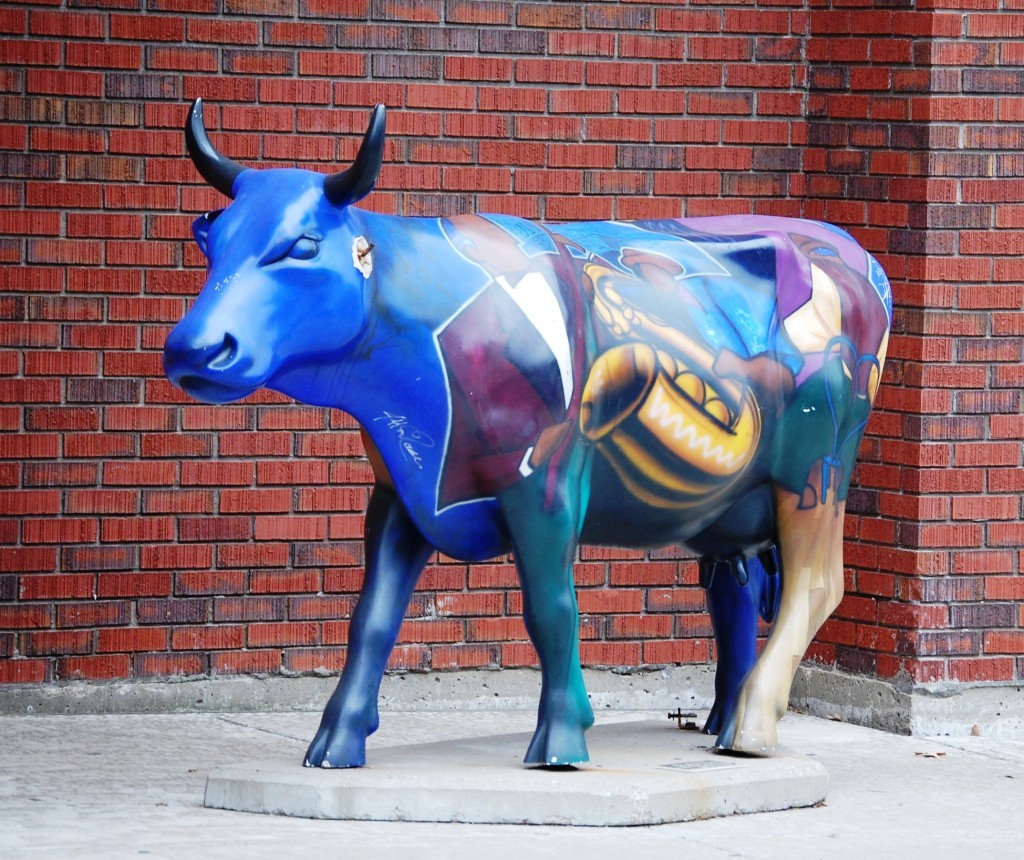 GIANT BISON/BUFFALO
A close cousin to the bovine is the bison (which many mistakenly call buffalo).  There are a few of these around too.  By far the biggest of these in Jamestown, ND.  The "World's Largest Buffalo" was built in 1959 and is actually made from cement.  It is 26 feet tall, 46 feet long and weighs a mere 60 tons.  Despite it being made of cement, I had to include it…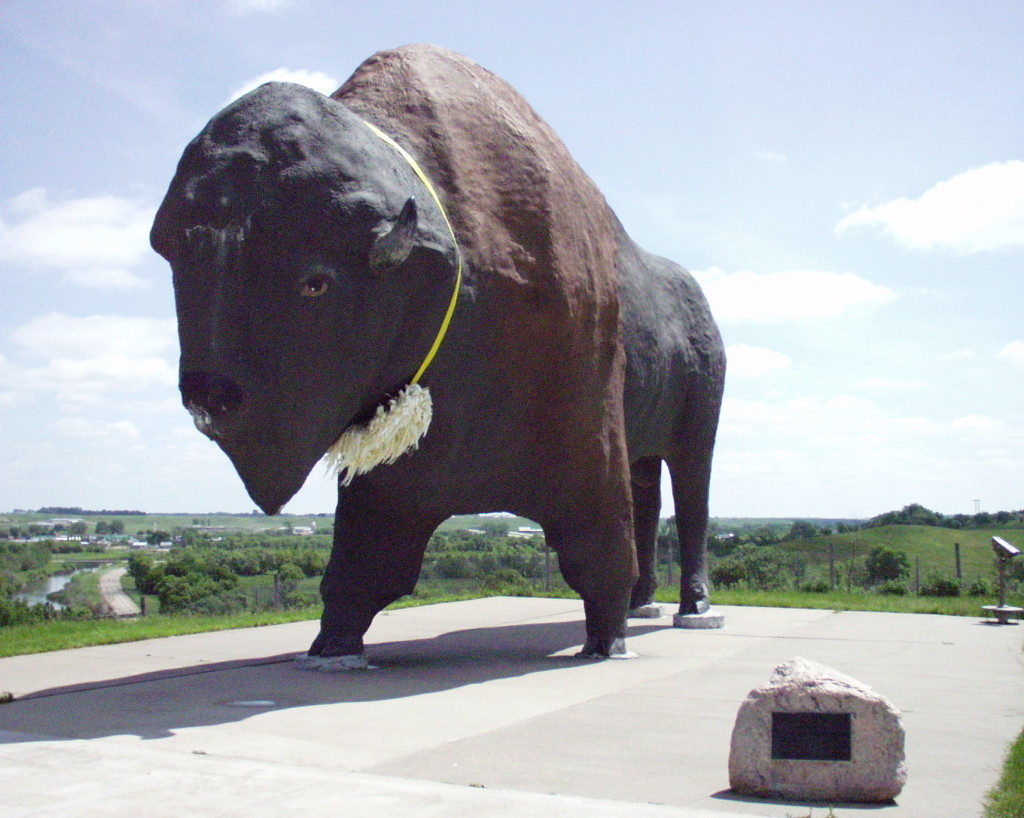 There are other "lesser bison" to be found on the back roads of America. As an iconic plains animal known specifically to the Americas, it is no doubt that it is honored in many places.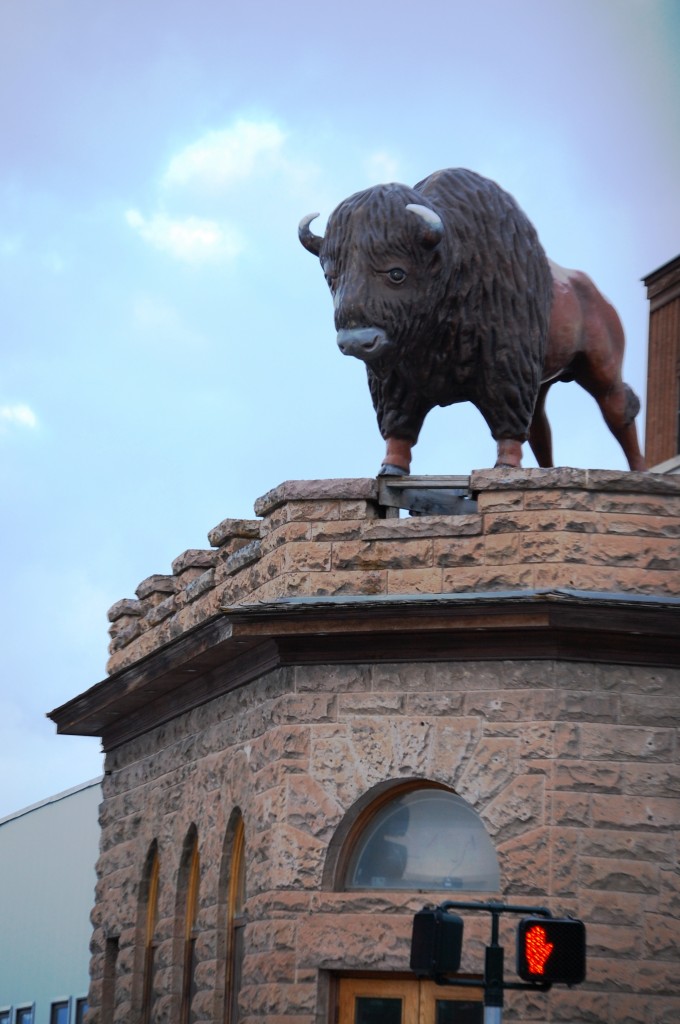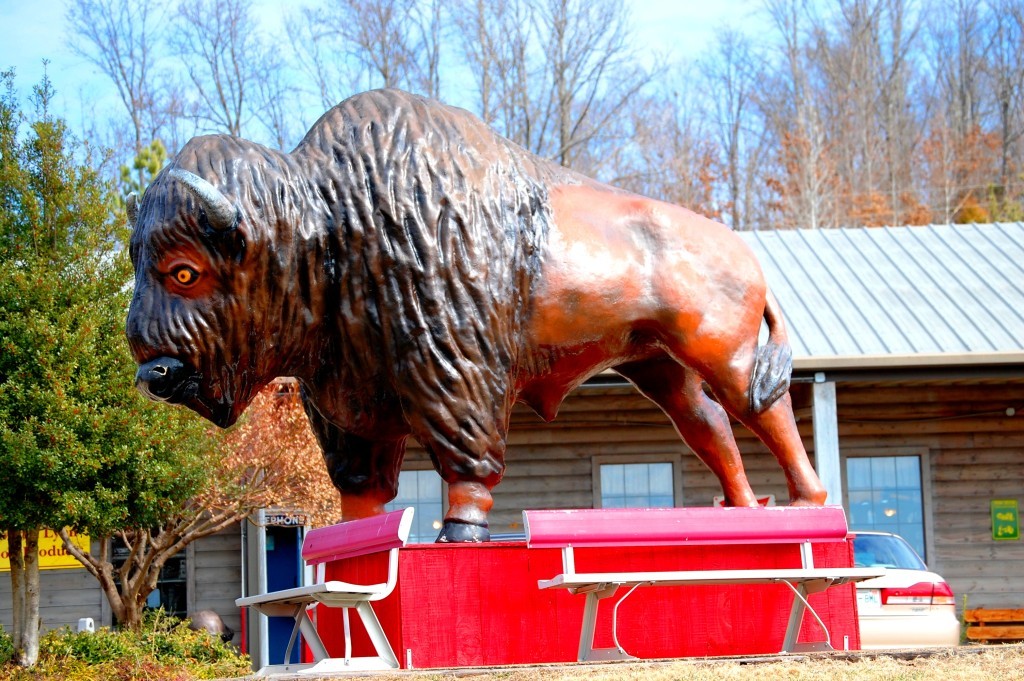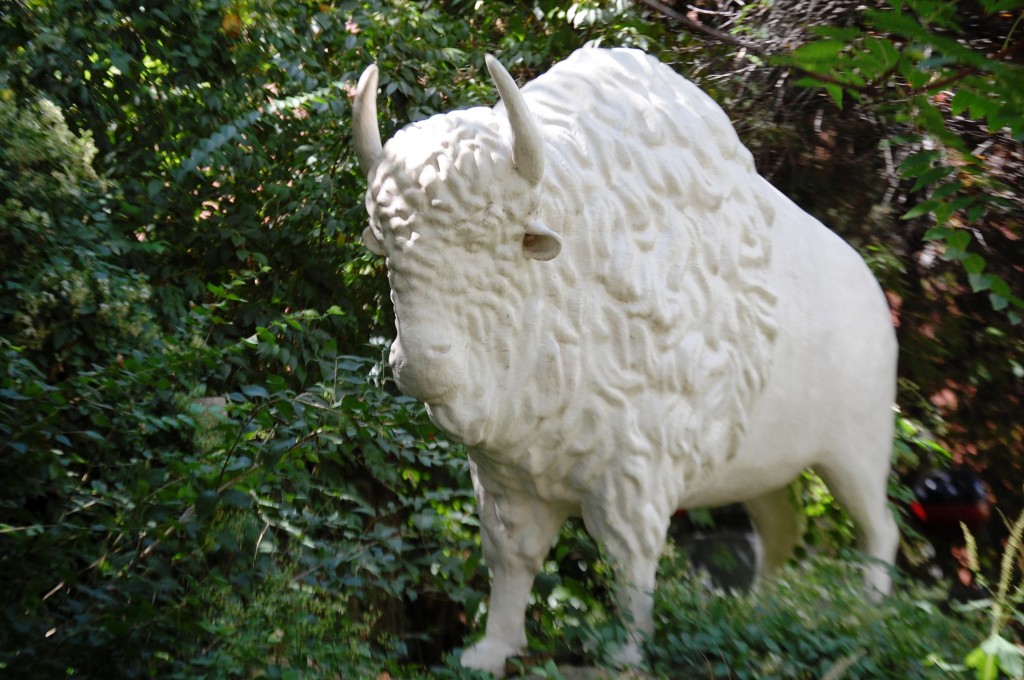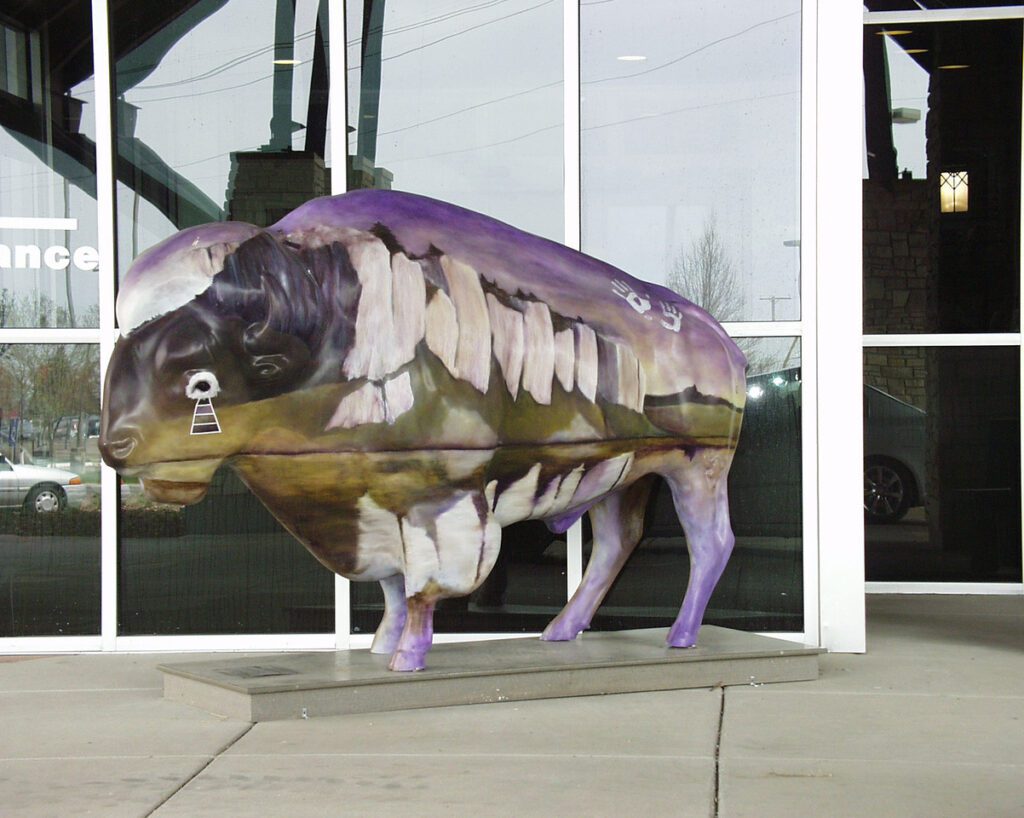 GIANT MOOSE STATUES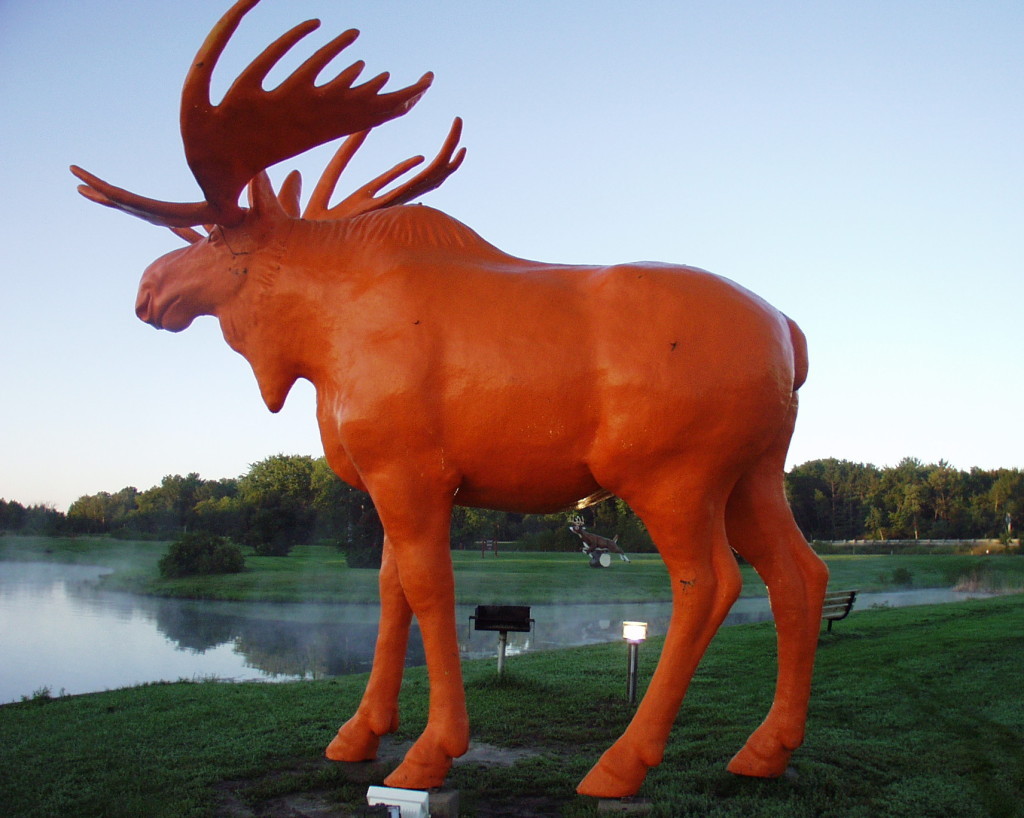 Another of the big American animals that can be seen around the country are moose.  By far, thee world's biggest moose is up in Canada and is not fiberglass.  But, it should be shown here anyway.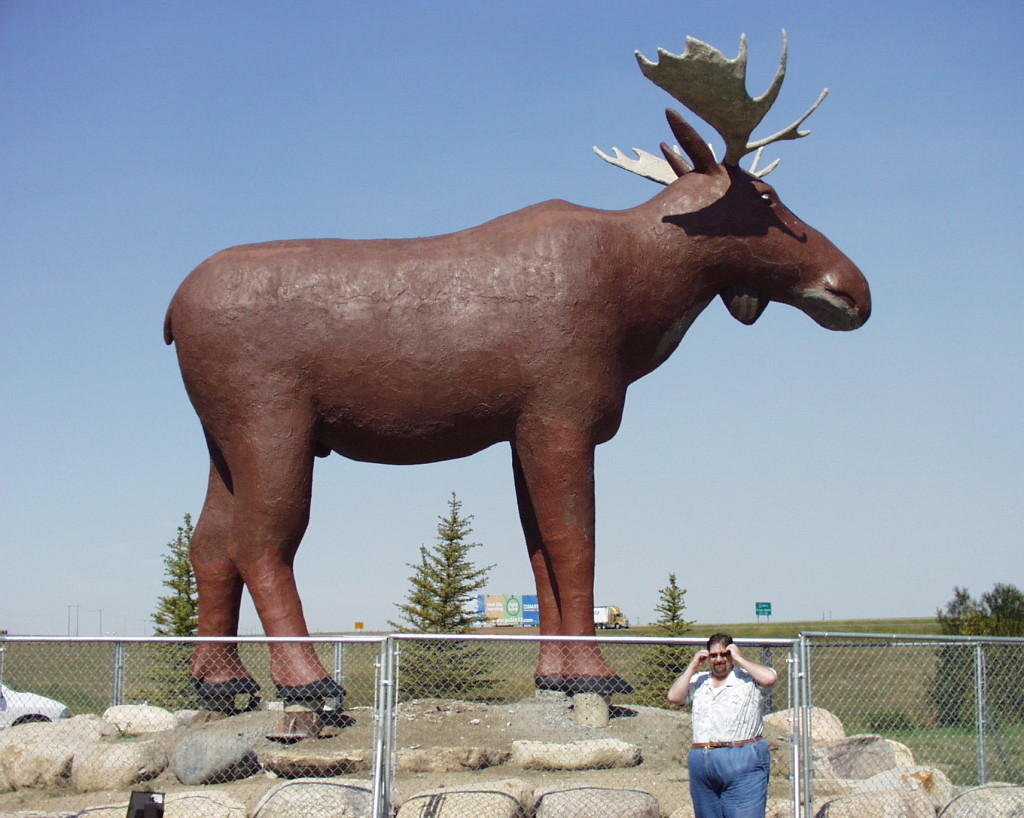 Mac the Moose was put up in 1984 in Moose Jaw, Saskatchewan.  Mac stands 32 feet tall and weighs in at 10 tons. He was constructed by Saskatoon artist, Don Foulds using a steel frame, covered with metal mesh and completed with 4 coats of cement.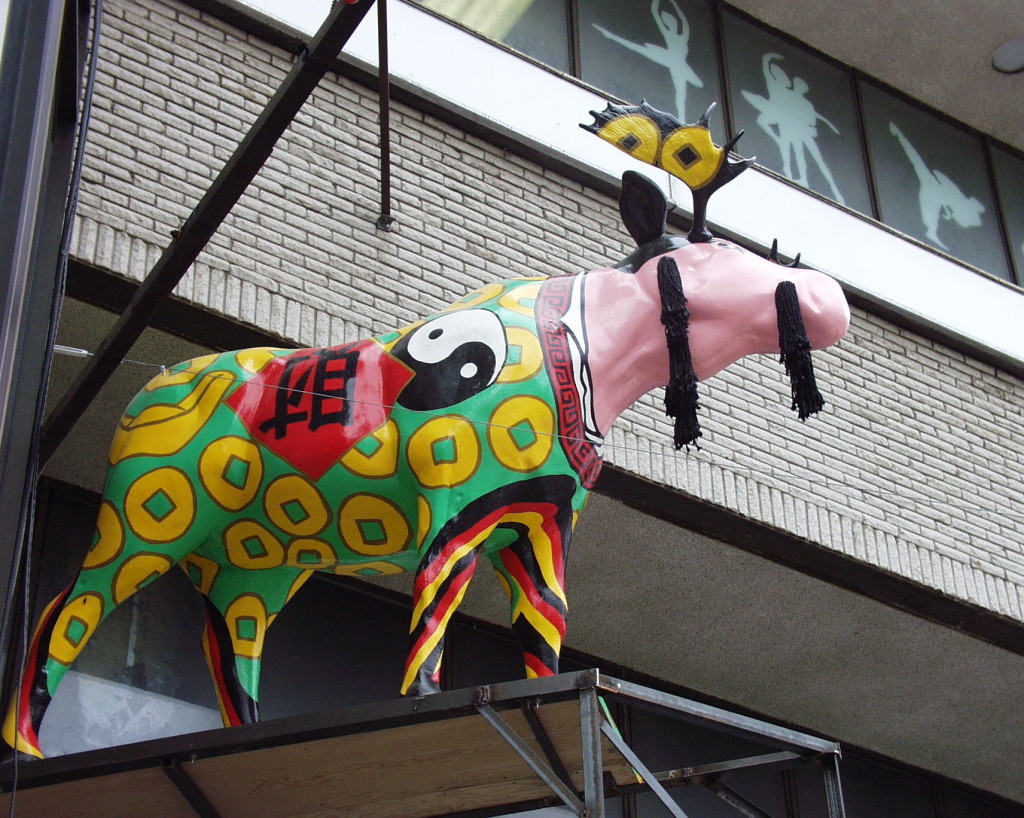 The Lucky Moose, located atop the Lucky Moose Food Mart on Dundas Street in Toronto's Chinatown, is a colorful moose and one of a 326 originally scattered across Toronto as a fund raiser for the Olympics.  Very few can be seen in and around Toronto.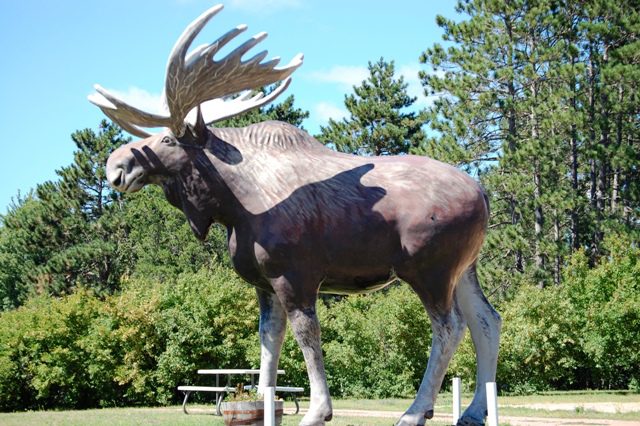 Tomahawk, WI is home to a fifteen foot tall Big Bull Moose which sits in front of the Road Lake Pub and Grill.
PINK ELEPHANTS AND MORE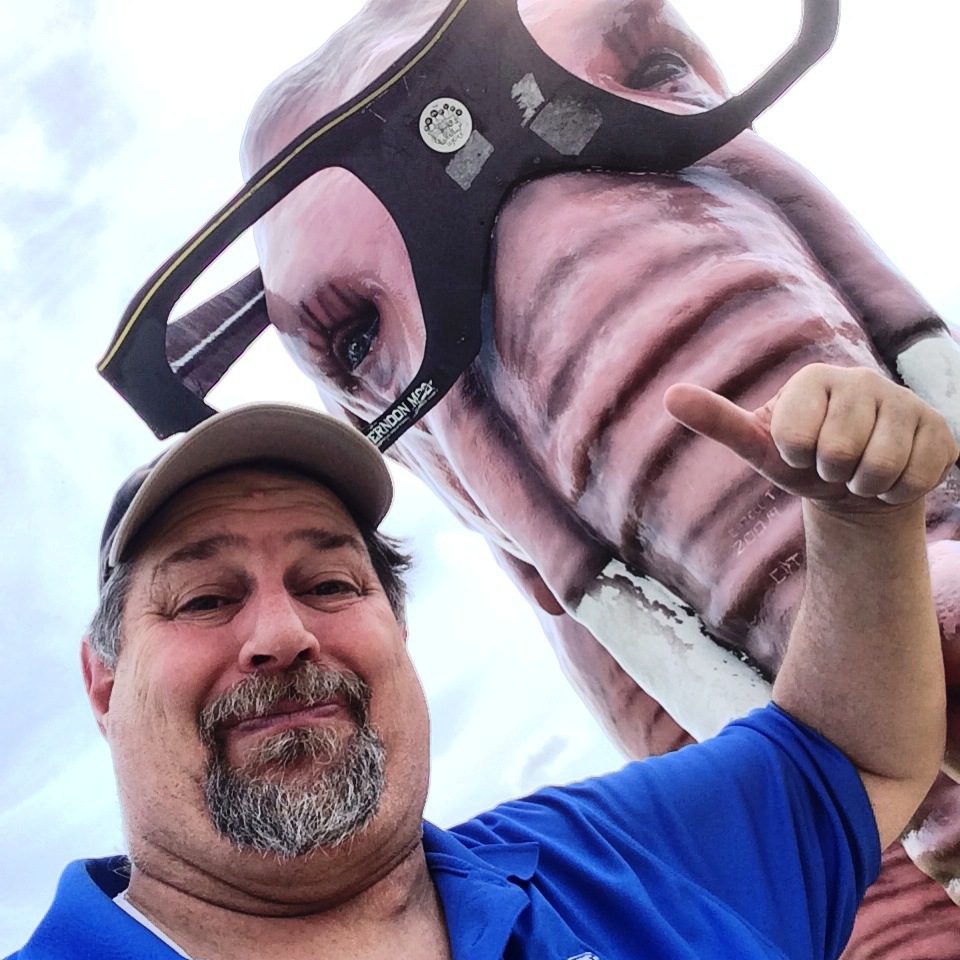 Another common sight on roads around the states are Pink Elephants and other elephants.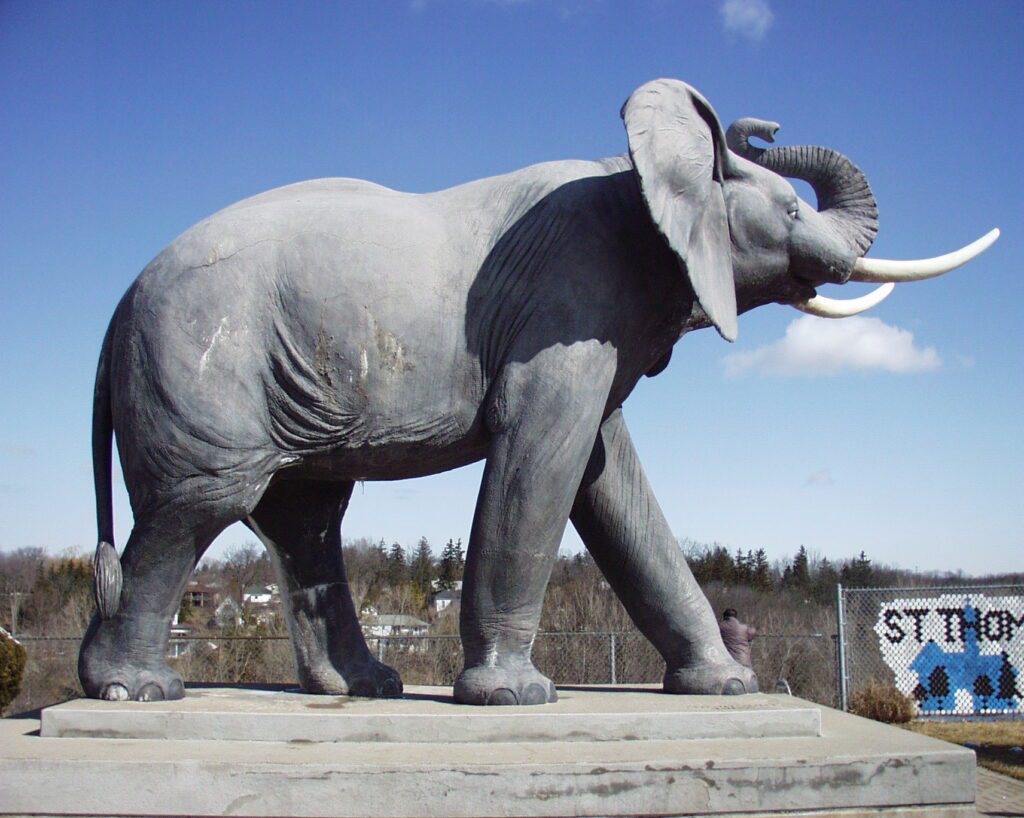 Jumbo the Elephant was a real elephant from the Barnum and Bailey Circus.  He died in St. Thomas, Ontario after being hit by a train.  100 years later, in 1985, the town built this 38 ton cement life sized statue, that is well over 15 feet tall.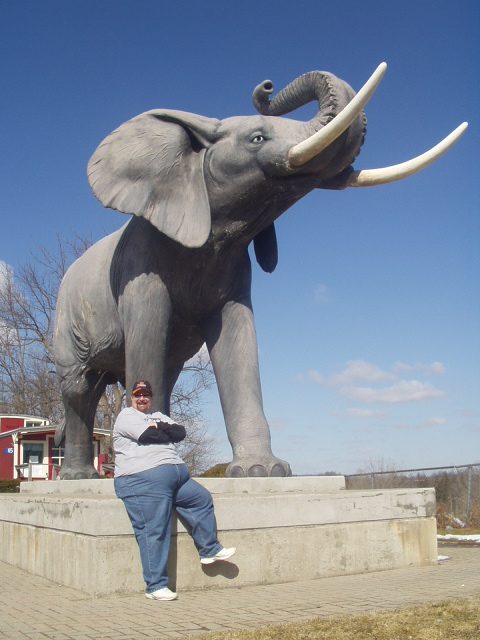 But there are many other fiberglass behemoths, and many are pink.  Not sure what started the Pink Elephant craze, but it is fun.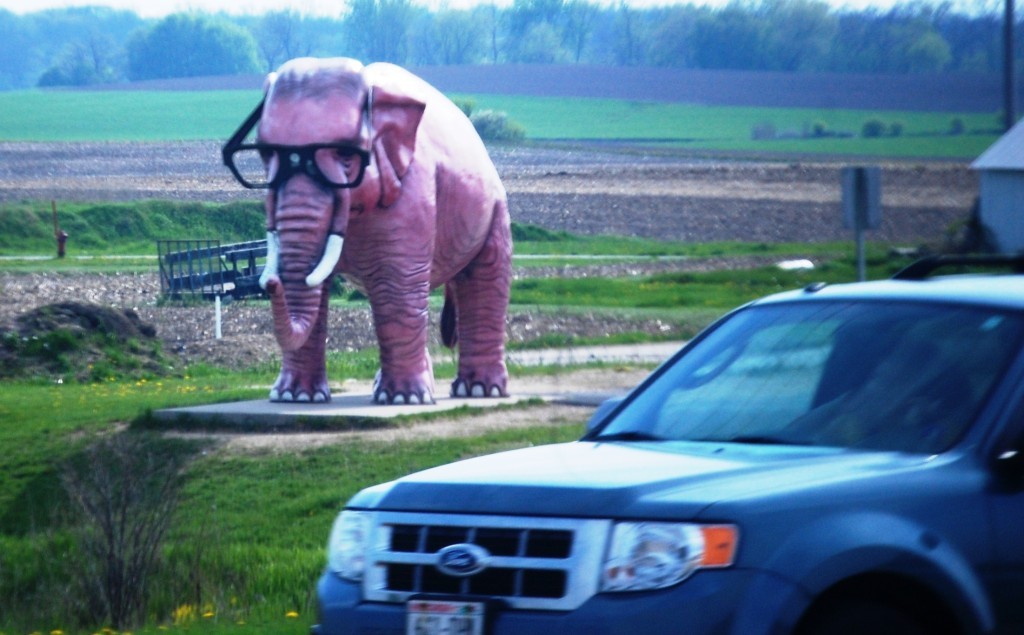 Perhaps one of the most famous of all of the pink elephants is Pinkie.  Located in DeForest, WI this dude is sharp in his glasses.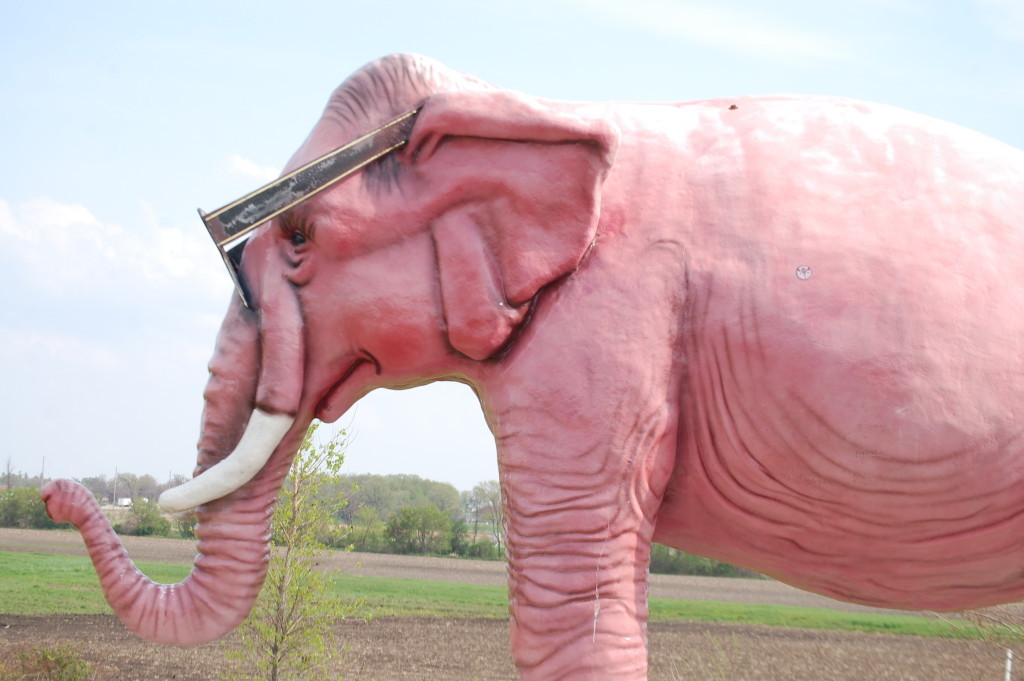 Not to be confused with Pinky the Elephant, a 1963 creation now residing in Marquette, IA (and one I have yet to visit).
But wait, there are more….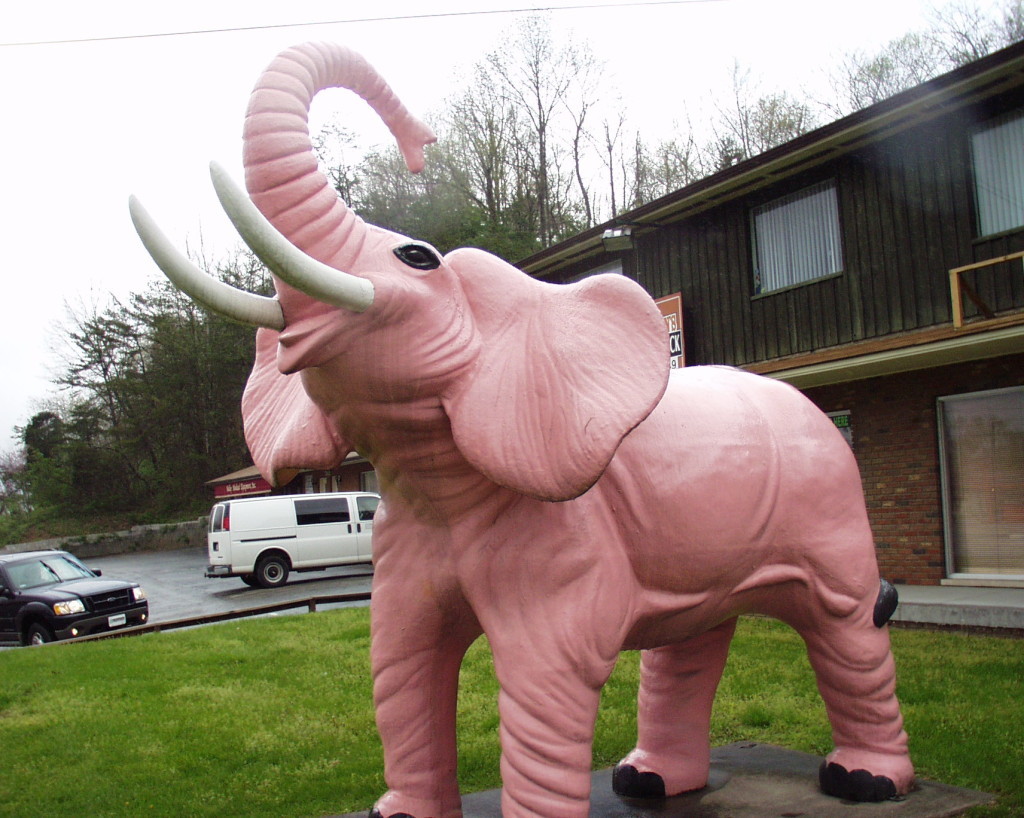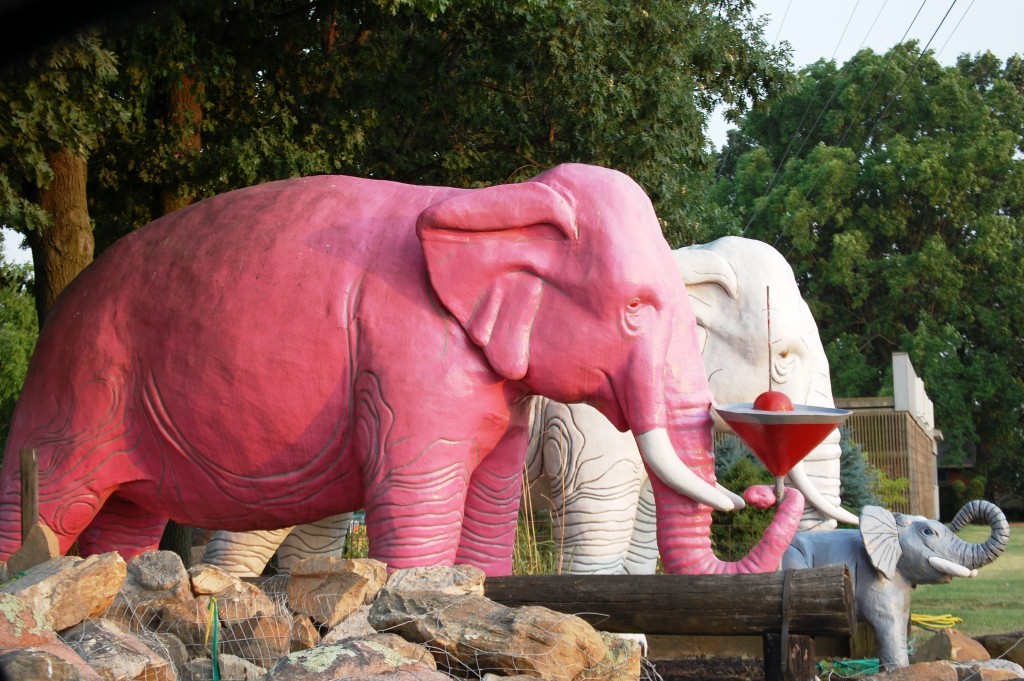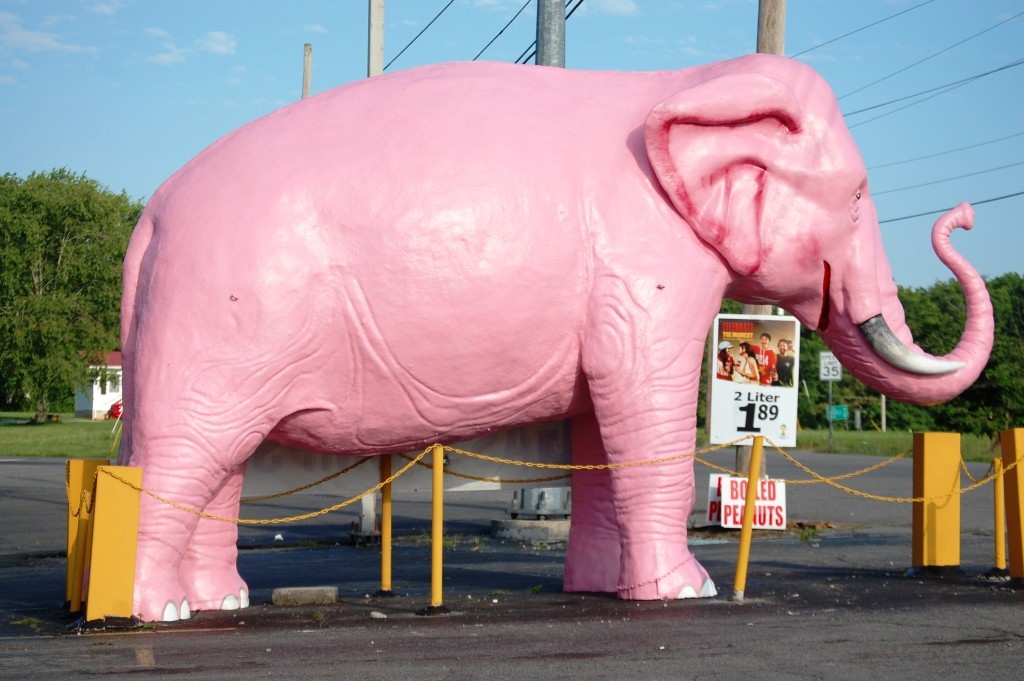 I am not certain, but it appears that most of these come from the same mold from the company in Sparta, WI.
SOME DOGS, MICE AND FRIENDS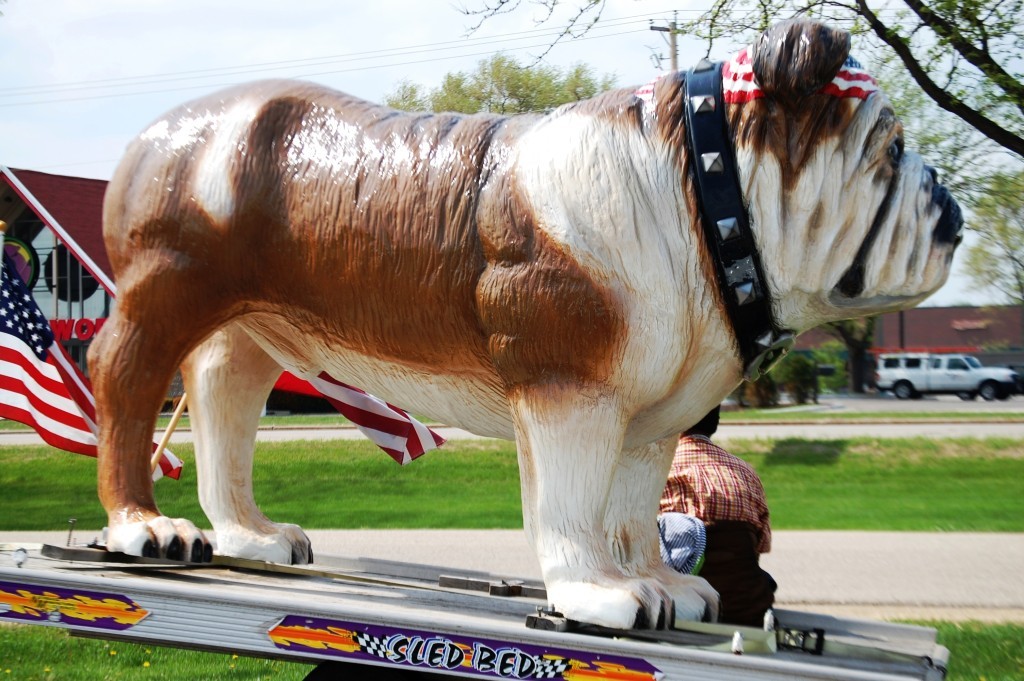 Among all of the others is a menagerie of animals like dogs, mice, giraffes.  Here are a few more animals (birds and fish will be in Part 3 with the dinosaurs and oddities).