(Note: This is part 3 of my Texas road trip reports from June 2014, covering the trip from Austin to Ft. Worth and then on to Denton, Paris, Oklahoma, Arkansas and home to Kentucky.)
After spending a nice day in Austin, it was time to head north to Ft. Worth and then on to Kentucky.  Along the way I went from weird to spooky to strange to Friendship.  Here is the map of this portion of the trip.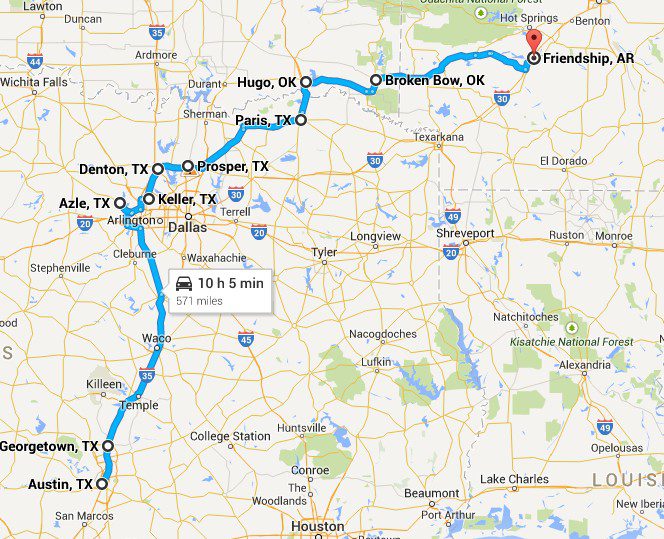 On this route I visited friends but also visited some other fun and quirky places.  My first stop was in Georgetown, TX.  Georgetown is home to some lovely Victorian architecture and also has one of the more quirky street statues I have seen.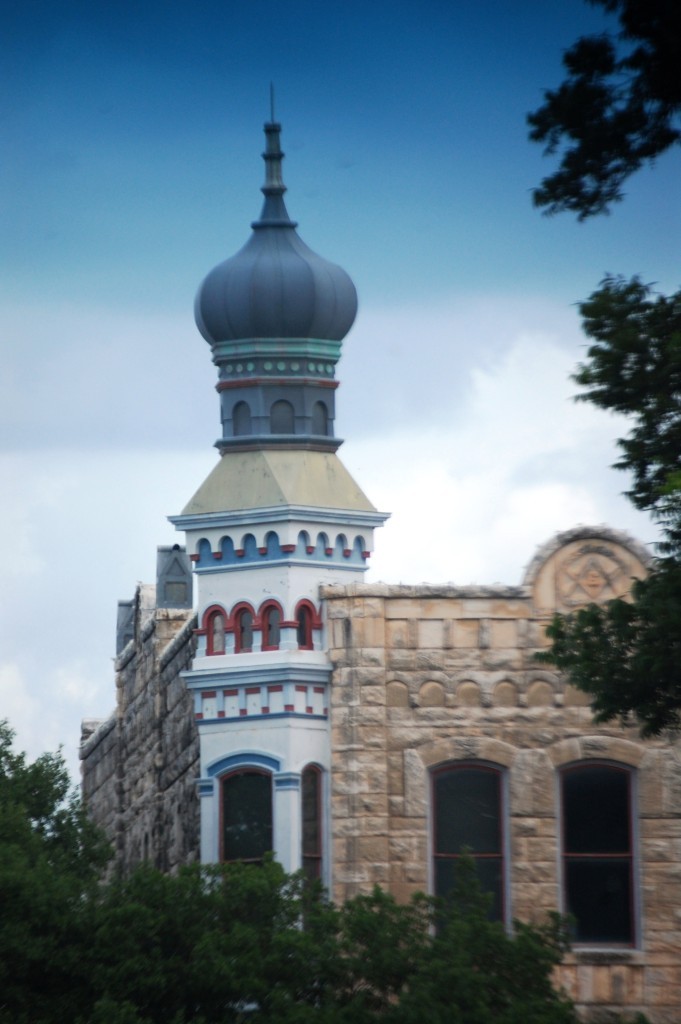 This building was the home of the San Gabriel Masonic Lodge of the Ancient Free and Accepted Masons of Texas. They built it and met here for over 82 years. For much of that time, locals referred to the building simply as the "Temple." The building was completed in 1900.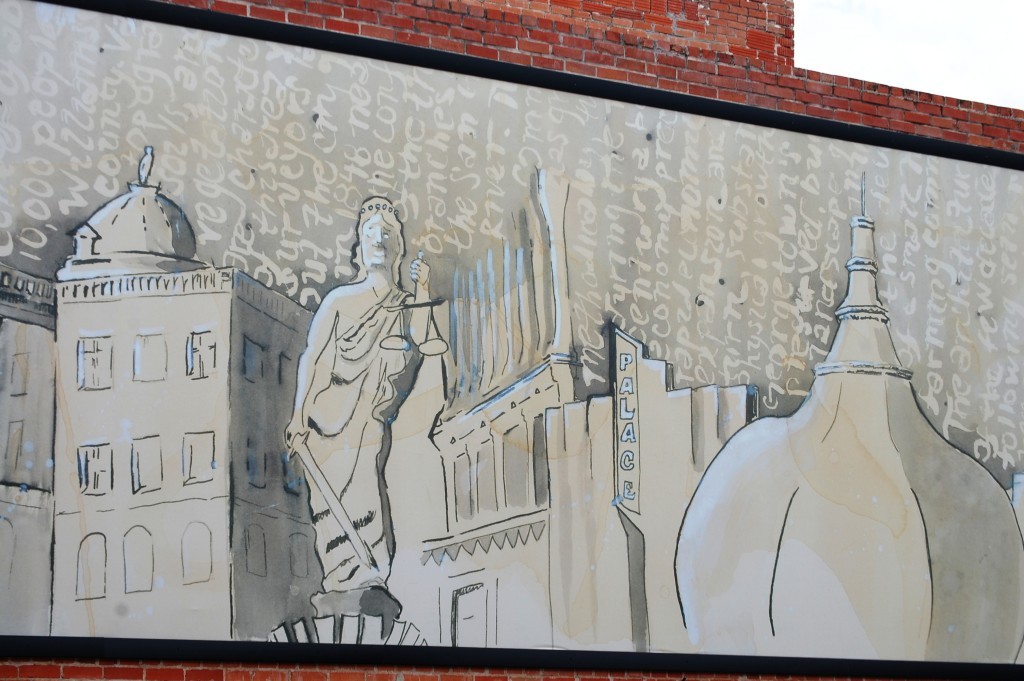 Of course, quirkiness seems to be a part of central Texas.  Downtown Georgetown was home to Robert McAlpin "Three Legged Willie" Williamson.  At the age of fifteen, he contracted tubercular arthritis that caused his right leg to permanently stiffen at a 90 degree angle. In order to walk, a wooden leg had to be fastened to his knee. Because of this, he later acquired the nickname "Three-Legged-Willie". He passed the bar at the approximate age of nineteen before practicing one year of law in Georgia. A lawyer at 19, he fought with the cavalry at the Battle of San Jacinto.  In 2013 a life-size commemorative statue of him was installed in front of the Williamson Museum in Georgetown. The statue was created by local artist and photographer Lucas Adams.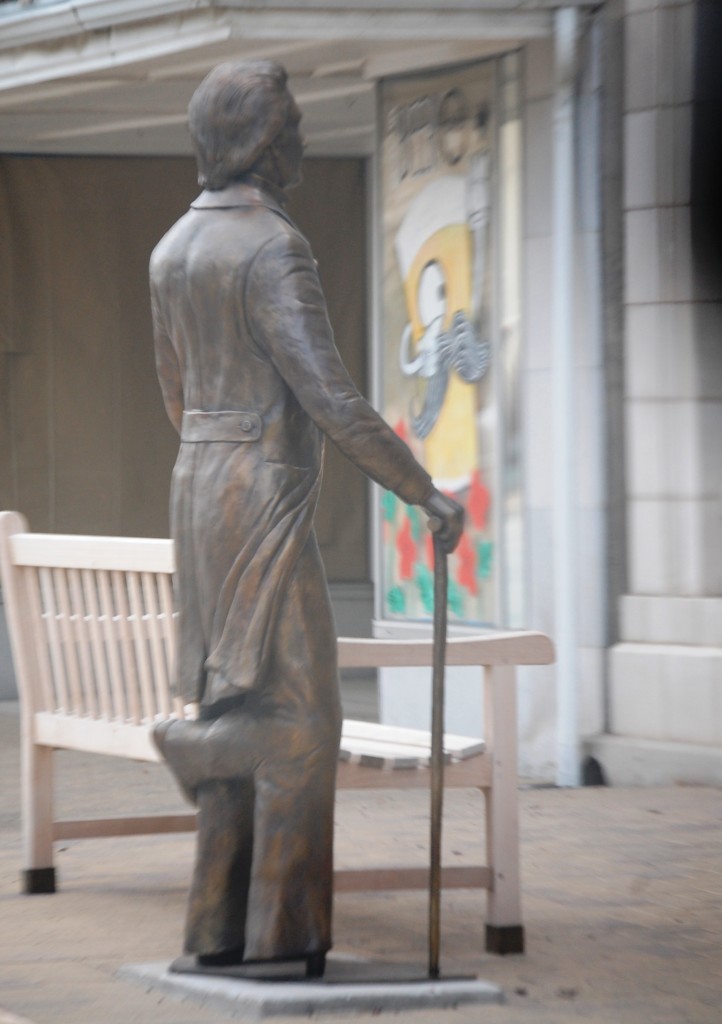 After lunch with my friend in Georgetown, it was on to Azle, Texas for my first in-person visit with fellow travel blogger and author Tui Snider. I originally became acquainted with Tui online by coming across some of her wonderful blog posts about quirky places to visit in the Dallas/Ft. Worth/N. Texas area.  I contacted her through Facebook and we soon were corresponding, sharing places and experiences.  I had to drop by for a visit since I would be so close.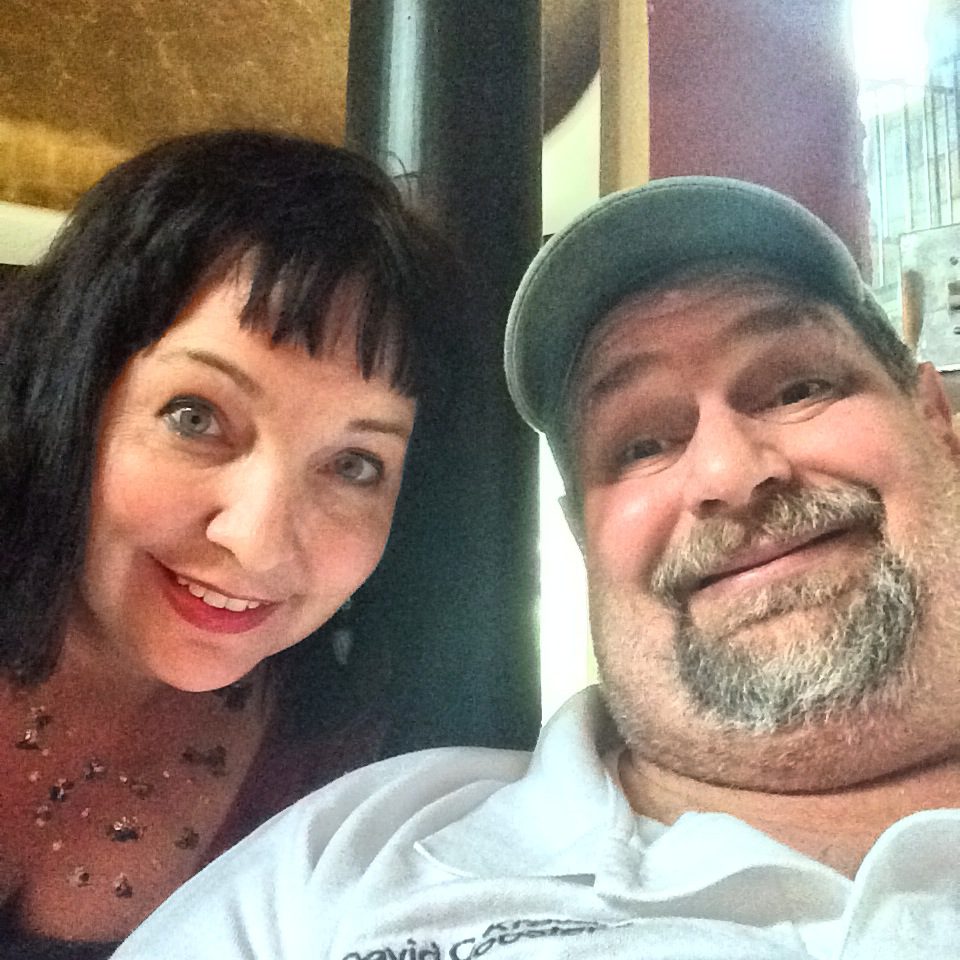 Tui has written two books on travel in the area.  Her first, Unexpected Texas, is a great read.  Indeed, it is a handbook to the quirky and unique. She gives directions to places such as the Gravesite of an Alleged Space Alien, a Courthouse Displaying a Dead Lizard , the Statue of Jesus Wearing Cowboy Boots (visited on this trip…see below), the Rope used to Lynch "Santa Claus," a Building Made Entirely of Salt, a Wax Replica of Da Vinci's Last Supper, a  65 foot tall Eiffel Tower Replica (visited on this trip too), a Petrified Wood Motel & Cafe, the World's Smallest Skyscraper, and the only Michelangelo Painting in America.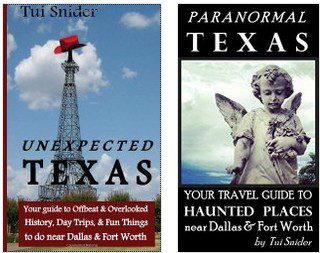 Her other book, Paranormal Texas, is a guide to quite a few haunted places in the the DFW Metroplex area.  As with her Unexpected, it is a fun read and well worth the small purchase price.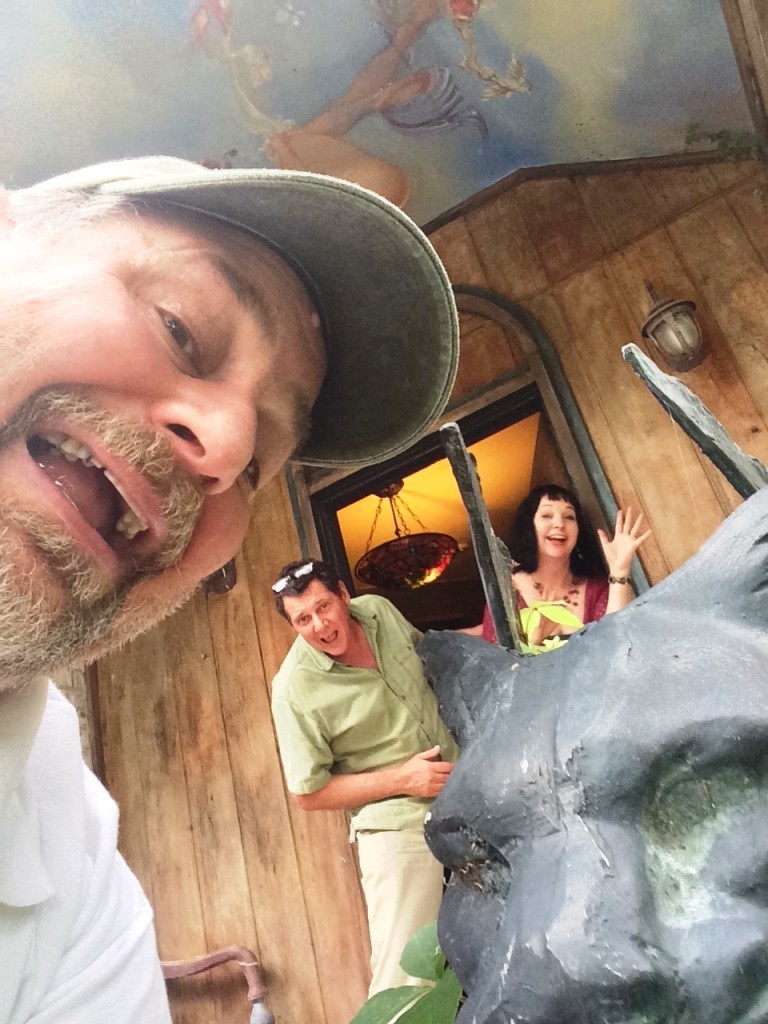 Tui Snider's home is exactly what one would expect of an eclectic writer.  It was more like a small museum with lots of untold artifacts.  I had to sneak a couple of shots…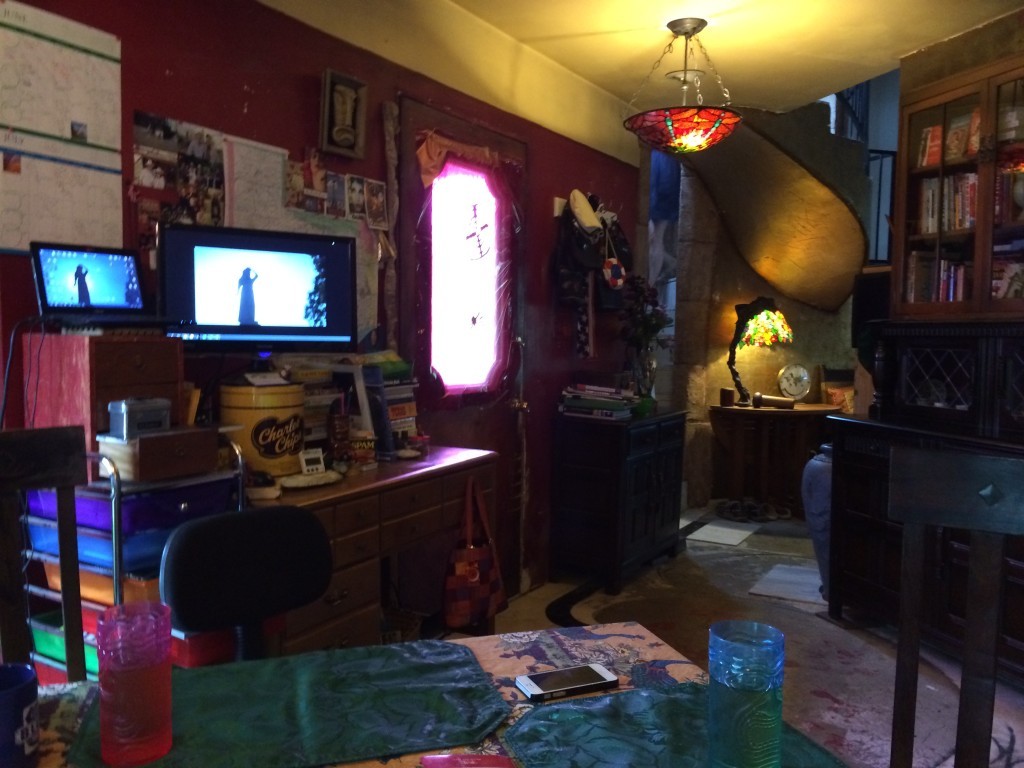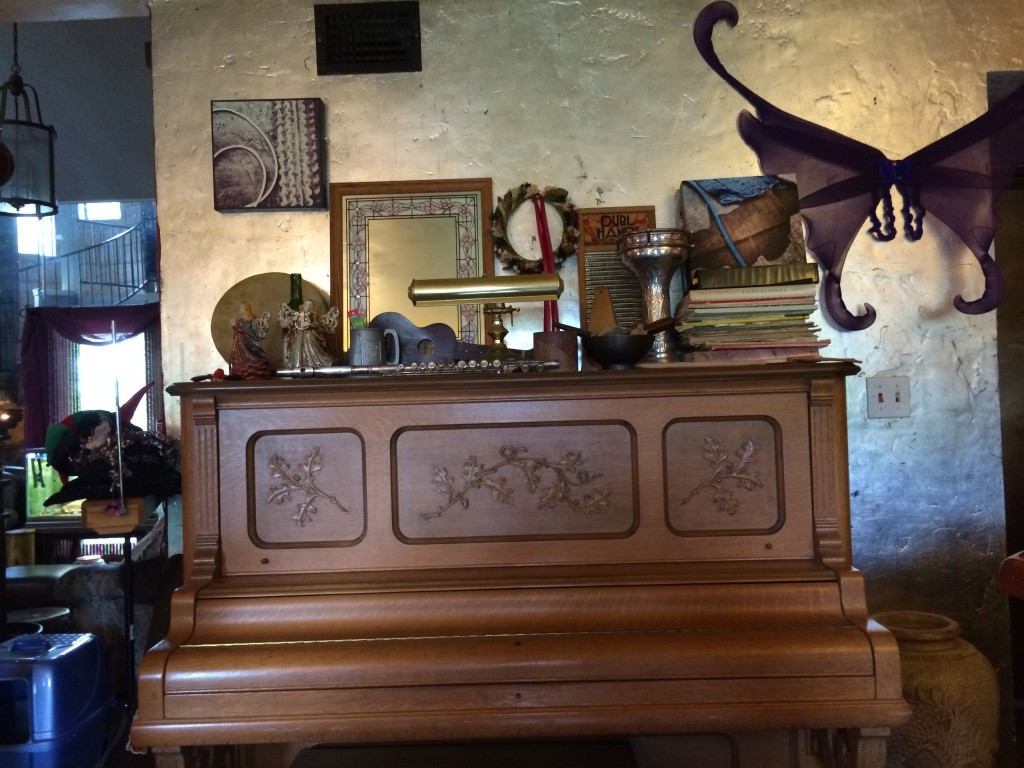 And I have to point out the fresco painted on their domed front porch….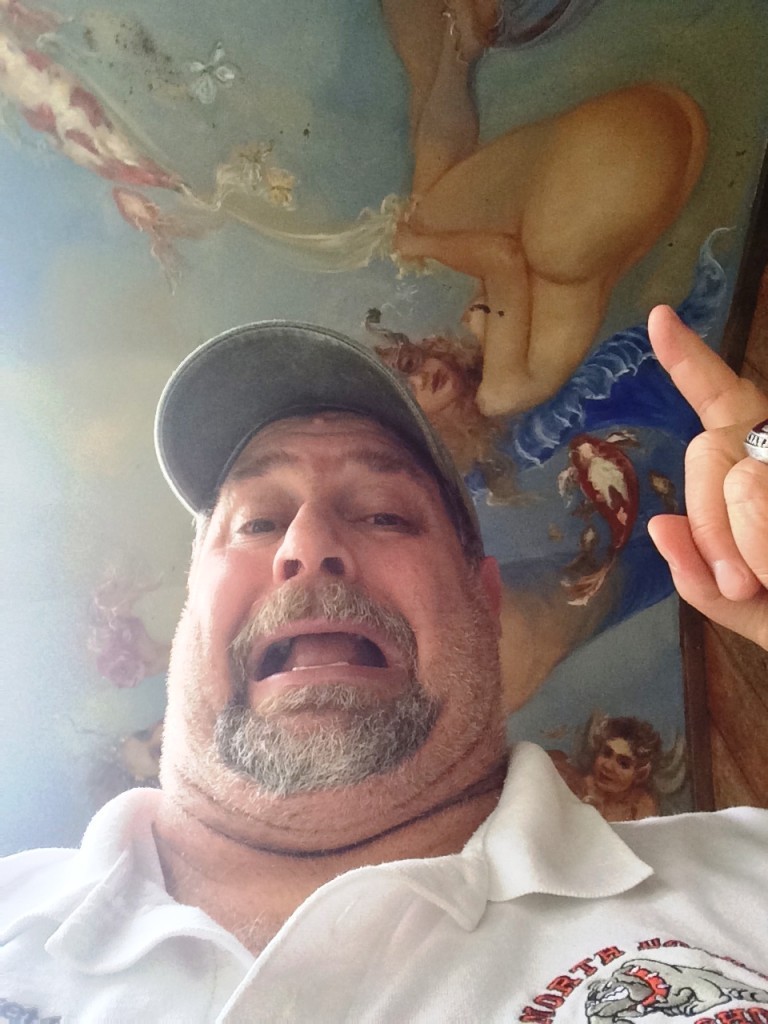 It was a great visit with Tui.  And, while there, she introduced me to another author and ghost lover Shelly Tucker of Denton, TX.  You'll see my visit with her below. She is the owner of Ghosts of Denton, that provides haunted history tours of the area.  She also authored a book by the same name (get it on Amazon).
After visiting with Tui, I stopped in Dallas for dinner with another friend.  We visited the BBQ joint called Bone Daddy's.  It is a small chain of eight restaurants with succulent BBQ and an atmosphere to match.  They have a dish called "The Flying Pig", which I ordered. Just the day before in Austin I had a "Flying Pig" Donut at Gourdough's (see that post and a photo). Both Flying Pigs had ham and maple components.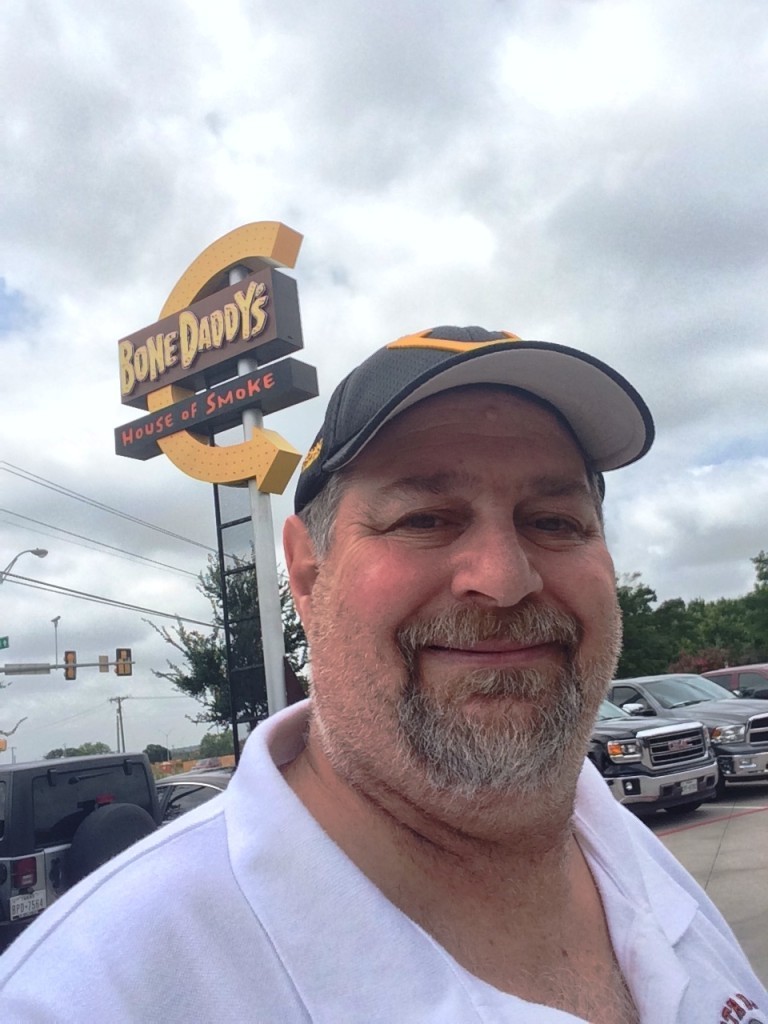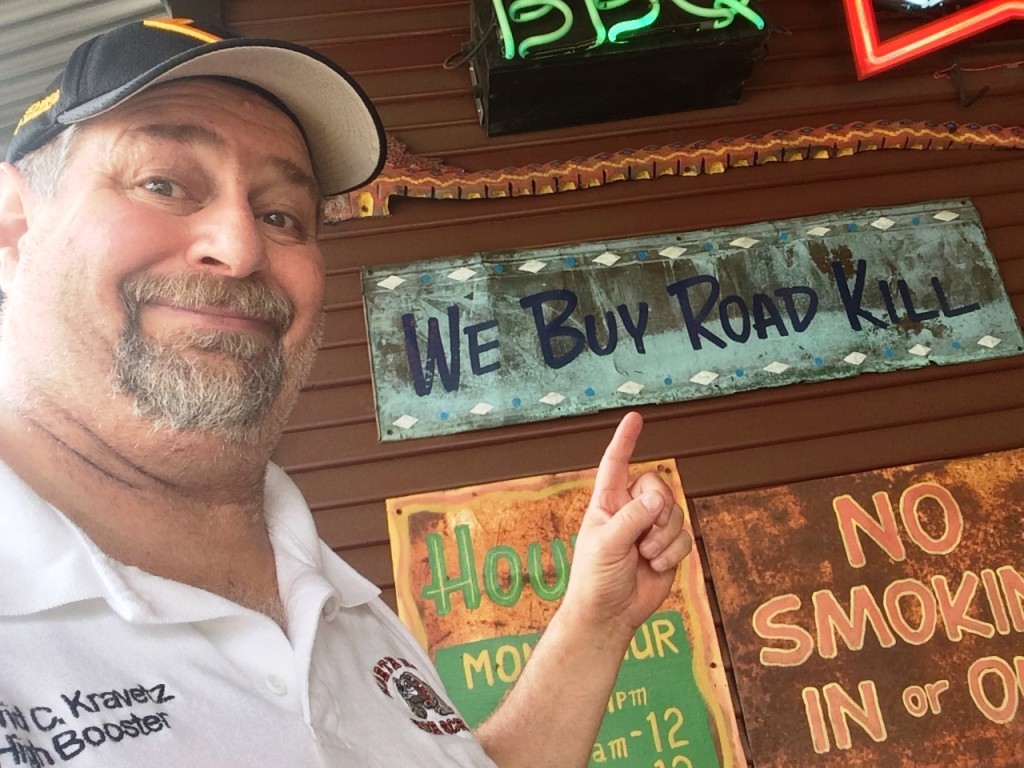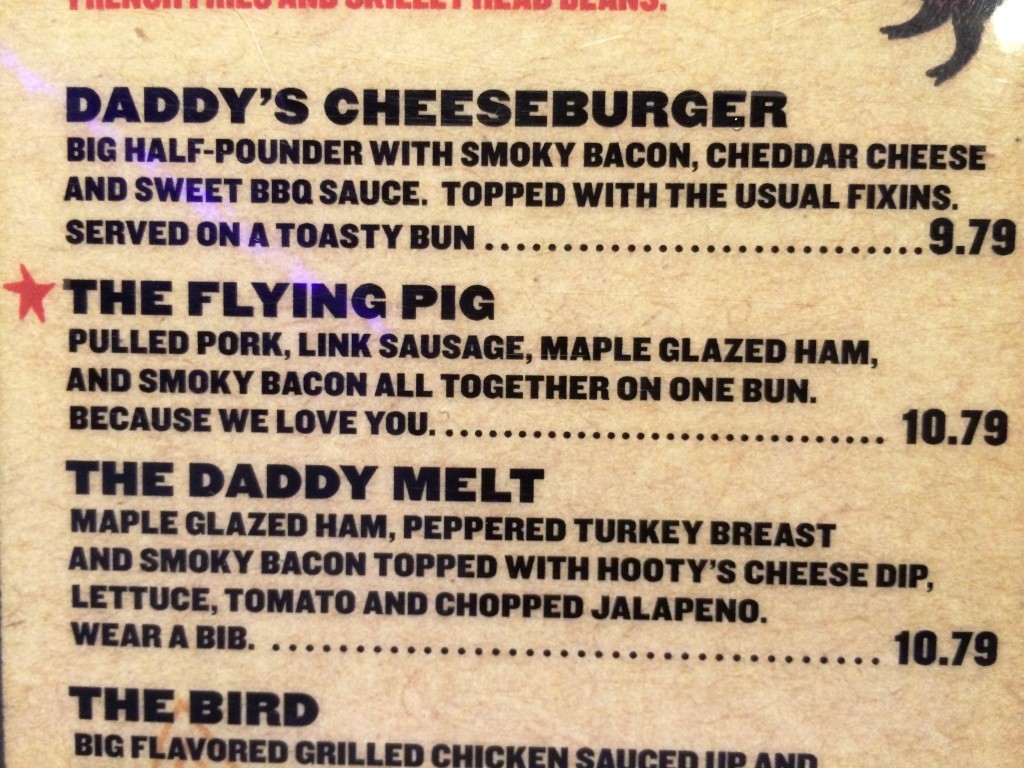 After dinner it was off to spend the night with my sister in Keller and then, the next morning I was on the road, with my first stop being an early morning meetup in Denton with Shelly Tucker who introduced me to some of the great places that town has to offer.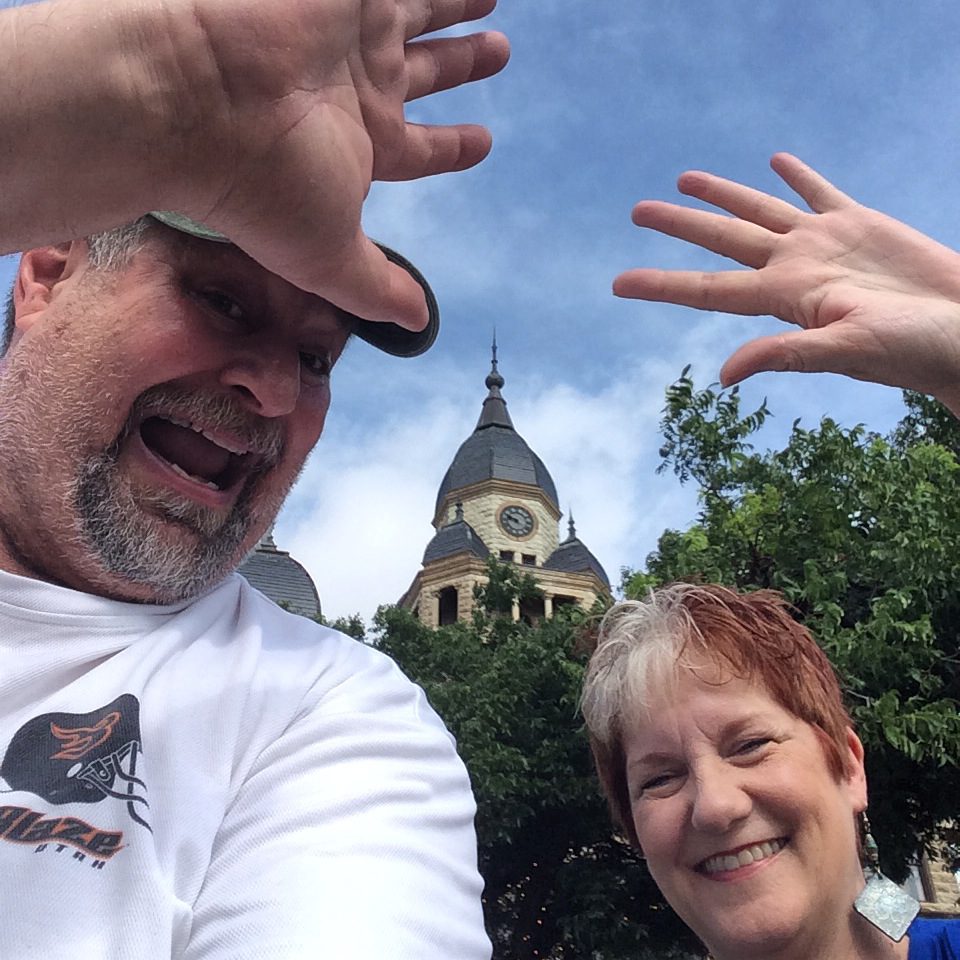 Denton, Texas is a fun place to visit, almost like a miniature Austin in some respects.  The pinnacle of Denton is the old County Court House, which now serves as a museum. Opened in 1979, the Courthouse-on-the-Square Museum is located in the historic 1896 Courthouse in downtown Denton. The museum features rotating exhibits depicting Denton County history. Visitors may walk the halls to discover the history of the settlement of Denton County, learn about their ancestors in the museum's Research Room, and step into the historical courtroom on the second floor.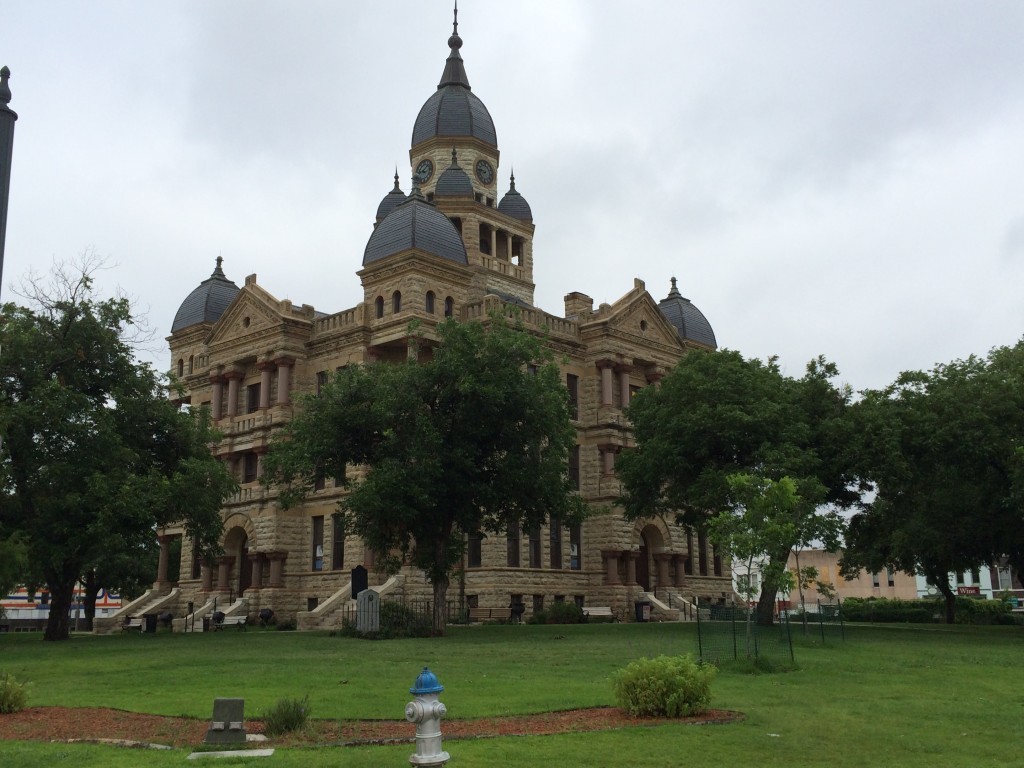 The Romanesque courthouse was designed by W. C. Dodson (1829-1914) from Waco.  He also designed a few other courthouses in Texas during his working years. Many consider this to be one of the most beautiful courthouses in Texas.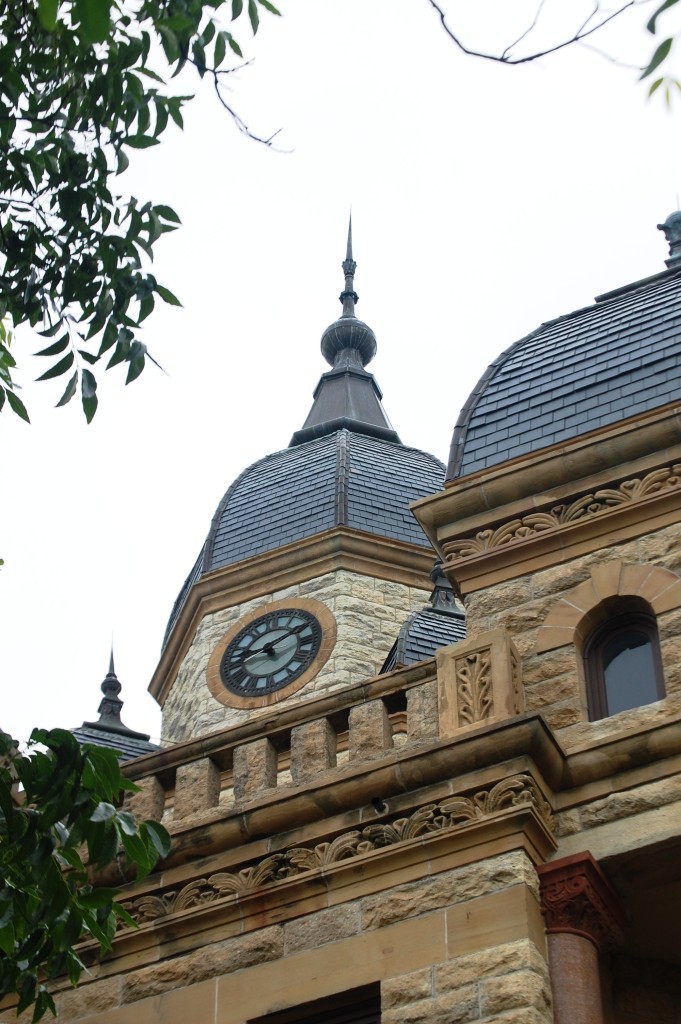 Downtown Denton is also a great place for some old neon signs. Here are a few that I captured while downtown.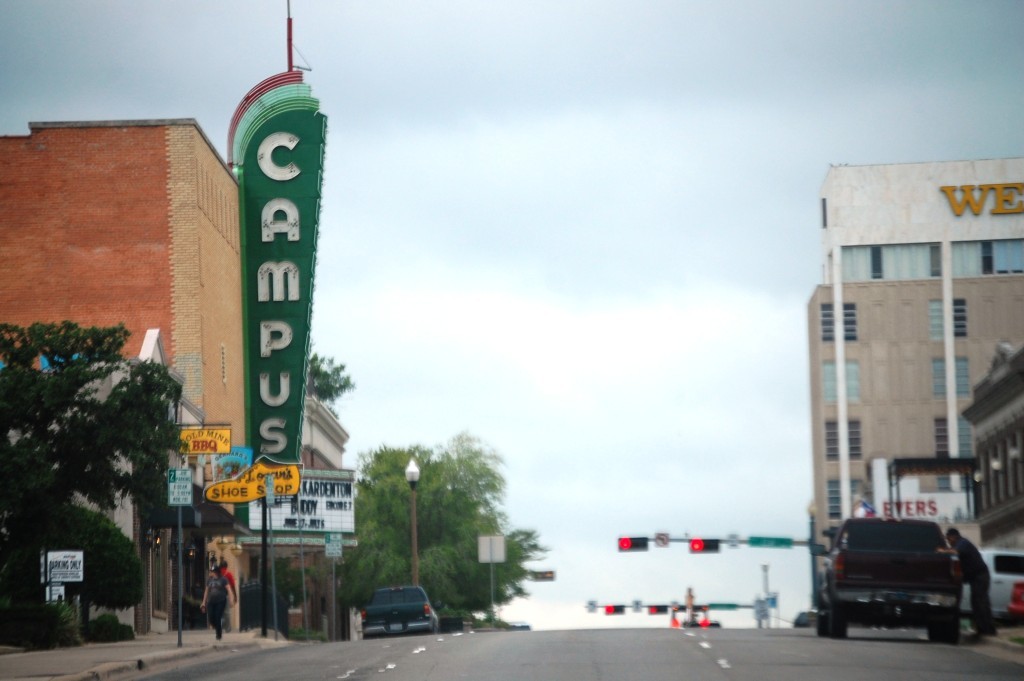 The Campus Theatre was a grand movie house built in 1949 in downtown Denton. The manager for Interstate Theatres in Denton at the time impressed the importance of this project upon his company: Denton was in need of a movie theatre that would cater to the "kids on the campus" (University of North Texas and Texas Woman's University). As a result, the Campus Theatre Movie-House was built. At the time of its construction the Campus Theatre was one of several state-of-the-art movie houses in the southwest. The Campus Theatre remained open and operational as a movie house until 1985 when it closed and was left vacant. It has since been restored and provides the first permanent home for all performing arts organizations in Denton.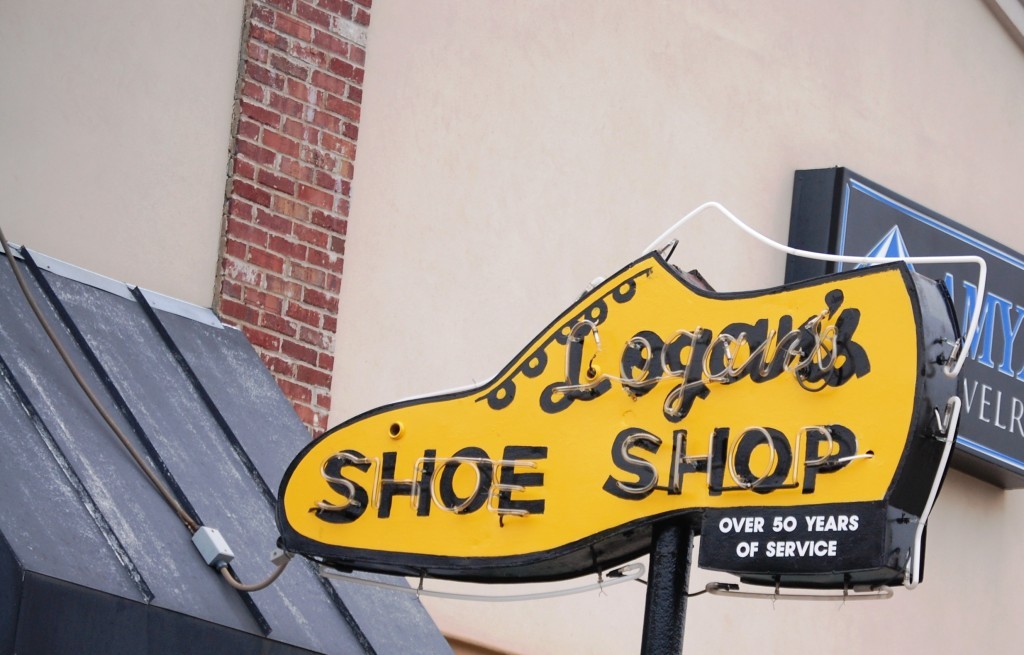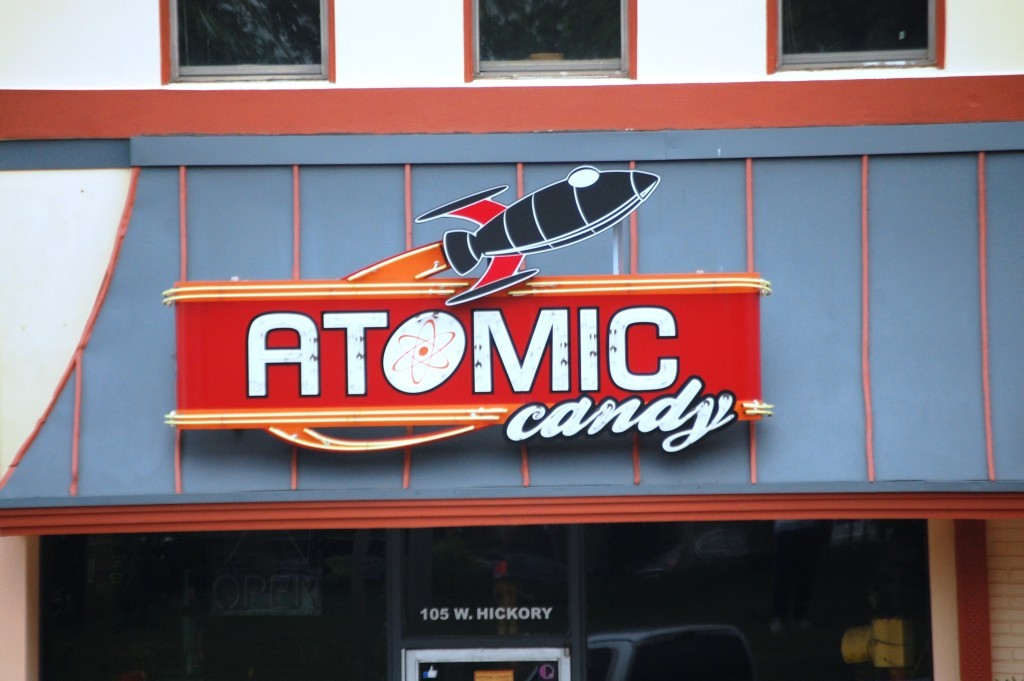 Atomic Candy is one of those quirky and off-beat candy shops with a menagerie of old knick-knacks and retro signs and things. Unfortunately, I was there too early but could at least look in to see their bulk candies, soda fountain and novelty items.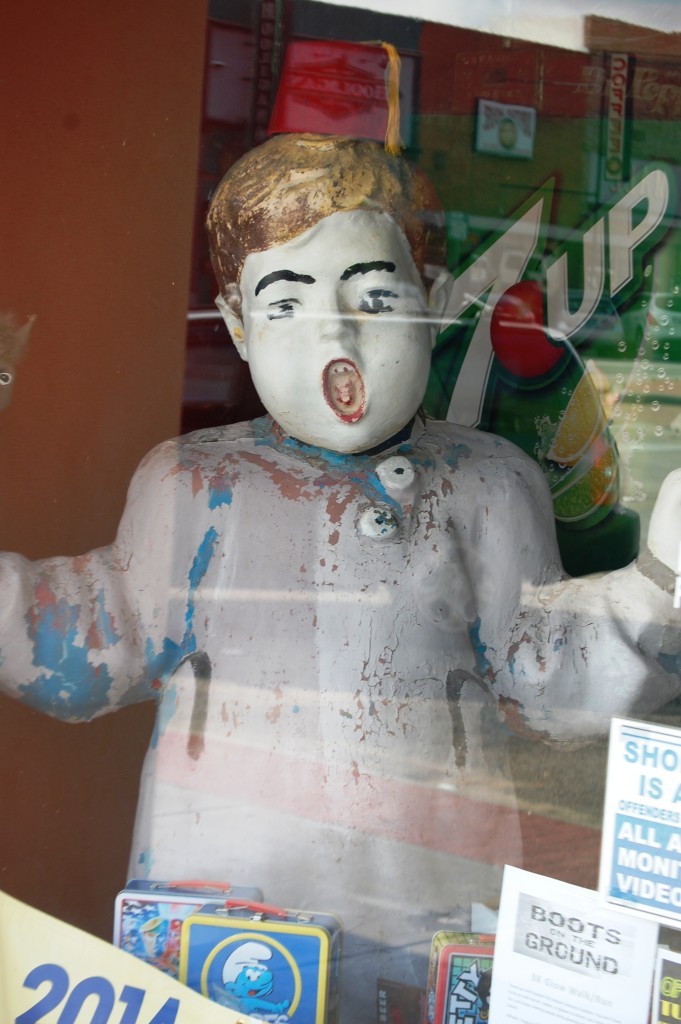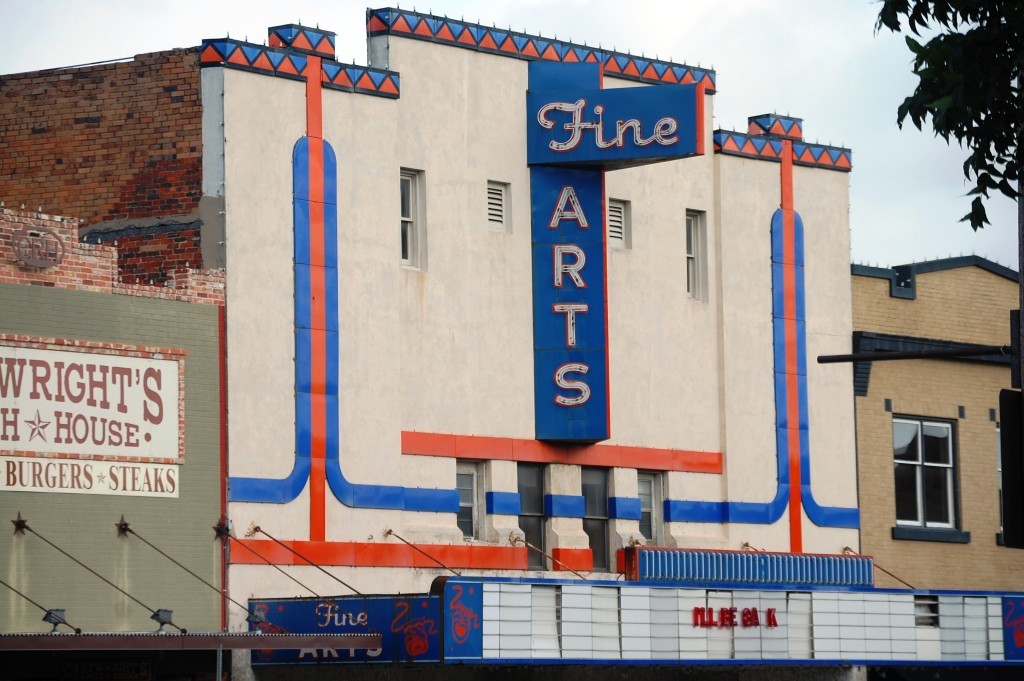 The Fine Arts Theater was built as the Graham Opera House in 1877
by George & Henry Fastorff.  In 1935 the Interstate Theater Circuit remodeled the building, and put the Texas Theater into operation.
In 1954, the Texas was purchased by Trans Texas Theaters, and in
1957, it received yet another new name … Fine Arts.  It is currently in the midst of a restoration project.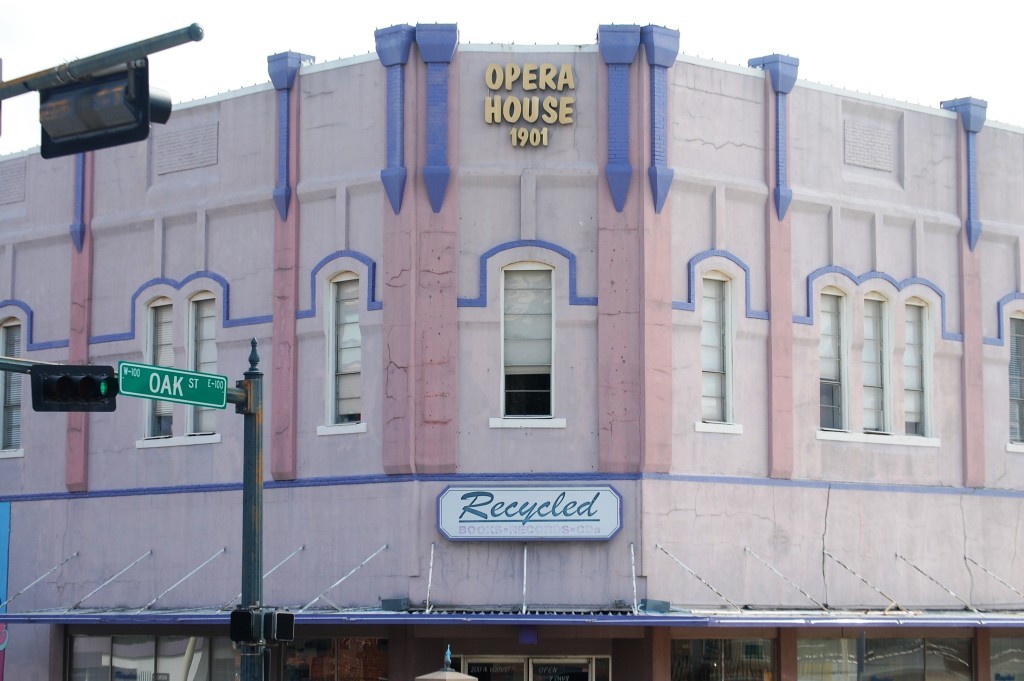 The Wright Opera House was built in 1899 for $25,000, it was the elite showcase of Denton. Built from the bricks from the condemned 1870s Courthouse, the Wright Opera House operated until 1913, due to the advent of cinema.  It now houses the book store and eight luxury apartments.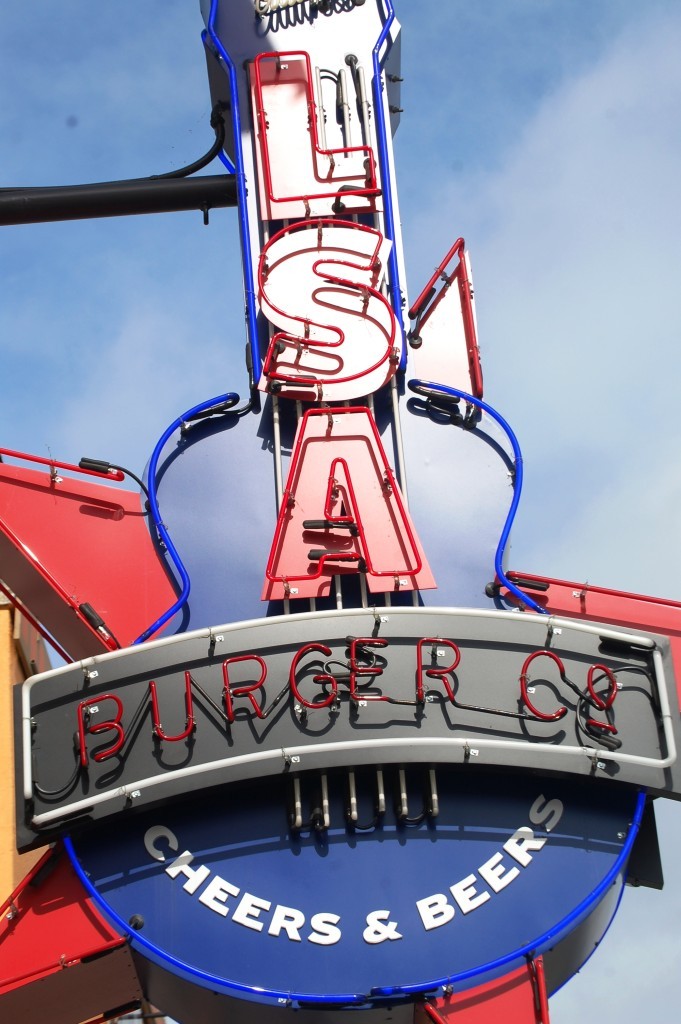 Perhaps the best part of visiting with Shelly was her connections.  The LSA Burger Company has to have been one of my favorite places to visit on my entire trip to Texas in June.  I got to meet one of the managers and got a personal tour of the place before it opened for the day.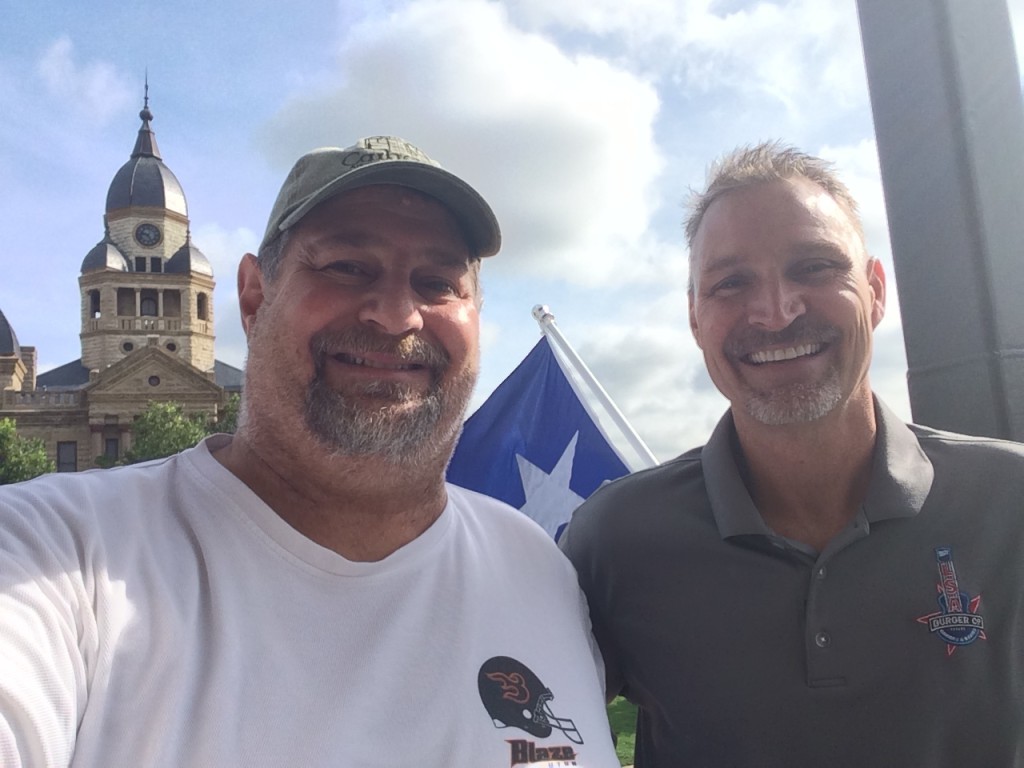 LSA Burger Company is a live music venue and is all about historic Texas musicians (it was even started by a Texas Musician!)  The MUST SEE item in this place is the famed "Great Texas Supper" mural housed inside the eatery.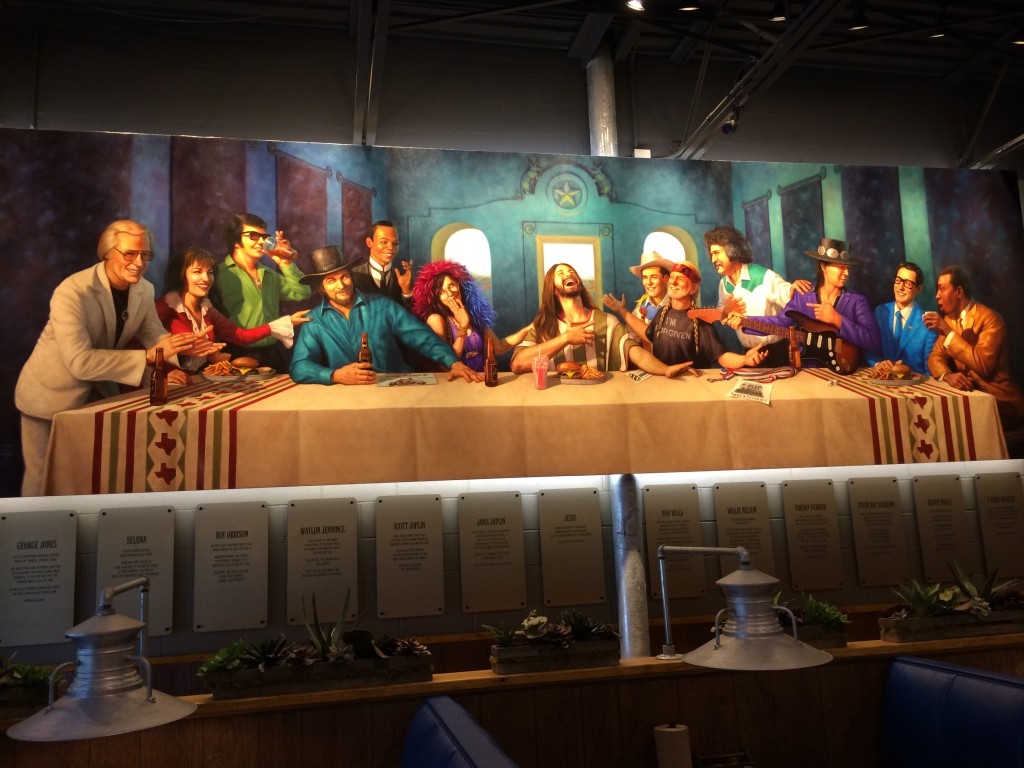 The painting was actually the idea of LSA Burger Co. owners Jon Christopher Davis and John "Sparky" Pearson.  Eyecon Murals in Dallas did the artwork. The painting depicts a scene similar to "The Last Supper," and includes (from left): George Jones, Selena, Roy Orbison, Waylon Jennings, Scott Joplin, Janis Joplin, Bob Wills, Willie Nelson, Freddy Fender, Stevie Ray Vaughan, Buddy Holly and T-Bone Walker.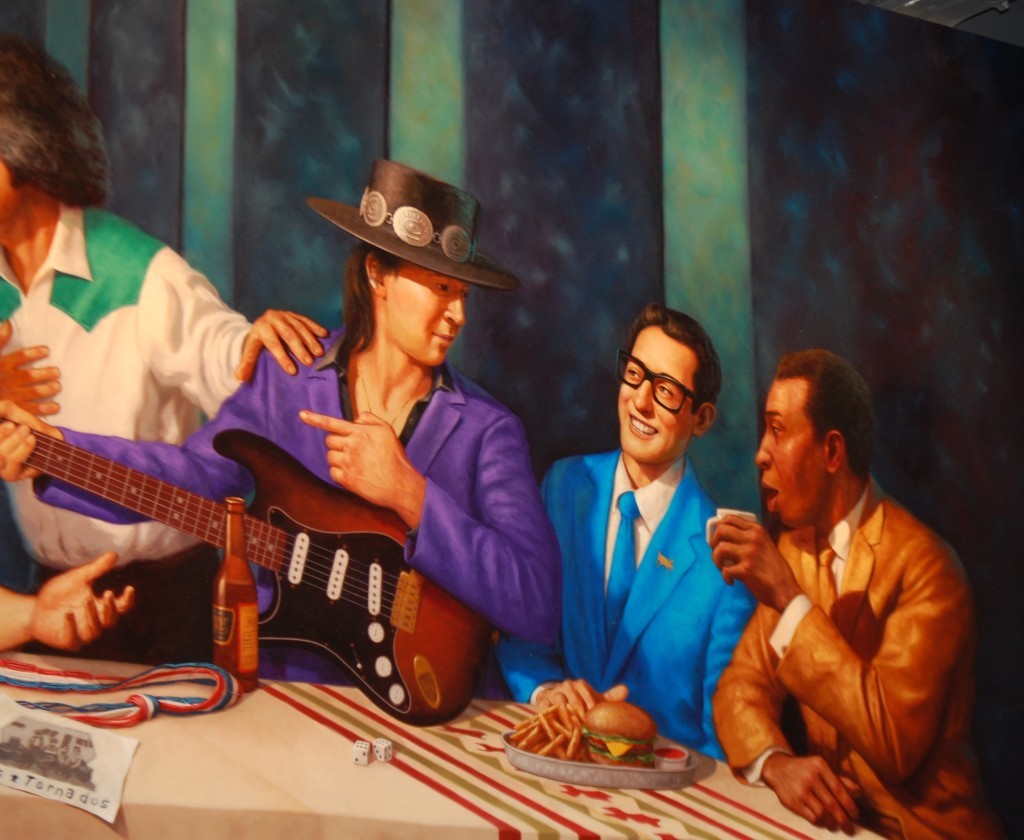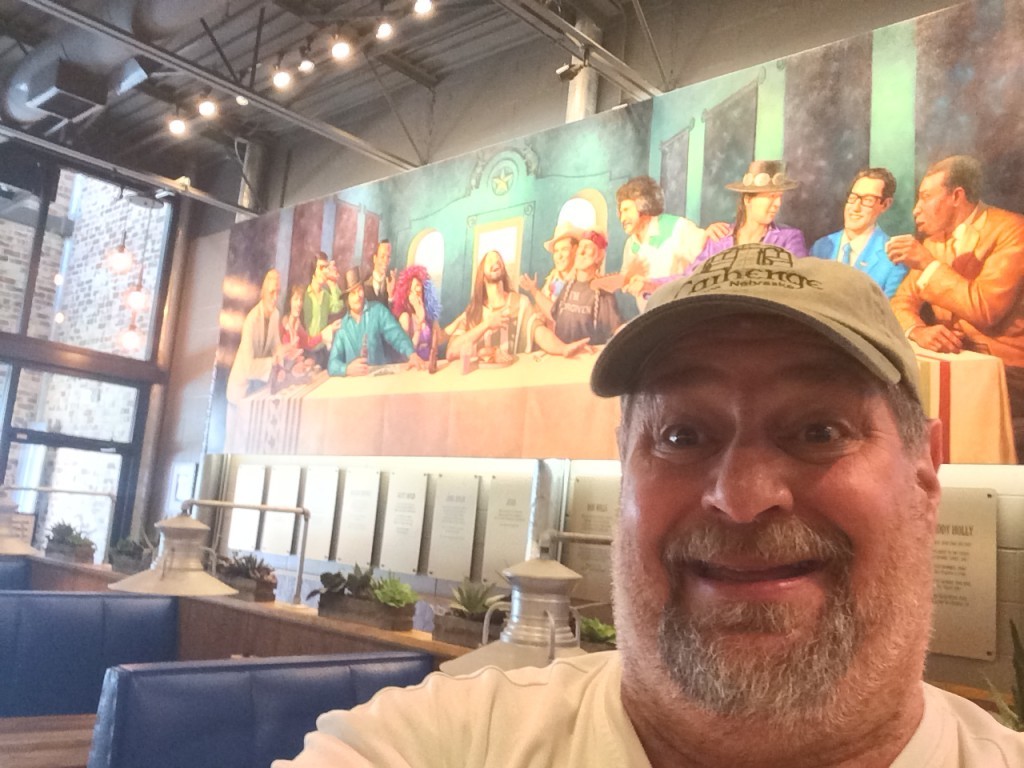 Another great piece of art is in LSA.  It is titled "Texas Instruments," a play on the famed microchip company.  The sculpture is a wire mesh piece that has been fashioned in the shape of Texas. It is filled with a collage of instruments including guitars, violins, horns, and amplifiers. A strategically placed guitar painted with a lone white star pays subtle tribute to Denton's place on the map.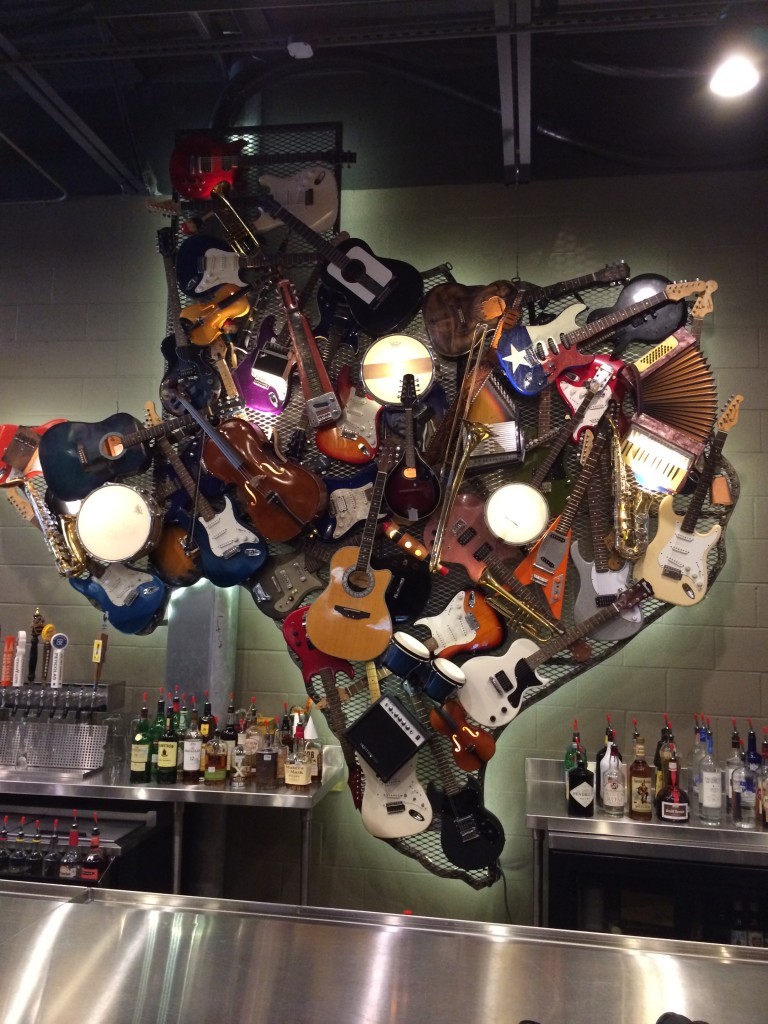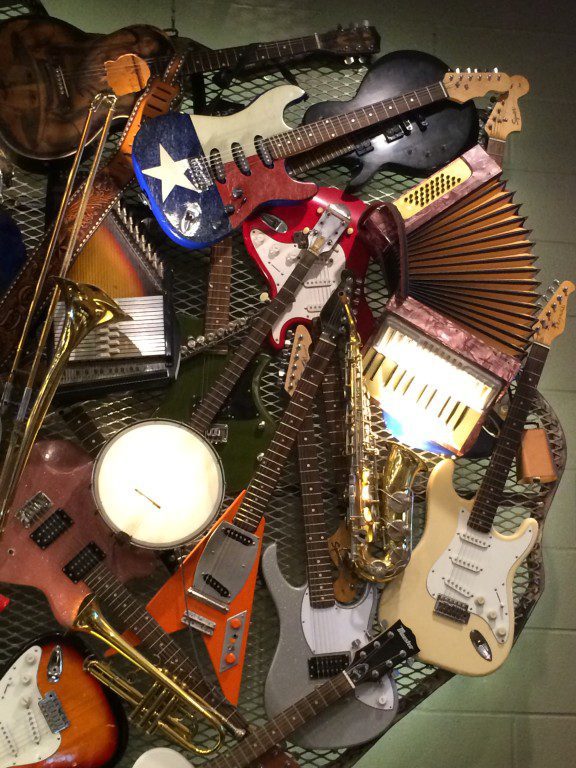 But these are not all.  LSA Burger Co. also has a shrine to Willie Nelson. Yes, that's right!!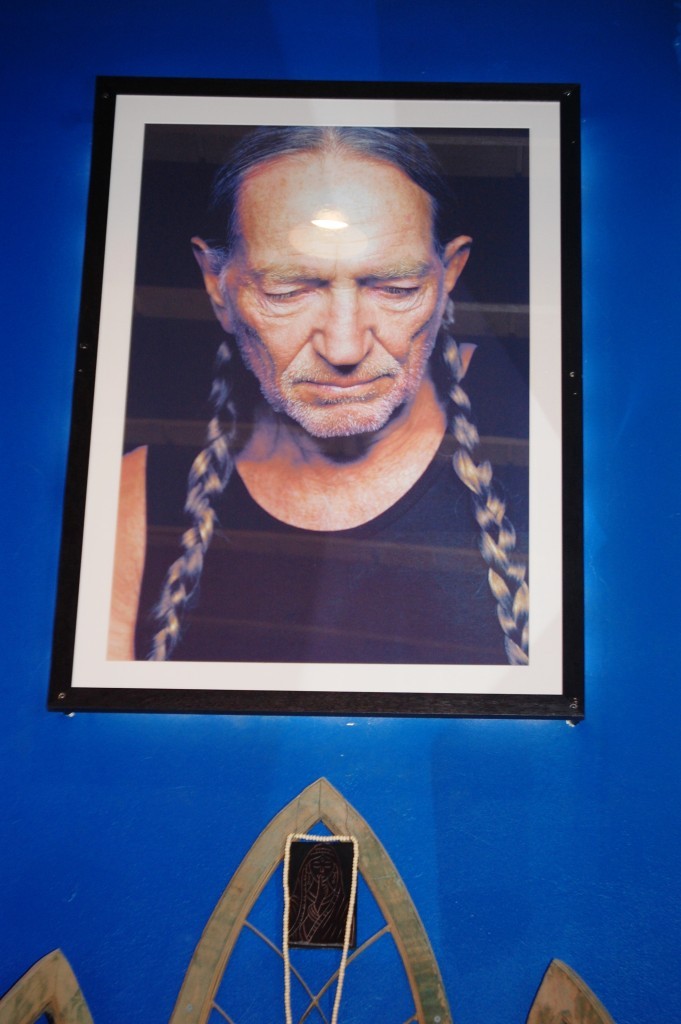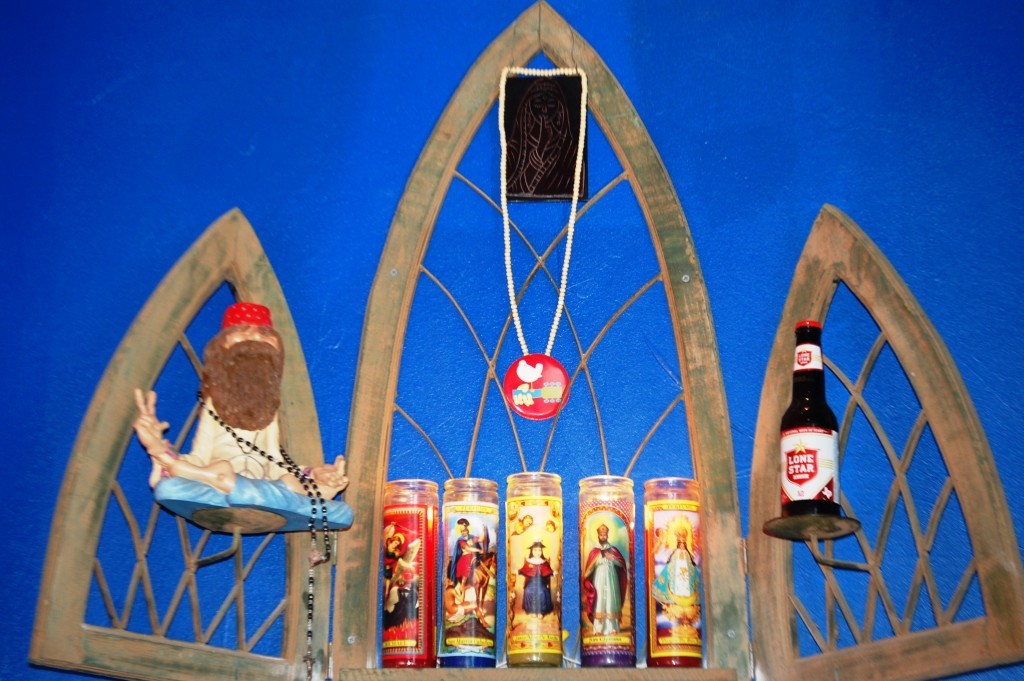 They also have a laminate counter with dozens of album covers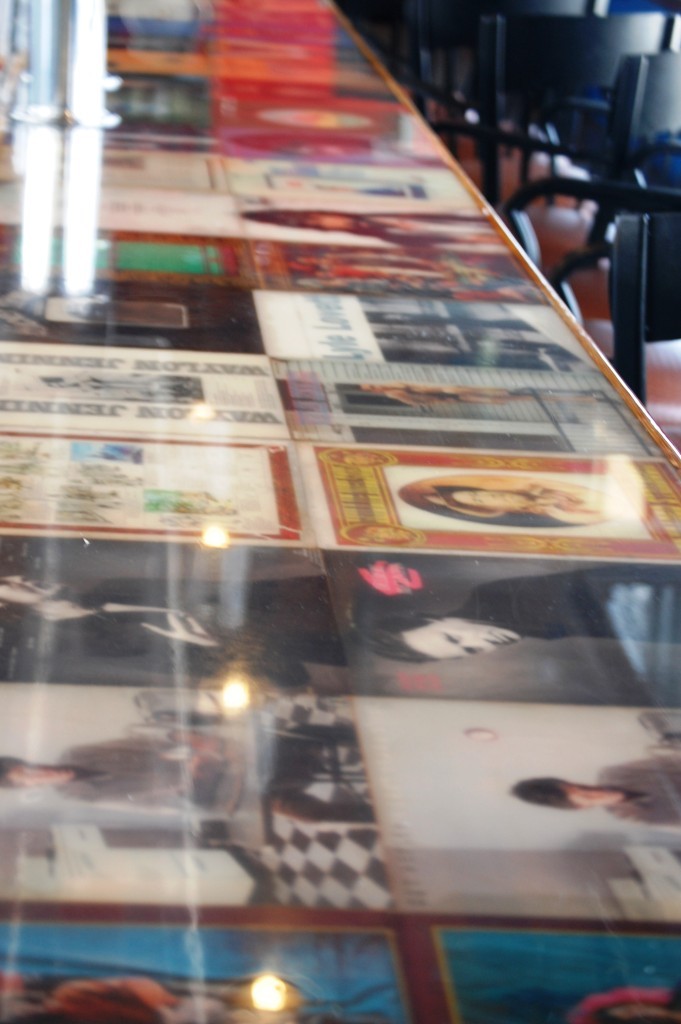 And finally, the beer bottle chandelier…quite a work of art.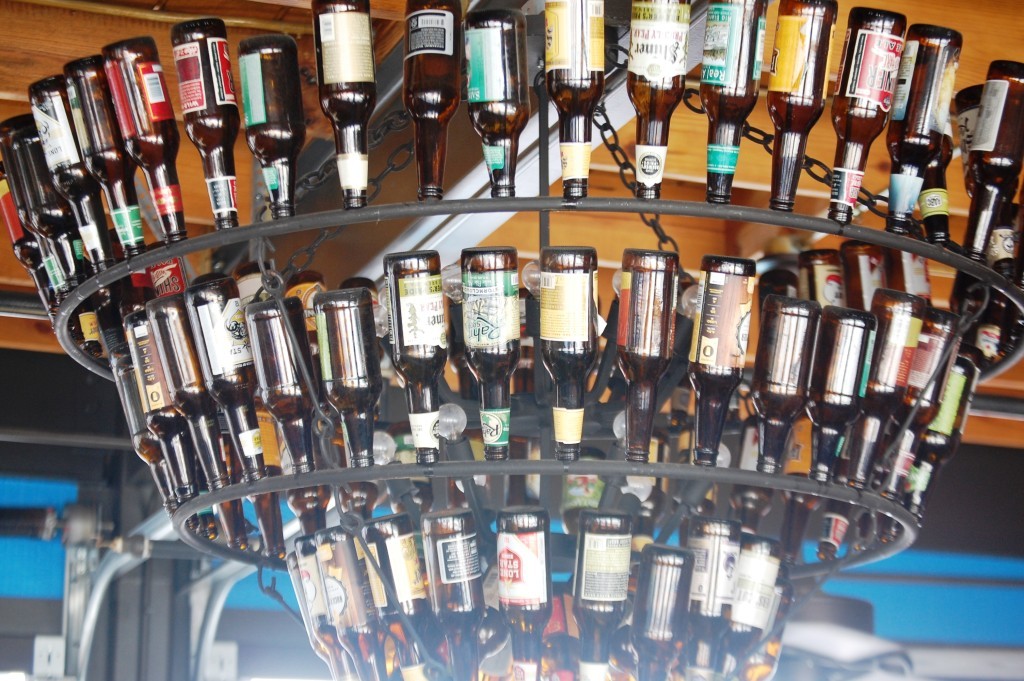 Shelly also walked me around the courthouse, told me a few ghost stories and invited me back. Next trip to Texas will most certainly include a prolonged visit to Denton!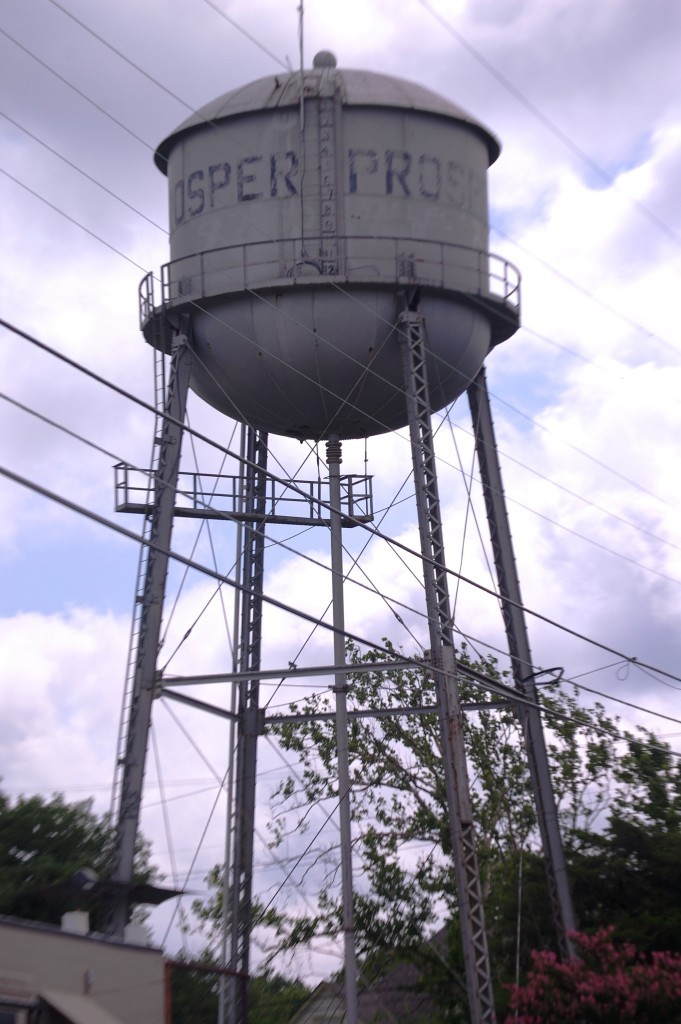 From Denton I was off to have a late breakfast with a friend in Prosper, Texas at the Cotton Gin Cafe and then onward to Paris, TX and Hugo, OK.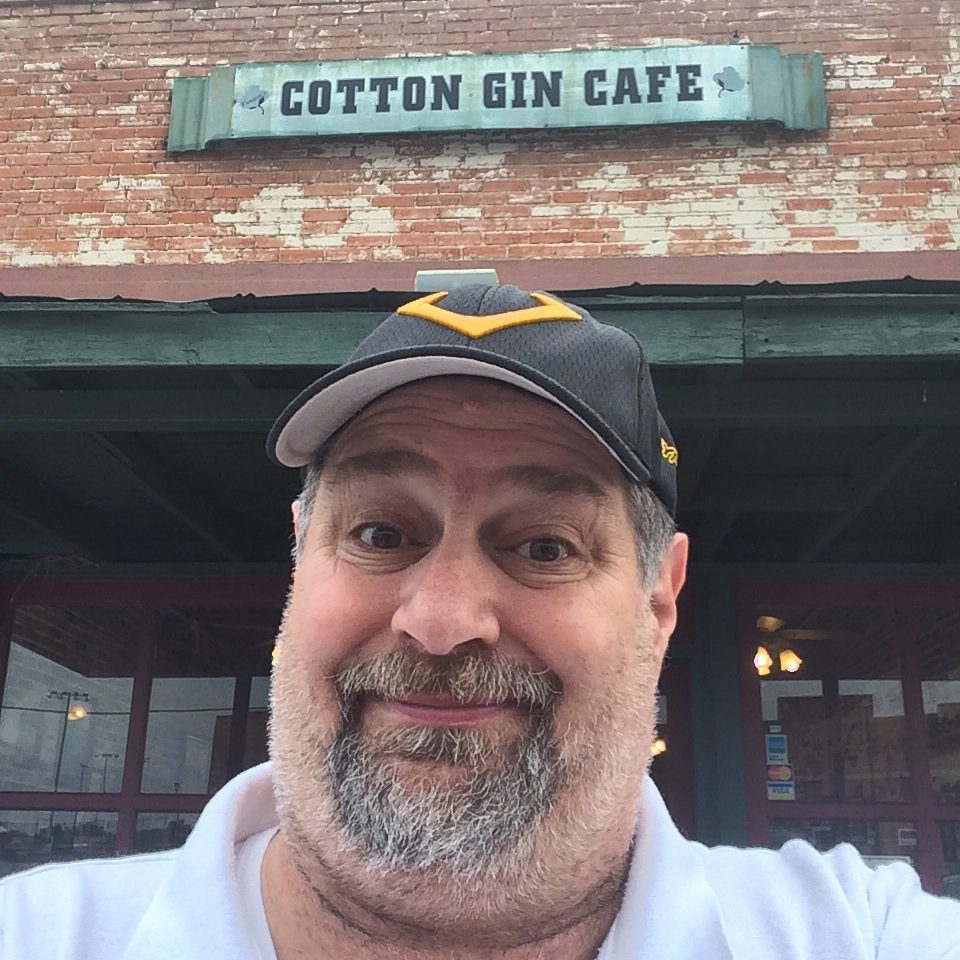 The Cotton Gin Cafe is a nice little place in an old brick building on Broadway in Prosper.  All of their menu items are home made and tasty.  The atmosphere is fun as well with many old posters and signs for eye candy.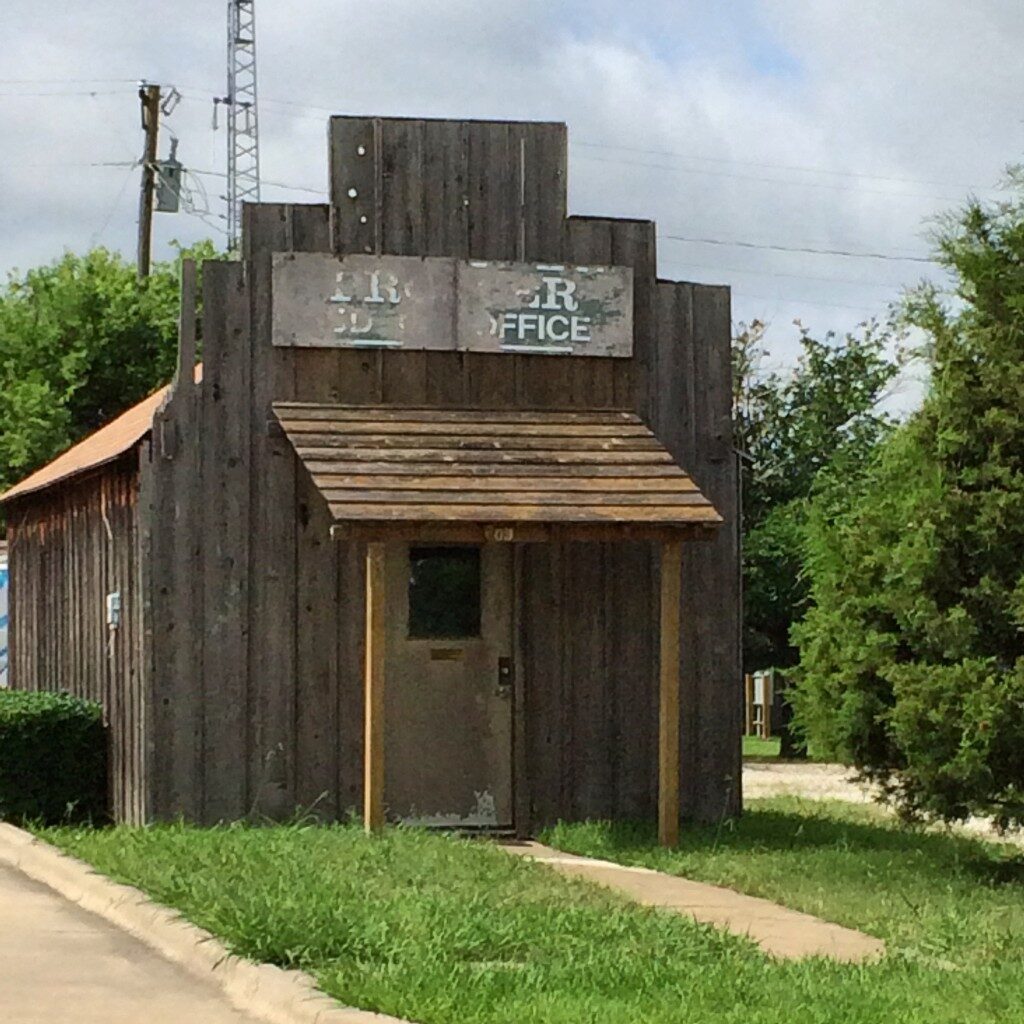 The establishment of the St. Louis & San Francisco Railroad in March of 1902 created the change that forced the communities of Rock Hill and Richland to merge forming the Town of Prosper. For years, Prosper was the central stop for the railroad between Dallas and Sherman. When community officials applied for a Post Office with the name "Richland", they were informed that city name was already taken. Postmaster B.J. Naugle asked for an alternative name and J.C. Slaughter suggested the name Prosper, because crops that year had been very prosperous.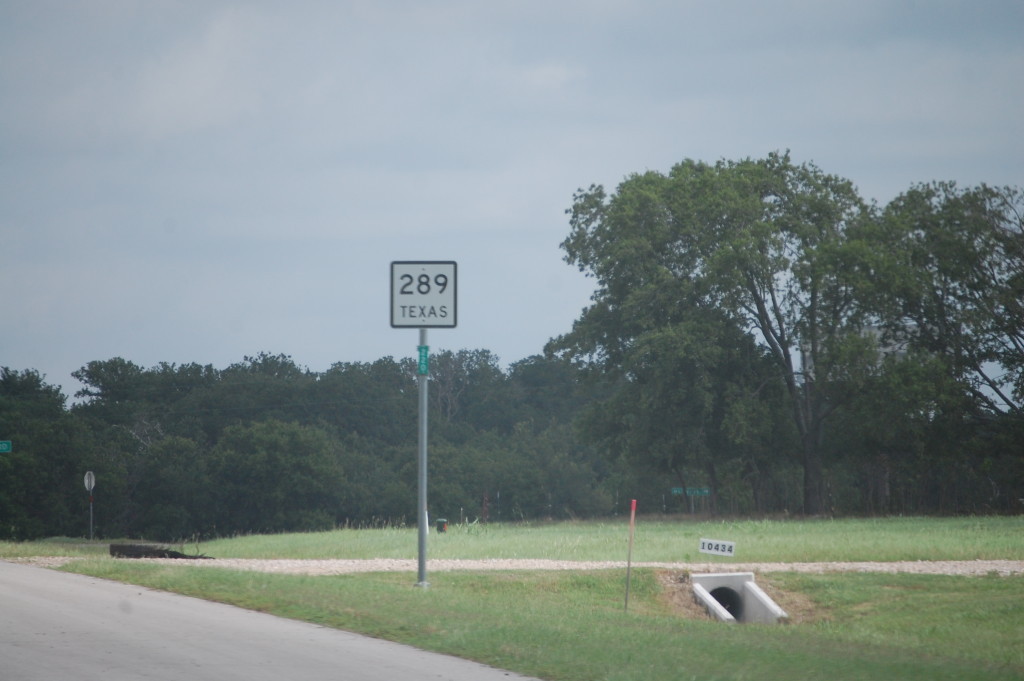 From Prosper I headed north on Texas Hwy 289 towards Sherman and then proceeded on US 82 to Honey Grove, Texas. My last visit to Honey Grove was late one evening in February 2010.  I was on my way to  find Bugtussle, TX after having driven all day from Bugtussle, KY (see my original trip journal HERE).  Even in the dark the town looked old and rundown.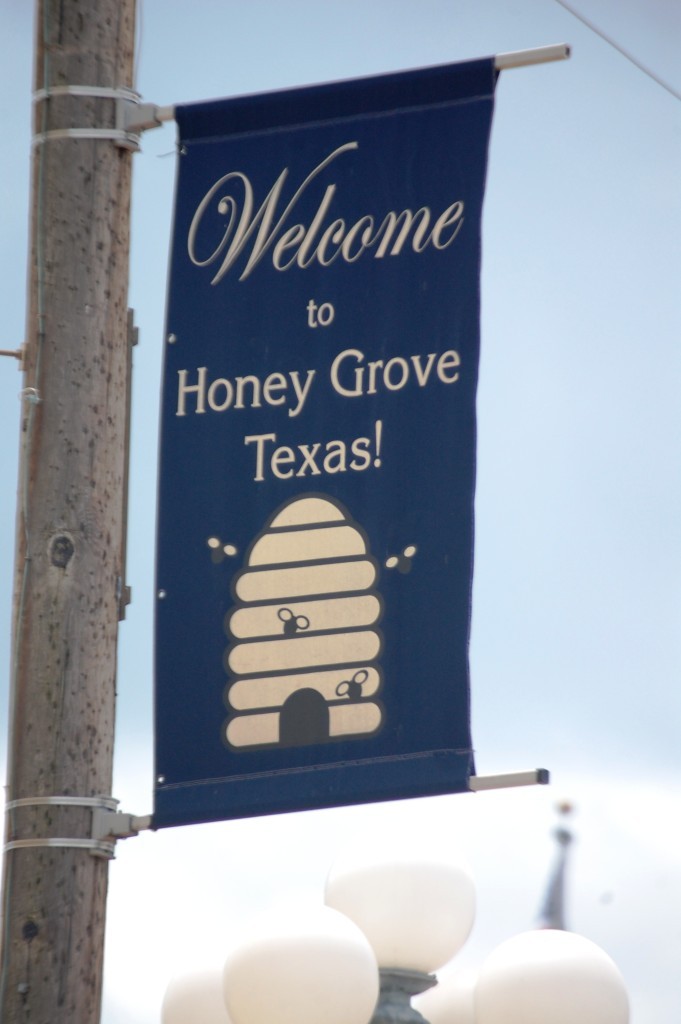 Actually, in daylight there were some bright spots in this quiet little Texas town.  But, there are entire sections that are rundown…a sad look at brighter days gone by.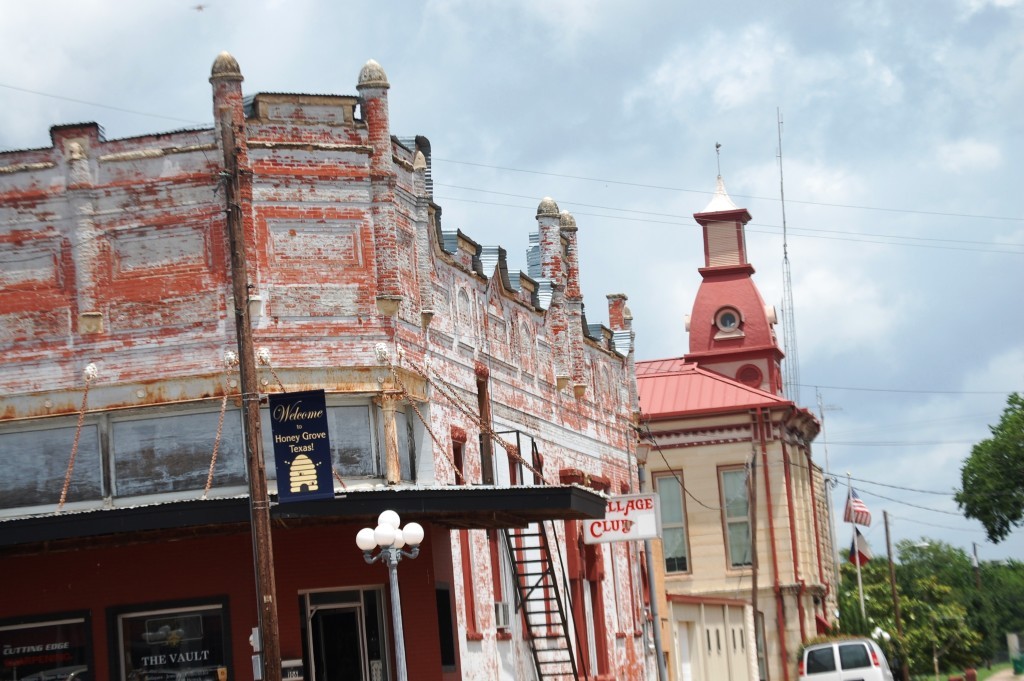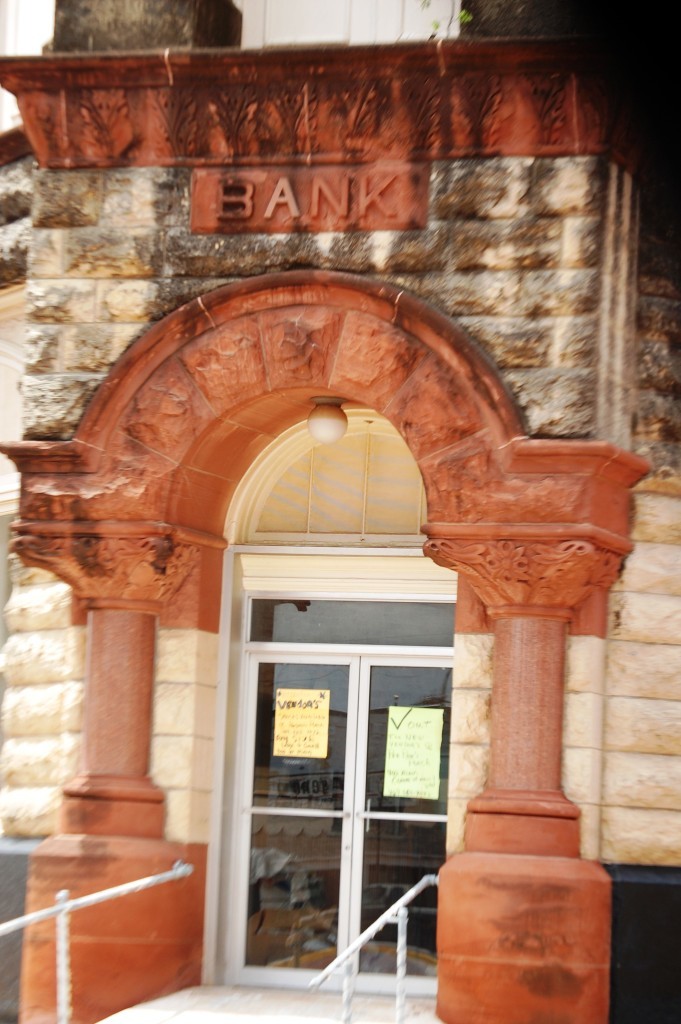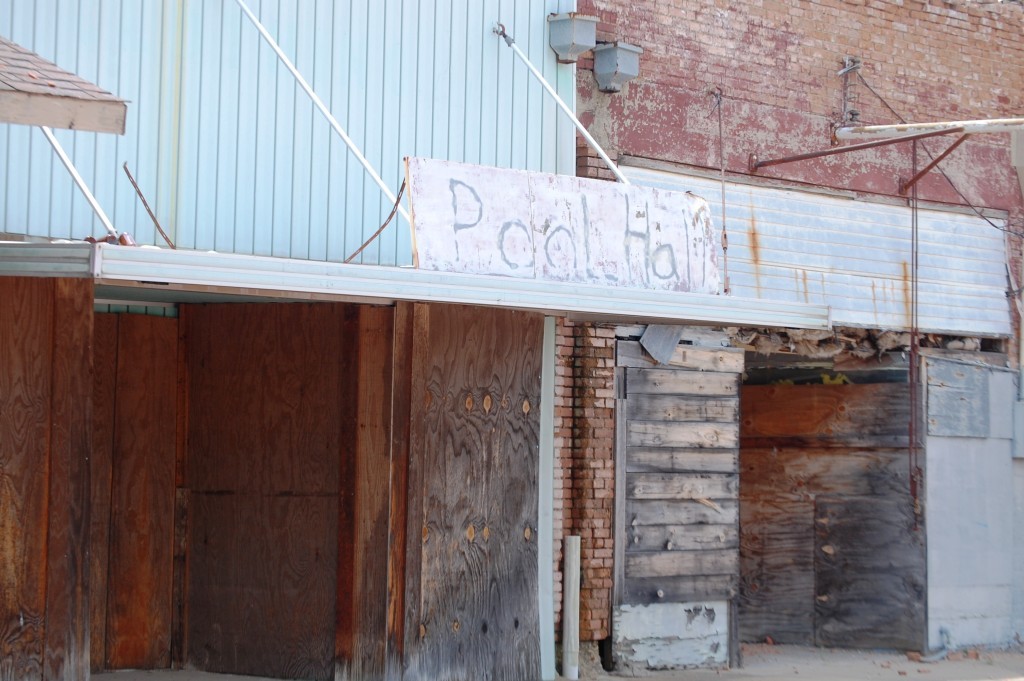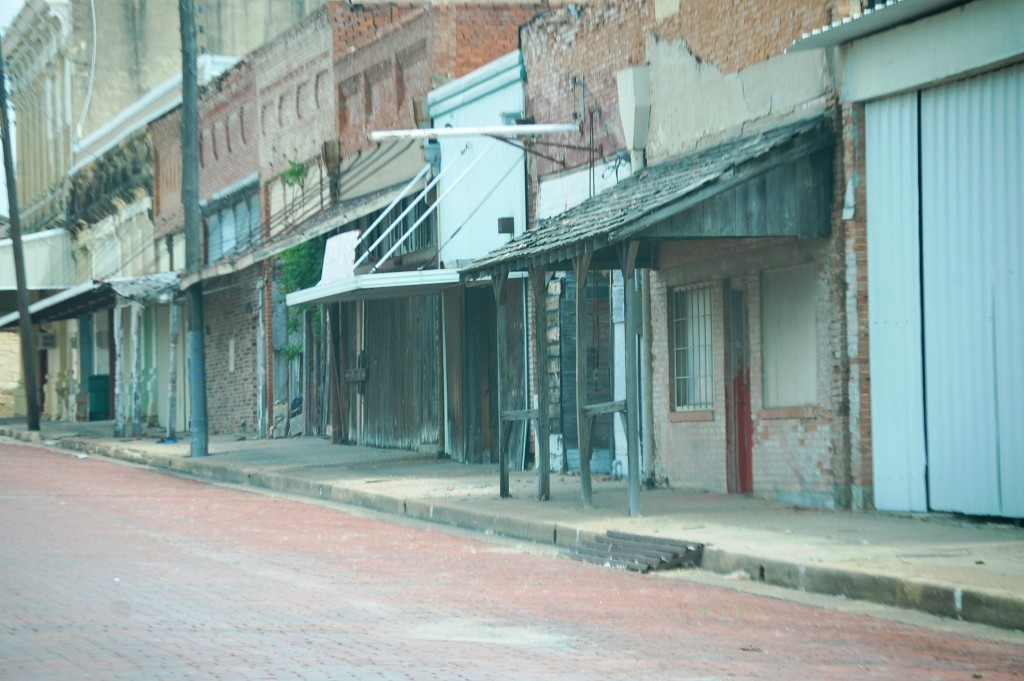 After driving through Honey Grove, I proceeded east on US 82 towards Paris, TX.  Just west of Paris is the small town of Toco.  Off to the north of the highway I saw an old plane parked in the field next to a barn.  What an unusual site as there was not an airport.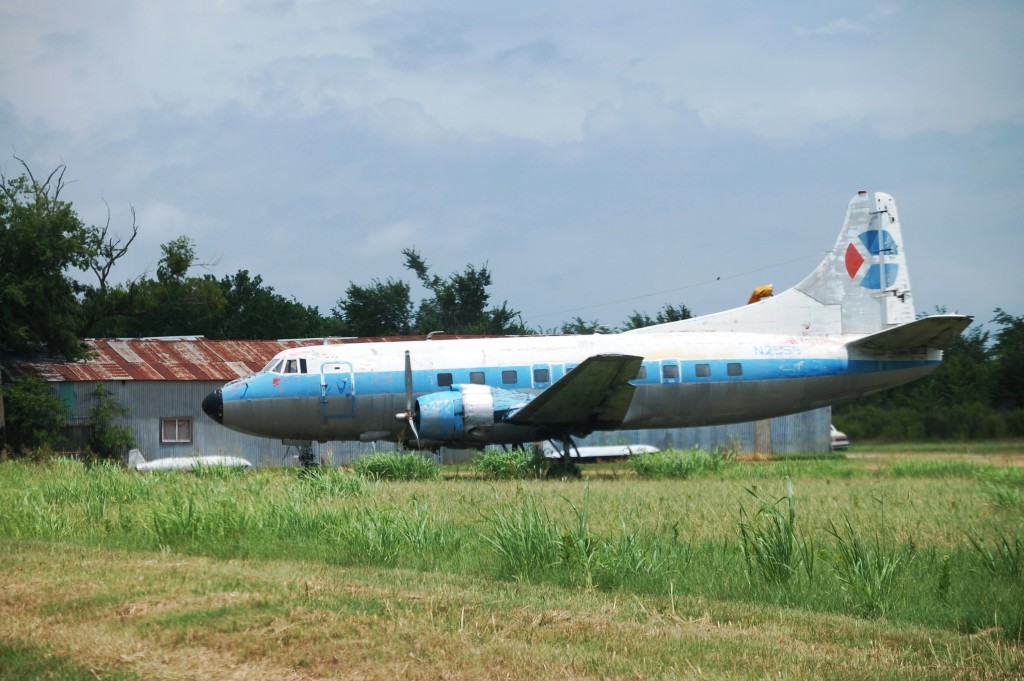 I tried to figure out what is what all about and found a piece on TexasEscapes.com about it.  According to his page, "the plane is a Martin 404 and there wouldn't be too much more to say about it if photographer Stephen Michaels hadn't stayed up late to research the ship.  An aircraft electrician in a previous life, Michaels researched the FAA number to find that the plane had been part of the Southern Airways fleet. " Apparently, the research also led Stephen to the Southern Airways website – which revealed the story of a chance meeting between the plane and its former pilot and a very interesting interview with the planes current owner. See that article here.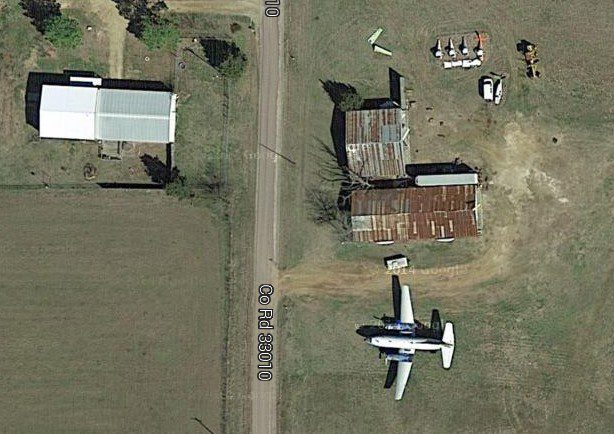 According to the above noted article, the "owner was Isaac Newton (Ike / Junior**) Burchinal, a well-known movie pilot. Some of his credits include; "Flight of the Phoenix," "Twelve O'clock High," "Catch 22," "The Great Waldo Pepper," and "McArthur." He also was the pilot for Robert Conrad in the TV series, "Baa, Baa, Black Sheep."
I drove a little closer to get another shot and saw cockpits from a few other planes in a "Cadillac Ranch" formation.  Turns out that this used to be the Flying Tiger Airport and Air Museum.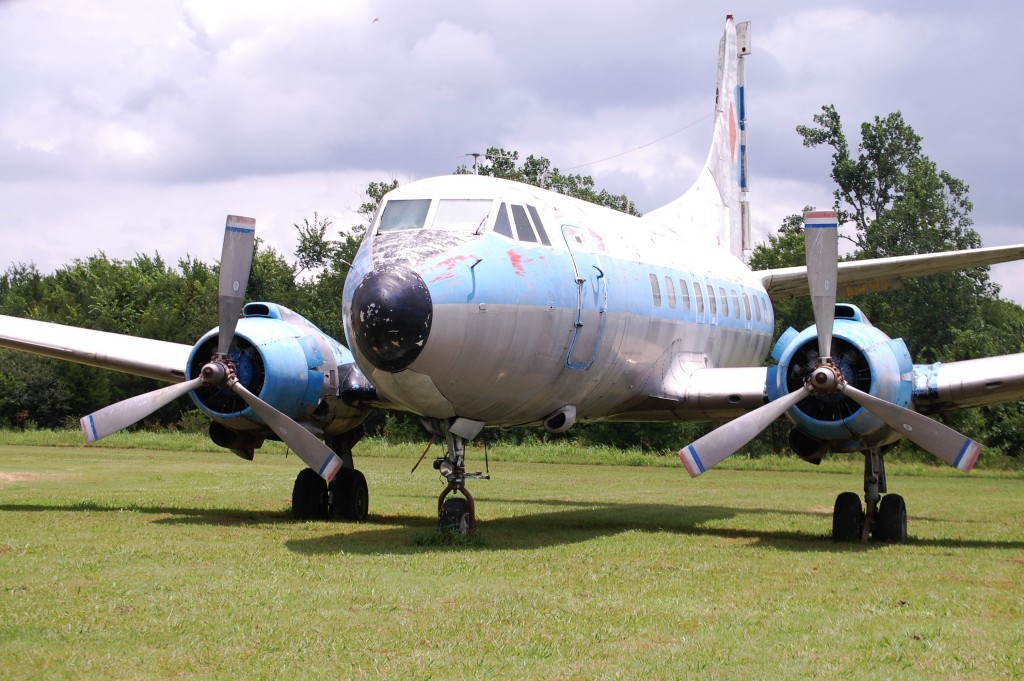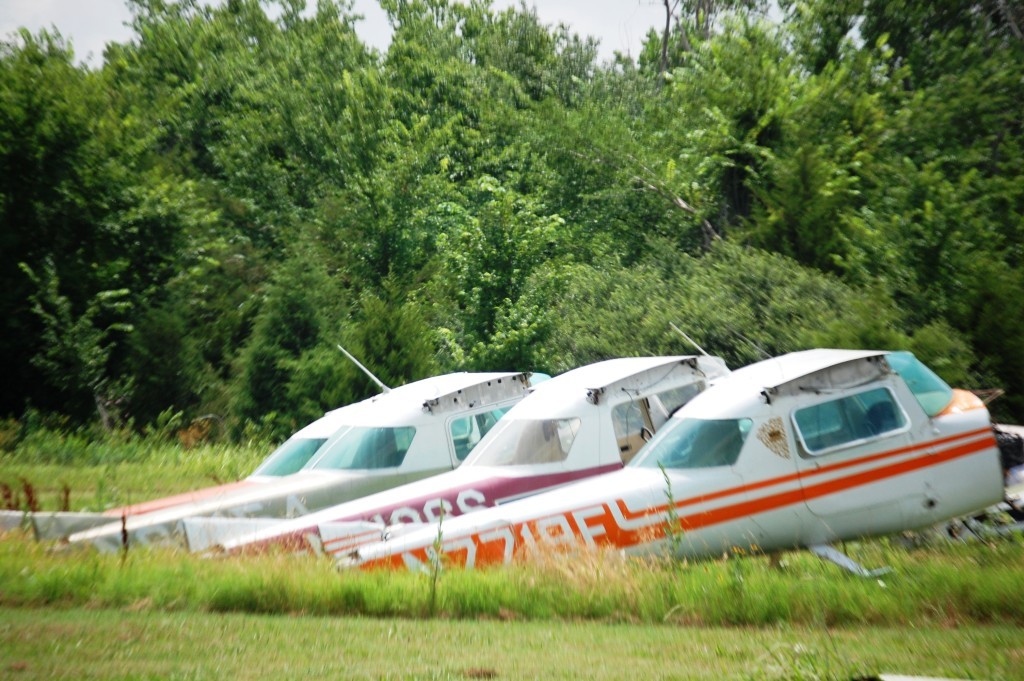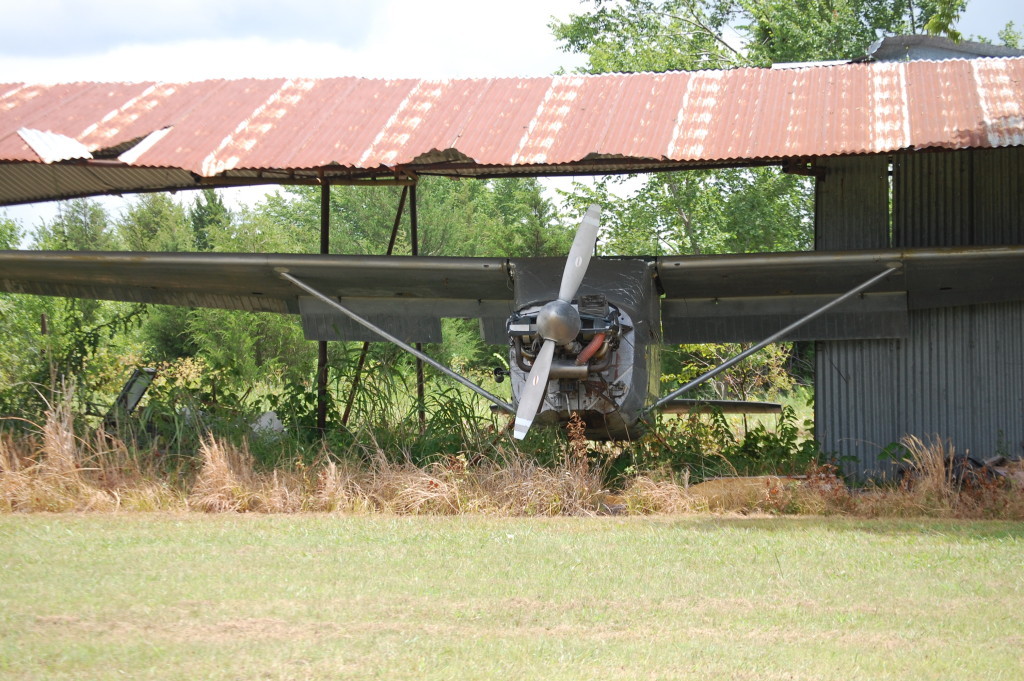 It is for reasons like this small air museum that I love taking back road trips.  You just NEVER know what you will see along the way.  And the joy of it all is reliving the trip as I write so I can do some research an learn a bit.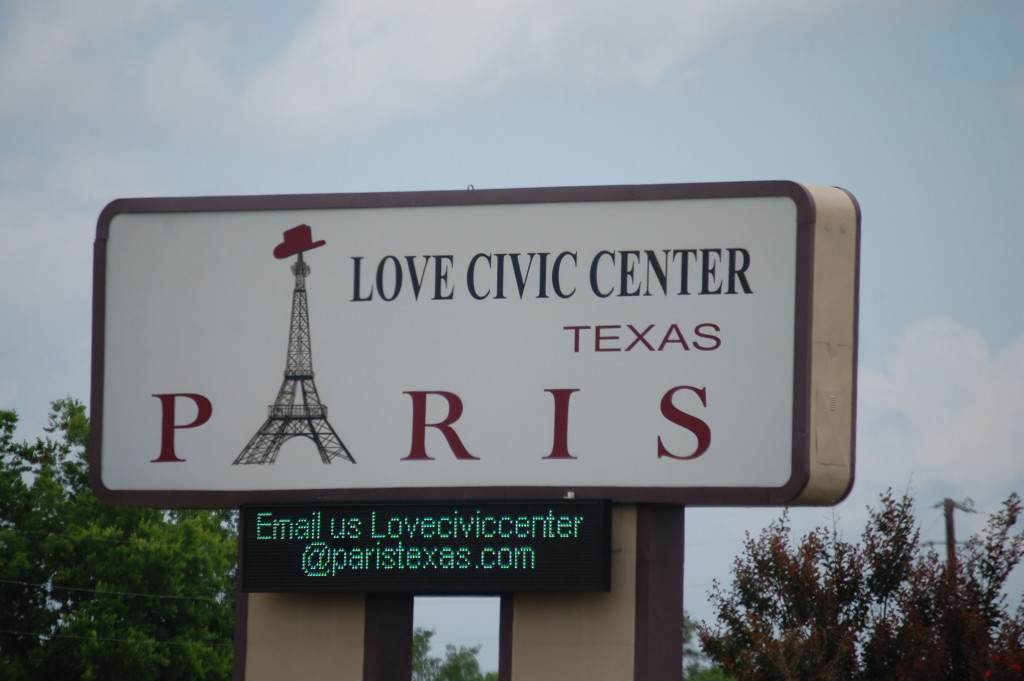 My next stop on the way was in Paris, Texas.  I was headed to see the Cowboy Hat topped Eiffel Tower replica.  I actually had hit Paris, Tennessee on my way down to Texas a week earlier and have a fun post about the "Two Towers".  Check it out HERE if you have not seen it.  Most of the details about this tower are in that post.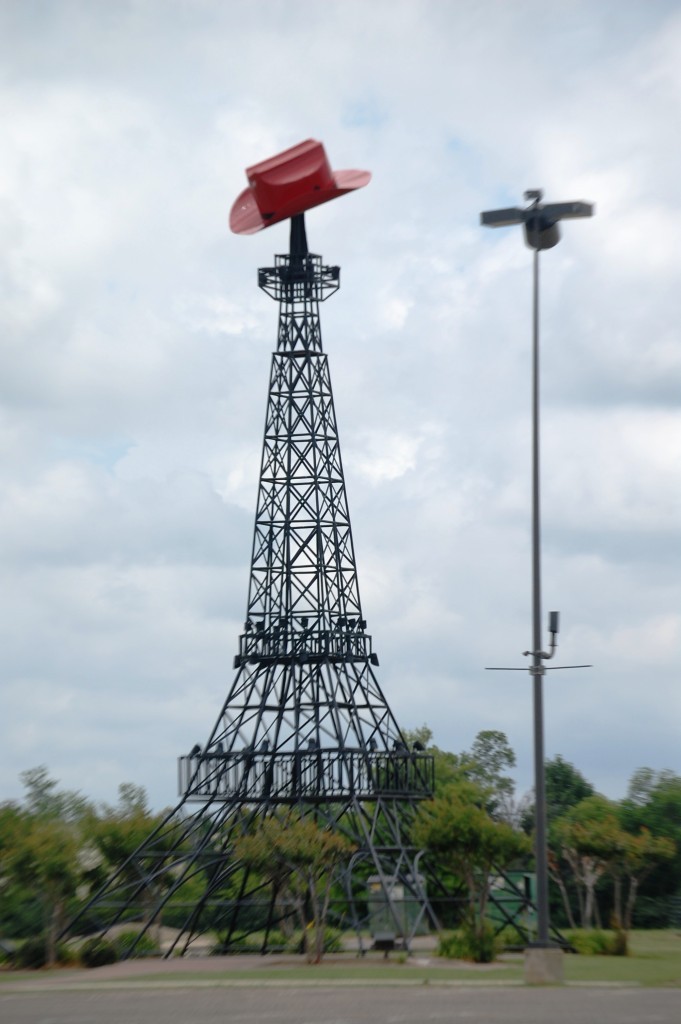 Though the tower is the most famous icon of the town, there is also another more obscure item. In keeping with the theme of this post (paranormal, ghosts, haunted places, spooky, graveyards), I visited the Evergreen Cemetery in Paris to see the "Jesus in Cowboy Boots" gravestone.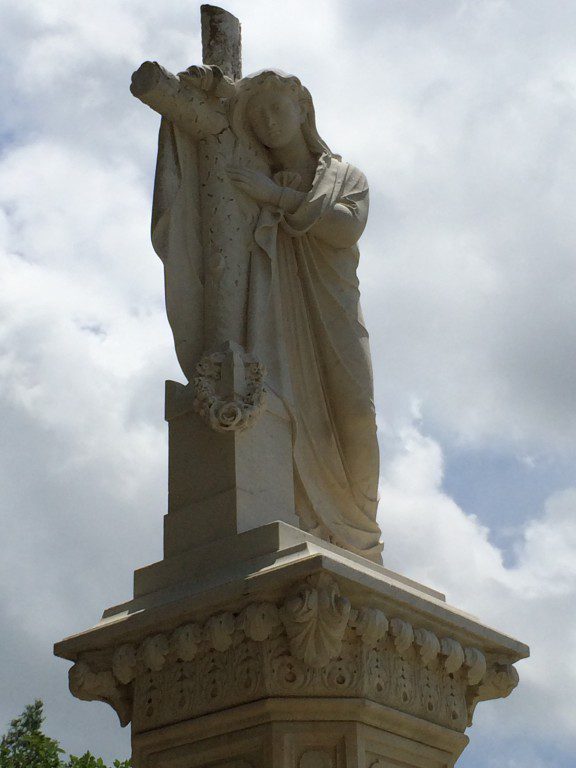 A closer look from the back reveals that this particular Jesus was interesting….as he is apparently wearing Cowboy Boots under his robes.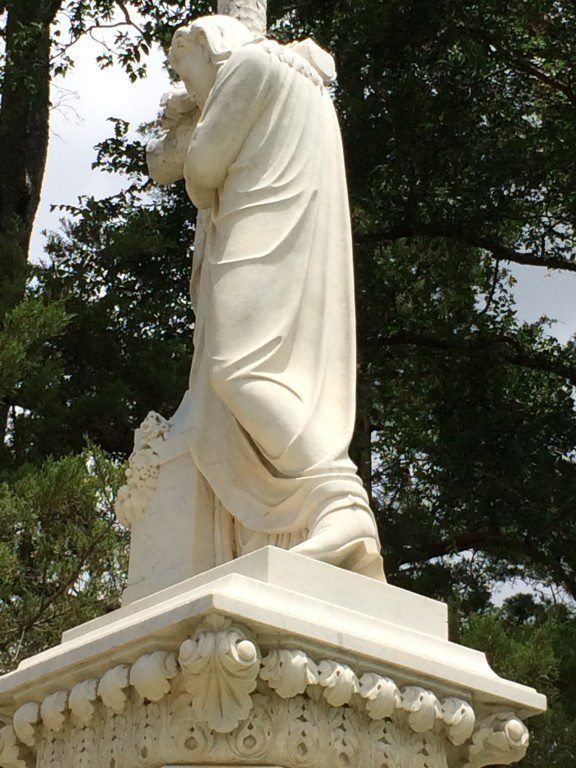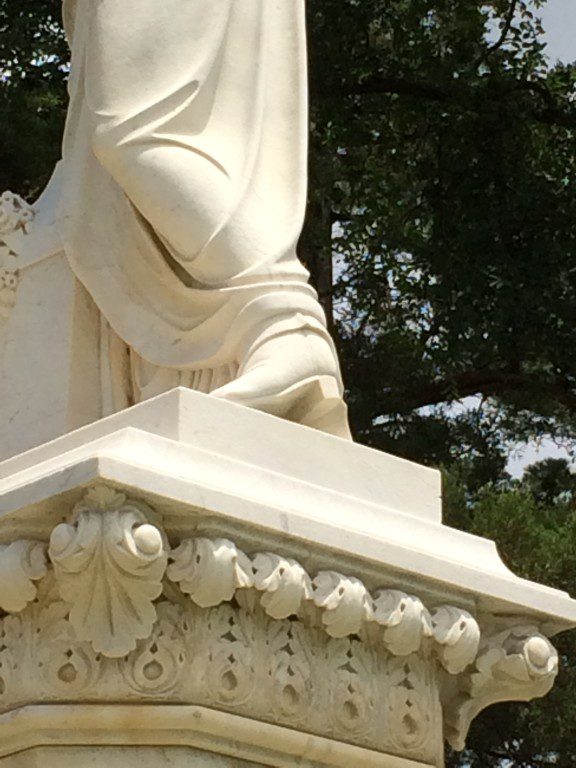 Thanks to the guys at WeirdUS.com, a bit more detail about the story can be found. Of course, I too can't really tell whether it is Jesus or an angel.  But, there are certainly Cowboy Boots and I am sure that Willet Babcock (a furniture magnate and Opera House owner in Paris in the late 1800s), the man buried under this monument, had a sense of humor and certainly made a legacy such that many come to visit him who have never known a thing about him…including me!  By the way, this sculpture is apparently attributed to a German immigrant stone mason named Gustave Klein (see this interesting article), who was responsible for many of the monuments in Evergreen Cemetery and is also buried in the cemetery.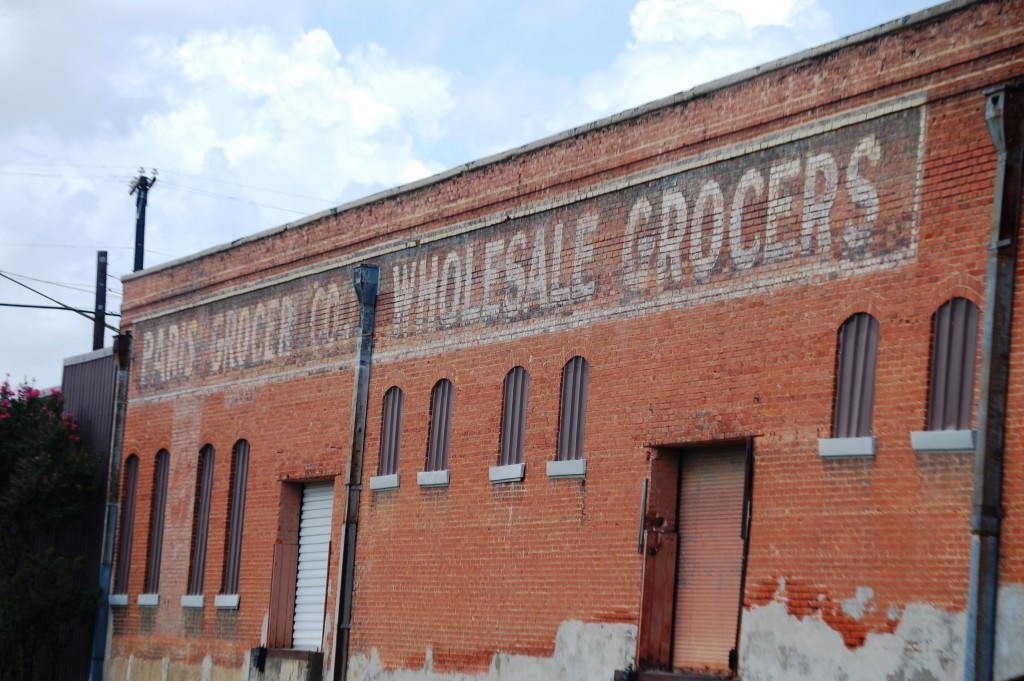 Like many Texas towns, there are remnants of days past.  Old Ghost Signs still linger on as decor on old buildings. such as the one above and the one below, both in Paris.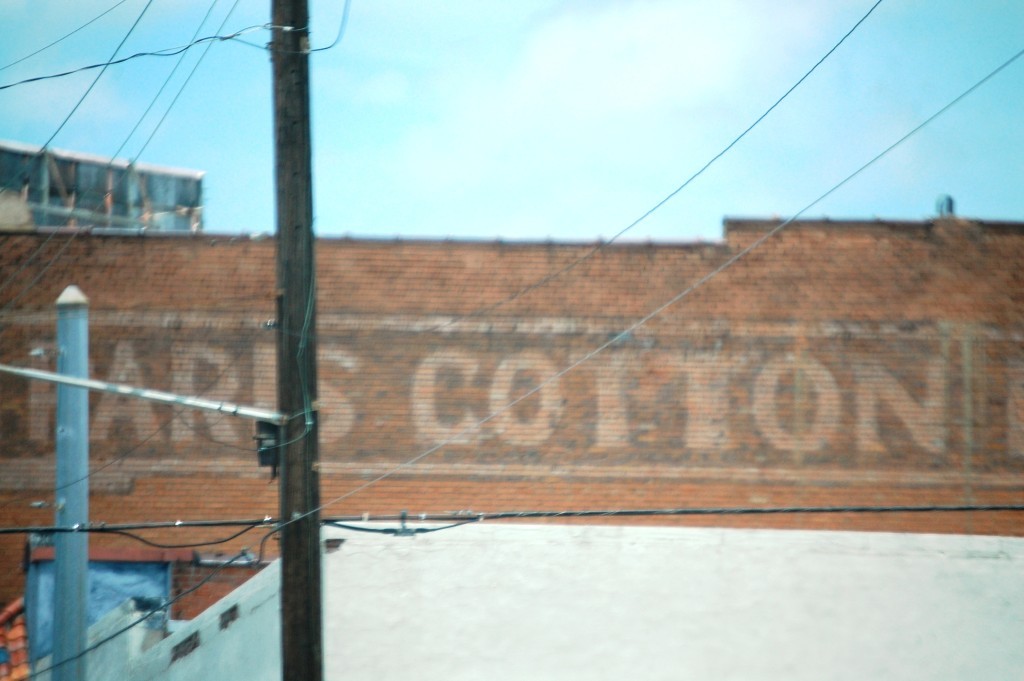 And one last fun view from Paris before heading north to Oklahoma: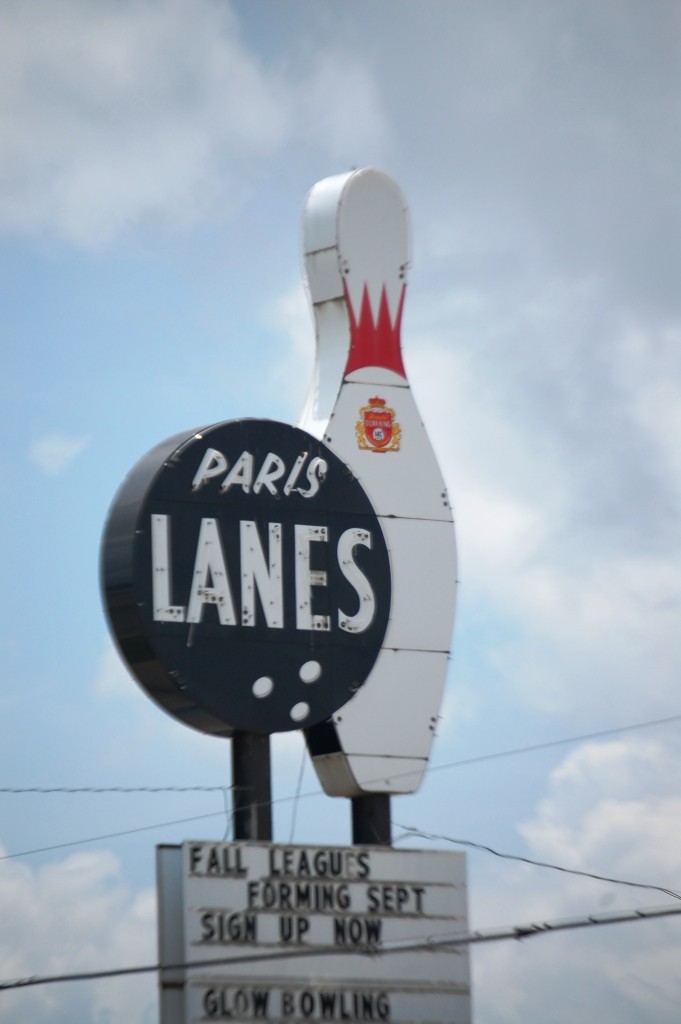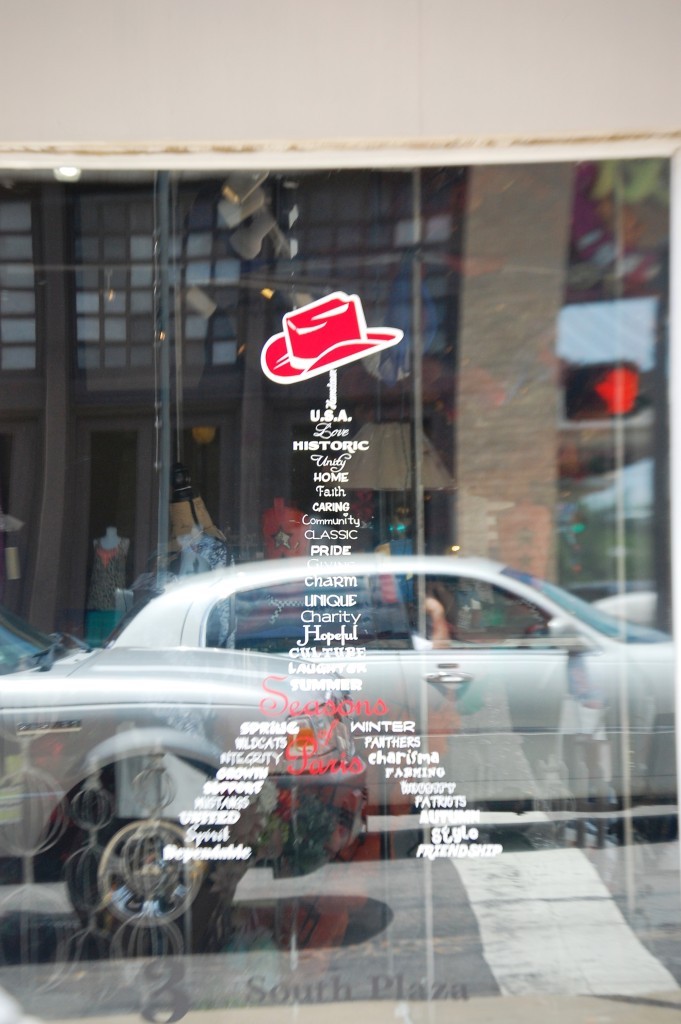 From Paris I headed north on US 271 for my first venture into the southeastern Oklahoma town of Hugo.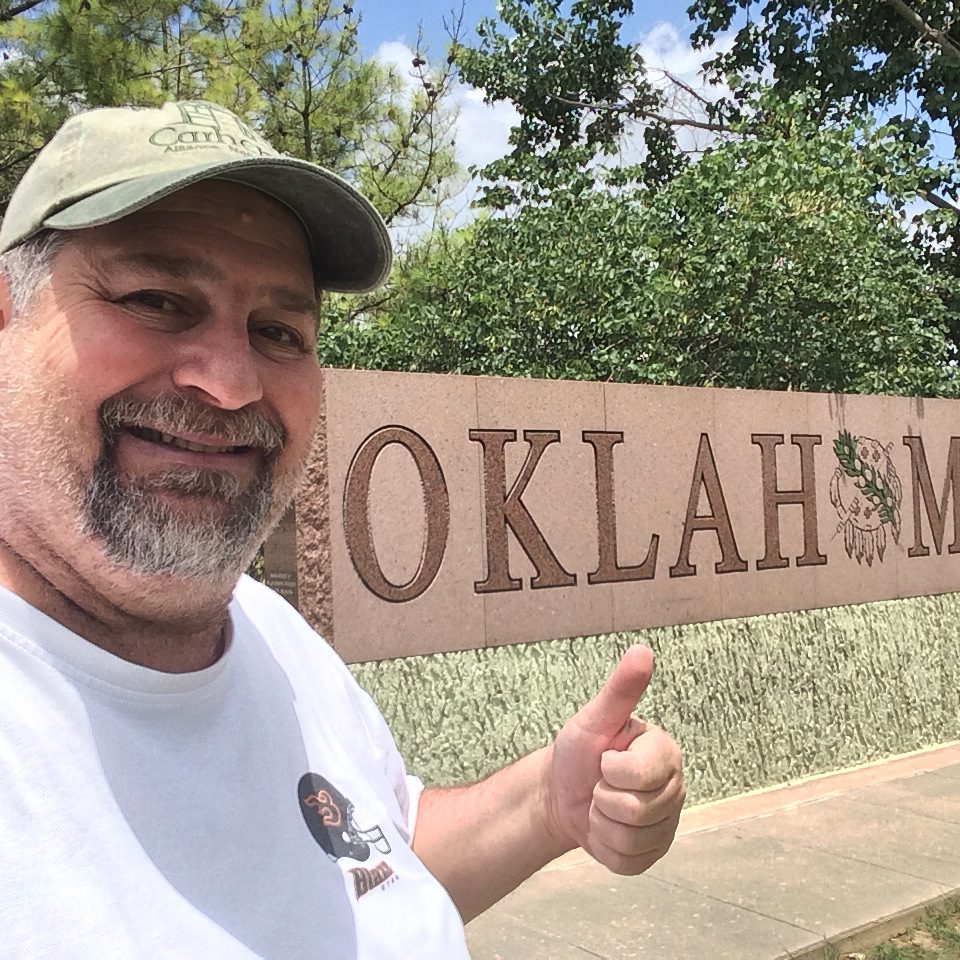 In the late 1800s and early 1900s this town was apparently a hotbed of activity … the wild west town.  It was a railroad hub and so it had an assortment of dance hall girls, hustlers and gunfighters, and perhaps a dozen circuses wintering nearby taking advantage of the moderate climate and easy rail access. The town was founded in 1901 and was named for the French novelist, Victor Hugo.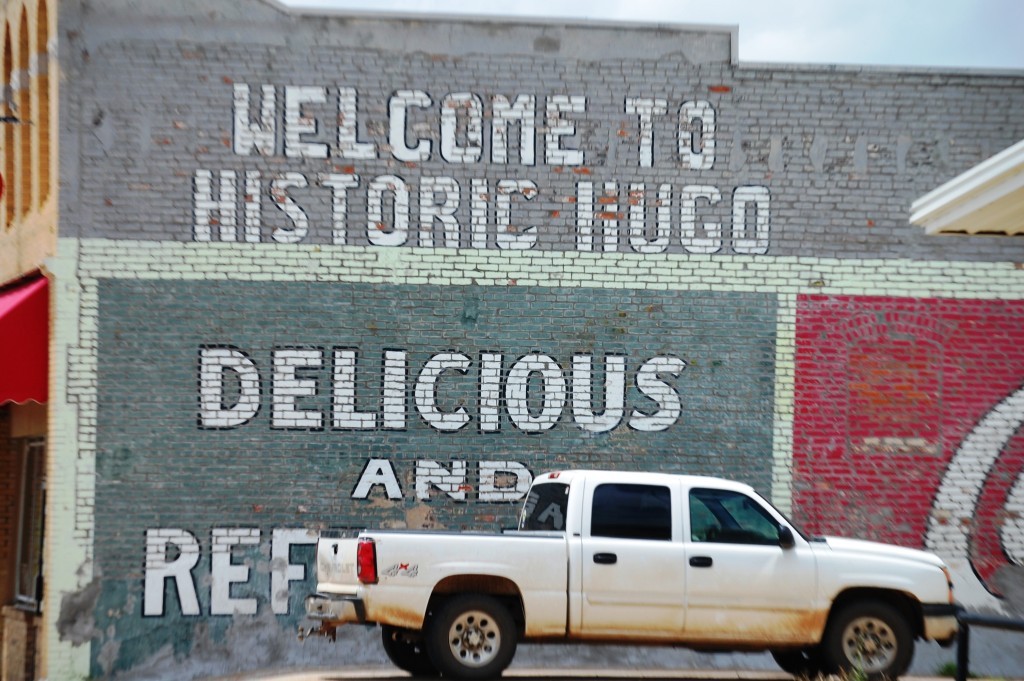 Nowadays the town is best known for its one-of-a-kind cemetery, a few murals and as the birthplace of 70s singer-songwriter B.J. Thomas (Raindrops Keep Fallin' on My Head).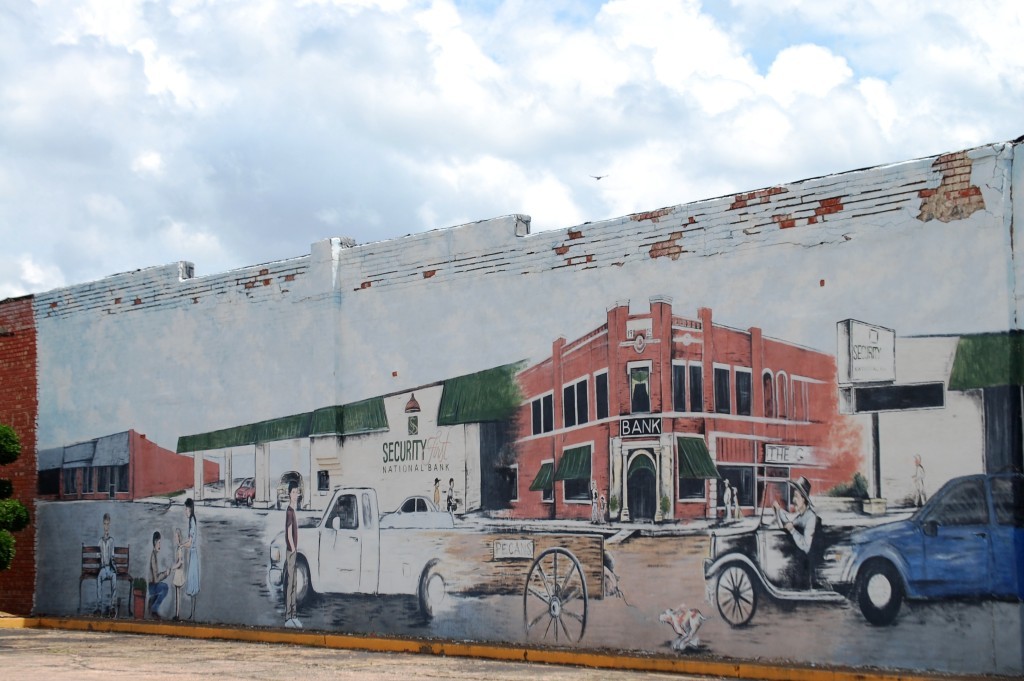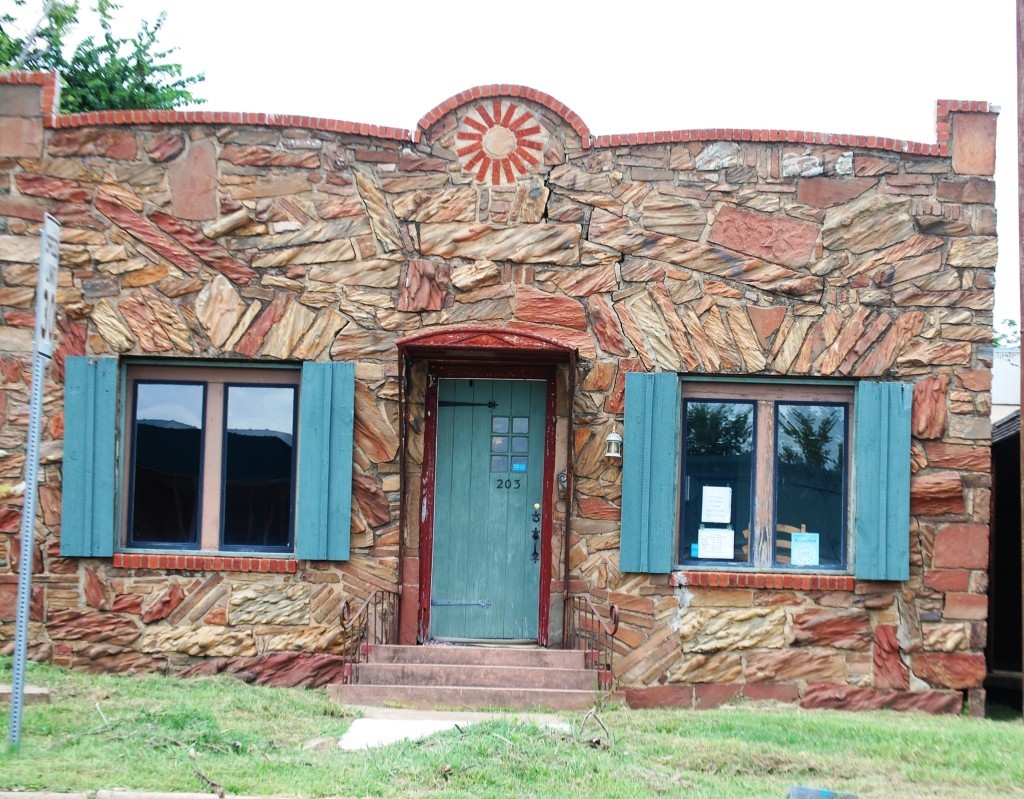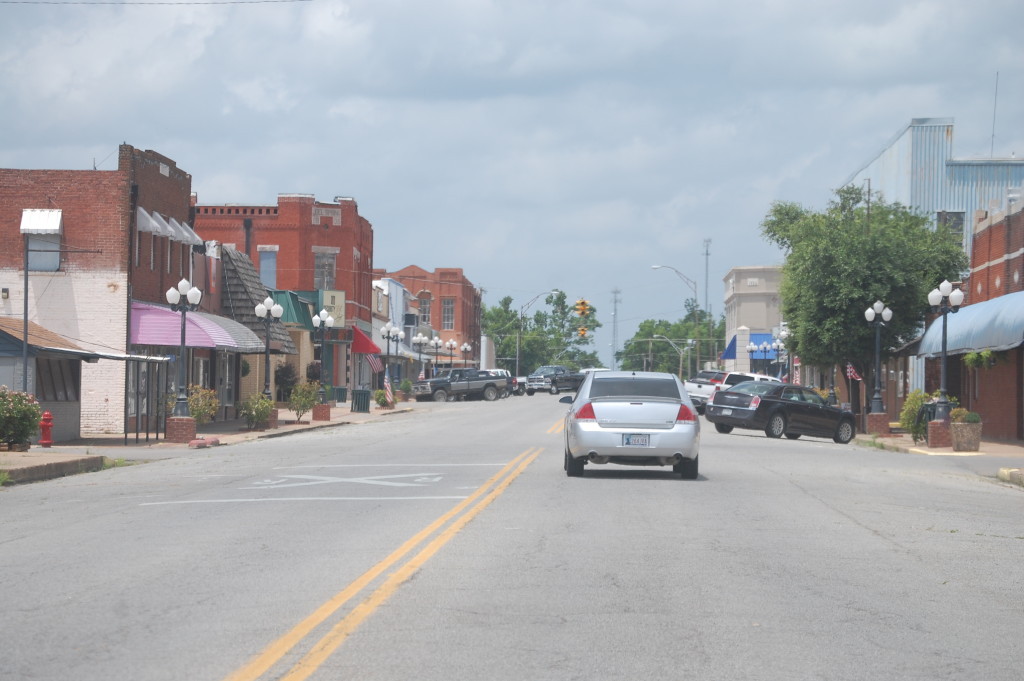 The town is perhaps best known as a resting place for Circus Performers and, has become the eternal resting place for many of these performers.  In fact, the town even has acquired a nickname as "Circus City USA."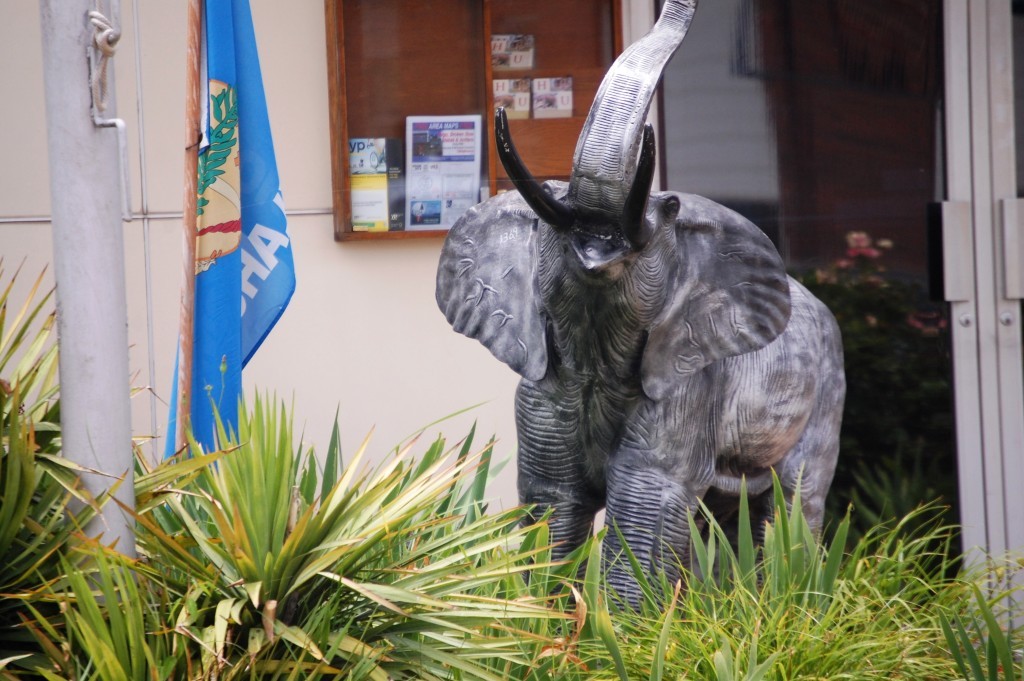 Hugo has been a circus wintering ground since 1942 and is still such for three circuses and their staff and performers, The Carson and Barnes Circus, The Kelly-Miller Circus, and the Culpepper-Merriweather Circus.  It is a common site to drive past their grounds in the winter and see them taking care of an elephant or working on their equipment.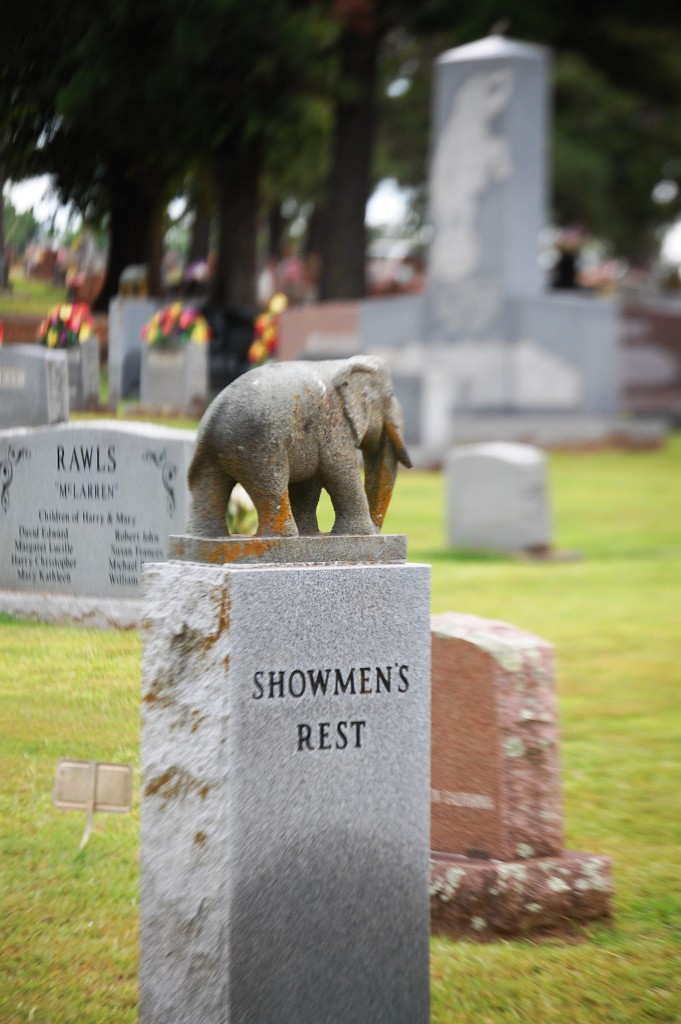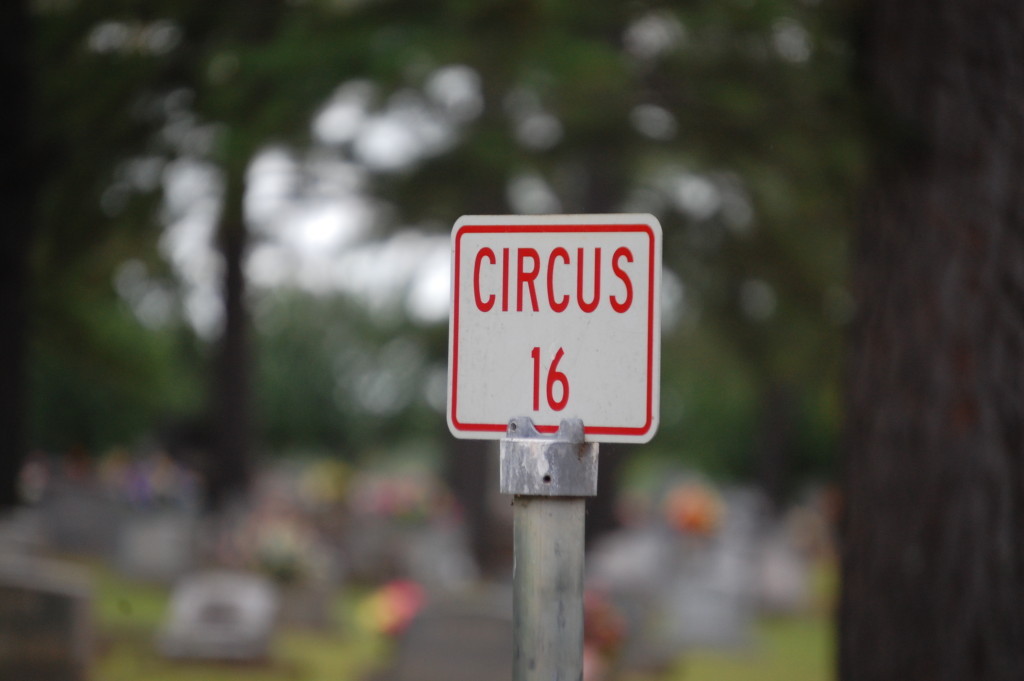 The town cemetery, Mt. Olivet Cemetery, has a special area called Showmen's Rest which features unique headstones and grave sites for circus performers and owners. there is also a section called Bull Rider's Reprieve set aside as a resting place for rodeo riders that have passed on.  I thoroughly enjoyed the brief visit to this hallowed ground to remember circus performers.  Here are a few photos from this fascinating corner of a cemetery.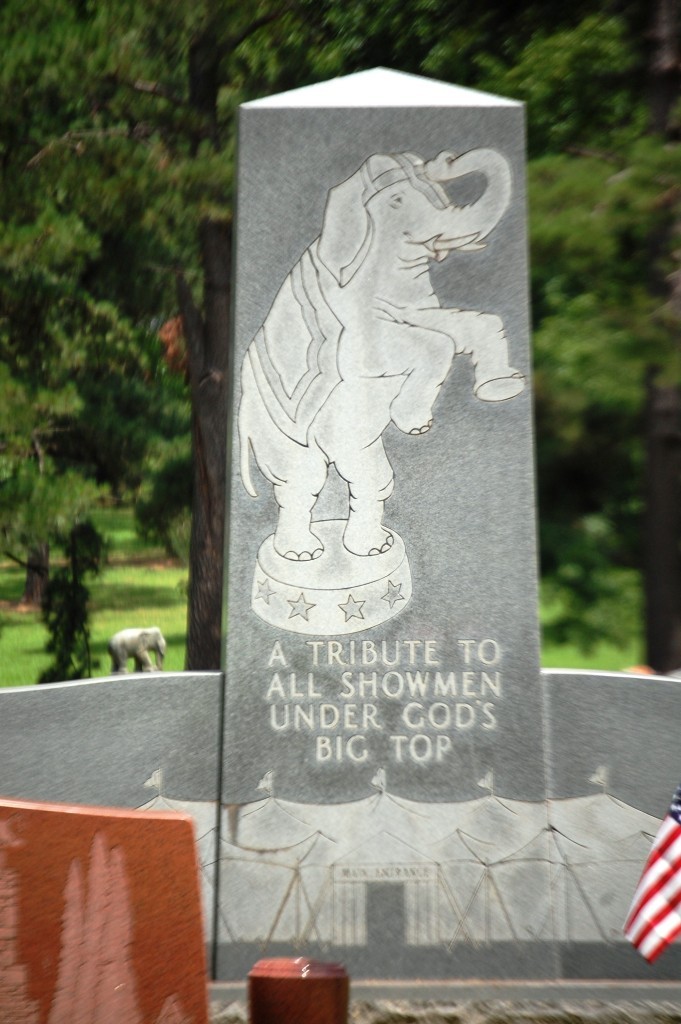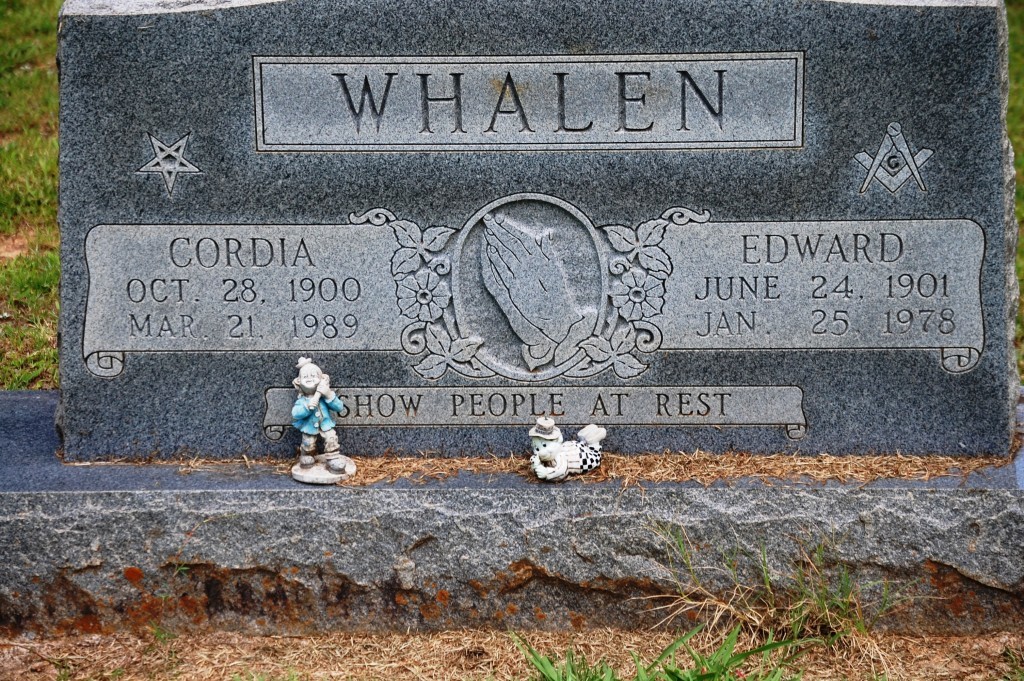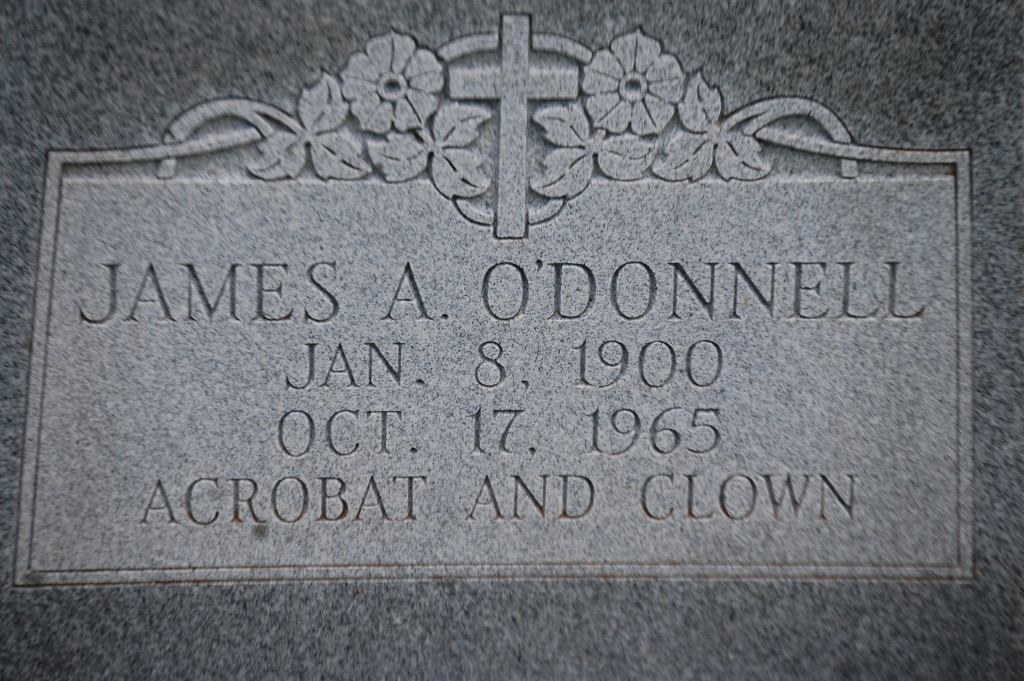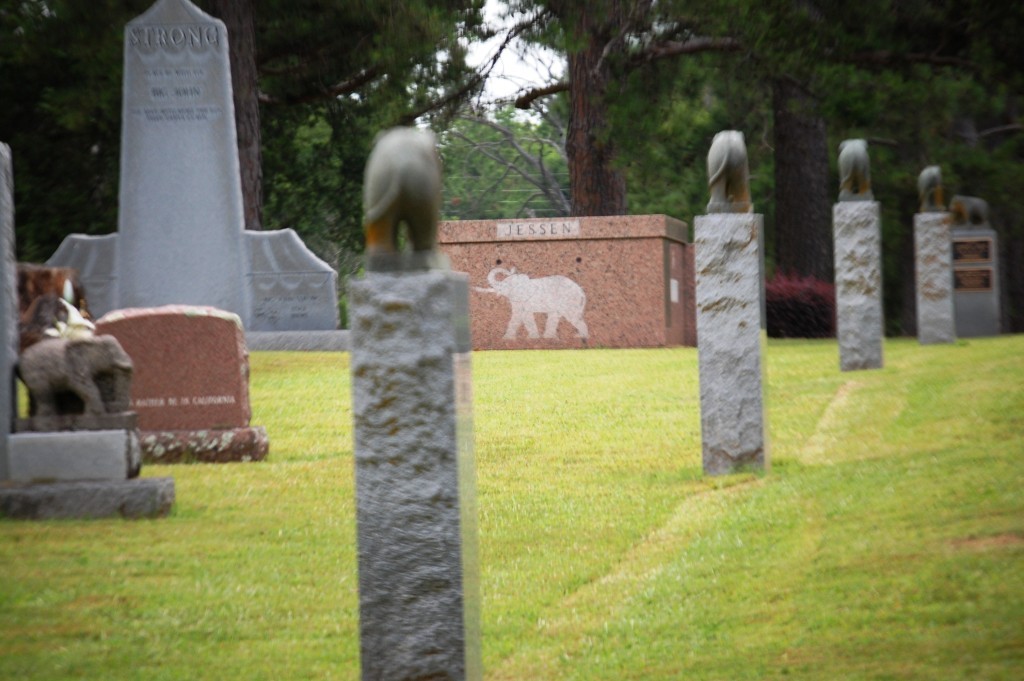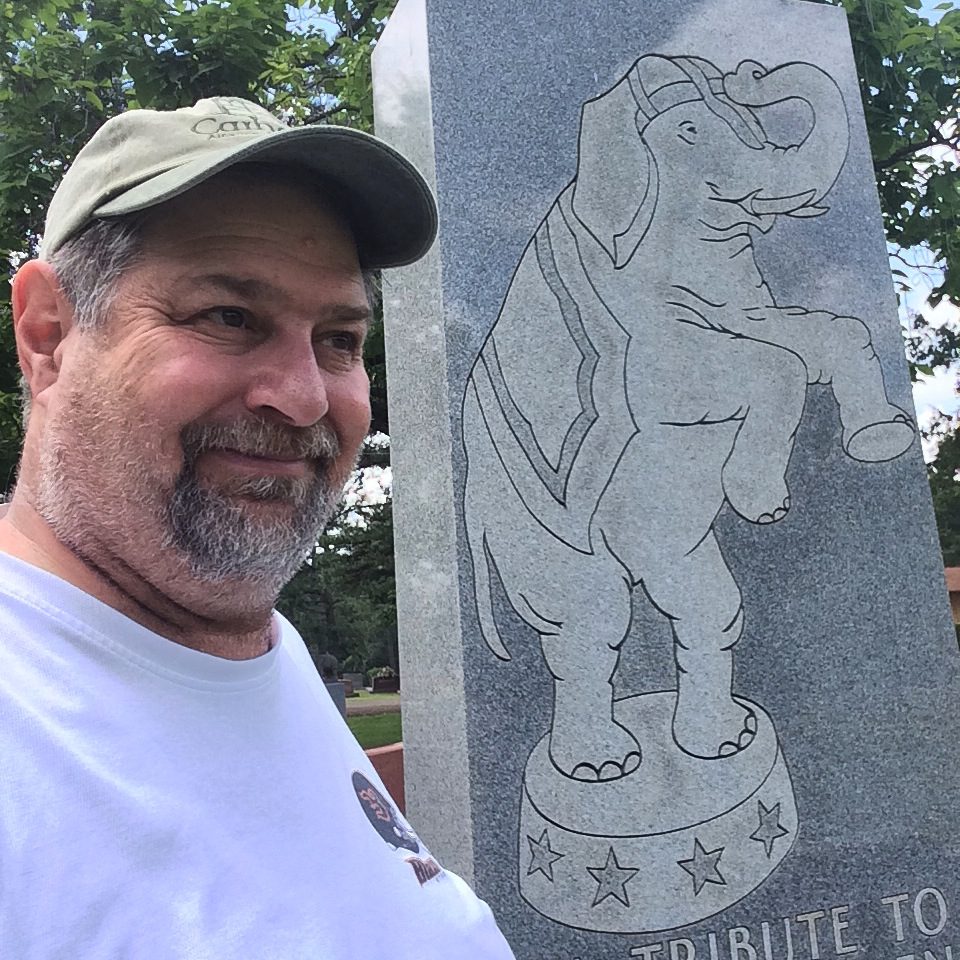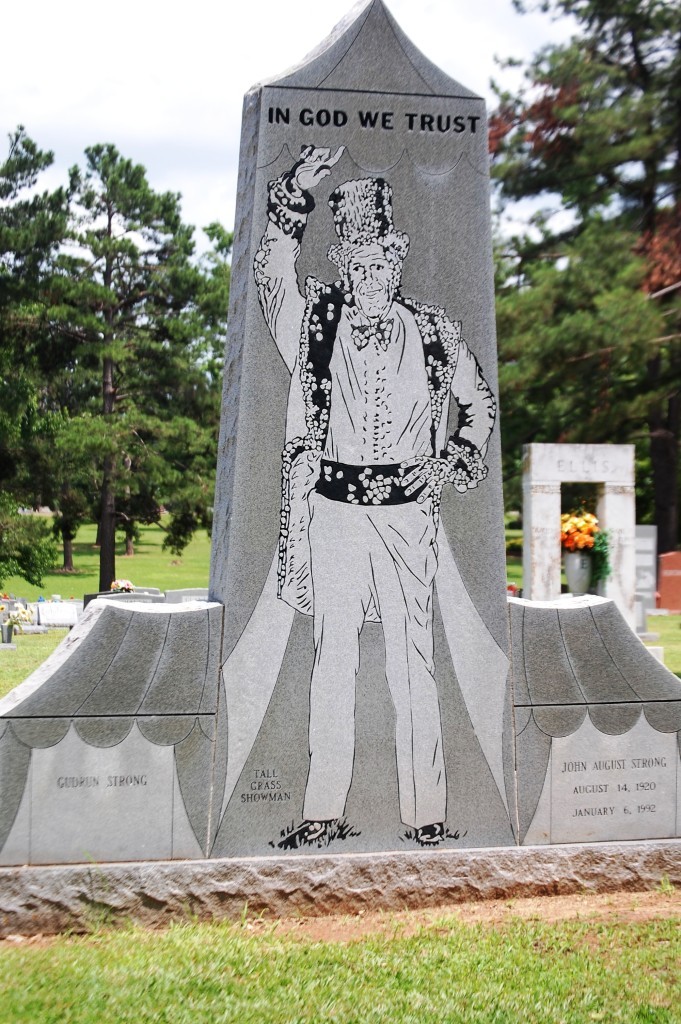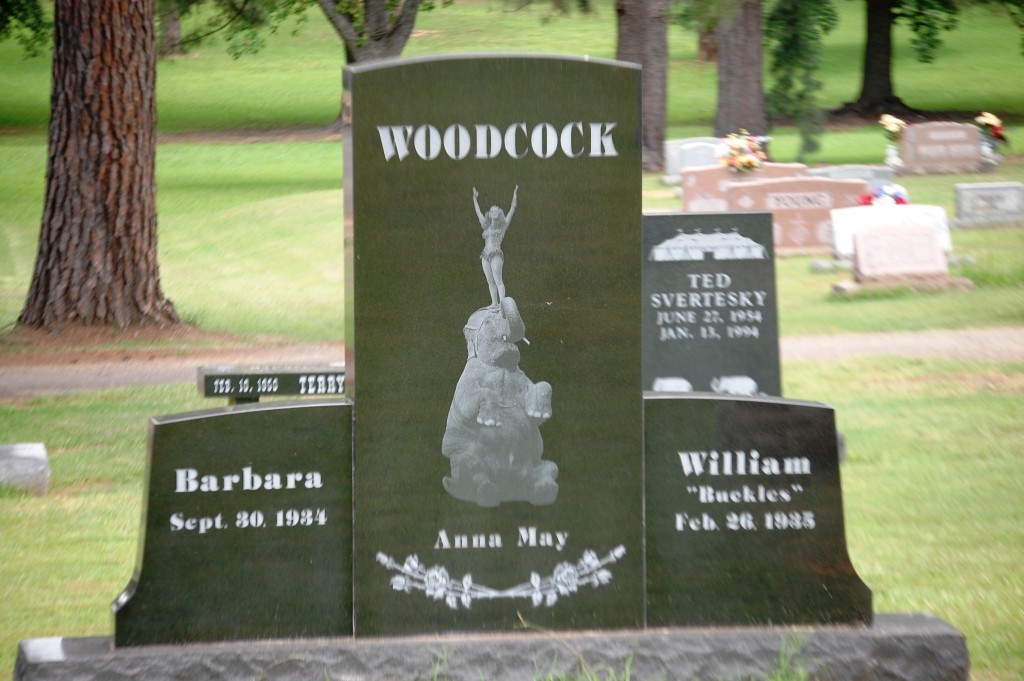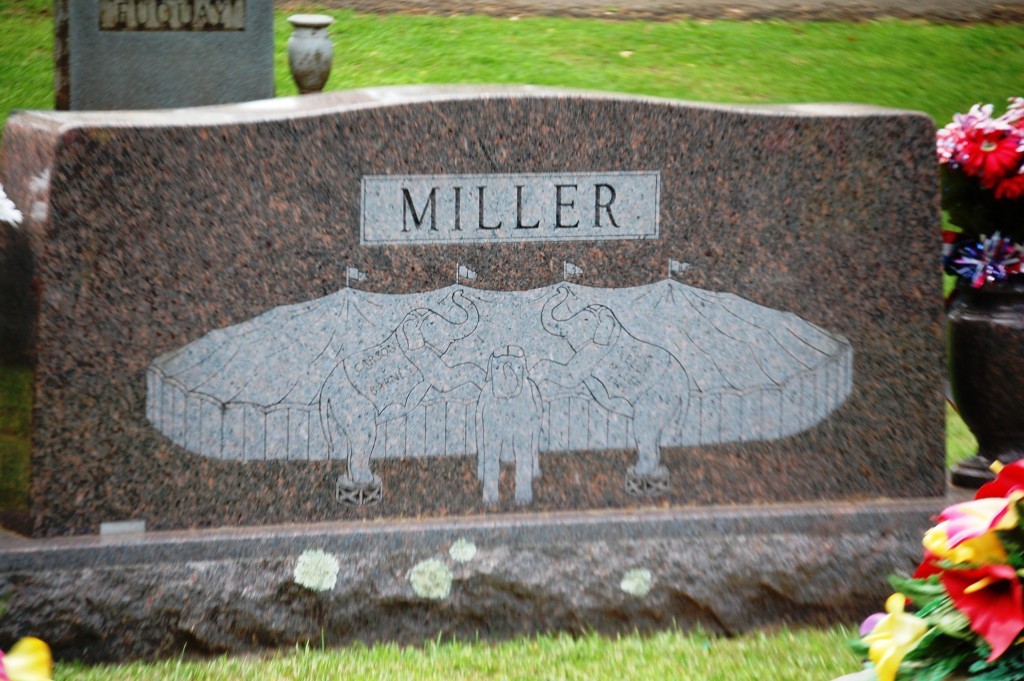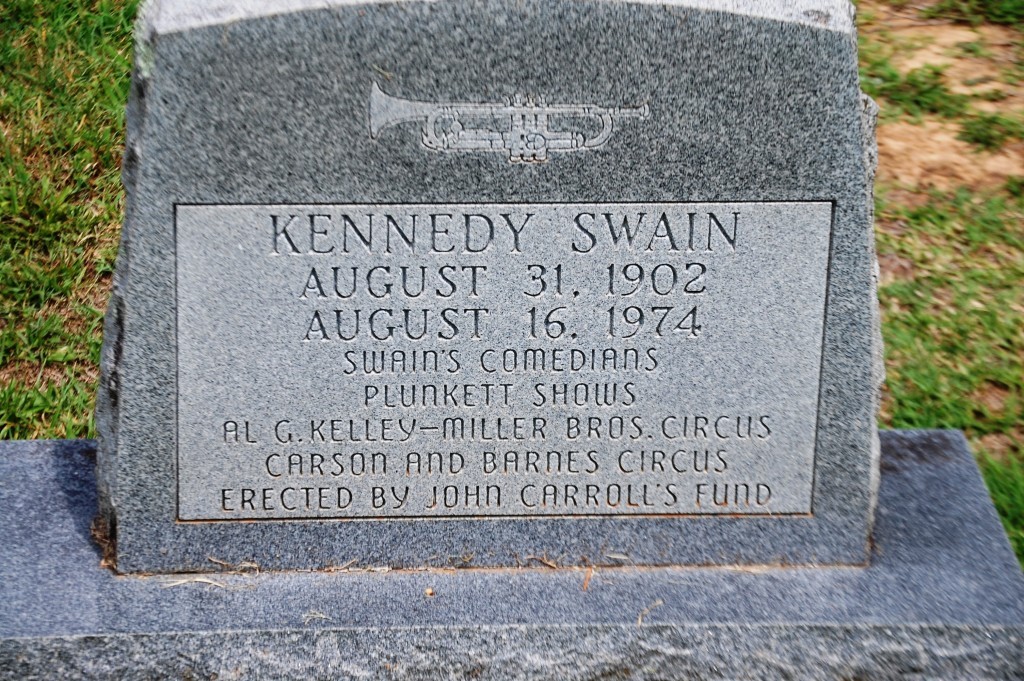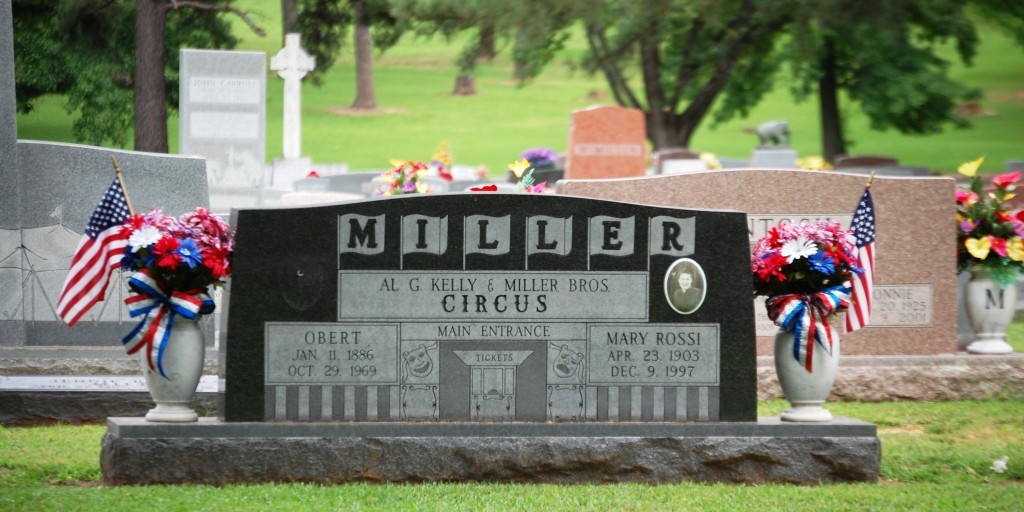 Honestly, I was touched at the love I could feel in this place.  Many times my visits to cemeteries are peaceful and tranquil, but they exude some sense of sadness.  In this case, I was filled with joy.  those these performers had passed on, they still brought the joy out in an old guy who has not been to a circus since the 1970s.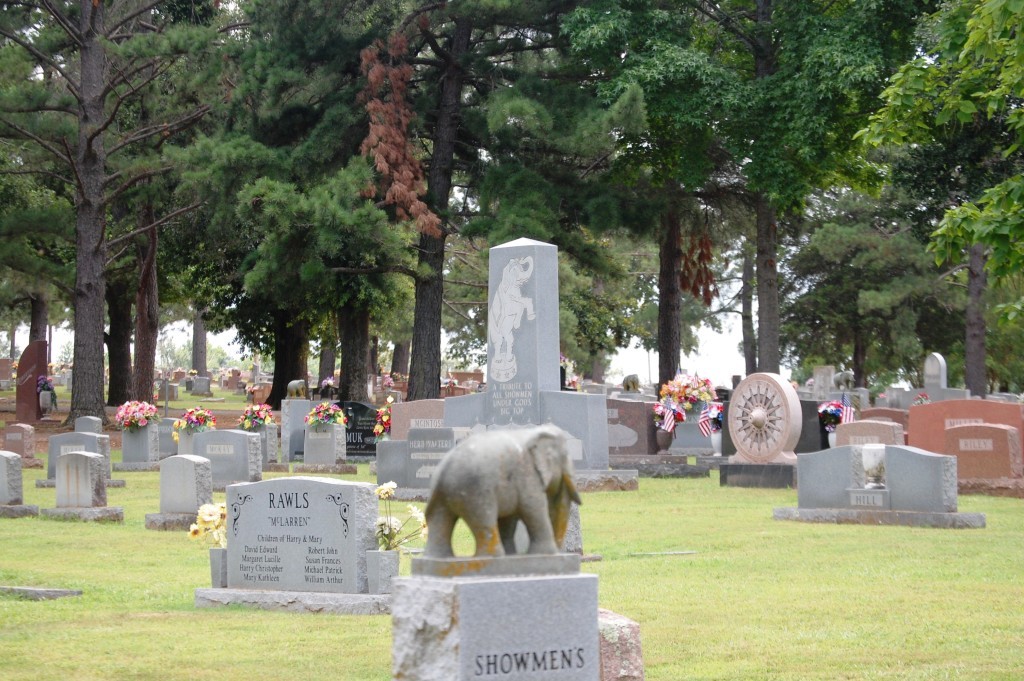 After my wonderful visit to Mt. Olivet, I was back on the road heading east on US 70 toward my next unique named town…Valliant, OK.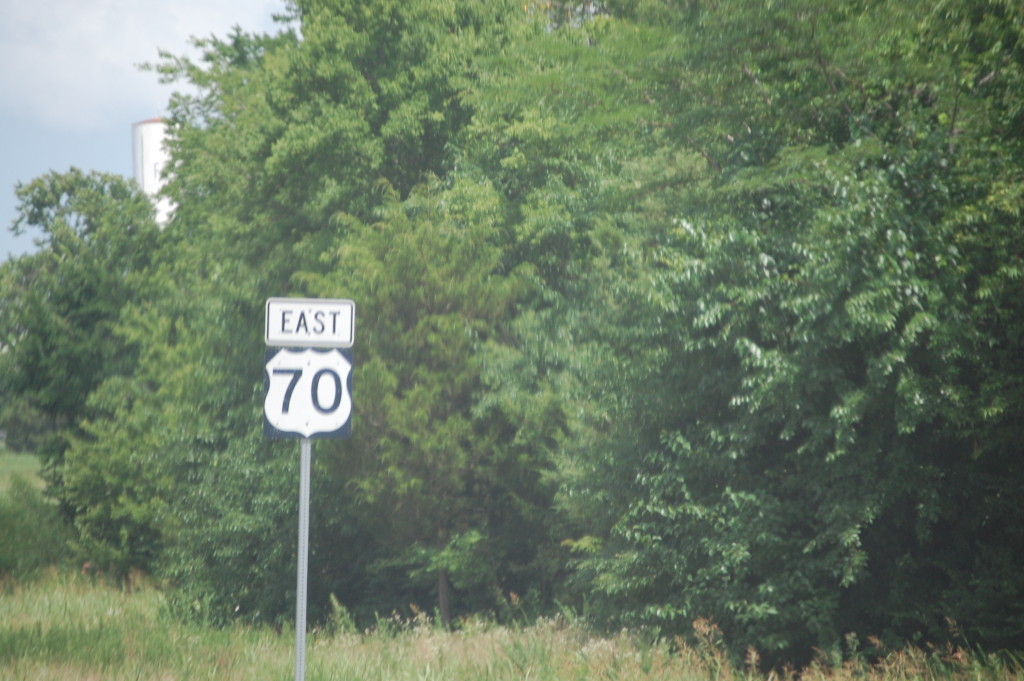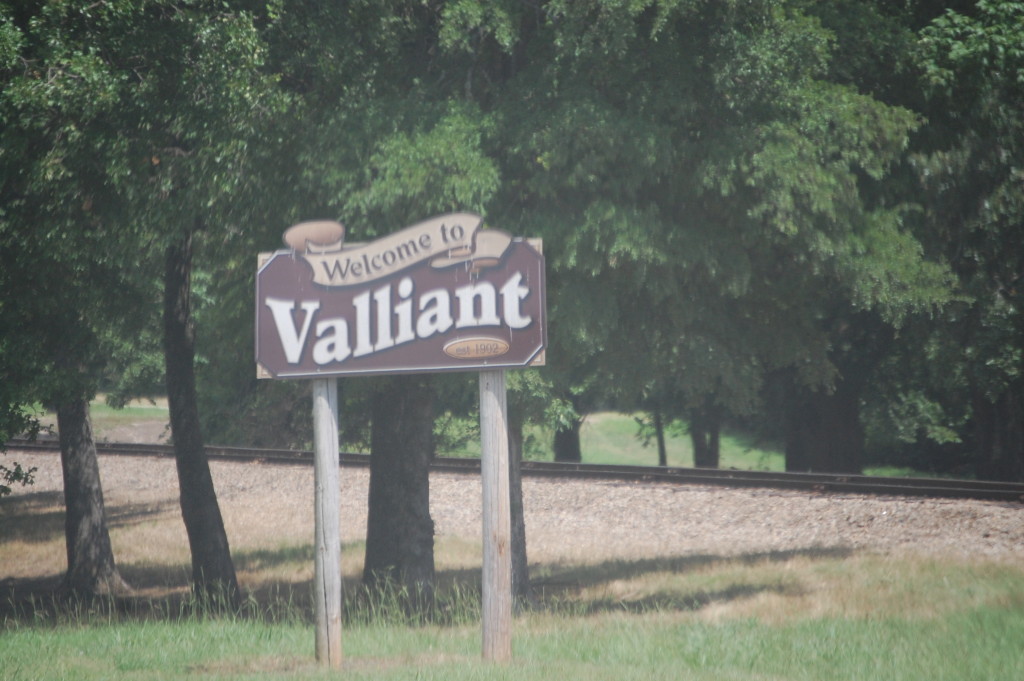 Valliant was founded June 2, 1902, and named for Frank W. Valliant, a chief divisional engineer for the Arkansas & Choctaw Railroad being constructed in the area at that time. Valliant is famous for its annual Watermelon Festival at the City Park.  Unfortunately, I was not there for the festivities, so I just passed on through valiantly….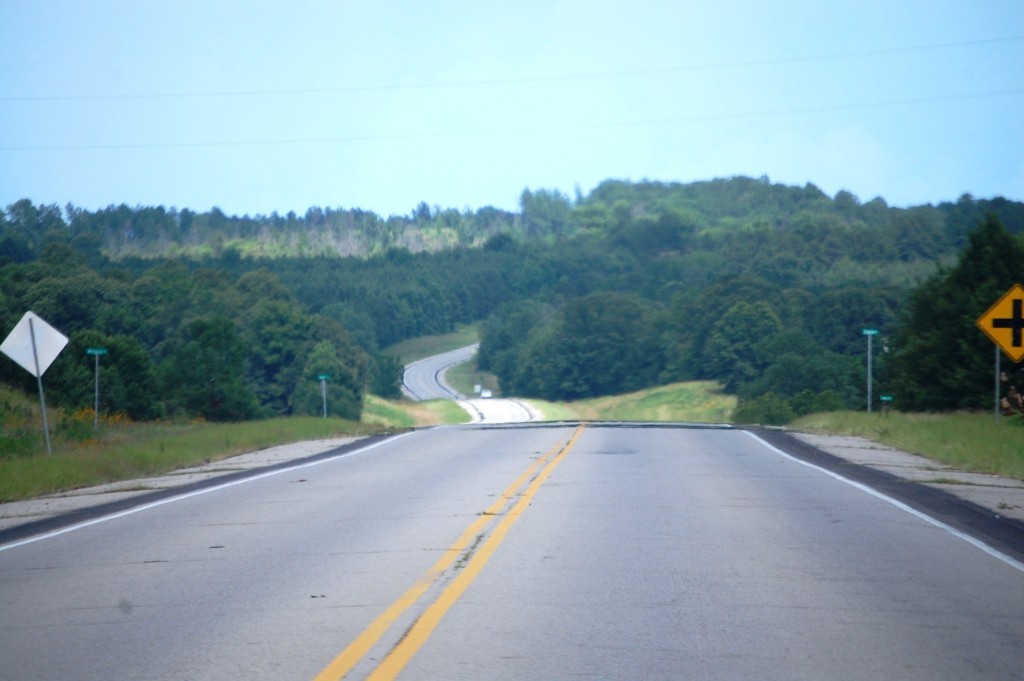 Lest any of you think that Oklahoma is just a big state with lots of flat land for cattle, think again.  There are some beautiful wooded areas and plenty of rolling hills in the southeast corner of the state.  Driving along OK Hwy 98 to OK Hwy 3 is a wonderfully beautiful drive.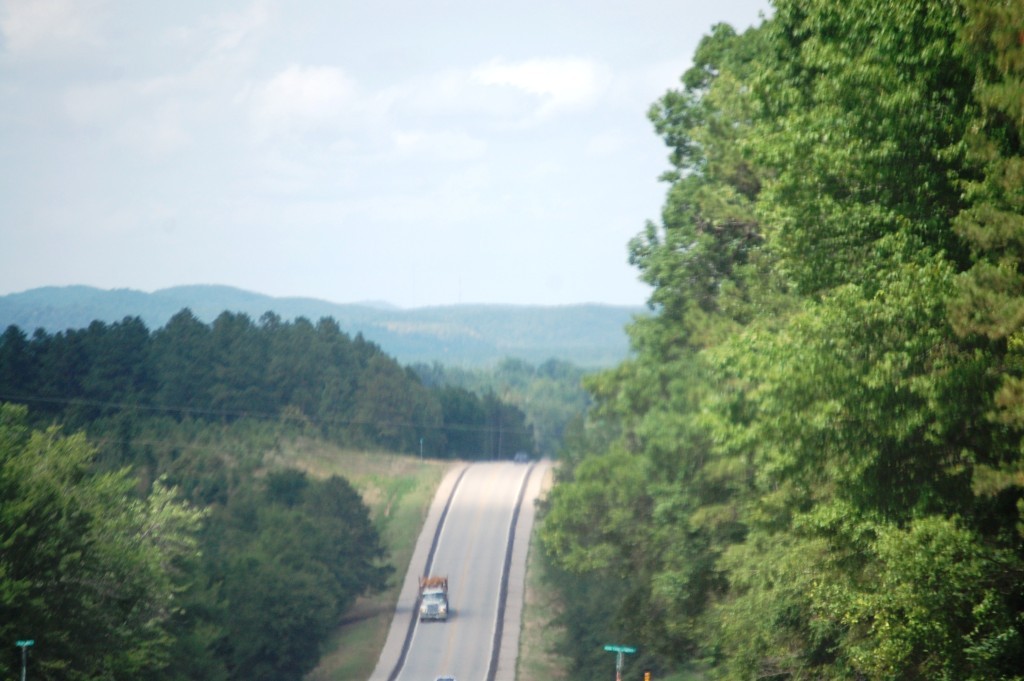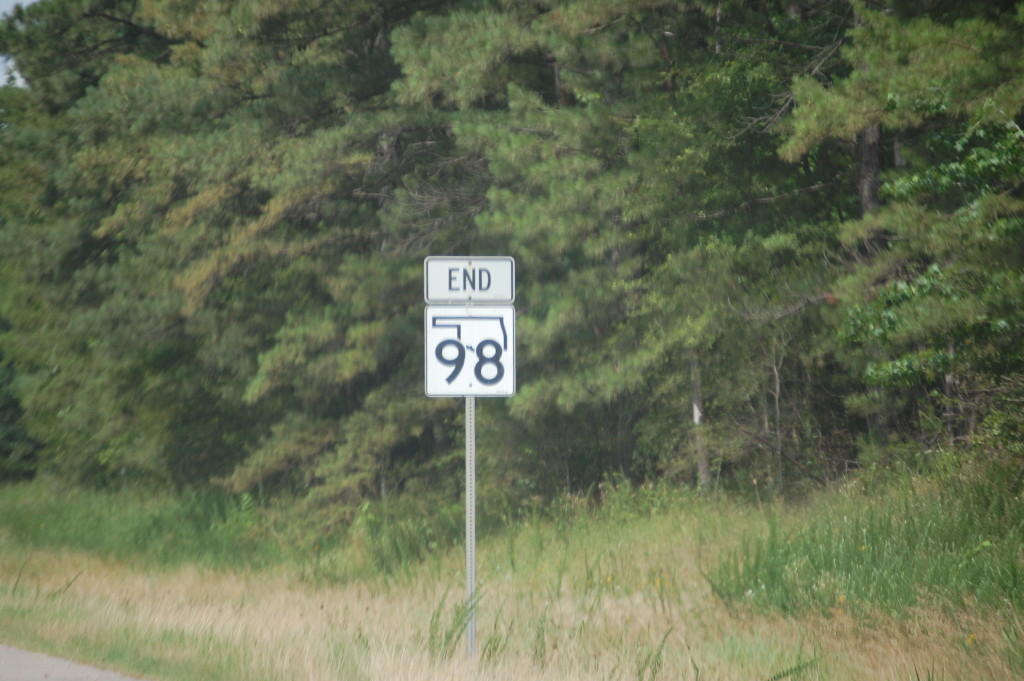 At highway 3 one can either go northwest to Antlers, OK or east to Broken Bow through the Choctaw Nation, which was the direction I went (actually visited Antlers a few years ago).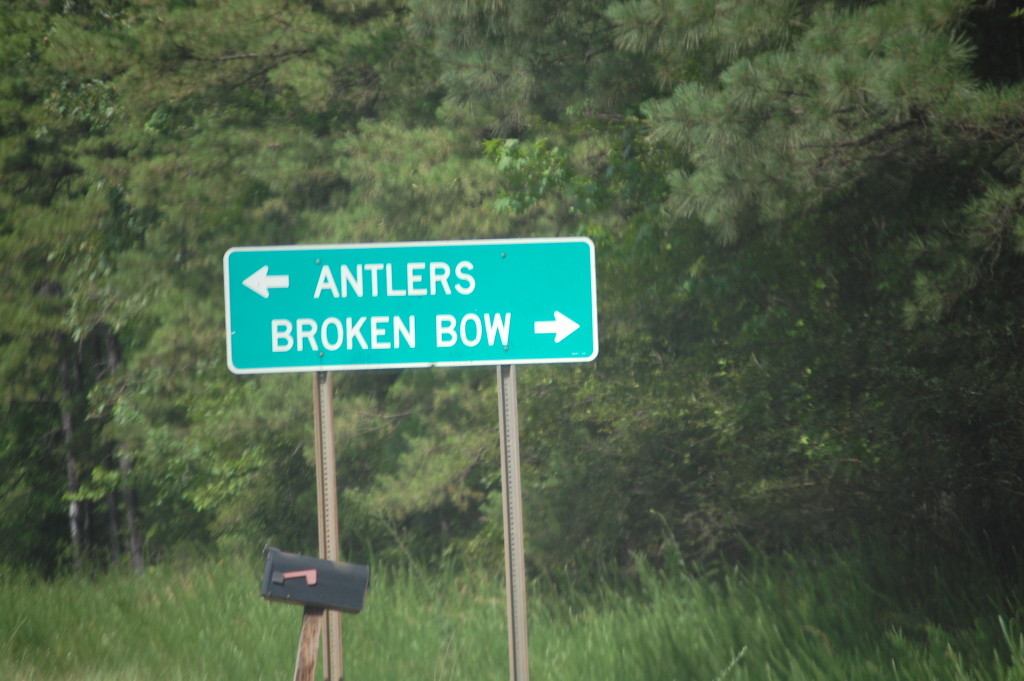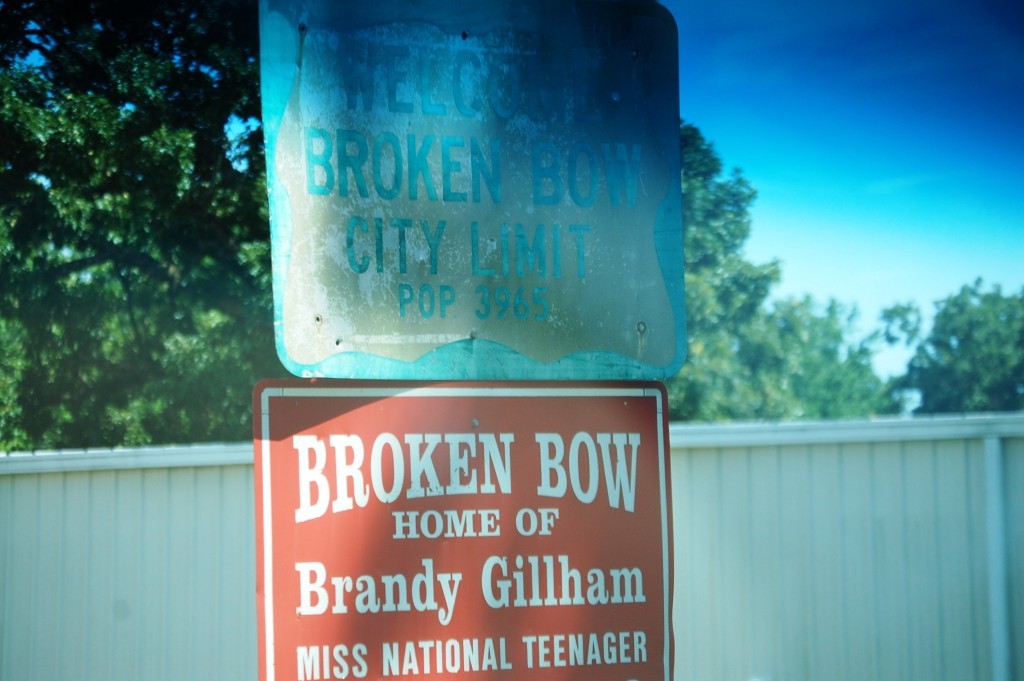 Broken Bow has one of those classic old motels with a classic neon sign.  The End of Trail Motel is one of those motels like I visited in the 1960s.  Would love to have stayed there for the night.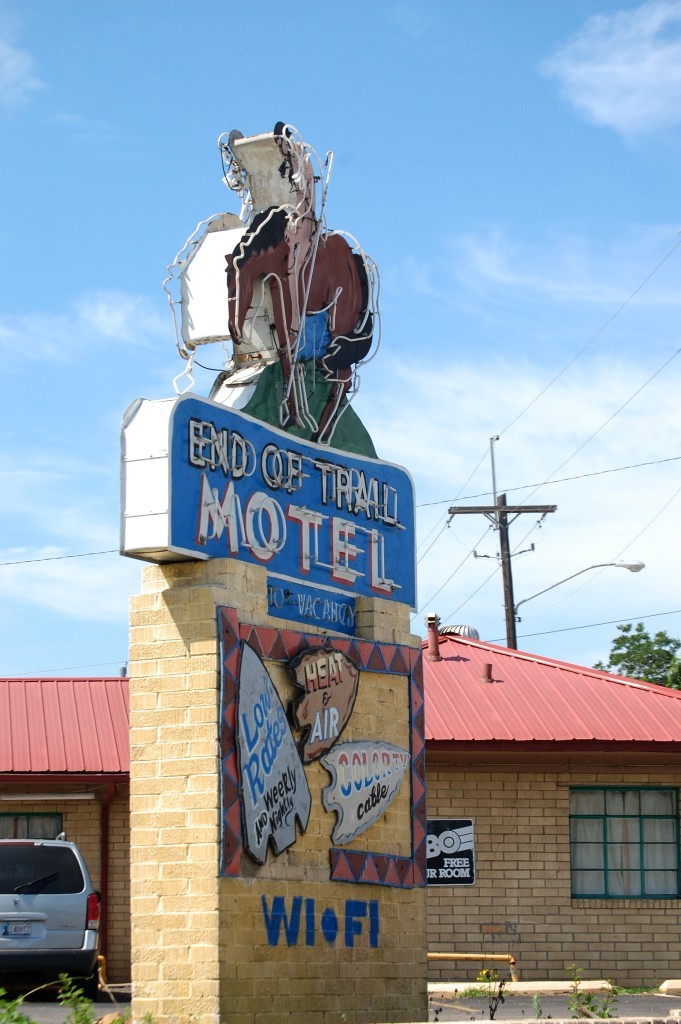 I also was scared a bit by the big dragon mural along he side of a building…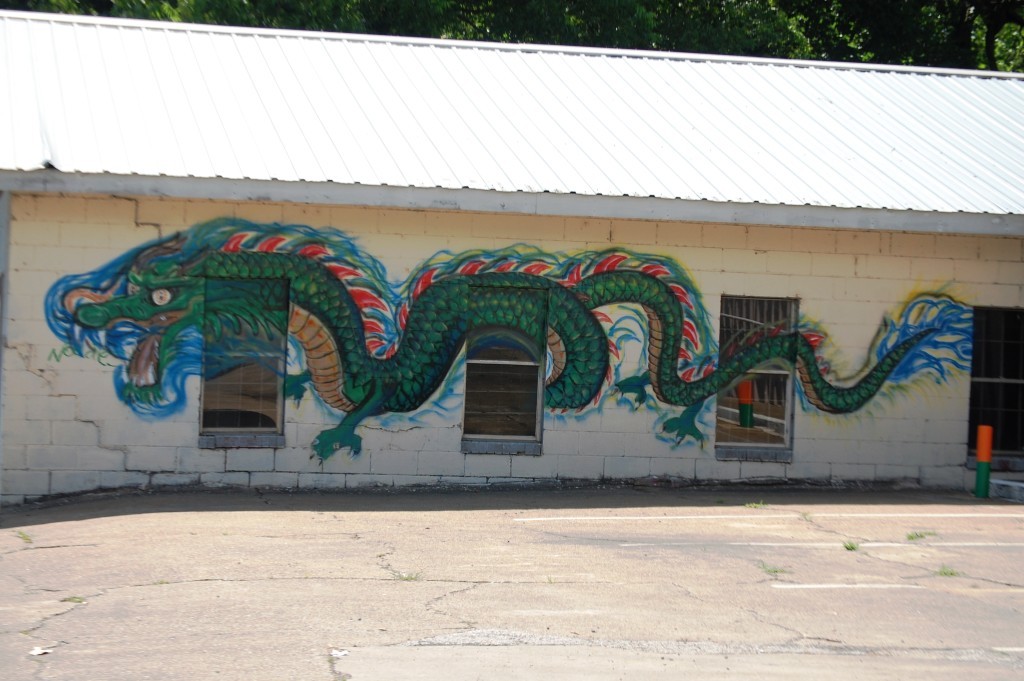 From Broken Bow I drove north on US 259 along beautiful Broken Bow Lake and then veered east on OK Hwy 4 onto Arkansas Hwy 4.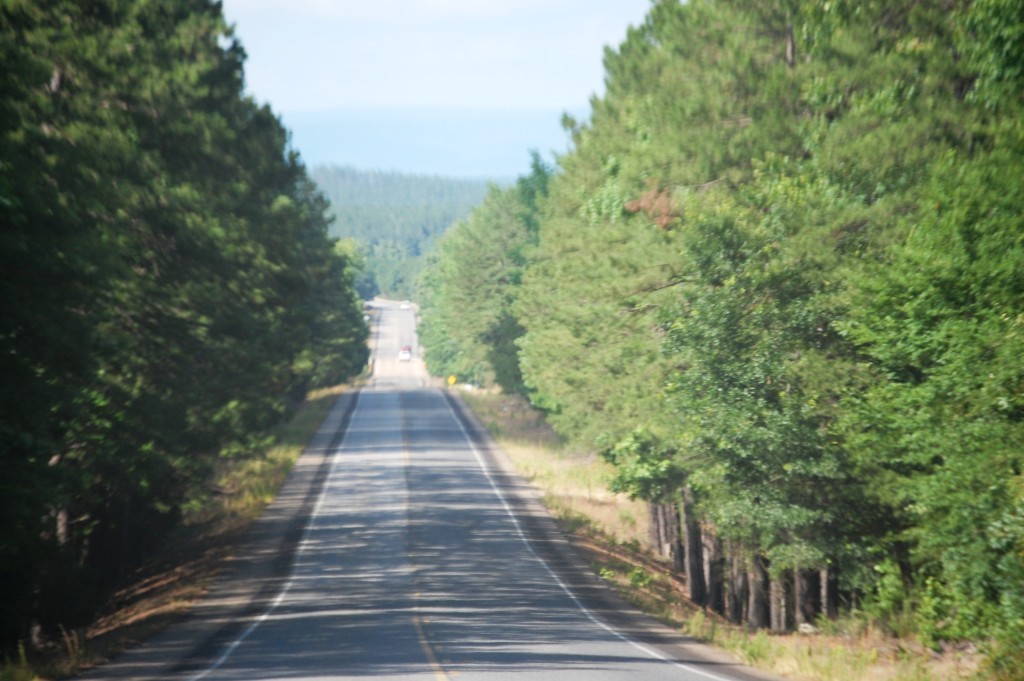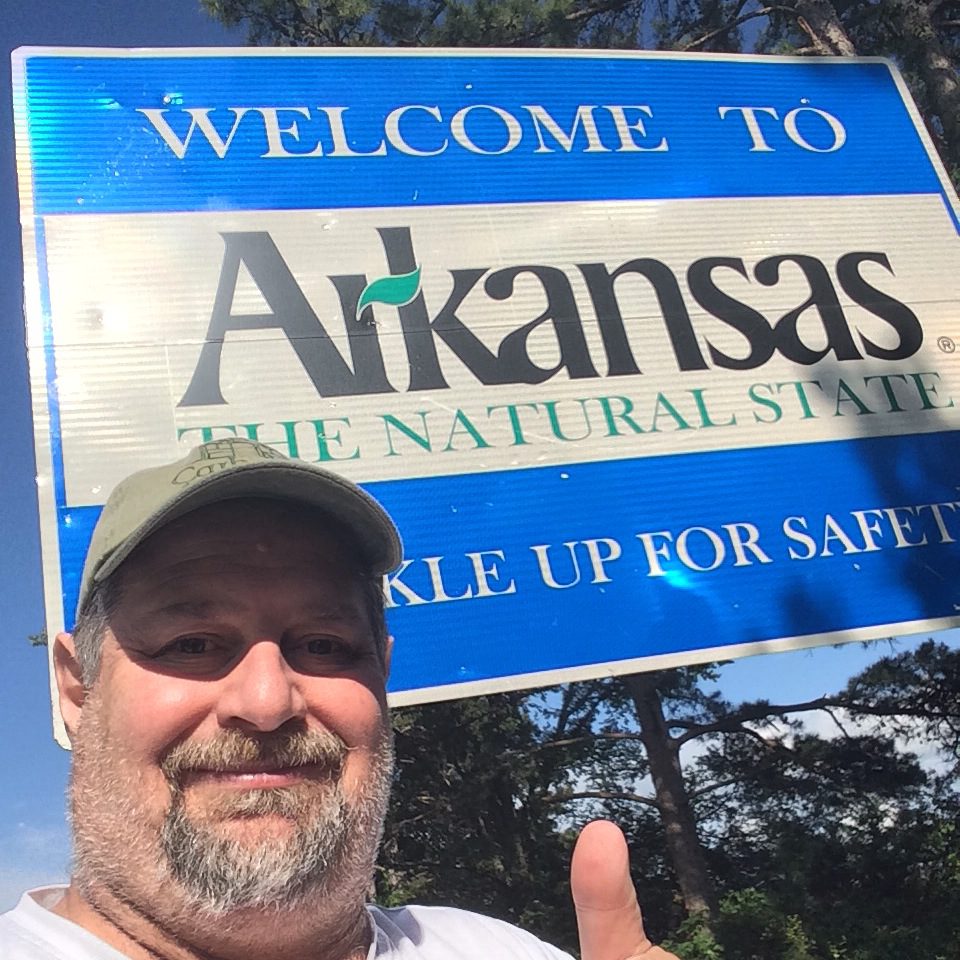 Following Arkansas Hwy 4, a beautiful drive through the woods, I made my way north on US 71/US 59 out of Cove, AR.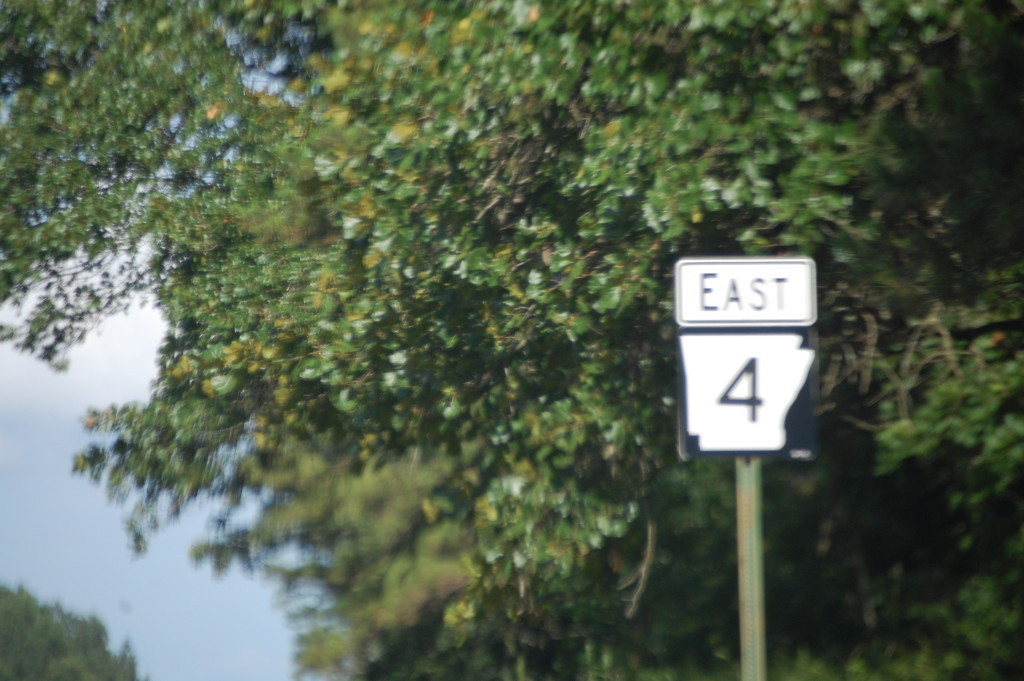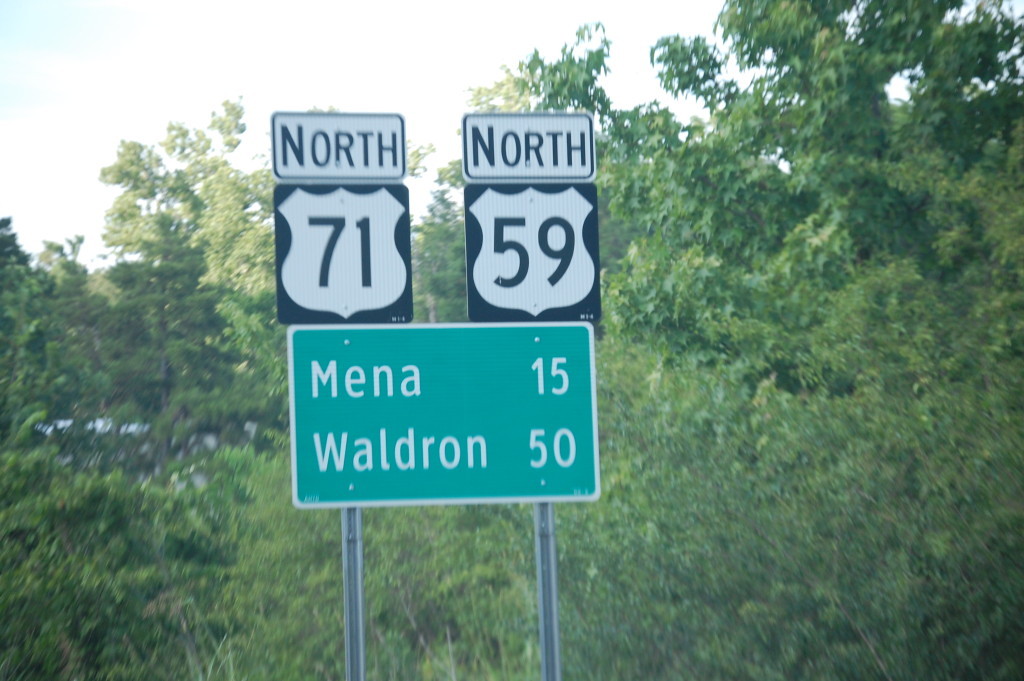 I soon made my way into the quaint town of Mena, Arkansas, the gateway to the Talimena National Scenic Byway (which will have to be on a later trip for me unfortunately) and also home to an old railroad depot, a few old signs and a nice atmosphere.  Mena was founded in 1896 as a railroad town at the eastern foot of Arkansas's second highest peak, Rich Mountain (elev. 2,681).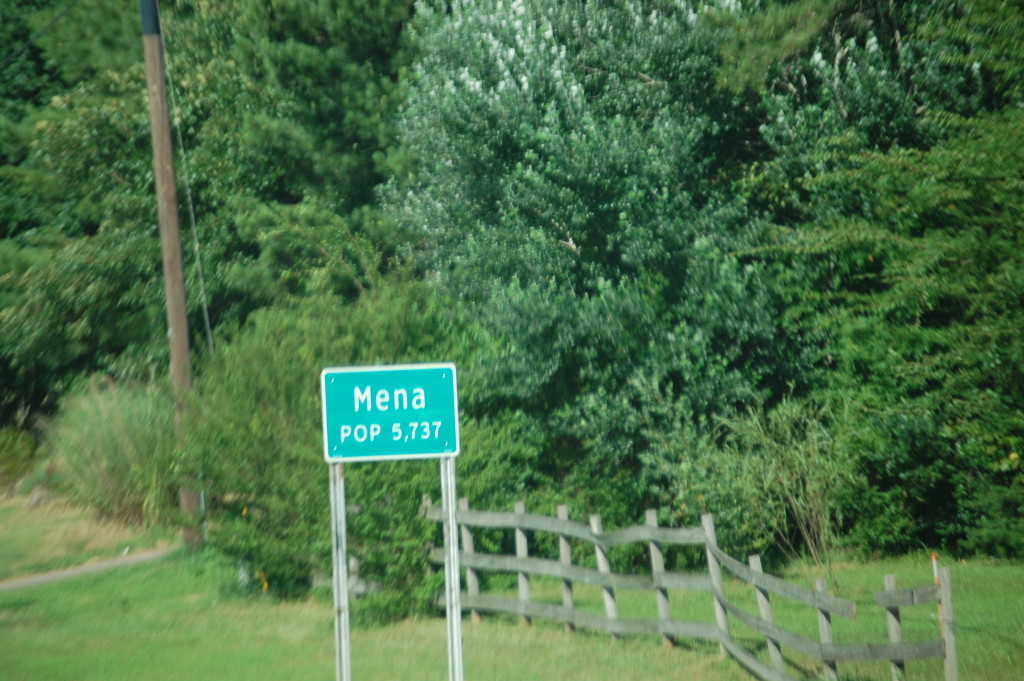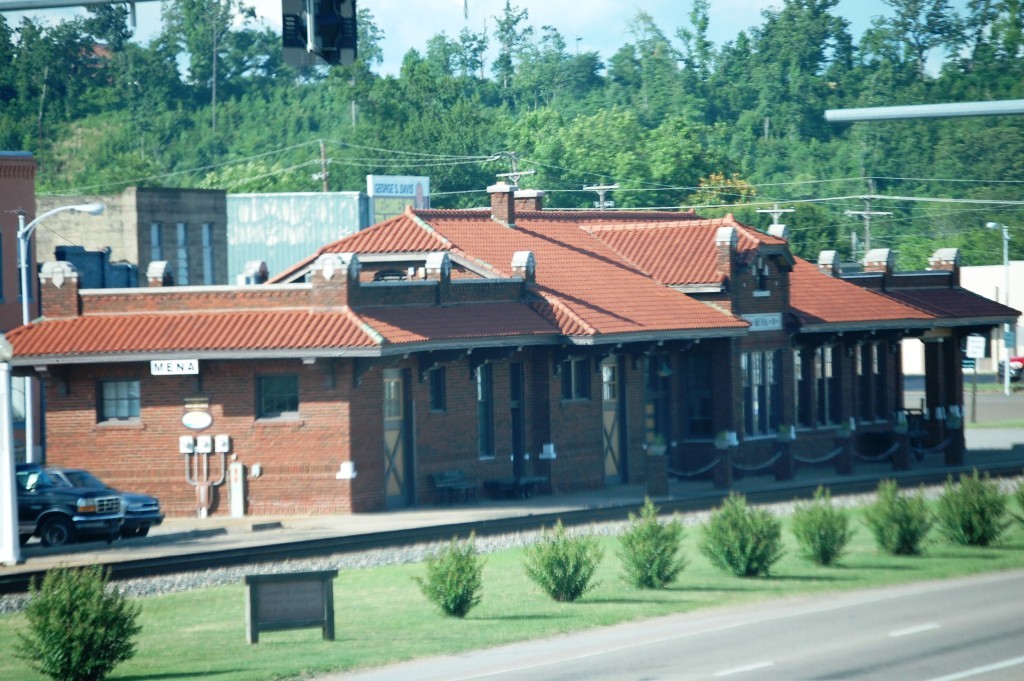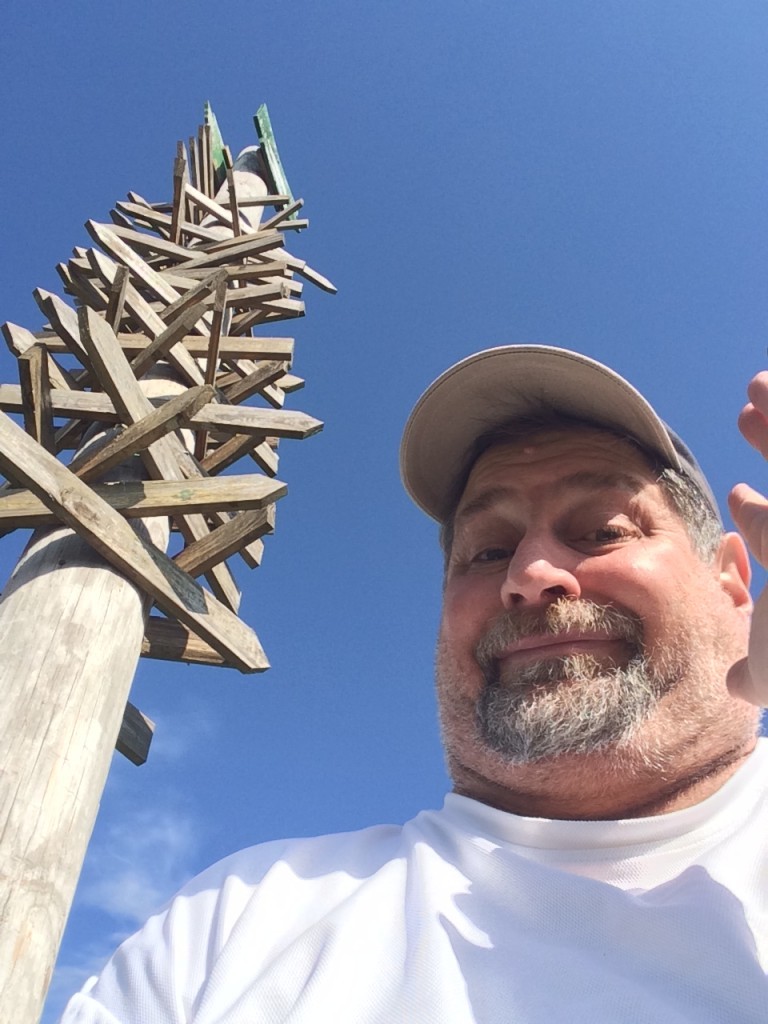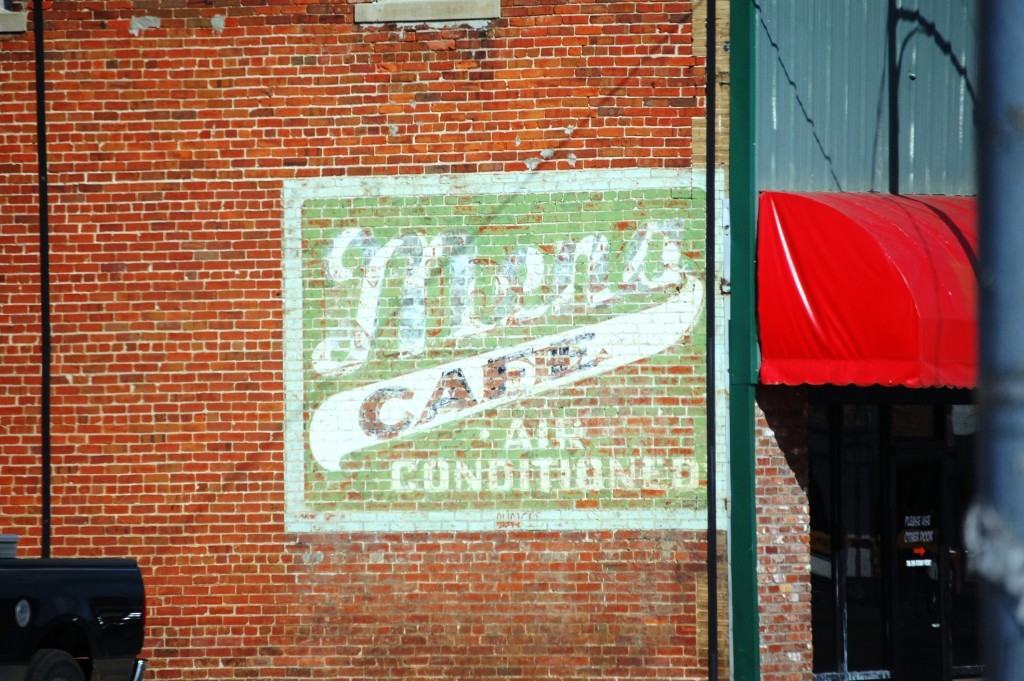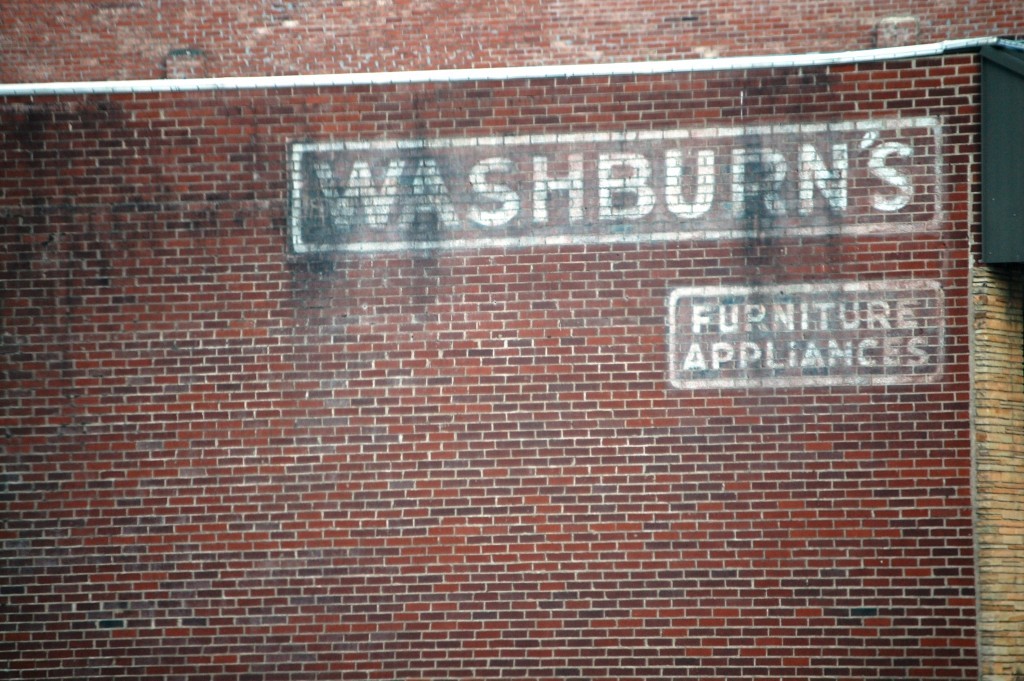 Mena had this cool retro Studebaker place and it still had the old Studebaker cars.  It was built in 1948 and designed by Frank Lloyd Wright. (see more here)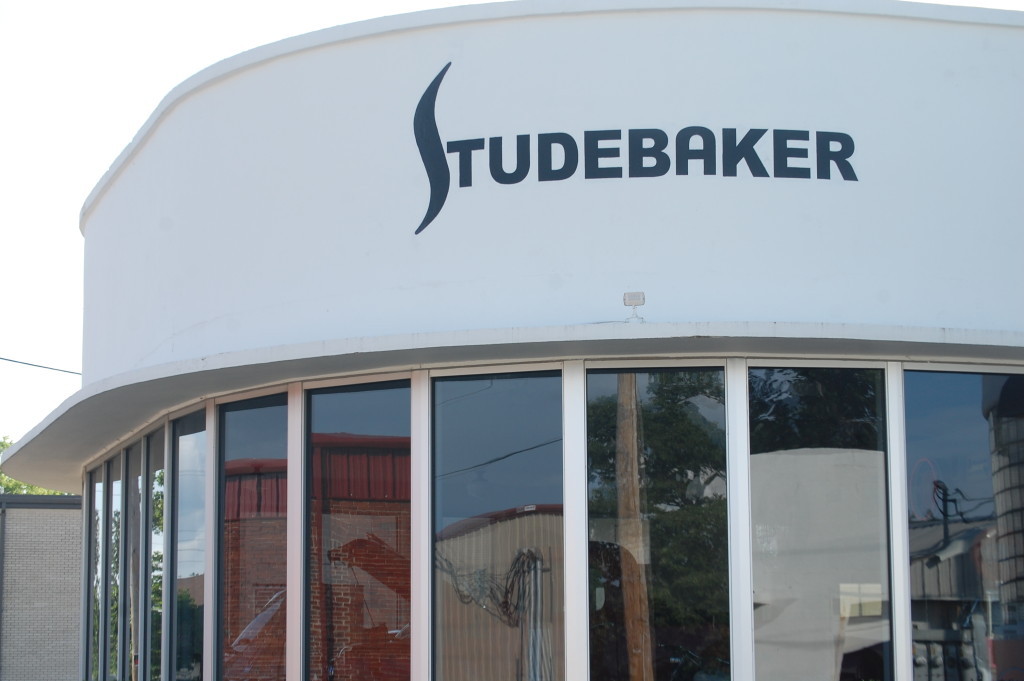 A nice old mural welcomes you to Mena.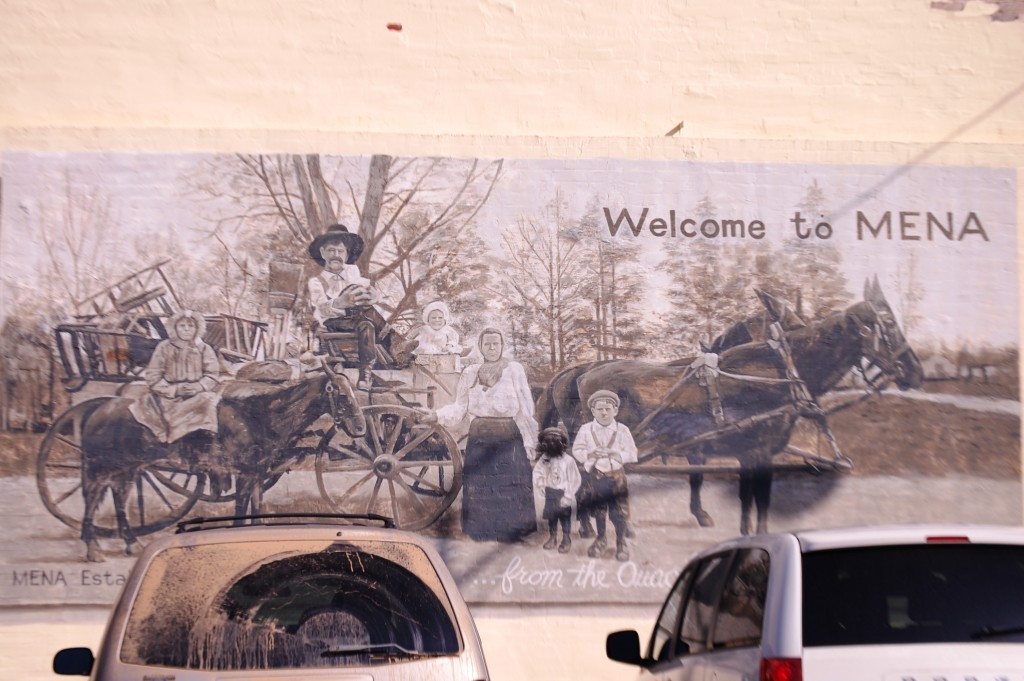 After Mena I took a beautiful drive down Arkansas Hwy 8 towards Arkadelphia, the last stop on this leg of the trip.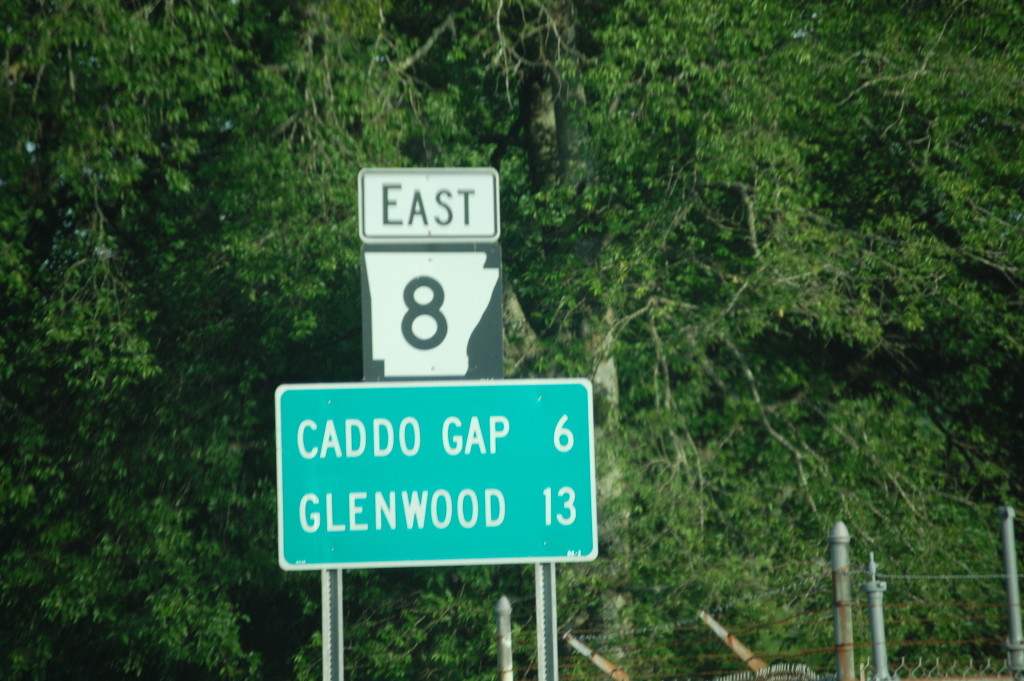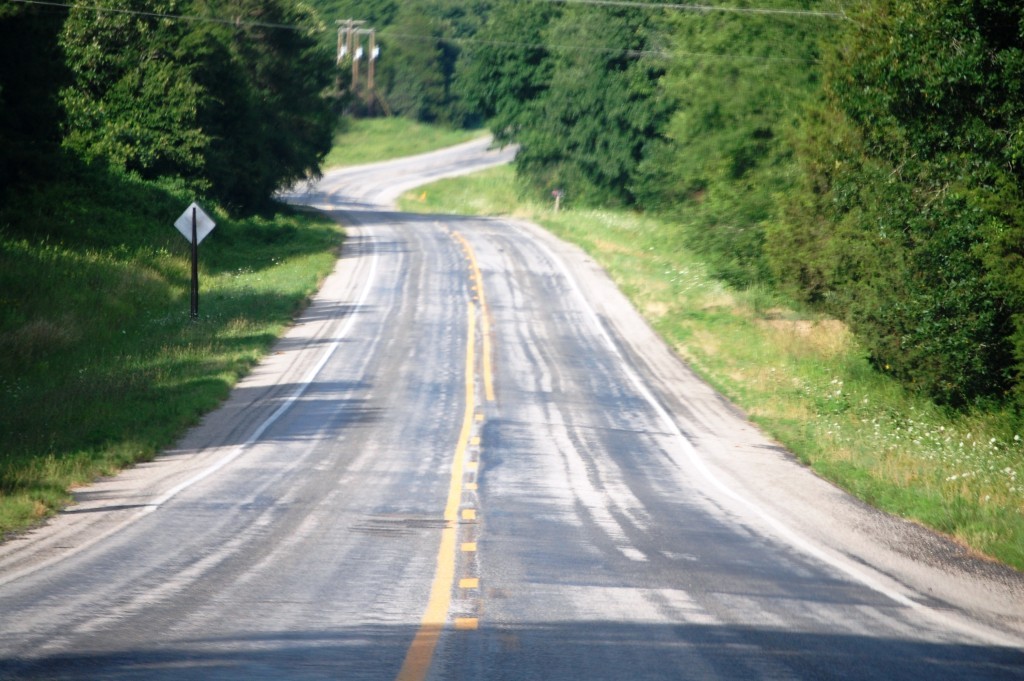 Highway 8 is a beautiful drive through the Ouachita Mountains of Arkansas. The first major town is Glenwood, which is nestled in the foothills of the Ouchitas along the Caddo River.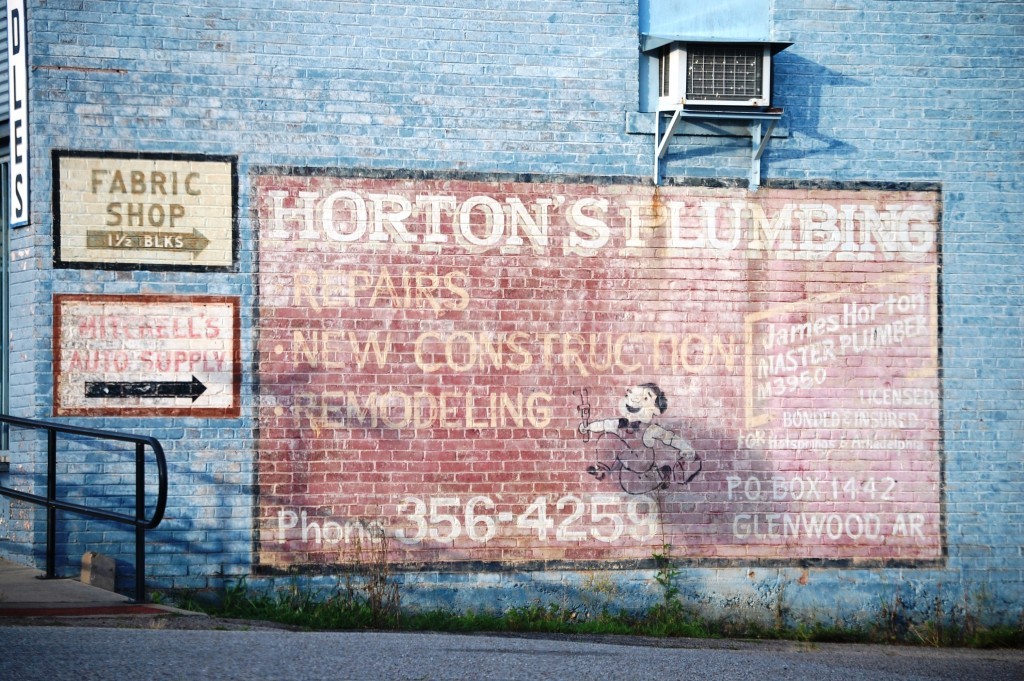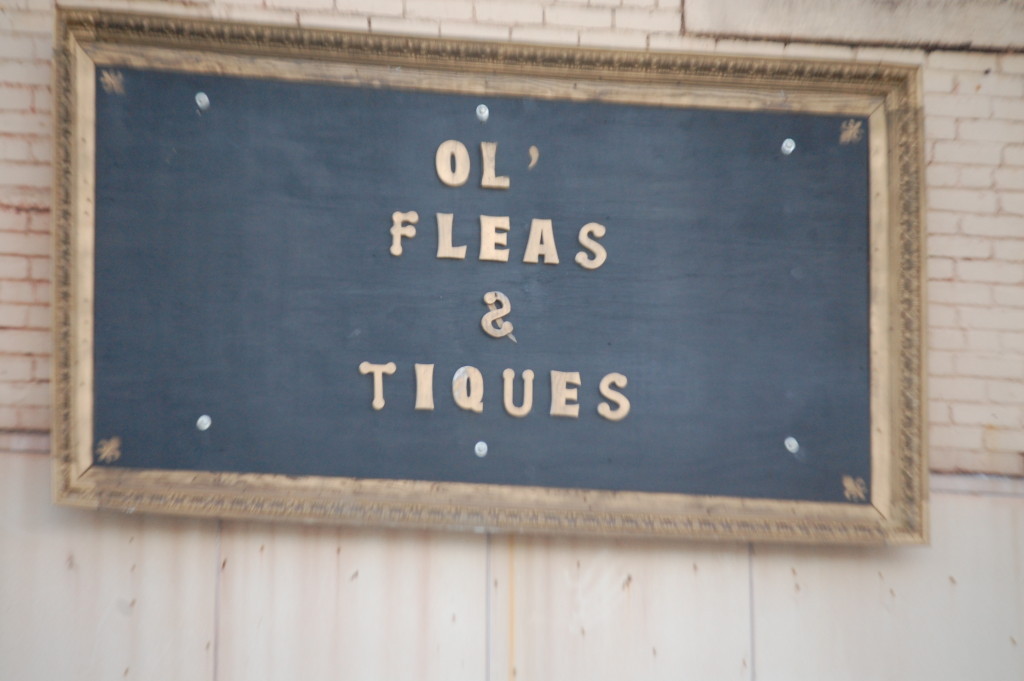 Glenwood is a cute town with some old antique shops and a guitar store.
Billy's House of Guitars looks like it is not only a guitar shop, but also a live music venue (for a show called Front Porch Pickin') in the hills of Arkansas.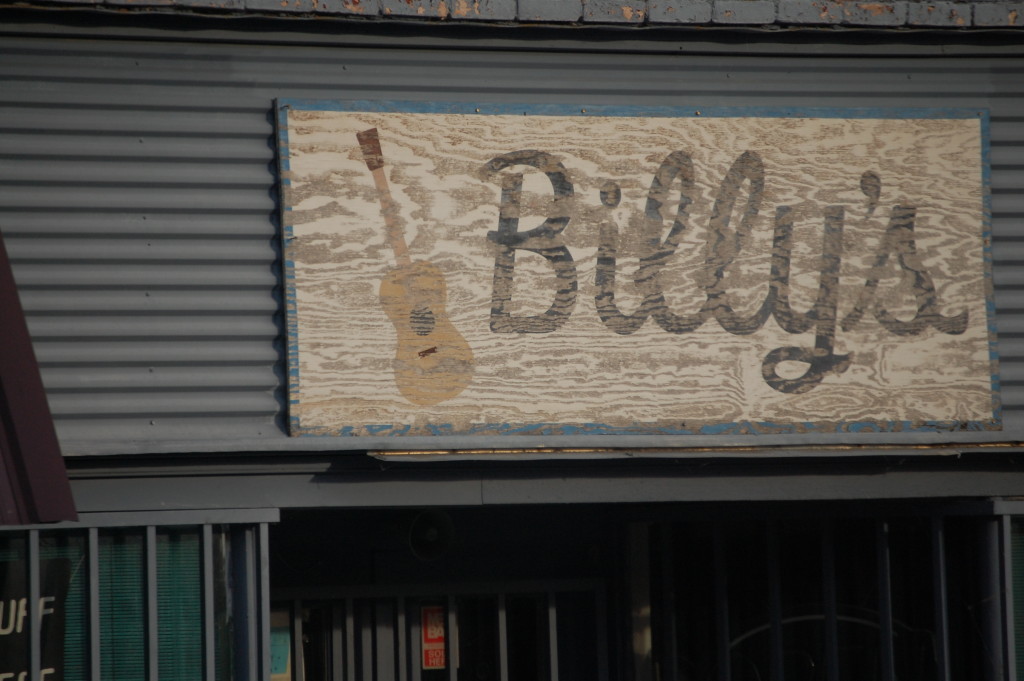 OK, so I have been to a Taxidermy and Cheese shop in Canada. How about a Barber Shop and Auction House?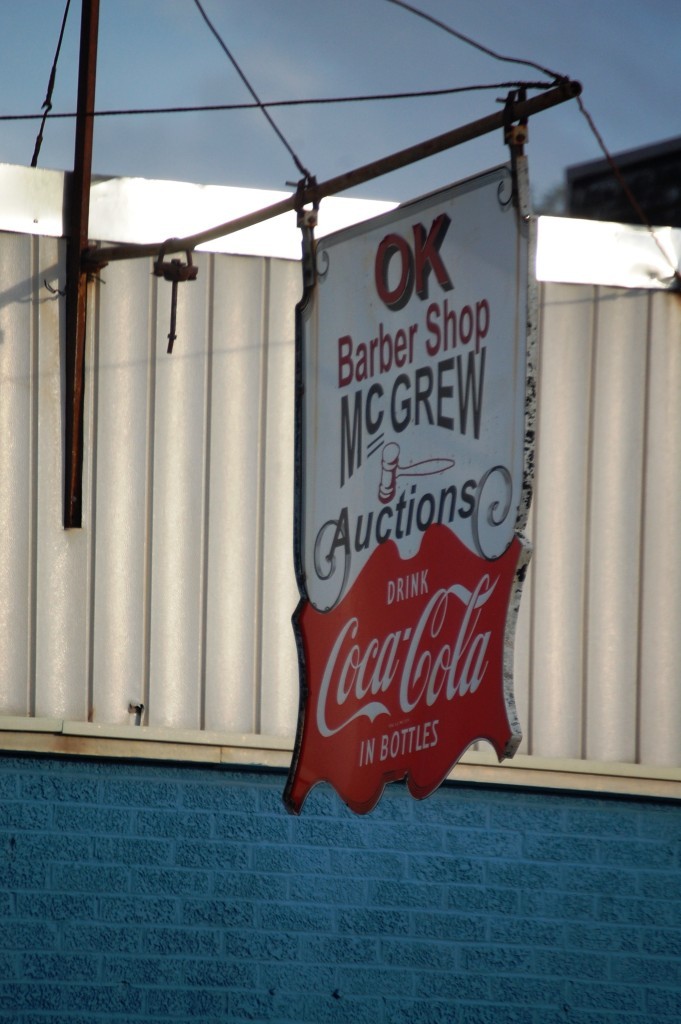 Another interesting place in Glenwood is the Cattlemens Livestock Market, which has some awesome murals!  I just happened upon it and had to stop.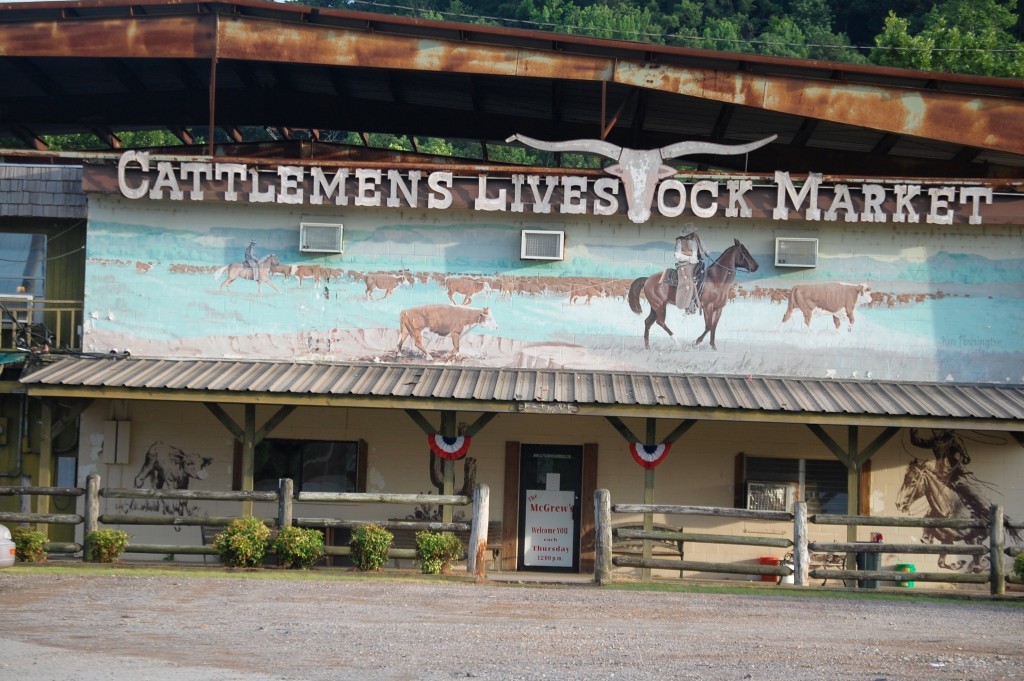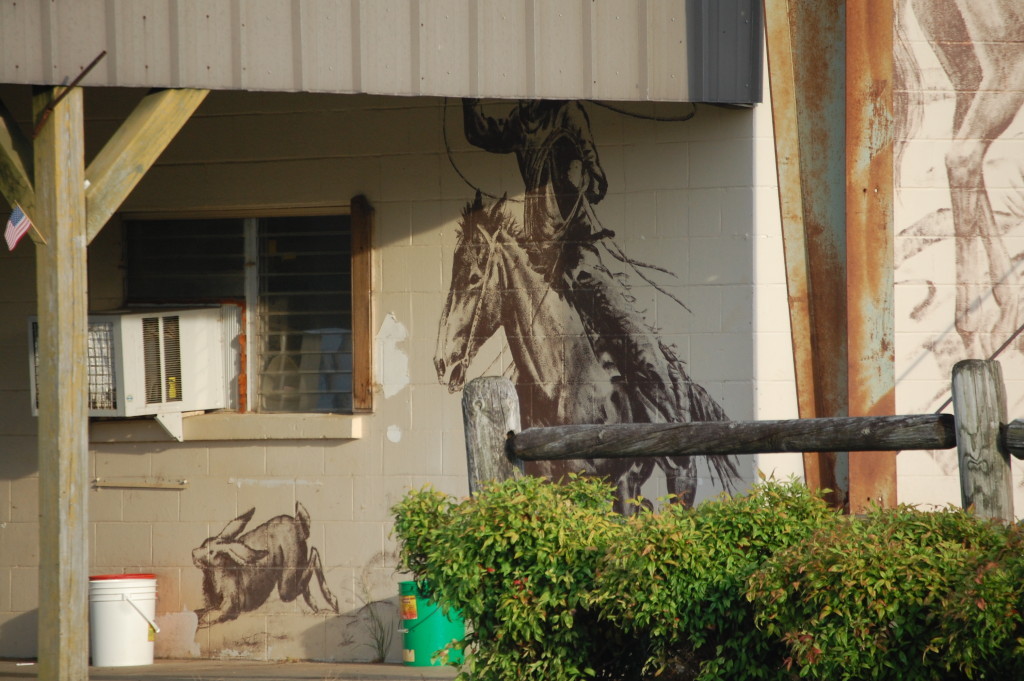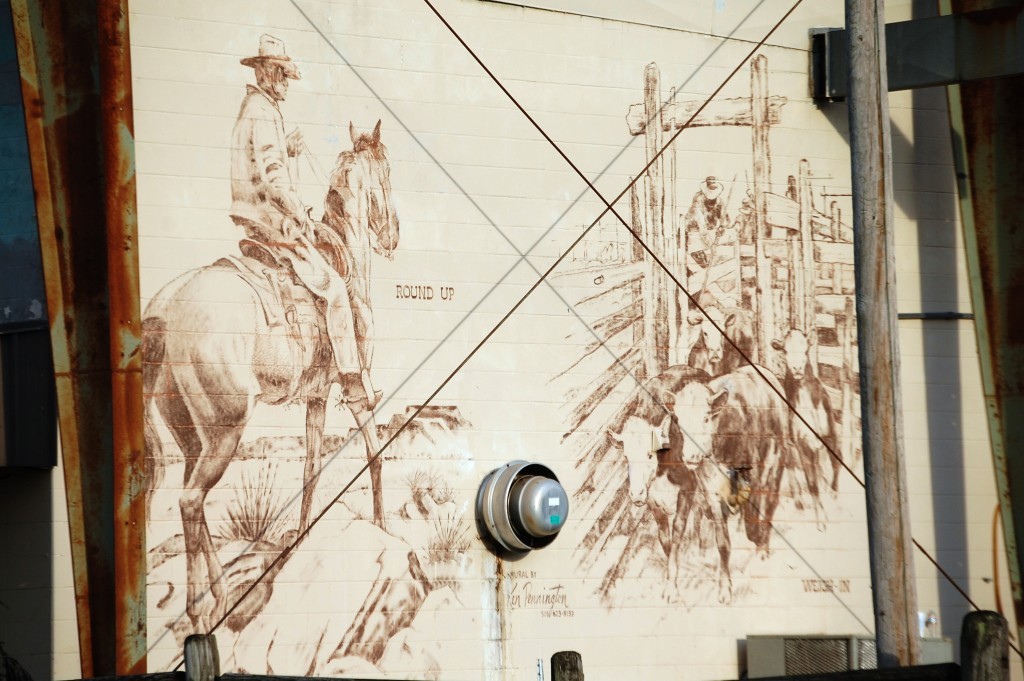 My brief stop in Glenwood was refreshing but I wanted to press on to my overnight stop in Arkadelphia, so soon I was back on the lovely drive down Arkansas 8.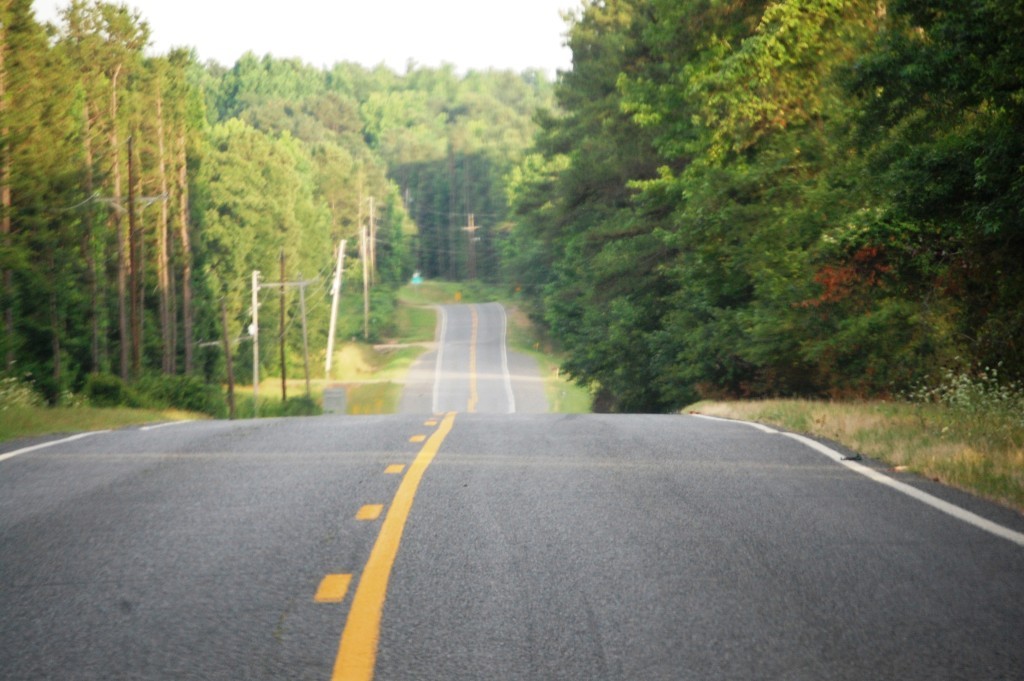 AS I drove through the hills a rainy mist ensued and every so often a rainbow would pop out in front of me.  It was really nice.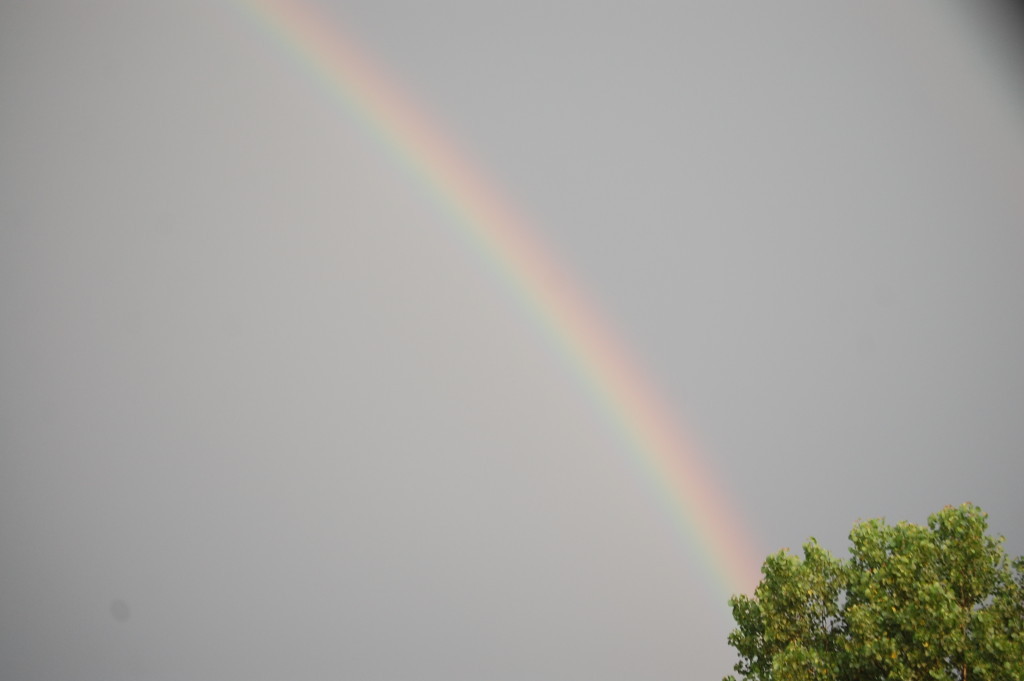 I then came upon a church, which I later found out was the Trinity Temple Assembly of God between Alpine and Arkadelphia.  As I approached the rainbow had moved and looked like it was coming from the church…a pretty unique shot.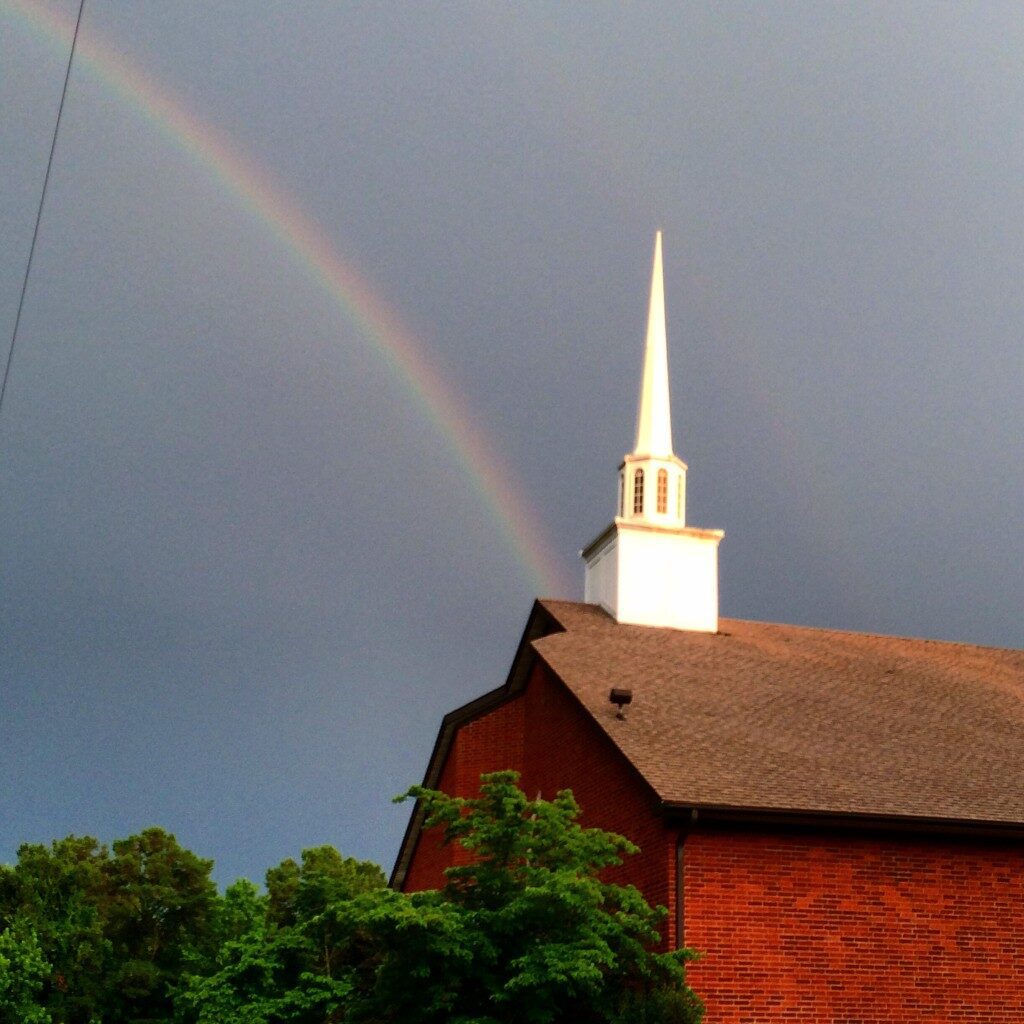 The rainbow continued on into Arkadelphia and floated over a Shell Station as a double rainbow.  It was so cool!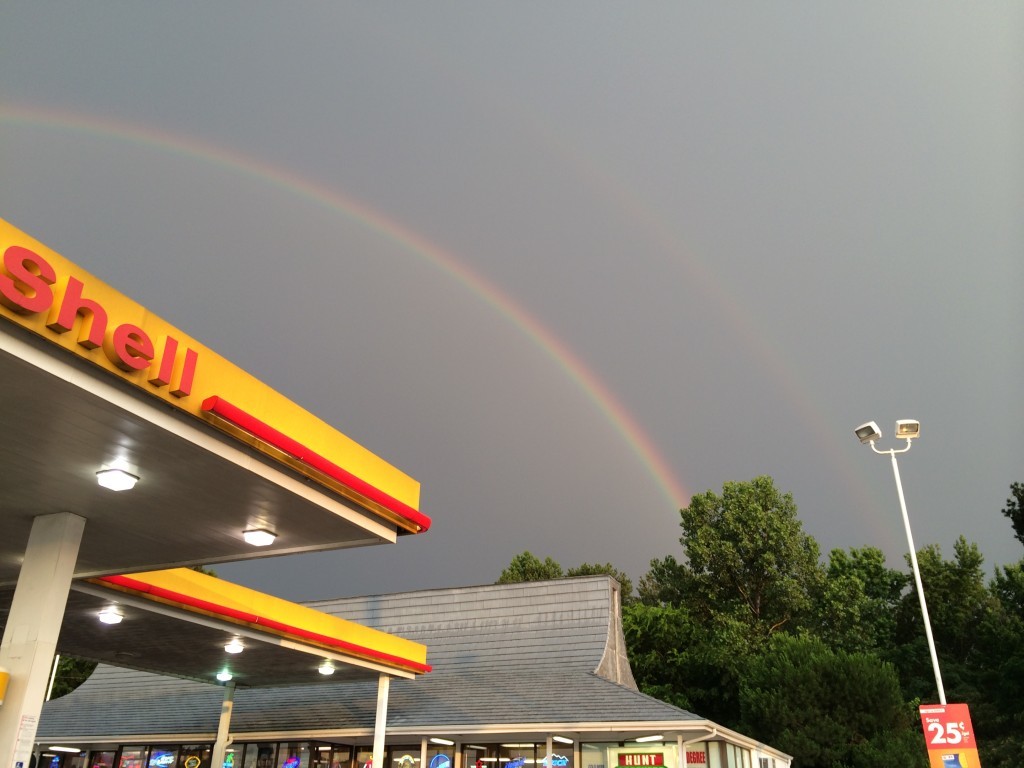 I finally made way into Arkadelphia.  A great name and a lovely town.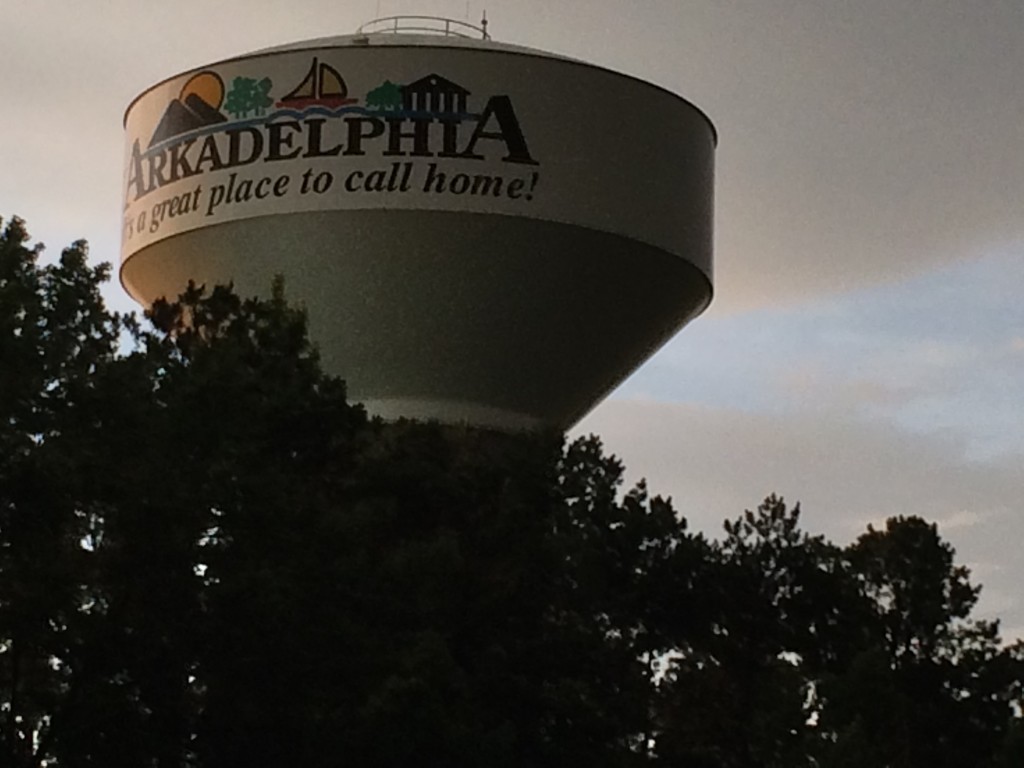 The day ended in a spectacular sunset, which I tried to capture.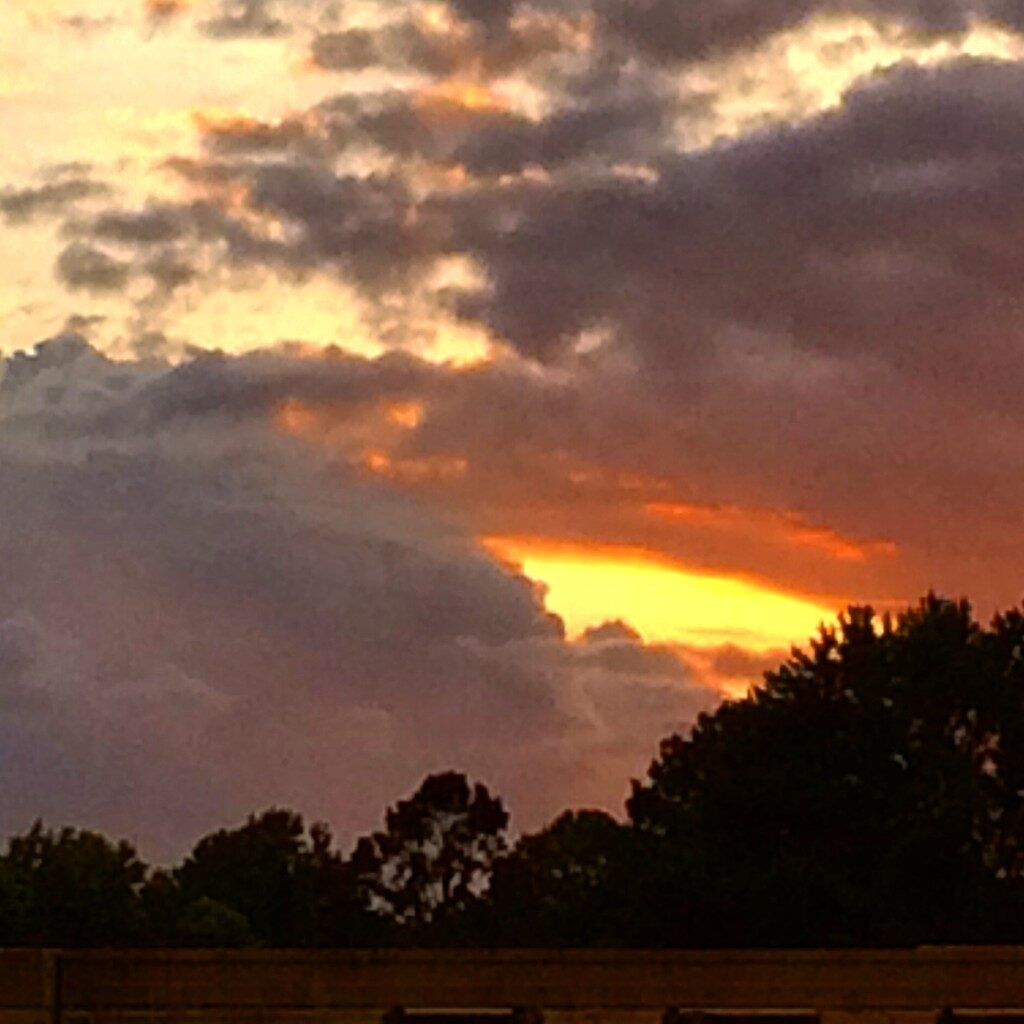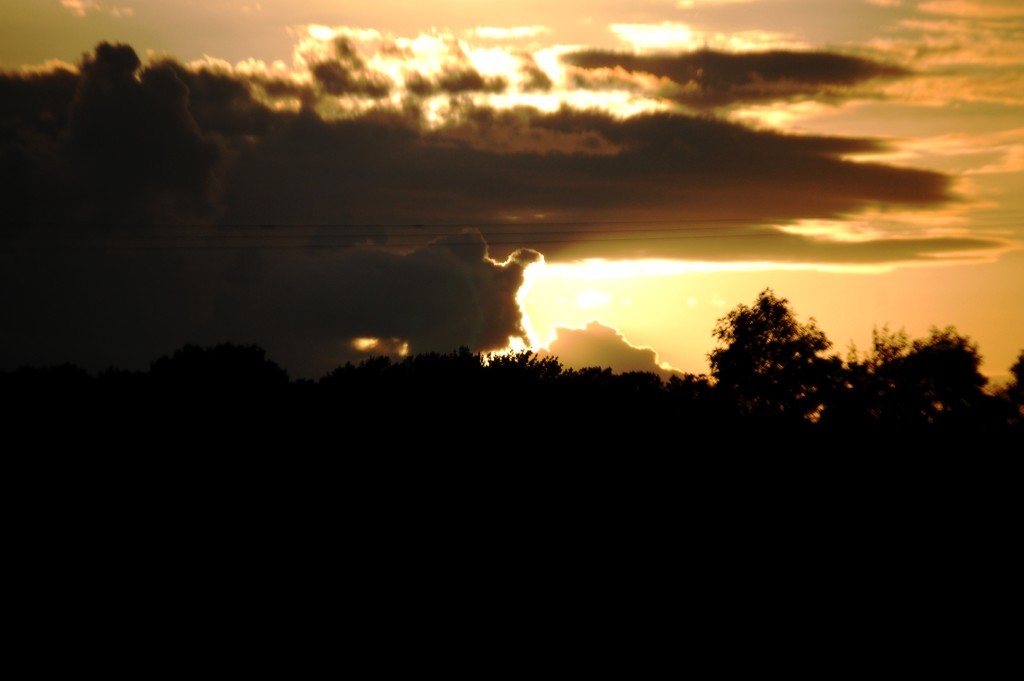 Was a great two days of travel.