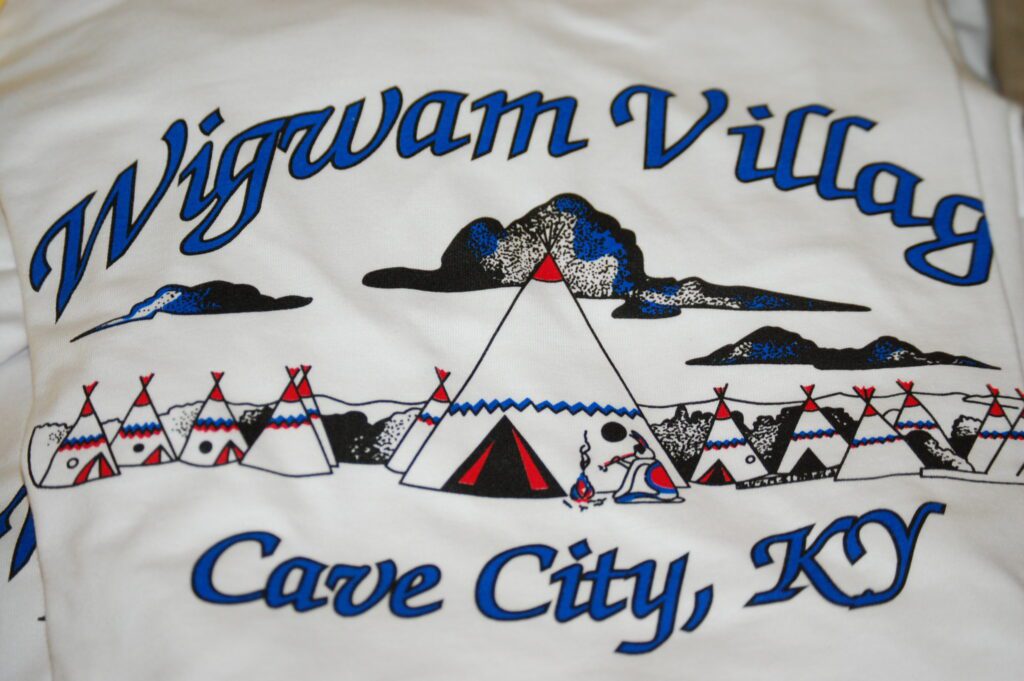 A few years ago I was traveling in Kentucky and made my way into Cave City, a sort of retro resort town close to Mammoth Cave National Park with lots of old 1960s style neon signs, mom-and-pop restaurants, unique tourist attractions, etc.  Apparently the actual Wigwam Villages were built in the 1930s and 1940s.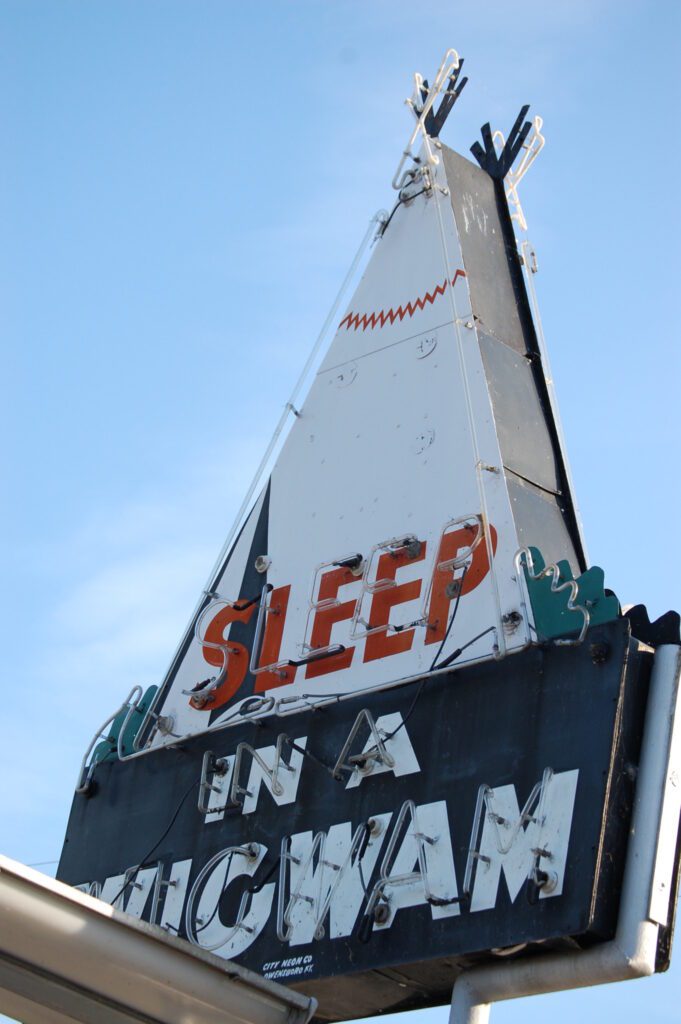 On my first trip into Cave City I saw the Wigwam Village and was astounded that there was one on this side of the country. As a bus driver/tour guide in Flagstaff, AZ in the 1980s, I would see the Wigwam Village located near Interstate 40 and old US Highway 66 near Holbrook, AZ quite often. Even back then, I knew there was another near San Bernadino, CA, (See Wigwam Village #7 built in 1949) but I never knew about the one in Kentucky, which, as I have shown above, was one of the first.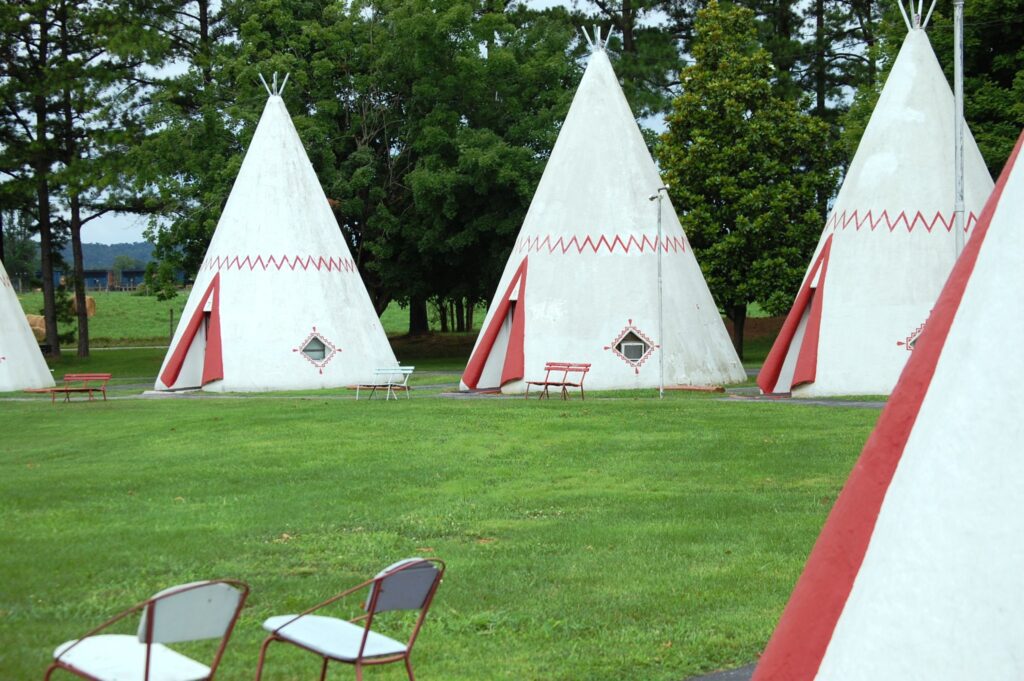 There were actually seven of them originally, and now only the three remain.  See history here.  (Another nice history HERE) The first two were built in Horse Cave, KY and Cave City, KY. They were the creation of Frank A. Redford.  WWV #1 was completed at Horse Cave in 1935 and Frank patented the design in 1936.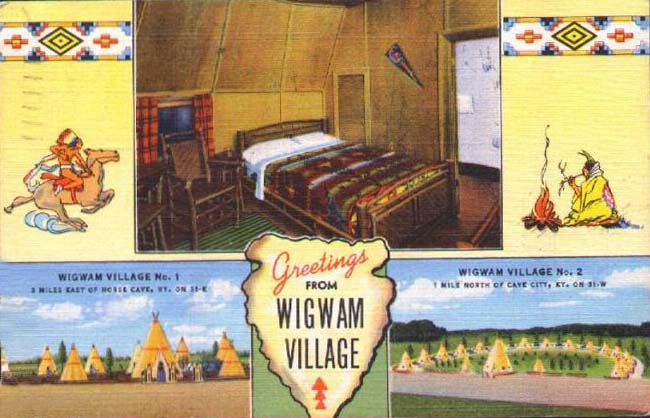 WWV #2 was built in 1937 on U.S. Route 31W  just a few miles south of the original WWV #1.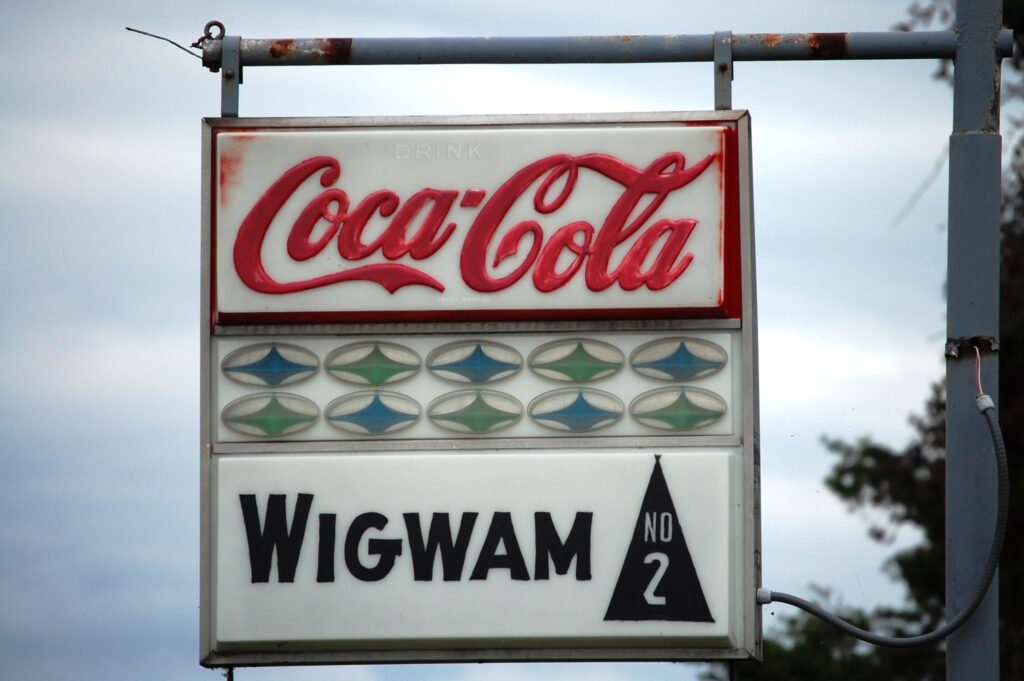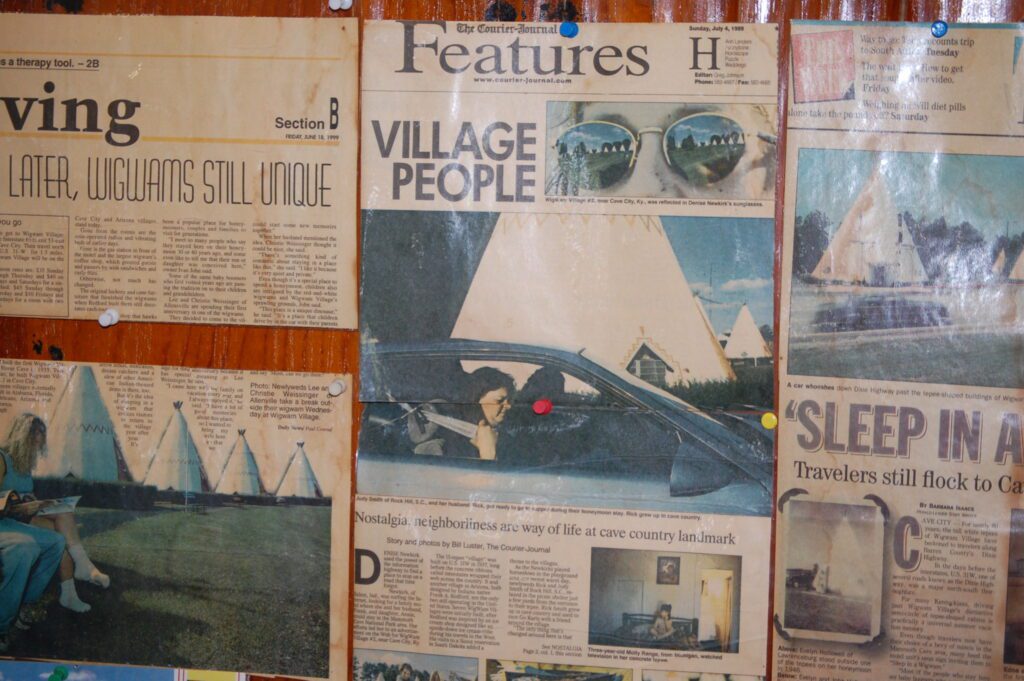 Wigwam Village #2 consists of 15 wigwams used as guest rooms that are arranged in a semicircle. In the center is a much bigger concrete and steel central structure that originally served as a restaurant, plus a common area with playground, recreation space, and pavilion. Each wigwam has a paved pad to accommodate one car. The restaurant is no longer in operation, but the motel is still open.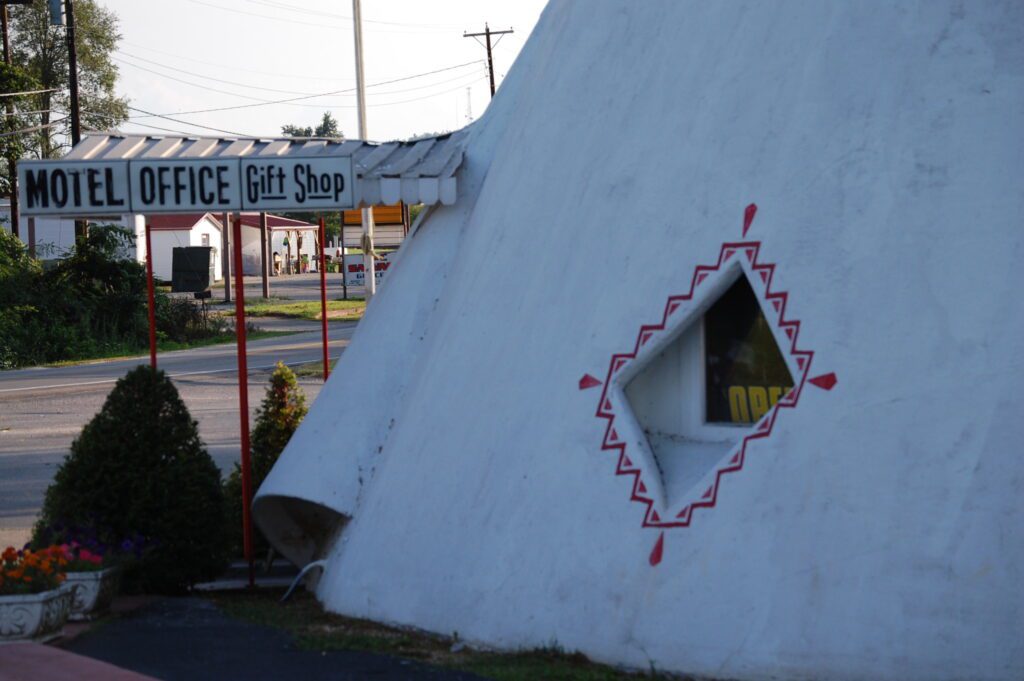 The diameter at the base of each tipi is 14 feet, and they are 32 feet in height. Behind the main room of each unit is a small bathroom with sink, toilet, and shower.  Even on our visit in 2009 the rooms appeared to contain the original restored hickory furniture and a window-mounted air conditioner. There are no telephones to maintain the original atmosphere of the motel, but the rooms do have cable TV and internet access.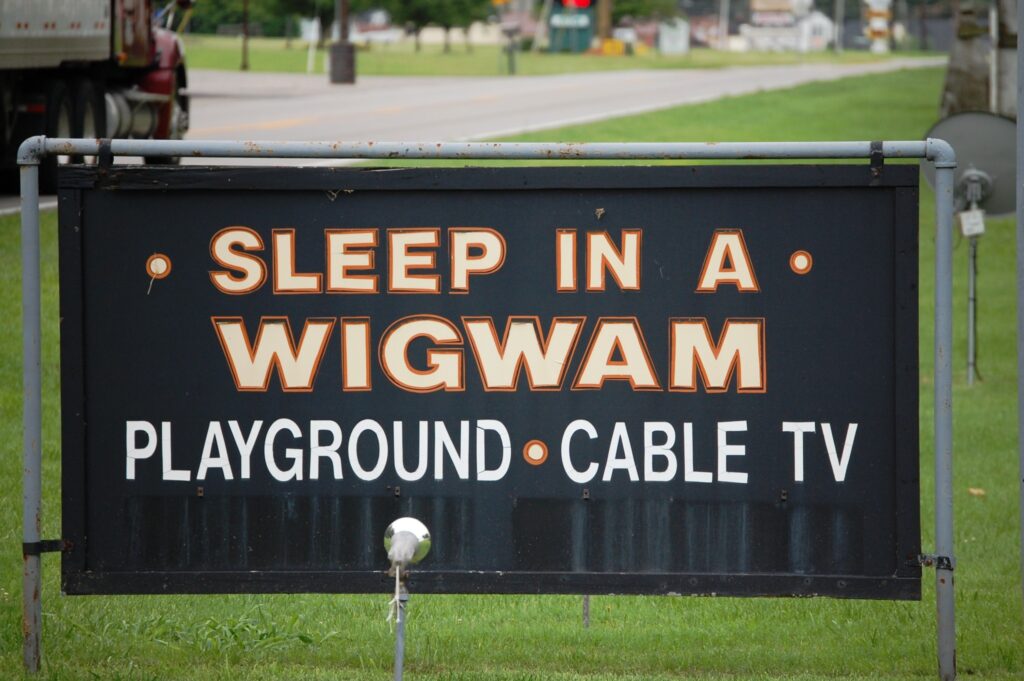 So, when my sister and her family visited from Texas a couple of years ago we went to Bowling Green to the Corvette Museum for my brother-in-law who is a Corvette fanatic. On the way back we stopped in Cave City and visited the Wigwam Village.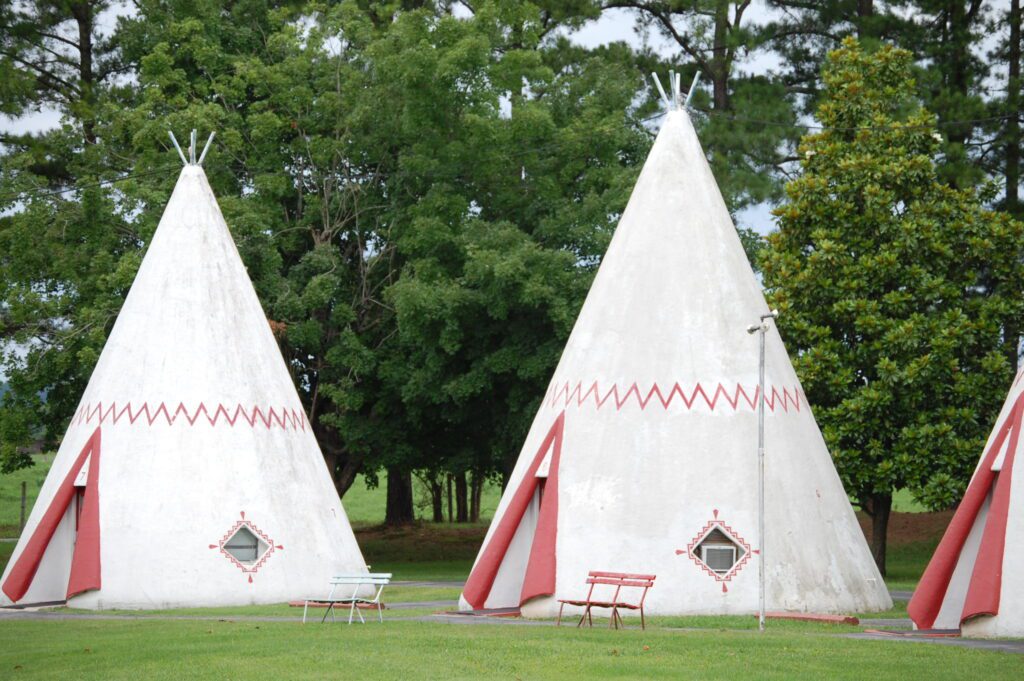 They have a nice big gift shop similar to those that you would see on the old US Highway 66 routes with lots of trinkets and all sorts of kitschy things. Plastering the walls are photos of newspaper articles about the wigwam village and information about the history of the relic motels.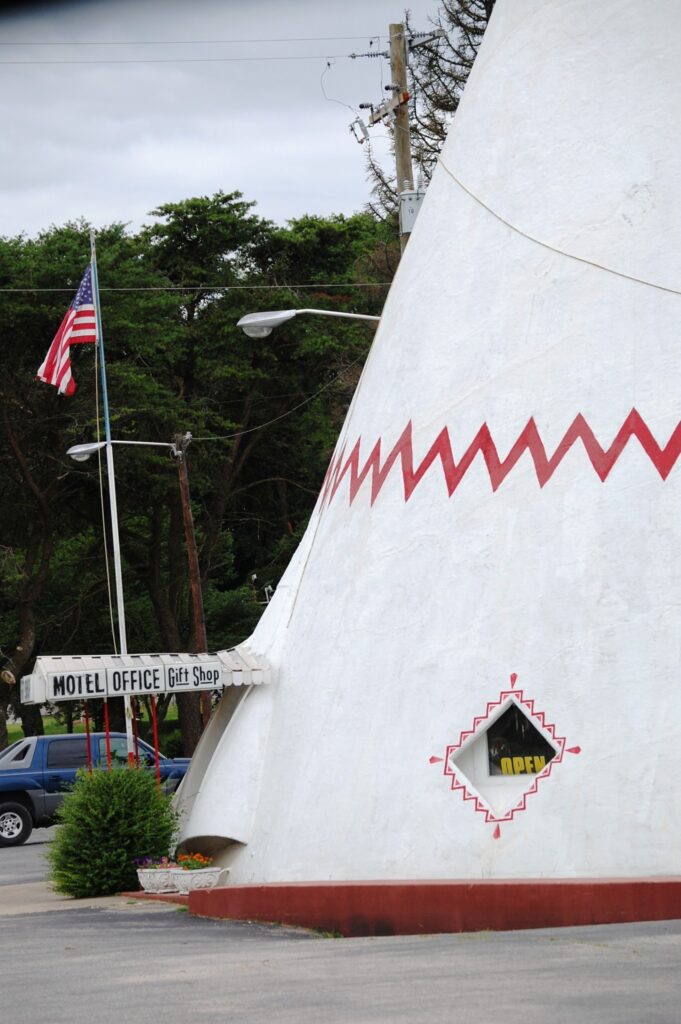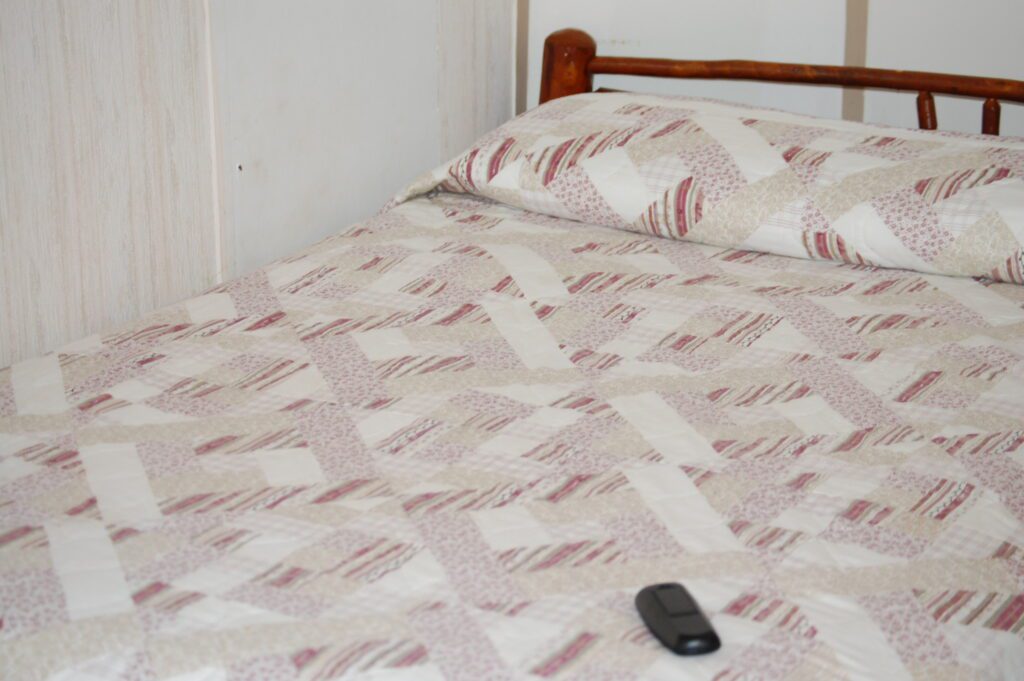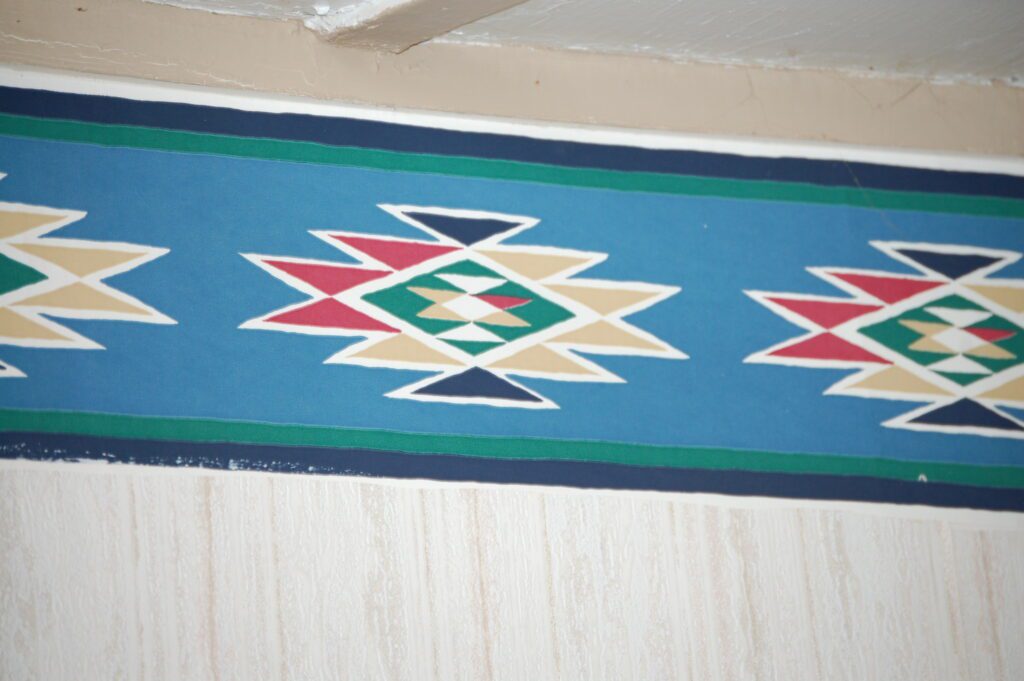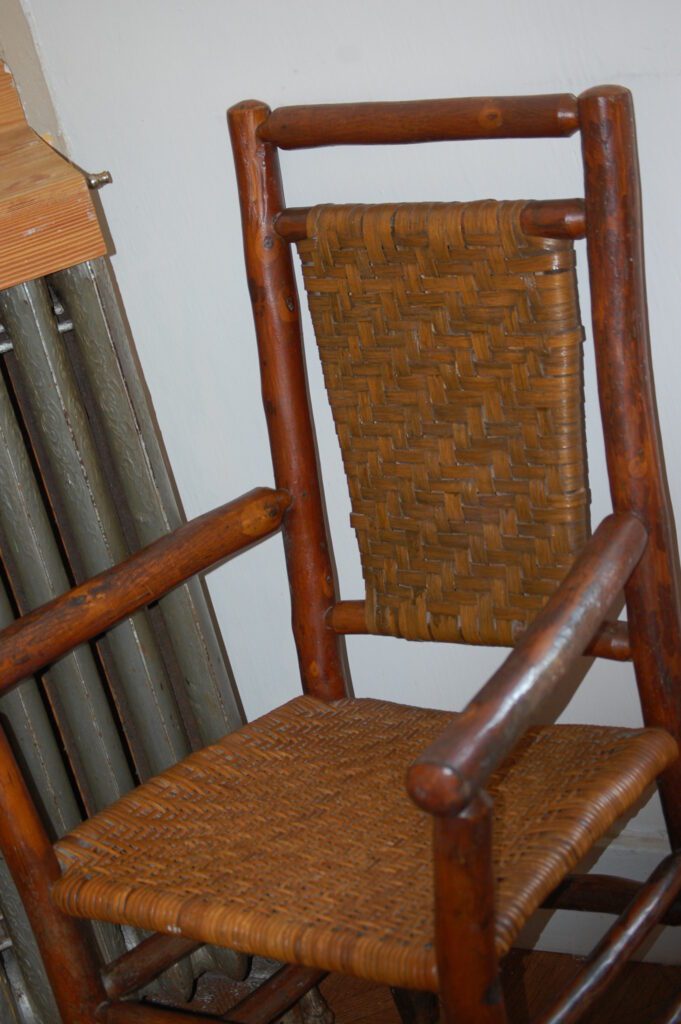 Now owned by people from India (ironic that those Indians now own it), I asked if they would let me go into one of the rooms and take some photos as I was doing a travel blog. I got the photos, but I never did get around to writing a nice blog post about it. So, here is my blog post about the Wigwam Village, so if it's history and the history of the three of them from the country.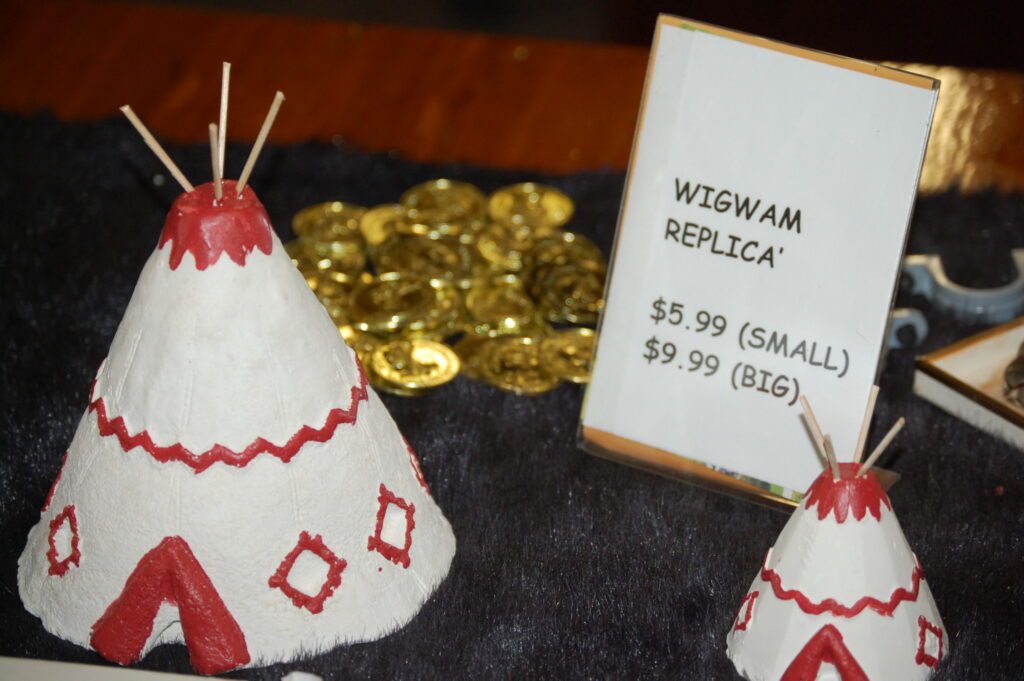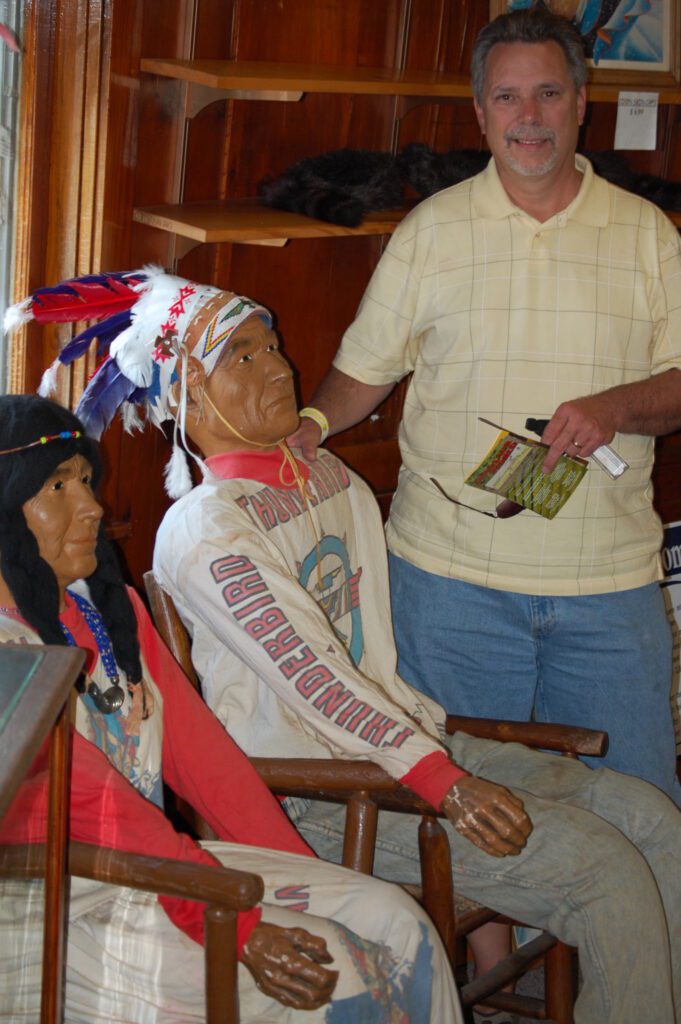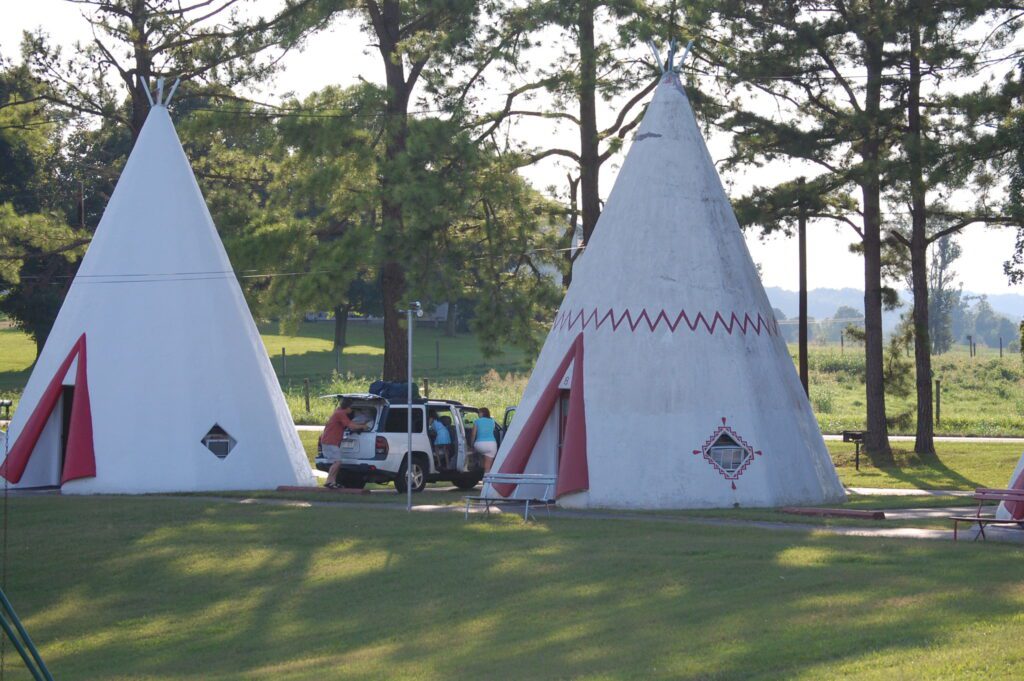 Ironically, there is a similar looking one that I came across in Texas last year, but the wigwams were called teepees where differently shaped. But the concept was the same.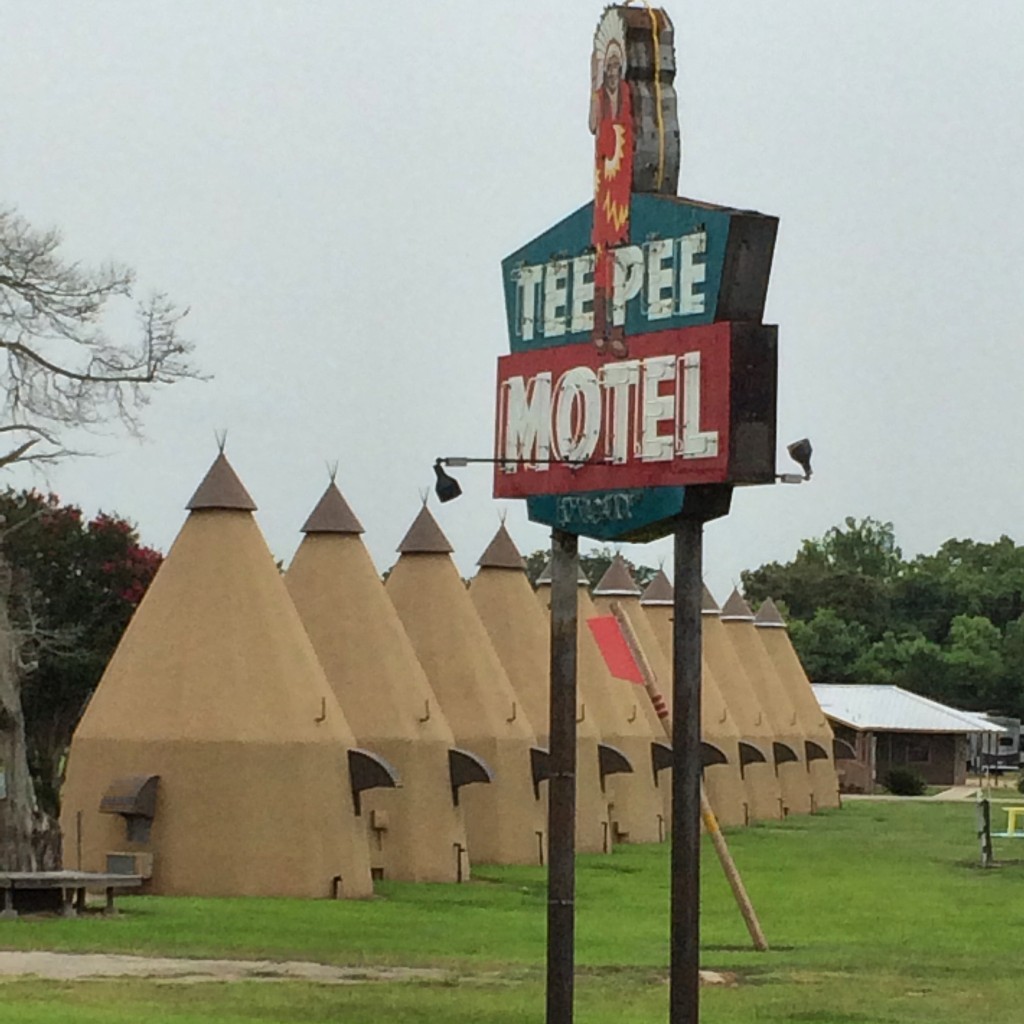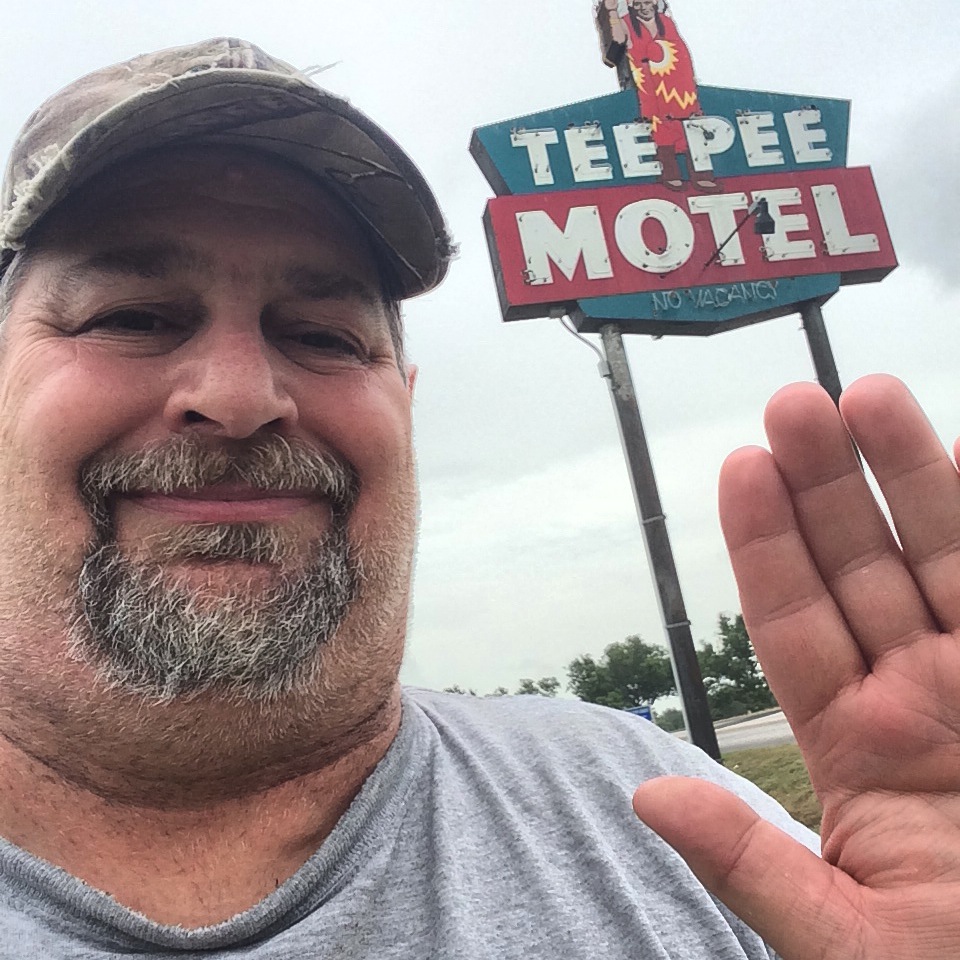 These throwbacks to the old US Highways and road trips are a lot of fun and I am sure staying in one of these would also be a nostalgic piece of fun. Maybe one day I will take a trip to Cave City with my wife just to be able to stay in the Wigwam for one night!