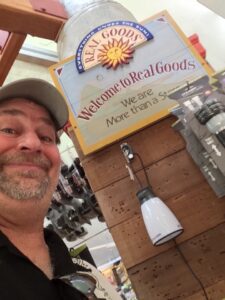 As I mentioned in my previous post, along the way to Red Bluff and Woodflock, we made a stop at Real Goods in Hopland, CA. The place was so unique and fun that it deserved its own special blog post.
The Real Goods Store got its start in 1978 with a focus on solar equipment. According to their website, the store was originally envisioned as a one-stop-shop where people could find everything they needed for their remote homesteads. The store began with the sale of the first retail solar panel in the United States and the humble goal of changing the world.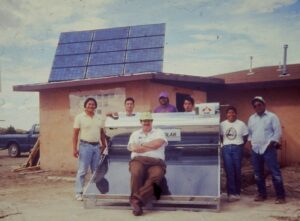 This is of particular interest to me as I worked in the Solar Water Heater industry in Japan from 1989 to 1991 for
Asahi Solar Corporation
. During that 2 1/2 year stint I represented the company on visits to China and the United States, in conferences and exhibits and more.
We also sponsored two college solar cars in the original
GM Sunrayce in 1990
(Colorado State's Stelar V and Arizona State's Sun Devil Cruiser) and brought the cars and their teams to Japan to compete in the Asahi (TV/News) Solar Car Race in Kobe, Japan. Further, during my work I assisted in the installation of the first solar water heater on the
Hopi Indian Reservation
. Working with the company, I was also instrumental in the company adding solar electric panels to their new headquarters building in Oita, Japan in 1991.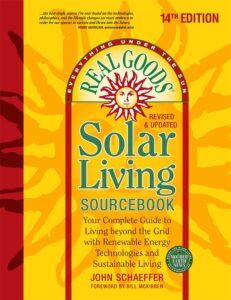 With my involvement in solar, I also purchased a copy of the Solar Living Source Book back in 1990, while attending the Solar Energy Conference in Denver, CO. Real Goods founder John Schaeffer published his first edition of The Solar Living Source Book in 1982. It was written as a one-stop information source for renewable energy and sustainable living. The Source Book is a comprehensive reference for the layperson on renewable energy technologies and sustainable living. It is now in its 14th Edition and has sold over 700,000 copies.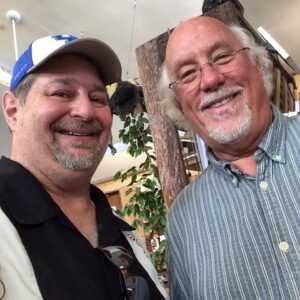 Little did I know that when I visited Real Goods on this trip that I would also have the opportunity to meet and speak with John Schaeffer, the founder of Real Goods and also the author of this Solar Living Source Book. In fact, I now have the latest edition which was kindly signed by Mr. Schaeffer and he was also kind enough to get a picture with me.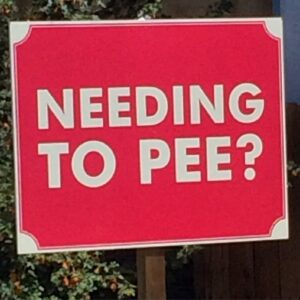 Initially, I was not aware that we would be making a stop at Real Goods (nor did I even know of its existence!). But Carla surprised me. Knowing my penchant for quirky and unique places, she thought this would be a good place. As we pulled into Hopland, immediately I could tell that a unique place was coming up. First thing I saw on the side of the road was a "Needing to Pee?" sign. HA! I had never seen one of those before. Other signs included:
"Real Goods Solar Living Center"
"Everything Under the Sun"
"Weird Restrooms"
"Soothing ponds and Oasis"
"Greenest Store on Earth"
Soon we were turning into the Real Goods entrance, which is also home to the Solar Living Institute. I got pretty excited about the "solar" part though didn't have much time to look at that AND the store.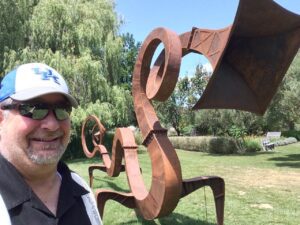 First thing that caught my eye as we pulled into the parking lot was a giant metal sculpture which looked like a dragon with a square Victrola speaker head. Turns out that this sculpture is called "Horn Serpent" by Upper Lake, CA artist
Diego Harris
. I am always enthralled by scrap metal sculptures such as this (and sometimes these are plain metal sculptures…not made from scrap metal). this one was a doozy!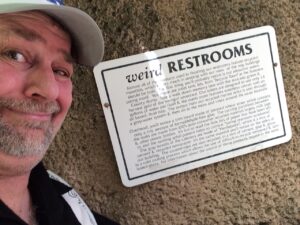 From there I went to the store. They were supposed to have "Weird Restrooms," which would be a "must see" quirky adventure for me.
I needed to use the restroom anyway…the red sign provoked me, I promise!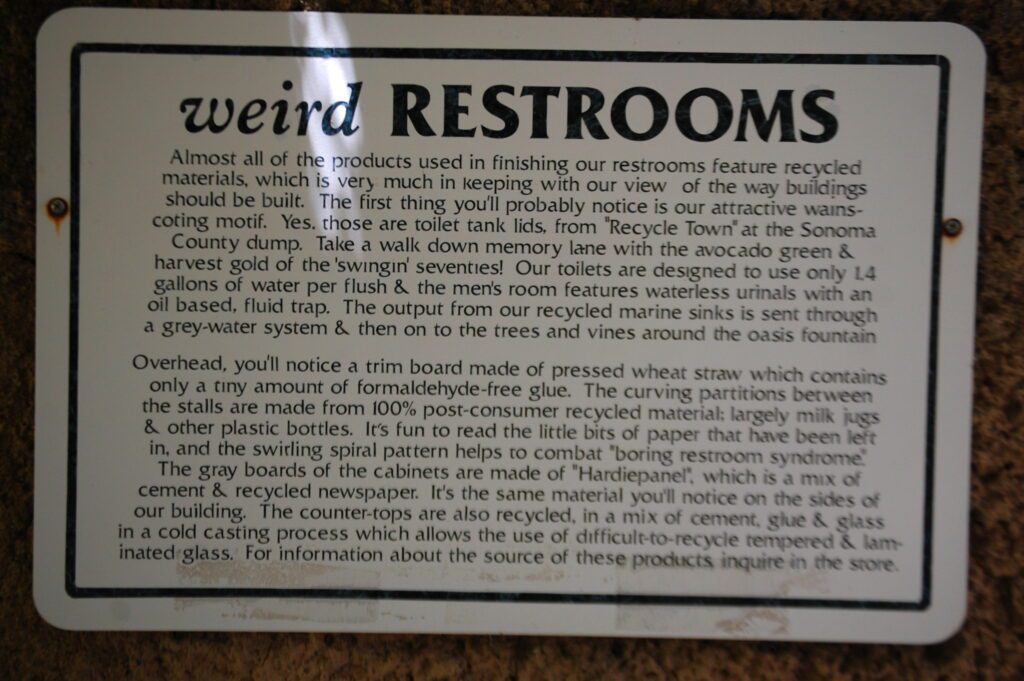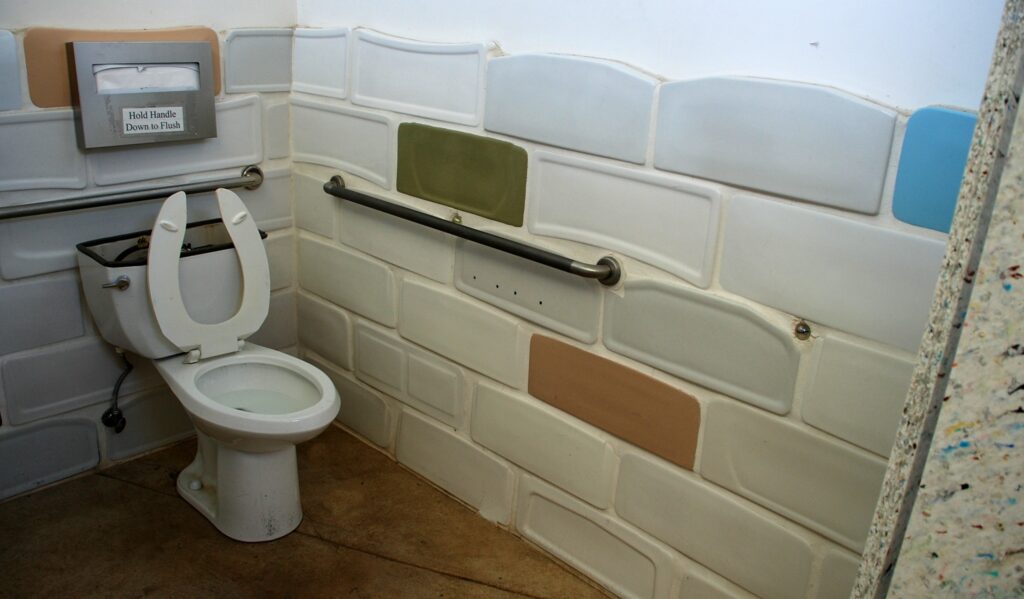 I also caught an interesting sign in the restroom, though there were no examples of this to be seen in the restroom.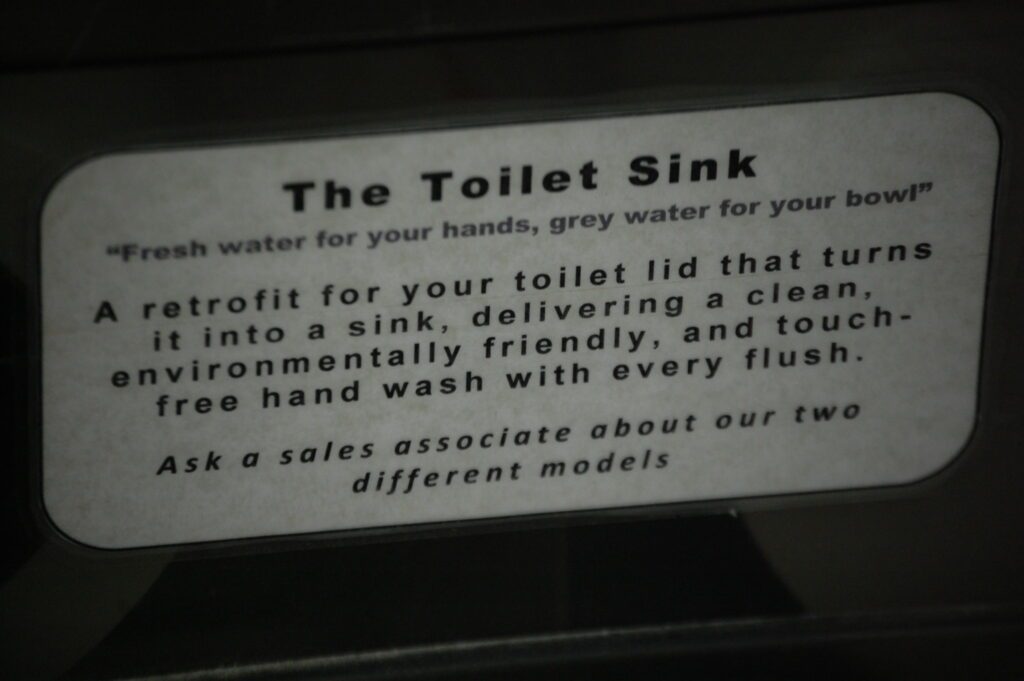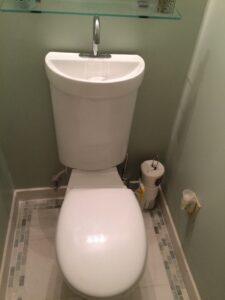 I got a kick out of "The Toilet Sink" sign. Many probably don't get it, but I can assure that Julianne and I do get it. We actually HAVE ONE!! When we remodeled our home a couple of years ago, we were going to have a small half bath. We thought back to our days in Japan and VOILA! We found one here in the use made by
Caroma
called a
Profile Smart toilet
. A bit pricey but perfect for our needs.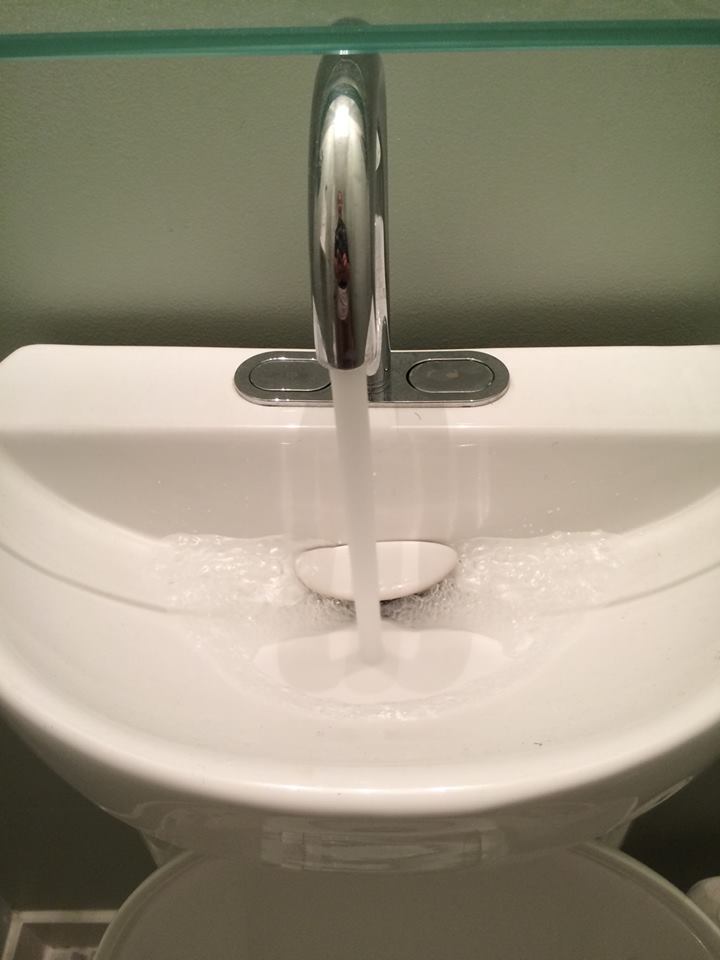 Just around the corner from the "Weird Restroom" is an even stranger contraption, a funky drinking fountain…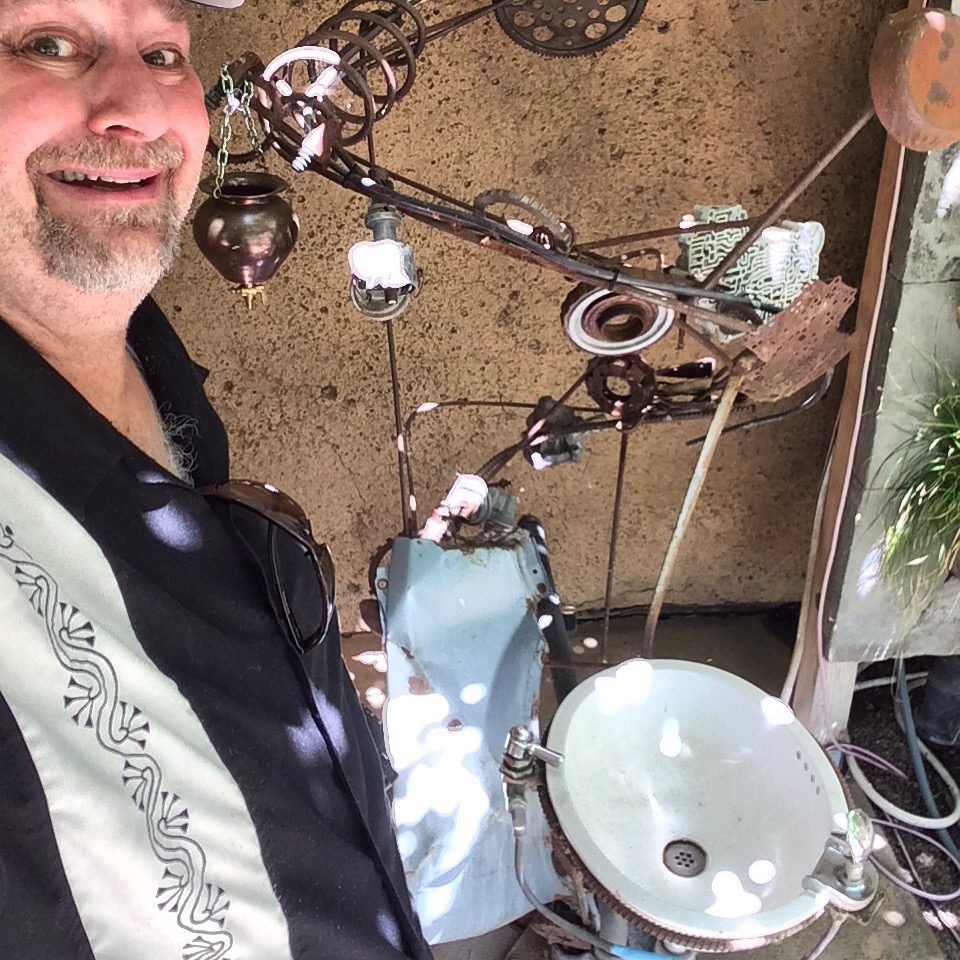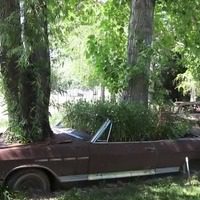 And, from what I understand, there are many other quirky things I missed on the grounds (due mainly to our lack of time there) including trees growing out of cars (The Memorial Car Grove). This is where the rusting hulks of 50s and 60s "gas hog" cars have been turned into planter boxes for trees and flowers! These '
grow-thru cars
' are a fitting counterpoint to the '
drive thru
' redwood tree a hundred miles north. I am sorely disappointed to have missed this one since I have been to a number of other car art places such as Carhenge, Cadillac Ranch, Rabbit Ranch and "Spindle" (which no longer exists).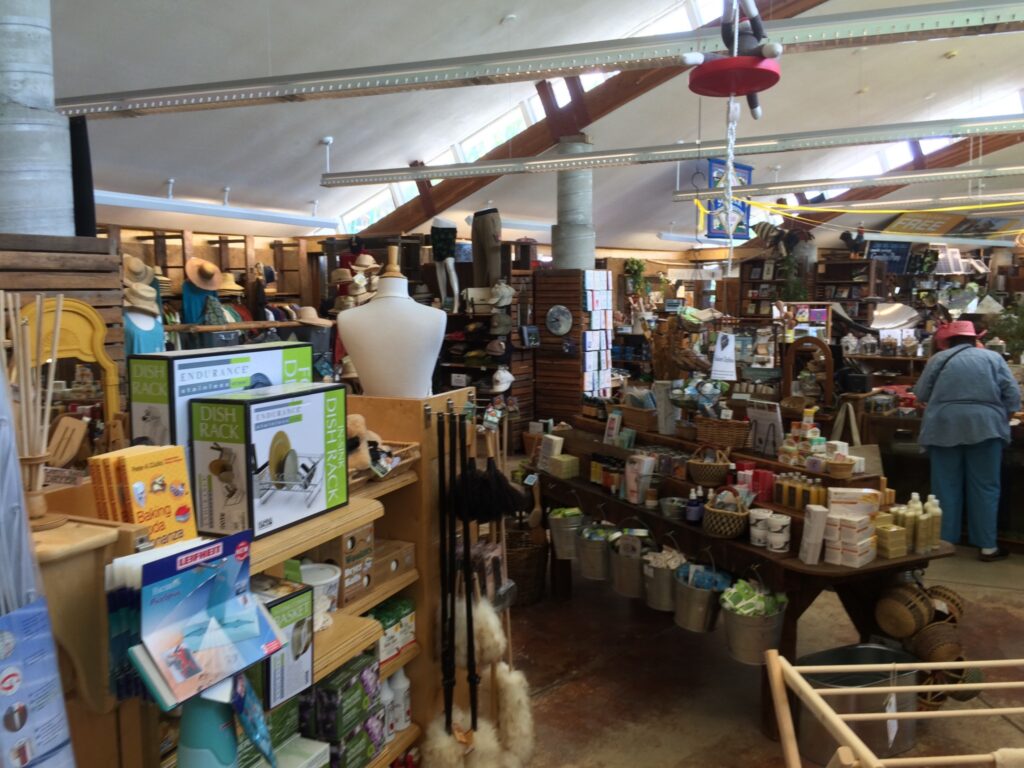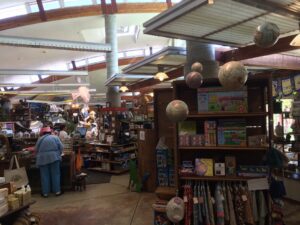 The inside of the store is a menagerie of uniqueness with all sorts of items that homesteaders can use. They have bee keeping equipment, composting toilets, self help books, solar chargers, etc. Truly a fascinating, one-of-a-kind store (and
website
).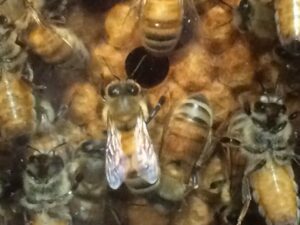 I was fascinated with the 'see thru" working beehive. I have never seen anything like it and to watch the bees hard at was amazing!!
They also sell all of the equipment needed to do your own beehives.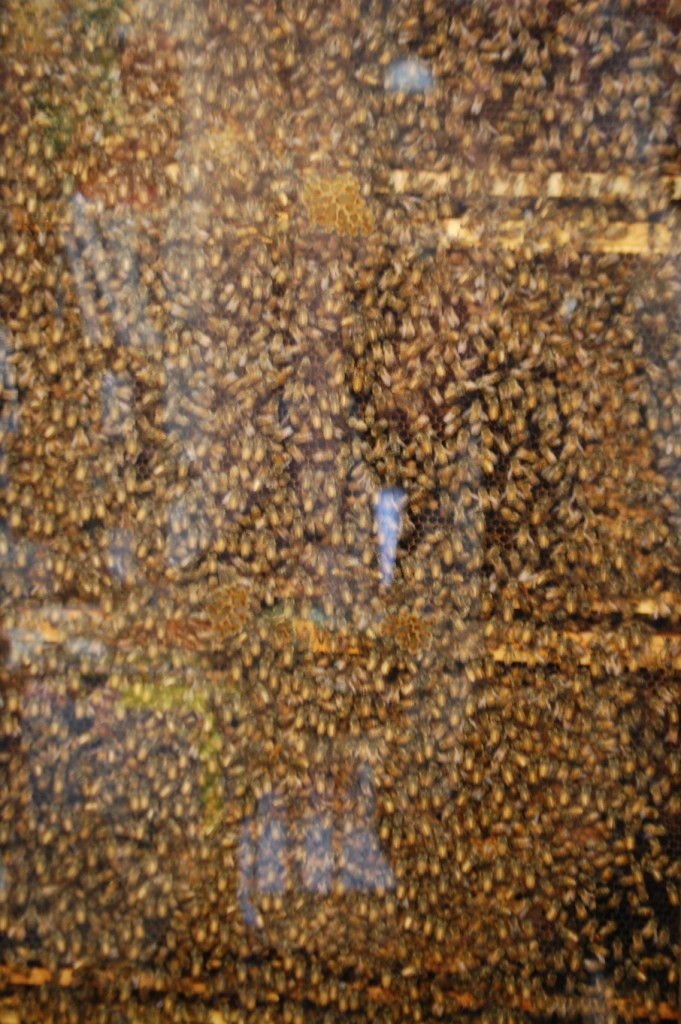 Real goods is probably the most comprehensive TRUE "do-it-yourself" store I have ever seen.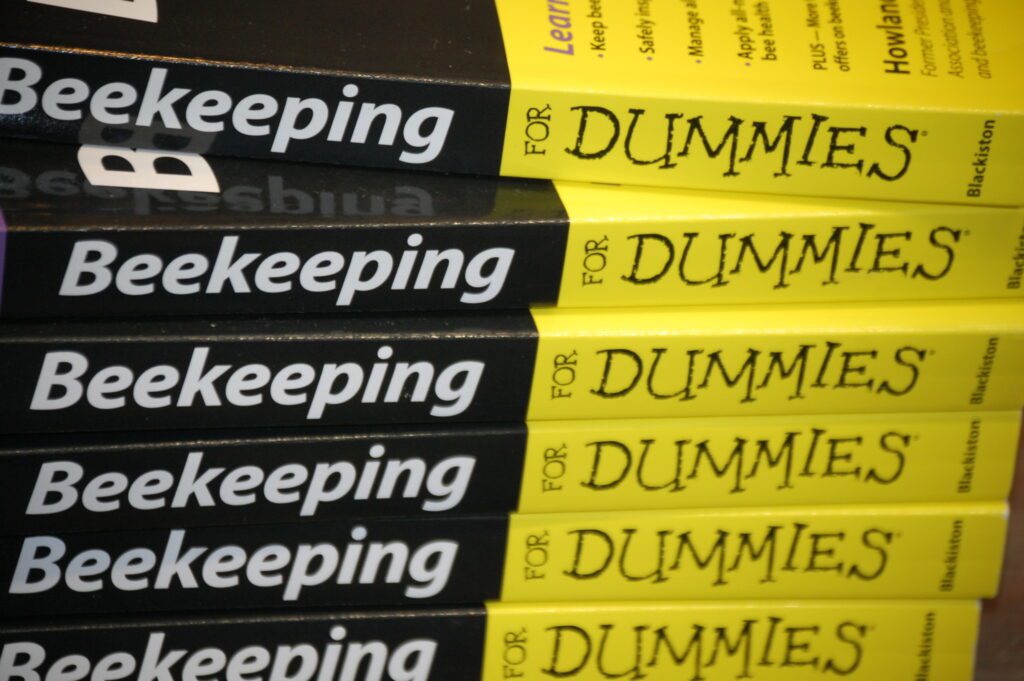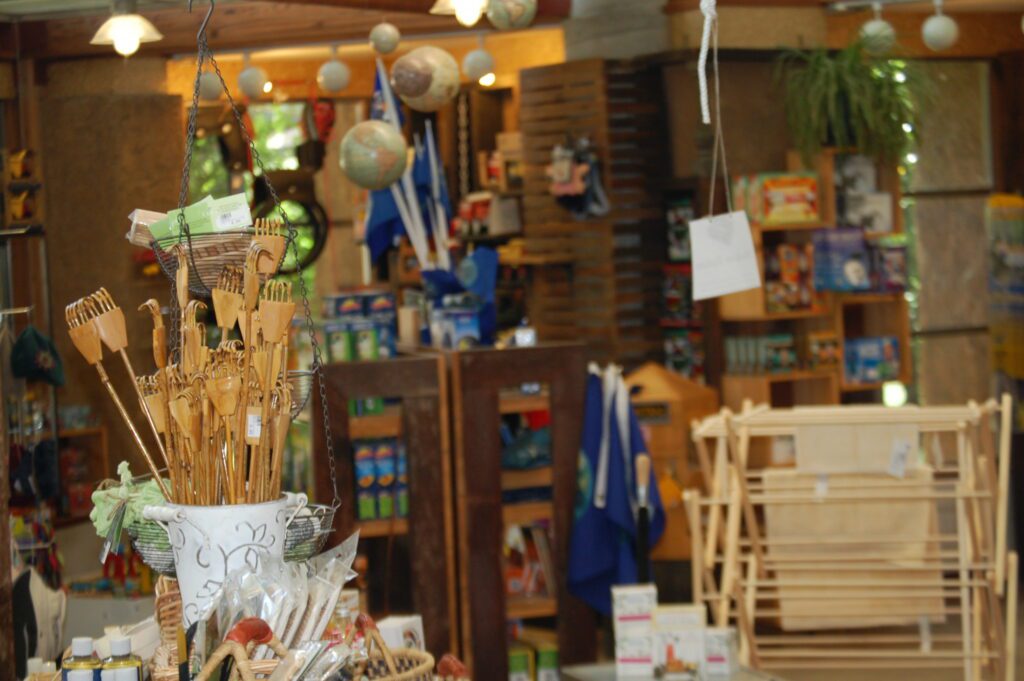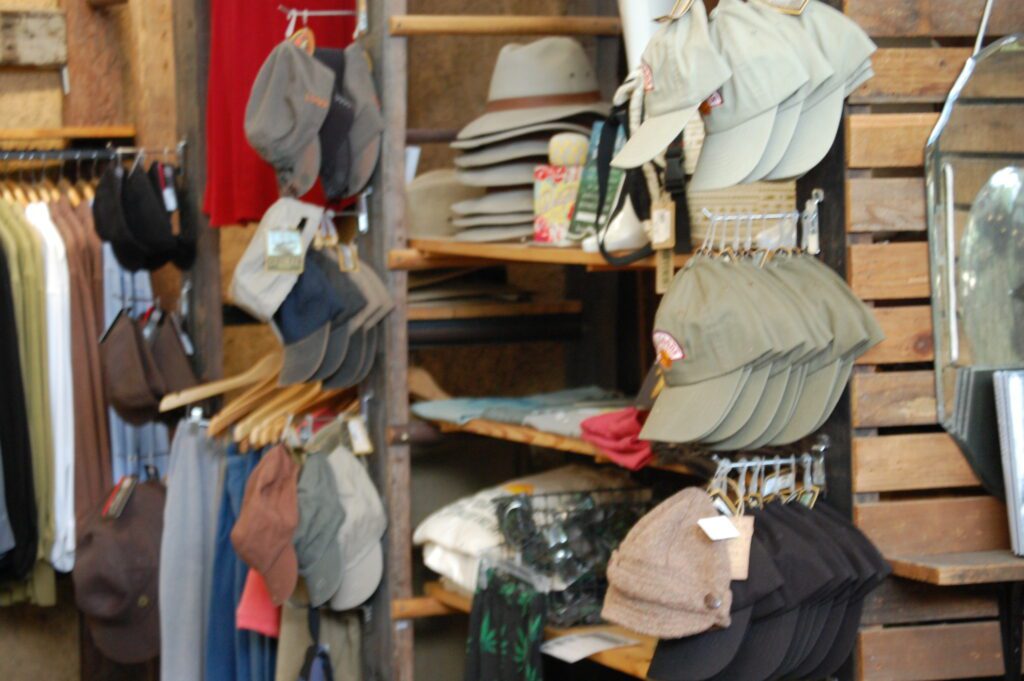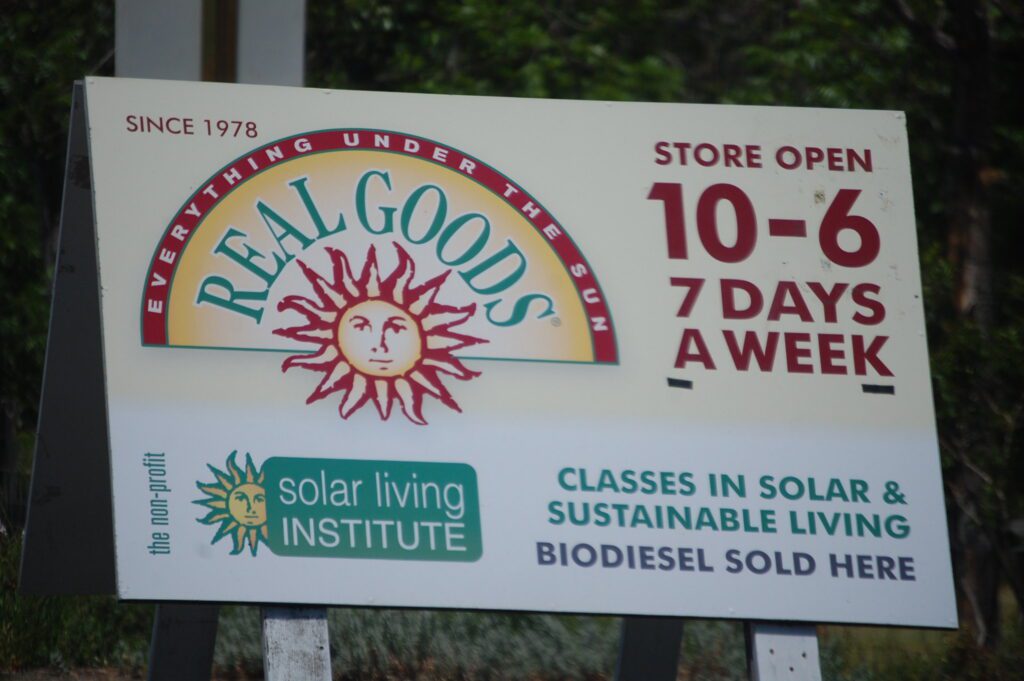 I am really glad to have been able to stop here and recommend that anyone driving along the Redwood Highway (US Hwy 101) near Hopland, CA stop by this unique store and Solar Education Center. Unlike me, plan a couple of hours rather than a quick 30 minute stop!!