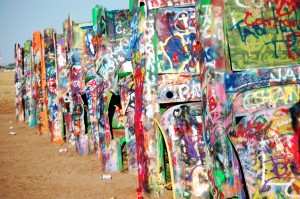 Over the years I have traveled tens of thousands of miles of back roads across the United States (only missing Maine, New Hampshire and Vermont…they will be hit soon!).  Through all of these travels I have seen the many "famous" unique and quirky tourist spots like Cadillac Ranch in Amarillo, TX (the one with all the Cadillacs in the ground), the giant Paul Bunyan and Blue Ox in Bemidji, MN, the Enchanted Highway in ND or the competing Eiffel Towers in Paris, TX and Paris, TN.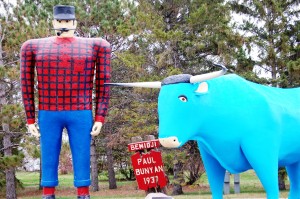 Among the 100s of places I have been, there are a few that really stand out to me and I would consider as future MUST SEE spots for the adventurous travelers.  In no specific order, here are ten of my "Obscure Quirky Places" you should visit while you are out and about on your July road trips….  You can click on the links to see more details of these visits from my earlier blog posts.
1. Jurustic Park – Marshfield, WI (take a side trip to the Chain Saw Totem Poles and to the National Mustard Museum)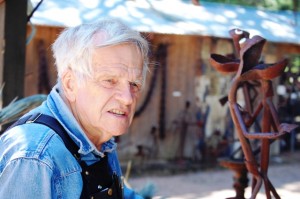 Former Wisconsin Attorney Clyde Wynia has created an amazing little "park" of amazing scrap metal sculptures, with 1000s of pieces from small spiders to giant dragons.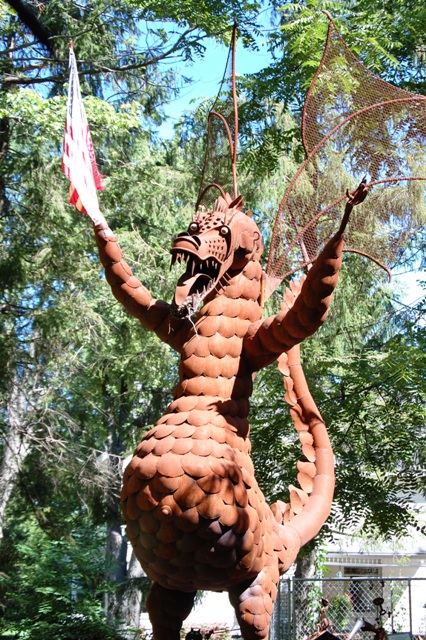 2.  Road Sign Art in Meadville, Pennsylvania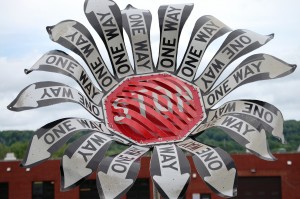 Signs & Flowers is a garden of 12 large flowers made of recycled road signs and landscaping at the PennDOT storage lot in Meadville. In the spring and summer of 2001, Allegheny College art students, under the direction of art professor Amara Geffen, designed and planted the "garden," which has quickly become a popular attraction for local residents and tourists. In the summer of 2002 Geffen's students continued the project by constructing a 200-foot sculptural fence Read Between the Signs on the PennDOT property along Hwy 322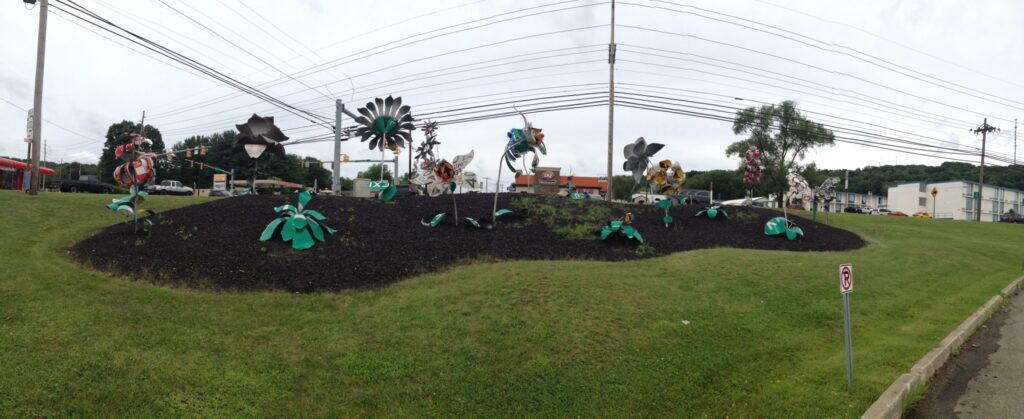 3. Starship Enterprise and Museum – Vulcan, AB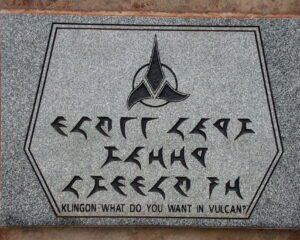 In central Alberta is a small town called Vulcan.  Named by a surveyor for the Canadian Pacific Railroad in 1915, the town has become a center for Star Trek history with a museum and all sorts of fun stuff.  There is even a huge Starship Enterprise on the grounds. Truly a unique place to visit and think about going where no man has gone before. (You may also be interested in "The Future Birthplace of Captain James T. Kirk" in Riverside, Iowa)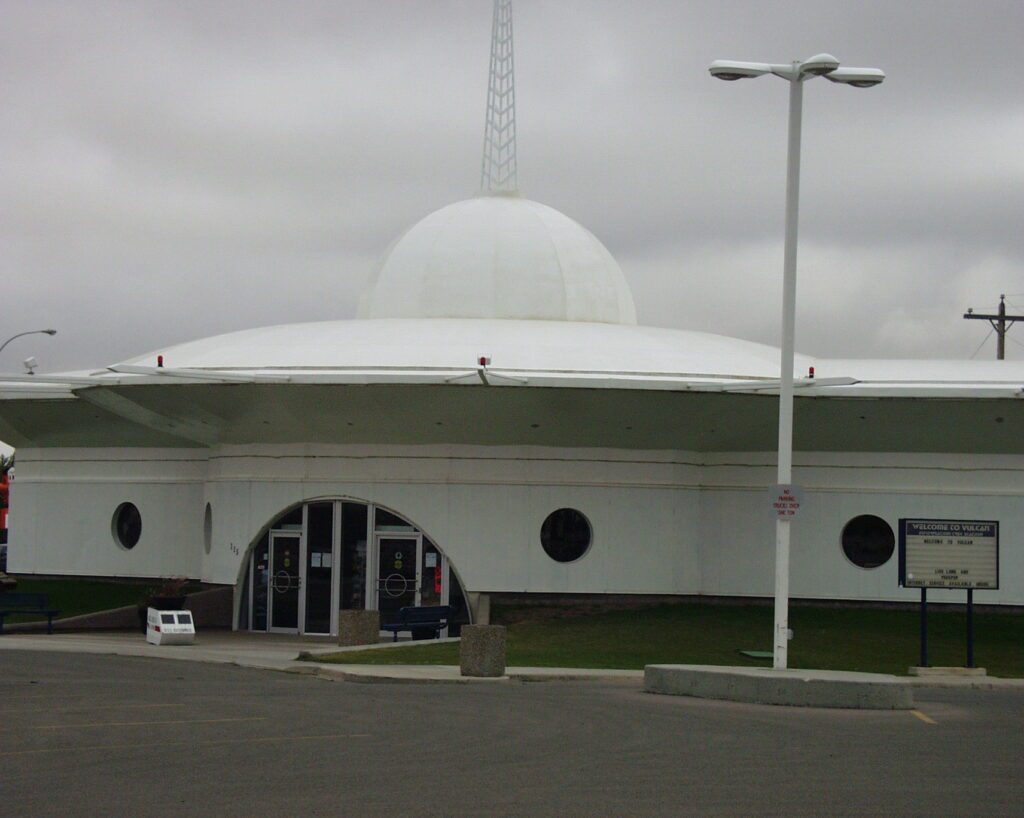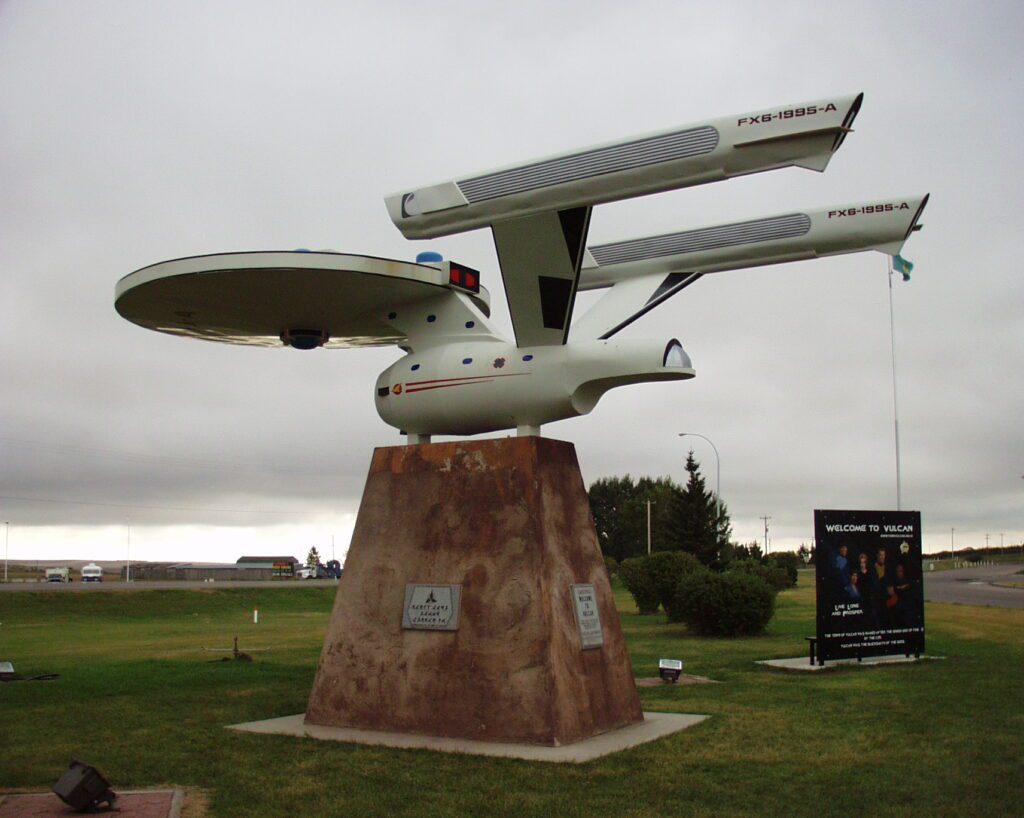 4. Billy Tripp's Mindfield – Brownsville, TN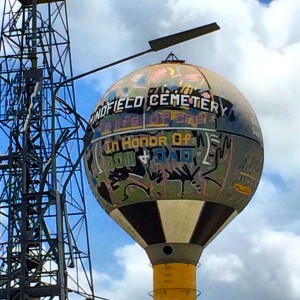 One man's life dedication to his parents draws people from all around to see this unique and absolutely quirky massive structure made of steel pipes and steel pieces and a large painted water tower that says "Mindfield Cemetery." This large piece of art work is the work of one Billy Tripp, who, in 1989 began creating this monument to his parents.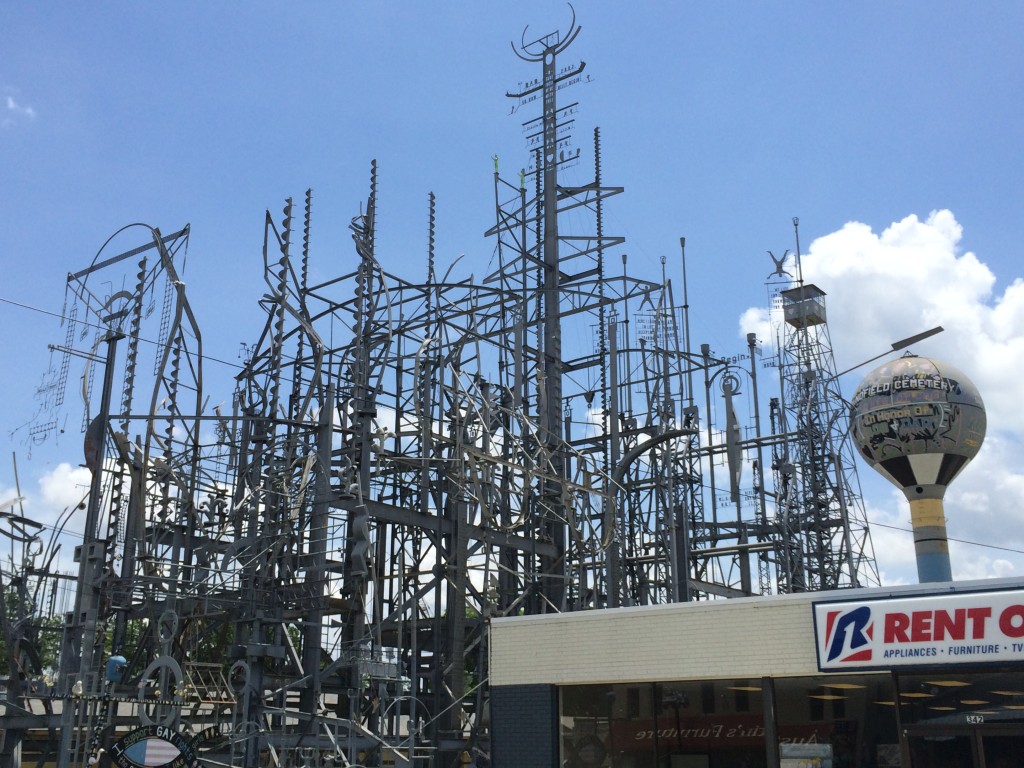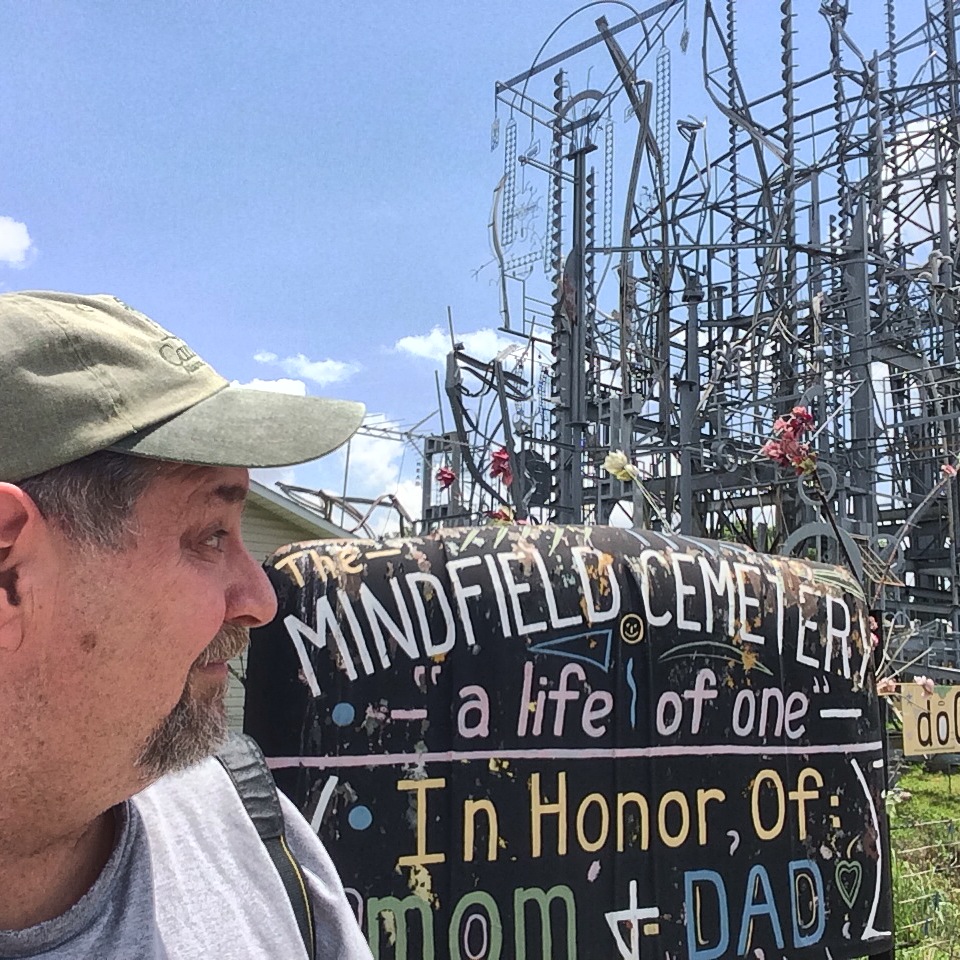 5. Pyramid in Nekoma, ND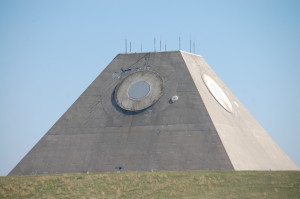 Who would have known that the US Military built a huge Pyramid shaped building in the middle of northern North Dakota?  Well, its there in the tiny town of Nekoma.  Actually, the pyramid is part of a larger installation called the Stanley R. Mickelson Safeguard Complex (SRMSC).  This complex was the United States' first operational ABM (anti-ballistic missile) defense system.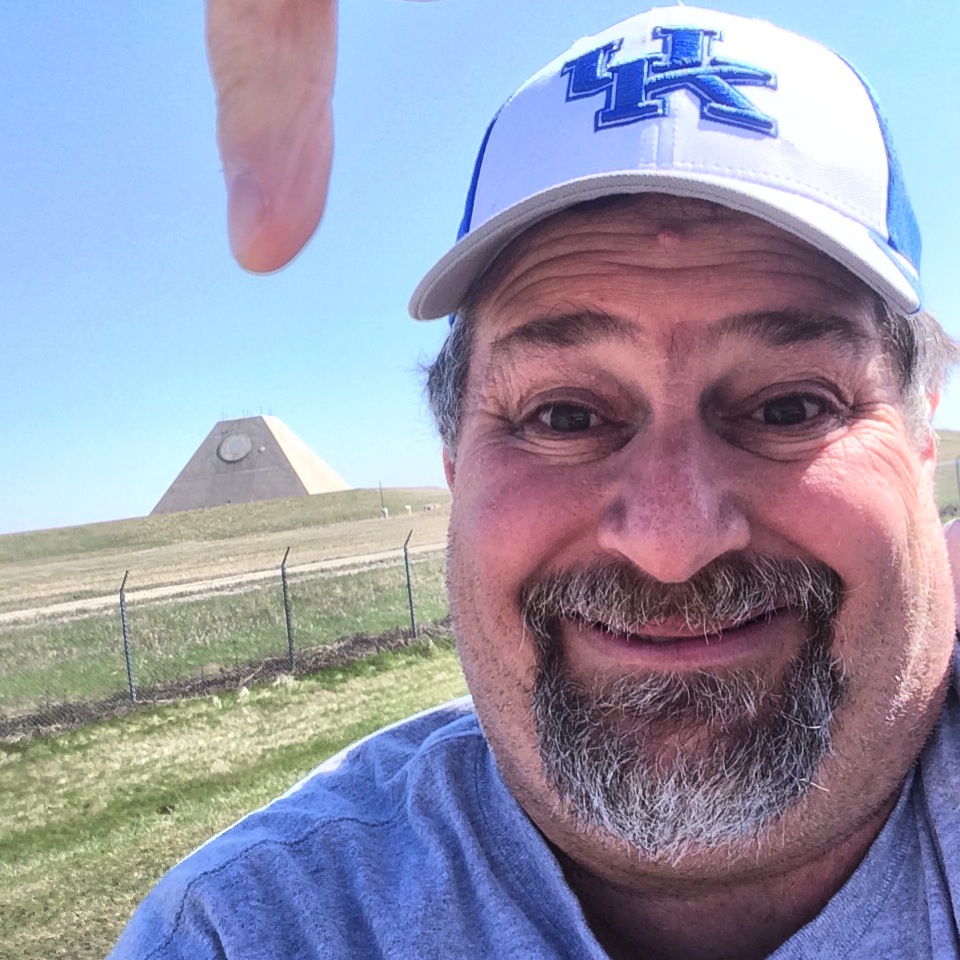 6. World's Largest Pistachio – Alamogordo, NM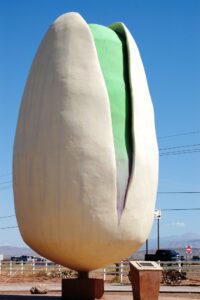 In the day and age of humorous "Get Crackin'" commercials promoting the benefits of pistachios, it is fun to see the World's Largest pistachio in the home of pistachios in Alamogordo, NM.
Travelers along U.S. 54 between Alamogordo and Tularosa have seen it since late 2013 at McGinn's Pistachio Tree Ranch.
Definitely worth a photo stop!!
7. Superman stuff everywhere – Metropolis, IL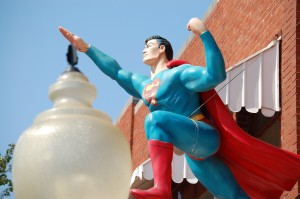 We all know that Superman lived in Metropolis.  But, this Metropolis in Illinois looks nothing like the NYC style Metropolis of the movies.  Despite this, like Vulcan above, the town has taken on the persona and has Superman everywhere.  Even has the Daily Planet as the newspaper!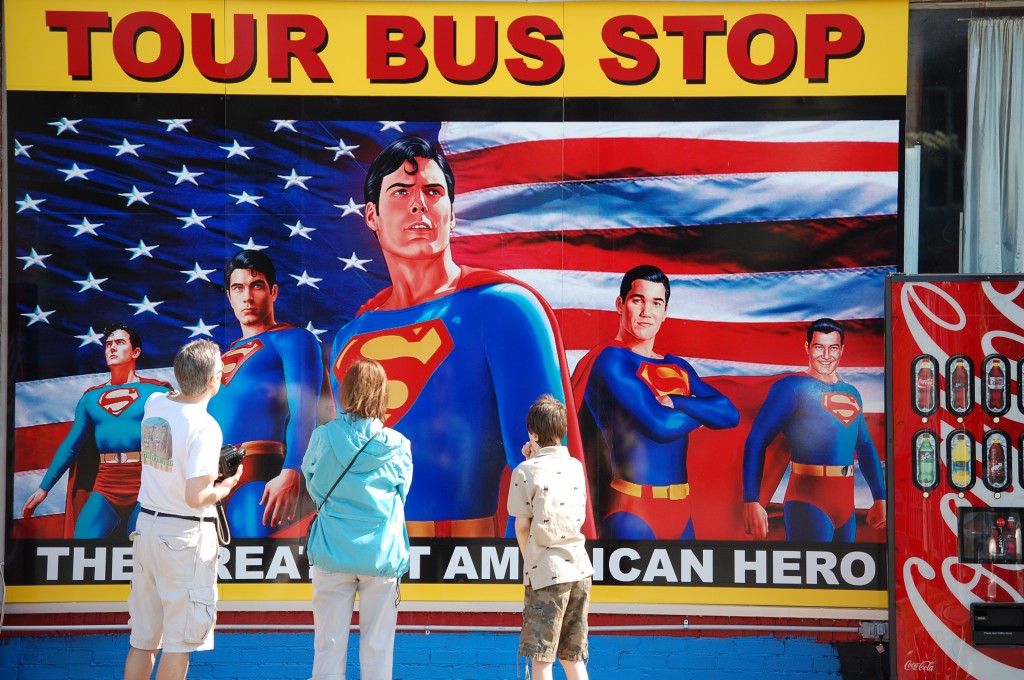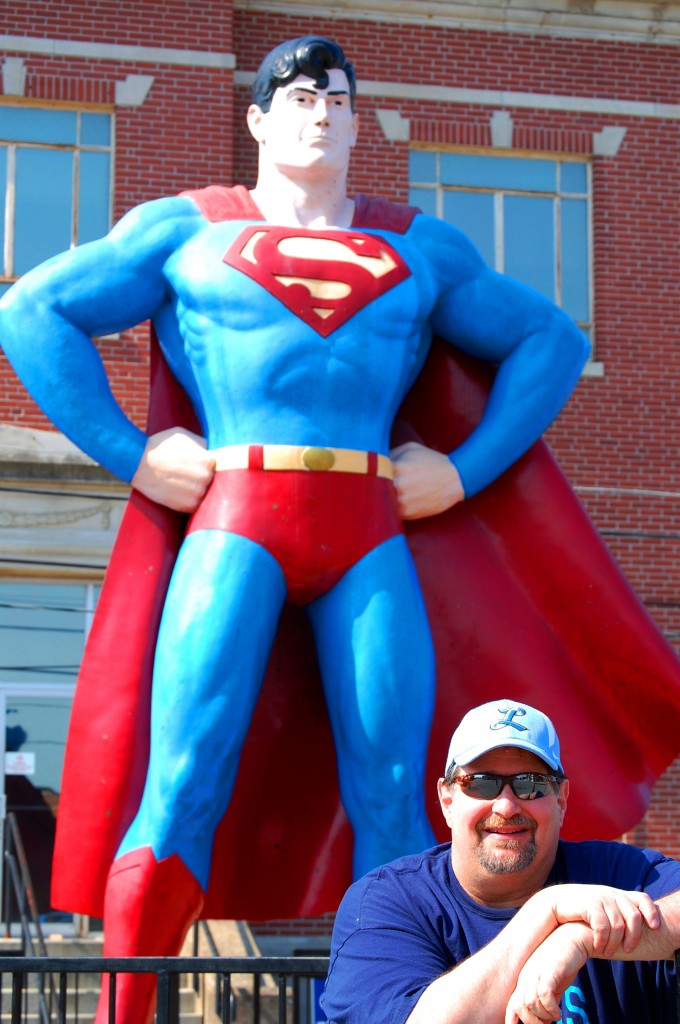 8. Hamtramck Disneyland – Detroit, MI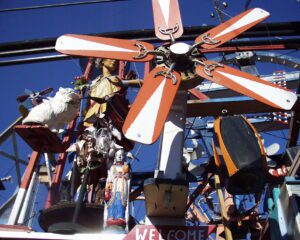 A little bit of magic is hidden in the backyard of a small two-story residence on Klinger Street in the Detroit area of Hamtramck. Known as "Hamtramck Disneyland", the offbeat artistic vision of former homeowner Dmytro Szylak, who passed away on May 1, 2015. Szylak began to convert his backyard into an art yard after retiring from General Motors in 1992.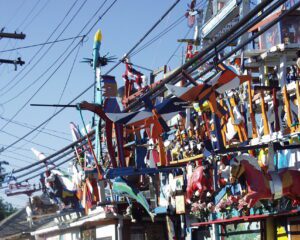 The quirky nature of Szylak's creations still causes some controversy, but many consider it a local tourist attraction.  I concur. I visited his place in 2008 and found his collection fascinating.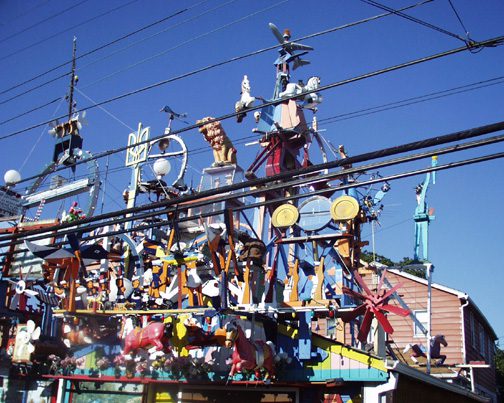 9. The Mushroom House – Cincinnati, OH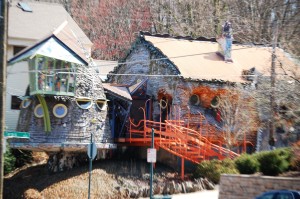 In my opinion, one of the quirkiest places in Cincinnati, the Mushroom House is located in the Hyde Park District at the corner of Erie Ave. and Tarpis Ave.  It was created by architect/artist Terry Brown (who died in a car accident in Texas in 2008).  As a professor of Architecture and Interior Design at the University of Cincinnati, Brown created the building with the help of university students from 1992 to 2006.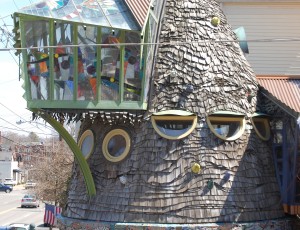 The house was built using a variety of materials including wood, colored glass, shell, ceramics, and various metals.  Care was taken to craft these materials into irregular shapes like those found in nature.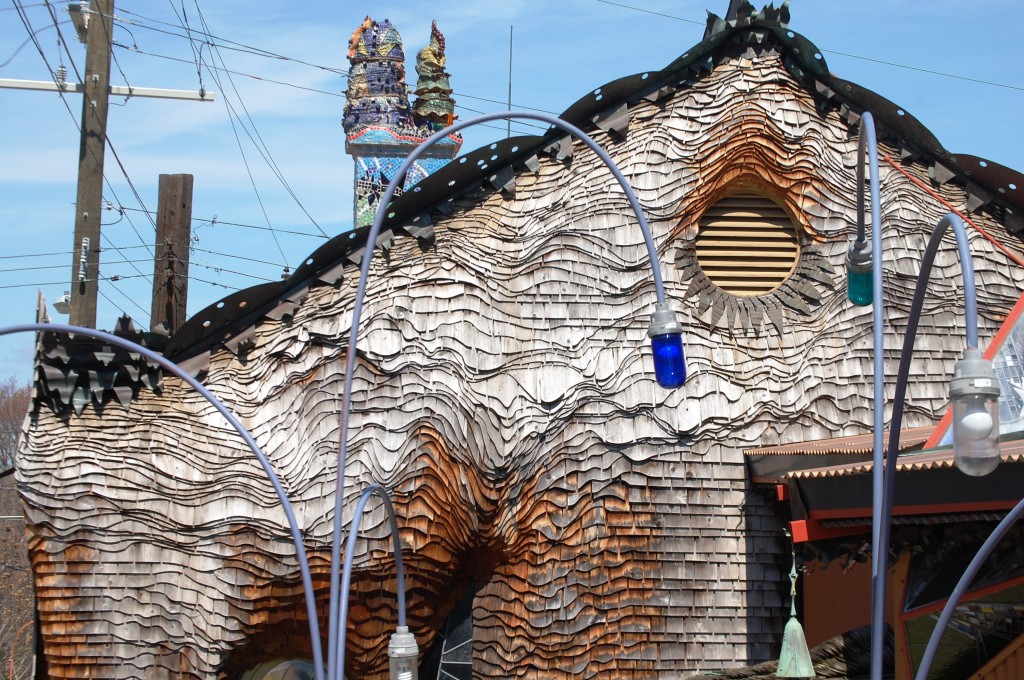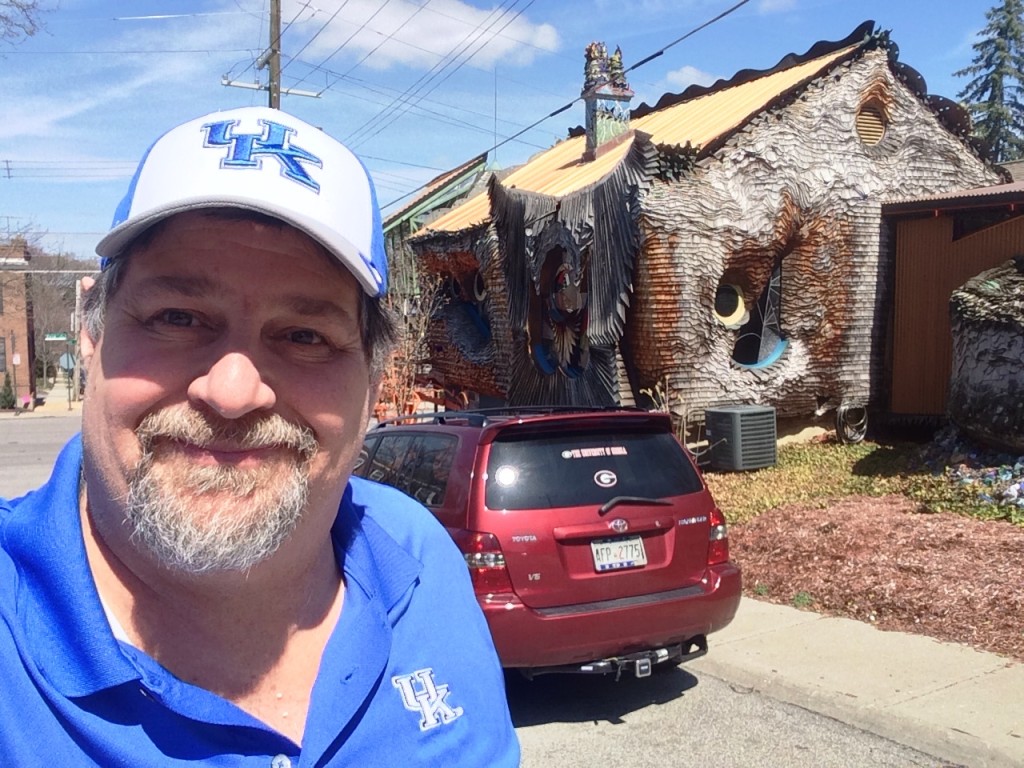 10. Home of the Jackalope – Douglas, WY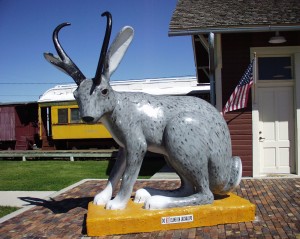 Douglas, Wyoming  is the "Jackalope Capital of the World."  Everywhere you look in town there is a  jackalope lurling somewhere.  There is even one up on a hill overlooking Interstate 25.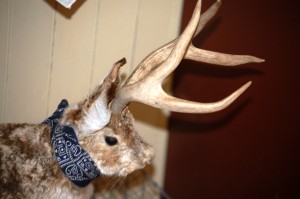 The jackalope is a mythical animal of North American folklore described as a jackrabbit with antelope horns. Ironically, the word "jackalope" is a mix of "jackrabbit" and "antelope", although the jackrabbit is not a technically a rabbit, and the American antelope is not technically an antelope.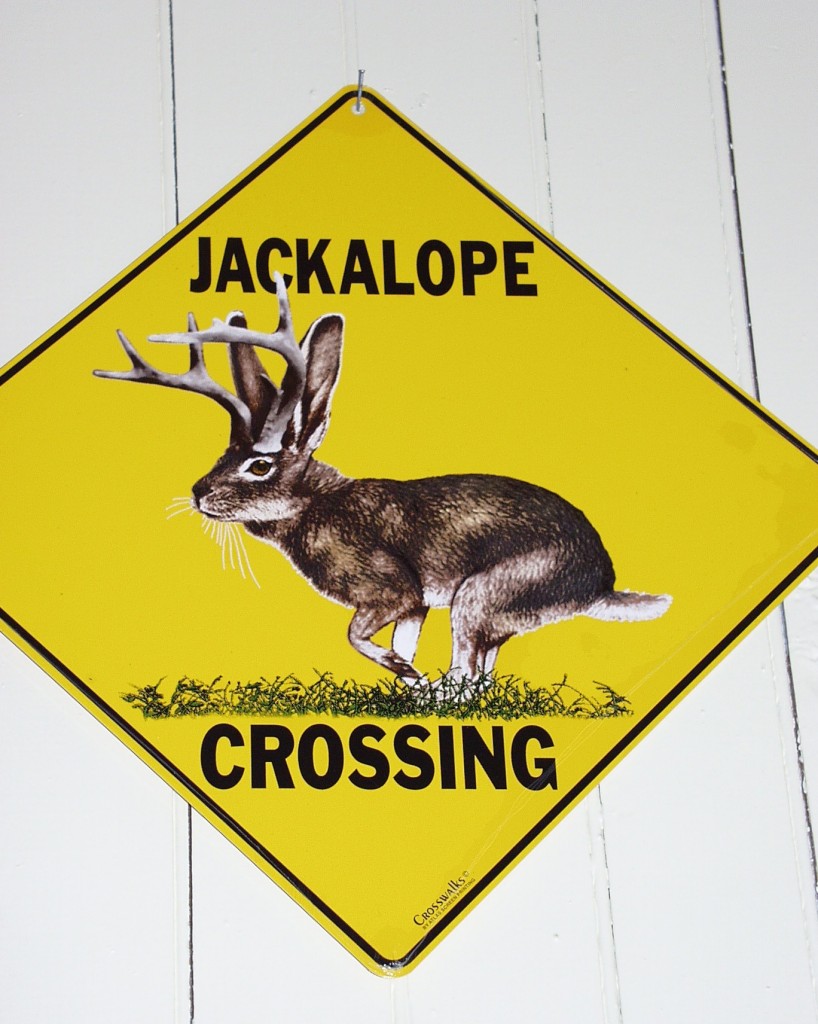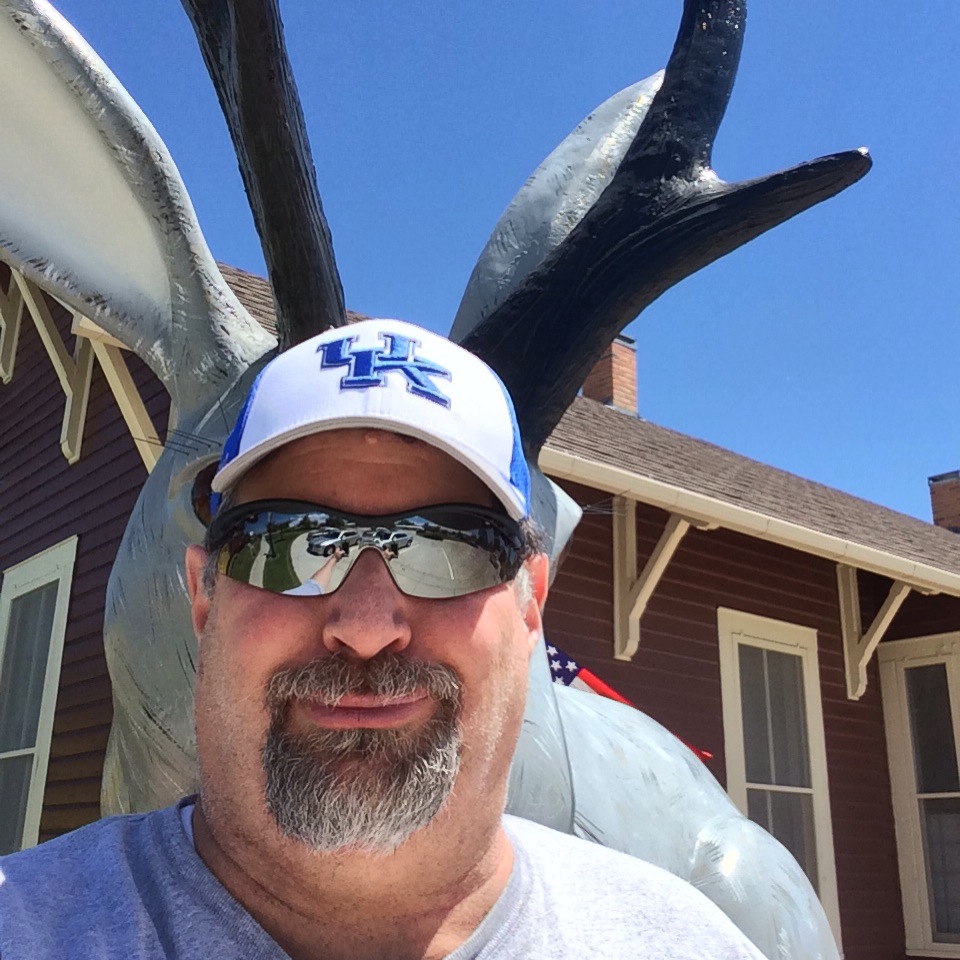 There are dozens of other obscure but fun quirky sites in the America's.  Visit my blog or my favorite home of the roadside quirkies – Roadside America – to find more of these.  You'll enhance your travel experience!!